Dear international readers of Beautyjagd,
Welcome to the third English-language edition of Beautyjagd! This is a condensed version of the most important articles that have appeared on my blog over the last two weeks. For more information about this new format, click here. And now: enjoy the best of Beautyjagd in English!
Best wishes
Julia
Hi everyone, I hope you are well! I am currently taking a week off so this English installment is a little shorter than usual. A blog-free time, for the first time in years! Usually I write and prepare articles in advance so even when I'm away on holiday or travelling, I stick to my normal publishing schedule. However, I have so much admin stuff piled up at the moment that I decided I needed a proper week off. But no worries, by the time you are reading this I'll be back in action so the next English chapter – in exactly two weeks – will be the usual length. So, let's dive right into last week's Beauty Notes!
My highlight last week was a visit to organic beauty brand Speick in Leinfelden-Echterdingen, a small town quite close to Stuttgart in the South of Germany. Speick has just celebrated its 87th birthday; the company was founded in 1928 and is still owned by the same family. I had a nice chat with two of Speick's very friendly product and marketing managers and CEO Wikhart Teuffel (the grandson of Speick founder Walter Rau) and was shown around the Speick factory and production plant. I also received a bottle of Speick's Natural Aktiv Duschgel which was in the process of being bottled as we walked past the filling machine. The shower gel was still a bit foamy. Very cool! In the afternoon I visited Speick's flagship store in Stuttgart city centre which offers the entire portfolio of the company.
Every single product is formulated with Speick plant extract. I'm not kidding, Speick is also the German-language common name of an herb (valeriana celtica) which belongs to the valerian plant family and only grows in Alpine mountain regions. Speick (sometimes also spelled "Speik") is a traditional medicinal plant said to calm the central nervous system while stimulating the vegetative nervous system. The founder of Speick (the company) came across Speick (the herb) and in the 1930s brought out a bar soap which was formulated with Speick extract. This was the cornerstone of Speick's product portfolio and Rau eventually named his company after the herb. Speick has an special permit to harvest the Speick plant, valeriana celtica is an endangered species. The Speick extract that is used in the cosmetics comes from mountainsides in the Carinthia Alpine region of Austria (close to the border with South Tyrol). Speick works with Alpine farmers to harvest the plants. It is certified and controlled wild harvesting, by the way, which means that the plants are not cultivated but only picked if and when they are growing. Speick has just launched two certified organic deodorant sticks; I am currently testing the Thermal Sensitive Deo Stick and so far, it's been working well.
Since temperatures have finally gone down I have been using face oils again – when it is really hot outside, oils are too rich for my skin and I use a light cream or fluid. However, I must admit: I missed my regular hydrosol-and-oil ritual! As you might know it is easier to apply oils on damp skin, so I spray my skin with a flower water or another hydrosol and then massage in a few drops of whichever oil I am using at the moment. A great combination is the Geranium Blossom Water from French company Melvita and the Kaktusfeigenkernöl (Prickly Pear Kernel Oil) from Argandia which I was recently sent by Kleiner Bazar, an online shop for oriental beauty. Prickly pear kernel oil is quite expensive but you only need a small amount since it is very rich. Thanks to its antioxidant properties it is particularly good for dry and mature skin. The oil has a subtle earthy smell (with slight undertones of nut!) and it leaves the skin velvety soft. The Argandia oil is certified organic and certified Fair Trade and 15 ml cost 47.75 Euro.
And I can finally use normal body lotion again! Not that I have anything against aloe vera gel and aftersun lotions but I really missed my regular body lotion. Some time ago I had ordered the Lemon & Vanilla Bodylotion from Estonian brand Joik from Hilla Naturkosmetik. I love the combination of lemon and vanilla which is reminiscent of Tarte au Citron! The Joik body lotion is absorbed quickly into the skin and the fragrance (composed of natural essential oils) is zesty and not too sweet. The lotion is based on sunflower oil, glycerin, seabuckthorn extract and babassu oil and costs 13.90 Euro. It is not vegan, by the way.
Here is something for the road! I recently came across Foundation Powder Papier from Mai Couture – thin papers that are coated in powder and colour particles! If you live in Asia you might be familiar with this type of product but in Europe, paper foundations are still very rare even in conventional cosmetics. I simply HAD to buy the paper foundation and decided to order the Blush Papier, too. The foundation is manufactured in Taiwan and contains glimmer, kaolin, titanium dioxide and iron oxides. No preservatives! I ordered both products through German online store Niche Beauty. The foundation works like this: it's a small block of really thin papers. You tear one paper off and pat the powder-coated side on your face, blending the powder into the skin. I was surprised how easy the application of the foundation was: the powder immediately adheres to the skin and evens out the skin tone, with light coverage. The blush paper is rubbed onto the cheeks which takes a bit of practice – I was glad that I had chosen a lighter blush colour otherwise I would have ended up with circles of colours on my face! I am fascinated by these products – and they really are perfect for travelling since they fit into any handbag. For an overview of all Mai Couture products, click here!
This spring I was sent the Organic Strengthening Conditioner from Love Me Green. I haven't been able to test it properly since I have short hair, but recently a long-haired friend visited me and tried out the conditioner while she was here. And she liked the moisturizing effect very much. I also love the delicious tropical fragrance of coconut and frangipani – the scent is subtle and aromatic and not at all cloying or sweet. Love Me Green is a young Polish organic brand whose owner lived in Costa Rica for a while – that's probably where the tropical inspiration has come from, all Love Me Green products contain frangipani extract. The products are manufactured in France and are available through the (also English language) online store. The conditioner costs 8.90 Euro. And makes me wish that I had longer hair 😉 .
And here are some of the most interesting organic beauty news that I have come across over the last week:
Latvian organic brand Mádara has launched two new products with stinging nettle extract in Finland: a DD Cream and a DD mist. More information is available here.
My reader Katje has discovered a new spray deodorant from Cattier here in Germany, the Brume Active with cardamom and patchouli. For more information, click here. [Beauty-Notizen 21.8.2015]
4-Harmony Box from Douces Angevines
I first discovered French organic company Douces Angevines in an organic store in the city of Saint-Malo in Brittany three years ago, and was immediately enchanted by the brand and its phytotherapy products. I bought a deodorant (I couldn't resist, it was named "Julie"!) and the face oil Aube d'été which is still one of my favourite facial oils during summer. Douces Angevines was founded in 1994 in Anjou, a rural area south-west of Paris. The word Angevines is derived from "Anjou", so the brand name is translated as "sweet/mild things from the Anjou". The company makes classic phytotherapy products (phytotherapy means botanical/herbal medicine) and the raw ingredients are from organic agriculture – around 40% of the ingredients are actually cultivated in the company's own gardens! Products are made in small batches and the organic percentage of ingredients in the Douces Angevines products is very high.
At the Vivaness trade show in Nuremberg this year the company had an exhibition stand and when I visited them, I was given their recently launched "Coffret découverte 4 Harmoniques" (4-Harmony Discovery Box). And now, in cooperation with organic online store Naturdrogerie – which has just started to sell some of Douces Angevines' products in Germany – I am happy to present to you the 4-Harmony Box!
The box set contains a cardboard spinning wheel – The Wheel of Temperaments – and four matching body oils. The Wheel of Temperaments is based on the ancient "doctrine of temperaments" and is divided into four distinctive (negative) emotional states. Depending on which mood you are in, the wheel recommends the most suitable therapeutic body oil. Every oil contains 12-15 herbal extracts specifically included to "treat" the respective negative emotional state.
For example, when you feel worried, melancholic or full of anxiety, the Wheel will recommend oil No 1 Le Coeur du Baobab to give you a boost of positive energy. Le Coeur de Baobab is based on sunflower oil, hazelnut oil and sesame oil and contains a blend of warm and uplifting spices including cinnamon, clove, nutmeg, cardamom and ginger.
If you feel stressed and grumpy and generally in a bad mood, oil No 2 L'Amour aux trois Oranges will help to relax and soothe you with uplifting floral notes that are dominated by orange blossom and a hint of ylang ylang. This oil has a richer texture than Le Coeur de Baobab and is based on sesame oil, sunflower oil and macadamia nut oil.
Feeling thin-skinned, sensitive and easily irritated? Then the Wheel recommends No 3 L'Idéale, a summery oil scented with Mediterranean herbs such as basil, citrus fruit and oregano. L'Idéale is based on apricot kernel oil, thistle oil and macadamia nut oil and has a very liquid texture.
Finally, if you are feeling down, worried and not quite like yourself, No 4 L'Instant Précieux will help you to regain your equilibrium with a harmonizing fragrance of green herbs and conifer tree needles blended with subtle floral accords and earthy roots. This oil is based on sunflower oil, macadamia oil and jojoba oil and has a texture similar to Le Coeur de Baobab; it is light and not greasy but not as liquid as L'Idéale.
Each flacon in the gift set contains 15 ml and the bottle is fitted with a dropper so it is easy to apply the oil. The gift set costs 31 Euro and is available through the French online store of Douces Angevines or, in Germany, through Naturdrogerie. You can also buy full-sized bottles (100 ml) which costs 31 Euro each. All oils are certified by Cosmebio. [For more pictures click here for the orginal German article 4-Harmonien-Box von Douces Angevines]
Lipsticks Sweet and Safe Kiss from Absolution
Last autumn I participated in an interesting Crowdfunding – or rather, Crowdinvesting – project: French organic beauty brand Absolution (more information on the company is available in this German-language blog post) has created a lipstick line in cooperation with visagiste Christophe Danchaud. The lipstick range is called Sweet and Safe Kiss and offers six pink and red shades. In return for my "investment" of 40 Euro I received two lipsticks and a black-and-white jute cloth bag from Absolution. The brand has also just sent me three more lipsticks so I can now present to you five of the six brand-new Absolution Sweet and Safe Kiss lipstick colours!
The finish of the lipsticks is semi-matte and the colours are nicely pigmented and contain no visible shimmer or glitter. And I love the texture: it is oily-waxy and flexible but not too creamy so the colour lasts well without settling into the wrinkles or smearing beyond the lipline. What I particularly like is how easy it is to build up the colour intensity. The first application already gives a good colour result, apply a second layer and you get a rich, vibrant finish. The lipsticks are scented with a lovely light rose fragrance (very French!).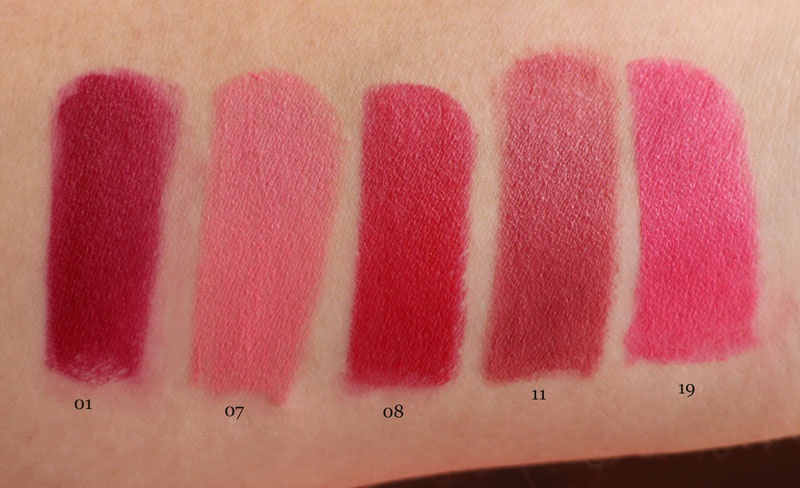 And here are the swatches, from left to right: 01 Rouge Bordeaux is a classic berry-tinted deep wine red. 07 Rose Petale is a light pink shade with a subtle white and peach-coloured finish. The more intensive 08 Rouge Théâtre has blue and yellow undertones and should be suitable for most skin tones while shade 11 Bois de Rose is my current favourite: a medium rosewood which is not too brown or too pink. Finally, there is 19 Rose Franc, a vividly glowing yet neutral pink shade with subtle fuchsia undertones.
The six lipsticks are based on castor oil, processed plant-based oils and beeswax. Depending on the lipstick colour the formula contains up to three synthetic colourants, but all lipsticks are carmine-free.The lipsticks cost 28 Euro each and are available through a number of online stores: All for Eves, for example, or Green Glam. In Austria you can buy the Absolution lipsticks at Natural Cosmetics – or check the list of retailers and stockists on the Absolution homepage. [For more pictures click here for the original German article Lippenstifte Sweet and Safe Kiss von Absolution]
And this is it for today – see you in two weeks!
Julia