Dear international readers of Beautyjagd,
Welcome to the next English-language edition of Beautyjagd! This is a condensed version of the most important articles that have appeared on my blog over the last few weeks. For more information about this format, click here. And now: enjoy the best of Beautyjagd in English!
Best wishes
Julia
Underwater Love: The OrganiCup
Does anyone remember the 1990s song Underwater Love from UK band Smoke City? The song was the inspiration behind the pictures I took for this blog post (in cooperation with online store Ecco Verde) about the menstrual cup OrganiCup. Because for me, a menstrual cup really shows its strengths (so to speak) when you are swimming, going to the sauna, or travelling.
But let me start from the beginning. In case you are unfamiliar with menstrual cups: these are little cups made from silicone, plastic or other synthetic material. You use them during your period; they catch the menstrual blood and are then simply rinsed out with water. In Europe and the US these cups are very popular.
I have been using menstrual cups for five years now and during this time I have tested different models and brands. The advantages of menstrual cups are obvious: your consumption of tampons and pads decreases rapidly (thus saving you money), you only need to change (i.e rinse out and re-insert) the cups twice a day; some women have even reported that these cups have helped alleviate menstrual cramps. Not in my case, unfortunately. Anyway, these cups are also good during the first or last days of your period when the menstrual flow is lighter (the cups don't dry out the sensitive tissue in your vagina). And they last for many years. OrganiCup (a brand from Denmark) claims that one of their cups can last for up to ten years if you treat it carefully.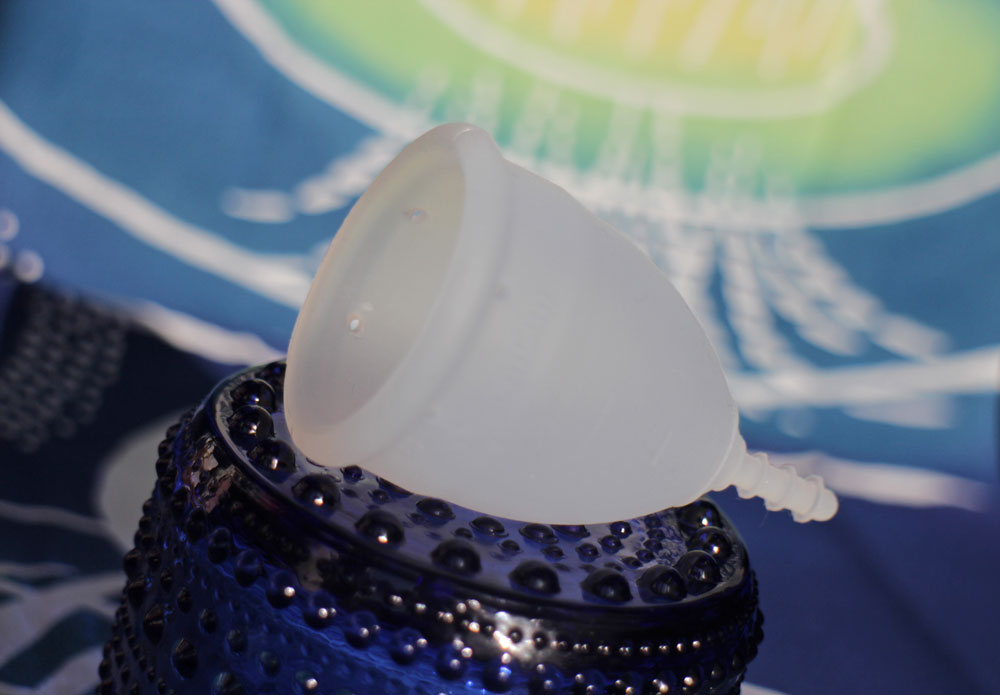 I can still remember my first time with a cup. I felt like I was 13 again and trying to insert my first tampon. So my first tip for the OrganiCup would be: yes, it feels very strange in the beginning so give yourself time when you're trying it out for the first time. Then again maybe other women are a little less clumsy than I was 😉 .
Not all menstrual cups are the same: there are different sizes and materials, some brands are softer, others are a little firmer. The MeLuna cup (from Germany) is made from plastic material (these cups are a little less elastic and in my experience they don't keep their shape as well as other menstrual cups). I prefer cups made from medical grade silicone, like the OrganiCup. Some well-known silicone cup brands like the Lunette (from Finland) or DivaCup (from Canada) are comparatively firm; the silicone FleurCup (France), however, is softer. The softer cups are easier to fold and insert and I seem to feel them even less than the firmer cups. On the other hand, the firmer and more elastic cups unfold better inside the vagina. What I like about the OrganiCup is that it combines these two degrees of firmness: the upper ring is firmer, the cup itself is softer.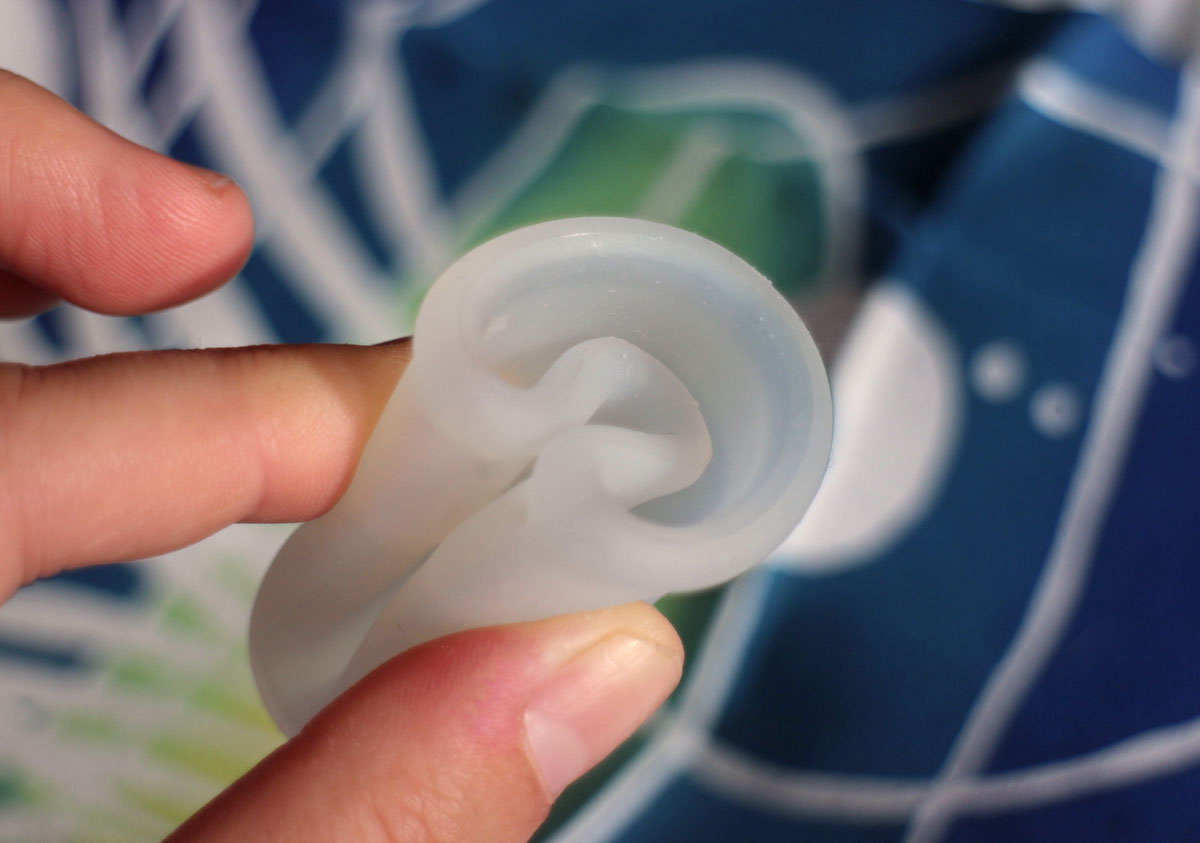 And this is how it works: depending on your age, body size and whether you've had children or not you select the appropriate size (OrganiCup offers two different sizes). The cups catch about 2-3 times as much liquid as a tampon, so you have to change a cup less often. Before I use the cup for the first time I boil it in water for five minutes and repeat this every month. Another tip: to ensure that the cup really suspended in the water and doesn't sink to the bottom of the pot, I attach it to a metal whisk.
If you want to insert the OrganiCup, fold it together. The instructions recommend that you fold the cup into the shape of a C, so just squeeze it together. However, the C folding method doesn't really work for me – the cup doesn't unfold properly – so I use the so-called Punchdown or Shell folding method: fold one side of the upper ring into the cup and then fold it in the middle. See picture above.
It is really important that the cup unfolds fully inside your vagina to create a very light vacuum; only then will it be leak-proof and you won't feel it in your body. The OrganiCup makes this easy, it is soft to fold but thanks to the firm-elastic ring it unfolds fully. I usually make sure that the cup is inserted properly by twisting it 360 degree. This might sound complicated but after a few times you'll get the hang of it.
When I want to take out the OrganiCup I gently (!!) pull at the stem and contract my muscles very slightly which pushes the cup towards the front part. Then I disperse the vacuum by pushing on the lower side of the cup and carefully pull out the whole thing. Tip out the contents, rinse with water (or clean with a tissue if you have no access to water) and re-insert.
I already mentioned that I was really clumsy the first few times I used a cup; I was afraid that I might not be able to pull it out again. But don't worry; this won't happen – and now I am so used to the whole routine that I can't really imagine that I was once scared that I might not be able to remove the cup… practice makes perfect!
Two more tips for an easier start with the OrganiCup: which size you need is a very individual thing. Smaller cups are easier to insert and unfold better but they don't hold as much liquid. I have two cup sizes at home which I alternate depending on how heavy the flow is. It might also be easier to start using the OrganiCup during your lighter flow days so you have time to get used to handling the cup.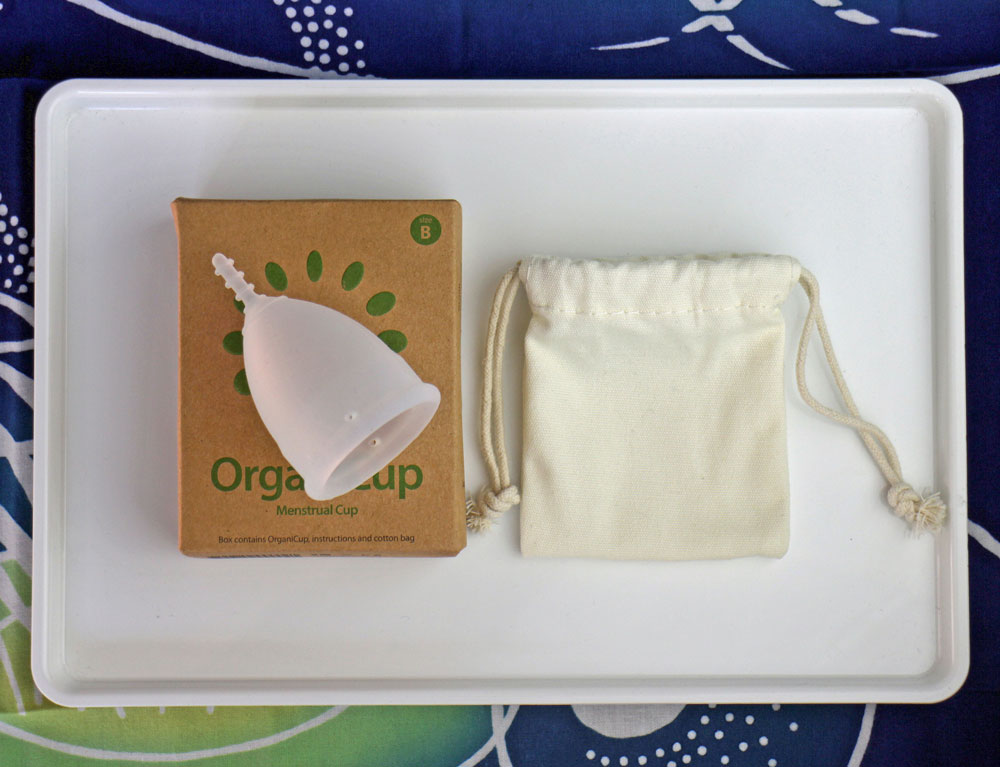 Quite often I get asked whether I don't find it distasteful to use a menstrual cup. Well, I am quite pragmatic: yes, of course it would be more pleasant not to see your own blood but the advantages of a menstrual cup far outweigh the drawbacks: it's easier for travelling, doesn't dry out the vagina during the lighter flow days, it doesn't leave traces of cotton fibres inside me, and when you're swimming you don't need to do the immediate-tampon-change before and after you jump into the water (I used to hate that when I was at the beach). And this brings me back to the title of this blog post: the OrganiCup works great under water 😉 .
The OrganiCup costs 26.99 Euro and comes in a foldable box with a little cotton pouch. I received my OrganiCup from Ecco Verde.
[Click here for more pictures and the original German article Underwater Love oder: Alles über den OrganiCup]
Five organic beauty brands from the US
You probably remember that I was beauty-hunting in Los Angeles a few months ago. And of course I will also write about the bigger and well-established US brands like One Love Organics, Honest Beauty, Pacifica Beauty, W3ll People, MyChelle, Kypris, Fig&Yarrow or Bite Beauty in the next few months. However, in this article I want to show you five of the most interesting US organic niche brands that I discovered during that trip! These are all brands which I either didn't know at all or had only read about.
Let's start with Shiva Rose (see picture above), the beauty range of US actress and blogger Shiva Rose. Her company is based in L.A. and because Shiva has Iranian roots her beauty products are based on Persian rose. The portfolio offers around 15 products, including the Deo Shiva Rose from Agent Nateur (I have already written about the collaboration of the two companies in these Beauty Notes). I bought Shiva Rose's Celestial Body Butter, a water-free balm which has a whipped cream texture and smells amazingly, like a bunch of freshly cut roses! The ingredients of this body butter are simple: shea butter, macadamia nut oil, kukui nut oil, grape seed kernel oil, glycerine, rose oil, rose water and vitamin E. A beautifully scented rose extravaganza! And especially appropriate for a blogger with a rose in her logo 😉 . Here is the homepage of Shiva Rose. I bought the Body Butter at Detox Market.
I had never heard of Ursa Major which I found at Credo Beauty. The star sign Ursa Major was the inspiration for the Vermont-based organic beauty brand. It's a unisex range which is comparatively affordable for a US niche brand. The line-up comprises ten skin and body care products; I bought the Deostick with baking soda and the individually wrapped cleansing wipes. The deo has a zesty citrus fragrance with undertones of forest, the texture is fine-grained and supple so it is easy to apply. The refreshing cleansing wipes are designed for makeup removal on the go and take off the makeup well, although they are not as moisturising as the Juicy Bamboo Cleansing Oil Cloths from Kaia Naturals. I would have also liked to try out the face cream with SPF 18 but it was sold out. You can find more information about the brand on Ursa Major's homepage or through Credo Beauty. It's an uncomplicated organic beauty brand which has made me want to discover the natural beauty of Vermont.
I had read about beauty brand Marie Veronique on organic beauty blog No More Dirty Looks many times (I think the blog has now been discontinued which is a pity!). The Gentle Retinol Night Serum sounded particularly interesting: this anti-ageing and anti-acne ingredient is so popular in the US that some organic brands are now offering retinol products. So I bought the Night Serum which contains 7% retinol and vitamin C – after all, the company is based in Los Angeles and I like to buy local products! However, I'll have to wait until autumn to try out the serum; the retinol has a peeling effect and makes the skin more sensitive to the sun – which is not something you want in summer time!
The brand of founder Marie Veronique Nadeau and her daughter is focused on face care; the Marie Veronique range includes some interesting products such as a pro-biotic toner, an anti-redness serum with 10% niacinamide, a tinted sun care product with SPF 30 and a vitamin C+E+Ferrulic serum. I bought my serum at Credo Beauty; you can find more information about the brand here. In brief: Marie Veronique combines organic cosmetics with current trends from the conventional US beauty industry.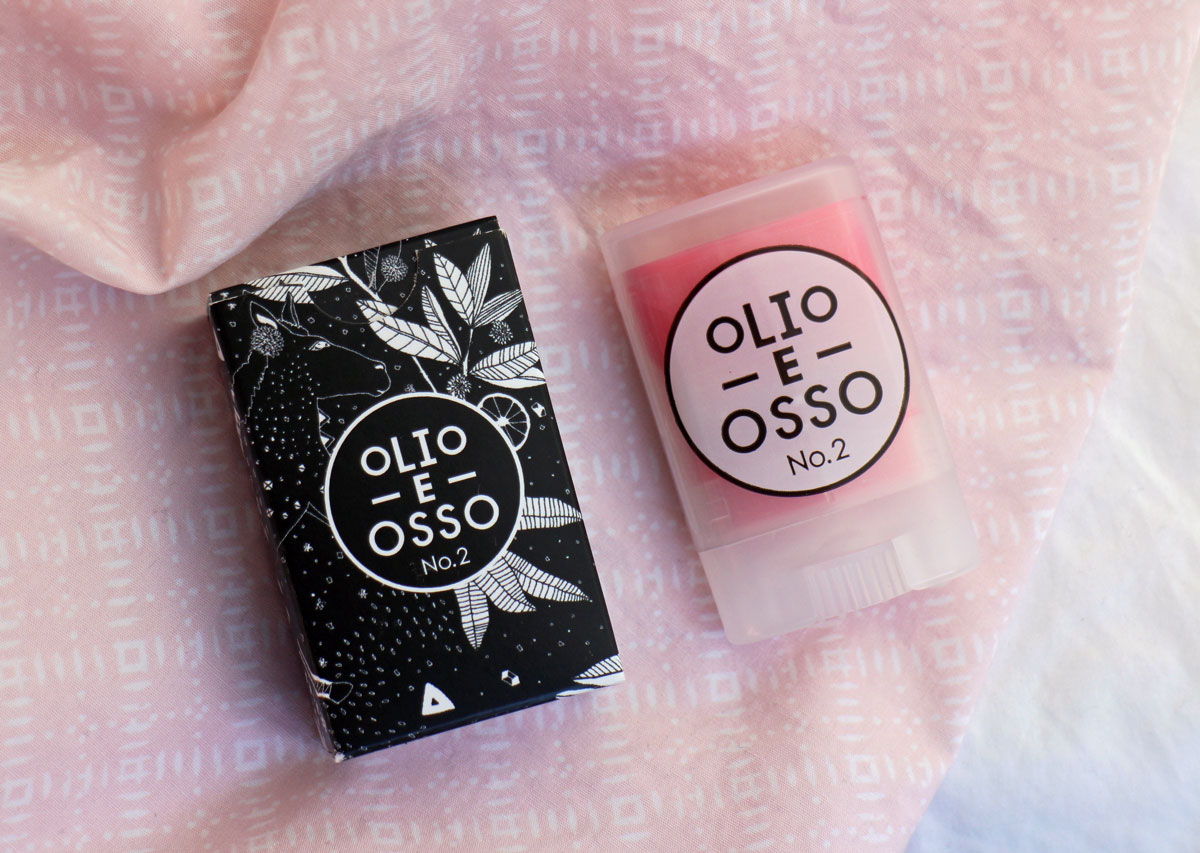 Olio e Osso from Portland in Oregon has eye-catching black and white packaging decorated with pretty floral designs. The beauty brand offers locally manufactured small-batch products (mostly water-free balms) with simple formulations. The range includes eight balms in stick form (six balms are tinted, two are transparent). I bought No. 2 French Melon which is a coral-toned pink shade with a transparent finish. The tinted balms are designed to be used on cheeks or lips (or as highlighters or bronzers); the two clear balms are for hydration, to moisturise rough skin patches or damaged hair tips. In addition there are two balms packaged in jars and oils for cleansing, skin care and shaving. Very minimalistic! I like my Tinted Balm No. 2 very much; it is based on shea butter, olive oil and beeswax and the texture is nicely balanced between oily and waxy. The colour looks very natural on the lips. Here is the homepage of Olio e Osso; I bought my balm at Credo Beauty.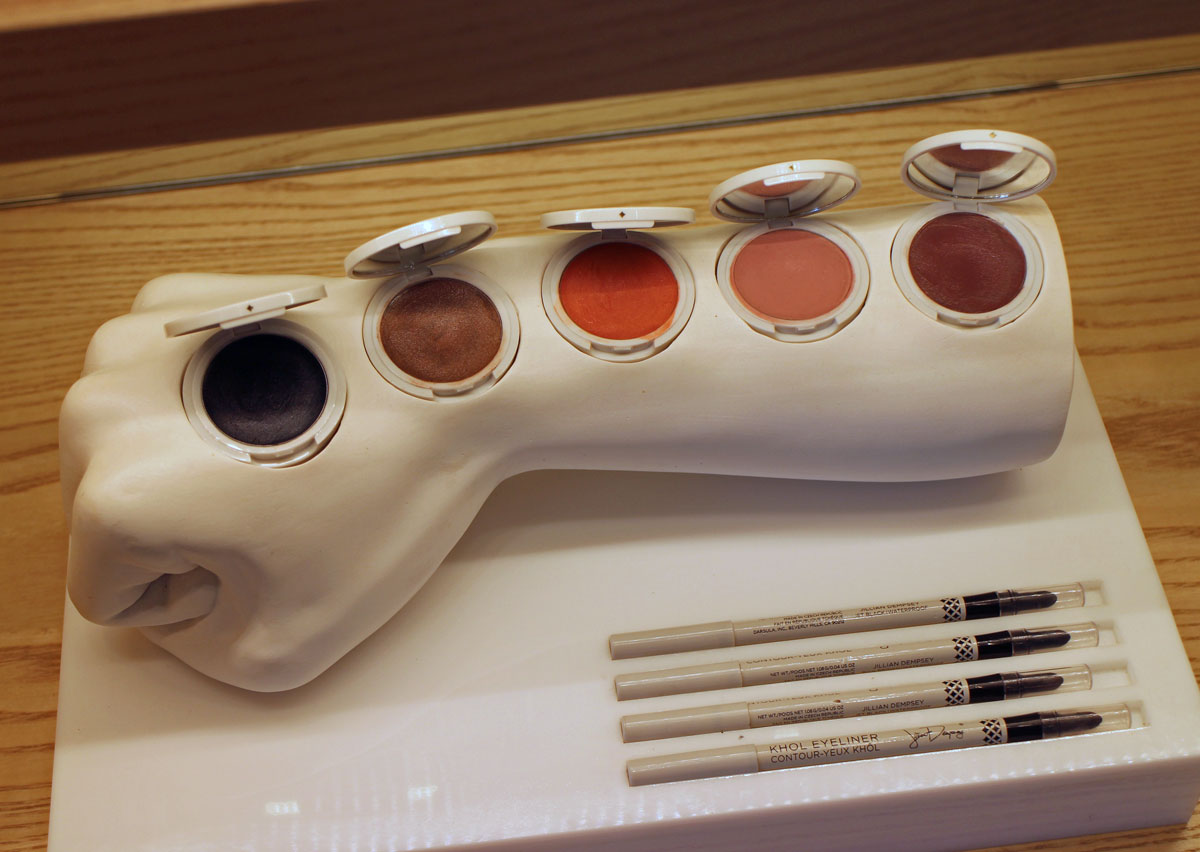 How could I resist a beauty product with this kind of presentation?! That's right, I couldn't! The five Lid Tints and two Khol Eyeliner were created by Beverly Hills star makeup artist Jillian Dempsey. I selected the Lid Tint in Smoke (a classic colour) but would have also liked the warmer bronze and peach tones. The Lid Tints are based on sunflower oil, castor oil and sesame oil plus plant-based starch, waxes and glimmer and iron oxides as colour pigments.
My night blue-anthracite Lid Tint has a light pigmentation; you can layer it for a medium coverage. The finish is transparent to satinised, the texture is waxier and firmer than the Cream Eyeshadows of RMS Beauty. The creamy eyeshadows are easy to apply with your fingers; on my lids Smoke looked, well, smoky with a washed-out finish so the overall look was very natural. However, the Lid Tints didn't last much longer than the RMS Beauty shadows; after around two hours the colour slipped into my eyelid crease. I almost wish I'd bought a lighter and more summery colour which would have creased less visibly… Here is the homepage of Jillian Dempsey; I bought my Lid Tint at Credo Beauty.
I think that almost all of the ingredients of the five beauty brands I've portrayed above (with the exception of actives like retinol or niacinamide) would comply with the criteria of Cosmos/Ecocert. I'd also like to mention the US brands Rituel de Fille, deodorant brand Agent Nateur and Kaia Naturals which I already have shown on this blog and which would also have been a good fit for this article.
It is interesting to see these two contrasting beauty concepts in the US market: on the one hand you have water-free minimalistic formulations (like Olio e Osso, S.W. Basics or Fig & Yarrow); on the other hand there are organic brands whose textures and key ingredients (like fruit acids or retinol) are inspired by the conventional cosmetics market (like Marie Veronique or Goldfaden MD). As far as colour cosmetics are concerned, creamy and hydrating textures are very trendy; during my travels I saw a lot of creamy eyeshadows and multi-sticks for lips and cheeks (both in organic and conventional beauty brands).
[Click here for more pictures and the original German article Fünf Naturkosmetik-Nischenmarken aus den USA]
Beauty Notes 5.5.2017 (Kenya Edition)
If you follow me on Instagram you'll already know that I was in Kenya recently! It was my first visit to Africa (and my first time in a developing country) and it was one of the most unusual and most rewarding trips of my entire life. So these Beauty Notes are also a little different. German organic beauty brand Dr. Hauschka and its raw ingredients subsidiary Naturamus had invited me and three other international journalists on a four-day trip to the town of Embu in the Mount Kenya region. There we visited Limbua, a German fair trade organisation which supports almost 5000 local farmers and markets their harvests, including organic macadamia nuts. Dr. Hauschka sources most of its macadamia oil from Limbua.
On the left hand side you can see the macadamia nuts which were a farewell present to us. They are vacuum-packaged and I'll probably open the bag right after I get home! The Limbua macadamia nuts have an amazing taste, not only are they organic but also super fresh. During the press trip we were shown how these nuts are grown and harvested: first we visited a tree nursery where the cuttings of the macadamia nut trees are cultivated. I posted a picture on Instagram of the tree nursery and Prof. Dr. Rhoda J. Birech who showed us around. Afterwards we visited several farmers who grow, harvest and sell the macadamia nuts. Limbua has three small production halls where the macadamia nuts are shelled, sorted and packaged. Each step in the macadamia nut production is documented which make the entire process transparent for everyone involved. Limbua not only offers the technology but also the knowledge and, of course, fair prices (the association is certified organic and fair-for-life). The macadamia nuts are mostly available in wholesaler quantities but the company recently launched on online store which sells smaller pack sizes. If you are a nut fan, check out the link!
On the last day of the trip I wanted to visit a local supermarket in Embu because I love to see what everyday life looks like in other countries. Unfortunately there was no time to visit an open-air market but in the supermarket I bought a bag of the Kenyan tea Karibu Chai – the Kenyans traditionally drink tea rather than coffee although both types of plants are cultivated and harvested in Kenia. And I simply had to purchase a jar of Wild Bush Honey which, according to the label, comes from the Cabesi project, a charity which supports women in Kenya's West Pokot Country. I can't wait to try out the honey; throughout the trip we saw beehives which were located in between coffee bushes, macadamia nut trees and banana trees.
While I was in the supermarket I also enquired about what the most popular cosmetics were in Kenya – it turns out that the two favourites are coconut oil and pure glycerine. Of course I bought one bottle of each as a souvenir. I would have guessed that plant oils are a popular cosmetic in Kenya but the glycerine took me by surprise! I would have liked to have looked around the cosmetics shelves of the supermarket a little more but we were on a tight schedule so there wasn't much time. I did see a very large selection of German Nivea products which are very popular in Kenya.
At the airport I bought a copy of the English-language Kenyan magazine Smart Farmer because the last few days we had learned so much about farming and agriculture. The sales lady at the newspaper store recommended that I buy the cookery book Cooking with African Flavour. At first I was sceptical (because the book looked so like a tourist publication!) – but it's really interesting because there are many explanations and pictures of Kenyan foods and ingredients which I am not familiar with. By the way, the beautiful wax fabrics that you can see in the background of the picture are also from Embu.
[Click here for more pictures and the original German article Beauty-Notizen 5.5.2017 (Kenia-Edition)]
Skin Dew Coconut Water Cream from One Love Organics
I didn't really expect that I'd find the brand One Love Organics (which I saw in Los Angeles) so exciting – but I did. There are two products in particular that I like. And I'll show you the first of these two today!
I had first read about One Love Organics on the (now apparently defunct) US organic beauty blog No More Dirty Looks many years ago. Unfortunately the brand is not available in Germany. Two years ago I found the well-known enzyme peeling New Day Microderma Scrub Masque in Parisian beauty boutique "Oh my Cream!", the Calming Chia Oil from One Love Organics is also very popular in the international blogger community. Founder Suzanne LeRoux manufactures her products in her own factory in Georgia which is Ecocert-certified – this is quite remarkable; many organic beauty brands simply use contract manufacturers.
The latest product from One Love Organics is the Skin Dew Coconut Water Cream which was launched last November. I tried out the cream in Detox Market during my trip to L.A. and immediately knew that I had to buy this Water Cream! In the Korean beauty industry the term Water Cream describes a face cream which is especially moisturising and is supposed to give an extra boost of hydration. Often these water creams are soft gel creams with a light texture.
Open the lid of the cream jar and use the enclosed spatula to scoop up some water cream! I love the glistening snowy-white colour. The texture really feels like a light gel cream and when I apply it to my skin I notice a cooling effect. However, Skin Dew is much more moisturising than that: the cream needs 1-2 minutes until it is fully absorbed into the skin but the skin feel afterwards is spectacular! My skin feels silky, protected and beautifully hydrated without any heaviness or stickiness. I can understand why so many international bloggers have been raving about this cream.
Skin Dew is recommended for dry skin which is in need of hydration, but also for combination skin. You can use the cream as a day cream or night cream – which is what I did immediately because my skin feels rather dry at the moment (we had another cold spell in Nuremberg and it was so chilly that I had to turn on the heating).
Skin Dew Coconut Water Cream is certified by Ecocert; the cream is based on coconut water which contains minerals, anti-oxidants, amino acids and enzymes and has a very subtle coconut scent – the face cream is fragrance free. The Water Cream also contains sunflower oil and processed plant oils as well as cupuacu butter, water melon seed oil and brown algae extract. Suzanne LeRoux has selected emulsifiers which do not stress acne-prone skin and plant-based waxes (acacia, jojoba and sunflower wax) which have an occlusive effect so they lock the moisture into the skin without making the cream feel heavy. Lactic acid acts as an additional hydrating ingredient. I really like this formulation!
A glass jar of Skin Dew Coconut Water Cream contains 60ml; I paid 58 USD plus taxes at Detox Market. You can also order the cream directly from One Love Organics. Unfortunately I didn't find any European stockists. I really hope that One Love Organics will be available in Germany one day!
[Click here for more pictures and the original German article Skin Dew Coconut Water Cream von One Love Organics]
Two Eternities from Walden Natural Perfume
I like it when a perfume inspires me to read a certain book: a few weeks ago I was asked whether I wanted to test a new natural Eau de Parfum from UK brand Walden. My immediate association was the classic US novel "Walden; or Life in the Woods" by Henry David Thoreau. I last read this book more than ten (or perhaps even twenty…?) years ago.
In Walden, Thoreau describes how he lived in a log cabin deep in the woods for almost two years. He tried to develop a different way of living, to find a simpler and more honest alternative to the industrialised lifestyle of the United States at that time. The book was published in 1854; in 18 chapters Thoreau wrote down his thoughts about economy, loneliness and law but also detailed observations about animals and nature. In the 150 years since its publication, Walden has been a major influence on philosophers, social and cultural historians, sociologists, psychologists and writers in the US and Western Europe. The book also inspired the emerging environmental protection movement in the 20th century.
What I find particularly interesting is how relevant some of Thoreau's statements are even today: in the first chapter about the economy of life, Thoreau writes about how "imagined worries and hardships" keeps us from focusing on the really important things in life. He also says that we should trust more and that is it better to give up worrying about ourselves and our own situations and instead think more about other people. Or that the constant worrying of some people has become almost an illness that they are battling. I think this is very true, many people make themselves almost ill just so they have savings or wealth squirreled away in case they become sick. Walden is a striking book and a very worthwhile read.
Thoreau's plea for non-conformity became famous and has been referenced many times in books, films and music; for example in the movie "Dead Poets Society" from 1989. In this film Robin Williams recites the famous Thoreau quote: "If a man does not keep pace with his companions, perhaps it is because he hears a different drummer. Let him step to the music which he hears, however measured or far away". Walden Natural Perfumes has taken this Thoreau quote as the inspiration for their Eau de Parfum "A Different Drummer" – and now I'm finally talking about the fragrances!
The brand picked five inspirational quotes from the book and created a fragrance to match each of the quotes. The new range includes the spicy-warm ylang ylang scented Eau de Parfum "A Little Stardust", the earthy-cool fragrance "A Solid Earth", the cedar-wood dominated "A Different Drummer" while "Castles in the Air" combines white blossoms and citrus notes.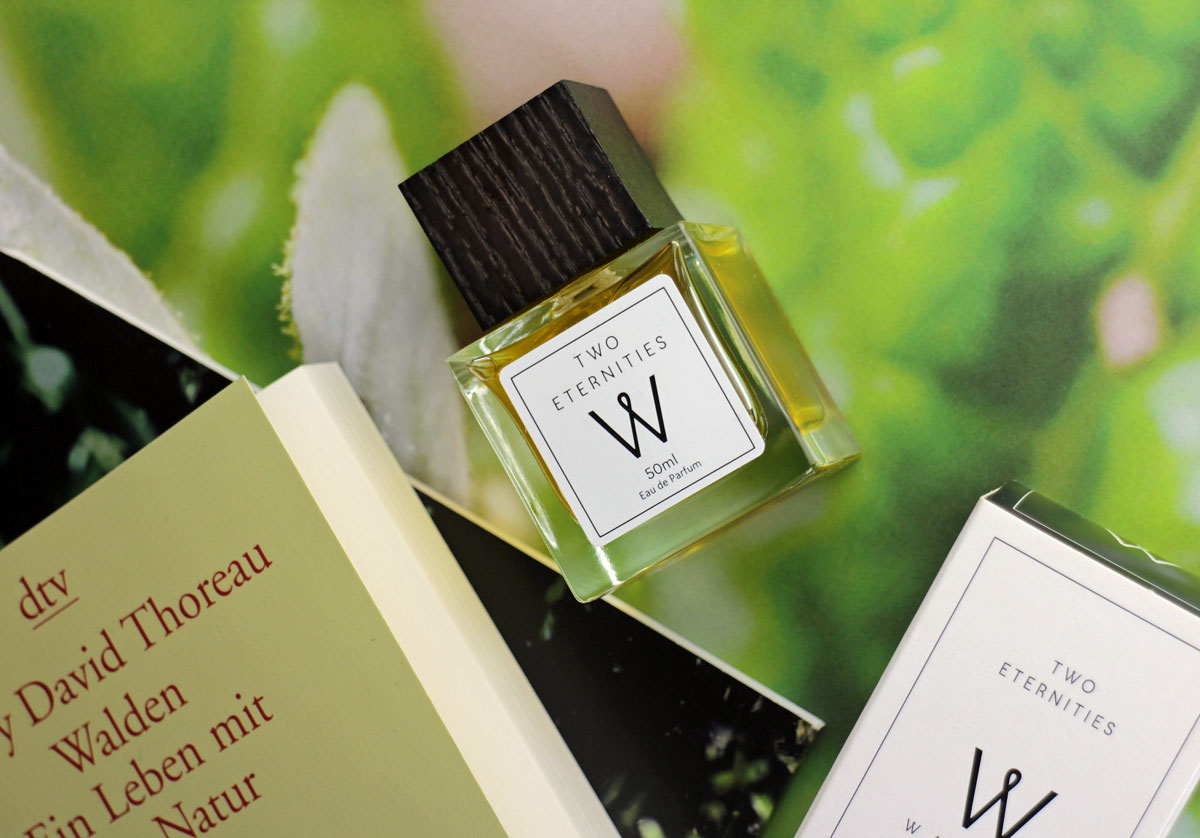 "Two Eternities" was my personal favourite. In the first chapter of his novel, Thoreau describes how he is trying to live every day to the fullest, to stay in the moment.
"In any weather, at any hour of the day or night, I have been anxious to improve the nick of time, and notch it on my stick too; to stand on the meeting of two eternities, the past and future, which is precisely the present moment; to toe that line."
And that is the feeling that Two Eternities is capturing, the here and now, the moment we are living in right this minute. This moment is flowery fresh at first; I detect a blend of bergamot and white blossoms. A little like the morning dew on a sunny summer morning… The heart of Two Eternities is based on rose and jasmine, rounded off by fruity orange notes which have an almost marmalade-y touch. The dry-down contains mimosa and iris. For me, rose, jasmine and orange are fragrance notes which immediately pull me into the here and now. In fact, fragrances seem to connect the past, the present and the future: they remind me of past feelings/emotions, delight me in the present moment and strengthen and inspire me for what is still to come.
After I applied Two Eternities to my skin I could smell the fragrance for the next 3-4 hours, then the scent was gone. The composition isn't particularly complex, the perfume is based on alcohol and seven essential oils or absolues.
The square glass flacon with 50ml Eau de Parfum Two Eternities from Walden Natural Perfume costs 60 GBP. You can check out the five Walden fragrances on the website of UK online perfumery Lovelula. At the present time the fragrances cannot be shipped to Germany but I was told that there might/will be a German distributor soon. I received my bottle of Two Eternities for review purposes.
[Click here for more pictures and the original German article Two Eternities von Walden Natural Perfume]
Tattoo Body Lotion and Tattoo Sun Lotion from EcoCosmetics
I recently read that almost 30% of all Germans under 35 years old have a tattoo – a number which I think is quite considerable! And it is even more surprising that few beauty brands in Germany offer products specifically for tattooed skin. There are some indie brands that have skin care balms, but other than that the only major brand I can think of is drugstore retailer DM's own label brand Balea which brought out some tattoo care products a few months ago. So I was very pleased when I saw organic brand Eco Cosmetics' new products "for tattoo lovers" at Vivaness trade show this February. The range offers a shower gel, a body lotion with SPF10 and a sun lotion with SPF30.
All three products contain ingredients which are especially suitable for tattoo care: Eco Cosmetics has selected noni fruit extract which is traditionally used in Polynesia for the care and protection of tattooed skin. The noni extract has healing and antiseptic properties, pomegranate water and pomegranate seed oil are anti-oxidants and help to fight inflammation while panthenol and bisabolol soothe the skin.
When you have tattoos it is especially important to wear sun protection. The Sun Lotion with SPF30 contains titanium dioxide and zinc oxide as filters; the Body Lotion also contains a low SPF for everyday protection. The tattoo skin care products do not contain strong tensides, lemon essential oil and alcohol – these are all ingredients which can fade the colours of the tattoo.
I don't have any tattoos but I still tried out the two products which I received as press samples. I was especially curious about the Tattoo Body Lotion SPF10 which combines skin care and basic sun protection. The texture of the body lotion is pleasantly light and fresh; it is easy to apply without streaking and is quickly absorbed into the skin. The lotion doesn't leave the skin sticky although it forms a very light protective film. I didn't notice any whitening – the sun filter is zinc oxide (non-nano) – and the scent is a subtle citrus-fruity and ever so slightly creamy fragrance blend (however, the lotion does not contain citrus essential oils). It is suitable for both men and women.
The Ecocert-certified body lotion is based on water, soy oil, pomegranate water, shea butter and zinc oxide.
The bottle contains 200ml and costs 14.90 Euro. It is available in organic supermarkets or online, for example at Ecco Verde or Wolkenseifen.
The Tattoo Sun Lotion SPF30 has a much higher sun protection factor. The lotion is packaged in a round airless pump dispenser. You can also tell that the SPF is about three times as high as the body lotion because the texture of the SPF30 lotion is a bit heavier. You have to work the lotion into the skin; then the whitening effect – which is quite visible at the beginning – is much lessened. If you have light to medium-toned skin you'd probably barely see it. I didn't like the shiny finish on my face so I applied a mattifying powder on top. On the body however, the subtle glow looked good and the lotion doesn't leave the skin sticky. The Tattoo Sun Lotion resembles the "normal" Eco Cosmetics sun lotion. The fragrance is subtle, creamy and citrus-fresh; the lotion doesn't contain any essential citrus oils.
The Tattoo Sun Lotion is also certified by Ecocert and contains water, processed plant oil, soy oil, titanium dioxide (non-nano) and shea butter, as well as antioxidant Karanja oil. Non-nano zinc oxide has been included as an additional sun protection filter.
The flacon contains 100ml and costs 24.90 Euro. The lotion is available in organic supermarkets or online (Ecco Verde, Wolkenseifen, Pure Schönheit etc.)
A really good idea from Eco Cosmetics to offer a tattoo skin care range. I especially like the body lotion with its light sun protection – I think it would also be good for days when you're wearing strapless tops or low-cut shirts.
[Click here for more pictures and the original German article Tattoo Body Lotion und Tattoo Sun Lotion von Eco Cosmetics]
Good-bye everyone and see you soon!
Julia