This is a translation of my German blogpost Hinter den Beauty-Kulissen… ProTec Ingredia GmbH Proudly Presents: Ein Webinar über Hafer und Resilient Beauty. Enjoy!
In cooperation with ProTec Ingredia // In March cosmetic ingredients distributor ProTec Ingredia and its supplier Oat Cosmetics from the UK organised a webinar. The virtual event focused on the active ingredient AvenaPLex, an extraordinary oat extract certified by Ecocert. I attended the webinar as a listener but also as a participant, speaking about current beauty trends. You can read more about the topics we covered in the webinar in this new installment of our Beauty Soap.
Oat in cosmetics
Oat Cosmetics is a UK-based ingredients manufacturer that has been researching the oat plant and manufacturing high-grade oat-based products for over 20 years. Unlike other well-known types of grains such as wheat or rye, the oat plant Avena sativa is actually a meadow grass. It's considered a highly valuable kind of cereal: Compared to other common grains oat contains the highest amount of minerals, proteins and fats. This fat content as well as the plant's secondary compounds such as avenanthramide or the polysaccharide beta-glucan make oat a highly interesting beauty ingredient. If you want to learn more about the oat plant in general, check out this chapter here (Seven facts about oat).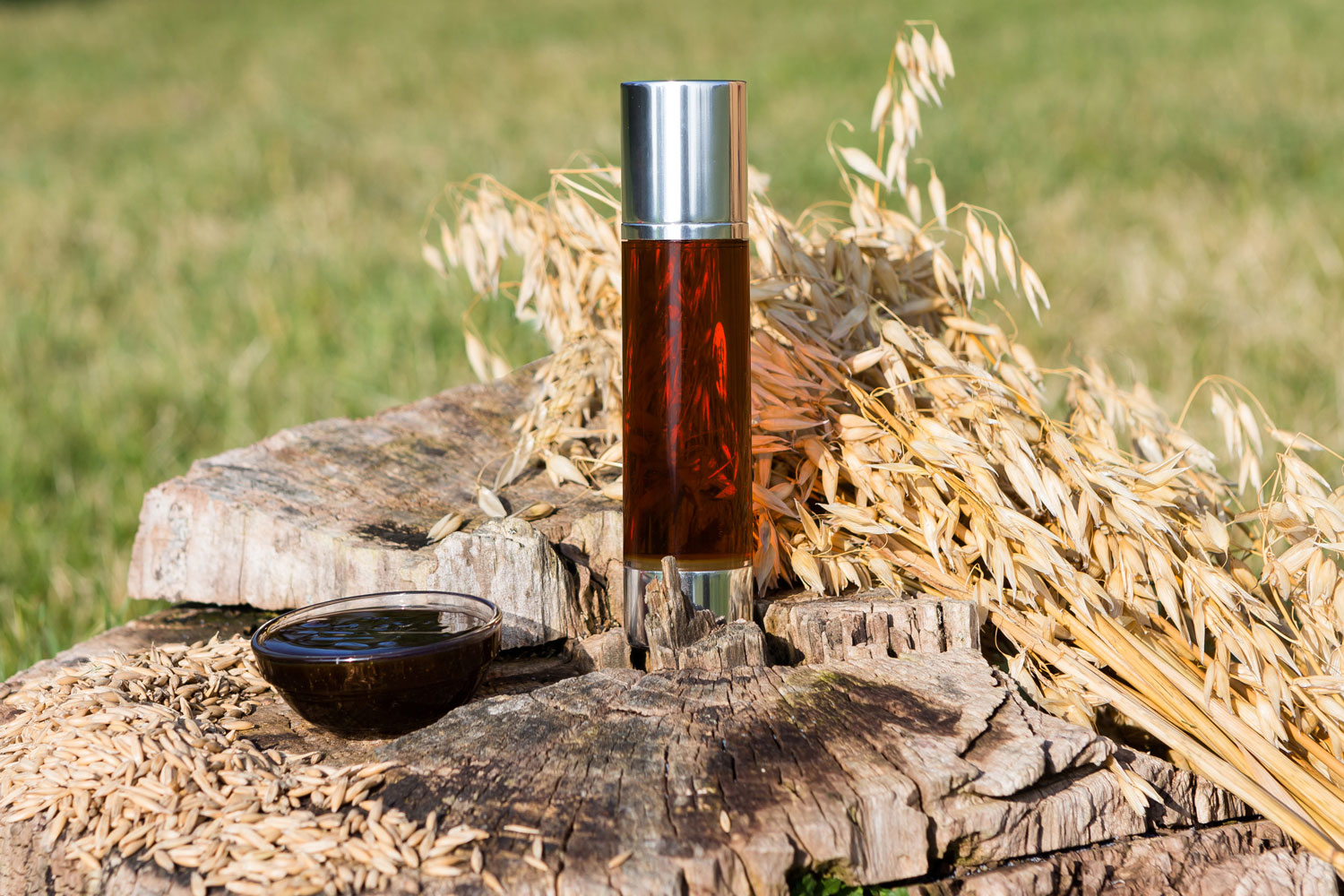 What AvenaPLex is
Oat Cosmetics' webinar focused on its cosmetic active AvenaPLex. At first, the INCI list of this ingredient looks very straightforward: Avena Sativa (Oat) Kernel Extract. However, that deceptively simple-sounding oat extract offers some truly unusual properties. The oil-soluble lipid oat concentrate contains a high percentage of skin-identical and bioactive ceramides and phospholipids. AvenaPLex is no classic oat oil (although Oat Cosmetics also has this ingredient in its portfolio) but a specific fraction of oat oil.
Oat Cosmetics worked on this active for over eight years until they finally achieved the best-possible composition for use in skin care products. First, the oat is extracted with alcohol in a special production process. The alcohol is then removed through steam distillation. In the picture above you can see the extract which has a honey-like yet non-sticky texture.
The components of the oily oat extract can be divided into polar and neutral lipids. 40% of the lipids are valuable polar lipids like skin-identical ceramides, sphingolipids and phospholipids. These kinds of lipids help strengthen the skin's barrier, preventing transdermal water loss or offering cell protection. The remaining 60% are called neutral lipids – these include sterols, for example, which have an antioxidant and cell-regenerating effect and can help decrease the skin's sensitivity to light.
What AvenaPLex can do
The webinar presented the results of the extensive scientific studies conducted by Oat Cosmetics. Numerous in vitro, in vivo and ex vivo (using skin models) studies have proven the efficacy of AvenaPLex:
The ingredient demonstrably improves the lipid barrier of the skin and therefore helps to reduce moisture loss. The study showed a 10% increase in ceramides in the skin.
AvenaPLex also boosts the skin's production of hyaluronic acid. As the skin is hydrated more effectively it retains its natural elasticity and resilience for longer.
The high level of avenanthramides – a compound that is only found in the oat plant – helps to reduce skin stress reactions and redness. Damage and redness caused by UV light were reduced by up to 25%.
This makes AvenaPLex ideal for irritated, dry and mature skin types as well as skin types with barrier damage. The oily extract has oxidative stability and is non-comedogenic.
How sustainable is AvenaPLex? 
Sustainability plays an important role in Oat Cosmetics' manufacturing process: Oat is a natural and renewable resource. Cultivating oat requires little or no pesticides and fertiliser since the oat plant is more resistant than other types of grains. Oat also improves the soil it is cultivated in and requires less water than other cereals.
AvenaPLex is produced in a waste-reducing way and with an environmentally friendly extraction method. The alcohol that is used (and then removed) during the extraction comes from a sustainable source.
Beauty trend resilience
In the last part of the webinar, it was my turn: I spoke about three key beauty trends, illustrating them with suitable cosmetic products. All of my beauty examples had to do with the topic of resilience, a buzzword which is not only trending amongst business coaches but also in the cosmetics industry. This is no surprise, really: Life in our modern society is stressful and the pandemic hasn't made things any easier. Therefore resilience – both physically and mentally – has become more important than ever.
In terms of beauty, resilience means protecting the physical skin barrier with suitable cosmetic products that help decrease irritation and redness. Beauty rituals at home or in the bathroom can also help to improve mental resilience, transforming mindful skin care into a strengthening moment of relaxation and self-love.
Three types of resilient beauty
The Skin Barrier is a major topic amongst skinfluencers on Instagram and TikTok: The goal is to achieve healthy-looking and resilient skin. The beauty products shown in these pictures and videos promise to reduce redness and irritation that can result, for example, by using strong actives like high percentages of fruit acids or retinol.
Resilient skin is important at any age. Luckily many companies have stopped using the highly controversial term anti-ageing. Instead, growing older is viewed more positively. Korean brands like Sulwhasoo focus their marketing on Ageless Beauty which means strong, resilient and beautiful skin that, however, is not wrinkle-free.
Stress doesn't just affect the mind but also the body. On a physical level, stress can cause irritated or reddened skin – a condition which is often exacerbated by wearing a mask – which in turn has boosted the popularity of anti-redness creams. These products conceal an uneven complexion and protect the skin from internal and external stressors thanks to strategically selected calming and strengthening ingredients. De-Stressing with the help of cosmetic products also works on the level of the mind: Scents, textures and touch directly engage our emotions (keyword: Emotional Beauty). Wellness and self-care rituals in your bathroom can help deal with an exhausting lifestyle.
© Pictures 1, 2, 3 and 4: Oat Cosmetics
Corporate customers in Germany can source the cosmetic ingredients of Oat Cosmetics through the company's German distributor ProTec Ingredia.
In the next installment of my Beauty Soap, I am visiting In-Cosmetics trade show in Paris. Stay tuned!