This is a translation of my German blogpost Hinter den Beauty-Kulissen… ProTec Ingredia GmbH Proudly Presents: Wie ein Lohnhersteller Wirkstoffe auswählt. Enjoy!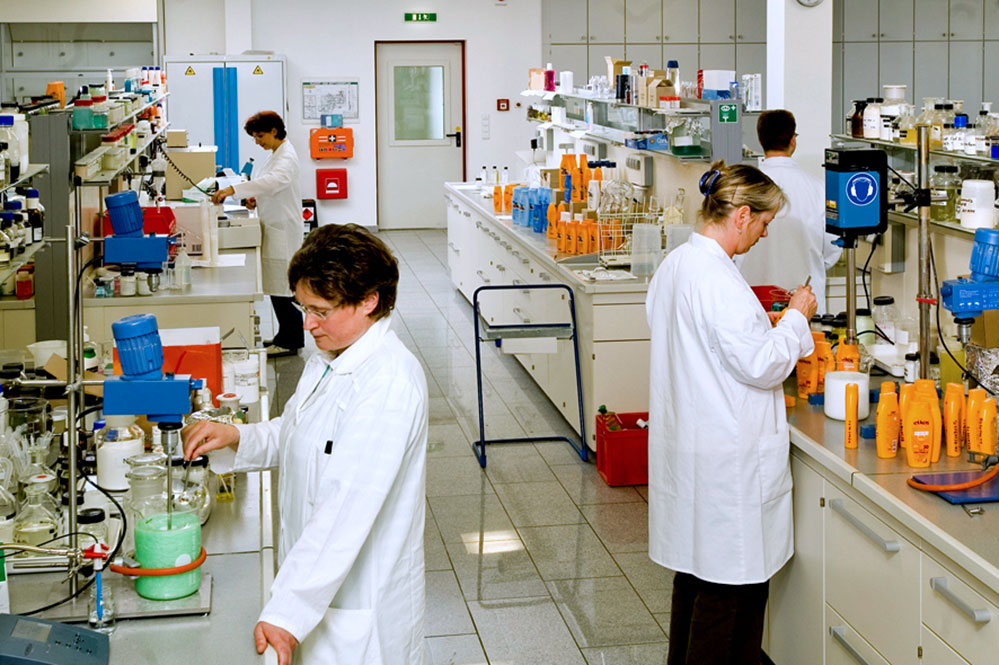 In cooperation with ProTec Ingredia // Over the last six months of my beauty journey I've learned a great deal about how cosmetic ingredients are developed and manufactured. Now I'm curious to find out more about the other side of the industry! In today's episode we'll be taking a closer look at the companies that buy ProTec Ingredia's active ingredients and use them in the development of their cosmetic products.
I first thought of the beauty brands that produce their own cosmetics. However, many of the products you see in beauty stores are actually manufactured by private label companies. Drugstores, discounters or supermarkets all like to offer their own beauty brands these days but because they are retail chains and not manufacturers, they need someone else to produce their cosmetics – a private label manufacturer (also known as contract manufacturer).
For the retailers this has a big advantage: they can rely on the contract manufacturer's up-to-date production technology and comprehensive know-how in terms of product formulation, manufacturing and packaging. I am very pleased that chemist Dr. Rolf-Dieter Schilling, head of Research & Development (R&D) at the Maxim Group, agreed to answer a few questions for me. I've known Dr. Schilling for several years – we meet up at conferences and trade fairs – and he's just as passionate about beauty trend-hunting as I am (if not more!). This makes him a fascinating interview partner. The best time to talk with Dr. Schilling is in the evening when things in his office are quieting down.
The focus of the Maxim Group: Innovation and research
Dr. Schilling has been working for the company for more than 20 years. Maxim Group was founded in 1980 by Dr. Rolf Giesen and over the past decades, the company has become one of the biggest and most innovative cosmetics private label manufacturers in Europe. The Maxim Group has five production facilities in Germany, France and Luxemburg and around 1,200 employees who develop and manufacture cosmetics across a wide range of product categories, such as skin and body care, colour cosmetics, hair care, fragrance and oral hygiene. The company also has its own cosmetics brands which include the certified organic Cosnature range and traditional German beauty brand Kaloderma (which was launched in 1881).
When private label cosmetics first appeared on the market they were mostly copies of already existing products that had been launched by the big retail brands. However, these times are long gone: One of the first things that Dr. Schilling tells me is that the Maxim Group's focus lies on further product development, generating new ideas for beauty products to make the own label brands of drugstore or supermarket retailers more attractive to consumers. For example, many years ago the Maxim Group launched Booster Serum Ampoules in one of the discounter brands. Back then, ampoules were exclusively used in beauty salons and cosmetics institutes. Today you can find them in any drugstore or supermarket beauty brand.
Maxim often collaborates with research institutes or specialists in the development of new ingredients. A milestone for the company was the cooperation with the University of Barcelona some 15 years ago: it resulted in the development of innovative co-enzyme Q10 liposomes. At that time, Q10 was one of the hallmarks of high quality cosmetics. These research collaborations help to keep Maxim up-to-date in terms of beauty trends and well-informed on the international research into new cosmetic actives and raw ingredients, Dr. Schilling says. It is also a reason why the Maxim Groups likes working with competent ingredients distributors like ProTec Ingredia, he adds.
The picture above shows the R&D lab of the Maxim Group – the two ladies in the front are a mainstay of the company's skin care division; they've been turning ProTec Ingredia's ideas into reality for more than ten years.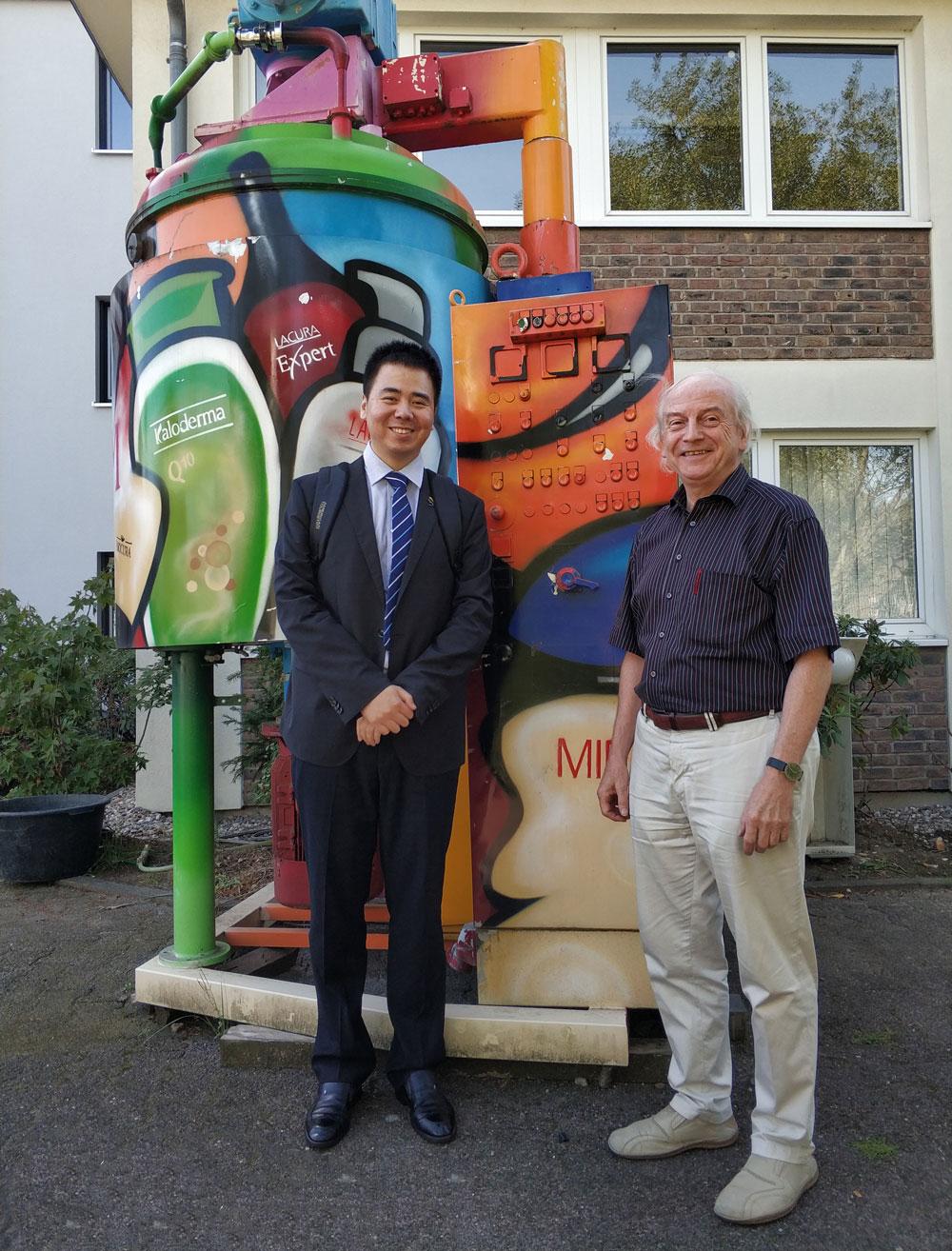 Five questions for Dr. Schilling from the Maxim Group
Before we start: The picture above shows Dr. Schilling (together with an international guest) in front of a decommissioned – but beautifully restored – cosmetics mixer. The mixer was a present from Maxim's staff for the company's founder Dr. Giesen in 2015 but it also stands as a symbol for the Maxim Group's determination to always explore new horizons. The green-packaged lotion bottle depicted on the left hand side of the cosmetics mixer is from Maxim's classic beauty brand Kaloderma, by the way.
Beautyjagd: Speaking of ProTec Ingredia – what does the cooperation between ingredient manufacturers and the Maxim Group look like?
Dr. Schilling: The suppliers usually visit us in our offices to present their latest raw materials and active ingredients in person. Sometimes they are accompanied by marketing experts that tell us about the latest beauty trends. Of course, in the current Corona pandemic these presentations take place through video calls or webinars. We also visit conferences and trade fairs and follow the latest scientific research into new ingredients. The regular newsletters we receive from manufacturers or distributors like ProTec Ingredia are also very informative. In addition, we closely monitor national and international trade publications so we always know what's happening in the global cosmetics industry.
If we come across an interesting cosmetics ingredient we usually order a sample and request a price offer so we are well-prepared for future projects. Then, when we start on the development of a new product, our purchasing department orders the raw materials and active ingredients that we selected. We double-check them here in our lab and then start on the formulation of our product.
Beautyjagd: What are your main criteria for active ingredients?
Dr. Schilling: Actually, our criteria change all the time. Take sustainability, for example. For many years this wasn't a big issue in our industry. Now it is a crucial factor: we need to know which technologies were used in the development of an ingredient or the precise energy impact – the CO2 footprint – of the manufacturing process. Biotechnologically manufactured natural ingredients are an exciting new sector: Mibelle Biochemistry's active ingredient PhytoCellTec Malus Domestica, for example, uses apple stem cells which are cultivated in the Mibelle lab. This means you don't have to continuously harvest apples to produce the ingredient. At Maxim we first used this innovative high-end active in the cosmetics range of a discounter ten years ago; it was a big success. I am convinced that consumers know quality when they see results! Private label brands are increasingly using unique and scientifically researched ingredients to distinguish themselves from their competitors. Quality is another important criterion in the ingredient selection process: A product must perform well. A face cream should have a visible effect on the skin, not just in terms of dermatological efficacy but also in its sensory quality, how it feels on the skin. Using beauty products is such a sensual experience!
Also important: An ingredient should evoke positive associations. Take algae extracts, for example, they immediately make you think of a relaxed day at the sea side. Or moss extract: imagine taking a soothing walk in the forest ("forest bathing" is still a big trend). Apart from the fact that any gardener knows how resilient moss can be 🙂 . We try to have the broadest possible overview of new active ingredient developments so that we can identify the right ingredients for each new product idea.
Beautyjagd: How long does it take to develop a new product?
Dr. Schilling: We have a lot of product development processes that all run simultaneously. The pace is very high. On average it'll take us 6-8 months to develop a new beauty product (including thorough efficacy and safety tests which take several weeks). However, sometimes we might only have four months to come up with a new product – the beauty industry moves very fast.
Beautyjagd: Which key developments and trends are you seeing in terms of active ingredients?
Dr. Schilling: Today the choice of active ingredients is massive. Ten or twenty years ago the range of available ingredients was much more limited – like hyaluronic acid or vitamins – but these days we know so much more about how our skin works. Over the last few years scientific research into human skin has shifted its focus to a more holistic view of skin health – take the microbiome trend, for example, or adaptogens (plants that help boost the skin's resistancy against stress factors). We are now more focused on trying to keep skin healthy and beautiful for as long as possible. Modern beauty products are trying to help balance the skin's barrier functions, to support it so it can help itself – like products that stimulate the skin's own hyaluronic acid or collagen production rather than "feeding" it the ingredient from the outside.
Beautyjagd: You've been working in the beauty industry for a very long time. Why are you still so passionate about your work?
Dr. Schilling: I'm really glad that I ended up as a chemist in the cosmetics industry! Although I am already in the retirement age bracket I continue to work. I like the constant exchange and meetings with other industry people, and that the beauty industry continues to evolve and change. It is my personal motivation to always find the best possible cosmetic solution. Or, borrowing from the treasure chest of rock music poetry, "When your dreams die, you're old!"
Having said that there are a few things that I don't like about the beauty industry. I think it's a great pity that cosmetics are so often maligned and bad-mouthed, or that specific ingredients are called "toxic". Cosmetic products in the EU are highly regulated, the regulations are often more detailed than in the food sector. The cosmetics industry is a melting pot of so many different sciences and professions, it is much more complex than many people think.
In my opinion the beauty industry doesn't really show enough of what it can do, how many essential functions it fulfills. After all, without cosmetic products people would be worse off: imagine if there were no sun creams, moisturising face creams or lipsticks? Using cosmetics is also a sensual experience – beautiful textures or pleasant scents have the power to stimulate the imagination in the brain. There are studies that measure heart rates and pupil frequency which show that applying a cream to your face can generate actual feelings of happiness. Anti-ageing as a term has become quite controversial but perhaps we could decide to focus on emotions rather than wrinkles as a key motivation in using cosmetic products? Beauty might not be the key to happiness but happiness is definitely the key to beauty.
Beautyjagd: Thank you very much for the interview and these wonderful closing words 🙂 .
PhotoCredits: Maxim Gruppe
In the next chapter we're meeting another industry expert. She has a job profile which was completely new to me…