This is a translation of my German blogpost Hinter den Beauty-Kulissen… ProTec Ingredia Proudly Presents: Auf der in-cosmetics 2023 in Barcelona. Enjoy!
In cooperation with ProTec Ingredia // For the German attendees of cosmetic ingredients trade fair in-cosmetics global in Barcelona this year there was just one topic whenever they met up: "And how did you manage to get to Barcelona?" We had a nationwide strike of rail, airport and public transport workers in Germany on 27th March 2023 which saw eight of the country's biggest airports, the entire network of national train operator Deutsche Bahn and all regional and local public transport associations across Germany come to a grinding halt for 24 hours. With no international flights or train connections to the countries bordering Germany and in-cosmetics taking place from 28th-30th March, almost all of the Germans that I talked to at the fair had an adventurous travel story to tell. I also had to change my original travel plans to fly out one day earlier. However, despite the severely delayed flight and a rather bumpy landing, all of the hassle was worthwhile because it gave me an extra day to explore Barcelona and the Spanish beauty market (more about this in my new Beauty Briefing). And I discovered so many innovations at in-cosmetics! Come join me on a tour around the exhibition halls 🙂 !
Over 900 exhibitors at in-cosmetics global 2023
My first day at the trade fair began before the official opening with the Pre-Show Media Briefing. At this press event, industry representatives and market research companies presented the key developments and trends in the global raw and cosmetic ingredients industry. And then I started to explore the trade show. At this year's in-cosmetics, there were over 900 exhibitors from around the world. The buildings of the trade fair expo centre in Fira Gran Via are also worth a closer look: They were designed by renowned Japanese architect Toyo Ito.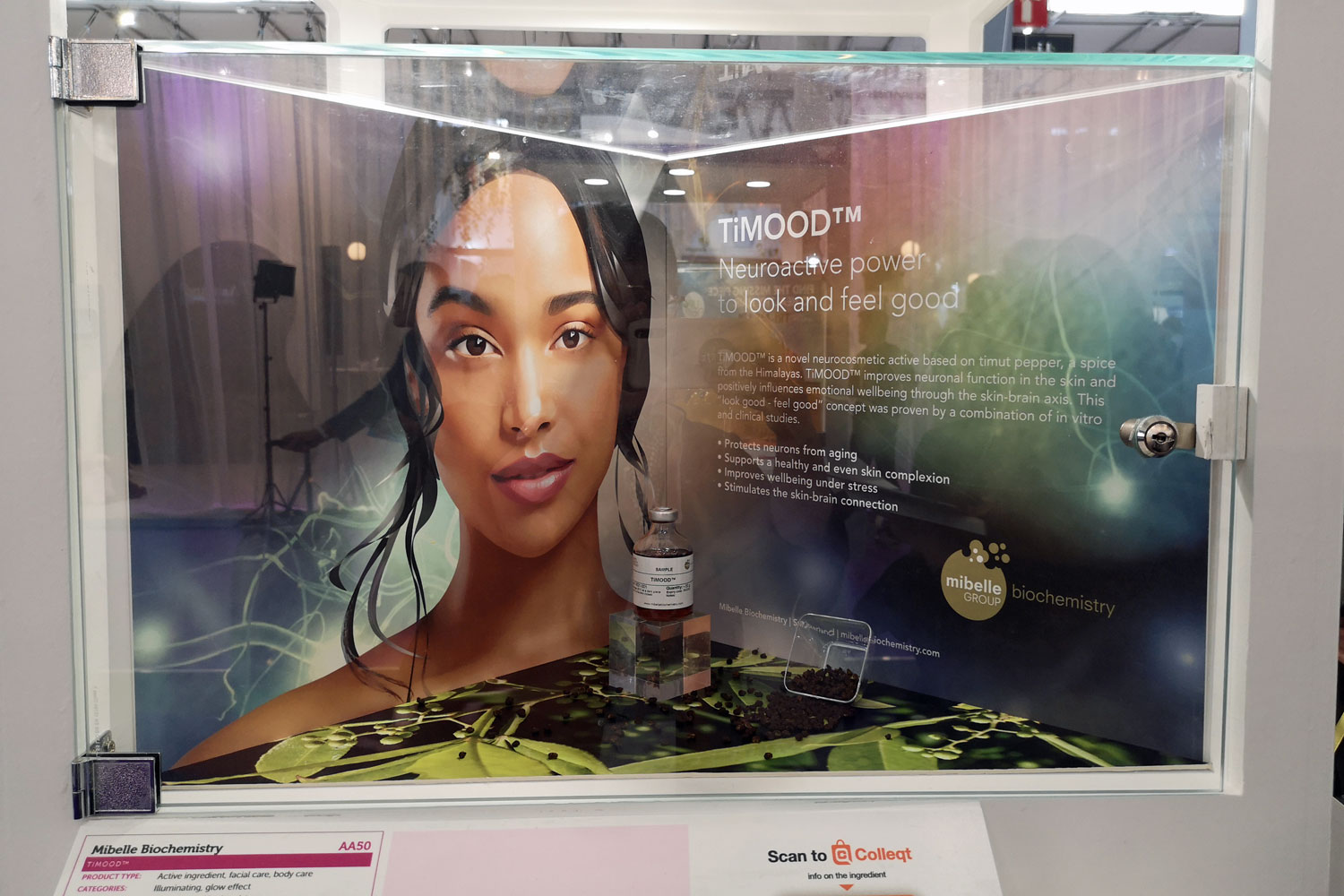 Beauty trend: Neuronal ingredients for cosmetic products
My first port of call was the booth of Swiss manufacturer Mibelle Biochemistry to check out the company's new active ingredient TiMOOD™.This cosmetic active is based on timut pepper from the Himalayas and can protect the skin's nerve cells from ageing, improve their function and exert a positive influence on the emotional mood and well-being. With this launch, Mibelle Biochemistry is yet again a trendsetter: At the trade fair, I kept noticing how the close connection between the skin and the brain is increasingly becoming a starting point for cosmetic innovations.
The Beauty of Science
I really like the presentations, lectures and workshops at in-cosmetics. In the Marketing Theatre, I attended international market research company Mintel's presentation on "The Beauty of Science" which focused on the trend towards a more "scientific" marketing approach. This trend has been visible for a while. Over the last few years, the choice of beauty products built around a particular active ingredient has been growing constantly, a development also driven by skinfluencers on Instagram and TikTok. Mintel recommends that cosmetic manufacturers focus on explaining the mechanisms of action in their products more clearly and transparently – because consumers increasingly want to know how their beauty products work.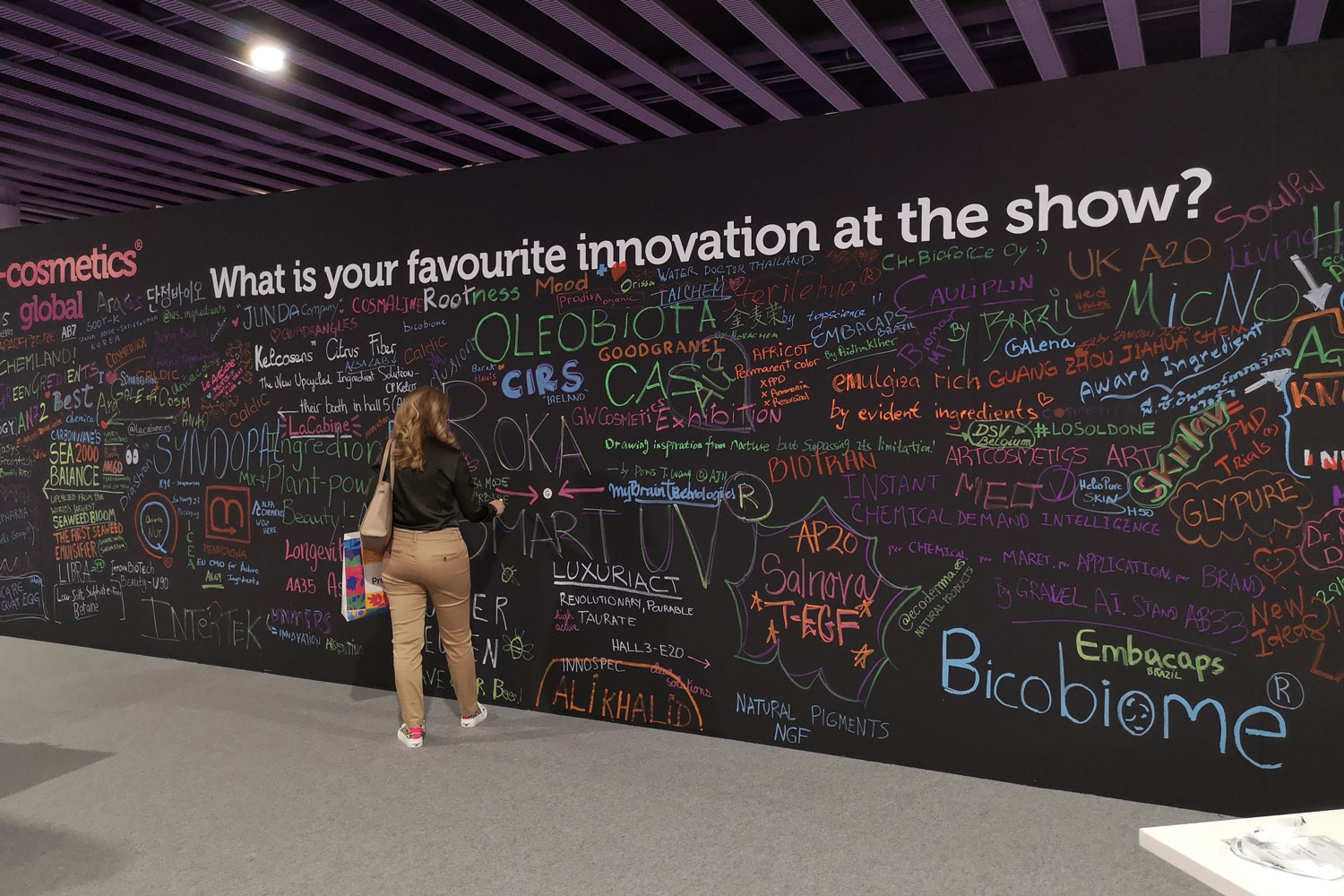 Creative hands-on activities
In the area between the two halls of in-cosmetics, the organisers had put up removable walls and invited attendees to become creative and write down their take on current issues in the cosmetics industry. For example, what does innovation in the beauty industry mean? Or: Which innovation at the trade show is the most popular? I like this kind of barrier-free visitor survey so it was a little bit disappointing to see that during the three days of the trade fair, many visitors used the walls for promotion purposes and simply wrote down brand names.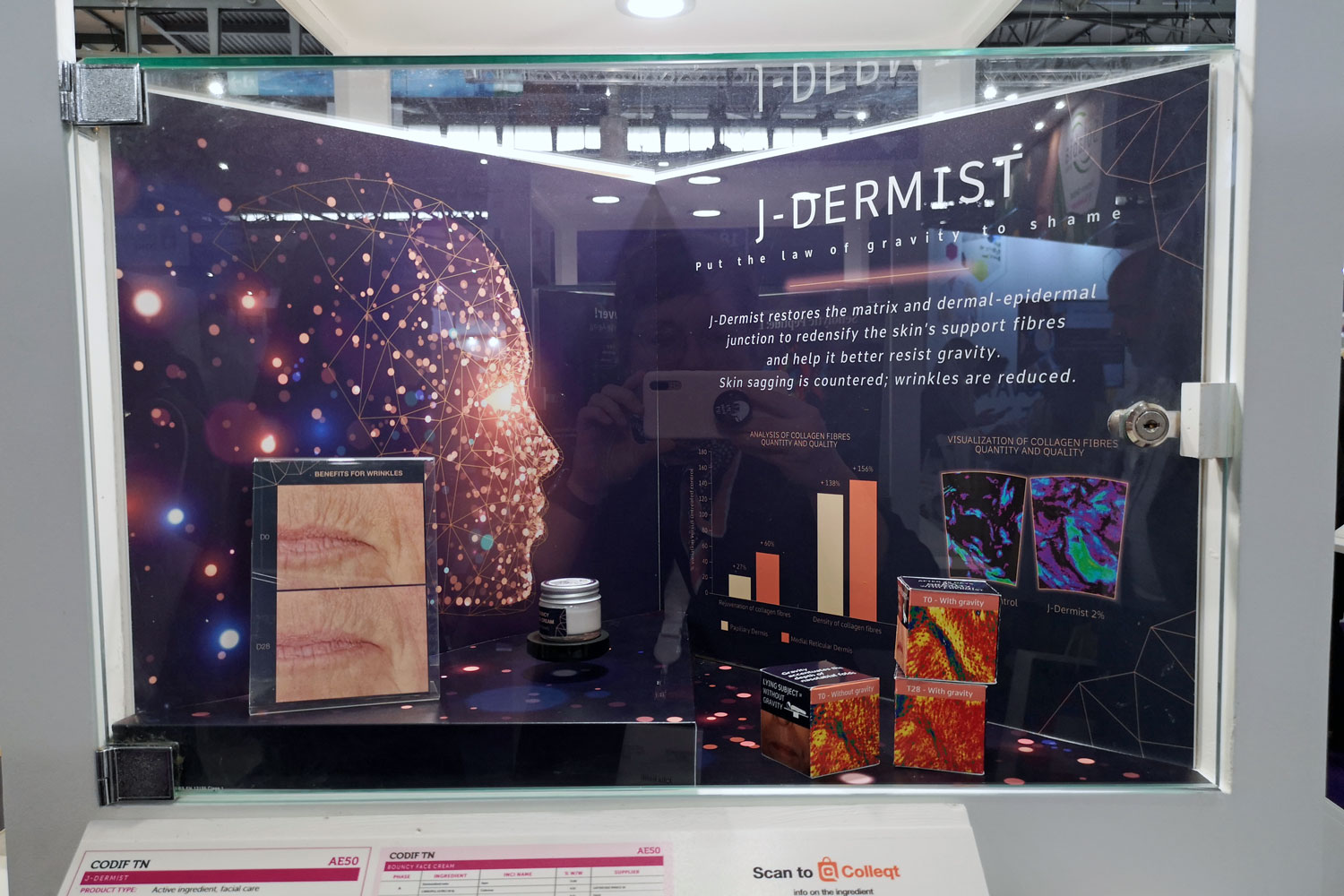 Beauty trend: Anti-gravity
During my in-cosmetics visit, I spent a lot of time in the Innovation Zone, an area where exhibitors can present their most interesting novelties in little glass cases. The Innovation Zone section is divided into different themes, such as Active Ingredients or Functionals (like emulsifiers or preservatives). This compact overview was very popular with the visitors and I think it was probably one of the busiest sections of the entire trade fair. French marine ingredients manufacturer Codif also presented a new and very on-trend ingredient at the Innovation Zone: J-Dermist tackles the effects of gravity on the skin. The inspiration behind the new active is Isodon japonicus, a delicate plant which nonetheless grows to a height of more than two metres and definitely defies gravity. The new ingredient complex is based on the Isodon japonicus and tightens sagging facial features to help the skin resist gravity.
Food trucks at in-cosmetics
The gastronomic situation at trade shows is often pretty dire: Usually, you have to pay premium prices for boring and mediocre food. However, at this year's in-cosmetics there were some great alternatives. Food trucks were stationed between the two trade show halls and offered more interesting food choices, including some vegan options. I had some tasty Mexican tacos which were sold from the blue truck you can see in the picture above. Unsurprisingly, the queue at the taco truck at lunchtime was long!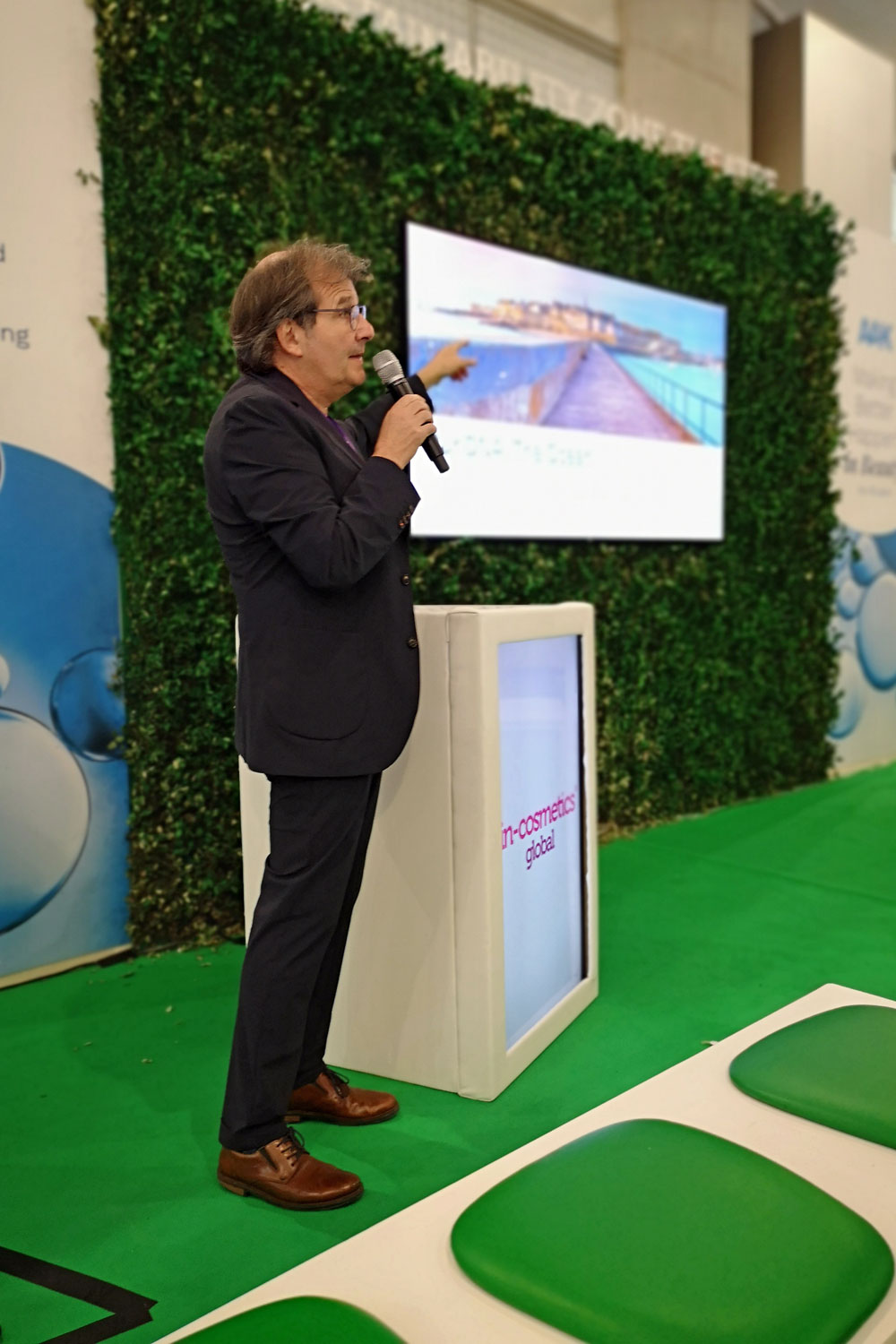 From Sustainability Corner to Sustainability Zone
Over the last few years, in-cosmetics' small Sustainability Corner has developed into a much larger Sustainability Zone: The role of sustainability in the cosmetics industry continues to grow. In this section of the trade fair, exhibitors have the opportunity to present a sustainable raw ingredient or showcase their overall efforts in the field of sustainability, including both ecological and social aspects. Next to the Sustainability Zone was a platform for presentations. I attended the talk of Romuald Vallée, managing director of Brittany-based Codif. Romuald spoke about how Codif continues to implement more sustainable business and manufacturing practices and highlighted the increasing importance of Bioth-Ecology, the combination of ecology and biotechnology. If you're interested in this approach: I have written about why Bioth-Ecology is the future of the cosmetics industry in this chapter of the Beauty Soap.
At the BSB Innovation Awards 2023
The BSB Innovation Award has been honouring innovative new cosmetic ingredients, products and concepts for over 20 years. I've been on the awards jury in the Applied Concepts category for several years now and was so happy to finally attend the awards ceremony (which was cancelled several times during the pandemic) in person again. BSB founder Dr Jan Riedel presented the Innovation Awards as part of a festive evening ceremony. Mibelle Biochemistry won Gold twice this year for its CALMandrin™ and NovoRetin™ ingredients, as you can see in the picture above.
A total success
Was in-cosmetics 2023 a busy trade fair? Heck yes! Despite the difficulties that we German visitors had in getting to Barcelona, the trade show was back in full swing. There were many attendees from Asia and outside of Europe and at times, the aisles in the trade fair halls were so packed with visitors that it was almost impossible to walk through quickly. Next year, in-cosmetics global will take place in Paris from 16th April to 18th April 2024 – and of course, I have already put this date down in my diary.
Trade customers can order the ingredients of Mibelle Biochemistry, Codif and Oat Cosmetics from the companies' German distributor ProTec Ingredia.
The next chapter of my beauty soap will focus on the Emotional Beauty trend. Stay tuned!