Dear international readers of Beautyjagd,
Welcome to the next English-language edition of Beautyjagd! This is a condensed version of the most important articles that have appeared on my blog over the last few weeks. For more information about this new format, click here. And now: enjoy the best of Beautyjagd in English!
Best wishes
Julia

Winter Warmer: Christmas ideas with Ecco Verde
Do you still need some ideas for Christmas presents? Then read on! In cooperation with online store Ecco Verde I'm presenting some of my favourite organic beauty launches which are perfect as a Christmas (or winter) present!
♦ Let's start with the picture above: The Gift Set Sun Salutation from Swiss brand Farfalla. I don't practice yoga (not sure why, really; perhaps because it is so "in" at the moment?) but I immediately liked this gift set: for each set that is sold the company donates 1 Swiss Franc to a charity yoga project. What a great idea! The set contains a room spray which blends citrus fruits with vanilla and a hint of ginger (you can spray it around your yoga room or over your yoga mat) and a matching body oil which has a slightly more aromatic fragrance (it smells less fruity than the spray, with more frankincense in the base). On the back of the packaging is a QR code; if you scan it you can view a series of three asanas. The Gift Set Sun Salutation from Farfalla costs 24.99 Euro through Ecco Verde.
♦ I'm a fan of Italian brand Agronauti: I love their Open-Source Concept (all of the product formulations are available online for anyone to recreate) and the beautiful packaging design. So I immediately liked the Agronauti Hair Care Set which contains the everyday shampoo Syd and the brand-new Restructuring Conditioner Florence. The shampoo is based on lemon water, coconut sulfates and rice proteins; it cleanses the hair well and if you use it regularly, it also helps to restructure the hair. It foams up quickly and has an interesting (and not too strong) fragrance: a blend of citrus fruits, cardamom and cedarwood. I was particularly curious about the new Florence conditioner: I have short hair and had read that this conditioner can also be used to moisturise the scalp. Florence was developed by a group of "beauty hackers" who wanted a really good conditioner (hence the #beautyhacker co-creation hash tag on the tube). I love the supple texture of the conditioner; it is scented with notes of mint and lemon balm – delicious! If you have long hair massage a walnut-sized portion into the lengths of your hair and leave it on for at least two minutes. I used a smaller amount of the conditioner to massage my scalp and then rinsed it out thoroughly. My hair didn't feel heavy at all and my scalp really liked the mask, too! I'll definitely do this regularly over the cold winter months. Florence is based on lemon water, processed oils and plant-based emulsifiers so you can also use it as a CoWash treatment. The Agronauti Hair Care Set costs 23.60 Euro in the Ecco Verde online store.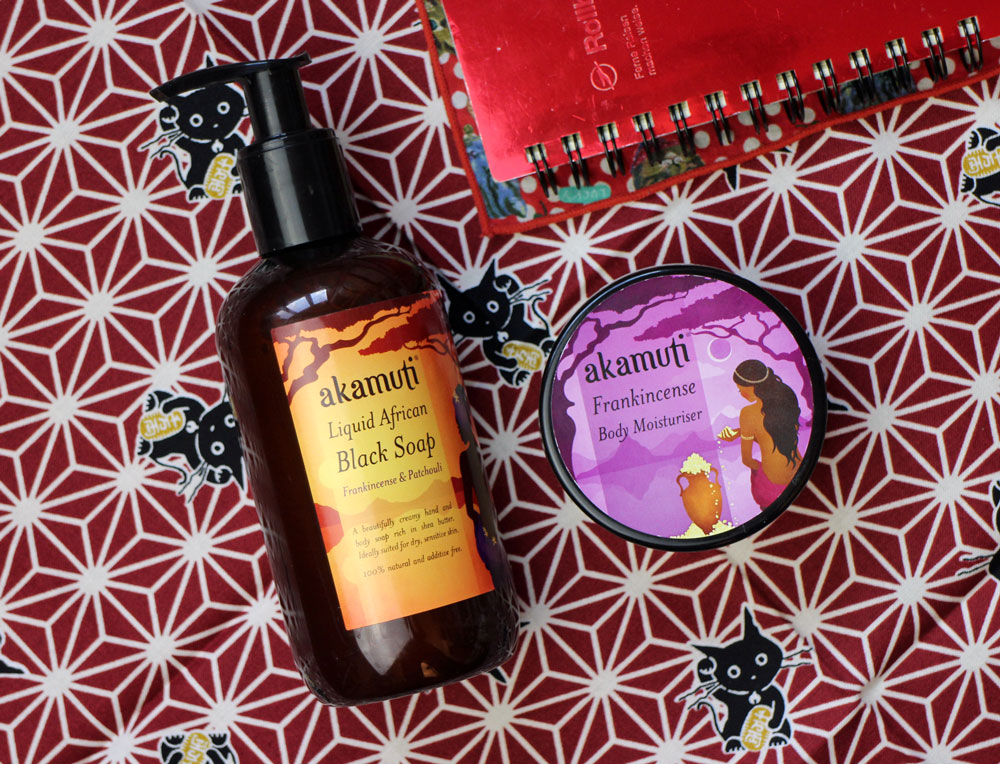 ♦ Frankincense and Christmas, a perfect match! The Frankincense Set from UK brand Akamuti contains the brand's Liquid African Black Soap and the Frankincense Body Moisturizer. The liquid soap has a simple formula: it contains saponified shea butter, saponified coconut oil, saponified cocoa butter and saponified West African palm oil together with rose water, plus essential oils of frankincense and patchouli. Whenever I use the soap I immediately feel transported to an oriental souk or an African market! After showering I use the Body Moisturizer which has a soft, supple and water-free texture; it's more like a solid oil or balm. The Moisturizer contains almond oil, apricot kernel oil, beeswax and olive oil, plus essential frankincense oil. Frankincense does not just smell amazingly but it helps the skin regenerate and also has anti-inflammatory properties (and is therefore a popular ingredient in anti-ageing cosmetics). The Body Moisturizer is a rich and protective moisturiser; the beeswax helps to lock moisture into the skin but doesn't feel sticky. The Akamuti Frankincense Set costs 20.89 Euro at Ecco Verde.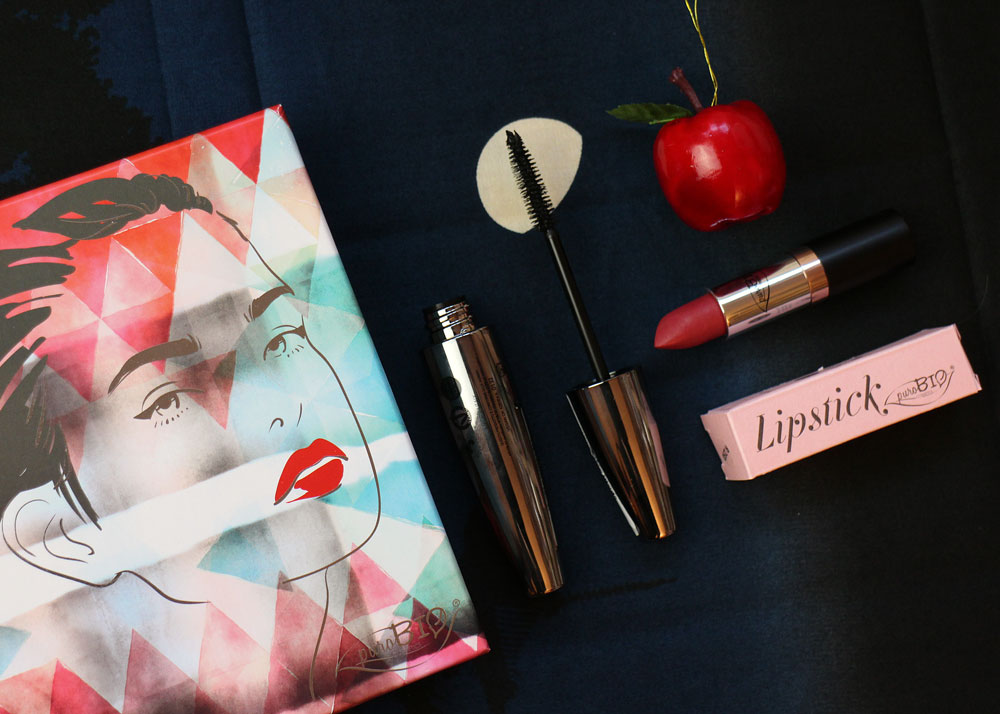 ♦ It can be difficult to find organic beauty sets that also include colour cosmetics. So I was really glad to see that organic Italian brand PuroBio is again offering makeup gift sets this year. On the photo you can see PuroBio's Large Gift Set which contains the brand's LAM mascara and the lipstick #7 in shade Carmesin. The cardboard box looks very decorative, don't you think? The mascara comes with a classic brush applicator that has a tapered end; the texture is creamy to waxy (and not wet) and if you apply two layers the effect is good: it gives volume and definition and even manages to capture smaller lash hairs. It also lasts well (especially for a vegan mascara!). LAM is based on aloe vera juice and iron oxides. – Some time ago PuroBio launched eight lipsticks; the gift set contains shade #7 Carmesin which is a classic (but not too strong) red shade with coral undertones. This lipstick is not vegan, other shades within the range, however, are vegan. The colour is strongly pigmented and has a creamy, supple texture without any shimmer or glitter. It feels comfortable on the lips, light yet still moisturising. It lasted for an average length of time; after a few hours the colour started to fade evenly so it still looked good. The Large Gift Set from PuroBio costs 24.89 Euro through Ecco Verde, there are also smaller sets for lips or eyes (which also come in pretty cardboard packaging).
♦ Cose della Natura is an Italian company which produces skin care and massage tools. One of the products immediately caught my eye: years ago I owned a foot massage roller which I had bought at The Body Shop; then it got lost while I was moving house. So when I saw Cose della Natura's Foot Massage Roller I simply couldn't resist! I love moving my feet around on the roller; it really helps with my constant back and neck tension. The company recommends that you use the roller for 30 consecutive minutes; I can't quite manage that but I placed my foot massager underneath my desk, so I can keep massaging my feet throughout the day. The Roller stimulates the pressure points in the feet and boosts circulation (and warm feet are a pretty good idea in winter!); I feel more awake and somehow more refreshed after I use the Roller. I massage heels and toes separately: first I roll my entire foot across the Roller, then my toes and finally my heels. Feels so good! The Foot Massage Roller from Cose della Natura is made from wood, with a plastic covering underneath so it doesn't slip on the floor. It costs 15.59 Euro at Ecco Verde.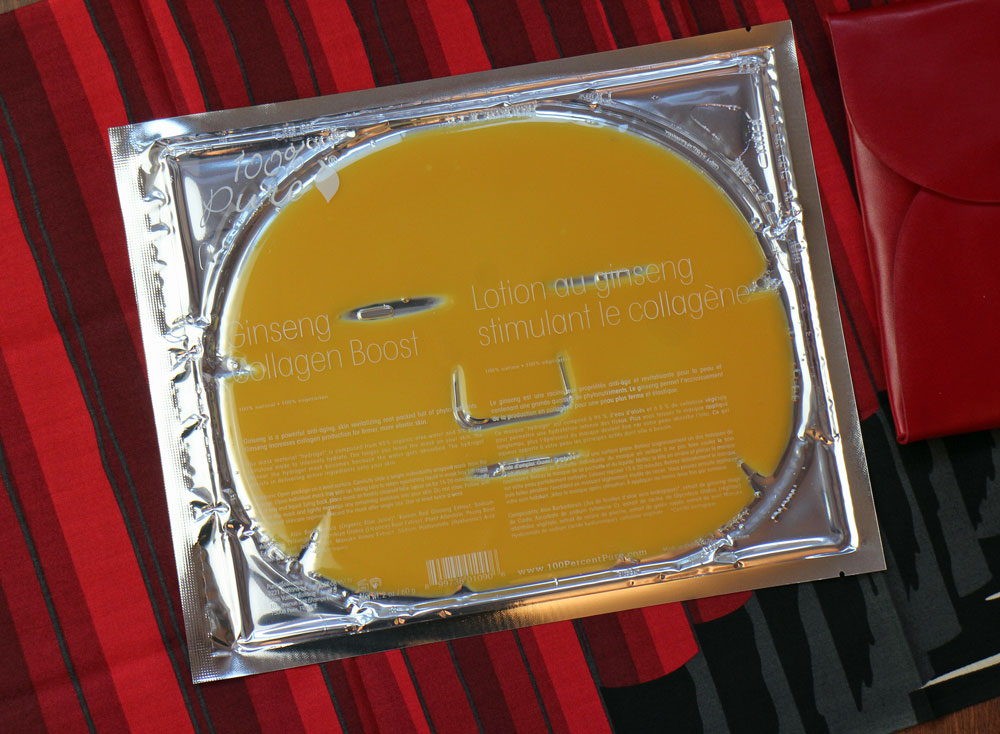 ♦ I want to finish this blog post with a "stocking filler": how about the spectacular Ginseng Collagen Boost Mask from US brand 100% Pure? The Ginseng Collagen Boost Mask is an Asia-inspired hydro gel mask: it is made from aloe vera and plant cellulose and has a rubber-like, wet texture. It really molds itself to the contours of your face so it is more hydrating than "normal" cotton sheet masks. You apply the mask to your face, relax for 20 minutes, and then take off the mask. Massage the rest of the liquid into your skin; no need to rinse. I love how the mask cools my face, you can almost feel it moisturising the skin! Afterwards I apply a face oil to lock in the moisture. The active ingredients in the mask include ginseng (helps to boost collagen production), manuka honey (anti-inflammatory), vitamin C (anti-oxidant), liquorice root (against hyperpigmentation), plant-based allantoin (soothes the skin) and hyaluronic acid (moisturising). It is also the perfect mask to apply before you are going out! The Ginseng Collagen Boost Mask from 100% Pure costs 6.99 Euro at Ecco Verde; there is also a pack of five masks.
The products were supplied by Ecco Verde, except for two items which I already owned.
[Click here for more pictures and the original German article Winter Warmer: Weihnachts-Geschenkideen mit Ecco Verde]
Beauty Notes, 2.12.2016 (Finland Edition)
I had such an exciting week! If you follow me on Instagram you'll already know that I went to Finland with Sirkku from Hilla Naturkosmetik. First we flew to Helsinki which was fabulous: one of the first places I went to was Ruohonjuuri, an organic supermarket with a great beauty selection. I had first visited Ruohonjuuri during a trip to Helsinki back in 2013 and bought a really cool cloth shopping bag with the store's logo on it. Since I've used my Ruohonjuuri bag pretty much every day since then, it has become a bit – well, "vintage-looking" is probably a kind term! So I immediately bought a new Ruohonjuuri shopping bag (which you can see in the picture above).
And of course that wasn't all that I bought at the store! I had read about Latvian brand Màdara's new product range which was developed together with blogger Noora Shingler. I bought the Pihlaja Daily Defence Cream from this new range and since Helsinki was cold and windy, I immediately put it to use: it's a rich, balm-like face moisturiser which is based on shea butter and sunflower oil; the light salmon colour comes from the rowan berry extract that is also included in the cream. Unfortunately this particular Màdara range seems to be only available in Finland.
I was also happy to see the products of Finnish brand Frantsila in Ruohonjuuri. Three years ago I visited the company (together with Sirkku); you can read about my Finland trip in this article here (German only, sorry). While I was checking out the Frantsila line-up in the store I noticed a range of liquid plant extracts that are designed to be taken internally. I bought a small bottle of Tyyneyden Tipat from Frantsila: fresh oat sprouts are macerated in alcohol. The outer layer of the oat kernel contains avenin which has a calming and soothing effect. I also like the fact that oats are a very Nordic ingredient and am looking forward to trying out the extract. The founder of Frantsila, Virpi Raipala-Cormier, is a well-known herbal medicine expert in Finland.
And how could I resist the beautifully packaged Craft Chocolate Wild Blueberry from Finnish niche chocolate company Goodio?! Goodio was founded in 2015; they manufacture organic and raw chocolates (the raw cocoa in their chocolate bars is ground for three days) with coconut palm sugar instead of refined white sugar. The brand's line-up includes eight different bars; I decided on the dark chocolate with blueberry although the bar with sea buckthorn and liquorice also looked really tempting.
I also checked out the beauty departments of domestic department store chains Stockmann and Sokos and was surprised by their wide selection of organic beauty. I bought a gift set from Finnish brand Mia Höytö which included the new Hydrating Cleansing Cream Sievä. The cleansing cream contains very few tensides and the formulation is very mild and moisturising so you could almost use it as a skin care treatment (for example as a face mask).
After a few days in Helsinki we continued our journey up North – to Lapland! We flew from Helsinki to Ivalo (at Ivalo Airport we were greeted by temperatures of -18 C!). Our hotel was in Inari, a small village which is located just 250 km outside of the polar circle. This proximity to the pole also means that the sun barely rises in the region around Inari. But it wasn't dark all the time; I was enchanted by the beautiful dark blue shades of the evening sky! The region around Inari is completely covered in snow – a thick white layer everywhere you look – which reflects the light and creates an almost mystical atmosphere. I loved Inari. And it was so amazingly quiet there; all you could hear at night was the murmur of the river next to our hotel and the crunching sounds of the occasional person walking on the snow.
Inari also has a small museum, Siida, which had an interesting exhibition about the history and culture of the Sàmi (the indigenous people of Lapland). At the museum's shop I bought hand-made cloudberry sweets and a tin of ground fir tree tip powder from Finnish brand Arctic Warriors. You can add this Lapland superfood to smoothies or yoghurts; the fir tips contain a high percentage of vitamin C and anti-oxidants and have a beautifully woodsy taste. And you know how much I love anything to do with fir or pine trees 😉 . In fact, if you like needle trees Finland is a paradise; so it should come as no surprise that I also bought a small jar of the water-free Phikavoide Salve which contains fir resin and forms a light protective film on the skin. The salve is produced by a local artisan company and besides the resin it also contains rapeseed oil and beeswax.
Visiting Finland without going to a sauna is simply impossible! My first time in a Finnish sauna was during my trip in 2013 (you can read about it here – German only, sorry) and I absolutely loved it. Since Sirkku and I were in a really remote area we were able to do what the Finnish traditionally do during the sauna – in between sauna sessions you run outside and throw yourself into the snow to cool off! In order to protect our skin from the sauna heat we used the All you need is me Intensive Cream from True Organic of Sweden on our faces. Sirkku had brought the cream from her store; it's a water-free rich moisturiser which is based on castor oil, beeswax, olive oil and shea butter as well as vitamin E, blueberry seed oil and rosemary. The tube in the picture above is from my own beauty collection; some time ago organic online perfumery Amazingy had sent me the product. Since the weather in Nuremberg is pretty cold at the moment I will probably use the balm regularly, even without going to the sauna.
I am now completely in love with Lapland! And my last purchase in Finland (at Helsinki Airport) was a glass from Finnish design brand Iittala's Ultima Thule range. The Ultima Thule glassware was first launched in the 1960s (it is one of Iittala's classic ranges) and is inspired by the melting ice in Lapland.
If you look at the picture above more closely you'll see a small flacon: the Eau de Parfum Golden Neroli from Dutch brand Abel Organics which I recently ordered from organic online perfumery Savue. The perfume arrived just before I left for Helsinki so I took it along just in case I needed some uplifting orange blossom scent – however, as it turned out there were plenty of other mood-lifting and invigorating liquids 😉 . I still wore the floral fragrance every day because I like the combination of orange blossom, powdery notes and soft sandalwood. Golden Neroli lasted for around five hours on my skin.
[Click here for more pictures and the original German article Beauty-Notizen 2.12.2016]
What? Which? How? Manual face cleansing brushes
Yes, of course I am a little crazy – I mean, who needs five different face brushes? And is this kind of cleansing brush really necessary? Up until a few months ago I never used cleansing brushes on my face; mostly because I only knew these scratchy-looking, bristly brushes – Clarisonic et. al. – and I really didn't want to use this kind of tool on my skin. And although these days you can also find softer brushes for sensitive skin I've never been a fan of cleansing brushes. Up until now!
During a trip to Japan I discovered a soft facial wash brush which completely changed my mind set. I thought it was a ultra-soft powder brush at first! However, the sales lady explained that it actually for face cleansing, with beautifully soft synthetic brush hairs. The principle is similar to a shaving brush: first you whip up the cleansing foam with the brush, then you apply it to the face. The peeling/massage effect is less important.
On my trip to Shanghai this October I saw a similar cleansing brush at Miniso and immediately bought it because it was so affordable. After the first test I was hooked and decided to buy a really good cleansing brush in Japan (in the end I bought two…). And just after my return to Germany Berlin-Korean beauty brand Binu Beauty sent me its new face brush and I discovered yet another cheap cleansing brush at my local DM drugstore. Hence my current cleansing brush collection!
All five brushes have very soft synthetic hair; it is important that the brush hair is tightly bound so that it can soak up the water properly and generate enough foam from your cleanser. The brushes have a similar size, too; each brush fits into the palm of my hand so they are comfortable to hold.
And this is how it works: if I use a gel cleanser, cream cleanser or foam cleanser I first apply the product to my skin. Then I lightly move the face brush in small circles across my face, without exerting any pressure on the skin. And finally I rinse off the foam with lukewarm water. The brush has a very light mechanical peeling effect on the skin but is not at all abrasive or scratchy.
You can also wet the brush first and put the cleansing product directly onto the brush head – this works particularly well with powder cleansers, cleansing creams or cleansing gels. Alternatively you can foam up the cleanser in your (wet) hands and then dip the brush into the resulting foam. If I use bar soaps or other solid cleansers, I circle the wet brush across the surface of the cleanser and then apply it to the skin.
These super soft brushes do not stress my skin at all and my face really likes this type of cleansing. One of the drawbacks of using a cleansing brush, however, is that you have to rinse the brush really carefully. And because the hairs are tightly bound this can take a minute or so! Afterwards you let the brush air-dry. Most manufacturers will recommend changing the brush after one year or so, for hygienic reasons.
And here is a comparison of the five different cleansing brushes that I tested over the last few weeks!
♦ The thin (50 micrometers) and comparatively softly-bound hair of the Facial Brush from Miniso has a slightly nubby surface which increases the massaging effect of the brush. Compared to the other brushes, the Miniso brush is slightly harder. Made in China. Price: Around 4 Euro.
♦ I read online that the most popular Japanese facial brush is the Rich Whip Brush from Sho-Bi. The brush is called "Provence" (the brush hairs are medium-tightly bound together) and has a smooth surface. The hair (each individual hair has a diameter of 50 micrometers ) is super soft and very thick: each brush head contains some 400,000 hairs. Made in Taiwan. Price: Around 20 Euro. Available in Japanese drugstores, also in more premium department stores across Asia or online, for example through Ebay.
♦ At Loft department store in Nagoya I discovered the Facial Brush from Alty which has an unvarnished wooden handle. Three very thin grooves in the surface of the brush help to structure the brush hairs (around 290,000 hairs per brush head) which are bound together comparatively loosely. Which also makes it easier to wash the brush afterwards. The hairs are made from taklon, a polyester-based synthetic fibre. The Alty Brush is very soft, I also like the wooden handle. Made in Japan. Price: Around 38 Euro. Available in Japan in outlets of retail chains Loft and Tokyu Hands.
♦ The Cleansing Brush from Binu Beauty was launched very recently; it is a good fit for the brand's current product line-up of three facial cleansing soaps. The brush head contains 450,000 hairs made from carbon fibres; the surface is smooth and the brush hairs are very tightly bound. This makes the Binu Brush a little firmer than the other brushes but it is still very soft. Made in China. Price: 12.90 Euro. Available through Binu Beauty's online store.
♦ Drugstore retailer DM also offers a cleansing brush, the Facial Cleansing Brush Sensitiv from its own label brand Ebelin (the range also includes a non-sensitive face brush which was designed for skin massage rather than cleansing). The Brush Sensitiv has a similar shape to the other brushes in this line-up; the handle is made from synthetic material. I couldn't find any information about the thickness of the brush hairs, the packaging says that the hair is "micro fine". The synthetic brush hairs are comparatively short which makes them a little less flexible. The brush has also already lost a few hairs but not too many. No information as to where this brush was made. Price: 3.95 Euro. Available in DM outlets across Germany and Europe.
I can't really say which of the brushes is the best – it all depends on your individual skin type, how much money you are willing to invest and what you want from a face brush. My personal favourite (the brush that I use most often) is the Rich Whip Brush which is the softest and silkiest of all five brushes in this comparison.
Generally I would recommend that you only use the softest tools on your face and this also applies to brushes – I would never let a bristly, hard cleansing brush near my face! I use my cleansing brush two or three times a week; the other days I use the fabulous mini wash cloths from Les Tendances d'Emma.
[Click here for more pictures and the original German article Was, welche, wie: Manuelle Gesichtsbürsten]
Around two years ago I began searching for an organic beauty razor (I wrote about my search in this article here (German only, sorry)) – you know how disposable razor blades usually come with a "moisturising glide strip" of some sort? Well, I was looking for a disposable razor with an organic glide strip and now it looks like I've finally found one! German-UK vegan label Fair Squared has just launched the Intimate Body Razor which is just as compact as the travel razors from Venus Gillette or from DM's own label brand Balea. Since the matching Fair Squared shaving products are certified by NaTrue I assume that the ingredients of the glide strip are also certified organic (I have already contacted the company with this enquiry; answer will follow shortly). In any case, the razor is made in Germany and contains two blades per disposable razor head. I already tried the razor out and so far it is doing fine: the razor is easy to grip and it shaves arm pits and legs thoroughly (although the razor is really meant for shaving the intimate areas of the body). You can check out the Body Razor on Fair Squared's homepage, the product costs around 10 Euro and you can also buy disposable blades. My razor was a press sample.
A while ago I was contacted by Estonian beauty brand Lumi which sent me a few of its skin care products. The Tundra range for acne skin looked intriguing: it is formulated with the active ingredients AHA and BHA. The Tundra Yarrow Mist from Lumi blends anti-inflammatory salicylic acid derived from silver willows combined with yarrow extract. A good combination! I used the Tundra Yarrow Mist as a moisturising base for my face oil; although I don't have problem skin at the moment anti-inflammatory face care action is always good! Lumi was founded in 2010; the company works closely together with the University of Tartu in Estonia. Their goal is to combine nature and science; the Lumi products are usually based on hemp oil – the fragrance-free Body Oil Derm for atopic skin, for example, contains 75% hemp oil. Although the products are not certified organic their ingredients fulfill nearly all the criteria for certification, excepting some ingredients like urea and panthenol (since these are not derived from plants they can't be certified). I also like the packaging design which is reminiscent of Màdara's cosmetics. You can find more information about Lumi Nordic on the company's homepage.
I recently remembered that I haven't yet shown you the Aciana Botanica Gelée d'Huile Démaquillante from French brand Sanoflore! This spring I briefly mentioned the product in this French blog post here; I am currently on my third bottle because the innovative gel-oil-milk cleansing product is fabulous. You apply the transparent cleanser to your skin, once it comes into contact with water the gel texture turns into a milky emulsion! Compared to other cleansers with this concept the Sanoflore Aciana Botanica Gelée is super mild, my skin feels clean but not dry afterwards. Compared to the Cleansing Milk Rose from German Demeter brand Martina Gebhardt, however, Aciana Botanica is less moisturising. The tube is transparent/light blue, decorated with cornflower drawings (the cleanser also contains cornflower hydrosol). Aciana Botanica Gelée has a fresh, floral scent which I like very much. It is a pity that Sanoflore isn't available in Germany any more, but if you live close to the French border and are planning a Christmas visit to Alsace-Lorraine, perhaps, you will be able to find the brand in French pharmacies. Sanoflore comes from the Vercors area of France, a few years ago the brand was acquired by French cosmetics group L'Oréal. Oh yes, I almost forgot: the Gelée Huile Démaquillante is certified by Cosmebio/Ecocert.
I was in my local Rossmann drugstore recently and saw the new Coco-Balm from Rossmann's certified organic own label brand Alterra. The balm is packaged in a medium-sized tin made from metal; it is basically pure coconut oil (which is solid at room temperature) blended with tocopherol as a preservative and a coconut-vanilla fragrance. Definitely easier to carry around than a jar of coconut oil! And such an all-round balm is pretty convenient in winter time, you can use it on chapped lips, on nails, split hair ends or as a skin care product. However, I am not sure that the lid of the jar closes tightly enough to contain the balm in case the oil melts…? The Coco-Balm is certified by NaTrue, the coconut oil comes from organic agriculture. Priced at 3.49 Euro and available at all Rossmann outlets.
And here are some organic beauty news for you!
[Click here for more pictures and the original German article Beauty-Notizen 9.12.2016]
Good-bye everyone and see you in two weeks!
Julia