Dear international readers of Beautyjagd,
Welcome to the next English-language edition of Beautyjagd! This is a condensed version of the most important articles that have appeared on my blog over the last few weeks. For more information about this format, click here. And now: enjoy the best of Beautyjagd in English!
Best wishes
Julia
Yes, I know; the picture above is not the best quality – but hey, it was taken inside a real Finnish sauna! I have already written about how much I love the Finnish sauna experience in this article here, and during my recent trip to Lapland I used the hotel's sauna as often as possible. After just one hour in the sauna I feel relaxed, cheerful and warm all over. Admittedly this feeling might also have something to do with the fact that in Finnish saunas you tend to refresh yourself with a light beer instead of plain water 😉 .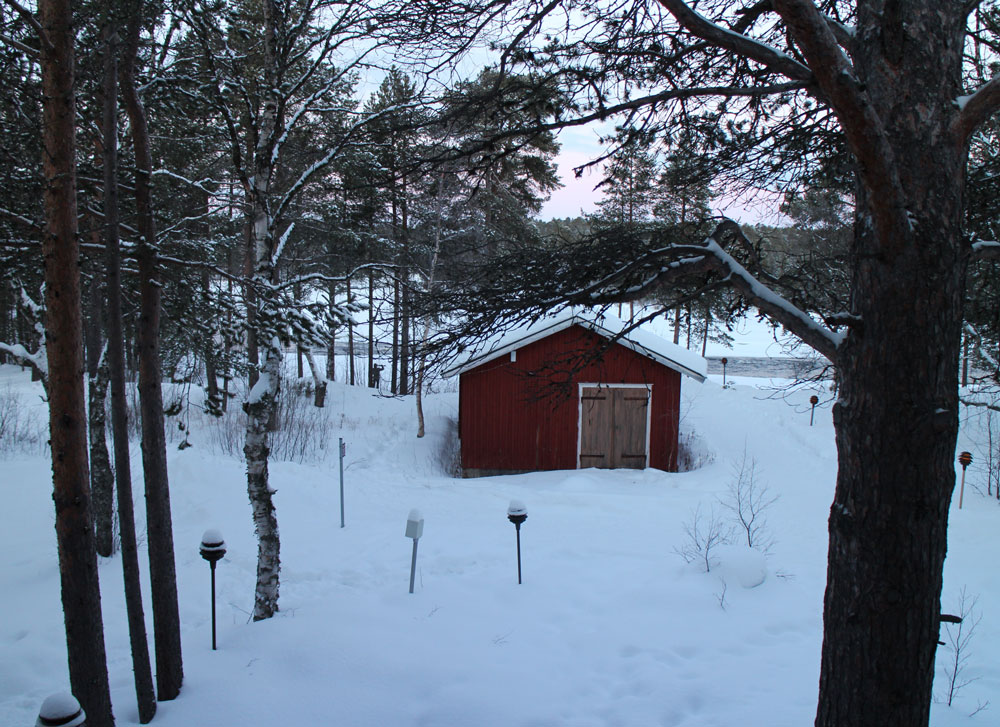 Anyway, the hotel sauna was located outside of the hotel compound, right next to the river. This made it possible to run outside after every sauna session and roll around in the snow (yes really!). It's an amazing experience to breathe the ice cold air and feel the snow prickle on your bare skin – seriously, it's almost addictive!
Anyway, back to the little bag which you can see on the photo above! It contains my sauna kit. I bought the Moomin bag at Helsinki airport; it was launched by Finnish design brand Finlayson from a fabric pattern which in turn was created by Moomin author Tove Jansson. I fell in love with the little zipper bag immediately.
And this is what my sauna kit contained:
A small tube of the All You Need Is Me Intensive Cream from True of Sweden, which I bought in Helsinki department store Stockmanns. It's a water-free balm which is based on castor oil and beeswax; I smoothed it over my cheeks to protect the skin from the sauna heat. I have already written about the balm here.
Before entering the sauna I applied the moisturising Sauna Arctica Creme with fir tar and honey from Mellis all over my body; I bought the cream in a sauna store in Helsinki. The NaTrue certified cream smells like a wooden fire and is based on honey – such a very Finnish product!
After the sauna I showered with the Citrus Refreshing Shower Gel from German brand Weleda and washed my hair with the Deep-Cleansing Shampoo from Danish brand Unique. I like these small product sizes, they are perfect for travelling. The Unique shampoo is one of my favourite shampoos ever; I have already written about it in this blog post here. And the Weleda shower gel is a classic – you can read more about it here.
[Click here for more pictures and the original German article Mein Sauna-Kit in Finnland]
I bought two books in Helsinki: both are about with one of the Nordic countries' biggest lifestyle trends at the moment – hygge. The Danish word hygge translates as "creating a cosy atmosphere in your home/for yourself", similar to what you'd call "cocooning" in English. In German, the closest translation of hygge would be "gemütlich" or "Gemütlichkeit" (yet another term which is difficult to translate!). Anyway, hygge means making things as cosy as possible: surrounding yourself with candles, warm lights, beautiful furniture, books and comfortable clothing; spending time with family and friends. Another important aspect of hygge is societal gender equality and ensuring that you have a good work-life balance. According to author Meik Wiking's The Little Book of Hygge, this kind of lifestyle is also one of the reasons why the Danish people (and the inhabitants of the other Nordic countries as well) tend to rank very high on official happiness surveys. The second book I bought is How to Hygge, a cook book from Signe Johansen which covers the culinary aspects of hygge. I must admit that I was initially sceptical about the whole hygge hype but after reading these two books I can understand why the concept is so popular: hygge means creating a temporary retreat for yourself; a safe space that you can withdraw to when the fast pace of modern life and the constant social media exposure becomes too much. I will definitely keep an eye on this trend – after all, organic beauty is very hygge!
I had hoped to receive the limited edition Deo Stick Spruce+Spice from US brand Schmidt's Deodorant before Christmas but the parcel took over seven weeks to arrive at my flat in Nuremberg. Still, the wonderful foresty fragrance was worth the wait! The scent is not too woodsy, with aromatic fir needle accords, and the texture is just right – not too firm but not too soft either. The deodorising ingredients are baking soda and arrowroot powder. The Deo Stick is still available in Schmidt's online store.
Three years ago I introduced Finnish brand Detria's serum with plant-based arbutin on this blog. Unfortunately the range was later withdrawn and the products reformulated. When I was in Helsinki I saw the new Detria line-up in department store Stockmanns and immediately bought the fragrance-free Arctic Arbutin Hand Cream which contains 100% natural ingredients. The cream's arbutin is derived from the leaves of the bearberry (uva ursi) and is supposed to help against hyperpigmentation. Arbutin is one of the more controversial beauty ingredients; if you want to read more about the arbutin debate check out the blog post above.
The Detria cream also contains antioxidant chaga mushroom extract (a mushroom which is very popular in Asia and Russia). I like the texture of the hand cream which is based on water, jojoba oil and shea butter; it is absorbed well into the skin and is not too watery. Here is the Detria homepage.
We are having really icy winter temperatures in Nuremberg at the moment, so my current face care routine (I love layering!) focuses on richer products with lipids rather than moisture. And I finally tried out the Swedish Elixir Face cream from Green Love which was sent to me by Carolin from organic online store Hautschoki. The texture of the water-free balm is surprising: it's a solid yellow-coloured oil blend which melts immediately once you apply it to the skin. And it's not oily or sticky at all! The first three ingredients are prickly pear oil, rosehip kernel oil and raspberry seed oil – how cool is that! This also explains why the balm is not cheap but the price is absolutely justified by the high quality of these oils. The Elixir Face Cream doesn't contain any essential oils but it has a pleasant fruity fragrance which comes from the many plant-based antioxidant ingredients – seriously, check out the INCI declaration of this product!
And these are some of the most interesting organic beauty news that I came across in the last couple of weeks:
New Zealand brand Living Nature has announced the new limited edition Pure Spirit Face Oil (you can check it out on the brand's website here).
German drugstore retailer Rossmann's organic own label brand Alterra has launched a Beauty Elixir (a serum in a bottle which is equipped with a dropper) .
And German drugstore chain DM recently introduced Alverde's annual Carnival/Mardi Gras limited edition Kunterbunte Farbenwelt: the range includes colour palettes, makeup pencils, hair mascaras and glitter creams.
[Click here for more pictures and the original German article Beauty-Notizen 20.1.2017]
The Supreme-C Serum Treatment from Nuori
Do you remember Danish fresh cosmetics brand Nuori from last year's Best of Organic Beauty article? Nuori's best-known product is the Supreme-C Serum Treatment – I wrote about it in this Beauty Notes article from autumn 2015. When I was in Paris just before Christmas I bought another bottle of Supreme-C at Bon Marché department store as a Christmas present for myself. It is not the cheapest product on the market but the serum is so interesting (also, I've tried it out twice now) that I think it deserves its own blog post! I decided to do this review as a pro and con list.
◊ Brand concept: Nuori focuses on freshness: the packaging specifies a date by which one should start using the product. Once you've opened the product it remains stable and effective for 3-6 months. An exception is the Supreme-C serum (see below).
◊ Packaging: The white and yellow design of Nuori is super cool and clean – typically Danish design 😉 . The cardboard outer packaging contains two glass flacons and two droppers.
◊ How to use the product: Each flacon of the Supreme-C Serum Treatment contains enough product for 10 days so the "treatment" extends over 20 days in total. Because the ingredients are instable, you mix the separately packaged vitamin C powder into the liquid serum just before you begin with the treatment. Pour the powder into the flacon, shake vigorously, attach the dropper, wait for 5 minutes and then start applying the product. The Supreme-C serum is designed to be used twice a day (morning and evening); it is hydrating enough that I don't need any additional moisturiser at night; in the morning I sometimes use a light cream or oil on top of it.
◊ Ingredients: As the name indicates, Supreme-C is a vitamin C serum which is based on glycerin and water (ascorbic acid is water-soluble). The 7.5% percentage of vitamin C is not plant-derived so the serum can't be certified as organic. The serum has a neutral fragrance with very light fresh-floral undertones.
◊ INCI: Glycerin (plant origin), Water/Aqua, Vitamin C/Ascorbic Acid, Damask Rose/Rosa Damascena Flower Water, Pentylene Glycol (plant origin), Arginine, Gluconolactone, Hyaluronic Acid/Sodium Hyaluronate, Ferulic Acid, Citronellol, Sodium Gluconate, Fragrance/Parfum*. *From 100% natural Damask Rose/Rosa Damascena Flower Water
◊ Effects: Vitamin C (in the form of ascorbic acid) is an effective antioxidant which boosts collagen production and – in a higher dosage – even has a light peeling effect on the skin. It reduces pigmentation and has anti-inflammatory properties. For this you need a pH level which is on the acid side – the Supreme-C serum from Nuori has a pH level of around 2.3 (according to my measurements), so if you have sensitive skin you should probably use the serum only once a day.
◊ My pro/con analysis:
+ Freshness and stability of the vitamin C is ensured by the packaging and the 2 x 10 days treatment.
+ After around ten days my skin looked clearer and more refined and also hydrated and plump – I really like this fast effects
– The serum feels slightly sticky on the skin (probably because of the glycerin) which I don't really like.
– If it is icy outside (once the temperature drops below 0 C) I recommend that you apply a moisturiser on top of the serum; it is very watery and in winter-time I definitely need more lipids to protect my skin.
– It takes around 2 days until the powder has dissolved in the liquid which I think is a little too long.
+ The hyperpigmentation on my forehead was reduced and my skin looked more even-toned. However, this didn't happen during the 20 day treatment but in the months after my first test run back in autumn 2015, so I can't say whether this is a direct effect of the serum or not.
+ With the Supreme-C Serum Treatment Nuori offers an innovative product which you would usually find only in conventional cosmetics (there are a few exceptions which, however, are mostly from the US).
◊ Price: 110 Euro – this is a lot of money; I assume that the elaborate packaging is not particularly cheap although it makes sense to package the key ingredients separately it because vitamin C is so instable.
◊ Retailers: Amazingy (Germany), Greenglam in Augsburg (Germany), Spatacular in Düsseldorf (Germany), Bon Marché in Paris (France), Lodenfrey in München (Germany), Just Green Things in Wien (Austria), Content Beauty in London (UK) and nuori.com
[Click here for more pictures and the original German article Das Supreme-C Serum Treatment von Nuori]
Whenever I'm in Paris I stay in the 13th Arrondissment because I like the area: the street life is relaxed and it almost feels like I'm in a small town. The 13th Arrondissement also has the pretty Butte aux Cailles (an area with a student-y flair and plenty of small restaurants) and Paris's Chinatown area is just a short walk away.
On my way to the Metro I always walk past organic supermarket Naturalia in the Avenue d'Italie. One of the store's iron shutters is decorated with a tiger graffiti which is rather cool: Last year Naturalia began to commission street artists to spray paint the walls and/or shutters of different Naturalia outlets in Paris. The company calls this street art project "Naturaliart"; it was developed in cooperation with artist agency Rencart. You can even take a street art walk which will take you past various Naturalia stores with painted walls. The graffiti designs are created with eco-friendly paints which are based on water.
Last year "Naturaliart" focused on the work of two French street artists, Kashink and Stew; during one of my 2016 visits I had bought a Stew cotton shopping bag which I showed in these Beauty Notes here. Some time ago Naturalia launched four new limited edition bag designs (created by Jo di Bona, Rnst, Romain Froquet and Marko93 respectively). With each bag purchase you support Jardins de Cocagne, a French charity which supplies disadvantaged families with 30.000 food baskets per week.
Of course I bought one of the new limited edition bags – the tiger design from Marko93 – which reminds me of "my" Naturalia store in the Avenue d'Italie! The bags are manufactured by French company Les Mouettes Vertes with GOTS-certified cotton. I also read that Naturalia launched the street art cooperation because they wanted to highlight the fact that "organic" can also be innovative, open-minded and international. I like!
I love these kind of organic/art projects; I think there should be more of these cooperations. Naturaliart reminded me a bit of German brand Dr. Hauschka's Bronzing Powder from 2014 – the lid of the limited edition powder jar was designed by artist Tina Berning. Very cool.
[Click here for more pictures and the original German article Der Tiger von Naturalia]
I went to Berlin for a couple of days this week – I saw such beautiful white snowy landscapes from the window of my train! – to stay with Annika who does all of those nice English translations for Beautyjagd. One of the stores we visited was Hallesches Haus in Kreuzberg: the hip café and concept store opened last year and the retail area offers all sorts of beautiful things; stationery, foods, interior design, decorative articles, accessories and gadgets… They also had the Stil in Berlin city map from Mary Scherpe whose Stil in Berlin blog is one of the best-known city blogs in the German blogging scene. I really like this idea: on the foldable city map Mary lists her personal favourites in Berlin – cafés, bars, restaurants, stores and flea markets.
When I saw the Beeswax Lip Balm from Haeckels on the shelf of Hallesches Haus I simply couldn't resist: the little golden pot contains a firm and waxy yellow balm which is based on beeswax and sunflower oil. The next ingredient in the INCI list is algae extract which is included in all Haeckels products. The balm is scented with notes of lavender and geranium and feels surprisingly supple on the lips – very nice. Haeckels is a brand from Margate, a small seaside resort in the South East of England; besides various face care products the brand's line-up also includes incense cones and scented candles. The lip balm cost 18 Euro. I'll keep you posted!
On Wednesday I had an appointment with organic online perfumery Savue Beauty. In their showroom, Savue's founders Annika and Swantje showed me some new beauty products, including the recently launched Thousand Petals Beautifying Oil Hair&Body from US brand R.L. Linden. I was so excited to finally see this product because I love R.L.Linden's Thousand Petals Beautifying Mist! The mist is a hydrating toner scented with a wonderful fragrance blend of honeysuckle, jasmine and orange blossoms. And yes, the Beautifying Oil has quite the same amazing fragrance – I'm serious considering wearing it like a perfume oil on my wrists during the day! The scent is so uplifting and in winter time I sometimes need an olfactory reminder that spring will come eventually 😉 . The Beautifying Oil is based on jojoba oil, apricot oil, avocado oil and rice germ oil; it is very moisturising and quickly absorbed into the skin. I hope that one day R.L.Linden will launch a real perfume oil with the Thousand Petals fragrance blend!
Unfortunately I was hit by some kind of 24-hour stomach bug on Wednesday evening so the last day of my Berlin trip was spent lying in bed – oh well, these kind of things happen!
But back to beauty news! My body care routine now includes cocoa butter which I found in a local branch of organic supermarket chain denn's. The cocoa butter chips (they look a little like chocolate chips and are packaged in a clear plastic jar) are shelved in the chiller cabinet besides butter, margarines and other spreads. Over the last few weeks I have started to add a few of these chips to my bathtub whenever I take a bubble bath. Three or four chips are enough to moisturise the body; the cocoa butter (which has a heavenly chocolate smell!) leaves a very light protective film on the skin. Of course you can also use cocoa butter for culinary purposes, adding it to porridge, creams or dips, or use it for baking.
I also featured cocoa butter in my new article for denn's Bio-Blog: I decided to write about the skin care properties of plant oils that are commonly used for cooking (like olive oil, chia seed oil, argan oil or cocoa butter). Enjoy! (German only, sorry).
At my local DM drugstore I recently found the new Beauty & Fruity Micellar Water from DM's organic own label brand Alverde. I'm a big fan of micellar waters (I use them every day) so I immediately had to try out this affordable new product. DM's competitor Rossmann had already introduced a micellar water last year in its organic own label brand Alterra. However, the Alterra micellar water didn't really convince me – I don't like strong, fruity fragrances. Since I use micellar waters to take off my eye makeup I prefer unscented or lightly scented products. The Alverde water also has a rather fruity smell, it removed eye makeup and mascara and didn't sting in my eyes but I still think that the micellar waters of French brand So'Bio étic are gentler on the skin. I use micellar waters as the first step in my evening cleansing routine; the Alverde micellar water is vegan, certified by NaTrue and based on water, alcohol, aloe vera, glycerin and an organic tenside (which is responsible for the cleansing effect). Alverde's Beauty & Fruity Micellar Water costs 2.75 Euro. It is available in all DM stores.
And here is yet another lip balm! I discovered the Lip Balm from German brand Pharmos Natur a few weeks ago in Beauty & Nature store in Munich. When I bought the little jar I assumed the balm would be a classic solid lip balm. However, the Pharmos Natur balm is actually a water-in-oil-emulsion which immediately reminded me of the creams of Demeter-brand Martina Gebhardt. According to the INCI declaration, the lip balm is based on aloe vera juice, avocado oil and olive oil plus beeswax and wool wax. It is scented with a light rose fragrance. The texture is oily-moist rather than waxy-solid so it is absorbed well into the lips. It's a good moisturising base for a lipstick (or use it as a protective moisturiser on your cheeks when the temperatures are icy outside!). For my really dry lips, however, I need an additional waxy layer over the Pharmos balm. Pharmos Natur is based near Starnberg lake in Southern Germany; the organic aloe vera that is contained in the balm is sourced from Central America. The jar costs 23.50 Euro for 7 ml.
There are not that many organic beauty news at the moment – most companies are waiting for Vivaness trade show in mid-February (Vivaness is the biggest organic beauty trade fair in Germany) to launch their new products.
US brand Kjaer Weis has launched a The Beautiful Oil which is beautifully packaged. More info is available at Net-a-porter.
And a small Vivaness preview: German niche brand Yverum is launching a new tinted Lip Collagen Balm, Martina Gebhardt is introducing an Eye Care Fluid, German aromatherapy brand Primavera will bring out a Yoga collection with a new fragrance blend and Dr. Hauschka has also announced some exciting new products…
[Click here for more pictures and the original German article Beauty-Notizen 27.1.2017]
Good-bye everyone and see you in two weeks!
Julia