Dear international readers of Beautyjagd,
Welcome to the next English-language edition of Beautyjagd! This is a condensed version of the most important articles that have appeared on my blog over the last few weeks. For more information about this format, click here. And now: enjoy the best of Beautyjagd in English!
Best wishes
Julia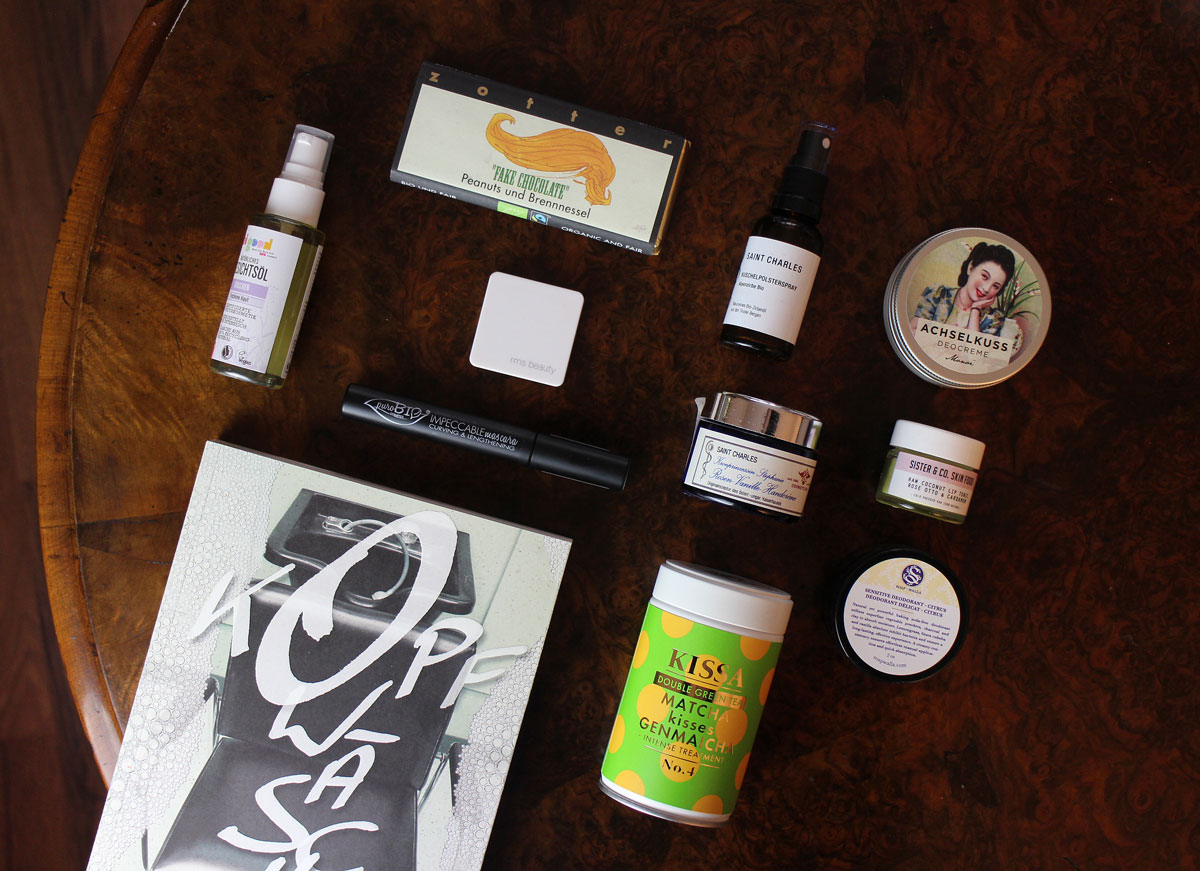 I did it! I visited Vienna for the first time in 21 years! It's strange to think that it took me so long – after all, the ICE train from Nuremberg to Vienna only takes 4.5 hours (at least it does when the train is running on schedule and it isn't redirected like it happened on the way back…) . Anyway, I was in Vienna last week. I have already told you a bit about where I went and what I did in the second installment of my new podcast Wild Roses (German only, sorry).
Visiting CulumNatura in Ernstbrunn
On Monday and Tuesday I visited organic salon company CulumNatura in the Leiser Mountains near Ernstbrunn in Lower Austria. Every year CulumNatura organises a press event which is primarily for trade magazines from the professional hairdressing and salon sectors in Germany and Austria – an entirely new setting for me! I've known CulumNatura for many years. When I was living in Cologne my flat was just around the corner from organic beauty perfumery Just Nature. The store's retail space also hosted an organic hair salon and the hairdresser there worked with CulumNatura products. It was exciting to finally meet the founder of the Bio Austria-certified organic salon brand. Willi Luger and his team are working to implement better (and healthier) working conditions for hairdressers across the industry. After all, hairdressers handle chemicals and aggressive substances every day (hair dyes, for example) so a hair salon is not the healthiest working environment. Luger is also fighting to improve the reputation of the hairdressing industry – too often hairdressers are viewed as people who couldn't get a "real" job. The fact that being a salon professional actually takes a lot of training and skills doesn't really register with many people from outside of the industry. Last year CulumNatura celebrated its 20th anniversary; over 1000 salons already work with the brand's products – and the number is constantly growing. At the press event we toured CulumNatura's headquarters and in the evening there was a special dinner: each course was inspired by CulumNatura products and its key (edible) ingredients – the menu included some seriously amazing creations! Willi has written a book about his company and about the philosophy behind CulumNatura – the book is called "Kopfwäsche" (which translates as "Head Wash"; in German it's a play on words). I'm looking forward to reading it, CulumNatura is a very interesting company. By the way, the brand's products are only available in accredited natural hair salons (there is a shop finder on the company's homepage).
Hand cream and pine spray from Saint Charles Apotheke in Vienna
I was impressed by organic beauty store (and pharmacy) Saint Charles Apotheke: besides plant-based and herbal medicines and supplements (like Spagyric essences or gemmotherapy products) the company also sells its own organic beauty range. Since I love the calming fragrance of Zirbe (an Austrian type of pine tree) I immediately bought the Alpenzirbe Bio room spray and used it that very evening in my hotel room. And how could I resist the Rose Vanilla Hand Cream of Crown Princess Stephanie (produced after an original recipe of the Austro-Hungarian Empire)? The soft water-free balm is based on almond and apricot kernel oil, shea butter and wool wax and has a beautiful fragrance. According to the packaging copy (borrowed from the original product recipe!), regular use of the balm will "help frown lines disappear". Here is the homepage of Saint Charles Apothecary; the company also has a store in Berlin.
Deodorant creams from Soapwalla and Achselkuss
I bought two deodorants while I was in Vienna: in Staudigl perfumery I found the new Sensitive Deodorant Citrus from US brand Soapwalla. The lemon tart-scented deo cream has a greenish colour which comes from the moss that is included in the product formula! However, once you apply the cream the colour disappears; all you can see is a greyish tint on the skin. The texture of the deo is pleasantly soft and not grainy, similar to the Soapwalla's original deodorant cream (I wrote about this product back in 2011). The active ingredient is magnesium salt, like in the deos of fellow US brands Schmidt's and Meow Meow Tweet. The new deodorant is also available in another fragrance variant; you can check it out online at Biomazing. – During a visit to vegan concept store Muso Koroni I bought the Deo Cream Monoi from Viennese niche brand Achselkuss – the brand name translates as "armpit kiss" 😉 . The deodorant cream has a lovely monoi fragrance and is based on shea butter and baking soda, so it is comparatively firm and doesn't melt so quickly. The texture is not grainy or crumbly either.
Blue Mascara from PuroBio and Vintage Cake Eyeliner from RMS Beauty
I already talked about the Impeccable Mascara from PuroBio in shade Blue and the Vintage Cake Eyeliner from US brand RMS Beauty in my Beauty-Podcast from Vienna. It was great to finally see the colour cosmetic line-up of Italian brand PuroBio in real life – I visited Naturkosmetik Josefstadt store which is one of the Viennese stockists of PuroBio. So far I had only seen the products in online shops and on beauty blogs. The mascara really is crazy blue; I'm still having a bit of trouble with the applicator brush which doesn't seem to transfer enough colour to my lashes. But hopefully this will improve soon, sometimes mascaras need up to a week until they start performing properly. You can buy the mascara at Ecco Verde online store. – I bought the Vintage Cake Eyeliner from RMS Beauty at Staudigl perfumery. The eyeliner looks like a highly-pigmented eyeshadow with a matte finish and comes with a slim brush applicator. You can apply it wet or dry; the result is more intensive and precise with a wet brush and more smoky if you use a dry applicator. I am a little disappointed that the INCI of the Vintage Cake still lists nylon although this synthetic ingredient is probably responsible for the long-lasting result which I can't really complain about. In Germany you can buy the Vintage Cake Eyeliner in online stores like Green Glam or Amazingy.
Raw Coconut Lip Tonic Rose Otto & Cardamom from Sister & Co Skin Food
I discovered this UK brand at Staudigl perfumery: The Coconut Lip Tonic Rose Otto & Cardamom from Sister & Co Skin Food smells of rose and cardamom; it is a mouthwatering fragrance! The ingredients in Sister & Co's products are barely heated up so the brand's cosmetics are practically raw. My lipbalm is based on beeswax, coconut oil, shea butter, almond oil, avocado oil and essential oils of rose, sandalwood and cardamom. Mmmmmm! This blend is good enough to eat 😉 . The balm has a texture which is balanced nicely between waxy, oily and buttery; it feels really comfortable on the lips. As far as I can tell the products of Sister & Co are all water-free.
Face Oil Violets from bi good
I already mentioned that I had bought the Wash Cream Violets from Austrian drugstore chain Bipa's certified organic own label brand bi good. And just before I left Vienna I bought the matching Face Oil Violets – I love the scent of violets. And I like face oils! The bi good face oil has a soft, powdery violet fragrance. The structure of the oil is simple; the product is based on soy oil, processed oils and sunflower seed oil but considering the low product price (it retails at 3.99 Euro) one can't really complain! I also like the fact that bi good has used this charming old-fashioned flower as the key ingredient of its face care range.
Organic beauty news of the week
There is a whole clutch of novelties from German drugstore retailer DM's certified organic own label brand Alverde: in late October Alverde will launch a Gift Set with Fig, one with rose and a Beard Care Set for men. On Instagram I also saw a picture of a new face care range called Naturschön.
And in case you're wondering: the dotted tin in the picture above contains the Double Green Tea from Kissa which I bought in an Austrian outlet of German organic supermarket chain denn's. The name of my tea is Matcha kisses Genmaicha – the tea is from Japan, the brand Kissa is based in Vienna. And of course I bought some chocolate souvenirs in the flagship store of Austrian organic chocolate brand Zotter! I mentioned the variant Erdgespräche in my pod cast, the actual chocolate, however, is already gone 😉 . But I still have an interesting bar to look forward to: the Fake Chocolate from Zotter contains peanut nougat and thistle jelly.
[Click here for more pictures and the original German article Beauty-Notizen 13.10.2017 (Wien-Edition)]
Close your eyes and touch the bark of the tree with your hands. The surface feels rough and uneven; almost exciting. Strong and fragile at the same time, with scars that tell stories of lightning storms or other injuries. However, these scars also tell of new beginnings – every year, spring comes eventually. The wood of the tree harbours a power and strength which is protected from the outside elements by the faithful bark. What a calming feeling.
And now a change to New York City where the editorial team of renowned beauty magazine Allure has just announced the end of anti-ageing. Starting with the September 2017 issue, the term "anti-ageing" is no longer printed in Allure magazine. In her Editorial, Allure's Editor in chief Michelle Lee is demanding that the cosmetics industry pay more attention to how they describe their beauty products. She writes: "We should be thankful for every day that we can grow older", and that ageing is nothing that we have to defend ourselves against – it is not a computer virus on our laptop. Beauty is more than just youth and it is not solely reserved for people below 35 years of age. The product pictures that are printed in this Editorial only show cosmetics with product names that do not contain words like "anti-ageing" or similar terms.
It is crazy that people (and especially women) won't allow themselves to display the outer surface of a strong, weathered old tree but instead are encouraged to look like smooth young saplings all the time. Nothing against young saplings (or young people): at that age most of your life is still ahead of you and everything still feels a little wild and impulsive.
"Like the blossom unfolds from the plant so the soul unfolds from the body" – this quote from Austrian anthroposophist Rudolf Steiner hangs above my work desk and inspires me every day. When I was younger I was rather focused on the way I looked, which was important to me. However, for some time now I've been trying to develop and sharpen my soul rather than my body. I want to achieve a new kind of beauty; a beauty which has less to do with a teenager-like figure and a smooth, unwrinkled complexion and instead is characterised by spirit, imagination and serenity. Don't get me wrong, by the way, I still pay attention to my grooming 😉 .
And this is what I do: I concentrate on developing my passions – like writing which has become my profession. I also draw inspiration from trying out new things (even if this is scary every once in a while), I try not to stand still (but I do not run after every trend either) and I love spending time with people who warm my heart and who help me broaden my horizons. This also makes self-confidence and self-appreciation much easier.
My experience has shown me that it is pointless to desperately hold on to old and long-gone circumstances. I did this for several years in one of my previous jobs and in retrospect I find it difficult to believe how much energy I lost through this. It is one of the few things in my life that I regret a little – not letting go when it was the right time. This realisation also applies to the whole ageing issue: if you are too focussed on trying to look young, there is little time and space left to develop yourself as a person. You lose valuable energy and miss so many opportunities to do other and more rewarding things! After all, every chapter of life is exciting (or peaceful) if you just accept it.
Perhaps it helps to think about the changing seasons of the year (always provided, of course, that you live in a region that has distinctive seasons 😉 ) . Most people like the different seasons: in spring time we have the urge to go out and discover things, warm summer nights are relaxing and serene; in autumn time I take long invigorating walks outside and in winter I make things cozy for myself. Enjoying the changing seasons like this already implies a certain kind of positive attitude towards the inevitable passing of the years. It also implies a willingness to take responsibility for your own life.
Germany is one of Europe's rapidly ageing societies and frankly, I don't think it is healthy for such a society to obsess so much about youth – it's kind of ironic really. It also leaves young people much less room to unfold their potential and at the same time, older people are not allowed the space to develop – like seeing their wisdom and life experience valued by society (or by the labour market which still doesn't seem to recognise the worth that older employees bring to a job).
And this is why I am advocating a new definition of ageing – a definition that is not just associated with illness and deterioration (which, of course, exist) but instead values life experience, human warmth and kindness. Glossy magazines should report more frequently on the positive things that happen as you grow older – like discovering new aspects of your personality or gaining new experiences – rather than just writing about the loss of firm skin and the appearance of wrinkles and sagginess. I think this kind of new and positive attitude could also help the cell regeneration mechanism inside our bodies remain active for longer – after all, cell renewal doesn't stop just because we hit the age of 40 or 50! And hopefully, we will eventually arrive at a new ideal of older beauty and mature attractiveness.
My wish for the future (yes, I am a romantic!): I want to be like a tree that digs its roots into the earth a little more every year. At the same time, the branches of the tree grow upwards and sideways; the crown opens up wider with each passing year. This way, the tree can also offer protection and strength to other people who might want to lean against it at some point. And don't forget: it is also good to stretch out a new branch and explore new things every once in a while 😉
*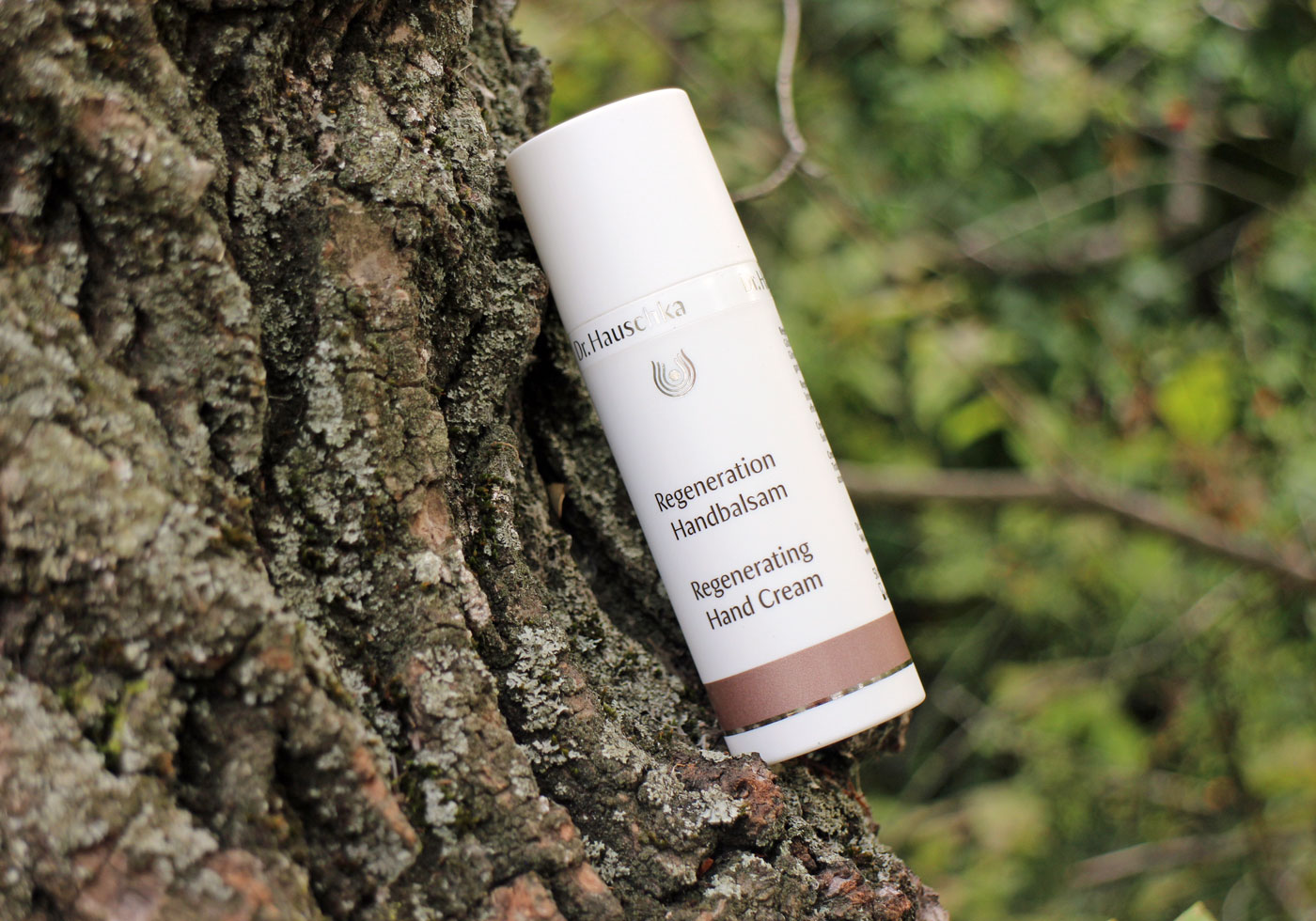 As you have probably seen from the title this is a special kind of Sponsored Post. German beauty brand Dr. Hauschka is supporting my work by allowing me to select my own topic for this blog post. As a beauty blogger I am very aware of the pressure to look young and perfect all the time – so many people (and especially women) deal with these expectations every day. And I believe that is a topic which merits as many blog posts as possible!
You won't find the term "anti-ageing" in Dr. Hauschka's brand philosophy either. The company's products are designed to boost the body's own regenerative powers; to help the body live in harmony with the rhythm of life – like the Regeneration range which was formulated for mature skin. I have already written about the Regeneration Hand Balm with red clover, bryophyllum and horsetail extract in these Beauty Notes from May. I am currently using up the third bottle of this hand cream. You can find more information about the Regeneration range on Dr. Hauschka's homepage.
[Click here for more pictures and the original German article Presented by Dr. Hauschka: Weshalb Anti-Aging nichts für mich ist]
My weekend in Hamburg went by much too quickly! The weather was beautiful and it was so warm that I had to borrow a t-shirt from my friend – after all, who would have thought that the North of Germany could be so warm in mid-October? The only things I bought in Hamburg were a shower curtain with a Moroccan design at Swedish retailer Clas Ohlson and a small size of the Frischedusche Wasserminze Meersalz (Fresh Shower Water Mint & Sea Salt) from Aliqua, the certified organic own label brand of Northern German drugstore retailer Budnikowsky. I'm stockpiling mini sizes for my next trip!
Gülsuyu Rose Water from Rosense
I was really surprised when I discovered the Gülsuyu Rose Water in my local DM recently. Finally, a Turkish product on the shelves of a German drugstore – I was immediately reminded of my trip to Istanbul (which for me remains one of the most beautiful cities in the world). Of course I looked at the INCI declaration right away – often "rose water" is simply plain water with added synthetic rose aroma (like the rose water you find in so many French supermarkets). But no, the Gülsuyu rose water is from distillation (as any true rose water should be!) and it is 100% natural. However, I don't think it is from organic agriculture. According to the packaging text the roses (rosa damascena) grow in Isparta, around 120 km north of Antalya. You need to store the Rosense rose water in a cool dark place since it does not contain any preservatives or alcohol. The hydrosol has a pleasant rose fragrance and is packaged in a pink plastic bottle, without spray nozzle. The price was 14.95 Euro for 300ml. On Youtube the Rosense water has been trending for a while now – it seems that DM has reacted to this hype and has added Gülsuyu as one of its new brands.
MioBio in Bucharest
Annika from Trend-Traveller was in Bucharest last week and sent me two Romanian beauty souvenirs 😉 . She bought the Petit-Pixie soap from Déjà Vu and the Musetel Crema from Sabio in organic beauty store MioBio (she has also written about MioBio on her blog). MioBio sells more than 40 organic beauty brands including a number of Romanian brands which are particularly interesting. The soap from Déjà Vu and the cream from Sabio both contain camomile extract because Annika knows how much I like this healing plant. The hand-crafted soap is based on saponified oils; the cream is a water-free balm with beeswax and plant oils. If I ever visit Bucharest I will definitely have to visit MioBio! Merci, Annika!
Fair Edition Sambia Hand and Body Lotion from i+m
This week I received a press sample of the Fair Edition Sambia Hand and Body Lotion from organic cosmetics brand i+m Naturkosmetik. 100% of the proceeds of this product go towards a women's shelter in Zambia which is operated by the Berlin-based beauty brand. The shelter is trying to expand its sewing workshop which offers women the chance to earn money and support themselves. The slogan of this Fair Edition is "Change the world with beauty" – what a great motto! The combined hand and body lotion has a light texture and a fresh and zesty fragrance. The vegan product is based on water, processed oils and argan oil and does not contain alcohol. On my dry body skin the lotion is absorbed very quickly so I use it in the morning when I'm in a hurry. I also like to use the lotion as a hand moisturiser during the day – because the texture is non-greasy it doesn't leave oily finger prints on my keyboard. However, my skin still feels surprisingly moisturised, probably because the lotion leaves behind a very light protective film. The bottle costs 12.90 Euro; more information on the project is available on i+m's homepage.
[Click here for more pictures and the original German article Beauty-Notizen 20.10.2017]
I'd better not count the number of hours that I spend in front of some kind of computer screen each day. It starts in the morning with a first look at the smartphone while I'm still in bed. Then I work on my laptop most of the day and just before I go to sleep, I do a final scroll through Instagram.
And of course I am not alone in this kind of digital lifestyle. When I visited ingredients trade show In-Cosmetics in Seoul this June I saw an intriguing ingredient which was presented by one of the Korean exhibitors: this complex protects the skin against Blue Light rays which are emitted not only by daylight but also by computer and smartphone screens.
Then I read about German organic brand Annemarie Börlind's new Face Oil 3in1 and immediately noticed the term "Anti-Blue Light" on the packaging. Yes, this oil includes a natural ingredient which protects against Blue Light rays. Face oil plus Blue Light protection – I was immediately hooked! For this Sponsored Post I interview Ms LeLoarer, the head of research and development at Annemarie Börlind.
So what exactly is Blue Light? Most people are aware of UVA and UVB radiation which is often talked about in the context of sun care products. However, light does not just contain these two wavelengths but also the afore-mentioned Blue Light. It is also called High Energy Visible Light, the wavelength comprises 400 to 500 nm (nano meters). This energy-rich Blue Light isn't dangerous per se. In low dosages Blue Light can be used to treat acne, for example. However, the waves of this light penetrate deep into the dermis of the skin which means that if you are exposed to too much Blue Light (and most people spend hours in front of their laptops, smartphones or computers each day) it can damage the skin cells. I've read that a period of eight hours spent in front of a computer screen equals a 20-minute sun bath in the middle of the day in terms of cell damage.
The ingredient I saw at In-Cosmetics was based on a natural source: the tagetes plant (also called marigold) contains high levels of antioxidant lutein which the plant uses to protect its cells against damage. Lutein belongs to the carotinoids so the Börlind face oil (which also uses tagetes extract) has a yellow-orange colour. The absorption span of carotinoids reaches approximately 400 to 500 nm – which is the exact wavelength of the Blue Light. In the first experimental set-up with a Blue Light source the face oil with the added lutein actually managed to filter out the Blue Light (other oil blends without lutein let the Blue Light straight through). An In-Vitro test in another research facility confirmed these findings. LeLoarer told me that she believes that the topics of light and photo-ageing will be researched much more thoroughly in the future.
And what does the face oil include besides the lutein? The product is based on jojoba oil which has a similar structure to human sebum so it protects the skin against loss of moisture without greasiness. The formula also includes processed oils (including squalane) so the texture of the face oil is comfortable and light. Another key ingredient is the Himalayan cherry oil from Nepal that I wrote about in this post here. It is also called Dhatelo oil and comes from a charity project in the Himalaya Mountains which supports women in one of the poorest regions in Nepal. Dhatelo oil has a high percentage of unsaturated fatty acids and contains a lot of vitamin E. Also included in the oil blend is Sacha Inchi oil from Peru (yet another oil that is rich in unsaturated fatty acids) which is also sourced from a charity project. In addition, the Face Oil 3in1 contains Cacay oil (sometimes spelled Kahay oil), a very trendy ingredient that contains a lot of transretinol acids (even more so than rosehip oil). Cacay is also called "plant retinol". Börlind sources its Cacay oil from a charity project in Colombia which protects the forest and supports more than 200 families of small farmers.
"And of course the face oil also contains algae extract", I said with a smile during my telephone chat with Ms. LeLoarer – I know that she is from the Bretagne area in France and a well-known algae expert. And indeed, the face oil contains a certain red algae extract which is rich in antioxidant beta-carotene as well as anti-inflammatory bisabolol. I initially thought that the bisabolol was extracted from camomile (which is the usual source for bisabolol) but no: this particular bisabolol comes from the Candela tree. Candela-derived bisabolol is said to be more stable and even more skin-friendly than camomile-derived bisabolol. The Candela trees are grown as part of a fair trade project in Brazil.
The orange-yellow Face Oil 3in1 is packaged in a glass bottle with dropper. It is the first face oil in the Börlind product portfolio (as an oil fan I am, of course, delighted by this). The first bottle of the oil that I received was a press sample without the original packaging (and without an INCI listing). I initially thought it was a classic dry oil because the texture was so light and non-greasy, and was rather surprised when I found out that the product is actually based on jojoba oil. I use around five drops on damp skin; the oil is absorbed almost immediately and the skin feels velvety soft afterwards. You can also add a few drops of the oil to your day or night cream. The oil is scented with soft floral notes, some vanilla but also a certain freshness (it's a natural fragrance).
I am not surprised that the Face Oil 3in1 has already received the renowned Victoire de Beauté award in France. In the Victoire de Beauté competition consumers receive unmarked (no brand name) samples of the nominated products. The most popular product wins. Of course Annemarie Börlind was very happy about this award!
The flacon contains 30 ml and costs 34,50 Euro. You can buy the Face Oil online, for example in Annemarie Börlind's own webshop.
Since I never go to sleep directly after taking off my makeup (I usually play around with my smartphone for quite a while) you can also apply the oil at night-time – sort of a face oil digital detoxing treatment 😉 .
[Click here for more pictures and the original German article Digital Detox via Gesichtsöl: 3in1 Gesichtsöl von Annemarie Börlind]
Good-bye everyone and see you soon!
Julia