Dear international readers of Beautyjagd,
Welcome to the next English-language edition of Beautyjagd! This is a condensed version of the most important articles that have appeared on my blog over the last few weeks. For more information about this format, click here. And now: enjoy the best of Beautyjagd in English!
Best wishes
Julia
I've been a big fan of Shoyeido ever since I first discovered the world of traditional Japanese incense. You can read more about the Kyoto-based incense manufacturer in this blog post here, or in this article about Shoyeido's Genji incense sticks which are based on the famous Japanese novel Genji Monogatari. In the last two years I visited Shoyeido's flagship stores in Tokyo and Kyoto and ended up buying so many different types of incenses! You can order some Shoyeido incense sticks in Europe but most of the brand's ranges are not available outside of Japan.
And this year I finally managed to visit Shoyeido's Lisn concept store in Tokyo's Aoyama neighbourhood. There are just two Lisn outlets in Japan, one in Tokyo and one in Kyoto. Lisn focuses on modern fragrances, contemporary lifestyle trends and design rather than traditional Japanese incenses, but of course the Lisn incenses are of the exact same quality as Shoyeido's traditional incense ranges.
I already mentioned my visit to Lisn in these Beauty Notes from June; the store name Lisn, by the way, is derived from the English word "listen" and describes a very poetic way of burning incense – in Japanese it is called "listening to the fragrance".
The interior design of the Aoyama Lisn store is modern and airy (see picture above) – the colourful sticks on the right hand side are just some of Lisn's 150-odd incense variants. You can also buy individual sticks of incense rather than having to purchase an entire pack! To make selection easier the incenses are divided into nine fragrance families, like Floral, Citrus, Spice, Green or Oriental. I was almost overwhelmed the first time I visited the store! As a rule the Lisn scents are more contemporary than Shoyeido's traditional incense blends.
A very nice store assistant explained that each of the incense sticks stands for an image which is reflected in the incense name, like "Sea Foam", "Whisper Drops" or "Dive into the blue". You select the appropriate incense depending on your current mood, the time of day, the season or your individual situation. A brochure offers tips which incense blends are particularly suitable for morning or evening time or for certain occasions, for example when you want to feel refreshed or relaxed.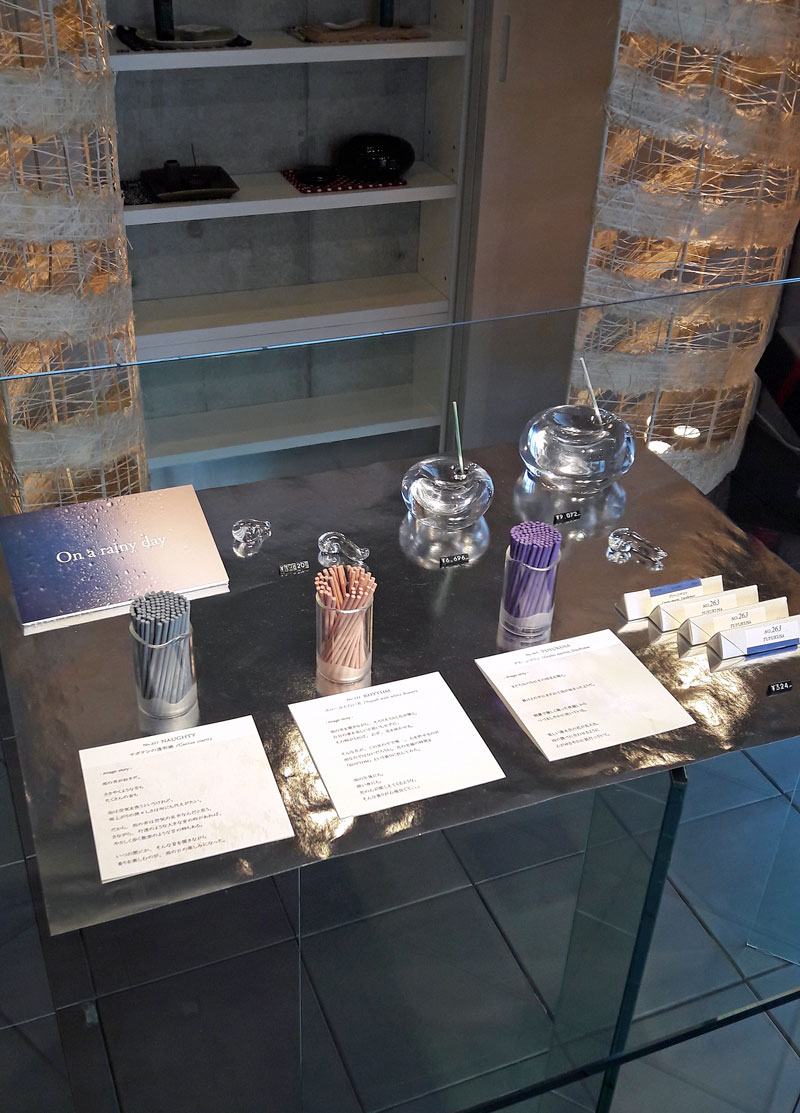 Then there are the seasonal incenses: when I visited the store in June the product display (see photo above) was dedicated to the rainy season – you can see three incense recommendations for a rainy day. I liked the Naughty variant so much that I bought 20 sticks! The scent is described as "cactus clarity" and reminds me of Guerlain's fragrance classic Parure. The beautiful glass incense burners look just like water drops, don't you think?
On my second Lisn visit it was November and the seasonal varieties focused on warmer and sweeter scents, like "Milk Caramel" or "Warm Rust".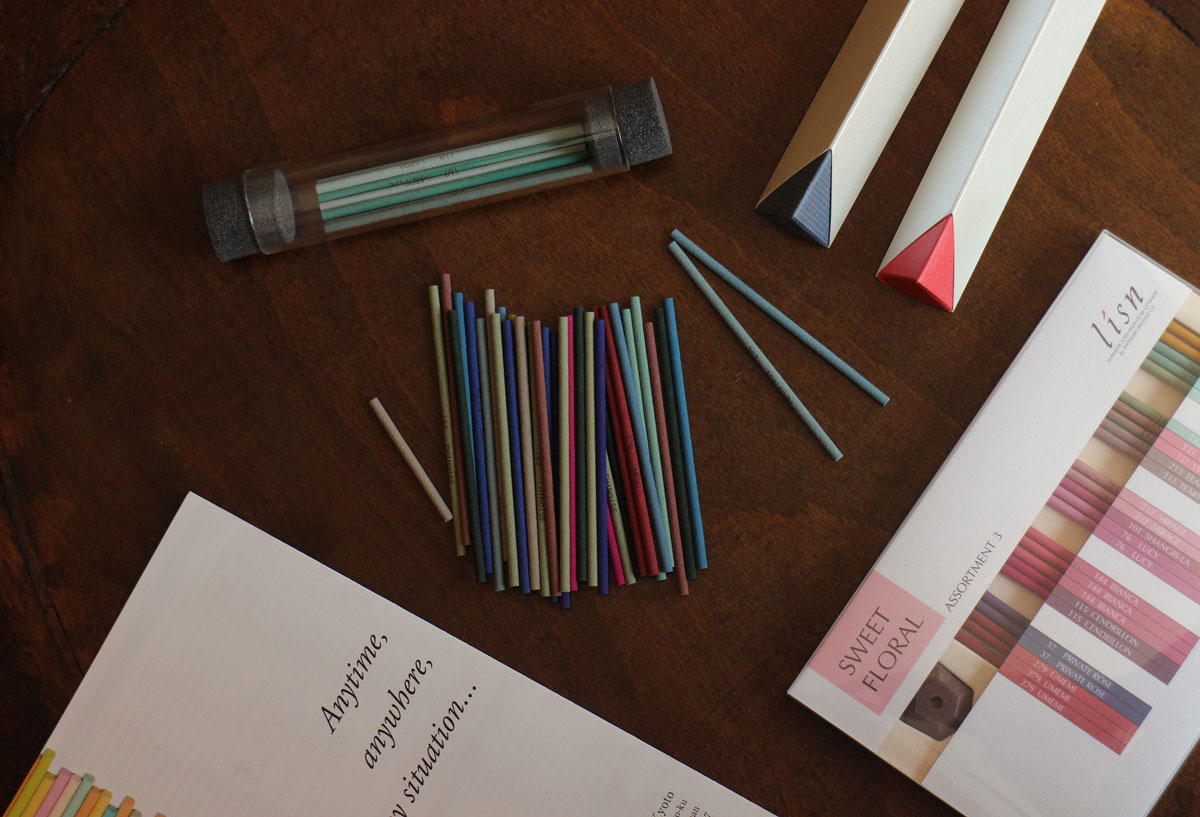 Of course I didn't manage to sample all 150 varieties so I selected my incenses from two categories, Floral and Green. And my goodness, what amazing fragrances there were! The above-mentioned Sea Foam smells like watery rose, Chinoise reminded me of a Jasmine bush that has almost lost its blossoms and Mirage evokes a soft cherry blossom fragrance. The Lisn incenses do not include many traditional ingredients such as sandalwood or agar wood, so the fragrances smell more modern than Shoyeido's classic incense blends.
I bought a few sticks from each scent that I liked plus a glass burner. Two of the fragrances I loved so much that I had to buy 20 sticks each (these were packaged in triangular cardboard boxes). Lisn also offers sample sets with different incense sticks from one fragrance family, like Sweet Floral. Whenever I burn one of the Lisn sticks I make a note of which scents I particularly like, so I can repurchase them next time I'm in Tokyo – because a visit to Lisn has already become one of my must-do things in Tokyo!
I was also surprised to find out that Lisn once had a European store, in Helsinki. The Finnish have a strong affinity to design and style so it makes sense that the company selected this country for their European market entry. However, the store apparently wasn't that successful and closed down eventually. I think this might have to do with the fact that here in Europe, scented candles and scented sticks are more popular for home fragrance than burning incense.
You can find more information on the English-language page of Lisn; they also have an online shop.
[Click here for more pictures and the original German article Lisn by Shoyeido: Anytime, anywhere, any situation…]
Does this seem familiar? The Whatsapp ring tone signals the arrival of a new text. You still have to do your grocery shopping and visit the post office. Don't forget your telephone appointment. An impending cold makes everything more annoying. The next-door neighbours are noisy. It's just two more weeks to Christmas. A car is beeping its horn on the street outside.
You can't go to sleep because the to-do list in your head is so long. A quickly scroll through Instagram in between. Next to the bed is a pile of unread books. Have I remembered my friend's birthday? There are still bills to be filed. Don't forget to plan the train journey next week. The weather is cold and grey outside. So many e-mails. And the kitchen is still a mess…
Does your head also look like this sometimes? If so, now is the time to take a deep breath and slow down with this Sponsored Post in cooperation with German organic brand Dr. Hauschka! Read the text first and then close your eyes – or take a nice hot bath 😉 .
This is what I have been dreaming about for weeks: I'm waking up in the morning in a little wooden cottage; with snowy trees around the house. It is icy cold outside but the sky is clear and there is frost on the windows. When I open my windows all I can hear are the trees and maybe a few birds. My gaze travels across the white snowy early-morning landscape. There is a car very far away in the distance. Then the quiet again.
After the sun has come up and I've had my breakfast I put on a warm coat and go outside for walk. There is a frozen lake nearby which looks beautiful in the icy winter weather and the slanted winter sun light. I enjoy the quiet and silence of the landscape and then go back home and spend the afternoon on my sofa, lighting some candles and looking forward to spending the evening with good friends who make my life happy and colourful. A little bit of mulled wine is keeping us company 😉 . And then I'll go to bed and sleep until the starry winter sky turns bright again.
In nature, winter time is a season of quiet; things are slowing down. Now is the time to think and reflect, to dream and to make plans for the next year. Slowing down is never wasted time: if you are never quiet and give yourself time to regenerate, eventually you won't to able to be productive. Constant tension leads to tiredness and exhaustion. Unless you rest every once in a while activity becomes difficult – nature teaches us that. Regular pauses are very important so you don't burn out your strength too quickly. These quieter times will also help you realise what it is that you really want.
Although I am occasionally very tempted by the idea 😉 this blog post is not an appeal to drop everything and go into hibernation. Which wouldn't work for most people anyway. Instead I try to live more in synch with nature and make sure that several times a week (or ideally: once a day) I take a few minutes to do nothing. And by this I really mean doing nothing – I'm not checking Instagram nor watching a movie or scrolling through a news feed – no, I sit down and simply let my hands (and mind) do nothing. Which isn't the easiest thing in the world for me 😉 .
Taking a bath is a much simpler way of taking a break. Because I am short-sighted everything around me looks diffuse and foggy. I'm floating in the warm water, letting my mind drift and my breath flow. I breathe in the fragrance of fir needles and it reminds me of Japanese pine trees which look so serene and quiet. Or I think of snowy fir trees in the remote depths of Finland, and I imagine how life continues underneath the thick blanket of ice and snow: little mice are scurrying around, bears are sleeping in their caves and perhaps there are even a few trolls or elves who are quietly talking in a secret language… breathe in… breathe out… nothing else; just feeling the water around me and breathing in the scent of fir trees. A relaxing walk in the forest (all in my mind), which floods me with energy and enthusiasm when I feel exhausted.
One of my absolute favourites for this kind of winter-time bath is the Spruce Warming Bath Essence from German brand Dr. Hauschka. I first wrote about this bath essence in 2011 (back then the German product name was "Fir Needle Bath"; it is now called "Wind und Wetter Bad"). Since then the Spruce Essence has become one of my favourite bath additives when I need to relax – it warms me through, clears my head, relaxes me and helps me to think positively when I am going through a stressful phase.
These effects are all due to the fir tree oil which is contained in the Spruce Essence. This essential oil is distilled from the twigs of the fir tree and in European herbal lore it is known for its antibacterial, expectorant and circulation boosting properties. Essential fir tree oil is used as a traditional medicinal oil for head colds and coughs. However, this oil can do even more: thanks to its balanced proportion of monoterpenes and esters fir tree oil is invigorating and relaxing at the same time. This is not just helpful when you have respiratory problems but also in periods of stress: essential fir tree oil strengthens the nerves because it boosts the production of dopamine, noradrenaline and serotonines. These neurotransmitters all produce feelings of happiness, relaxation and satisfaction in the brain.
A walk through the woods always seems to soothe my soul. And if I can't actually get to the woods, Dr. Hauschka's Spruce Warming Bath Essence is a good substitute to achieve a similar effect.
If you don't have a bath tub or you simply don't have time to take a bath, Dr. Hauschka has the following recommendation: fill a small bowl with water, add a dash of the bath additive and place this bowl into the room – and voilá, an instant room fragrance device!
The Natrue-certified Spruce Warming Bath Essence is available from October to April in organic stores and supermarkets, in pharmacies or online. The bottle contains 30ml and costs around 5.50 Euro. More information is available on the Dr. Hauschka website.
[Click here for more pictures and the original German article Atempause mit dem Wind und Wetter Bad von Dr. Hauschka]
One of my favourite moments during my recent Hong Kong trip was the morning walk to the Hong Kong Convention & Exhibition Center (HKCEC) in Wan Chai to visit beauty trade show Cosmoprof Asia (15th to 17th November 2017). Most trade show centers are located outside of the city, in suburbs or industrial parks, but the HKCEC is right in the middle of Hong Kong Island, on the edge of the Victoria Harbour. This means you can either take the famous Star Ferry (if you are staying on the Kowloon side of Hong Kong) or, like me, walk across interconnected pedestrian overpasses from the MRT station Wan Chai directly to the trade show halls. I love that I can watch street food stalls, restaurants and people whilst strolling high above the streets of the city.
But this article is about Cosmoprof Asia which takes place every year in Hong Kong. Over 2800 exhibitors from 54 countries were showing their beauty brands this year. The majority of companies were from Asia, of course, which was the main reason for me (and 80,000 other visitors) to attend the trade show.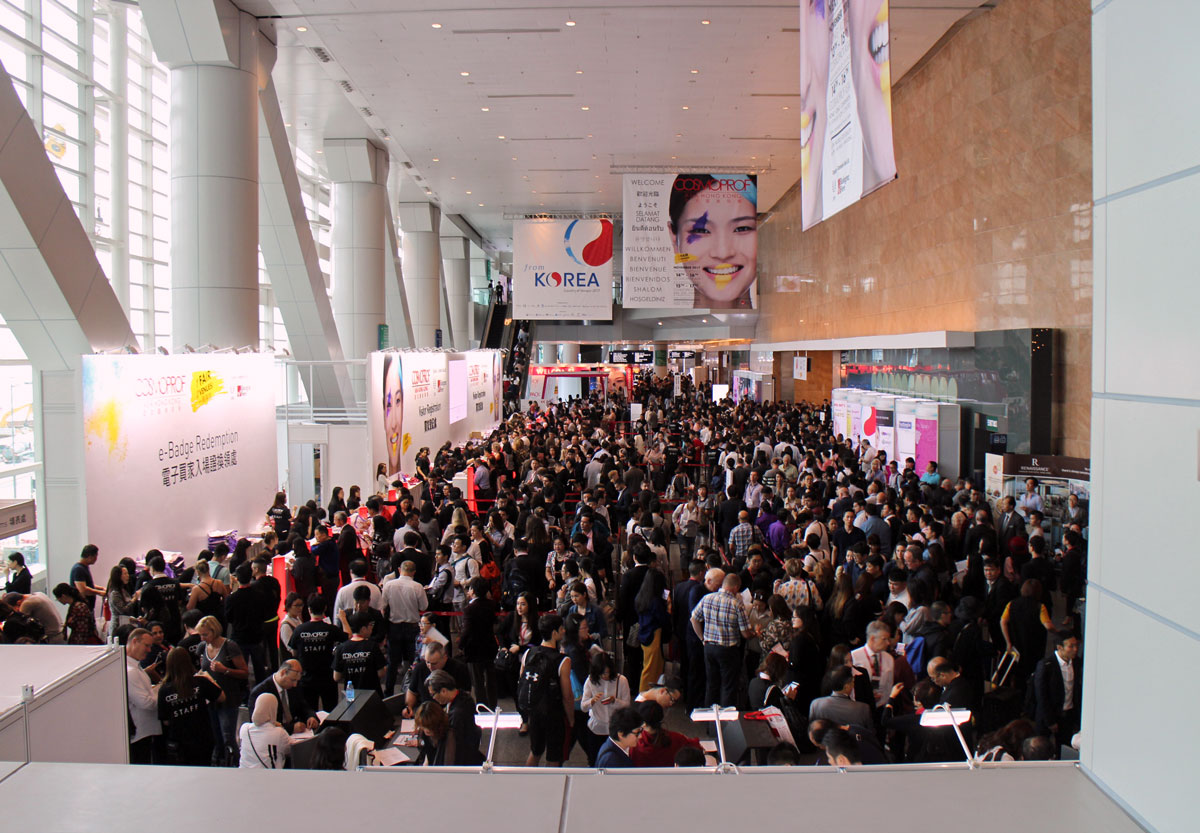 On the picture above you can see the visitors crowding in front of the registration and ticket desks at 9am on the first morning. It wasn't much emptier in the afternoon, actually, but there were trade show employees to help things along and keep the crowds in line.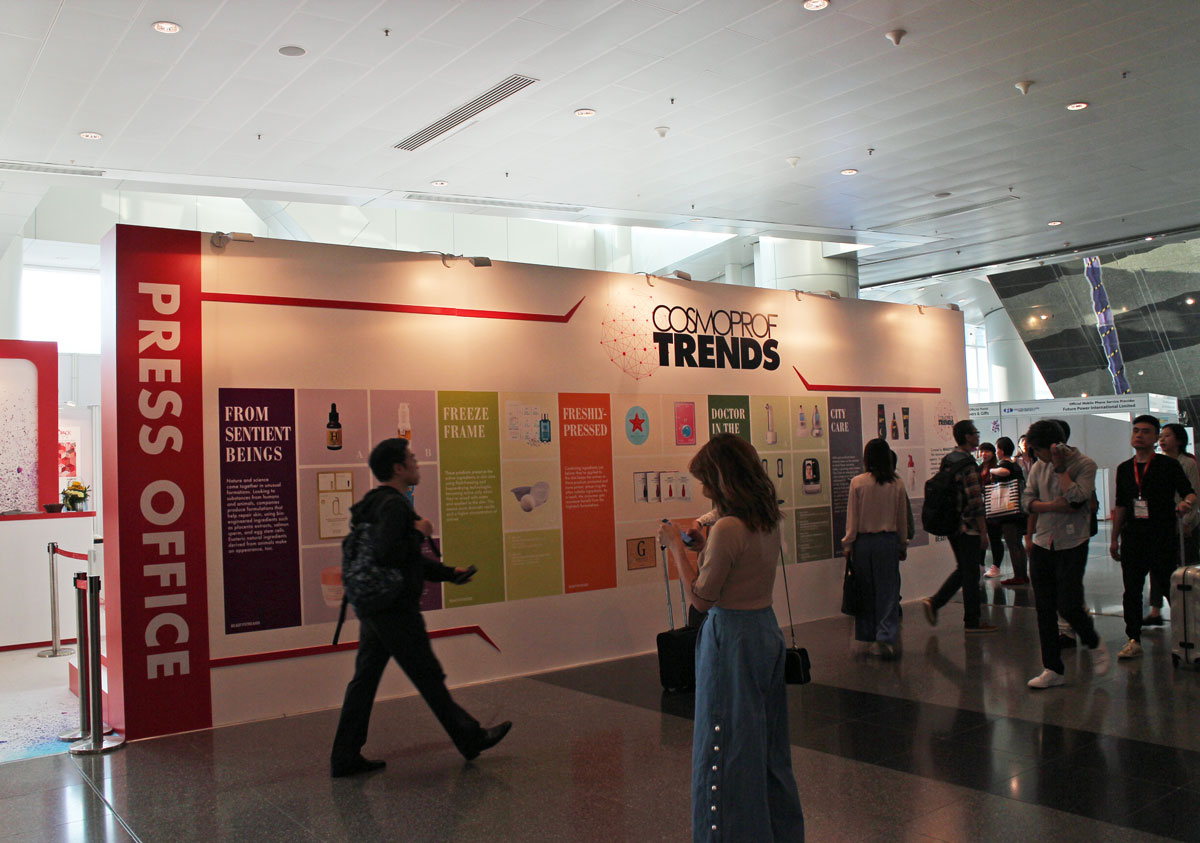 Luckily there was a separate accreditation desk for journalists and bloggers, with the press lounge right next to it. Outside of the press office was the Cosmoprof Trends Wall which presented key beauty trends – a really good idea from the trade show organisers.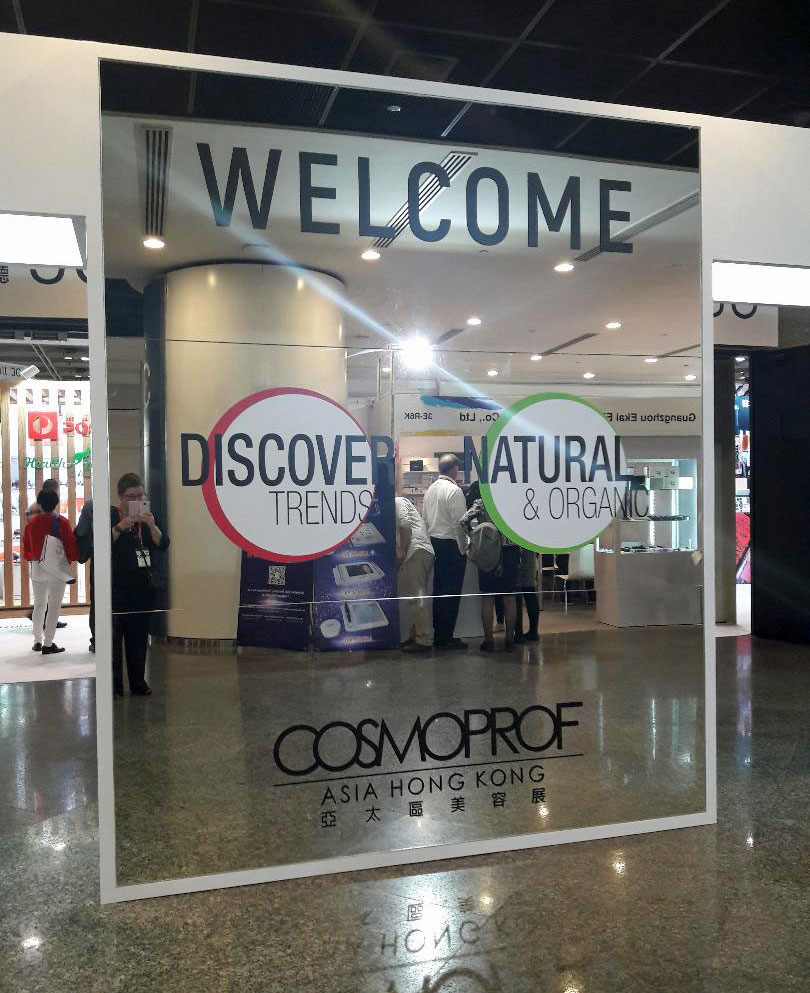 Accompanied by a map of the trade show centre I began to explore Cosmoprof Asia 2017! Hall 1 focused on retail perfumery and cosmetics, Hall 3 offered salon beauty, and Hall 5 covered professional hair and nail products. Scattered around the halls were 25 country pavilions and other special exhibition areas.
One of these special sections was the Natural & Organic Zone (a new exhibition area this year) which assembled around 100 natural beauty brands. However, even outside of the Natural & Organic showcase I came across various green beauty brands: Styx from Austria, for example, Avril and Florame from France or Alteya Organics from Bulgaria were all in Hall 1.
I managed to visit almost all the halls but of course I had to decide on my priorities because I also wanted to attend some of the Cosmoprof conference lectures. Right next to the Natural & Organic Zone was the Discover Trends Zone which featured exhibitors from three trending product sectors: Halal beauty for Muslim women, baby care and beauty electronics (skin care tools for use at home).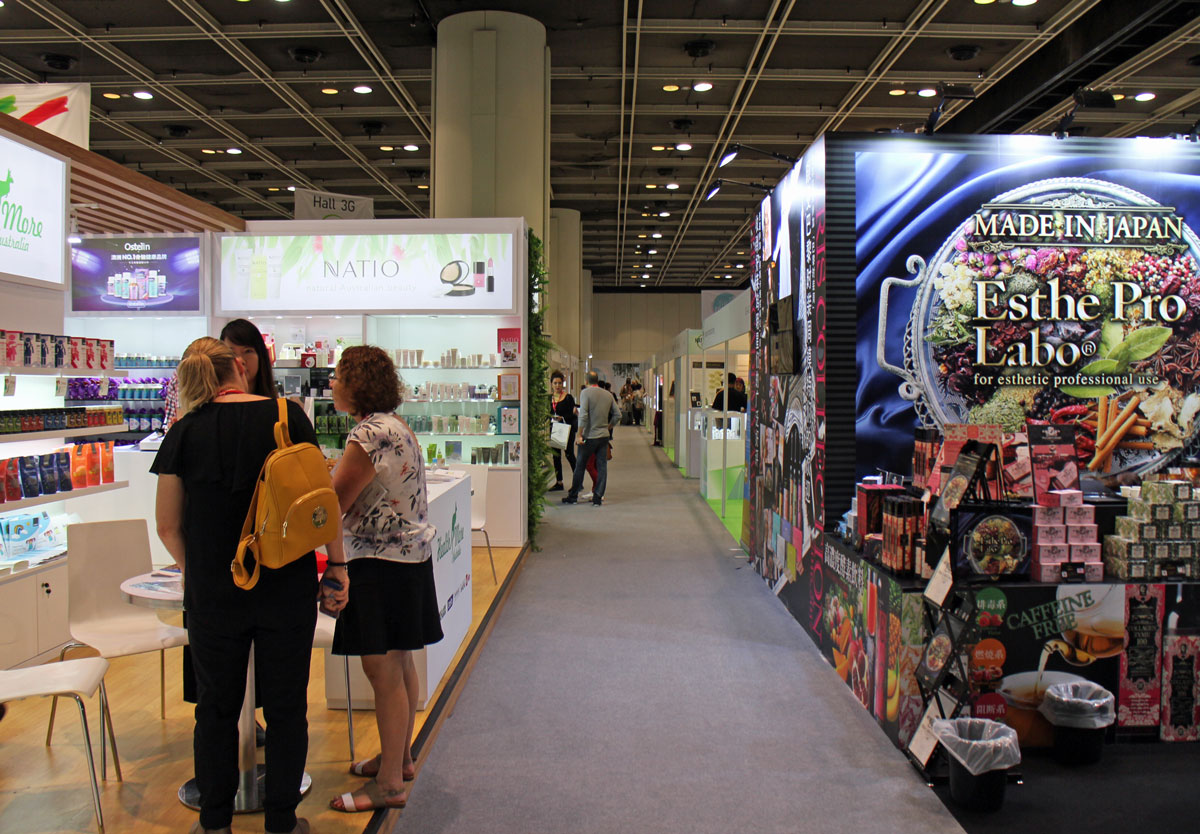 The picture above was taken soon after the doors opened in the morning; when I visited the hall again in the afternoon the aisles were so crowded that you had to practically wrestle your way to the individual exhibition booths. I had checked the trade show catalogue beforehand and drawn up a list of exhibitors and brands that I wanted to visit. Otherwise it is much too easy to lose yourself in the trade show halls.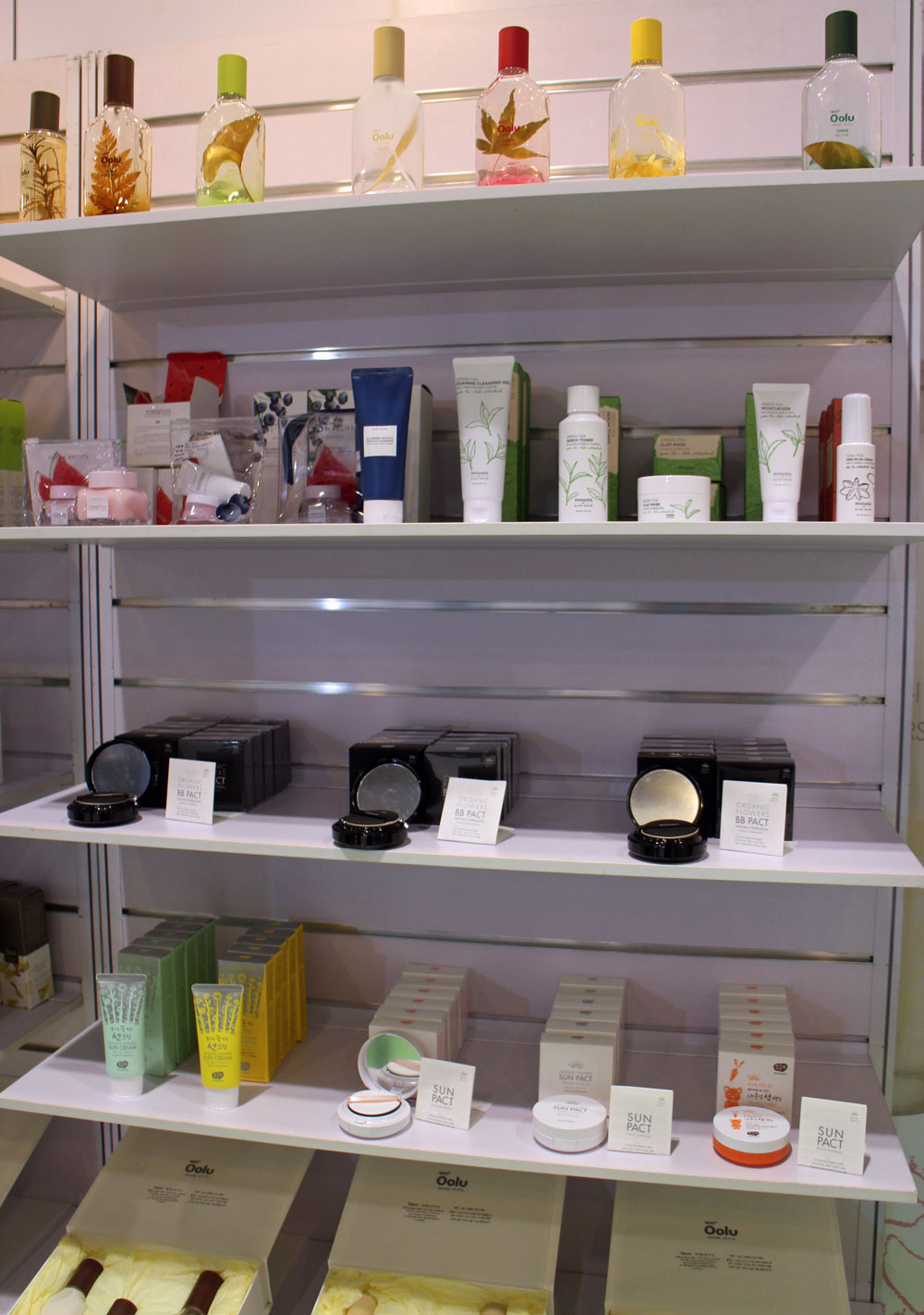 One of the first brands that I visited in the Natural & Organic Zone was ENS Group from Korea with its Whamisa brand. Yes, I am a big fan of this BDIH/Cosmos-certified organic beauty brand; I have written about Whamisa several times on Beautyjagd (you can, for example, check out this article here) and I have, of course, visited the brand's flagship store in Seoul. It was exciting to check out the new Whamisa launches – like the Cushion Foundation BB Pact! The sun care range was relaunched and I also tried out the brand's new Cleansing Water. And I finally got to see Whamisa's Glow Recipe products – this range was launched as an exclusive collaboration between Whamisa and US online store Glow Recipe (see products on the top shelf!).
The Natural & Organic Zone was very international, with many exhibitors from the US, New Zealand, Italy, Australia and Eastern Europe – Bulgaria was represented by a whole group of rose cosmetics companies and Dabba from Latvia was also at the show, as were Essentiq from Slovenia and D'Alchemy from Poland.
I also visited the booth of Hong Kong-based platform Natural Beauty Buyer's Guide which brings together natural and organic manufacturers with distributors from around the world. The annual Buyer's Guide is published by founder Yvonne Chang and offers bi-lingual (Chinese and English) information about ingredients and brands or interviews with market researchers.
One of the exhibitors in Hall 1 was Maskingdom from Taiwan which I had already read about: the brand's product packaging is amazing, with designs that focus on traditional Taiwanese patterns, history and culture. In addition to their different face mask ranges Maskingdom's portfolio also includes skin care products, like the pretty little plastic jars you can see in the picture above. These jars contain very thin face cleansing soap flakes – you simply foam them up with water. The tensides are very mild so they don't dry out the skin. Even better: the ingredients of the Cleansing Flakes are organic enough that they could be certified by any of the European associations! You can imagine how much I'm hoping that this brand will come to Europe one day 😉 .
This is how marketing works today: a few months ago I had noticed Korean brand Femmue on Instagram. And when I found out that the company was also exhibiting at Cosmoprof Asia I simply had to visit their booth! Femmue was launched in 2015 and offers "Flower Therapy" cosmetics. Unfortunately I was unable to find complete INCI listings but I think the products probably include organic and near-natural ingredients. The product range is quite compact; one of the key categories is facial oils (usually based on camellia seed oil). I also liked the liquid gel mask with rose petals. Femmue's line-up offers oils, masks and serums rather than classic face creams. Here is the brand's homepage.
Thursday afternoon I attended the Natural & Organic Symposium which was organised and chaired by Amarjit Sahota, founder of London-based market research Ecovia Intelligence. The symposium started with an overview of the global organic beauty market. Organic beauty accounts for just 2% of the worldwide cosmetics market. Since Europe and the US are responsible for 90% of this turnover it means that internationally, organic beauty is still a niche market, Amarjit Sahota said. However, Robin Brown, founder of Californian brand Erbaviva, believes that organic beauty has already reached the mainstream – many large US retailers like CVS or Sephora have now introduced organic beauty corners. And Jorge Larranaga from Japanese beauty company Number Three Cosmetics highlighted the increasing demand for organic beauty in Asia, especially in India and Indonesia. In Japan, the organic lifestyle is especially popular with young women aged 20 to 40 years.
In the second session, three organic beauty brands explained how they successfully built a distribution in Asia. Angela Burglass, CEO of New Zealand brand Trilogy, said that her company used Australia as a spring-board for Trilogy's international expansion. Trilogy works closely with regional distributors who know their local markets. Some of the brand's products had to be reformulated for the Asian markets to take into account different climatic conditions and consumer preferences. Claire Frelin from French Groupe Léa Nature (owner of brands like So'Bio and Eau Thermale Jonzac) explained that distribution in Asia often starts with an online strategy before working with selected partners in the target markets. To position a brand in a new market you sometimes have to change things like marketing strategy or packaging sizes. Jürgen Neumeier from German company Kneipp confirmed that a digital strategy is crucial to successfully selling a beauty brand in Asia. However, he said that own brand shops are also important so consumers can experience Kneipp as a brand.
In the final session, Professor Jonathan Wong from Hong Kong's Organic Resource Center and Michael Lee from market research group Nielsen spoke about the green consumer in Asia. What a great symposium!
The entrance area of Cosmoprof Asia presented the winners of the Beauty Circle Awards. Exhibitors could nominate their new launches in six product categories, including a Natural & Organic Award (yay!). Unfortunately the Cleansing Flakes from Maskingdom did not win in this category but at least they were amongst the nominees.
The Boutique at Cosmoprof Asia was also a good idea: here visitors could buy travel-sized beauty products from 14 brands that were also present at the trade show; with all proceeds going to Hong Kong charity Breast Cancer Foundation.
And this was my virtual walk around Cosmoprof Asia! After so many new impressions I was looking forward to my evening walk back to Wan Chai via the covered walkways. A true Hong Kong feeling 😉 .
If you want to read more about Cosmoprof Asia check out Annika's article on Trend-Traveller – her detailed Show Reports are almost legendary! For me, Cosmoprof Asia was an exciting trade show. My personal highlights included the Natural & Organic Symposium but also the Cushion Foundation from Whamisa and the Cleansing Flakes from Maskingdom!
[Click here for more pictures and the original German article Auf der Cosmoprof Asia 2017 in Hong Kong]

This summer I received an e-mail from organic beauty brand Alsiroyal. I had seen Alsiroyal's products in various Reformhaus health food stores but didn't know much about the brand. So I was surprised when I found out that the company has been around since 1949. The first product I tested were the Hyaluron 5 Effect Ampoules (check out these Beauty Notes from September) and I was so intrigued that I wanted to find out more about Alsiroyal's brand concept – which you can now read about in this Sponsored Post. This is how I select all of my cooperation partners, by the way: I always check out the brand first and then try a few products before deciding on a potential collaboration.
And now, who or what is Alsiroyal? This is how it all began: In the 1950s, Wilhelm Ernst Ronneburg (an economist by profession) was travelling through Peru and brought back a stomach tea called Anguraté. A few years earlier, in 1949, Ronneburg had launched a company for natural health remedies which he called Alsitan. Upon his return from Peru, Ronneberg launched Anguraté as part of Alsitan's product portfolio. Over the next years, Ronneberg – a true herbal medicine enthusiast – began to bring back other exotic medicinal plants from his travels, like ginseng from Asia or Devil's Claw from Africa. At that time, these herbal remedies were unknown in Germany. After Ronneberg's death in the late 1990s his daughter sold Alsitan to the company's current owners, the Specht family. The Spechts extended Alsitan's product portfolio and the company began to expand: the famous Anguraté tea is now cultivated on the company's own plantations in Peru and the raw ingredients for Alsitan's natural remedies and supplements are sourced primarily from organic agriculture. In 2010, Alsitan built a new passive office building near the Bavarian Ammersee lake (as a note for my international readers: passive houses are a type of sustainable and energy-efficient building. These houses are built from special insulation materials and therefore do not require a traditional heating system).
Five years ago Alsitan launched its first organic beauty range, Alsiroyal. I am always interested in the strategy and skin care concept behind an organic beauty brand. In the case of Alsiroyal, product development begins with the sourcing of raw ingredients whose effectiveness has been proven by scientific studies or clinical tests, like a double-blind study controlled by a placebo. Alsiroyal's R&D department works pretty much the same way as Alsitan's product development division: the first step is researching possible ingredients which, if they are effective, are then used in the formulation of the products. This is similar to what Alsitan's founder Wilhelm Ronneberg used to do when he travelled around the world looking for interesting herbal ingredients.
Alsiroyal believes that organic beauty should have a proven efficacy rather than "just moisturising the skin". A good example is the brand's bestseller, the Jambú Serum. This serum contains the active ingredient spilanthol which is derived from para cress and is said to help relax expression lines (more about spilanthol and its effects further down). In order to achieve maximal efficacy, the serum contains the exact dosage of spilanthol that was used in the corresponding clinical study.
Alsiroyal's product range comprises 15 products, including special treatment products like ampoules or serums. Key ingredients are hyaluronic acid, soy isoflavones, the afore-mentioned jambú, mastic or – the latest ingredient – crocus extract.
And here is a last-minute gift idea for Christmas: a set of ampoules makes a great present because you can use the product however you like – as a stand-alone intensive concentrate (if the skin needs to look particularly plump and smooth for a special occasion) or as a treatment cure on several consecutive days.
Alsiroyal offers three ampoules with different ingredients:
♦ For moisture-deficient skin: the Hyaluron 5 Effect Ampoules contain five types of hyaluronic acid in different molecular sizes. High-molecular hyaluronic acid forms a film on the skin's surface to reduce moisture loss whilst lower-molecular hyaluronic acid hydrates the deeper skin layers. The ampoule also contains other moisturising ingredients that help to bind water in the corneal layer, like glycerin, betaine, sugar beet extract or lactic acid. Lavender essential oil has an anti-inflammatory and cell-regenerating effect so the gel-like serum has a subtle lavender scent. On my skin the ampoule's plumping effect lasted well into the next day which is pretty impressive.
♦ For skin with fine lines and wrinkles: The Jambú Ampoules are packaged in green and contain the above-mentioned active ingredient spilanthol. Spilanthol is extracted from para cress (Acmella Oleracea) and in the traditional herbal lore of South America it is used as a local anesthetic. When spilanthol is included in a cosmetic formula it relaxes the skin's muscles (this is also why spilanthol is called "plant botox", as opposed to actual botox which immobilizes the skin's muscles completely). The Jambú Ampoule also contains hydrating ingredients such as glycerin, xylitol and hyaluronic acid. Although alcohol is listed in the INCI declaration it is used as a solvent for the plant extract so the alcohol content is very low (in the single digit percentage). The texture of the serum is gel-like; my skin looks smoother and plumper afterwards, probably because of the light film that is left on the skin. The scent is fresh and subtle.
♦ For tighter/firmer skin: The Crocus Impulse Ampoule contains the bulb extract of the pale-yellow "Cream Beauty" crocus plant (Crocus chrysanthus). Crocus bulb extract is said to boost the production of collagen and elastin in the skin whilst betaine, glycerin and different types of hyaluronic acid moisturise the skin to minimize fine lines. The formula also contains a fermented algae extract which locks moisture into the skin and forms a protective shield – an innovative ingredient which already received an award at raw ingredients trade show In-Cosmetics in Asia. The texture of the ampoule is gel-like and has a soft spring-like narcissus scent with undertones of lavender; my skin feels nicely hydrated (moisture also helps to make skin firmer).
Each set contains three ampoules (with 3ml each) and costs 14.90 Euro and 15.90 Euro respectively. You can find the complete INCI listing on the brand's homepage.
And this is how I use the ampoules: first I gently shake them so that the contents flow into the lower part of the tiny glass bottle. Then I carefully break off the upper part of the ampoule (usually with the help of a small towel) and pour a little of the serum into the palm of my hand. Then I pat the serum gently into my face using both hands, like in a Korean skin care routine (which frequently includes an ampoule). As mentioned above the ampoule contains 3ml (which is a lot of liquid); you can either keep the rest for the next day or – if your skin is really dry – apply several layers of the serum (this is essentially the 7 Skin Method from Korea). On my skin the ampoule works well as an oil-free night care treatment; in winter time I like to apply a layer of cream or oil on top of the serum so the moisture is locked into the skin. Sometimes I even use the ampoule as a hand treatment before applying a hand cream.
Alsiroyal products are available in Reformhaus health food stores in Germany and German-speaking Europe or in the company's online store.
[Click here for more pictures and the original German article Last Minute-Geschenktipp: Drei Ampullen von Alsiroyal]
Good-bye everyone and see you soon!
Julia