Dear international readers of Beautyjagd,
Welcome to the next English-language edition of Beautyjagd! This is a condensed version of the most important articles that have appeared on my blog over the last two weeks. For more information about this new format, click here. And now: enjoy the best of Beautyjagd in English!
Best wishes
Julia
Beauty tip from France: Tamanu oil against under eye circles
Whenever I am travelling in France I read more French beauty blogs than usual – and one of my favourite starting points for organic beauty research is French beauty blogger Cyrielle's Peau Neuve blog. Some time ago Cyrielle posted an article about tamanu oil which is supposed to be especially good against dark undereye circles.
The oil sounded interesting (although I don't have undereye circles!) so I kept my eyes open and indeed: in almost every organic supermarket or healthfood store I discovered Huile de Calophylle (the French name for tamanu oil) from beauty brands like Florame, Centifolia or Emma Noel, I also found it online at Aroma Zone. When I visited the Huiles et Sens store in Entrechaux (I wrote about my visit to Huiles et Sens in these Beauty Notes) I also bought a 30 ml bottle of tamanu oil for 6.20 Euro.
Tamanu oil is pressed from the nuts of the hard wood tree Calophyllum Inophyllum which grows in India, South East Asia and East Africa. Besides fatty acids like oleic acid, linoleic acid and palmitic acid, tamanu oil also contains up to 20% of fat-soluble substances like tree resin. I can actually see this in the little oil bottle that I bought: there is a distinct layer of sediment so I thoroughly shake the oil before I use it. And the colour is extraordinary, a beautiful deep blue-green. The oil has a striking fragrance, too: very nutty but with herbal notes that remind me of Maggi seasoning sauce!
Tamanu oil is claimed to have anti-oxidant, anti-inflammatory and anti-viral properties so it is considered a healing oil. In traditional medicine it is used to treat scars, varicose veins, aching joints, burn wounds and infections. It is even said to absorb UV rays. My impression is that tamanu oil is much more common in France than in Germany; it is widely used in French aromatherapy treatments and in products for couperose skin.
And of course I was wondering about why so many French blogs recommend tamanu oil for dark circles or undereye shadows! I think it probably has to do with the circulation-boosting and vein-stabilising properties of this oil (source: Werner/von Braunschweig). Apply one drop of the pure thick oil to the affected area underneath or around the eye area every morning and evening: pat the oil in gently but make sure that none gets into your eyes, it can sting a little. Many bloggers are big fans of tamanu oil: supposedly the effects are starting to become visible after a few days. If you can read French, google "Huile de Calophylle" and "Cernes" for more information!
[Click here for more pictures and the original German article Beauty-Tipp aus Frankreich: Tamanuöl gegen Augenringe]
Well, I'm back in Nuremberg after spending nearly three weeks in the Provence – and this is what I'll be doing this weekend: enjoy the early autumn weather and sort out all the beauty products, foods and other souvenirs that I brought back from France. And in the evening I'll apply a face mask from the new Dr. Hauschka Mask Set! The Mask Set has just been launched in Germany: it contains a small tube each of Dr. Hauschka's classic Revitalising Mask (my favourite), the Firming Mask, the Soothing Mask (which a sensitive-skinned friend of mine loves) and the new Hydrating Cream Mask. The Hydrating Cream Mask is especially good: it has a fairly thick texture which covers the skin in a cocoon of cream! After around 20 minutes you rinse off the mask, I don't need any additional night care afterwards because the mask is already moisturising and protective enough. I think the Mask Set is a fabulous idea: it costs 15 Euro, each tube contains enough product for 1-2 treatments and it is a good opportunity to sample the different masks before buying the full-sized versions. It's also a really cool gift.
I was in my local DM drugstore a few days ago and noticed the new Naturell bath salts from German bath and body care brand Dresdner Essenz. The bath salts are certified by NaTrue so I bought the Pflegebad Bio-Hibiscus/Rose to try them out; a few days later I received another bath salts sachet as a press sample. The bath salts are based on sea salt, two tensides, various plant extracts, sesame oil and fragrance. They dissolve quickly in the bath water (turning the water slightly pink) and the fragrance is quite pleasant: fruity-tart rather than sweet and not too strong. And it really does smell a bit like rosehip! There are also several new shower gels in the Naturell range.
However, the main reason I was at the DM was to check out the new Alverde makeup launches – Alverde is DM's certified organic own label brand and they recently updated the colour cosmetics portfolio with new autumn and winter launches. I bought several of the new makeup items (you can see them in the picture above): the All in One Eyeshadow is a replacement for the popular Mono Eyeshadow Vanilla which has left Alverde product line-up. The All in One is supposed to work as a primer and an eyeshadow: it's a cool idea but as an eyeshadow the colour is a little too light for my taste. – There are two new eyeshadow palettes; I bought the Eye Shadow Palette in shade 02 (Fairy Nudes). The palette contains eight powder shadows which range from light cream over rosé and brown tones all the way to anthracite, with a satinised or matte finish. It's a nice colour collection, the powder shadows itself are a little crumbly and not very strongly pigmented but they are still visible on the lids. – The creamy Highlighter in the tin has a good texture (not too greasy) and it doesn't contain and glitter particles either. However, the colour is a little too whitish for my skin tone. – The liquid Eyeliner with Ball Applicator looked exciting – the rounded ball tip of the applicator is supposed to make it easy to draw a steady line – and it really does that well. However, the result is a thick line rather than a superfine line but that is to be expected! The texture is very liquid and dries quickly. – The Lipstick Chai Latte (shade 30) reflects the current 1990s lipstick trend (Kylie Jenner started the whole thing, then MAC came out with its Stone Lipstick): a medium-toned brownish rosé which looks really good on my lips.
And speaking of lips: I recently received the Shiny Red Lip Balm Pen from German organic brand Alviana. The Lip Balm has a comparatively strong tint (which I love!) and has a great texture which is balanced between oily and waxy (no beeswax, just plant waxes). Alviana is celebrating its 10th anniversary this year. Congratulations!
I bought the Kajal Ayurvédique from Indian organic brand Soultree while I was in France – the display case really caught my eye: the gorgeous and unusual Soultree colours included a bright blue and a strong green! I bought a kajal pen in Kerala which is a beautiful neutral-toned bronze-copper shade. Compared to Kerala, Luk from German organic premium brand Und Gretel is warmer and more coppery. Kerala is also more affordable than Und Gretel, I paid around 13 Euro for the Kajal Ayurvédique. The texture of the Soultree kajal pens is quite waxy; they are based on processed oils, castor oil and ghee so they last quite long. In French online stores the BDIH-certified Soultree Kajals have become very popular – you can buy them through Ayanature, for example.
And now let's move further down the body: I am currently testing US brand Schmidt's new deodorant stick Rose+Vanilla which I ordered through online store Najoba. The fragrance is so delicious – an opulent rose fragrance rounded off by warm vanilla notes – that I have actually put the deodorant stick onto my desk so I can smell it occasionally 😉 . The deodorant stick lasts for up six hours on my skin and it works almost as a perfume replacement! The stick is based on arrowroot powder, coconut oil, candelilla wax and shea butter; the active ingredient is baking soda. A slightly crumbly texture but still easy and smooth to apply. It's great that the choice of organic deodorant sticks is growing! And this one also smells amazing.
And here are some of the most interesting organic beauty news that I discovered last week:
Belgian-Nepalese beauty brand Cîme recently launched Nutri-Intensive Hand Cream For your hands only. More information is available here.
French brand Cattier has introduced a Sleeping Crème and a Gelée Micellaire which, however, are only available in France at the moment. For more info, click here.
Regional German beauty brand Lenz is bringing out the Foam Bath Coneflower-Rosehip and a fluoride-free toothpaste Coneflower-Mint with vitamin B12.
Latvian brand Dabba has announced that it'll launch a new face oil soon. A first pic is available on Instagram.
[Click here for more pictures and the original German article Beauty-Notizen 23.9.2016]
Natural Makeup-Look 3: Festive autumn colours with Ecco Verde
Finally, a new installment of my Makeup Look article series! In cooperation with organic online store Ecco Verde I have created a festive autumn-themed makeup look of purple-coppery tones. Very seasonal 😉 . And here are the products that I used in this look:
♦ Teint: I apply three drops of the very liquid Eau de Teint in shade 02 Beige Glow from French brand So'Bio étic. The foundation offer light natural coverage with a matte finish at first; after around one hour the finish becomes more satinised. On top of the Eau de Teint I apply La Poudre Compact Powder in shade Clair from French brand Avril – Avril is a fairly new makeup brand from the North of France. The pressed powder is very easy to apply; I use the Mineral Makeup Brush No. 12 from German brand Jacks Beauty Department. What I like about the powder is that it not only mattifies the skin but also gives light coverage, almost like a foundation. Together with the Eau de Teint it creates a velvety, even finish – and the powder is affordable, too. A real find! A note about the Jacks Beauty Department brush: The synthetic hairs are beautifully soft but still firm enough to work the powder into the skin. It's a really good tool. I also like the fact that the Jacks brushes are unique; each handle has a different design!
♦ Cheeks: I use the Natural Fresh Bronzing Duo Ibiza Nights from German brand Benecos to contour my face. First I lightly brush the brownish powder on my temples, underneath my chin and underneath my cheekbones; then I use the pink tone (on the left of the Duo Powder) as a highlighter on my cheekbones. The pink colour contains a subtle, golden shimmer.
♦ Eyes: First I draw a very thin line along the upper lash line with the Eyeliner (in shade Coco) from Australian brand Inika. I try to stay as close to the lashes as I can; it is more important to optically thicken the lashes rather than draw an accurate line. Coco is a neutral-toned strong dark brown with a matte finish; the pencil is soft but not greasy.
Then I move on to the amazing eyeshadows of Italian brand PuroBIO! First I apply a transparent face powder to the lid as an eyeshadow base. And now comes the colour: Onto the inner half of the movable lid I apply Eyeshadow No. 5 which looks like coppery gold leaf (high coverage, a soft buttery texture and no crumbs! I love working with this eyeshadow!). On the outer half of the lid I apply Eyeshadow No. 6, a shimmering medium-toned purple with a metallic finish. The texture of No. 6 is a little thicker than that of No. 5 which makes it perfect for layering: you can build up the colour to the desired intensity. I always try to work powder shadows into the eyelid a little, it makes them last longer. The two eyeshadows do not contain glitter particles, by the way. I use a eyeshadow brush to blend both colours in the middle. The PuroBIO powder shadows come in cardboard packaging so you can stick them into a magnetised eyeshadow palette (if you have one of those!). PuroBIO also offers a magnetised palette.
Finally, I use the Black Natural Mascara from UK brand Lily Lolo on my lashes. The mascara comes with a classic applicator (slightly shorter bristles towards the tip of the brush) and I like the texture: neither too liquid nor too waxy, no crumbling or clumps; the volume is ok, too. And it lasts quite long which is impressive for a beeswax-free vegan mascara!
♦ Lips: Since I focused on the eye area I keep my lip makeup simple – a sweep of Tinted Lip Balm in Sweet Violet from US brand Burt's Bees and I'm finished! The Lip Balm leaves a light yet visible berry tone on the lips and comes with a very subtle violet fragrance.
All of the products that I used in this makeup look are available through Ecco Verde. I received some of the products from Ecco Verde for this article, a few items I already had at home.
[Click here for more pictures and the original German article Natural Makup-Look 3: Festlicher Herbstabend mit Ecco Verde]

I am in love with French brand Les Tendances d'Emma! So much in love that I actually considered driving past the company's factory near Auxerre in Burgundy on my way back home from the South of France. However, in the end reason prevailed….perhaps next time!
Anyway, Les Tendances d'Emma is a young eco textile brand; they specialise in zero-waste textiles for household cleansing, bath and body use or baby care, like makeup remover pads, panty liners, towels or cleansing cloths. No single-use cottonwool pads or throw-away cleansing cloths here! The products are made from organic and washable bamboo fibres, organic cotton wool or eucalyptus fibres (certified by GOTS/Oeko-Tex-Standard) and are mostly manufactured by charity and social projects.
I particularly love the Kit Layering Collection Eco Belle (I simply can't resist the term layering 😉 ): the set contains a small face towel made from 90% bamboo, four small washing gloves (from 80% eucalyptus) and a headband to keep the hair off your face. All items are so soft it's unbelievable; it really feels like I'm stroking my skin when I remove my makeup in the evening. You can also use the washing mitts for cold or warm compresses; I mostly use them when I rinse off my facial cleanser. The face towel is so absorbent that you only need to briefly press it against your face. Very cool. I think this six-part set could be successful in Asia, too.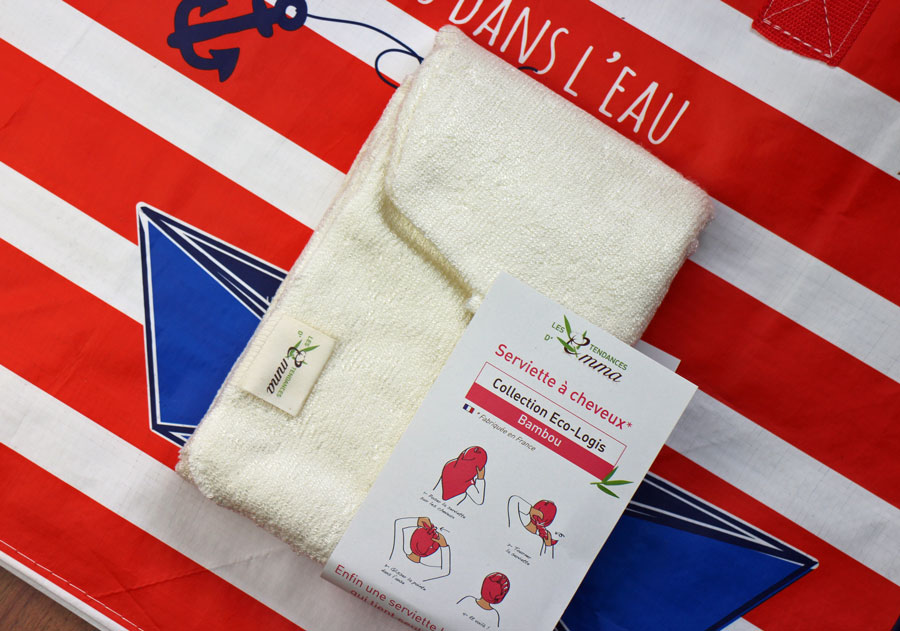 I also bought the Serviette à cheveux Collection Eco-Logis which is a towel used for drying your hair. It is cut in a special shape so you can wrap it around your hair like a cap. It quickly absorbs the moisture from your hair (it is made from 90% bamboo fibres which are four times as absorbent as cotton) so it really cuts down on drying time. I would imagine it is particularly good for long hair – I have short hair (pixie cut) and the towel dries my hair in just five minutes. Then I only need a quick blast with the hair drier and I'm done! I think the towel could almost double up for a hair drier when I am travelling.
Both the Kit Layering and the Hair Towel can be washed at temperatures of 40C. I recommend rinsing out the textiles before the first use since they might contain some loose fibres. According to Les Tendances d'Emma, the textiles can be washed at least 300 times before they deteriorate.
I haven't seen Les Tendances d'Emma in Germany so far which is a pity. You can buy the products online at Mademoiselle Bio or Monde Bio. The Kit Layering costs 19.90 Euro and the Hair Towel 18 Euro. I really hope that the brand will find a German retailer soon…..!
[Click here for more pictures and the original German article Les Tendances d'Emma]
This week turned out a little different than I had initially planned but that was actually a good thing: I had more time at home and, most importantly, I finally found the time to try out the fragrance samples I received from perfume company Annette Neuffer a while ago. Annette is a jazz musician and perfumer from Freising near Munich; she is quite well-known in the international niche perfumery industry. She contacted me earlier this year after one of my readers had written about Annette's perfumes on this blog.
The fragrances surprised me: how complex and interesting they are and such original compositions! Here are five examples: Sonnet 18 seems like a classic fragrance at first, it reminded me of perfumes from the 1950s. Then the fragrance starts to develop a soft floral character with notes of linden and jasmine blossoms, tempered by a burst of freshness. And finally, accords of honey and resin. Shall I compare thee to a summer's day? Absolutely! – Chocolat Irisé smells exactly like the name promises, like iridiscent chocolate. A cool freshness mingles with notes of vanilla and cocoa, then the next layer appears: dry and subtle notes of jasmine, iris and orange blossoms, with a base of sandalwood. – I needed a bit of time to warm up to Honeysuckle Rose: I didn't like the fragrance at first but then, after around five minutes on my skin, the first honeysuckle notes appeared (and I love honeysuckle!). It's a gentle fragrance. – Stardust reminded me of the beautiful fruit jellies you can find in any French confiserie: combined with chocolate-scented patchouli accords and, towards the end, a certain smokiness – what a fabulous composition! – And Avicenna is an oriental rose fragrance blended with warm gingerbread spices. It is one of Annette Neuffer's best-selling fragrances since it was first launched in 2007. All fragrances are listed on Annette's homepage. She only uses natural ingredients, many of which are certified organic.
I also tried out a new face mask this week which Annika from Trend-Traveller brought me from a trip to Estonia: Vetika Näomask from Looduse Pärl is a powder mask which you blend with hydrosol, water or yoghurt. I used two teaspoons of orange blossom water to mix up my mask and what a surprise! The brownish-grey mask powder turned dark-green, almost black! The combination of ingredients is interesting and very simple: just pink clay, algae powder and milk powder. Thanks to the algae powder (which is also responsible for the colour) this clay mask retains moisture much better than pure clay masks. The mask didn't dry completely in the 15 minutes I left it on my face: instead it formed a kind of protective algae layer. Then I rinsed it off with lukewarm water; my skin felt clean, fresh and even a little firmer. I have found Looduuse Pärl's cosmetics mentioned on various Estonian beauty blogs – at the moment, the brand seems to be only available in Estonia. Here is the website of the company. Looduse Pärl's products tend to focus on typically Northern European ingredients. What a lovely souvenir; thank you! The tin of powder is enough for six masks applications, by the way.
If you think that organic makeup means boring, earth-tone colours only, you really need to check out the lipsticks of US brand Axiology! German online store Savue Beauty offered me free choice of all Axiology lipstick colours and I – rather daringly! – selected Reflection which you can see in the picture above: it's a plummy purple shade. The packaging is great: like the Allure lipsticks from Chanel you open the lipstick by pressing on the lower half of the lipstick sleeve; once you hear a click you can pull off the cap. The texture of Reflection is flexible, soft and quite moisturising so it doesn't last as long as a matte lipstick – but that is to be expected! When I apply one coat, Reflection is a beautiful plum tone; the finish is creamy-glossy (no shimmer or glitter particles) and you can easily build up the colour intensity so it becomes suitable for evening wear. In fact, two or three coats of Reflection make the lipstick extravagant enough to wear in Shibuya (the trendiest district in Tokyo and home of really outrageous fashion and makeup looks!). This is what I like about good lipsticks: they are flexible enough so you can create different looks – natural-looking day time wear or dramatic night-time makeup. Reflection is based on candelilla wax, avocado oil and castor oil; the lipstick costs 27 Euro and in Germany it is exclusively available through Savue Beauty.
And of course I simply had to order two of the new pressed eyeshadows Swift Shadows from US brand RMS Beauty! The new range offers six different "colour families" with three shades each: I selected Tempting Touch 73, a medium-toned shimmering brown-grey from the Taupe family and Garden Rose 13, a shimmering multidimensional brown-rosé with a subtle iridiscent golden shimmer. I'm crazy about Garden Rose at the moment: the colour looks subtle but still manages to rock! It looks really good together with Reflection from Axiology. The eyeshadows are based on glimmer and silica. You can find some good swatches of the new Swift Shadows on the RMS Beauty homepage, Rose Marie Swift has photographed each eyeshadow separately. The shadows last quite well – they are comparable to the powdery eyeshadows from Couleur Caramel – but it helps if you use an eyeshadow base and work the shadow powder into the lid properly. In Germany, Swift Shadows is primarily available online, in stores like Amazingy, Green Glam or Niche Beauty. After sorting out my eye and lip makeup I only need to make sure that my hair is styled properly 😉 .
Myrto Naturalcosmetics recently launched a new Forming Texturizer Wax and company owner and founder Eva Silvana Kruck sent me a press sample. The wax is packaged in a glass jar; as soon as I opened the jar I smelled a refreshing hint of rosemary (according to the INCI declaration, the wax contains myrte, lemon and bergamot). The texture is – well – waxy (Forming Texturizer is based on beeswax and clay). Compared to this wax, Myrto's Argan Hair Wax is a lot more oily. As a result, the Forming Texturizer is much less greasy and offers more hold, I only need a small amount for my (short) hair. I warm up the wax between my palms and then apply it to individual areas of my hair. I like the matte finish of the wax and the fact that it added some volume to my pixie cut. Eva Silvana recommends the Forming Texturizer Wax for short to medium-length hair, to define waves and to tame the so-called "baby hair" (the super fine hairs around your hairline). One jar of the Forming Texturizer Wax from Myrto Naturalcosmetics costs 22.50 Euro. I think my jar should last at least two years, you really only need a small amount to style your hair.
And here are some of the most interesting organic beauty news I came across last week:
German online store Hilla Naturkosmetik has listed new products from Finnish brand Frantsila: three bath salts and two toothpastes.
And Savue Beauty has just added the organic luxury fragrances of New York-based perfume brand Lurk. I had a tester of RSW005, an opulent rose-sandalwood fragrance which reminded me of a former perfume favourite: Une Rose from Frédéric Malle.
UK brand Lily Lolo's new eyeshadow palette Filthy Rich is now available in Germany. You can find it online at, for example, Najoba or Ecco Verde.
Swiss organic beauty brand Farfalla has announced three Christmas Gift Sets: "Kuschelbär", "Weihnachtsstern" and "Sonnengruß".
French DIY beauty store Aroma Zone is offering four new African oils, including an interesting-sounding Hibiscus oil. More information is available here.
German brand Safeas is launching three new Scalp Control Shampoos: Sebum Control is for greasy scalps, Age Control is for thinning hair and Derma Control was developed for irritated scalps.
Austrian organic brand Styx is launching two new potato foot balms (Repair and Refresh) to match the brand's famous potato hand cream. More information is available here.
And Weleda is bringing out a new Eau de Toilette: Jardin den Vie Onagre (evening primrose).
[Click here for more pictures and the original German article Beauty-Notizen 30.9.2016]
Good-bye everyone and see you in two weeks!
Julia