Dear international readers of Beautyjagd,
Welcome to the fourth English-language edition of Beautyjagd! This is a condensed version of the most important articles that have appeared on my blog over the last two weeks. For more information about this new format, click here. And now: enjoy the best of Beautyjagd in English!
Best wishes
Julia
Hi everyone, I hope you're well! I'm back from my "blog holiday" and I'm very glad to be back here talking to you all ; ) .
What would Austrian composer Wolfgang Amadeus Mozart have said if someone had told him that just around the corner from where he was born (Getreidegasse 9 in the year 1756, in case you're interested), you can buy not just Mozartkugeln (a delicious concoction of marzipan, pistachios and chocolate) but also an actual Mozart muesli? I'm not kidding; it's a muesli mixture with tiny organic Mozartkugeln! A couple of weeks ago I was in Salzburg for a day and walked past a Mymuesli store – and since I love Mozartkugeln (and muesli) I absolutely had to buy the Mozart muesli. Mymuesli is one of Germany's most successful Internet startups. The company was founded in 2007 and they sell personalised organic muesli. On the Mymuesli website you can compose your favourite muesli mixture from more than 80 different ingredients and have the finished muesli delivered to your doorstep. Mymuesli's standard muesli mixtures are also available in several of Germany's biggest supermarket chains, there are stores with "Mymuesli pick-up points" (where you can pick up your online muesli order) and 24 Mymuesli stand-alone outlets in various German and Austrian cities. In these stores they have some great regional varieties – like the Mozart muesli in Salzburg. Salzburg is beautiful, by the way; I think my last visit must have been 20 years ago. I had almost forgotten how amazing the city is. Despite the wide range of Mozart merchandise and the very many tourists!
While I was in Salzburg I also visited the Sonnentor store. Sonnentor (the name literally means "sun door") is an organic tea, spice and food manufacturer from Austria and the company's stores sell the entire Sonnentor portfolio – a stupendous range of spices, teas, coffees, herbs and other dried ingredients. They also have a cosmetics range which is difficult to find in Germany. In addition to an intriguing-sounding green coffee with cardamom I also bought the Lippenbalsam (lip balm) from the Sonnentor beauty range. I like the composition: the balm is based on coconut oil, beeswax, olive oil and lanolin; the formula also includes anti-oxidant sea buckthorn oil, oryzanol and Siberian fir needle oil. It has a nice waxy texture – it reminded me a bit of the BioLippenbalsam from Marías (an Austrian spa brand) which I received during the NaturkosmetikCamp event this spring. More info on Sonnentor is available here.
And while we're travelling: although I haven't actually visited Croatia I recently received a lovely Croatian organic beauty product – Hvarski Melen Smilje, a strawflower balm from the island of Hvar. One of my readers (who happens to live in Nuremberg) had been to Croatia on holiday. While she was there she visited an outlet of German drugstore chain DM, discovered the balm (it is not a brand that is available in German DM stores) and brought me a pot. What a kind gesture! The lip balm contains a mixture of various oils including olive, hazelnut and almond oils, shea butter and beeswax and the aforementioned strawflower oil. It is lovely and moisturising and a real multi-purpose product: you can use it on the lips, on your cuticles or simply on any dry or rough skin patches. I have already decided that sometime soon I want to take a closer look at strawflower as a beauty ingredient.
As you know I also write articles for other blogs and retailers. For organic online store Najoba I recently wrote about the topic of sensitive skin and fragrance-free organic beauty. And my last blog article for organic supermarket chain denn's went back to the basics: what exactly is organic beauty and where are its origins? Unfortunately both articles are in German so if you're interested in reading them you might just have to tolerate Google Translate 😉 .
In June I had attended a Dr. Hauschka press event. The main topic was atopic dermatitis (eczema): Dr. Hauschka has just relaunched its Akut Creme Potentilla which will join the Dr. Hauschka Med range. The Med line-up currently comprises three products: a Pflegelotion (light lotion), Gesichtscreme (facial cream) and Intensiv Creme (intensive cream). The range was developed for very dry and atopic skin and the products are formulated with ice plant extract which soothes the skin and helps to calm itchiness. The German name for ice plant is "Mittagsblume" which means "noon-time flower". So poetic! The new Potentilla cream is a special "emergency" moisturiser designed for those times when your atopic skin is really freaking out. Clinical tests have proven that the plant extract of potentilla officinalis (common name: bloodwort) has skin-calming properties that are just as effective as a class 1 cortisone (cortisone is a corticosteroid similar to cortisol). Anyway, the Akut cream is tinted pink (the colour comes from the bloodwort extract); the texture is light and slightly cooling but still moisturising. Since I do not have atopic skin I couldn't test the cream properly but the ingredients and the concept sound very promising.
German organic brand Alva recently repackaged its Sensitiv Gesichtspflegemaske (sensitive face mask). The product was previously only available in a glass pot. Now Alva is offering the mask in individual sachets – I just had to buy one of them! I already know and like this face mask: you apply the cream onto the skin, let it dry and then "rub" it off; it's a bit messy (you might have to clean your wash basin afterwards) but really moisturising. More information on the mask and the ingredients are available in this blog post (German only!). I like the idea of being able to buy this mask in travel-friendly single packs.
And here are some community news: In Hamburg, the "Alsterjägerinnen" are meeting up on 6th September 2015. The Alster is Hamburg's local river so the "Alsterjägerinnen" (Alster hunters) are the Hamburg chapter of Beautyjagd readers 😉 . Anyway, if you are a Beautyjagd reader based in Hamburg, here is the plan: first, there will be a visit to Pure Schönheit (a well-known organic beauty store). If you are interested, please sign up here: [email protected] (there is a limited number of places). At 5pm there is a meeting at The Cube in Kunsthalle museum which is open to anyone (no sign-up required). In Cologne, some Beautyjagd readers have also arranged to meet up: the first Cologne meeting is on 10th October 2015, 11am in front of organic beauty store Kenkawai. And finally, my reader Petra is the lucky winner of the Plaine Photo Contest. The Abury clutch handbag is yours; congratulations Petra!
And these are some of the most interesting organic beauty news that I've come across during the last couple of weeks:
At the end of September, French makeup brand Couleur Caramel will launch a new Limited Edition: Golden 20s. More information is available here.
French brand UNE Beauty has launched a new Skin Mat Foundation. More information is available here.
Organic brand Lavera has also announced some new products: a regenerating face oil, an anti-wrinkle mask, a mattifying balancing cream for combination skin, two products for problem skin and an illuminating eye cream.
US brand Tata Harper is launching a new product kit: Luminous Definition How to Contour & Highlight Kit. For more information, click here.
US blogger Britanie is launching her own beauty range: Beauty by Britanie Bohemian Collection was developed in cooperation with Lotus Wie and Modern Minerals.
Rossmann's certified own label brand Alterra is launching a limited edition: Fruity Spa incudes two hand creams, a hand scrub, two lip oils, a nail oil and a nail hardener. Available in most outlets of the Rossmann chain.
There is a new organic beauty brand from Denmark: Nuori specialises in fresh cosmetics – this means that the products are freshly made upon order. More information is available here. [Beauty-Notizen 4.9.2015]
White Water Lily Cleansing Milk and Facial Toner from bi good
The summer here in Nuremberg is still not over, today and tomorrow there'll be temperatures of over 30 C again….what a crazy summer! There is this beautiful lake in the Bavarian Chiemgau area near the Austrian border – I mentioned it a couple of times in my Beauty Notes. The lake is covered in gorgeous water lilies. I've loved water lilies every since I was a child; I think they are one of the most beautiful flowers. I visited the lake several times over the summer (whenever temperatures in Nuremberg got unbearably hot). During one of these weekends, in early July, I made a brief trip across the border into Austria to check out Austrian drugstore retailer Bipa's new certified organic own label range bi good.
I already wrote about the bi good Ribisel Serum, but of course the range also includes other products: like the cleansing milk and the facial toner Wasserlilie (water lily!) which I took with me on every subsequent visit to the lake. Whenever I use these two products the scent takes me straight back to those summer weekends! The cleansing range also includes a wash gel and an eye makeup remover but today I'll focus on the cleansing milk and the toner. All four cleansing products contain water lily extract which has anti-oxidant and anti-inflammatory properties.
I apply the cleansing milk onto the face and rinse it off with warm water: my skin feels clean and nicely moisturised, at least in these summer temperatures. However, I think that during the winter the hydrating effect of the milk might not be quite enough for my dry skin. The NaTrue certified cleansing milk is based on water, shea butter and glycerin, processed plant-based oil, an emulsifier, aloe vera gel and sweet almond oil. The fragrance is creamy and floral.
I was pleasantly surprised by the facial toner which is ever so slightly gel-like; although it has a comparatively high alcohol content it hydrates quite nicely. The NaTrue certified toner is scented with green aquatic notes and subtle floral accords and is based on water, alcohol, glycerin and sorbitol (a moisturising ingredient).
Both products are vegan; they contain 200 ml and cost 2.79 Euro each. Bi good is only available in outlets of the Bipa chain and through the Bipa online shop (which, however, only delivers within Austria). [Weisse Seerose Gesichtswasser und Reinigungsmilch von bi good]
Natural Makeup Look 2: Bye-bye summer!
In late July I started a new blog series in which I show makeup looks illustrated by hand-drawn face charts (I continue to practice my drawing skills!). This second installment's look is not quite as nude as the first makeup look but it is still pretty natural-looking – after all, it is still very summer-like outside!
Generally I like to wear warmer tones in late summer and early autumn. This new look is structured around an amazing eye pencil which is really a cream eyeshadow stick: Luk Creme Eye Stick Bronze from Berlin organic niche brand Und Gretel. I had almost forgotten how flattering rust brown eyeshadow can be when you have blue eyes! The Luk Creme Stick has an intriguing shade: it is a slightly metallic rusty tone which looks warmer in the sun than it does in the shadows. Once the direct light is gone, the eyeshadow seems to reflect cool bronze tones as well as a soft pink. For this look I draw a medium thick line along my upper lash line (the colour lasts surprisingly well, even at 30 C it stayed on my eyelids for the entire day. I was impressed!). Then I use the Volume Liner Mascara from Une Beauty (more on this mascara here – German only, sorry!) to make my lashes look thicker and use the Augenbrauengel 01 Blond from DM's organic own label brand Alverde to tame my eyebrows.
On my face I use the Compact Mineral Foundation in shade Cinnamon from mineral cosmetics brand bellápierre which I was recently sent by online store Hautgefühl Naturkosmetik. The foundation offers good coverage with a satin-looking finish; the compact format makes this product convenient for travelling. I apply the foundation with the Brush 959 from US makeup artist tool brand Bdellium; on top of this comes a mattifying powder – my favourite here is the Absolutely Transparent Face Powder from Japanese brand Chidoriya which I bought in Tokyo two years ago.
For those areas of the face that need an additional bit of coverage – undereye shadows or reddish patches – I use the Space Balm in shade #10 from mineral makeup brand Hiro. The Hiro Balm (which I brought it back as a souvenir when I visited organic online store Amazingy in Berlin this June) is a lighter version of the Un Cover Up Concealer from RMS Beauty.
The cheeks get a sweep of Pressed Bronzer in shade Miami Beach from UK mineral cosmetics brand Lily Lolo (I bought this bronzer through organic online store Ecco Verde, purely because I was curious and it was on special offer!). The Bronzer has a stronger apricot tint than the Bronzing Powder from Dr. Hauschka and the finish is matte to satiny.
Now for my lips: here I apply the Lipstick No 16 in Pink Topaz from German organic brand Dr. Hauschka (one of my all-time favourites, check out my blog post here); the transparent pink is a good contrast to the rust-coloured eyeshadow. And voilá: the look is finished! If you want to make a stronger colour statement you can choose a more highly pigmented pink, for example Rose Franc 19 from Absolution. [For more pictures click here for the original German article Natural Makeup-Look 2: Sommer adieu!]
Alverde: Limited Edition Oriental Bazaar
So many news from DM's organic beauty brand Alverde! Not only has Alverde relaunched its colour cosmetics range – which I will discuss on the blog later this month – but they have also brought out a new limited edition: Oriental Bazaar.
The display case is so beautiful that I decided to do a separate post on this makeup collection. Besides two Quattro palettes with two baked eyeshadows, a highlighter and an eyebrow powder each, the limited edition also offers three lipsticks in warm tones (one of these is a fantastic orange-red!), a golden mascara top coat, a lip oil, a small fragrance roll-on, two loose powders with integrated applicator brush and the Extreme Black mascara which is part of the standard Alverde range. All products are certified by NaTrue.
And now let's dive right into the product descriptions! First up, the Quattro Lidschatten, Highlighter und Augenbrauenpuder (eyeshadow, highlighter and eyebrow powder) in shade 10 Cinnamon Nude. There are two eyeshadows, a light beige tone with a shimmering finish and a softer brown which contains golden glimmer particles. The highlighter is quite creamy without looking greasy or too white; the eyebrow powder is a matte brown-toned anthracite.
The Quattro Lidschatten, Highlighter und Augenbrauenpuder (eyeshadow, highlighter and eyebrow powder) in shade 20 Secret Purple is a collection with colder undertones. The eyeshadows include a metallic-looking brown-toned anthrazite with a very subtle pink shimmer. The second tone is a rather interesting aubergine colour with small golden particles. The highlighter is brighter than the highlighter shade in the other quad palette but thanks to a subtle golden shimmer it doesn't look too cool. Finally, the eyebrow powder is matte and ever so slightly darker than the powder in the other palette; it could almost be the same shade. The Quattro Cinnamon Nude palette is vegan (the Secret Purple quad isn't); each quad palette contains 2,2 gr and costs 4.45 Euro.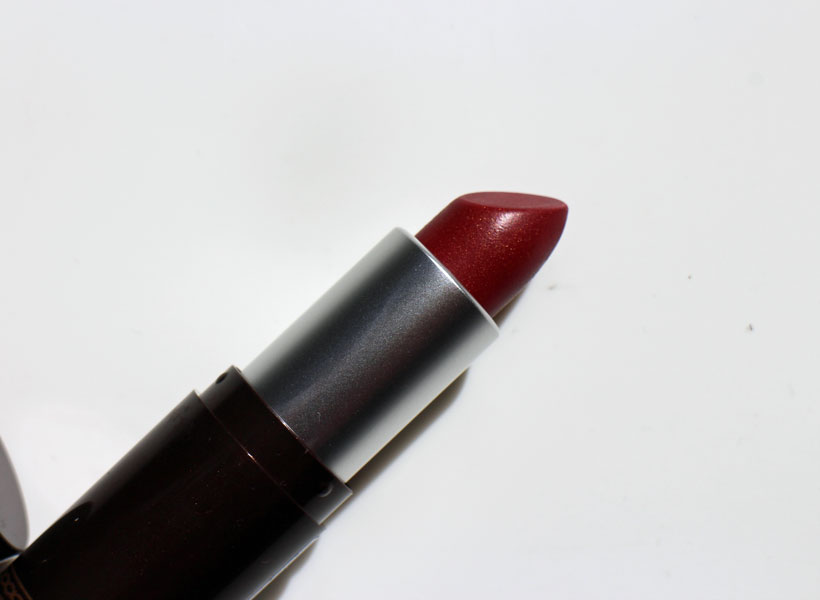 The lipsticks: there are three different colours, a nude brown (very trendy shade at the moment, unfortunately it doesn't suit my colouring at all!), an orange-toned red and the Lippenstift 30 Safran-Rouge. This shade is a neutral to warm light red, the texture is creamy and the finish is satin-y and shimmering. The lipstick is comfortable to wear and not too heavy on the lips; I think it's a beautiful autumn colour. The lipsticks are based on castor oil and talc, are not vegan and have a very light floral scent. Each lipstick contains 4,6 gr and costs 2.95 Euro.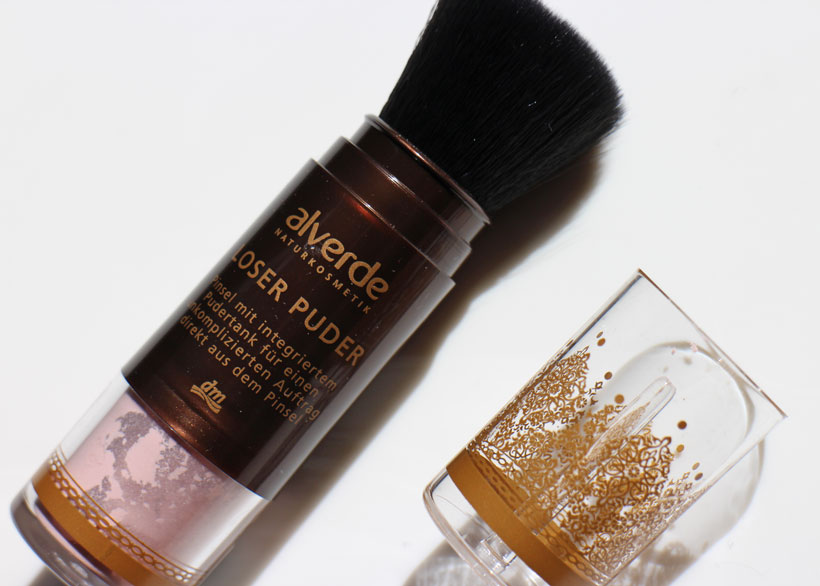 I was especially looking forward to trying out the loose powders. In the end I bought the lighter shade, 10 Desert Dream; it comes with an integrated applicator brush that is made with soft synthetic hairs. The powder mattifies the skin slightly but not too much so it doesn't look chalky at all. Both powders are vegan and are based on glimmer and bismuth oxychloride. Each powder contains 2,5 gr and costs 4.45 Euro.
The lip oil (on the right hand side of the picture!) has a roll-on sponge applicator so it is easy to apply and leaves a light shimmer on the lips. The fragrance combines notes of caramel with chai spices – delicious! The lip oil is vegan, contains soy oil and castor oil and costs 3.25 Euro for 7,5 gr.
The Duftöl Oriental Breeze is packaged in a roll-on with a metal ball applicator. The fragrance is sweet with strong notes of vanilla, some Christmas spices and a hint of sandalwood. The fragrance oil is based on soy oil and sunflower oil, contains 15 ml and costs 2.95 Euro.
Altogether an interesting limited edition! My personal favourites are the Quattro palette Secret Purple and the lipstick Safran-Rouge. [For more pictures and swatches click here for the original German article Alverde: Limited Edition Oriental Bazaar]

Beauty Thoughts: On summer tan
Last weekend I went to Alsace for a brief visit. Alsace (also called Alsace-Lorraine) is a geographic region in North Eastern France which shares its borders with Germany and Switzerland (the capital of Alsace is Strasbourg, by the way). I didn't have much time to properly go beauty hunting but at least I managed to visit a supermarket, a pharmacy and an organic store to check out new organic beauty brands. France was still in the throes of the summer holidays. They take summer vacation seriously in that country! In July and August many stores close down – even in cities like Paris – and the pace of life slows down perceptibly. The residents of the larger cities go to the countryside or to a seaside location; ideally the Cote d'Azur or the Ile de Ré, an island near the west coast of France. In September, people return to the cities and school starts again. The French language has a very descriptive term for this: "La rentrée" (literally: "the returning/the coming back"). If you're interested, the French author Marcel Pagnol describes La rentrée very beautifully in his autobiographical trilogy Memories of Childhood.
Anyway, the effects of the summer vacation were visible during my beauty hunt: I saw few new beauty products. And in the stores that I visited, typical summer products like the carrot oil of French organic brand Melvita or tan-enhancing nutritional supplements were almost sold out. In the Western countries a nice, even tan is still considered very desirable; we tend to associate tanned skin with relaxing summer holidays on the beach or a day out in the countryside.
Anyway, to make a long story short: I couldn't resist the BB Perles 5en1 Bronzage Sublime supplement from organic brand Floressance (BB pearls! How cool is that?!) and the aforementioned carrot oil, so I bought both. I don't usually like nutritional supplements but at least in this case, the Floressance supplements contain natural ingredients like acerola, paprika, tomatoes, carrots and, of course, beta-carotene which is claimed to help skin tan quicker. Beta-carotine – which forms the basis for vitamin A – is also a key ingredient in the Melvita carrot oil.
So, over the past week I've been using the carrot oil as a face oil; I also take one BB pearl per day and I think of the beautiful summer weekends on the Bavarian lake – and that I'll have to wait another year for the next summer to come around 😉 . [Beauty-Gedanken: Sommerbräune]
I already told you about my trip to Alsace last weekend in the summer tan post – but I forgot to mention that besides the Melvita carrot oil and the Floressance BB Perles Bronzage I also bought a small bottle of Huile Pâquerette (also by Floressance) in a supermarket. Pâquerette means common daisy and for this oil, Floressance has macerated daisy flowers in sunflower oil and added some essential oils for scent. It is supposed to be a good skin-firming oil for the décolleté area but I like the subtle grassy fragrance so much that I have been using the daisy oil for various body parts including the face. The oil is absorbed very quickly into the skin and the bottle costs only 6 Euro – isn't it amazing what you can buy in French supermarkets?! I've also seen a similar oil in the webstore of German organic manufacturer Maienfelser.
This week I also tried out the Moisturizing Foam Eye Make Up Remover from Russian organic brand Natura Siberica which I received from German-Russian cosmetics online store www.kosmetikru.de. In July I had profiled Natura Siberica's Northern Soap Detox for deep facial cleansing on my blog and had linked to kosmetikru.de in the article. The eye makeup remover is interesting and the foam texture works really well: you apply a small amount to the eyes (one squeeze of the dispenser is sufficient), remove the makeup with cottonwool and then rinse off the foam with lukewarm water. It doesn't sting at all, the makeup is gone and the skin around the eyes doesn't feel dry. If you don't like oily makeup removers this might be a good alternative to try out. However, I am not sure if the fragrance is composed of entirely natural ingredients: Natura Siberica sometimes uses synthetic fragrance components. The bottle of Moisturizing Foam Eye Make Up Remover contains 150ml and costs 7.99 Euro.
Another interesting item I received recently is the Kajal Pinsel No 908 from German organic colour cosmetics brand Lakshmi. I like flat brushes with synthetic hair, especially if they are shaped like a cat's tongue; they are perfect for applying creamy eyeshadows such as the Cream Eyeshadow Magnetic from RMS Beauty. In the past I've primarily used the Detailer Brush from US brand Real Techniques which, however, is only available as a set. The Lakshmi brush has shorter hair than the Detailer Brush which means that you have more control about the amount of eyeshadow you apply. Lakshmi's brushes are produced by a small German artisan manufacturer – I think the company might even be from my city. The Kajal brush costs 12.90 Euro and is available through the Lakshmi website or in selected organic beauty stores.
Whether I really like the nail polish Or Rosé (rose gold) from Kure Bazaar on my nails I'm not yet sure. I had seen the polish in a French magazine and somehow couldn't get the shade out of my head. This Monday I was walking with a friend of mine through Breuninger department store here in Nuremberg and spotted this exact Kure Bazaar shade. Of course I had to buy the polish! Or Rosé shimmers silver-pink or golden-pink depending on the angle of the light; with a metallic finish. I can't quite decide whether the shade is summery cool or perhaps too shimmery after all….? Decision, decisions! On this blog I have already portrayed two Kure Bazaar polishes: Stiletto and cult shade Kale.
Some time ago I came across the following tip: you can use the Neroli 10% essential oil from German organic aromatherapy brand Primavera as a base to create your own perfume. Neroli is orange blossom oil and the 10% means that it is 10% diluted. You should never use pure essential oils straight on your skin – it is better to use some sort of carrier oil – but the 10% dilution means that you can apply this particular Neroli oil to the skin just like a perfume.
I always have a bottle of Primavera's Neroli 10% at home anyway – I love the beautiful floral fragrance and the scent always cheers me up – so I decided to try out this recipe. For my first fragrance creation I added 2 drops of jasmine (I absolutely love jasmine!). Next time I will try mixing Neroli with rose geranium which has become one of my favourite essential oils. I'll keep you posted about my future fragrance experiments!
And last but not least: I finally managed to integrate a new and improved Blogroll into Beautyjagd thanks to my amazingly talented administrator Sekl (thank you Sekl!) The new Blogroll will feature the most recent articles of all the blogs that are listed there.
And here are the most interesting organic beauty news I've come across recently:
In October organic beauty brand Martina Gebhardt will launch its popular Melissa Cream as a friendship set which includes three samples that can be given to friends or acquaintances.
On the homepage of Ilia Beauty you can check out the new foundation, eyeshadow and eyeliner as well as two new brushes. However, unfortunately the eyeshadows contain silicones and the foundation is formulated with ethylhexyl glycerin as a preservative. [Beauty-Notizen 11.9.2015]
Have a good day and see you in two weeks!
Julia