Dear international readers of Beautyjagd,
Welcome to the next English-language edition of Beautyjagd! This is a condensed version of the most important articles that have appeared on my blog over the last few weeks. For more information about this new format, click here. And now: enjoy the best of Beautyjagd in English!
Best wishes
Julia
Welcome to the second part of my Oil Library, an article series developed in cooperation with German aromatherapy brand Primavera! A few months ago I posted the first chapter of the Oil Library: I introduced four plant oils – sweet almond oil, wild rose (rosehip) oil, inca nut oil and jojoba oil – which are suitable for almost any skin type. In today's article I will introduce four more oils which are a little more specific and can be used to treat problematic skin types.
Every plant oil has a different fatty acid profile; other important aspects are the saturation level of an oil and the secondary plant ingredients. I explained this in more detail in the first part of the Oil Library; you can check here for more information! In brief: although plant oils might look or smell the same, each oil is different and therefore has a different effect on the skin. Always select high quality oils (ideally from organic agriculture); the oils should also be cold-pressed and as untreated as possible.
And now let's start with the practical applications of these four oils! I'll explain the specific properties of each oil and there will also be some DIY recipes so you can create your own oil blends.
Organic Avocado Oil
Let's start with one of my favourite oils: avocado oil! If you have used avocado oil before – for example in the kitchen – you'll know that it has a greenish colour and a herbal, green smell. I like the fragrance but I also like eating avocados. Avocado oil is pressed from the pulp of the avocado fruit (the avocado plant is called persea gratissima and belongs to the laurel family). This makes avocado oil a fruit pulp oil, just like olive oil.
Most important fatty acids: around 50% oleic acid (protective) and 17% palmitic acid. Also remarkable: the rare palmitoleic acid (around 8%) which is regenerating and soothing.
Secondary plant ingredients: very high percentage of fat-soluble substances such as lecithin (a plant-derived emulsifier which helps to connect the moisture in the skin with the lipids), vitamins and squalane.
Cosmetic effects: especially suitable for very dry or cracked skin. Avocado oil has highly regenerating properties and helps to strengthen the skin's protective barrier. It is also a good carrier oil for other ingredients since avocado oil is absorbed deeply into the skin.
I often recommend avocado oil to people who have the feeling that other oils do not nourish their skin, no matter how much hydrosol they apply beforehand. Since avocado oil helps to bind moisture in the skin, it can help with this kind of skin problem – it's definitely worth a try! Taken internally, avocado oil can help to lower cholesterol levels.
A bottle of 100 ml Organic Avocado Oil from Primavera costs 14.90 Euro.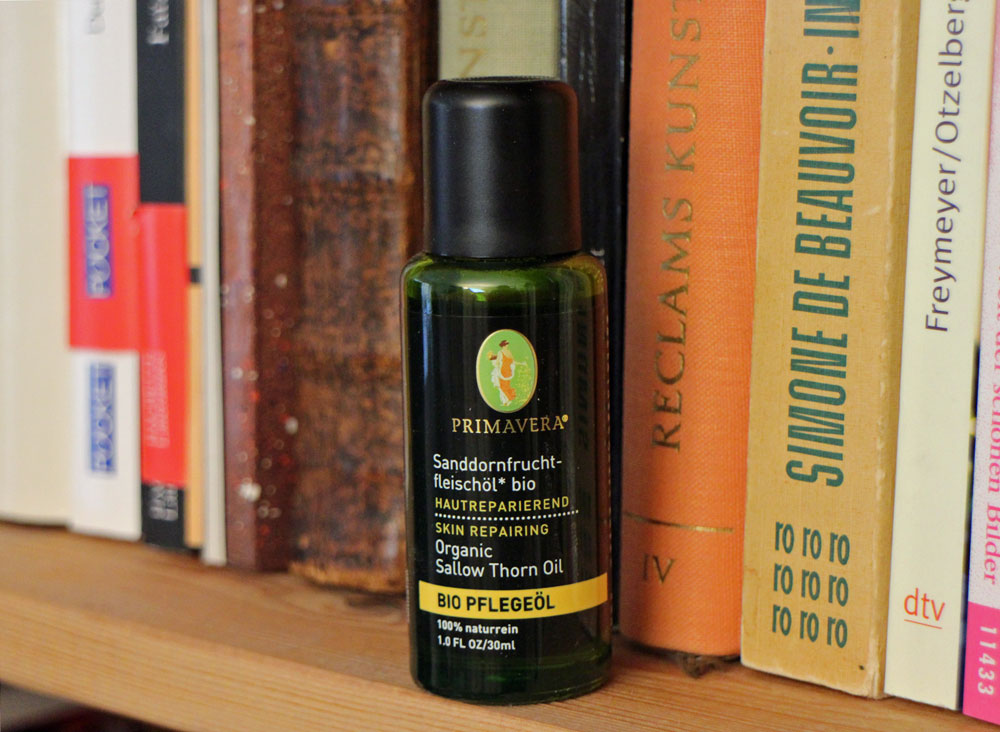 Organic Sea Buckthorn Fruit Oil
Sea buckthorn fruit oil is pressed from the fruit of the hippophae rhamnoides bush. Like avocado oil and olive oil, sea buckthorn oil is a fruit pulp oil. The small round sea buckthorn fruits have a bright orange colour and a fruity-aromatic fragrance and the pressed oil has the same characteristics. Don't confuse sea buckthorn fruit oil with sea buckthorn kernel oil which has a different fatty acid profile.
Most important fatty acids: 30% palmitic acid and a massive 30% percentage of palmitoleic acid (skin soothing and regenerating).
Secondary plant ingredients: carotinoids, vitamin A, vitamin E (anti-oxidants) and a natural percentage of fruit acids.
Cosmetic effects: protects the skin from free radicals, is cell-regenerating, anti-inflammatory and helps to prevent skin damage. Sea buckthorn fruit oil is also one of the most effective "radiation protection " plant oils: it guards against UV rays but also helps to protect the skin when undergoing anti-cancer radiation treatments. Sea buckthorn fruit oil can be applied topically or taken internally. It is also used to treat burns or badly-healing wounds, scalp excema or inflamed gums and it even helps when you have a sore or inflamed throat.
In China and Russia sea buckthorn fruit oil is already considered a proper medication and can be found in the respective country's national Pharmacopoeia. If you use sea buckthorn fruit oil for skin care, dilute it 1:10 with another plant oil – sea buckthorn oil is expensive. Also, the dilution helps to minimise the orange tint that pure sea buckthorn fruit oil leaves on the skin! If you want to take the oil internally, simply add a few drops to a yoghurt – it tastes good and helps boost the immune system. It is also a good oil if you want to prepare your skin for sun exposure. A real power oil!
A bottle of Organic Sea Buckthorn Fruit Oil from Primavera contains 30 ml and costs 29.90 Euro.
*
♦ DIY Recipe for sun-burned skin or cancer treatment radiation damage
Blend together the following base oils:
20 ml Organic Aloe Vera Oil (also good against burns)
9 ml Organic Avocado Oil
1 ml Organic Sea Buckthorn Fruit Oil
Add the following essential oils:
3 drops of Niauli bio (strengthens skin and psyche)
6 drops Benzoe Siam bio (moisturising, comforts the soul when you are frightened)
6 drops Lavendel fein bio (calms the skin and the mind)
Usage: Two weeks before exposure to UV or chemo radiation apply a generous amount of the oil mixture to whichever part of the body will be exposed to the radiation. Massage the oil gently into the skin. Whilst you are going through the radiation treatment do not use the oil. After the radiation treatment has finished, you can use the oil again.
*
Organic Black Cumin Oil
When I smell black cumin oil I immediately think of delicious and fragrant Turkish flat bread! However, nigella sativa can be used outside the kitchen, too: when you press the little black seeds you get a yellow-tinted oil with a spicy-peppery fragrance. To me it smells very oriental! And although black cumin oil is a fatty oil it also contains an essential oil.
Most important fatty acids: linoleic acid (around 55%) and oleic acid (approximately 20% ); both are moisturising and protective.
Secondary plant ingredients: a percentage of 0.5-1 % essential oil is responsible for the anti-inflammatory and anti-allergic properties of the oil.
Cosmetic effects: the oil has a strongly protective effect and strengthens the skin's own barrier; it also boosts the skin's circulation. It is especially suitable for inflamed or irritated skin. Taken internally the oil can help against asthma, allergies and atopic skin; you can also rub it onto the skin when you have a cough.
Fun fact: I read that a few years ago Nestlé tried to register a patent on black cumin oil because it has such a positive effect on food allergies. There are many scientific studies about the benefits of black cumin oil: massaging it into feet and legs is supposed to protect the skin against ticks and insects when you're spending time outside. Black cumin oil is also recommended for the treatment of scalp problems.
A bottle of Organic Black Cumin Oil from Primavera contains 100 ml and costs 18.90 Euro.
Organic Evening Primrose Oil
Most people think of neurodermatitis when they hear the word "Evening Primrose Oil" – it's a medicinal oil which is frequently used in the treatment of atopic skin. The oil is pressed from the seeds of the evening primrose plant oenothera biennis and is used both topically and internally. It has a light yellow colour and an aromatic nut-like fragrance.
Most important fatty acids: 70% linoleic acid and an especially high percentage of the rare gamma-linolenic acid (9%).
Secondary plant ingredients: phytosterols.
Cosmetic effects: a treatment oil for dry, irritated and inflamed skin. Has strong skin-soothing properties, calms down itchiness and helps to regenerate the skin's own protective barrier. Evening primrose oil also decreases transepidermal water loss which means that the oil helps to bind moisture within the skin. Evening primrose oil is recommended for skin that suffers from neurodermatitis and psoriasis. The oil is also taken internally where it can help to regulate the hormone balance of the body and the psyche (i.e. when suffering from PMS).
When used as a skin care oil it is best to mix evening primrose oil with another oil, for example sweet almond oil. This oil blend is also good in winter time (dry heated air!) even if your skin's protective barrier works fine. One final note: the oil can turn rancid very quickly so use it up within a few month.
A bottle with 30 ml Organic Evening Primrose Oil from Primavera costs 13.90 Euro.
*
♦ DIY Recipe: Anti-inflammatory combination of black cumin oil and evening primrose oil for neurodermatitis
Blend together:
30ml Organic Evening Primrose Oil
30ml Organic Black Cumin Oil
Depending on whether you like the smell of cumin you can add more or less black cumin oil – always listen to what your nose tells you! Approach this oil blend gradually: first mix two tea spoons of black cumin oil with 1 tea spoon evening primrose oil and then try the oil on your skin to see whether you like the texture and smell.
*
All organic oils are directly available through Primavera's webshop but also in organic stores and online.
[Click here for more pictures and the original German article Die Öl-Bibliothek 2: Avocadoöl, Sanddorn-Fruchtfleischöl, Schwarzkümmelöl und Nachtkerzenöl von Primavera]
Beauty Postcard 11: Loose Flora Powder Foundation from Zuii Organic
Hello my dear,
you know how much I love loose mineral foundations (my extensive collection of little jars and brushes speaks for itself!). However, the Loose Flora Foundation from Australian brand Zuui is something special: unlike "normal" mineral foundations which are based on glimmer or other minerals, the Zuii foundation is based on powdered dried flower petals – rose blossoms, camomile blossoms and jasmine blossoms. If you turn the jar over (see picture) you can see some of the dried petals. But don't worry, the foundation that is layered on top of the blossoms is very finely milled.
The top of the jar contains a little mirror and a thick powder puff. In the beginning it is a little difficult to get the powder through the little sieve (the jar is very tightly packed!) but it helps if you gently tap the sieve. And it is so worth it: the foundation is scented with subtle notes of rose and offers light coverage with a semi-matte finish. It almost looks like I'm wearing no makeup at all. My foundation shade is Dune which is a light to medium yellow-toned colour; there are ten shades altogether. Half of these colours have yellow undertones, the others are pink-toned. All shades are vegan, by the way, and certified by Cosmos Organic/BDIH.
Lots of love,
Julie
PS: In Germany I have seen the Loose Flora Powder Foundation at Naturdrogerie in Mainz and Belladonna in Berlin; I bought mine at Belladonna for 33.50 Euro.
[Click here for more pictures and the original German article Postkarte 11: Loose Flora Powder Foundation von Zuii Organic]
Beauty Notes, 16.12.2016 (from Paris)
A metallic-red background on any product photo usually means that I am travelling (the red colour is my suitcase!). I've just returned from a long weekend in Paris with Chez Matze – it was a kind of early Christmas present for both of us. This is also the reason why these Beauty Notes offer an even wilder mixture of products than usual 😉 .
Before I tell you about my exciting Paris discoveries I'd like to mention my new article for Bio-Blog (German only, sorry!): a Five-Minute Festive Makeup with organic beauty products. It was great fun developing the look; I enjoy playing around with colours!
But now let's start with Paris! Since I was in town for a weekend only (also, I anticipated that I'd buy quite a lot of stuff 😉 ) I kept my luggage small. One of the things I took with me was a sample of the Shower Oil Apple & Elderflower from Estonian brand Joik which I was sent by Sirkku from Hilla Naturkosmetik. I like the scent of this shower oil: it's a subtly fruity-floral blend. The texture is good too, you apply it on wet skin and the oil transforms into a soft shower cream (thanks to the certified organic emulsifier sodium lauroyl lactylate) which is easy to rinse off. The skin feels smooth and hydrated afterwards (the oil left a very light protective and non-sticky film on my skin). I didn't need any additional body lotion.
Some time ago I started carrying around little jars of Olbas tablets. These tiny pastilles contain a blend of three essential oils: peppermint, cajeput and eucalyptus. I suck the pastilles when I feel a headache or queasiness coming on; they are also good for treating the first symptoms of a head cold (sniffles, coughs, stuffy nose). I also like how fresh my mouth feels afterwards. The name Olbas is the abbreviation of "Oleum Basileum" (lit. Basel oil), a healing oil which has been manufactured in the Swiss-German city of Basel for the last few centuries. The Olbas brand belongs to natural products manufacturer Walther Schoenenberger whose factory I visited last summer. A true German classic, those Olbas pastilles!
On the photo above you can see three of the new products that I bought in Paris: of course I had to visit Aroma Zone – I can never resist this wonderful organic DIY cosmetics store! One of their new launches was a base for peel-off face masks which immediately reminded me of the Korean masks from Lindsay and the rubber mask from French brand Secrets des Fées. The Aroma Zone base contains medicinal clay and algae powder; depending on your skin type or preference you can add further ingredients like bamboo powder, green tea or other plant extracts. Since I am a huge fan of peel-off masks I simply had to buy the mask base… You can find more details on the French homepage of Aroma Zone.
I also discovered French brand Florame's new three-sku Tolérance range for sensitive and atopic skin. The products are manufactured without fragrance; I bought a tube of the Soin Anti-Rougeurs, a clear SOS gel which is said to soothe the skin and minimise redness. The gel contains spring water, three plant hydrosols and an ingredients complex of seven plant extracts, including flax. I've also found the products online at Monde Bio and Mademoiselle Bio. More information about the new range is available here.
After my recent trip to the North of Finland I simply couldn't resist the limited edition Kit Booster Hiver Douceur Boréale from French beauty brand L'Atelier des Délices (the sister brand of Couleur Caramel). This set includes two serums: one for day-time use and one for night-time. Both serums contain cranberry (hence the product name "boréale" which refers to the Northern European Boreal climate). The day serum is hydrating and makes skin glow thanks to a hint of ultra fine glimmer. You apply your usual day cream on top of the serum. The night-time serum is based on oils (it is water-free) but is still absorbed quickly into the skin. I really like this Scandinavian-inspired French organic beauty kit, although it is not particularly cheap (I paid almost 69 Euro). But, after all, it is Christmas soon 😉 .
[Click here for more pictures and the original German article Beauty-Notizen 16.12.2016 (aus Paris)]
Review: The Nature of Beauty from Imelda Burke
A few weeks ago I bought The Nature of Beauty from Imelda Burke. Some of you already asked me on Instagram how I liked the book, so I decided that a short book review would be interesting! The Nature of Beauty is described as a guide for a new generation of organic beauty, skin care and makeup. A few of you might be familiar with the name of the author: Imelda Burke is the founder of organic store Content Beauty Wellbeing which is located in London's Marylebone neighbourhood. The retail store opened its doors in 2008; there is also an online store (of which I am a frequent customer). Imelda Burke is an organic beauty expert and very well-known in the UK organic cosmetics sector.
What I particularly like about Imelda's attitude (and I share this opinion with her) is that she doesn't go in for scare-mongering; she doesn't condemn conventional cosmetics as evil or dangerous. Instead she encourages her customers to ask questions: if you are already against chemical or highly-processed food products, why apply synthetic ingredients to your skin? And how about supporting smaller companies and niche brands rather than the big cosmetics manufacturers?
The 300 pages of the book contain mostly text – there are few pictures – but the layout is modern and pleasant to read. I have nothing against pictures, don't get me wrong! but I do prefer books that contain well-researched and detailed articles rather than short sound-bites that one merely skims through.
The first chapter immediately delves into the practicalities of organic beauty: there are tips on how to switch from conventional cosmetics to organic products (start with small things, like a lipbalm or a body lotion) and how/where to buy organic beauty. In the second chapter, Imelda briefly explains which synthetic ingredients she like to avoid and why, and gives practical tips on how to read an INCI declaration and how to decipher the packaging text of a beauty product. She also identifies some interesting sub-categories within the organic and natural beauty sector: like fresh cosmetics or cosmetics made from food ingredients (like the May Lindstrom range).
One of Imelda's favourite subjects seems to be skin care: the next two chapters are dedicated to information about skin structure, and which ingredients are particularly helpful if you want to increase hydration or improve problem skin. There are lists of "Skin Foods" that she recommends for particular skin care requirements (such as aloe vera or algae extracts), and "Skin Boosters". I would have wished for more detailed information on some of these ingredients but there is only so much text that you can include in one book! Imelda also refers to nutrition and lifestyle; she frequently highlights the connection between psyche (stress) , hormones and skin health – inner and outer beauty are inseparable.
The comprehensive fourth part of the book deals with skin care for different skin types and skin problems. Imelda recommends suitable ingredients for various skin concerns and helps the reader to develop his or her own personalised skin care routine. The recommendations also include individual products and brands which, however, are primarily from the UK, the US or Australia. Personally I would have preferred it if she had included more European brands.
The book also offers chapters on makeup (very extensive, colour cosmetics seem to be another hobby of the author), body care, hair care, fragrance and aromatherapy. Imelda's product recommendations are very pragmatic, by the way: she says, for example, that at the moment is very difficult to manufacture a super-long lasting eyeshadow for droopy eyelids with just organic ingredients. Imelda also talks about beauty rituals such as acupressure, lymph stimulation, face massages or moor/salt bathing sessions. The final chapter provides some basic recipes and practical tips for DIY cosmetics.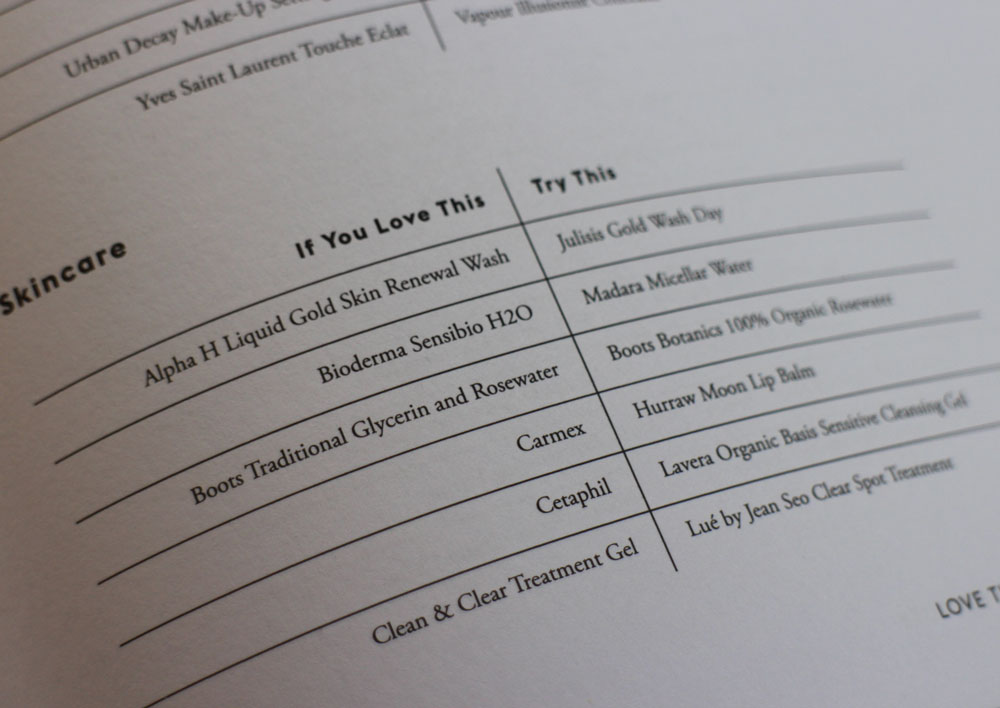 I also like Imelda's product and brand recommendations for switching from conventional to organic beauty: the chapter is entitled "love this, try this…" and offers tables of well-known conventional beauty brands and cult products plus a suitable organic alternative. Two examples: If you like the brand Dermalogica you might like organic US brand Suki Skincare. And if you like the lipstick Ruby Woo from M.A.C., you might want to check out Coquelicot from French brand Absolution.
The Nature of Beauty is very much a practical reference book for organic cosmetics. Topics like organic certifications or the palm oil/environmental debate are mentioned briefly but not in much detail. The focus of the book is on skin care and makeup: how to take care of your skin and which ingredients or beauty rituals are particularly suitable for your individual requirements. In fact, The Nature of Beauty reminded me of an updated version of the US classic No More Dirty Looks which was published a few years ago (I reviewed the book on my blog in 2011).
I recommend The Nature of Beauty if you want an overview of what organic skin care and cosmetics have to offer at the moment. It's a good book if you are new to the world of organic beauty but because the information is comprehensive and detailed, it is also an interesting read for more advanced organic beauty fans.
The Beauty of Nature from Imelda Burke was published by Penguin, you can buy it on Content Beauty Wellbeing for around 24 Euro; it is also available on Amazon, Ebooks and Ebay. There is also a Kindle version.
[Click here for more pictures and the original German article Review: The Nature of Beauty von Imelda Burke]

A visit to the pop-up store of Nuoo Box in Paris
Instagram is very cool research tool: just before I left for Paris I saw on my time line that French organic beauty box company Nuoo was opening a pop-up store from 12th to 18th December in Paris. Of course I simply had to check it out! The Nuoo pop-up store was located in the Marais area; in Rue Pastourelle, to be exact. The company offers organic and natural beauty subscription boxes for 23 Euro (plus postage) per month. Each box contains five small product sizes and a small magazine about organic beauty. If you like the products you can buy the full sizes in Nuoo's online store.
The Rue Pastourelle store was really pretty and quite spacious: you could either create your own Nuoo box from the small size products on offer or simply check out the organic beauty brands that Nuoo sells in its online store. These are primarily French niche brands which I either didn't know or had only read about, so I browsed the shelves most thoroughly!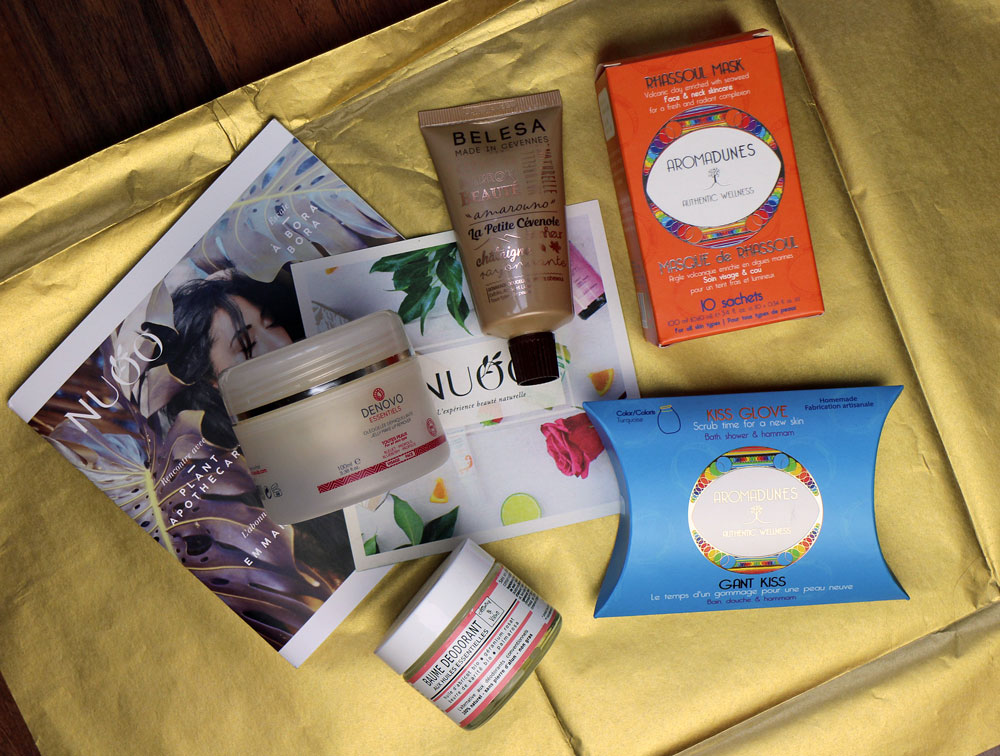 And here is what I bought: A tin of the rose geranium-and-palmarosa-scented Baume Deodorant from Clémence et Vivien. I already reviewed the brand's deo cream with ylang ylang and cedar on my blog here; I like the smooth texture of the Clémence et Vivien deodorant creams. They are comparatively mild, too.
I also couldn't resist the orange-coloured box of Rhassoul face masks sachets from Aromadunes (so convenient for travelling!). The face masks are ready-to-use; the mask contains clay, water, glycerine, a plant-derived emulsifier, zinc oxide, sea salt and algae extract. You can check out the Rhassoul masks here. And since I've been looking for a Hammam glove for ages I also bought Aromadunes' Kiss Glove.
I had never heard of Denovo which was founded in 2012 by Alice Roux. I instantly liked the brand's Oléogelée Démaquillante – a balmy cleansing gel – which I tried out in my hotel room that very evening. You apply a small portion of the thick, shimmering and almost water-free gel balm to dry skin and then emulsify it with water (massage your face with wet hands). The gel turns into a milk which can then be rinsed off. So far my skin likes this product and it doesn't feel dry afterwards either. More information about the Oléogelée is available on the Nuoo homepage.
I also bought the face scrub Gommage Douceur La Petite Cévenole Amarouno from Belesa. It reminded me of a tube of chestnut cream – and indeed, the brand is from the Cevennes area in the South of France (a rather remote region with many chestnut trees). The packaging stated that 12% of the product are ingredients from Cevennes. The scrub is a liquid gel which is based on apple juice, glycerine, plant oils and two emulsifiers which, upon contact with water, turn the gel into a milk. The active scrub ingredients are apple fruit acids, apple powder and chestnut powder. You can check out the scrub on the Nuoo homepage.
I also received the company's Nuoo magazine together with my purchases. The magazine is published monthly and offers a variety of articles: interviews with brand founders, reviews of new products or descriptions of the Nuoo box subscribers' favourite beauty rituals. I loved the opportunity to shop for new French niche brands in this temporary store! And I wish Nuoo Box (which was founded only last year so it is still new on the market) much success with its beauty boxes!
[Click here for more pictures and the original German article Mein Einkauf im Pop Up-Store der Nuoo-Box in Paris]
The last Beauty Notes of the year! It is the day before Christmas (in Germany we celebrate Christmas on the evening of the 24th December) and I'd like to show you which beauty products accompanied me throughout the last week.
First there were two more purchases from Paris: Whilst visiting the store of Mademoiselle Bio I discovered the Instant Radiance Collection from UK brand Pai Skincare. The little round box contains small sizes of the Rosehip Oil (as a roll-on) and the Kukui & Jojoba Bead Exfoliator. I reviewed the Pai rosehip oil on Beautyjagd here; the soft face scrub is a gentle cream with melting jojoba pearls which leaves the skin smooth and hydrated. The Instant Radiance box was priced at 18 Euro – a spontaneous Christmas present for myself 😉 .
And in the Pharmacy in the Rue du Four I discovered the limited edition Eau de Beauté from French brand Caudalie. Caudalie primarily offers natural-inspired products (very few products are actually organic) but the Eau de Beauté could be certified, I think. It is a refreshing toning spritz which has a herbal, slightly minty fragrance and hydrates the skin. The packaging with its pretty lace patterns was created by fashion designer Jason Wu. Très français! More information is available here.
I recently bought the Aktiv & Fichtennadel Eukalyptus Sprudelbad (Active & Fir Tree Needle Eucalyptus Fizzy Bath) from German brand Dresdner Essenz at my local Rossmann drugstore. The bath additive has a classic fir tree needle fragrance; I love it! It also colours the bath water a light green. The ingredients could be certified, I think, although I am not sure if the fragrance is actually organic.
And here is another traditional German beauty product which I bought at Rossmann: German natural brand Kneipp is celebrating its 125th anniversary with a number of relaunched classics from the past century! The anniversary range includes the Wiesenkräuter Feuchtigkeitscreme (Meadow Herbs Moisturising Cream), a multi-purpose skin care cream for face and body which is packaged in a pretty metal tin. The cream contains calendula and daisy extracts, camomile and witch hazel and has a texture which is a cross between a "soft crème" and the classic Nivea cream. The product is based on water, glycerine and almond oil (panthenol and methylpropanol, which are also included, are not of natural origin). For each product that is sold, 12.5 Cent go towards a WWF (World Wildlife Fund) sponsored project to protect the coastal forests in Tanzania. You can find more information about Kneipp's 125th anniversary on the company's homepage.
Swiss brand Farfalla recently launched its Intense Moisture Nourishing Hydrating Mask in single sachets. I was surprised when I opened the sachet: instead of the cream mask that I expected the Hydrating Mask is actually a transparent gel balm! You apply the mask in a thick layer on cleansed, dry skin and rinse it off with lukewarm water after 15 minutes. Thanks to a sugar tenside the balm turns into a soft milk when it comes into contact with water. My skin felt really soft and smooth afterwards (and not sticky either). Lovely! The mask is based on sunflower oil, glycerine and almond oil and has a very light sandalwood fragrance. I received the sachet from Farfalla; you can also buy the mask from any Farfalla stockists or online, for example through Naturdrogerie.
In a recent Beauty Notes article I already mentioned that German brand Speick was launching four new oil soaps – and the brand's Christmas parcel, which I received a few days ago, contained the new Pistachio Oil Soap. The soap is certified by Cosmos Organic and it has a marvellous smell: pistachio marzipan! So delicious! You can buy the soap online, for example in Speick's own webshop or through other retailers like Stararoma.
And these were the last Beauty Notes of 2016! I hope you enjoyed them; Merry Christmas and a Happy New Year to all of you!
[Click here for more pictures and the original German article Beauty-Notizen 23.12.2016]
Good-bye everyone and see you in two weeks!
Julia