Dear international readers of Beautyjagd,
Welcome to the next English-language edition of Beautyjagd! This is a condensed version of the most important articles that have appeared on my blog over the last two weeks. For more information about this new format, click here. And now: enjoy the best of Beautyjagd in English!
Best wishes
Julia
The Oil Library 1:  Sweet Almond Oil, Rose Hip Seed Oil, Inca Nut Oil and Jojoba Oil from Primavera
Welcome to my Oil Library! This is the first installment of a two-part feature developed in cooperation with German aromatherapy brand Primavera. I'll introduce eight of my favourite skin care oils (four in each article), telling you about the oils, their properties and what skin types they are particularly suitable for. There will also be some DIY recipes for your own oil blends. In this post I will introduce four oils which are good for any skin type: sweet almond oil, rose hip seed oil, inca nut oil and jojoba oil.
Let's start with some background info on how oils are actually manufactured: fatty oils (as opposed to essential oils) are pressed or extracted from the seeds and fruits of various plants. The oil can also be extracted using solvents which, however, means that the oil has to be refined afterwards in order to remove the solvent traces. Which in turn means that the quality of the oil suffers. Personally I prefer organic plant oils that haven't been deodorised or otherwise treated – I like to get the full charge of the oil's beneficial properties 🙂 .
Most plant oils have a similar structure: three fatty acids (such as oleic acid, linoleic acid, palmitic acid, palmitoleic acid, stearic acid or alpha/gamma-linoleic acid) are attached to a glycerin molecule. The fatty acids have varying lengths of carbon atoms chains and this makes the properties of each oil different: oleic acid, for example, is hydrating and penetrates deeply into the skin's lower layers, stearic acid has a re-fattening effect (it rebuilds the lipid film of the skin) and leaves a light layer on the skin while lauric acid has anti-microbial properties and is absorbed especially quickly into the skin.
Sometimes the individual carbon atoms can be connected twice with each other and the number of this double connections also determines the saturation level of an oil, how reactive a fatty acid is. For example: oleic acid (which you'll find in sweet almond oil) is a single unsaturated fatty acid while alpha-linolenic acid (in rosehip oil) is a triple unsaturated fatty acid. In addition, every oil also contains secondary plant ingredients like phytosterols, flavonoids or vitamins which are specific to each oil. These are also the ingredients that are particularly beneficial for the skin. And this, basically, is why oils have different properties (although they might look the same), and why they have such different effects on the skin. And now let me introduce the first four oils!
Organic Sweet Almond Oil
Sweet almond oil is a true beauty classic! It is pressed from the sweet almond prunus amygdalus dulcis and has a subtle nutty fragrance. For 400 litres of almond oil you need around 1 tonne of almond.
Most important fatty acids: 70% oleic acid and 15-20% linoleic acid.
Secondary plant ingredients: especially vitamin E (antioxidant, protects the skin).
Cosmetic effects: Sweet almond oil is protective and moisturising, it is absorbed deeply into the skin and can transport other actives with it. This oil is suitable for almost any skin type; thanks to the anti-inflammatory properties of the linoleic acid it also soothes the skin.
Sweet almond oil is often recommended for dry and sensitive skin but it is a perfect all-round skin care oil which can be used by the entire family. It's also really good for delicate baby skin! Very suitable for massages and to help prevent stretch marks since it increases skin elasticity. It is also a good base for aroma cosmetics or as a carrier oil for essential oils.
A 100 ml flacon of Organic Sweet Almond Oil from Primavera costs 14.90 Euro. There is also a 50 ml size which retails at 8.90 Euro.
Organic Rose Hip Seed Oil
The German name of this oil – "wild rose oil" – can be confusing: it isn't a rose-scented fragrance oil but the fatty oil which is pressed from the seeds of the rosehip (rosa mosqueta). Over the last few years rosehip oil has become really popular amongst beauty bloggers and it's a very trendy ingredient at the moment. Rosehip oil has a herbal-grassy fragrance with nutty overtones and is tinted a light orange-yellow colour.
Most important fatty acids: a high percentage of alpha-linolenic acid (30%) and linoleic acid (40%).
Secondary plant ingredients: traces of trans-retinol acid (the preliminary stage of vitamin A) which helps to build up collagen and ensures that moisture is stored in the skin.
Cosmetic effects: this is a treatment oil which boosts cell division and therefore helps to regenerate the skin. It has anti-inflammatory properties (linoleic acid) and is absorbed quickly into the skin. Non-greasy.
With its high percentage of cell-stimulating and cell-regenerating alpha-linolenic acid, rosehip oil has healing properties and is therefore ideal for treating scarred skin. It is recommended for mature skin (anti-ageing) but also for impure and problem skin because the linoleic acid has anti-inflammatory properties. It is also supposed to help against hyper-pigmentation. Rosehip oil is one of my favourites – I always have a bottle at home!
Note: Rosehip oil isn't particularly stable. Once you've opened the bottle you should use it up quickly. You can also blend it with jojoba oil (1:1) which helps to stabilise the rosehip oil and increase the storage life. And don't worry, rosehip oil is so effective that it works even when it is diluted!
A 30 ml flacon of Organic Rose Hip Seed Oil from Primavera costs 16.90 Euro.
Organic Inca Nut Oil
You've probably heard of inca nut oil (it is also called sacha inchi oil): it's a bit of a star oil on the international beauty scene! Inca nut oil is pressed from the Peruvian mountain peanut plukenetia volubilis and has a nutty-green fragrance.
Most important fatty acids: a high percentage of alpha-linolenic acid (47%) and linoleic acid (35%).
Secondary plant ingredients: vitamin E (antioxidant).
Cosmetic effects: this is a quickly-absorbed treatment oil which feels light on the skin. Cell-stimulating and anti-inflammatory properties.
You've probably noticed that the oil has an ingredients profile which is similar to rosehip oil. This makes inca nut oil an excellent (and more affordable!) alternative to rosehip oil. Inca nut oil is cell-regenerating and cell-activating and helps to increase skin elasticity. This oil has a high percentage of vitamin E which makes it more stable than rosehip oil; it also has antioxidant properties. Suitable for mature skin but also for oily skin because of the anti-inflammatory properties of the linoleic acid.
A 30 ml bottle of Organic Inca Nut Oil from Primavera costs 13.90 Euro.
Organic Jojoba Oil
The native inhabitants of Mexico, California and Arizona used to call jojoba oil "liquid gold". It can be stored for years without turning rancid and has a neutral-waxy fragrance. Jojoba oil is pressed from the nuts of the jojoba bush simmondsia chinensis – it actually isn't a real oil but rather a liquid wax. This means that jojoba oil doesn't consist of a fatty acid-glycerin connection like other oils; instead it's a long-chained wax ester connected with a fatty alcohol.
Most important fatty acids: 70% gadoleic acid and 15% erucic acid. Both are single unsaturated fatty acids.
Secondary plant ingredients: high percentage of vitamin E (antioxidant).
Cosmetic effects: an all-round oil which leaves a light lipid film on the skin without leaving it greasy. This helps to lock in moisture. Jojoba oil is also effective against microorganisms which can cause impurities.
The moisturising properties and the high percentage of vitamin E make jojoba oil very suitable for dry, mature and moisture-deficient skin. The oil increases skin elasticity and therefore helps to prevent stretch marks. Impure or problem skin can benefit from the anti-microbial properties of jojoba oil and it is also ideal for removing eye makeup or for eye care – jojoba oil is slow to spread on the skin so it doesn't run into the eyes. You can also blend jojoba oil with other oils (see rosehip oil entry above) to make them more stable and increase storage life.
A 100 ml flacon of Organic Jojoba Oil from Primavera costs 17.50 Euro. There is also a 50 ml size which retails at 9.90 Euro.
*
And now, are you ready to create your own oil blends? Here are two easy DIY recipes!
♦ Anti-Scarring Oil with Almond Oil and Rose Hip Seed Oil
This is a good oil mixture to treat operation scars, acne scars or hyper-pigmentation!
30 ml Organic Almond Oil
20 ml Organic Rose Hip Seed Oil
15 drops of organic rose geranium essential oil (a soothing and hydrating essential oil)
Blend the oils together and apply a small amount to the afflicted skin area. Massage the oil into the skin.
Tip: You can also fill the oil blend into a roll-on bottle so you can apply it while you're out and about. The roller ball helps to massage the skin. This is also a good facial oil for when you're starting to develop the first lines on your skin.
♦ Eye Care Oil with Jojoba Oil and Inca Nut Oil
Blend the following three oils together:
10 ml Organic Jojoba Oil
5 ml Organic Inca Nut Oil
1 drop of organic rock rose essential oil (decongesting, smoothes out fine lines, has a light resin-y fragrance)
Rub a small amount of the oil between your ring fingers and gently pat onto your eye area, from the inside to the outside. To minimise oily shine (oil is best applied on damp skin) spray the face lightly with an organic herbal toner or hydrosol – like rose water or immortelle water – before patting in the oil.
All organic skin care oils are available through the Primavera website but also in organic supermarkets and online stores.
I hope you enjoyed this article! The second part of my Oil Library will be posted in December.
[Click here for more pictures and the original German article Die Öl-Bibliothek 1: Mandelöl, Wildrosenöl, Inka Nuss Öl und Jojobaöl von Primavera]
Beauty Postcard: Flash Rinse 1 Minute Facial from Ren Clean Skincare
Hello my dear,
Today's postcard is about a beauty product which somehow didn't work for me but is still really interesting! Do you know US brand Ren Clean Skin Care? They mostly offer natural-inspired beauty (although some products can be considered organic) and were recently acquired by consumer goods giant Unilever. Now, I don't really like to support these big multinational cosmetics groups with my hard-earned money, but I became curious about the Flash Rinse 1 Minute Facial because so many beauty blogs were raving about this product! The mask is formulated with a high percentage of vitamin C and it is supposed to make your skin clearer and smoother in just one minute. Last year I tried out the vitamin C serum from Danish brand Nuori and that worked really well (the vitamin C had a light peeling effect and really made my skin more even-toned). So I decided that I simply had to try out the Ren wonder mask!
The 1 Minute Mask is water-free and based on processed plant oils (vitamin C is very unstable and lasts longer when it is suspended in an oily base). It has a slightly grainy texture and a blueish-green colour. You apply the mask on clean, dry skin and "activate" the water-soluble vitamin C (10% ascorbic acid and magnesium ascorbyl phosphate) by wetting your hands and massaging the face with your fingers. The mask then turns into a whitish emulsion; after one minute you rinse it off with lukewarm water and you're done! And this last step is what didn't quite work out for me: instead of glowing even-toned skin the mask left behind a kind of oily film; I had to use a konjac sponge and cleansing foam to get it off. And even then I wasn't particularly impressed with the results… but it is an interesting product concept; I've never seen this kind of face care product from any other beauty brand. And who knows, the 1 Minute Mask might work better for you 😉 .
Lots of love,
Julia
PS: I bought Ren's Flash Rinse 1 Minute Facial (a 75 ml tube) from French online store Ecocentric for 38 Euro. However, I have also seen the mask in various German online stores like Douglas, Ludwig Beck or Parfum Dreams at a slightly higher price.
[Click here for more pictures and the original German article Postkarte 7: Flash Rinse 1 Minute Facial von Ren Clean Skincare]
I'm currently reading Gulliver's Travels from Jonathan Swift. You might know this 18th century novel, it is a popular children's book – or rather, it is also available in a shorter and edited version for children. However, my book is the original version and it is fabulous; ironic and satirical and occasionally very funny – perfect for reading just before I go to sleep. It really is a timeless classic and surprisingly relevant even in the 21st century.
Every evening I also take one of the Capsules Oléocaps No 7 Sommeil et Stress Passager from Pranarom which I brought back from my last trip to France. The capsules are supposed to encourage a deep and relaxing sleep; they contain a blend of essential oils of verbena, lavandin, mandarine, lemongrass and majoram. It's almost a pillow spray! And I do have the feeling that I am sleeping better – perhaps this has to do with the fragrance that I am breathing in and out while I am sleeping. I am familiar with this effect from the eucalyptus capsules that I take when I have a cold – or the rose capsules from Bulgarian brand Alteya Organics. I can see that I am becoming very French as far as essential oils are concerned 😉 . In France it is completely normal to take essential oils orally; they are an officially recognised medicinal preparation and many health insurance companies actually pay for some of the costs for this kind of treatment. I'll definitely buy the Pranarom sleeping capsules again the next time I am in France; they are also available online. More information is available on Pranarom homepage.
At a recent blogger meeting in Mainz, Naturdrogerie owner Beate Schürmann told me about a very cool way to use the Calendula Oil Bath from German brand Martina Gebhardt. The Calendula range is a classic Martina Gebhard range, the oil bath is really intended for baby care but Beate told me that she likes to use the oil as a shower scrub: she mixes it with coconut sugar and then applies it to the skin. What a fabulous idea! The oil bath has a light blue colour which presumably comes from the chamomile, calendula and lady's mantle extracts that are contained in the product formula (shake the bath oil before use!). The fragrance of the bath oil is dominated by sweet fennel essential oil which smells like a combination of aniseed and menthol. Fennel has a de-stressing and calming effect and is especially good for stomach massages (both for babies and when you have period cramps). In Europe, fennel tea is a traditional home remedy for soothing an upset stomach. But back to the bath oil: it is based on sunflower oil and olive oil and doesn't contain any tensides. It really moisturises the skin, 10 ml are enough for one full bath. You can buy the Calendula Bath Oil from Martina Gebhardt online through the Naturdrogerie (which is where I bought it) or in organic supermarkets and other online stores. A real multipurpose product!
And let's stay in the world of oils for a moment! Some time ago Swedish organic beauty brand Loelle sent me its Argan Oil Vanilla. The flacon looks really elegant: matte black with golden lettering. The bottle comes with a dropper and the oil is recommended for hair and body care. I tried the oil on my face first but the gourmand fragrance was too strong and sweet for late summer (however, I think this would be a good winter-time product!).
Argan oil has a very distinctive smell so I guess the company had to use an extra portion of vanilla oil to neutralise the argan fragrance. Loelle's argan oil is from organic agriculture (the homepage lists Ecocert as a certifier) and the fragrance is supposed to be natural, too. Loelle specialises in beauty products from Northern Africa: in their online store you can buy rhassoul earth, rose water, black soap, peeling gloves and so on.
I simply couldn't resist the new Kjaer Weis lipsticks! Yes, they are expensive and yes, they have really luxurious, heavy packaging – but they are also refillable! I selected the shade Believe which turned out to be the perfect colour for my lips: it is described as a plum-toned nude which was initially confusing. On my lips, however, Believe turned into a medium rosé-shaded rosewood colour with neutral to cool undertones. Compared to Believe, 27 Kisses from Nudus is a little more pinkish-white and 11 Bois de Rose from Absolution is more reddish-pink. The finish of Believe is glossy-transparent with medium coverage; it doesn't last as long as the other two lipsticks. The texture is nicely balanced between oily and waxy and feels very comfortable on the lips. I think Believe might become my new everyday favourite! If the lipstick case was a little lighter I'd totally carry it around in my hand bag all the time. You can buy the new Kjaer Weis lipsticks at online stores like Green Glam, Amazingy or Niche Beauty for 52 Euro, the refill costs 34 Euro.
I've already introduced French brand Secrets de Provence's unusual powder shampoos and solid shampoos on this blog. On my recent trip to France I discovered Secrets de Provence's dry shampoo Mon Shampoing Sec – and of course I had to buy this product! Organic dry shampoos are often packaged in tins; Shampoing Sec, however, comes in a refillable dispenser which looks a bit like a conventional dry shampoo (these are usually packaged in an aerosol can). Secrets de Provence's dry shampoo, however, uses air to pump up the powder – and this works surprisingly well, you can spray the powder directly onto your hairline. Very convenient! And perfect for travelling. Other than that the dry shampoo is like any other dry shampoo: you massage it into your scalp, leave it on for a few minutes and then brush out the powder. It works really well on my short hair. Mon Shampoing Sec is based on talcum powder, rice powder and oat powder (certified by Ecocert/Cosmebio), it also contains wheat protein (which has a light moisturising effect) and is scented with a fresh, herbal fragrance. You can buy the dry shampoo in various online stores, for example through Ecco Verde or Mademoiselle Bio. It costs 6.49 Euro.
And here are some interesting organic beauty news that I discovered last week:
Berlin-based organic beauty brand i+m has honoured its founder Inge Stamm with two new body care products: the Madame Inge Creme Peeling and Madame Inge Body Mousse. More information is available here.
Did I already mention the Sweet Serenity Collection from Austrian brand Max and me? If not, here it is: the new products include a Beauty Balm, a Mask & Wash (very interesting) and a Rescue Balm. For more info, click here.
I recently discovered the new limited edition All Eyes on Me from German brand Sante in my local Müller drugstore. The collection offers an eyebrow powder kit, a waterproof cream eyeliner and a mascara. Available online and in stores.
Drugstore chain DM has expanded its organic beauty brand line-up in around 600 stores: new brands that are now available at DM include i+m Naturkosmetik, Sante and Dr. Bronner's.
The colour cosmetics portfolio of German brand Lavera was extended with ten new products, including two nail care products, two new eyeshadows and two new lipstick colours (Rose and Berry).
The new eyeshadow palette of UK brand Lily Lolo is called Pedal to the Metal. Check out the pic on Instagram.
DM's organic own label brand Alverde has announced a new Nutri-Intensiv Körpercreme Aprikose-Chia (Intensive Body Cream Apricot Chia).
[Click here for the original German article Beauty-Notizen 7.10.2016]
Human♥Nature: Organic beauty from the Philippines
Check out this fabulous beauty present which I recently received – from Manila! One of my readers is currently living in the Philippines and she sent me a parcel filled with organic cosmetics by Philippine beauty brand Human♥Nature. The cosmetics were in the original shopping bags (from supermarket chain Robinsons and retailer Beauty Bar). What a nice touch 😉 . Of course I asked Christine where she had bought these products in Manila – I've never been to the Philippines and have no idea if and what kind of organic stores they have in that country. She wrote that Human♥Nature is sold by most well-stocked supermarkets (like Rustan's or Robinsons) and by retail chain Beauty Bar. There aren't that many organic supermarkets in Manila, the Healthy Options chain mostly sells expensive imported foods and supplements (plus a small selection of cosmetics).
The portfolio of Human♥Nature is large: it offers face care, body care and hair care products as well as colour cosmetics. I think that this would be "my" brand if I were living in the Philippines (or in Malaysia or Singapore where Human♥Nature is also available). You can also buy Human♥Nature in the US, by the way!
The brand was launched in 2005 by Philippine-British couple Dylan Wilk and Anna Meloto-Wilk together with Anna's sister Camille Meloto. The three founders wanted to support domestic Fair Trade projects and local businesses by sourcing their ingredients primarily from the Philippines. Human♥Nature also works with NGO (Non-Governmental Organisation) Gawad Kalinga which is running a number of development projects to help combat poverty in the Philippines: a quarter of the entire population in the Philippines lives below the poverty threshold. Human♥Nature is employing many people from the Gawad Kalinga communities.
And what did my parcel contain? The coconut oil-based All-Natural Deodorant Stick Powder Fresh, which contains tea tree oil as the active ingredient and is scented with an almond fragrance. Although I had to reapply the stick when it was really hot outside I loved the powdery-smooth texture. Christine had also sent me pH-balanced Natural Feminine Wash Protection for Red Days, an intimate wash for when you have your period and the ph-level of the skin changes (such a good product idea!), the mint-flavoured Natural Toothpaste with fluoride and zinc citrate; Tinted Lip Balm in Pink Orchid which is based on castor oil, beeswax and cocoa butter (a slightly waxy texture, tints the lips a transparent pink) and Mineral ColorCreme Lipstick in Coral Charme which has a glossy finish and a smooth texture. The coral-pink colour looks really good on my lips.
All of the Human♥Nature products that I've seen could be certified according to European organic standards although I don't know the exact percentage of organic ingredients. The products carry the Cruelty-Free seal and I was particularly impressed by the fact that the colour cosmetics range is divided into cool, warm and neutral tones and is available for lighter and darker skin tones. Very professional! The brand also offers a premium skin care range.
I must say, I never would have thought that the Philippines had such an interesting organic beauty brand. Combining social entrepreneurship and beauty, and with such a large product selection – very cool! I read that Human♥Nature also has a flagship store in manila. Looks like I really need to do a bit of Beauty-hunting in the Philippines soon 😉 . Christine, thank you again for such a wonderful surprise!
[Click here for more pictures and the original German article Human♥Nature: Naturkosmetik von den Philippinen]
Mangosteen Beauty Drops PM from SkinOwl
You might wonder what gummy bears have to do with a face oil… well, it happened like this: for months I have been flirting with the Mangosteen Beauty Drops from US brand SkinOwl. I have already used up two samples and simply love the fragrance: the mangosteen oil smells beautifully of gummy bears but not sickly-sweet at all. The scent is fruity and natural and rather subtle. And I was overjoyed when I was sent a full-sized bottle of the Beauty Drops by online store Savue Beauty: finally I can try it out properly.
The gummy bears in the picture are from my local organic supermarket, by the way. When I started out as a blogger I didn't like to spend much time on pictures – you need photos though, to break up the article text. However, around a year ago I started to enjoy styling my product photos and now I like to include matching accessories and backgrounds 😉 . Anyway, back to the Mangosteen Oil!
The Beauty Drops are based on South African baobab oil (which contains a lot of palmitic acid), the other ingredient is mangosteen oil and that's it. What a fabulous short INCI declaration! This is the first time I've come across mangosteen oil although I've eaten the fruits on a previous trip to Thailand. Mangosteens have an amazing taste; Wikipedia describes it as a mixture of grape, pineapple, grapefruit and peach. The fruit contains a lot of antioxidants (like xanthone) so it is sometimes counted amongst the Superfoods. The oil is pressed from the whole mangosteen fruit including seeds and pericarpe.
The PM in the product name indicates that the drops are supposed to be applied at night time. Which is what I did, but I've also used the Beauty Drops in the morning. The glass flacon (with dropper) contains 60 ml so it is easy to be generous with the product 🙂 . I apply around six drops on damp skin and massage it in with my hands. The oil has a very liquid texture but feels light and non-greasy on the skin; it is also absorbed very quickly. It's the perfect skin care oil (especially with that fragrance….!). I am still trying out different hydrosols to find out which blossom tonic or herbal water would be the best companion for the Mangosteen Beauty Drops… I like the Thousand Petal Beautifying Mist from US brand R.L. Linden which is scented with orange blossom and honeysuckle. However, I think that a hydrosol with a fruity fragrance should also be a good match.
The mangosteen face oil is recommended for any skin type: oily and problem skin benefits from the anti-microbial and anti-inflammatory properties of the oil while the cell-regenerating effect is good for tired skin.
SkinOwl was founded by L.A.-based makeup artist Annie Tevelin who was suffering from problem skin. In the end she launched SkinOwl to introduce beauty products based on her own philosophy. Although this might sound like every other US organic niche brand I am impressed by Annie Tevelin's vision – the Mangosteen Beauty Drops are definitely not a me-too product! I have a considerable research collection of books about oils and mangosteen oil is a very unusual ingredient indeed. I like this kind of product!
In Germany, the Mangosteen Beauty Drops from SkinOwl are exclusively available at Savue Beauty; they are priced at 93 Euro for 60 ml. The SkinOwl product range also offers three other Beauty Drops (including geranium!), a face steam bath, scented candles, body care products and another impressive skin care product, the moisturising eye gel Eye+. More information is available on the SkinOwl homepage.
[Click here for more pictures and the original German article Mangosteen Beauty Drops PM von Skin Owl]
If you follow me on Instagram you already know that I am currently travelling again – and the first stop was Shanghai in China! We were on a three-day stopover en route to Tokyo; it was my very first time in mainland China and I am still overwhelmed by all of the new impressions 🙂 .
We landed at 6am, took the transrapid train Maglev and the Metro to our hotel to drop off the luggage and then I pretty much started on the sightseeing! So much to do in three days… first I did all the usual touristy stuff: walked along the seaside promenade The Bund, looked at the amazing city skyline from Oriental Pearl Tower, visited the recently opened Shanghai Tower (the second-highest building in the world) and the Old City (a beautiful neighbourhood with wooden building, tea houses, many tourist souvenir shops and a pretty zig-zag bridge).
However, I was also in Shanghai to do beauty research (i.e. check out the stores!) so I went to famous shopping street Nanjing Road and then directly to Tianzifang in the French Concession quarter of the city: little crooked streets, art galleries and designer workshops (and, of course, tourist souvenir shops!). Still, I am glad to see that Shanghai also has "alternative" retail areas and not just glossy malls and luxury designer stores.
Here is a street stall which sells Shanghai Lady cosmetics, a pretty retro-looking beauty brand: the product range included a "vanishing cream" and an aloe vera gel. I read that Shanghai Lady has been around since 1932 and I saw the cosmetics in many stores – obviously a popular souvenir. Really pretty packaging but, unfortunately, not organic.
Whilst walking along Nanjing Road I came across Shanghai No. 1 Dispensary, a multi-story pharmacy that sells Traditional Chinese Medicine remedies as well as "normal" medicine.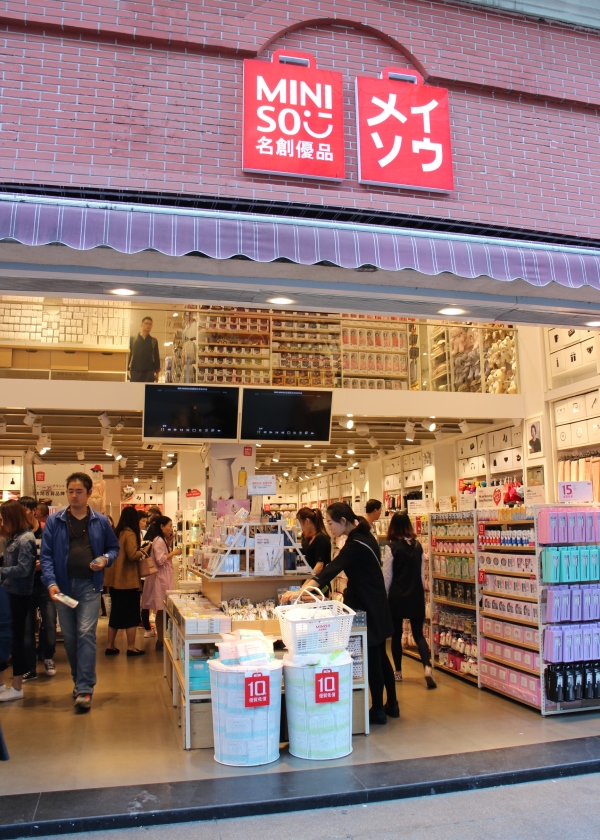 Miniso is a retail chain from Southern China which sells beautifully designed homeware, accessories, stationery, electronics and cosmetics at very affordable prices. I read that Miniso hired a Japanese design team to develop their retail concept – the aesthetic influence of Japanese chains like Daiso, Mujo and Uniqlo is quite obvious. Miniso is very popular and the chain is constantly opening new stores in China.
Before arriving in Shanghai I had done some research into organic retail and compiled a list of four promising-sounding organic stores. However, three of these stores seemed to have disappeared – or at least they weren't at the locations where they were supposed to be! The only organic store I was able to track down was an outlet of organic supermarket chain Haikele. The store seemed to be the pick-up station for an organic delivery service rather than a "real" retail store – I guess that in China, organic products are primarily ordered online! And organic beauty seems to be mostly available in the fancy supermarkets located in shopping malls that have a more international clientele.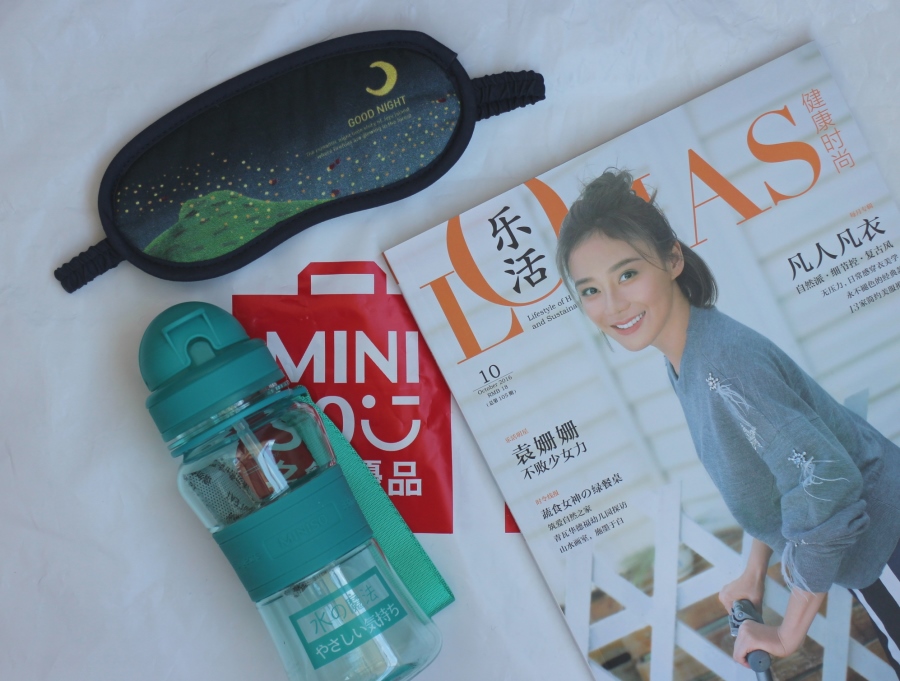 However, there are definitely the beginnings of a green lifestyle, at least in the central parts of Shanghai: I came across a Chinese LOHAS magazine which is printed with soy ink on FSC certified paper. I was also impressed by the fact that most stores in Shanghai do not offer free plastic bags any more – and all of the motorbikes I saw (and there are many motorbikes in Shanghai!) seem to be fitted with electronic motors which make the traffic noise quieter and cut down on exhaust fumes. I must admit that I didn't expect that! I also noticed that many Chinese carry their own personal re-fillable drinking bottle with tea or water – I like! I bought one of these bottles at Miniso as a souvenir: the plastic is supposed to be manufactured without bisphenol A.
Korean cosmetics are enormously popular in China, by the way; in many shopping malls I saw "beauty streets" with one Korean beauty store next to the other (like Peripera, Skin Food and Etude House). And Korean brand Innisfree had a flagship store on Nanjing East Road! Like the Seoul flagship of Innisfree the Shanghai store had a café where they served shaved ice 😉 . I also bought the sleeping mask you can see in the picture above.
[Click here for the original German article 72 Stunden in Shanghai]
By the time you are reading this I'll already be in Tokyo. See you in two weeks!
Julia