Dear international readers of Beautyjagd,
Welcome to the next English-language edition of Beautyjagd! This is a condensed version of the most important articles that have appeared on my blog over the last two weeks. For more information about this new format, click here. And now: enjoy the best of Beautyjagd in English!
Best wishes
Julia
I am currently en route to the Allgäu area of Southern Germany. Yesterday evening I attended the Rose Festival at German aromatherapy brand Primavera's headquarters in Oy-Mittelberg (a village near Kempten) – Primavera is celebrating its 30th anniversary in 2016, so this year's Rose Festival (it's an event which takes place every year) was really spectacular. I also spent some time (and money!) in the Primavera flagship store – a beautiful retail space which features the entire Primavera product portfolio. Later today I am travelling on to Bad Hindelang (a spa town which is also in the Allgäu region) where the NaturkosmetikCamp (Natural Cosmetics Camp) is taking place. You can find my detailed article on the NaturkosmetikCamp below!
My new article for organic supermarket chain denn's Bio-Blog (German only, sorry!) is about how to make your own rose water sheet mask. Enjoy!
And speaking of organic supermarkets: last weekend I discovered the new products of German colour cosmetics brand Benecos in my local store. I was particularly curious about the Natural Light Fluid Foundation and the Natural Fresh Bronzing Duo Ibiza Nights. The foundation is priced at 5.99 Euro and there are three different shades. The texture of the foundation is creamy so it is easy to apply, with medium coverage and a satiny finish – nice! I had selected the middle shade "Sahara" which is suitable for light to medium-toned skin; the colour is fairly neutral. I usually apply the foundation with my fingers but next week I am going to try applying it with a brush. The pressed Bronzing Duo cost 4.99 Euro and contains two shades: a matte brown-toned apricot and a medium rose colour which has only a little shimmer. The Bronzer is quite pigmented, if you have lighter skin make sure you don't apply too much colour at first! Both products are certified by BDIH/Cosmos.
In the same supermarket I also found a new fruit tea mixture from German brand Lebensbaum: Beeren-Waldmeister (Berry Woodruff) – doesn't that simply sound like summer?! The tea contains dried apples, rosehips, beetroot, blackberry leaf, raspberry, strawberry and woodruff (woodruff is a very popular herb in Germany: its German name "Waldmeister" translates as "Wood Master"!). And indeed, the tea has a perceptible woodruff flavour combined with notes of berries (and all without added flavourings). Delicious! I also bought the Regionale Schätze Waldkräuter Tee (Regional Treasures Forest Herb Tea) from Lebensbaum but was a little disappointed: although the tea mixture contains fir tips from the Balkan mountains, it mostly tastes of apple mint – nothing against apple mint but I was looking forward to a woodsy flavour… I really like the idea of a forest-inspired tea!
My reader Sabine mentioned in last week's comments that DM's organic beauty brand Alverde has launched new Après aftersun products (thanks for the tip, Sabine!). When I checked my local DM I saw that Alverde has indeed relaunched its sun care and aftersun ranges: the aftersun line-up now includes an Après Gel, an Après Lotion, an Après Cream Oil Shower, a 2-in-1 Après Shampoo & Conditioner and an Après Body Oil (see picture above). The scent of the Après products is not tropical (like so many aftersun products) but creamy – in fact, it reminded me a bit of the classic Nivea cream fragrance. The body oil (priced at 3.85 Euro) is based on sunflower oil, soy bean oil, olive oil and almond oil; I used it several times this week and the fragrance kept surprising me… it really doesn't smell like a typical Alverde product! I wish Alverde would bring out a soft cream with this fragrance.
UK organic brand Evolve has seen several relaunches over the past decade – do you remember the light purple packaging? The Evolve Cleansing Melt used to be packaged in a jar, then in a tube and now the pack looks a little like an Apothecary brand from the US: a brown glass bottle decorated with a simple sticker. I bought a 30 ml travel size at Ecco Verde (for 7.49 Euro). Besides the design, the ingredients were also updated: the balm is now based on glycerin and sunflower oil, with a little sucrose laurate as tenside/emulsifier and vanilla extract which gives a soft fragrance. You apply the oily gel onto the dry face and rinse it off with lukewarm water – the water combines with the tenside and turns the gel into a milk. As a result the cleanser has a nice hydrating effect – it left my skin not dry but not sticky either. Definitely more moisturising than the "old" Cleansing Melt.
And here are some interesting organic beauty news that I found this week:
[Click here for more pictures and the original German article Beauty-Notizen 24.6.2016]
It has already become a tradition: each June, the annual NaturkosmetikCamp (Natural Cosmetics Camp) is bringing together people from different areas of the German organic cosmetics industry. The Natural Cosmetics Camp is a classic bar camp – for more information, check out this article from last year's NaturkosmetikCamp or simply google "bar camp"!
Bar camps are also called "non-conferences": there is no previously agreed line-up of speakers or conference program; instead every step of the event is decided by the participants and anyone can lead a session or workshop. NaturkosmetikCamp is organised by Wolfgang Falkner from TheCampCompany: in 2014 and 2015, the event took place in Tyrol in Austria. This year, the NaturkosmetikCamp moved to Bad Hindelang in the Allgäu region in Southern Germany. More precisely, to the Panorama Hotel Oberjoch which is located 1200 m up in the mountains.
The bar camp started with an introductory round on Friday evening where everyone of the 150 participants briefly introduced themselves. The next morning the conference program was decided on – anyone can propose a topic or session and the other participants then vote for or against the suggestion. In total there were 18 sessions, split up into six slots with three sessions each. More than enough choice! And in fact, I always find it difficult to chose which sessions to attend, the most interesting lectures always seem to take place at the same time 😉 .
One of the first lectures I attended was the session led by Uwe Schürmann from Naturdrogerie (Naturdrogerie is an organic beauty store which also operates a flourishing webshop). Uwe spoke about the future of the organic cosmetics industry, about the mass market and the niche market, the need for more innovations in product selection and retail and on how to create online and offline shopping experiences.
Other sessions focused on digital communication in the organic cosmetics industry (Barbara Böck and Stefanie Dietz from Vivaness trade show), on organic beauty in the Internet (Jenny Pohl from consulting company carl.com) and the development of a cohesive brand identity (Hassaan Hakim). Bianca Keyserlingk and Andrea Dahm from Primavera spoke about ethical standards and company growth, Franziska and Nicole Breisinger from organic ingredients manufacturer AOT discussed the efficacy of plant oils and plant butters whilst organic beauty consultant Caroline Mündemann explained how the keratinocytes in our skin barrier work.
The keynote was given by Hans-Martin Beck, an energy healer and spiritual coach who specialises in the Inca tradition – very interesting; I have already decided that I want to find out more about traditional Inca culture.
Here are links to my articles about NaturkosmetikCamp 2014 and NaturkosmetikCamp 2015.
[Click here for more pictures and the original German article Na, wie war es auf dem NaturkosmetikCamp 2016?]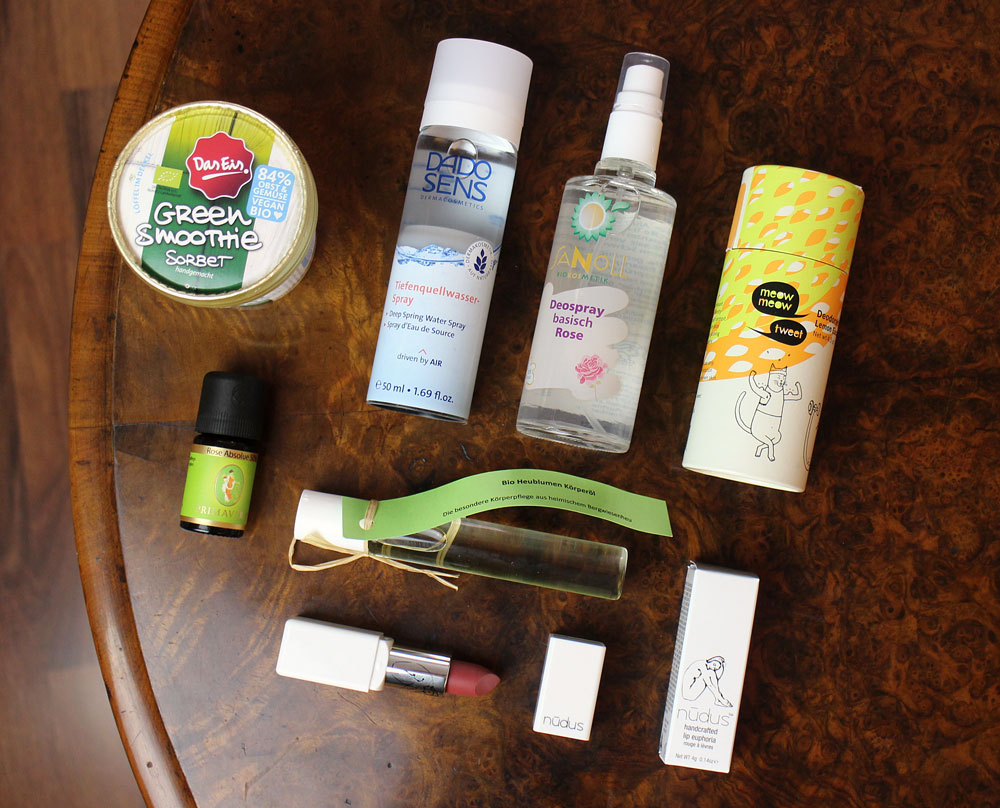 I think that summer finally has arrived – sort of. We've had several rainy days recently and it was quite cold, too; but now temperatures are starting to rise again. As a result, my beauty week was quite summery! In the top left hand corner of the picture you can see the Green Smoothie Sorbet from organic German ice cream brand DasEis. I didn't expect much but was pleasantly surprised: the sorbet contains pear juice, apple juice, agave syrup, green cabbage, pineapple, spinach, ginger, banana and match and tasted much creamier than I expected. Tasty! The sorbet is organic, vegan, lactose-free, gluten-free and doesn't contain any additional flavours or colourants. DasEis also has some other interesting sounding ice cream variants, like Vanilla Blueberry-Applepie or Popcorn.
As I already mentioned above I was at NaturkosmetikCamp last week. Every participant received a small goodie bag which contained a roll-on with Organic Hayflower Body Oil from ingredients manufacturer AOT (one of the sponsors of the event; AOT's headquarters are also in the Allgäu area). The oil has the most amazing smell, just like a freshly-mown meadow; I simply adore the fragrance of dried hay!!! I also used the opportunity to ask Franziska from AOT how exactly the oil is produced – it turns out that they make a oil extract from dried hay which is then scented with essential oils. The body oil has a lovely fragrance, fresh and aromatic: like the mountain air in the Allgäu region. I really hope that the Hay Oil will be available in the shops one day – it was a special edition created for the NaturkosmetikCamp. The Hayflower Oil is based on sunflower oil, rapeseed oil, thistle oil and poppy oil.
Another limited edition is the Rose Absolue 50% from Primavera which I bought at the brand's flagship store in Oy-Mittelfeld (see Beauty Notes above). This is a special rose oil product launched to celebrate the company's 30th anniversary. The roses used in this gorgeous oil are harvested in Bulgaria… I really want to visit the famous rose valley in Bulgaria one day. Perhaps next year! The rose oil is only available in Primavera's flagship store and costs 19.99 Euro for 5 ml.
Another classic summer product are water sprays! In France, the thermal sprays of brands like Avène, La Roche-Posay, Vichy and so on are popular all year round; most of these sprays, however, are packaged in an aerosol. When I visited the Erlangen outlet of organic perfumery chain Beauty & Nature recently I saw the new Tiefenquellwasser-Spray (Deep Source Water Spray) from German brand Dado Sens. The water comes from the Black Forest area of Germany (which is also where Dado Sens – part of the Börlind group – has its headquarters). The Dado Sens water is interesting; it is packaged in an airless dispenser bottle equipped with pressurised air, not a classic aerosol can. The nozzle generates a much finer spray mist than traditional pump sprays and you can spray the Dado Sens water whilst holding the bottle upside down. The Tiefenquellwasser-Spray also contains aloe vera, liquorice root extract, sea salt and glycerin which makes it more hydrating than a classic thermal water spray. Impressive! The spray costs 9.90 Euro for a handbag-sized 50 ml. You can check out the spray on the Dado Sens homepage.
Another discovery at Beauty & Nature was the Deospray basisch (Alkaline Deo Spray) from Austrian organic brand Sanoll. Sanoll offers three different variants; I bought the one with rose (a subtle scent which is not too floral). Finally a deodorant spray with baking soda which is available in offline stores! Baking soda is the key ingredient in the famous deodorant creams from Wolkenseifen, Waldfussel or Soapwalla. I paid 18.50 Euro for my Sanoll deodorant spray; there is also a refill pack. More information is available on the Sanoll homepage. So far I like the deodorant spray very much; I think that the creams are even more effective (at least on my skin) but for anyone who prefers sprays, the Sanoll deodorant is worth a try!
And another deodorant: This week my order from Dutch online store Reina Organics finally arrived – yay! I had ordered the new Deodorant Stick Lemon Eucalyptus from US brand Meow Meow Tweet which is packaged in cardboard (and not in plastic). I had some initial difficulty squeezing the thick deodorant cream from the container (it is easier if you warm up the stick in your hands) but the fragrance is very nice indeed – notes of citrus, eucalyptus and a hint of clove. I also like the pliable texture (reminiscent of the Meow deodorant cream that is packaged in a jar). The active ingredients include magnesium and baking soda (the soda is present in a lower concentration) and the stick costs 24 Euro for 128 gr. In the US, the brand also offers smaller sticks sizes which are much more convenient for travelling. I really hope that Meow Meow Tweet will be available in Germany one day!
And of course the deodorant was not my only Reina Organic order 🙂 . I also bought the lipstick Lip Euphoria from Australian brand Nudus in shade 27 Kisses. This colour is almost always sold out and now I know why: it is a soft medium-toned rose which suits any skin tone – a universal rose, if you will! Compared to 27 Kisses, the No.11 Bois de Rose from Absolution is darker and more highly pigmented (check out my Instagram swatch). Lip Euphoria 27 Kisses offers medium coverage with a satinised finish (no shimmer particles). It looks really natural on my lips! And doesn't the white packaging look beautiful? The lip stick is based on castor oil, beeswax and carnauba wax and also contains several herbal extracts, including turmeric. Lip Euphoria cost 34 Euro at Reina Organics.
I also discovered the following organic beauty news last week:
German brand CMD is launching Rio de Coco Face & Body Splash, a spray which is based on coconut water. More information is available here.
There is a new German aromatherapy brand: Aetherio specialises in aromatherapy products for children and families and their first products include two Helping Sprays. For more information, click here.
[Click here for more pictures and the original German article Beauty-Notizen 1.7.2016]
All about the Immortelle – a Sponsored Post together with Primavera
One of the most interesting essential oils in the science of aromatherapy is the immortelle (also called Strawflower, Everlasting or Curry Plant). Immortelle belongs to the Helichrysum family – the name is derived from the Greek words "helios" (sun) and "chrystos" (golden) – and this plant family in turn includes up to 600 different immortelle varieties. The plants grow in Africa, Australasia and Europe; in Europe the immortelle is a traditional healing plant and an invaluable skin care ingredient.
In this Sponsored Post (my cooperation partner is organic aromatherapy manufacturer Primavera) I will first tell you a bit about the immortelle plant, then explain how the plant is harvested and turned into an essential oil and finally I'll talk about the effects immortelle has on the skin. You'll also get some DIY tips for mixing your own immortelle cosmetics!
♦ The plant
The immortelle (in this case we are talking about the variant Helichrysum italicum) belongs to the family of composite plants. Other names for this particular type of immortelle are Italian Strawflower or Curry Plant – of course the immortelle doesn't have anything to do with Indian curry dishes but the spicy fragrance really is a little reminiscent of curry leaves. The Latin plant name Helichrysum (I already mentioned that the name comes from the Greek words for "sun" and "golden") aptly describes what the plant looks like: it has little golden-yellow flower heads which you can see in the picture above.
There are many myths about the immortelle: in the "Odyssey" of ancient Greek writer Homer, the beautiful princess Nausicaa applied immortelle oil to her skin. The name "immortelle", by the way, also means "immortal": the plant actually retains its colour and shape even after it has been harvested and dried. The immortelle grows in bushes that are 20-60 cm high and the flowers bloom from May to August.
In Europe the immortelle primarily grows in the Mediterranean region; the plants like warm, sunny and dry climates and prefer a sandy soil. Primavera sources its immortelle oils from the Keyserlingk farm on the French island of Corsica. I interviewed Sophia Keyserlingk who is running her family's immortelle farm, and she told me a lot of interesting things about how the immortelle is cultivated, harvested and how the essential oil is actually produced!
♦ Cultivation and harvest
Sophia told me that the winter time is used to prep the soil for the planting of the immortelle which takes place in March. I already mentioned that the plants bloom from May to August; the life cycle of the immortelle is around seven years and although it is a robust plant which is not particularly susceptible to parasites, the immortelle fields need to be weeded several times a year. In June the harvesting begins and on the Keyserlingk farm this is done by hand: the upper 20 cm of the immortelle bush are carefully cut off. Then the magic begins!
♦ Production of the essential oil
Directly after the plants have been cut, the fresh plant material (flowers, the upper stems and the leaves) is brought to the farm's own distillery and then steam-distilled that very afternoon. The steam distillation releases the essential oils of the immortelle plant. One ton of plant material results in around 1.8 kilo essential oil – and this is also the reason why immortelle essential oil is so expensive (1 ml costs around 15 euro): the yield of this herb is rather low. The quality of the essential oil also depends on the knowledge of the master distiller – not only is the quality of the plant material important but the distillation period must be carefully timed: the essential oils of the plant (including the "beauty molecule" neryl acetate) are only released after 2-3 hours.
♦ The effects of the immortelle
The effect of an essential oil very much depends on its specific chemical composition. The immortelle essential oil, for example, is composed of over 50% esters which have strong skin-caring and moisturising properties. I already mentioned neryl acetate: this chemical plant component helps to boost the skin's microcirculation and collagen production. It also has anti-inflammatory properties and is an important anti-oxidant (it protects the skin against free radicals).
Another key component in the immortelle essential oil is italidone which is very effective in treating skin hematomas and bruises: the italidone boost the lymphatic processes and helps to dissolve the blood clots within the skin that cause the darkish bruise colour.
Immortelle essential oil can also be used to treat the mind: the scent is relaxing, warming and soothing, it can help make you feel more calm and serene. The essential oil has a very distinct sweet and spicy herb smell with curry-like undertones. I love the scent of immortelle: it reminds me of the dry hot Garrigue region in the South of France.
♦ Immortelle DIY
Sophia Keyserlingk told me that she always carries a small bottle of immortelle essential oil which she uses on any small skin injury – an insect sting, for example, a small bruise or a light skin burn. She pats the pure essential oil onto the injured skin as a first aid treatment; later she applies immortelle mixed with lavender oil or diluted in a little carrier oil onto the skin. Immortelle is one of the very few essential oils that you can use directly on the skin – you probably know that you should never apply undiluted essential oils on the skin but immortelle is one of the few exceptions.
And here are some immortelle beauty tips!
You can create a DIY facial oil with the following recipe provided by Primavera: Take 50 ml of any carrier oil (for example, sweet almond oil or jojoba oil), add 4 drops of immortelle essential oil and 4 drops of vanilla essential oil, shake the mixture and leave it to rest for a day or so. I tried out this mixture with almond oil (since almonds also grow in the Mediterranean) and it has already become one of my favourite face oils. I call it my Corsican beauty oil! The vanilla softens the immortelle scent a little; instead of 4 drops of vanilla you can also use 2 drops of lavender.
You can also create a body oil which helps against pain: add 6 drops of immortelle essential oil to 50 ml of St. John's Wort oil, plus 2 drops of peppermint which cools down the skin and relieves pain. Shake the mixture, leave it for a day or so, and apply it to the skin.
Immortelle hydrosol – the water that is left after the steam distillation has released the essential oils – is a great skin tonic. I apply it underneath my Corsican beauty oil but you can also spray it on irritated skin, bruises or contusions, use it as a cooling after-shaving treatment (it helps to prevent red razor bumps!) or when your legs feel tired and heavy after a long day.
You can also mix a Sport Spray which helps against aching or sore muscles: add 10 drops of juniper essential oil to 50 ml St. John's Wort oil, mix in 50 ml of immortelle hydrosol and shake it up thoroughly. When you have sore muscle, shake up the bottle and spray the mixture directly onto the skin.
In Germany you can buy immortelle essential oil directly from Primavera, 1 ml costs 14.80 euro, 5 ml are priced at 44.80 Euro. The immortelle hydrosol is also available from Primavera, 100 ml in a spray bottle retail for 10.50 Euro. Many organic supermarkets and online stores also sell Primavera products.
[Click here for more pictures and the original German article Alles über die Immortelle mit Primavera (inkl. DIY-Tipps)]
Portrait of a Lady – Fragrances Bar
Would you associate the picture above with a cocktail bar? In a luxury hotel, no less? I certainly wouldn't have! And I probably would have never thought of visiting the hotel bar of Berlin's Ritz-Carlton hotel on Potsdamer Platz if my translator Annika from Trend Traveller hadn't suggested it.
Yes, I know, this isn't a cocktail blog! But the concept of the Fragrances Bar (developed by Ritz-Carlton bar chef Arnd Heißen who opened the Fragrances Bar two years ago) is unique in the way it combines perfumes and cocktails. And I think it fits perfectly into the scope of Beautyjagd!
The Fragrances Bar is currently closed for summer holidays, so the Ritz-Carlton's "official" hotel bar Curtain Club (which is quite cosy and surprisingly relaxed considering this is a posh luxury hotel!) is offering some of the Fragrances Bar's special cocktail creations.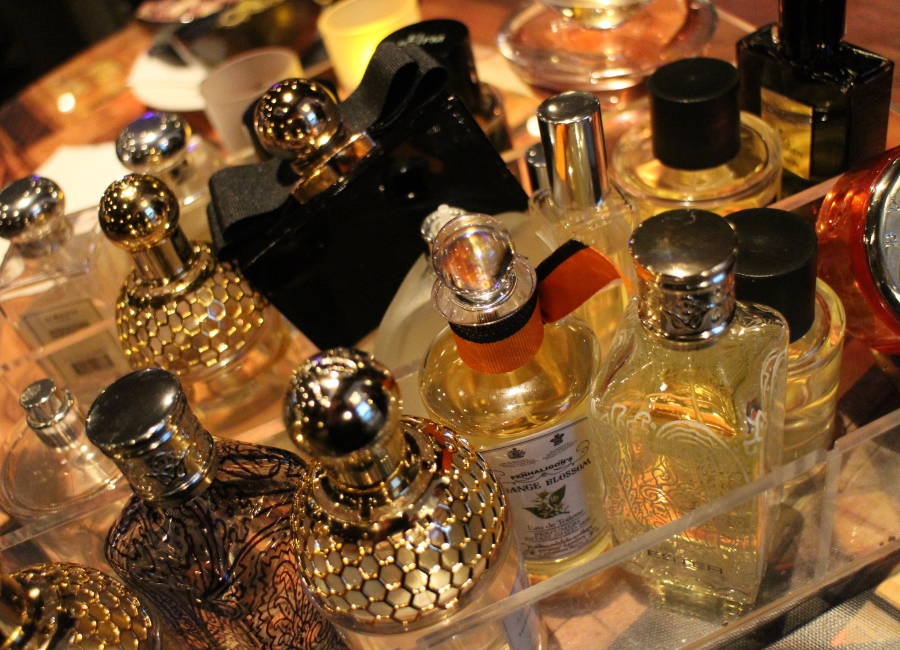 And this is how it works: you are presented with a tray which features various perfume bottles. The selection includes fragrances by Guerlain, Penhaligon's, Jo Malone or Etro but also niche brands like Frau Tonis Parfum from Berlin. You try out the different fragrances and select whichever perfume is your favourite. The bartender then creates a cocktail which reflects the key fragrance notes of the perfume you have chosen.
For me, the decision was easy: I simply had to try the niche fragrance "Portrait of a Lady" by Frédéric Malle – a voluptuous but not-too-sweet oriental rose-frankincense-patchouli fragrance with overtones of raspberry and spices. The resultant cocktail was served in the gorgeous cup you can see in the picture above: a ceramics mug modelled after the head of 1940s actress Vera-Lynn. The mug was placed in a small mirrored cabinet – what a fantastic idea to visually reflect the name of the fragrance!
The cocktail itself is based on wood raspberry eau de vie (a clear schnapps) , blackcurrant syrup and rose lemonade shaken with egg white and decorated with acai berries. And yes, the complex flavours and the fragrance of this cocktail creation really bring the Malle perfume to life. And completely justify the price of 14 Euro for this cocktail.
This autumn I'll be in Berlin again and I can't wait to try out the Fragrances Bar's cocktail version of Guerlain's classic fragrance Jicky.
Address: Fragrances Bar or The Curtain Club at The Ritz-Carlton Berlin, Potsdamer Platz 3, 10785 Berlin.
[Click here for more pictures and the original German article Portrait of a Lady in der Fragrances Bar in Berlin]
Beauty Telegram from Berlin, 8.7.2016
++ I spent the last week in Berlin and was so busy beauty-hunting that I decided to write a Beauty Telegram in lieu of the weekly Beauty Notes. In this Telegram I am showing you the beauty products I discovered (and bought) last week. Word of warning: make a cup of tea or coffee, this is a long telegram 😉 ++
++ At Teanova, a delicatessen store on Bergmannstraße in Berlin's Kreuzberg area, I bought a small jar of Pine Tree Syrup from Sonnenkiefer which is made from sugar, water and the young tips of pine trees! I think this syrup will taste delicious on dark rye bread ++
++ Just a few minutes away from Teanova is the store of organic perfumery Belladonna. Belladonna recently moved into a bigger retail outlet and the new space is gorgeous! Dark blue walls and an elegant, spacious interior – it really is one of the most beautifully designed organic perfumery stores I know. At Belladonna I bought the monoi flower-scented Body Lotion from German brand Jislaine, a travel sized bottle of US brand Intelligent Nutrients Harmonic Shampoo (I already tried it out: a nice minty fragrance and the hair feels soft afterwards) and a sachet of German brand Paul Cosmetics' face mask M of the Face. This interesting mask is based on salt and clay ++
++ In organic supermarket Biocompany (Biocompany is the biggest organic supermarket chain in Berlin) I stocked up on Denttabs, the toothpaste tablets I introduced here; I really can't do without them anymore. So convenient for travelling! I also purchased a jar of Feine Nuss from German delicatessen brand Haselherz (Hazel Heart) – I simply love this Turkish hazelnut paste ++
++ I also checked out the new outlet of vegan supermarket chain Veganz in Marheineke Market Hall on Bergmannstraße – and here I discovered the Green Kiss Green Tea Chewing Candies from my favourite Japanese matcha brand Keiko. The inner layer of the candy wraps is made from rice starch so you can simply chew it up together with the matcha-flavoured candy! ++
++ Ok, now we are going to Schöneberg area! Here I visited the chocolate speciality store Winterfeldt Schokoladen (located near U2 Nollendorfplatz subway station) which carries a large selection of Zotter chocolate bars. Zotter is an Austrian organic chocolate brand; they are famous for their filled chocolate bars and innovative flavour combinations. I was looking for the Zotter chocolate bar Weiße Tannen "selbst angesetzt" (milk chocolate filled with a ganache of milk, honey, caramel and white fir tree schnapps). And yes, they did have this chocolate variant so I bought several bars! I also bought the Edelweiß 40% white chocolate bar from organic and fair trade chocolate brand Original Beans – several of my readers had recommended this chocolate and although I am not usually a fan of white chocolate I have to agree: it is delicious ++
++ Tuesday afternoon I visited the new showroom of online perfumery Savue Beauty. Not only did I have a nice chat with founders Annika and Swantje, but I also used the opportunity to try out some of the fabulous niche products sold by Savue. I had actually brought The Bee Charmer honey/clay/cocoa cleanser of US brand R.L.Linden with me to Berlin – I love how multifunctional the product is: you can use it as a cleanser or a mask and since it is packaged in a light, small bottle it is perfect for travelling. – In Savue's showroom I discovered the Thousand Petal Beautifying Mist from R.L.Linden which is scented with notes of honeysuckle and orange blossom. I love honeysuckle…..! R.L.Linden is a really interesting organic beauty brand – thank you to Savue for the sample! – I also bought two of the Real Kelp Sheet Masks from Korean brand Whamisa – the "sheet" is made from moisturising green algae. I tried to track down this mask in Seoul but didn't have any luck – but at least I was able to buy it at Savue ++
++ In Berlin's famous book store Dussmann I bought a reference book about TCM (Traditional Chinese Medicine) written by German medical doctors Michael Grandjean and Klaus Birker. I recently started to do some research into TCM – you'll find out why in a few weeks ++
++ That same evening I also visited a TKMaxx outlet (TKMaxx is a store chain from the US – in the US and UK they are called TJMaxx; in continental Europe the store name is TKMaxx). You might already be familiar with the TKMaxx concept: their stores sell fashion, accessories, delicatessen, confectionery, homeware, interior decoration and kitchenware from international retail brands at discounted prices. In the German TKMaxx stores you can occasionally find international organic beauty brands – I bought the smoothing primer cream Le Combleur Perfection Divine from French brand Lift d'Argan for 12.99 Euro (it really is much cheaper at TKMaxx than in France!). I like Lift d'Argan: one of my favourite products is their Sleeping Mask. The Le Combleur Divine is a bit like a filler cream, you apply it before your makeup ++
++ Every time I am in Berlin I visit organic perfumery Tiaré in Prenzlauer Berg area: here I stocked up on the ultrasoft Denttabs toothbrushes (they are difficult to find in Nuremberg) and I also purchased a flat Mineral Foundation Brush (it looks a little like a toothbrush!) which is a dupe for the Masterclass Brush from MAC. When I was paying for my purchases at the till the owner of the store recognised me and we had a nice chat++
++ When I arrived in Berlin there was some organic beauty from Hungary waiting for me: Annika from Trend Traveller had brought me two beauty products from Budapest! The Pure Deo Roll-On from Hungarian brand Coconutoil Cosmetics is based on coconut oil and contains starch and baking soda – the texture is quite oily but the powder ingredients make it feel quite silky, too. The Pandora Mask from Happy Skin (another organic brand from Hungary) is a powder mask which contains clay, fruit powder and plant powders; you mix it with water or hydrosol into a creamy paste and apply it to your face. If you want to read more about the organic industry in Hungary (including organic cosmetics) check out this article on Trend Traveller ++
++ A few days ago German organic beauty brand Speick launched its new blog: the contributors include Ida from Herbs & Flowers, Jenny from naturalbeauty.de and me – and my first Speick article is about the Speick Aktiv Conditioner and the new hair care trend CoWash (German only, sorry!). Enjoy! ++
++ I also had a very special beauty treatment a couple of days ago – you'll find out more on Beautyjagd soon! And this afternoon I am attending a Tea Tasting at the Charlottenburg store of tea specialist Paper & Tea. What a great ending to this fabulous week in Berlin! ++
And here are some interesting organic beauty news I discovered last week:
[Click here for more pictures and the original German article Beauty-Telegramm aus Berlin]
Good-bye everyone and see you in a few weeks!
Julia