Dear international readers of Beautyjagd,
Welcome to the next English-language edition of Beautyjagd! This is a condensed version of the most important articles that have appeared on my blog over the last two weeks. For more information about this new format, click here. And now: enjoy the best of Beautyjagd in English!
Best wishes
Julia
Vivaness review, part 2 – niche brands from around the world
Welcome to Part 2 of my Vivaness 2016 coverage! Last week I wrote about the launches of the big organic beauty manufacturers. Today, I'll tell you about my favourite newcomer and niche brands!
I'd like to start this blog post with a hair care range that I already introduced a few weeks ago: salon brand Kastenbein & Bosch from Cologne. At the Vivaness show Kastenbein & Bosch  showed their new ICADA-certified salon range in more detail; I especially liked the ready-made hair cleansing clay but the hair waxes and the shampoo with chia seeds are also worth a closer look! The slightly hippie-looking packaging might not be to everyone's taste but I think it is a perfect fit for Roger and Stefan (the founders of Kastenbein & Bosch). More information is available here.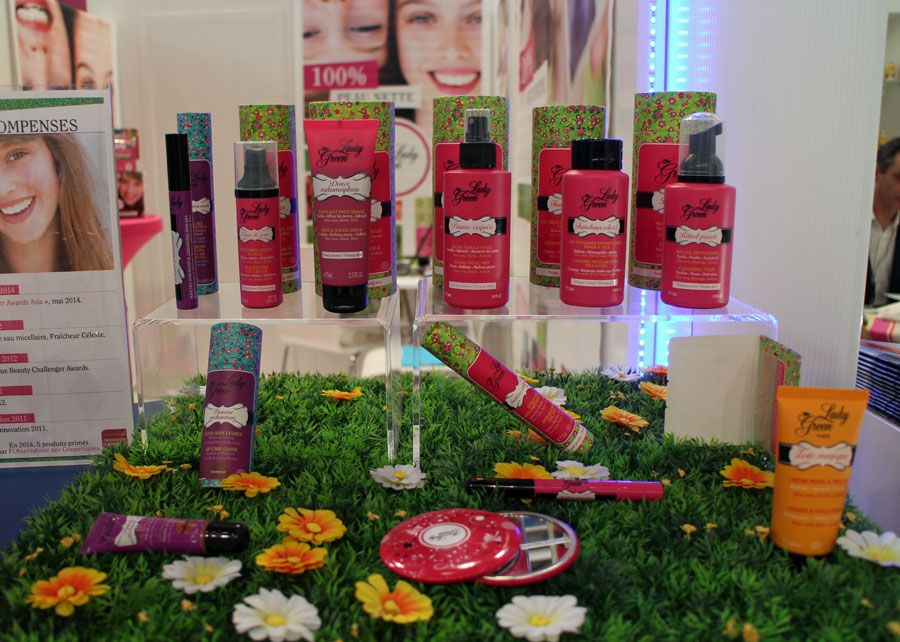 French beauty brand Lady Green is aimed at very young women. It's an attractive looking range which offers skin care (including a micellar water which has already won an award) but also a mascara, a new hand cream, lip balms and a line of konjac sponges. I am already a fan of Lady Green's Green Tea Blotting Papers which I brought back from my last trip to Paris. The company is headquartered in Strasbourg, by the way; not that far away from Nuremberg. More info is available on Lady Green's homepage.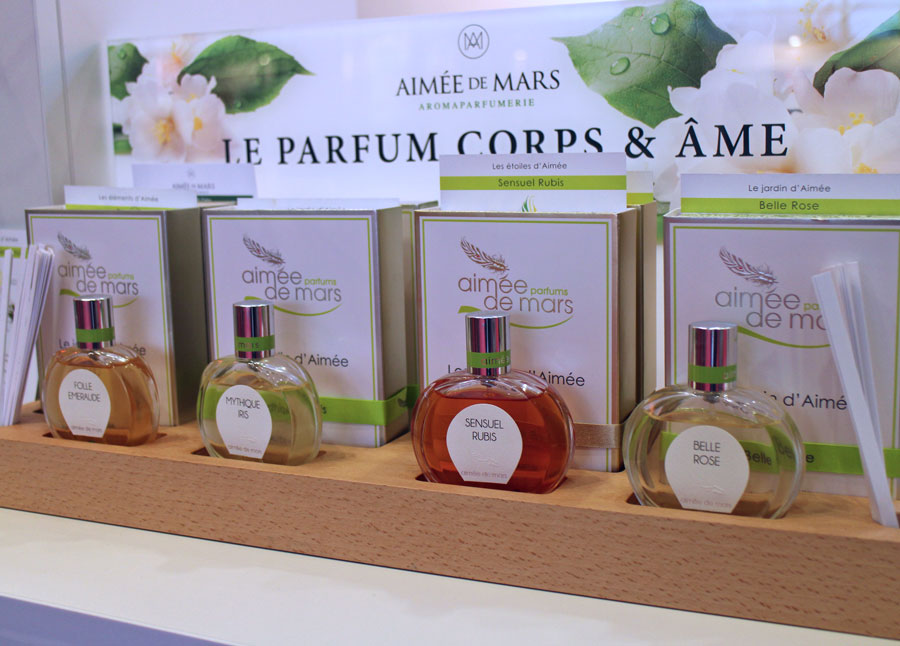 Young organic fragrance manufacturer Aimée de Mars is from La Rochelle. The company's resident perfumer Valérie Demars was at the exhibition stand and showed me around her creations. The fragrances of Aimée de Mars contain a small percentage of synthetic ingredients (less than 5%) to make the scent last longer but of course they don't use polycyclic musks or phthalates. I was bowled over by these fabulous fragrances! They are very reminiscent of perfume classics like Guerlain; Mystique Améthyste, for example, was inspired by iconic Guerlain perfume Shalimar. You can tell that Valérie used to work at perfumery house Givenchy before founding Aimée de Mars: her olfactory know-how and trained nose are very obvious in Aimée de Mars' fragrance blends. Valérie is working on combining the art of perfumery with aromatherapy ("aroma perfumery"); I like this concept! If you've never really tried out organic fragrances or you simply like well-made artisan fragrances, check out Aimée de Mars. My favourite fragrance is Belle de Rose. More information is available here.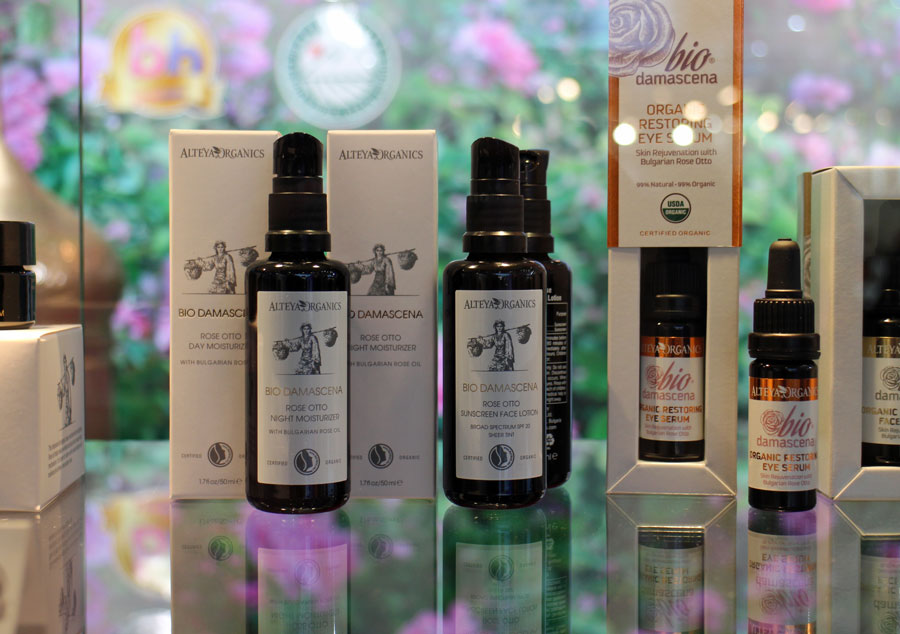 I only had time for a very brief visit at Bulgarian company Alteya Organics' exhibition stand. A couple of weeks ago I showed you the brand's fantastic eye serum; I was curious to try out the new tinted Sunscreen Face Lotion SPF 25 from the Rose Otto skin care range (middle of the photo). Alteya Organics recently reformulated its sun protection range (some of the products are now tinted) and I also noticed an interesting-looking solid hair butter packaged in a tin.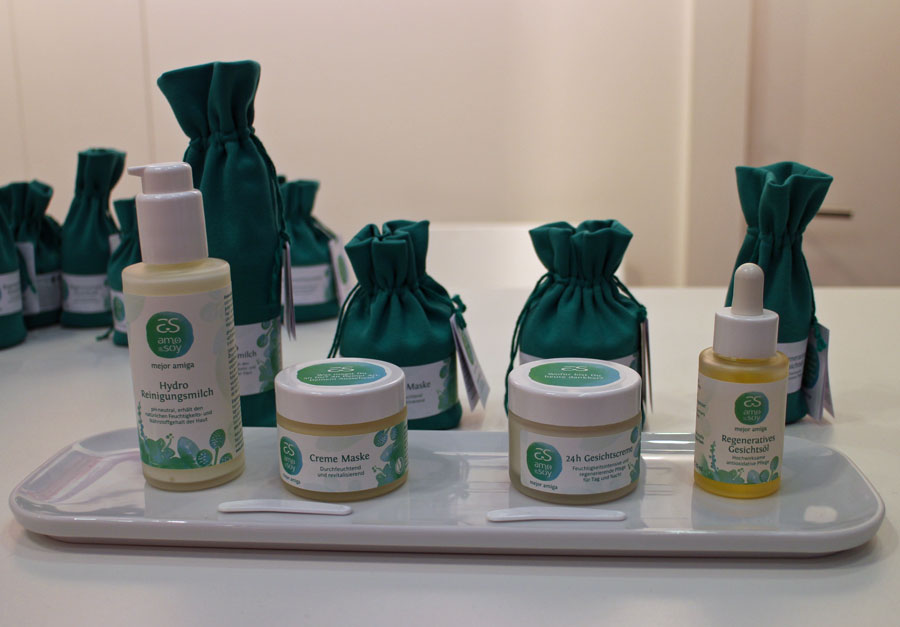 The translation of the Spanish phrase "Amo como soy" means "I love myself just the way I am". This is also the motto of the brand's founder Schareska Antequera de Friebertshäuser who grew up in Latin America and now lives in Stuttgart. Amo como Soy is a very young brand: the product range includes a cleansing milk, a cream mask, a 24 hour face cream and a regenerating face oil. The packaging features inspirational thoughts like "Be your own best friend" or "What are you thankful for today?" and the products include typically Latin American ingredients such as sacha inchi oil, acai berry or patauá oil. More information about the NaTrue-certified brand is available here.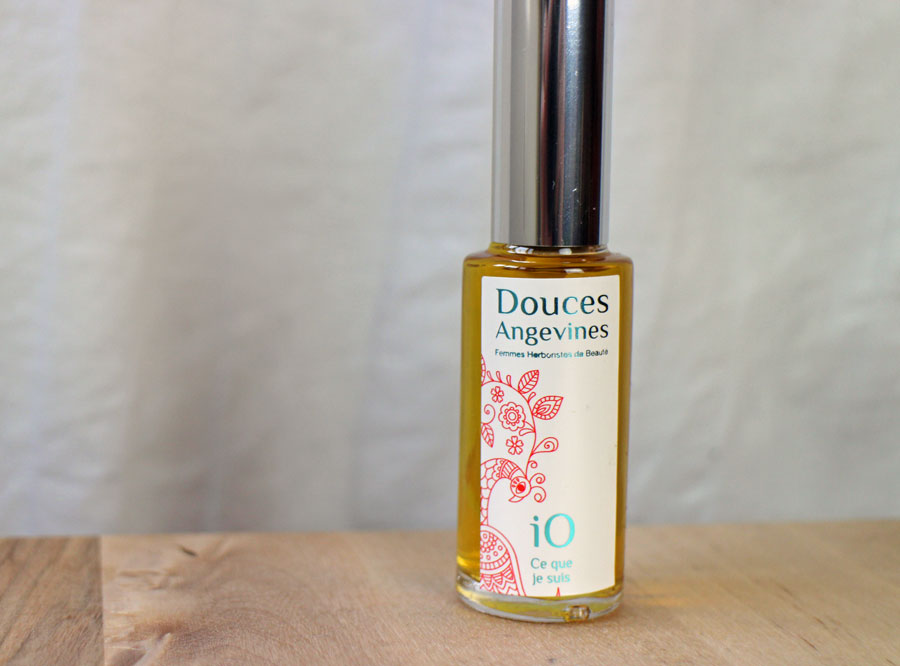 Of course I also had to visit one of my favourite French brands: Douces Angevines! I've written about Douces Angevines many times; I like the company's products. In late 2015 the brand launched the Eau de Parfum iO which is composed of 100% essential oils. It is a very special scent: floral (magnolia and rose), herbal notes, resinous and at the same time a little fruity. I like! More information is available here.
Right next to Douces Angevines was the exhibition stand of Ballot-Flurin, another French brand which has appeared often on Beautyjagd – it's an apiculture beauty brand (the cosmetics are manufactured with bee-derived products like pollen, honey or beeswax). Ballot-Flurin has recently launched several healing honey mixtures which are stirred into tea or hot water. The company is also extending its baby care range; the new products include a very gentle cleansing foam. More information is available here.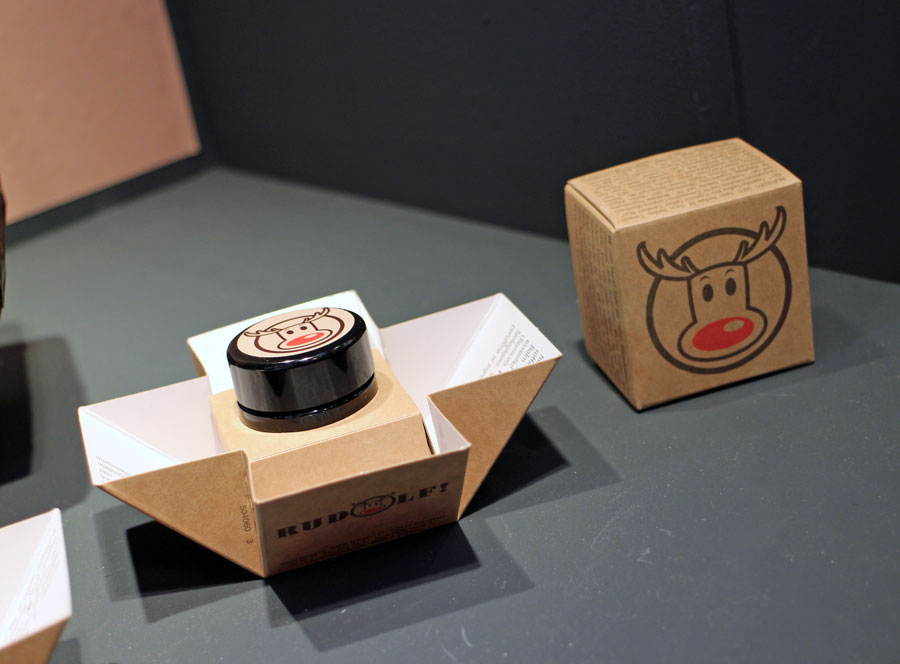 Dutch brand Amanprana is offering a natural alternative to Vicks's VapoRub – you know these herbal balms which you rub onto your chest when you have a cold? I love the packaging of the Rudolf Atem Frei Kräuterbalsam (Rudolph Free Breathing Herbal Balm) – check out the reindeer's red nose! For more information on Amanprana, click here.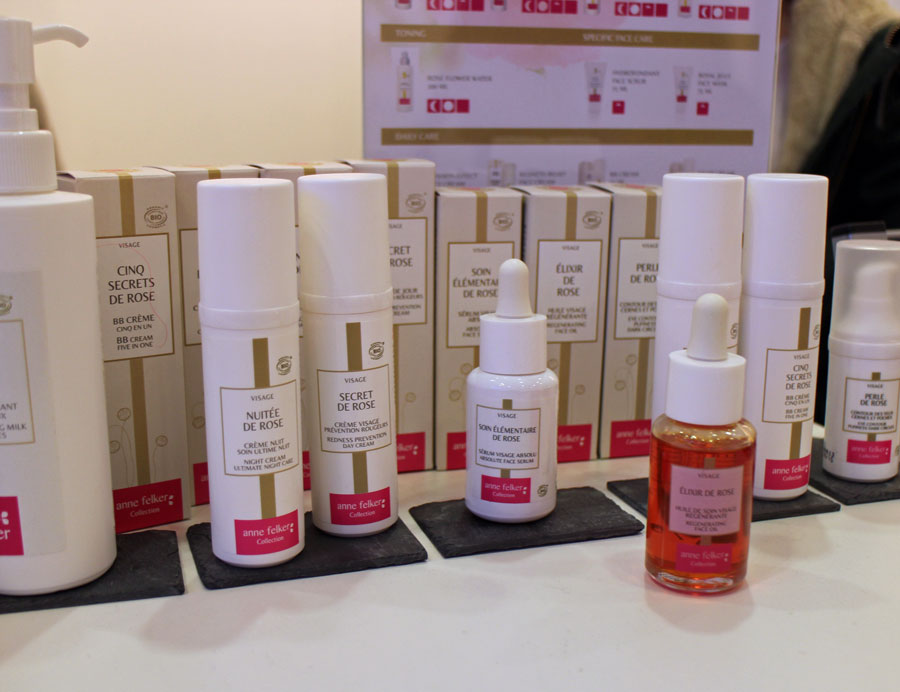 And again we are visiting France: this time we are going to the South of France, near Montélimar. This is where botanist Anne Felker planted a large rose garden and where she distilled her own rose water. A local artisan cosmetics manufacturer now has developed a skin and body care series. The Anne Felker products are based on rose ingredients; I found the face scrub particularly fascinating: it contains rose blossom and raspberry seeds and looks almost like a red jam or jelly! The product portfolio also includes a cleansing oil, a spray-on body lotion and a face oil. On my next trip to the South of France I'll definitely pay the company a visit! More information is available here.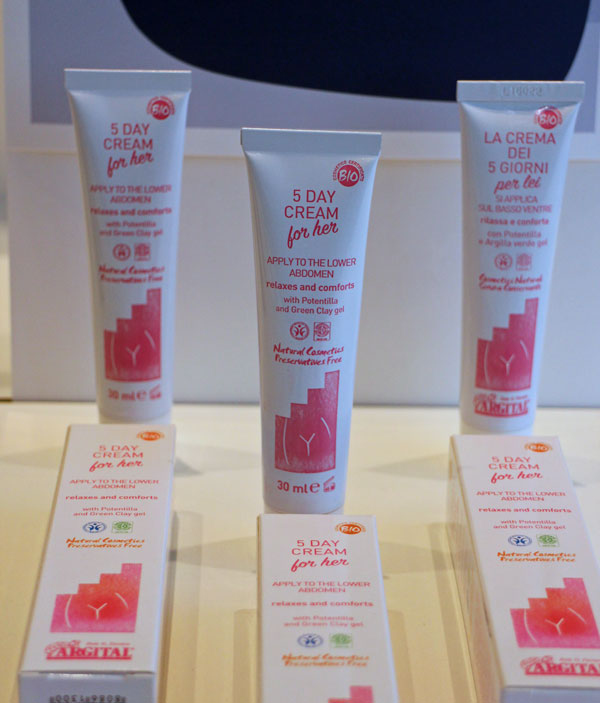 At first glance the 5 Day Cream from Italian clay brand Argital seems like a classic face moisturizer. However, when I looked more closely at the product I realized that 5 Day Cream is a relaxing cream which helps to reduce swelling; you apply it to your lower tummy area when you have your period. Not a bad idea!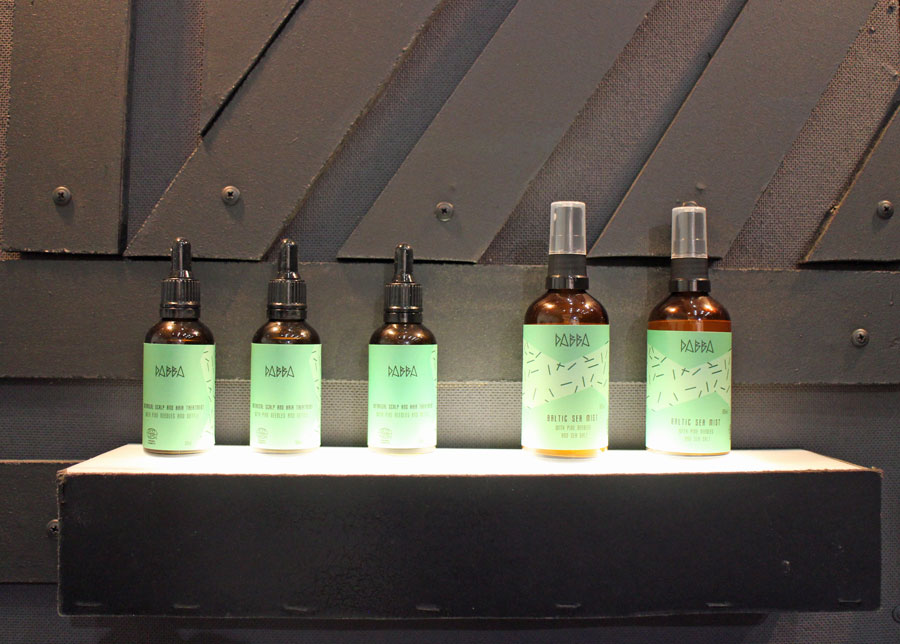 Latvian brand Dabba always has a stylish-looking exhibition stand. The company is primarily known for its range of hydrosols and floral waters and I was excited to find out that soon they will launch three face oils (yay!), several body oils, a scalp treatment and even a sea salt styling spray (with the rather poetic name "Baltic Sea Mist"). The Botanical Scalp and Hair Treatment is based on pine needle water and plant extracts from Northern Europe. I can't wait to try out Dabba's new products!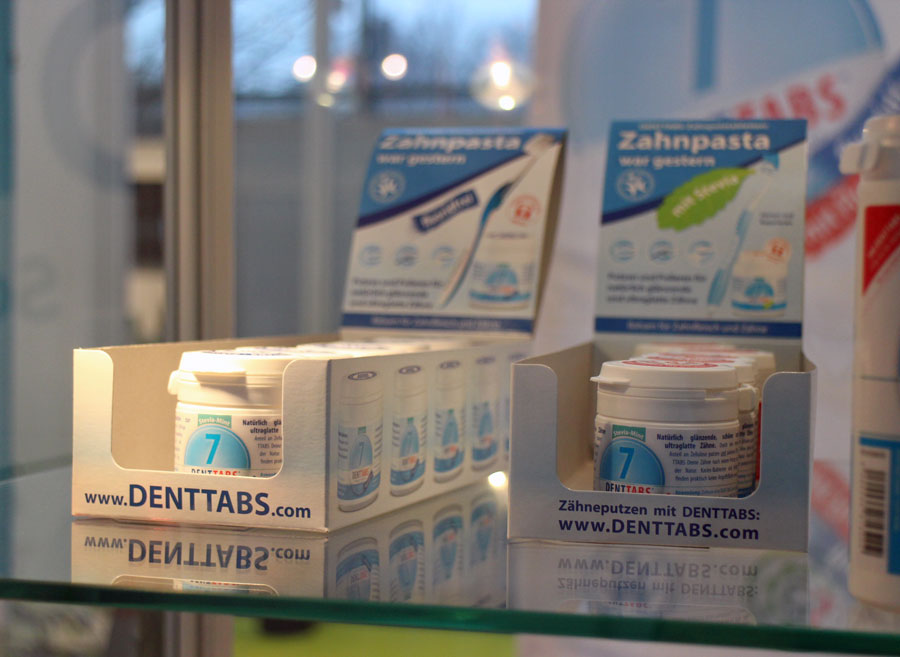 Over the last months I've written about the toothpaste tablets from Original Unverpackt supermarket in Berlin and about the Aquatic Toothy Tabs from Lush. At Vivaness I discovered Denttabs which are available with or without fluoride. More information is available here.
French brand Florame from Saint Rémy de Provence presented the new body care products in the Jasmine series (I've already shown you the gorgeous Jasmine Dry Oil here) and the rich Nutrition range for dry skin which offers a floral-scented hand cream and a body lotion.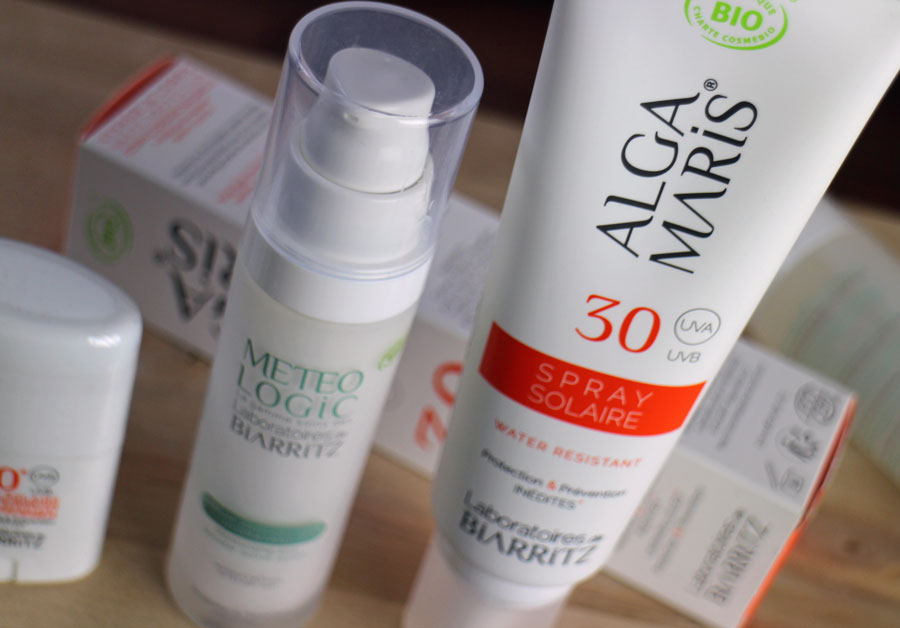 Alga Maris comes from the seaside town of Biarritz in the South of France. I had discovered the brand's sun protection creams during a trip to Bordeaux last summer (you can read the Beauty Notes article here – German only, sorry). Since I love the Alga Maris products I was excited to see the brand at Vivaness. Although the sun sprays do not contain any water they still have an ultra-light texture. The sun protection filters are titanium dioxide and zinc oxide, and red algae extract has been added as an anti-oxidant. Really nice! The Meteologic range also includes more skin and body care products and soon there will be a dry oil and a tinted sun protection cream for the face. I'd love to be able to buy the Alga Maris products in Germany! More information is available here.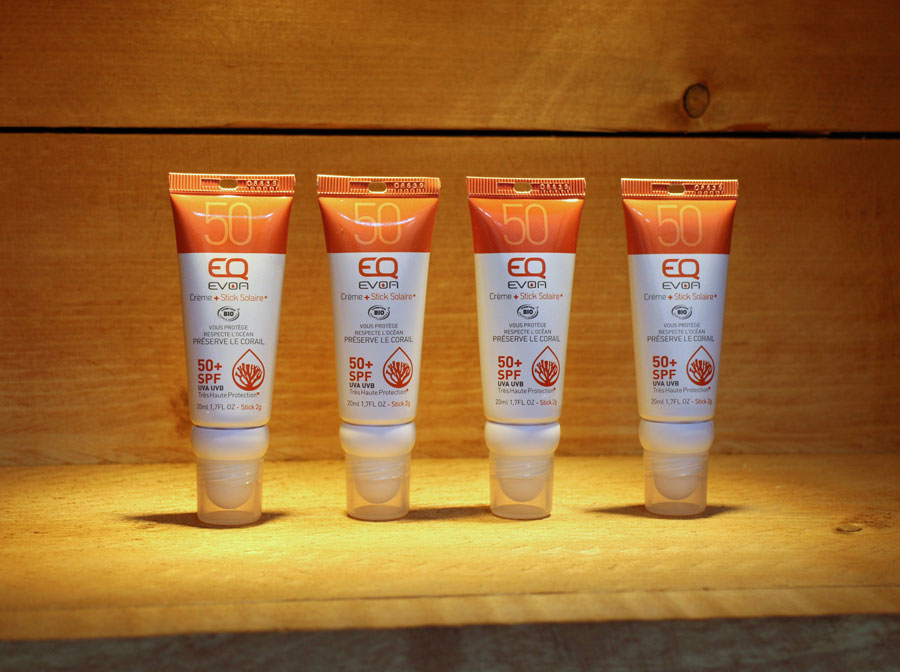 Let's stay in Biarritz: the coast of the Atlantic Ocean in France is a popular destination for surfers, so sun protection products are very popular in that region! EQ Love Evoa, another Biarritz-based brand offers a number of sun protection products which are formulated with titanium dioxide as a sun filter. I particularly like their non-tinted stick which has accompanied me on many trips last year: the non-greasy texture is fabulous. The Combi Sticks (which include a sun block stick and a cream) are very convenient for skiing or watersports.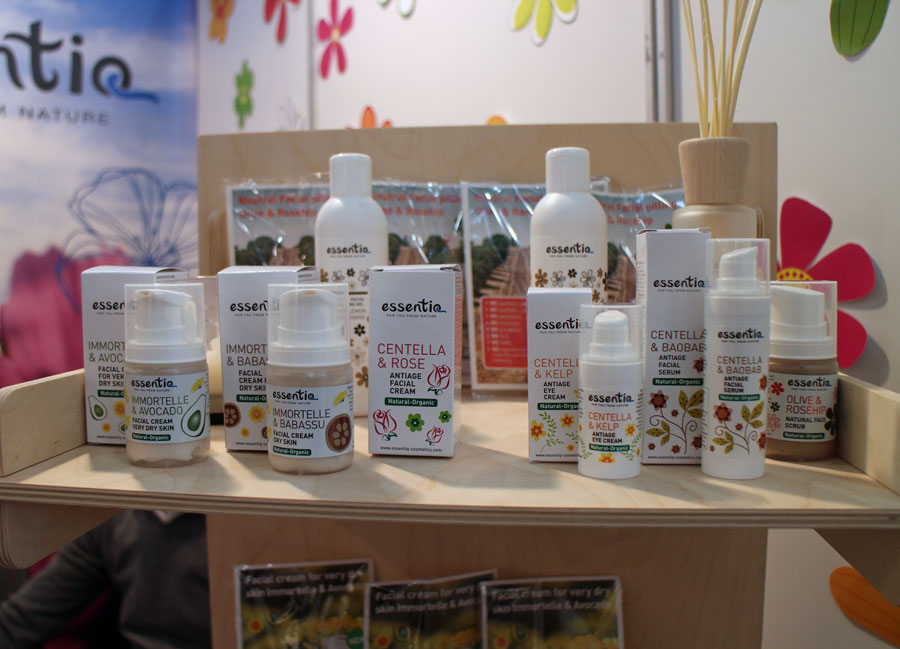 Essentiq is a beauty brand from Slovenia. I knew the Essentiq shower gel but none of their other products. Their Vivaness exhibition stand was eye-catching; the pretty floral motifs are also featured on the product packaging. The two founders of the brand were at the stand and showed me the Essentiq portfolio, including the recently launched face care range. The products in this line all have the same basic formula which is then tweaked with specific oils or ingredients for different skin types. For very dry skin, for example, this could be avocado oil and strawflower extract. More info is available here.
I noticed the Anti-Dandruff Concentrate from German brand Schoenenberger whilst walking past their exhibition stand: the gel formula contains ingredients such as Joazeiro extract which are said to soothe itchiness. The Concentrate is applied directly onto irritated scalp patches.
So pretty and colourful! I've already written about Irish brand human+kind's Hand+Elbow-Foot Cream – yes, their products are totally multifunctional – and I was interested to see that they also offer a BB cream. At the moment the company is going through the organic product certification process – organic seals are important on the German market.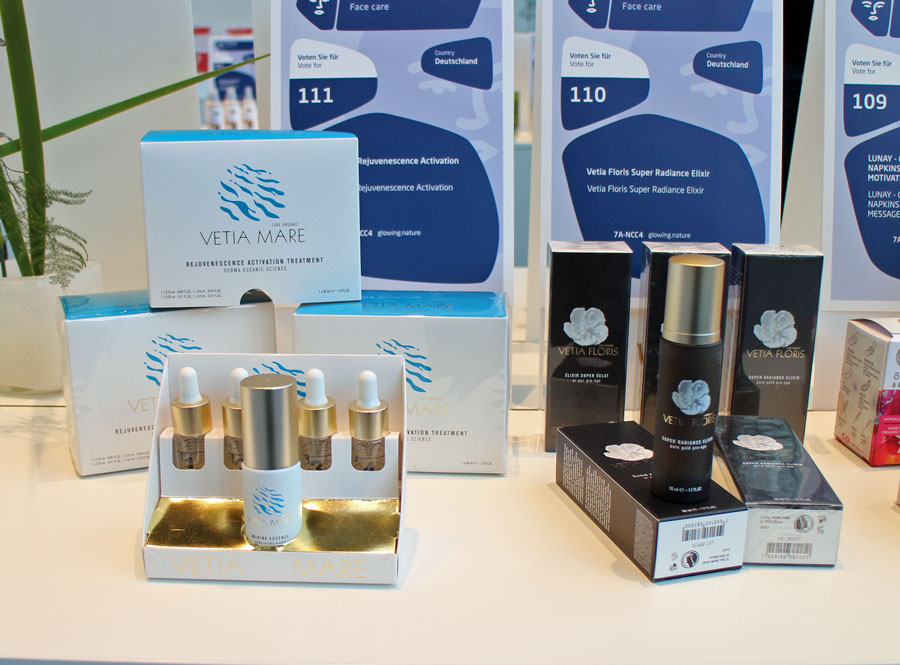 Swiss brand Vetia Floris offers luxury cosmetics that are certified by NaTrue. I found the Elixirs particularly interesting; they have a gel-like texture which includes gold particles. The company's latest launch is Vetia Mare, a sub-brand formulated with marine ingredients. I can totally picture these two brands in perfumeries or high-end online stores… Unfortunately I didn't actually have the time to visit Vetia Floris' stand but I did meet their German distributor whilst waiting for the subway to the trade show centre!
In France, thermal water cosmetics such as Avène, La Roche-Posay or Vichy are very popular. Most of these brands are retailed in pharmacies. There are few certified organic thermal water brands: Léa Nature's Eau Thermale Jonzac is one of the exceptions. The thermal water used in the Jonzac products comes from the Jonzac thermal springs in the South West of France. Jonzac's micellar water is very popular; I recently showed the brand's moisturising shower cream in my beauty routine. This is a new article series on Beautyjagd, by the way! The "My Skin Care Routine" format proved to be so popular with my readers that I decided to continue with a "My Hair & Body Care Routine" series. Unfortunately these articles are available in German only. But to return to Jonzac and Léa Nature: the company's big mass market brand is So'Bio étic, the Léa Nature stand at Vivaness showed the new launches in both beauty brands. Léa Nature is based in La Rochelle; I visited their store last summer while I was in Bordeaux and Fouras.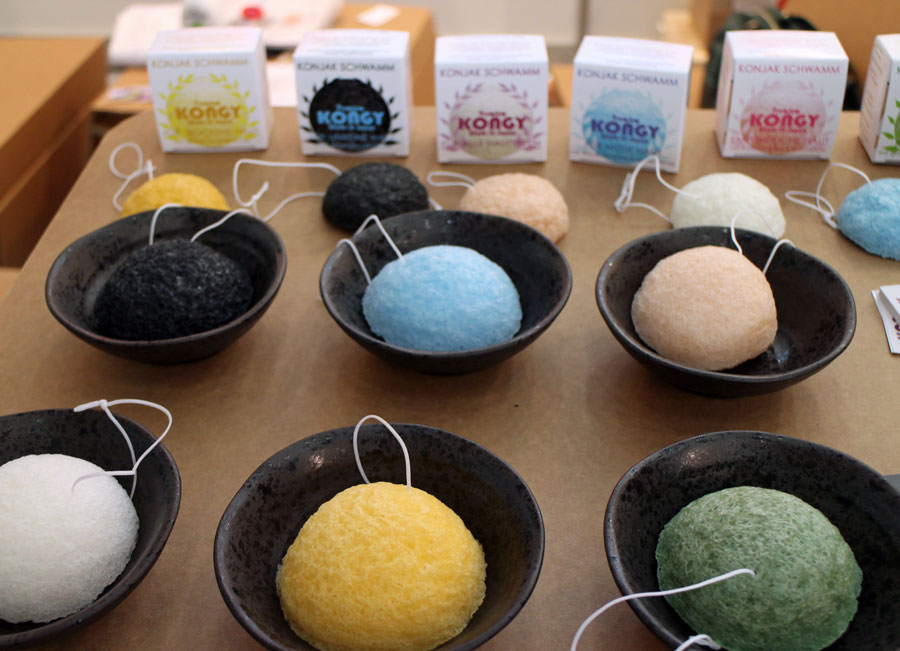 There are new konjac sponges from Austrian brand Kongy! The Kongy sponges are manufactured in Japan and two of the new varieties are Yuzu (a Japanese citrus fruit) and Sakura (cherry blossom!). The plant-based sponges are packaged in cardboard, by the way, not in plastic foil.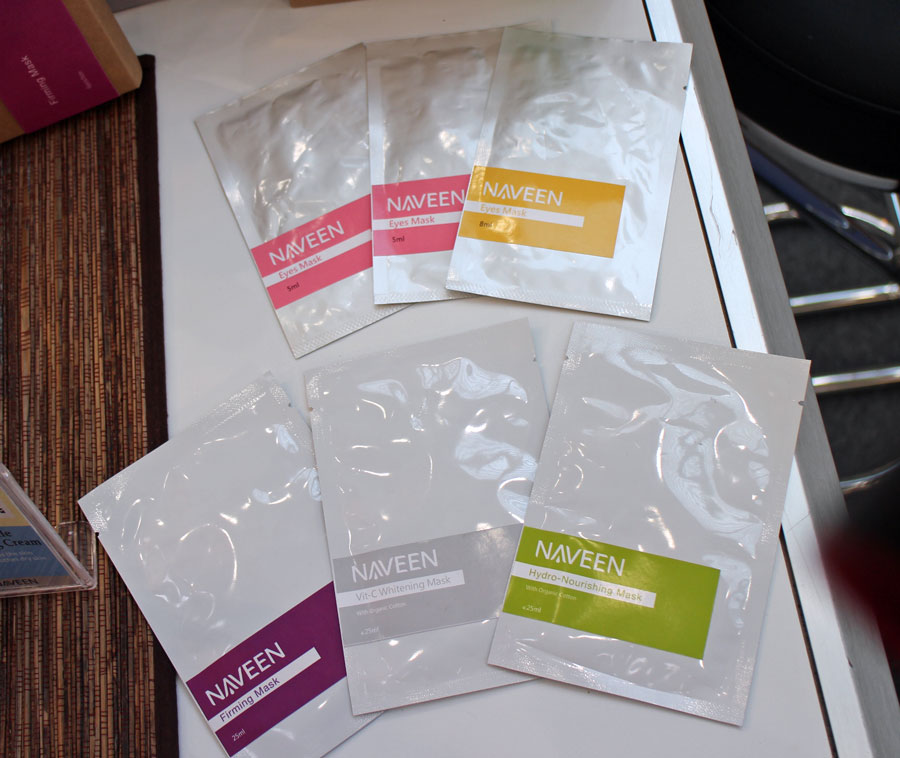 One of the few Asian brands at Vivaness was Naveen from Taiwan. Their portfolio offered sheet face masks and eye pads (hooray!) – sheet masks are still very rare in Germany and there are few organic choices! Naveen is certified by Cosmos Organic (Soil Association) and offers cosmetics for the whole family: from baby care to products for mature skin – it's a skin care range which focuses on well-being rather than classic anti-ageing and the key ingredient is hesperidin, a flavonoid derived from citrus fruit. I also liked Naveen's special scalp treatment products. More information is available here.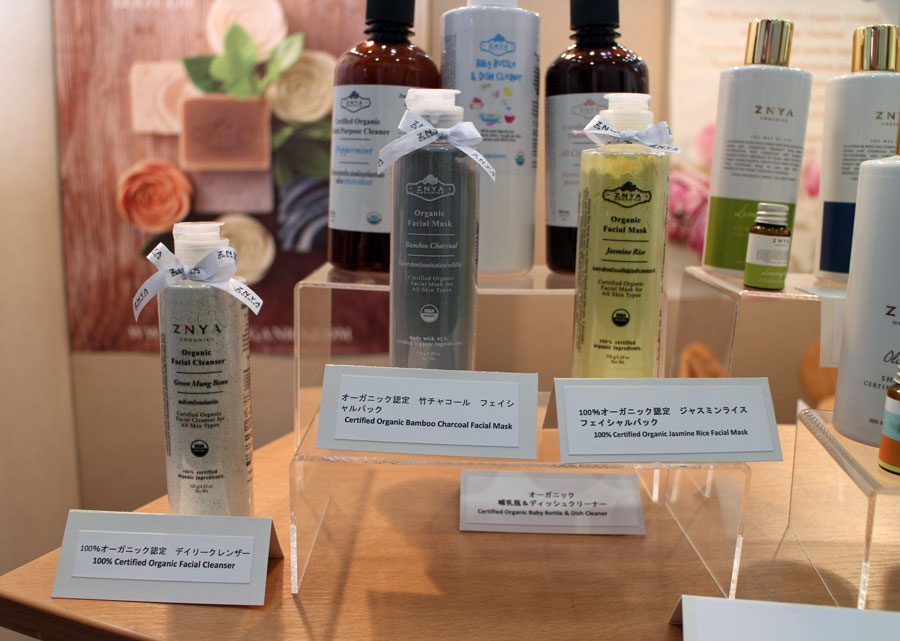 Znya Organics is from Thailand. I immediately liked their powder face masks: the jasmine rice mask with turmeric for example; you mix the yellow powder with water, apply it to the face and then rinse it off. I was fascinated! There is also an interesting powder cleanser with mung beans. Znya's products are certified by USDA, the company is also pursuing a Cosmos certification especially for the European market. I hope the brand will make it into German retail. If not I'll simply have to fly to Bangkok and buy the masks there!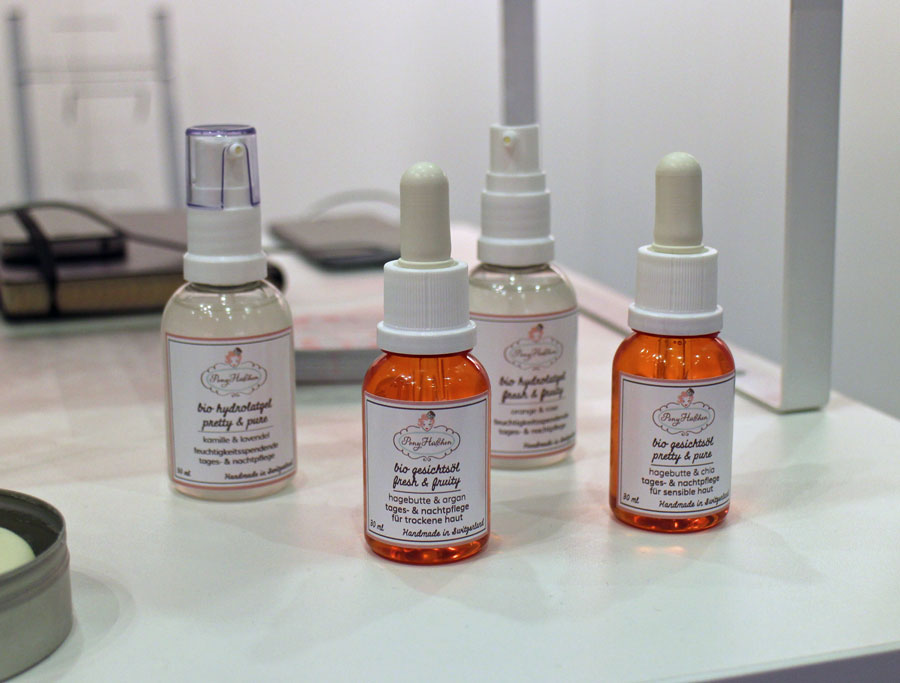 Now let's go to Switzerland and Ponyhütchen. The name means "pony hat" and the brand is already quite popular amongst German beauty bloggers. Besides the deodorant creams I liked the two new face oils and the hydro gels: the face oil with rosehip and chia seed oil is just as trendy as the thick, moisturising gel lotions (in Asia these hydro gels could be totally sold as Essences or Lotions; it's the exact same texture!). I hope these Ponyhütchen products will soon make it to Germany.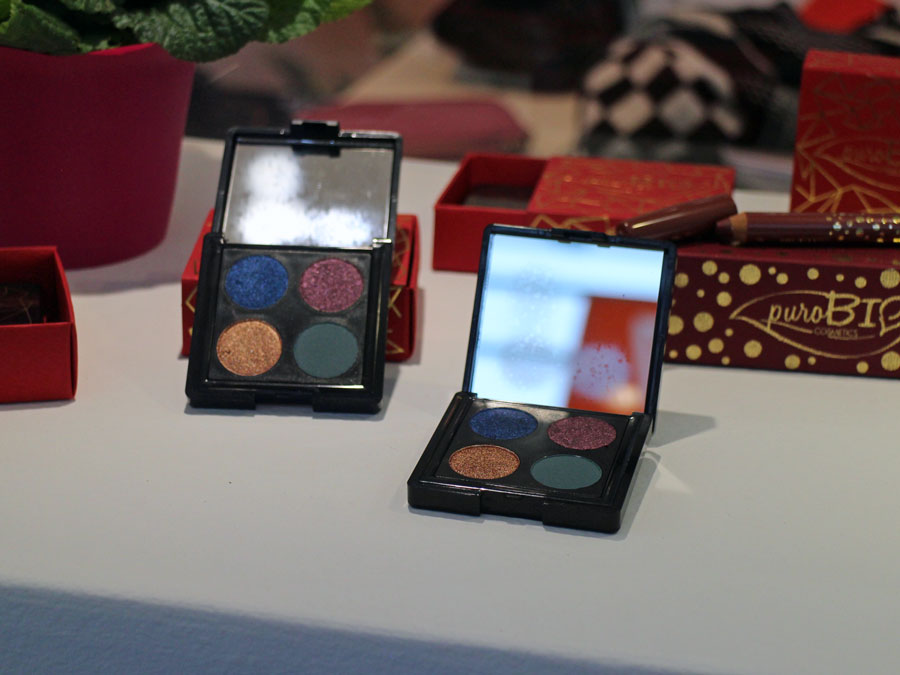 I first came across the Italian makeup brand Puro Bio last year: I bought the Concealer Pen and the Eyeshadow Pen, followed by the Eyeshadow Quattro in Nude. Excellent value for money! The large Puro Bio portfolio also offers lipsticks, foundations, eyeliners, mascaras, primer, powders and bronzers. More information is available here.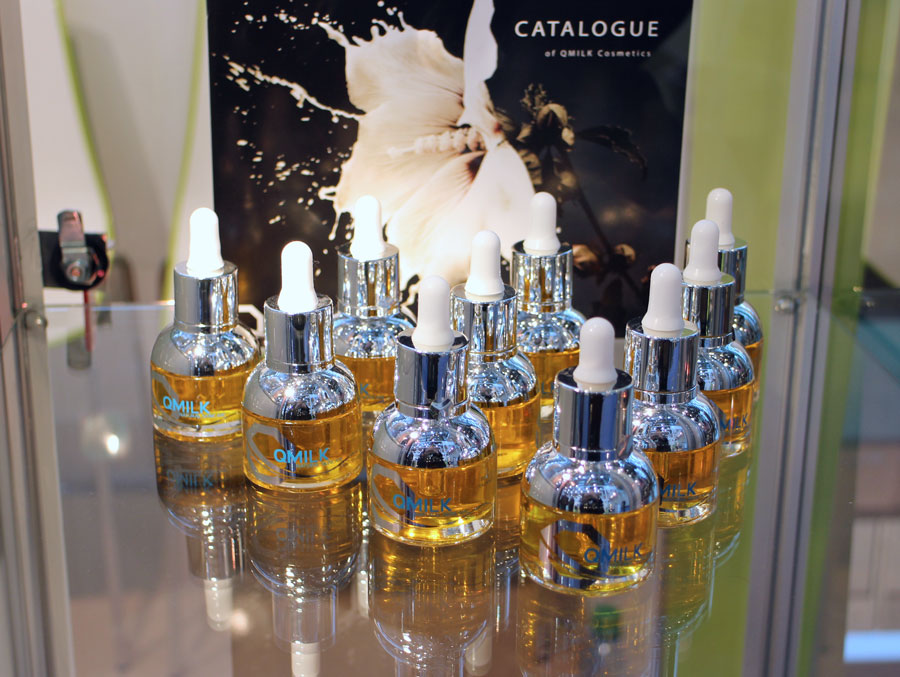 German brand QMilk's products actually contain milk proteins (casein): the face oil I photographed above is based on ghee (clarified butter fat). QMilk's founder Anke Domaske, a microbiologist, says that the inspiration behind her cosmetics range was a milk-derived biopolymer she developed for use in textile fibres and foils. More information is available here.
Italian company La Saponaria's Syria Soap brought a bit of political reality into the middle of Vivaness: with each purchase of Syria Soap you support international charity Terre des Hommes which is helping refugees. There were a number of other soap brands with Aleppo soaps at the trade show and these, of course, also served as a grim reminder of the war that is currently taking place in Syria and the Middle East. Aleppo soaps are traditionally manufactured in the Syrian city of Aleppo. Which is now mostly in ruins.
The exhibition stand of Lithuanian mineral cosmetics brand Uoga Uoga was small but pretty: I already knew their foundations, blushes, lip glosses and concealers but now Uoga Uoga is also offering eye makeup! There are 20 loose eyeshadow powders, four creamy eyeliners and a range of creamy Lip & Cheek Colours. Amongst the eyeshadows I particularly like shade Burgundy, a fabulous deep red. Each product is accompanied by a little poem. Nice idea! More information is available here.
There were so many other brands at Vivaness that I wanted to visit but didn't find the time! German clay cosmetics brand Luvos, for example, showed its new Med product range for sensitive skin. And Wooden Spoon from Bulgaria has nice face oils and two sun creams. Or You & Oil from Lithuania: I really liked their product design but didn't have the time to look more closely at the products. Oh well, that's Vivaness! There is never enough time to see everything!
[Click here for the original German article Naturkosmetik-Nischenmarken auf der Vivaness 2016.]
The entire last week was still dominated by Vivaness! The actual trade show finished Saturday evening; Sunday I began to sort through my notes and pictures – and on Monday I began writing my various Vivaness articles! I've posted two Vivaness articles on Beautyjagd (you have just read the post on my favourite niche brand discoveries!) but I also wrote an article for organic supermarket chain denn's Bio-Blog. Bio-Blog also had a Vivaness/Biofach special in their last issue – which reminds me: have I mentioned Biofach before? It is the biggest organic food show in the world and takes place in conjunction with Vivaness each year. Sadly I had very little time to visit the Biofach halls since I was so occupied with Vivaness. Biofach is also a fabulous trade show.
Last Sunday I also had a quick coffee with makeup artist Claudia from Cologne-based Salon Zwei. Claudia showed me her new makeup brushes collection: all ten brushes are made with synthetic hair; I especially like the soft squirrel hair imitation. On the picture you can see the lip brush which comes with a small cap (excellent idea!). I think I'll also use it to apply concealer since the brush tip is so precise. I also love the motto "Perfectly Imperfect" which is printed/engraved on all brushes – after all, as Claudia says so rightly: "Makeup application is simply a little colour in the face!"
I mentioned that I barely had time to walk through the Biofach halls – but at least I managed a very brief visit to the exhibition stand of HaselHerz (Hazel Heart), a young company which produces the most delicious organic hazelnut spreads. HaselHerz was a tip from food and wine blogger Chez Matze: he knows that I simply love hazelnut pastes from the Trabzon region near the Black Sea. And HaselHerz' nuts come from that exact same region in Turkey. The brand has four different nut spreads and they all are divine! I particularly like Feine Nuss (Fine Nut) which is completely unsweetened; the other three varieties are sweetened with coconut sugar or, very traditionally, with grape syrup. I had a nice chat with HaselHerz founder Ebru who lives in Hamburg. I really hope that HaselHerz will be available in Nuremberg soon. The Berliners amongst my readers are lucky: Bio Company (the biggest organic supermarket chain in the Berlin region) already sells HaselHerz products. More information about HaselHerz is available here.
I was recently interviewed by organic beauty magazine Cosmia for a feature about the Asian trend of "layering" – you can read the article here (German only, sorry).
Do you like the pomegranate in the picture above? I received it at Weleda's stand at Vivaness – it was part of a presentation about their Pomegranate product range (which includes hand cream, nail care, face care and body care). I have already decided to combine the pomegranate with a nice vanilla-based dessert this weekend 😉 .
One of my Christmas presents to myself was the new Midsummer Rose Face Oil from Finnish brand Frantsila – you can read about it here. My skin has become really dry over the last few weeks (it is winter time over here and the combination of cold temperatures and central heating can really throw your skin off-balance!) so I am layering like crazy at the moment: serum, oil and sometimes a tinted day cream on top. The Midsummer Oil feels very rich on the skin; it is based on jojoba oil, apricot kernel oil and almond oil and also includes extracts of an old-fashioned Finnish rose variety (Rosa pimpinellifolia or burnet rose) and essential oils such as geranium and palmarose. The founder of Frantsila, Virpi Raipala-Cormier, is a well-known aromatherapy specialist. The oil is packaged in a little flacon with pump dispenser (one pump of oil is enough for the entire face) and it is scented with a subtle herbal fragrance which, of course, also includes some rose. When I think of burnet rose I always remember the wonderful trip to Finland in 2013 when I also had the opportunity to visit Frantsila in Hämeenkyrro. The face oil contains 30 ml and costs 26.90 Euro; in Germany you can buy it through online store Hilla Naturkosmetik.
An organic mascara created by a former product manager for Yves Saint Laurent – that is something I absolutely have to show on this blog, right?! I bought the Mascara Audacieux from French brand So'Bio étic about half a year ago on a trip to France. At Vivaness, I started chatting with the So'Bio étic product manager about the mascara and decided that I really needed to look at this product in more detail! The voluminous brush has a half-moon shape so the bristles reach every single lash hair. You get a nice curve to the lashes without any clumping and the texture is neither liquidy nor waxy – perfect for layering. So far the mascara has survived an appointment with my ophthalmologist (he applied eye drops and the mascara still didn't run). You don't get massive volume with this mascara but the lashes look pretty good and more importantly, no panda eyes! If I were living in France, this would be my go-to everyday mascara. The So'Bio étic mascara costs 11.90 Euro and you can buy it through French online store Ayanature. In France, the mascara is available in selected hypermarkets and any store that sells So'Bio's makeup selection.
There weren't that many new organic beauty launches last week (or perhaps I covered them already in my various Vivaness articles? 😉
The new limited edition by French brand Coleur Caramel is called Zanzibar Palace, first pictures are available here.
On 1st March, German brand Sante is launching a product range for extra sensitive skin. More information is available here.
[Click here for the original German article Beauty-Notizen 19.2.2016.]
Trend from Korea: Peel-off masks from Secrets des Fées
I've been following the Korean beauty market for a while now. It is such an innovative industry and most of the European beauty trends of the last years (BB creams, cleansing oils, sheet masks….!) have started in Korea. I read a lot of Korean and Asian beauty blogs and in late 2015 I first came across an article about the rubber masks of Korean beauty brand Lindsay.
The Lindsay masks have been creating quite a bit of hype recently; the brand was launched by a Korean beautician who wanted to develop a rubber mask treatment that you could do at home. I thought these masks sounded really interesting so I asked a friend to bring me one from Seoul (thank you, Annika!). You can see the mask in the picture above (the plastic cup). After I checked the INCI declaration I realized that the ingredients are actually quite organic – even better! And applying the mask was so much fun: you stir the mask powder together with water, apply it to the face, let it dry for a bit and then simply pull it off. I was impressed: my skin was clean and smooth without feeling dry at all.
Now I wanted to find out if these kind of masks were also available over here in Europe (ordering from Korea or the US – where Lindsay masks are also available in some online stores – always takes such a long time). So I began my research and came across a very young French brand, Secrets des Fées (which translates as "secrets of the fairies"). I was excited to find out that Secrets des Fées offers peel-off rubber masks in sachets (and at a reasonable price, too!) so I ordered various masks to try them out – and yay! I had found my European alternative to the Lindsay masks!
If you are a regular reader of my blog you'll know that I also write articles for organic online perfumery Najoba. I had mentioned the Secrets des Fées masks to the founders of Najoba, they also liked the products and have now added the brand to their online shop. And this is how this sponsored post came about!
Let me introduce you to the fabulous rubber masks of Secrets des Fées! The masks are based on medicinal clay, rice powder and alginate (an ingredient which is derived from brown algae, hence the name!). The alginate is also responsible for the pudding-like texture. Each Secrets des Fées mask also contains further ingredients depending on the variant – the anti-ageing mask contains cranberry, for example, the refreshing mask is formulated with citrus extract and carrot, the detox mask contains green tea extract and the contouring mask is manufactured with cucumber extract. In addition, the ingredients include iron oxides, minerals and essential oils, plus glycerin as a humectant and a preservative which was been certified by Ecocert and NaTrue. I can't detect any fragrance; the mask smells a little bit like rice, that's all.
And this is how it works: you put the powder into a little dish, add 30 ml of water, stir it briskly and then quickly apply the mask to the cleansed face. Don't wait too long otherwise the mask mixture won't adhere to your face properly! Then you let the mask dry for 5-10 minutes (I wait for around 7 minutes) until it has turned rubbery; it feels a little bit like thick pancake mixture on your skin – that's the best description I can find 😉 . The skin feels slightly cool but not dry, very unlike traditional powder-based clay masks. And then the fun starts: you tear the mask off the face! I can never manage to remove all of it in one go but it is really easy to remove, you don't have to rub or pull the skin. And left-over traces can be easily wiped off with water. I love the fact that these masks combine several things: your skin gets the minerals from the medicinal clay and the moisture from the alginate. In addition, there is a gentle peeling effect when you remove the mask.
A double sachet (each sachet contains 4.5 gr) of the Peel-Off Masks costs 4.10 Euro when you order it through Najoba.
[Click here for the original German article Trend aus Korea: Peel-Off Masken von Secrets des Fées.]
A grande dame of the organic beauty industry in Germany has died: the founder of organic beauty manufacturer Börlind, Annemarie Lindner, passed away on 18th February 2016, aged 95 years. My condolences to the Lindner family! Annemarie Lindner was a true organic pioneer: she founded Börlind in 1959 and ran the company herself for almost 30 years. In 1985 her son Michael took over as CEO and today, Annemarie Lindner's grandson Nicolas is leading the marketing department at the Börlind group. Börlind's two main brands are skin and body care brand Annemarie Börlind and Dado Sens, a product range for sensitive and irritated skin. Both brands are successfully sold in 30 countries worldwide.
From one beauty pioneer to the next: the new limited edition from Dr. Hauschka is called Comeback and comprises five of the most popular products from previous limited editions. Since I have been a fan of Dr. Hauschka for many years, I am already familiar with all of these products. On the picture above you can see the Rouge Powder Duo (featuring a beautiful embossed rose) in two versions: my original which I bought in 2009 (it is already looking a little battered!) and the relaunched powder (press sample). Both pink tones are subtle shades with little pigmentation so this blusher is a good choice if you are afraid of large pink circles on your cheeks! Since I started blogging in 2011 I have never actually shown the Rouge Powder on Beautyjagd. All other products I have already presented over the past five years: the Balancing Teint Powder from 2011, Lipstick Novum 08 "maple glow" from 2012, the Eyeshadow Trio from 2013 and the Kajal Eyeliner 08 "taupe" in 2014. The Comeback edition is available in organic supermarkets, department stores and online.
My new post for the Bio-Blog (German only, sorry) is all about cream formulations: I'm explaining what an emulsion is and how mixing a cream is not unlike stirring up a home-made mayonnaise. Enjoy!
I recently realised that I haven't shown the Shampoo Douceur de Miel from French brand Ballot-Flurin on Beautyjagd yet! I bought the shampoo in early 2015 and am also the proud owner of several travel-sized versions which are perfect for, well, travelling. The shampoo is really unusual because it contains 30% honey; other ingredients include water from the Pyrenées mountains, three mild tensides, salt, citric acid and two organic preservatives – it's a very tidy INCI list which reminds me of the fabulous Eau Miellée Honey Makup Remover from Ballot-Flurin. The shampoo is very mild; it turns into a creamy foam when you massage it into the wet hair. It doesn't dry out the hair but is not overly hydrating either. Instead, my hair felt clean and surprisingly voluminous. The shampoo has a light almond scent, just like the face cleanser. In Germany you can buy the shampoo at Naturdrogerie for 14.90 Euro. I really like Ballot-Flurin and have already written about the company's product concept in my posts about the Spray Nomade and the Pyrenées balm. My tip for all of you minimalists: if you are looking for a single product that can cleanse face, hair and body – this is it!
Online store Biomazingy recently sent me some Mushroom Coffee – remember? The parcel also included a mini set with samples from Lotus Wei, an aromatherapy and flower essence brand from the US. I had already seen Lotus Wei on many international blogs and now I finally had the opportunity to test my way through the six oil-based serums! In her products, Lotus Wei's founder Katie Hess uses essential oils and flower essences to influence the mood, much like the essences that are used in classic Bachflower therapy. All six fragrance mixtures are available as spray, serum (oil), perfume and as an elixir which can be taken internally. Inner Peace has a de-stressing fresh minty fragrance, Joy Juice reminds me of an orange candy with a jasmine filling (delicious!) and Inspired Action contains citrus notes, cardamom and pepper. Infinite Love is a fabulous combination of mandarine, rose and honey and Pure Energy is reminiscent of orange, coffee and chocolate. Finally, Quiet Mind evokes cool moss, spicy-fragrant coriander seeds and notes of ginger. I can understand why so many beauty bloggers are fascinated by Lotus Wei: these are unusual fragrance creations – very impressive. The serums can be applied to the face or on the pulse points. I think a Lotus Wei set would also make a fabulous gift for someone who loves flowers! A set costs 58 Euro and is said to last for several months. The elixirs, mists, serums and perfumes are also available individually and as full-sized products (from 34 Euro to 49 Euro).
Drugstore retailer DM's organic own label brand Alverde has announced its bi-annual update of the colour cosmetics range. If you are a fan of Pure Teint Make-Up I suggest you stock up now, the product will unfortunately be delisted. However, Alverde's new products will include a Mousse Makeup in four shades, three new baked eyeshadows, four lipglosses, a new eyeshadow quattro, a nail polish and a new mascara. Pura Liv has already published a preview.
[Click here for the original German article Beauty-Notizen 26.2.2016.]
Good-bye everyone and see you in two weeks!
Julia