Dear international readers of Beautyjagd,
Welcome to the next English-language edition of Beautyjagd! This is a condensed version of the most important articles that have appeared on my blog over the last three weeks. For more information about this new format, click here. And now: enjoy the best of Beautyjagd in English!
Best wishes
Julia
Hello everyone and welcome to the next installment of Beautyjagd in English!
Looking back, part 2: Best of Beauty 2015
Tadaaaah! Here is the second part of my 2015 Review: my favourite beauty products from last year! Because the original German language article was well over 2000 words (reflecting the amazing choice of cool organic beauty products you can find today!) we needed to do a bit of editing to get it down to a manageable size. Let's start with four beauty trends – or rather product concepts – which have impressed me and which I think will influence the organic beauty market over the next few years.
♦ Launch of the Year: Und Gretel
A certified organic premium colour cosmetics brand from Berlin. Styling packaging and prices which are on par with those of conventional luxury brands (think YSL, Chanel and Dior) – it takes courage to launch a new organic makeup range; especially one with luxury prices and niche distribution, so: chapeau! I especially liked the three Sculpting Duos, the concealers and the mattifying powder. My personal favourite, however, is the Luk Creme Eye Stick Bronze – a really unusual shade: rusty orange with pink undertones.
♦ Beauty trends from Korea
Korea continues to influence the international beauty industry! From BB creams and sheet masks over cushion foundations, sleeping packs, fermented cosmetics, rubber masks and splash masks – Korean cosmetics manufacturers are coming up with one innovation after the other. Several of these trends have already reached the organic beauty industry: the Sleeping Mask from French brand Akane and the Masque Chrono Nuit from Lift d'Argan (also from France); even the new Dr. Hauscka Night Serum is influenced by the sleeping pack concept. German brand Regulat Beauty has been working with fermented ingredients for a long time. Regulat was one of my brand discoveries in 2015: I particularly like their cleansing foam and the facial tonic. I was also impressed by the fabulous textures of BDIH-certified organic brand Whamisa from Korea. And US brand 100% Pure launched a Cushion Foundation last year. I am certain that Korean product innovations will continue to inspire the cosmetics industry in 2016!
♦ Most exciting retail and brand concept 2015: Buly 1803 in Paris
Ever since French retailer Buly opened its first boutique in Paris, beauty editors from across the world have been flocking to Rue Bonaparte. Buly's brand concept is extraordinary: the store looks like an old-fashioned pharmacy (check out my pic on Instagram) selling traditional cosmetics – plant-based oils, facial vinegar, mouth washes, hair pomades and fragrances based on water. The packaging has a retro touch as well: the products are decanted into simple pharmacy flacons which are then labeled by a calligrapher. Buly also sells unusual traditional beauty products like the Moroccan blush Aker Fassi. Although Buly's products are not certified organic and the packaging doesn't state the percentage of organic ingredients, most of the ingredients could easily be certified. I find Buly's retail concept inspiring: what a fabulous way to sell organic cosmetics! In late 2015 the company opened a shop-in-shop in Galeries Lafayette department store on Boulevard Haussmann and plans for another international boutique in Taipeh is already underway.
♦ Innovative brands
I like companies which try something new instead of bringing out yet another "me too" product! A different packaging concept or unusual ingredients….I'm always on the look-out for innovative new brands. And these are three of the most unusual brand concepts that caught my attention last year:
At Vivaness trade show last February I came across young French brand oOlution. I like their concept: oOlution believes that we need to offer our skin a balanced nutrition. Each of the brand's five face creams contains up to 65 different plant-based ingredients. All oOlution products are free of palm oil, palm oil derivates or processed oils. Combining biodiversity with simplicity and marvelous textures – frankly, I was impressed. My favourite is the oOlution Age Out Creme.
In summer 2015 I discovered organic beauty brands from Italy. I particularly liked vegan brand Agronauti from Nothern Italy. Not only is the packaging very stylish but the company practices an open-source approach to its ingredients and product formulations: anyone can access their product recipes! The mattifying Gea Complexion Corrector and the Ariel Antipollution Day Cream were amongst my favourites last year.
In autumn 2015 Danish brand Nuori appeared on the scene: Nuori's products are freshly manufactured, packaged in clean yellow and white and because the cosmetics are made in small batches and without synthetic preservatives, each product is clearly marked with the expiration date. Most of the products need to be used up within a few months; the Vitamin C Treatment Serum (which I have been testing over the past months) is only good for ten days after opening. Nuori's products are not certified because they also contain some natural-identical ingredients/synthetically manufactured ingredients like vitamin C. I can't wait to see how the brand is going to develop over the next years – their product concept is a really interesting hybrid between conventional and organic cosmetics.
And here is a list of my favourite beauty products from 2015!
Favourite morning cleansing product: Honey! Last year my reader Cherry inspired me to try cleansing my face with honey: I apply the liquid honey onto my face with wet hands, leave it on for a bit and then rinse it off. My skin likes it!
Favourite facial oils: Face oils are still my favourite skin care products although I started to also use a few face creams last year (like Age Out from oOlution). My favourite face oils from 2015 include the Summer Time Intensive Care Caps from Demeter-certified German brand Martina Gebhardt. And on a trip to Bordeaux in France I discovered the Divinissime Immortelle Huile from Lift'Argan – I love the combination of argan oil and strawflower oil.
Favourite face care products: Besides honey, I also discovered cleansing foams which are now an integral part of my beauty routine. My favourites include the Cleansing Foam from Regulat Beauty, the affordable Cleansing Emulsion Sensitive from retailer DM's own label brand Alverde and the Cleansing Cream from Dr. Hauschka. One of my favourite hydrosols last year was the Skin-Perfecting Bourbon Geranium Floral Water from French brand Melvita and I also liked Melvita's Apicosma Soothing Cream UHT. This cream is manufactured with a special express sterilization technology and then packaged in an airless container so it does not include preservatives. I think this kind of manufacturing technology could become a trend, especially in organic cosmetics. The most interesting night care product last year was the Night Serum from Dr. Hauschka.
Favourite face care products: I really got into facial massage tools last year. I had bought the Twin Ball Facial Massager from The Body Shop more or less on an impulse (I was waiting for a train and had time to kill!) and was amazed by how good the massage roller felt. Definitely a topic which I'll research further in 2016. And another example of Asian trends that are influencing the European beauty industry. I was particularly taken by two face masks last year: the Organic Bioactive mask from Estonian brand Vestige Verdant which is based on peat and the AHA Peel Mask from Latvian brand Mádara. Madara's mask is based on lactic acid which is gentle on the skin – but you still need to remember to apply sunscreen afterwards!
Favourite body lotion: Oooh, this is a difficult choice! First place goes to French beauty brand Sophie la Girafe's Body Lotion. I also liked the texture of Weleda's new Almond Sensitive Body Lotion and, of course, the Lemon Vanilla Body Lotion from Estonian brand Joik (a beautiful tarte au citron fragrance).
Favourite body care products: Another difficult category! My favourites included the Lavender Vanilla Hand Cream from German brand Primavera and the Melipona Hand Cream from Ballot-Flurin (France). Deodorants: I love the fragrances of German manufacturer Vegane Pflege's new deodorant creams but I also like the baking soda Roll-On Deodorant from German brand Wolkenseifen and the Deodorant Stick from Schmidt's (also from Germany).
Favourite sun care: I know how surprised I was when I first tried out the Sun Protection Spray from French brand Acorelle at Vivaness trade show last year. Such a light texture! And comparatively little whitening (titanium dioxide-based organic sun creams often leave the skin looking whitish). On my next trip to France I discovered a few more sun sprays with a similar texture, like the Spray Solaire from Alga Maris. France is definitely in the lead as far as organic sun protection products are concerned!
Favourite lipstick: Lipstick Sweet and Safe Kiss no. 11 Bois de Rose from French brand Absolution: my absolute favourite last year; I practically wore it every day. Matte textures and good pigmentation and the shade is a fabulous rosewood.
Favourite colour cosmetics: Nail polish Kale from French brand Kure Bazaar – an amazing smoky dark green. I also liked the Minimalist Corrective Serum Foundation from Gressa Skin (US) – an organic version of the super liquid foundation trend. The Shimmering Multi-Talent blusher from German organic brand Santé's Fabulous Nude limited edition was also impressive. Very innovative: Color&Care Mix your Makeup from Alverde – liquid colour pigments to mix into your own foundation to lighten or darken the shade. And one of my favourite eyeshadow palettes last year was Eye Essential Palette from Coleur Caramel. Favourite mascara: Lashes Ink Rabenschwarz Long & Thick from German brand marie w. – it looks so good on my lashes! I also liked the creamy texture, satin finish and medium coverage of Vivid Foundation from Ilia Beauty (US) and the Luk Creme Eye Stick Bronzer from Und Gretel – a fabulous shade.
Favourite fragrances: These included Moon Bloom from Dutch brand Hiram Green – a fabulously hyperfloral tuberose fragrance. I also liked the Eau de Toilette L'Or Bio from Melvita and the Eau de Toilette Eglantine from German manufacturer Florascent. My favourite single note fragrance was the Rose Geranium Essential Oil from Primavera.
Home fragrance: The Colors Japonica room fragrances from Berlin-based air fragrance designers Aoiro. And of course the incense sticks from Japanese brand Shoyeido! I also liked the scented candle Glögg from Joik.
Favourite hair care products: The powder shampoo sachets from Secret de Provence and the Cream Wax from Rahua. I'm also testing a very promising new hair care range at the moment – I'll keep you posted!
Favourite household product: The Toilet Cleanser from Sonett – with a woody green fragrance with berry undertones. Nice.
Most original Christmas product: Definitely the Springerle soap from Speick – the perfect combination of Christmas traditions, regionality and beauty.
[Click here for more photos and the original German article Jahresrückblick 2015 (2): Best of Naturkosmetik 2015.]
Walking around Birchbox: a visit to Bon Marché department store in Paris
You are probably familiar with Birchbox: they were the first beauty box subscription company. For 10 USD a month you receive a surprise box of cosmetics products once a month, usually travel sizes or sample. The boxes typically include coupons to entice you to try out full-sized products and there are little gifts and surprises. Launched in 2011 in the US, Birchbox inspired an entirely new retail trend.
When you think about it, the beauty box subscription principle is ingenious: It combines marketing, PR, market research and retail, all in one box. Women can try out the beauty products in the comfort of their own home; Youtubers and bloggers often post Unpackaging or Unboxing videos and blog articles which makes the brands and products even better known, and once you sign a subscription contract with a box provider, the company can compile a customer profile and collect consumer data which in turn are used for market research. Often there'll be an integrated online store on the subscription box provider's website, so if you like a product you received in a box you can buy it online immediately. Although Birchbox was the first on the market there are now scores of other companies in the US and Europe. In Germany, Berlin-based Glossybox is probably the best-known beauty box company. There are also several companies that specialize in organic beauty boxes, like Fairy Box or Purity Bag. Generally, subscription boxes are very much an online thing.
On my December trip to Paris, however, I discovered a real-life Birchbox in Le Bon Marché, one of Paris' most famous department stores. It was a pop-up store operated by Birchbox: customers can select miniature versions of their favourite product from four different categories – makeup, face care, body care and hair care. You pick up a kind of tray with four sections (just like in a self-service restaurant!), select your products and place them into the box. Then you decide which outer packaging you like (when I visited the store, there were two designs to chose from) and pay 15 Euro at the cashier's desk. If you decide to sign up for a subscription you also receive a free gift. I thought this was the perfect combination of online and offline retail – with the additional bonus of you getting to actually chose your products!
And here is what I bought: The beige-taupe nail polish in shade Cream Tea from Ciaté (the nail polishes from the UK with the little bows!), the micellar cleansing water L'Eau Soir et Matin from French brand Absolution, the Body Butter Patagonia from US brand Ayres (more information is available here) and a Dry Shampoo scented with cherry blossoms from Batiste. I also would have loved to try out the hand cream Siamese Water from Panpuri (a Thai-US organic brand) or the Face Scrub from Huygens (an aromatherapy brand from Paris) but unfortunately you can only chose one product per category. Oh, and there were lots of testers in the store so you can try out the products first.
[Click here for more photos and the original German article Die begehbare Birchbox im Kaufhaus Bonmarché in Paris.]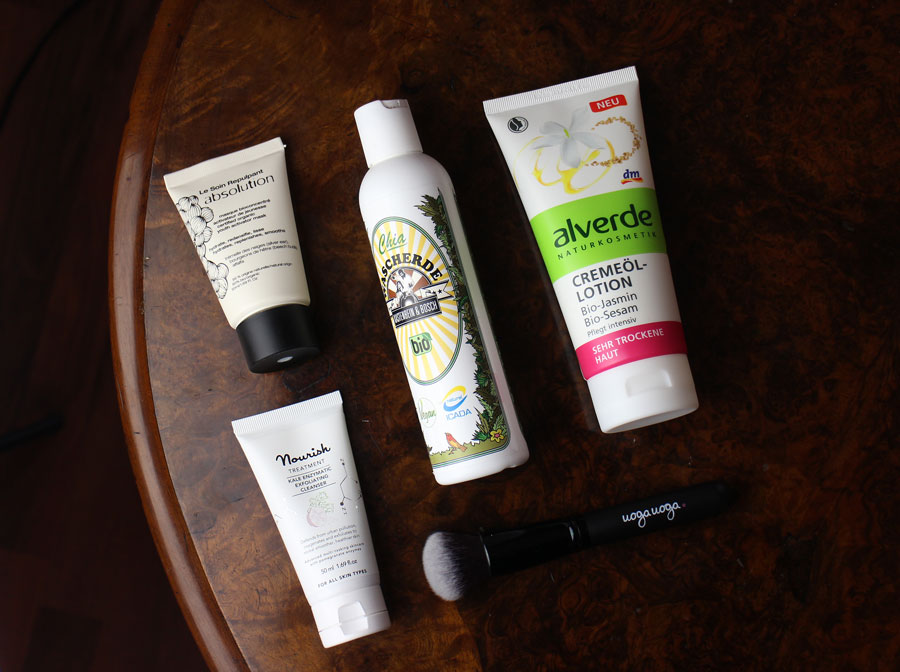 The first section of these Beauty Notes is all about Detoxing! Detox products are everywhere at the moment – probably because it is January and many people have started on their New Year's Resolutions! … Last January I had bought Kure Bazaar's fabulous Kale nail polish so my nails are totally detoxing right now 😉 ! And interestingly enough, quite a few of the new beauty products I tried out over the last months include ingredients that are traditionally used for detoxing – like green cabbage. The Kale Enzymatic Exfoliating Cleanser from UK brand Nourish, for example, actually includes anti-oxidant green cabbage extract. The cream scrub has a light green colour and the texture is a bit like the Cleansing Cream from Dr. Hauschka: the INCI list begins with water and almond flour, followed by glycerin, two plant-based fermented enzymes and kaolin (clay). The Kale Cleanser can be used as a cleansing cream (apply it to the face and rinse it off) or as a mask (leave it on for a few minutes). I use the Kale Cleanser as an occasional face cleansing cream – I have combination skin with a tendency towards dryness so the mask application is a little bit too drying for my skin. The almond flour is really soft, by the way. You can find more reviews of the Kale Cleanser at Amber's Beauty Talk or Ana goes green.
This week I also tried out the Le Soin Repulpant Youth Activator Mask from Absolution (a press sample) which is said to hydrate and redensify the skin. It is a creamy mask which is applied to the skin and left on for 10 minutes; you can either rinse it off or use a tissue to gently remove the cream. The mask is based on water, rose water, glycerin, processed plant oils and snow fungus extract (tremella fuciformis). Snow fungus (a classic plant in Traditional Chinese Medicine) is a very popular cosmetics ingredient in Asia right now; the fungus is more hydrating than hyaluronic acid and also has anti-oxidant properties. The mask left my skin soft, hydrated and somehow it really did feel a little firmer because the ingredients also help to boost the micro-circulation in the skin. If you have sensitive skin I wouldn't recommend this mask since it might be a little too activating for your skin type. I've seen the Youth Activator Mask (one tube contains 50 ml) online at Ecco Verde or All for Eves: the price is 36 Euro.
I've wanted to write about the Cream Oil Lotion Jasmine Sesame from DM's own label brand Alverde for ages. I bought the cream back in September; the ingredients include soy oil, castor oil, rice germ oil, sesame oil, apricot oil, sweet almond oil and sunflower oil, in addition to alcohol, glycerin, plant-based emulsifiers and jasmine extract. The texture is quite thick and initially it leaves a few streaks on the skin but those disappear quickly, the skin feels soft and non-sticky. The fragrance combines notes of jasmine with fruity accords of fig and I'd recommend the lotion for dry and very dry skin types. A 200 ml tube costs 2.25 Euro and it is well worth the money – great job Alverde! The Cream Oil Lotion is available in DM stores and online through DM's webstore.
In my 2015 review I mentioned that I am currently testing a new hair care range: Cologne-based organic hair salon Kastenbein & Bosch has sent me a few products of its new hair care range. I was particularly impressed by the ICADA-certified vegan Chia Cleansing Earth. This is a tenside-free hair cleanser which is based on water, hectorite (a type of clay), chia seed extract, alcohol, essential oils of patchouli and grapefruit and hops extract. First you need to shake the shampoo bottle, massage the brown creamy (and non-foaming) mass into your hair and then rinse it out. I was surprised by how quickly the cleansing clay worked, I've tried out quite a few clay-based shampoos over the years and usually you have to wait for a while until the ingredients go to work. However, with this chia shampoo my hair felt light and clean, I was impressed! A bottle of 200 ml costs 11.34 Euro and can be bought in Kastenbein & Bosch's online store.
Several of my readers recommended the Makeup Brush from Lithuanian brand Uoga Uoga. Just before Christmas I bought the brush through Hilla Naturkosmetik (it cost 13.90 Euro) and it is exactly like Ruth and Petra have said: a solid basic makeup brush which is comfortable to handle. The synthetic hairs are bound up tightly and they are not too long so you can use the brush for mineral foundation but also for powders or blushers – perfect for travelling!
And now I would like to thank the Beautyjagd community for continuing to inspire me with news of interesting beauty products – which I then simply have to buy, too! Earlier this week WordPress sent me the official statistics for last year's comments on this blog and the Comment Queens in 2015 were Petra with 930 comments, followed by Waldfee with 634 comments, Ellalei (616), hazel (545) and Ruth (377) – thank you so much for your amazing and insightful input! Beautyjagd wouldn't be Beautyjagd without your fabulous comments!
And here are last week's most interesting beauty news:
US brand Juicy Beauty is launching a makeup collection which includes a Phyto Foundation and a Primer. More information is available here.
German brand Lavera is launching the limited edition Pastel Notes (which includes an interesting-looking Contouring Powder) in April 2016. Here are some preview pics.
Drugstore retailer Rossmann's own label brand Alterra has launched the Micellar Water Cranberry, here is a picture on Facebook.
[Click here for the original German article Beauty-Notizen 8.1.2015.]
A true beauty classic: cold creams
Winter season is the perfect time for cold creams so I decided to take a closer look at this beauty classic. Not only have cold creams been around for a long time, this type of cream has also appeared in literature across the ages – in French author Gustave Flaubert's Madame Bovary, for example, (mid-19th century) or German novelist Thomas Mann's The Magic Mountain from the early 1920s.
A cold cream is usually a water-in-oil emulsion which means that it is heavily based on oils and waxes. It leaves a protective layer on the skin which prevents moisture evaporation. If you apply a thick layer of cold cream the waxy texture can protect against icy cold, for example whilst skiing or hiking. In France, cold creams are often called Cérat de Galien. The name goes back to Greek physician Galenus (or Galen) who lived in the 2nd century AD. Galenus mixed a cream from almond oil, olive oil, beeswax, rose water and rose oil – essentially a precursor of the modern cold cream. By the way, the term cold cream refers to the slight feeling of coolness when you apply the cream onto the skin and the water evaporates! And of course the formulations of cold creams have changed quite a bit since Galen's time; today there is a wide range of cold creams that are formulated with different oils.
When I typed "cold cream" into Google, one of the first search results was the Cold Cream from German brand Weleda. A perfect example of the modern cold cream: water, almond oil, peanut oil and beeswax. A tube of Weleda's Cold Cream contains 30 ml and costs 6.95 Euro. It is available in drugstores, pharmacies and online.
I've shown the new Cold Cream from Rossmann's own label brand Alterra in my Beauty Notes a few months ago. This cold cream is based on water, olive oil, sweet almond oil and avocado oil, the latter part of the INCI declaration also lists beeswax. No wonder that the cream feels very rich on the skin but it is also absorbed surprisingly quickly. A 50 ml tube of Alterra's Cold Cream costs 3.25 Euro and is available in Rossmann stores or online.
French brand Bio Beauté by Nuxe (the organic sub-range of conventional beauty brand Nuxe) has an entire product range which is based on cold cream: in 2011 I showed the High Nutrition Body Lotion on this blog; like the other High Nutrition products the body lotion contains cold cream. On my last trip to France I also bought Bio Beauté by Nuxe's Ecocert-certified Anti-Tightness High Nutrition Balm with Natural Cold Cream. The product is packaged in a jar and has a surprisingly firm texture which, however, melts very quickly once you massage it into the skin. There is no sticky feeling either so you can get dressed immediately after applying the balm. Very nice! The balm is based on water, sweet almond oil, processed oils, rose water, coconut oil and shea butter, beeswax is listed towards the end of the INCI declaration. The balm is scented with soft notes of almond. A 200 ml jar of the balm costs 21.90 Euro, it is available in many French pharmacies and parapharmacies; quite a few online stores also sell the product.
I bought the Cold Cream L'Originale from Beliflor in an organic supermarket in France. Beliflor comes from the Loire region and has been manufacturing hair care and hair colourants since 1988. The Beliflor Cold Cream has a rich texture and a subtle fragrance which is composed of honey and rose; it leaves a protective, slightly wax film on the skin. I think this cold cream is especially suitable for dry and very dry skin. The product is based on water, sweet almond oil, rose water, glycerin, processed oils and beeswax; it is certified by Ecocert and a 75 ml tube costs 13.50 Euro. The product is sold in organic stores and selected pharmacies in France and online through Monde Bio.
Last but not least I'd like to show you the Cold Cream Hautnah from Heymountain, a small company from the Swabian region in Germany. I came across Heymountain's Cold Cream when I was researching this article: it is a vegan product (no beeswax) and is based on canola oil, water, candelilla wax, jojoba oil, olive oil and soy oil; the fragrance features essential oils of tangerine and mandarine. 50 ml of the Heymountain Cold Cream cost 9.95 Euro; the product is exclusively available in Heymountain's online store.
[Click here for more photos and the original German article Die Cold Cream – ein Beauty-Klassiker.]
It is time for another company profile: back in October I interviewed Katharina Dilger and Andreas Walter, owners of organic perfumery Belladonna in Berlin's Kreuzberg neighbourhood.
For many natural beauty fans in this country, Belladonna is a household name: not only was it Germany's first organic specialist beauty retailer, but the store was also the first organic perfumery in Berlin. I've known Belladonna for a long time; around four years ago I featured the store in my Walk Through Berlin (German only, sorry). And when the owners of Belladonna approached me about a possible interview and store profile on Beautyjagd, I was happy to agree to this Sponsored Post.
Belladonna has a very interesting history: In 1990, one year after the Berlin wall came down, sisters Katharina and Barbara Dilger took over an organic store from Elfriede Dambacher (today Elfriede Dambacher runs market research agency Naturkosmetik Verlag and she also organizes the Natural Cosmetics Conference each year). The two sisters decided to focus entirely on organic cosmetics, delisted all other product groups and Germany's first specialist retailer for organic beauty was born! Belladonna is still in the same location, Bergmannstrasse street in Kreuzberg.
And now I have to go into a bit of local history! In 1990, Berlin was still very much divided into an Eastern and a Western part although the Wall had fallen a year ago. Remember, the Berlin Wall ran straight across the city and Western Berlin was essentially an island, surrounded entirely by the German Democratic Republic (GDR). Kreuzberg was based right in the middle of West Berlin and throughout the time of the Cold War up until the early 2000s, it was one of the most alternative and politically left-oriented neighbourhoods in Berlin. As a result, Kreuzberg was also the epicentre of Berlin's green/eco community, making it an ideal location for a store selling organic cosmetics (very unusual at the time!). Today Bergmannstrasse has changed its character entirely; the area has become very popular amongst young international tourists and hipsters. And the stores located along the street reflect this changing demographic – but Belladonna is still there!
Anyway, back to Belladonna's beginning: soon after the sisters had taken over the store, Katharina Dilger's friend Andreas Walter, a political scientist, joined the team and in 1992, Barbara Dilger opened a Belladonna branch in Freiburg (Southern Germany). Today Belladonna's Berlin team consists of Katharina Dilger, Andreas Walter and two employees.
Belladonna's portfolio include classic German organic brands like Dr. Hauschka, Annemarie Börlind, Weleda, Logona, Lavera, i+m Naturkosmetik, Santaverde, Martina Gebhardt, Primavera, Sante, Speick, Kneipp, Cattier, Lakshmi, Farfalla and Tautropfen. The store also retails Melvita, Intelligent Nutrients, Zuii, Benecos, Florascent, Eco Cosmetics, Yverum, Oliveda, Khadi, Bioturm, Regulat Beauty, Monoi Tahiti and some L'Occitane products (one of the few non-organic beauty brands in the store). Customer can also book Dr. Hauschka and Annemarie Börlind beauty treatments.
Katharina Dilger has been working in the organic beauty industry for more than 25 years and as a retailer, she has seen trends and brands come and go. She has some interesting stories to tell! One of the bestselling products in the early years were aromatherapy products and essential oils, for example. Katharina says that at Christmas time especially, Belladonna sold a lot of essential oil burners. Since then, the demand has flattened a bit; many people today have essential oil diffusors or aroma lamps at home, and aromatherapy has become part of the mainstream. Another top seller at the beginning were the lipsticks of Italian brand Nouba. At that time, makeup and colour cosmetics were a very small part of the organic beauty market; there were few organic makeup brands around. And although Nouba wasn't certified organic, the lipsticks were popular simply because there wasn't much consumer choice. This has also changed over the last twenty years; today most German organic brands also offer a makeup range and there are various organic colour cosmetics brands on the market.
Katharina also says that Belladonna's customers used to be very critical about the ingredients in organic beauty products. At the same time, they were quite relaxed about the actually product quality, the generally short expiration dates and boring packaging designs; the ingredients of a product were much more important than a pleasant fragrance or comfortable texture. This has changed completely, Katharina says. Today's customers are very demanding. They are happy to pay money for good products but at the same time they expect high quality, efficiency and stylish packaging. As far as ingredients are concerned, she says, customers are still critical but today they are more relaxed and less dogmatic. Many consumers are happy to compromise: perhaps they use only certified organic products for their face care but their favourite fragrance might still be based on synthetic ingredients.
Around ten years ago Belladonna launched an online store. The webshop offers a wide selection of products (including the entire product portfolio of Dr. Hauschka) and each parcel will always include some product samples, so customers can try out new brands. P&P costs 3.95 Euro and orders are shipped within 24 hours by Fedex and DHL (within Germany, for international shipping more information can be found here). If your order is more than 125 Euro or 150 Euro you receive a discount. Payment options include credit card, debit card and Paypal. If you have a German bank account you can also pay via direct debit or invoice.
And finally, there is a special goodie for Beautyjagd readers: 10% off an order through Belladonna's online store – simply enter the code "beauty" when you are placing your order. Only one discount per customer. This offer is valid throughout 29th February 2016.
[Click here for more photos and the original German article Fachgeschäft für Naturkosmetik: Belladonna in Berlin.]
A couple of days ago I had an appointment with the dentist (my last remaining wisdom tooth is now gone) and it's still a bit painful. I feel sort of under the weather at the moment – and this is perhaps one of the reasons why I've burned a lot of incense this week 😉 . For Christmas I had bought myself the incense set Les Petites Sagesses from French brand Douces Angevines. These are neither sticks nor cones; instead the incense is a 100% plant-based powder: you mix with a little water and place the liquid paste on an incense burner (the type with a tealight or other candle inside). The heat from the candle gently warms the incense mixture which results in a very soft fragrance – no smoke or anything, just pure scent. After around 20 minutes the water has evaporated and you blow out the candle. The two incense powders are called Hozo (purity, to be at one with the world) and Nour (connection, light): they are based on milled plants and resins. Hozo has a fresh, herbal fragrance (it contains sage, wormwood, cedar needles, resins and myrrh); Nour is a little more floral with a combination of rose petals, juniper, frankincense, benzoe, myrrh and styrax. Two beautiful compositions! In Germany you can order Les Petites Sagesses at Naturdrogerie, for 39.00 Euro. You can chose between a white and a black incense burner.
Once again I was impatient and ordered two of the three new creamy Eyeshadows from Studio 78 Paris from French online shop Mon Corner B (they cost 23.00 Euro each) – and I like them so much that I have already ordered the third shade! I didn't have the time for an extended test but can already tell you that the texture is fabulous: matte, not greasy at all, with medium pigmentation and completely without shimmer or glitter. The INCI list is nice and tidy, too: the eyeshadows are based on processed olive oil, corn starch, silica and squalane. I had ordered shade 02 À Venise which is a medium-toned taupe with strong violet undertones (I would have preferred a little more brown-grey) and shade 01 À Paris, a medium rosewood-dusky pink. As soon as I have received 03 À Prague (the third shade) I will publish a separate article (with swatches and more detailed descriptions) about the three new eyeshadows.
In last week's Beauty Notes I already mentioned that drugstore chain Rossmann's organic own label brand Alterra has launched a Micellar Water. I immediately went to my local Rossmann and bought the cleanser. The ingredients are vegan; the micellar water is based on water, alcohol, glycerin and two sugar-based tensides. It comes with a fruity fragrance which is too strong for my personal taste. Fellow blogger Erbse from kosmetik-vegan.de recently posted a more detailed article on micellar cleansers (German only, sorry!). In France, micellar cleansers have been popular for years; almost every beauty brand (conventional or organic) offers at least one micellar water. I like the Eau Micellaire Argan from French brand So'Bio to remove my eye makeup. In Germany there are still only a few organic brands that offer micellar cleansers and Alterra is the first organic own label brand to do so. The Alterra Micellar Water removed my eye makeup quite well although I noticed that my eyes burned a little bit when I tried to remove my Avril mascara with it. Removing the marie w. mascara, however, worked well. I think it is great that Alterra offers such a trend product – and at the low price of 2.25 Euro!
Is anyone here a fan of violet fragrances? If so the Violet Shower Gel from Born to Bio might be a good choice for you! I've been a big fan of this shower product ever since I brought it back from Mademoiselle Bio store on my last Paris trip. Born to Bio was one of the first French organic brands that I wrote about on my blog – back in 2011 I was on a camping holiday in Provence, and that is where I first came across the Ecocert-certified brand. The packaging looks like the bottle of a soft drink (it actually says "do not drink" on it!) and the violet fragrance is heavenly! Makes me wish that spring was already here 😉 . In Germany you can buy the shower gels through Ecco Verde for 5.99 Euro each; there are different fragrances – next week I'll show you another shower gel variant.
Back in October I visited the offices of organic online perfumery Amazingy and was given the Lip & Face Balm from US brand Kahina Giving Beauty. This balm is ideal for the winter season: in the morning I apply it as an extra moisturizer on top of my face oil or face cream; during the day it is the perfect lip balm. The ingredients include olive oil, argan oil, beeswax, coconut oil, shea butter and mango butter but the formula also contains a number of anti-inflammatory plant extracts and essential oils (such as calendula, strawflower and Blue tansy). I particularly like the texture; it's a nice balance between oily and waxy and looks almost velvety on the skin – not shiny or greasy at all! A great all-round skin care balm which, however, is not cheap: it costs 43.95 Euro for a glass jar of 11 gr.
And these are the most interesting organic news of the last week:
German brand Myrto Naturals had announced the launch of a regenerating face mask; more information is available on the home page.
Rossmann's own label brand Alterra will introduce a volume hair spray with shellac (non-vegan) – more info can be found here.
And French brand UNE Beauty is launching four Matte Lip Stylo Rouge Idéal lipsticks. More information is available here.
[Click here for the original German article Beauty-Notizen 15.1.2016.]
Good-bye everyone and see you in two weeks!
Julia