Dear international readers of Beautyjagd,
Welcome to the next English-language edition of Beautyjagd! This is a condensed version of the most important articles that have appeared on my blog over the last three weeks. For more information about this new format, click here. And now: enjoy the best of Beautyjagd in English!
Best wishes
Julia
Hello everyone and welcome to the next installment of Beautyjagd in English!
Do you like chamomile? I love it; especially chamomile tea which I drink every single day. My favourite brands include organic tea Drei Kamille from UK brand Pukka (this tea contains three types of chamomile: from Egypt, from Croatia and from Hungary!) and the Chamomile & Vanilla tea from Higher Living, another UK brand. Recently I even came across a study in French magazine Votre Beauté which claimed that women who regularly drink chamomile tea live longer. Or rather, that regular consumption of chamomile tea decreases female mortality by 29%. Fabulous! Not only does chamomile tea taste great but it is also good for you 😉 . So I thought it was high time for an article on chamomile cosmetics!
German chamomile (Matricaria recutita) is a healing plant that has been used in European herbal medicine for centuries. Its anti-oxidant, relaxing and anti-inflammatory properties are well-researched and many cosmetics products contain chamomile extracts – like the Hand Cream from German Demeter brand Martina Gebhardt (one of my favourite hand creams!), the soothing Kamille Borretsch (Chamomile & Borage) eye cream from German organic aromatherapy brand Primavera or the products of Japanese beauty brand Kamitsuren.
A few months ago I received the Chamomilla Kamillenöl Creme from Inkarna, a small German company located in Upper Bavaria. Inkarna is planting and harvesting German Chamomile on its own farm and the essential oil is distilled from the chamomile plants directly after they are harvested. Just like yarrow essential oil, the essential oil of the German chamomile has a fabulous deep blue colour. The colour develops during the distillation process when the chamomile's active ingredient matricin is changing into chamazulene. Like bisabolol (which is also included in Inkarna's creams) chamazulene has strong anti-inflammatory properties. Together with pharmacist Dr. Manfred Fischer, Inkarna has developed two BDIH/Cosmos-certified products that are based on German chamomile: the lotion and the cream both contain the essential oil (they are also tinted a very light blue!) and have a gorgeous herbal chamomile scent. The Inkarna lotion has a light texture and is also recommended as an after-sun lotion. The cream is based on water, soy oil, glycerin and sweet almond oil, so it is more moisturizing than the lotion but still feels very light on the skin. Besides the chamomile oil, cream and lotion also contain lavender oil and oryzanol (an anti-oxidant which absorbs UVA and UVB rays) and are packaged in airless dispensers. You can buy the Inkarna products in selected farm stores or through the company's own website; the cream is priced at 18.95 Euro, the lotion costs 14.95 Euro.
The Naturdrogerie recently sent me the Chamomile Water from Alteya Organics, a Bulgarian brand. I love the aromatic fragrance of this toner which is reminiscent of sun-dried grass! Although the floral water doesn't contain chamazulen it still has a soothing effect on the skin. Aromatherapy expert Eliane Zimmermann recommends chamomile water for skin suffering from rosacea, inflamed or sun-burned skin. The Alteya Organics toner is alcohol-free and does not contain preservatives, it has been certified by USDA and 100 ml cost 9.90 Euro.
And of course you can easily upgrade your own face oil with essential chamomile oil – just use my recipe for yarrow oil (German only, sorry!). You can buy essential chamomile oil from organic aromatherapy brand Primavera, Alteya or from Swiss brand Farfalla; my little bottle comes from Aroma Zone store in Paris. Make sure you order the right kind of chamomile oil: German chamomile is the one with the blue colour, Roman chamomile (which is also often used in cosmetics) has an entirely different composition of ingredients. [Click here for the original German article Naturkosmetik mit Kamille.]
Organic niche beauty from France
Last summer I published a Shopping Guide for organic cosmetics from Italy in cooperation with online store Ecco Verde. Since the Italian article was very popular with my readers I decided that I would do a similar sponsored post; this time on organic niche beauty from France. Enjoy!
♦ Let's start with La Brume Systémique from Absolution (press sample), a brand from Paris which I have featured on Beautyjagd several times already – like the tinted day cream or the mask formulated with Chinese fungus which I introduced to you a couple of weeks ago. The face spray La Brume is a two-phase product and it's fabulous! The watery phase is a floral tonic which contains water, orange blossom water, witch hazel water, geranium water and linden blossom water. The oily phase is based on sunflower oil, processed oils, almond oil, evening primrose oil, rosehip oil and wheat germ oil; it also contains chlorophyll so the oily layer is tinted a beautiful green. Shake the spray before use and then mist it lightly onto your face – delicious! Three spritzes are quite enough; the spray is moisturizing and the skin feels fresh and hydrated afterwards. And the scent is a subtle composition of orange blossom and green notes. On days that I wear little makeup (for example, when I'm working at my desk) I use La Brume during the day for quick refreshment. A plastic flacon with spray nozzle contains 125 ml and costs 36.99 Euro at Ecco Verde.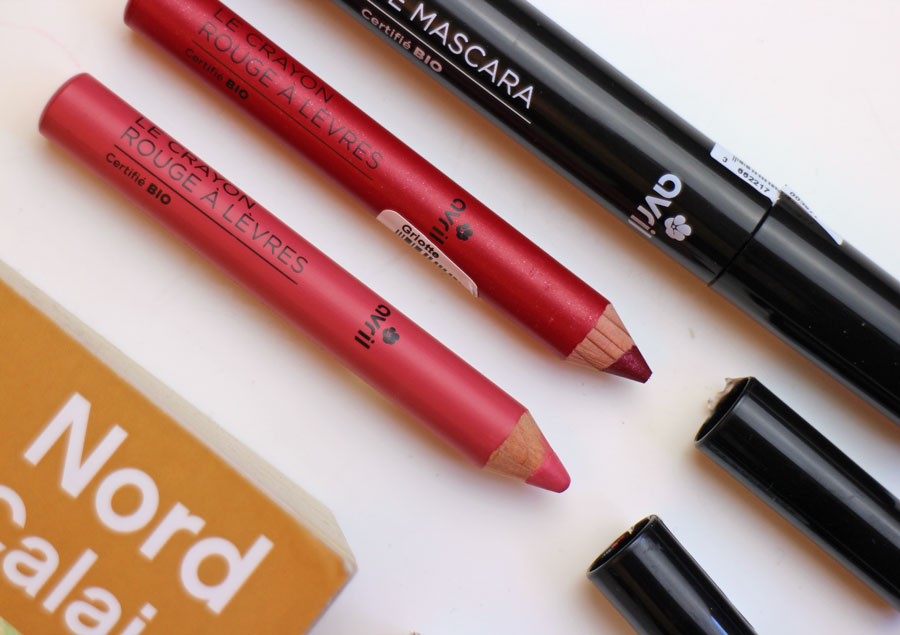 ♦ I already mentioned the mascara from Avril in my Beauty Notes from 15.01.2016; it is one of the brand's bestsellers in France. Avril is based in Roubaix (a small town near Lille in the North of France) and today I want to show to you their new Le Crayon Lipstick Jumbo Pencils. As the name indicates, these are thick lipsticks pencils which are available in seven different colours. Last summer I bought the Le Crayon in shade Rose Charme (on the left side of the pic) after reading about it on various French beauty blogs. The pencil in shade Griotte (right hand side) was sent to me by Ecco Verde. The Le Crayon have a nice soft texture and both are highly pigmented: Rose Charme is a peachy rosé with white undertones and a matte to satiny finish (no shimmer or glitter). Griotte is a deep cherry red with blue undertones and very subtle shimmer particles (you barely notice the shimmer on the lips, however). The texture is light and hydrating but not sticky – it is not particularly long-lasting but very comfortable to wear! Le Crayon is based on jojoba oil, castor oil and sunflower oil; they are certified by Ecocert and scented with a light, fruity fragrance. One lipstick cost 3.99 Euro at Ecco Verde.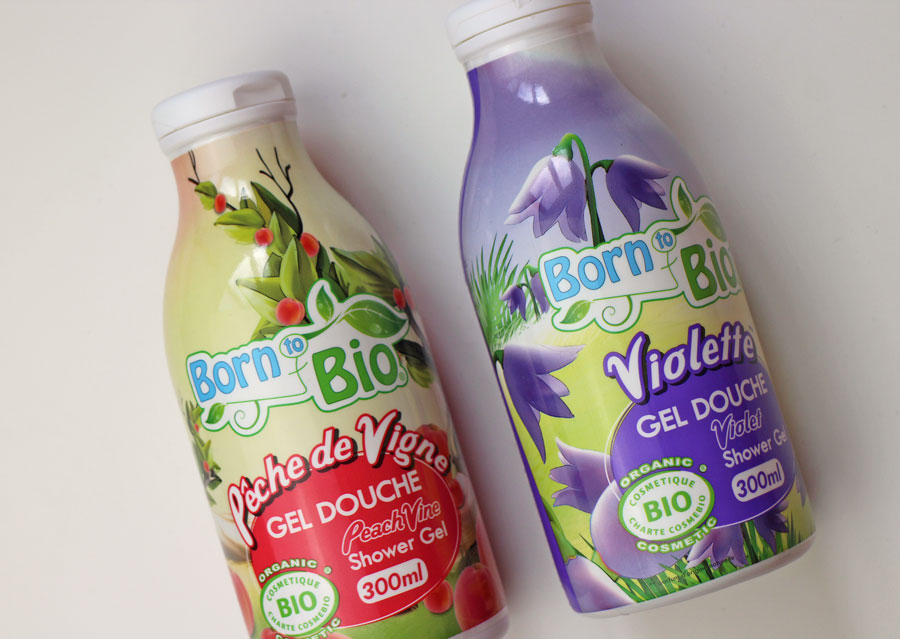 ♦ "Do not drink" – this is not the kind of warning you usually see on a shower gel! However, in the case of Born to Bio's shower gels it is totally appropriate; the packaging makes the shower gel look like a soft drink or a smoothie 😉 . Altogether there are 19 (!) different Born to Bio shower gels which include some mouthwatering variants – the Shower Gel Pêche de Vigne, for example, is scented with a beautiful peach fragrance. The texture is great (not to liquidy and not too thick either!) and the product is based on water, Douglas fir tree hydrosol and ammonium lauryl sulfate (you wouldn't find this tenside in German organic cosmetics – in France, however, it is a common ingredient in organic beauty since it is Ecocert-certified). The fragrance is completely natural and the shower gel really does smell like ripe peaches, not too sweet and not at all artificial. Very impressive. I first wrote about Born to Bio back in 2011 (click here for my article on the brand's deodorant and body lotion) and just last week I showed you the Violet shower gel in my Beauty Notes. Check out the entire shower gel range at Ecco Verde. A bottle of 300 ml is priced at 5.99 Euro.
♦ A few months ago Florame (a beauty brand from the Provence region of France) launched a product range scented with jasmine. I love the scent of jasmine and when I visited Florame's boutique in Paris back in December I simply had to buy the Jasmin Dry Oil! Florame is based in the town of St. Remy de Provence and specializes in essential oils (I already wrote about their Room Spray Zen Hiver, the fragrant Christmas Tree and the innovative USB Diffuseur). However, they also have a skin and body care range. The new Jasmine range includes a soap, an Eau de Toilette, a hand cream, a body lotion and the body oil. The Jasmin Dry Oil is packaged in a glass bottle with a spray nozzle; it is based on processed oils, jojoba oil, sweet almond oil, apricot kernel oil and argan oil so the texture is completely non-sticky and the oil is absorbed very quickly into the skin, like the dry oils from Nuxe, Caudalie or Melvita. The jasmine fragrance isn't heavy at all; it is soft and floral (quite summery really) but still stays on the skin. I think the Dry Oil would also work as a hair oil for longer hair. A flacon contains 100 ml and costs 23.95 Euro at Ecco Verde.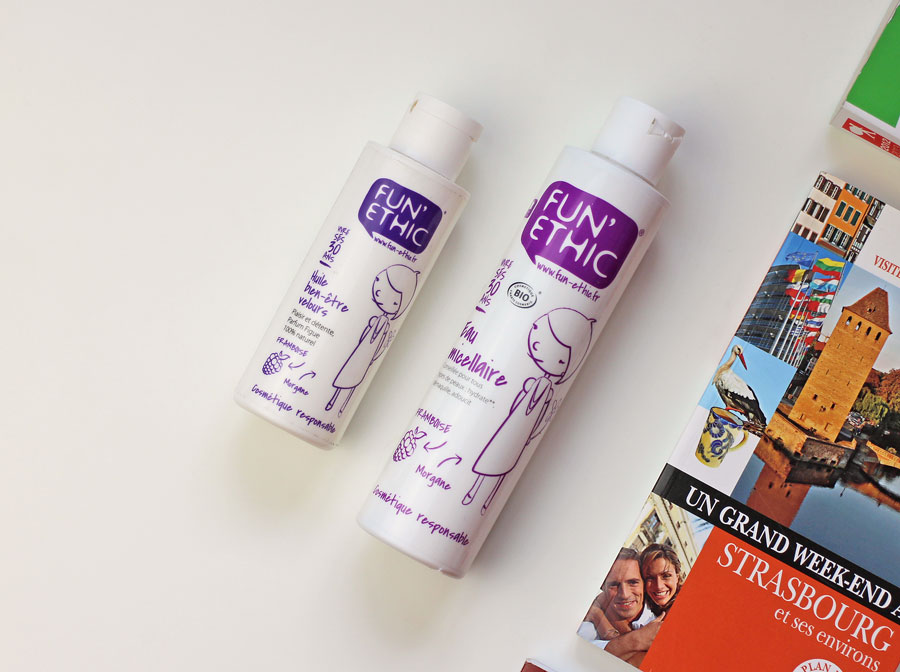 ♦ Do you remember my Beauty Telegram from Navarrenx in summer 2014? I had bought a fruity body oil from Alsatian brand Fun'Ethic in a supermarket. Fun'Ethic offers affordable organic cosmetics for younger women: their product range is divided into the age groups Teenies, 20s and 30s. Since I no longer belong to any of these categories I simply use products from all three ranges! The Micellar Water Vivre des 30 ans is based on water, green tea and rose water; it also contains a little glycerin, a sugar tenside and extracts of raspberry and barley which are said to have anti-oxidant properties. I use the micellar water to remove my eye makeup which works really well: it doesn't burn, you don't have to rub and the skin doesn't feel dried out at all. The micellar water is fragrance free, by the way, but still smells a little fruity. The French simply know how to make micellar waters! A flacon of the Eau Micellaire contains 200 ml and costs 6.99 Euro at Ecco Verde.
♦ The products of niche brand Indemne are manufactured in Toulon near the Côte d'Azur. I have already written about Indemne's Eau de Génie (a fabulous hydrosol mixture) – I really like the concept of the brand! Today I want to introduce the Gimme Clean! Ultra Soothing Lotion for irritated skin. Despite the term "lotion" this product is really an oil which can be used on face, body or scalp. The Ultra Soothing Lotion doesn't contain any water; instead it is based on processed oil, apricot kernel oil and squalane as well as essential oil of Roman chamomile (anti-inflammatory), anti-bacterial coriander seed oil and juniper oil which is traditionally used for excema and irritated scalps (juniper oil is anti-bacterial, anti-fungal and anti-viral). The oil has a barely noticeable fragrance and is absorbed quickly. You can use it as a lotion on irritated skin patches or as a scalp treatment; it is also said to help against itchiness (since my scalp/skin is fine I couldn't test this aspect of the Soothing Lotion). A pump dispenser glass flacon contains 50 ml and costs 22.79 at Ecco Verde (you can also order a travel size if you want to try the product out first).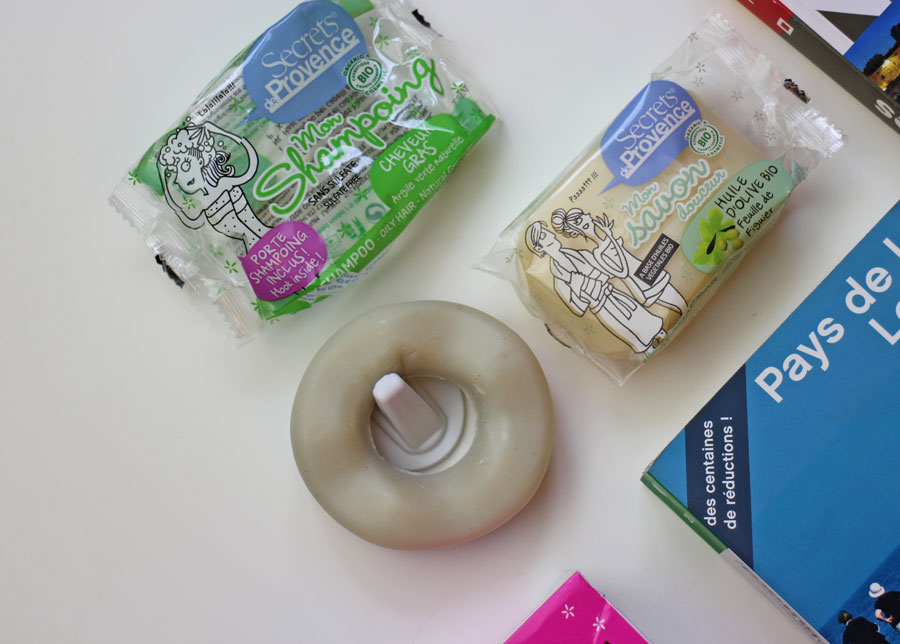 ♦ The next product is a solid shampoo shaped like a ring! The brand is called Secrets de Provence although the company isn't based anywhere near Provence (it comes from the Loire region). I already introduced Secrets de Provence's powder shampoo in this post here (I also mentioned it in my annual review). The Solid Shampoo from Secrets de Provence is available in variants for normal, oily, dry and dandruff-afflicted hair: it comes in a tin but also has a small hook so you can attach it to a wall in your shower or bath. The shampoo is based on an anionic tenside: you rub the ring across your wet hair (it feels a bit like a scalp massage since the shampoo ring has little bumps) and then massage the foam into your scalp. The shampoo foams up really well; I tried the variant for oily hair (it has a subtle minty-woody fragrance) and was very pleased with it – my hair felt clean and it only started to become greasy again after three days which is the usual time span for my hair after using a good shampoo. The only thing I didn't like was the hook which didn't last long on my bathroom wall – it might have been the heat and moisture from the bath tub: all of a sudden it simply fell off the wall. It's probably better to store the shampoo ring away from your bath tub or shower cabin. The Solid Shampoo from Secrets de Provence weighs 85 gr and costs 6.99 Euro at Ecco Verde.
♦ Finally I'd like to take a look beyond the borders of France 😉 . Although French niche brand Najel is based near Lyon, most of their products are manufactured in Syria (their Aleppo soaps, for example). The Dead Sea Mud comes from Jordan: the tin contains 300 ml greeny-brownish-grey mud (you might have to stir the thick mass before using it), which smells like minerals and a little like sulphur. You apply a medium-thin layer of the mask and leave it on for 20 minutes (it doesn't really dry, only hardens a bit). Afterwards you rinse the mask off with water. I was impressed by how soft and silky my skin felt afterwards (it lasted all through the next day). I guess my skin really likes the minerals and salty sea water! Sea mud is also used to treat rheumatism, psoriasis and even bruised skin. Which reminds me: if you have very sensitive skin you should try out the mask first on a little patch of skin – remember that Dead Sea water has a very high salt content. A tin of Najel's Dead Sea Mud costs 9.49 Euro if you order it through Ecco Verde.
[Click here for the full INCI and the original German article Naturkosmetik-Nischenmarken aus Frankreich.]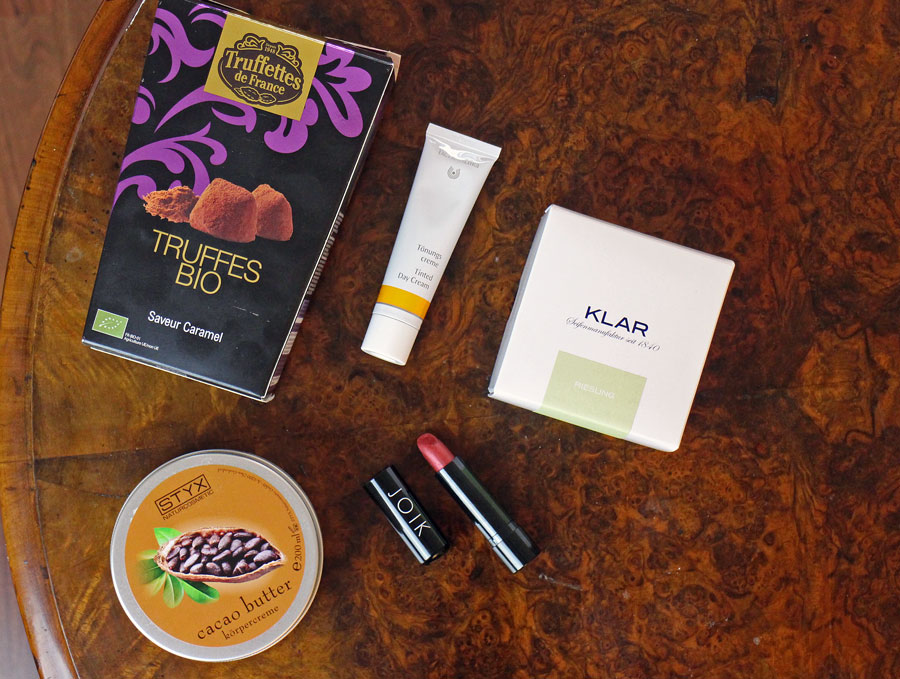 After a very quiet weekend (thank you, former wisdom tooth!) this week was dominated by icy cold and indulgence: chocolate, wine and rich skin care products are the perfect combination to treat a bad mood 😉 . On the picture you'll see the Organic Caramel Truffles from Truffettes de France which supermarket retailer denn's sent me for Christmas (chocolate treatment from the inside)! My outside was pampered by Cocoa Butter Body Cream from Austrian brand Styx (a press sample) which is a body lotion packaged in a tin. The chocolaty fragrance is fabulous, it stayed on my skin for several hours and I had to keep smelling my arms because the rich notes of cocoa were so delicious! The Ecocert-certified body lotion is based on water, squalane, glycerin and processed oil; cocoa butter is listed in sixth place in the INCI declaration. The percentage of organic ingredients isn't particularly high but the gourmand scent is perfect for winter time (I think it'd be too overwhelming in the summer). If you like chocolate, this body lotion is for you! A tin contains 200 ml and costs 14.99 Euro. The Styx website has a shop finder; in Germany there are several organic supermarket chains which carry Styx cosmetics.
I've mentioned wine, right? This was another external beauty treatment, by the way 😉 . The product portfolio of German soap manufacturer Klar from Heidelberg includes two wine soaps which are based on the grape varieties Riesling and Spätburgunder. I've already shown you the Riesling Soap in my Christmas post – it's a big, round and creamy-yellow bar soap which is easy to grip and smells like…well, like soapy, fresh and sparkling white wine? It's really difficult to describe! The fragrance is very elegant though, not sweet or fruity at all. The soap is made with saponified palm and coconut oil from organic agriculture and it also contains grape kernel extract and Riesling which is cultivated in the Heidelberg region. I bought my Riesling soap (150 gr) for 8.99 Euro at Vegane Pflege's online store; you can also order the soaps at the Naturdrogerie. I think this would be the perfect gift for someone who loves wine!
Ever since the weekend we've had icy cold in Nuremberg – even during the day temperatures were below freezing. So it was the perfect time to try out my press sample of Dr. Hauschka's Tinted Cream! The company has relaunched its product formula; the Tinted Cream is now a little more pliable than before but it still has a nice rich creamy texture – a bit like a BB cream really. In 2012 I had compared different tinted day creams, with swatches and so on – you can check out the article here (German only, sorry). The new Tinted Cream from Dr. Hauschka still has a light, neutral shade; it evens out the skin tone rather than cover it up. The product is based on water, almond oil, peanut oil, avocado oil and quince extract (there is no alcohol). Somehow it reminded me a bit of the cold creams I wrote about last week: the Tinted Cream contains almond oil, rose water and some beeswax (classic cold cream ingredients!). A tube of 30 ml costs 21.00 Euro and the product will be available from February 2016.
When it's really cold outside I prefer a combination of colour and care for my lips. A few weeks ago I ordered the Silky Lipbalm in Velvet Red from Estonian brand Joik. I wear it often; the texture is nicely balanced between oily and waxy (the fragrance-free balm is based on beeswax, babassu oil, avocado oil and castor oil) and it has a shimmering reddish colour which is clearly visible on the lips. Joik's lip balm range also offers two other colours: a pastel pink and a mocca brown. The Silky Lipbalm costs 7.90 Euro for 7 gr and you can buy it at Hilla Naturkosmetik or Najoba.
And here are the most interesting beauty news and product launches from last week:
Swiss organic luxury brand Ananné has launched four new hair and body care products: Serium Bodylotion, Claritas Hair Shampoo, Lavatio Shower Gel and Amicio Hair Conditioner. More information is available here.
French brand Absolution has also launched a body lotion and a shower gel. For more information, click here.
US brand RMS Beauty has announced the launch of a new multifunctional product: the rosé-golden tinted Master Mixer. More information is available here.
At Vivaness trade show, German aloe vera brand Santaverde will introduce two new products in the Age Protect line: a serum and a tinted fluid. I can't wait to try them out!
And drugstore chain DM's organic own label brand Alverde has announced a limited edition gift set for Valentine's Day. The set includes two eyeshadows, a lipgloss and a shimmer powder. It will be available from 4.2.2016 in all DM stores and the price is 6.95 Euro.
US brand W3II People is launching a new Bio Correct Multi-Action Concealer which has a foam texture. More information is available here!
[Click here for the original German article Beauty-Notizen 22.1.2016.]
Jobs in the organic beauty industry (10): Product Manager for raw ingredients
Finally, a new article in my blog series "Jobs in the organic beauty industry"! I started this article series back in 2012. At that time I had received several reader enquiries; it seemed that there was a lot of curiosity about how the organic cosmetics industry works. And I always like an opportunity to look behind the scenes! So I began to interview people who work in the organic beauty sector: I'd ask them to tell me about their jobs and what a typical work day might look like and they usually also talk a bit about their industry. My interviewees come from different areas: retail, manufacturing, production, suppliers, brands, marketing, sales, distribution…it's always interesting to find out what other people do for a living!
Previous posts in this series have included interviews with a procurement specialist at aromatherapy brand Primavera and the production manager of Demeter brand Martina Gebhardt; I've also had the opportunity to interview a PR specialist at organic marketing agency carl.com and the CEO of Santaverde. So far there have been nine interviews (all interview partners were women, interestingly enough!).
And here follows the tenth installment: 32 year old Silvana Estarita is a Senior Product Manager at organic raw ingredients supplier Dr. Straetmans. I met Silvana two years ago when I visited Dr. Straetmans' factory in the Hamburg area. And she was kind enough to let me quiz her about her job!
1. How did you start working at Dr. Straetmans?
It's been an interesting journey so far! I am a chemical engineer and have always been interested in cosmetics. When I was still a student I worked as an intern at Beiersdorf [the manufacturer of the world-famous blue and white Nivea cream!] which was a fascinating experience. I learned a lot about ingredients and how cosmetics are manufactured. After I graduated I was looking for a more communicative job but I still wanted to work in the cosmetics industry; especially in the ingredients sector. And that is how I joined Dr. Straetmans. First I worked in Dr. Straetmans' German sales division for three years. Then I was asked to oversee our Latin American distributors (I'm originally from Columbia) in addition to the German business. And after five years in the sales sector I was appointed to Product Management, a fairly new department at Dr. Straetmans. We have three people working there are the moment, and we are expanding our department bit by bit.
2. What exactly do you do as a Product Manager?
I guess you could describe me as an information broker: I am responsible for assembling and maintaining all of the technical information we have on file for our 71 products. When I am talking about products I mean raw ingredients, by the way. One of the most important tasks is the coordination of new product development which we present at international trade shows like In-Cosmetics. It can take up to a year or even longer to develop a new ingredient; it depends on how much research and work needs to be done in application technology and/or our chemical laboratory. To market the ingredients my department is also responsible for drafting the copy that is used in ads, banners, brochures and catalogues. For example, in our customer catalogues we describe the texture or viscosity of our emulsifiers or we outline the basic formulae of our milks, lotions or butters to inspire our customers – it's really interesting and I enjoy writing this type of text. It's the perfect combination of creativity and technical information!
We also develop training methodologies and seminars for our colleagues so everybody is always informed about our new products and the technology behind it. And although I don't travel as much as I did when I was working in sales, I still visit the most important trade shows, conferences and industry events.
3. What is the structure of a typical work day?
At Dr. Straetmans we have core working hours of 8.30am to 5.15pm. I usually start my work day at 8.30am and work in the office until around 6pm. I attend a lot of meetings, usually at least two per day. I meet up with colleagues of other departments to discuss new research and product development; I also meet up with my own team to discuss who will be doing what and to make sure that everyone is aware of the latest status updates. And of course I spend a lot of time at my desk, answering e-mails, writing copy and working on presentations. I really like the communicative aspect of my position!
4. What is your favourite part of the job?
What I like about my work is the combination of technology and marketing: making abstract and sometimes obscure technical information understandable. And I love the communication with other departments like Application Technology, Regulatory Affairs, Quality Control, Marketing and Sales, Distribution… This keeps me up to date about what is happening within the company and our industry. However, sometimes I miss having direct interaction with our customers – that was one of my favourite aspects about working in the sales sector.
5. Is it important for you to work in the organic cosmetics sector? Do you see any differences between the conventional [i.e. non-organic] and the organic industry?
It is very important to me to work in the cosmetics industry – and within this sector, I do prefer the organic beauty industry. Since I worked for Beiersdorf before joining Dr. Straetmans I am familiar with both sides of the cosmetics industry. And in my experience the organic industry is more emotional and somehow more individualistic than the conventional beauty sector.
6. And what is your favourite beauty product?
Oh, that is difficult to answer; I like so many different products and brands! My favourite brands include Lavera, Weleda and Kneipp – but if I had to decide on one single product, it would probably the Clarifying Day Oil from Dr. Hauschka.
[Click here for the original German article Berufe in der Naturkosmetik-Branche: Produktmanagerin für Rohstoffe.]
It's been a difficult week: we've had some unannounced power cuts in our building which meant no Internet or telephone, the hot water kettle didn't work (no tea!!!), we had no warm water and so on. Made me realize how dependent we are on electricity! Also, for several days our flat was without heat – very unpleasant! But at least I finally bought a new desk chair which will hopefully help to improve my posture whilst writing. And perhaps also help to reduce my neck cramps. However, there were also some pleasant things last week 😉 . My reader Petra sent me a beautiful little Japanese fragrance sachet from beauty salon Ryoko in Berlin. You put the sachet in your business card holder and it subtly scents your business cards. What a fabulous idea! At Vivaness trade show next month I will hand out jasmine-scented Beautyjagd cards 😉 .
I've been using my new shopper bag from French supermarket Naturalia ever since I bought it during my trip to Paris last December. The bag is made from thick cotton wool and the designs were created by two well-known French street artists – there are two different designs (check them out here: one is by Stew, the other by Kashink) and I was lucky enough to buy Stew's bird design before they were sold out. The proceeds from the sale of the bags go towards a French charity that helps supply poor households with food. I love the bird design: for me it symbolizes what I want to do in 2016 – stretch my wings and discover new horizons! I also like the fact that Stew and Kashink painted the iron roller blinds of ten Naturalia stores in Paris.
My new blog post for organic supermarket retailer denn's (German only, sorry!) is all about how I take care of my skin in winter time. I'm also outlining my five key strategies for handling skin that is stressed out by cold and dry indoor heat! Enjoy the article!
I recently discovered the plastic wrap (also called cling film or saran wrap, depending on where you live!) from French household products brand ah!table! in my local supermarket. The cling film is made without phthalates or bisphenol and it is oxo-biodegradable. This is not quite the same as "normal" biodegradability (I had to research this as well!): oxo-biodegradable means that the cling film contains ingredients that help to break down ("degrade") the foil when it is exposed to heat or light. Like conventional cling film, the ah!table! plastic wrap also contains polyethylene. Manufacturing organic household products seem to be a tricky business! Luckily my cling film roll should last me for at least a year.
I'm currently testing the new Regenerating Beauty Mask from Myrto Naturalcosmetics which I received a couple of weeks ago. I've only used the mask twice so far but I know that many of you are curious about this product, so here are some first impressions! The mask is a creamy paste which is based on water, shea butter, kaolin (white clay), grapeseed kernel oil and evening primrose oil. It is packaged in an airless dispenser: you apply a thin layer onto cleansed skin and leave it to work for 15 minutes. Then you can either rub off the mask gently (it turns slightly rubber-like while it is drying) or rinse it off with water. I actually did both: first I started to rub it off but after a while I became impatient and simply rinsed it off. And I think this is a pretty good strategy: it has a very gentle exfoliating effect on your skin and after you've rinsed the mask off, a very thin moisturizing film is left behind. It's perfect for my skin which is really dry at the moment! I'd describe the mask as a skin-firming clay mask which, however, also hydrates and protects the skin more than clay masks usually do. You can buy the mask online at Myrto's online store; the flacon contains 50 ml and costs 27.50 Euro.
I've been using the Bio Damascena Organic Restoring Eye Serum from Bulgarian beauty brand Alteya Organics for over two weeks now. It is an eye care oil which was sent to me by organic beauty store Naturdrogerie. The oil is based on several plant-derived fatty oils and two essential oils: chamomile (remember my recent post on chamomile cosmetics? Scroll up to the beginning of this article!) and rose. The INCI list starts out with macadamia nut oil, apricot kernel oil, sweet almond oil and hemp oil, so I expected the oil to have a heavy texture. However, this isn't the case at all. I was surprised by how quickly the oil is absorbed into my skin – and the skin doesn't look greasy or oily either. Of course I only use a tiny bit of the oil, one drop is more than enough for both eyes. My eye area felt hydrated and smooth and the subtle fragrance combines herbal notes with very light floral accords – oh yes, the oil is packaged in a dark glass flacon with dropper. One bottle contains 10 ml and costs 39.00 Euro when you order it at Naturdrogerie. There is also a matching face oil which I'm definitely going to try out at some point!
The next big industry event for me is Vivaness – Europe's biggest trade fair for organic cosmetics – which takes place from 11th to 14th February 2016. This is THE most important date in the calendar for the entire German and European organic beauty industry and it is one of my favourite trade shows ever! The next English-language chapter will already include some coverage from the trade show so you can look forward to information about the major product launches from Germany's big organic beauty brands and the latest product trends from around the world. [Click here for the original German article Beauty-Notizen 29.1.2016.]
Until then, have a good week!
Julia