Dear international readers of Beautyjagd,
Welcome to the next English-language edition of Beautyjagd! This is a condensed version of the most important articles that have appeared on my blog over the last two weeks. For more information about this new format, click here. And now: enjoy the best of Beautyjagd in English!
Best wishes
Julia
Hello everyone and welcome to the next installment of Beautyjagd in English!
marie w.: New Mascara and Lipstick
Meow! There is exciting news from the organic makeup brand with the little black cat in the logo! If you don't know what marie w. is: it's a German niche brand founded by Marie Wißler. Marie is an animal lover and when she designed the logo for her new company she used a picture of her cat Trouvie. And marie w. has just launched two new products which, in cooperation with Marie, I am happy to introduce to you! As regular readers of my blog will know I am a big fan of marie w.'s WimpernTusche Rabenschwarz mascara. I think it is one of the best organic mascaras available on the market, particularly if you're looking for volume.
The new WimpernTusche lang&dicht (Lashes Ink Long & Thick) is a variant of the standard marie w. mascara and promises long, voluminous and curvy lashes. The packaging, applicator brush and product formula of the two mascaras are quite similar. However, the new mascara also contains bamboo powder to make the lash hairs look thicker.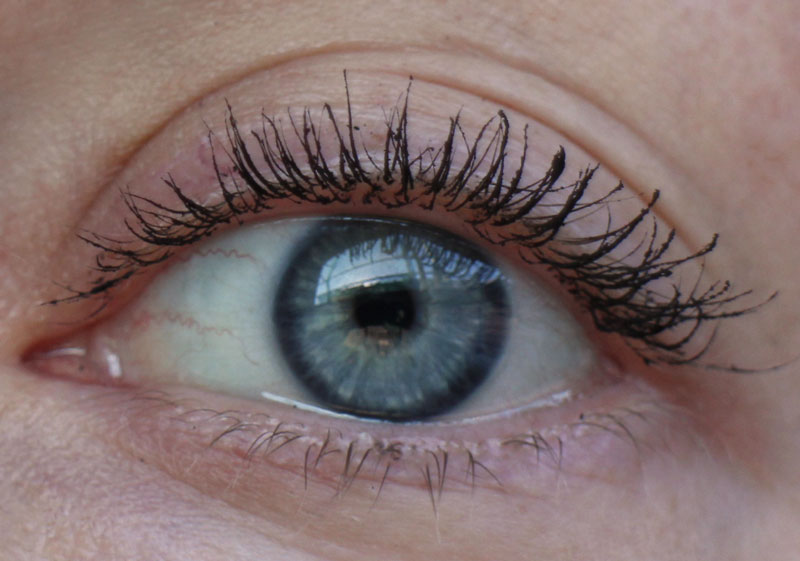 Unfortunately I didn't manage to take a proper picture of me wearing the "normal" marie.w mascara on one eye and the new Long & Thick mascara on the other – because it is easy to see that the new mascara does indeed create more volume and thickness. Impressive! I think the result is comparable to what you'd get from a conventional mascara. In the picture above I am wearing a single coat of mascara. Combined with black eyeliner and an additional coat of colour you could easily add even more volume.
By the way, this is how I usually apply my mascara: I start on the outer part of the lashes and then do the inner lash hairs. I slowly pull the horizontally held mascara brush across the lashes, from root to tip. Then I use the tip of the brush to define individual lashes (usually on the outer part of the lash line) and afterwards I gently press the entire length of lashes upwards with the brush to create more curviness.
I try to work as quickly as possible because otherwise the mascara dries and then you can't add additional layers. In my experience marie w. mascara should not be used when they are icy cold (otherwise the waxes in the formula harden too much). Room temperature is perfect!
The hold of the Long & Thick mascara is impressive as always with marie w.: after five to six hours the mascara sometimes crumbles very slightly but this only happens when I am wearing a thicker oil or wax based eyeliner (like the eyeliner pencils from German brands Und Gretel or Lakshmi).
Lashes Ink Long & Thick is based on water, beeswax, iron oxides and carnauba wax so the texture is quite waxy and not very liquid. It is alcohol-free and fragrance-free and is available only in Black. The tube contains 8.5 ml and costs 32 Euro. You can buy the mascara directly in marie w.'s webshop or at any of the usual marie.w stockists, like Naturdrogerie or Najoba.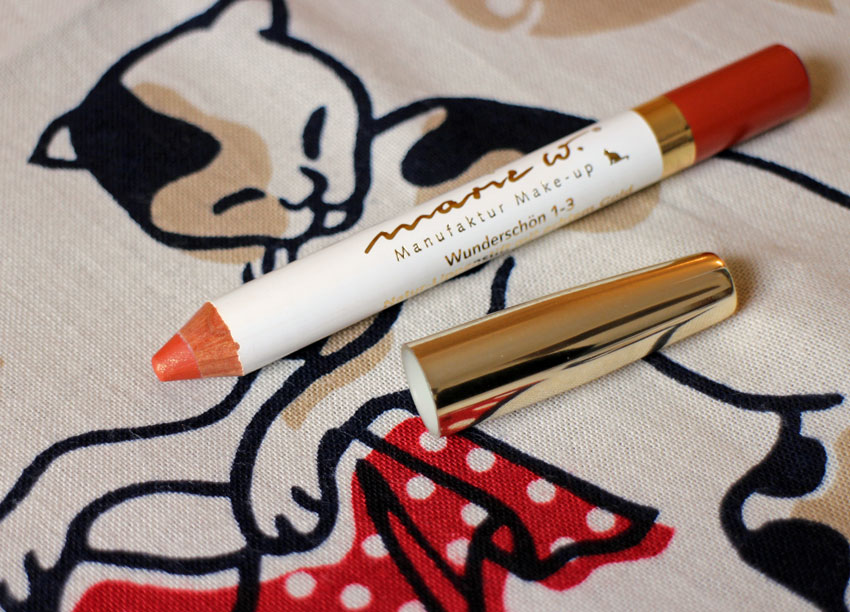 The second new product is a lipstick! Natur Lippenstift in shade Wunderschön (Beautiful) is a line extension in marie w.'s lipstick range. The current line-up offers a rosewood tone, two reds, two pinks and two brown shades so there are seven colours altogether. The new colour is a copper shade which is supposed to flatter both colder and warmer skin tones. Now, I am not usually a fan of copper makeup tones. However, after the positive experience with marie.w's Bronzer Sonnenkuss (which looked off-puttingly orange-red in the jar but when I applied it to the skin: wow! What an amazingly fresh and natural looking colour!) I decided that in future I would always try out makeup colours on the skin first and then decide whether I liked them or not!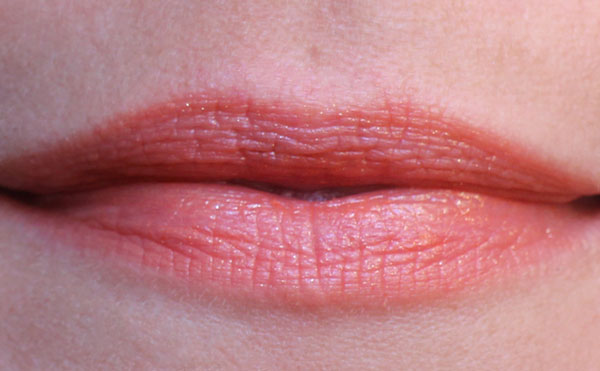 Wunderschön is a sunny apricot with a light golden shimmer. If you wear only one coat of lipstick is should be suitable for any skin tone: the natural lip colour still comes through so the result looks very natural. With a second coat the colour becomes warmer and perceptibly more coppery but it still looked so good on my lips!
Compared to the other lipsticks from marie w. the new Wunderschön has a much more flexible texture (it is based on coconut oil and two other processed oils). As a result it feels ultra-light and very comfortable although it lasts not quite as long as the other, more waxy marie w. lipsticks.
Natur Lippenstift Wunderschön from marie w. is certified by NaTrue. It is fragrance-free and occasionally needs to be sharpened with a pencil sharpener. One lipstick contains 2.5 gr and costs 37 Euro. It is available at marie w.'s online store or through any of the brand's regular retailers, like the Naturdrogerie or Najoba. [Click here for more photos and the original German article Neue Wimperntusche und Lippenstift Wunderschön von marie w.]

I am currently in Paris with a friend of mine. Bonjour! Despite the terrorist attacks that took place in the French capital last weekend, Paris is fascinating as always. I have already visited several beauty stores and will tell you about the cool new products I found later this week!
But first let me tell you about my beauty week! Last Saturday I finally received my copy of Face Paint – The Story of Makeup by Lisa Eldridge. Yay! Lisa is a makeup artist, well-known Youtuber and creative director of luxury brand Lancôme. In her book she describes the history of makeup (incidentally, I once ran a four-part article series on Beautyjagd which was called Makeup-History!). Several chapters are dedicated to modern beauty pioneers of the 20th century like Elizabeth Arden, Helena Rubinstein, Estée Lauder or Charles Revson. The illustrations include photos of Lisa's own collection of historical makeup jars and tubes which reminded me of the gorgeous vintage tins used by UK beauty brand Andrea Garland. The last chapter deals with future technological innovations in the beauty industry which, however, have very little to do with organic cosmetics. However, I can definitely recommend the book to anyone interested in the history of makeup. More information is available on Lisa Eldridge's home page.
As soon as I found out that German organic beauty brand Wolkenseifen had launched a new deodorant roll-on I had to order it! For decades roll-ons were my deodorant format of choice. A few years ago I discovered the deodorant creams with baking soda from brands like Wolkenseifen and Soapwalla. Now I am used to applying my deodorant with the fingers – the big advantage is that you don't have to wait for it to dry! I wore the fragrance-free 100% Pure Deodorant Roll On from Wolkenseifen over the last few days and so far it seems to work really well. However, I mostly sat at my desk this week. After a while the baking soda particles settle in the glass flacon but as soon as you shake the bottle, the deodorant is ready for action. I think it's fabulous that baking soda deodorants are now available as roll-ons! And it would be ideal if they came with the natural fragrances of Vegane Pflege….! A deodorant roll-on from Wolkenseifen contains 50 ml and costs 7.90 Euro.
I am currently testing the Augenbalsam (Eye Balm) from MySalifree, an Austrian beauty brand that specialises in organic cosmetics formulated without salicylic acid, gluten and fragrances. I already introduced MySalifree's Body Lotion, Moisturising Oil and Shampoo on this blog. The eye balm has a rich yet light texture; you need only a small amount to hydrate and protect the eye area. It is based on water, glycerin, rice germ oil and an emulsifier and also contains plant-based oils and extracts of borage, evening primrose, millet, pomegranate, coffee, rice and pumpkin. The airless flacon contains 15 ml and costs 22.50 Euro. You can buy the Eye Balm on the MySalifree website or in selected retailers. I received my product from the company.
Also for drier skin (or at least for the colder winter season!) is German brand Mahlenbrey's new Argan Oil which I was sent by founder Brigitte Mahlenbrey a few weeks ago. The argan oil is part of Mahlenbrey's new premium range and the bottle contains 50 ml. Argan oil has a very well-balanced fatty acid profile: it contains oleic acid, linoleic acid and palmitic acid as well as anti-oxidant and cell regenerating secondary plant ingredients. No wonder it is such a popular ingredient in anti-ageing cosmetics! Like all Mahlenbrey oils the Argan Oil is cold-pressed and organic; it has the typically argan smell which, however, disappear after a minute or so. I apply the face oil on damp skin, usually in combination with a floral hydrosol or serum. The argan oil costs 22.50 Euro and you can order it through Mahlenbrey's website or in selected stores.
Because I am still testing Nuori's Vitamin-C Serum at the moment I tried out German brand Weleda's new Nachtkerze Festigende Aufbau-Konzentrat (Evening Primrose Age Revitalizing Concentrate; a press sample) only on the back of my hand. I first read about this serum in a Japanese beauty magazine; when I was in Tokyo a few weeks ago the concentrate was already available in organic perfumery CosmeKitchen. Now the product has finally made it to Germany! It is a line extension of Weleda's Evening Primrose anti-ageing skin care range and is supposed to boost cell regeneration. The texture of the milky serum is light and comfortable and slightly cooling: it didn't leave the skin tight or sticky and felt quite hydrating. I was surprised by this since the ingredients are not particularly exciting: the concentrate is based on water, alcohol, glycerin, aloe vera, unsaponified olive oil, centella asiatica (tiger grass) extract and sacha inchi oil. I will test it properly on my face once I have finished with the Nuori serum. The glass flacon (with dropper) contains 30 ml and costs 27.95 Euro. It is widely available in drugstores, organic supermarkets and of course online.
And these are some of the most interesting organic beauty news that I discovered this week:
On Nouveau Cheap I read that Burt's Bees has launched new lipsticks and a BB cream in the US market.
German drugstore retailer Rossmann's certified organic own label brand Alterra is introducing a new limited edition: Beauty Diva offers two marbled blushers, two lipsticks, two dual-sided eyeliner pencils, two nail polishes and a mascara.
Alterra is also launching two new skin care products: Detox Vitalcreme and Detox Augencreme both contain acai berry extract.
This might be interesting for my US readers: organic online beauty store Blissoma will soon open a store in St. Louis. More information is available here.
Belgian brand Cîme is launching a new cleansing oil, Recette de Pureté. For more information, click here.
[Click here for the original German article Beauty-Notizen 20.11.2015]

Beautyjagd is five years old! Who would have thought it?! When I started blogging on 21st November 2010 I was on a search: for a new life, a new job, a new calling…I wanted to do something different. So I followed my intuition and started to blog about my passion: organic cosmetics. And Beautyjagd continued to grow and develop and became bigger every year – and this is how I became a professional blogger! Which goes to show that properly thought-out plans aren't always necessary. Sometimes you just need to take the first little step and then the rest will follow.
When I started out as a blogger I had no idea how much work a professional blog entails: I often work 60 hours a week or longer. Writing articles is just one of the many things I do; there are hours of background research into brands, products and ingredients, I do interviews and attend press events, conferences and trade shows; I also spend a lot of time reading international beauty and lifestyle blogs, press releases and magazines.
Yes, Beautyjagd is a lot of work but I love what I do and I love constantly learning about new things. I have no idea what the next years will bring, but I like change and I am curious about what the future holds. So let's see where Beautyjagd's journey goes!
And now I finally want to thank everyone who has helped to make Beautyjagd possible! To my amazing readers: Thank you so much for reading my articles and for your discussions and comments; I love the Beautyjagd community. You are fabulous! I'd also like to thank my business partners for the good working relationship and the collaborations without which this blog wouldn't be possible either! Thanks also go to my boyfriend for his constant support over the past five years; to Annika (the best translator) and Sekl (the cleverest system admin), both of whom I met purely by chance. And of course I'd like to thank my fellow bloggers: I love reading other blogs!
And now I have a surprise for you: a raffle! During my recent trip to Tokyo I brought back a beauty goodie bag, just like the last two times – remember Big in Japan 1 and Big in Japan 2? Here follows Big in Japan 3! The little CosmeKitchen bag contains four Japanese beauty products: the Natural Mascara from Eco Line which I wrote about here, a beautiful diary by Delfonics, the Iyokan Hand Cream from Yaetoco (you can read more about the hand cream here) and the Moisture Foaming Wash from F Organics which I showed in this blog post. And here is what you have to do to win the goodie bag: leave a comment underneath this article until 2 december 2015 (today!) and tell me how long you have been reading my blog and what your favourite topics are. The winner will be contacted by me and all the usual rules of Beautyjagd contests apply. [Click here for the original German article Fünf Jahre Beautyjagd plus: Big in Japan 3]

Behind the scenes: Organic cosmetics and packaging
If that isn't innovative! I recently received a request for a sponsored post from German packaging manufacturer Ebro Color. One of their packaging designs for an organic beauty brand had won the Red Dot Design Award and perhaps this would be an interesting topic for my blog? I researched the company, interviewed the CEO (you can see him on the picture above) and in the end I was happy to agree to the post. I think this is what makes Beautyjagd different from other beauty blogs: my blog is read by both regular consumers and trade professionals. I like to include background articles on products or companies every once in a while – and the packaging industry is a fascinating sector!
On my recent trip to Japan I realized again how important packaging can be: Japan has a such a strong packaging culture. Consumer goods packaging has to be aesthetically pleasing and as perfect as possible. Even when you buy everyday products like cakes, books or chocolates the items are carefully wrapped into extra paper or bags. Japanese consumers expect completely undamaged, pristine packaging which is the reason why some European companies have to add an extra packaging layer to the product ranges they sell in the Japanese market. At the same time I have never visited a country that is more particular about separating garbage: when you throw away a PET bottle you have to remove the paper sleeve first which goes into the paper bin!
And although product packaging is not quite as important to Europeans as it is for the Japanese, it still plays an important role in the purchasing decision. Studies have shown that the packaging of a product can influence our impulse to buy this product by up to 60%. And I have to admit that I also sometimes buy a product because I like the packaging design 🙂 . Packaging is not just the actual product container (the tube or jar), by the way. The outer packaging – usually made from cardboard or paper – is just as important. It features the brand logo, the product description, brand-specific colours or pictures which in turn transport emotional brand values and are a key part of the brand's image.
However, a cardboard box is not just for marketing purposes: it is easier to transport and store products with outer packaging and it also protects the contents against light. The cardboard packaging also offers additional space for all the information that is legally required from products that are sold in the EU: a full ingredients declaration, logo, seals and certificates, bar code, name and address of the manufacturer, expiration date and of course the product description.
In the organic cosmetics industry things can be a little trickier: the sustainability of the packaging material (and sometimes also the amount of packaging!) is an important consideration for many organic consumers. This was just one of the many things that I asked the CEO of Ebro Color, German Brodbeck.
Ebro Color was established in 1925 in Albstadt, a small city located in the Swabian Alps. The company specialises in foldable cardboard packaging. Unlike many other packaging companies, Ebro's boxes are manufactured in Germany – and not in the Far East. The boxes also carry the FSC logo. FSC stands for Forest Stewardship Council; it's an international non-profit association which certifies products manufactured with material from sustainable forestry. And although the FSC's regulations could definitely be stricter, the association at least sets certain standards for sustainable forestry. Ebro Color also offers boxes that are made of 100% recycled material.
The company is very much a regional business: electricity comes from the local hydro-electric power plant which is located on the river Schmiecha. Ebro Color also works with a company that employs workers with disabilities.
And what kind of packaging does Ebro Color do? The company offers a wide range of folding cardboard boxes which include tuck-in flap boxes, telescope boxes (boxes with lids), pillow boxes and sleeve boxes. The packaging can be customised with die-cut elements, plastic windows and stamped, punched or embossed patterns. You can also combine a folding box with an additional sleeve – like this t-shirt manufacturer who sources her packaging from Ebro. She uses a cardboard sleeve to make her shirts stand out on the shelf.
Of course the packaging industry is also driven by trends. Brodbeck says that in his opinion individualization and upcycling are two of the most interesting trends at the moment. Ebro Color is already offering packaging that can be used as a gift box or storage box afterwards: you simply remove the product description from the sleeve.
The packaging can be ordered through Ebro Color's Online Box Shop; production runs start at 100 units for standard packaging and 500 units for bespoke designs. There is a special section for non-business customers: Buntbox offers colourful gift boxes in different designs that are available in 24 colours. [Click here for more photos and the original German article (Nicht) von Pappe: Umverpackungen und Naturkosmetik.]

Springerle: Soaps that are shaped like cookies!
Do you remember my visit to the factory of organic beauty brand Speick back in August? Although it was still the middle of summer, Speick already had its Christmas soaps on display. I fell in love with one of the designs immediately: a Springerle soap!
In case you are not familiar with Springerle, here is some background info: they are traditional (and very tasty!) German cookies, originally from Southern Germany. The dough is made from whipped eggs, flour, powdered sugar and ground aniseed and the cookies are baked in special cookie molds. These molds are usually carved from wood and feature traditional designs like animals, plants or flowers. The word Springerle means "jumper" (as in "jumping up and down", not the piece of clothing!) and probably refers to the way the dough puffs up and over the cookie mold while it is baking. I remember my grandmother making Springerle and my mother is continuing the tradition – each year she unpacks the beautiful wooden molds (see the picture above) and bakes Springerle.
The creamy white Speick soap features a little angel and it really looks exactly like a Springerle cookie! Like all Speick soaps the Springerle soap is formulated with 3% wax cream which contains lipids like those that naturally occur in our skin. The wax cream helps to keep the skin's protective barrier intact when you wash your hands. The company has conducted tests that have shown that after washing the hands with the Speick soap the skin contains more lipids than before. The Springerle soap even smells a little like the cookies, sort of powdery with a hint of aniseed – delicious! It is easy to grip and the foam is nice and creamy so my hands didn't feel dry afterwards.
The soap is based on saponified palm, coconut and olive oils; it is vegan and carries the BDIH certificate. Springerle is a limited edition soap, by the way: it weighs 50 gr, costs 1.99 Euro and is packed in a sachet. I have already seen the soap in my local organic supermarket and it is available online as well, for example through Kosmetikkaufhaus or you can order directly through the Speick website. The brand also offers other Christmas soaps, like a fragrant fir tree or a star. [Click here for more photos and the original German article Springerle.]

Winter is finally here! In Paris we had rainy and mild 15 C; after I returned to Nuremberg, however, the temperature dropped and since last Sunday we've had icy cold (with temperatures hovering around the freezing point) and there was even a little snow recently. As I am writing these Beauty Notes, Estonian brand Joik's Indian Masala Tea candle is keeping me company; the cinnamon-spicy chai-scented fragrance is perfect for this kind of weather. I was sent the candle by Hilla Naturkosmetik (check out the banner in the sidebar for a special Hilla Christmas offer). Hilla Naturkosmetik has several new Joik products – the Beauty Elixir, for example; there are also pretty gift sets, a new men's care range and of course the Joik body lotions – my favourite is the lemon-and-vanilla lotion (tarte au citron!). Black Friday and Cyber Monday have now also reached Germany – enjoy the special offers!
And of course I couldn't visit Paris without bringing back some cosmetics! It was fabulous being back in the city and I enjoyed checking out the stores for new beauty trends! In Léa Nature's new store in the Rue de Rennes (6th Arr.) I found the Masque Chrono Nuit Divinissime Immortelle from Lift'Argan: the Ecocert-certified product is a Korean-style Sleeping Pack – you apply the mask before going to bed, leave it on overnight and wash it off in the morning. I already showed you the Sleeping Mask from Akane this February; the Lift' Argan mask has a creamy gel texture which is not greasy and at the same time beautifully soft. And it doesn't peel off overnight either! Hats off to Lift'Argan for creating this amazing product texture! I wish some of the organic manufacturers in Germany would finally bring out Sleeping Packs… You can check out the Masque Chrono Nuit at Mademoiselle Bio.
Aroma Zone (also 6th Arr.) is such a tempting store! I found a Zeste de Yuzu shower gel of Aroma Zone's own label brand – it smells heavenly of yuzu (a Japanese citrus fruit) and bergamot and is certified by Cosmebio. The fragrance doesn't last overly long on the skin but while you are in the shower it is delightful! I also bought the matching Eau Aromatique de Yuzu which is already stored in my fridge. You can find more information about the products on the Aroma Zone website.
I posted a photo on Instagram last Friday which shows me standing in the middle of the Christmas decoration of French beauty brand Melvita's store near the Opéra. All of those beautiful boxes! I couldn't resist the big pink Christmas baubles (which are filled with sample-sized cosmetics!) and had to buy one – you'll see it on the blog next week. Melvita recently launched a rose-scented range which also includes the Body Butter Rosier Muscat which I introduced in this post. In addition to the body care products there is a matching Eau de Toilette; I also bought the Lippenbalsam Nectar de 3 Roses from Melvita (Lip Balm) which comes in decorative Christmas tree packaging (see picture above!). I like the texture of the lip balm, it is smooth and pliable and neither too oily nor too waxy – and it seems to be even more moisturizing than the Nectar de 3 Miels. The fragrance is a pleasant combination of the classic blue-and-white Nivea cream scent and notes of rose 😉 . The lip balm is available in Melvita's online store and in Germany you can buy it in selected retailers.
This Monday my new Bio-Blog article was published (German only, sorry!): I'm showing three DIY beauty ideas for Christmas presents (or for yourself!). Don't worry, they are not complicated and you don't need your own laboratory either 😉 . Enjoy!
Whilst clicking through Ecco Verde's online store (yes, I use the special offer codes in my sidebar for my own purchases as well!) I discovered that Italian organic beauty brand puroBio (I wrote about their concealer here) has just launched two limited edition Quattro Eyeshadow Palettes. I love Quattro palettes so I simply had to order one! I decided to buy the Nude palette (the second Quattro contained more adventurous shades like blue, purple or orange…). The palette is packaged in black plastic – I wasn't overly thrilled with the blue outer cardboard box which looked a bit unstable – but the colours are nice: shimmering champagne, matte beige (good for blending or as a base), a rich matte brown (a slightly warmer tone) and a matte black. The two dark shades have good pigmentation but they crumbled slightly when I applied the colour (you can apply the eyeshadows wet or dry). I tried out the Quattro yesterday: I used the black eyeshadow as a liner and the champagne colour as a highlighter underneath the browbone. I can't complain about the price either; the Quattro costs 12.99 Euro, it is certified by NaTrue and the eyeshadows are based on glimmer and rice powder (they are talcum-free, by the way). You can check out the Quattros in more detail on Ecco Verde's website.
When Uwe from organic beauty store Naturdrogerie tells me that I will love the Crème Mains (Hand Cream) Melipona from French bee beauty brand Ballot-Flurin I trust his judgment! I have temporarily put aside the Regenerating Hand Cream Lavender Vanilla from aromatherapy brand Primavera and the Hand Cream Camomile from Demeter brand Martina Gebhardt – because the Melipona hand cream is indeed fantastic! Melipona is a new range from Ballot-Flurin; the products contain a rare Mexican honey which is harvested from blue-eyed sting-less bees. This bee is an endangered species and with its Melipona products Ballot-Flurin is supporting a foundation which is protecting these blue-eyes bees. I've been using the hand cream constantly since Uwe sent it to me a few weeks ago: during the day when I am working at my desk (it is absorbed really quickly and the texture is non-greasy) or at night-time – although the formula doesn't seem particularly rich it is surprisingly hydrating! I can only explain the effect of this amazing hand cream with the special anti-oxidant and anti-inflammatory properties of the propolis extract and honey. The hand cream is based on water, aloe vera, glycerin, shea butter, alcohol, propolis (5%) and honey; it has a lovely herbal scent (a bit like Ballot-Flurin's Baume de Soin des Pyrenées). You can buy the Melipona hand cream at the Naturdrogerie.
I also discovered the following organic news this week:
Good-bye everyone and see you in two weeks!
Julia