Dear international readers of Beautyjagd,
Welcome to the next English-language edition of Beautyjagd! This is a condensed version of the most important articles that have appeared on my blog over the last two weeks. For more information about this new format, click here. And now: enjoy the best of Beautyjagd in English!
Best wishes
Julia
Hi everyone and welcome to the next English-language edition of Beautyjagd!
Do you know what a "bar camp" is? Bar camps are also called "non-conferences"; it's a participative event format which first appeared in the US. A traditional conference has a line-up of designated speakers and a fixed program of lectures and seminars. A bar camp, on the other hand, keeps everything fluid: there are no previously agreed speakers or presenters (anyone can volunteer to lead a session or give a lecture). And each morning, the participants agree on the day's program/lectures/events: someone will propose a topic that he or she finds interesting and everyone will then vote for or against this suggestion. Direct democracy in action! Bar camps have become very popular in Europe over the past decade and the best-known organic cosmetics bar camp in Europe is the NaturkosmetikCamp which takes place for the third time this June. The camp is organised by Wolfgang Falkner of The CampCompany who already runs the very successful SpaCamp (Europe's biggest bar camp for the spa, hotel and wellness industry).
I am one of the media partners of NaturkosmetikCamp and am already very much looking forward to the event! Click on the following links for overviews of NaturkosmetikCamp 2014 and NaturkosmetikCamp 2015 (German only, sorry!) . NaturkosmetikCamp 2016 is taking place from 24th to 26th June in Bad Hindelang in the Allgäu area of Southern Germany. It's primarily a trade event; the participants include retailers, cosmetics manufacturers, ingredients suppliers, C&T distributors, hotel and/or spa operators, organic supermarkets, pharmacies and drugstores, journalists and bloggers. However, a number of tickets are also reserved for consumers and anyone interested in organic cosmetics!
Tickets are available through the organiser's website (they tend to sell out quickly!) and the prices are 249 Euro for trade visitors and 149 Euro for students and private individuals. And if you do decided to purchase tickets, you can suggest topics for lectures and workshops here.
The motto of this year's NaturkosmetikCamp is "In Balance with Nature" – it's a call for more sustainability and mindfulness in every step of the supply chain: from sourcing and developing cosmetic ingredients over manufacturing the products and designing the packaging all the way to distribution and retail of the finished cosmetics. More information on NaturkosmetikCamp 2016 is available here.
[Click here for the original German article NaturkosmetikCamp 2016: In Balance mit der Natur.]
A few weeks ago I wrote about the face mask Le Soin Repulpant Youth Activator Mask from French brand Absolution – the mask with tremella fuciformis mushroom extract, remember? On my last trip to Hong Kong I had already seen how important mushrooms and fungi are in Asia; not just in TCM (Traditional Chinese Medicine) but also in food and cosmetics: even luxurious shopping malls in Hong Kong have specialist shops where you can buy cordyceps mushrooms and other fungi in elaborate packaging. Imagine my delight when I received a package from online store Biomazing recently which included the Mushroom Coffee of Four Sigma Foods! I guess Anna Baumgärtner, the owner of Biomazing, instinctively selected the right kind of coffee for me 😉 . The Four Sigma coffee is an instant coffee which contains cordyceps and chaga mushroom extracts. My first thought was: what an interesting mixture of American and Asian influences! Instant coffee and Chinese fungi? Wow! Actually, the coffee doesn't taste as exotic as you might think. You stir the powder into hot water and voilá! Aromatic coffee with earthy-smoky undertones; very tasty! The mushroom extract is supposed to help stimulate the immune system thanks to its anti-oxidant properties. Biomazing has an entire shop section dedicated to medicinal fungi products. My pack of ten sachets cost 11.95 Euro (the mushrooms are tested for pesticides and heavy metal dust, by the way). I have already decided to do some more research on medicinal fungi; it's such an interesting topic!
Yesterday was the opening press conference for Vivaness and Biofach trade shows. Biofach is the biggest organic food show in the world and Vivaness is the best-known trade fair for organic cosmetics. Accordingly the press conference had some prominent speakers from the German organics industry: Petra Wolf from Messe Nuremberg, Elke Röder of organic wholesalers, retailers and distributor association Bundesverband Naturkost Naturwaren and Markus Arbenz of IFOAM Organics International. Scroll further down this post for some first impression of Vivaness!
My new blog post for online perfumery Najoba (German only, sorry) deals with organic shampoos – I describe the main differences between conventional and organic shampoos and then speak about the different formulations and types of tensides. Enjoy the article!
And here is a tip for all of you who love fresh and green orange blossom fragrances! French brand Melvita has launched three new body care products in the Nectar de Miels range: a hand cream, a body lotion an a body balm. All three products contain thyme honey from Spain which is rich in antioxidant polyphenols, minerals and proline (an amino acid). I received the Melvita Body Balm as a press sample and have been using it constantly over the last few days; I love the soft, floral fragrance – it is still so cold, grey and wintery outside that I need a little reminder of spring and summer 😉 . The balm comes in a jar; it has a firm texture but is easy to apply and doesn't leave streaks on the skin. The body balm is recommended for very dry skin (I think it would also be suitable for dry skin) and is based on water, sunflower oil, glycerin, processed oils and shea butter. A jar of 175 ml costs 18.00 Euro.
German organic brand Lavera often introduces new colour cosmetics; one of their most recent launches is the Dramatic Eye Cream in shade 02 Soul Plum (press sample). I was surprised by the mousse-ey texture of the eyeshadow: it feels really light on the skin (RMS Beauty's Cream Eye Shadow is a good deal heavier) and is therefore excellent for layering! One coat of Soul Plum resulted in a shimmering darker beige-brown; a second coat turned the colour into a much stronger grey-brown taupe. The eyeshadow has a slight silvery-blue shimmer; unfortunately, however, it slipped into my lid crease quite quickly – probably because of the oils in the product formula (the eye cream doesn't include any starch). I powder my lid before using the eyeshadow and that works well. A tin of 4 gr costs 5.99 Euro.
[Click here for the original German article Beauty-Notizen 5.2.2016.]

New cream eyeshadows from Studio 78 Paris
One of my favourite concealers is the Off we go Anti-Dark Circles Concealer from French brand Studio 78 Paris: I like the firm, non-greasy and yet pliable texture. The company has just launched new cream eyeshadows and I was so impatient that I immediately ordered two of the shades through French online store Mon Corner Bio (I mentioned this in my Beauty Notes from 15.1.2016). Finally eyeshadow number three has arrived and I can now do a proper comparison with swatches of all three colours!
Studio 78 Paris offers three colours in the We move around cream eyeshadow range: À Paris (01), À Venise (02) and À Prague (03). The eyeshadows are packaged in pretty little jars with an integrated mirror in the lid.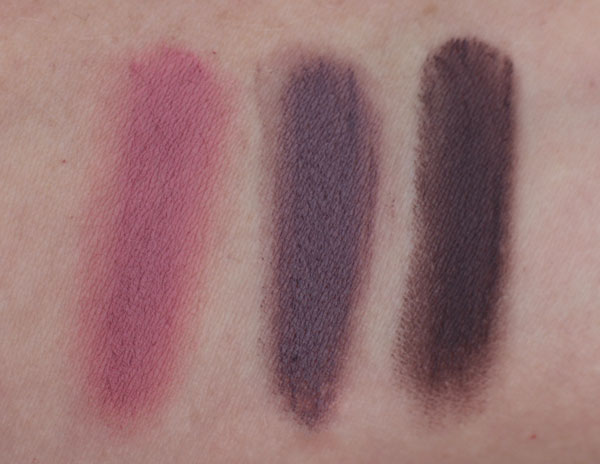 Surprisingly, À Paris has become one of my favourites: it's a matte dusky-pink rosewood tone which looks great when I apply it to the middle of my lid or in combination with a brown-grey eyeshadow. The next shade you see on the pic is À Venise, a matte and not too dark taupe with a perceptible purple tint and finally there is À Prague, a smoky dark lilac which reminds me of a ripe plum.
The finish of all three powder eyeshadows is silky-matte; they do not contain shimmer or glitter – pure colour with a medium-strong pigmentation! This makes them great for layering so you can adjust the intensity of the colour. The texture is quite firm but it is easy to apply with a brush or the finger and once the colour touches the skin, it becomes supple and creamy. Compared to the Cream Eye Shadow from RMS Beauty, the Studio 78 Paris cream shadows have a more powdery and less oily texture. As a result, they have less shimmer and multidimensionality than the Magnetic from RMS Beauty, for example.
I apply the eyeshadows with a thin brush made from synthetic hairs, for example from Real Techniques or the Concealer Brush from marie w.. However, you can also use your little finger to apply the shadow. The colour lasted about as long as organic creamy eyeshadows usually do (they tend to crease much quicker than conventional cream eyeshadows, but you probably already know that!) – after three to four hours the Studio 78 Paris eyeshadow slipped into my eyelid crease but I must admit that it lasted longer than the Cream Eye Shadow from RMS Beauty. Still, I like the new eyeshadows very much, just like Magnetic from RMS Beauty (one of my all-time favourites!): I simply use a blotting paper on my eyelids, then comes a light coat of translucent powder and finally I apply the eyeshadow. In my experience it helps if you really work the colour into the lid (ideally with a brush) which will increase the durability.
The INCI list is comparatively short (and vegan): the cream eyeshadows are certified by Ecocert and are based on processed olive oil, corn starch, silica and squalane. My nose detected a light rose fragrance but only when I smelled the eyeshadow in the jar.
A jar of eyeshadow contains 4.5 ml and costs 27.00 Euro.
[Click here for the original German article Neue Cream Eyeshadows von Studio 78 Paris.]

Vivaness review, part 1 – new organic beauty products
Vivaness 2016 has just ended! It was a fantastic show but, as expected, it was also really busy and a bit exhausting. I feel like I've talked more over the last week than I usually do in half a year! Long-time readers of my blog will know that in the two weeks following the trade show, I'll introduce my favourite brand discoveries and the most exciting new product launches of the trade show. This time I will split my Vivaness post in two: I'm starting with an overview of the product novelties from the big German and European organic beauty brands. And next week I'll talk about my favourite new brands and niche labels!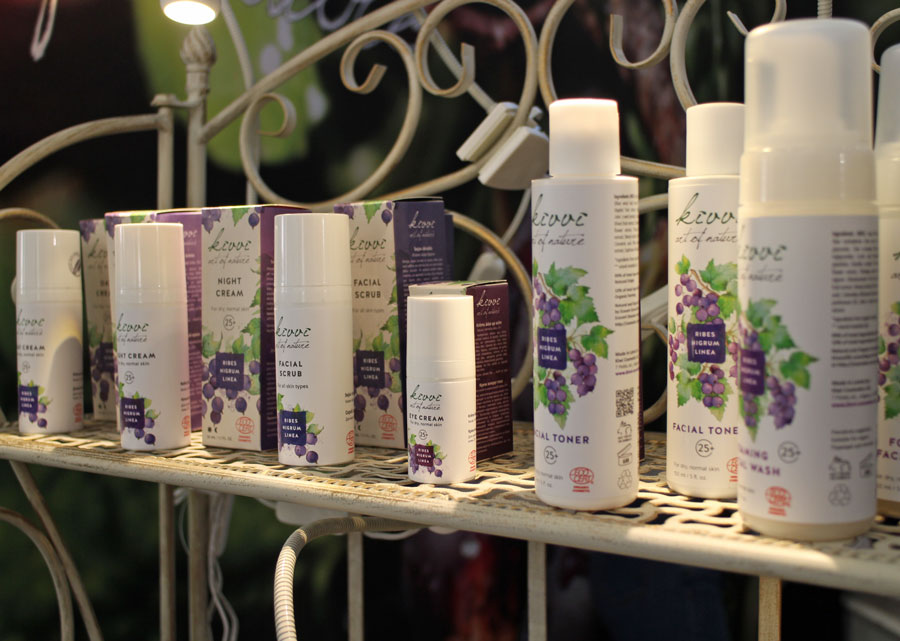 Let's start with Latvian brand Kivvi which is becoming more popular every year. At Vivaness, Kivvi presented the new skin care range Ribes Nigrum (blackcurrant) for skin aged 25+ years which offers a cleansing foam, day cream, night cream, face scrub, toner and an eye cream. The products contain blackcurrant extract and the packaging (as well as the pricing!) is very attractive. Typically Kivvi!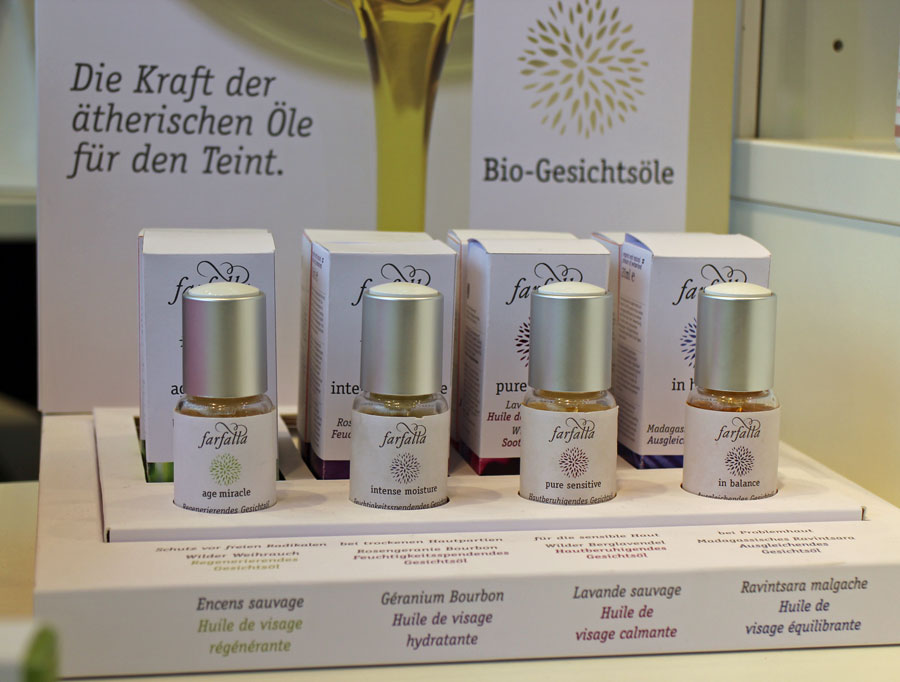 In May, Swiss brand Farfalla will launch four new face oils which are packaged in jars equipped with droppers. Each face oil features a different essential oil; I am especially looking forward to the face oil with rose geranium but the frankincense oil also sounds really good.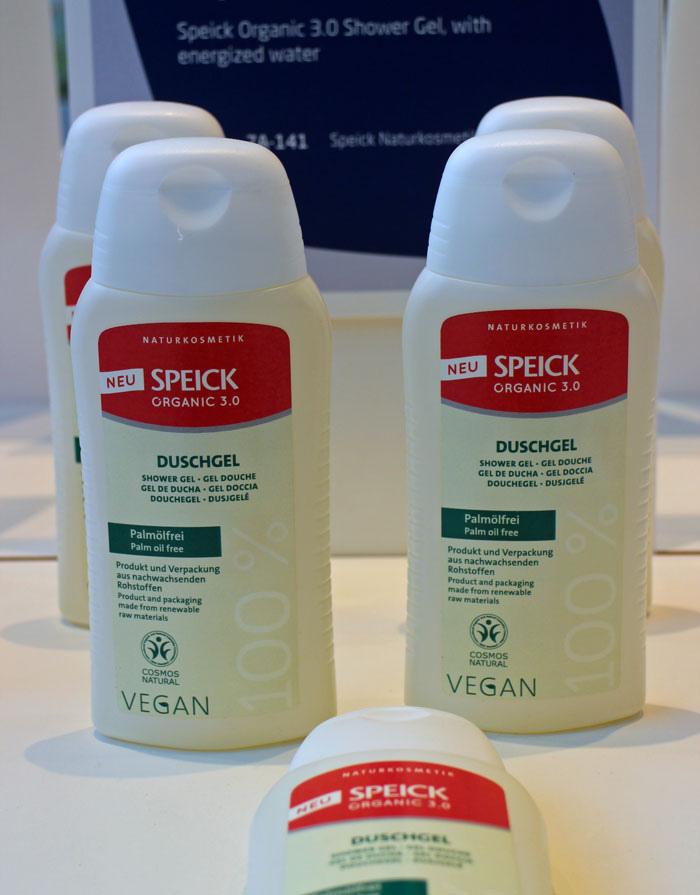 You might already know German brand Speick from previous Beautyjagd articles (check out the English-language articles here and here). At the trade show, Speick showed several new products, including the orange-scented Shower Gel Organic 3.0, two tinted day creams in the Thermal Sensitive range and a Shampoo with guarana extract.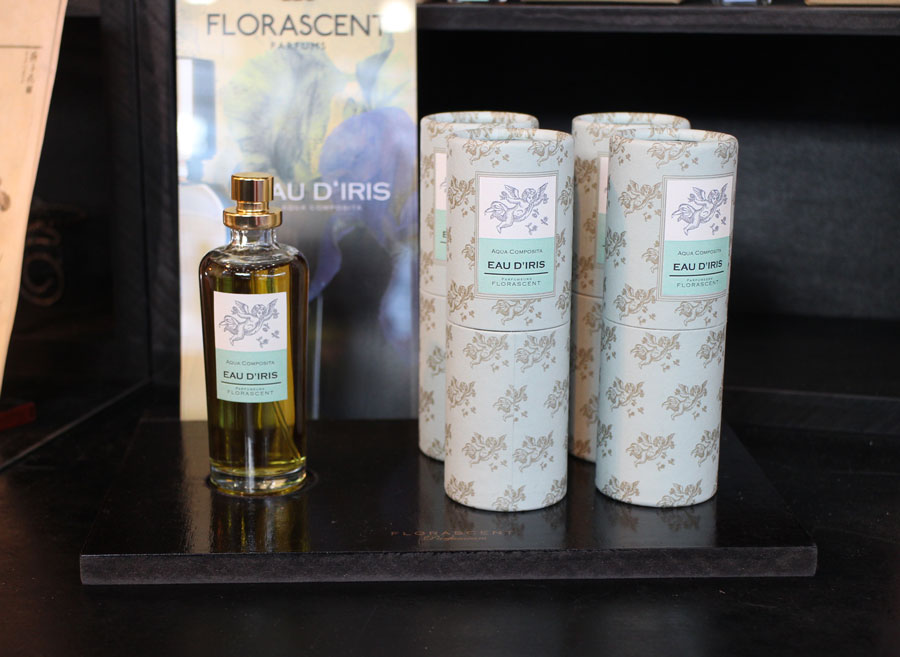 Organic fragrance manufacturer Florascent is well-known in Germany (and if any of you happen to live in the Tokyo area of Japan, Florascent is also available in a few stores in the country's capital city!). The brand has launched a brand-new fragrance: Eau d'Iris – I'm crazy about violet fragrances at the moment and I can distinctly smell the violet in this aquatic-transparent floral. I'll write more about Eau d'Iris at a later date!
Aromatherapy brand Primavera, also from Germany, has introduced three new floral waters: Lavender (a beautifully mild lavender fragrance), Peppermint and Immortelle (strawflower). Since the company is currently celebrating its 30th birthday, there is also a new fragrance oil: Alles Liebe (Lots of Love) is available as a massage oil, a home fragrance spray and, of course, the essential oil.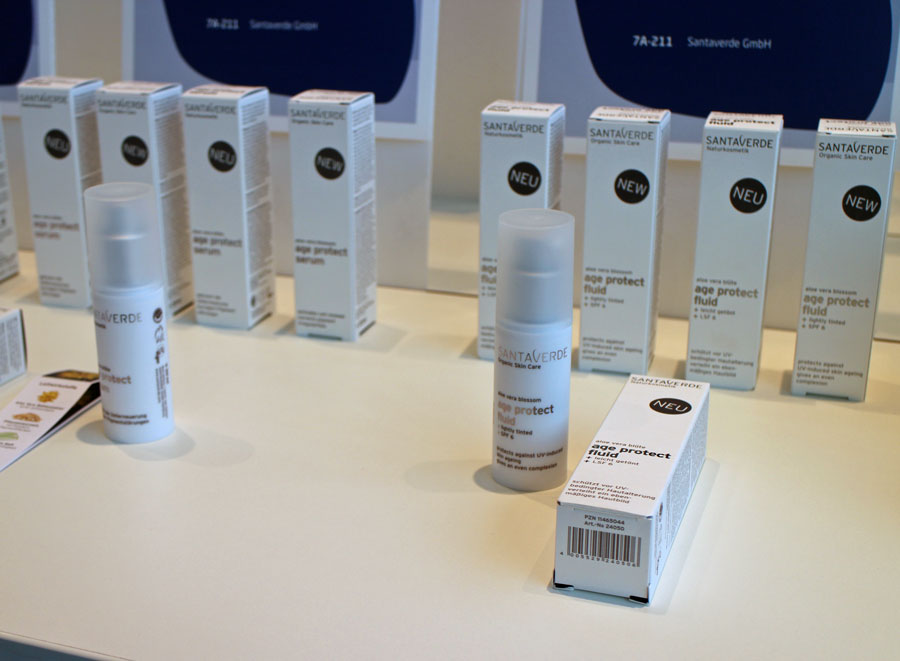 There are two new products in German aloe vera brand Santaverde's Age Protect product range: a Tinted Moisturizing Fluid with SPF 6 and a Serum. Both products are based on aloe vera juice (like all Santaverde products) but they also contain antioxidants and a complex of roots-derived ingredients which is claimed to help against hyperpigmentation. The fluid has a light tint and nicely evens out the skin tone, with a velvety finish – it has already become one of my favourites (I have used up all the samples I received at the show over the last few days!).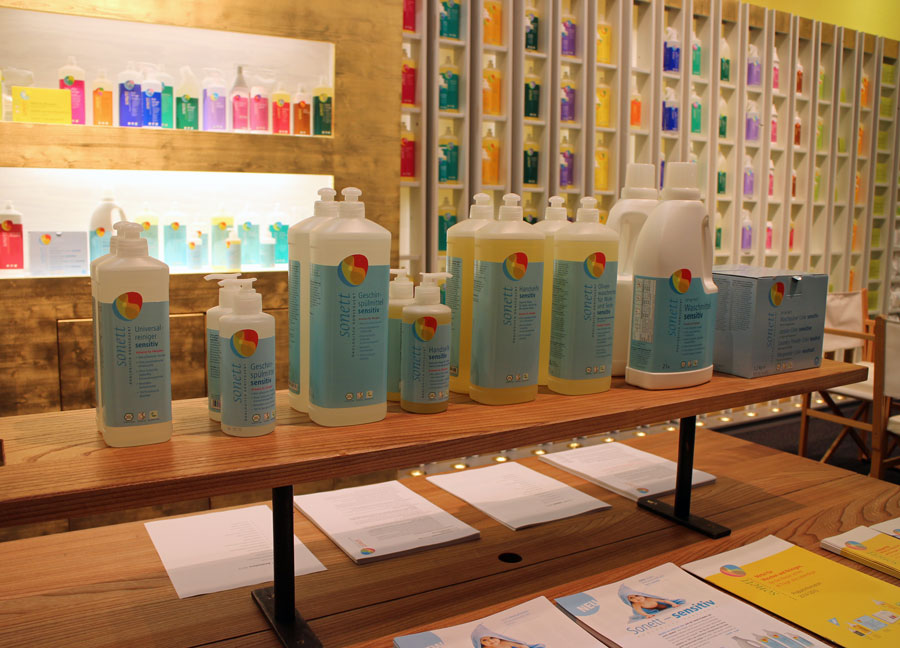 Sonett is one of the oldest and definitely one of the best-known organic household cleansing brands in Germany. Since they also have a small personal care line-up the brand was present at Biofach/Vivaness and introduced its relaunched Sensitiv range of dishwashing liquid, universal cleansing fluid, liquid hand soap, liquid laundry detergent, washing powder and wool detergent: all products are formulated without fragrance.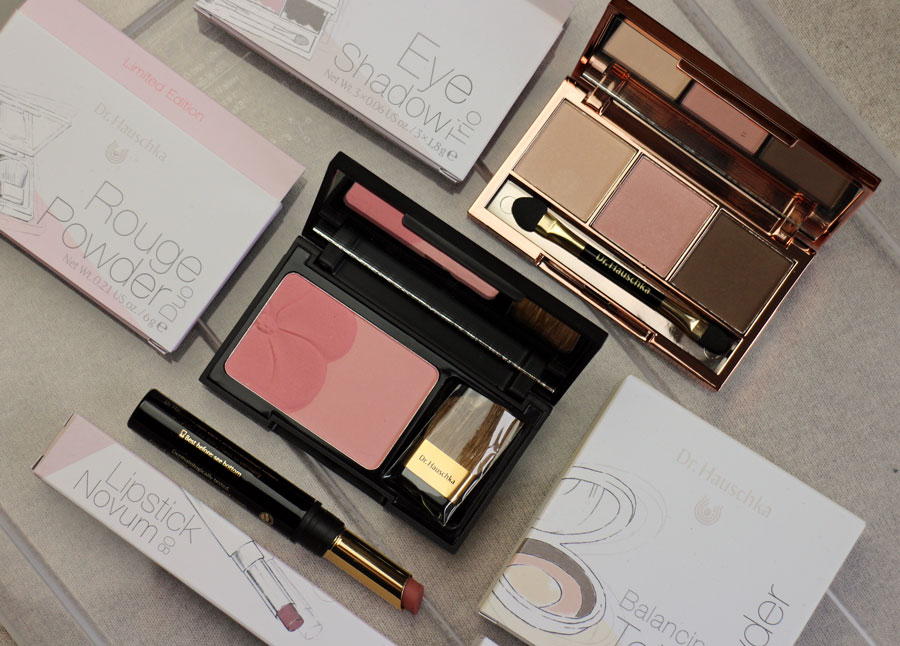 German brand Dr. Hauschka had a beautifully designed exhibition stand which highlighted individual ingredients. The company's new colour cosmetics products include the Limited Edition Comeback with Kohl Eyeliner 08, Eyeshadow Trio, Balancing Teint Powder, Blush Powder Duo and Lipstick 08 Novum Maple Glow – since I am a long-time Dr. Hauschka fan I was already familiar with all of these products.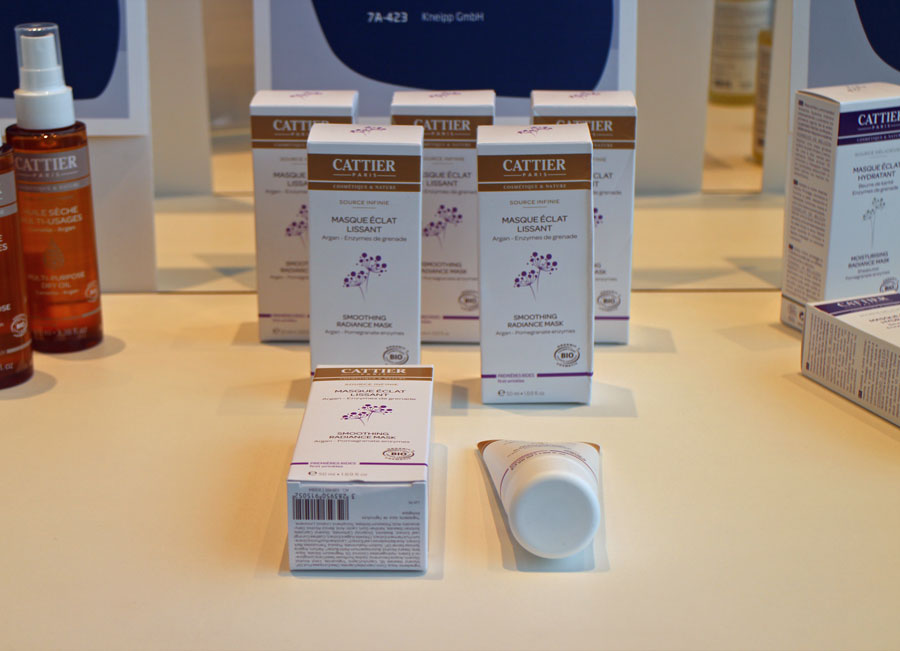 I had already seen French brand Cattier's two new face masks with pomegranate enzymes in France – and finally these two products will be launched in Germany! Cattier also had a new scalp treatment and a hair mask which, however, will only be available in France. I also liked the new Dry Oil whose fragrance reminded me a bit of my favourite deodorant cream Warm & Fruity from Vegane Pflege. And the certified organic product range Regeneration of German brand Kneipp will be extended with a new night cream.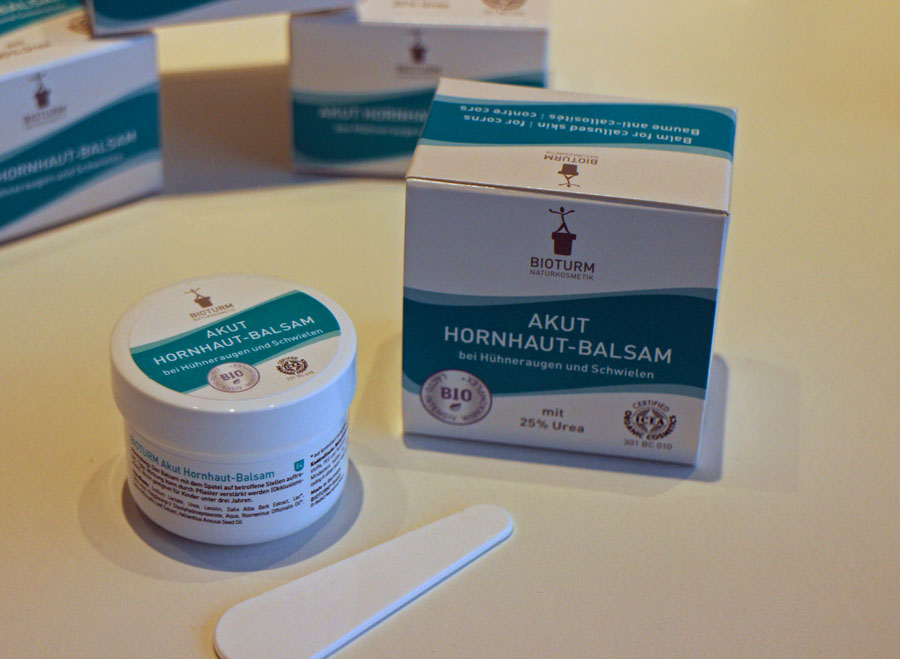 German brand Bioturm is completely relaunching its product portfolio with new packaging and an updated logo: at the trade show Bioturm presented some of the repackaged product ranges, like Foot Care (some of the products are formulated with urea) and Intimate Hygiene which are already looking more attractive and stylish. One of the new foam cleansers has a light pink colour – it contains cranberry extract.
Eco Cosmetics, also from Germany, introduced a refreshing and cooling After Sun Shower Gel formulated with mint, a Lip Care Balm with SPF 25 (very little whitening on the lips!) and a konjac sponge.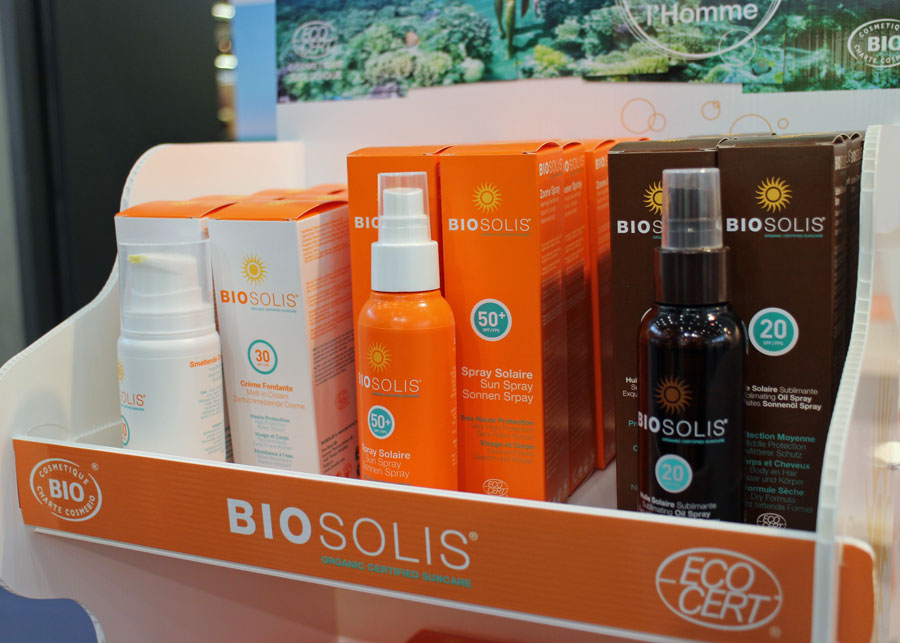 Belgian brand Biosolis has launched three new sun protection products. All three contain Karanja oil which means that they have a minimal whitening effect: Sun Spray SPF 50+, Melt-In Cream SPF 30 (both contain titanium dioxide, zinc and Karajan oil) and Oil Spray SPF 20 (formulated without mineral filters).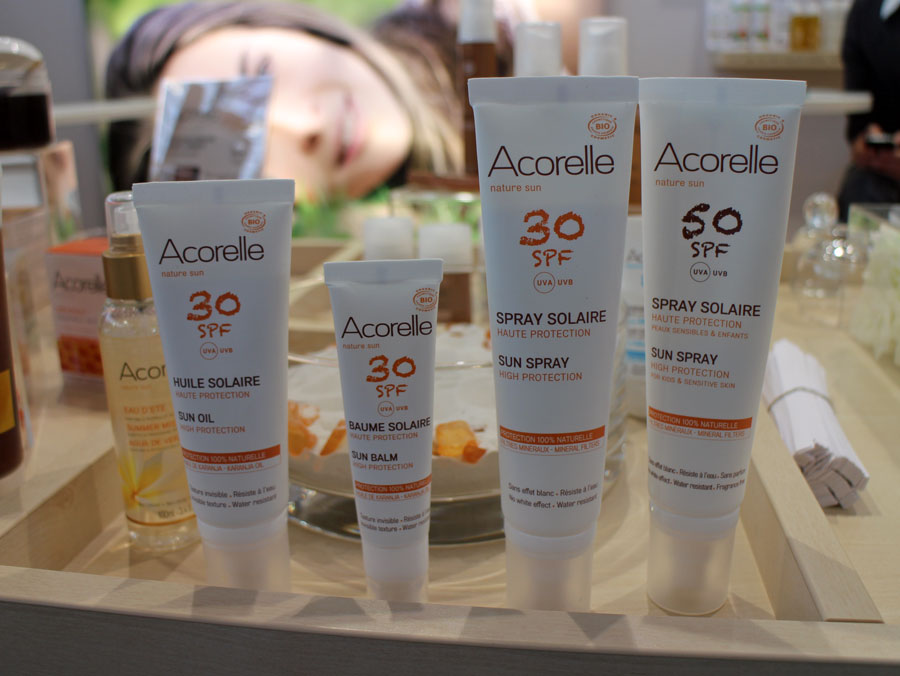 And speaking of sun protection: one of my favourite Vivaness discoveries from last year were the sun care products from French brand Acorelle. Now the company has repackaged its products in tubes with spray nozzles and they also tweaked the ingredients a bit (products include titanium dioxide and Karanja oil). There will also be a new Sun Balm SPF 50+ for children).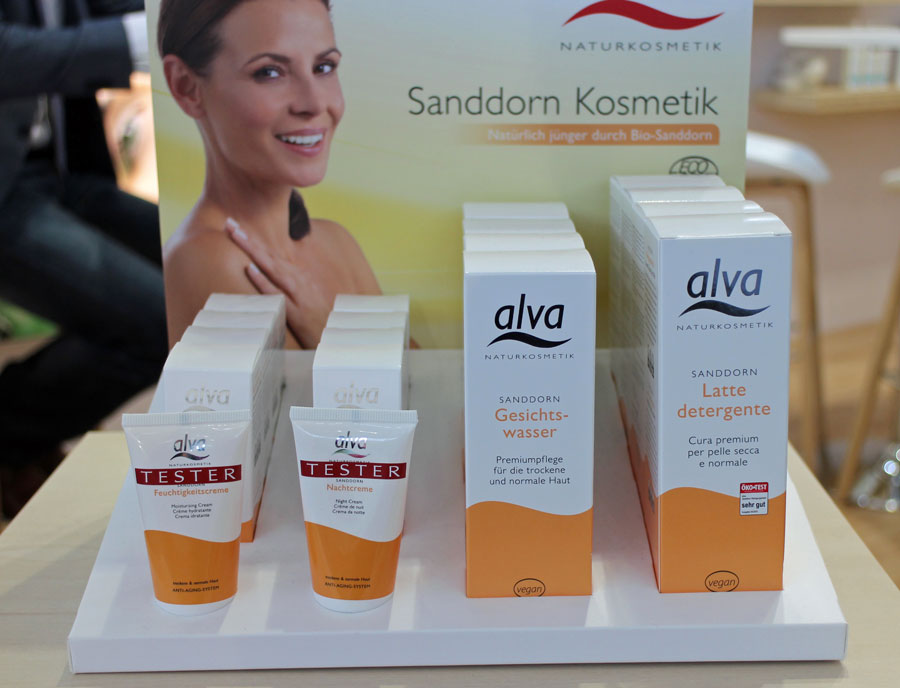 German brand Alva has relaunched its classic Sanddorn (Sea Buckthorn) product range: the ingredients and products have remained the same, the packaging design and pack sizes have changed. The brand will also launch a new Sea Buckthorn Vital Cream soon.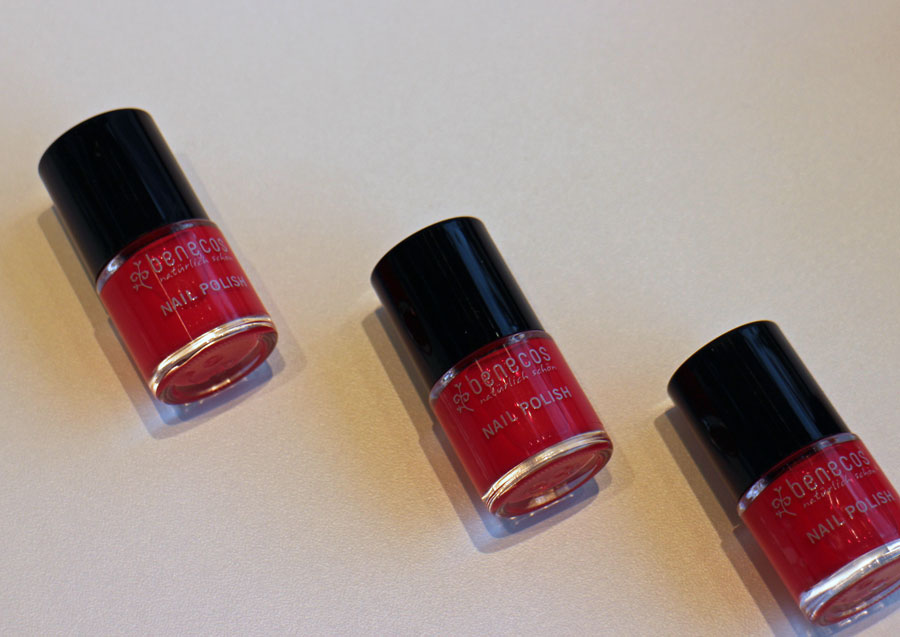 There were plenty of product news at German colour cosmetics brand Benecos' Vivaness stand: the eyeshadow range was relaunched (the new range includes 12 mono powder shadows); there will also be a new Quattro Smokey Eyes palette in grey tones, two new lipstick colours, two new lipglosses and a liquid foundation. In future, the Benecos nail polish range will contain 90% of naturally-derived ingredients and there will be three Body Scrubs in the brand's body care range.
Russian beauty brand Natura Siberica always has a large exhibition stand at Vivaness: I immediately noticed the new brand Oma Gertrude range which is certified by German association BDIH. Prices are moderate and the product line-up focuses on hair care, hand care and foot care.
German brand Lavera introduced the new Re-Energizing Sleeping Cream – I was happy to see that: finally a German brand has taken up the new Korean sleeping cream trend! In France, Akane and Lift'Argan already launched variations of these sleeping masks in 2015.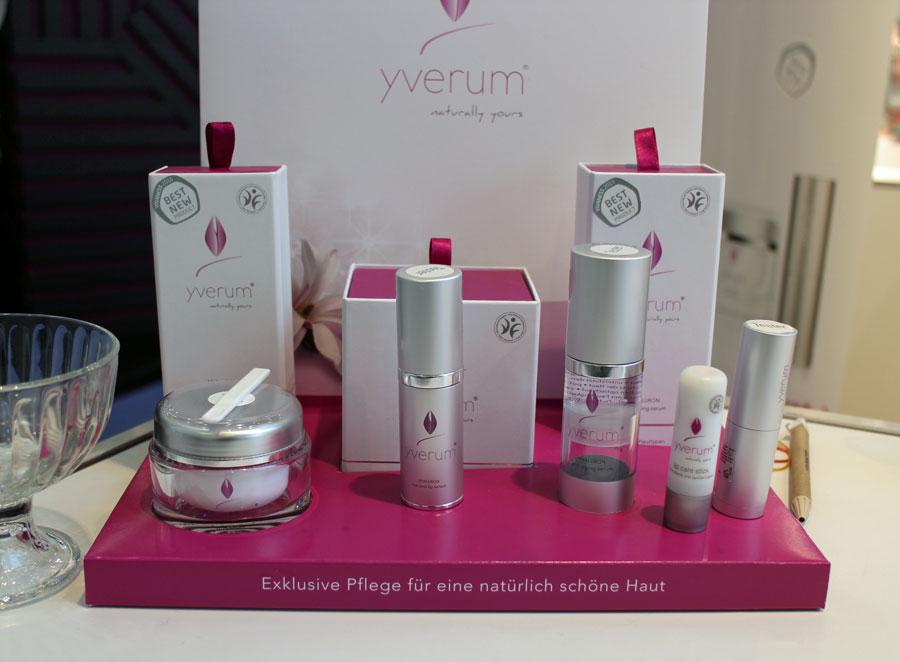 German brand Yverum specialises in cosmetics manufactured with hyaluronic acid. At Vivaness they introduced their new Lip & Eye Serum: I love the texture and think that this would also be a good serum for the face, especially during summer. Yverum also has a new Refillable Lip Balm Stick.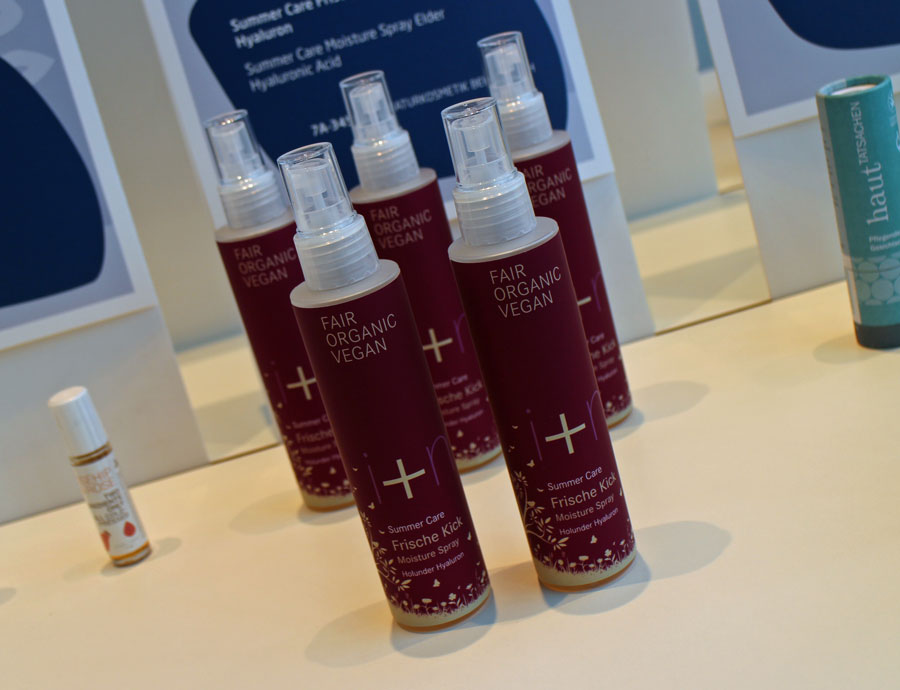 i+m Naturkosmetik is another brand from Germany. At the trade show they introduced their new product launch: Summer Care Fresh Kick Spray which is formulated with elderberry extract and hyaluronic acid. You can use it as a toner or simply spray it over the face during the day for quick refreshment.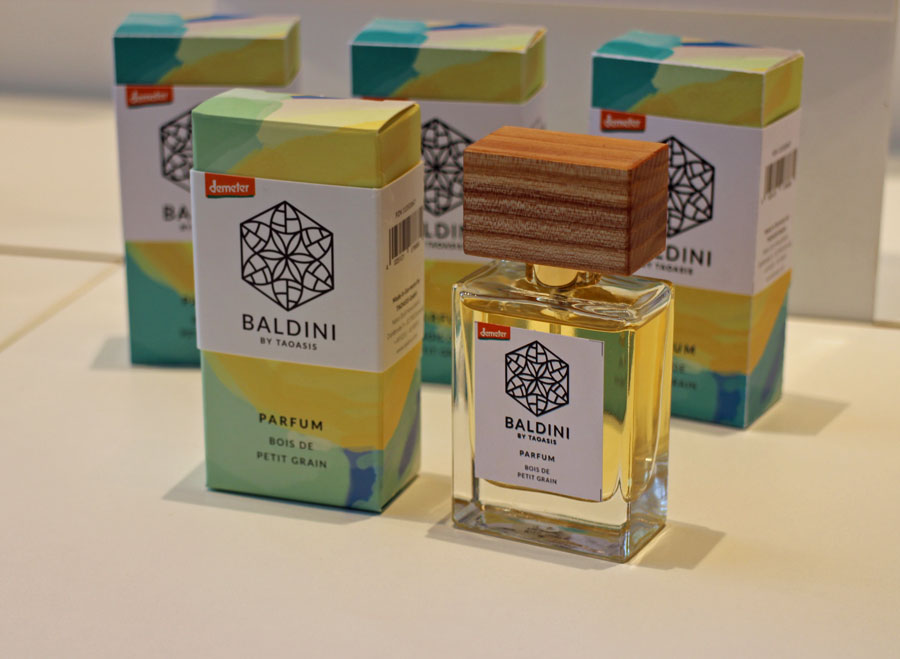 German fragrance brand Taoasis presented two new fragrances and two spray deodorants (with sage) in its organic supermarket brand Baldini. I immediately liked the Parfum Bois de Petit Grain; the fragrance Fleur de Mandarine has a fruity-sweet fragrance.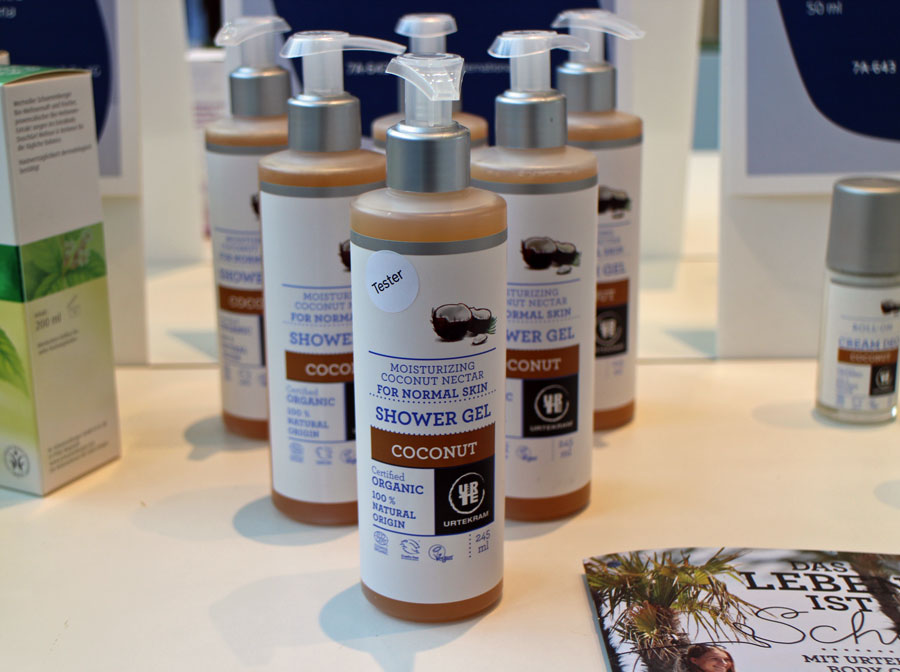 Unfortunately I didn't have any time to visit the stand of Danish brand Urtekram: their latest launch is the Coconut range which comprises a wide range hair and body care products (such as Spray Conditioner, Shower Gel, Shampoo, Body Lotion or Deodorant Roll-On).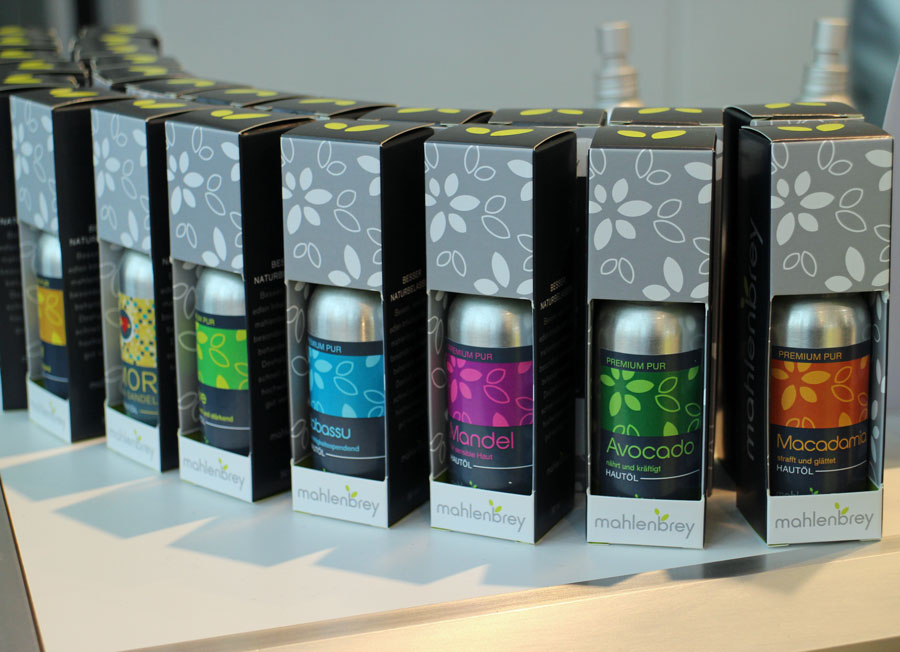 And of course I had to take a photo of the new packaging design of German brand Mahlenbrey's oil range 🙂 !
[Click here for the original German article Naturkosmetik-Neuheiten von der Vivaness 2016.]
Good-bye everyone and see you in two weeks!
Julia