Dear international readers of Beautyjagd,
Welcome to the next English-language edition of Beautyjagd! This is a condensed version of the most important articles that have appeared on my blog over the last two weeks. For more information about this new format, click here. And now: enjoy the best of Beautyjagd in English!
Best wishes
Julia
Hello everyone and welcome to the next installment of Beautyjagd in English!
This post is all about Christmas gift sets! In my Beauty Notes from last Friday I already mentioned the pink Melvita Christmas ornament that I bought during my recent trip to Paris. It's a metal ball with a diameter of around 12 cm which is filled with sample-sized cosmetics. Up until now I've only admired these Christmas baubles in L'Occitane's stores, but this year Melvita (which belongs to the L'Occitane group) finally launched a Christmas ornament as well! It is filled with a small Velvet Handcream L'Argan Bio, a small size bottle of rose water and a mini flacon of Melvita's L'Or Bio. The Christmas ball costs 13.90 Euro and is available through Melvita's online shop or in selected organic beauty stores.
And because I liked this Christmas ball so much I decided to dedicate an entire post to organic beauty gift sets! Let's start with the charming Gift Set Lovely Moments from German organic beauty brand Benecos. I bought this set back in October when it first came out: it contains a dark red strongly-pigmented lipstick (no shimmer or glitter) in a shade called Catwalk and a fragrance roll-on with Benecos' vanilla-and-citrus scented Eau de Toilette Heaven Can Wait. The Benecos set costs 15.95 Euro and is available in organic stores or online, for example through najoba.
Ok, you've probably heard me rave about the new Handcreme Lavendel Vanille from Primavera before – but I really love the relaxing fragrance and comfortable texture of this hand cream! It is now available in the limited edition gift set In Good Hands from Primavera which also includes a second Primavera hand cream, the Hand & Nagelpflegebalsam Ingwer Limette (Hand & Nail Care Balm Ginger Lime). The set with these two creams costs 18 Euro and is available in most organic stores or directly through Primavera or the Naturdrogerie. My hand cream was a press sample.
Like every year German beauty brand Dr. Hauschka is offering several products from its portfolio in limited edition winter-time packaging, like the Lavendel Moor Bad (Lavender Moor Bath Essence) or the body lotion Lavendel Sandelholz (Lavender Sandalwood). There are also sets with trial sizes, like the Wohlfühlset Pure Lebensfreude (Feel Good Set Pure Enjoyment, a press sample) which includes sample sizes of four body care products with lemongrass: shower balm, bath essence, body oil and body lotion. The set costs 7 Euro and is available in organic stores or online through Belladonna, for example.
I received the two gift sets from US organic brand Burt's Bees back in September. Both have nice packaging: the red cardboard tube is the Uncap Flavour Collection which contains five lip care balm sticks (Beeswax, Vanilla Bean, Wild Cherry, Honey and Pomegranate). The honeycomb-shaped metal box Burt's Classic Set includes two of Burt's Bees bestsellers: the Beeswax Lip Balm and the Hand Salve. I found these sets in various online stores, for example at Ecco Verde. The Uncap Flavour set costs 16.95 Euro, the Classic Set is priced at 8.95 Euro.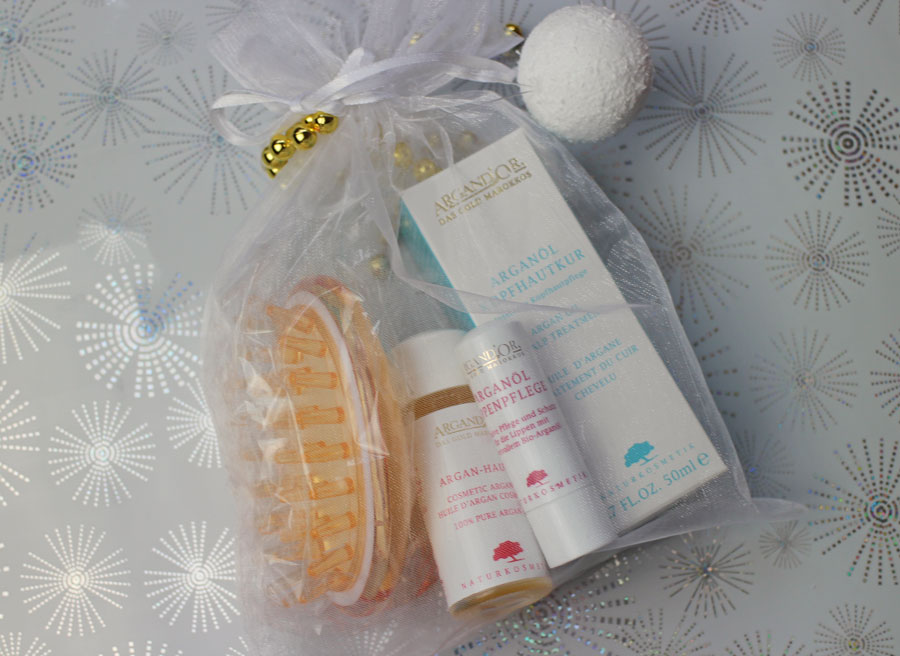 And just before I finished this article the postman brought yet another gift set! It is the Weihnachtspäckchen Sensitive (Christmas Box Sensitive) from German brand Argan d'Or. I already wrote about the brand's concept and some of its products (like the Argan Oil and the Lip Care) a few years ago. The Argan d'Or Set contains the new argan oil scalp treatment, the classic lip balm stick (which I love!), a small size of the pure argan oil and a shampoo brush. Personally I find a shampoo brush indispensable and I have several different brushes at home. The brush in the Argan d'Or set is quite good; it is much softer than the shampoo brush from drugstore retailer DM's own label brand Ebelin, for example.The scalp treatment is scented with subtle green notes and contains several oils (including sunflower oil, argan oil, inca nut oil and rosehip kernel oil) which are supposed to soothe irritated scalps and reduce dandruff. It comes in a glass flacon with dropper; you apply the rather liquid oil onto the scalp and leave it to work for at least 30 minutes or overnight. The Argan d'Or gift set costs 30 Euro and is available directly through the Argan d'Or online store.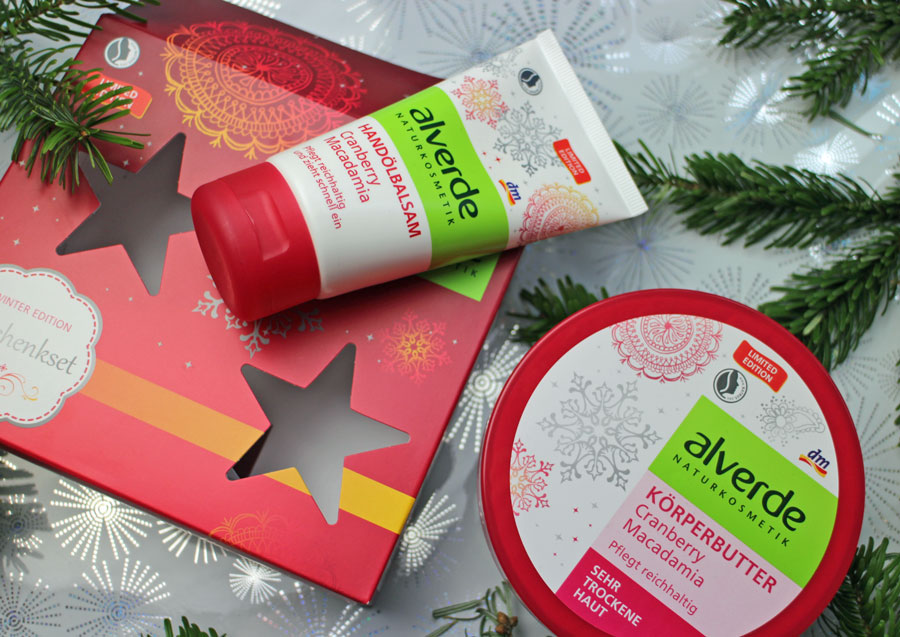 And last but not least I'd like to mention the Gift Set Winter Edition Cranberry Macadamia from DM's own label brand Alverde. The set contains a body butter and a hand oil balm; both products are scented with notes of red fruits and berries. The set costs 3.95 Euro and you can buy it in any DM store (I bought mine at my local DM). [Click here for the original German article Weihnachtliche Beauty-Geschenksets.]

Couleur Caramel limited edition Glam it up!
The new limited edition Autumn/Winter 2015/2016 from French colour cosmetics brand Couleur Caramel has an intriguing title: Double Je. "Je" means "I" so the name of this collection would translate as "the double I" or "twice me" – you can see this in the product visual above: the model's face is divided into two halves. However, this name was probably a little too obscure for the international markets, so Couleur Caramel renamed the limited edition "Glam it Up!" and "Golden 20s" since the products are inspired by the film The Great Gatsby which in turn is based on F. Scott Fitzgerald's famous 1920s novel.
Although the brand had already sent me two products from the new edition, I visited Couleur Caramel's flagship store Maquillage Caffè on my recent trip to Paris to check out the whole collection. For me, the Maquillage Caffè is a must whenever I visit Paris: not only can you admire the entire Couleur Caramel product line-up but the store also carries the skin care products of L'Atélier de Délices! I love this store; I even have a loyalty card and the resident makeup artist already knows me as well 😉 .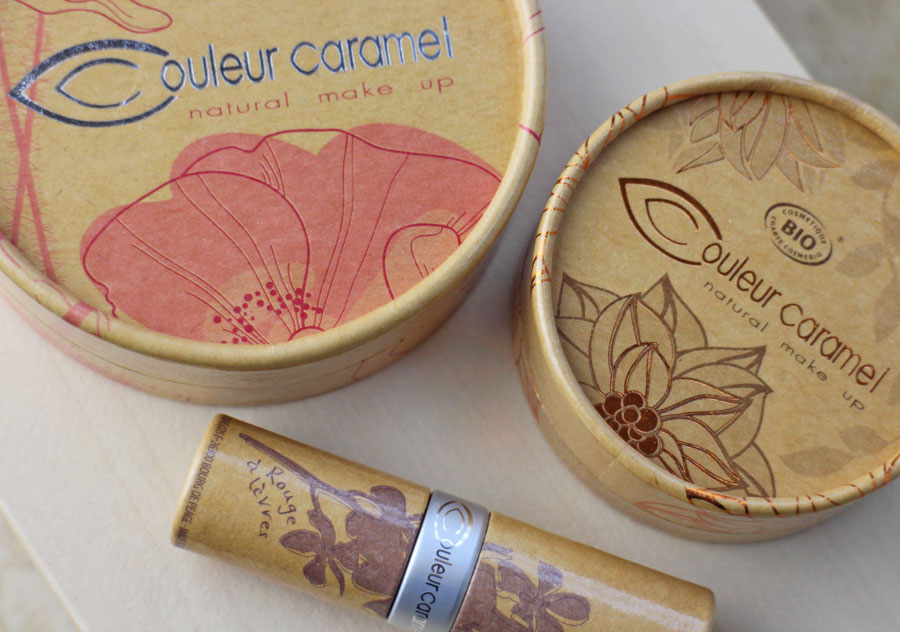 The new limited edition comprises two Flash Make-Up Kits, two tinted powders, two eyeliner pencils, four lipsticks, four nail polishes and washable cottonwool make-up remover pads. Couleur Caramel had sent me the Make-Up Kit in shade Daisy and the Precious Powder in Pearl (#40) for the blog; at the Maquillage Caffè I bought Lipstick #267 in shade Music Hall.
The two Flash Make-Up Kits are packaged in a round cardboard tin, the lid contains a small mirror and the set comes with a double-sided sponge applicator. The Flash Make-Up Kit Daisy is a collection of cooler tones, the other kit (the shade is called "Jordan") is warmer. Each make-up kit contains three eyeshadows and a blush and the products have a nice, creamy texture.
In this picture you can see a swatch of all four colours: on the left is a shimmering white-pink with a few silver glitter particles, next to it is a shimmering brownish grey with a very subtle glimmer. Then follows a dark strongly-pigmented anthracite which also contains a bit of glitter (however, it barely shimmers) and finally, there is a shimmer-free creamy coral pink which you can wear on your lips or eyes as well.
My favourite eyeshadow is the Taupe; what else! I combine Taupe with the shimmering white-pink which I apply to the inner lid. On the outer part of the eyelid I apply the grey-brown tone and then use the anthracite to add some extract definition to the outer lid line – a bit like a thicker eyeliner. I use a thin, flat applicator brush made from synthetic hair, by the way; like the one from US brand Real Techniques or from German brand Lakshmi.
The coral pink blusher looks very natural, probably because it doesn't shimmer at all and the pigmentation is comparatively light. I really like the colour; it is not too cool but has a neutral tone. After around three hours the eyeshadow started to slowly slip into my eyelid crease – this sometimes happens with creamier eyeshadows so I recommend the use of a eyeshadow base. Or you can powder the lid before you apply the eyeshadow. This blog post on Mexicolita shows swatches of the "Jordan" Flash Make-Up Kit.
The fragrance-free eyeshadows and the blush are certified by Cosmebio and are based on processed plant-based oils, such as squalane, beeswax and silica. The Flash Make-up Kit contains 3 x 0,35gr and 1 x 1.5 gr. In Germany it is priced at 39.50 Euro.
Couleur Caramel describes its Precious Powder High Definition as a "powder with soft focus effect". It is a compact powder with a nice ornamented surface and the cardboard box comes with an applicator. There are two shades: #40 Pearl is lighter and slightly cooler (I'd describe it as pinkish beige) while shade #41 Feather is more of a medium-toned apricot. I really like the texture of this powder, it is soft and silky and neither too loose nor too firm so applying this powder with a brush is a simple and very tidy process! The coverage (and the tint) is on the lighter side so the Precious Powder should be a good match for most skin tones. The finish is matte but not chalky and the mattifying effect lasted for around four hours (at least on my skin); then I needed to use a Blotting Paper on my t-zone. The Poudre Précieuse is based on glimmer, corn starch and silica and is certified by Cosmebio. It is fragrance-free, contains 7 gr and costs 34 Euro.
When I checked out the four limited edition lipsticks in the Maquillage Caffè I immediately fell in love with nuance #367, Music Hall. The other colours were too pinkish, too dark or too brown for my taste but Music Hall was fabulous! Pretty Green Woman has posted a picture of the Cabaret lipstick on her Instagram account, by the way.
Music Hall is a nicely pigmented red with strong coverage and a creamy finish, no shimmer or glitter particles – I really love the colour because it is not too dark, so my lips don't look thin. Compared to the 08 Rouge Théâtre from Absolution or the Classic Red from Zuii, Music Hall is a more subdued red; the pinker tones are stronger so the colour looks much softer. The texture feels very comfortable on my lips; it is not too thick but not feather-light either and the creamy finish lasted quite well although I had to reapply the lipstick after lunch. The Protective Lipstick is based on castor oil, processed olive oil and candelilla wax and has been certified by Cosmebio. The scent is slightly waxy with floral notes. A lipstick contains 3.5 gr and costs 20.50 Euro.
In Germany you can find the Couleur Caramel products in selected retailers; the brand's homepage has a shop finder. Or you can order them online, for example through Monde Bio or Boutique Bio in France. [Click here for the original German article Couleur Caramel Limited Edition: Double Je a.k.a. Glam it Up! (Herbst/Winter 2015/16.]

This week was so grey and unpleasant that I simply had to buy the new limited edition Duschbad Wintertraum Chocolate-Marzipan (Shower Bath Winter Dream Chocolate Marzipan – marzipan is almond paste!) from German organic brand Logona! The shimmering golden shower gel really smells of marzipan and chocolate – and surprisingly enough the fragrance wasn't overly sweet! It also had slight undertones of cough syrup which, however, seem rather appropriate considering the horrible winter weather we've been having 😉 . The glimmer (and the fragrance) doesn't last very long on the skin but I can imagine that this shower gel would also work well as a bath additive – I'll try that out sometime. The 200 ml tube of Duschbad Wintertraum costs 4.95 Euro; you can buy it in most organic stores or online through najoba, for example.
And now for a real sugar shock! I don't usually like fragrances that are too sweet but in the last few days the lip balm Candy Corn from US brand Crazy Rumors has barely left my hands. Believe me, I have more than enough lip care products but the sweet aromatic notes of popcorn, caramel, marshmallow and spices are so delicious that I kept taking out the lip balm and smelling it. Yes, really! I ordered the balm through the Crazy Rumors online shop (it cost 3.95 Euro); the vegan lip balm stick is based on macadamia nut oil, olive oil and shea butter and the fragrance is entirely natural. My US and Canadian readers will know what candy corn is but in case you're not familiar with this confectionery: candy corns are very small corn shaped sweets that are coloured yellow, orange and red. They are very popular around Halloween.
And the third sweetie that I am introducing in these Beauty Notes is actually a real candy – or bonbon: I discovered the Billes Fourées Miel de Manuka from French brand Compoir&Compagnies at the pharmacy in the Rue du Four during my recent trip to Paris. My friend bought a bag of these sweets because she had a sore throat. When she opened the bag we discovered that these are not your usual cough drops: the sweets were quite large and soft and they are filled with pure manuka honey IAA 10+ (which equals an MGO value of 120). I simply love this manuka honey to go! Manuka honey is known for its antibacterial and antiviral properties and together with my beloved Propolis Spray from Ballot-Flurin these delicious honey sweets (Billes Fourées translates as "filled spheres", by the way) will help me fight off any winter cold that might come my way! I'll definitely buy the sweets again; I already found them online at Monde Bio.
My new article for online store Najoba (Fragrant Christmas Stories – German only, sorry!) is all about winter fragrances: classic Christmas scents like frankincense, myrrh, orange or cinnamon are not just evocative of the Christmas season but they also have amazing aromatherapeutical properties. Enjoy reading the article!
For the last two weeks I have been trying out the Face Balm Amaranth from German organic brand Myrto Naturalcosmetics – and now I'd like to introduce it to you, in cooperation with Myrto's founder Eva Silvana Kruck! I have already shown Myrto's Scalp Treatment, the Day Cream S, the face oil Bio-Night Oil S and the Organic Shampoo Sandalwood on my blog.
The face balm is formulated entirely without water: it is based on shea butter, amaranth seed extract and argan oil as well as plant-based oils such as babassu oil, evening primrose oil and berry wax. The texture of the balm is great, it protects the skin but at the same time it feels surprisingly light (light for a balm, that is; balms are usually waxier and richer than creams). It doesn't leave the face greasy either and it is my impression that my skin looks less shiny than when I use a rich face oil. You only need a small amount of the balm; I apply it on skin lightly dampened with a hydrosol or serum. Massage it in and voilà! In summer I think this product would be too rich for my skin (which is slightly dry with a tendency towards oiliness in the t-zone) but in winter time I love face balms because they protect the skin against cold and dry radiator heat.
Amongst the plant-based oils amaranth oil has the highest natural percentage of squalane; since it is produced by CO2 extraction, the squalane level is even higher than in cold-pressed oils (around 5-8%). Our skin's hydro lipid film contains a type of squalane, too, so "external" squalane is easily absorbed into the skin and increases its elasticity. Amaranth oil also has anti-oxidant and anti-inflammatory properties. The Face Balm Amaranth is subtly scented with vanilla extract; it does not contain essential oils. A glass jar contains 50 ml and costs 34 Euro. You can buy the balm directly at Myrto Naturalcosmetics.
A few days ago I bought the new gift set For a perfect Evening from DM's organic own label brand Alverde at my local DM. This is a rather pretty makeup palette which contains two eyeshadows, a lip gloss and a powder. The set offers a shimmering yellow golden eyeshadow (Golden Shine, #10) and a neutrally-tinted warm brown which has a shimmering finish with a few glitter particles (Rich Brown, #20). The brown is lightly pigmented so it looks quite natural on the lid; the face powder offers light coverage but the shade is almost too pale for my taste. And the lipgloss is a transparent pink colour with a shiny finish. The eyeshadows and the powder are based on talc; all products are scented with light floral notes. The A perfect Evening Palette costs 6.95 Euro. The cardboard packaging doesn't look too strong so the palette might not be ideal if you are looking for a makeup set to carry in your handbag, but it should make a nice gift!
Finally I'd like to announce the winner of my Birthday Raffle: it is Yvette who will receive the Cosmekitchen bag with Japanese cosmetics. Congratulations! And thank you so much for your many nice comments about my blog 😉 .
This week I only found one new organic beauty news item:
The Night – Dr. Hauschka Competition
Gelassen stieg die Nacht ans Land,
Lehnt träumend an der Berge Wand,
Ihr Auge sieht die goldne Waage nun
Der Zeit in gleichen Schalen stille ruhn;
Und kecker rauschen die Quellen hervor,
Sie singen der Mutter, der Nacht, ins Ohr
Vom Tage,
Vom heute gewesenen Tage.
(Eduard Mörike, from: Um Mitternacht, 1828)
This is one of my favourite poems from romantic German poet Eduard Mörike! I thought it would make a good introduction to this post in which I am talking about my night-time beauty rituals – and the new Dr. Hauschka competition. The first line of the poem reads "The night climbs softly onto the land…." – and these were the words that came to my mind one evening this summer when I was taking a walk along a Bavarian lake. The scenery around me was so beautiful that I simply had to take a photo – see the picture above. It was a wonderful evening; very quiet and very dark. The small village I was staying in had few streetlights so the moon, the stars and the fireflies glowed even more brightly.
That lakeside walk also made me think about our natural day-and-night rhythms. Before electricity was discovered most people naturally went to bed when it got dark outside and they rose when the sky turned light again. Today we can work all night long if we want to and although I love the freedom of structuring my work schedule just the way I like it (even pulling an all-nighter if I have to!), I must admit that sometimes I yearn for real night-time darkness. Although I live in one of Germany's smaller cities I find the constant background illumination that we have even at night-time (emissions from streetlights, traffic lights cars, advertising signs, store windows and so on) quite stressful sometimes. I do love the "blue hour", when day turns slowly into night.
At the same time I try to make sure that my body gets enough time so recharge, so I have small night-time rituals that help me wind down after a long day. And the most important ritual of all is, of course, removing my makeup and preparing my skin for the night! When I was younger I sometimes found this a bit of a chore but today I actually look forward to my evening beauty routine, no matter how tired I am. Here is what I do: first I remove my makeup and then I use a tenside-free cleanser to properly cleanse my face. I like milky cleansers for this – like the Soothing Cleansing Milk from Dr. Hauschka. You apply it to lightly dampened skin, massage it in and then remove it with warm water and a tissue or sponge. You can also use it to remove eye makeup (put some of the milk on a cottonwool pad). Compared to the Dr. Hauschka Cleansing Cream the cleansing milk is lighter so you can also use it as a first step in Double Cleansing: remove makeup and pre-cleanse the face with the milk and then use the cleansing cream to cleanse the face more thoroughly.
After makeup removal and cleansing I apply a toner to my face. Dr. Hauschka's Facial Tonic contains witch hazel and kidney vetch, two ingredients which are anti-inflammatory and help the skin to heal – you spray the tonic onto your face and then gently pat it in. I love the beautiful floral fragrance, especially the rose notes (which are typical for Dr. Hauschka products; in aromatherapy rose is considered a strengthening and harmonizing fragrance).
I (mostly) follow the principle of oil-free night care so I was delighted when Dr. Hauschka launched its new Night Serum earlier this year: it is based on water and doesn't contain any oils. Instead, a number of plant extracts help the skin to regenerate overnight – in this blog post from May you'll find all the info about the new serum (German only, sorry!). You only need a pearl-sized amount of the serum and I feel that it really helps to stabilize my skin. Even when I am completely stressed out!
After I have completed my beauty routine I prepare for bed: I might write a diary entry, then spray some of my favourite lavender-scented pillow spray around my bed; apply moisturiser to my hands and my lips…I also take one last look at my Instagram feed or briefly check my mails but since a flickering smartphone screen isn't really conducive to relaxation I try to keep this to a minimum. Instead I read a chapter in whichever book is currently on my bedside table.
Since this is a post in cooperation with Dr. Hauschka, five of you lovely readers have the opportunity of winning a Dr. Hauschka face care set consisting of Cleansing Milk, Facial Tonic and Night Serum. Simply leave a comment underneath this post describing what your night-time beauty ritual looks like. The deadline is 20th December 2015 and all the usual Beautyjagd competition rules and regulations apply. [Click here for the original German article Die Nacht – Gewinnspiel mit Dr. Hauschka.]

I'm currently reading some really interesting books about beauty. None of these have anything to do with organic beauty but they are still fascinating, so I decided that it was time for a book-centered blog article!
One of the books you see in the photo above I already introduced in last week's Beauty Notes: Face Paint by Lisa Eldridge is about the history of makeup. The book has some beautiful illustrations depicting vintage makeup jars, tins and tubes from Lisa's private collection of historical makeup packaging.
Korea! The country of beauty innovations and beauty trends! The US has a very large Korean community so there are plenty of English-language Korean (and Asian) beauty blogs. The authors of two of the best-known beauty blogs, Skin&Tonics and The Beauty Wolf, have written a book together: Korean Beauty Secrets – A practical guide to cutting-edge Skincare & Makeup by Kerry Thompson & Coco Park includes posts and articles from both blogs. Korean Beauty Secrets starts with an overview of the biggest Korean brands and gives a listing of online and offline retailers in the US. Then the authors delve straight into skin care: Kerry and Coco explain the different product categories (essences, sheet masks etc.) and the concept of Korean skin care; well-known beauty bloggers describe their individual skin care routines and present their favourite Korean products and there is also a chapter that deals with makeup looks and product innovations (cushion foundations, anyone?!). I also like the fact that the book includes a glossary of Korean skin care ingredients and their English language translations! I bought my copy on Amazon but you can also find it in other online stores. Korean Beauty Secrets is a good introduction for anyone interested in K-Beauty.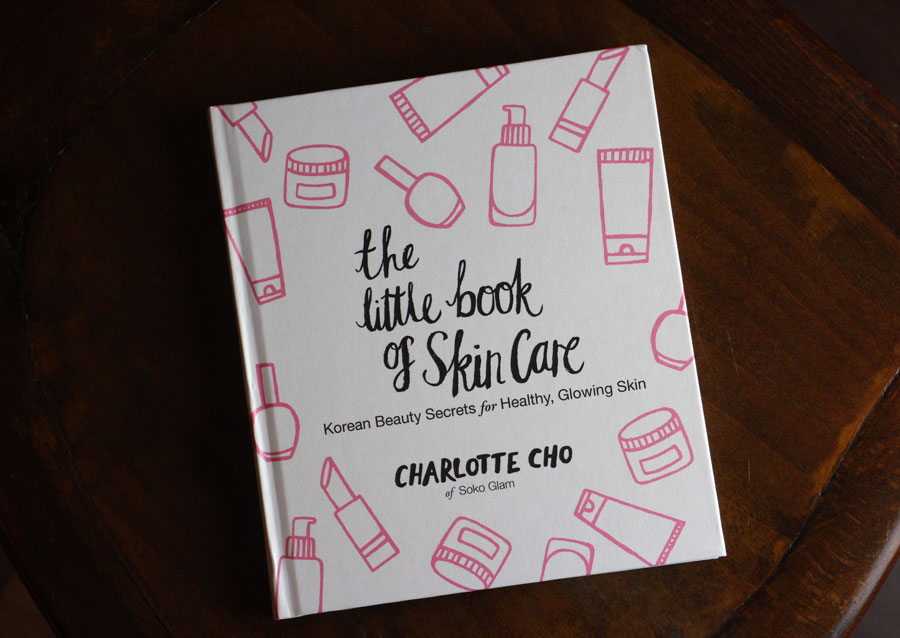 Another book that I am currently reading is The little book of Skin Care – Korean Beauty Secrets for healthy, glowing skin – yes, K-Beauty again 😉 . And yet another Amazon purchase! The author of this book is Charlotte Cho, founder of US Korean beauty store Soko Glam. As the title indicates, Charlotte focuses on skin care: 11 chapters deal with various topics – how to do a proper Double Cleansing, a visit to a Korean spa, the role of sun protection ingredients in Korean skin care products… The book also features "Skin Stories", shorter articles in which K-celebs, journalists, models, bloggers and vloggers talk about their skin care routines and favourite products. Charlotte also gives some excellent suggestions about where to eat, drink and shop in Seoul (I love these kind of travelling tips!).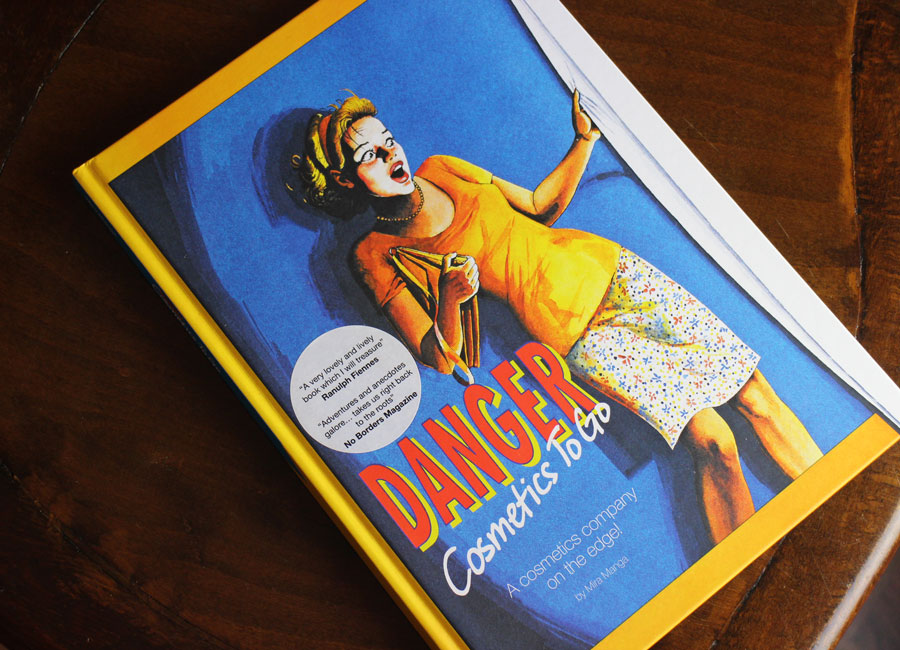 And now for something completely different: I don't know if you are familiar with UK beauty brand Lush? Lush manufactures brightly coloured (and strongly scented!) soaps, bath bombs and other freshly made cosmetics – they have stores across Europe and in Asia and over the past few years the company has really expanded internationally. I was a big fan of Lush for several years (this was before I discovered organic cosmetics – Lush is not particularly organic or even natural!). However, I liked the unusual marketing concept of the company. Anyway, the predecessor of Lush was called Cosmetics to Go and at some point the brand hade very close ties to The Body Shop. Danger Cosmetics to go from Mira Manga describes the history of Cosmetics to Go: how the company was founded, their innovative product portfolio and unusual retail concept (Cosmetics to Go was originally a mail order business!), the company's connections to The Body Shop – and how everything ended in 1994, which was the year that Cosmetics to Go ceased to exist and Lush was established. Very interesting to read and written in a chatty, casual style. You can order the book through Lush's own webshop.
Yesterday I finished reading The French Beauty Solution by Mathilde Thomas, founder of natural beauty brand Caudalie. It is quite interesting: you learn a lot about the company history of Caudalie, there are chapters on ingredients with a particular focus on polyphenols (one of the key ingredients in Caudalie products); Mathilde also gives some DIY tips for face masks made with yoghurt or honey. I was intrigued to read about the origins of the brand name: in French "caudalie" is a unit of taste measurement – it measures how long the flavours remain on your palate when you swallow a mouthful of wine. Who knew! [Click here for the original German article Vier Beauty-Bücher, die ich gerade lese.]

This is a different kind of blog post – and I think I need to provide a short introduction that explains how this article came about. A few days ago I read on German blogger Johannes Korten's Jazzlounge blog about the Platz des europäischen Versprechens (Square of the European Promise) which was recently inaugurated in the German city of Bochum. The square is located in front of Christuskirche church in the city centre of Bochum. Artist Jochen Gerz wanted to create a physical "monument" that would embody people's belief in Europe – not necessarily their belief into the EU (which is primarily a political construct) but into the idea of Europe. Gerz invited people who believed in the European idea to have their names engraved into paving stones which were then set into the ground in front of the church. More than 14.000 people responded and their names were carved into the stones. And the Square was officially opened on 11th December 2015. If you're interested in seeing what it looks like: there are plenty of pictures online – just google it.
Anyway, Johannes Korten from Jazzlounge wanted to do a similar project online, so he organised a blog parade and invited European bloggers to write an article or a post about why they believed in Europe. I also wrote an article for this blog parade which you can read here in the German original. And this is a brief summary: I have a positive attitude towards the EU and Europe, and despite the political, economical and sociological challenges we are going through at the moment, I firmly believe in the European idea. And while I was trying to put all of this into words, I suddenly thought: why not write about a "European perfume"? A suitable topic for a beauty blogger, don't you think? 🙂
My imaginary perfume came from Brussels, packaged in a blue paper decorated with golden stars (a note for my international readers: blue and yellow are the colours of the official EU flag). The fragrance is housed in a round glass flacon (probably produced in the Czech Republic which is well-known for its traditional glass works!) while the outer packaging looks like it might have been made in Germany. A closer look at the cardboard box shows that the perfume is based on organic alcohol from Poland, was bottled in Lithuania and contains resveratrol derived from Greek grapes.
The fragrance itself is an intriguing European mélange: I can detect refreshing citrus notes blended with bergamot from Calabria and tangerine from Corsica. There are aquatic notes that come straight from the depths of the Atlantic ocean, but I also smell aromatic eucalyptus from Portugal, lavender from France, roses from Bulgaria, woodsy notes from European trees such as fir and pine, jasmine from Spain….it is a heady mixture! My verdict: I like this perfume very much – perhaps the blend needs to mature a little longer so the different flavours can mingle more harmoniously but overall, this fragrance is just my style! [Click here for the original German article Mein europäisches Versprechen oder das Parfüm Europas.]

I already mentioned in my Book post above that I ordered one of the books from the Lush website – and because I didn't want the book to feel lonely on its journey to my house I also ordered a pack of Lush's Aquatic Toothy Tabs! This August I had bought some toothpaste tablets in Berlin's Original Unverpackt supermarket – they are perfect for my hand luggage when I am travelling. And the Lush toothpaste tablets are scented with jasmine! How could I resist?! Although the product doesn't carry an organic certification, the ingredients of the Toothy tabs could probably be certified: the tablets are based on calcium hydrogen phosphate, baking soda, sorbitol and tartaric acid. They are whitish-grey; you bite them into little pieces and when you start brushing your teeth with a wet tooth brush they start to foam. And the foam really smells of jasmine, I am still captivated by it! A pack of 40 tablets costs 5.95 Euro; you can buy it online or in any Lush store.
Since I love the Moon Bloom fragrance by Hiram Green, I follow the activities of the Gouda-based company quite closely. And as soon as I read that Hiram Green had launched a limited edition fragrance Eau de Parfum Voyage (wonderful name!), I had to order a small size of the perfume straight away! Hiram Green is difficult to track down; I ordered my fragrance straight from their Netherlands-based online store. Voyage is supposed to evoke the exotic mysteries of India and it is indeed a surprising fragrance: first I smell citric freshness – then all of a sudden there is an explosion of intensive powdery accords tempered with notes of soapiness and spices like cardamom. Very cool! Fifteen minutes later I detect notes of cinnamon, candied oranges, dried apricots, a hint of leather and chocolate-scented patchouli rounded off by warm sandalwood and vanilla. I am very impressed by the opulent and unusual composition which has an almost old-fashioned elegance. For an organic perfume the fragrance lasted surprisingly long: after six hours I could still smell Voyage on my skin and even after 12 hours, there were distinctive olfactory traces left. Impressive! In Germany you can buy Voyage in online perfumery Aus Liebe zum Duft.
Another olfactory surprise this week was the Velvet Body Lotion with Coconut Milk and Shea Butter from Estonian brand Joik which I recently received from Hilla Naturkosmetik. A coconut-scented body lotion in the middle of winter?! I was skeptical at first but as soon as I tried out the product I was hooked: the lotion doesn't smell sickly-sweet at all. Rather, it evokes an alcohol-free Piña Colada cocktail or an aromatic pineapple-coconut dessert; I almost started to get summer-time feelings…..! The body lotion is based on coconut milk, olive oil, shea butter and coconut oil; the ingredients are 98% organic, with the exception of the fragrance and an emulsifier. If you like fruity pineapple and coconut milk, this is the body lotion for you! It has a light texture so it is absorbed very quickly – I'd recommend it for slightly drier skin types. A 150 ml bottle costs 13.90 Euro.
Beauty subscription boxes are an interesting topic: when Birchbox in the US and Glossybox in Germany were launched a few years ago they practically introduced a new beauty retail model. Since I prefer to select my own beauty products and I already know many brands, I don't find the whole beauty box subscription concept particularly exciting. Also, most of the boxes feature conventional brands and there were few organic cosmetics. However, I recently received two organic beauty boxes which are surprisingly interesting: the Fairy Box is sent out monthly and costs 19.90 Euro (including postage). The December box included a small size body oil and soap from German aromatherapy brand Primavera, an anti-pimple roll-on with tea tree oil from German brand Lexi Girl; a lip gloss from Uoga Uoga (Lithuania) and the soap dish Travertin from Ottoman – the dish is a square stone plate made from limestone that is quarried in the Troja region in Turkey.
The second box is called Purity Bag – I already showed the contents on Instagram. Before you order a Purity Bag you can list personal preferences (skin type etc.); I decided to go for a surprise box! The products included an Und Gretel Mascara and a body lotion from Stop The Water While Using Me! (both are German brands), a konjac sponge, a small size face mask from The Organic Pharmacy (UK) and the Hibiscus Exfoliating Mud from Apoterra Skincare. Apoterra (previously Caru Skincare) is a beauty brand from New York. The Hibiscus mask is a combination of scrub and face mask, it is based on honey, hibiscus flowers and oatmeal and has a beautiful hibiscus smell. You apply the red paste to the skin, leave it on for 10-15 minutes and then rinse the mask off with water. The skin feels soft and hydrated afterwards. You can also use the paste as a face scrub, massaging it gently into the skin and then taking it off with plenty of warm water. This box is definitely a premium treat: a single Purity Bag is priced at 59 Euro. As a subscription the boxes are slightly more affordable. Purity Bag was launched by Spatacular Beauty Bar, a perfumery that is located in Dusseldorf.
And these are some of the most interesting organic beauty news I discovered this week:
French brand Studio78 Paris has launched three new cream eyeshadows in Plum, Taupe and Pink (pictures are available here) and four Tinted Lipbalms. Many thanks to Petra for the info!
Kahina Giving Beauty from the US has launched a new black soap, the Beldi Soap. More information is available here.
Drugstore retailer DM's certified organic own label brand Alverde is introducing a new 3-Day-Beard Cream in its Alverde Men's range.
[Click here for the original German article Beauty-Notizen 11.12.2015.]

Good-bye everyone and see you in two weeks!
Julia