Dear international readers of Beautyjagd,
Welcome to the next English-language edition of Beautyjagd! This is a condensed version of the most important articles that have appeared on my blog over the last three weeks. For more information about this new format, click here. And now: enjoy the best of Beautyjagd in English!
Best wishes
Julia
Hello everyone and welcome to the next installment of Beautyjagd in English!
Incense from Shoyeido: Listening to the fragrance
Up until a few years ago I really didn't like incense. Even the thought of it would give me a headache! Mind you, most of the incense I had come across until that point were these really cheap Indian joss sticks (strong smell and lots of smoke) or artificially scented and brightly coloured incense cones ( "vanilla", "strawberry", "seabreeze" ….you get the drift 😉 ). However, when I started to travel in Asia, these associations began to change. The pleasant incense-laden atmosphere of the temples and shrines that I visited in Bangkok, Tokyo and Hong Kong; the aromatic incense sticks you could smell at every street corner and even in private residences became a cherished part of my travel memories.
Listening to the fragrance: this is how the Japanese describe the incense ceremony Koh-do. Like Ikebana flower arranging or the classic tea ceremony, Koh-do is a true art form. At a Koh-do ceremony you appreciate all facets of precious incense. Interestingly enough the aromatic fragrant woods or spices – one of the most famous woods used in Koh-do is the agar wood Jinkoh – are usually heated up and not burned. This brings out the essential oils of the wood without generating any smoke.
There are different types of incense sticks: Japanese incense (whether in stick form, as a cone or a coil) is usually manufactured from pure woods, herbs and spices and burns with very little smoke. In Indian-type incense sticks, the aromatic incense material is wrapped around a very thin wooden stick which can generate more smoke when it is burned. Cheaply made incense sticks also contain synthetic fragrances, binders and ingredients – no wonder that they used to give me headaches!
Japanese incense manufacturer Shoyeido was founded in 1705 and it is one of the few companies that produce incense in the traditional way and with natural ingredients. On her blog Aroma Praxis, Eliane Zimmermann (who has visited Shoyeido's factory in Japan), describes how the manufacturing process works: the incense paste is squeezed through a kind of spaghetti press (resulting in long strands) which are then left to dry.
Over here in Europe, incense has a long tradition which goes back to antiquity. The word perfume actually derives from the Latin phrase per fumum ("through the smoke"). The Egyptians, Romans and Greeks used dried herbs and resins for religious ceremonies and for purification and the Middle Ages saw a flourishing trade in frankincense, myrrh, benzoe and other resins. In Catholic Church services frankincense is still used as part of the ceremony. In Germany we also have the "Rauhnächte", a pretty much untranslatable expression. These "Rauh" nights go back to Celtic mythology: the term describes the days (and nights) from 24th /25th December to the 5th or 6th January (depending on the geographic region, these dates can vary) which are traditionally considered to be holy nights. On these days "between the years" (actually a popular colloquial expression) people used sage, juniper and fir tree to smoke out (or "smudge") their houses and barns, purifying and cleansing the spaces. You can find variations of the Rauhnächte all over Europe; it is a fascinating Christian/pagan tradition.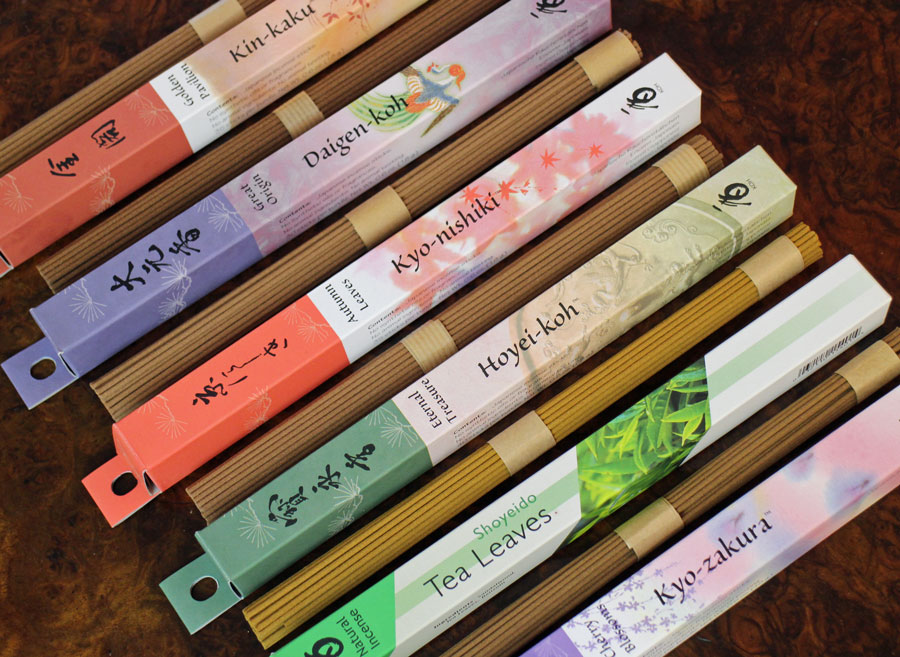 But back to the Japanese incense which has introduced me to an entirely new fragrance experience! In addition to the Shoyeido incense sticks that I brought back from Japan I also bought a small incense holder and a little porcelain plate. Alternatively you can stick the incense into a sand-filled container but I prefer my Shoyeido dish! It is around 4 sq cm wide and features a cherry tree branch and Mount Fuji. You put the incense stick into the holder, light the tip and then immediately blow it out. After around 30 minutes the 22 cm long stick has burned down and the entire room is filled with a gorgeous fragrance. Isn't my Shoyeido incense collection beautiful? The Naturdrogerie sent me five of the six packs for this Sponsored Post. Here is a short description of the different fragrances:
Shoyeido Tea Leaves (sandalwood, tea leaves and benzoe): I had expected a light and green fragrance but instead I was surprised by the combination of woods, earthy notes and resins. A pack of 35 sticks costs 7.90 Euro.
Shoyeido Eternal Treasure (sandalwood, clove, cinnamon and spices): one of my current favourites; a fresh, light, green and very elegant fragrance. It is one of Shoyeido's oldest recipes. A pack of 35 sticks cost 3.90 Euro.
Shoyeido Cherry Blossoms (sandalwood, cinnamon, benzoe, clove and spices): I simply can't resist cherry blossoms! A floral, sweet fragrance with subtle fruity undertones and tempered with resins, woody and spicy notes. Very nice! A pack with 35 sticks costs 6.90 Euro.
Shoyeido Great Origin (sandalwood, cinnamon, Borneo camphor and spices): another favourite of mine; a fresh-spicy mixture with a touch of rose wood, elegant without too much complexity. A pack of 35 sticks costs 4.50 Euro.
Shoyeido Autumns Leaves (sandalwood, cinnamon, patchouli, benzoe and spices): a warm and slightly sweet-and-spicy fragrance (which is probably the cinnamon) with earthy and resiny notes. A pack of 35 sticks costs 4 Euro.
Shoyeido Golden Pavillion (cinnamon, sandalwood, clove, patchouli, benzoe and spices): a balsamic fragrance reminiscent of frankincense – the name of the incense refers to Kyoto's famous Golden Pavillion (Kin-kaku). 35 sticks cost 5.50 Euro.
[Click here for the original German article Räucherstäbchen von Shoyeido: Dem Duft lauschen.]

My last weekend began with a big parcel delivery: my Sonnentor order finally arrived! I have already shown the contents on Instagram – not all of the items were for me, by the way, they also included some presents for other people! Sonnentor is an organic food brand from Austria; they have a fabulous range of spices, teas and coffees. I ordered from the Sonnentor website because I wanted to try out their new spice mixture Curcuma Latte which is available in two variants: vanilla and ginger. Of course I had to buy both versions! I keep reading about the beneficial properties of curcuma in my readers' comments and on other blogs. Curcuma as a health food is starting to become very popular in Germany although it is not a spice that we traditionally use in our cooking. The yellow curcuma powder is said to strengthen the immune system and to have anti-inflammatory properties. Sonnentor's Curcuma spice mixture is based on an old Ayurvedic recipe. You stir it into milk (or a milk substitute of your choice) to create a classic "golden milk". Curcuma Latte with Ginger contains cinnamon, ginger, nutmeg, cardamom and black pepper while the Curcuma Latte with Vanilla includes cinnamon, cocoa, ginger, vanilla, liquorice root and black pepper. Both variants – I tried them out in warm milk – are delicious. However, you really have to like the taste of curcuma since it is distinctly noticeable. A jar of Curcuma Latte with 60 gr costs 6.49 Euro; a refill pack for 4.89 Euro is also available. So far I've only seen the spice mixture online in the Sonnentor shop but hopefully some of Germany organic supermarkets will stock the product soon.
Drugstore retailer DM's certified organic own label brand Alverde has launched a new Dry Shampoo Nettle & Lemon Balm which is now available in all DM stores and online for 2.49 Euro. I quite like dry shampoos, they are convenient if you are too busy (or too lazy!) to wash your hair. The Alverde shampoo is based on talc and silica; it is packaged in a small powder dispenser. You sprinkle the white powder onto your scalp and leave it on for 2-3 minutes; then you massage the powder into the hair and brush it out again. Although dry shampoo leaves the hair less greasy and more voluminous it also makes it appear a little duller. If you have dark hair make sure to really brush the powder out properly, otherwise the hair can look a bit grey. The dry shampoo has a citrusy fragrance with herbal notes but I barely notice the scent once the powder has been brushed out.
During Ecco Verde's Black Friday special offer I ordered the Moisture Boost Minis from NZ brand Antipodes. I have wanted to try out the Divine Face Oil and the Vanilla Pod Day Cream for the longest time, but because Antipodes isn't the cheapest brand on the market I hesitated to order the full size products. The trial set contains a 10 ml flacon (with dropper) of the face oil and a 15 ml tube of the face cream. The Divine Face Oil is based on avocado oil (one of my favourite oils!), macadamia nut oil, jojoba oil and hazelnut oil. It has a subtle fragrance which is composed of ylang ylang, jasmine and a little sandalwood; the oil was absorbed quickly into my skin (which is combination skin with a tendency towards dryness) and it hydrates really well. I thought that the Vanilla Pod cream would have a strong vanilla fragrance but the vanilla note isn't at all dominant since it is accompanied by essential oil of mandarin. The cream is based on shea butter, squalane and manuka honey (I like this combination!) and it has a comfortable light texture whilst still being moisturizing.
A few months ago I had bought the Vivid Foundation and the Foundation Brush from Ilia Beauty from online perfumery Amazingy during their Glamour Shopping Week special offer. This was just before my trip to Tokyo so I didn't have time to show the products on my blog – until now! I have been wearing the creamy foundation quite often over the last weeks. Although my skin colour has gotten lighter over the past couple of month, the shade Santorini is still a match for my light to medium-toned skin. However, soon I will have to switch to Gobi (a slightly lighter shade) or I'll simply lighten the foundation with the Mix your Makeup from Alverde! Ilia Beauty states that Santorini is a neutral shade although in my opinion the colour has very subtle peach-coloured undertones. The texture is creamy, the finish is satin-like with medium-coverage and the foundation lasted all day long. The only ingredient that could not be certified is the preservative ethylhexyl glycerin. Other than that it's a nice foundation which should be particularly suitable for drier skin types. One small caveat: the flacon has a pump dispenser which proved to be less than cooperative; I had to turn the bottle upside down to get it to work. Other than that, I have no complaints! I apply the foundation with the Foundation Brush which I bought because it looked interesting (also, it was on special offer 😉 ). The firmly bound synthetic brush hairs are tapered towards a point; I apply four dabs of the foundation on different parts of my face and then work it into the skin with the brush. The brush point is especially good for applying the foundation around the nose or eyes (the foundation also works well as a concealer). In Germany Ilia Beauty is sold in a number of online and offline perfumeries, including Green Glam, Curantus, Salon Zwei and Pure Schönheit; all retailers are listed on Ilia Beauty's homepage. The foundation and the brush cost 45.95 Euro each.
And here are the most interesting beauty news that I came across last week (all are German brands, incidentally!):
Organic niche fragrance brand April Aromatics has launched a new Eau de Parfum; Purple Reign is a floral-woody creation. More information is available here.
Lavera will launch a Re-Energizing Sleeping Cream in March 2016 – finally the sleeping pack trend from Korea has arrived in Germany!
Aromatherapy brand Primavera has received the annual award "Brand of the Century". More information is available here.
[Click here for the original German article Beauty-Notizen 18.12.2015.]

A visit to Aroma Zone in Paris
Whenever I visit Aroma Zone in Paris I go crazy: the store sells everything you need to create your own organic beauty products: they stock hundreds of oils, essential oils, actives, ingredients, hydrosols, emulsifiers, preservatives, packaging….. pure heaven for anyone who is into DIY organic cosmetics! Originally I wanted to just take a quick look around to see what was new on the shelves; I didn't really plan on buying anything. Then I happened to walk past the shelf with mini sized bottles of different oils – and all my good intentions went out of the window! I mean, how often do you have the chance of buying 10 ml sizes of different face oils for just 1-2 Euro each?! It's a fabulous way of sampling a wide range of oils and the small bottle sizes are perfect for travelling.
On the picture you can see the oils I bought: borage seed, tomato seed, raspberry seed, rosehip kernel, plum kernel, baobab, daisy (a macerate), vanilla (macerate), broccoli seed, prickly pear (macerate), hazelnut and carrot (macerate. And yes, I could have easily bought a dozen more varieties 😉 . Although you can order the small sizes in Aroma Zone's online store, standing in front of the shelf with all those tiny oil bottles – wow! I was like a kid in a candy store 😉 .
The Aroma Zone store is located in the Rue de l'École de Médecine 25 in the 6th Arrondissement (Metro Odéon) in Paris, France.
[Click here for the original German article Viele kleine Ölfläschchen von Aroma Zone.]

I wish you a very happy Christmas and a wonderful holiday season! Instead of the usual Beauty Notes I decided to show you my beauty Christmas presents – these are all gifts from me to myself, by the way! After all, no one knows what I like as well as I do and since I am a professional beauty blogger it is pretty hard to give me a truly unusual beauty present. So I tend to buy my own beauty gifts 😉 .
Do you recognize any of the products in the picture above? The non-beauty goodies include incense sticks (which are not from Japan!), a good quality manuka honey, French patissier Laurent Duchêne's famous Guimauves (marshmallows) which I brought back from Paris and a spice mixture for a maritime mulled cidre. And on the cosmetics side I treated myself to two soaps and two facial oils….
By the way, here are the winners of my recent "A Night with Dr. Hauschka" competition: Kristina, Teleri, Nadja, Lavendelblüte and Gloria Marley. Congratulations!
[Click here for the original German article Meine Weihnachtsgeschenke.]

At the end of each year I publish a long post in which I look back at the last 12 months – I re-read all of my articles, go through my diaries, travel photos and other notes and sort of review my last year as a beauty blogger. These articles tend to become really long (2015 was an especially busy year for me and my blog!) so I decided to split this year's review into two parts. This is the first chapter in which I'll talk a bit about how Beautyjagd has changed in 2015, review some of my travels and in general look back at all of the exciting things that happened last year. In the second part, which you can read in the next English installment, I will talk about my organic beauty favourites of 2015!
2015 was an exciting year for Beautyjagd: in late 2014 I launched a new article format "Meine Gesichtspflege" (My Skin Care Routine) in which readers introduce their skin care routine and talk about their favourite face care products. This series has proved to be enormously popular with my German readers, I have just posted the 56th article and there are still a number of contributions to come. And I already have an idea for a follow-up article series 🙂 .
Another new project in 2015 was, of course, adding an English-language version of Beautyjagd for my international readers! My translator Annika from Trend Traveller and I decided to publish bi-monthly articles in which we present the most important Beautyjagd articles in English.
Another important step in the development of my blog were some of the technical behind-the-scenes changes that my admin Sekl implemented over the past year – successfully moving the mail server, for example. Up until a couple of years ago I administered Beautyjagd myself and it is still a new experience for me that other people, like Sekl and Annika, are now also working on Beautyjagd 😉 .
I also want to continue the article series "My Natural Makeup Look" next year – the last quarter of 2015 was so busy that I didn't have the time to post any new articles but I fully intend to make up for that (pun intended!) in 2016. I also still enjoy playing around with Instagram! In summer 2015 Cosmia magazine did a two-page spread on me and my blog which made me very happy; I was also interviewed by a number of other publications. Last spring I also started to write for the blog of organic supermarket chain denn's; and I am still a contributor to Najoba's blog – both are projects which I enjoy very much. Sponsored posts, banners and other cooperations are a very important part of keeping Beautyjagd (and myself) on a stable financial base so I'd like to thank all of my business partners for the pleasant working relationships last year!
Also exciting: in 2015 the Beautyjagd community started to organize offline meetings in Berlin, Hamburg, Cologne and Munich. Anyone can organize these meet-ups: usually a group of Beautyjagd readers who live in or near the same city or town will meet up for coffee or a meal; sometimes they also visit an organic beauty store or a spa…. I love it that the virtual community is also meeting up in real life!
My travels: If you read my blog regularly you'll know that I love to travel – and 2015 was no exception. Some of my personal highlights were trips to Paris in January, November and December. In late March I travelled to Normandy and went beauty-hunting in Honfleur, Trouville and Deauville. In May I spent a couple of days in Brussels, June was France again (Bordeaux and La Rochelle) as well as a trip to Santaverde in Andalusia. In July I spent a week in Berlin working on the English-language version of Beautyjagd and in September I took part in a trip to the Carinthian mountains which was organised by organic beauty brand Speick. I also attended NaturkosmetikCamp in Austria last summer (I am one of their media partners and moderated the panel discussion); early autumn was Brussels again and then in October, of course, came my trip to Tokyo!
I also attended a number of professional events last year, including blogger events at Hilla Naturkosmetik and Pure Schönheit; there were conferences (like the BDIH conference in May and the Natural Cosmetics Conference in Berlin in October), seminars (a Dr. Hauschka study trip and an aromatherapy event organised by Primavera) and one of the most important dates in my calendar was, of course, Vivaness, the biggest European trade show for organic cosmetics.
By the way, according to the WordPress Stats my blog registered over 2 million page views in 2015 – yay! Not a bad result for a blog that began five years ago as a niche project 😉 . [Click here for more photos and the original German article Jahresrückblick 2015 (1): Bloggen, Reisen, Persönliches und Inspirationen.]
Happy New Year, y'all! Today is the first day of the calendar year 2016 (according to continental European reckoning at least!) and I wish you all a wonderful new year! I always love the days in between Christmas and the New Year – everything tends to be quieter than usual, it's a time to catch up with friends and family, eat Christmas cookies (see the gorgeous cookie tin on the picture above? A friend of mine gave it to me for Christmas: it's by Finnish design brand Iittala), think about the last twelve months and perhaps even decide on a few resolutions for the coming year! The rose brooch from GEPA was another Christmas present (a friend of mine saw it and was reminded of the Beautyjagd logo!) and I was also very happy to receive a parcel from some of my Berlin-based readers: look at the beautiful matcha soap from tea brand Keiko.
And speaking of looking back: like last year I have awarded the Beauty Oscars for online perfumery Najoba. In this blog post (German only, sorry!) you can read which eight organic beauty products particularly impressed me in 2015. Enjoy reading!
Because it was Christmas I ordered the Frankincense Water from UK brand Akamuti; I use it to moisten the skin before applying my face oil. Akamuti offers a wide range of hydrosols, oils and balms. For the Frankincense Water, Akamuti distilled the resin of the frankincense tree (boswellia); it contains the anti-inflammatory boswellic acid which makes this hydrosol ideal for irritated, impure and mature skin. As far as the fragrance goes I prefer the Frankincense Soothing Tonic from Balm Balm (also from the UK) which has a slightly fresher scent. I bought the Akamuti Frankincense Water from online store Ecco Verde for around 11 Euro.
Last week I started to use the Blueberry+Jasmine Serum Concentrate from Canadian brand Odacité – I had treated myself for Christmas. The Odacité oils are formulated with a plant-based fatty oil and three essential oils; they are packaged in 5 ml flacons equipped with droppers. They are not particularly cheap but at least the small amount means that they don't go off so quickly – oils often turn rancid when they are left unused for too long. When I ordered I decided on Blueberry+Jasmine because the combination sounded delicious! It's an anti-ageing oil which is said to boost the skin's cell energy; I apply it on damp skin. The fragrance is very pleasant: the jasmine is rounded off by litsea cubeba, mimosa and ylang ylang so the blend is sweet and citrusy with floral undertones. In Germany Odacité products are available in premium organic perfumeries like Organic Luxury in Munich or online at All for Eves. I bought my Blueberry+Jasmine Serum at Naturisimo in the UK.
For days I've been dragging around a cold so the Propolis Spray from French brand Ballot-Flurin, the new Manuka Honey from Austrian brand Sonnentor and the honey sweets from Comptoir & Companies are my constant companions at the moment. I also recently received the Organic Aroma Spray Winter Protection from Swiss beauty brand Farfalla: it contains essential oils of fir tree, manuka, eucalyptus and thyme which are anti-bacterial and anti-viral and are said to cleanse the air. I regularly spray it around the room; the fragrance smells beautifully of woods and herbs. The Winter Protection Spray costs 12 Euro and is available through Najoba, Ecco Verde and other Farfalla retailers.
My Christmas presents also included the Lip Care Stick from Yverum (you can see it in the picture above): it has a great texture which is perfectly balanced between waxy and oily. The stick is based on olive oil, three different plant-based waxes, castor oil and shea butter. Because the ingredients include sea buckthorn oil the stick has a light yellow-orange tint – don't worry, you don't see this colour on your lips! The Yverum Balm hydrates the lips nicely; I've used it regularly over the last week. I also like the fact that you can purchase a refill lip balm for 4.95 Euro. I bought my Lip Care Stick at Najoba.
And these are the most interesting organic beauty news that I have discovered last week:
Drugstore retailer Rossmann's certified organic own label brand Alterra will launch a new vegan mattifying cover stick.
German brand Dr. Hauschka will launch a new limited edition soon: if you want to see what Comeback looks like (spoiler alert!): I found a picture on Scandinavian beauty blog Naturligt Snygg.
And drugstore chain DM's certified organic own label brand Alverde will soon launch a limited edition with carnival colours (in less than eight weeks, many regions in Germany will celebrate the annual "Karneval").
[Click here for the original German article Beauty-Notizen 1.1.2016.]
Good-bye everyone and see you in two weeks!
Julia