Dear international readers of Beautyjagd,
Welcome to the next English-language edition of Beautyjagd! This is a condensed version of the most important articles that have appeared on my blog over the last two weeks. For more information about this new format, click here. And now: enjoy the best of Beautyjagd in English!
Best wishes
Julia
Fragrant Beauties 5: Snake in a vineyard
Last Sunday I showed you a dark, almost mystical looking perfume bottle. Today's flacon is more figurative: a blue snake is winding itself around a white bottle which has been decorated with golden wine leaves. The flacon is 15 cm high and was manufactured at around 1850 in Bohemia. I would have loved to have seen the matching stopper but unfortunately it got lost over the past 150 years.
[Click here for more pictures and the original German article Duftende Schönheiten: Schlange im Weingarten]
Good-bye toothpaste, hello Denttabs!
This is another one of my Vivaness discoveries. On the very last day of the trade show I managed a super-quick visit to the Denttabs stand, took a couple of pictures and was given a sample of their toothpaste tablets. If you read my blog regularly you'll know that I love toothpaste tablets – they are so convenient for travelling! UK beauty company Lush sells this type of toothpaste tablets: I introduced their Aquatic Toothy Tabs with jasmine flavour on this blog a few weeks ago.
However, the Denttabs are different from "normal" toothpaste tablets and they also differ from regular toothpaste: Denttabs polish the teeth rather than scrubbing them with whitening particles. The key ingredients in these tabs is cellulose which gently polishes the surface of the teeth, making them so smooth that food or drink deposits can't adhere to the tooth enamel. This is also the reason why the manufacturer recommends that you use Denttabs with a very soft tooth-brush – normal tooth-brushes can roughen up or scratch the tooth enamel.
A really great side effect of the Denttabs is that after the first brushing my teeth already felt much smoother. Smooth teeth reflect the light better so they appear brighter (this has nothing to do with a conventional teeth bleaching). And because tea or coffee has trouble sticking to smooth surfaces the Denttabs are also said to slow down discolouration.
I have been testing the Denttabs for a month now and have already bought another jar which I took with me to Asia. And this is how it works: you bite the tabs into little pieces (use your front teeth) until they turn into a sort of creamy mush (the tabs have a light minty taste and smell). Then you brush your teeth with a dampened tooth-brush for about three minutes. Spit the foam out, rinse the mouth with water and you're done!
I was really surprised by how smooth my teeth felt – and how well the soft tooth-brush works (up until now I have always used medium-hard tooth-brushes). It is also my impression that I have less tartar on my teeth but I can't say this for certain yet; I'll keep monitoring the development!
The Denttabs are available with or without fluoride. The remineralising property of the fluoride in the combination of chewed-up tablet and saliva is supposed to be more effective than the fluoride contained in a conventional creamy toothpaste. According to the manufacturer, the tabs are also suitable for sensitive teeth.
The Denttabs are certified by BDIH and are based on cellulose, bicarbonate of soda, silica and a mild tenside which doesn't foam but still removes protein and fats from the teeth. A jar of 125 tablets lasts for around 2 month and cost 6 Euro. Denttabs has a shop finder on their website.
[Click here for more pictures and the original German article Zahncreme ade, Denttabs ahoi]

Three beauty tips from ancient Japan
This weekend I visited the Tokyo Ota Memorial Museum of Art. The Ota museum specialises in Japanese woodblock prints, the so-called ukiyo-e. I love this museum because it is small and compact (you don't need more than one hour for a visit). Every couple of months the museum puts on a new temporary exhibition.
The current temporary exhibition – "Japanese Fashion and Lifestyle" – displays the works of artist Utagawa Kunisada who lived from 1786 to 1864. Kunisada is known for his detailed portrayals of everyday life (hence the title of the exhibition); in his woodblock prints he shows women going about their daily life, during the different seasons of the year, at home, at work and on holidays – women in beautiful dresses, styling their hair or applying makeup to their faces. Unfortunately you are not allowed to take photos in the museum so I can only show you a picture of the exhibition poster.
Several woodblock prints had English-language descriptions – and the information about the beauty rituals was particularly interesting! So here are some beauty tips from 18th/19th century Japan 😉 .
♥ An interesting makeup trend back then was Sasairo-beni: in the 19th century, Tokyo women often painted their lower lip green! I immediately had to think of the girls and young women you see in Shibuya or Harajuku today: they wear the most fabulous and unconventional fashion (unconventional looking to my European eyes at least!) – obviously this is a bit of a Tokyo tradition 😉 . You can see a picture of a lady with a green lower lip here. A few of the woodblock prints actually included advertising for a powder that was popular at that time: Bien Senjoko.
♥ For red cheeks and lips, Tokyo women of the 18th and 19th century used a blusher called Beni: a small porcelain dish in which you mix safflower colour pigments with a few drops of water and then apply the resultant paste with fingers or a little brush. You can see what this looked like here. The Beni blush was expensive and frequently the pigments were mixed with a little black ink to make the colour stronger. Kyoto-based beauty brand Yojiya (from whom I buy my blotting papers) actually sells such a Beni rouge. It reminded me a bit of the Moroccan Aker Fassi blush.
♥ Another woodblock print in the exhibition depicted how women used to wash their hair: once a week they mixed up funori (a kind of algae-based glue) together with wheat flour and hot water and then combed the mixture into the hair. This is actually not so different from the rye flour hair washing process that is currently so popular in Europe, don't you think?
I also loved Kunisada's woodblock of a Tokyo lady in winter-time: to keep warm she simply put a sleeping cat into the upper part of her kimono 😉 .
The exhibition also made me think about traditional beauty rituals which often include natural or home-made cosmetic products – in fact, this might make an interesting new articles series for the blog.
[Click here for more pictures and the original German article Drei Beauty-Tipps aus dem alten Japan]
Last week I left Tokyo and I am now in Seoul. I can't tell you how excited I am: finally I am in the country of beauty innovation and can look at the products in actual stores rather than just read about them on beauty blogs and websites! It's my first time in Korea and I am loving it! So far I have only had time for two walks through Myeong-dong and Gangnam but, of course, I already bought a whole load of beauty products!
But first let me tell you about what I did during my last week in Tokyo. Last Saturday I visited incense manufacturer Shoyeido in Aoyama. Such an elegant, beautifully scented store! I have already posted a picture of the Shoyeido store on Instagram and in this post I have portrayed the company and described some of their incense varieties. I especially like Shoyeido's large selection of short incense sticks (I have a small flat at home and always need to break the longer incense sticks into smaller pieces). The incense set Floral World Gold contains short sticks scented with jasmine, violet and pine; I also bought a small box of Low Smoke Incense sticks (they generate 30% less smoke than the other Shoyeido incenses). And I simply couldn't resist the Fragrance Body Powder Zu-Koh; it smells a little like Chinese medicine but at the same time very sophisticated. On my next trip to Japan I definitely want to visit Shoyeido's main store in Kyoto.
I have already shown the Natural Whitening Concealer SPF 32 from MiMC on Instagram; just like the Mineral Foundation Sunscreen SPF 50 the Whitening Concealer is part of the brand's new UV collection. The concealer palette contains three colours: an orange shade for under-eye shadows, a rosy beige to cover impurities and a lighter beige for blending. The textures are great and the coverage is good too; the palette comes with a small brush to help apply the concealer accurately. The concealer is called "whitening" because the ingredients contain vitamin C. Depending on your natural skin tone you can use the colours individually or blend them together. And the ingredients are pretty organic, too – I love my new concealer palette!
When I am travelling I like to buy domestic beauty products so I can try out as many new cosmetics as possible. At the moment I am using travel sizes of the Brightening Lotion and the Brightening Milk from Japanese brand F Organics which I bought in organic perfumery chain CosmeKitchen on my Tokyo trip last October. Yes, I took the two products back home to Germany and then packed them again for this trip to Japan 😉 . I have already shown you the F Organics Sheet Mask and the Moisturising Cleansing Foam on the blog. F Organics recently received the German Design Award, by the way. I think it is great that the brand now also offers travel sizes of their products. The Brightening Lotion has a beautiful orange blossom fragrance and the texture is gel-like and moisturizing. And the Milk is surprisingly rich although it has a light fluid-like texture – I only need a little bit to moisturize my entire face. My night-time moisturizer at the moment is the Duo Lumière from Melvita which I bought in Tokyo last week. And if you are wondering what my skin thinks of these constant beauty experiments: luckily it is pretty robust although I tend to observe closely how my skin looks like and how it feels. And as an emergency back-up I carry a small bottle of Melvita rose water and the rosehip kernel oil from Aromazone – these two products always calm my skin down.
But now let's start on my first Seoul beauty notes! On one of my very first beauty expeditions I found the Calendula Modeling Mask from Lindsay – remember my Beautyjagd article about this face mask? This first Lindsay mask inspired me to look more closely at rubber face masks which in turn led me to discover the masks of French beauty brand Secrets des Fées. I love these clay-rubber masks because they are fun to use and the skin feels beautifully clean and smooth afterwards. Sometimes I even use two rubber masks at once to get the proper spa feeling 😉 . I will try out the Lindsay mask tonight!
And check out this unusual and very cool drink I found in a convenience store here: the Pine Bud Drink from Lotte! So tasty: it's a non-carbonated lemonade which has a strong pine needle taste. I think they probably used a pine needle syrup mixed with water. I'll definitely buy this drink again (after all, I love woodsy and pine-ey scents!) although I better not look at the ingredients too closely 😉 .
Finally I'd like to draw your attention to my two new website banners: German aromatherapy brand Primavera is celebrating its 30th anniversary this year and invites everyone to attend the Rose Festival, which takes place from 18.6.-26.6.2016. For more information, click here or on the banner. And NZ-brand Living Nature currently offers the Skin Steps and other products at a specially reduced price.
And here are some of the organic beauty news I have found last week:
German drugstore retailer's certified own label brand Alverde has launched the new limited edition lip balm Zarter Schimmer which has a pink tint. There is also a new Cleansing Mask with organic lime and organic apple extract in the Beauty & Fruity range for younger skin.
Organic brand Dado Sens is introducing a new Tiefenquellwasser-Spray (Deep Source Water Spray); more information is available here.
[Click here for more pictures and the original German article Beauty-Notizen 15.4.2016]
In Seoul (1): Streets of beauty
There are many reasons to visit Seoul. For me, one of the main reasons were the Korean cosmetics! After all, I write about beauty trends and product innovations for a living and you can't get more innovative than Korean beauty! K-Beauty is very popular internationally and the product innovations launched by the big Korean manufacturers have a major influence on the European cosmetics industry. I wanted to browse K-Beauty in actual stores and not just click through blogs and websites 😉 . And now I finally can!
Of course I had read about Seoul's famous beauty shopping neighbourhood Myeung-dong and I'd seen pictures – but the reality of Myeung-dong was something else entirely! Beauty stores side by side (I've never seen anything like it!), all the big Korean brands in a row: Nature Republic, The Face Shop, Holika Holika, Tony Moly, The Saem, Primera, Iope, Etude House, Club Clio, Missha, Skin Food, Laneige, Innisfree and so on.
The sales assistants are standing outside the stores and hand out samples to entice the customers to come inside because competition is fierce. Of course you can also find fashion and accessories stores in Myeung-dong but the cosmetics stores definitely rule the roost! A paradise for any beauty fan. The only reason I am not yet completely broke is that the choice of organic cosmetics is comparatively limited. However, I noticed that a few brands who already have a fairly "green" positioning now occasionally offer Ecocert-certified products in their portfolio. Increasingly, the INCI declarations are also listed in English which is a big help.
This morning I spent an hour in a large Olive Young drugstore just browsing along the shelves, checking out the latest product trends and – I admit it – occasionally peeking into the shopping baskets carried by Korean women to see what they were buying 😉 .
[Click here for more pictures and the original German article In Seoul (1): Straßen der Schönheit]

I can't help it: when I saw this flacon I immediately had to think of French macarons! The perfume bottle really looks a little bit like one of those small and colourful French cookies, don't you think? Perhaps this flacon once contained a floral fragrance scented with notes of sweet almond…? Like the flacon I showed you last week, this perfume bottle was manufactured in the middle of the 19th century. It is made from hand-blown glass which is decorated with reliefs and hand-painted ornaments in red, blue and green. The bottle is 11.6 cm tall, including the stopper.
[Click here for more pictures and the original German article Duftende Schönheiten (6): Macaron]
Five Bestsellers from Ecco Verde
In this post I am analyzing the Top 5 best-selling products of European organic perfumery store Ecco Verde. And there were a few surprises: you'd imagine a toothpaste or shower gel to be amongst the best-sellers, but no: the best-selling product was actually a foundation. In cooperation with Ecco Verde I am looking more closely at these five products: it is always fascinating to find out what products are popular and why!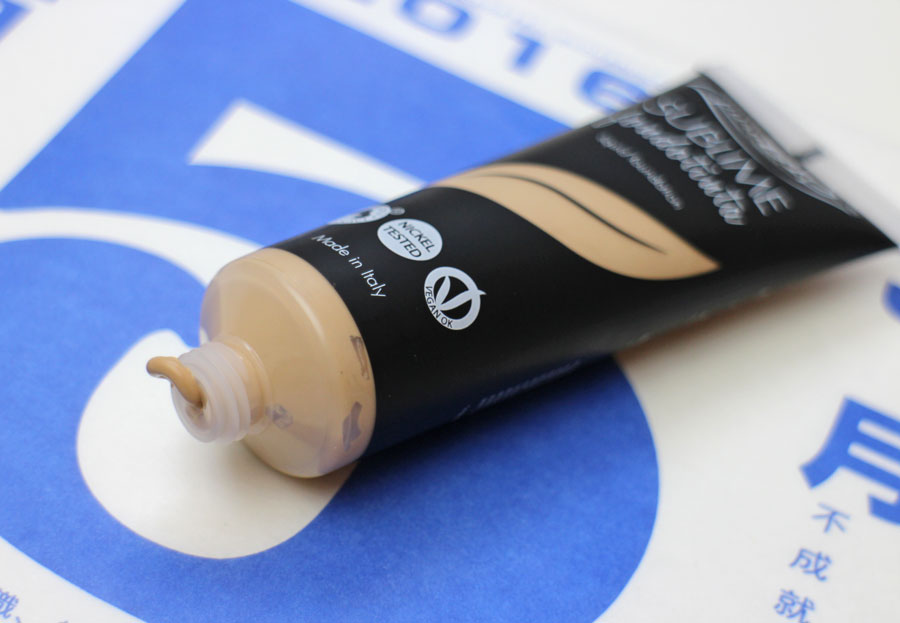 ♦ Ok, let's start with #1: the Liquid Foundation of Italian brand PuroBio. The small tube contains 30 ml and is available in six shades. This product had 390 customer reviews and an average rating of 4 from 5 stars – impressive! The foundation promises strong coverage (which is not easy to achieve for an organic product!) and a matte finish whilst still feeling light on the skin.
-> My opinion: I was sent the Foundation in shade 02, a neutral to light peach-toned colour. The texture is creamy and it is easy to apply but dries very fast so you have to work quickly. The coverage is medium to strong and it is easy to layer the product: I've applied this foundation as a concealer around my eyes and that worked well. The finish is matte but not powdery; it lasted fairly well and the fragrance, initially quite floriental, turned into a subtle creamy-powdery scent. Certified by the Italian CCBP seal, the vegan foundation is based on sage water, glycerin, silica and processed plant-based oils.
Yes, I can understand why the Liquid Foundation from PuroBio is so popular amongst Ecco Verde's customers. Creamy texture, medium coverage and a natural-looking matte finish, all priced at a reasonable 13.89 Euro. I like PuroBio; I already portrayed their Quattro Eyeshadow, the Eyeshadow Stick and the Concealer Stick.
♦ #2 in the Ecco Verde ranking was the Active Conditioner Concentrate from Bioofficina Toscana, another Italian brand. This product received a staggering 2100 customer reviews and 4.6 from 5 stars. Some customers even recommended the conditioner for Asian or African hair. A tube of conditioner contains 200 ml, costs 11.89 Euro and promises to intensively hydrate stressed and damaged hair.
-> My opinion: I wear a pixie cut and do not colour my hair so my hair structure is not particularly damaged. Still, I used the conditioner several times after washing my hair; leaving it in the hair for a few minutes and then rinsing it out. I can confirm that my hair felt soft and even a bit sleek – this is probably the cationic tenside which smoothes and conditions the hair shaft. The conditioner is scented with zesty herbal notes of sage and lemon and has been certified by Italian label ICEA. It is based on water, the afore-mentioned cationic tenside, fatty alcohol and olive oil. And it is vegan.
I would definitely recommend this conditioner to my long-haired friends who complain that organic hair care is not moisturizing enough! In my opinion the Active Conditioner Concentrate can almost compete with conventional conditioners – an impressive performance.
♦ Since I am a fan of oils I was glad to see that Ecco Verde's best-sellers also included a body oil! The 10 Kräuter Cellulite-Öl (10 Herbs Cellulite Oil) from German brand Khadi was #3 in the Top 5 ranking; it registered 700 customer reviews and received an average of 4.1 stars. The oil is supposed to boost the skin's micro-circulation to firm and tighten cellulite-prone areas. Let's see how it performs!
-> My opinion: The 10 Herbs Cellulite Oil definitely has a very strong herbal smell; the ayurvedic fragrance blend might not be to everyone's taste. The oil warmed up my skin slightly; it is based on mustard seed oil and sesame oil, plus plant extracts and essential oils such as pepper, ginger, turmeric, cinnamon, clove, cumin and Indian nut grass. These are all warming and invigorating oils so it came as no surprise when the body oil started to prickle on my skin after around ten minutes – I liked the effect! You can also use the body oil as a regular moisturiser straight after the shower. The vegan Body Oil is certified by German association BDIH and contains only plant-based ingredients.
This was another surprise for me: I wouldn't have expected a skin-firming body oil to be so popular – although spring and summer (=swimsuit season!) is approaching fast. However, the oil is warming and invigorating which probably has a stronger effect on the skin than conventional "skin-firming" products. And the reasonable price of 9.99 Euro for 100 ml make this product good value for money.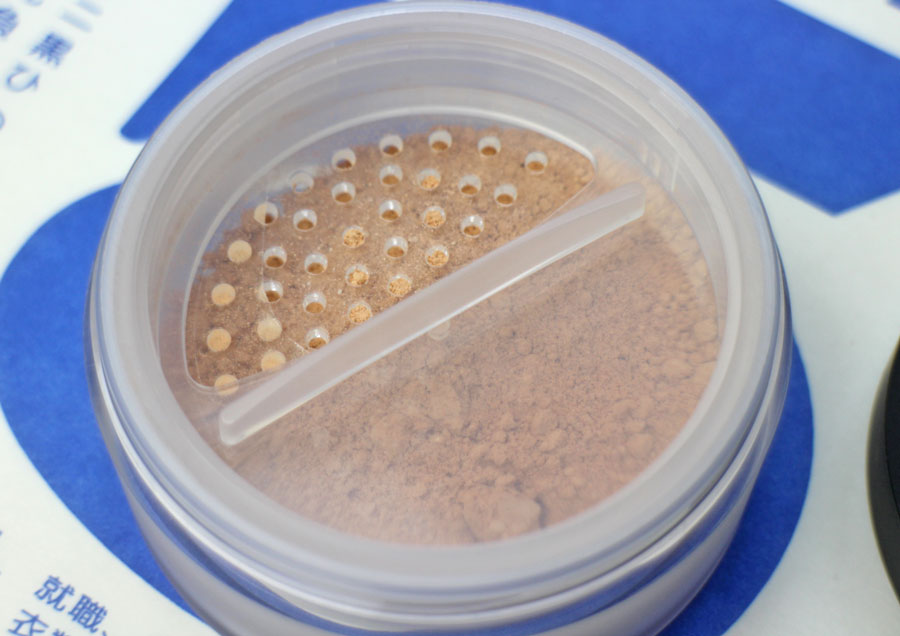 ♦ And there is yet another foundation amongst the Top 5 products – and a mineral foundation, no less, which means that this product category has made it almost into the mainstream beauty market! The Mineral Foundation from UK brand Lily Lolo received 1550 customers review on Ecco Verde's website and an average of 4.5 stars. The powdery foundation is available in 18 shades which are divided into four colour categories – neutral, cool, warm or olive-toned – which makes it easier to select the right shade for your skin tone. The Mineral Foundation promises a flawless, natural-looking finish.
-> My opinion: I selected the neutral, lighter shade Barely Buff. The foundation offers light to medium coverage so it adapts well to the individual skin tone. I always apply mineral foundation with a kabuki brush: the powdery texture of the Lily Lolo foundation seemed to melt into the skin almost immediately and, yes, it did leave my skin looking more even-toned and natural. The finish is matte to satiny; my combination skin needed an additional mattifying powder on the T-zone. This product contains very few ingredients which is great if you have sensitive skin.
The vegan Lily Lolo Mineral Foundation contains 10 gr, costs 19.69 Euro and is based on glimmer, zinc oxides, titanium dioxide and iron oxides. The foundation is supposed to offer SPF 15 protection but I think you'd need a larger amount of product to achieve this result.
If you have never tried out a loose mineral foundation, give this product a try! It looks natural, the choice of colours is staggering and the product lasts for ages (you can also mix the powder with your favourite sun cream).
♦ And finally, a best-seller that I had actually anticipated! The Anti-Fett Shampoo Zitrone Minze (Anti-Grease Shampoo Lemon Mint) from German brand Lavera is very affordable, promises to cleanse the scalp without drying it out and it comes with a invigorating zesty fragrance. There were over 700 product reviews for this shampoo and an average rating of 3.9 from 5 stars.
-> My opinion: I need to wash my hair every two to three days so I am interested in shampoos that claim to keep hair fresher for longer! The texture of the shampoo is thick and gel-like (personally I would have preferred a more liquid texture); it started to foam up during the first wash but I needed a second application until the shampoo started working properly (most organic shampoos perform better when you shampoo twice). The Lavera shampoo has a lovely citrus lemonade fragrance: fresh, zesty and aromatic. I can't really say for certain whether my hair really was fresher than usual after using this shampoo – perhaps it was a little fresher for half a day or so? My scalp definitely liked the shampoo which is formulated with coconut sulfate, a sugar-based tenside and two wash-active amino acids.
The vegan Lavera shampoo is certified by NaTrue, contains very little alcohol and a lot of plant extracts. With a price of 3.99 Euro for 200 ml and the pleasant citrus fragrance I am not surprised that this product is a best-seller! Don't expect any miracles from this product but if you are looking for an affordable, solid shampoo for greasy hair, this is worth a try.
[Click here for more pictures and the original German article Fünf Bestseller von Ecco Verde unter der Lupe]
In my Tokyo Diary series or the Hallo Hong Kong articles I usually portray the more non-touristy details of the city I am visiting rather than cover the major attractions – but I simply couldn't resist posting this snapshot of famous Gyeongbokgung Palace. It was surprising to see the sheer emptiness and the wide view of the skies so close to the city center. I am delighted that Seoul has such beautiful places: a massive wooden palace built in the middle of an empty space; with the gorgeous mountain range in the background – spectacular. It made me feel happy just to look at it.
One of the reasons why I love travelling is that it (sometimes literally!) broadens my horizons – whether I am looking at an almost endless sea of houses in an urban metropolis, a large quiet lake surrounded by trees or at a beautiful beach.
[Click here for more pictures and the original German article In Seoul (2): Weite Horizonte]
In Seoul 3: Head gear with sun protection
`Tis the season! Summer is coming which means that in Korea, sun protection is even more important than usual: almost every street market or hawker stand seems to sell sun hats and sun visors. I have noticed that these sun hats seem to be most popular with women aged over 50 years – I assume that younger women tend to buy these accessories in a department store or other trendy boutiques.
Large sun visors are especially popular – I bought one of these visor caps in Tokyo two years ago – but I also keep seeing floppy hats with large brims, probably because these hats can be rolled up to save space in your hand bag. Although the hats and caps might look funny to European eyes they are ingenious. Perhaps I should add a note for my international readers: As a rule, Europeans do not wear sun hats or carry parasols in summer; way too many people over there think that sun protection is not really necessary. Europeans love sun exposure and sporting a tan is considered very attractive.
But I like these sun hats. The visor or brim casts a shade over most of the face, the forehead is covered and, unlike a sun cream, you can take off the sun protection in the evening without removing your makeup! So to speak 😉 . As an added bonus you almost don't need to wear sunglasses because the shade of the brim or visor cuts down on the glare of the sunlight.
Koreans are much more protective of their facial skin than Europeans are, and tanning is simply not a big issue over here. Personally, I love classic sun hats and sun visors – oh, and sun protection fabrics for the arms and scarves with UV protection are also very popular in Asia. In Japan I found a large selection of UV fabrics and UV accessories in the Tokyu Hands store and in Shibuya's Loft department store.
[Click here for more pictures and the original German article In Seoul (3): Kopfputz mit UV-Schutz]
Finally I've properly arrived in Seoul! During my last few days in Tokyo I managed to catch a cold but thanks to daily consumption of kimchi and hot, spicy sauces, the cold has finally disappeared. Every day I take a walk through a different part of Seoul in order to get a mental overview of the city. I also visited a large book store to buy some Korean beauty magazines (I do love to scour international magazines for new beauty trends!), including Allure Korea and Beauty+. I can't read Korean but thanks to pictures, illustrations, layout and colours I can sort of gauge what most articles are about although I cannot actually read the text.
When in Korea do as the Koreans do: in this case, go crazy for face masks! Every evening I put on a different face mask, alternating between the Lindsay rubber masks (which I have shown in this post here) and organic brand Whamisa's fabulous Hydro Gel Facial Masks. The Whamisa Hydro Gel masks are certified by German BDIH, they consist of two jelly-like mask pieces which you place onto your face. After around 20 minutes the skin feels soft, cool and soothed. I have bought a whole bunch of these masks to take them home but the Whamisa Hydro Gel masks are now also available in Germany: my reader Ellalei and her mother-in-law have launched a new online store for organic cosmetics, Savue Beauty, and they are stocking some of Whamisa's hydro gel masks. I think it's great that Savue is selling such cool niche brands.
I've already written about how important sun protection is in Korea. And again I was inspired by the Koreans and bought two different sun creams for the face: the Pure Green Baby Sun Cream SPF 30 from Korean brand Innisfree (certified by Ecocert). The Pure Green cream is based on water, processed plant-based oils (which is why the texture is beautifully light) and zinc oxide and titanium dioxide as sun protection filters. I like this cream, it feels light on the skin and only leaves a very slight whitish tint on the face. The Natural Tinted Suncream SPF 30 from Korean brand Aromatica has a slightly thicker texture and is tinted a light beige; it is almost like a BB cream. The Aromatica cream isn't sticky at all, offers light to medium coverage and feels like a foundation. Titanium dioxide is the sun filter in this cream, the formula also contains water and processed plant-based oils. I will write in more detail about Aromatica in another post!
I took the Khol Eyeliner from DM's certified organic own label brand Alverde with me to Asia – and a good thing that I did! Not only are eyeliners are a major trend over here but the three-part packaging is very Asian 😉 . I saw similarly packaged eyeliners in several stores here in Seoul, for example from Tony Moly. I really like the Alverde Eyeliner (which is certified by NaTrue): the gel-like cream eyeliner comes with a little applicator brush in the cap! Perfect for when you're travelling. Of course it doesn't last as long as a conventional eyeliner product but considering that this eyeliner costs only 3.45 Euro you can't really complain! Blogger Nixenhaar also likes this eyeliner.
Check out the gigantic Q-tips on the picture above! I found these in an Olive Young drugstore; the Q-tips are from Olive Young's own label brand and I simply had to buy a pack. These King Size Cotton Swabs are perfect for precise application of products and lotions (such as AHA or BHA treatments) onto the skin. I have even seen Mega Q-Tips that are filled with these face peeling liquids. I also bought a Make-Up Brush from Olive Young which looks like a toothbrush and reminds me of the Masterclass Brushes from US brand MAC. Although the synthetic brush hairs are not as high-quality as the MAC brushes, the Olive Young brush only costs 8 Euro 😉 .
Whenever I am in Asia I keep an eye out for the products of US brand Dr. Bronner's. On my last trip to Tokyo I brought back the lip balm Cherry Blossom and a soap with jasmine and sandalwood both of which are not available in Germany. At the Olive Young store I discovered the Dr. Bronner's Cherry Blossom Balm in a tin and also bought a small size of the Cherry Blossom Liquid Soap; I simply love the floral scent of the Cherry Blossom products! And from Burt's Bees (also a US brand) I bought the Tinted Lip Balm in the new shade Sweet Violet: the balm tints the lips a very light purplish-red and has a subtle violet scent.
And here are some of the organic product news I've discovered over the last week:
The Mascara from US brand W3II People is now also available in blue, brown and purple. More information is available here.
Alverde is launching a Cleansing Oil Q10 Goji Berry.
UK brand Lily Lolo has introduced two new Cheek Duos in Coralista and Naked Pink. There are also some new lip contour pencils. For more info, click here.
And drugstore retailer Rossmann's organic own label brand Alterra has launched three new nail polishes. There is also a new limited edition, the 1950s-themed Rock the 50s. More information is available here.
[Click here for more pictures and the original German article Beauty-Notizen 22.4.2016]
Good-bye everyone and see you in a few weeks!
Julia