Dear international readers of Beautyjagd,
Welcome to the next English-language edition of Beautyjagd! This is a condensed version of the most important articles that have appeared on my blog over the last two weeks. For more information about this new format, click here. And now: enjoy the best of Beautyjagd in English!
Best wishes
Julia
Hello everyone and welcome to the next installment of Beautyjagd in English!
A virtual Easter greeting to you all! I brought back these decorative "eggs à la mode" from my recent trip to Belgium. Designed by Belgian couturier Jean Paul Lespagnard who is from Lüttich/Liège, the metal shells of these Easter eggs are filled with little chocolate eggs made by Chocolatier Galler from Chaudfontaine (a town not far away from Liège). Galler is celebrating its 40th anniversary this year. The Belgian edition of Elle magazine has also written about the cooperation between Lespagnard and Galler. I must admit that I love these kind of decorative eggs…..and if they are filled with chocolate, I like them even better 😉 .
[Click here for more pictures and the original German article Frohe Ostern!.]
Organic beauty from H&M: H&M Conscious
Swedish fashion retailer H&M has launched a new certified organic cosmetics range. This has been generating quite a few headlines in Germany: H&M is usually better known for selling cheap clothes assembled in third world countries. For many people H&M is the epitome of a "fast fashion" retailer and therefore the exact opposite of a sustainable and eco-oriented business. However, organic beauty is trendy and ever since the company announced that they would bring out an organic beauty range, I have been following the debate with interest. The new line, H&M Conscious, is part of the general relaunch of H&M's beauty portfolio. All H&M Conscious products are certified by Ecocert.
The beauty products of H&M, including the organic cosmetics range, are only available in around 900 stores across the world. On a recent trip to the Rhineland area I found an H&M outlet with H&M Conscious and bought a few products to try them out. At the moment, the H&M Conscious range primarily offers body care products: body oil, deodorant, hand cream, body cream, lip care or soaps; there are also some face masks and a few styling and hair care products. You can check out their product range on the H&M homepage.
Amongst the products I bought was the White Tea and Peppermint Hand Cream. The cream is packaged in an aluminium tube: on the picture you can see what the tube looked liked after I carried it around in my handbag for a few days – I must admit that I'm not too keen on the crumpled look! I also noticed in the store that some of the tubes on the shelf were already looking quite damaged, probably from where they were handled by customers. The little tube is the Lemon Lip Balm. The testers in the store were already quite sticky because the liquidy balm had started to extrude from little tears in the aluminium tube; not the ideal packaging material for a product that you need to squeeze every time you use it!
Apart from the packaging which I think could definitely be improved I quite liked the products: the hand cream has a nice fragrance of mint and green tea and is based on water, aloe vera and processed oils – it absorbed quickly into the skin and the moisturising action is quite ok. A tube of the hand cream costs 6.99 Euro; there is also a Sweet Lemon variant. The Lemon Lip Balm also has a delicious fragrance: zesty lemon with a bit of sweetness which is reminiscent of a tarte au citron… The lip balm is based on castor oil, beeswax and jojoba oil, the texture is milky transparent and creamy. It costs 6.99 Euro and there are other variants, including Ginger, Vanilla, Raspberry and Blueberry.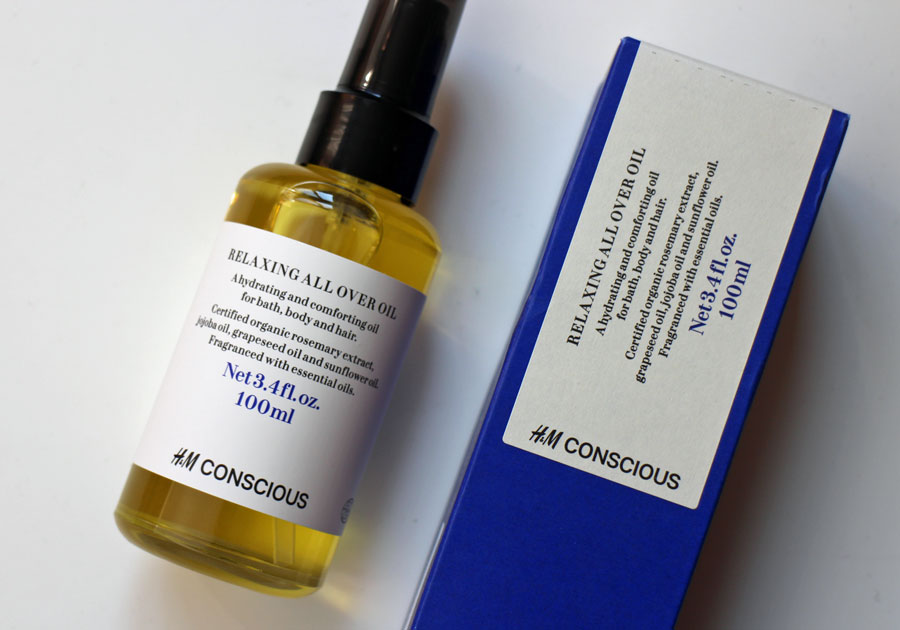 I was surprised by the fragrance of the Relaxing line which includes a perfume roll-on, a body cream and a multi-purpose oil: there is a distinct note of earthy vetiver – an unusual fragrance note and definitely not as mainstream-ey as the lip balm and the hand cream. The All-Over Oil is based on sunflower oil, jojoba oil and other essential oils and costs 9.99 Euro.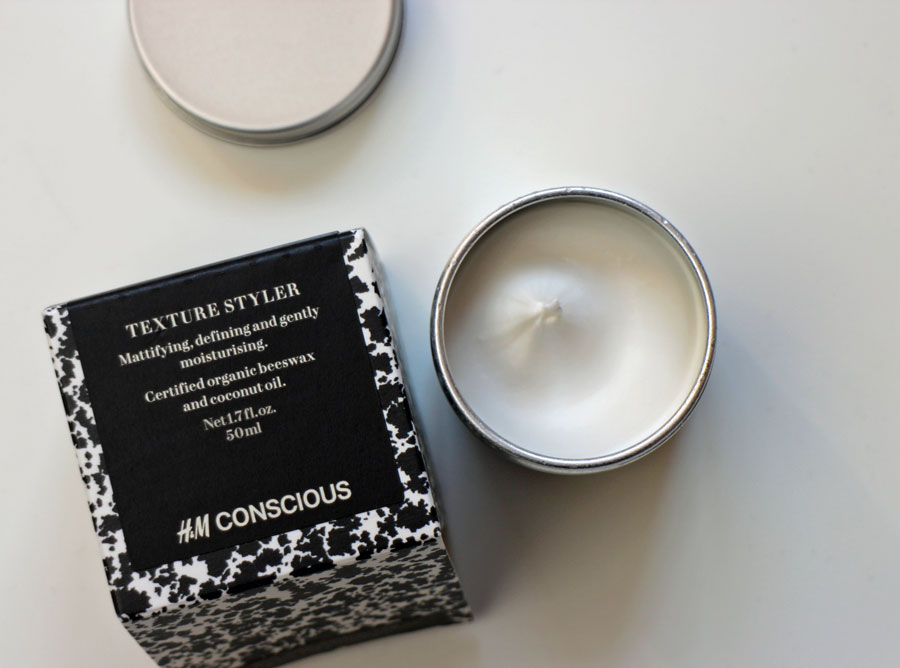 I also bought the Texture Styler; I have short hair and like these kind of texturising products. Also, there are still not that many organic styling products available on the market. The Texture Styler is packaged in an aluminium jar with screwtop lid, the outer cardboard packaging is black and white – quite stylish. I immediately liked the orange blossom fragrance; the texture is creamy and quite soft (it almost felt like a face cream!) so your hair gets more definition than actual hold. The Texture Styler is a classic styling cream which is based on water, fatty alcohol, beeswax and glycerin; it is probably more suitable for longer hair. It costs 7.99 Euro.
I also bought the Conditioning Face Mask (which is not in the picture). Like the Texture Styler, the Face Mask is packaged in an aluminium jar; it is one of the few face care products in the H&M Conscious range. The mask is based on water, fatty alcohol, glycerin, shea butter, beeswax and jojoba oil; the texture is like a creamy emulsion and on the skin it feels cooling and refreshing, with a distinct mint fragrance. You leave the mask on for 2-10 minutes and then rinse it off with warm water. It is priced at 6.99 Euro.
My impression: In principle I think it's a good thing that a big retailer like H&M is starting to get invested into organic cosmetics. The H&M Conscious range looks quite attractive (although some of the packaging should be definitely be redesigned!) and some of the fragrances (Relaxing, White Tea & Mint or Lemon) are nice. However, overall these products are nothing special, the ingredients are not particularly high-quality – basically, they are average mass market standard. I think that in Germany, H&M Conscious is facing a difficult market: we have so many attractive and affordable organic beauty brands here – especially the drugstore own label brands like Alverde (DM) or Alterra (Rossmann) – and H&M Conscious doesn't really offer anything special. Still, in other parts of the world the situation is different and I think that in those markets, H&M Conscious might well be successful. I'll be interested in seeing how the range is going to be developed in Germany and internationally.
[Click here for more pictures and the original German article Was sagst Du zur Naturkosmetik von H&M Conscious?.]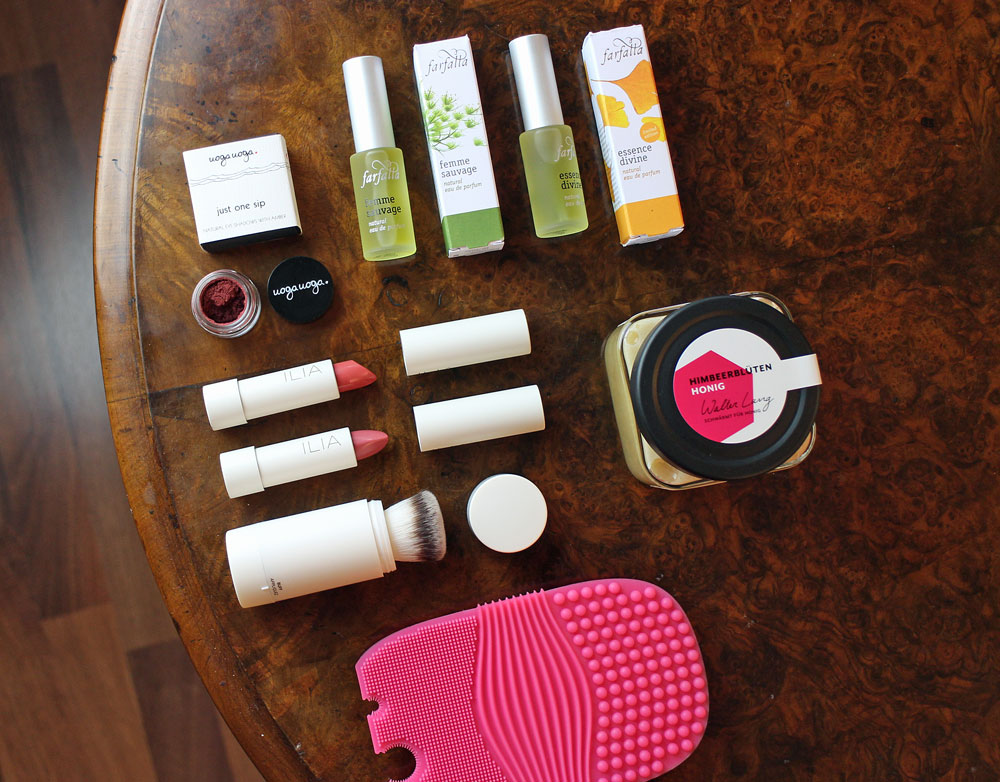 I am soon going to Asia again! You can imagine my excitement; I'm literally counting off the days 😉 . My first destination will be Tokyo and of course I'll be telling you all about my Japanese discoveries in the Tokyo Diary articles series.
In my recent article for organic supermarket retailer denn's Bio-Blog (German only, sorry!) I am talking about layering and giving an example for a 7-part skin care routine. A note for my Asian readers: in Europe, layering is a big skin care trend at the moment. Enjoy!
And talking about organic supermarkets: I recently discovered a new honey at my local denn's – Walter Lang's Himbeerblütenhonig (Raspberry Blossom Honey). The honey is creamy-liquid, the colour is a soft, yellowish white and it really tastes a little bit like raspberries. I love the Walter Lang honeys, the range offers some truly unusual variants. I showed you Walter Lang's Cherry Blossom Honey from the Kassel mountains in this blog post from 2014.
At Vivaness trade show Swiss organic brand Farfalla presented its new handbag-sized perfume bottles. I was particularly interested in the two new Eau de Parfums: Femme Sauvage and Essence Divine. Femme Sauvage starts out with light citrus notes and mint; the heart includes greener and slightly more bitter accords and the base is soft, aromatic sandalwood. Essence Divine is much more opulent and floral, blended with fruity notes and resins – it also lasted much longer on my skin than Femme Sauvage. The small atomiser sprays contain 10 ml and cost 17.90 Euro (Femme Sauvage) and 21.90 Euro (Essence Divine). In Germany, the Farfalla sprays are available through various online stores, such as Naturdrogerie, Ecco Verde, najoba or Kein Plunder.
And another Vivaness discovery: Lithuanian mineral cosmetics brand Uoga Uoga presented its new range of loose eye shadows – there are 20 (!) different colours and I immediately fell in love with Just one sip, an intensive burgundy red with a matte finish. A few weeks ago I ordered the eyeshadow directly from Uoga Uoga's online store (I couldn't wait until the eyeshadows are available in Germany!). I must admit that I don't usually wear red eye makeup – unless you are really careful it can easily look like you have an eye infection 😉 . However, I was inspired by the fabulous look created by Vegan beauty blogger Erbse from kosmetik-vegan – check out the pic! The loose eyeshadow can also be used as an eyeliner. It is vegan and based on glimmer, titanium dioxide and zinc oxide as well as amber powder (a key ingredient in all Uoga Uoga products). I paid 12.90 Euro for Just one sip. It is not easy to find red eyeshadows; I remember that French brand Coleur Caramel once launched a dark red eyeshadow as part of the Suivez-Moi limited edition. I still regret not buying it!
I was afraid that the new limited edition SPF range from US brand Ilia Beauty might not be available in Germany before my trip to Asia so I ordered three of the new products from French online store Ecocentric. I should point out that the Beauty Balm is not entirely organic (there are two ingredients which can't be certified: a silicone and a preservative).
Anyway, I bought the two Tinted Lip Conditioners in Kokomo and Bombora (both with SPF 15) and the Radiant Translucent Powder Moondance with SPF 20 and 19% zinc oxide. The lip conditioners have a medium pigmentation so they leave a wash of moisturising colour on the lips (you can intensify this by applying several coats of colour). Kokoma looks pink on my lips (the pink is not too light or white-ish) while Bombara is a slightly warmer coral tone – you can check out the swatches on Instagram. Both shades are suitable for almost any skin tone. Like the Fade Into You powder from Ilia Beauty, the Moondance powder comes with an integrated soft applicator brush. Very convenient! The powder mattified my skin without leaving a white tint (the colour isn't called "translucent" for nothing!) although I should point out that you're probably not going to reach the SPF 20 effect with just one layer of powder. The conditioners cost 28.00 Euro and the powder is priced at 32.00 Euro.
I also washed my makeup brushes this week in preparation for my trip to Asia. Thanks to a Snapchat of blogger Magi from Magimania I found out that drugstore retailer Rossmann is now selling a brush cleansing pad in their For your Beauty own label range of makeup tools. As you can see on the picture above the brush is very pink and made from silicone; one side has a small handle so it is easy to grip. First you wet the brush hairs and add a little shampoo or soap and then you start to cleanse them with the pad: the section with the larger knobs is to thoroughly cleanse the brush hairs; the rilled section in the middle is designed for when you rinse the brushes and the small knobs are for individual cleansing. I worked well; I was quite please with this cleansing pad. It costs 3.99 Euro.
Yesterday afternoon I finally came across the new Alverde limited edition Frühlingspoesie (Spring-Time Poetry) in my local DM drugstore. I bought the lipstick in shade 20 (Wild Rose), a really nice medium-pink shade. The three pressed eyeshadows are all very light and the colours are not particularly intense – I thought shade #20 Pusteblume (Dandelion Clock) might be a taupe but instead it is a light, shimmering grey. The two marbled blushes have a shimmering finish and I liked the texture. There is also a body spray with a fruity-fresh fragrance.
[Click here for the original German article Beauty-Notizen 1.4.2016.]

Fragrant Beauties 4: Stone or Glass
This dark brown perfume bottle is 18 cm tall, almost 200 years old and comes from Bohemia. When I first saw this flacon I couldn't figure out whether it was made from glass or stone – and the answer is simple: the bottle is manufactured from so-called lithyalin, a kind of glass with an opaque surface which resembles the effect of polished semi-precious stones, gemstones or marble. The word lithyalin can be traced back to "lithos", the ancient Greek word for "stone". And like the Anna-Green flacon which I wrote about last week, lithyalin glass was developed by a famous Bohemian glass-maker, Friedrich Egermann, who also created other types of glass. The stopper of the perfume bottle shows the marble effect particularly clearly.
[Click here for more pictures and the original German article Duftende Schönheit 4: Stein oder Glas.]
New colour cosmetics from Alverde
Sometimes I am just swamped with new article ideas and I am scrambling to keep up with all the new topics! And by the time you are reading this, I will already be in Tokyo 😉 .
Here are some of my impressions of the new Alverde products! Alverde is drugstore retailer DM's certified organic own label brand; twice a year they update their product range and their latest relaunch has just hit the shelves. I was sent some of the products by Alverde's press office, the rest I bought myself. And now, let's dive right in!
♦ Unfortunately Alverde has delisted the liquid water-free Pure Teint-Makeup which was quite interesting; instead they have launched a new foundation: Mousse Make-Up (right hand corner of the picture). The product is reminiscent of organic beauty brand Lavera's Mousse Makeup which I showed on this blog three years ago. The packaging of the new Alverde makeup closely resembles the Lavera product and the first few ingredients are also similar: Alverde's Mousse Make-Up is based on sunflower oil, processed oil, silica and glimmer. The texture is very liquid and almost slick; it feels light on the skin and evens out the skin tone rather than covering it up. I'd describe the finish as satinised and lightly mattifying. There are four shades, Porcelain is a really light tone. A jar with 15 gr costs 4.45 Euro (vegan, certified by NaTrue).
♦ On the bottom right hand corner of the picture: the First Class Volume Mascara. The thick flacon contains a four-sided applicator with bristles that form a conic shape. The mascara is easy to apply and the volumising effect is clearly visible but the texture is a little too liquid for my taste. The colour lasted not overly long on my lashes; I usually prefer my mascaras with a slightly more waxy texture. The mascara is priced at 3.75 Euro and only available in black (certified by NaTrue).
♦ There are also three new baked eyeshadows in the shades Crystal Cream, Sweet Cinnamon and Golden Brown (upper right hand corner of the pic): a glittery white (more glitter than colour), a strongly shimmering brown-toned rosé and a shimmering, warm middle brown. The last two colours are definitely worth a closer look! The eyeshadows are based on glimmer, alcohol and processed oils, they are vegan and certified by NaTrue. A jar with 2.4 gr costs 3.45 Euro.
♦ The new Eyeshadow Quattro in Nougat Shades contains four pressed eyeshadows in neutral to cooler-tinted brown tones. The pigmentation is light to medium and differs according the colour; unfortunately the texture is a little dusty and crumbles on the lid, the finish is matte. The eyeshadows are based on talcum powder, glimmer and processed plant-based oil. One palette contains 4.4 gr and costs 3.95 Euro (vegan, certified by NaTrue).
♦ Alverde's lip glosses were entirely relaunched: the Lipgloss Glossy Shine range (middle of the photo) offers four shades. I immediately liked Raspberry in Love which is a neutral pink with light to medium pigmentation and a glossy finish. The other colours are a beige, a pink and a warm-toned red. The texture of the lip glosses is a little sticky, they also have a strong, sweet fragrance. The formula is based on castor oil and wool wax, one tube contains 6.5 gr and costs 3.25 Euro (NaTrue certified).
♦ There is also a new shade in the Lipstick Color & Care range: Pink Magnolia (bottom left corner) is a saturated fuchsia tone with good pigmentation, creamy texture and a semi-glossy finish. I like that this lipstick doesn't contain too much shimmer or glitter. One lipstick contains 4.7 gr and costs 3.45 Euro (certified by NaTrue).
♦ The new Alverde products also offer a Lipliner in shade Hibiscus which goes well with Pink Magnolia. The liner is nice and soft with really strong pigmentation. It is priced at 1.75 Euro (certified by NaTrue).
♦ Finally, there is a BB 2in1 Care Lacquer which can be used as a base coat or a top coat (bottom left hand corner). The polish is quite liquid, you apply a thin coat (the light yellow colour is not noticeable on the nail) which dries in a few minutes to a medium glossy finish. The lacquer has a floral-fruity fragrance. It is based on alcohol, shellac, water and glycerin plus essential orange oil, chamomile extract and fragrance. It also looks good solo, without an additional colour coat. To remove the BB Lacquer I'd recommend pure alcohol or the special Nail Polish Remover from Logona. A bottle of nail polish contains 10 ml and costs 3.25 Euro (certified by NaTrue).
[Click here for more pictures and the original German article Das neue dekorative Sortiment von Alverde Frühjahr 2016.]
Tokyo Diary 19: An ode to Konbinis
I can't believe I haven't published a Tokyo Diary article about "konbinis" yet! The word "konbini" is derived from the English term "convenience store" adapted into the Japanese language. In Japan you'll find a konbini at every street corner (in Tokyo there are said to be around 7000 konbinis) and the biggest chains are Seven Eleven, FamilyMart (see picture above), Lawson, Sunkus and Circle K.
These convenience stores sell confectionery, fresh and chilled foods, stationery (for example from Muji!), drinks, magazines, cosmetics, some fruit and vegetables, umbrellas, ready-made meals, fresh tea and coffee and dairy products. Often the konbini will also have a microwave (so you can heat up the frozen meal you have just purchased), a photocopier and an ATM; you can post letters or parcels there and sometimes they have toilet facilities. Occasionally there is even complimentary wifi!
The product portfolio is tailored to the neighbourhood and the stores are usually open 24/7. I should add that in Germany, we don't really have this type of convenience store so I am fascinated by them. I love the Japanese konbinis and visit them at least once a day.
After I have spent a day beauty hunting and am on my way home I usually stop off at my local konbini and buy a little something for breakfast. And when the typical FamilyMart jingle starts to play once I open the door it feels like I'm almost home 🙂 .
[Click here for more pictures and the original German article Tokyo Tagebuch 19: Konbini.]
What a week! I've been in Tokyo for exactly seven days now; just before boarding the plane I managed to buy the latest issue of Allegra magazine which features an article about professional bloggers. Author Anja Rützel interviewed me and other bloggers about our work, you can see a bit of the article in the picture above!
This time I am staying in a more Northern part of Tokyo, in Otsuka which is located directly on the Yamanote line. And it's hard to believe but my current bathroom is even tinier than the one from my last Tokyo trip! Still, I don't mind and I am so happy to be back in Tokyo. One of the first things I did (besides admiring the cherry blossoms in Shinjuku Gyoen Park!) was to buy the MiMC Mineral Foundation Sunscreen SPF 50 in organic beauty store CosmeKitchen. MiMC is a Japanese mineral cosmetics brand; two years ago I had bought MiMC's loose sun powder and liked it very much. The Mineral Foundation is a pressed powder which offers solid coverage and there are two shades (I bought shade #S101). I love the white packaging which reminds me of the Radiant Translucent Powder Moondance from Ilia Beauty.
In the neighbourhood of CosmeKitchen was a Melvita boutique. I immediately discovered a new product: the Duo Lumière Nectar Bright reminds me of the two-phase Pulpe de Rose Duo (rose water and rosehip kernel oil which you shake up before applying it on the face). The Duo Lumière is described as a very gently face peel formulated without scrub particles. It contains narcissus and daisy extracts, jojoba oil and lactic acids; you can apply the clear liquid on its own or use a day or night cream afterwards. I am currently using the Duo Lumière as a night treatment, it has a tart and slightly bitter smell which is blended with notes of narcissus – I love it! I have already seen the Duo Lumière in Melvita's French online store, you can also find a full INCI declaration there. I really like this product; it combines a number of interesting aspects: the two-phase formula, the active ingredient lactic acid and the fragrance.
Superfoods are as ubiquitous in Japan as they are in Germany! Coconut oil and chia seeds are everywhere, in organic supermarkets, in drugstores, in conventional supermarkets… I particularly noticed this at the press event from Biople (an organic beauty and food retail chain which belongs to CosmeKitchen): besides organic cosmetics, Biople stores also sell tea, dried fruit, manuka honey, vinegar or oils. Check out some Instagram pics from the Biople event! Although I'm not the biggest fan of the term "superfoods" I do love to discover new plants and ingredients. In my new article for online perfumery Najoba (German only, sorry!) I am looking at some of the "superfoods" that are used in cosmetics, like hemp or baobab oil. Enjoy!
Some time ago someone had warmly recommended the Night Treatment Moon Balm from US brand Hurraw! – and when I saw the Hurraw! balms in Tokyu Hands department store I decided to try the lip balm right there and then. And I can understand why people are so enthusiastic: the fragrance of vanilla and chamomile is heavenly! The texture is a good combination of waxy and oil and feels so comfortable on my lips. I can't remember who gave me the tip but whoever you are: thank you! Around four years ago I showed the two Hurraw! lip balms Black Cherry and Chai Spice on this blog – these days, the Hurraw! balms are also available in Germany, for example through Ecco Verde.
The limited edition Moist Hand Cream from Chant a charm was another Tokyu Hands purchase – I fell in love with the pretty packaging! Japanese brand Chant a charm is a mostly organic brand; it depends on the products (some formulations are more near-natural, others could easily be certified). Looking at the INCI declaration I'd say that Moist Hand Cream is an organic product. I quite like this cream, it leaves a soft film on the skin without being sticky or oily and the fragrance is reminiscent of dried hay and herbs – nice!
Before I come to the end of this week's Beauty Notes: here is a tip for the Berliners amongst you. Organic beauty store Belladonna has moved to Bergmannstrasse 107, just a few doors down from its previous location. They have also expanded their brand portfolio: Belladonna now also sells products from Ilia Beauty, Treat Collection and John Masters.
And here are some of the most interesting organic beauty news I've discovered this week:
Australian brand Zuii is extending its product line-up with a new Loose Powder Foundation and a transparent powder (more information on the Zuii facebook page).
I saw on Instagram that Latvian beauty brand Mádara will launch a new SOS skin care range soon.
And drugstore retailer DM's certified organic own label brand Alverde is introducing a new 3in1 Cleansing Foam Sensitive Chamomile & Witch Hazel.
[Click here for more pictures and the original German article Beauty-Notizen 8.4.2016]
Good-bye everyone and see you in two weeks!
Julia