Dear international readers of Beautyjagd,
Welcome to the seventh English-language edition of Beautyjagd! This is a condensed version of the most important articles that have appeared on my blog over the last three weeks. For more information about this new format, click here. And now: enjoy the best of Beautyjagd in English!
Best wishes
Julia
Hello everyone and welcome to the next installment of Beautyjagd in English!
As you can see this article looks different than usual: I am currently on holiday in Tokyo, Japan. Konnichiwa! I've been here for almost three weeks: beauty hunting, shopping for tea, stationery, ceramics, gadgets and cosmetics, sampling the endless varieties of Japanese cuisine and generally having a fabulous time. Tokyo is one of my favourite cities ever! By the time you're reading this, however, I'll be back in Germany. Sigh.
This installment is longer than usual since it features articles from the past three weeks. We thought that it would be easiest to stick all Tokyo-related blog posts into one article. Enjoy!
Cosmetics in my hand-luggage: 16.10.15
I decided that instead of the usual Friday Beauty Notes, I'll tell you about what beauty products I take with me when I travel on planes: I'm currently deep in preparations for my up-coming Tokyo trip (yay!). On two previous occasions my luggage got delayed so I have started to take some emergency cosmetics on board – at least when I travel on long-haul flights that entail changing planes and/or potential delays.
As you probably know, these days air travellers are only allowed few liquids and no containers that are bigger than 100 ml; all products need to fit into a 1 litre plastic bag. Since I like travelling with small luggage anyway I have started to take more "solid" (i.e. non-liquid) cosmetics with me. In this post I'll show you the products that I will take with me on my Turkish Airlines flight from Nuremberg to Tokyo!
First the makeup remover wipes from Vita Verde which I bought in Belgian drugstore chain Di – I love the small format which is much more portable than the makeup wipes from Alverde, Alterra or Alviana. One pack contains 30 super-thin wipes that are saturated in micellar water.
The little plastic jar contains some toothpaste tabs which I bought in Original Unverpackt supermarket in Berlin this summer (I introduced them in this post here). They are great; you chew on them until they foam up and then use them just like regular toothpaste.
Sample sizes are perfect for beauty travel kits: I had ordered the Eau de Genie from French organic brand Indemne this summer – I love the mixture of different hydrosols (tomato, lemon, grapefruit and apricot!). Together with the full-size I had also ordered a travel size which I took with me on the plane. I also like to take a few face oil capsules with me – in this case the Tinted Hydro Facial Oil Capsules from organic beauty brand Primavera.
Shampoo: I also packed a sachet of Powder Shampoo from French brand Secrets de Provence – it works really well: you sprinkle the powder directly onto the wet hair. Check out this post where I've portrayed this product.
If you read my blog regularly you'll know that I'm a fan of shaving powder from Plaine – just stir it up with a little water and you have a creamy foam (more information is available here). I've also used it as a shampoo in the past. It's a true multi-functional product!
As an extra precaution I also packed a sample sachet of the Nectar Surprême La Crème from French brand Melvita; the cream smells deliciously of orange blossoms. I like to save these little samples for my travels: if the air inside the plane is too dry I simply use the cream on my hands and face.
Paper foundations: this is the concept of US brand Mai Couture. I showed the Foundation Powder Papers on my blog a few weeks ago; they work surprisingly well. The finish is a little too shimmering for my taste but the papers really help to even out the skin tone.
I also took a sachet of the Sensitiv Skin Care Mask from German organic brand Alva – it's their classic cellulose face mask which was recently launched as individual sachets. The mask hydrates the skin well and can be removed without water just by rubbing the skin gently. Here is the blog post about the face mask and here is the article about the new sachets.
Sometimes I also take a little bar soap with me (like the travel soaps from Savon du Midi) and I also pack a tiny jar with deodorant cream from Vegane Pflege (I described the deo cream here). You never know what'll happen! [Click here for the original German article Kosmetik im Handgepäck]
The Tokyo Diaries!
This is my third time in Tokyo. During my previous two visits I published a (mostly non-beauty) Tokyo Diary in which I shared some of my favourite Tokyo experiences with my readers – interesting cafés I visited, streets scenes I particularly liked, favourite foods, cosmetics….and I continued this Diary format during my current trip. Below is a summary of the Diary entries I posted over the last three weeks:
Tokyo Diary 14: Die Katze café in Shinjuku
This cat café really is called Die Katze (German for "the cat")! Animal cafés are a big thing over here – cat cafés, owl cafés, dog cafés, parakeet cafés, bunny cafés…..these are all places you can actually pet the live animal in question whilst having a coffee or a meal (there is usually a cover charge: basically you purchase a time slot with the animal).
Anyway, I visited Die Katze, a cat café in Shinjuku area: this is not your traditional cat café since the cat after which it was named, Koenig ("king" in German!) was wasn't actually in residence at the moment. However, the café décor was definitely cat-influenced; cat motifs were everywhere plus there were some photos of three long-haired cats on the walls. Just before we left one of the cats, Princess, made an appearance but wasn't particularly impressed by us ; ) . Still, it was an enjoyable experience; we had scones that were shaped like a cat face and green tea – delicious! [Click here for the original German article Tokyo Tagebuch 14: Im Café "Die Katze" in Shinjuku]
Would you have guessed that the banana is one of the classic Tokyo souvenirs?! During my first visit I noticed a number of billboards with ads for a yellow banana-shaped confectionery; especially in and around Tokyo Station. It turns out that the Tokyo Banana (a soft cake filled with banana cream) is a popular souvenir for many Japanese. The Banana is sold in many stores in Tokyo station – two years ago, during my first Tokyo trip I had already bought a banana cake to try. And I was amazed!
It is an ultra soft sponge cake filled with a smooth vanilla-scented banana cream – utterly delicious. Since then I've become a big fan of the Tokyo Banana and buy it every time I am in town. The Tokyo Banana was first introduced in 1991 by a company called Grapestone who manufactures them in a suburb of Tokyo. These days there are also caramel bananas, chocolate bananas or maple syrup bananas but I remain a fan of the Banana original!
I also love the slogan that is printed on the packaging "People gather to TOKYO from here and there with memories of their home. And then, TOKYO gets everyone's home town". The Tokyo Banana is not available outside of Tokyo, by the way – how is that for exclusivity! [Click here for the original German article Tokyo Tagebuch 15: Die Toyko Banana]
This is my third time in Tokyo. Each time I stayed in a different flat – and each time, the flat had the same type of bathroom. This seems to be typical for urban flats in Tokyo (after all, in Japan living space is at a premium, especially in the cities) so I think it is time to dedicate a Diary entry to the typical Tokyo bathroom!
By the way, I am of course aware that there are plenty of ordinary-sized bathrooms as well – only my budget never stretches to renting these more expensive flats. So here is my current Tokyo bathroom: it is around 2 sq m (no window), includes a very deep bath tub with the basin right next to it – the tap with attached shower nozzle can be swiveled in both directions. Then there is a small (and low) toilet and that's it! [Click here for the original German article Tokyo Tagebuch 16: Das typische Minibad]
Last Saturday I spent the day with my friend and Beautyjagd translator Annika in Asagaya. Annika is also travelling through Asia at the moment and our stays in Tokyo overlapped by ten days so we managed to meet up a couple of times! Asagaya is one of Annika's favourite areas in Tokyo: it's a small traditional neigbourhood along the Chuo line in Western Tokyo.
On my city map Asagaya isn't listed any more (most tourist maps end with Shinjuku and Shibuya!) so I was looking forward to seeing what this area looked like. What I love about Tokyo is that each neighbourhood is different, like many separate little towns – and when I got off the JR Chuo train at Asagaya station I was greeted by a small version of Tokyo: Japanese restaurants, shops, bars and drugstores; everything was there!
One of the main attractions in Asagaya is the Shotengai, a traditional covered shopping arcade. Asagaya's Shotengai is almost a kilometer long and it is lined with charming and mostly old-fashioned little stores: there are restaurants, supermarkets, casinos (pachinko), hair dressers, bakeries, bookstores, mobile phone stores, fashion stores, tea stores and cafés. As you can see in the picture the shopping arcade is currently decorated with seasonal autumn leaves and Halloween décor and the advertisements for the Asagaya Jazz Days festival that was taking place that weekend.
It was a lovely day: we had lunch at a fish restaurant, visited Asagaya's Shinmeigu Shrine, browsed in fabrics stores (I love table with bits and pieces of fabric), visited a Panda café (see my pics on Instagram!) and bought traditional Japanese sweets. I also noticed the number of One-Day-Shops in the Shotengai; little store units which are rented out for a few days or a week to different retailers – sort of like pop-up stores really! [Click here for the original German article Tokyo Tagebuch 17: In der Shotengai]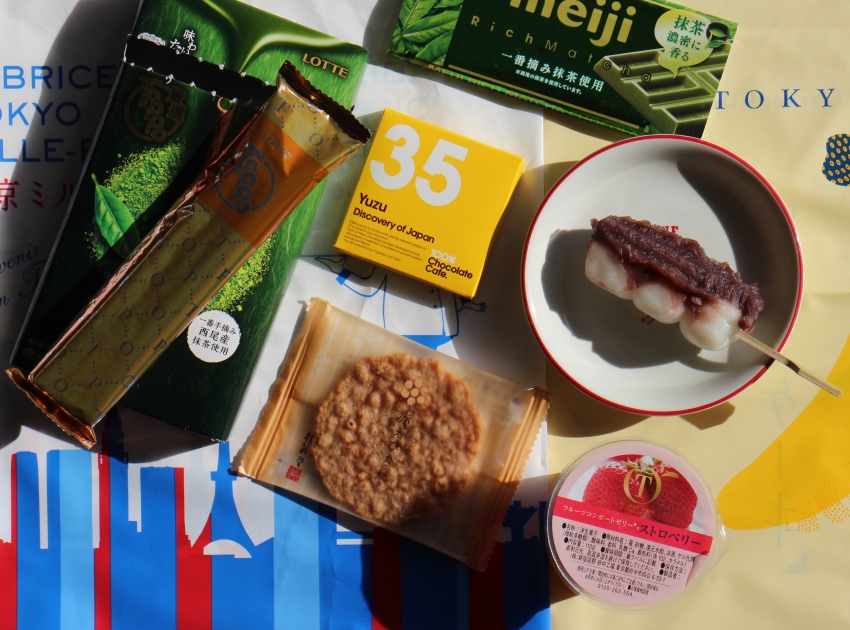 Tokyo Diary 18: My five favourite Japanese snacks
In my last Tokyo Diary entry for 2015 I'd like to introduce five of my favourite snacks from Japan. There are so many delicious things to eat that it is difficult to limit myself to five choices only, but here they are! (I already wrote about the Tokyo Banana in this post here).
On the left hand side of the picture you see Lotte brand pretzel sticks which are filled with matcha cream. I like the unusual combination of salty and sweet – unusual in my taste experience, that is; I've noticed that in Japan this combination is much more common in snacks and sweets. Would I buy this again? Probably.
On the right side of the Lotte sticks is a square yellow chocolate bar: Yuzu Chocolate from Meiji. Actually, "chocolate bar" is a bit of a mis-nomer, the bar weighs exactly 14 gr! However, the taste is amazing with strong notes of yuzu (a Japanese tangerine variant). I bought this chocolate bar in the Meiji Café in Kyobashi. The store offered 56 chocolate varieties in total, including chocolate with sesame, with yomogi (Japanese mugwort) and with kinako (soybean powder). Would I buy this again? Very likely!
Then there is a shrimp cracker made by the traditional Japanese company Keishindo which also has a counter in famous Isetan department store. A very balanced and complex taste – I like to savor this cracker (although I am not usually a fan of shrimp crackers!). Would I buy this again? Yes, absolutely.
A classic Japanese sweet is Dango, soft rice flour balls on a stick which are filled with sweet red bean paste. I love them. Would I buy this again? Yes, as often as possible!
Fruit jellies are also popular in Japan; they are available in a very wide range of flavours, textures and quality. I especially like the Strawberry Jelly from Takano, a well-known Tokyo fruit seller. The Takano jelly includes little pieces of strawberry. Takano is currently celebrating its 150th anniversary – no surprise when you consider the quality of their jellies! Would I buy this again? Yes, yes, yes!!!
And finally a picture from a convenience store product: as everyone on this blog here knows, I love matcha. So I simply had to try the Rich Matcha Chocolate from Meiji – a nice taste although I think the matcha flavor could be even stronger! There is also a matching ice cream bar. [Click here for the original German article Tokyo Tagebuch 18: Fünf japanische Snacks]
Oh, I'm enjoying being back in Tokyo! It might sound crazy but I find this gigantic metropolis (13 million inhabitants in the city and a total of 35 million people in the Greater Tokyo Metropolitan area!) really relaxing. Each day I visit a different neighbourhood and Tokyo is so big that you never run out of things to discover. Last Monday, for example, I took a day trip to the temple town of Kamakura to see the Great Buddha – I had already visited him during my first trip to Tokyo and he seemed almost like an old acquaintance 😉 . By the way, you can see some of the stuff I do each day on Instagram!
Of course I have already started to shop for interesting beauty products – and here is my first purchase: I originally wanted to buy the BB Cream from Mama Butter. However, this product wasn't in stock anywhere so instead I bought the Treatment AC Cream BB from Aqua Aqua Organic in Tokyu Hands department store. Aqua Aqua Organics is a very young Japanese brand; they only have a small colour cosmetics portfolio at the moment. The BB cream has a very liquid texture, an SPF 22 and a light floral scent. It cost around 25 Euro. Here is the link to the company's homepage.
A much more traditional purchase was the loose powder from Chidoriya which I bought at beautiful concept store Hansel & Gretel in Western Tokyo (if you want to read more about this interesting store, Annika from Trend-Traveller has published a profile). Hansel & Gretel is one of the few retailers in Tokyo that sells Chidoriya products. I had bought the powder during my last trip – check out my blog post here – and was absolutely delighted by the texture and quality: it is based on kinunmo (a special Japanese glimmer) and kudzu (a starchy root). Of course I also ended up buying another Chidoriya product: the Camellia Seed Oil which can be used for face, body or hair – the friendly shop assistant told me that this oil is manufactured by hand in the Southern Japanese island of Kyushu. The oil cost around 12 Euro and you can find an overview of the Chidoriya products on the company's homepage.
I already showed the Refugees Welcome tea from Austrian organic brand Sonnentor on Instagram but I also want to mention it in these Beauty Notes: 1.50 Euro of the purchase price for this product (a black tea with mint, star anise and cinnamon) goes towards supporting the Austrian refugee project Flüchtlingsprojekt Ute Bock. I bought my tea in organic supermarket denn's in Nuremberg.
And because I was asked about this in several comments I want to describe the Lip Hydrator Bliss from Living Nature in more detail: at the moment you can buy this balm at a special price in the Living Nature online store. I already introduced the Lip Hydrator in my Beauty Notes from 2014: it is a colourless moisturizing lipstick with a nice waxy texture. The Hydrator is now available in a limited tinted version – a light rose colour which emphasizes the natural lip colour. I hope that this new limited edition will make it into Living Nature's standard line-up!
I also want to draw your attention to the new limited edition Get the Glow from German organic brand Sante. I was sent two of the products by the company (I had actually already ordered two products online through najoba.de because I couldn't wait!) so I can now show you four items from this new colour cosmetics collection: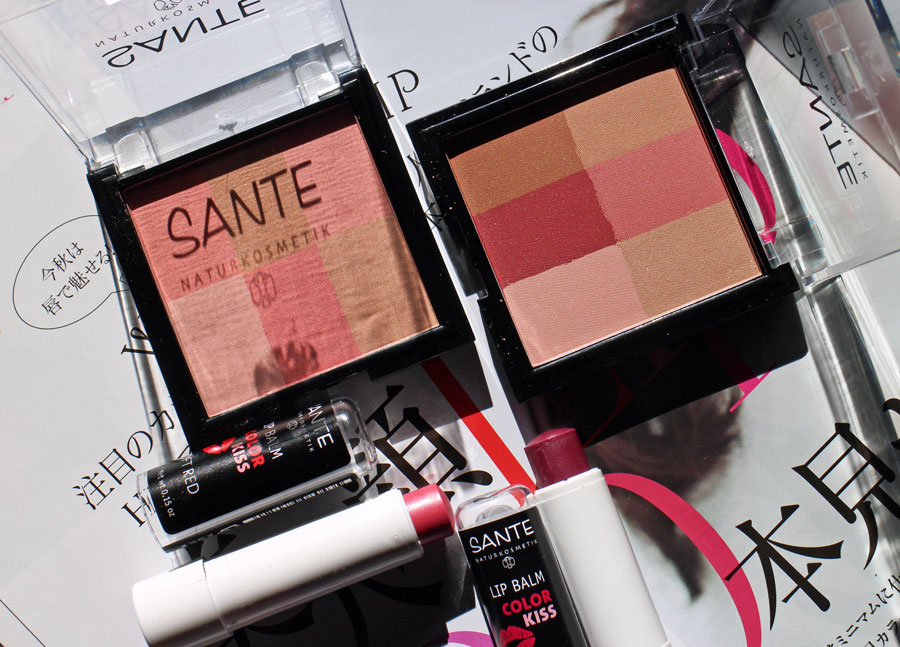 The limited edition includes two tinted lip care balms, two blush/highlighters and a mascara. The two Colour Kiss lip balm sticks have a surprisingly strong colour although the scent is a little too fruity for my taste. I also liked the blusher/highlighter Illuminating Talents, a powder blush which is composed of several different colours and has a subtle shimmer.
And here are some of the most interesting beauty news I came across in the last two weeks:
German organic brand Jean&Len is launching a 2-in1 Men's Shampoo & Shower Gel with caffeine, a hair oil and a hair tip treatment.
Organic online perfumery Amazingy has opened a Green Beauty Bar in Berlin's luxury department store Kadewe.
Cologne-based hair salon Kastenbein & Bosch has launched a hair care series with chia seeds. More information is available here.
Drugstore chain DM's organic own label brand Alverde is launching a new limited edition Cream Shower Pomegranate Ginger and a Cream Bath Power Berries. The brand is also bringing out a new gift set – Cranberry Macadamia – which includes a hand cream and a body butter.
Drugstore retailer Rossmann's organic own label brand Alterra is introducing a new Nude & Matt Make-Up in three shades plus a 3in1 Pro Concealer in three colours.
German organic brand i+m is relaunching its Hand & Body Lotion Vanilla Orange in a Fair Edition: 100% of the purchase price go towards supporting a women's shelter in Zambia.
Hiram Green's new fragrance is called Voyage and is only available in a limited distribution. More information is available here.
US brand Kjaer Weis is launching two new foundation shades, a blush, an eye shadow and a lip tint. For more information, click here.
Online store Wolkenseifen is now selling the Lip Crayons from Burt's Bees (which I like! I've written about them here) and they are also offering a limited edition deodorant cream Vanilla Orange which is scented with pure essential oils.
[Click here for the original German article Beauty-Notizen 23.10.2015 (aus Tokyo)]
Organic online store Ecco Verde – a Skype interview
I wish that Graz in Austria was just around the corner! However, unfortunately it isn't; from Nuremberg it takes around 7 hours by train (the Alps!) and flying there isn't worth the effort either because you have to change planes. Thank god for Skype! I had already met the team of online organic store Ecco Verde at Vivaness trade show this February, so it was pretty easy to arrange a Skype interview with store manager Carina Matzhold (on the right hand side of the photo), Alice Falchero from customer services (left on the photo) and Christoph Schreiner, one of the company's CEOs (in the middle of the photo).
Hello everyone! Your company is located near the city of Graz in Austria but you have online stores in a number of European countries. When did you launch Ecco Verde?
Alice: Ecco Verde was launched in 2009 because we liked using organic cosmetics and we saw that other people wanted to buy organic products too. At that time not many European countries offered online stores for organic cosmetics – in Italy, for example, there were very few online retailers. So we started with Ecco Verde in Italy, Austria and Germany. Today we are in 17 different countries and Ecco Verde is the biggest company in our NiceShops group. NiceShops is an e-commerce retailer which owns a number of stores that specialise in niche sectors: like Ayurveda or organic household goods. Our first store was VitalAbo which sells nutritional supplements. I've been a part of Ecco Verde almost since the beginning. Since I am from Italy myself the development of the Italian market was very important to me.
I guess you are responsible for the many interesting Italian brands that are available in the Ecco Verde store, right? I already portrayed a few of these brands in this article here. How do you source the brands for Ecco Verde?
Alice: Of course I love Italian brands! But I also like beauty products from other countries.
Carina: We have a number of inspirations: we follow various beauty blogs and ask our customers on Facebook, which products they would like to buy. Sometimes customers e-mail us with their wishes and suggestions and of course we also visit trade shows, like the Vivaness in Nuremberg, or Cosmoprof and Sana in Bologna to discover new brands.
And what are your criteria for the brands you sell on Ecco Verde?
Carina: We make very certain that we only sell real organic cosmetics in our store – that way, our customers can trust us: they can order products without having to check the individual ingredients. This means that the products we sell must be certified by one of the major certifying associations (Natrue, BDIH, Cosmos, Ecocert, USDA, ICADA or the Italian seals ICEA, AIAB etc.). Alternatively the ingredients have to be clean enough to achieve certification. Our quality control department checks the INCI declarations of every single product. As soon as this check has been completed, our management decides if the product or brand will be sold in our shop. This usually happens very quickly; when we decide to sell a brand we often have it available online within 2-3 weeks.
You three have been working for Ecco Verde/NiceShops for a long time, right?
Christoph: I've been working for six years for NiceShops and recently joined the Ecco Verde management. Alice has basically helped to build up Ecco Verde from the start and Carina joined the company 1 ½ years ago. At the moment we have around 80 employees and we continue to grow. NiceShops offers flexible working hours; it is also easy to change from part-time to full-time. The company also offers financial support for child-care and we have free lunch and beverages. All of this contributes to a good work environment! Apart from that Graz is also a very attractive location; it is really easy to reach the seaside or the mountains.
Alice, you are responsible for Ecco Verde's customer service. What exactly do you do there?
The customer service employees help our customers via telephone, e-mail or online chat – we answer all sorts of questions about products, brands and the online store. If the query is more specific we often contact the brand or company directly. We try to keep things interesting for our employees so they also help with the online product listings or the product photos. I am also responsible for our social media sites – Ecco Verde has a separate Facebook page for each country – as well as our Instagram, Twitter, Google+ and Pinterest channels.
I ordered several times at Ecco Verde and was surprised that the delivery arrived so quickly, although you are based in Austria and not in Germany.
Carina: We'll send you a picture of our new storage facility in Feldbach [it's in the original article]. Our goal is to deliver just as fast, or even faster, than Amazon and we are proud that this is working so well. After all, we have a lot of experience in e-commerce. For our deliveries to Germany we drive across the border and post the parcels at the closest Deutsche Post postal office.
And what are you planning next for Ecco Verde?
Carina: We have just added a number of new brands to our line-up: Suki from the US, for example; or the Demeter-certified brand Provida. And we are now selling skin care from French brand Absolution. I also think the concept of Schüssler Natur CosMEDics – an organic beauty range from Hungary that is based on Schuessler salts – is interesting. This would be really new on the market. And of course we are also thinking about expanding into further countries in Northern and Eastern Europe. We have so many new plans and projects at the moment!
And finally: what are your personal favourites amongst the Ecco Verde beauty products?
Christoph: I've just become a father. Therefore baby cosmetics like the Baby Bee Nappy Cream from Burt's Bees, the Baby Starter Kit von Sophie La Girafe or the soft silk sponge from Cose della Natura are really important for me at the moment. For myself I like to use the Shower Gel Homme 365 from Sante or the Hemp Moisturizer from MuLondon for the face.
Alice: I love the Anti Aging Scrub Mask from Domus Olea Toscana, you really have to try that one, too! I use the hair colourant Henna Black from Phitophilos and my favourite hair conditioner (I have long hair) is the Hair Mask Coconut Vanilla from Essere. And one of my absolute favourites is the menstrual cup from OrganicCup.
Carina: I have already tried various mineral foundations but my favourite remains the Mineral Foundation from Lily Lolo. I also use the Beige Aranciato concealer from Puro Bio which is great for hiding under eye circles. On my lips I love the Stars on my Face Lip Gloss from Uoga Uoga. And I can also recommend the Bergamot & Lime Deodorant from Schmidt's.
Thank you very much for the nice chat and see you soon! [Click here for the original German article Skypen mit dem Team des Online-Shops Ecco Verde]

Lavera: Illuminating Eye Cream Pearl Extract & Organic Caffeine
I recently spent a bit of time clicking through my old blog articles and was surprised by how much my blogging style has changed over the years: I actually used to write much shorter product reviews. This has inspired me to post more compact review articles, at least every once in a while! So, let's give this Short Review Style a try 😉 .
German organic brand Lavera has been stepping up the pace over the last few years: the BB cream they launched two years ago was advertised with a TV campaign (unusual for organic beauty brands in Germany) and the new Illuminating Eye Cream is also coming in for some attention – check out the YouTube ad here.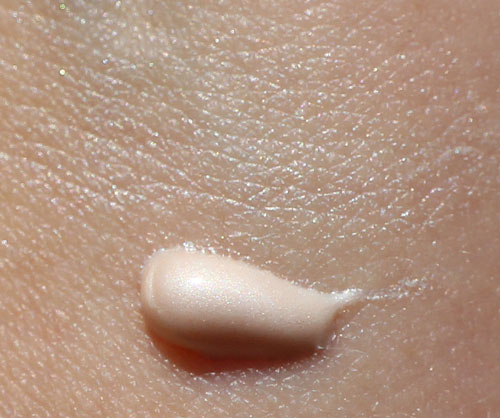 A few weeks ago I bought the eye cream in my local DM drugstore to check it out: the cream is packaged in a slim tube and has a soft rosy tint with a lightly shimmering texture. The formula includes some glimmer but don't be afraid, it really is very subtle. No disco ball effect! I've photographed the swatch in the sunlight so you can see the soft pearly sheen. The glimmer particles reflect the light and my eye area really looked a little fresher and more awake. However, this is not a concealer so it doesn't hide under eye rings.
The texture of the Illuminating Eye Cream is creamy and almost fluid-like so it is easy to apply and you only need a small amount. After you apply the cream there is a light cooling effect – probably due to the evaporation of the alcohol that appears quite early on in the INCI list. The eye cream also contains moisturizing glycerin, plant-based oils such as sunflower seed oil, jojoba oil and sweet almond oil, pearl extract and caffeine. It is NaTrue certified and has a light floral scent.
A tube of the Illuminating Eye Cream contains 15 ml and costs 9.95 Euro. The product is available in many organic supermarkets, in outlets of the DM drugstore chain and of course online – for example through najoba, Ecco Verde or Bio Naturel. [Click here for the original German article Lavera: Illuminating Eye Cream Perlen-Extrakt & Bio-Koffein]
And finally, just a couple of days before I am flying back to Nuremberg: here is a pictorial description of some of the beauty products I bought in Tokyo! It's a classic beauty haul post. Enjoy!
Let's start with the Blotting Paper from Yojiya, a traditional beauty brand from Kyoto! I had discovered these famous blotting papers after my last trip to Tokyo so I ordered the first batch off the Internet. However, this time I used the opportunity and purchased my papers directly at the Yojiya counter in Shibuya's Hikarie Shin Q department store. I think these are some of the best blotting papers on the market; one block of papers costs around 2.50 Euro. More information on the brand is available here.
I bought the little yellow tube of Iyokan Hand Cream from Yaetoco to carry it around in my hand bag. Yaetoco is a young brand; the company comes from Ehime prefecture which is where the special Japanese tangerine Iyokan grows. The Yaetoco products are available in Loft department store, in outlets of the Tokyu Hands chain and in the Tokyo flagship store of Ainz & Tulpe in Shinjuku. Although the hand cream is not certified the ingredients are organic enough – before I buy a Japanese beauty product I always check the INCI online; very few Japanese products have English-language INCI listing on the packaging. The hand cream costs around 5 Euro, more information on the brand is available here.
The Natural Mascara from Eco Line is a kind of tube mascara with natural ingredients. In Japan these mascaras are very popular, you can easily remove them with warm water (38 C or warmer) since the formula does not include any waxes. The mascara brush is slightly curved and the bristles are short – you won't get much volume but the lashes are nicely defined and I was delighted with the performance: no crumbs or smears. And removing the mascara was really simple, too. I bought this mascara at Tokyu Hands for around 18 Euro. More info is available on Rakuten.
The bristles of this Tsubaki Oil Cushion Brush contain moisturing camellia seed oil – how cool is that! I found it in Loft department store in Shibuya; the brush cost around 8 Euro. The oil supply is supposed to last for approximately one year. Now all I need is long, silky black hair… 😉
I also bought a supply of little razors for facial hair at drugstore chain Tomod's. The brand is Shiseido (in Japan this is a mass market brand) and I like the fact that there are three different variants – I've never seen these little razors in Germany anywhere. A pack costs around 2 Euro.
A Japanese brand which I have rediscovered is Chant a Charm. During my last visit I checked the ingredients of some of the products and was a little disappointed: it was more of a near-natural beauty brand. However, over the last year Chant a Charm appears to have upgraded its ingredients and the brand is now approaching organic standards – yay! I therefore bought the new Deep Moist Lotion (a gel-like toner) and the limited edition two-phase Deep Moist Oil in organic beauty store retailer Biople and am really looking forward to trying them out. The products were priced at around 18 and 25 Euro respectively. The brand's homepage is here.

Regional cosmetics are really trendy in Japan at the moment. I found Ruhaku, a little beauty brand from Okinawa in the South of Japan, at Tokyu Hands department store. The Ruhaku products are even Ecocert-certified! I bought travel-sized sample of the Cleansing Oil, the Night Repair Oil and the Balance Lotion. These three products cost around 13 Euro. More information on Ruhaku is available on the company's website.
During one of my many visits to organic beauty retailer CosmeKitchen I took one of the little leaflets they publish which shows the favourite products of their Japanese customers. In second place was the Roll-on Blossom from French-Japanese brand ShiGeTa – and if the Japanese like this then I'll simply have to buy it, too! The roll-on is formulated with plant-based oils and essential oils; the fragrance is a light floral which is dominated by notes of rose and ylang ylang. This roll-on is exclusively available in CosmeKitchen stores, by the way: ShiGeTa created it especially for the 10th anniversary of the CosmeKitchen chain. The roll-on cost around 14 Euro.
So, these are some of the beauty purchases I made during my Tokyo trip! I am also planning another Haul post in which I'll show my non-beauty shopping – stationery, ceramics….there are so many beautiful things to buy in Japan! [Click here for more photos and the original German article Ich war einkaufen in Tokyo: Beauty]
Tokyo is amazing but very exhausting for my neck and shoulders – I guess the handbags I carry around are way too heavy 😉 . The warming plasters which I brought in one of the drugstores are just the thing for achy shoulders. I discovered them on my last trip to Tokyo two years ago and they are yet again doing a very good job!
In the park opposite my flat there is a cherry tree which is currently in bloom. It isn't as extravagantly blossomy as cherry trees are in spring, but still very beautiful. I took many pictures – and to make my autumn time cherry blossom experience even more intense I also wore the new Lipstick Cherry Blossom from Australian brand Inika! The company had sent me the lipstick a few weeks ago: the colour is a pink coral tone which has a light golden shimmer. It's a beautiful shade! The texture is good, too; it feels moisturing on the lips without being paste-like or sticky. The lipstick is based on castor oil, shea butter and jojoba oil and there are eight different (vegan) shades. It is available online in stores like Vegane Pflege or Ecco Verde. I'll be posting an article about another Inika product soon – and if you're interested in learning more about the brand, I wrote a blog post about the company four years ago (seems like such a long time ago!).
And speaking of writing articles: I recently published another post for the blog of organic supermarket chain denn's. In this article I am tackling the complex issue of how to read an INCI ingredient declaration. Enjoy!
And now back to Japan: I discovered the facial skin care travel sizes of F Organics in organic beauty store CosmeKitchen. Over the last few days I've used the Moisture Foaming Wash from F Organics at night-time and was delighted by the fluffy texture and good hydration. F Organics also has several other typically Japanese products: gel-like lotions and sheet masks which I introduced here last year. More information about this interesting brand is available on the homepage of CosmeKitchen (I always use Google Translate). The travel sizes cost around 6 Euro.
On Tuesday evening we had a full moon here in Tokyo – so I thought it would be appropriate to put on the Moonlight Face Mask from French-Japanese brand La Clarée! This is one of very few sheet masks available in organic quality. After I had taken off the mask my skin felt hydrated and cool – the ingredients include daisy extracts and plant-based arbutin which are supposed to gently brighten the skin, at least when you use the product regularly. The mask cost around 6 Euro and more information is available here.
Finally I found the Yuzu products from Japanese brand Biken which one of my readers had recommended two years ago! The Yuzu Body Cream from Biken has a subtle but still perceptible fragrance of Yuzu, a tangerine variant that is grown in Kochi prefecture. I love the fragrance and the body lotion was my constant companion over the last few days. The ingredients are more near-natural than organic (a few ingredients wouldn't be allowed by Ecocert, Natrue or BDIH) but I still like the product. The lotion is based on olive oil and glycerin. The matching Yuzu hand cream (which I also bought!), however, could be easily certified, I think.
And last but not least: on Monday I took another wonderful day trip, this time to Mount Takao in the West of Tokyo. You have to take a cable car to reach the top of the mountain and we had such good weather that you could actually see Mount Fuji in the distance! I bought a small pendant which you can also see on the photo. More pictures are available on Instagram.
And these are the most interesting organic beauty news that I discovered this week:
To support charity project #refugeeswelcome, Austrian brand Less is more is launching All-in-one Washgel & Shampoo. More information is available on the company's Facebook page.
US brand Dr. Bronners is also donating part of the purchase price of its specially packaged Almond Soap to a refugee charity project.
Organic brand Yverum is bringing out a new lip care. More information is available here.
Estonian brand Vestige Verdant is launching an Infinity Eye Serum. For more information, click here.
Drugstore chain Rossmann's organic own label brand Alterra is introducing a special gift set for Christmas: Magical Pampering Moments comprises a shower gel, a body lotion and a hand balm. Also new is the Hand & Nail Cream with Organic Cranberry and Organic Vanilla which will replace Alterra's Camomile Hand Cream.
German beauty brand Leo & Lily has launched a Flower Rush Lavender Hand & Foot Mask.
And French brand Melvita is bringing out a new Eau De Toilette Wild Rose. More information is available here.
[Click here for the original German article Beauty-Notizen 30.10.2015 (aus Tokyo)]
Good-bye everyone and see you in two weeks!
Julia