Dear international readers of Beautyjagd,
Welcome to the fifth English-language edition of Beautyjagd! This is a condensed version of the most important articles that have appeared on my blog over the last two weeks. For more information about this new format, click here. And now: enjoy the best of Beautyjagd in English!
Best wishes
Julia
Hello everyone and welcome to the next English edition of Beautyjagd!
Every Friday I publish my Beauty Notes, showing you some of my favourite new products and brands and talking about what is going on the world of organic beauty. Last Friday, however, I didn't feel like posting the usual beauty-centered article. The terrible refugee crisis that Europe and the Middle East (and all the countries in between) is experiencing at the moment, human pain and misery on all the news channels and the feeling that things are moving very fast at the moment… Instead, I wrote about some of the non-Beauty related things that are occupying my thoughts at the moment. [For the original article "Welten in Bewegung" in German, click here].
Eau de Parfum Golden Hemisphere from Wild Eden
When I received the Eau de Parfum Golden Hemisphere from Wild Eden I immediately knew that this would be my August fragrance! It reminded me of golden sunsets, of fields that have been harvested and warm evening winds that are tempered by a distinct autumn flavor. The fragrance brand Wild Eden is still very new; it was founded last year by aromatherapy expert Josephine Ademi who is based in Lichtenau town in Saxony. Josephine's fragrances have a strong aromatherapy angle: they are composed of natural essential oils that come from organic agriculture wherever possible and none of them contain absolues (which are often made with chemical solvents).
At the moment Wild Eden offers three Eau de Parfums: Besides Golden Hemisphere, there is Serafinas Rose with notes of Turkish rose and magnolia and Ylang d'Amour which contains ylang ylang and vanilla. And now for my favourite: Golden Hemisphere opens with sweet orange blossom and zesty bergamot which are wrapped around heart notes of tonka bean and rose; the base is dominated by aromatic sandalwood, vetiver and powdery iris root.
All Wild Eden fragrances are produced in small batches; they are bottled in square glass flacons. The outer packaging is a beautifully old-fashioned cream-coloured case – check out the pic! – which is hand-made by a company called Sacher in Annaberg (also located in Saxony). Golden Hemisphere lasted for about four hours on my skin; the fragrance is based on organic alcohol and the aforementioned essential oils.
The 15ml atomizer flacon costs 119 Euro and is available in Naturdrogerie store in Mainz and online at Wild Eden. You can also order fragrance samples from the Wild Eden website. [For more pictures click here for the original German article Eau de Parfum Golden Hemisphere von Wild Eden]
Window shopping in Vegane Pflege's online perfumery
I decided that it was time for an article on a new vegan online beauty store, Vegane Pflege. The founder of Vegane Pflege is Anne Schaaf (who is also the founder of Wolkenseifen cream deodorants – Wolkenseifen translates as "cloud soaps", by the way!). All of the products that Anne sells in her online shop are vegan which means that they do not contain animal derived ingredients. And now, join me on a virtual shopping expedition in which I'll show you my favourite Vegane Pflege products!
I started by checking out the new Vegane Pflege deodorant creams: They are packaged in nice little glass jars and contains only essential oils, no synthetic perfumes. I love the fragrance compositions: Warm & Fruity, for example, I already showed in my Beauty Notes back in July; I also like the deodorant cream Zippy Pepper which combines aromatic pepper notes with zesty citrus – a great combination. The cream deodorants have a good texture, by the way; even when it was 36 C outside the cream didn't liquefy but instead remained firm without crumbling to pieces either (always a risk with some deodorant creams). The deodorants are based on shea butter, potato starch and bicarbonate of soda and work extremely well, at least on my skin. You only need a small amount so the 40 ml jar (which costs 14.90 Euro) lasts for a long time.
I met Belgian beauty brand Cîme at this year's Vivaness trade show and was very happy to find out that Vegane Pflege is now stocking Cîme products. The French term Cîme means mountain top – and that was also the inspiration behind Cîme: two of the company founders, father and daughter, were trekking in the Himalaya and obviously loved the scenery. In 2012, they established Cîme together with a friend. The Cîme range is still small and the key ingredients are plant extracts from the Himalaya region. For each product that is sold, a percentage goes towards supporting two charity projects for children in Nepal and Northern India and a number of small farming communities in the Himalaya mountains. Cîme's line-up is very French: they offer a dry oil and, of course, there is also a micellar cleanser! Micellar cleansers are a product trend which started in France years ago and is only now arriving in Germany. The textures of the products are light and very comfortable to wear.
This spring I bought two Cîme products: The L'Huile by Cîme Beautifying Dry Oil is an ultra-light and non-greasy multifunctional oil that can be used for hair and skin. Ingredients include plant-based processed oils, sesame and apricot kernel oil, sea buckthorn oil and wild cherry oil and rosehip oil from Nepal. The wild cherry oil is particularly interesting: it contains high levels of omega 6, omega 9 and vitamin E and is widely used in Tibetan medicine. Apparently, in the some villages people also use it for cooking! Truly an all-purpose oil. The Dry Oil has a very subtle fragrance composed of floral, sweet and warm notes – definitely very French! The flacon contains 100 ml and costs 39.90 Euro.
I remember that I was impressed when I first tried out Cîme's Daisy Delight Brightening Day&Night Cream at the trade show: the cream is easy to apply; it has a nice liquid texture which is not too watery, it doesn't leave streaks and the skin feels soft and hydrated. I used the Daisy Delight cream throughout the summer – it was so comfortable to wear that I completely neglected my usual face oils 😉 . The cream is scented with very light green floral notes and is recommended for all skin types although in winter it might not be quite rich enough for drier skin types. Ingredients include daisy extract which is said to prevent pigmentation spots, anti-oxidant edelweiss, moisturizing aloe vera, hyaluronic acid und glycerin. The Ecocert-certified cream is packaged in an airless dispenser and 50 ml are priced at 32.90 Euro.
Around four years ago I discovered young British beauty brand MuLondon through an English beauty blog. I then ordered the White Truffle Moisturiser online and liked it very much. The products are water-free balms which are packaged by hand; there are five different variants with different ingredients and three soap-based cleansers. Vegane Pflege also offers a limited edition MuLondon moisturizer which was developed especially for the shop: the completely organic Bergamot, Thyme&Spearmint Moisturizer from MuLondon is based on shea butter, coconut butter and jojoba oil and also contains essential oils of thyme, mint and bergamot. The buttery soft texture immediately melts into the skin and the fragrance combines soft notes of thyme, citrus fruit and florals – it's lovely! And a great all-round product, the balm can be used on hands, feet, body or face; I like to apply it after showering. A jar contains 60 ml and costs 26.99 Euro at Vegane Pflege (a special introductory offer) – oh yes, and you also have a chance to win a pot of the Moisturizer! More details below.
Continuing our walk through the online store we are now near the soaps! Vegane Pflege sells the soaps of family-owned company Klar Seifen (Klar was founded in 1840 and is located in Heidelberg in Southern Germany). Anne recommended that I try the Pflegeseife Lindenblüte Rhabarber (Moisturizing Soap Linden Blossom & Rhubarb) and my goodness, it smells great! I'm now crazy about this soap and would totally wear the fragrance as a perfume. I love the combination of aromatic zesty rhubarb and sweet linden blossom so much that I can overlook the fact that the fragrance also contains some synthetic ingredients 😉 . The white bar soap is packaged in pink silk paper and a cardboard box – it makes a perfect gift! It's a really big soap bar, by the way (135 gr) but still easy to grip with wet hands. And it leaves a beautiful subtle fragrance on the skin. Soap luxury! The Klar soap costs 16.50 Euro.
Note: This blog post was created in cooperation with Vegane Pflege. Vegane Pflege supplied all products, aside from the Cîme products L'Huile and Daisy Delight cream. And here are two more goodies for you: with the code beautyjagd you can order at Vegane Pflege without having to pay shipping costs (one order per customer only). The offer is valid from 17.9.- 14.10.2015. You can also win a jar of the MuLondon Moisturizer: simply leave a comment underneath this post stating that you'd like to try out the product. The competition closes on the 30.9.2015. [For more pictures click here for the original German article Einkaufsbummel im Online-Shop Vegane Pflege]
A good night's sleep with Primavera
When it was so terribly hot this summer I yearned for cooler nights and autumn temperatures – and now, that the weather has indeed cooled off I keep wishing that summer had lasted for just a bit longer ; ) . At least autumn time means lots of exciting new products to discover!
Like the new Regenerierende Handcreme Bio Lavendel & Bio Vanille (Regenerating Hand Cream Organic Lavender & Vanilla) from German aromatherapy brand Primavera. I had been looking forward to this hand cream ever since I found out that Primavera was planning this line extension (there is already a body care range Lavendel & Vanille which I know and love). And now the hand cream is finally here! And it's a fantastic product so, in cooperation with Primavera, I am happy to introduce Regenerierende Handcreme Bio Lavendel & Bio Vanille.
The key ingredients in the Lavendel & Vanille range are essential oils of lavender and vanilla – lavender has relaxing and sleep-inducing properties and helps skin to heal quicker; vanilla has an anti-inflammatory effect on the skin and the scent is sweet and comforting. The new hand cream is based on rich plant-derived oils including cold-pressed avocado oil which has high levels of phytosterols, jojoba oil, shea butter, sweet almond oil and kukui nut oil. Despite the richness of the formula the texture is surprisingly light and the cream is quickly absorbed into the skin. The hand cream is therefore particularly recommended for dry, stressed and cracked skin. And the lavender-vanilla fragrance is heavenly! A tube of the Regenerierende Handcreme Bio Lavendel & Bio Vanille contains 50 ml and costs 10 Euro.
The Primavera Lavendel & Vanille range also includes a body oil, a shower gel and a body lotion. I love the body oil and use it at night after showering – the fragrance is a little more herbal than the hand cream, with stronger notes of lavender. The Körperöl Bio Lavendel & Bio Vanille body oil contains sweet almond oil and jojoba oil, regenerating evening primrose oil, macadamia nut oil and aloe vera and, like the hand cream, it is quickly absorbed into the skin and leaves it feeling like velvet.
And there is a third Primavera product that I simply can't do without: the Kissenspray Schlafwohl (Pillow Spray Sleep Well). I first portrayed the spray on this blog in 2011 and it has quickly become one of my beauty essentials. I always take the spray with me when I'm travelling; it makes anonymous hotel rooms feel much more comfortable. The Kissenspray contains essential oils of lavender, vanilla, sweet orange blossom and honey extract – it is soothing, uplifting and comforting and helps me to relax before going to sleep. The Schlafwohl Kissenspray contains 30ml and costs 7.90 Euro.
The Primavera products are available in organic speciality stores, organic supermarkets, in some larger outlets of the Müller drugstore chain and of course online, for example at Primavera. [For more pictures click here for the original German article Eine gute Nacht mit Primavera]
Two weeks ago I showed you the new Alverde limited edition Oriental Bazaar; I also mentioned that I would soon take a closer look at the new Alverde colour cosmetics portfolio – and here it is!
Alverde is drugstore chain DM's certified organic own label brand. Besides skin and body care, hair care and styling, bath and body care, men's products, children's products and sun care, Alverde also has a pretty comprehensive range of colour cosmetics. Twice a year, in spring and in autumn, the colour cosmetics portfolio is updated with new products. As soon as my local DM had the new products in stock I swooped in; over the last few weeks I've had time to try them out properly and let me tell you: the new launches include some fabulous products!
Let's start with the two items I was most curious about: Color & Care Mix your Makeup are creamy colour pigments that can be mixed into other foundations to adapt the shade (making them lighter or darker); you can also mix the pigments into a face cream to make your very own tinted day cream. What a great idea – well done Alverde! The pigments are available in two colours, Hell (Light) and Dunkel (Dark); I bought both of them because they are wonderful to play around with. The cream colour is packaged in a tube with a very thin applicator so it is easy to squeeze out the exact amount you need. Both variants are strongly pigmented so you only need a very small amount to lighten or darken a foundation.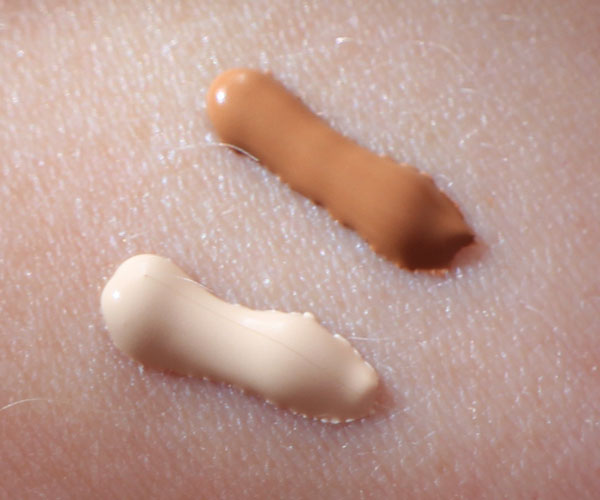 The Hell shade is a neutral to yellow-tinted creamy white (it is really light), the darker shade is a combination of apricot and middle brown but, surprisingly enough, it doesn't look orange at all. The texture is liquid and smooth; Color & Care is based on water, titanium dioxide, alcohol, thistle oil and sunflower oil. Both products are certified by NaTrue, they are vegan and fragrance free. A tube contains 20 ml and costs 2.95 Euro.
Amongst the new autumn products are four mascaras, including a brown variant of the Nothing but Volume mascara from Alverde's standard line-up. Big Drama Lashes, however, is new: the mascara has an extra large and voluminous applicator with bristles that are slightly too long for my taste; the texture is quite liquid and ever so slightly waxy. The effect on my lashes was ok, with average volume and lengthening – oh, I almost forgot to mention that the mascara has a very light floral scent. It is also vegan. The Big Drama Lashes contains 12 ml and is priced at 3.75 Euro.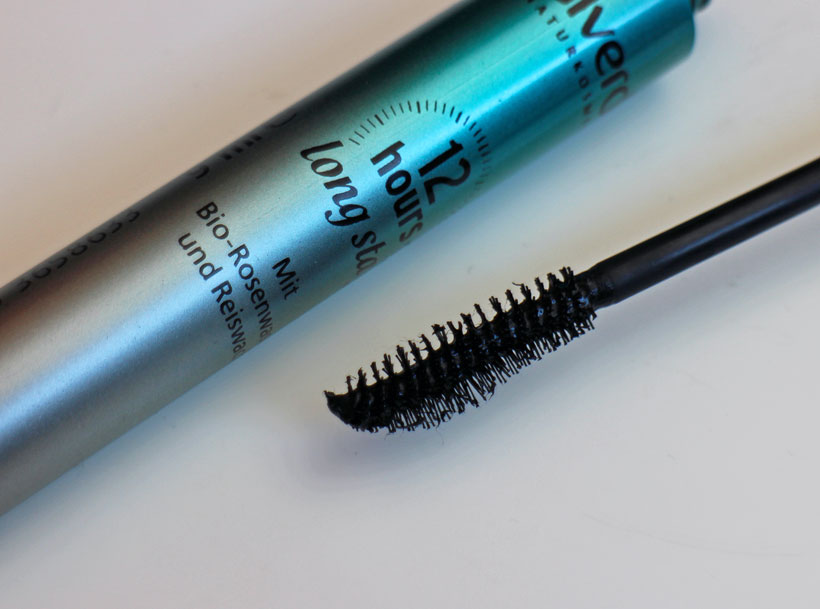 Tadaaaaaa! The Mascara 12 hours long stay is my personal favourite in Alverde's current mascara selection! The applicator brush has two sides, one has shorter bristles and the other is slightly curved so it is easy to apply the mascara. Two coats gave good volume and my lashes did look slightly longer and thicker. How long the mascara lasts depends on the level of physical activity: spending the day at the desk without any major excitements the mascara stayed on pretty well. I also wore the mascara one day whilst hiking in the mountains (it was quite hot and sweaty) and after around five hours some of the colour ended up on my lids. The texture is slightly more waxy than Big Drama Lashes and the mascara has a interesting vodka-lemon scented fragrance. It is based on water, alcohol, iron oxide, rice wax and beeswax, so it is not vegan. 12 hours long stay Mascara contains 9 ml and costs 4.45 Euro.
The new Doll Lashes Mascara has an interesting applicator brush: the bristles have little gaps between them so some lashes get more colour than others – and it does indeed look a little like doll's eyes although the volume seemed pretty average to me. The texture is quite liquid and the mascara has similar ingredients to Big Drama Lashes; the fragrance is also reminiscent of the Big Drama mascara. The Doll Lashes mascara contains 9 ml and costs 3.75 Euro.
And now for the lip products! There are three new shades in the Color & Care lipstick range, I bought two of these: #62 Cranberry (left on the photo) and the #63 Fuchsia (right hand side): the third shade – #61 Dark Plum – is a darker violet which I know from experience will leave my lips looking rather thin.
I photographed the lipstick swatches in the sunlight so you can see the bright colours more easily – however, this also means that the swatches look slightly warmer than the colours actually are. On the left you see shade #62 Cranberry, a mid-toned red which is warmer than #63 Fuchsia and ever so slightly more shimmering. The Fuchsia shade contains more blue-toned pigments so the colour is leaning more towards a pink. Both lipsticks have a creamy finish, are easy to apply and feel comfortable on the lips. The fragrance-free Color & Care lipsticks are based on jojoba oil, wool wax and candelilla wax; they contain 4,7 gr and are priced at 3.45 Euro.
Besides two new eyeliners Alverde has also launched a new Eye Brightener pencil. I expected the Brightener to look creamy white, like the brightener that colour cosmetics brand Benecos has brought out, but to my surprise the Alverde brightener was crystal blue. Yes, really! The Brightener is pliable and soft which makes application really easy (I hate eye pencils that drag on the lid!); if you are short-sighted and wear glasses this might be a good shade for you because it makes the eyes look larger and more awake. However, you can also use the Eye Brightener like a regular eyeliner. The Brightener is based on processed plant oils and glimmer and it lasted for around three to four hours on my eyes. The Eye Brightener contains 1,1 gr and costs 1.75 Euro.
Alverde's new Khol Eyeliner comes in a rather clever pack: the creamy eyeliner is contained in a little pot that can be twisted off while the lid of the pot has a very thin applicator brush hidden inside. The texture is like a creamy gel so it doesn't dry and you can smudge it around for different eyeliner looks. On my lids the eyeliner stayed on ok although the colour intensity disappeared during the day and the line I had drawn started to look a little uneven. The eyeliner doesn't contain water and is based on sunflower oil, castor oil and iron oxides. And it is fragrance-free. The Khol Kajal contains 2 gr and costs 3.45 Euro.
All products are certified by NaTrue and available in outlets of the DM drugstore chain. [For more pictures and swatches click here for the original German article Alverde: Neues Sortiment Herbst 2015 (Fotos, Swatches)]
I already posted a picture on Instagram about my recent trip to the Carinthian Alps: together with Vital magazine, organic cosmetics company Speick had invited a group of readers and bloggers to a weekend in the biosphere reserve Nockberge. This is where the Speik plant grows; it's a protected Alpine medicinal plant which is the key ingredient in Speick's beauty products – see Beauty Notes 21.8.2015. I'll tell you more about the Speik weekend in a later post! I brought back some beautiful souvenirs, including the Active Body Oil from Speick and a small bottle of Zirbale – this is a local schnapps made with Zirbenzapfen (the cones of a type of pine tree (pinus cembra) which only grows in high-altitude mountains). For Zirbale schnapps the pine cones are marinated in slightly sweetened korn (a clear spirit that is distilled from grains) so you get a delicious resinous flavor.
Another souvenir – this time from my Brussels trip – was the Aromawatch from French brand Pranarôm. It's not a real watch, of course, but a bracelet set with a small ceramics stone. You drizzle four to five drops of essential oils onto the little stone (at the moment I am crazy about Rose Geranium from Primavera!) and then wear it on your arm, attach it to your hand bag or put it in your room. It's like a portable aroma lamp! I like wearing it on my wrist since the body warmth seems to enhance the scent. The Aromawatch can also be used to repel insects (with lemon eucalyptus essential oil, for example) or, if you are feeling queasy, a few drops of peppermint can help. The fragrance lasts for a surprisingly long time; the watch is available in three colours and the pack included a second aroma stone so you can alternate the essential oils. In Germany I've seen the Aromawatch in online store Ecco Verde (which, as it happens, still offers a 10% discount to Beautyjagd readers! See the side banner on the top right hand corner of the page!)
I recently ordered French brand UNE Beauty's new Skin Mat Aqua Foundation from French organic online store Mademoiselle Beauty. Unfortunately the foundation is not yet available in Germany. It's a pity because it is a great product: Skin Mat Aqua has a light texture – it's a proper Eau de Teint – with SPF 10. I ordered the foundation in A05 which is a slightly yellow toned neutral shade. It's still a little too light for my current skin tone so I'll wait until October – or I'll simply mix it with the new Mix Your Makeup pigments from DM's Alverde brand which works really well! The foundation is very comfortable to wear, the texture is creamy and fluid with medium coverage and the finish is satiny-matte.
If you read German you might be interested in Naturkosmetik Ratgeber, a book about organic cosmetics which has just been published. The author is well-known organic cosmetics expert Elfriede Dambacher (her company also publishes the annual Naturkosmetik Jahrbuch and other market reports): she explains the difference between certified organic, natural and near-natural cosmetics and gives an overview of what certifications there are in Germany, Europe and internationally; other chapters of the book focus on different product categories like deodorants, skin care or sun care. The Ratgeber doesn't give product recommendations as such but there are product tips from some organic beauty bloggers. Amongst others, the book features Franziska from Veggie Love, Ida from Herbs & Flowers, Liv from PuraLiv – and me with Beautyjagd. Of course I recommended a facial oil, what else? 😉 The book is aimed at readers who have just started to use organic cosmetics so there is a lot of background info and the language is easy to understand. As a side note for my international readers: the book focuses on the German organic cosmetics industry, so the certifications, labeling and ingredients info are all about seals, regulations and so on we have in Germany and Europe – BDIH, Natrue, Ecocert, Cosmos and so on.
The next NaturkosmetikCamp (Natural Cosmetics Camp – the biggest organic beauty bar camp in Europe) will take place in June 2016 (from 24.6.2016 to 26.6.2016, to be exact), in Panoramahotel Oberjoch in the Allgäu region of Germany. The organizers of NaturkosmetikCamp have also launched a new (German language) blog which is edited by Ida from Herbs & Flowers.
And here is a (longer than usual!) list of the most exciting organic beauty news I've come across over the last week!
The deodorant creams from Schmidt's will soon be available in a stick format. More information is available here.
Organic brand Lenz will introduce two new shower gels in extra large bottles (click here for more information).
The new limited edition of organic French brand L'Atelier des Délices is called Secret de soie. More information is available here.
Mineral cosmetics brand Alima has introduced a pressed mineral foundation. You'll find more information here.
Estonian brand Joik has announced a Rejuvenating Beauty Elixir with golden glow; more information and INCIs are available here.
DM's certified organic brand Alverde is relaunching its hair care portfolio: next month the range will be extended with a number of new products including a volume serum, dry shampoo, 5-in-1 BB mask and a heat protection spray.
German organic beauty brand Mahlenbrey has launched an argan oil. More information is available here.
US brand RMS Beauty is introducing nail polishes with colours that match other products in their line-up, like Luminizer or Magnetic. What a great idea! For more information, click here.
Finnish brand Frantsila has brought out Aufbauende Gesichtsöl Rose (Nourishing Face Oil Rose) which looks really interesting. More information at Hilla Naturkosmetik.
German brand Regulat Beauty is introducing an Anti-Aging Eye Creme – more information is available here.
And check out the big eyeshadow palette from Couleur Caramel that I discovered at French online store Monde Bio.
German brand Yverum is launching an Eye Lip Serum – information is available here.
The new colour cosmetics collection from German organic brand Sante will be called Get the Glow. For further information, click here.
Kahina Giving Beauty from the US has launched an oil-based perfume, Fez Perfume Oil. More information is available here.
Latvian brand Mádara is extending its Time Miracle anti-ageing range with two new products: a day cream and a toning mist. Check them out here.
I am also looking forward to the new fragrance from Dutch brand Hiram Green which will be launched in November – no further information is available so far, sorry! [Beauty-Notizen 25.9.2015]
And this concludes the fifth installment of Beautyjagd in English. Have a good week and see you soon!
Julia