Dear international readers of Beautyjagd,
Welcome to the next English-language edition of Beautyjagd! This is a condensed version of the most important articles that have appeared on my blog over the last few weeks. For more information about this format, click here. And now: enjoy the best of Beautyjagd in English!
Best wishes
Julia

In cooperation with Cattier Paris // It's autumn, it's Sunday evening and it's time for a serious masking session! A few weeks ago I received the new Clay Multi-Masking Kit from Cattier Paris and was immediately hooked: the cardboard container contains four tubes with different medicinal clay masks and an applicator brush. Doesn't the kit look pretty?
What's medicinal clay and how does it work
Medicinal clay is also called medicinal earth or mineral clay but it usually means the same thing: loess, a mineral sediment of clay and soil that has formed over the course of several millennia and frequently dates back to the Ice Age. In Europe mineral clay is a traditional ingredient in cosmetics and natural remedies.
Mineral clay is very popular in France, every organic supermarket and pharmacy offers different varieties of medicinal clay – as loose powder or as a ready-blended paste. Some of these mineral clays are called "healing earth" or "healing clay" which, however, is a protected term and only allowed if this particular clay blend is rigorously tested and officially registered as a medicinal product. Real "healing clays" can even be ingested, for example to treat gastro-intestinal problems.
In France mineral clay is often used as a medicinal product, for example to relieve pain or inflammation. However, it is also a key ingredient in many beauty products. Mineral clay contains many different components, including quartz, silicates, limestone, minerals and trace elements plus mineral oxides which are responsible for the distinct colour of the clay.
The individual earth particles are very small and have an uneven, porous surface which means that they can absorb moisture, lipids and dirt (a kind of detoxing effect!) and in return provide the skin with soluble minerals (such as calcium, magnesium, potassium or silicone). Mineral clay also has a lightly cooling and antiseptic effect which is particularly beneficial for impure or irritated skin.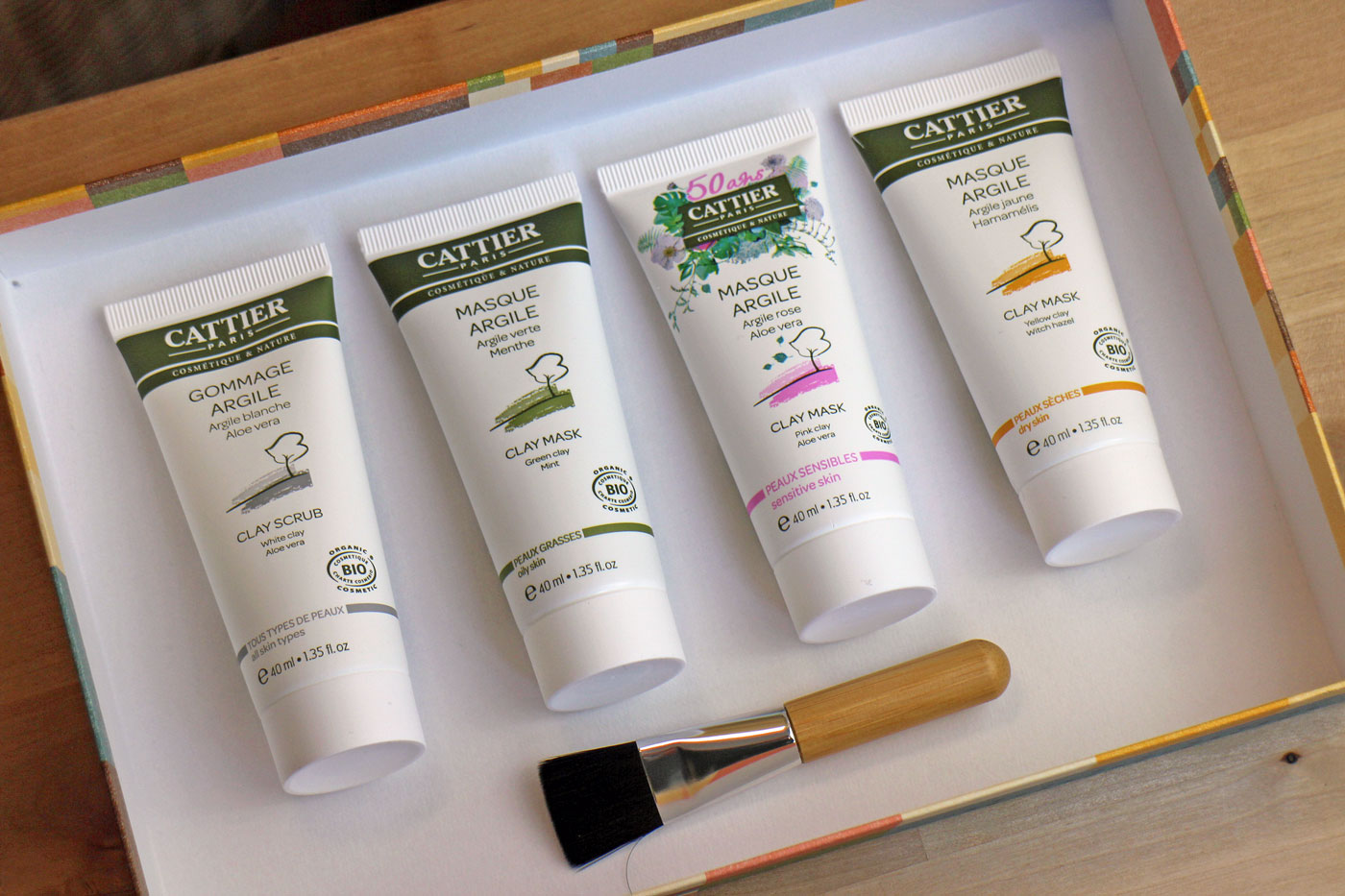 Which mineral clay is suitable for which skin condition
Each type of mineral clay contains a specific blend of substances and minerals which also depends on where the individual clay was harvested. The particle sizes also varies from clay to clay. There are different mineral clay colours – green clay, for example, brown clay, beige clay, yellow clay, red clay, white clay and even purple clay. Each of these clays has a different composition of ingredients and therefore differs in its effects on the skin.
There are several major categories:
♥ Green clay is THE French classic clay. The green earth contains an especially high percentage of montmorillonite and its cleansing power is stronger than other types of clay, so green clay is often recommended for impure and oily skin.
♥ White clay is composed of alumina silicates which do not contain iron oxides, hence the light colour of this clay. The absorption rate of white clay is good and it is very gentle, so this type of earth is recommended for cleansing sensitive skin.
♥ The coloured mineral clays are blends from different mineral earths, they can be tinted yellow, red or pink. A mix of white and red clay results in a pink clay blend which is suitable for sensitive skin. For dry skin, try out the mineralising yellow clay.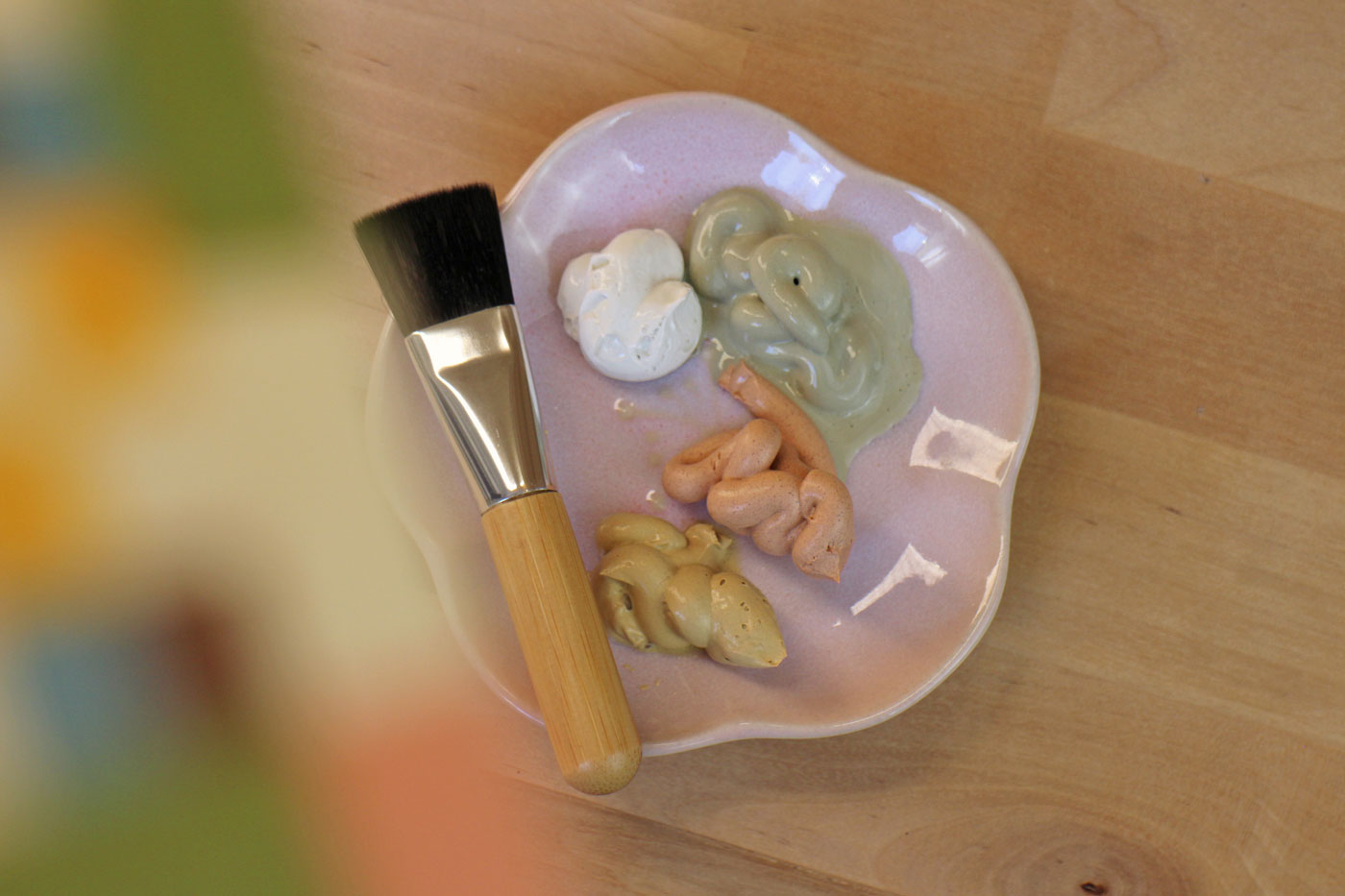 What is multi-masking
Multi-masking doesn't just look funny, it also makes sense: instead of applying one mask to the entire face you choose different masks for individual areas of the face – the T-Zone, for example, is usually more oily than the cheek area so it requires a different kind of skin care.
The Clay Multi-Masking Kit from Cattier contains four small tubes with different masks and a brush, so each area of the face can benefit from a different formula. And you can try out Cattier's different face masks without having to buy the large product sizes.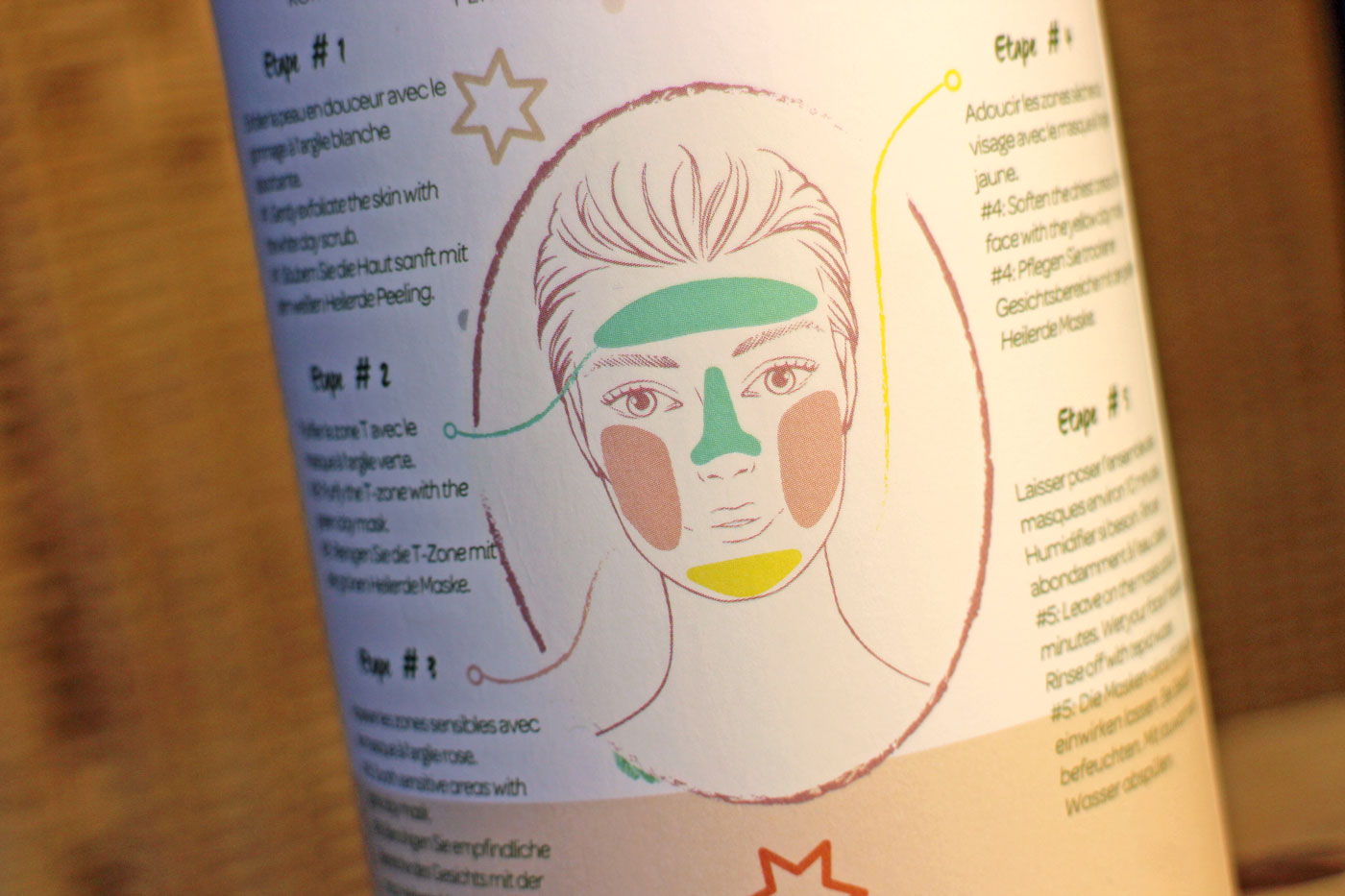 How to use the multi-masking kit
The four tubes make clay multi-masking really simple: you don't have to mix the powder with water; simply squeeze out the ready-blended mask from the tube. Depending on what skin type it is intended for each mask contains different hydrosols, essential oils and plant oils. This makes the Cattier masks more moisturising and less drying than my DIY mineral clay masks (which consist of clay powder and water).
White Clay Face Scrub
The multi-masking session begins with a facial scrub: I apply the lavender-scented White Clay Scrub on cleansed skin and massage it very gently (without exerting any pressure and using circular movements) into my skin. The clay and bamboo particles have a very light physical exfoliating effect, removing dry skin flakes and other impurities. Then I rinse off my face with luke-warm water – my skin feels smooth but not dried out because the White Clay Scrub contains moisturising jojoba oil.
Green Clay Mask for Oily & Combination Skin
And now it's time for the different face masks! Depending on the requirements of your skin you can decide which mask goes where. I usually squeeze a bit from all three masks into a little dish (shaking the tubes before use because some masks are more liquid than others) and then apply them to my face with the brush. Make sure that your mask layers aren't too thin! On my forehead and T-Zone I usually apply the peppermint-scented Green Clay Mask because the absorption power of the green clay is particularly suitable for oilier skin patches. The green mask won't dry out your skin, by the way, it also contains some jojoba oil.
Rose Clay Mask for Sensitive Skin
The skin on my upper cheeks is more sensitive and prone to redness, so I apply a layer of the soothing Rose Clay Mask to the area around my cheek bones. The mask contains pink clay as well as moisturising shea butter and aloe vera so the skin gets a good mixture of lipids and hydration.
Yellow Clay Mask for Dry Skin
The lower cheek area and chin receive a layer of the Yellow Clay Mask for Dry Skin. The yellow clay blend remineralises the skin whilst jojoba oil adds hydration. The yellow mask is scented with essential oil of rose geranium which is a very skin-friendly oil.
Letting the masks work
I leave the three masks on for around ten minutes, making sure that they do not completely dry – every once in a while I mist my face with a hydrosol or toner so the skin doesn't dry out. It also makes the mask easier to remove.
Rinse off with luke-warm water
After ten minutes I rinse off the masks with luke-warm water. Afterwards my skin feels clear and fresh but also glowing and not dry. After this kind of multi-masking session I usually apply a light moisturiser or 2-3 drops of facial oil. And now my skin really is much too beautiful to go to sleep 😉 .
The Clay Multi-Masking Kit from Cattier contains a tube each of White Clay Scrub (40 ml), Green Clay Mask (40 ml), Pink Clay Mask (40 ml) and Yellow Clay Mask (40 ml), plus a small applicator brush. You can check out the complete INCI listing of all masks on the Cattier homepage. The kit costs 12.99 Euro and is available in various online stores as well as selected organic supermarkets and Müller Naturshop drugstores. And if you find your favourite mask you can, of course, also purchase a larger version: each face mask is also available in a 100 ml tube.
[Click here for more pictures and the original German article Neu! Heilerde Multi-Masking Kit von Cattier Paris]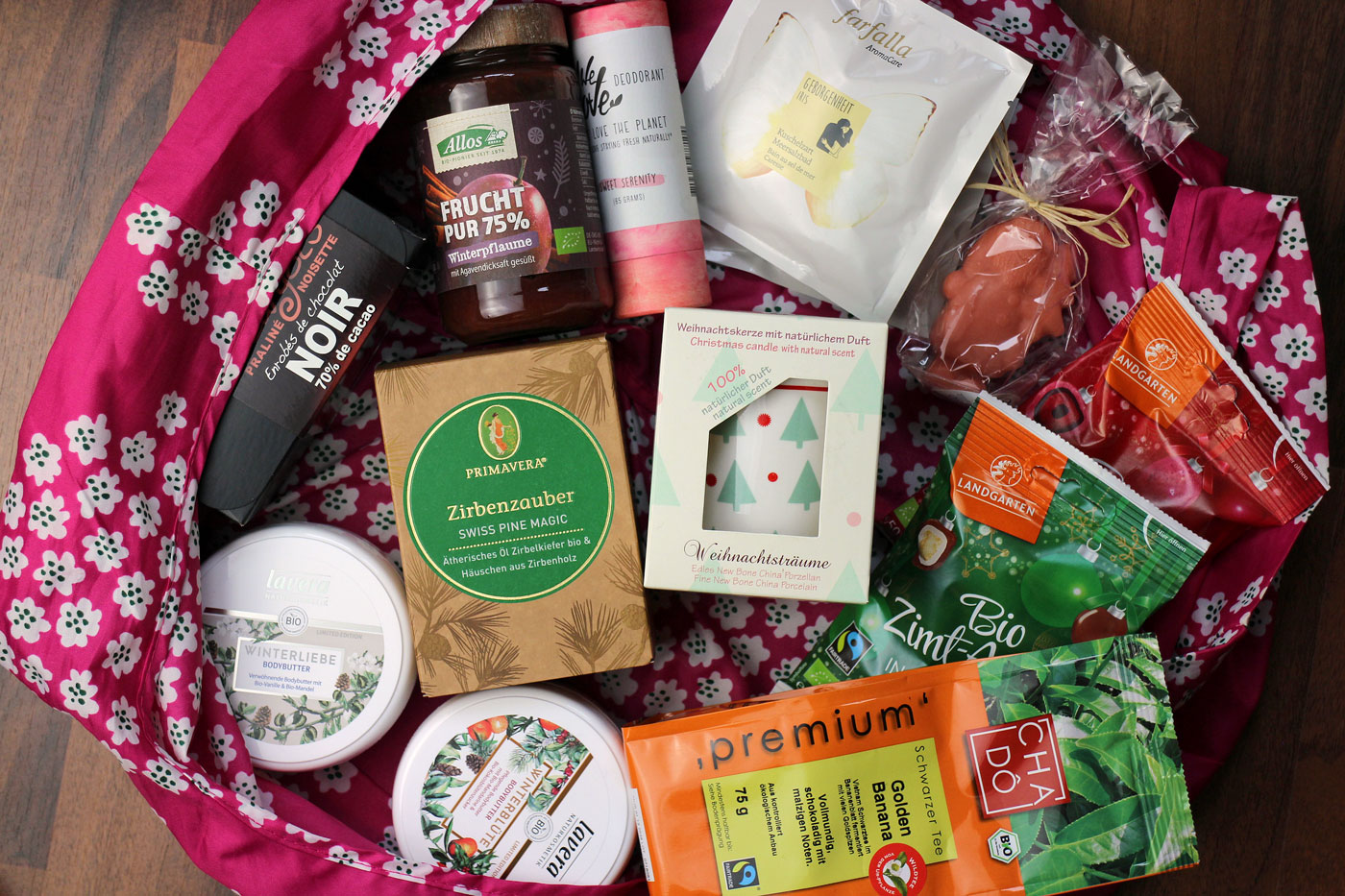 I've returned to Nuremberg and am trying to keep the jetlag at bay – i.e. stay awake until the evening and not go to sleep in the middle of the day. So I decided to walk to organic supermarket Ebl which is located in my neighbourhood. And because I had so much time on my hands I strolled around the store looking at each shelf and checking out new launches – and I discovered so many interesting new food and beauty products that I decided to photograph the contents of my shopping haul and show it on the blog. Maybe one of you readers will find some inspiration! Of course I also bought fruit and vegetables and other fresh stuff and boring things like rice and sandwich spreads – I am not going to show you those. This blog post is about products that I didn't plan on buying at all!
♦ The first thing I noticed were the two limited edition Winter Body Butters from German brand Lavera: they are called Winter Blossom and Winter Love and I think the jars look really pretty. Winter Blossom has a soft creamy fragrance which combines mandarine and coconut; Winter Love has more of a caramelised almond and vanilla flavour – the scent is definitely on the sweeter side. You can also buy the body butters elsewhere, for example at online store najoba.
♦ I buy the Christmas candle Winter Forest from Kerzenfarm Hahn most years; it's a seasonal candle which is launched around November/December each year. This time the candle is packaged in a porcellain jar decorated with stylised pine trees – and the pack design perfectly matches the fragrance because the candle has a heavenly fir forest fragrance!
♦ I didn't know that the baking soda deodorants from German brand We Love The Planet were also available as sticks, so I decided to buy the deo stick Sweet Serenity which has a soft floral and oriental fragrance. The stick is packaged in a cardboard tube and it's easy to push it out – I like that.
♦ The red Christmas Soap from German brand Speick Naturkosmetik will definitely move into my bathroom this December. The little soap is shaped like Father Christmas and has a fresh-floral fragrance with spicy undertones – very different from the usual traditional Christmas fragrances. You can check the Christmas soap in more detail on the Speick homepage.
♦ When it's cold outside I love to take a bath in the evening! Which is why Swiss brand Farfalla's Sea Salt Joy of Life Happy Moments bath salts and the Sea Salt Comforting Softness bath salts also jumped into my shopping basket. I have already used the Comforting Softness bath salts, they have an elegant scent which combines white blossoms and orange peel. As soon as I've used the Joy of Life sea salts I'll update this post with the fragrance notes – the packaging mentions notes of tonka.
♦ I became a fan of German brand Primavera's Swiss Stone Pine Ball last year; this year the brand has launched a new gift set: Primavera Gift Set Swiss Stone Pine Magic. The set contains the organic Swiss Stone Pine essential oil and a small wooden house made from Swiss Stone Pine wood. I have already seen the gift set online, for example in Naturdrogerie online store. You can also look at Primavera's current gift sets on the company's homepage.
♦ Although I brought back a lot of green tea from Japan the Black Tea Golden Banana from Cha dô sounded so interesting that I simply had to buy it: it is called Golden Banana because the leaves of this Vietnamese tea are fermented in banana leaves. The taste is described as combing notes of chocolate and malt – I brewed a cup of it this morning and it tasted like a very soft and full-bodied (non-bitter) black tea.
♦ And I couldn't resist the fruit spread Winter Plum from German brand Allos – November is the perfect time for plum and cinnamon flavours. Also, I love eating bread with honey or jam on it. The Allos fruit spread contains 75% of fruit and has a very pleasant flavour which isn't too sweet.
♦ The Escargots Praliné Noir from French brand Saveurs & Nature were not on my shopping list either – but I simply couldn't resist these snail-shaped nougat chocolates 🙂 .
♦ I also discovered Austrian organic brand Landgarten's winter time chocolates "Cherry" and "Cinnamon-Apple in Two Chocolates" – the sour cherries are dipped in white and dark chocolate while the dried apple pieces are wrapped in two types of chocolates and flavoured with cinnamon notes.
Have a good Sunday! I'll be having a quiet day at home working a bit, maybe going for a walk and definitely eating and taking a nice hot bath.
[Click here for more pictures and the original German article Mein Einkauf im Bioladen (November 2018)]
In cooperation with Dr. Hauschka // Like every year German brand Dr. Hauschka is offering some beautiful new Winter Gift Sets, including the popular Advent Calender, four gift sets and three of the brand's bestselling organic products in special Christmas packaging. I selected three of the gift sets and will tell you all about them in this post – and here's a first tip: The gift boxes of the sets are reusable; simply remove the sleeve and the box insert and you have a pretty storage box. The gift box is closed with a clever sliding mechanism.
Morning Greeting Face Care Set from Dr. Hauschka
For decades I've had the same morning ritual: After I get up I open the windows to let in fresh air, then I go to the kitchen to put on the kettle to prepare my green tea. Then I apply my morning skin care products so they can start working while I am eating breakfast.
In the morning I cleanse my skin particularly gently – after all, I don't wear makeup in bed but simply want to remove any residue that has been emitted by my skin during the night. And my favourite product for this type of cleansing is the Face Cleansing Cream from Dr. Hauschka: it's a unique almond paste which is very gently pressed into damp skin (don't massage it in, it's not a scrub!) and then rinsed off with plenty of warm water. Because the wash cream does not contains surfactants it doesn't disturb the skin's protective barrier.
The Face Cleansing Cream is also the first product in the limited edition Morning Greeting Face Care Set from Dr. Hauschka: the gift set contains three 30ml-sized morning skin care products – ideal for testing out the products or as convenient travel sizes for your Christmas holiday. In addition to the Cleansing Cream the set also contains Dr. Hauschka's Facial Toner (which is scented with beautiful floral notes and helps to boost the skin's circulation with the help of kidney vetch and witch hazel).  The third step in the morning skin care ritual is the classic Rose Day Cream from Dr. Hauschka which is best applied while the skin is still damp. You only need a small amount because this cream is rich and therefore especially suitable for protecting the skin during winter time.
The cream contains a number of rose ingredients, including rose water, rose petal extract, rosehip extract, essential rose oil (anti-inflammatory and skin-regenerating) and rose wax. In addition kidney vetch and mallow extract have been included to help soothe the skin.
I could never leave the house (or sit down at my desk to start work) without my morning skin care ritual of cleansing, toning and moisturising – this 3-step skin care routine is just as important as brushing my teeth!
The Morning Greeting Skin Care Set from Dr. Hauschka includes the Cleansing Cream, the Facial Toner and the Rose Day Cream in 30 ml sizes; it costs 28 Euro. The Cleansing Cream is a gift from Dr. Hauschka.
Daily TLC Body Care Set from Dr. Hauschka
When it gets dark during the winter season and the temperature continues to fall, the landscape becomes quiet and sleepy. At this time of year I don't just miss the green leaves and the warm summer air but also the natural fragrances you can smell outside: very few European plants bloom in wintertime.
In winter I like to envelop myself in scented body lotions to get me through the day (or night). My skin also needs more nourishment than usual because even my sebaceous glands seem to go to sleep at this time of year – my skin is drier during the winter months because it doesn't get enough natural lipids.
The Daily TLC Body Care Set from Dr. Hauschka contains three tubes (30 ml each) of the Rose Nurturing Body Cream, Lavender Sandalwood Calming Body Cream and Almond Softening Body Cream. These three body balms are amongst the richer Dr. Hauschka body care products. When I am yearning for the scent of roses in bloom I apply the Rose Nurturing Body Cream which protects the skin with oils and waxes. The fragrance smells like roses blended with warmer spicy accords. – The Lavender Sandalwood Body Cream has a calming effect on me, I particularly like the blend of essential lavender oil and soothing, protective sandalwood oil in the evening (the spicy sandalwood scent develops after a while). – And the Almond Softening Body Cream has a real winter-time fragrance, with notes of bitter almonds and aromatic herbs but without too much sweetness; like a delicious Christmas cookie.
All three body balms are easy to apply without any streaking. The texture is absorbed quickly into the skin without leaving any stickiness but at the same time, the balms are much more moisturising than you'd think: even several hours later the skin feels very hydrated and protected. A scented winter-time protective layer for the skin underneath thick woolen sweaters and overcoats!
The Daily TLC Body Care Set from Dr. Hauschka costs 12.50 Euro. The Almond Softening Body Cream is a present from Dr. Hauschka.
Eye-Catching Make-up Set from Dr. Hauschka
Yes, in winter one usually spend more time inside than outside but that doesn't mean that you just lie on a couch all day! During the winter months I love visiting museums and libraries because they offer inspiration and mental stimulation but also because of the cozy and quiet atmosphere. Going to a museum in winter time also makes me want to wear a soft velvet coat and deep red lipstick… 😉
The Eye-Catching Make-up Set from Dr. Hauschka can actually help with this last wish because the gift set contains a pocket mirror, the new Lipstick No. 19 in shade Burnet and the transparent Lip Definer. This is a waxy lip liner which leave a colourless wax contour around the lips so that the lipstick stays put without feathering or smudging.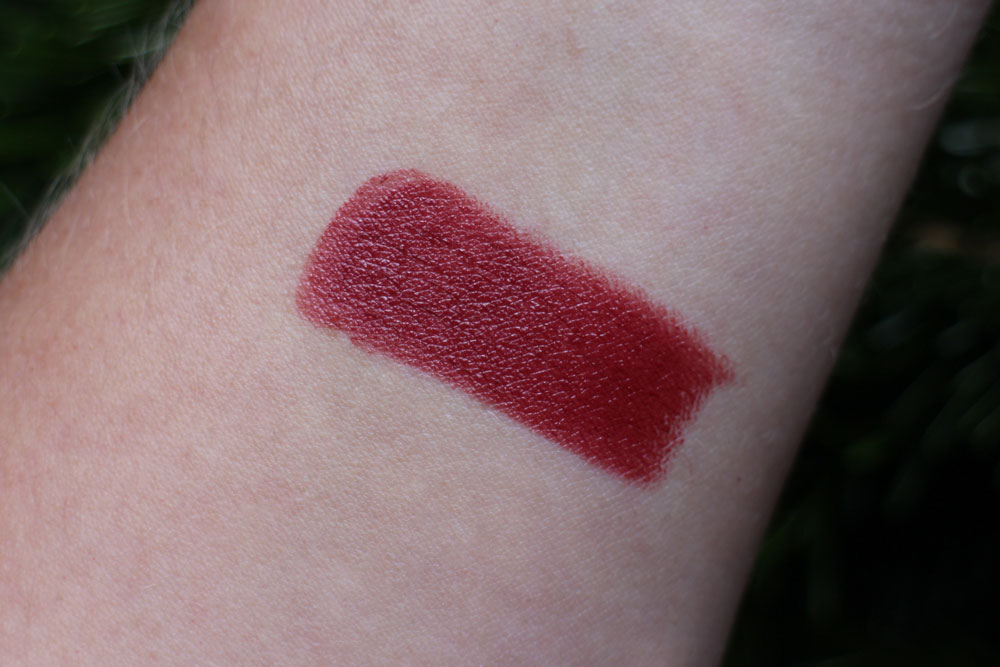 And the lipstick is an entirely new shade in Dr. Hauschka's lip colour range: Burnet is a subdued dark red with brownish undertones but also some plum-coloured reflexes (see swatch above). These undertones create a rich soft red that doesn't look startling and is suitable for both cooler and warmer skin tones. The finish is satinised (with a tendency towards shiny) – pure colour without any visible shimmer particles. Like the other Dr. Hauschka lipsticks Burnet has a soft smooth texture and feels comfortable and moisturising on the lips. The colours lasts best if you don't eat or drink anything – basically it's the perfect lipstick for visiting a museum or library 😉 . I hope that Burnet will make it into Dr. Hauschka's standard lipstick range, the colour is so elegant and sophisticated!
The Eye-Catching Make-up Gift Set from Dr. Hauschka contains a Lipstick in shade Burnet, the Lip Line Definer in shade 00 as well as a foldable pocket mirror (which is the present in this set). It costs 32 Euro.
You can check out all winter gift sets on Dr. Hauschka's international homepage. The sets are also available in all authorised retailers, organic supermarkets, pharmacies and department stores as well as online.
[Click here for more pictures and the original German article Die neuen Winter-Geschenksets 2018 von Dr. Hauschka]
In cooperation with Ecco Verde // When I was in Seoul this October I used sheet masks almost every day – after all, practicallly every beauty store in Seoul is selling face masks; they are usually piled to the right and left of the entrance outside of the store to draw customers in. Basically, sheet masking's in the air! And luckily these days there are are more than enough natural sheet mask alternatives – maybe not in Seoul, but when I returned to Germany I discovered so many new sheet masks in organic online store Ecco Verde that I decided to do a mask challenge: a different organic sheet mask every day for a whole week. My own private sheet masking party!
How sheet masks work
I've been a fan of sheet masks for a long time. This type of face mask has been a staple in the Asian beauty culture for decades. Many years ago I read the book of renowned Japanese beauty expert Chizu Saeki who recommended making a DIY sheet mask made from cottonwool pads and toner and integrate this beauty ritual into the everyday skin care routine.
Of course, these days it's much easier: you can simply buy a sheet mask which is already saturated in a serum or essence and available in a convenient single sachet. Remember that over here in Europe sheet masks were all but unknown even five years ago. Difficult to imagine but true! Sheet masks are still very much a new thing in Germany – traditionally we tend to use creamy face masks.
Sheet masks usually have a cooling effect on the skin. In summer or when your skin is feeling hot or you're getting red patches, this mask type is ideal because it cools down your face quickly. In addition, sheet masks offer an immedate boost of hydration. Unlike a toner which is absorbed quickly into the skin (or evaporates), sheet masks hold the moisture on the skin so you have an on-going hydrating effect. The active ingredients that are contained in the mask also stay on the skin for longer.
I apply a sheet mask whenever my skin feels hot or irritated or when it needs a quick boost of hydration. When I use it as part of my skin care routine the sheet mask comes after cleansing and before I apply a face cream or oil.
After you've applied a sheet mask the skin immediately looks plumper, a nice effect which is particularly welcome before an important appointment or after a long-haul flight 😉 . And some sheet masks are so moisturising that I don't need an additional skin care product afterwards (more about this further down the article!).
I selected seven organic sheet masks for different skin conditions from the brand selection offered by organic online store Ecco Verde. Then I applied one mask per day. Read on for a closer description of the sheet masks that I tried out! With the exception of Whamisa (Korea) all sheet masks are from European brands.
Moisturising Sheet Mask No. 1 from Gyada Cosmetics
Italian beauty brand Gyada Cosmetics (they are from Sicily) has recently launched eight new sheet masks. I selected the classic Moisturising Sheet Mask No. 1 from Gyada Cosmetics. The soft thin cellulose sheet fits my European face shape nicely, the eye and mouth holes are almost an exact fit. Also good: the sheet mask adheres so well that it doesn't slide off my face when I sit or walk so I don't have to lie down for this mask and can do other stuff in the meantime. The mask serum has a light aquatic scent and a thick, fluid texture; it quickly cools and hydrates my skin. After 15 minutes I remove the mask and massage the rest of the slightly sticky serum into my skin. Then I wait for a few minutes and apply my other skin care products. The active ingredients in this sheet mask are hydrating aloe vera as a base, hyaluronic acid and urea plus soothing mallow extract and anti-inflammatory niacinamide. The mask is certified by Italian label AIAB, the preservative is ethylhexylglycerin.
My verdict: A great hydrating boost for the skin and especially good as part of the normal skin care routine. Ideal for layering.
The Moisturising Mask No. 1 from Gyada Cosmetics costs 6.89 Euro.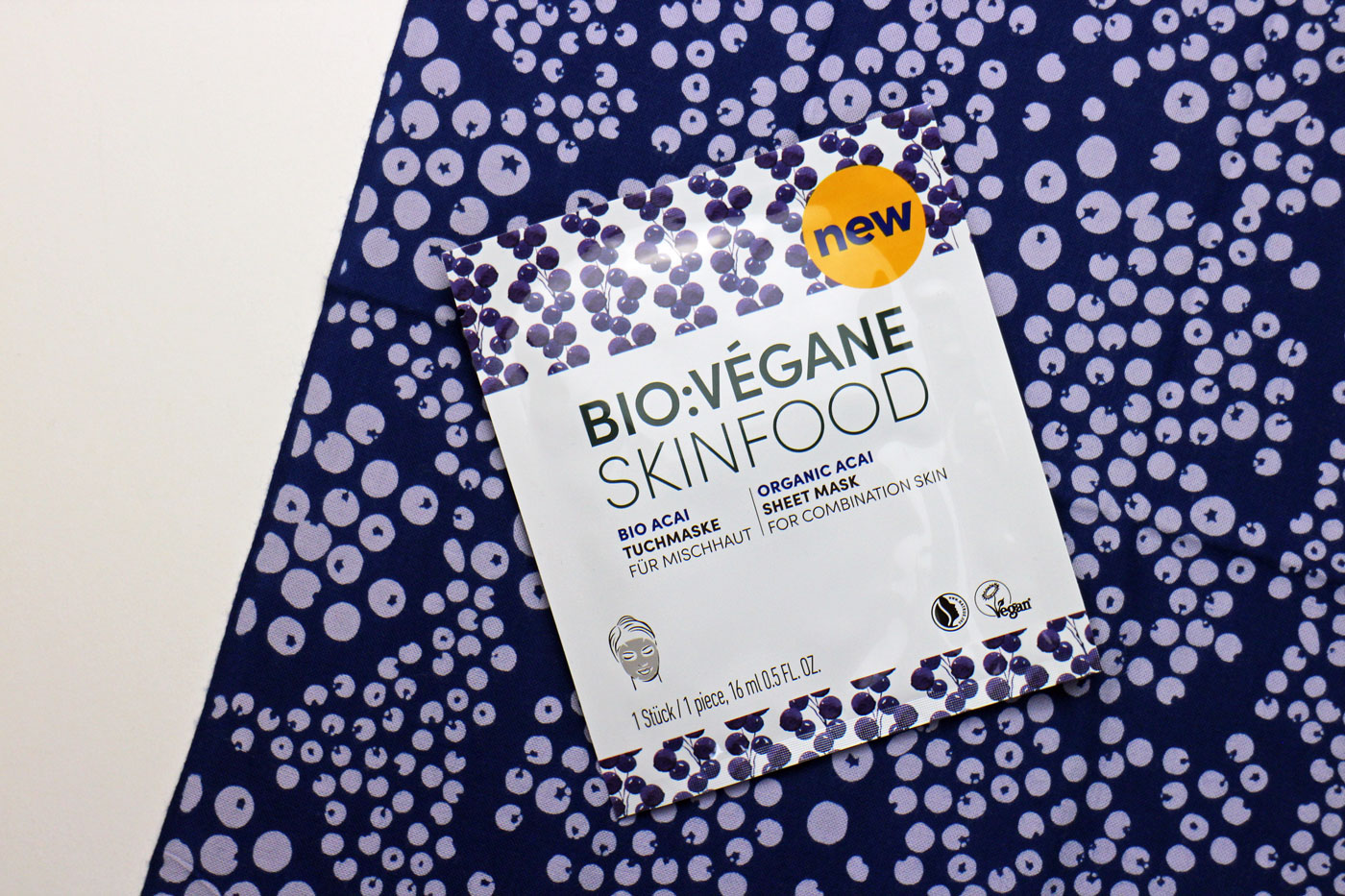 Organic Acai Sheet Mask from Bio:Végane Skinfood
I applied the Organic Acai Sheet Mask from German brand Bio:Végane Skinfood in the morning because it is recommended for combination skin and promises to refine pores and minimise shine – and I definitely need that kind of effect during the day! The mask sheet is made from cellulose and fits my face well although the eye holes and mouth holes are a little small (but you can easily stretch them out). The mask liquid has a neutral scent with very light berry undertones – this might be the antioxidant acai extract which is one of the key ingredients in this mask. The mask essence also contains African bark extract (another antioxidant) as well as orange fruit extract, hyaluronic acid and glycerin. The sheet mask has a nice cooling effect on the skin and the serum is ever so slightly sticky – that's a good thing because it means that the mask doesn't drip while it's on my face. After 15 minutes I remove the sheet mask and apply a bit of cream to lock the hydration into my skin. I also checked to see if my skin was really mattified (before I applied the cream of course!) and yes, maybe my face looks a little more matte – or at least it wasn't shiny.
My verdict: Superfoods for combination skin with hydration and a light mattifying effect.
The vegan and Natrue-certified Organic Acai Sheet Mask from Bio:Végane costs 3.99 Euro.
Tea Buds Vitalizing Sheet Mask from Tautropfen
One of the reasons why I selected the Tea Buds Vitalizing Sheet Mask from German brand Tautropfen is that the packaging stated that this mask could be warmed up before use – so of course I had to try this out! Before you apply the mask you submerge the unopened sachet in a bowl of hot water for 5 minutes. Then you open the pack, unfold the mask and place it on your face. Unfortunately the mask had already cooled off a bit by the time I managed to peel off the protective outer layer, so the warming effect wasn't particularly noticeable. Still, the sheet mask fits very well – the eye and mouth openings are nice and large – and the essence has a pleasant light floral scent. And the hydration is remarkable! The mask sheet doesn't feel as wet as other sheet masks when you place it on your face but the essence contains hydration (with aloe vera and glycerin), antioxidants (the tea bud extract) and lipids (evening primrose oil and rice germ oil). After 15 minutes I removed the mask sheet and didn't need any additional skin care product – my skin felt hydrated and very nourished.
My verdict: Ideal for skin which needs hydration as well as lipids.
The vegan and Cosmos-certified Tea Buds Vitalizing Sheet Mask from Tautropfen costs 4.99 Euro.
Soothing Moisturizing Fabric Mask from Biofficina Toscana
The next mask I tried out was a calming sheet mask. The Hydrating & Soothing Sheet Mask from Biofficina Toscana (an Italian brand from Tuscany) was recently launched together with two other sheet mask variants. I selected this mask because it contains some seriously skin-soothing ingredients: the White Mallow from Tuscany is rich in mucilage which calms irritations; panthenol, bisabolol and allantoin also help to prevent skin irritation and help injured or inflamed skin to heal better. The sheet mask is generously cut so it should be suitable for practically any face shape. I had to press the edges to my face to make the mask adhere to my skin. The milky essence is scented with rather artifical-smelling notes of vanilla and florals. I noticed the moisturising effect while the mask was still on my skin: betaine and hyaluronic acid add hydration while processed oils, rice germ oil, almond oil and jojoba oil add a serious dose of nourishing lipids – one of the reasons why this mask doesn't cool the skin as much as other sheet masks do. After 15 minutes my skin felt smooth and moisturised and I didn't need any additional night care product. A note for anyone suffering from allergies: The preservatives in this mask are phenoxyethanol and ethylhexylgycerin; the product is certified by Italian label AIAB.
My verdict: East meets West – a combination of moisturising sheet mask and creamy, nourishing face mask.
The vegan Hydrating & Soothing Sheet Mask from Biofficina Toscana costs 6.19 Euro.
Organic Fruits Hydrogel Mask from Whamisa
The Organic Fruits Hydrogel Mask from Korean brand Whamisa is made from a different material than the other sheet masks: It's a so-called hydrogel mask which means that the carrier material is not cellulose but a firm, clear gel which already contains fermented antioxidant ingredients. The hydrogel mask is divided into two sections – one for the upper part of the face, one for the lower part – and fits my face well. Because the texture is so jelly-like the mask has a strong cooling effect right from the start. The hydrogel material is saturated in an essence which is based on aloe maculata extract. The liquid is scented with notes of rosewood and herbs; it is barely sticky and contains a large number of fermented ingredients, including tomato, apple, kiwi, banana and rice plus other root extracts. These plant extracts all have antioxidant and skin-soothing properties, nourishing hazelnut oil adds a bit of extra hydration. After 20 minutes my skin feels plumped up with moisture and really cooled down. The redness on my cheeks is gone. The hydrating effect lingers for a while; I apply a face cream or oil afterwards to really lock the moisture into the skin.
My verdict: Cooling hydration and fermented ingredients have an antioxidant effect and help against redness.
The Cosmos-certified Organic Fruits Hydrogel Mask from Whamisa costs 9.99 Euro.
Anti-Pigmentation Sheet Mask from Bioearth
I saw another interesting new launch in the Ecco Verde online store: the Anti-Pigmentation Sheet Mask from Italian brand Bioearth is saturated with a mandelic acid serum. Mandelic acid has a skin-peeling effect but is gentler than glycolic acid which means that it is better tolerated by sensitive skin types. The mask also contains gluconolactone (a polyhydroxy acid or PHA) which helps against hyperpigmentation while pea extract, turmeric and red algae have antioxidant properties. The thin cellulose mask adheres well to the skin and fits my face almost exactly. The sheet is soaked in essence so it feels very wet on the skin, the scent is maybe a bit too perfume-y for my taste. After 20 minutes I remove the sheet mask, my skin feels moisturised and slightly tacky. You can apply a cream or oil afterwards if you like but I didn't really need this – my skin was activated and felt alive, but without redness; I assume that this is the effect of the polyhydroxy acid and the mandelic acid. Preserved with ethylhexylglycerin.
My verdict: A sheet mask for people who like fruit acid peels!
The vegan and AIAB-certified Anti-Pigmentation Sheet Mask from Bioearth costs 5.99 Euro.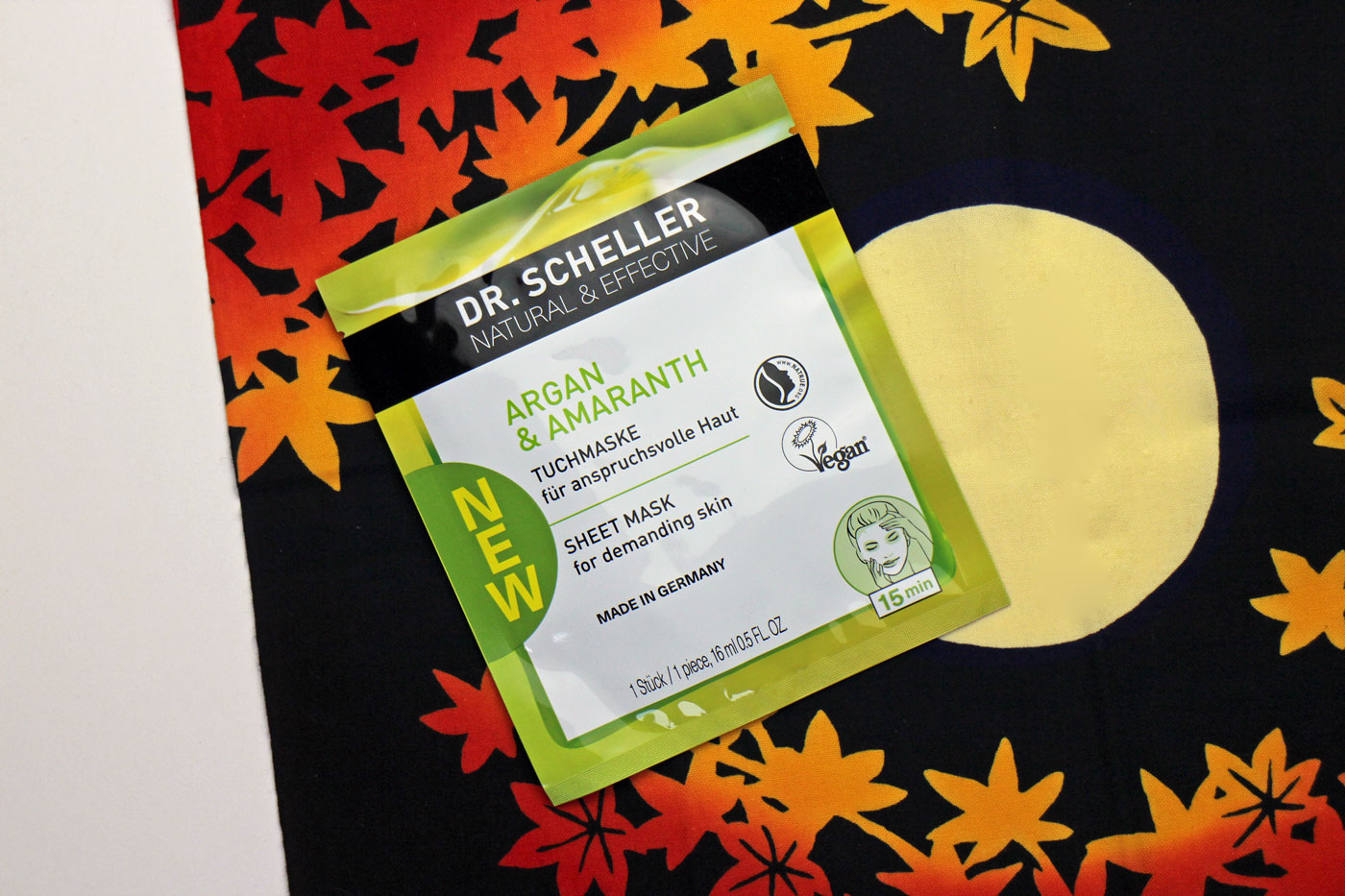 Argan Oil & Amaranth Sheet Mask from Dr. Scheller
I finished my sheet masking week with a real Asian masking experience: the Argan Oil & Amaranth Sheet Mask from German brand Dr. Scheller is dripping wet when you take it out of the sachet, like most Asian sheet masks. The cellulose material of the mask is thin and flexible and fits my face shape well, I just have to stretch out the eye and mouth holes a bit. The citrus scent already indicates one of the key ingredients: the mask essence is based on water and orange fruit water, plus a plant-based saccharine complex and hyaluronic acid (more hydration) and nourishing amaranth and argan oils. Another active ingredient is jambú, a plant extract which is said to help relax expression lines. You leave the sheet mask on for 15 minutes, afterwards the skin feels cool and really hydrated with only minimal stickiness. The moisturisation lingers on the skin even without an additional skin care product but if you apply a face oil afterwards you really get the full benefit.
My verdict: This sheet mask offers some serious hydration and there is enough serum in the sachet to moisturise neck and cleavage as well.
The Argan Oil & Amaranth Sheet Mask from Dr. Scheller is certified by Natrue and costs 3.99 Euro.
Of course Ecco Verde offers many more sheet mask choices in their online shop, look under the categories Sheet Masks or Face Masks. There are so many organic options to chose from – from classic hydrating sheet masks over lipid-rich moisturising variants all the way to fruit acid-saturated face masks. Enjoy!
[Click here for more pictures and the original German article Naturkosmetik: Tuchmasken-Party mit EccoVerde]
Good-bye everyone and see you soon!
Julia