Dear international readers of Beautyjagd,
Welcome to the next English-language edition of Beautyjagd! This is a condensed version of the most important articles that have appeared on my blog over the last few weeks. For more information about this format, click here. And now: enjoy the best of Beautyjagd in English!
Best wishes
Julia
During my last trip to Japan and Korea I noticed a new hair care trend. Numerous Asian hair care brands are offering products specifically designed to treat scalp problems – tackling hair problems at the root, so to speak. After all, a healthy scalp also means healthy hair. Drugstores in Tokyo or Seoul sell scalp lotions and serums, scalp treatment masks and even shampoos for specific scalp problems. It reminded me of the face care category with it numerous product ranges for different skin types.
Typical scalp problems are, for example, dryness or oiliness, sensitive or itchy scalps, or dandruff. Specially formulated scalp care products can help regulate an excessively oily scalp, hydrate a dry scalp, soothe itchiness or make sensitive scalps less troublesome. In Asia scalp care seems to be an integral part of the hair care category, with scalp products used as a preventative measure against weakening or thinning hair (sort of an anti-ageing treatment for your hair!). After all, boosting the microcirculation within the scalp helps to prevent inflammations which in turn can contribute to the early ageing of your hair.
I think the scalp care trend is fascinating and it occurred to me that it might be interesting to see what aromatherapy can do to help with scalp problems! For this Sponsored Post I have interviewed Maria von Känel, product manager and essential oils expert at German aromatherapy brand Primavera. Here are some treatment tips for three different scalp problems – including DIY recipes for healthy scalps.
If you have an itchy or dandruff-prone scalp
There are several essential oils that can help soothe itchy skin. Maria has selected two specific oils to treat sensitive scalps – Cedar and Palmarosa. Both oils are particularly skin friendly and are therefore good for itchy and irritated scalps. Essential oil of cedar wood calms irritated skin and also has an anti-allergic effect (studies have shown that cedar reduces histamine production) so the oil helps against itchiness and is anti-inflammatory. And palmarosa is a type of sweetgrass which smells a little like earth and roses. Essential palmarosa oil helps against viruses, bacteria and cutaneous fungi; it regulates the skin's flora. Cedar and palmarosa are a great combination – also, the oil blend smells lovely 😉 .
DIY: Scalp tonic with Cedar and Palmarosa
Use 30ml jojoba oil as a base oil. Add 4 drops of essential Cedar oil and 10-15 drops of essential Palmarosa oil.
Pour the oil blend into a 100ml glass bottle, fill it up with 70ml witch hazel water (which also has anti-inflammatory properties) and attach the pump dispenser.
Shake well before each use, then spray small amounts onto the scalp and massage it in with your finger tips. With a little bit of practice you can also apply this emulsion directly onto the scalp.
I use this tonic in the evening before washing my hair: I apply the mixture to my scalp and leave it on for 30 minutes, like a hair mask. Then I shampoo my hair which also washes out the scalp tonic. My scalp feels really nice afterwards, hydrated and smooth – the tonic adds both moisture and lipids, in addition to the curative properties of the essential oils. When my scalp is itchy I also apply the tonic to selected areas without shampooing it out afterwards.
Primavera sells individual pump dispensers for 30ml, 50ml and 100ml bottles so you can simply attach these pumps to whichever blend or base oil you are currently using.
For greasy scalps
There are different ways to regulate the sebum production of the scalp. It is important to thoroughly cleanse the scalp beforehand, but make sure to use a mild, non-aggressive cleanser so your scalp doesn't produce even more oil.
You might be familiar with the "oil helps against oil" principle (a concept which postulates that oily skin actually needs lipids), so one way of treating an oily scalp is with a massage oil that contains Manuka and Rose Geranium essential oils. Rose geranium balances the skin (and thus regulates the skin's flora) while manuka has a regenerating and anti-inflammatory effect.
DIY: Scalp massage oil with Rose Geranium and Manuka
Blend 100ml avocado oil with 15 drops of Rose Geranium essential oil and 5-8 drops of Manuka. I apply a small amount of this oil blend as an intensive treatment before washing my hair, massaging the oil into my scalp. After 30 minutes I wash it out with shampoo.
Instead of an Asian scalp tonic you can also use Primavera's Calming 2-in-1 Toning Lotion Chamomile Borage to care for oily or dandruff-y scalps. The lotion is actually intended for sensitive facial skin but can also be used for scalp care. It contains zinc PCA (zinc salts) which help to regulate sebum production, soothing and hydrating irritated skin. Essential chamomile oil has anti-inflammatory and skin-healing effects while borage seed oil with its high percentage of linolenic acid is recommended for atopic and flaky skin. Pour a small amount of the product into the palm of your hand and use your fingertips to massage the lotion into your scalp. You can also apply this lotion during the day since it won't make your hair greasy or heavy.
If you prefer an even lighter treatment, check out orange blossom water. It's a soothing floral water which is ideal for hair and scalp care; it won't make the hair greasy and has a beautiful fragrance. Simply massage the liquid into your scalp and enjoy the scent! Orange blossom water also strengthens thin and fine hair.
Strengthening the roots of the hair
If you are looking for an essential oil to strengthen your hair roots, Maria's recommendation is essential oil of Rosemary Camphor – it has an activating effect and stimulates the scalp. You can simply add this essential oil to your favourite organic shampoo: a few drops are enough for one shampoo application. The scent of the essential oil also wakes me up in the morning and it really seems to invigorate my scalp. Maria told me that she uses this oil herself and her impression is that her hair has become stronger and the oil has also decreased her hair loss a bit.
You can also use Rosemary Camphor in a scalp massage oil. A suitable base oil could be a blend of argan oil or almond oil. Add 30 drops of Rosemary Camphor essential oil to 100ml of base oil. Like the massage oils I've mentioned above I apply this oil blend before washing my hair, leaving it on for about 30 minutes before washing it out with shampoo.
A note about this oil: There are also rosemary essential oils that include other chemotypes (this means: they have other main ingredients) so make sure that the label of the essential oil you buy says Rosemary Camphor. This essential oil is not suitable for children or pregnant women – and (with a few exceptions) you should never apply essential oils directly to your skin. Always use essential oils in a (moderate) dilution.
You can buy all Primavera products online or in selected organic retailers.
[Click here for more pictures and the original German article Kopfhaut-Pflege: Ein Trend aus Asien – mit DIY von Primavera]
Ten years ago I often shopped at Lush, a fresh cosmetics brand from the UK. I particularly liked Lush's shower conditioner King of Skin (which is still sold today): a solid body lotion which you use whilst showering to moisturise your skin. Since then many other European beauty brands have launched their own versions of in-shower body care – the best-known product is probably German brand Nivea's In-Shower Body Lotion. German organic beauty brands like Alterra or Sante also offer in-shower products.
When I was in Asia this June I noticed that the Nivea In-Shower Lotion seemed to be considered a European trend product. A couple of months later I was aimlessly browsing in Ecco Verde's online store and came across the Shower Balm Organic Iris from Italian brand Tiama – and decided that the in-shower body care category was absolutely worth another look! I immediately ordered the Iris Shower Balm.
The next time I showered I tried out this new kind of body care. After rinsing off my usual shower gel I massaged the creamy Shower Balm into my wet skin. The fragrance is amazing; softly floral and a little powdery, like lilacs and magnolia! Then I rinsed off the last traces of the lotion and patted my skin dry. I was surprised by how soft and smooth my skin felt; there was no stickiness so I could dress immediately afterwards. Which is one of the biggest advantages of this kind of in-shower body moisturiser! Another advantage is that you apply the balm on wet skin which helps to lock in additional moisture.
We have summer here at the moment so the shower balm was hydrating enough for my skin; if you have really dry skin, however, the balm might not be quite moisturising enough. If you have sensitive skin you can also use the Shower Balm as a body cleanser (rather than using a shower gel): the product doesn't contain any tensides so it is very mild. The Cosmos-certified Shower Balm Organic Iris is vegan; it is based on water, sunflower oil, glycerin and processed oils as well as two emulsifiers, plus moisturising betaine.
In my opinion the Shower Balm is a good summer time body care product; if, however, you have dry to very dry skin the moisturising effect might not be quite enough. It is also a good product if you're in a hurry and need to dress quickly after showering: simply massage the lotion into wet skin after showering and rinse it off. I also like the fragrance of magnolia and lilacs which lingers a bit on your skin. Perhaps I should check out Tiama's regular Organic Iris Body Lotion 😉 .
One tube of the Shower Balm contains 200ml and costs 5.99 Euro. You can order the Tiama products through Ecco Verde.
[Click here for more pictures and the original German article Beauty-Trend: IrisShower Balm von Tiama]
I am currently on holiday in the South of France. It is rather hot during the day but when the evening comes and there is a light evening breeze, I like to take a walk around the neighbourhood. There is a little farm near our camping site, and they have fig trees. You can smell the fruity green fig fragrance from a distance; it is a beautiful scent which seems to perfectly encapsulate the essence of a Mediterranean garden. The scent must be even stronger in the afternoon when the hot sun burns on the thick, dark green leaves and it is much too hot to walk outside – yes, I do love the fragrance of figs!
The first fig-scented perfumes were launched in the 1990s; back in 2011 I wrote about the classic fragrance Premier Figuier from French brand L'Artisan Parfumeur (German only, sorry). The week before I left for France I was in my local Müller drugstore and noticed the perfume line-up of French fragrance brand 100Bon (this particular Müller store also carries some of the fragrances from French niche brand Aimée de Mars). As a fig lover I simply couldn't leave the store without buying the Eau de Parfum Carvi & Jardin de Figuier 😉 .
The onomatopoeic brand name 100Bon (pronounced "Cent Bon") sound like "smells good" in French. 100Bon is a young company which is based in Lyon but the fragrances are developed and manufactured in Grasse in the South of France. The perfume flacons are refillable and the ingredients are completely natural, they contain organic alcohol and natural fragrance ingredients.
The Eau de Parfum Carvi & Jardin de Figuier was developed by perfumer Karine Vinchon who works for renowned French perfume manufacturer Robertet in Grass and has created fragrances for L'Artisan Parfumeur and Amouage.
Carvi & Jardin de Figuier opens with voluptuous fruity notes of mandarine, fig and raspberry (which, however, are neither too sweet nor too opulent), tempered by the subtle aniseed notes of cumin (the Latin name for cumin is "carum carvi", hence the fragrance name). The heart contains powdery florals (rose and jasmine) and soft accords of fig milk. There are no green or zesty notes in this fragrance (unlike the almost three-dimensional Premier Figuier from L'Artisan Parfumeur); it is more of a gourmand composition with aromatic cedarwood in the base. On my skin the fragrance lasted for two to three hours.
The flacon with 50ml costs 35 Euro at the Müller store. Check out the homepage of 100Bon for more information about the company and its fragrances.
[Click here for more pictures and the original German article Eau de Parfum Carvi & Jardin de Figuier von 100Bon]
I'm currently in the South of France (in Northern Provence, to be exact) and it is hot here! During the daytime temperatures reach 35 C and I have been practically living in my bathing suit. However, I also wear my coral-coloured bracelet from Berlin-based company Abury. The bracelet is made from Tagua – the coloured seeds of an Ecuadorian palm tree; Tagua is also called the "plant ivory" – and looks very summery, don't you think?
Organic beauty summer essentials
And these are the products that I'm using at the moment: starting with the Sun Spray SPF 30 from French brand Algamaris. I apply the sun protection spray generously over my entire body; it feels so light and comfortable on the skin! And if my skin is a little reddened in the evening from too much sun exposure I spray the Immortelle hydrosol from Primavera on my arms, legs and back. I have written about the skin-soothing properties of the immortelle plant in this blog post here. The Moisturising & Toning Gel from NZ brand Living Nature is also amongst my summer essentials; I use it as a light moisturiser at night. I'll write in more detail about the unique skin care concept of Living Nature soon.
And bath and body care can't get much simpler than the Powder Wonder from German brand Plaine. I've written about this unusual powder cleanser here, the powder works as a shampoo, shower gel and shaving gel – perfect for going on a camping holiday. I don't wear much makeup at the moment, except for the Bronzing Powder from German brand Dr. Hauschka. I have a back-up of the limited edition Bronzing Powder packaging design from 2014 because I like the jar so much.
Shaving legs, armpits and bikini zone
Another summery topic: in my new blog post for organic supermarket chain denn's Bio Blog (German only) I have written about the topic of shaving. Primavera's immortelle hydrosol also makes an appearance in that article, it is my go-to first aid against razor burns!
Huile sèche pour le corps Monoi from Emma Noël
Whenever I am in the South of France I try to visit the oil mill Emile Noël in the little town of Pont-Saint-Esprit. Emile Noël is one of the organic pioneers in France and besides a wide range of culinary oil products, the company also has a small organic beauty range which is called Emma Noël. I love monoi and when I visited the oil mill's retail store this week I bought the Monoi Oil from Emma Noël. I apply the oil on top of an aloe vera gel which results in a beautifully scented after-sun skin care blend – and it is very French! The Monoi Oil is based on sesame oil which comes from a cooperative in the West African country of Mali. You can check out the entire Monoi range from Emma Noël on the company's website; some of the products are available in selected organic food stores in France.
Déodorant Crème Le Poudré Fleur d'Oranger & Lavande from Clémence & Vivien
A few weeks ago I ordered the deo cream Le Poudré from French brand Clémence & Vivien from French online store Monde Bio and brought it with me on this camping trip. Last year my deodorant summer companion was the Clémence & Vivien variant Le Sucré. The Fleur d'Oranger deodorant cream has a strong orange blossom fragrance (which I like), the lavender is more in the background. The deo cream is based on shea butter, starch, sunflower oil and baking soda so the texture is nice and buttery and not crumbly at all. In these temperatures I tend to use a lot of deodorant; the effects are good and the cream also seems to be hydrating enough. German online store Stararoma offers three of the Clémence & Vivien deodorant creams.
Gel Douche Extra Doux Pêche Blanche & Nectarine from Le Petit Marseillais
Oh là là, what have we here?! Le Petit Marseillais might be a French beauty classic but the products are natural-inspired rather than real organic. Still, the shower gel Gel Douche Pêche Blanche & Nectarine (White Peach & Nectarine) has such a fabulous peach smell that I simply couldn't resist. The peach fragrance is fruity rather than sweet or artificial. I really like peach fragrances at the moment – I'm not sure why! – and also like the deo cream Perfect Peach from German organic brand Vegane Pflege. Anyway, except for one ingredient (a cationic tenside) and, presumably, the fragrance blend, the ingredients list of the product could also be found in a regular organic shower gel. Somehow the peach fragrance reminds me of my youth (again, I'm not sure why exactly!). I bought the shower gel in a supermarket here in France, for 2.50 Euro.
Organic beauty bloggers in Eve magazine
Ida von Herbs&Flowers, Liv von Pura Liv and me with Beautyjagd are in the new edition of organic magazine Eve – you can check out the magazine online here (page 72; German only).
Organic beauty news of the week
And yes, a jar of organic aioli from Emile Noël has also found its way into these Beauty Notes! Garlic cream might not be a cosmetic product but it makes me happy – which is also a kind of beauty, right….? 😉
[Click here for more pictures and the original German article Beauty-Notizen 1.9.2017 (aus Südfrankreich)]
Sometimes people ask me why I blog about beauty and cosmetics: isn't that a rather artificial and shallow topic? No, I don't think that this is true – quite the opposite, in fact; beauty products can tell us a lot about the world if you look at them more closely. A case in point is the Foundation from German organic brand Dr. Hauschka and in this Sponsored Post I will tell you why the foundation has become a lot more than just a makeup product for me.
I first introduced the Foundation two years ago. Earlier this year the foundation was relaunched together with Dr. Hauschka's entire colour cosmetics range. The liquid foundation is available in five colours (I currently use the yellow-toned shade 02 Almond); the coverage is light to medium. You can find all the details (including swatches) in my original 2015 blog post (German only, sorry!).
Like all Dr. Hauschka makeup products the foundation also has a skin-caring effect; the ingredients include healing plant extracts and macadamia nut oil which contains a high percentage of protective oleic acid and skin-smoothing palmitoleic acid.
So where does the macadamia nut oil come from exactly? I already knew that Dr. Hauschka uses as many organic and bio-dynamic ingredients as possible and that the company makes sure to source their ingredients from fair trade businesses. However, I didn't know what this really meant until late April/early May this year when I visited a macadamia nut fair trade project in Kenya. You can read more about this press trip with Dr. Hauschka here.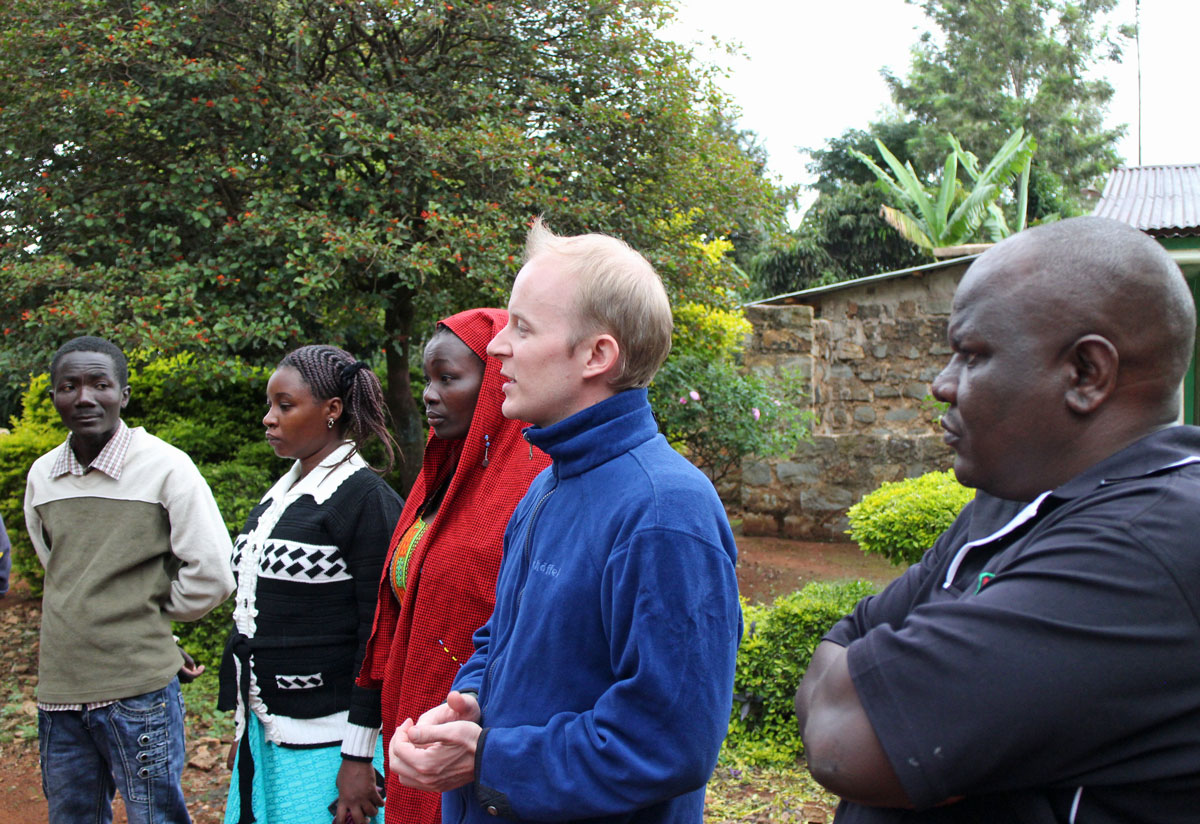 In every flacon of the foundation is a little bit of Matti Spieker, the guy you can see on the picture above; he is standing in the middle of his Kenyan team. In 2009 Matti founded German-Kenyan company Limbua, an organic and fair-for-life certified organisation which markets macadamia nuts and avocados from around 5000 small farmers in the Mount Kenya region.
Not only does Limbua pay the farmers a much higher price for organic macadamia nuts than other buyers but the company also offers education and training in organic agriculture and, perhaps most importantly, Limbua gives their farmers long-term contracts. This means that they have a solid perspective for the future: the farmers know that they can earn a living in the countryside and don't have to migrate to the slums of Nairobi to find work.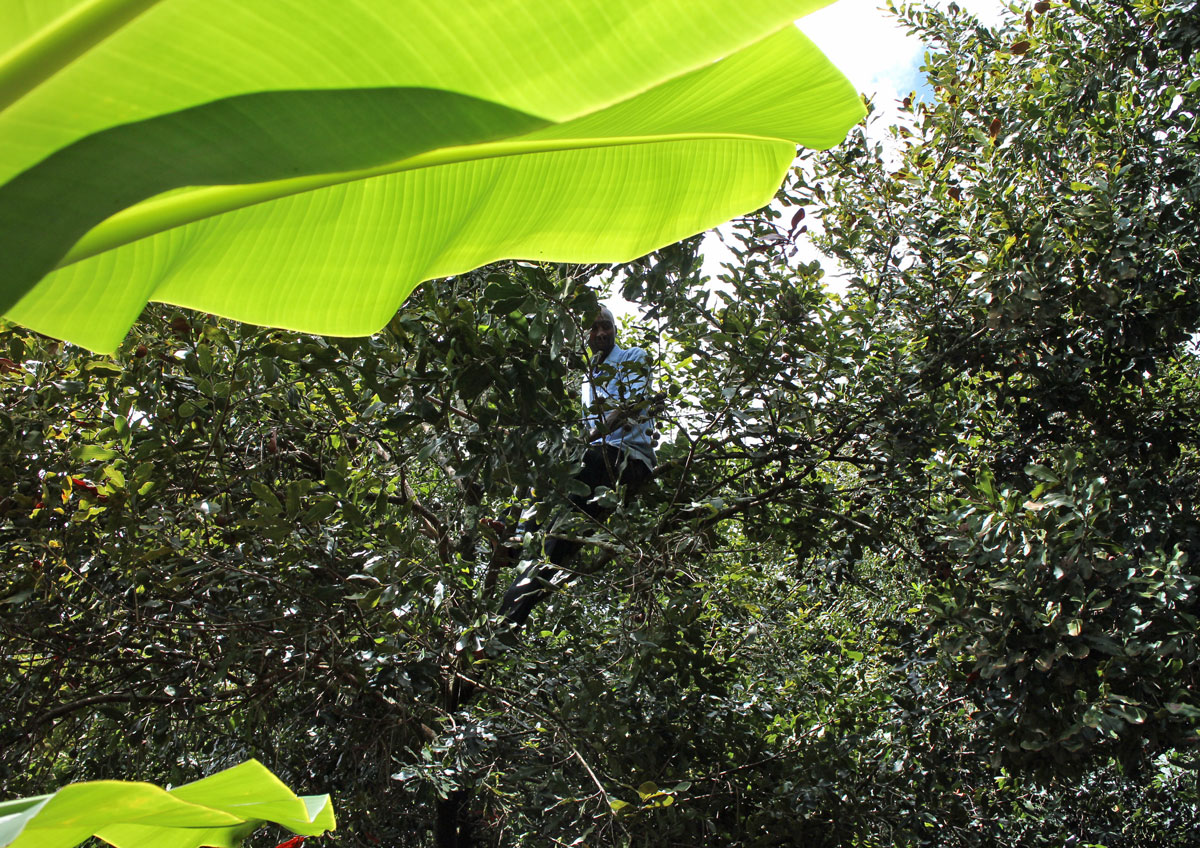 When I write "small farmers" I mean this literally: during the trip we had the opportunity to visit several Kenyan farms. There were no big plantations of macadamia trees – no, each farm had perhaps 5-10 macadamia trees which were standing in the middle of other plants like coffee bushes or banana plants. To harvest the nuts the workers climb up the trees and cut the nuts down, as you can see on the picture above.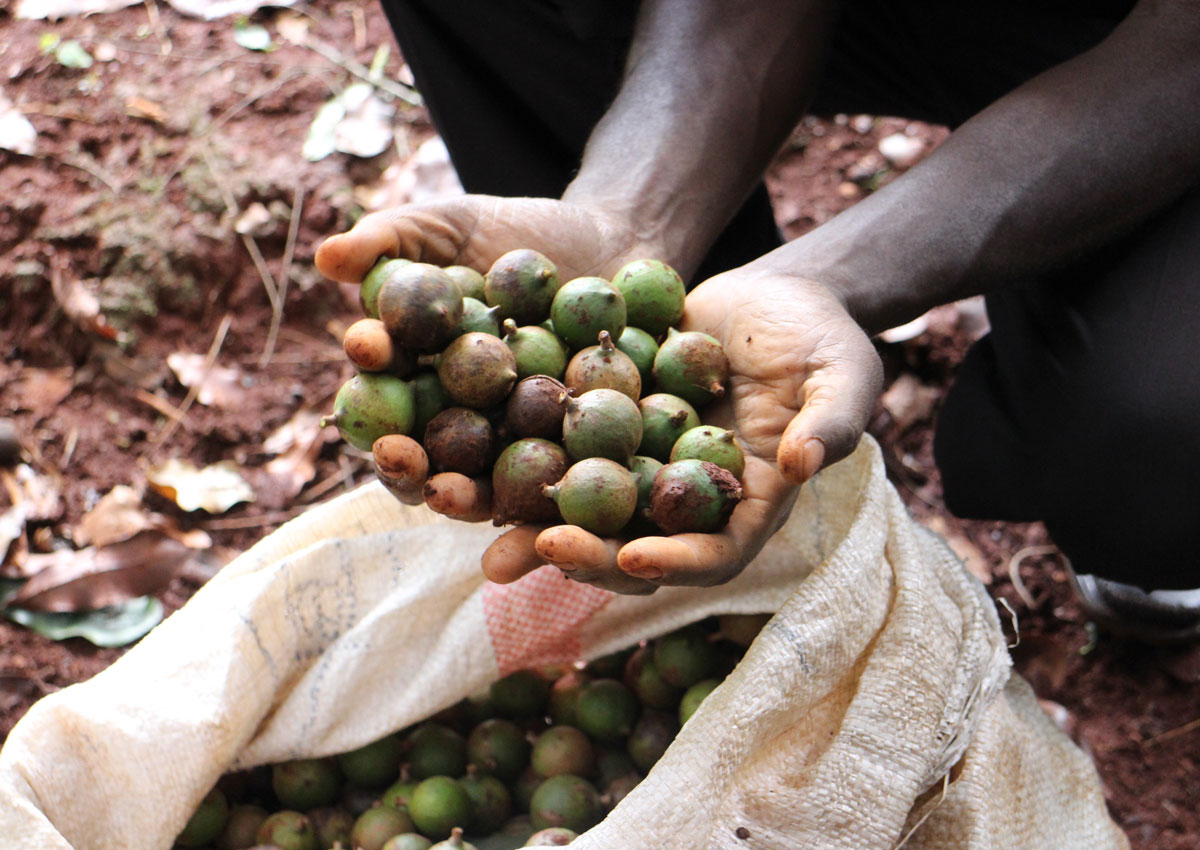 The nuts are then collected and the outer green shell is removed. All of this still looks rather mechanical but now we come to the high-tech part of the operation – a perfect symbiosis of manual labour and digitalisation.
Every farmer at Limbua has a kind of identity card which contains a bar code with his or her electronic profile (their individual information, name, address and so on). When a farmer sells his or her macadamia nuts to Limbua, a company buyer scans the bar code and calls up the electronic profile on a tablet PC. After the baskets of nuts have been weighed and scanned, the delivery is confirmed with an electronic finger print and the payment is then authorised through M-Pesa, a Kenyan mobile phone based money transfer service. The farmers can collect the money in cash at the M-Pesa agent in their local village.
This transparent system creates trust: the farmers know exactly how many nuts they have delivered and can check their payment on their mobile phones (M-Pesa also works on simple and older phone models) and Limbua can see which batch of nuts came from what farmer so they can control the quality. This way, you can document the entire production process from the harvesting to the processing of the nuts.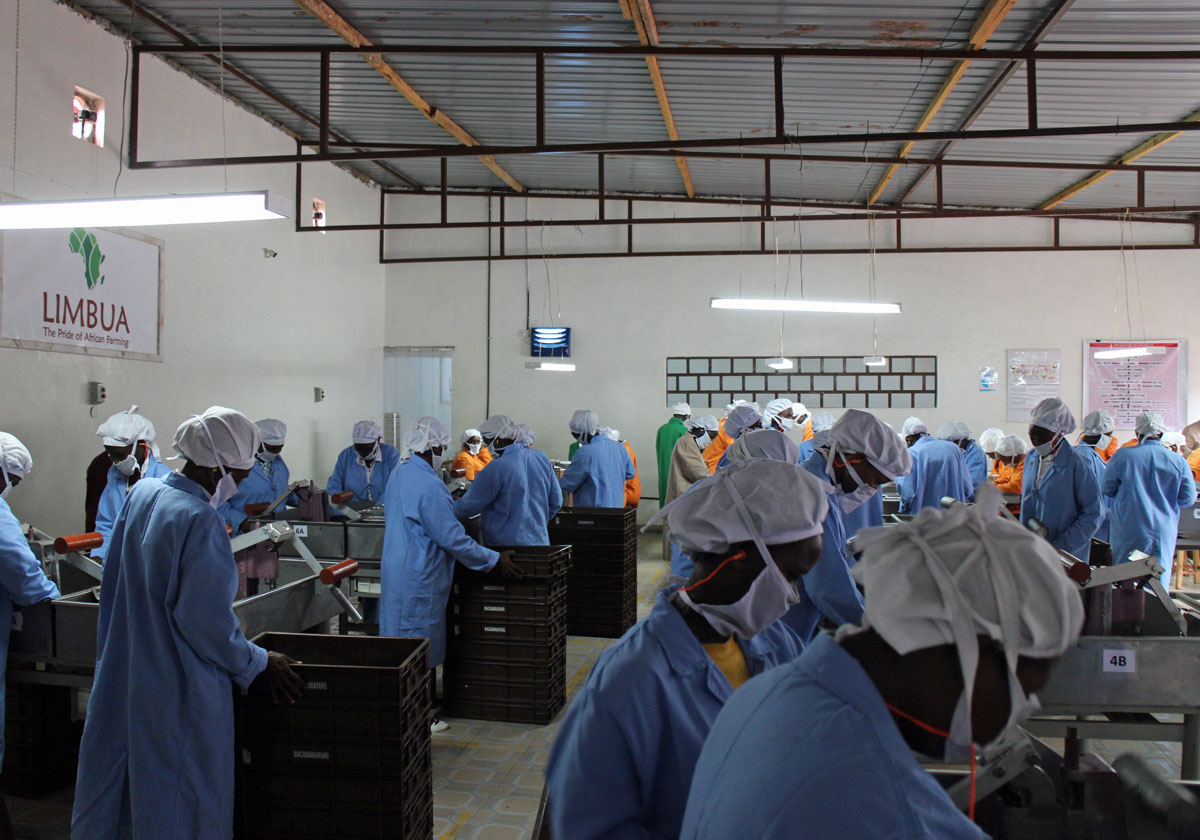 Before the valuable macadamia nut kernels can be extracted, the nuts have to be washed and then dried until they can be cracked. Limbua believes that it is important to keep the value added production chain (this means the entire production process, from harvesting over processing to cracking the nuts) in Kenya. The company has built three modern plants where the nuts are cracked. These sites are also located in the rural area around Mount Kenya. Altogether Limbua has 300 employees, around 100 of these have permanent contracts which means that they are entitled to fair wages and regulated vacation time.
Dr. Hauschka's raw ingredients subsidiary Naturamus is buying their macadamia nuts from Limbua and then press the oil from the nuts here in Germany. Dr. Hauschka believes that it is important to ensure that they are not Limbua's exclusive macadamia nut buyer (they do not want to create an economic dependency of Limbua on a single buyer) so the cosmetics company also acts as an intermediary for other raw ingredients buyers who want to source macadamia nuts from Limbua. By the way, the Limbua macadamia nut oil can also be found in Dr. Hauschka's Concealer and the Light Reflecting Concealer.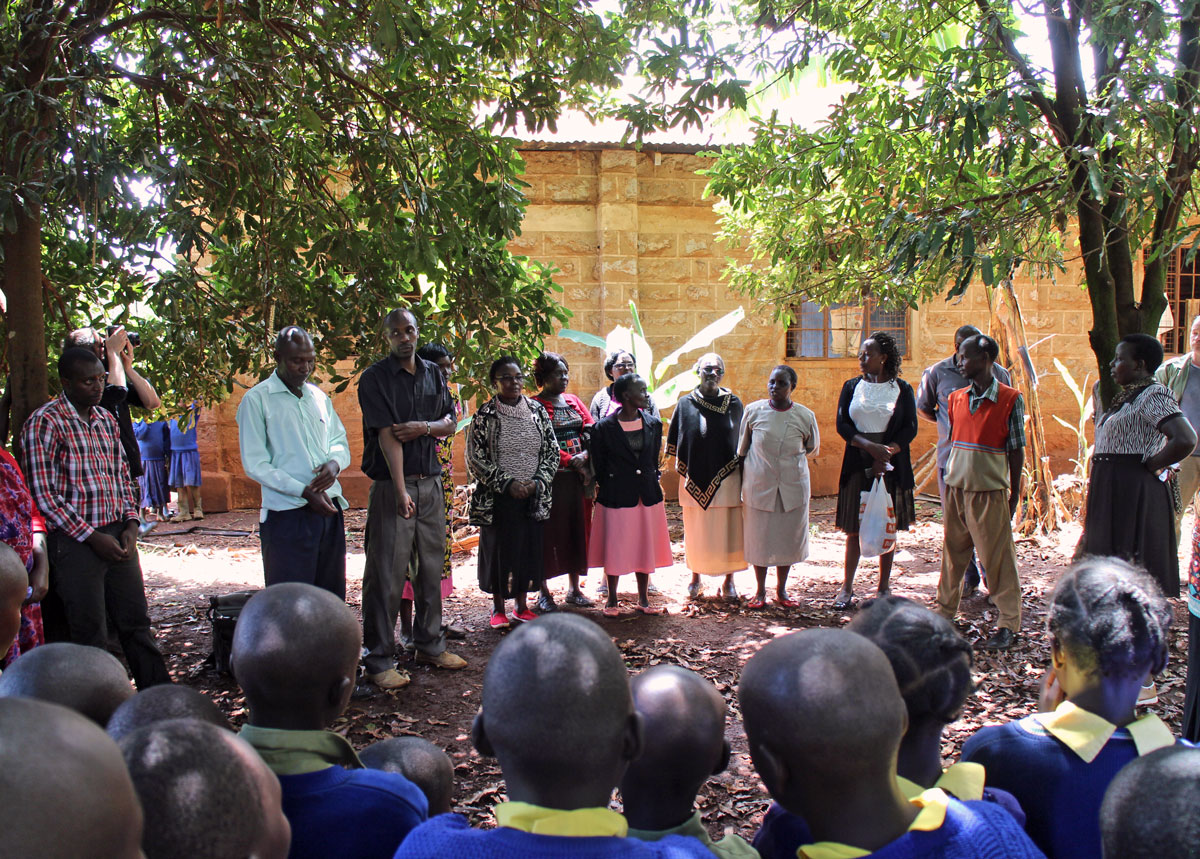 And this is not the end of the story about macadamia nut oil! Limbua also tries to teach young people the importance of sustainable economic management, and that globalisation doesn't just mean exploitation but can also foster solidarity across continents. To help achieve this goal, Limbua has launched a foundation: Welt:Klasse (which roughly translates as "world:class") allows German pupils to visit Kenyan farmers for a few weeks, living with a host family and telling their classmates about their day-to-day life. The German students can also learn about how the macadamia nut marketing process in Germany works, from the delivery of the nuts over book-keeping to sales.
And in Kenya, Limbua's foundation supports an organic agriculture education programme in four rural schools. The students run a school farm and learn how to keep the soil as fertile as possible (continued use of artificial fertiliser, for example, can deprive the soil of nutrients and therefore make it unsuitable for farming in the long-term). The students are multipliers who pass on their knowledge to their parents.
"Mister Matti has brought the fishing pole to Kenya, not the fish" said one of the farmers we met. Limbua is no charity; Matti Spieker wants to develop lasting economic structures that rest on a partnership of equals, on fair trade relationships between all partners.
I am still so impressed by how wide-ranging and human the Limbua project is! It shows that an individual with a strong vision can make a difference, creating a kind of "network of positive things" (I can't really express it better than that). During my trip to Kenya I felt very far away from the whining, the crises and the constant negative energy that seem to dominate the news in Germany and Europe. It gives me courage!
And every time I use the Dr. Hauschka foundation I think of everything that this bottle contains: not just beauty and skin care but also sustainable economic business, the support of organic agriculture and fair trade partnerships across the world.
If you want to find out more about how Dr. Hauschka sources its ingredients I recommend the interview with Ralf Kunert on the Dr. Hauschka homepage (it's available in an English language version). Ralf Kunert is the CEO of Naturamus (as subsidiary of WALA Heilmittel GmbH which in turn is the parent of Dr. Hauschka) and he and his team are responsible for purchasing more than 1000 raw ingredients. He was also the person who brought Dr. Hauschka and Limbua together. Enjoy the article!
[Click here for more pictures and the original German article Was alles in der Foundation von Dr. Hauschka steckt]
Pulpe de Vie creates a good mood – that's the motto of this cheerful beauty brand from the French city of Marseille. Pulpe de Vie (the name translates as "the pulp of life") was founded in 2009 by two young women. I first introduced the brand on Beautyjagd in this 2011 blog post here (German only, sorry!).
What I like about Pulpe de Vie is that the brand doesn't just offer 15 Cosmebio/Ecocert certified organic beauty products but also focuses on its regional heritage in terms of ingredients and packaging. The mineral-based iron oxides in Pulpe de Vie's cosmetics, for example, come from the Lubéron, the bottles are manufactured in the Provence and the outer packaging comes from a company in the Département Bouches-du-Rhone. The plant oils and hydrosols that are contained in the products are also sourced from France. In fact, Pulpe de Vie's products are usually based on key fruit and vegetable ingredients from the South of France, like melons, cactus figs, tomatoes or apricots.
A few months ago the brand launched several new products which caught my attention: a Brume-Sérum/ Facial Mist Serum, a Huile Moussante/ Foaming Face Oil and a Gelée Detox Visage/ Face Detox Gel. Three products which practically embody current beauty trends! I immediately ordered them from French online store Mademoiselle Bio – I have also seen the cosmetics in some of the French supermarkets here (yes, I am still on camping holidays in the Provence). Supermarkets are a new distribution channel for Pulpe de Vie and this also means that the product prices are pretty affordable. Like all Pulpe de Vie products, the names are playful and funny.
Brume-Sérum Visage Danse de la pluie!
"Dancing in the rain" is the French name of this slightly gel-like facial toner spray. It smells beautifully fruity of figs and blackcurrant, I can't get enough of the fragrance! Moisturising hydrosol and fruit waters like rose water, witch hazel, melissa and fig water add a boost of hydration, as do glycerin and hyaluronic acid. The spray is a combination of serum and face toner; a bit like a Korean starter essence. I apply an oil or face cream on top of the Brume-Sérum; sometimes I also use it to simply refresh my skin. The perfect summer fun product! The bottle contains 120ml and costs around 8 Euro.
Huile Moussante Visage Émoustille-moi!
I didn't expect the bright apricot colour of this foaming cleansing oil! The French product name roughly translates as "torture me" but of course this cleanser is the exact opposite 😉 . Apply the product to dry skin, massage it lightly with wet fingers (it'll turn into a light milky lotion) and then rinse it off with warm water. My skin feels soft afterwards, neither too dry nor too oily. Very nice! The "foaming oil" description in the product name is not quite correct, I think; the plum kernel oil is listed towards the end of the INCI declaration. For me this is a gentle facial wash which is based on water, glycerin, raspberry fruit water, sugar tensides and amino acid tensides. If you have very dry skin the hydrating effects might not be quite enough. The fragrance is a blend of plum, apricot and raspberry notes; it smells very natural and not sweet at all. The tube contains 75ml and costs 8 Euro.
Gelée Détox Visage Miss Sunshine
The third new product is a moisturising face gel which is bright yellow! The colour probably comes from melon water or sea buckthorn – two of the ingredients listed in the INCI declaration; the fragrance is a blend of both fruits. The Gelée Detox is easy to apply and is absorbed into the skin almost immediately. This is a great summer time product but not quite moisturising enough for my skin (which is slowly becoming more dry as I am getting older). I use the Detox Gel as a hydrating gel serum (much as I would an aloe vera gel), applying a cream or face oil on top of the gel. It is also a great after-sun skin care product! By the way, once the gel has been absorbed into the skin the yellow colour isn't visible any more, at least not on my light-to-medium toned skin. The small tube contains 40ml and costs 9.90 euro.
You can buy the products from Pulpe de Vie from the company's own webshop; in France the brand is also carried by selected supermarket chains (Intermarché, E.Leclerc, Franprix) or online, like Mademoiselle Bio (which is where I ordered my products). Unfortunately Pulpe de Vie doesn't seem to be available in Germany.
I have written about Pulpe de Vie products several times on Beautyjagd – check out the Oil Mask Pulpe Moi! or the two-phase cleansing lotion Shake me Baby! Both articles are only available in German.
[Click here for more pictures and the original German article Fruchtige Naturkosmetik-Neuheiten von Pulpe de Vie]
Good-bye everyone and see you soon!
Julia