Dear international readers of Beautyjagd,
Welcome to the next English-language edition of Beautyjagd! This is a condensed version of the most important articles that have appeared on my blog over the last three weeks. For more information about this new format, click here. And now: enjoy the best of Beautyjagd in English!
Best wishes
Julia
Hello everyone and welcome to the next installment of Beautyjagd in English! I am back from Japan so this chapter will follow the usual structure: translations of the most important articles that have appeared on Beautyjagd over the past three weeks. On 5th November I posted an article about the non-beauty souvenirs I brought back from Tokyo (including a beautiful matcha tea bowl, tenugui, stationery and some very cool stickers…..). However, that article didn't cover cosmetics so we decided not to translate it – feel free to use Google Translator and take a look at my pictures!
Window-Shopping in Vegane Pflege's online perfumery, part 2
In September I had published an article in which I took a virtual walk around the store of vegan online perfumery Vegane Pflege. This post was so successful amongst my readers that we, Anne Schaaf from Vegane Pflege and I, decided to do a second article! Last time I introduced the products of Belgian-Nepalese brand Cîme, the well-known deodorant creams of Vegane Pflege, the minimalistic moisturizer from Mu London and the beautifully scented Lindenblüte Rhabarber soap from Klar Seifen. And now please join me for another visit to Vegane Pflege!
The small giraffe on the photo above has been a cult toy in France since 1962. She is called Sophie la Girafe and there is now a matching baby care cosmetics range which has been Ecocert-certified. Of course Sophie la girafe isn't just for children, adults can use the products as well. As for me, I simply had to buy a small Sophie la Girafe toy after I first met the brand at Vivaness trade show this February! Although Sophie la Girafe carries a French name and the toy is very popular in France, the beauty range actually comes from Finland and the products are manufactured in Latvia. What a great East-West connection! In my Beauty Notes from May I had already introduced the Hair & Body Wash from Sophie la Girafe. The range also includes a Face Cream, a Protection Cream, a Bubble Bath, a Baby Oil and a Body Lotion. Now I'll show you the body lotion in more detail because it is one of my favourites – I have already bought the second tube. What I particularly like is the fragrance. Or rather, the non-fragrance: the body lotion is scented with very soft powdery-creamy notes. The texture is neither too light nor too rich; the body lotion is easy to apply and is absorbed quickly into the skin. It is based on water, sunflower oil, alcohol, olive oil and a plant-based emulsifier and I would recommend the product for normal to medium-dry skin. A tube contains 150 ml and costs 18.50 Euro at Vegane Pflege.
It is my impression that Australian brand Inika used to be much more prominent in the German beauty market. I first wrote about some of Inika's makeup in 2011. Since then Inika has relaunched at least part of its portfolio because the INCI declarations have changed. The current Inika line-up includes face colour cosmetics (including a liquid mineral foundation and a primer), a bronzer, various eyeliners, eyebrow pens and lipsticks – I introduced the coral-pink shade Cherry Blossom on my Beauty Notes from last Friday. The new Perfection Concealer from Inika is packaged in a black tube and is available in two shades, Light and Medium. I decided to try out the Light variant: I'd describe the colour as a neutral to slightly yellow tone which is suitable for light to medium-light skin tones. The texture is creamy to liquid and you can build up the coverage to a medium level. I also like the soft floral fragrance. The concealer is certified organic (76% of ingredients come from organic agriculture) and the formula is based on aloe vera, titanium dioxide, avocado oil and jojoba oil. A tube contains 10 ml and costs 28.50 Euro at Vegane Pflege.
Now, let's take a quick trip to Bulgaria! Bulgarian beauty brand Zoya goes pretty has a minimalist product concept: they sell shea butter blended with various oils and packaged in cute jars. Recently Zoya added a range of roll-on face oils. A couple of months ago I had bought their Shea & Camellia Butter (as a fan of Asian cosmetics how can I resist camellia oil?!): it's a blend of shea butter and camellia oil which are melted together at 40 C. I like to use the butter at night time: I take a little piece out of the jar, warm the oily mass between my hands and then massage it into the skin. The moisturizing effect is amazing; it's the perfect winter-time product! Since the organic shea butter is unrefined it has a buttery-waxy fragrance. If you like almond blossom I can recommend the Shea & Plum Butter because it smells beautifully of the plum kernel oil it contains – I might just have to buy this as a Christmas treat for myself! A jar of Shea & Camellia Butter contains 100 gr and costs 13.9 Euro at Vegane Pflege.
I already mentioned Zoya goes pretty's new face oils: there are three variants – Frankincense & Argan, Camellia & Rose and Rosehip & Rose. I decided to try out Rosehip & Rose because I love rosehip oil but also because I associate Bulgaria with roses: in the famous Rose Valley (a region located south of the Balkan mountains) farmers have been harvesting roses and producing rose oil for centuries. Rosehip & Rose is a combination of rosehip oil and rose essential oil. Rosehip oil is very popular amongst beauty aficionados: it has a high percentage of alpha-linoleic acid and retinoic acid (the preliminary stage of vitamin A/retinol) and helps to regenerate and heal skin which makes it an ideal ingredient for scars and pigmentation problems. The oil is especially good for dry and impure skin. In addition, it has inflammatory properties. The Zoya face oil is perfect for travelling; I simply circle the roller-ball across my face (which I have lightly moistened with a hydrosol) and massage the oil into the skin. It is absorbed quickly and the orange colour disappears almost immediately. I like! The flacon contains 10 m and costs 11.90 Euro at Vegane Pflege.
One of the most interesting companies I met at this year's Vivaness was young French brand oOlution. The founder of oOlution is biochemist Anne-Marie Gabelica – and Anne-Marie's passion for biodiversity is reflected in the formulations of her five colourfully packaged products: each product contains up to 65 plant-based ingredients (check out the INCI list in the German version of this post here!) but no palm oil or palm oil derivatives and no processed oils. oOlution's concept is simple and very logical: just like our body needs a balanced combination of foods the skin needs different nutrients to remain healthy. The oOlution products therefore contain a very wide range of ingredients and no boring standard formulations. They cater to various skin requirements so you really only need one multifunctional cream for the face – no special day creams or night creams. As a result the oOlution line-up is straightforward: there are four face creams for dry skin, combination skin (mattifying), mature skin and normal skin (hydrating) and an eye cream. The products carry names like Whole Again or Check Matte.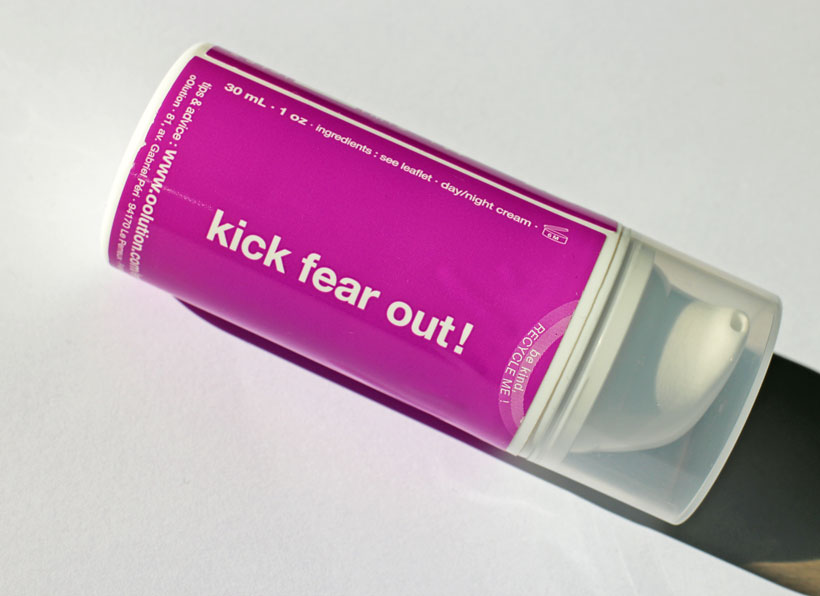 I found the Age Out face cream particularly interesting: this cream is said to have anti-oxidant properties, help firm the skin and prevent excessive pigmentation. You can see the packaging of the cream on the photo above: don't you just love the slogan on the back of the cream? "Kick fear out!" – what a great philosophy! But back to the cream: it has a very fluid soft texture and a light floral fragrance tempered with herbal notes – easy to apply and it is absorbed quickly into the skin. If you have very dry skin I'd recommend mixing the cream with a drop of face oil – or you could try the richer cream Whole Again. Age Out is based on water, sunflower, corn starch, glycerin, a plant-based emulsifier, alcohol (from the plant extracts) and jojoba oil. After that there are the many plant extracts and oil with descriptions of what they do – check out the INCI listing here. A bottle of the flacon of Age Out contains 30 ml and costs 43.00 Euro at Vegane Pflege. A very interesting brand with a convincing concept! I must admit that I have started to stray from my usual face oils… 😉
All products (except for the Zoya goes pretty Shea & Camellia Butter which I bought myself) were supplied by Vegan Pflege. [Click here for more photos and the original German article Einkaufsbummel im Oline-Shop Vegane Pflege 2]

My very first trip after returning from Tokyo was a visit to the little village of Töpen in Upper Franconia. This is where organic supermarket retailer Dennree has its corporate headquarters. I write articles for the blog of dennree's supermarket chain denn's and Dennree had organized a meeting for its regular bloggers. One of the highlights was a visit to the gigantic Dennree storage facility – some of the product shelves are 22 m high! Very impressive. I posted a picture of the storage area on Instagram.
From late summer in Tokyo straight into the pre-Christmas season in Germany: I was surprised by how easy the transition was. All the stores in Germany are already selling their Christmas foods and spices; I immediately had to buy the Mulled Wine Spice mix from Lebensbaum (a wonderful combination of orange peel, cinnamon, cardamom, cloves and ginger). And in the new blog article for online perfumery Najoba (German only, sorry!) I have shared some of my personal tips for Christmas presents – beauty presents, of course!
Every year I look forward to the Christmas Collection of organic aromatherapy brand Primavera which always includes several gift sets. This year, one of the gift sets is called "Mein Herz tanzt" (My Heart is Dancing) – check out the link in the sidebar of the blog. Mein Herz tanzt is a relaunch; I had already written about the set of body oil and shower balm in this 2013 blog post and I am glad that Primavera decided to bring out the gift set again this year. The fragrance is a warm floral which includes osmanthus, ylang ylang and sandalwood. Primavera sent me the gift set Zimt & Sterne (Cinnamon & Stars) which includes an essential oil scented with notes of cinnamon and orange and a wooden ornament. And I definitely want to check out their new fragrance creation Winterzauber (Winter Magic)!
A few weeks ago German organic brand Weleda launched Jardin de Vie, three perfumes which were inspired by the key fragrances notes of its Granatapfel (Pomegranate), Sanddorn (Sea Buckthorn) and Wildrose (Wild Rose) skin care ranges. The Jardin de Vie range includes the fragrances Rose, Grenade (pomegranate) and Agrume (citrus fruits). I tested all three Eau Naturelle Parfumées in my local organic store. Weleda had sent me the Jardin de Vie Grenade as a press sample (and it really did smell a little like the Pomegranate range!). However, my favourite was Rose; perhaps because I like rose geranium so much at the moment. I think it's a great idea to launch a fragrance that complements your favourite skin care product – I can think of several beauty brands of which I'd love a matching fragrance! A flacon of Jardin de Vie contains 50 ml and cost 19.95 Euro. Ida from Herbs & Flowers has also written a blog post about the Jardin de Vie Grenade.
I was surprised when I saw the new limited edition Duschgel Bio-Matcha (Shower Gel Organic Matcha) from drugstore retailer Rossmann's Alterra brand – I hadn't read anything about this new launch! As a committed matcha fan I simply had to buy the shower gel and I tried it out that very same evening. Well, unfortunately it doesn't really smell of matcha. Instead I detected herbal and fruity notes and a little bit of green tea; but I like the idea of this limited edition and can imagine myself buying a second bottle. And I'd love to find a real matcha-scented shower gel…..!
Just before I left for Japan, US organic brand Schmidt's had sent me their new Deostick Cedarwood & Juniper. I have written about the Schmidt's deodorants several times, I like the fragrances and the effect of these deodorants. The brand has now launched its deodorants in a stick form (usually deodorant creams come in little tins). I like the convenience: you can apply the deodorant without having to use your fingers. The formula and texture is much softer and smoother than the usual Schmidt's deo creams and I love the fragrance of cedar and juniper! You can buy Schmidt's deodorant creams through bei Ecco Verde, najoba or All For Eves – or order them directly from Schmidt's online store.
Body butters packaged in jars: I simply love this product category! French organic brand Melvita (I already like their Crème Universelle) has launched two new body butters: Argan Oil and Rose Hip Oil. I have been trying out the Rose Hip Oil Butter for the last week (it was a press sample). The rose-scented body butter contains rosehip oil and is tinted a light pink. Despite the thick texture it is easy to apply without streaks or stickiness – quite impressive. The body butter is based on processed oils, glycerin and sunflower oil which probably accounts for the comparatively light texture. A tin contains 100 ml and costs 14.90 Euro. More information is available on the Melvita homepage.
Still testing: Last week I started to use the Surpreme-C Treatment from Nuori. Nuori is a young beauty brand from Denmark which specializes in freshly made cosmetics: the expiration date is clearly printed on the packaging. Since vitamin C is a rather unstable ingredient to begin with, the Surpreme-C serum comes in a special pack: Once you mix the serum and the vitamin C together the clock is ticking, there is enough for twenty days (morning and evening). It took quite a bit longer for the serum and the powder to properly mix (the packaging specified a time period of 5 minutes, in my case it took more than 12 hours). The serum can be applied on its own or under a cream or oil. I feel that the serum already offers good hydration, I also use additionaly a few drops of oil. I am planning to use the serum for the next 20 days and observe the effect it has on my skin. The Surpreme-C serum is based on glycerin, water, vitamin C (non-organic so this serum isn't certified) and rose water. I was sent the product by organic online perfumery Amazingy which is currently Nuori's only distributor in Germany. I'll keep you posted! Find out more informations about Nuori here.
And these are the most interesting organic beauty news that I've come across over the last week (just a few bits and pieces!):
Latvian brand Kivvi has launched a new product range: Ribes Nigrum Linea was introduced at the Swedish organic trade show Natural products Scandinavia.
French organic brand Akane is launching a new Cleansing Gel and an Eau de Fleur & Fruit. More informations here. [Click here for the original German article Beauty-Notizen 6.11.2015]
Cleansing Emulsion Sensitive Witch Hazel & Camomile from Alverde
You can see in the background of the photo (skyscrapers of Shinjuku!) that I had taken the Alverde Cleansing Emulsion Sensitive Witch Hazel & Camomile with me to Tokyo. After all, I didn't know how fast I would find a Japanese face cleanser (which turned out to be Moisture Foaming Wash from F Organics). My readers kept mentioning Alverde's Cleansing Emulsion in comments and posts as an affordable, effective product so I decided that I simply had to test it out as well! Alverde is the certified organic own label brand of German drugstore retailer DM. It is also the biggest and best-known organic beauty brand in Germany. So here is a short review of Alverde's Cleansing Emulsion – I'm sticking to my resolution of writing shorter products review, like I did with the Illuminating Eye Cream from Lavera 😉 .
My favourite product type for face cleansing are milks, especially the Cleansing Milks of Martina Gebhardt and SensiSana. Both products are not the cheapest options on the market, however, and my readers kept asking me if I could recommend a good tenside-free cleansing lotion that was available in drugstores. Up until recently I found this difficult: most of the drugstore brand cleansers I tried were too drying for my skin. Which is why I was agreeably surprised when I tried Alverde's Cleansing Emulsion!
Despite the sugar tensides that are contained in the product (and which can dry out the skin) my skin didn't feel dry or tight at all. I think this has also to do with the fact that the NaTrue certified cleansing emulsion is based on water, sunflower oil and glycerin as key ingredients; alcohol and two emulsifiers are listed towards the end of the INCI declaration. The formula also includes soothing extracts of witch hazel and chamomile and has been scented with a soft floral fragrance.
I apply the cleansing emulsion onto the damp face, massage it in and then take it off with plenty of warm water and my Konjac cloth (one of my favourite tools for face cleansing!). My skin feels clean and not dry and I've even managed to remove eye makeup with this emulsion – generally, however, I prefer a micellar solution like the one from So'Bio Étic to cleanse the eye area. Compared to the Weisse Seerose Reinigungsmilch (White Water Lily Cleansing Milk) from bigood and the Reinigungsemulsion Bio-Granatapfel (Organic Pomegranate Cleansing Emulsion) from Alterra, the Alverde Cleansing Lotion has a much thicker texture. Which is probably the reason why it is more moisturizing than the other two products.
A bottle of the Reinigungsemulsion Sensitiv from Alverde contains 150 ml and costs 2.25 Euro – an unbeatable combination of price and performance! From now on, this cleanser will be part of my Cheap Thrills recommendations (about which I have written here und here – German only, sorry!). The product is available in all outlets of the DM drugstore chain and in DM's online store. [Click here for the original German article Alverde: Reinigungsemulsion Sensitiv Hamamelis Kamille]

Corsican beauty: Lavezzi DD Cream
I like mixing it up: sometimes I review the products of a well-known beauty brand – like the Reinigungsemulsion Sensitiv Hamamelis Kamille from Alverde. At other times I'll show you a cool niche brand – like today: let me introduce you to Solvyvia from the French island of Corsica!
I knew Solyvia as a French aromatherapy brand but recently the company also brought out a range of skin care products. The unusual packaging – the face care products are sold in long, thin glass roll-ons – is really eye-catching. The face care line includes the serum Santa Giulia (since I am named Julia I felt that I really should buy this product 😉 ), a face oil called Scandola, the eye gel Girolata and the DD cream Lavezzi. All of these products are packaged in the afore-mentioned glass roll-ons, only the lip care balm Isola Rossa comes in a little tin. The Solyvia products contain ingredients and plant extracts from Corsica; you can check out the range on the company's home page.
Today I want to show you Solyvia's Lavezzi cream! It's a multi-functional moisturizer which hydrates the skin and evens out the skin tone at the same time. When I applied the product for the first time it felt like I was using a very light moisturizing oil – and indeed, Lavezzi's INCI declaration starts with several processed oils, only then comes water. Thanks to these oils Lavezzi DD cream is easy to apply and is absorbed very quickly, the metal roller-ball applicator has a slight cooling effect. You can see the light tint of the Lavezzi cream in the photo above, it evens out the skin tone but doesn't cover up any blemishes. This also means that the colour adapts to each individual skin tone. My skin felt nicely hydrated and smooth; I wear the Lavezzi DD cream on its own or sometimes over a serum.
The Ecocert-certified Lavezzi DD cream contains strawflower extract which must be one the hippest Corsican ingredients at the moment! The INCI declaration also lists rock rose, carrot and myrrh. Lavezzi is scented with powdery floral notes – I think it is a very French fragrance 🙂 . One flacon of Lavezzi DD cream contains 15 ml and costs 16.90 Euro. I bought my product through French online store Mademoiselle Bio. Unfortunately I haven't found a German store that sells Solyvia yet. [Click here for more photos and the original German article Lavezzi DD Cream von Solyvia.]
I spent most of this week at home, sitting at my desk and working. However, since I am a beauty blogger "working" also means playing around with new beauty products 😉 . Let's start with the Savon Noir Argan Fleur d'Oranger von Terre d'Oc which I was sent by online store Der Kleine Bazar this summer. Der Kleine Bazar (see the special offer banner in the side bar of this blog) sells a number of interesting oriental beauty products like rhassoul, Aleppo soaps and prickly pear oil. They also sell the beautiful hammam bath towels from Karawan authentic (I used mine almost every weekend during the summer season – I wrote about the towel here). The Savon Noir I mentioned above is a black soap made with olive oil. It is traditionally used in North African hammam baths – some of my older readers might remember this blog post from 2011 about the black soap from the Maghreb? Anyway, the Black Soap from Terre d'Oc is an interesting product: it has a semi-liquid texture and is based on organic aloe vera and organic saponified palm oil. It also has a beautiful orange blossom scent (and you can always catch me with orange blossom fragrance 😉 ).
When I was shopping in my local organic supermarket last week I discovered the Chia Seed Oil from Ölmühle Solling. Of course I had to immediately post this on Instagram: I am so excited that such an unusual oil can now be purchased in a regular store. Yay! The glass bottle with 100 ml costs a little over 10 Euro. A year ago I had bought my first chia seed oil; I had to specially order it from French online store Huiles & Sens. German oil manufacturer Maienfelser Manufaktur also offers a chia seed oil, by the way. The oil is pressed from the seeds of the Spanish sage plant; chia has a high percentage of alpha-linoleic acid (quite similar to rosehip oil). I will use my new chia oil for skin care and also for cooking!
Last weekend my order from French online store Bazar Bio finally arrived: as far as I know Bazar Bio is the only retailer in Europe which sells products from US beauty brand Gressa Skin. The ultra-light water-free Gressa Minimalist Corrective Serum Foundation is already a cult item amongst international beauty bloggers. Gressa has now launched two blushers which I have flirting with for several weeks 🙂 . Amelia is a warm orange coral tone, Elise is a coral-toned pink. Since winter is approaching fast and my skin tone getting lighter and therefore cooler, I decided to buy the Lumière Luminous Complexion Fluid in Elise from Gressa Skin. Elise is very highly pigmented; even a single drop was a too much colour at first. I've been experimenting with the correct dosage – and the gorgeous pink with its light texture looks beautifully fresh and natural. Elise can also be applied on lips or eyes (just use a dab of it on the highest part of the brow bone: see the tips from my makeup consultation). The Luminous Complexion Fluid has a similar formula to that of the Foundation: it is based on castor oil and broccoli oil and does not contain any water. The flacon with 5 ml costs 30 Euro at Bazar Bio; if you buy directly from Gressa Skin's online store in the US you have to pay 28 USD.
And because Elise might have felt lonely on her journey from France to Nuremberg I also ordered the new Makeup Remover Wipes from RMS Beauty. I will use the single sachet wipes for short holidays, they are perfect for the hand luggage. Since the wipes are saturated in pure coconut oil they can also be used for skin care. The first time I tried one of the new RMS wipes I was a little disappointed, however: my marie w. mascara (which admittedly is super long-lasting!) was quite stubborn and I had to keep wiping my lids to remove the mascara completely. But perhaps my expectations were a little too high – I must admit that the wipes coped very well with the Lavezzi DD cream and my mineral foundation. A pack of 20 wipes costs 16 Euro when you order at Bazar Bio, in Germany the Makeup Remover wipes cost a few Euros more.
This week I also tried out the new Sprudelbad Sheabutter & Cottonflower (Fizzy Bath Shea Butter & Cotton Flower) from German organic bath care brand Sensena (it was a press sample). The sachet contains lots of mini bath tabs which tint the bath water a light purplish-pink, the fragrance is a soft floral. I really liked this bath additive! The Fizzy Bath is based on sea salt, tartaric acid and baking soda (which are responsible for the fizz action) but the tabs also include moisturizing safflower oil, shea butter, jojoba oil and cotton wool seed oil. Sensena also recently introduced the foaming Sprudelbad Granatapfel Cassis (Fizzy Bath Pomegranate Blackcurrant). A packet of the bath additive contains 80 gr and costs 2.55 Euro in organic stores or online.
I also want to mention the Matcha soap from Marukyu-Koyamaen which I bought from green tea online store Koyamaen-Versand. Koyamaen is where I regularly order matcha and green tea and when I saw this soap I simply couldn't resist! But although the soap smells beautifully of roasted tea and olive oil, I am still missing the distinctive matcha scent….! However, after first buying the Alterra Matcha shower gel I have now made it my mission to discover more organic beauty products that smell like matcha! The search continues!
And here are some community news: I'd like to announce the next meeting of the Alsterjägerinnen (a group of Hamburg-based Beautyjagd readers who regularly meet up to check out organic beauty stores and have a good time). If you live in the Hamburg area: the Alsterjägerinnen are meeting on 28.11.15 at 11.45am in Hamburg – for further information you can e-mail [email protected] Or check out the new sidebar Info Box "Beautyjägerinnen treffen sich".
Finally: Birgit Corall from Living Nature and Cobicos would like to apologise if some of you had difficulties ordering products during the recent cooperation between Living Nature/Cobicos and Beautyjagd. She will make sure that the next brand promotion goes more smoothly – and as a little apology, each order that is made through the Living Nature online store in the next two weeks (until 27.11.15) will receive a free 50 gr jar of Manuka Health Honey 100+. Please mention during the ordering process that you are a Beautyjagd reader!
I also discovered the following beauty news over the past week:
Burt's Bees has lauched a vanilla-flavoured lip care balm stick.
French beauty brand UNE Beauty has launched Rouges Intenses, four new lipstick colours. More information is available here.
Berlin-based organic beauty company i+m has launched a Fair Edition shower gel entitled "Let's Support Refugees". The shower gel supports the Berlin charity project Die Gärtnerei: together with local citizens and artists, young refugees are transforming an old cemetery in the middle of Berlin into a plant nursery. The lemon-tangerine scented shower gel is available from 1.12.15 and will cost 9.90 Euro. [Click here for the original German article Beauty-Notizen 13.11.2015]
Annemarie Börlind Limited Edition Winter Body Butter
I used my favourite new scarf which I bought from Uniqlo in Tokyo as a background for the photo of the new limited edition Winterkörperbutter (Winter Body Butter) from German organic brand Annemarie Börlind. The body butter was a press sample. The body butter is formulated with an interesting ingredient: Wild Cherry oil (prinsepia utilis) which is also called dhatelo oil. This oil is pressed from the cherries of a deciduous shrub that grows in the Himalaya mountains. There are a few beauty brands that use dhatelo oil, like Belgian brand Cîme (I reviewed Cîme's body oil here) whose products are based on Nepalese ingredients.
I had first come across dhatelo oil at a conference organized by German organic certification association BDIH earlier this year. On the first day of the conference there was a workshop on raw ingredients – and one of the ingredients introduced that day was Wild Cherry oil which is produced by a women's cooperative in Nepal. During the coffee break I visited the stand of raw ingredients supplier PERA and found out more about this exciting project.
Annemarie Börlind is one of the supporters of the Nepal project; they use dhatelo oil in some of their products, like the new Winter Body Butter. So I asked the company directly about how they become involved in the enterprise. And it was an interesting story! A friend of Annemarie Börlind's management had discovered this interesting oil; she has been living in Nepal for a long time and was one of the initiators of the project. Her husband had grown up in a Tibetan cloister and it was through him that this lady learned about the old recipes and remedies of traditional Tibetan medicine. These recipes go back to the 8th century and Wild Cherry oil is a very important ingredient. Traditionally it would be used to soothe burns and bruises, it also helps with rheumatic illness – and in many villages it is used for cooking, too.
The wild cherries are collected in small villages and remote rural areas in Nepal, like in Humla, Bajura or Bajang. The dhatelo oil that is used in the current production of Annemarie Börlind's cosmetics comes from Humla, one of the poorest regions in Nepal. The collectors of the cherries are usually local women; therefore the project helps these women to a fair and stable income. The cold pressing and filtering of the oil takes place in Nepal's capital city Kathmandu and is also done by women. The Börlind group isn't just supporting the project with money but they have also supplied equipment (like an oil press), the lady from PERA told me.
And what is so special about the Nepalese Wild Cherry oil? It is very rich in unsaturated fatty acids, omega 6 and omega 9, tocopherol (vitamin E) and specific phytosterols. At the workshop we had the chance of testing the pure oil; it felt very moisturizing on my skin. The fragrance was reminiscent of argan oil.
But now let's go back to Börlind's body butter which contains the dhatelo oil. The texture is surprisingly light for a solid body butter so it is easy to distribute the lotion without streakiness. On the skin the butter leaves a soft film which doesn't feel sticky – this would be a good product for drier skin types. The lotion also has a slightly gourmand scent: a blend of almond, red fruits and white blossoms with powdery-fresh undertones.
The Winter Body Butter is based on water, corn oil, shea butter (which comes from a fair trade project in the African country of Mali), processed plant-based oils and a fatty alcohol derived from moringa oil which acts as a texturising agent. Unfortunately there is no percentage of organic ingredients listed on the packaging.
A jar of Body Butter contains 150 ml and costs 14.90 Euro. It is available in Reformhaus stores, selected outlets of the Müller drugstore chain or online, for example through organic store Belladonna in Berlin. Or you can order it directly on the Börlind website. [Click here for the original German article Annemarie Börlind: Limitierte BODY Winterkörperbutter]
Good-bye everyone and see you next week!
Julia