Dear international readers of Beautyjagd,
Welcome to the next English-language edition of Beautyjagd! This is a condensed version of the most important articles that have appeared on my blog over the last few weeks. For more information about this format, click here. And now: enjoy the best of Beautyjagd in English!
Best wishes
Julia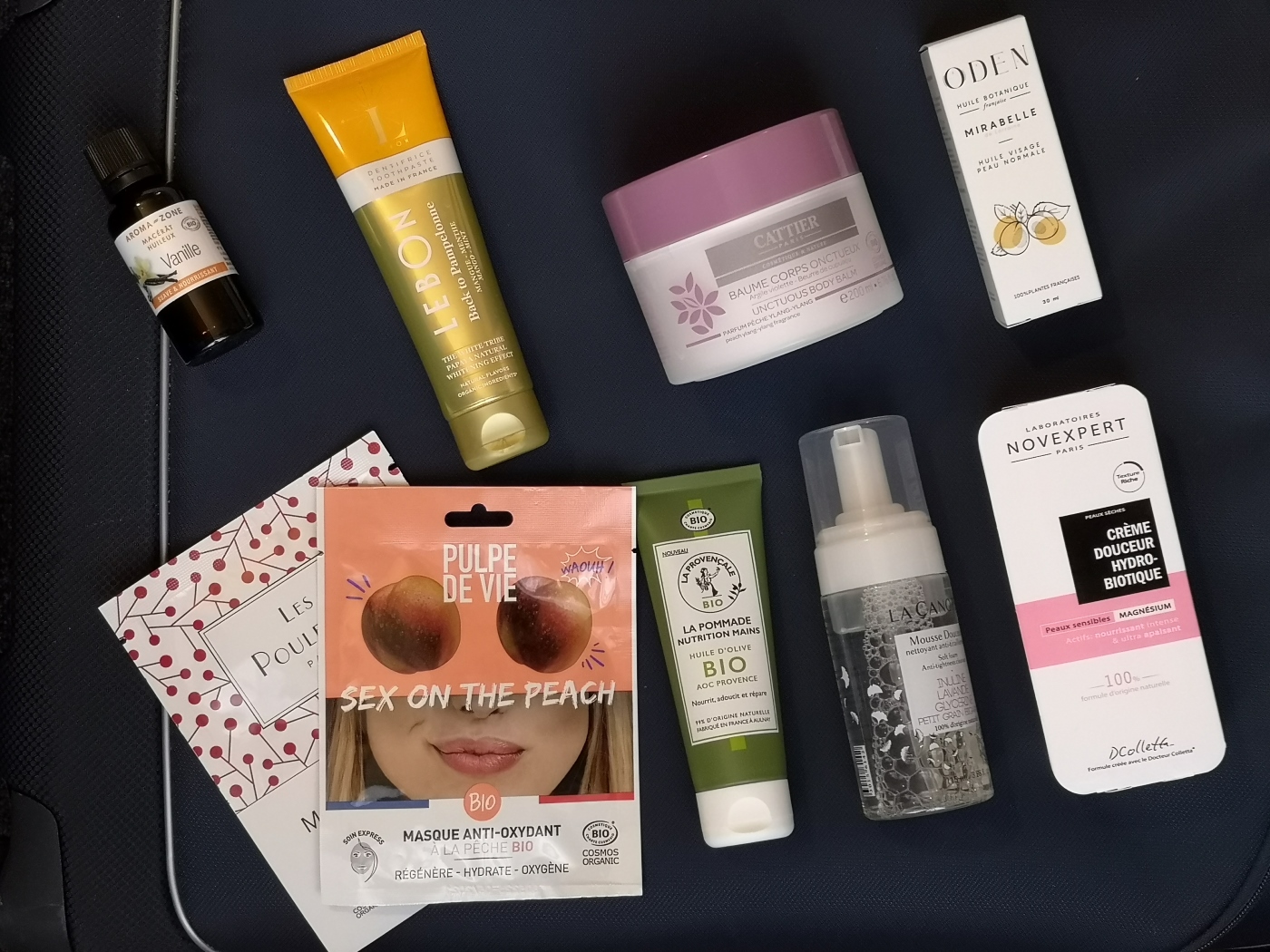 I visited Paris the week before Christmas, just like last year – I love the festive pre-Christmas feeling in the French capital. This time I stayed in a hotel in the 13th Arrondissement near the Butte aux Cailles and went beauty-hunting every day. A beauty week in Paris!
At Pharmacie Monge
My very first stop in Paris was Pharmacie Monge in the 5. Arrondissement which French Elle magazine had written about: this pharmacy at Place de Monge has become one of the must-visit destinations for Korean tourists in Paris. I wanted to see this phenomenon in action and it really was true: many of the customers in the store were from Asia and the sales staff also speaks Korean. I can certainly understand why beauty-crazy tourists from Korea love the French pharmacies with their beauty brands such as Avène, La-Roche, Bioderma and so on – I like these pharmacies too 😉 . Luckily the choice of organic beauty in pharmacies is growing every year.
I bought the new Baume Corps Onctueux from Cattier Paris at Pharmacie Monge – the body balm contains purple healing clay and has a delicate creamy fragrance of peach and ylang ylang. The product will also be introduced in Germany this year.
The pharmacy also had pretty good prices on the expensive toothpastes from Lebon. I couldn't resist the mango-mint tasting toothpaste Back to Pampelonne and the toothpaste Rhythm is love which is flavoured with notes of ylang ylang, yuzu and mint.
In the French supermarket
I also made two interesting product discoveries at the Carrefour supermarket at Place d'Italie.
In the beauty section of the store I found the products of young organic beauty brand Pulpe de Vie. I had already seen the French brand's certified organic sheet mask Sex on the Peach online, so of course I had to buy it!
Another new launch: L'Oréal introduced a new certified organic beauty brand in France which is named La Provençale. I bought the rich hand cream La Pommade Nutrition as a test product. The range is built around olive oil from the Provence; hence the name.
At Aroma Zone
And I absolutely had to visit French organic beauty retailer Aroma Zone's new outlet on Boulevard Haussmann. Up until a few months ago, Aroma Zone's huge selection of plant oils, essential oils, hydrosols and raw ingredients for DIY cosmetics was only available in the company's store in the 6th Arrondissement and, of course, in the Aroma Zone webshop.
At the new Aroma Zone on Boulevard Haussmann I repurchased Aroma Zone's Vanilla Oil which has become very expensive – the raw ingredients prices for vanilla have risen sharply over the last couple of years. However, I love this vanilla oil macerate which is based on sesame oil.
At Parashop
Parashop is a beauty store chain with over 60 outlets in France. Parashops sell only cosmetics and personal care products (including all the classic French pharmacy brands) but no medicines or prescription drugs.
Because French brand Novexpert isn't easy to find even in France I took advantage of Parashop's 25% discount that weekend to stock up on the Crème Douceur Hydrobiotique from Novexpert (I wrote about the cream in more detail in this blog post here).
I also bought Eau de 100 Bon Jasmin & Ylang Solaire from French organic fragrance brand 100Bon. The slender travel flacon is refillable; so convenient! In this winter weather I am craving voluptuous floral fragrances. Of course I forgot to include the perfume flacon in the picture above, sorry!
At Naturalia Origines
I already showed the three new shops of organic supermarket chain Naturalia's new Naturalia Origines stores on Instagram: these stores sell only organic beauty, aromatherapy, plant remedies, supplements and herbal teas; no food products.
I was not familiar with French brand Oden which I saw at Naturalia Origines for the first time: Oden offers several plant face oils – mostly single-origin oils – which come from different regions in France. The yellow plums in my Mirabelle Oil from Oden, for example, come from the Lorraine region.
A visit to Mademoiselle Bio
And of course I went to organic beauty retail chain Mademoiselle Bio during my Paris visit.
My shopping list included the sheet masks from Les Poulettes which I had seen at the K-Beauty Expo in Seoul last autumn. I was particularly interested in the Anti-Aging Sheet Mask from Les Poulettes which promises a plumping effect. Les Poulettes is described as "an organic brand from Paris for Parisians". Here's the homepage.
Birchbox Store
In the Birchbox store near the Forum Les Halles you can purchase small product sizes (like the products you'd receive if you have a Birchbox beauty box subscription – I already wrote about the Parisian Birchbox store in this article here) but also regular-sized cosmetics, just like in any perfumery store. Birchbox sells many of the big mainstream brands but they also offer a lot of niche beauty.
The founders of young organic beauty brand La Canopée are both from Grasse. The packaging of the 30-odd products in the range is decorated with drawings and sketches by the French artist "Le Figuriste" (you can check out the design on the homepage of La Canopée). I bought the Mousse Douceur nettoyant anti-tiraillement, a mild cleansing foam which promises to cleanse the skin without leaving it tight.
I also found another interesting product in the niche beauty section #beautista of Printemps department store on Boulevard Haussmann (this Printemps also offers a new Green Market in the lower ground floor). I'll tell you more about this product once I've tried it out properly.
I'm really looking forward to unpacking my suitcase with all of my new beauty purchases – after all, they are Christmas presents from myself to me 😉 .
Have a good weekend!
[Click here for more pictures and the original German article Beauty Grüße aus Paris 21.12.2018]
I like to use the quiet time between Christmas and New Year's Eve to review the year that is just coming to an end. I'm thinking about all that I have done, seen and experienced during my travels and at home – about the beauty brands that I discovered, the people that I've met; about new inspirations and also about the way that I have changed and developed personally and professionally. In this post about my 8th blog anniversary you can read about how 2018 was in terms of my professional life (German only, sorry). Every year at around this time I also post an organic beauty review which looks at how the German and international organic beauty industry has developed over the past 12 months.
This time I decided to present a mixture of topics from my personal beauty year, highlighting some of the most important developments and trends that I have seen in the international organic beauty industry.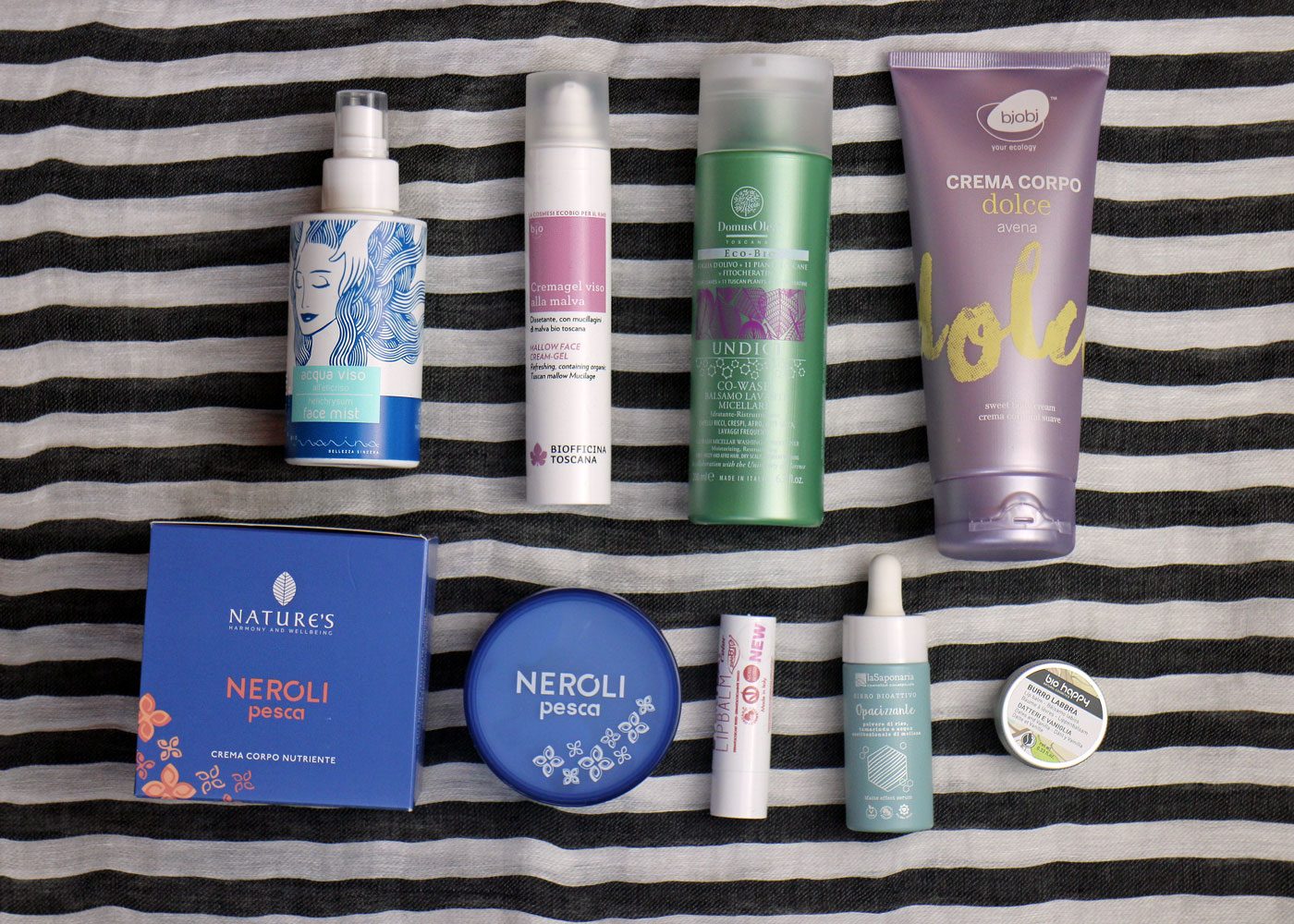 Bella Italia
At the very beginning of 2018 I travelled to Bari – finally I was going to Italy again! The Apulian city not only offers an organic supermarket but also an organic beauty speciality store. During my visit to this store I realised how much the organic beauty market in Italy has changed over the past few years: it used to be dominated by old-fashioned natural-inspired beauty brands but now there are so many young and modern organic beauty labels. These brands offer products that reflect current trends such as micellar shampoos, face care formulated with fruit acids or sheet masks, to mention just three examples. You can read more about these brands and products here or here. The packaging of these brands also looks much more attractive. I'll definitely keep an eye on this market!
New retail strategies
There were quite a few changes in the organic retail sector in 2018, too. The German Reformhaus stores, for example, are finally waking up from their beauty sleep to update their stores and retail concept, re-positioning the Reformhaus as an attractive and modern retail channel for organic beauty.
Offline and online beauty retailers are also exploring more sustainable retail strategies: in October 2018 Hamburg-based natural concept store Werte Freunde opened its doors, offering a wide range of natural and sustainable products brands which range from eco fashion to organic beauty.
Austrian organic online store beauty Ecco Verde (Nice Shops) completed a very successful crowd-funding campaign last year to further expand its online business. And German online beauty retailer Najoba completely reinvented itself, turning its online store into a green shopping community in order to offer members cheaper product prices. Check out my blog post about Najoba's new online retail concept here. (German only, sorry).
Innovative raw ingredients
New and interesting natural raw ingredients are an absolute necessity if the organic beauty industry wants to grow and develop its business further. That's why I regularly visit ingredient trade shows, like the In-Cosmetics Global in Amsterdam. And it is always exciting when I see some of the new ingredients that are presented at these trade shows in up-coming beauty launches.
More and more cosmetic ingredients are manufactured from natural resources, like pentylene glycol, for example, which is now also available in organic quality. Biodegradability is also growing in importance – see the micro plastic debate. At In-Cosmetics Amsterdam, for example, some companies presented biodegradable glitter and plastic materials.
Another topic that I thought about this year are natural ingredients manufactured in laboratories – these ingredients are actually more eco-friendly than the traditional wild-harvesting of plants and herbs but can they still be considered to be "organic beauty"? Perhaps yes.
A major topic this year were ingredients that help to protect the microbiome of the skin. At Vivaness 2018 last February I chatted with the founders of organic beauty brand Sativa from Belarus about how cosmetic products can strengthen the many microorganisms that live on the skin and therefore boost skin health.
Also exciting: new plant extracts like gemmotherapeutical ingredients (for example in the products of Austrian brand Grüne Erde) or plant extracts that help against blue light radiation (like in the products of German brands Annemarie Börlind or i+m Naturkosmetik).
The category of colour pigments for makeup products was also moving forward in 2018: when I was reviewing the new Regeneration Day Cream Balance from German brand Dr. Hauschka I realised how important quality, colour and selection of pigments are when you develop products to even out skin tone.
Appearing live
I had quite a few speaking engagements this year – as a key note speaker at trade events (like the Natural Cosmetics Camp or at the annual meeting of a cosmetics trade association) but also as a panelist at the Natural Cosmetics Conference and, most recently, during the road show which I organised together with organic beauty brand Plaine. I do enjoy these events – and it's so much fun to meet some of my readers in "real life"! – so this is definitely something that I want to further explore in 2019.
Waterproof organic mascara
If this isn't a true beauty revolution: I tested two products in 2018 which redefined the durability of organic beauty products. One of these products was the Le Mascara Waterproof from French brand Avril, a certified organic mascara which did very well during my test under the shower (and even during a swim in a lake last summer). Finally there is an (almost) waterproof organic mascara! – And the Beetroot Cheek & Lip Tint from Australian brand Ere Perez actually survived a multi-course menu at a restaurant; check out my blog review of this special lip tint.
And I also want to mention the Mascara from French brand Absolution – a new addition to my very comprehensive makeup bag – which offers a remarkable performance in terms of lash volume and length. I also loved the Highlighter from Baims with its Brasilian glow in 2018.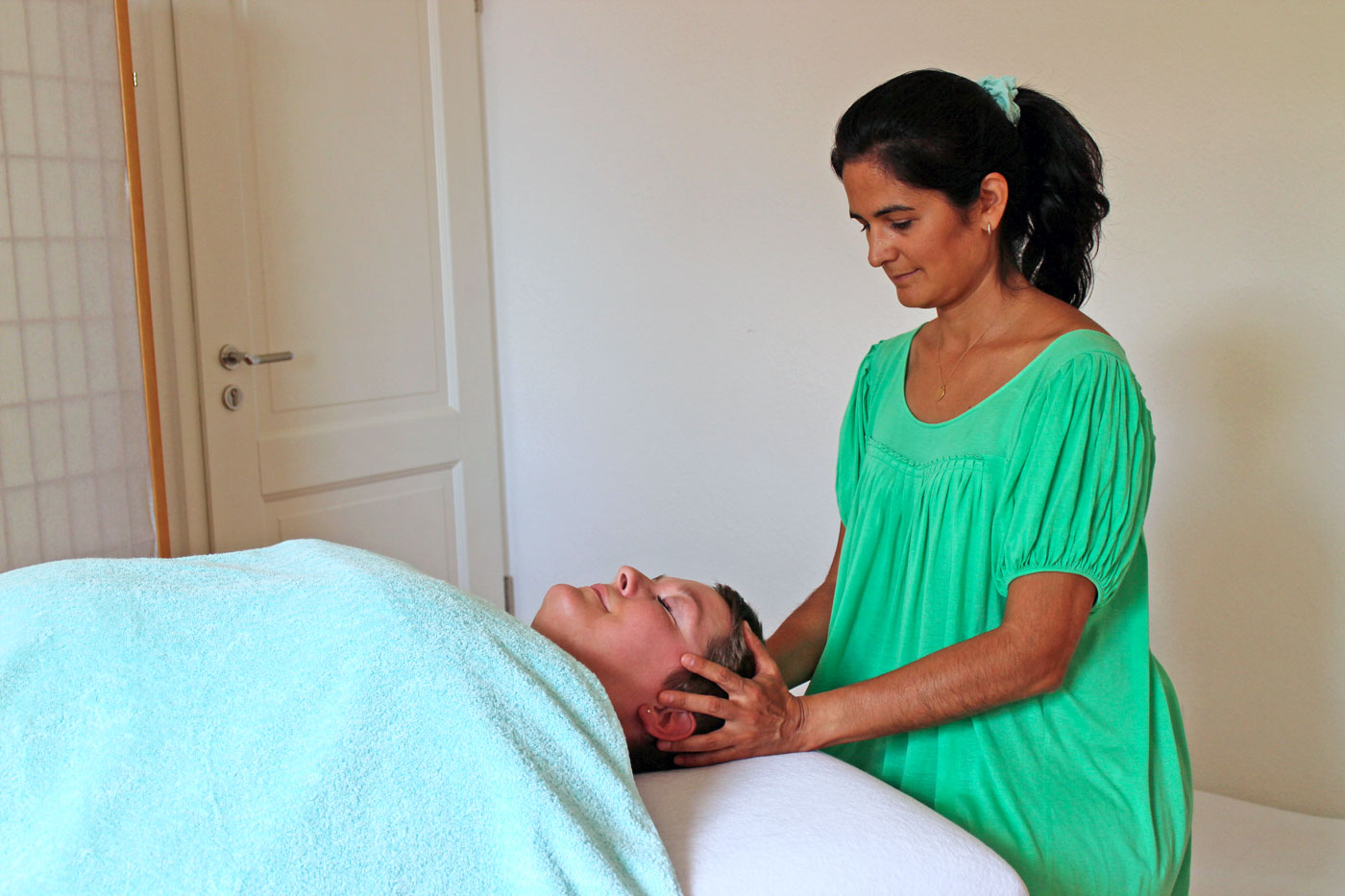 New beauty treatment
I do appreciate it when organic beauty brands also offer skin care treatments. And if the treatment is based on an entirely new concept, it's even more exciting! Last summer I was invited to try out the beauty treatment from German-Venezuelan brand Amo como soy which combines a classic skin care treatment with cranio-sacral body therapy elements. I'm still impressed by this treatment and really hope that in 2019 more beautician and cosmetic salon will discover Amo como soy.
Support your local planet
A trend which continued to pick up pace in 2018 was the growing focus on "local" – local ingredients, local manufacturing, local brand heritage. And beauty brands in rural areas appear to be leading this trend: in the French Cevennes region, for example, I discovered a number of organic brands which very deliberately focus on their local heritage. A good example is French brand Belesa; the company uses regional chestnuts and honey in its beauty products (check out my blog post about organic beauty from the Cevennes). In addition Belesa's packaging highlights the percentage of local ingredients that are contained in the product. And on my recent trip to Paris I discovered French brand Oden whose portfolio includes face oils from different regions in France (for example yellow plum oil from Lorraine).
One of my resolutions for 2018 was to start supporting local organic retailers and manufacturers here in Nuremberg. And I was delighted to meet the two founders of Haused Wolf – you can read about the young beauty brand in this blog post here (German only, sorry).
A brand with many innovations
If I had to pick just one brand which managed to launch several trendy and innovative beauty products in 2018 my choice would probably be Mádara from Latvia. At Vivaness trade show last February Mádara present a host of exciting new launches, including several new sun protection products like the Sun Cream for the Body or the City CC Cream but also three different ampoules (including one with pure strawberry seed oil!) and the skin-firming Re:Gene volume Rebuild Lifting Mask. Well done Mádara! I look forward to seeing what the Latvian brand will come out with in 2019.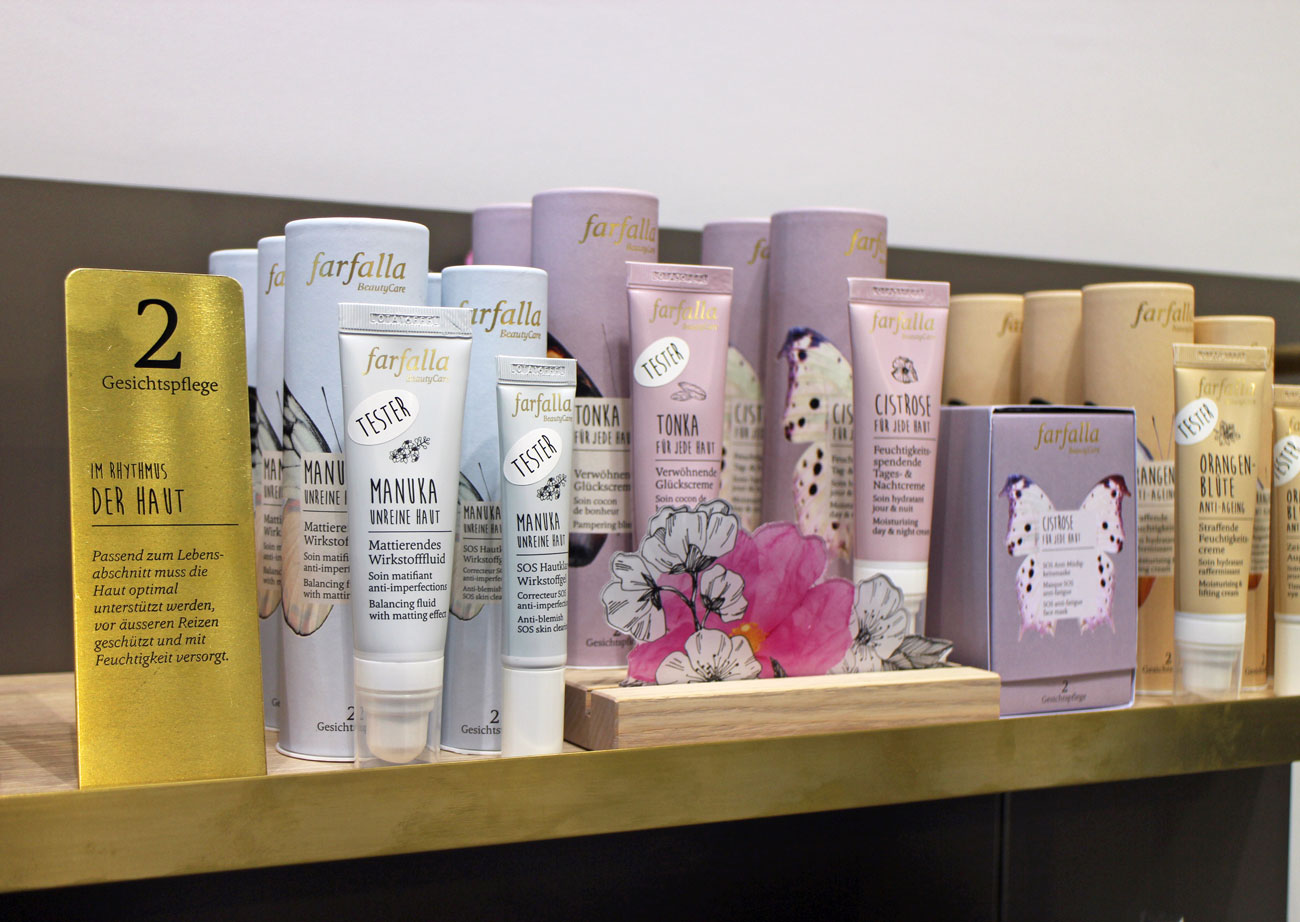 Developments and changes in the organic beauty industry
The German organic beauty industry saw quite a bit of action in 2018: several of the older organic brands were celebrating anniversaries, such as Santaverde, i+m, Cattier, Luvos or Speick. Congratulations to all of these organic beauty pioneers!
In autumn 2018 German Logocos group – together with its beauty brands Logona, Sante, Fitne and Heliotrop – was aquired by French consumer giant L'Oréal. The aquisition created a major stir (and a lot of controversy) in Germany's organic beauty industry. At the same time L'Oréal introduced its own certified organic beauty brand; I have already seen the products of La Provençale in several French supermarkets and department stores. The key ingredient in the range is olive oil from the Provence.
Swiss organic beauty brand Farfalla went through a very successful relaunch in 2018 – new products, new packaging, new brand logo – which took place when the family-owned company was passed on to the next generation.
And I'm pretty certain that 2019 will continue to be an exciting year for the organic beauty industry!
Lip Masks
Lip masks are currently one of the major product trends in Korea and the US. Since lip care is one of my special focus areas (unfortunately the skin on my lips is really demanding) I was particularly interested in the new launch from US brand Burt's Bees which I saw in Seoul in autumn 2018: the Overnight Intensive Lip treatment from Burts Bees (you can read more about the lip mask trend here). German brand Lavera also launched a very good lip care product last year, the SOS Help Lippenbalsam.
Starting up
There are more and more organic beauty start-ups in Germany which is a fantastic development – these new companies are challenging and disrupting the dynamics within the established organic beauty industry and make things more exciting. At the same time it's not easy to get customer recognition and/or shelf space if you are a small new beauty brand – the organic beauty market in Germany is highly competitive and already quite saturated, with certified organic beauty brands available in all retail channels and price ranges. Successful marketing and precise product positioning are therefore very important– and here are two successful examples from 2018: The organic luxury product range from Inari Arctic Beauty focuses on ingredients from the most Northern regions of Europe (I introduced Inari in this blog post here; you can see the brand's two founders on the picture above). Anakena, on the other hand, combines German organic beauty with tropical flair from the Easter Island (I met the brand at Vivaness 2018). I also discovered new organic beauty brands in Asia, for example Urang Naturals from Korea.
It's interesting that international brands are increasingly entering the European market and of course this trend also goes the other way round: French organic niche beauty brands like Buly or Huygens have opened their own stores in Seoul or Tokyo.
Focus on packaging
Packaging is one of the most important issues in the organic beauty industry at the moment (besides raw ingredients, of course) and there are a number of reasons: the outer packaging of organic beauty products is becoming increasingly more attractive. How products look is an crucial consideration for many beauty consumers and the aesthetics of the packaging play an important role in the success of a brand. Look at the beautiful packaging of German brand Dr. Hauschka's Purple Light limited edition which was designed in cooperation with artist Emma Lindström.
At the same time environmental consideration are coming to the fore in the packaging sector: several companies, for example, have been developing plastic tubes which are manufactured from renewable raw ingredients. The biodegradability of packaging (like Plaine's Powder Wonder) is also playing an important role. My blog post about French brand CoZie attracted particular attention from you readers; CoZie's products are sold in glass bottles which are combined with a deposit system. Using as little packaging as possible is even better, of course: following the lead of niche brands such as Lamazuna from France, German drugstore retailer DM's certified organic own label brand Alverde launched a solid shampoo bar in cardboard packaging last year.
New products for hair
There were also some new product launches in the organic hair care sector although I had to think about this topic for a bit. However, 2018 was the year that even L'Oréal launched a plant-based hair colourant range. I also need to mention this innovation from French brand Melvita: the company recently introduced a range of colour-protective products in the Expert hair care line (which many organic beauty fans believe to be one of the best organic hair care ranges around) which are formulated with indigo. The indigo extract is derived from a special production process which Melvita has already registered for patent approval. The products in the new Color line – a shampoo, hair oil and conditioner – gently cleanse, hydrate and protect the hair whilst adding shine (I already wrote about my discovery on the blog here). And the pink oil looks beautiful, too!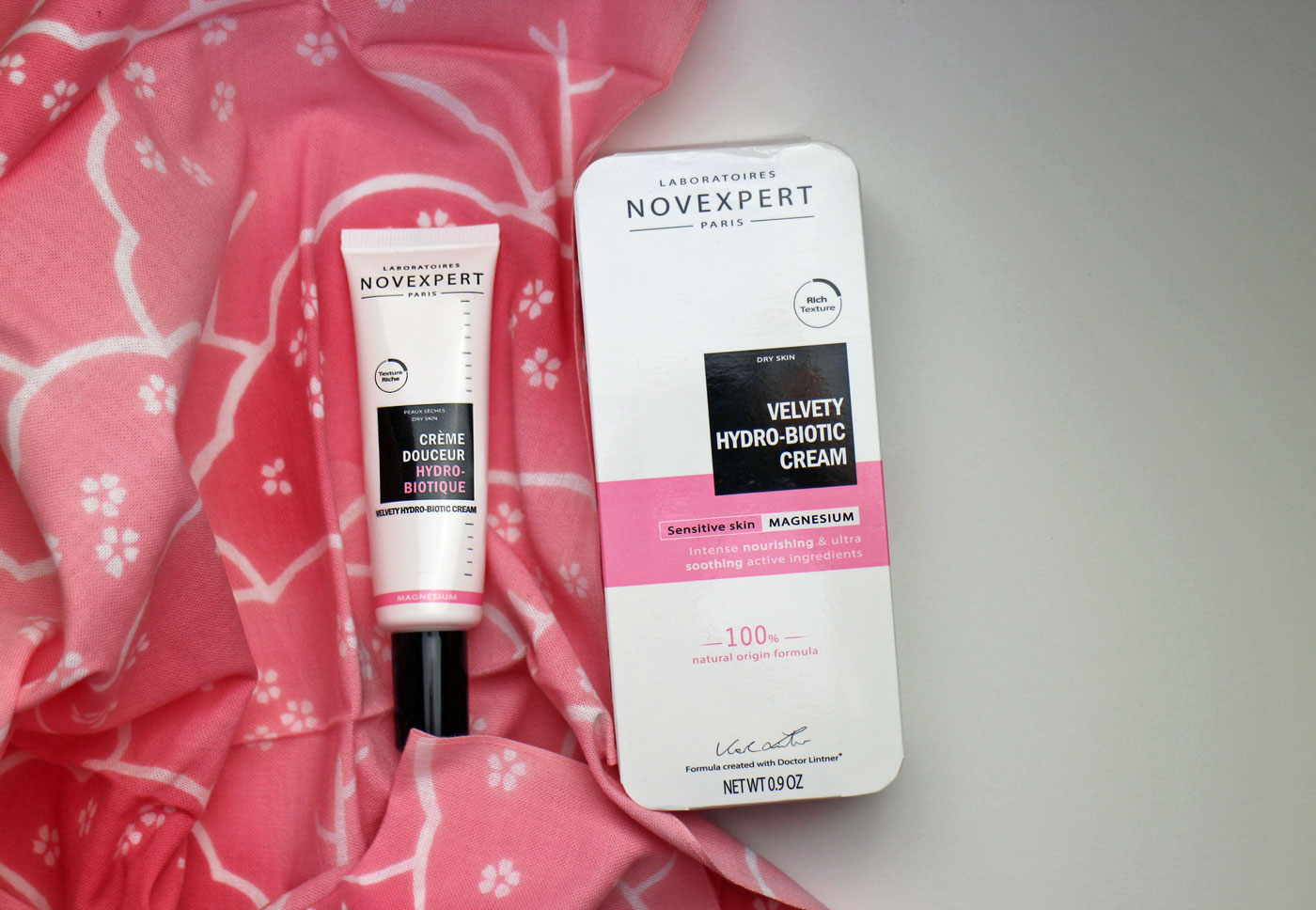 The wide world of emulsions
In 2018 I did a lot of research into the topic of emulsions: depending on how a product formula combines water with oil, the resulting cream can lead to very different results. I was particularly impressed by the Crème Douceur Hydro-Biotique from French brand Novexpert which moisturised my skin more thoroughly and for a longer time than many other creams. I'd describe the texture as "juicy". German brand Annemarie Börlind's Sensitive Cream Mask also features a complex and cleverly structured emulsion: the cream offers a controlled and gradual hydrating effect which cools and soothes the skin (ideal if you suffer from redness).
And 2019?
For 2019 my wish is that the organic beauty industry will become more open without losing touch with its heritage. The industry's commitment to environment and moral values should also be communicated much more openly. I believe in the power of diversity – which was also the point I made during an event at Biofach trade show in 2018 – and I believe that both beauty manufacturers and beauty consumers will benefit from a more inclusive industry. An increased focus on diversity will ensure that the organic beauty industry can cope with any challenges that the rapidly changing cosmetics market place will offer in the medium to long-term future. And of course I can't wait to see what new and exciting product concepts, brands and trends 2019 will bring!
Stay tuned 😉
[Click here for more pictures and the original German article Mein Naturkosmetik-Jahresrückblick 2018]

I came across the Stick Shampoos from Cut by Fred somewhere on Instagram – it might have on the account of Slow Cosmétique (a cosmetics movement which was founded in Belgium and France; I wrote an article about Slow Cosmétique back in 2012).
Cut by Fred was founded by Frédéric Birault, a star hairdresser from Paris who also blogs and has his own YouTube channel. Check out the wonderful hairstyle of his client Francine who wanted to look like a boxwood tree 😉 . You can also find more hair tutorials and before/after videos on the Cut by Fred homepage.
A few months ago Fred launched his own hair care range. Luckily I was able to order the products through French online store Bazar Bio for 20 Euro each; when I was in Paris in December I also found the products in Le Bon Marché department stores.
Scalp Treatment
The shape that Fred chose for his shampoos is really interesting: it's a twist-up stick with a water-free product formulation – basically a shampoo bar in stick form. He decided on this format because stick products are very trendy at the moment (and convenient to take along) but also because he believes that most people use their shampoo the wrong way. A shampoo should primarily cleanse the scalp; you don't really need to shampoo your lengths.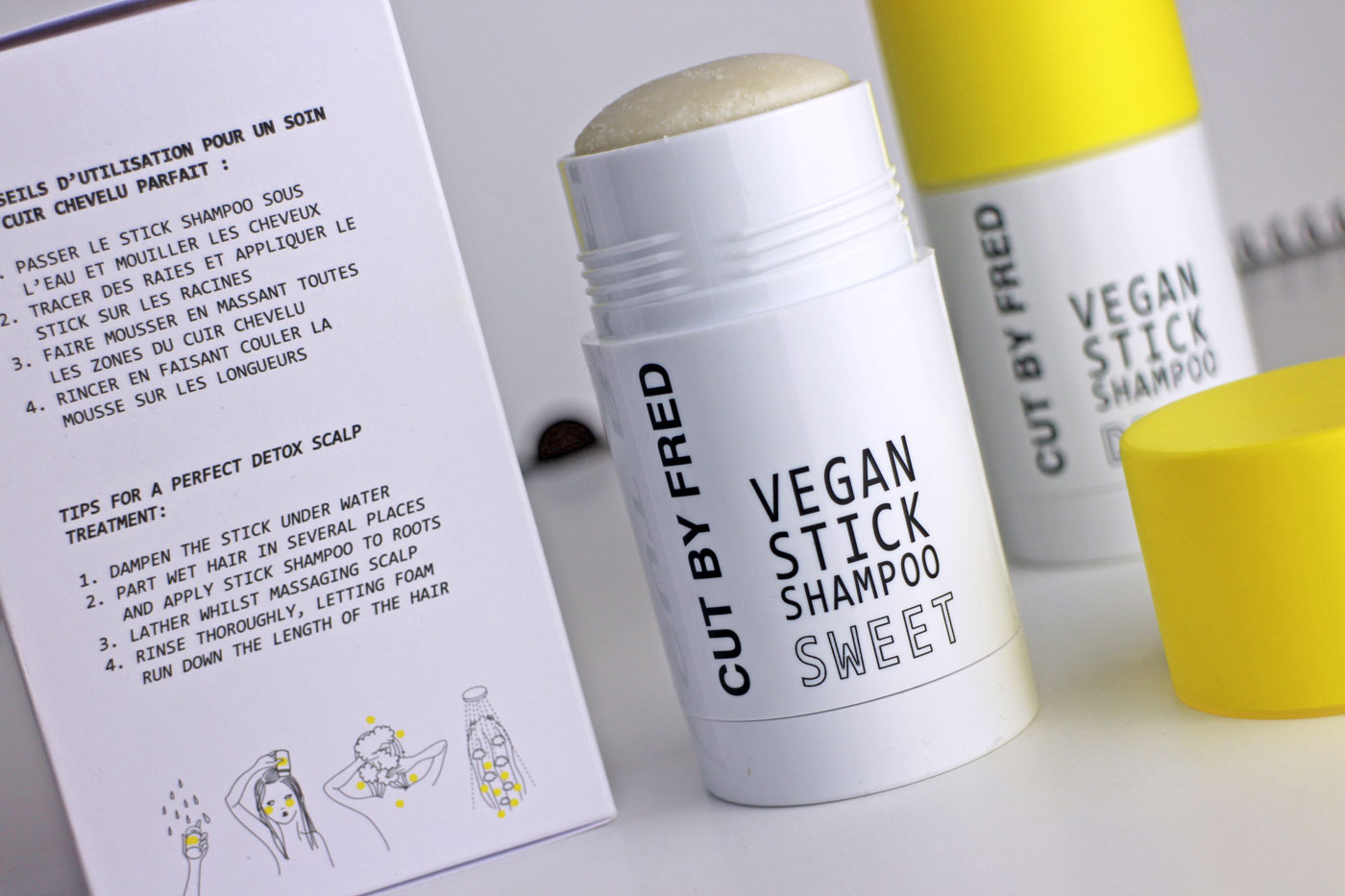 How to: Vegan Stick Shampoo from Cut by Fred
The Stick Shampoo was created for a very precise application: you twist the stick out (a few millimeters are sufficient!) and moisten it a bit. Part your wet hair in different sections, rub the stick along your roots and then massage the shampoo into the scalp. Afterwards you simply rinse out your hair, letting the suds run down the lengths. This process cleanses your hair much more gently, the scalp doesn't dry out as much and the hair also needs fewer conditioning products. Fred believes that you shouldn't wash your hair too often anyway.
What do the Stick Shampoos contain
Cut by Fred offers two different Stick Shampoos with different product formulas: The Detox Stick Shampoo for normal to oily and dandruff-prone hair is based on sodium cocoyl isethionate, a mild surfactant which ensures that the shampoo foams up even in hard water. The Sweet Stick Shampoo, on the other hand, is suitable for dry hair. It is based on coconut oil, followed by sodium cocoyl isethionate (which is also manufactured from coconut oil, by the way). The formulations are certified by Slow Cosmétique, both Sticks are vegan. The packaging was produced from recycled plastic. I think it would be great if the brand also offered a refill cartridge for the stick.
My experience with the Stick Shampoos from Cut by Fred
Because I have short hair that doesn't need much conditioning I selected the Detox Stick Shampoo for my first test. It is called Detox because the formula contains essential oils of cedarwood, peppermint and eucalyptus which have a refreshing effect on the hair and scalp, as well as cleansing kaolin (white clay). The shampoo really feels fresh and cooling on my scalp, an effect which lasted well beyond the hair wash. The solid shampoo starts to dissolve when it comes into contact with the wet hair; it doesn't foam up at first but after a few minutes (and a bit of massage) I get a nice amount of foam. After I rinsed out the shampoo my hair and scalp felt pleasantly clean.
Of course I also tried out the Sweet Stick Shampoo because I wanted to compare the two shampoos. The Sweet Stick has a delicate coconut fragrance, it is softer than the Detox Stick and doesn't foam up at first either. However, after I massaged my scalp for two minutes I all of a sudden got a proper handful of foam – make sure not to apply too much shampoo because otherwide the stick will wear down very quickly. The moisturising effect is stronger and the cleansing effect a little weaker when compared to the Detox Stick. My hair felt soft and conditioned after I dried it; the detangling effect is ok. Still, for me and my pixie cut the Detox Stick is a better match!
At the moment the Stick Shampoo is only available in France, either through the homepage of Cut by Fred or in any of the stores listed in the shop finder on the website. If you want to buy online you can order Cut by Fred through Bazar Bio, Ecocentric or MonCornerB (where it is sold out at the moment). A stick costs 20 Euro and contains 70 gr of solid shampoo. Depending on how you handle the stick it'll last for good while – it was my impression that the Detox Stick will last longer than the Sweet Stick.
I mentioned above that beauty products in stick form are very hip right now: there are styling sticks for the hair (which is something that Cut by Fred ought to consider 😉 ), foundation sticks, cleansing sticks (like the cult product Miracle Rose Cleansing Stick from Korean brand su:m 37) or a stick clay mask which I will introduce on the blog soon.
[Click here for more pictures and the original German article Beauty-Trend: Vegan Stick Shampoo von Cut by Fred ]
This weekend I finally had time to read the recently published "Modern Cosmetics" by Dr. Nina Kočevar Glavač and Dr. Damjan Janeš. The Slovenian authors had contacted me in early December to find out if I was interested in a review copy for my blog. I was intrigued by the book's subtitle "Ingredients of natural origin, a scientific view" so yes, I definitely was!
The authors are just as interesting as their book, by the way: Dr. Nina Kočevar Glavač, Dr. Damjan Janeš and their team have also created a new certificate for beauty products, "CosmEthically Active". This seal evaluates the natural origins of the raw ingredients but also the product formulations – for example the precise concentration of the active ingredients and whether the product will actually work on the skin. You can find more information about the new seal on the homepage of Modern CosmEthics.
But back to the book! It was originally published in 2015 in Slovenian; now the English translation has finally come out which should make the book much more accessible internationally. The eleven authors are all scientists (cosmetologists, pharmacists and pharmaceutical biologists) – you can read more about them (and about the two publishers) on the homepage. The entire book was then reviewed by a panel of four other scientists.
What Modern Cosmetics is about
The book comprises around 500 pages and introduces more than 500 ingredients from natural or semi-natural origins. Essential oils, hydrosols, plant tinctures/macerates/extracts and plant powders are mentioned only in relation to the respective active ingredients. The focus of the authors is to explain to the readers how and why an ingredient has an effect on the skin.
The first two chapters are dedicated to the European Cosmetics regulations (EC) No. 1223/2009 and the European organic and natural cosmetics standards and labels. Then the book tackles the physiology of the skin's structure and outlines the different skin types. The third chapter explains how plant ingredients work on the skin, highlighting various delivery systems as well as the composition of emulsions.
And now we're moving into the lexical part of the book! The chapters about the ingredients are divided according to topic, with an emphasis on plant oils and waxes as well as plant actives but Modern Cosmetics also talks about emulsifiers, thickeners, hydrating ingredients, antioxidants, vitamins, preservatives, sunfilters, ingredients for peels and scrubs, pigments and colourants.
At the end of each chapter the authors have listed all of the sources and studies that are cited in the text. The authors also point out that unfortunately there is still not enough scientific research about the effect of fatty plant oils on the skin.
In detail
All ingredients that are described in the book are presented along the same thematic structure which makes the text clear and easy to read. Each ingredient entry begins with the INCI name and origin, followed by the chemical composition and/or the characterisation of the ingredients (with oils, for example, these would be the different fatty acid spectrums). If applicable, the text also cites the findings of in vitro, in vivo and clinical studies. Depending on the ingredient the authors also give suitable ingredient concentrations as well as the pH value and occasionally a recommendation for the formulation of a product.
Notes and comments in italics are scattered throughout the text which give additional information about current research, scientific discussion and some inspiration for simple product formulas. However, there are no recipes because this would have gone beyond the scope of the book.
Modern ingredients
Modern Cosmetics doesn't just talk about classic plant ingredients (like plant oils, for example) but also covers ingredients such as vitamin C, AHA and BHA acids, retinol, ceramide, niacinamide, phyto hormones or peptides. I really like this broader scope – these are all ingredients which are currently trending but have been neglected or ignored by most of the European organic beauty brands.
As I was reading the book I kept feeling like I was overhearing scientists talking in a research lab. I found the explanations and notes set in italics particularly interesting; these text passages contained so much new knowledge and information (new to me, I mean) that I actually made some notes in the margins while I was reading. As far as I could estimate the ingredients are analysed from a critical/neutral angle, including sun filters such as titanium dioxide and zinc oxide.
And this is what Modern Cosmetics offers: A kind of encyclopedia of many natural ingredients, presented as a compact and easy-to-read reference book. This book has already become an essential publication for me, like the two publications about natural raw ingredients and formulations by Heike Käser.
The home page offers a free 50-page reading sample which give a good introduction to the book. The book itself is priced at 120 Euro and you can buy it through the home page of Modern CosmEthics. International shipping is free.
The book is primarily intended for professionals from the organic beauty industry; for cosmetics researchers, developers and manufacturers. However, since the prose is fairly easy to read the book is also suitable for interested beauty fans who already have some knowledge about cosmetic ingredients. If you are looking for a cosmetics encyclopedia that deals with natural ingredients Modern Cosmetics is a really good choice.
[Click here for more pictures and the original German article Buch-Review: Modern Cosmetics – ingredients of natural origin]
Good-bye everyone and see you soon!
Julia