These are translations of my German blogposts about Indie Beauty Expo Berlin 2019 and In-Cosmetics Global Paris 2019. Enjoy!
Although I didn't really have the time to go to Berlin just days before my big trip to Brussels, I couldn't resist the first German edition of US trade show Indie Beauty Expo. In the US the IBE niche beauty shows are already well-established and very popular amongst industry professionals and consumers.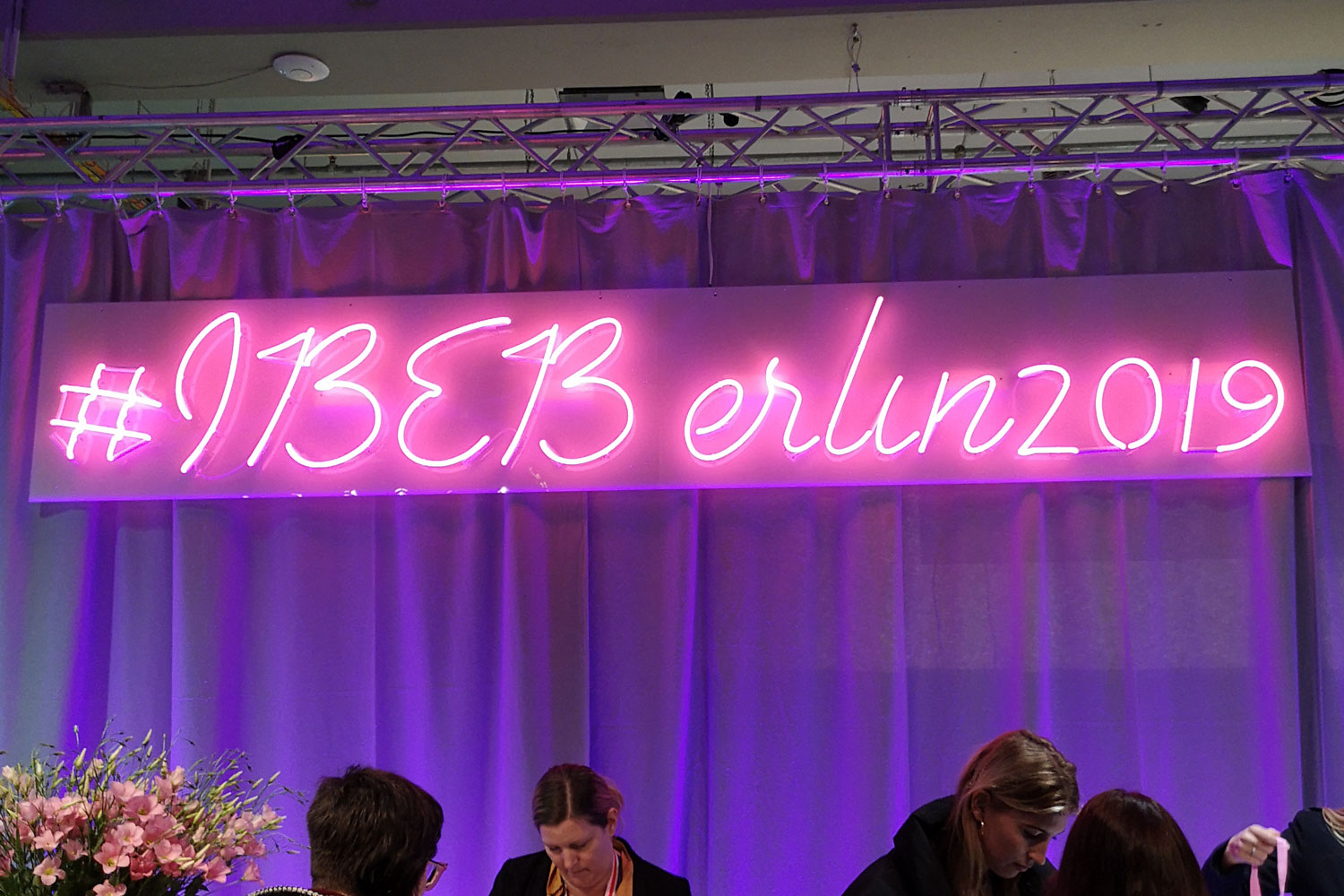 And it was this dichotomy that I found particularly interesting: the first day of the Berlin show (Friday) was reserved for trade and press. On Saturday afternoon, however, consumers were allowed into the trade fair hall, to check out brands and buy products at special discounts. And because Indie Beauty Expo also focuses on consumers (and not just on distributors, buyers and retailers), the exhibition hall and individual booths were much more elaborately decorated than what you'd see at a trade-only cosmetics fair (check out the picture of Berlin-based Nui Cosmetics' gorgeous booth below). There were even flower-decorated corners for selfies and Instagram stories.
Indie Beauty Expo Berlin had selected perfumery chain Douglas as its retail partner for the German market. At the opening press conference Douglas explained that it would focus more on niche brands in the future. Several "trend tables" presented the first eleven niche beauty brands that have recently joined the Douglas portfolio.
Amongst the 60 exhibitors were a number of organic beauty brands – and you could also see the clean beauty trend in action: many of the conventional brands had product formulations that veered towards the "green" end of the spectrum.
Because I only had a few hours to spend at the trade show I'd done some advance research and drawn up a short-list of international niche brands that I really wanted to see. As a result I had to neglect German brands like Und Gretel, Coscoon (with new baby sets!), I want you naked and Nui Cosmetics (with new creamy concealers and two new eyeliners). Unfortunately!
Au Naturale
I've been wanting to check out the colour cosmetics from Au Naturale for a really long time (the brand's is available at Whole Foods in the US, for example). Au Naturale was launched in 2012, the company is based in Chicago and offers over 160 products with a focus on powder foundations, blushers and other face products (with great silky textures) and creamy products. The palm oil that is used in the product formulations comes from the organic palm oil campaign Palm Done Right. Au Naturale is planning to enter the German market next year – here's the company's homepage.
Aeos
Aeos is a UK brand which was founded in 2008. They're based in Lincolnshire (some of the ingredients in the Aeos products are sourced from the company's own Demeter-certified farm) and Aeos' portfolio includes 14 products (mostly face care) formulated with Spagyric crystal essences. The pink line promises to increase glow with the help of essences from opal, rose quartz and tourmaline while the blue range has a more relaxing and skin-soothing effect with essences of amethyst, turquoise and emerald. Aeos recently relaunched its packaging which now looks very stylish. Here is the company's homepage.
Sappho New Paradigm
Sappho New Paradigm is a colour cosmetics brand which was introduced by Canadian makeup artist Jo-Ann Fowler in 2016. The brand squarely focuses on ethnic diversity: the pictures at the booth showed a European, an Asian and a Black model whose different skin tones reflect the wide colour spectrum of the brand's 70-odd makeup products. Sappho is currently relaunching the brand (both packaging and formulations) and the vegan product line-up offers liquid foundations, cream concealers and face powders. There are also palettes which can be filled with individual pressed powder eyeshadows and blushers. I was particularly curious about the vegan mascara which is said to be popular amongst Hollywood actors 🙂 . Here is Sappho New Paradigm's homepage.
Berrichi
When I first saw the brand name I assumed that Berrichi was Italian – but no, the company is from Tallin in Estonia and was launched around 1 ½ years ago. There are four products which focus on the key ingredient cacay oil in combination with the red algae furcellaria (from the Baltic sea) and the antioxidant ingredient astaxanthin which is also responsible for the red tint of the products. Berrichi's bestseller is the night cream formulated with retinol (with a low dosage, so there's little risk of skin irritation). Here is the homepage of Berrichi.
Many of the Indie Beauty Expo brands were trend-driven: like the conventional makeup brand "Strong" which offers makeup products for athletes or Gitti, a new water-based nail polish brand from Berlin. As I was walking around the trade show I also noticed an app called Perfumist which promises to help you find a fragrance to match your personality.
Indie Beauty Expo was pretty busy that Friday which is quite an achievement for a new German trade show. Beautycalypse has also posted an article about Indie Beauty Expo Berlin and you can find a complete list of Berlin exhibitors on the Indie Beauty Expo homepage.
[Click here for more pictures and the original German article: Auf der Indie Beauty Expo Berlin 2019]
Last week I visited raw ingredients trade show In-Cosmetics Global which took place from 2.-4. April 2019 in Paris. Read on for more info and pictures about all of the exciting things that I saw (and did) at the trade fair! Last year's In-Cosmetics took place in Amsterdam – you can find out more about the trends and raw ingredients that I came across at In-Cosmetics 2018 in this article here.
Over 800 exhibitors presented their cosmetic ingredients, laboratory equipment and industry services in Hall 1 of the Porte de Versailles exhibition centre. The trade show was very busy, with a lively and bustling atmosphere.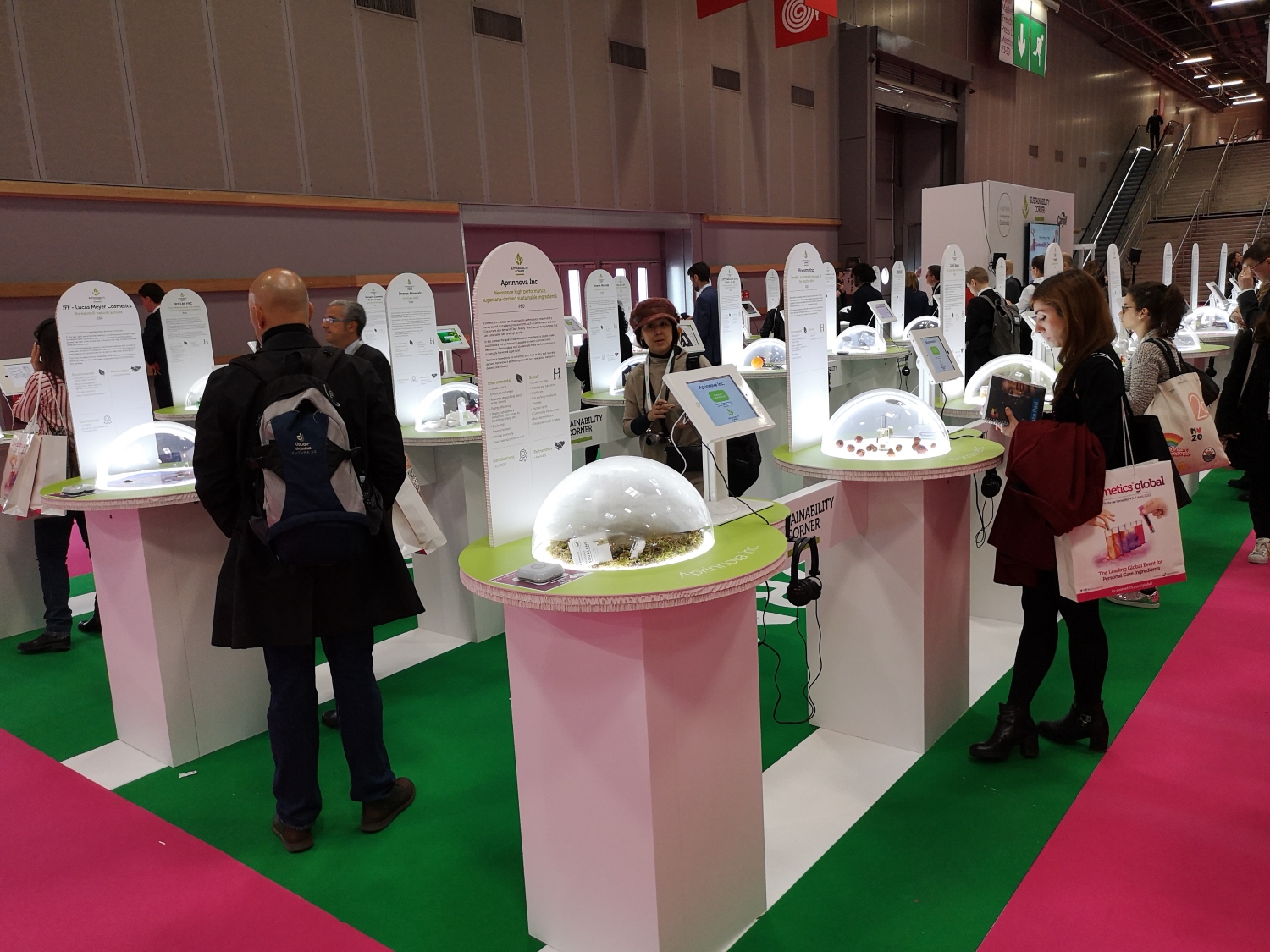 Sustainability Corner
Since my personal focus is organic beauty I immediately made my way to the Sustainability Corner, a special exhibition area dedicated to sustainable raw ingredients, environmental projects and other green and eco initiatives. Throughout the three days of the trade show Sustainability Corner also presented a number of lectures – mostly raw ingredients manufacturers talking about their research. One of these companies was Japan Corn Starch Ltd. which gave a presention about the possibilities of pearl-derived starch as an alternative to nylon, a commonly-used ingredient in eyeshadows and other powder products. Another Sustainability Corner exhibitor, French manufacturer Givaudan, presented its active ingredient Vetivyne which is derived from a by-product left over from vetiver root that is used in the perfume manufacturing process. Vetivyne is said to boost lipid production in the skin.
Natural ingredients were a major trend all over the trade show, not just in the Sustainability Corner: it was my impression that many In-Cosmetics exhibitors are now focusing on sustainability in their products. It's definitely a key topic in the industry – and every manufacturer seems to have their own take on sustainability. l was impressed by Iodysséus, a plankton project that is supported by French ingredients manufacturer Codif: as part of Iodysséus scientists are researching the role that marine plankton plays in the absorption of CO2 or in the formation of clouds – sea plankton is basically a kind of rain forest or green lung, only in the sea instead of on the surface of the earth!
Make-up Bar
I usually spend a lot of time at In-Cosmetics' Make-up Bar (although this section doesn't just feature natural products): organic makeup still has some catching up to do and I don't want to miss the innovations in this market. Like the light textures of the foundations (which could be certified organic, says the brand) and the eyeshadows of Daito Kaisei, a Japanese pigment manufacturer.
Innovation Zone
And talking about innovations: Innovation Zone was definitely one of the busiest areas at In-Cosmetics Global. This is where market research company Mintel had its booth. Each year Mintel presents a curated range of trend products which are very exciting. And hey, I knew almost every single product they showed this year – courtesy of my inner beauty hunter 🙂 .
Many ingredients manufacturers show their novelties in the Innovation Zone. The show case is divided into two categories, Active Ingredients and Functional Ingredients. The best and most exciting innovations receive an In-Cosmetics Global award.
As a fan of bees and bee products I was particularly interested in the raw ingredient "Black BeeOme" from Swiss manufacturer Mibelle Chemistry. This ingredient is based on the fermented honey of the black bee, a very rare bee species which still lives in Switzerland – with its ingredient research Mibelle is actually supporting domestic biodiversity. Black BeeOme balances the skin's flora (the microbiome) and has an anti-inflammatory effect (also good for impure and problem skin).
In my opinion there is still a distinct need for more natural "functionals", i.e. raw ingredients that help with the texture or stability of a cosmetic product. And this is also why I really need to mention US manufacturer Inolex' hair conditioner agent "Amino Sensyl" which increases the manageability of hair (makes it easier to comb) and is therefore a potential substitute for the quats (Quaternary Ammonium Compounds) that are commonly used in hair care.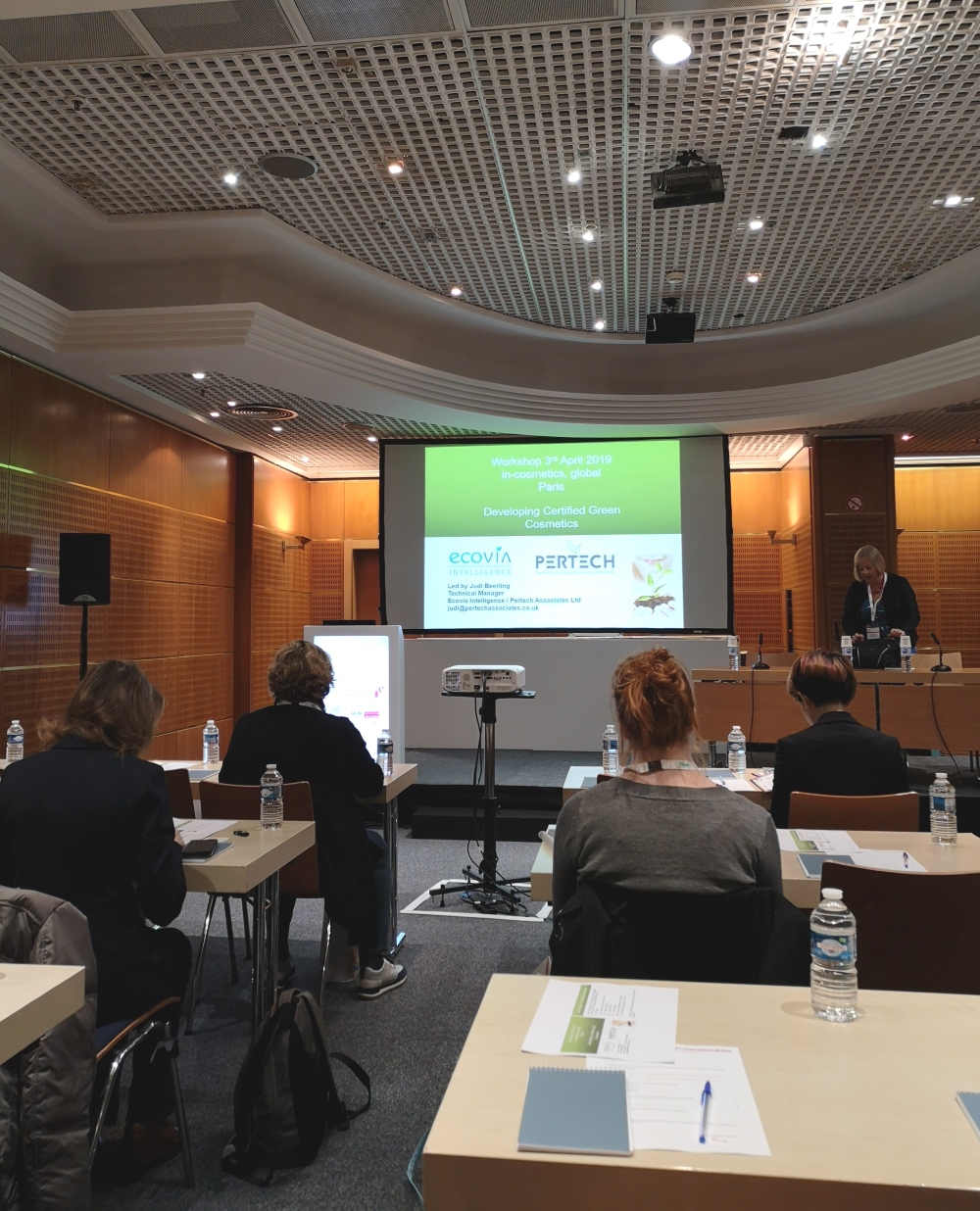 Workshops
On Wednesday morning I attended the 4-hour workshop "Developing certified green cosmetics" (I paid for the workshop and the entire trade show trip myself, by the way – just to clarify things!). The workshop began with a detailed look at the regulatory frameworks of various international certification labels. Afterwards we were divided into small groups and given product formulations. Then we had to analyse whether these formulations and ingredients could be certified or not – very interesting and a lot of hard work. It was so much fun working with other international beauty experts! A really worthwhile workshop.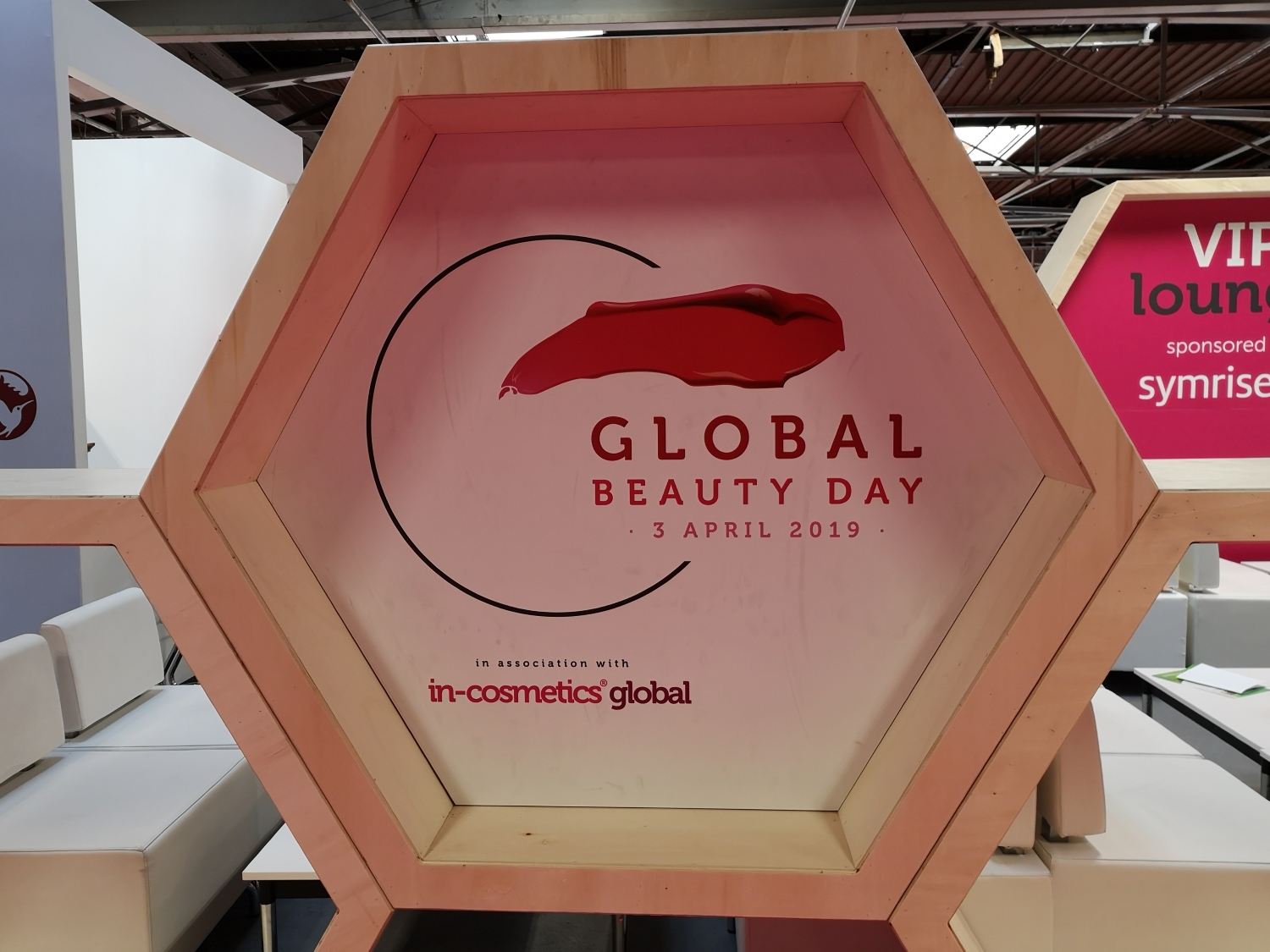 Global Beauty Day
This year In-Cosmetics had nominated the 3. April 2019 as Global Beauty Day: a day to remind the beauty industry of the need for more diversity (in gender, ethnicity, beauty norms, sexual orientation, age etc.) and inclusion. This is an initiative which I support whole-heartedly – for me, beauty (in all of its iterations) is closely connected to the society that we live in. One of the many reasons why I find the beauty industry so interesting.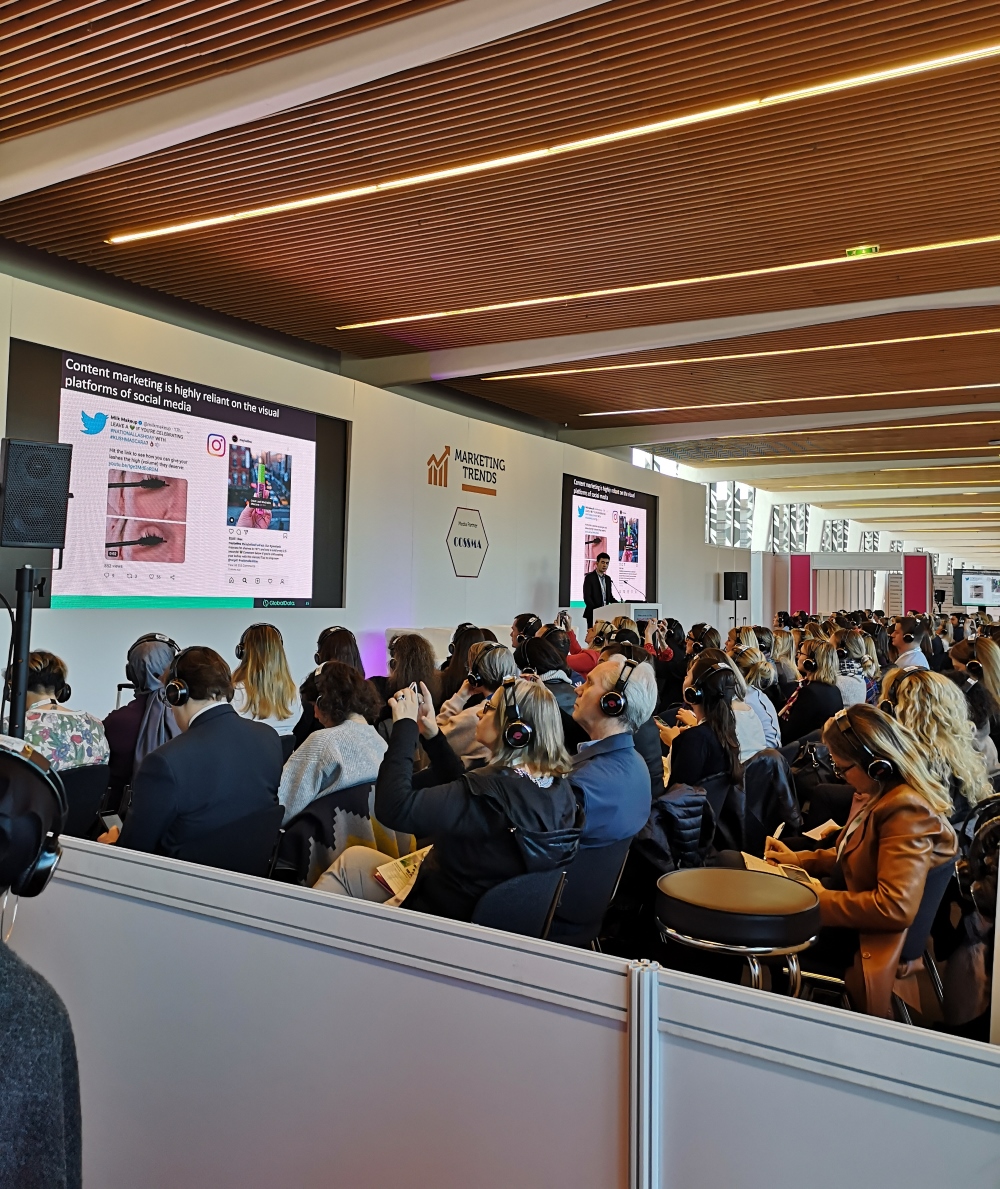 Presentations
German cosmetics trade magazine Cossma was the sponsor of the Marketing Theatre, a section of the trade show which offered presentations and lectures throughout the three days of In-Cosmetics Global. Most of the presentations were very well attended – booking a seat in advance is highly recommended! I attended a lecture on the topic of beauty and digitalisation which gave some interesting insights into not too distant future.
In-Cosmetics also featured a wide range of more technical and scientific presentations and lectures for trade show visitors from the research/development sector. The Technical Seminars focused on product formulations, preservatives, the sensory performance of cosmetics and other topics while the Formulation Lab seminars tackled the more practical applications of cosmetic ingredients.
Indie Beauty Trail
For the first time, In-Cosmetics Global offered an Indie Beauty Trail. The trade show organisers launched this initiative because the numbers of independent and niche beauty brands are constantly growing. The Indie Beauty Trail featured suppliers and manufacturers that cater to smaller and new brands, i.e. offering young brands the opportunity to purchase raw ingredients and cosmetic materials in smaller amounts, for a cosmetic production of 100 kg or less – not every raw ingredients manufacturer offers this kind of option.
Of course you need much more than just three days to fully explore all that In-Cosmetics has to offer… but presumably I wasn't the only visitor to feel that way 😉 . For me, In-Cosmetics is one of the most exciting trade shows around – and I feel that every time I visit the trade fair, I get a more thorough insight into the global beauty industry.
[Click here for more pictures and the original German article Auf der In-Cosmetics Global 2019 in Paris]