This is a translation of my German blogpost Hinter den Beauty-Kulissen… ProTec Ingredia GmbH Proudly Presents: Wie sich ProSpecieRara für Biodiversität engagiert. Enjoy!
In cooperation with ProTec Ingredia // "By the way, do you know ProSpecieRara?" asks biologist Esther Belser-Gisi during our conversation at the Buchs headquarters of Swiss raw ingredients manufacturer Mibelle Biochemistry. I have to shake my head although the name does seem familiar somehow… Esther is Mibelle's head of marketing and she thinks that I really should learn more about ProSpecieRara, a truly unique Swiss non-profit organisation. I completely agree and that is why in this chapter of our Beauty Soap we're taking an excursion into nature rather than the laboratory!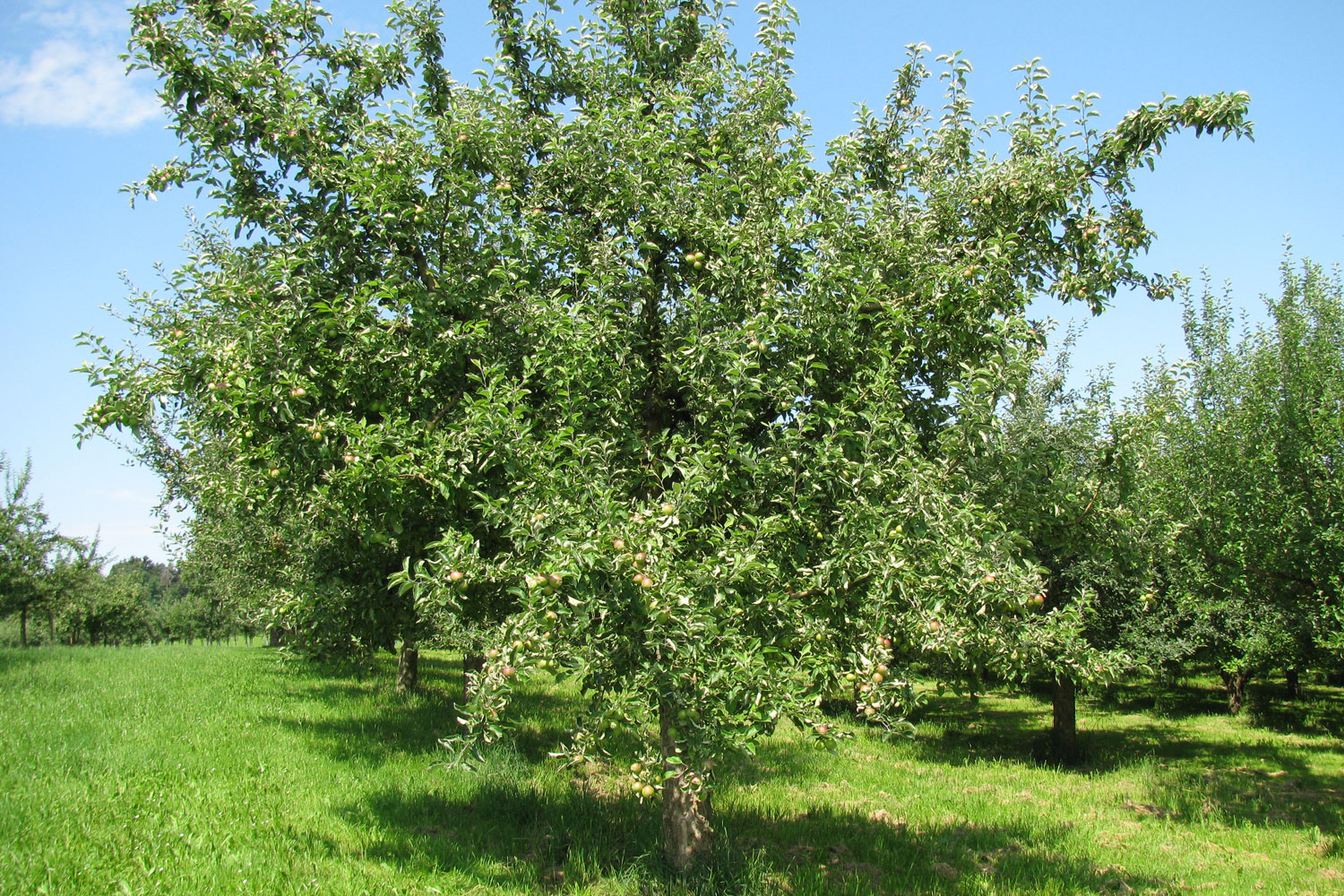 What ProSpecieRara does
"ProSpecieRara fights for the protection of old and hardy plant species and animal breeds", explains Esther. "Traditional animal breeds are much more resistant to illnesses and heirloom plant varieties need fewer pesticides and growth boosters during cultivation." Although the choice of fresh produce in the average Western European supermarket seems really large at first, you soon realise that it isn't.
Take apples, for example: most German supermarkets sell the same half dozen apple varieties. I still remember the fruit and vegetables that my grandparents grew in their garden; they cultivated traditional apple varieties which are very hard to find these days – if you're lucky you might be able to buy them at a local farmers' market, but that's pretty much it. These old-fashioned apples taste very different from the "normal" apples that are sold in the supermarkets. In my opinion, supermarket apples tend to focus on sweeter-tasting varieties rather than the more sour or aromatic apples. Esther agrees: "That's also what the food on our plates looks like – it's completely dominated by mainstream vegetables".
And this is why Swiss non-profit foundation ProSpecieRara was founded in 1982: to promote biodiversity by protecting endangered native crops and livestock. With the development of modern high-yield agriculture over the past decades, many traditional and regional plants and farm animal breeds have been supplanted by more mainstream varieties.
Today ProSpecieRara is the custodian of over 1.400 native Swiss garden plants and arable crops, 500 kinds of berries, 1.900 fruit varieties, 800 types of ornamental plants and 32 different livestock breeds. This would not have been possible without the foundation's large network of volunteers, home gardeners and private farmers. ProSpecieRara is supported by the Swiss Federal Office for Agriculture, other national foundations and various domestic companies. In 2011 a German subsidiary was established which primarily focuses on crop plants.
One of the key goals of ProSpecieRara is to ensure that everyone gets free access to the seeds and planting materials. Heirloom vegetables like the "Blaue St. Galler" potato or the "Baselbieter Röteli" tomato need to grow in as many gardens as possible so that these old varieties can flourish again. The resulting diversity in fruits and vegetables will also help to secure the base of our future nutrition.
The seed library of ProSpecieRara
In 1991 ProSpecieRara began building up a seed library. At the foundation's headquarters in Basel, seeds and planting materials from over 1.700 rare garden, field and ornamental plants are stored in a climate-controlled container. The constant temperature of 15°C combined with 15% humidity ensures that the seeds remain germinable. Some of the plant varieties are so rare that only around ten portions of germinable seeds exist – and a few plants are only represented by individual seeds. Private seed guardians and growers carefully cultivate these varieties in order to increase the available seed material.
For specific plant varieties ProSpecieRara initiates individual research projects – to explore rare species of potatoes, for example, or promote the cultivation of historical grape varieties or vineyard peaches. The foundation's website features a Diversity Map that shows exactly which plant or animal treasures are located where in Switzerland, and where you can buy ProSpecieRara's fruit and vegetables.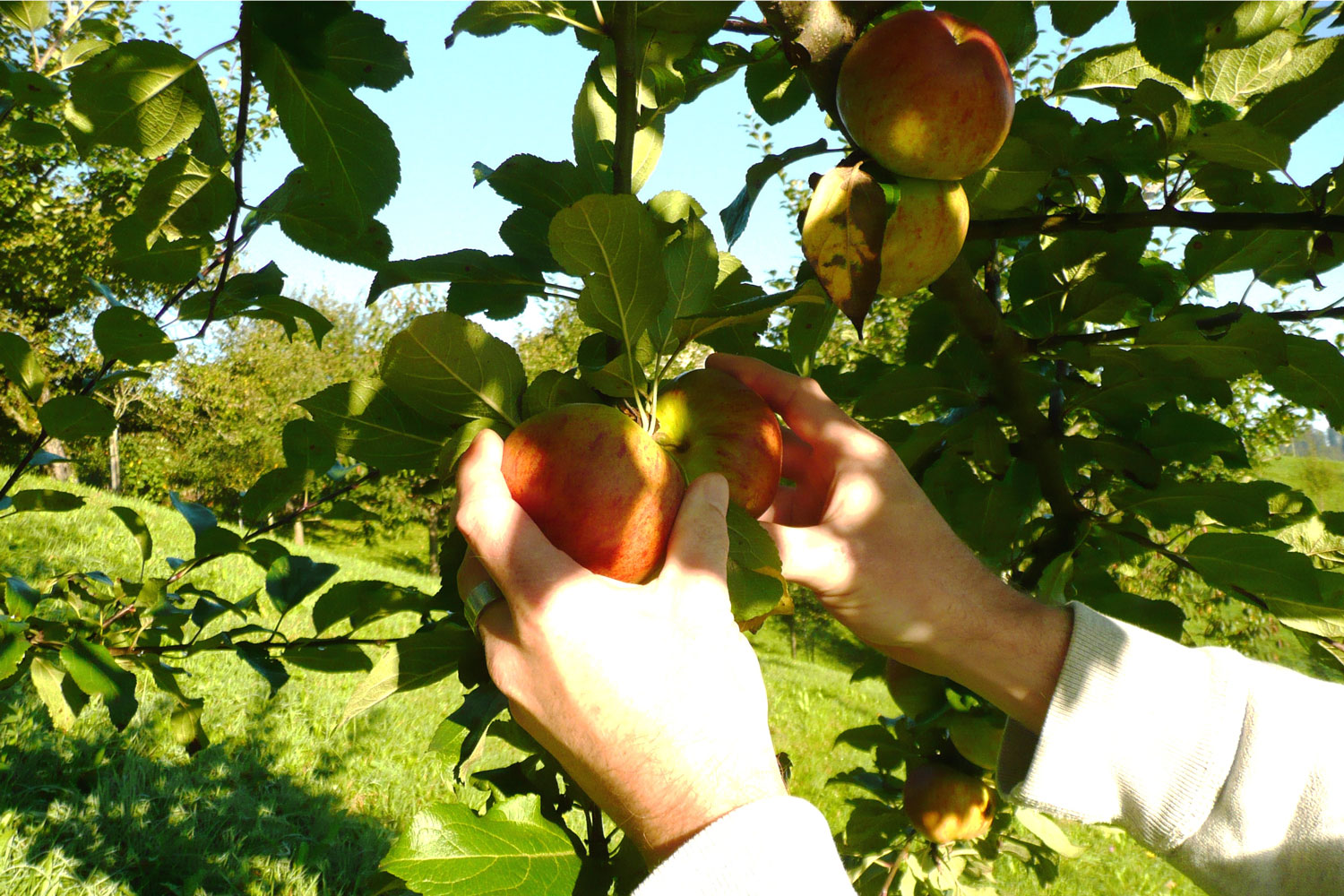 The "Uttwiler Spätlauber" apple
And now we're returning to Mibelle Biochemistry. One of the company's most famous active cosmetic ingredients is PhytoCellTec™ Malus Domestica, a stem cell extract derived from the rare Swiss apple variety "Uttwiler Spätlauber". This apple stem cell extract is produced in a sustainable cell culture which protects the natural resources. Thanks to the innovative technology developed by Mibelle Biochemistry the company only needs a little plant material to manufacture the high quality ingredient.
The "Uttwiler Spätlauber" is a Swiss apple (Malus domestica) from the mid-18th Century. This apple has an excellent shelf life, its skin remains smooth even after a long period of storage. The reason for this is the fruit's long-lived tissue stem cells as well as the overall high percentage of secondary plant substances and proteins. However, the sour taste of the "Uttwiler Spätlauber" isn't particularly popular these days (which I personally regret because I love the more sour apple varieties!). As a result this apple variety was cultivated less and less and it has now almost disappeared.
ProSpecieRara also lists the "Uttwiler Spätlauber" on its website and you can find more information on this remarkable apple there (the info is available in German, French and Italian). The name roughly translates as "late foliage apple from Uttwil" and refers to the fact that this apple variety is quite literally a late bloomer – the apple trees start budding in very late spring and then lose their foliage in late autumn.
The specific properties of this rare apple make it particularly suitable for the PhytoCellTec™ Malus Domestica complex from MibelleBiochemistry. The apple stem cell extract helps older skin cells to grow new tissue, increases skin density and boosts the vitality of the epidermal stem cells. It's the perfect ingredient for an eye cream, for example, because the delicate eye area tends to develop lines and wrinkles quite early on.
Black bees
However, ProSpecieRara doesn't just protect rare plants but also endangered native animal species, like the Black Bee (a sub-species of the Western honey bee) whose honey forms the base of Mibelle Biochemistry's Black BeeOme™ ingredient complex.
Apis melliferamellifera (which is also called European Dark Bee) might not be the high-performance honey bee that modern apiculture demands, but it is a gentle and highly resistant animal. After the last Ice Age the Dark Bee settled north of the Alps but was then slowly crowded out by "normal" honey bees and consequently became an endangered species.
Today you can find the Black Bee only in a few protected regions which are usually located in remote Swiss mountain valleys – the picture above shows a small bee house in the Swiss Münstertal region. More information on the Dark Bee is available on the ProSpecieRara website. It is such an interesting creature: thanks to its dark colouring this bee can warm itself up very quickly once it's been exposed to the sun, and can therefore survive colder temperatures.
Because Mibelle Biochemistry is using the valuable honey of the Dark Bee in the production of its active ingredient Black BeeOme™, the company supports the preservation of this rare bee species. The honey is used as a fermented extract and helps to regenerate the skin's microbiome after washing. It also strengthens the skin's barrier. As part of a sheet mask serum Black BeeOme™ helps to regulate the skin's sebum production and minimises redness so that skin looks more even-toned and clear.
All pictures: Copyright Mibelle Biochemistry
After this excursion into the remote Swiss mountain side the next chapter of our beauty journey will take us back to ProTec Ingredia – I will be learning more about how the company operates in the current circumstances. It'll be an exciting glance into the day-to-day work of the cosmetics industry!