This is a translation of my German blogpost Hinter den Beauty-Kulissen… ProTec Ingredia GmbH Proudly Presents: Beauty-Trends auf der In-Cosmetics Global 2022 in Paris. Enjoy!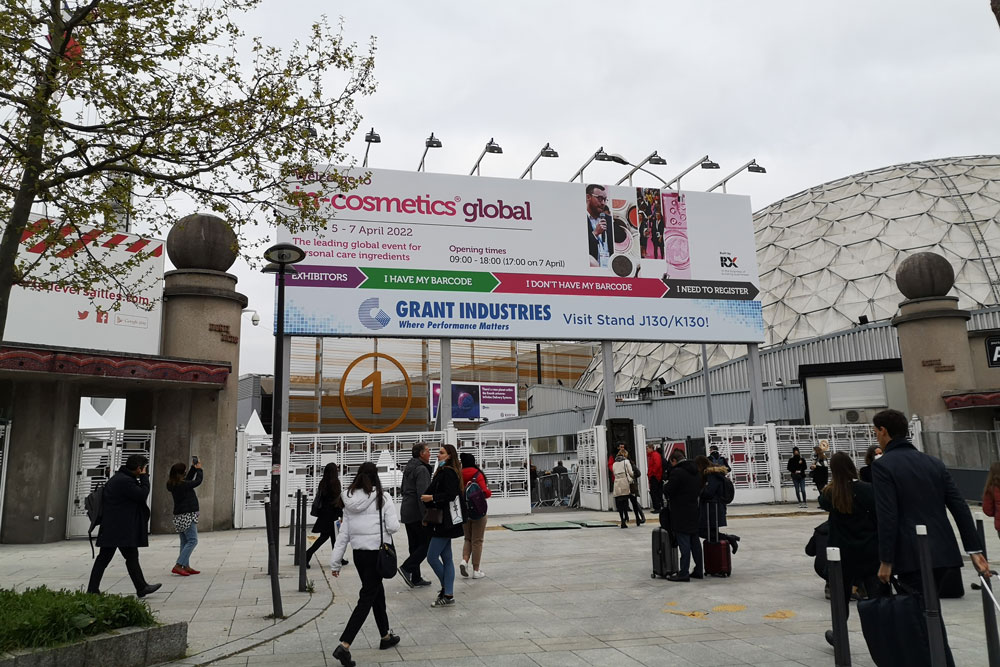 In cooperation with ProTec Ingredia // In-Cosmetics Global is back! For the last two years, this international raw ingredients trade show had been cancelled because of the pandemic. I really missed In-Cosmetics, it's one of my favourite trade fairs – this is where you can truly immerse yourself in the cosmetics industry and catch an exciting preview of future beauty trends. This year's event took place from 5th to 7th April 2022 in Paris. It was a busy show, with sustainability in all of its many facets as the key topic. Join me now for a virtual walk around the trade fair and check out the trends that I discovered.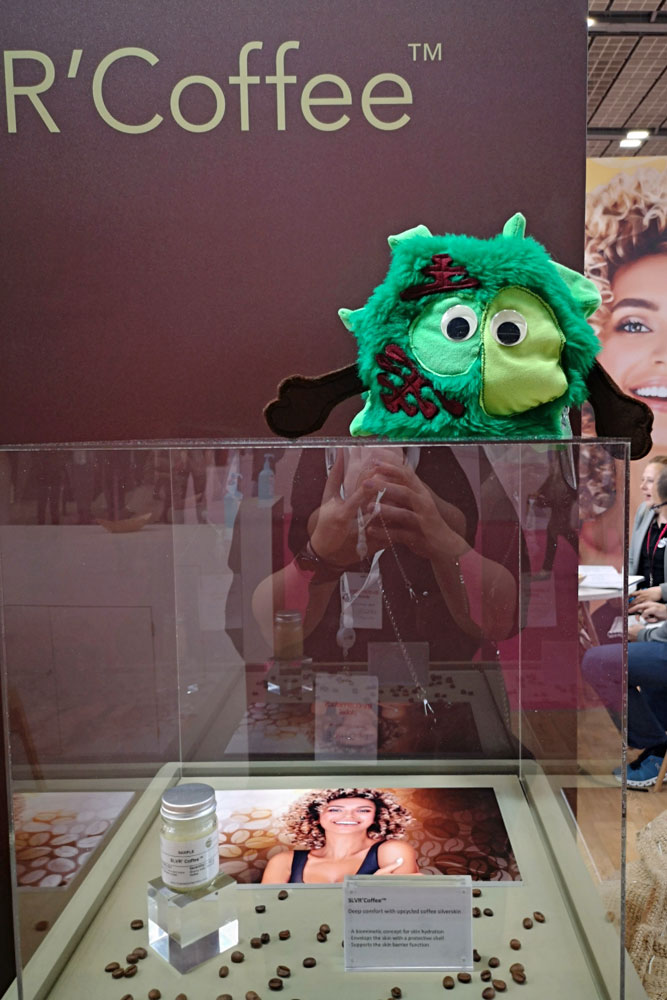 The exhibition booth of Swiss active ingredients manufacturer Mibelle Biochemistry was located directly opposite the main entrance of In-Cosmetics. And whom did I see sitting on a showcase at the booth? It was McCell, the popular Mibelle mascot which I introduced in this Beauty Soap chapter here. The plush green plant cell was greeting the visitors and immediately drew my attention to one of Mibelle Biochemistry's new active ingredients.
Trend No 1: Upcycling Beauty
In the picture above you can see the raw material for SLVR'Coffee™ from Mibelle Biochemistry: It's the delicate skin which protects coffee beans, a by-product of the bean roasting process. It is estimated that each year, 200-400 million kilograms of this so-called coffee silver skin is generated by the global coffee industry. Mibelle Biochemistry is using this under-valued natural resource as the base for its new biomimetic upcycling ingredient. SLVR'Coffee™ protects the skin barrier, has an anti-inflammatory effect and helps the skin retain moisture – ideal for sensitive skin conditions.
In fact, 'Upcycling Beauty' was a major topic at In-Cosmetics: Raw ingredients produced from food industry waste will soon appear in many beauty products. I also saw a cosmetic silicone at one of the exhibitor booths that was manufactured from left-over silicone forms. More and more companies are beginning to establish a circular system which continuously uses resources rather than wasting them.
Trend No 2: The many aspects of sustainability
A visit to the Sustainability Corner section of In-Cosmetics showed the many different aspects of this deceptively simple concept. Today, approaches to sustainability are going far beyond just highlighting the natural origin of an ingredient. The goal is to establish a more comprehensive definition of sustainability that embraces the complete life cycle of a cosmetic product.
This means that the entire production process, from the sourcing and manufacturing of the raw ingredients to the production of beauty products, their application and eventual biodegradability must take place in a way that conserves the environmental resources as much as possible. Other crucial factors in this larger view of sustainability also include longer-term environmental protection and fair working and trading conditions.
Trend No 3: Supply chain transparency
Supply chain transparency is closely connected with the concept of sustainability. New technologies are allowing companies to trace the entire supply chain of a raw ingredient, from its source to the final usage in a cosmetic formula. This transparency is important for both manufacturers and consumers who these days are much more interested in where their beauty product comes from. This new approach is combining ecology and digital technologies (like blockchain or apps) and delivers an end result that has little to do with dusty, old ecology stereotypes.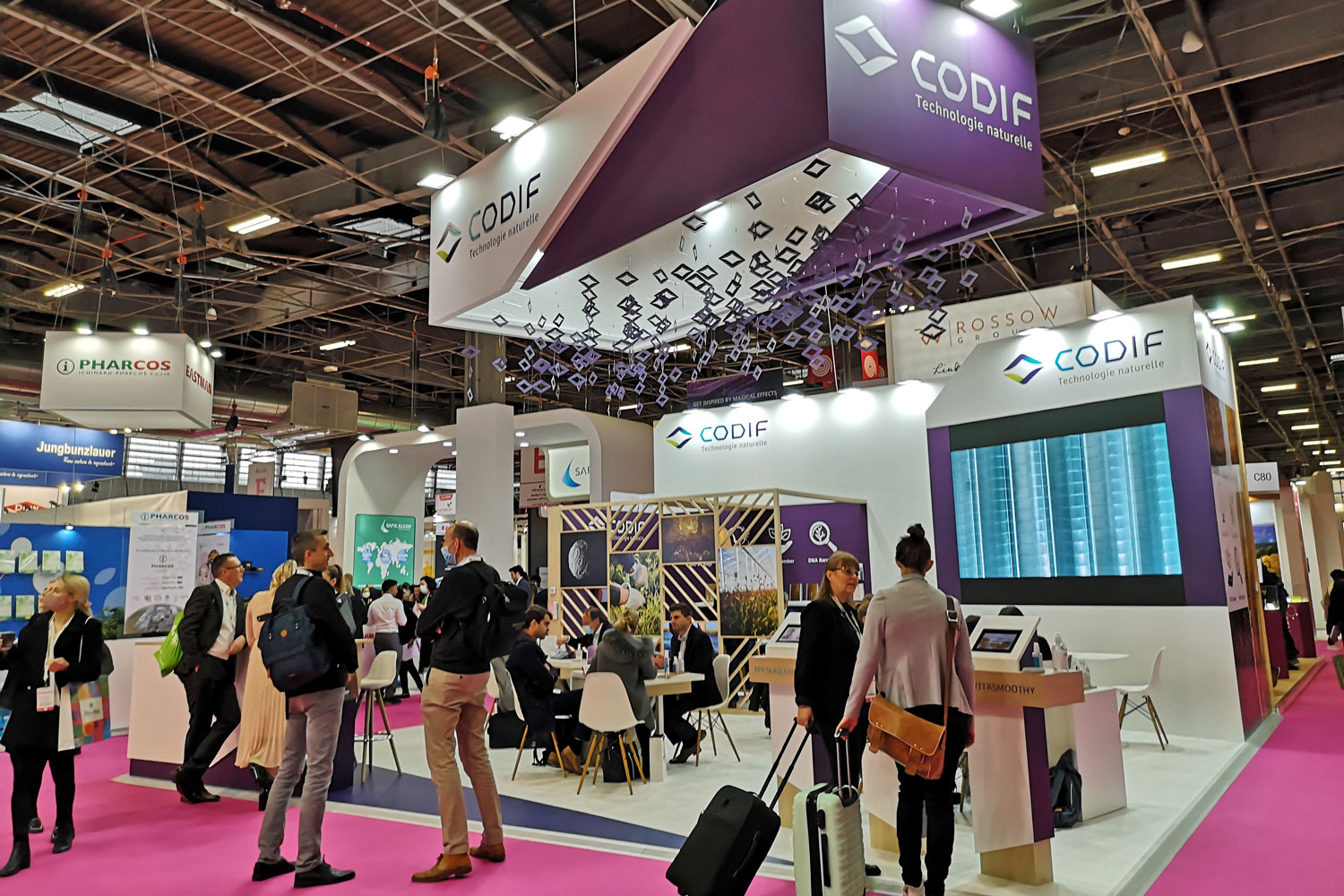 Trend No 4: Biotechnology
Biotechnology also played an important role at In-Cosmetics. Marine ingredients manufacturer Codif has been researching and using biotechnological methods in its ingredient manufacturing for a while, to preserve natural resources during the production processes. The company has even coined a term for this symbiosis of biotechnology and ecology: "Bioth-Ecology" is taking nature as its example. If Codif wants to manufacture an ingredient its scientists take a small portion of plant material (like an alga) – just this one time – and then cultivate the plant in a biobank. That way, a tiny sample of plant material is enough to produce a large amount of the active ingredient. If you want to find out more about the sustainable principle of Bioth-Ecology check out my article here.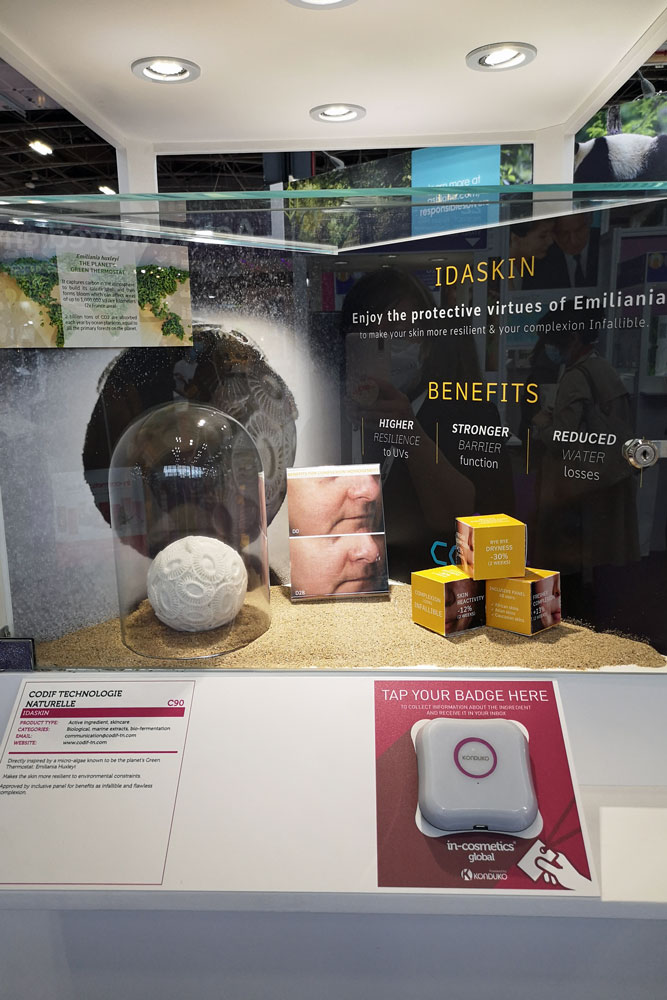 At In-Cosmetics, Codif presented its new ingredient Idaskin which is based on this innovative biotechnological process. The single-cell micro alga Emiliana huxleyi is cultivated in a bioreactor. This alga has an unusual mechanism to protect itself: It forms a calcite layer which absorbs large amounts of CO2 from the atmosphere – one of the reasons why these algae are also called "the green lung of the planet". Their resilience and resistance to stress come from the algae's extraordinary genetic adaptability. These mechanisms inspired Codif to use Emiliana huxleyi in a cosmetic active: Idaskin strengthens the skin's own defensive mechanisms and cell vitality and helps to more quickly regenerate the skin barrier after the impact of external stress factors such as UV radiation.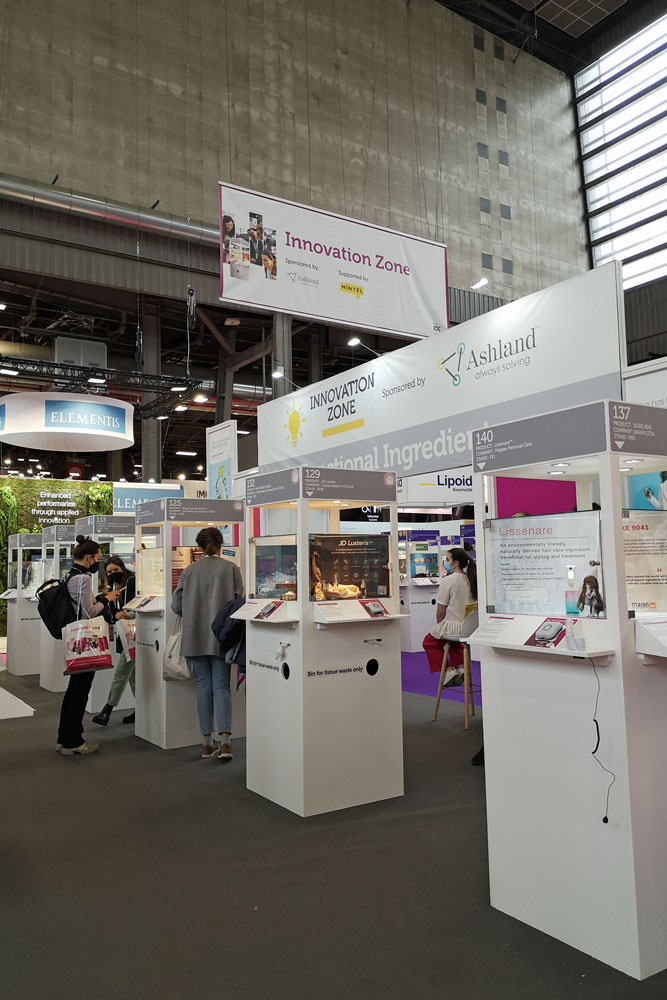 Trend 4: Natural alternatives for synthetic ingredients

In the Innovation Zone at In-Cosmetics I noticed several raw ingredients which were described as natural replacements for synthetics, like ingredients developed from natural resources that duplicate the properties of silicones, cationic filming agents or mineral oils. Companies also presented new plant-based colourants or alternatives to titanium dioxide.
However, there were also interesting plant-based alternatives to synthetic active ingredients. A good example is NovoRetin™ from Mibelle Biochemistry which can be compared to retinol. However, Mibelle's active ingredient is much gentler on the skin than retinol and won't lead to irritation. NovoRetin™ boosts the amount of naturally occurring retinoic acid in the skin which has a retinol-like effect: It increases elasticity and density, refines pores and visibly smoothes out wrinkles. NovoRetin™ is manufactured from mastic gum, an aromatic resin from trees that only grow on the Greek island of Chios.
I hope you enjoyed our virtual walk around In-Cosmetics 2022! I'm already looking forward to next year's show which will take place in Barcelona, Spain – and I'm excited to see how the sustainability-related trends I outlined above will continue to develop.
In Germany, trade customers can purchase the cosmetic ingredients from Codif and Mibelle Biochemistry from German distributor ProTec Ingredia.
In the next Chapter of my Beauty Soap, we'll be talking about the INCI, i.e. the International Nomenclature of Cosmetic Ingredients: What can the ingredients listed on your beauty product tell you – and what can't they?