Dear international readers of Beautyjagd,
Welcome to the next English-language edition of Beautyjagd! This is a condensed version of the most important articles that have appeared on my blog over the last few weeks. For more information about this format, click here. And now: enjoy the best of Beautyjagd in English!
Best wishes
Julia

My minimalistic beauty routine with Angel Minerals
As much as I love trying out new beauty products, sometimes I just want to slow things down; go more minimalistic in my daily skin care routine and focus on a few selected products. When Karin Hunkel from mineral makeup brand Angel Minerals sent me a new product set back in January, I decided to devote a whole post to the topic of minimalist skin care. And I must say that I really enjoy using a few products only – a hydrosol and a good facial oil, then a mineral foundation and perhaps a little powder in my t-zone and that's it!
If you have sensitive skin it can be helpful to use products with simple ingredients rather than complicated product formulae. Although I don't have sensitive skin myself, I do feel that my skin has become calmer, clearer and more balanced since I started to use floral hydrosols and plant oils. Every person's skin is different, of course; and individual hormone levels and nutrition play an important role in skin health. However, reducing the number of ingredients that you apply to your skin can be a good way of finding a product combination which hydrates and nourishes without stressing or overloading the skin with too many ingredients.
So, what does my minimalistic skin care routine look like when I decide to take a break from testing new products? First I spray a hydrosol on my face. I currently use the linden blossom water from La Rivière des Aromes (a French artisan beauty brand; I brought the hydrosol back from a recent trip to France). Then I apply a few drops of Angel Mineral's new argan oil to the skin. After around ten minutes the oil has been completely absorbed and my skin feels beautifully soft!
And this is the perfect canvas for a loose mineral foundation – you only need a little foundation to even out the skin tone and you can barely feel the light layer of powder. Take the mineral foundation from Angel Minerals, for example; I am wearing shade #3 Champagner Neutral. The foundation evens out the teint and I only need a little Poudre Libre Dermophile from T.Leclerc in shade Chair Ocrée (which I also brought back from France; I wrote about the Poudre Dermophile here) on my t-zone. And my day makeup is finished! If you like you can use a soft blusher to contour the cheeks.
Face oils are a really good base for mineral foundations – I found that out when I started to explore mineral foundations around four years ago. This is also the product concept of Angel Minerals' new Together-Set which offers a bottle of pure argan face oil and a small jar of Mineral Powder.
The argan oil is sourced from a Fair Trade women's cooperative in Morocco; it is cold-pressed and undeodorised. This means that the oil has the classic nutty argan oil scent – however, the fragrance doesn't linger and once the oil is absorbed into my skin I can't detect the scent any more. Argan oil contains linoleic acid and oleic acid so it is protective and nourishing. An important secondary plant ingredient is schottenol which has anti-oxidant and cell-stimulating properties. Usually I apply the mineral foundation (with a kabuki brush) around ten minutes after the argan oil. You can also blend a few drops of oil with a little mineral powder. Angel Mineral's foundation is vegan and certified organic by ICADA.
Karin Hunkel is a trained colour consultant so she has divided the 16 Angel Minerals foundation colours into four different "skin types" – Super Light, Light, Medium and Dark. Each colour family offers four shades; the shade names are tagged with "warm", "cold" or "neutral" and the corresponding seasonal colour type. My own shade, Champagner Neutral, is suitable for light and neutral skin tones and spring, summer, autumn and winter types. The finish of the foundation is satinised and the coverage is light to medium, depending on how layers you apply.
Each of the four new Together-Sets from Angel Minerals includes a flacon with 50ml argan oil (with pump dispenser) and a jar of mineral foundation (with a lockable sieve) in one of the four "skin type" colours. The sets are priced at 24.90 Euro each.
[Click here for more pictures and the original German article Meine minimalistische Teint-Routine mit Angel Minerals]
Beauty Postcard 12: Helixium Serum by Skinature
How cool – today I received a Beauty Postcard myself; sort of a reply to my Beauty Postcard article series about special organic beauty products! You already know the writer of this Postcard, she translates my blog articles into English: Annika from Trend-Trendtraveller. Have fun reading the postcard; I am off to Vivaness trade show today!
*
Dear Julia,
thank you so much for sending me your press sample of the Helixium Snail Serum – you know how much I love snail cosmetics! I noticed Helixium for the first time at Vivaness 2015 – after all, there are still not that many European snail beauty brands around! This year Skinature (the Spanish company behind Helixium) will be at the trade show again; I'm looking forward to seeing the brand's new product launches. But back to the serum! It is packaged in a 30ml glossy-white glass flacon, the silver-coloured lid includes a glass dropper. A compact and elegant bottle design. The Helixium serum is based on organic elderflower water, alcohol, organic snail secretion filtrate, organic oat extract and organic royal jelly. Another key ingredient is sechium edule extract. This plant is also called "chayote"; it belongs to the gourd family and is a close relative to pumpkin, zucchini and cucumber. Originally from the tropical/subtropical regions, sechium edule is rich in amino acids (thank you, Wikipedia!). The Helixium serum is certified organic by Ecocert/Cosmos.
Snail slime contains high percentages of vitamins, hyaluronic acid, glycolic acid and allantoin; it has healing and regenerating properties, boosts collagen production in the skin and even has an anti-bacterial effect. Before the snail mucus is used in cosmetic products it is processed – but of course you already know that snail cosmetics do not include freshly-squeezed snail slime! 😉 The snail secretation filtrate in Helixium's product is manufactured sustainably and cruelty-free: the company's homepage states that the snail slime is extracted manually from each individual snail with a little cottonwool stick. The slime is then filtered and processed and this is how you get the active ingredient "snail secretation filtrate".
I use the serum in the evening; we have so many temperature changes in Berlin at the moment that I am very much into the whole layering thing! I cleanse my face, spray on a toner and then apply the serum. Usually I am a total overuser as far as cosmetics are concerned – I always tend to use too much rather than too little! – but the Helixium serum has such a good texture that I only need a small amount (around half a dropper full). The transparent-milky-white serum is really easy to apply; it is liquid but not too liquid and has a subtle fruity fragrance. It is absorbed really quickly and my skin feels beautifully smooth afterwards. However, as it is winter time at the moment I need an additional moisturising layer on top (usually I blend some aloe vera gel with a face oil). I've been using the serum for around three weeks now and my skin really likes it. I think I'll buy it myself once the bottle you sent me is finished.
Thanks again for letting me try out the serum! I have also just realised that this text is much longer than your usual Beauty Postcards; it's turned into a sort of beauty letter…
Lots of love,
Annika
PS: I googled Helixium retailers but so far I've only found one German online store that sells Helixium products: Silberstab.de. At Silberstab the serum costs 36.90 Euro for 30ml. The German Helixium website doesn't offer a shop function. However, perhaps the brand will be listed by other online stores after this year's Vivaness. That'd be very cool!
[Click here for more pictures and the original German article Postkarte 12: Helixium Serum by Skinature]

Organic Beauty News from Vivaness 2017
One of the most important annual trade show dates for me is Vivaness, Europe's biggest organic beauty trade show. Vivaness takes place in Nuremberg each February, together with Biofach (the world's most important organic food show). Attending Vivaness means four days of non-stop activity: walking around the trade show halls, talking to people, checking out new launches, taking pictures and making notes. There are back to back appointments and meetings with exhibitors, brands and companies; I also attended a blogger meeting and participated in a panel discussion.
This year's Vivaness was particularly exhausting: not just because there were so many cool new product launches but also because my voice gave out completely by Saturday lunch-time and I had to go home; I could barely whisper! I guess I talked too much on the previous three days 😉 . On Sunday my voice problem mutated into a really bad head cold plus fever; just what you need after an important trade show… Still, at least I managed to get my notes, photos, products and samples organised, so here is my annual review of the show's most interesting new launches. This article focuses on the bigger companies and mainstream labels. Next week I'll be posting another Vivaness article which will highlight some interesting niche brands and newcomers. And here we go!
Let's start with two new products by German beauty brand Santaverde: the limited edition Aloe Vera Body Serum and the Fragrance-free Aloe Vera Hydro Repair Gel. The classic Aloe Vera Hydro Repair Gel is one of Santaverde's bestsellers and the brand has now launched a fragrance-free version. The Body Serum has a refreshing, zesty fragrance and a gel texture which is absorbed almost immediately! Perfect for spring-time 😉 . The Firming Mask and Shower Gel, on the other hand, will leave Santaverde's product portfolio.
Finally French brand Cattier's skin care range for sensitive skin has arrived in Germany (so far the products were available only in France)! The product range offers a soothing day cream, a micellar cleansing gel and a Korean-style Sleeping Cream. Pretty innovative products! All three products contain pink mineralising clay so the textures are tinted a subtle rosé colour.
One of my personal Vivaness highlights was the relaunched colour cosmetics range from German brand Dr. Hauschka. The black packaging looks really stylish; there are over 80 new products which look interesting: duo blushers, highly-pigmented lipsticks, high-coverage concealers, a colour correcting powder… In Germany, the new makeup products will be launched on 1st March. There is also a new Regeneration Hand Balm.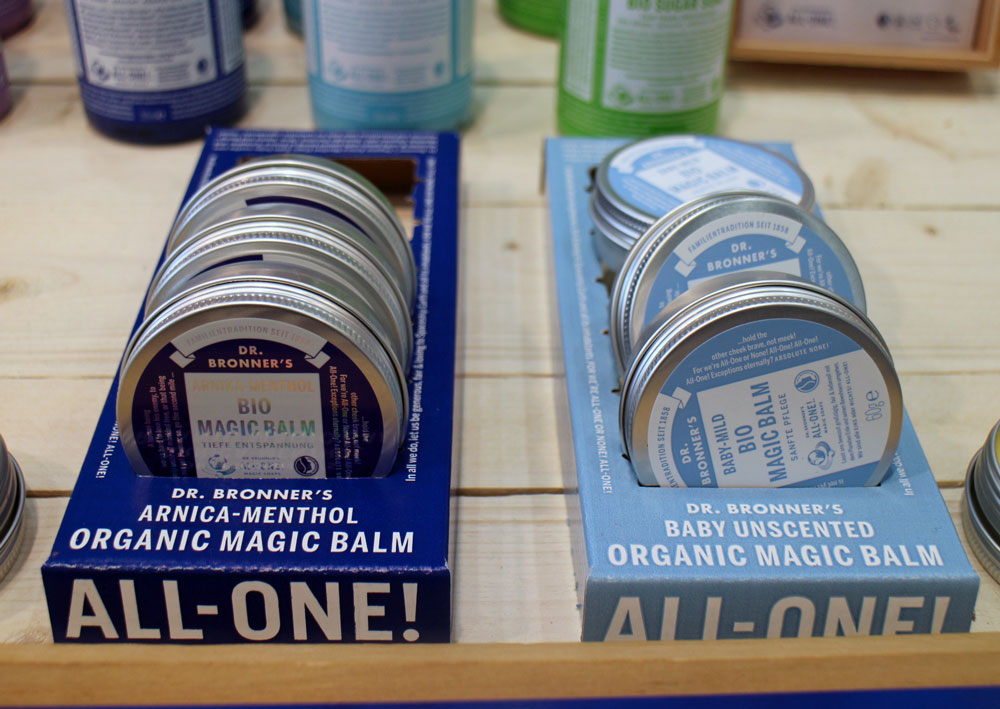 US brand Dr. Bronner's presented two Bio Magic Balms: These balms used to be available in small rectangular jars. The relaunched products are packaged in large round aluminium tins; I was fascinated by the holographic product sticker on the Arnica-Menthol Balm (left-hand side of the picture) which is described as a softer kind of oriental Tiger Balm.
German brand Speick introduced a whole range of new products, such as the Thermal Sensitiv Micellar Water (on the right hand side of the photo), the Thermal Sensitive Hyaluronic Serum and the Body Lotion Organic 3.0 (there is already a Shower Gel Organic 3.0). The new launches also included two new body lotions in the Men Active and Natural Aktiv ranges and four new oil-based bar soaps.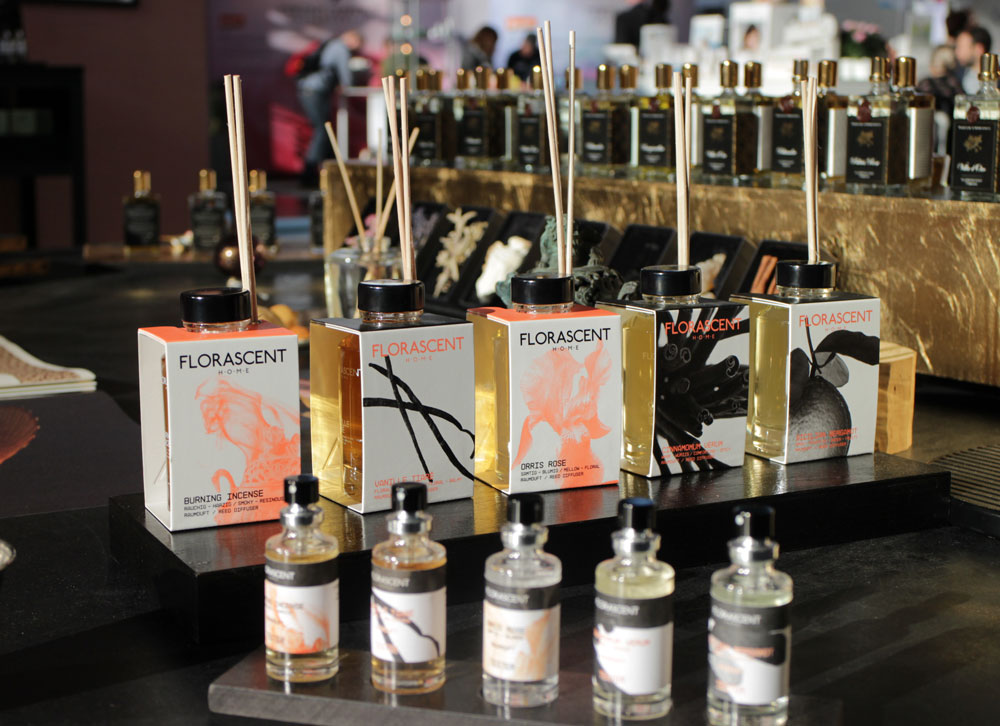 As I was visiting the booth of German artisan fragrance brand Florascent the sun came out and the trade show hall was flooded with natural light. So I quickly took a picture of the new five-sku room fragrance range The Cubes. Not only do they look stylish but they also smell nice: there is Sicilian Bergamot, Orris Rose, Vanille Tiaré, Burning Incense and Cinnamon Verum. I was also impressed by Florascent's new men's perfume Le Mec – I'll write about this stunning new fragrance in more detail soon!
German Demeter brand Martina Gebhardt has launched an Eye Care Fluid which is a lighter version of the company's bestselling Eye Care Cream. The fluid is light yet moisturising; I'd recommend it for morning skin care.
German aromatherapy brand Primavera's new launches were dedicated to the topic of Yoga: the brand's new Yoga Mat Spray immediately won the Vivaness Best New Product Award; the range also offers a Roll-On and the fragrance blend Yoga-Flow. The new gift sets are also pretty cool; one of them includes a lavender cushion for the eye area – I bet that's gonna be a bestseller!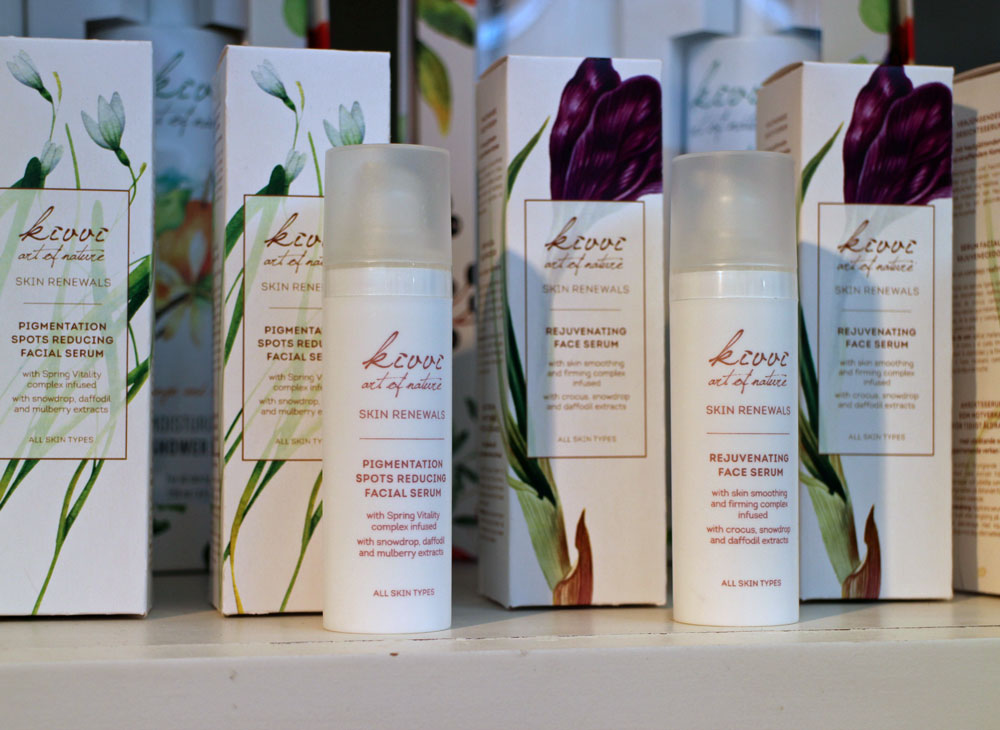 This May, Latvian brand Kivvi will launch the Skin Renewals range which is aimed at more mature skin types. Two of the new serums were already presented at the trade show (one of these is against hyperpigmentation); the new range will also include an eye cream, an AHA peeling and a toner. I can't wait to see the new range!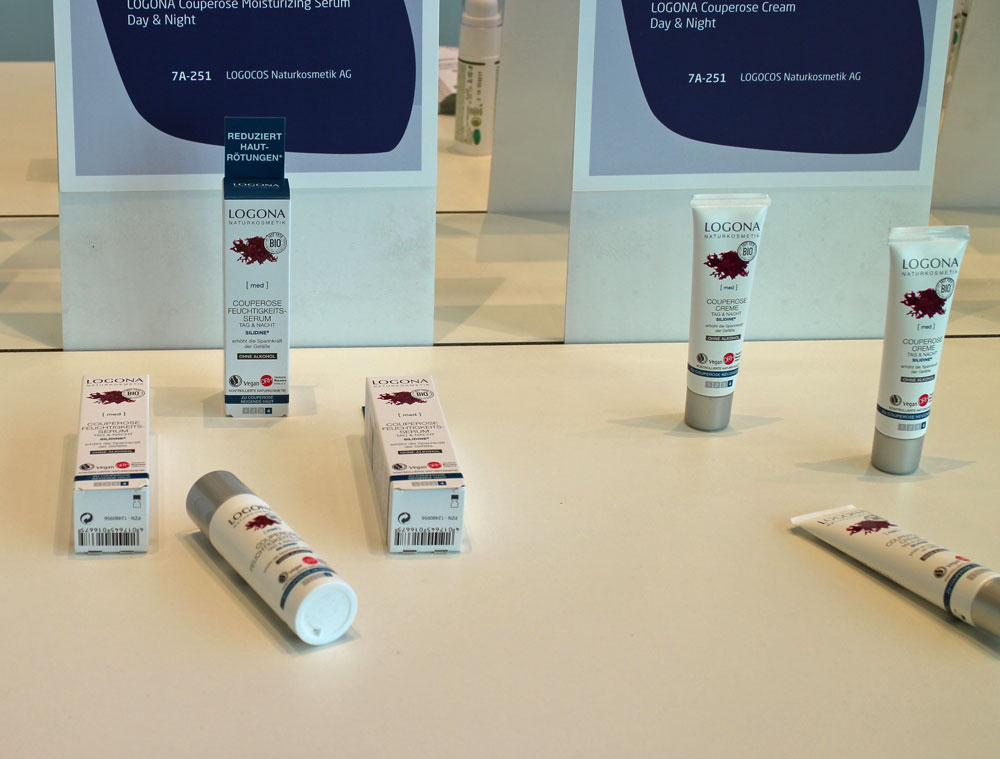 German brand Logona presented a whole clutch of new products, including a two-part range for couperose skin (the products are formulated without alcohol and fragrance); a face oil, an Anti-Tiredness Fluid and a Vitamin Cream.
At the exhibition booth of German fragrance brand Baldini by Taoasis I sampled the new Demeter-certified room fragrance sprays Feel Strength, Feel Quietness and Feel Joy. The fragrance set Dufte Schule (Fragrance School) is packaged in a pretty metal jar which contains the fragrance blend and a fragrance dispenser stone. The Baldini Yoga Fragrance set also looked good.
One of the most eagerly-discussed launches at this year's Vivaness was the new Birkenstock Naturals brand. In autumn 2017, the manufacturer of the famous German sandals will launch a 28-sku beauty range with face care, body care and foot care products. The key ingredient is Suberin which is derived from cork oak (to match the cork soles of the classic Birkenstock shoes). Most of the Birkenstock Naturals products are refillable; the packaging also includes cork (the lower parts of the bottles and jars are made from this material). I tried out a few products at the trade show – the textures felt pleasant and quite high-end. The entire range is manufactured in Germany and the products are certified by BDIH/Cosmos.
German brand Luvos presented the Akut Med-Serum, a product which was developed for dry and irritated skin; it is also suitable for skin suffering from neurodermatitis. Like all Luvos products, the new serum contains healing clay plus other soothing and moisturising plant ingredients.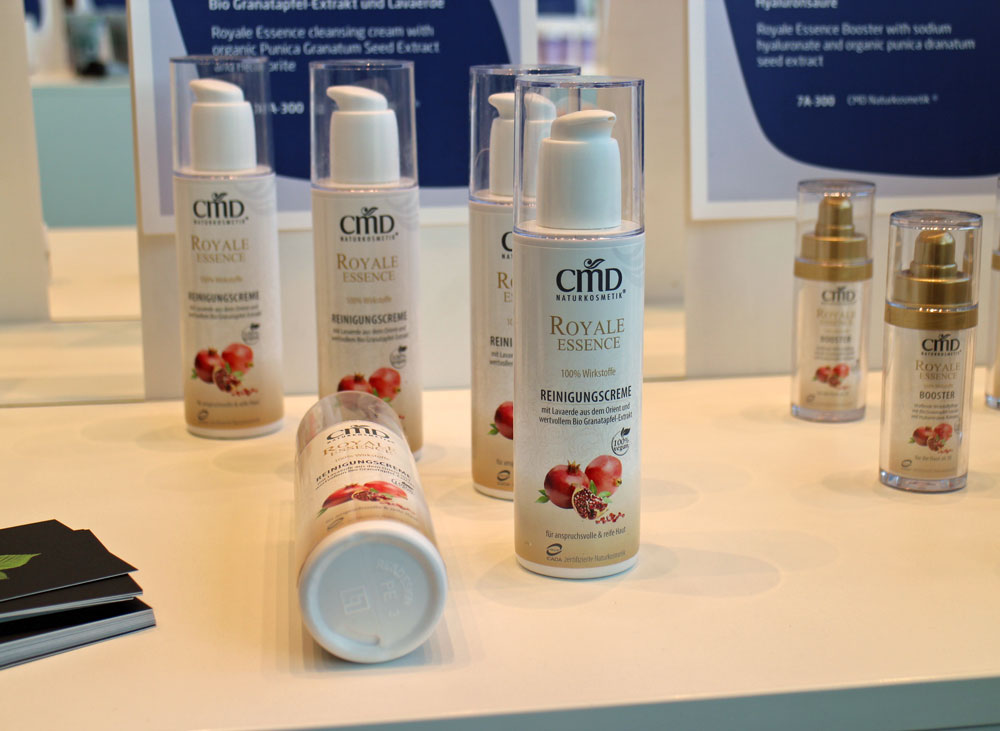 German brand CMD extended its Royale Essence range for mature skin. The line-up used to comprise a face oil only; now there is a cleansing cream, a booster, a moisturising fluid and a 24 hour nourishing cream.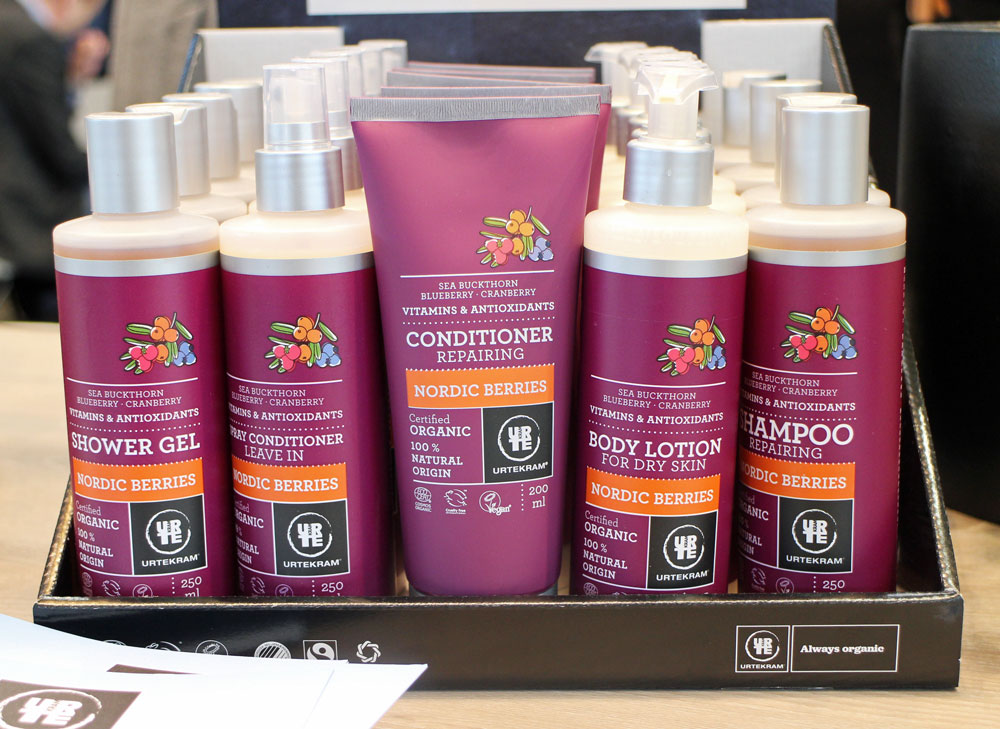 Danish brand Urtekram displayed its new product range Nordic Berries which offers a shower gel, a body lotion, two conditioners and a shampoo.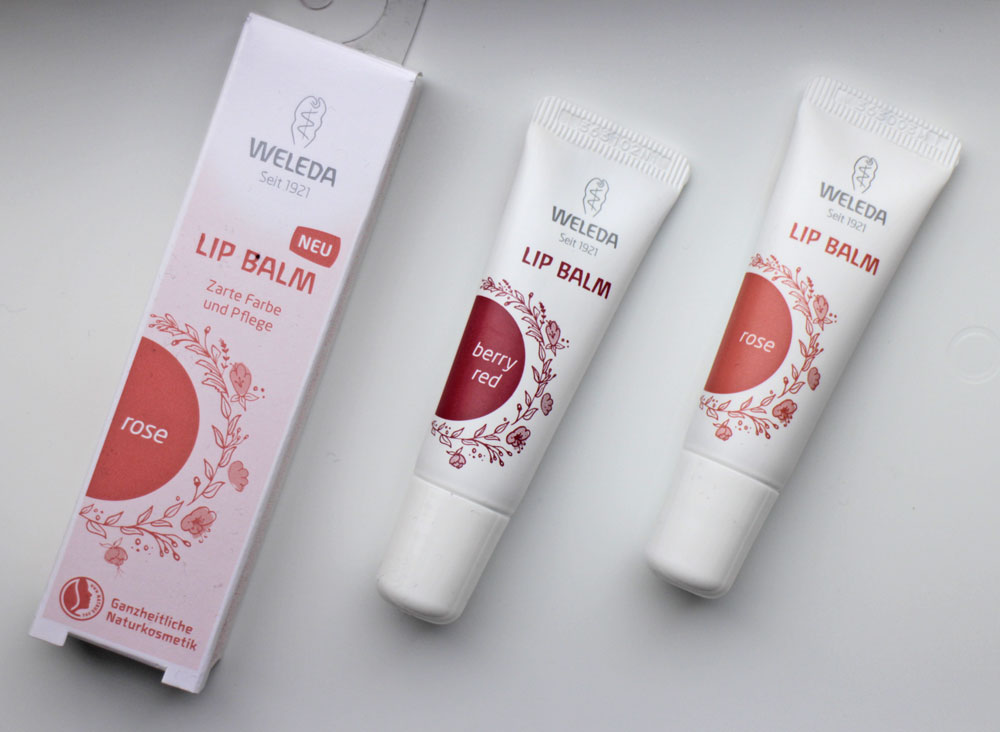 At the booth of German brand Weleda I discovered three Tinted Lip Balms in Nude, Rose and Berry Red; they are packaged in little tubes. The company has also launched several new children's bath and hair care products and the Pomegranate Deodorant Roll-On.
German manufacturer Walter Schoenenberger launched two new hair care products which looked really interesting: the Leichtkämm (Easy Combing) Shampoo and Leichtkämm Emulsion, a leave-in conditioner. I particularly liked the soothing fragrance of lavender and vanilla – so relaxing!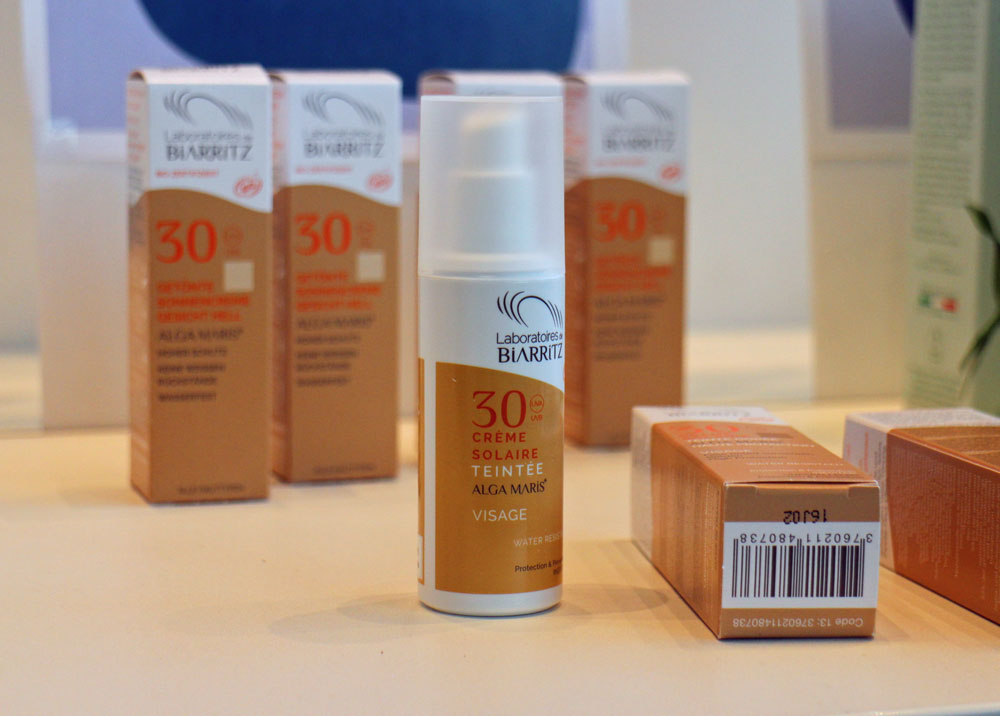 Sun care brand Laboratoires de Biarritz / Algamaris from France introduced a Tinted Sun Cream SPF30 for the face in two different shades (light and medium). The texture practically melts into the skin; I can't wait until summer is here! The company also relaunched its Lip Balm SPF30 – and have I mentioned already how amazing the summery fragrance of the new Dry Oil is…?
They're finally here: US brand Burt's Bees' lipsticks are coming to Europe! The 12-sku lipstick range has been available in the US and Japan for years; now they will finally be introduced in Germany. The lipsticks have smooth, supple texture; I love the summery shade Sunset Cruise (which I bought in Japan).
French brand Acorelle also launched a whole range of new products: there are two tinted day creams with SPF30 and SPF50 (the SPF50 cream is fragrance-free and in a lighter shade), four new stick deodorants based on baking soda (yay!) and the skin care range Anti-Repousse which contains an ingredient that is said to slow down the growth of face and body hair.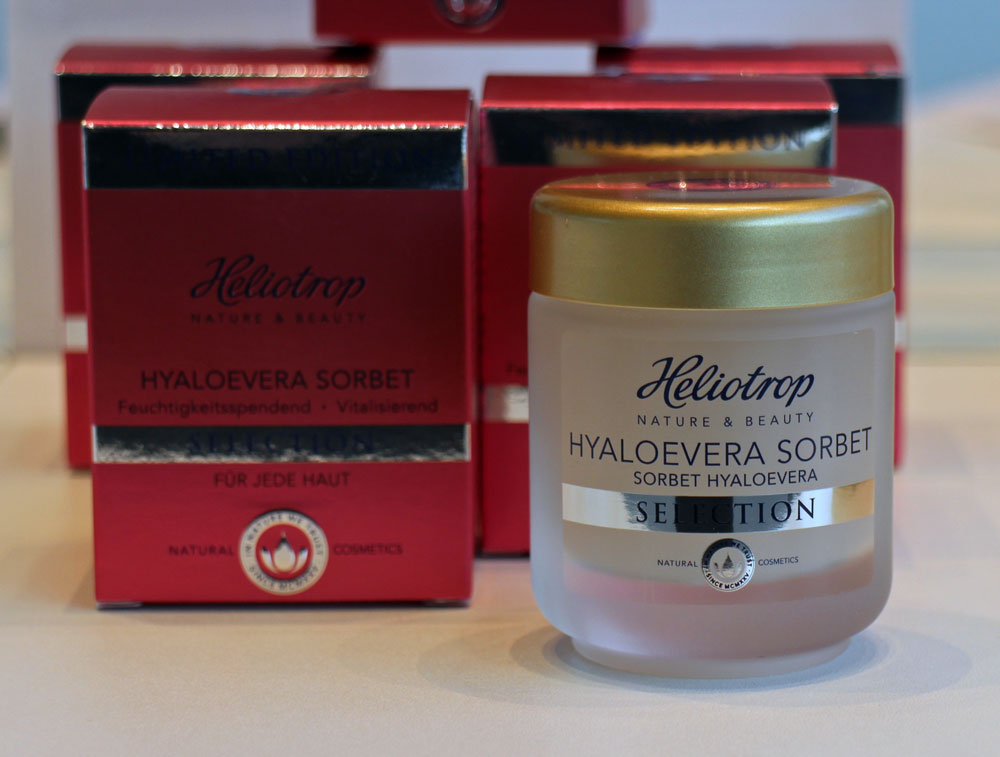 I also noticed the new Hyaloevera Sorbet from German brand Heliotrop. Heliotrop is a very traditional brand so I was a little surprised that they would launch such an innovative product 😉 . In Asia these hydrating sorbet textures are very popular. Unfortunately I didn't get a chance to test the product at the trade show (I had to leave Vivaness early on Saturday because my voice was completely gone).
Ok, Amo como soy is really a young niche brand but I will still include it in this post because they also have a new product launch: the Repair Serum. The serum is based on aloe vera juice and is supposed to minimise redness and hydrate the skin. The German company has Latin American roots, hence the Spanish brand name Amo como soy which translates as "I love myself the way I am". The brand is also offering affirmation cards to help their customers remember that they should treat themselves with more mindfulness and kindness. Amo como Soy is also distributed in beauty salons; I'll keep my eyes out for them – I think a skin care treatment with Amo Como Soy products should be amazing!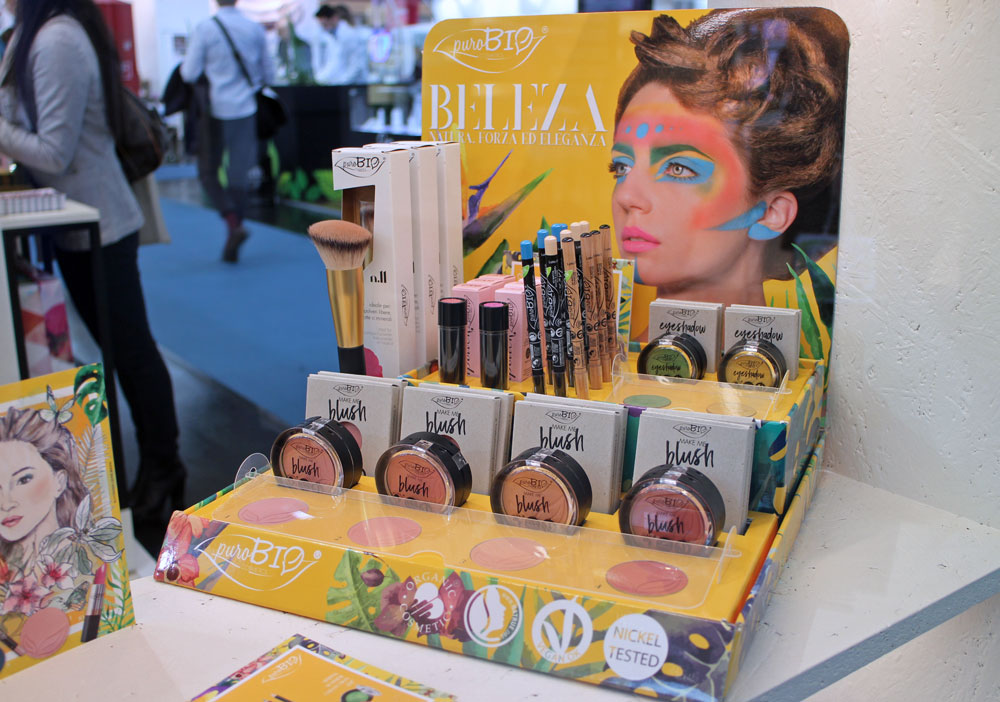 The display case from Italian brand PuroBio is eye-catching, don't you think? The Limited Edition Beleza for summer 2017 is offering four blushes, two eyeshadows, two lipsticks, two kajal pens, a transparent lip liner and a blusher brush. I like PuroBio's colour cosmetics, they offer excellent value for money.
Russian beauty brand Natura Siberica is supporting remote and rural areas: some of the brand's product ranges are dedicated to the Faroe Islands or the Estonian island Saareema. Natura Siberica's latest cooperation is with Alladale Wilderness Reserve in Scotland. The geographic product ranges are always formulated with regional ingredients. An interesting concept.
German brand Lavera is launching the new Shower Gel Blossom Love and a Hydro Effect Serum. The moisturising serum is packaged in bright turquoise which will really stand out on the shelf!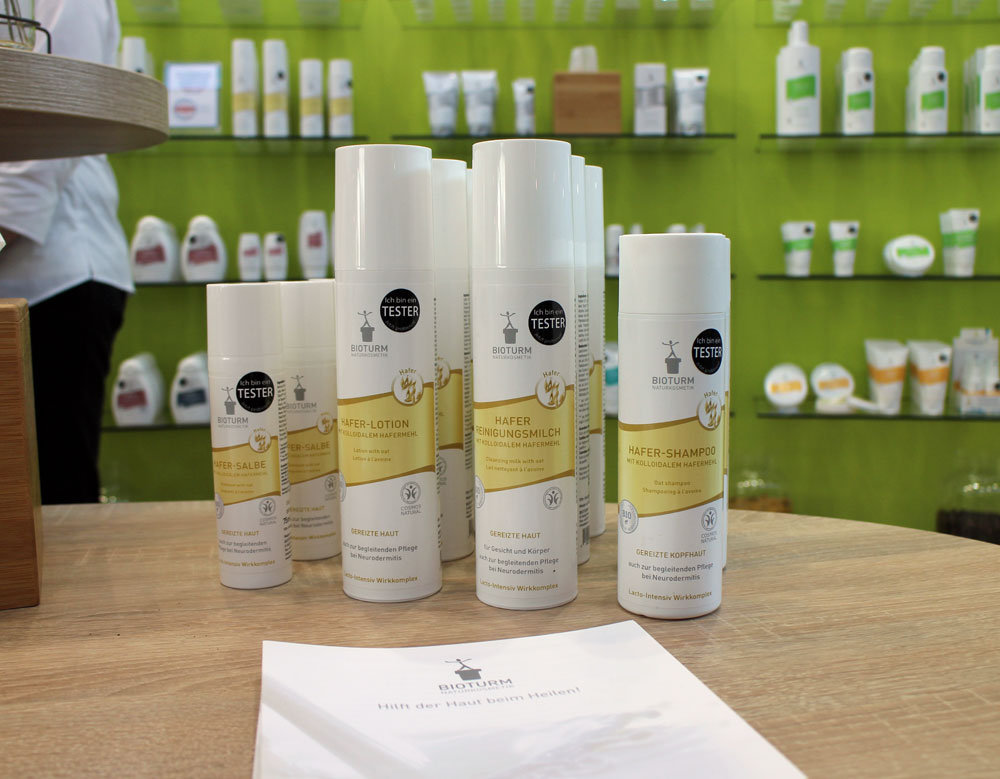 And the new skin care range of German brand Bioturm is based on oat extract. The line-up includes a salve, a lotion, a cleansing milk (which can also be used on the body) and a shampoo especially formulated for irritated skin. Oat helps to minimise and soothe irritation and itchiness – incidentally, the oat is also Medicinal Plant of the Year 2017. Bioturm also introduced four new Whey Bath Additives and a relaunched body care portfolio.
German brand Sante presented three new Family Kids Shower Gel-Shampoos (Raspberry, Aloe Vera and Sensitive). There are also two Tenside-Free Clay Shower Creams and a combined 5in1 Cleanser & Mask with Medicinal Clay.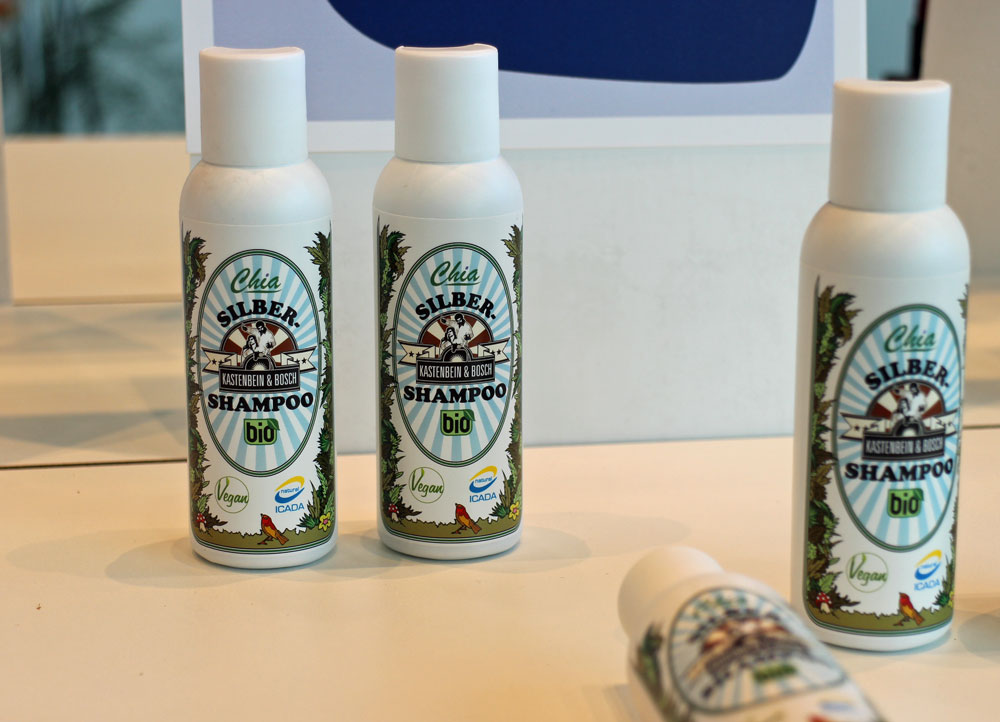 Cologne-based hair salon Kastenbein & Bosch extended its hair care range with a Silver Shampoo, a Chia Styling Gel and a Strengthening Tincture.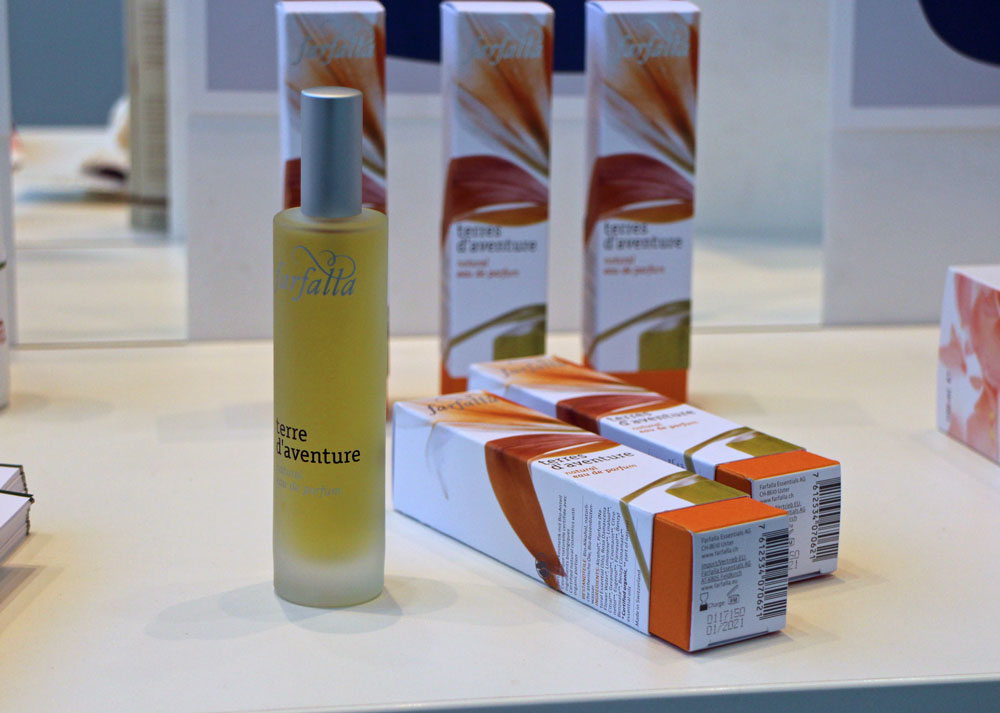 Terres d'Aventure is the name of the new Eau de Toilette from Swiss brand Farfalla. The perfume has an aromatic zesty-green fragrance and a really cool slogan: "Adventures begin when plans end". The brand has also introduced four sets of home fragrance Aroma Airsticks (Rose Delight, Beautiful Vanilla, Citrus Garden, Green Forest).
The new Tattoo Skin Care range from German brand Eco Cosmetics was interesting: the line-up offers a body lotion with SPF10, a shower gel and a sun lotion with SPF30. Eco Cosmetics also introduced three new Sun Milk Sensitive variants with SPF20, SPF30 and SPF50 which are formulated without potentially allergenic fragrances. The sun filters are titanium dioxide and zinc oxide and the texture of the sun milks are lighter than Eco Cosmetics' Sun Lotions.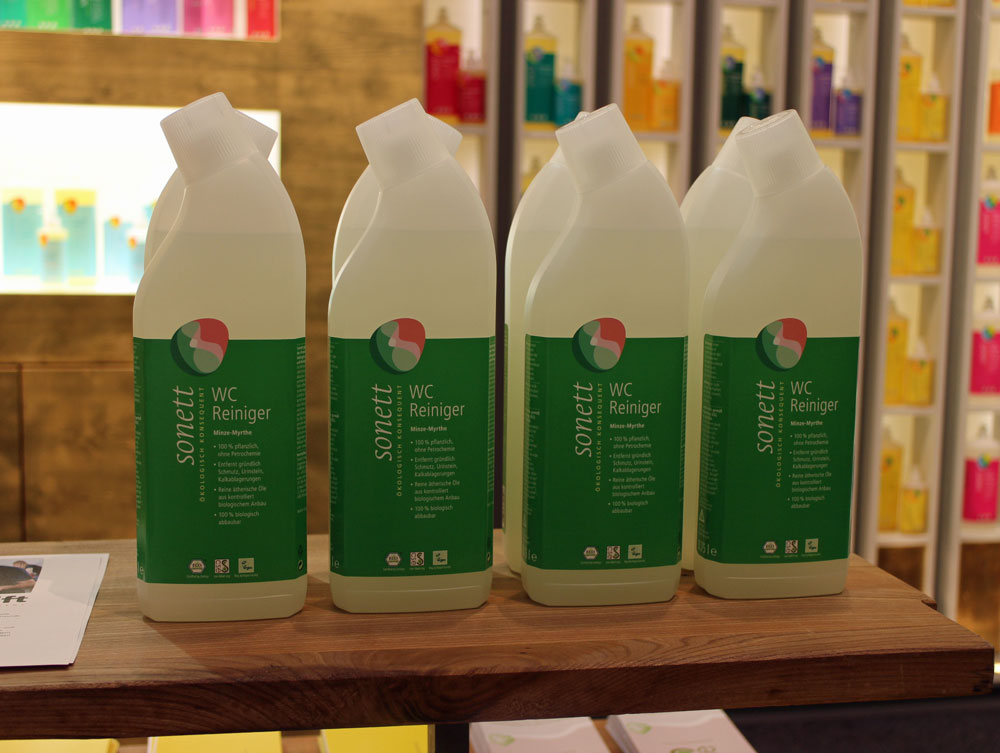 German household cleansing products brand Sonett launched a new WC Cleanser Mint-Myrrh – such an interesting-sounding fragrance blend!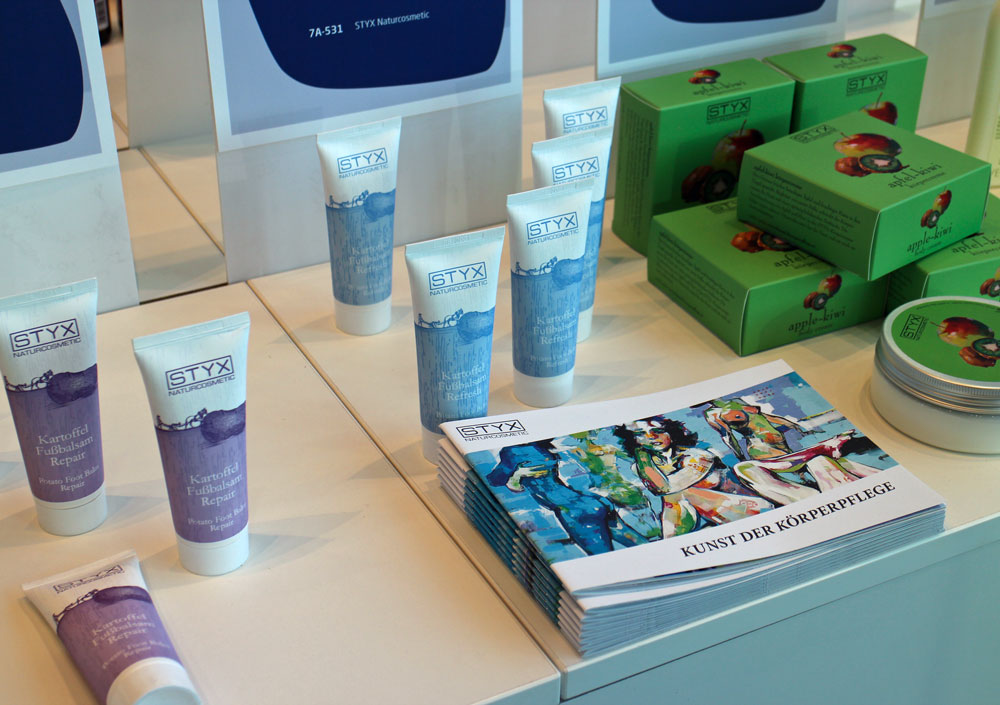 And Styx from Austria presented the new Body Cream Apple-Kiwi and two Foot Balms with Potato – companion products to the brand's bestselling potato hand balm.
I totally fell in love with German brand Lenz's new baby care range – although I don't even have a baby! The products include a body lotion, a intensive cream, a body oil and a wash lotion (scented with a beautiful vanilla-cheesecake fragrance!) which are all very suitable for use by adults, too 😉 .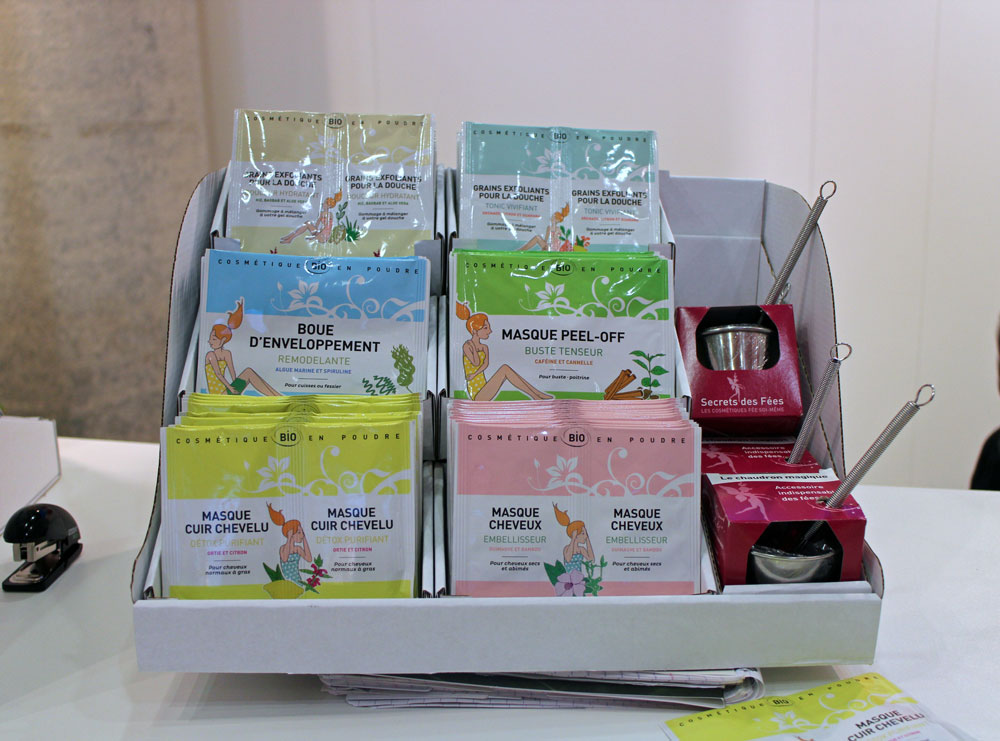 And of course I had to check out the new launches of French brand Secrets des Fées – I really like their Peel-Off Masks for the face. There are several new DIY powder masks for scalp, legs and decolletée plus two new scrubs for the body.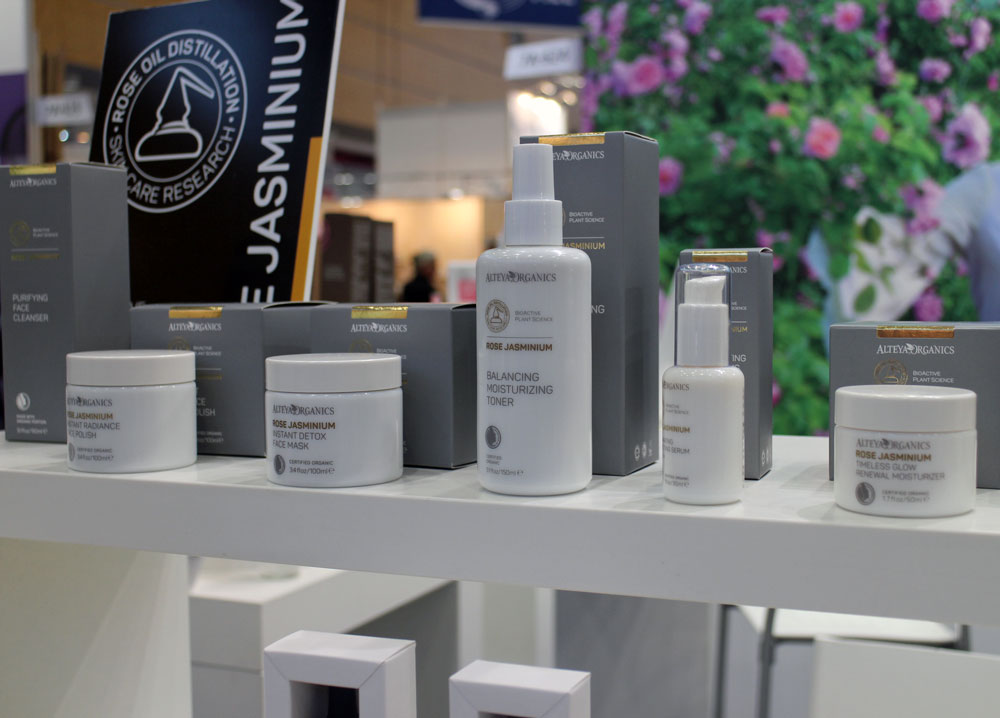 I also tried out the new skin care range Rose Jasminium from Bulgarian company Alteya Organics: the rose accords are a little stronger than the jasmine – a perfect fit for rose beauty brand Alteya Organics. There is also a new Sun Protection Cream with Zinc Oxide which is available in a tube and in a flacon for the face.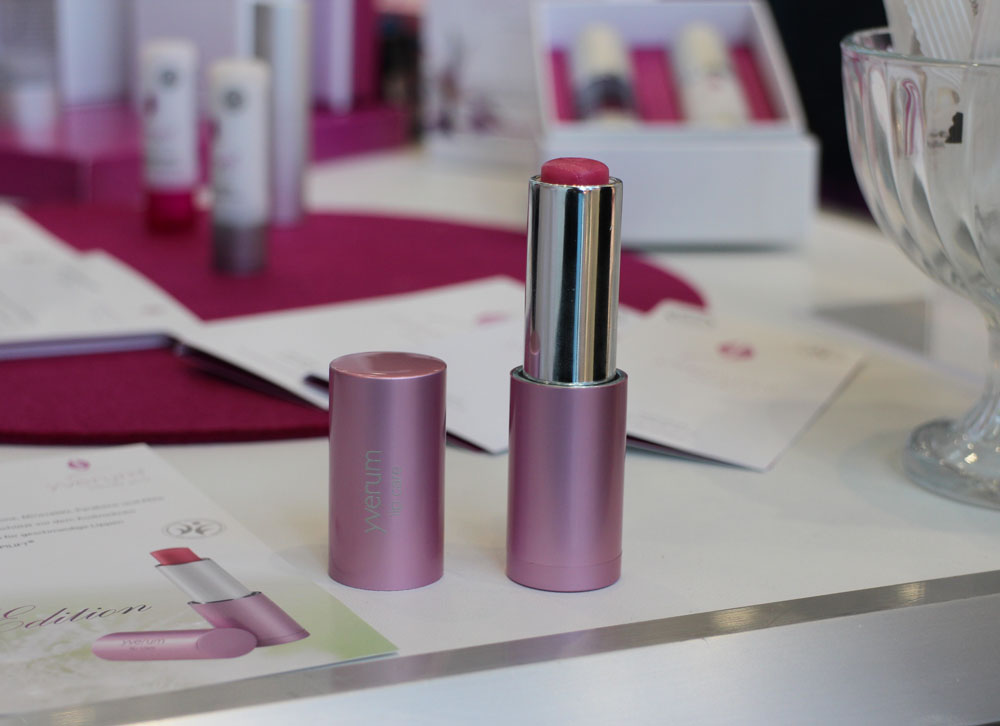 I also visited the exhibition booth of German brand Yverum to check out the new Tinted Lip Balm with Collagen. Doesn't the lip balm stick look beautiful? And it's refillable, too.
Unfortunately I don't have a high-quality picture of the new Happy Nails nail polish display case from German brand Benecos. The Happy Nails polishes now include up to 90% natural ingredients. Benecos will also launch two new mascaras (one in dark blue).
Finally, three short product news! German cosmetics brand HaTha has launched a new solid perfume which is called Desire. The shea butter of German-Nigerian skin care brand Dudu Osun is now available in a scented version: Dudu Shea Fresh. And German brand Oceanwell has relaunched its sample set; it now includes seven products. Also, the Oceanwell Body Oil is now available without palm oil.
[Click here for more pictures and the original German article Naturkosmetik Neuheiten von der Vivaness 2017]
Aromatherapy in the 18th Century: Brûle-parfum from Gotha
It took me a while to figure out the purpose of the item you see in the photo above (the lid is missing which didn't make things any easier!). Can you guess what it might be? It's a perfume censer – in French, this is called a Brûle-parfum which roughly translates as "perfume cooker" – from the 18th century. The censer was manufactured around 1775 in Thuringia by a company called Porzellan-Manufaktur Gotha. It measures 14 centimeters in height.
The design of this fragrance cooker very much reminded me of my first fragrance lamp which I bought in my early 20s 😉 . It's a similar principle: a heat source is placed underneath a small basin which is filled with scented water. In the case of my fragrance lamp the heat source was a tea light; the Brûle-parfum, however, is heated by a little spirit stove.
The main porcellain bowl – it looks like a tureen – is filled with perfumed water which is heated up gently and disperses the fragrance throughout the room. The missing lid probably had some decorative openings to diffuse the scent; the pretty décor of butterflies and insects was painted onto the outside of the fragrance lamp.
I think the perfume censer was used to heat fragrance waters which were imported from Paris or Montpellier. In a newspaper of that period I found an advertisement for "pleasantly scented French waters", for example an Eau à la Bergamotte or Eau à la Pompadour. I would love to buy a scented water like that! These fragrance waters were probably hydrosols or floral waters with a higher percentage of essential oils…?
Today's modern cold air diffusers for essential oils look very different but the general principle hasn't changed much – using scented fragrance blends and essential oils to perfume your home is still popular.
If you are interested in historical perfume bottles: last year I published the article series Fragrant Beauties in which I showed antique perfume flacons from a private collection. The above Brûle-parfum belongs to the same collection.
[Click here for more pictures and the original German article Aromatherapie im 18. Jahrhundert: Brule-parfum aus Gotha]
What does a beauty blogger do who really wants to try out all of her new Vivaness products and samples but has a very bad cold at the moment? That's right; for these Beauty Notes I selected a range of products which match my current state of health!
Let's start with the new Oil-Whey Bath Additive Eucalyptus from German brand Bioturm. I received two samples of this bath oil (thank god!) and I've already used up both. The aromatic woodsy fragrance of fir, pine tree, rosemary and eucalyptus helps to clear my stuffy nose and my head feels a lot more awake (one of the things I hate most about having a cold is this groggy, slow feeling). Anyway, the oil bath really helped me breathe more easily and the sunflower oil, glycerin and whey moisturises my skin without feeling greasy (the additive doesn't leave a slippery film in your bath tub either). The liquid bath additive has a light green colour which turns the bath water slightly milky.
Around my nose and on my chest I apply the new Bio Magic Balm Arnica-Menthol from Dr. Bronner's. At the trade show I was told that the balm was similar to the classic Tiger Balm but luckily it doesn't smell as astringent as the original. The Bio Magic Balm contains two different mint variants as essential oils plus camphor and skin-healing arnica. The balm is based on avocado oil, coconut oil and beeswax. You can also apply it after physical activity or sports, or when you have tight or achy muscles (the balm boosts blood circulation and promotes relaxation), but it is also good for colds. Whenever I apply the balm I breathe more easily. Also, I like the holographic design of the jar! In this blog article from 2011 (German only, sorry) I've described what other natural products I use to treat a head cold – and of course my trusty Propolis Spray from French brand Ballot-Flurin is my constant companion at the moment.
The Forest Makeup Bag from Finnish brand Kauniste is not from the trade show but I really wanted to include it in the picture because it is beautiful. I recently developed a passion for Finnish design! You can check out more pictures of the Metsä Make-up Bag on the brand's website. I bought my bag in Helsinki this January.
And speaking of Vivaness: In my new article for Bio-Blog (German only, I'm afraid) I have presented some of my most interesting discoveries from the trade show. Enjoy! Vegan blogger Erbse, a fellow contributor to Bio-Blog, will post an article about new vegan beauty products at Vivaness soon.
Unfortunately I didn't have any time to visit Biofach, the organic food trade show which takes place at the same time as Vivaness. It's a pity because there are so many cool things to discover at Biofach! I would have loved to have visited the exhibition booth of French-Indian spice manufacturer Beendhi (you can read more about Beendhi in food blogger ChetzMatze's article about Biofach). – And Annika told me about The Teabrewer from Denmark and their new "paper tea pots". You can see it in the picture above. First you unfold the tea brewing bag, then pour the boiling water into the bag (it is lined with a thin PE foil), let the tea stew for the desired amount of time and then pour it into a cup. Since the integrated tea filter is placed above the water level, the tea doesn't turn bitter. And you can brew it up several times. The paper brewing bag is also reusable (at least for a few times) although it is not going to last forever – after all, the material (paper, tea filter and cardboard) is not overly stable. As far as sustainability is concerned it would, of course, be better to prepare your tea in an actual tea pot but the paper brewing bag is very convenient for travelling! The Teabrewer offers different varieties of green teas and herbal tea; my tea blend was Spicy Turmeric which had a fruity taste of pumpkin, cardamom and spices. The company also has a similar brew bag for coffee drinkers (The Coffeebrewer range offers three single-origin coffee variants). More information about The Teabrewer is available on the company's website. The brand has also won a Danish design award for their brew bag.
And here are some (non-Vivaness) organic beauty news:
German drugstore retailer DM's certified organic own label brand Alverde is going to launch a whole new range of colour cosmetics which will be available from March 2017. You can find more information about the new launches on Glam&Shine, Fräulein Immergrün or Innen&Außen .
The new limited edition from French colour cosmetics brand Couleur Caramel is called Dolce Vita. The collection offers creamy highlighters for the face and the eye area, four mini eyeshadows, two eyeliners, two lipsticks and two Twist&Lips lip crayons. Pretty Green Woman has already posted swatches on Instagram.
[Click here for more pictures and the original German article Beauty-Notizen 24.2.2017]
Good-bye everyone and see you soon!
Julia