Dear international readers of Beautyjagd,
Welcome to the next English-language edition of Beautyjagd! This is a condensed version of the most important articles that have appeared on my blog over the last few weeks. For more information about this format, click here. And now: enjoy the best of Beautyjagd in English!
Best wishes
Julia
Sun Protection 7: Organic beauty products – annual sun care test 2017
Here is the seventh edition of my annual sun protection review feature! Every year I compile a list of my favourite new organic sun protection products from around the world. You can find more information about the methodology, definitions and product categories that I use throughout this article in the introduction of last year's Sun Care 2016 article. More than half of the products I have written about I bought myself; the others were provided by the respective brands for review purposes. And now, let's begin!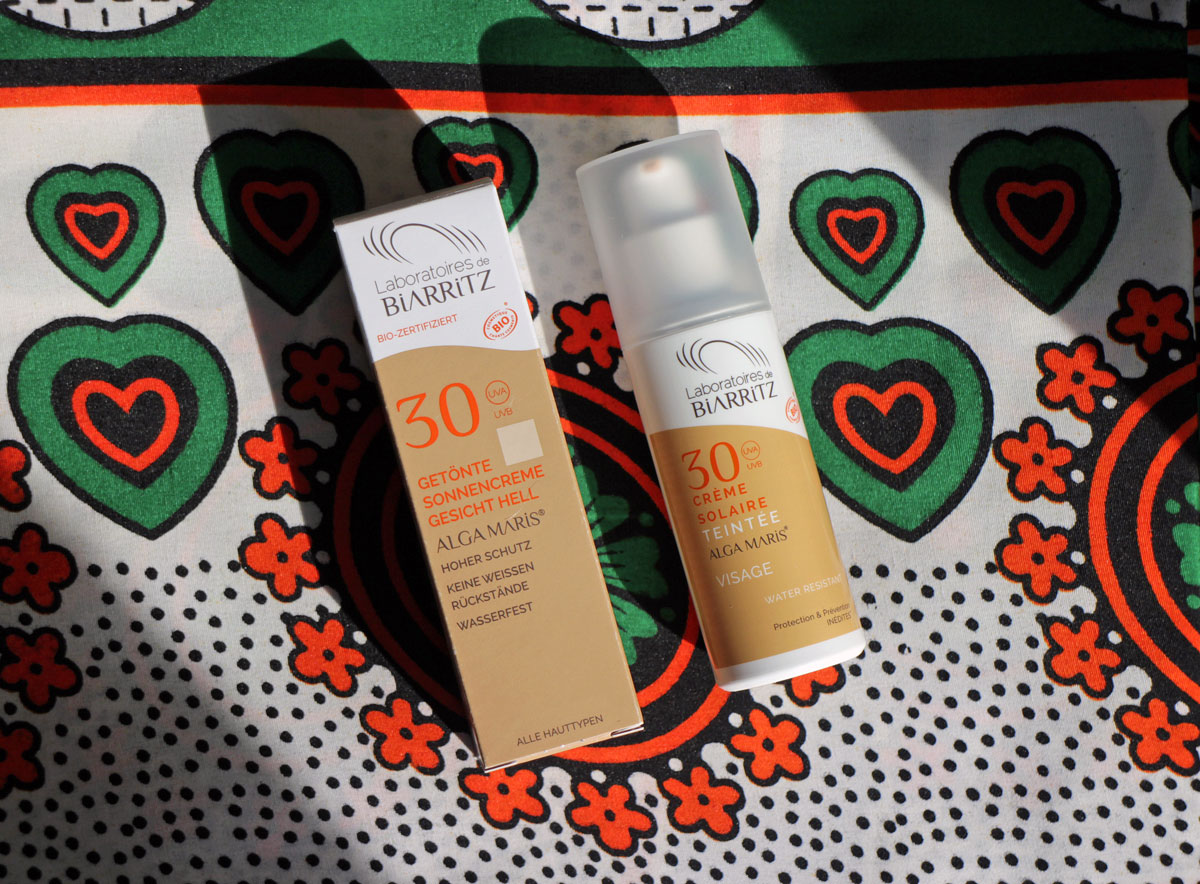 ♦ I received the new Tinted Sun Cream for the Face SPF 30 from Alga Maris Laboratoires de Biarritz at Vivaness trade show this February. French brand Alga Maris is from the Atlantic coast (from Biarritz, in fact) and it is one of my favourite sun care brands. I introduced Alga Maris' Sun Spray and the Non-Tinted Sun Cream for the Face in last year's big sun care review. The Tinted Sun Cream is available in two shades, Light and Gold. The formula is very similar to the Non-Tinted Cream: the product is based on water and processed oils (which are responsible for the light, supple and non-greasy texture of the sun cream) as well as anti-oxidant red algae (Algae Gorria) extract. The sun filters are zinc oxide and titanium dioxide. The sun cream is very comfortable to wear (underneath I simply apply a moisturising toner, like the one from Whamisa). It is easy to apply with a subtle glowy (but not shiny) finish which looks really good on my skin; I only need a mattifying powder on my t-zone. The coverage is light to medium (the cream could almost be a foundation) and the lighter shade is not too pale but more of a light to medium colour. No whitening at all thanks to the colour pigments. The cream has a light, floral-sweet fragrance with notes of coconut; it is a very summery fragrance. The cream is packaged in an airless pump dispenser (50 ml), costs 16 Euro and is certified by Ecocert and Cosmebio. The packaging claims UVA and UVB protection. The cream does not contain nano particles and the ingredients look like they are vegan (there is no vegan certification though). In Germany, Alga Maris' Tinted Sun Cream from Alga Maris is available online (Naturdrogerie, najoba, Savue or Amazingy) or in selected organic supermarkets (for example Alnatura).
My tip: This product is a light foundation and sun protection cream all rolled into one. It feels very comfortable and is suitable for daily wear.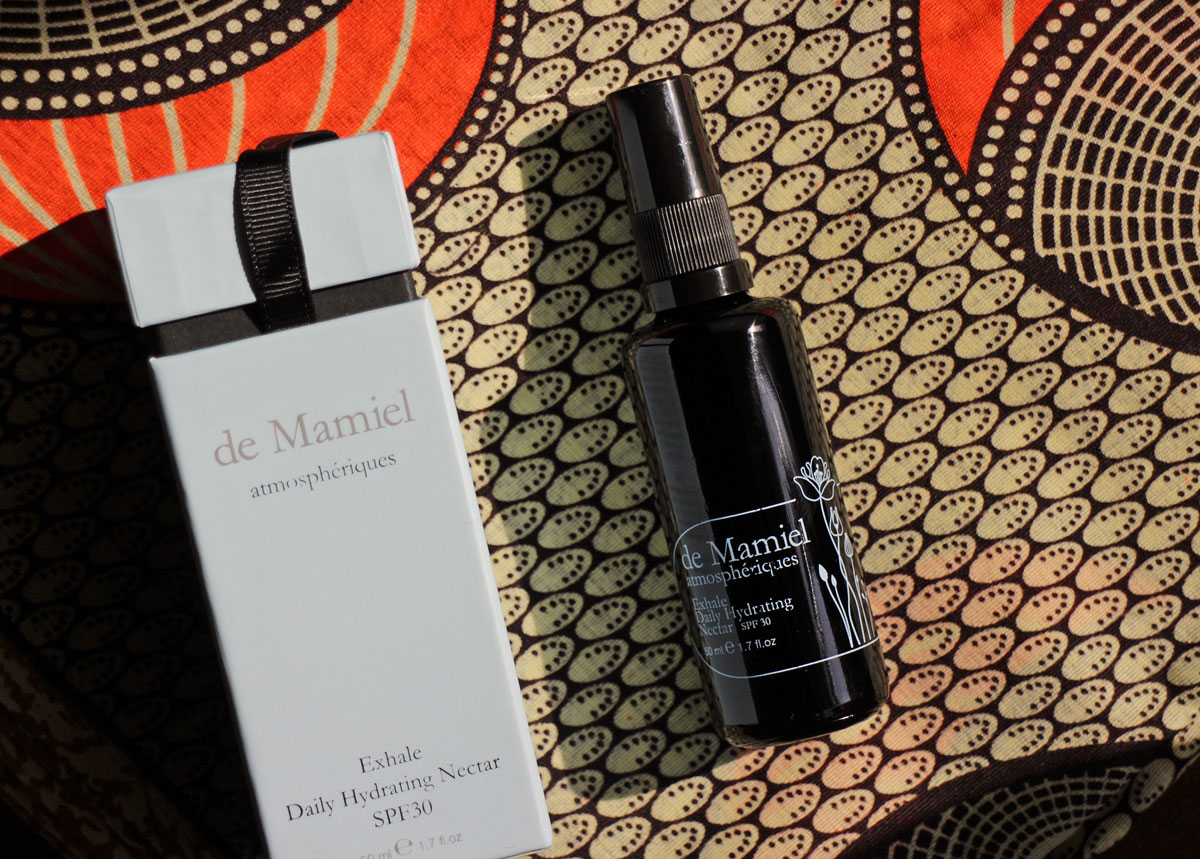 ♦ The lightly tinted Exhale Daily Hydrating Nectar SPF 30 from UK brand de Mamiel is part of the brand's new Athmosphériques range. I received the product from online perfumery Savue when I visited the company's Secret Showroom in Berlin earlier this year. Exhale Daily Hydrating Nectar is a fluid; the tint is subtle and the coverage is light – it evens out skin tone rather than covering it up. The sun cream has been scented with fresh-floral-herbal notes; it is packaged in a violet glass flacon with a pump dispenser and the texture is beautifully light. It feels refreshing and very comfortable on the skin; when you apply it there is a little streaking at first but this disappears fast. The finish is not sticky or shiny; it gives the skin a light glow. The sun protection filters are zinc oxides and titanium dioxide, the formula also includes a number of anti-oxidant plant extracts. There was no whitening on my light to medium toned skin. The INCI declaration does not mention nano particles (so the product is most likely nano-free) and the product claim is for UVA and UVB protection. No certification. According to my estimate the ingredients are vegan. One bottle contains 50 ml and is priced at around 115 Euro. In Germany, the product is only available online, for example at Savue.
My tip: Perfect for the office or the city; it is really easy to apply a foundation on top of the Hydrating Nectar. Don't use too little product otherwise you won't get the full sun protection. Super comfortable to wear.
♦ I brought back the Replenishing Solar Defense SPF 30 from US brand MyChelle Dermaceuticals from my recent trip to Los Angeles. The non-tinted face protection cream is packaged in a flat tube and is super easy to apply, with minimal streaking at first. The finish is matte rather than glossy, with a creamy texture that is neither sticky nor greasy. It is very comfortable to wear; the cream forms a very light (but not unpleasant) protective film on the skin. Whitening is minimal to non-existent; 13.5% zinc oxide has been included as a sun filter and the packaging claims UVA and UVB broad-spectrum protection. The sun cream has a very light creamy scent. No organic certification, vegan, with nano particles. The tube contains 68 ml and costs around 25 Euro. In the US and the UK you can buy the cream in various organic supermarkets or directly from MyChelle; I haven't found the product at iHerb so far (unfortunately).
My tip: This is a good cream for conventional sun cream users who want to try out products with mineral based sun filters. And of course for anyone living or travelling in the US.
♦ One of my goals in Los Angeles was to finally check out the entire sun protection portfolio from US beauty brand Badger! In the end I purchased the Unscented Sunscreen Lotion SPF 25 Broadspectrum which is recommended for daily use on face or body. I primarily used the lotion on my arms because back in March my skin was still pretty pale from the long winter we've had in Germany. On my face I apply the Unscented Sun Screen Lotion on top of my normal day care since the formulation is not rich enough for my dry combination skin. The lotion has a waxy-mineral scent and a creamy yet completely non-greasy and non-sticky texture which is really easy to apply. It feels very comfortable on the skin – the formula is based on aloe vera – and the finish is matte to satinised. Initially the Sunscreen Lotion had a strong whitening effect but after a minute or so there was only a light paleness left on my (light to medium-toned) skin. If you have darker skin the whitening factor will presumably be medium rather than light. The sun protection filter is 14% non-nano zinc oxide; the packaging promises both UVA and UVB broad-spectrum sun protection. No organic certification, no nano particles; according to my estimate the ingredients in the lotion are vegan. The bottle contains 118 ml which are priced at around 17 Euro. In the US you can buy the Badger products in organic supermarkets; in Germany the product is mostly available online, for example through iHerb.
My tip: This lotion is suitable for the entire family; it is also good for oily skin.
♦ And now back to Germany! At Vivaness 2017 trade show German brand Eco Cosmetics introduced new sun milks, Sun Milk Sensitive SPF 30 and Sun Milk Sensitive SPF 50 (there is also a sun milk with SPF 20). The new products contain titanium dioxide and zinc oxide as sun filters (which is a new thing for Eco Cosmetics). The texture of the Sun Milk is lighter and more liquid than the already existing sun lotion; the SPF 30 variant practically drips out of the tube, so it is really easy to apply. The finish is not sticky and only a little oily with a glowy finish (as always I apply a mattifying powder on top of the sun cream). Both the SPF 30 and SPF 50 sun milks are pleasant to wear, the whitening factor of SPF 30 is light, in the SPF 50 variant it is more of a medium effect. Both sun milks have a subtle creamy-sweet fragrance; the packaging claims UVA and UVB protection. Certified by Ecocert, no nano particles, vegan. The tubes contains 75 ml which are priced at 15.90 Euro (SPF 30) and 17.90 Euro (SPF 50) respectively. In Germany Eco Cosmetics is available in organic stores or online, for example at Belladonna, Ecco Verde or najoba.
My tip: A good portfolio addition for Eco Cosmetics; I would recommend the Sun Milk Sensitive SPF 30 for face and body.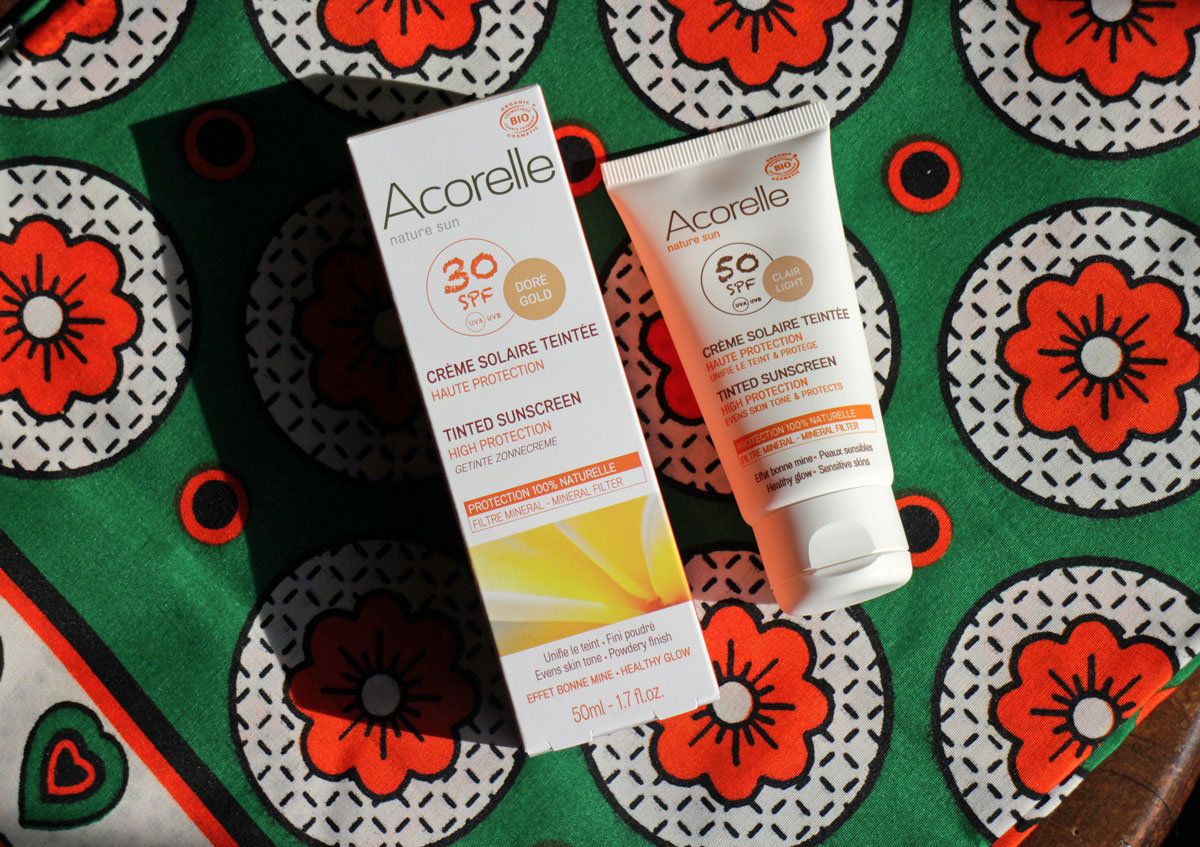 ♦ This article wouldn't be complete without the new Tinted Sunscreens SPF 30 and SPF 50 from French brand Acorelle. I already introduced Acorelle's Sun Sprays in last year's sun care article. The two new sun protection creams are for the face; the SPF 30 variant (shade Gold) is a little darker and more yellow-toned than the SPF 50 cream (shade Light) which is more suitable for sun sensitive lighter skin. The textures are also different: SPF 50 is unscented and the texture is a little firmer than the creamier SPF 30 variant which has a light monoi fragrance. The finish is satinised to glowy, with a slightly oily texture (especially the Tinted Sunscreen SPF 50) which, however, is not sticky. I only wear a hydrating toner or a light serum underneath these sun creams. The SPF 30 cream is pleasant to wear, the SPF 50 cream a little less so – I'd say the feeling is pleasant to ok. Thanks to the colour pigments the sun creams have little to no whitening effect (depending on your skin tone, of course). Both creams are based on processed plant oils and contain an antioxidant plant complex which includes Karanja oil. Shake well before use. Certified by Cosmebio and Ecocert, no nano particles, not vegan (the ingredients include beeswax and pollen). One tube contains 50 ml and is priced at around 24 Euro. In Germany these products are available at Ecco Verde, in France I found them at Ayanature, Monde Bio (where I ordered my two sun creams) or Mon Corner B.
My tip: These products are suitable for skin types that can't tolerate zinc oxide and prefer richer, more protective sun protection products.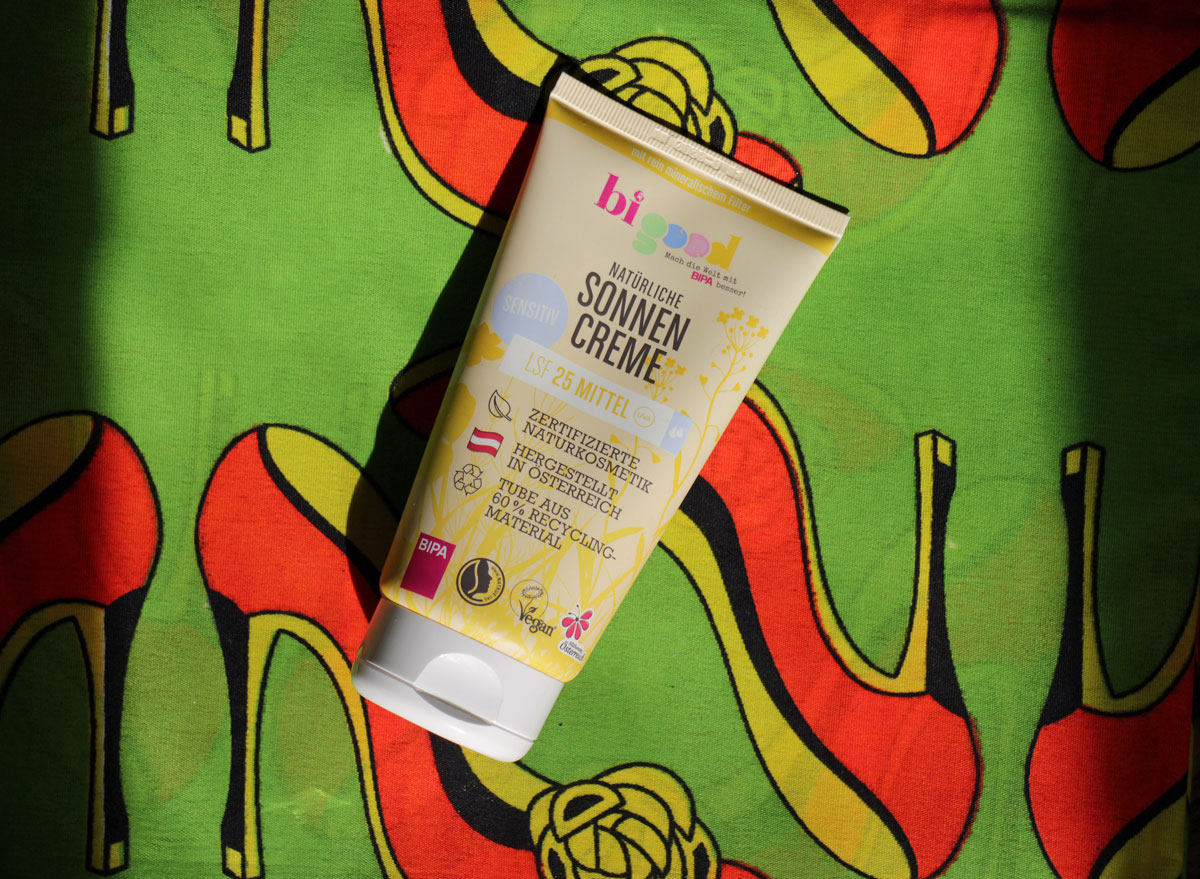 ♦ I bought the Sun Cream SPF 25 from Austrian brand bi good at the Bipa drugstore chain during my trip to Austria last summer. I was a little surprised by the very firm texture of this sun cream, you really have to squeeze the tube strongly to get the product out. And although a firmer texture will last longer on the skin it also made applying the cream a bit more difficult. The texture is not sticky but it doesn't feel very light on the skin either so the "comfortable to wear" factor is rather low – I'd say it is ok but nothing spectacular. Considering that the SPF isn't all that high the whitening effect was quite pronounced (medium to strong), the finish on the skin is satinised to glowy. The sun filters are zinc oxide and titanium oxide (in nano size); there is no added fragrance, only a light creamy scent. Nano particles: yes. The packaging promises UVA and UVB protection. Certified by Natrue. Vegan. The tube contains 150 m which is priced at 10.95 Euro. The product is available in Bipa stores across Austria and online – bi good is Bipa's organic own label brand.
My tip: A good cream if you don't have much money to spend. Try blending the cream with some mineral powder to tone down the whitening factor.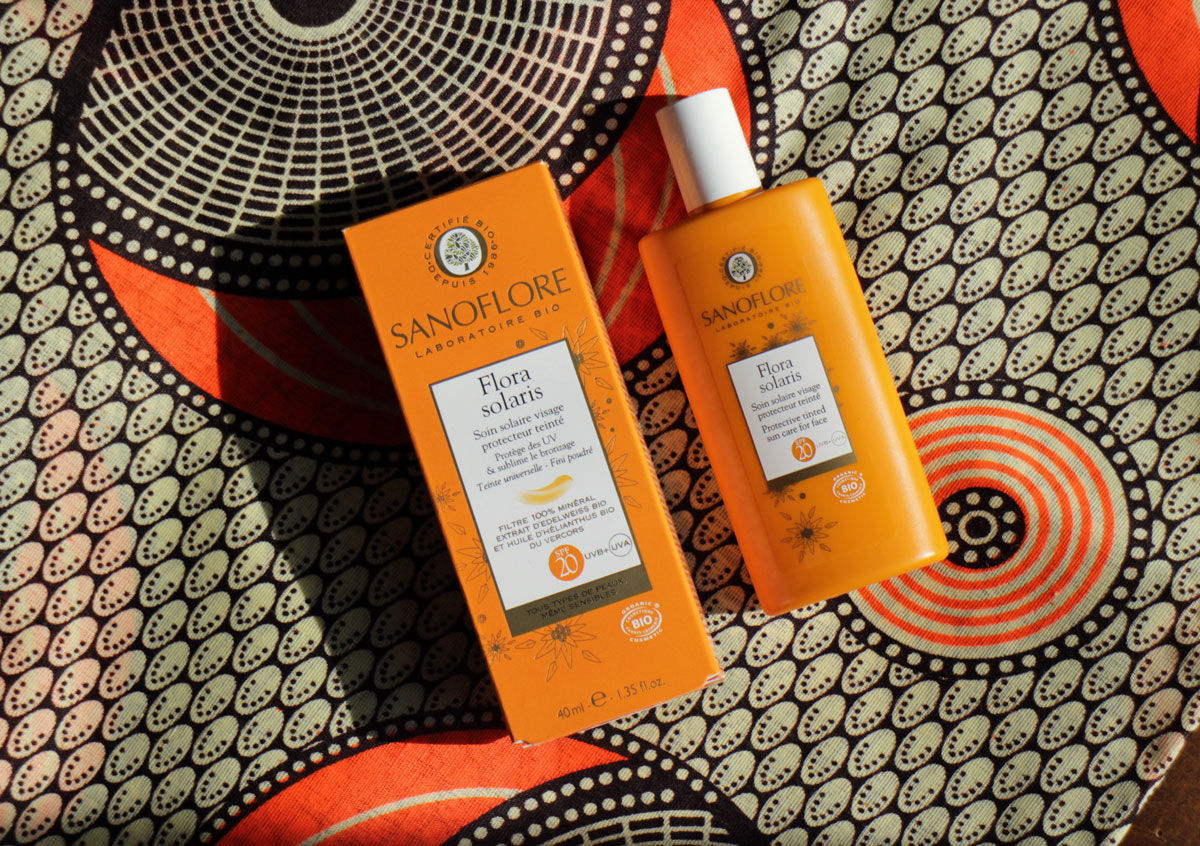 ♦ A few weeks ago I ordered Flora Solaris SPF 20 from French brand Sanoflore all the way from France – I had seen pictures of the lightly tinted and monoi-scented sun care fluid on Instagram. The fluid is recommended as a daily-use sun product with medium sun protection. You have to shake the flacon before use (it includes a little ball which helps to distribute the colour pigments properly). The texture is quite watery although the ingredients only list a small amount of water: Flora Solaris is based on watery-liquid processed plant oils. The sun protection filter is titanium dioxide (nano) and the formula also includes antioxidant edelweiss extract. The finish is satinised to powdery, after a few hours it turns a little more glowy (I apply a powder on top of the fluid). The coverage of the light to medium shade is light but tends to rub off slightly. Depending on your skin type the whitening factor is very low to non-existent; the fluid is very comfortable to wear – as a matter of fact, I can barely feel it on my skin. The packaging claims UVA and UVB protection. Flora Solaris is certified by Cosmebio and Ecocert and contains nano particles. In my opinion the ingredients are vegan. In France Sanoflore is available in selected parapharmacies and organic stores or online, for example at Mademoiselle Bio (which is where I ordered my product).
My tip: For the office, as a light foundation with a medium sun protection factor.
♦ The new Bio Damascena Rose Otto Face Sunscreen SPF 25 from Bulgarian brand Alteya Organics is from Alteya Organics' 11-sku face care range Bio Damascena for mature and dry skin types. All products in this range are formulated with the anti-oxidant Bio Damascena Skin Reviving Complex which contains various herbal extracts, rose water, rose oil and other essential oils. The sun cream is packaged in a black-violet Miron glass flacon – which helps to protect the contents from day light and sun light – with a pump dispenser. The texture is more of a fluid, it is lightly tinted with a beige-rosé undertone and should be suitable for light to medium skin colours. Luckily this sun cream isn't as pink as the sun cream from French brand Evoa which I tested a few years ago (it was way too pink for my skin so I rarely wore this sun cream). The lighter shade of French brand Alga Maris Laboratoires Biarritz's new Tinted Sun Cream is a little darker and more of a beige-apricot than the Alteya Rose Otto Face Sun Screen. The coverage of the sun cream is higher than that of many tinted day creams; I'd say it resembles a foundation with light to medium coverage. The finish is satinised and less glowy than the Tinted Sun Screen I mentioned above; I still apply a powder on my T-zone. Underneath the Sunscreen I only wear two layers of hydrating toner (for example from Sanoflore, Alteya Organics, Eau Thermale Jonzac or Whamisa) without any additional moisturiser or oil. The sun fluid feels very comfortable, it is perhaps a tad more sticky/less supple than the Tinted Sun Cream from Alga Maris but at the same time it is also more moisturising. If you have light to medium-toned skin you will barely see any whitening effect. And the product has a pleasant light rose fragrance. The sun filter is 18% non-nano zinc oxide which offers UVA and UVB broad-spectrum sun protection. Alteya Organics' Rose Otto Face Sunscreen is certified by Natrue and is based on water and zinc oxide as well as sunflower oil, coconut oil and glycerine. The formula is alcohol-free and each essential oil is listed separately on the INCI declaration. A flacon with 50 m costs 21 Euro; in Germany the brand is – so far – only available at Naturdrogerie.
My tip: Mineral Sunscreen and foundation in one bottle – suitable for everyday!
♦ Finally I want to highlight three sun protection products which I have already mentioned on my blog last summer: First of all the wonderful Pot of Shade Heliotropic SPF 30 from Kypris (which I have already repurchased), the Nutrient Day Cream SPF 30 from US brand Josh Rosebrook which is ideal for the face because it is so comfortable to wear, and the Osolebio Sonnencreme LSF 50 for children from Italian brand laSaponaria which has a liquid texture and is suitable for all the family. A couple of months ago I wrote about the new sun care products for tattooed skin from Eco Cosmetic.
My conclusion: Quite a few organic beauty brands have launched tinted sun care products this year – adding colour pigments is the best way to counteract the whitening effects from mineral sun filters (a high SPF generally means more whitening than a low SPF). It is also my impression that many organic brands continue to focus on developing sun protection products that are as comfortable to wear as possible – and beauty brands like Kypris, Alga Maris Laboratoires de Biarritz, Alteya Organics, Goddess Garden or Josh Rosebrook already manage to do that pretty well!
You can also check out my previous sun protection posts; most of the products I've reviewed are still available and there are some really good options for all sorts of skin types and income brackets 😉 .
[Click here for more pictures, all INCIs and the original German article Sonnenschutz 7: Naturkosmetik im Test 2017]
Frühmesner: From healthy baths to herbal shower gels [Sponsored Post] 
One of my passions are classic beauty brands. I particularly like companies that manage to grow and develop their brand whilst still staying true to their roots; combining heritage with product innovation. And one brand that does this very well is Frühmesner from Germany.
Let me tell you the story of Frühmesner! The name (which sounds a little mysterious even in German) is historical: Legend has it that in the Middle Ages, near the traditional German spa town Traben-Trarbach on the Moselle river, there was a monk that walked from his monastery up to the castle of Count Sponheim-Starkenburg to celebrate early morning mass ("Frühmesse" in German). Now we jump into the early 20th century! The former monastery's herbal garden is still in existence. And in the late 1920s a local wine merchant started to tinker with herbal oil bath formula – he had recently had a spa treatment with a herbal bath and liked the effect. On 21st July 1931, this wine merchant bottled his first batch of seven litres of bath oil and gave them to his friends and family as Christmas presents. This "Frühmesner Gesundheitsbad" (Frühmesner Health Bath) became so popular amongst his friends and acquaintances that the wine merchant started to sell his bath oil commercially. According to thank-you letters which still exist, the bath oil helped to ease rheumatic pains, alleviated respiratory problems and soothed skin complaints.
Today's Frühmesner Badeöl is still produced according to the original recipe: the formula is based on a processed plant-derived oil, plus essential oils of fir needle, eucalyptus, orange and lavender. For the classic bath tub treatment you add a teaspoon of the bath oil to warm water, stir it up and then submerge yourself for 15 minutes. The skin is hydrated by a very light oil film; I simply use clear water to quickly rinse off my body and then pat the skin dry. I love the fir needle fragrance of the bath oil! The needle scent is both invigorating and warming, especially good when I have a cold but also for days when I feel tired or simply yearn for "forest". I also like the charming retro design of the bottle which reminds me of my grandparents' bathroom when I was a child… Luckily you can still buy the Frühmesner Badeöl today; in Germany it is available in pharmacies, selected Rossmann drugstore outlets or online for 14.99 Euro. You can find the INCI declaration and further information about the bath oil and the brand on Frühmesner's home page.
In the introduction of this blog post I mentioned that Frühmesmer is developing its brand to take it into the 21st century and to satisfy new consumer demands. Over the last few decades shower products have become a much bigger market than bath additives. One of of Frühmesner's latest launches is a trio of herbal shower gels: Hemp-Gingko, Arnica and Lemon Balm-Ginger. I tried out Kräuterdusche Zitronenmelisse Ingwer (Herbal Shower Gel Lemon Balm-Ginger) because this fresh, invigorating fragrance is perfect for summer time. The clear shower gel has a good texture – not too liquid nor too gel-like – so it is easy to use and the zesty blend of ginger, lemon balm and lemon grass wakes me up in the morning. It is also good as a pick-me-up in the afternoon or evening. The packaging is pretty, too. Oh yes, and the shower gel is vegan. All three herbal shower gels are certified by Natrue; you can see the entire product range on the Frühmesner home page. A tube of the shower gel contains 200 ml and costs around 3.99 Euro.
I received all products from Frühmesner.
[Click here for more pictures and the original German article Frühmesner: Vom Gesundheitsbad zur Kräuterdusche]
Shopping Guide: Dr. Hauschka's new colour cosmetics range
A few months ago German brand Dr. Hauschka relaunched its colour cosmetics range – and not just with new packaging and new formulations but the company also used the opportunity to introduce a whole bunch of new makeup products! The new colour cosmetics line-up offers 81 sku (!) of eye, lip and face makeup and after three months of intense testing (and many purchases 😉 ) I can finally give you a comprehensive overview of the new range, highlight the Key Pieces and offer my personal recommendations.
And now, follow me! I'll start with the new official Dr. Hauschka product display case. The display has three shelves with product testers (eyes, lips, face); the actual products are in sliding cases underneath the tester shelves. The product packaging was completely relaunched; it is now a dark aubergine colour which looks much more high-end than the previous packaging design. Most of the products have an elegantly triangular shape including the eye and lip pencils, which I really like because they are easier to hold (and also easier to locate when you dig through your handbag 😉 ).
For me, the heart of the new makeup line is definitely the new lipstick selection! The "normal" Lipsticks were divided into six colour families: Rosé, Pink, Berry (fuchsia/blue-toned red colours), Apricot, Red (which includes the warmer red shades) and Brown which in turn are available in light, medium and darker shades. This makes orientation so much easier! The lipsticks have a creamy texture and are colour-intensive. If you were a fan of the "old" lipstick shades 03 and 04, check out the new #13 and #10.
There are also six Sheer Lipsticks (one for each colour family) as a sort of successor to the previous Lipstick Novum sub-range. If you liked the "old" shades 04, 09, 10 or 12, check out the new shades 05, 01, 06 and 03 which are a good replacement.
The six Lip Glosses were also relaunched and shelved with the respective colour families. Shade 00 is clear and gives your lips a nice shimmer. Lip Gloss colours #01 and #04 are more or less similar to the previous #01 and #04 shades.
In addition there are five Lip Liners (Lip Liner 02 has remained unchanged) as well as a neutral Lip Line Definer which you can use to draw a clear waxy line around your lips to prevent lipstick or lip gloss from feathering or running. An interesting product! When the weather is cooler the Lip Line Definer is firmer; in summer time it is a little softer – if you apply it in warm temperatures make sure not to draw the line to firmly, otherwise the pencil mine will break.
The eye makeup selection way also reorganised: the five single Eyeshadows (at the lower edge of the picture) are more strongly pigmented than the eyeshadows in the four Eyeshadow Trios and the Eye & Brow Palette (which is the "old" Eyeshadow Palette 01). The Trio shadows reminded me of some of Dr. Hauschka's limited makeup editions over the past few years: each trio palette focuses on one key colour – Green, Blue, Purple and Apricot-Pink (i.e. the Limited Edition Dear Eyes).
The Defining Mascara has stayed the same (only the packaging has changed), the Volume Mascara in shade Anthracite was replaced by Volume Mascara in shade Brown. It is my impression that both mascaras have a slightly different applicator brush than the previously. The shades of the Liquid Eyeliners have remained unchanged, only the packaging was updated.
Completely new is the transparent Brow & Lash Gel which helps to define and tame eyebrows (and has a wonderful rose fragrance!). You can also use the Gel for your eyelashes, either as a base underneath a colour mascara or as a stand-alone product for a natural lash effect. The kohl pencils Eye Definer are available in six colours including a neutral shade for use on your lower eye line – and the range also includes a taupe shade. Yay!
On the lowest display shelf you'll find the face products – foundations, powders and so on – and the brand's makeup brushes. The Bronzing Powder (one of my favourites), the Loose Powder and the Foundations (which I have written about here) have remained unchanged, only the packaging was updated.
The Concealers, however, were relaunched; the texture is firmer and they offer more coverage than the previous concealer sticks. There are three different shades and each concealer now comes with a sponge applicator.
The Light Reflecting Concealer is completely new: this is no traditional concealer stick but rather a highlighting formula – much like Yves Saint Laurent's famous Touche Éclat – to help brighten under-eye shadows or add highlights to other parts of the face.
The Compact Powder is now available in three shades and there is a brand-new Colour Correcting Powder: this is a compact powder which contains four shades to even out and brighten skin tone – green, yellow, brown and pink. On the skin, however, the Colour Correcting Powder looks transparent. Makeup artist Karim Sattar often uses this powder underneath a foundation, an interesting makeup tip which I have written about in more detail here.
Also new are three Blush Duos. Each duo combines a lighter and a darker shade with, respectively, a matte and shimmering finish: 01 Soft Apricot is a soft apricot tone, 02 Dew Peach is a peachy pink and 03 Sunkissed Nectarine (my current favourite) is a rosé-brown shade.
The Face display shelf also offers six makeup Brushes: a big, fluffy, angled powder brush and a tulip-shaped blusher brush (both are super soft!), a deer foot-shaped Foundation Brush, two eyeshadow brushes and a lip brush. All brushes are made with synthetic hair.
So, what are my personal highlights? I have tried out the products I recommend below several times; both in-store and at home – I actually own a total of 18 products from the new makeup range (12 of these I bought myself, six were PR samples).
Leaving aside products like the Bronzing Powder or Foundation which have remained unchanged, these are my favourites from the new Dr. Hauschka makeup range:
First and foremost: the Colour Correcting Powder! My skin often turns a little red and this powder has a visible Before/After effect – it totally evens out my skin tone without covering it up (it's a transparent powder). I use 2-3 thin layers of powder; together with the new Compact Powder in 02 Chestnut and the new Concealer (which I use only where necessary) I don't need any foundation in summer. I use the soft Powder Brush which picks up enough powder and practically strokes my skin!
You should also check out the Lip Sticks! I have been wearing shade 04 Busylizzy for months (yes, I am still very much into pink!) and I am sure that shade 03 Camellia (a.k.a. my lips but better) will be a bestseller. The texture of the Lip Sticks is creamy and supple and they are so comfortable too wear. The coverage is medium to high with a satinised finish. From the Sheer Lipstick range my favourite is shade 03 Florentina – a cherry-toned transparent red which, however, has a stronger colour than, for example, 02 Rosanna.
The single Eyeshadows offer good coverage. I bought shade 05 Amber to wear in summer – Amber is a vivid rust-red which looks great on my blue eyes (I think it would look even more striking with green eyes). I was also surprised by Eyeshadow Trio 02 Jade which contains a wonderful lilac-grey-taupe shade that has become one of my everyday favourites.
I am also quite taken with the Light Reflecting Concealer. When I swatched it on the back of my hand I couldn't really see an effect but applied to the corners of my eyes it really seems to brighten the eye area.
Blush Duo: I like it that the Duos contain a matte and a shimmering tone each; I bought shade 03 Sun-Kissed Nectarine to wear in the summer. I use the darker brown-toned colour to contour my face and then apply the lighter pink as a combined blush/highlighter on my cheeks. The coverage of Sun-Kissed Nectarine is not particularly high but you can layer it up to a medium coverage – no danger of accidentally applying too much blusher!
All products of the new Dr. Hauschka makeup range are certified by Natrue. In Germany the new range is available in organic supermarkets, department stores and pharmacies or online, for example at Naturdrogerie or Belladonna. You can find further product information, makeup tips and videos on Dr. Hauschka's international homepage.
[Click here for more pictures and the original German article Shopping Guide: Die neue Dr. Hauschka Make-up Linie]
Eau de Toilette Le Mec from Florascent Parfums
"What inspired me to create Le Mec? Last summer I was travelling around the South of France and in Nîmes I particularly noticed the young men of the town: they cruise around on motor bikes, are young and also a little wild", Florascent's perfumer Roland Tentunian said when I asked him about the inspiration for the brand's new fragrance Le Mec (colloquial French for "guy, bloke"). Tentunian wanted to create a fragrance that was more light-hearted and less cerebral than the usual Florascent perfumes. French film classics with Alain Delon also played a role in the development of Le Mec – as is immediately obvious from the advertising imagery for the product.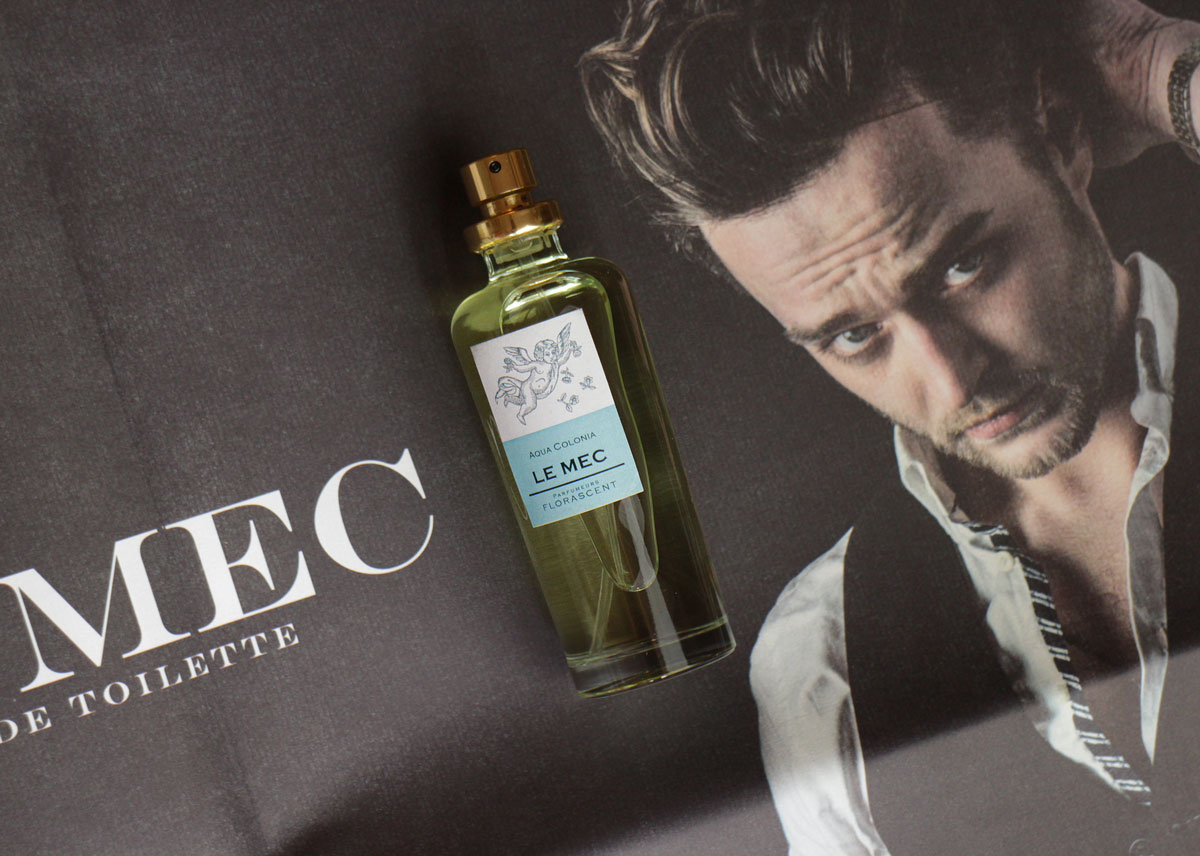 At Vivaness 2017 this February I had immediately noticed the ad campaign for Florascent's new Eau de Toilette. The pictures show a young artist who looks at the viewer with a reckless and bold gaze. The model – performance artist Arthur Gepting – works at Florascent, by the way; the advertising was photographed and designed entirely in-house. Impressive! I also see a subtle, ironic nod to Dior's fragrance classic Eau Sauvage's advertising campaign with actor Johnny Depp.
And this is the fragrance: Le Mec opens with notes of juniper, myrrh and green, mild citrus notes which evoke the sun-drenched landscapes of the Garrigue and the Macchie in the South of France. Then the scent takes us to a table in a tree-shaded café on a French boulevard: there is a hint of vermouth and aniseed, lavender and cardamom; with a slight metallic tang from the cars that drive past the café. The heart notes are aquatic and fresh with eucalyptus and cucumber – I see Le Mec driving past the Côte bleue near Marseille; with accords of intoxicating clary sage. The base combines light woods, pine and cypress (definitely Mediterranean!) and the gentle resinous notes of rock rose. The fragrance is light, like a breeze from the Mediterranean Sea; I see a white linen shirt, a hint of traditional Marseilles soap – altogether a more Mediterranean version of Cool Water which lasts for 4-5 hours on my skin.
Like all Florascent perfumes, Le Mec contains only alcohol and essential oils/absolues.
One flacon Aqua Colonia Le Mec contains 60 ml and costs 69 Euro. You can buy the perfume directly from Florascent or through online retailers such as Naturdrogerie (which is where I bought my fragrance. They also have samples of the perfume).
Le Mec is a must-have for any man (or woman of course!) who likes Mediterranean-aquatic fragrances. I wear Le Mec when I want to feel free and adventurous, think about new things – or when I yearn for the South of France 😉 .
[Click here for more pictures and the original German article Eau de Toilette: Le Mec von Florascent Parfums]
Good-bye everyone and see you soon!
Julia