Dear international readers of Beautyjagd,
Welcome to the next English-language edition of Beautyjagd! This is a condensed version of the most important articles that have appeared on my blog over the last few weeks. For more information about this format, click here. And now: enjoy the best of Beautyjagd in English!
Best wishes
Julia

Would you like to see what I brought back from my recent trip to Helsinki? I had such a wonderful time there and really didn't want to go back to Nuremberg. My return trip was a bit turbulent since my flight was cancelled but at least my suitcase arrived safely – and all of my holiday purchases did, too! When I was unpacking my suitcase I took a quick picture of my beauty souvenirs; the background is a dish towel with Helsinki design – it's from Kauniste, a young Finnish design brand which I already presented on Beautyjagd here.
Age Excellence Miracle Peel from Mossa
One of my first beauty purchases in Helsinki was the Age Excellence Miracle Peel from organic beauty brand Mossa. Mossa is Mádara's younger and more affordable sister brand. Unlike Mádara, Mossa is not (yet) available in Germany although they had a booth at Vivaness trade show this February. Mossa's products are based on antioxidant Nordic berry extracts – the Miracle Peel, for example, contains elderberries. The formulation of the Peel is based on water and lactic acid which is responsible for the gentle peeling effect. The peeling mask is certified by Ecocert and reminds me of Mádara's popular AHA Brightening Peel Mask (one of my favourites from 2015). Ýou apply the Miracle Peel mask to the skin, leave it on for five minutes and then rinse it off with luke-warm water. I tried it out that very evening; my impression is that my skin was indeed a little smoother and definitely more hydrated. Sun protection is mandatory when you use fruit acid face peels (just a gentle reminder!). In the Scandinavian countries Mossa is widely available and also in Italy, Hungary, Spain and the Czech Republic. Here is Mossa's homepage (I'm looking forward to trying out the brand's recently launched strawberry shampoo).
Rose d'Extreme-Orient Harmonizing Essence from Natura Siberica
In Helsinki's Stockmann and Sokos department stores I came across the products of Russian organic beauty brand Natura Siberica. I was particularly interested in the new "Sibérie mon Amour" range which I had already seen at Vivaness trade show this February. This product range combines rose ingredients from the city of Grasse in the South of France with herbal extracts from Siberia. My Harmonizing Essence from Natura Siberica, for example, contains juniper, pine and rowanberry – and of course the term "essence" drew me like a magnet! I love these Korea-inspired moisturising liquids which are a combination of hydrating toner and serum. The texture of the Harmonizing Essence is gel-like, the formulation is oil-free. In summer I like to use this kind of product underneath my sun scream. The Harmonizing Essence has a soft floral fragrance.
Soothing Starflower Daily Essence from Neal's Yard Remedies
And here's another essence! I bought the Soothing Starflower Daily Essence from UK brand Neal's Yard Remedies in organic beauty store Jolie (which was conveniently located close to my flat in Helsinki's Design District). The Starflower Daily Essence is recommended for sensitive skin; the formulation is fragrance-free. The product is based on water, glycerin and antioxidant edelweiss extract plus borage seed oil (borage is sometimes called "Starflower", hence the product name), aloe vera and soothing liquorice root extract. The gel texture of this essence is very soft and supple; my skin felt very smooth. You can check out the Soothing Starflower Daily Essence on Neal's Yard Remedies' homepage.
Eye Shadow Generosity from Kjaer Weis
Another Jolie purchase: the Eye Shadow in shade Generosity from Kjaer Weis which is part of the US/Danish brand's new Midsummer Collection. I'm such a big fan of taupe eyeshadows and Generosity is a beautiful neutrally-toned greyish brown – not too light (like Wisdom) nor too dark (like Onyx). The finish is matte to satinised, with medium pigmentation (exactly right) and the texture is smooth so the eyeshadow is easy to blend. This could easily become one of my new favourite eyeshadows! I bought Generosity in a little silver jar plus a refill, just in case. Check out Jolie's homepage which shows the entire new collection of Kjaer Weis. The eyeshadow costs 38 Euro in the silver jar, the refill is much cheaper.
Deodorant Crème True Cardamom from The Ohm Collection
As a cardamon fan I simply couldn't resist: Jolie had the new creamy deodorants from organic brand The Ohm Collection. I had visited the booth of the Netherlands-based beauty brand at this year's Vivaness – and you can find a review The Ohm Collection's Frankincense Deodorant Cream on Beautyjagd here. The fluid texture of the cardamom deodorant isn't water-free (like other organic deodorant creams) but structured like a classic emulsion, so it's really easy to distribute on the skin. The active ingredient is baking soda (which is finely milled so you don't feel the granules on the skin). And of course Deodorant Crème True Cardamom from The Ohm Collection has a wonderful cardamom fragrance – if you like cardamom, this is your deodorant! The brand offers five deodorants, Jenny from I love Spa recently presented the Blue Lavender variant on her blog. The Deodorant Crèmes from The Ohm Collection are now finally available in Germany, too; I have found them on Bio Naturel for 24 Euro.
Pine Tar Soap from Nurme
And here are my purchases from organic supermarket Ruohonjuuri – a very good place to buy organic beauty in Helsinki. A few years ago, on another Finland trip, I was introduced to pine tar soaps and now I really like this very Finnish scent – it smells a little like the smoke of a campfire. I bought a piece of this classic Finnish soap which is formulated with wood tar, an ingredient that is traditionally used to treat problem skin. Wood tar is anti-inflammatory and minimises itchiness. The Pine Tar Soap from Estonian brand Nurme has a simple formulation: saponified olive oil, coconut oil and apricot kernel oil plus pine tar. If you want to find out how wood tar is made check out this blog post here (German only, sorry). And here is the homepage of Nurme which presents all of the brand's products. The soap was priced at around 7 Euro. I like smelling the fresh soap bar which reminds me of a Mökki (the traditional wooden holiday house in Finland)…
Baobab Banana Lip Balm from Hurraw!
If you read my blog regularly you'll know that I have a rather strange weakness for banana scents (which doesn't really go with my usual fragrance preferences but what can you do 😉 ). And when I discovered the Baobab Banana Lip Balm from Hurrraw! in Ruonhonjuuri I simply had to buy it. I like these lip care balms with their flat packaging (which means that they fit into the tiniest handbag or trouser pockets) – my first blog article about the US brand was in 2011 (check it out here – German only, sorry!). The vegan lip balm is based on baobab oil and has a pleasant, natural banana fragrance. In Germany the Hurraw! lip balms are available online, for example at Ecco Verde.
Anti-Pollution Peel-Off Mask Face Powder from Beauty Made Easy
Danish beauty brand Beauty Made Easy was entirely new to me. Ruohonjuuri had some of the company's DIY face masks in its beauty section so I decided to try out the Anti-Pollution Peel-Off Mask Face Powder from Beauty Made Easy because the packaging design was so interesting. Basically these masks are a combination of algae and clay mask: you mix the powder with water, apply the thick pudding-like mass to the face and then pull it off after 15 minutes – like the rubber masks from Korean brand Lindsay or French brand Secrets des Fées. I like this kind of face mask although you have to be really fast whilst applying it. Here is the homepage of Beauty Made Easy which shows all four face masks. I paid around 4 Euro for mine.
[Click here for more pictures and the original German article Beauty-Notizen 13.7.2018]
I love this kind of blogger cooperation: When I was in Finland two years ago I bought organic Latvian brand Mádara's Pihlaja Daily Defence Cream. Pihlaja means "rowanberry" in Finnish, it's one of the active ingredients in this product range.
Mádara developed the Pihlaja line in cooperation with Finnish blogger, journalist and media professional Noora Shingler. Noora's blog is called Kemikaalicocktail but she is also active on Instagram and other social media channels. Her career began when she was working in the Finnish TV industry.
During my Finland trip last year I bought the matching Pihlaja Daily Defence Body Butter – and now I am completely crazy about rowanberry: Mádara has just extended the Noora Shingler-Pihlaja collection with two very cool face products: the Pihlaja Drops Glow Booster and the Pihlaja Daily Moisture for Face.
The Drops Glow Booster is an oily serum which is also available as a single ampoule (see top left hand corner of the picture). The product is based on apricot kernel oil and sweet almond oil as well as tomato extract and, of course, rowanberry – this last ingredient is also responsible for the light yellow-apricot tint of the Glow Booster and the Daily Moisture cream. Rowanberry (in Germany it is called "Vogelbeere" which means "bird berry") or Sorbus aucuparia is also known as mountain ash. The fruits have a deep orange-red colour – if you live in Europe you can actually see them now; the thick bunches of berries grow from August to October. Rowanberries contains vitamin C and provitamin A and are a popular antioxidant ingredient in cosmetic products.
I also found another interesting new Shingler-Mádara product range here in Helsinki: Nokkonen is the Finnish term for stinging nettle (Urtica dioica) and the new fragrance-free product range was developed especially for sensitive skin. The products in the Nokkonen range contain nettle extract which has anti-inflammatory and skin-soothing properties. I bought the Nokkonen Daily Defence Body Lotion which has a pleasant powdery-creamy fragrance. The range also includes the Nokkonen Daily Defense Moisturising Mist, a light gel-textured face spray which is very tempting – let's see how heavy my luggage is when I leave Helsinki 😉 .
As far as I can see all products are vegan and certified by Ecocert. Unfortunately the Noora Shingler ranges are not available in Germany; at least not yet. I really like the packaging design but also the long-term and (apparently) successful cooperation between brand and blogger which has resulted in such attractive and well-thought out beauty products. Every time I am in Finland I check out Mádara's new product collaborations.
And I must say that I am slowly becoming a Mádara fan; their recent products launches all contain interesting ingredients and solid product formulations. I really like my Finnish-Latvian beauty souvenirs!
[Click here for more pictures and the original German article Mádara by Noora Shingler]

At the end of last year I was hit by centella asiatica fever – I saw so many "Cica" products in Seoul: some of the creams (which are said to help heal scars) have cult status amongst Korean beauty fans, like the near-natural Cica Cream from Korean brand Dr. Jart. The Cica products often contain the healing plant centella asiatica – in Europe this herb is also called "tiger grass", "brahmi grass" or "gotu kola". Centella asiatica is a popular ingredient not just in traditional Korean medicine but also in the Ayurvedic medicinal tradition.
The centella asiatica extract is manufactured from the leaves of the umbelliferous plant; it contains triterpene acids and especially saponines, including madecassosides and asiaticosides. Madecassosides have a calming, anti-inflammatory and regenerative effect on the skin: the ingredient helps to boost collagen production. This is also the reason why Cica creams are not just used to treat scars or eczema but also as an anti-ageing ingredient in products developed for mature skin. By the way, around four years ago I wrote about an Ampoule Essence from Korean brand Innisfree which contains madecassosides.
European organic beauty with centella asiatica
I have found centella asiatica in a number of German organic beauty products, such as the Protective Day Cream Bio-Echinacea & Tiger Grass from Logona, the Evening Primrose Firming Day Cream from Weleda, the Age Protect Avocado & Tiger Grass Toner from i+m Naturkosmetik and the Ayurvedic Centella Oil from Khadi.
The Organic Centella Oil from Swiss brand Farfalla also contains centella (see picture above). I bought the Farfalla oil this June in organic beauty store Beauty & Nature in Munich: the oil is actually centella asiatica macerated in sunflower oil. The Organic Centella Oil is part of Farfalla's Special Care portfolio – you can blend the oil with a day or night cream or use it directly on the moistened skin of face or body. The Centella Oil can also be blended with other oils, Farfalla's homepage offers a number of oil blend suggestions – check it out in the Recipes section of Farfalla's website.
I used the oil as a stand-alone product, it has a yellow-greenish colour and a herbal and spicy "green" scent (although it's fragrance-free). Thanks to the sunflower oil base the Centella oil feels light on the skin – it is easy to apply and is absorbed quickly into the skin. Farfalla recommends the Organic Centella Oil for skin suffering from stretchmarks or cellulite and for demanding skin that is in need of regeneration.
The glass bottle contains 30 ml and costs 12.50 Euro. You can buy the oil in selected organic supermarkets and beauty stores, for example in Müller Naturshop drugstores or online through Naturdrogerie or Ecco Verde.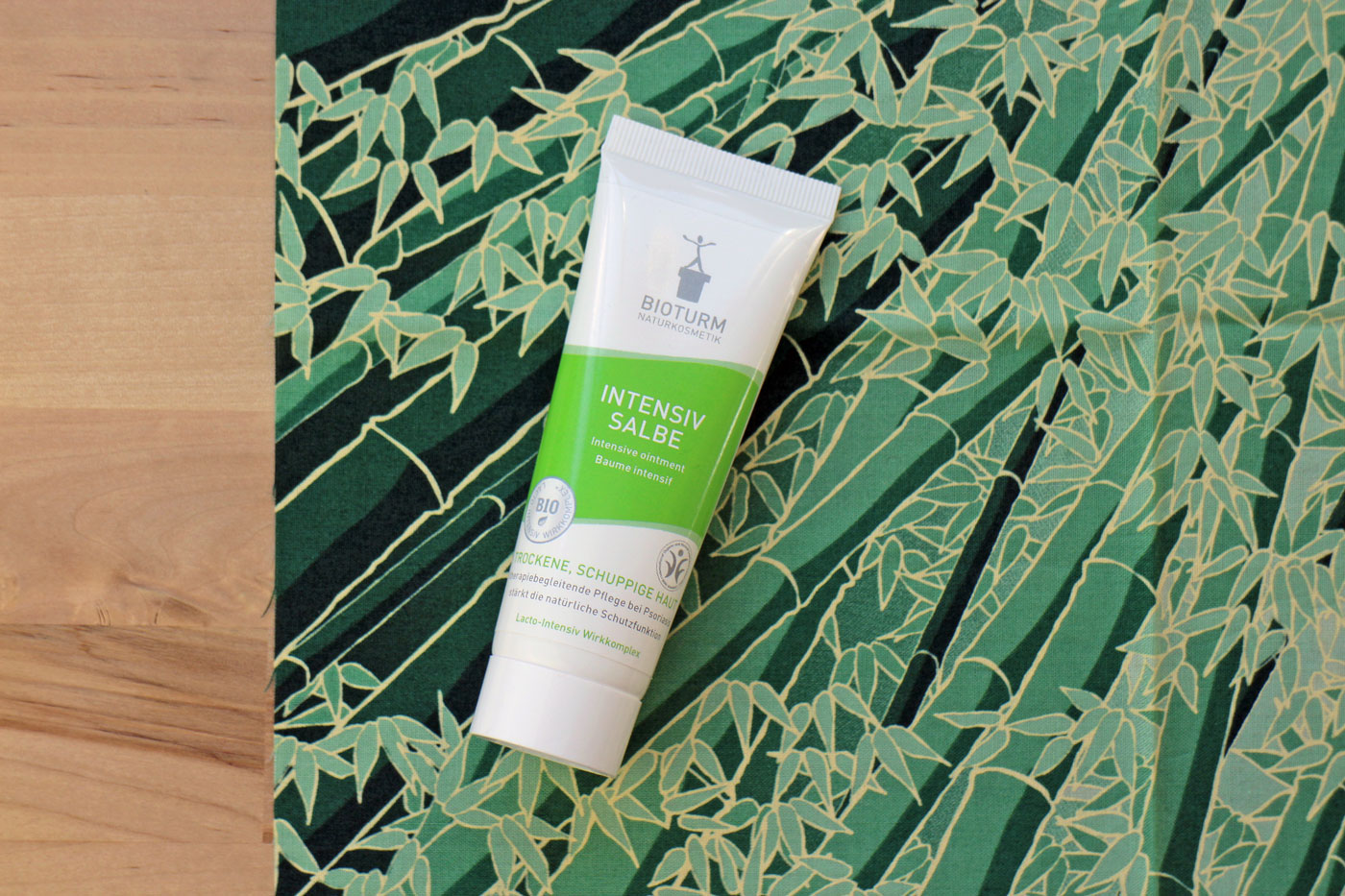 European organic beauty with madecassosides
So far I have only discovered the ingredient madecassoside in one organic beauty product: German brand Bioturm's Intensive Salve No. 4. The salve is recommended for skin suffering from atopic dermatitis, irritations and redness or for dry and chapped skin. I recently bought the cream in my local organic supermarket because the product formulation reminded me a bit of the Asian Cica creams.
The BDIH-certified Intensive Salve is based on water, moisturising glycerin and fermented organic whey which is said to strengthen the protective acid layer of the skin. The cream is fragrance-free and contains madecassosides in addition to other soothing herbal extracts. I was surprised by the pleasant texture: When I saw the product name Intensive Salve I immediately thought of thick, pasty creams but that isn't the case at all. The Salve has a light texture which hydrates and is absorbed well, leaving a very soft, non-sticky film on the skin. For me this is basically the first organic Cica cream with madecassosides – only with a much less trendy name 😉 .
A tube of the Intensive Salve No. 4 from Bioturm contains 50 ml and costs 39.90 Euro. It is available in organic stores annd online, for example at Najoba or Kein Plunder. And now let's see how long it takes before the Cica trend will appear in the organic beauty sector!
[Click here for more pictures and the original German article Inhaltsstoff-♥: Centella Asiatica und Madecassoside]
In cooperation with Ecco Verde // The Provence, a region in the South of France, has been one of my favourite travel destinations ever since I first visited the region with my parents as a teenager. And whenever I hear the words Saint-Rémy-de-Provence, Arles, Avignon, Mont Ventoux or Camargues I get a little misty-eyed, even though the Provence has become very touristy and quite crowded over the past thirty years. That's why I prefer to travel around the edges of the region, for example near Vaison-la-Romaine – and this year, for the first time ever, I will also visit the foot of the Cevennes mountains. I can't wait!
And now is the perfect time to introduce French organic brand Couleur Caramel's new Spring/Summer 2018 makeup collection Essence de Provence. I had first seen the products in an organic supermarket in Hazebrouck, a small town in the North of France, in late March and simply couldn't resist – I really like this limited edition. A few months later Couleur Caramel's PR agency sent me another one of the eyeshadows and since Essence de Provence is now also available online at Ecco Verde, we decided to turn this post into a cooperation.
The limited edition Essence de Provence offers four cream eyehadows, three lipsticks, two lipliners and two eye pencils as well as a 2in1 powder and the blush stick Twist & Blush. The French version of this makeup edition also includes three nail polishes (see display pic above).
Essence de Provence Creme Eyeshadow
In my opinion the cream eyeshadows are the most interesting products in this collection: I bought the shades #177 "Pearly rosy beige", #178 ,,Pearly bronze" and #180 "Pearly violet" and later received the last shade, #179 "Pearly grey brown", as a press sample. The cream shadows have a light gel-cream texture; they are certified by Ecocert/Cosmos Organic and the product formula is based on water, castor oil and sunflower oil.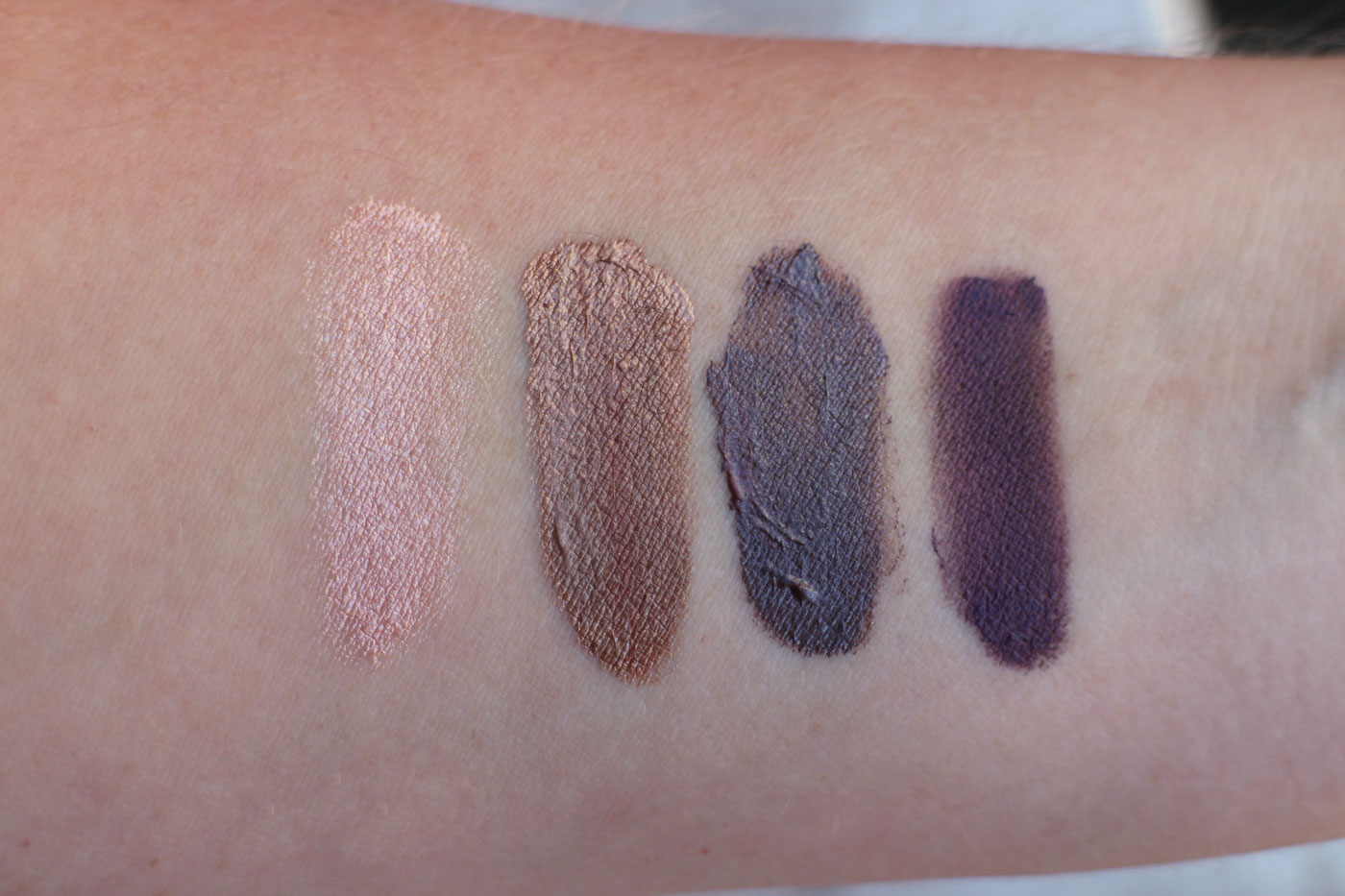 Three of the four shades have a pretty strong shimmer so it wasn't easy to capture the colours on camera. The swatches start with #177 on the far left. This is a bright champagne tone with a very light rose tint and a strong shimmer.Then comes #178, a bronze shade with neutral undertones and my absolute favourite – in the swatch the colour looks a little more reddish and darker than it actually is; the shimmer makes the shade appear lighter. #178, the third swatch from the left, is a strongly pigmented dark brown with slightly warmer undertones. The shimmery finish makes the colour appear cooler than the actual base colour. The least shimmering of all cream shadows is #180, a dark, strong purple colour.
If you powder your eyelids or use a blotting paper prior to applying your eye makeup the Couleur Caramel cream eyeshadows last very well, with minimal creasing. I also love that the colour is so buildable, you can create a whole range of different looks ranging from natural to dramatic depending on the amount of eyeshadow you apply. A little goes a long way with these cream eyeshadows – and you can also use them as an eyeliner. I use a narrow brush to apply the eyeshadows on my lids.
A jar of the Cream Eyeshadows from Colour Caramel contain 4 gr and cost 19.49 Euro at Ecco Verde.
Essence de Provence 2in1 Powder 
I couldn't resist the two face products in the Essence de Provence limited edition: when I bought them back in March they looked so wonderfully summery (in late March we still had winter temperatures in Germany!). The 2in1 Powder is a pressed powder which can be used as a bronzer or an all-over face powder, depending on your individual skin tone.
The 2in1 Powder consist of five colours – if you swirl them up with your brush they turn into an apricot-toned bronzer. Pure summer feeling! You can see the blended colour in the swatch on the far left of the pic (I applied a thick layer; worn on the face the shade looks much more natural), followed by the five individual colour strips: a neutral light brown, a warm terracotta shade, an apricot tone, a light cream tone and a sandy beige colour.
The powder has a matte finish with tiny golden particles – you can see them in the picture if you look closely. The pigmentation is medium so the risk of over-bronzing your face is minimal; the fragrance-free powder is based on glimmer and corn starch and has a very pretty pattern embossed on the surface.
I use a blend of all five colours of the 2in1 Powder to contour my face, applying it on my cheek bones, the sides of my forehead and underneath my chin. The light cream tone can be used as a highlighter (use a thin brush) underneath the eyebrows or on the top of your cheek bones. However, you can also apply it as a all-over bronzer depending on your skin tone.
The Couleur Caramel 2in1 Powder contains 6 g and costs 38.99 Euro at Ecco Verde.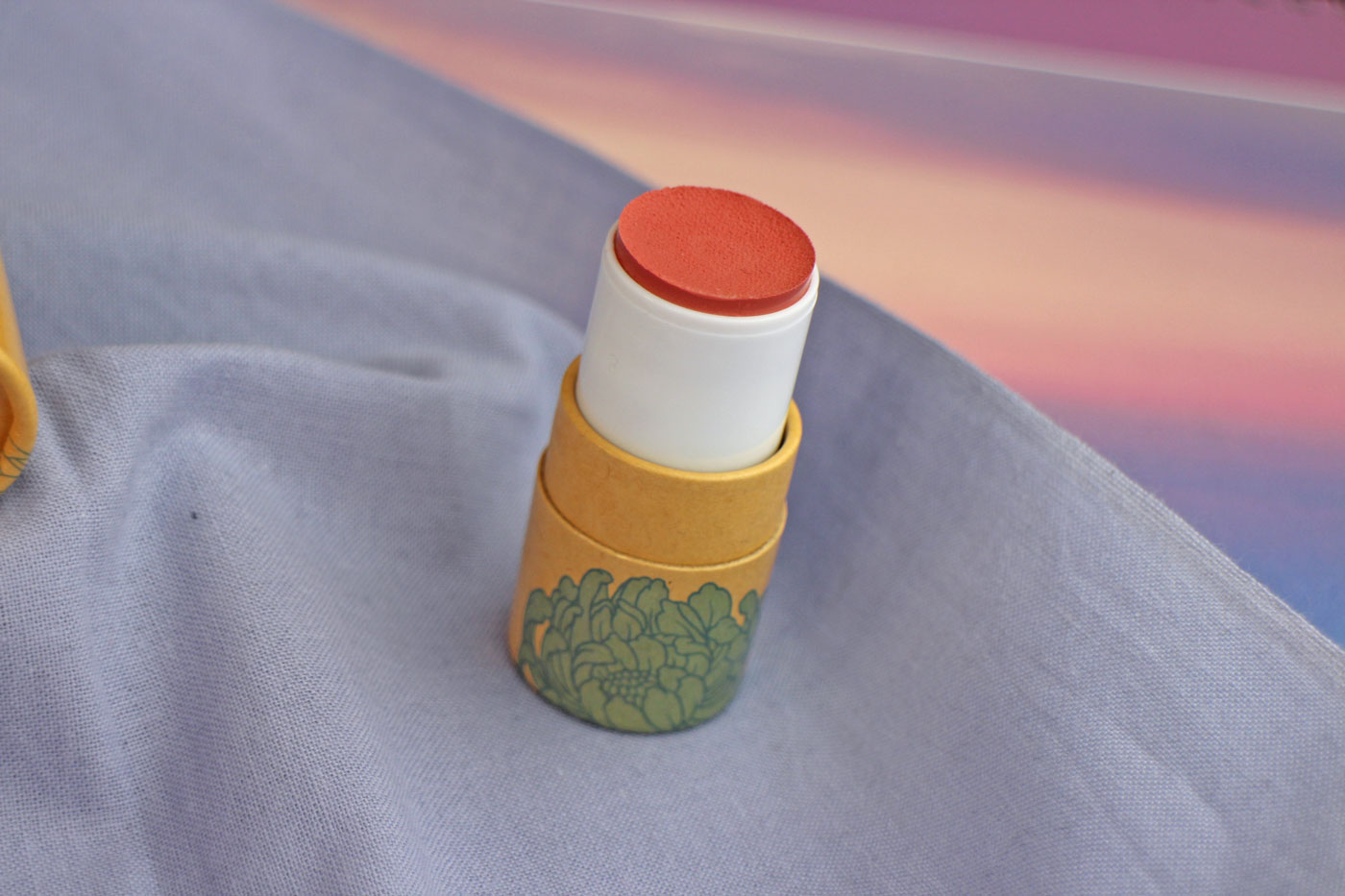 Essence de Provence Twist & Blush
The second face product in Couleur Caramel's current limited edition is the Twist & Blush stick in shade #42 (there is only this colour). These uncomplicated creamy cheek blushers are very popular right now: simply dab the colour onto the cheeks, blend it and you're done! The texture of the Twist & Blush from Couleur Caramel is pleasantly light and non-greasy and the finish is powdery and matte rather than oily or glossy.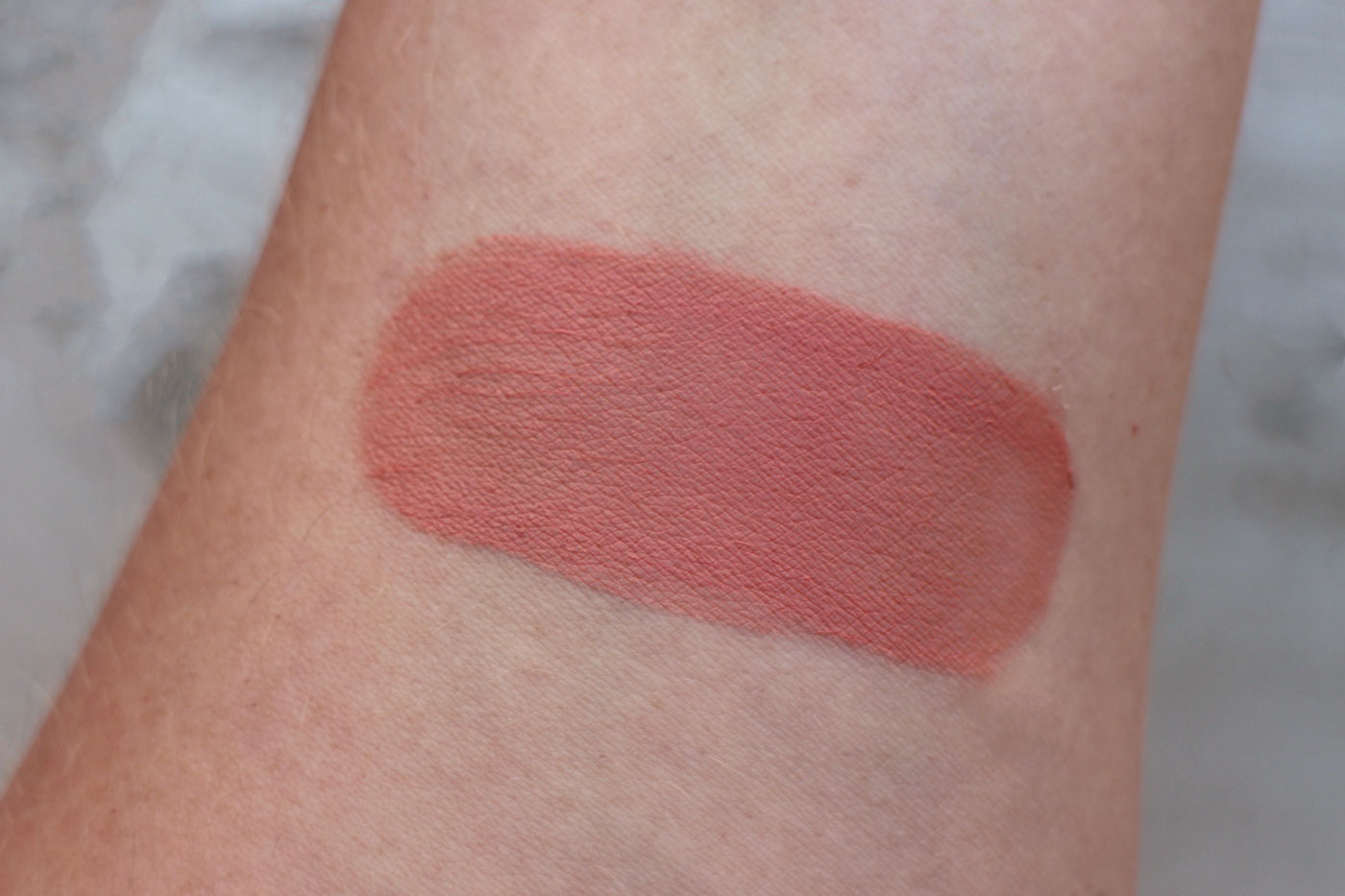 I'd describe the colour as a slightly warm coral tone which is located between apricot and pink (compared to the Twist & Blush, Smile from RMS Beauty is more orange-ey). The pigmentation is medium – which is exactly right for this kind of product – and the blush is based on plant-derived squalane, beeswax and silica.
I wear the Twist & Blush not just on my cheeks but also underneath the outer part of my brows – this gives the face a nice, fresh look!
The Couleur Caramel Twist & Blush contains 4.5 g and costs 37.49 Euro at Ecco Verde.
Essence de Provence Lipstick
The collection offers three lipsticks in the colours #275 "Dark rosy beige", #276 "Light garnet" and #277 "Red". I decided to buy number 277 – the other two colours are more shimmery and a bit more pink.
In my opinion the shade name "Red" isn't really indicative of the actual colour: #277 is more of a deep berry or fuchsia tone. The finish is shiny (but an adult shiny, not a teen-style glossiness!) but you can't see the shimmer particles. This lipstick offers pure saturated colour with medium to strong pigmentation. The texture is nicely balanced between waxy and oily – the formula is based on castor oil and candelilla wax) – so it lasts comparatively long. On my lips the lipstick feels hydrating, with a very light creamy-fruity scent.
The Couleur Caramel Lipstick contains 3.5 g and costs 20.99 Euro at Ecco Verde. The collection also offers two matching Lip Liners in Red and Rosewood.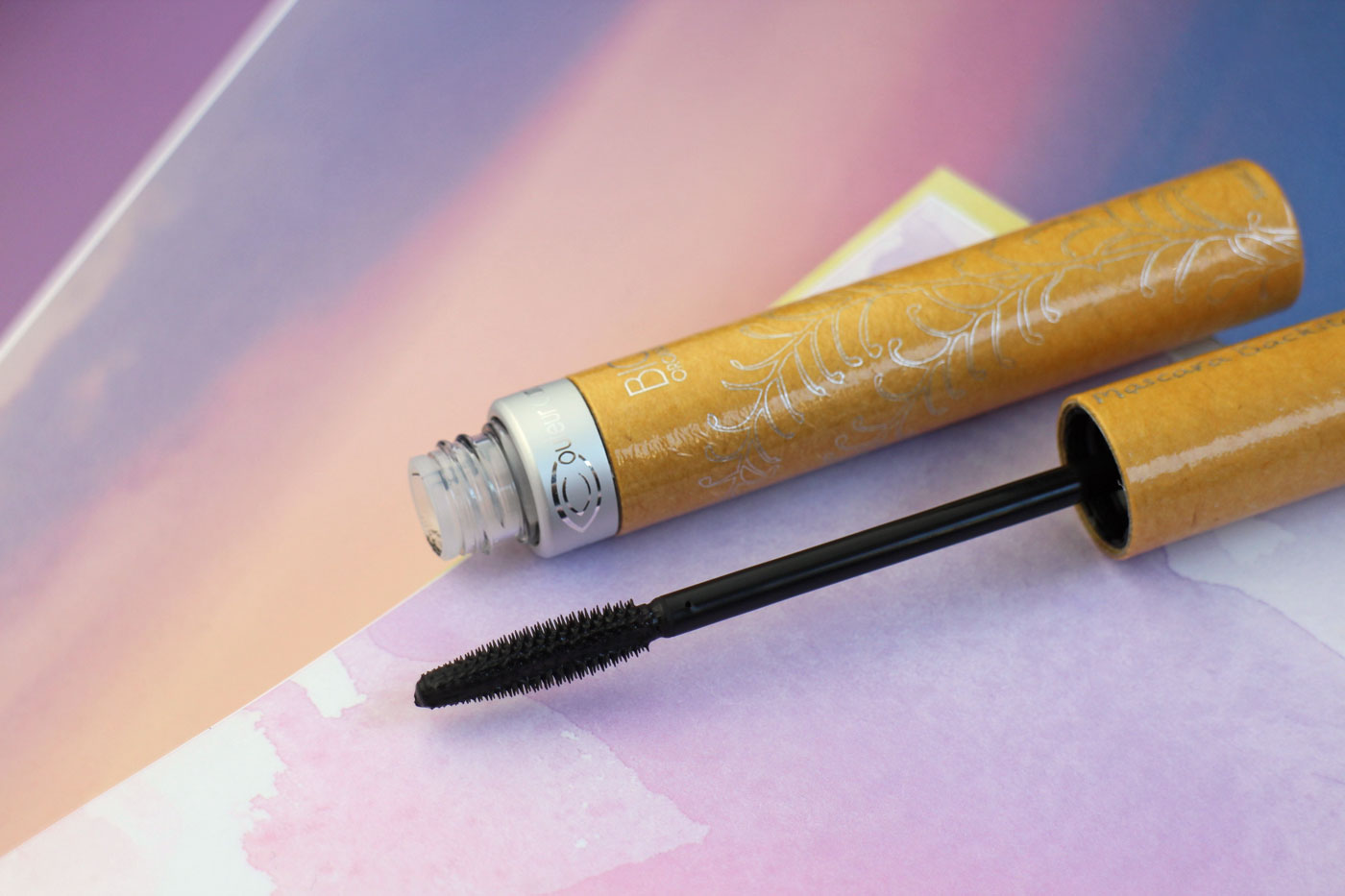 Mascara Backstage
This mascara isn't part of Essence de Provence but it's also a limited edition – and complements the summer collection perfectly: the Backstage Mascara from Couleur Caramel. When I started writing about organic beauty seven years ago, Couleur Caramel's mascaras were the first good organic mascaras I found. And I've been following the further development of the brand with great interest.
So I simply had to buy the black Backstage Mascara which comes with a rubber wand applicator. The very slender nubby bristles on the wand have different lengths and get shorter towards both ends of the applicator. The mascara itself is based on water, glycerin, processed plant oils and White Acacia rubber and the texture is liquid gel-y rather than waxy: the applicator easily transfers the colour to the lashes without clumping.
What really got me excited was the effect in terms of lengthening, volume and curl – see picture above (I am wearing the #178 "Pearly bronze" cream eyeshadow, by the way). For me, Mascara Backstage is easily one of the best organic mascaras if you're looking for a wow effect. There is just one small drawback: because the texture is so smooth and non-waxy the mascara isn't particularly resistent to tears or water (on the other hand, eye makeup removal is super easy!). On "normal" days the Backstage Mascara lasts the entire day on my lashes, it doesn't clump and has a very light almond fragrance. I really hope that this mascara will make it into Couleur Caramel's standard product line-up!
The Couleur Caramel Mascara Backstage contains 9 ml and costs 28.99 Euro at Ecco Verde.
And to return to the Essence de Provence collection from Couleur Caramel: the Eye Pencils in Green and Purple are also worth a look – they are neither too soft nor too hard.
You can find two further reviews of the new limited edition Essence de Provence from Couleur Caramel on these two (German-language) blogs here: Shades of Red and 50 Percent Green.
Of course Ecco Verde doesn't just sell the limited editions from Couleur Caramel but also some of my favourite products from the brand's standard portolio, like the Couleur Caramel Velvet Primer (which I reviewed on Beautyjagd here – German only, sorry) or the Couleur Caramel Organic Mineral Powder (I've written about the powdery mineral foundation here – German only).
[Click here for more pictures and the original German article Limited Edition Essence de Provence von Couleur Caramel (Sommer 2018)]
Good-bye everyone and see you soon!
Julia