This is a translation of my German blogpost Hinter den Beauty-Kulissen… ProTec Ingredia GmbH Proudly Presents: Eine Beauty-Tour durch die Schweiz. Enjoy!
In cooperation with ProTec Ingredia // What's the first thing you think of when you hear the word "Switzerland"? For most people, the immediate association will most likely be the Alps mountains (Heidi says hello!) but cheese and chocolate are also closely associated with Switzerland. However, in the world of beauty the country is also famous: In Asia especially "Swiss made" stands for high-quality cosmetic products.
Cosmetic ingredients manufacturer Mibelle Biochemistry is from Switzerland – the company is headquartered in Buchs – and many of its ingredients are inspired by the incredibly diverse Swiss landscape; from typical Swiss plants and snowy mountainsides to traditional national foods. In this new chapter of my beauty serial story, I am taking you on a beauty tour through Switzerland. Have fun!
A short introduction to Switzerland
Let's start with a brief overview of Switzerland because it is a complex and very interesting country. Switzerland is a federation of 26 cantons (or counties) and bordered by five European countries: Germany, Austria, Italy, France and Liechtenstein. Although the country is located in Europe and was a founding member of EFTA (European Free Trade Association), it is not part of the European Union (EU) but an associated member.
There are three official languages in Switzerland (German, French and Italian) as well as the supplementary language Romansh, and the country is roughly divided into three main linguistic regions: German-speaking Switzerland with its key cities Zurich, Basle and Berne, French-speaking Switzerland with Geneva and Lausanne and Italian-speaking Switzerland with Lugano and Bellinzona amongst its largest cities. Romansh is mostly spoken in the canton of Graubünden.
Each canton has a different name in German, French, Italian and Romansh and several cantons have more than one official language – in Graubünden (Grisons in French, Grischun/Grischùn in Romansh or Grigioni in Italian), for example, the languages are German, Italian and Romansh. In Wallis (Valais in French or Vallese in Italian), Bern (Berne in French or Berna in Italian) and Freiburg (Fribourg/Friburgo) the official languages are German and French.
And the Swiss geography is just as diverse: Around 60% of the surface of the country is covered by the Alps (although just 11% of its citizens live there) and there are 48 mountain peaks higher than 4,000 meters. Switzerland also has 1,500 lakes and other bodies of water which together cover 4% of the country's surface. Major European rivers like the Rhine or the Rhone also originate in Switzerland and in total, Switzerland accounts for 6% of Europe's freshwater reserves. The varied climate and landscapes mean that Switzerland has a rich biodiversity, especially in the alpine regions and forests.  And now we'll see some of this biodiversity on our beauty tour. Let's go!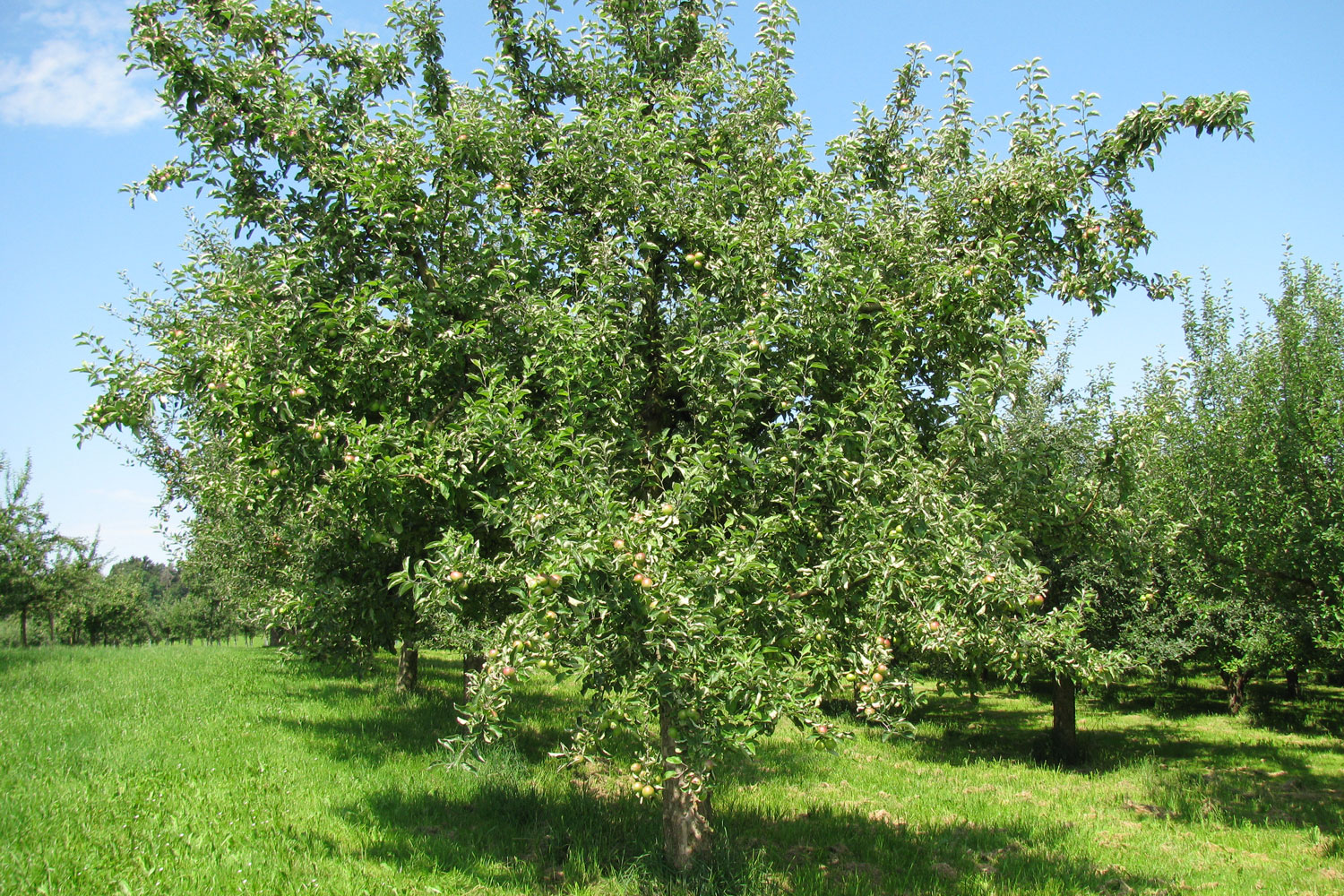 PhytoCellTec™ Malus Domestica from Uttwil
Besides cheese and chocolate, you can also discover unusual and ancient fruit and vegetable variants in Switzerland. The first stop on our beauty tour is the canton of Thurgau (Thurgovie/Turgovia) not far from Lake Constance. This is the home of the rare and protected Swiss apple variant 'Uttwiler Spätlauber' (Malus domestica) which was first cultivated in the middle of the 18th Century. The apple has a slightly sour taste and excellent storage capacity, even after a long period of storage the fruit's skin remains smooth and unblemished. The reason for this is the very high percentage of secondary plant ingredients, proteins and long-living tissue stem cells. These properties play a leading role in Mibelle Biochemistry's innovative and best-selling active ingredient PhytoCellTec™ Malus Domestica. The ingredient is based on apple stem cells from the Uttwiler Spätlauber and helps older skin cells to form new tissue. It also increases skin density and improves the vitality of the skin's epidermal stem cells. Mibelle Biochemistry manufactures this active ingredient with the help of sustainable and resource-conserving cell cultures.
Pinolumin™ from Fuldera
Now we're travelling onwards to the canton of Graubünden (Grisons/Grigioni) to visit the small town of Fuldera. Here, near the border with Italy, the landscape is mountainous. Around a third of Switzerland is covered by forests; especially coniferous trees such as fir trees, pines and spruces. The Swiss stone pine Pinus cembra (which is also called Zirbelkiefer or Arve) is a typically Swiss plant which only feels happy growing in altitudes of 1,500-2,500 metres above sea level. It also needs long and severely cold winters. The wood of the stone pine is used to make furniture and the Fuldera sawmill supplies left-over stone pine wood chips for Mibelle's upcycled ingredient Pinolumin™. This highly concentrated Swiss stone pine extract is especially suitable for sensitive and hyper-sensitive skin types. It contains the strong antioxidant pinosylvin, reduces inflammation and redness and evens out skin tone.
Alpine Rose Active from Bergün
Let's stay in Graubünden for a bit because the third station stop on our Swiss journey is the little mountain village of Bergün. This village is not only located on the famous Albula line of the Rhaetian Railways – a UNESCO world heritage site – but it is here that Mibelle Biochemistry sources the alpine rose Rhododendron ferrugineum for its Alpine Rose Active complex. This evergreen alpine rose with its spectacular pink blossoms is another typically Swiss plant: It loves high altitudes. The alpine rose has also developed remarkable adaption strategies to survive drastic temperature changes, UV radiation and dryness. Mibelle's Alpine Rose Active uses the constantly regenerating leaves of the alpine rose. The plant material comes from a local organic farm in Bergün. The Alpine Rose Active complex eliminates senescent (aged) skin cells which can cause inflammatory reactions, affect the surrounding healthy cells and promote skin ageing. The ingredient also has antioxidant properties which help to prevent photo ageing.
Black BeeOme™ from Linthal
Now we're travelling to canton Glarus (Glaris/Glarona) in the German-speaking part of Switzerland. The very rare and protected black bee Apis mellifera mellifera lives only in the most remote Swiss valleys like the Münster valley. Black bee honey forms the base of Mibelle Biochemistry's Black BeeOme™ ingredient. The dark colour of the bee allows it to warm up quickly even in the high mountains so it can survive cold temperatures. Although the black bee is considered to be highly resistant this bee species has unfortunately been supplanted by the more common honey bee. Because Mibelle Biochemistry uses the honey from the black bee in its active ingredient the company helps to preserve this rare bee species. If you want to find out more about Swiss biodiversity check out my article about the ProSpecieRara foundation. For Black BeeOme™ the dark bees' honey is turned into a fermented extract which helps to regenerate the skin's flora (microbiome) after washing, strengthens the skin's barrier and regulates sebum production.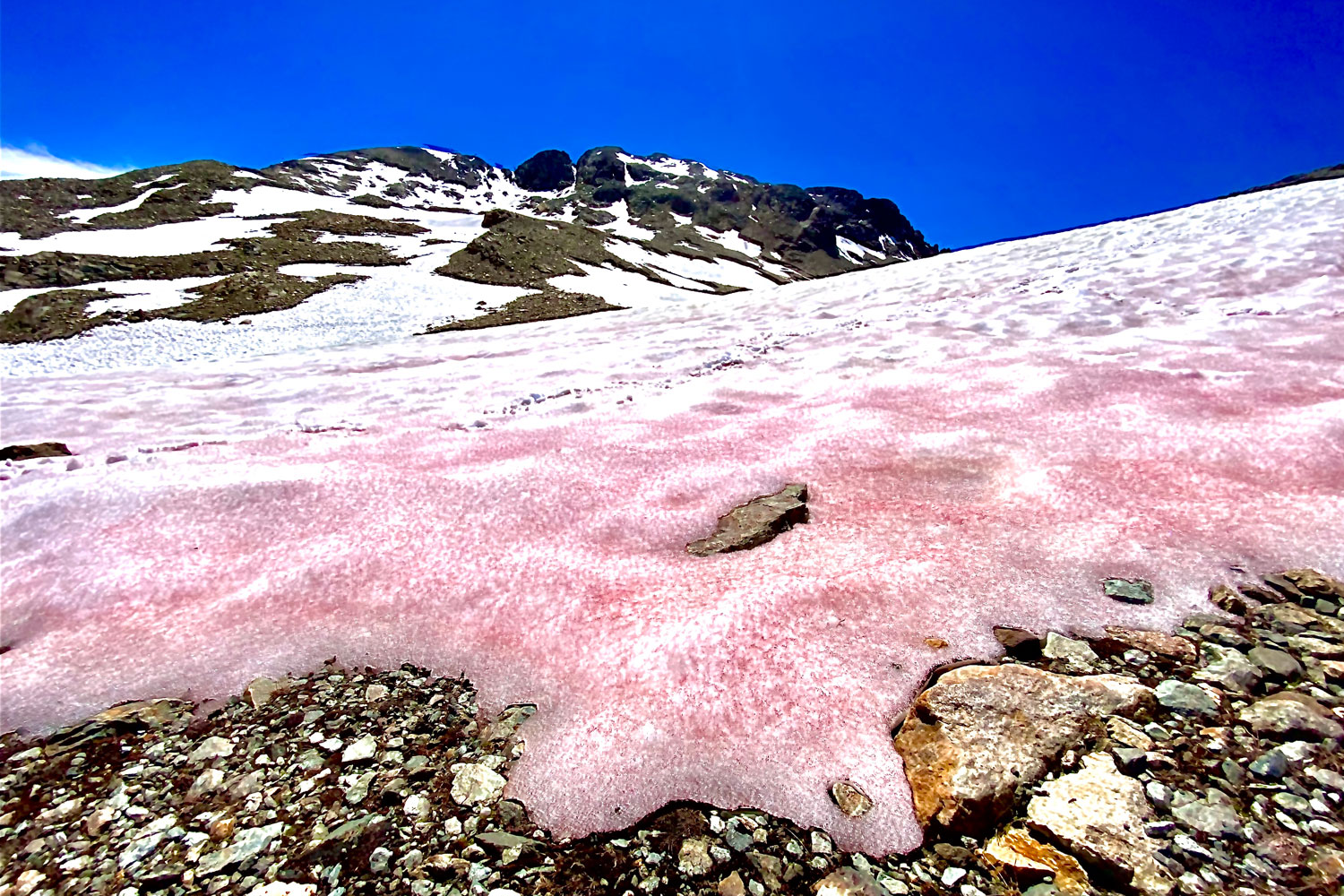 Snow Algae Powder from the Swiss Alps
And now put on your hiking boots because we're climbing up into the high mountains! 16 of Switzerland's highest mountain peaks are located in the Wallis (Valais/Vallese) Alps range which also still features many glaciers, thank goodness. There is a natural phenomenon in this mountain region that I find fascinating: In summer the remaining snow fields sometimes turn a deep pinkish red. The colour comes from the snow algae Coenochloris signiensis which grows on glaciers and in regions with permanent snow. From early summer onwards this single-cell organism from the green algae family protects itself from strong ultraviolet radiation by generating carotenoids. To survive the dangerous climatic conditions of the high mountains the alga kind of starts to hibernate, slowing down its organism and decreasing its calorie intake. Mibelle's Snow Algae Powder is based on Coenochloris signiensis (the extract is produced in a sustainable cell culture) and just like the algae, the ingredient helps to slow down the ageing process of the skin cells and stimulates a specific longevity gene.
IceAwake™ from Zermatt
The Matterhorn with its distinctive pyramid shape is probably the most famous Swiss mountain peak. At the foot of this mountain (which is still located at an altitude of 1,600 metres) in canton Wallis lies Zermatt, a mountain town which is particularly popular with skiers, hikers and mountain climbers. For its active ingredient IceAwake™, Mibelle Biochemistry has isolated the extremophilic bacterium Iodobacter ssp. from the ground underneath a Zermatt glacier, basically waking up the bacterium after many years of lying dormant. The extract is manufactured from Iodobacter ssp. cultivated in a bioreactor. IceAwake™ protects the skin from early skin ageing caused by lack of sleep or a hectic lifestyle and gives skin cells an energy boost.
Lipobelle™ Glacier from Dorénaz
And speaking of glaciers: The glacier water used in Mibelle's active ingredient Lipobelle™ Glacier comes from the small town of Dorénaz in the French-speaking part of the Wallis. As the water come from a high alpine mountain area it's especially clean and pure. So very Swiss, don't you think 🙂 ? In order to transport the moisture effectively into the deeper layers of the epidermis and ensure a long-lasting hydrating effect, the glacier water is liposomically encapsulated with lecithin.
Vin-upLift from Döttingen
We're finishing our tour through the spectacular landscapes of Switzerland by leaving the high mountains and travelling to Döttingen in the canton of Aargau (Argovie/Argovia), not far from the German border. You might not immediately associate Switzerland with wine cultivation but there are several autochthonous grape varieties that only grow in Switzerland. A rarity is the Swiss ice wine which is made from fully ripened grapes that have frozen on the vine in late autumn or early winter prior to harvesting. To make ice wine the grapes need to be healthy and undamaged. Since ice wine is only partially fermented it has a different molecular composition than regular wine; it tastes sweeter and contains more polyphenols. In Mibelle's active ingredient Vin-upLift, Swiss ice wine is combined with polysaccharides from the tara plant Caesalpinia spinosa to increase hydration levels in the skin and make it look smoother.
And here we are at the end of our summer beauty trip through Switzerland. Thanks for joining me, I hope you had fun!
The active ingredients of Mibelle Biochemistry are available through German distributor ProTec Ingredia exclusively for corporate customers.
© Photos: Mibelle Biochemistry. The images were supplied for the purpose of this article.
The next chapter of my beauty serial will focus on the skin barrier. Stay tuned!