Dear international readers of Beautyjagd,
Welcome to the next English-language edition of Beautyjagd! This is a condensed version of the most important articles that have appeared on my blog over the last two weeks. For more information about this new format, click here. And now: enjoy the best of Beautyjagd in English!
Best wishes
Julia
Japanese beauty treatment at Ryoko, Berlin
I already mentioned in last week's Beauty Telegram that I had a special beauty experience – and, as promised, here is a more detailed article about my Japanese Beauty Treatment at Ryoko Hori's salon in Berlin! I had been looking forward to this appointment for weeks; ever since Jenny from I love Spa wrote a blog post about the excellent massage she received at Ryoko's.
I was particularly interested in Ryoko's Japanese Beauty Treatment which features natural ingredients only: oils, hydrosols and plant extracts. The perfect combination of Japanese beauty rituals and organic cosmetics!
Ryoko is a massage specialist who trained in Japan, Australia and India; she has an impressive range of different massage techniques which include classic sports massage and remedial massage therapy as well as ayurveda and reiki massages. In 2013 she opened a massage & beauty salon in Berlin where she also offers workshops and meditations. Her store is located in one of Berlin's gorgeous old buildings from the late 19th century (in German this building type is called "Gründerzeit"), with high ceilings, stucco moldings and large windows. Ryoko's treatment room also has the typical Gründerzeit ceilings, with plain white walls and Japanese tatami mats on the floor – beautiful!
The Japanese Treatment began with a thorough oil cleansing and a facial steam. Ryoko cleansed my skin in tiny steps (literally centimeter by centimeter), starting at the chin and finishing at the forehead. Then she gave me a facial massage with camellia seed oil (called "tsubaki" in Japanese) which had been mixed with a hint of essential oil.
The massage was amazing: it stimulated pressure points and lymph nodes; Ryoko also massaged my stiff arms and neck and even managed to loosen my tight jaw muscles. A piano concert was playing in the background; I almost had the feeling that Ryoko was timing her massage movements to the music. Believe me, it was pure bliss!
Then, to calm down my facial skin (which had been stimulated by the massage) Ryoko applied a fabulous DIY sheet mask mask (which I am SO going to try out myself!): she mixed aloe vera gel with rose hydrosol, clay and yomogi powder (Japanese mugwort which is also supposed to help against excessive pigmentation) and applied to my face. On top of this layer she placed several damp cloths. After ten minutes Ryoko removed the mask; sprayed some rose-cherry blossom hydrosol across my face and decolleté and finished the treatment with a short head massage which brought me back to reality – I was so relaxed that I had almost forgotten where I was!
My skin looked amazing; even-toned and hydrated but not oily or too rosy. And for several days after the treatment my neck tension seemed to be much better (an extra bonus!). After the treatment was finished I looked around the store area: Ryoko sells her own oil compositions and hydrosols as well as incense and beautiful Japanese ceramics. I bought the rose-cherry hydrosol (of course!) and a face oil with shiso extract (shiso is also called "perilla").
The 60 minute Japanese Beauty Treatment is priced at 70 Euro and I think it is worth every cent. If I were living in Berlin I'd be visiting Ryoko regularly. It is best to make an appointment by e-mail; Ryoko speaks English, French and (of course) Japanese.
Adress: Ryoko Hori, Friedelstrasse 11, 12047 Berlin, Germany. www.ryoko-berlin.com
[Click here for more pictures and the original German article Japanese Beauty Treatment bei Ryoko in Berlin]
On my last evening in Berlin I visited MDC perfumery in Prenzlauer Berg area. MDC stocks Josh Rosebrook, a US brand which many international beauty blogs are really excited about. And yes, I can now understand why this brand is so popular in the US! I bought Josh Rosebrook's Nutrient Day Cream SPF 30 in a 30 ml size – and wow! The cream is really easy to apply; it is non-greasy, doesn't leave my t-zone shiny at all and has almost no whitening effect. Seriously impressive! 12% non-nano zinc dioxide is responsible for the "broad spectrum" sun protection (equivalent to our European UVA seal) and the cream also includes aloe vera, shea butter, evening primrose oil and hemp oil. Almost all ingredients are from organic agriculture (you can check out the complete INCI listing on the Josh Rosebrook homepage) and the cream has a light, creamy, herbal-accented fragrance. There is also a tinted version of the Nutrient Day Cream which gives an additional (light) glow. The brand's Hydrating Accelerator is also very nice.
In the neighbourhood of MDC is a very large organic supermarket, LPG Supermarkt – and here I finally found UK brand Pukka's new Golden Turmeric tea! The tea bags contain 40% turmeric, 20% green tea, liquorice root, cardamon, tulsi leaf and lemon – a spicy, warming combination with refreshing undertones (the citrus). Very tasty. I'm impressed that Pukka has launched such a deep yellow turmeric-accented tea! I have also seen this tea in Munich's Basic organic supermarket.
And here we are in Munich! This Monday it was really hot in Nuremberg so I generously sprayed myself with the cooling Eau Floral Géranium hydrosol from French brand Éolésens (a present from my reader blanca flor who had bought it during a recent trip to France – thank you blanca flor!). I love rose geranium. A few days later, in Munich, it was cold and rainy but this unpleasant weather did not keep me from doing the things I had planned for this short visit: meet up with Sirkku from Hilla Naturkosmetik and check out a new store for Korean cosmetics, Miin. Miin is located in Westernriederstrasse and they also stock organic brand Aromatica which I had first seen in Seoul. I also visited Tobs Beauty, a recently opened stylish organic perfumery near Max-Weber-Platz.
On Instagram I have already shown you my crazy Munich purchase: 2016 seems to be my linden year – and after a lot of deliberation (the perfume is not cheap!) I finally bought the Eau de Parfum Unter den Linden ("Underneath the Linden Trees") from Berlin niche fragrance brand April Aromatics. A few years ago I posted a detailed article about April Aromatics and its founder Tanja Bochnig. I also presented nine April Aromatics perfumes, including Unter den Linden. I ought to mention that Unter den Linden is the name of one of the most famous boulevards in Berlin. The street really is lined with linden trees! I don't think I can do any better than my perfume description from that 2013 article: "A walk on the boulevards of Berlin which are lined with blooming linden trees: the spring air is fresh and aromatic, the day sunny and bright. Sparkling notes of bergamot lift me up while white blossoms and accords of mimosa mingle harmoniously with the airy (and not too sweet) linden blossoms. I am thinking about linden trees: "in his shadow I dreamed many sweet dreams". Now I am smelling like a walking linden tree 😉 !
I also visited an outlet of drugstore chain Müller and noticed a new foundation in Müller's organic own label brand Terra Naturi. Nude Perfection Foundation is packaged in a glass flacon with dropper and you have to shake the bottle before use. I had some trouble with the dropper at first but after a while it worked well. The formulation of Nude Perfection reminds me of the Pure Teint Make-Up from drugstore chain DM's Alverde brand (unfortunately Pure Teint was delisted in Alverde's last portfolio relaunch): it is based on processed oils and does not contain any water. Nude Perfection is available in four shades, I bought Soft Sand (04) which, however, turned out to be a little too rosy on my skin – I probably should have bought the more beige-toned 03 Natural Beige. I was surprised by the scent of this foundation; it reminded me of monoi-scented French sun care products. I also like the ultra flexible texture and the silky finish. Coverage is light to medium. You can find more information and the INCI listing here.
German organic brand Annemarie Börlind recently sent me a lipstick to celebrate World Kiss Day (yes, there is such a day!). I love the lipstick shade Cassis so much that I want to show it to you: it's a berry-coloured tone which is quite soft (the shade looks much darker on pictures than it actually is) with a transparent and slightly glossy finish and a pliable texture. It is easy to layer this lipstick so you can build up the colour to a medium coverage – very nice! The lipstick is available online through Belladonna or Bio-Naturel.
Before I finish these beauty notes I'd like to congratulate the two winners of my Ecco Verde competition: the two Ecco Verde parcels have already been dispatched to Sabrina J. and Doreen S. – And there is still a chance to win a Berlin weekend with a beauty and makeup consultation in online perfumery Savue's new showroom – more information on the side bar banner!
And here are some of the organic beauty news I discovered last week:
In Berlin I saw some of the products of Swiss artisan beauty brand Ponyhütchen in organic supermarket Temma. The selection includes some of Ponyhütchen's deodorant creams and hand butters. Cool.
Müller has launched a new own label brand: Naturé is based on Alpine ingredients (and especially on edelweiss). The new line is more expensive than Alverde (DM) or Alterra (Rossmann). More information is available here. (Thank you to my reader Ava for mentioning the new range in the comments section!)
Dutch niche perfume brand Hiram Green has launched a new fragrance (which I tried out at Tobs Beauty in Munich): Dilettante smells like an entire grove of orange trees! More information is available here.
[Click here for more pictures and the original German article Beauty-Notizen 15.7.2016]

Master Lin: TCM inspired organic beauty
I am always excited when I discover an organic beauty brand that stands out from the rest; a brand with a different or unusual concept. After all, curiosity is my middle name 😉 . So I was more than glad to do this Sponsored Post in cooperation with Master Lin!
And here is why: Master Lin is a beauty brand based on the principles of Traditional Chinese Medicine (TCM). Although the company is located in Austria, the man behind Master Lin is a monk from Taiwan: and yes, he really is called Master Lin. Master Lin is a feng shui master and a herbal medicine expert; he helped develop the product formulations for the Master Lin cosmetics range.
In last week's Beauty Telegram from Berlin I mentioned that I had bought an introductory hand book about TCM, right? The book turned out to be fascinating; I read it on the train on my way from Berlin back to Nuremberg – such an interesting way of looking at body, mind, diseases and health! And so different from the way we Europeans think about these things.
I should mention that Traditional Chinese Medicine is considered a rather exotic field in Germany (and in most European countries). We have many forms of alternative medicine in Europe: herbal medicine, aromatherapy and homeopathy, for example, have a very long history over here. TCM however, is not particularly well-known in Germany, most people are probably aware that it has something to do with acupuncture or herbs, but that is more or less it. In cities like London (which has a very large Chinese community) you can find TCM practitioners and many other resources but in Germany, TCM specialists are few and far between.
Of course my book could only offer a brief introduction into this enormously complex field, but at least I now have some background knowledge about the underlying principles that govern Traditional Chinese Medicine. According to TCM, body and mind are an inseparable unity of body and mind: yin and yang – two opposing principles without which life would be incomplete. No yin without yang. The goal of TCM is to keep the life energy chi (or "qi") flowing, making sure than yin and yang are staying in balance. The chi flows along twelve main energy channels (also called meridians) in the human body which in turn are connected to the 12 main organs and their respective functions (like heart, lungs, spleen or liver). When the body is out of balance – through external factors like temperature or weather (heat, cold or wind) or through internal factors like strong or negative feelings (anger, sadness, frustration) – TCM is attempting to rebalance it through medicinal herbs (especially important in China) but also with methods like acupuncture, massages, nutrition or exercise like tai chi. Traditional Chinese Medicine is trying not to merely treat the symptoms of a disease but instead address the actual reasons for the illness.
The products of Master Lin were developed according to the science of the Five Elements (or Five Principles): wood, fire, earth, metal and water are forming a cycle or sequence. The organs of the human body, the seasons of the year, herbs and foods – all of these fall under one of the five ruling elements. For example, there are foods or beverages that have a heating or cooling effect on the body (regardless of the actual temperature of the food or drink!). They can therefore have a balancing (and thus, healing) effect on specific organs or meridians. According to TCM, acne or rosacea, for example, are caused by excessive heat within certain bodily organs. And this excessive heat can be treated by cooling herbs, acupuncture or a special diet.
The medicinal herb mixtures that are used in TCM remedies rarely contain just one ingredient: instead they offer a carefully balanced combination of various roots, leaves, flowers or animal parts. The Master Lin products follow a similar principle: they are formulated with a mixture of active ingredients – and the skin will take whatever it needs to balance itself out.
So much theory! I mentioned above that TCM as a field of alternative medicine is not particularly well known in Germany – many of the aspects of Traditional Chinese Medicine, however, are quite familiar to Europeans: they are also present in our traditional herbal lore, in the principles of aromatherapy, spagyrics and homeopathy.
Master Lin offers a wide range of face and body care products: I selected five products which I found particularly interesting. Almost all products are certified by NaTrue.
First up, the Gold Face & Body Oil (did I mention that I am an oil fan?!). The oil is packaged in a matte glass bottle with pump dispenser: the oil has a soft orange colour and a slightly soapy, fresh herbal smell which is quite subtle and not too overpowering. On my dry body skin the oil was easily absorbed and the skin felt velvety without greasiness. I also tried the oil on my face (applying it on damp skin) and it disappeared really quickly – no stickiness, just softness and hydration.
The oil contains ingredients from all five elements. It is based on sweet almond oil which, according to TCM, is ruled by the element metal and the organ skin (don't forget, our skin is the largest organ in the human body!). The ingredients also contain rosehip kernel oil (element wood: cooling and moisturising), gold particles (in ancient times gold was considered to have anti-inflammatory properties) and regenerating lotus (both lotus and gold are governed by the element earth). Pine needle oil and black pepper have a stimulating effect.
The Gold Face & Body Oil from Master Lin contains 60 ml and is priced at 69.90 Euro.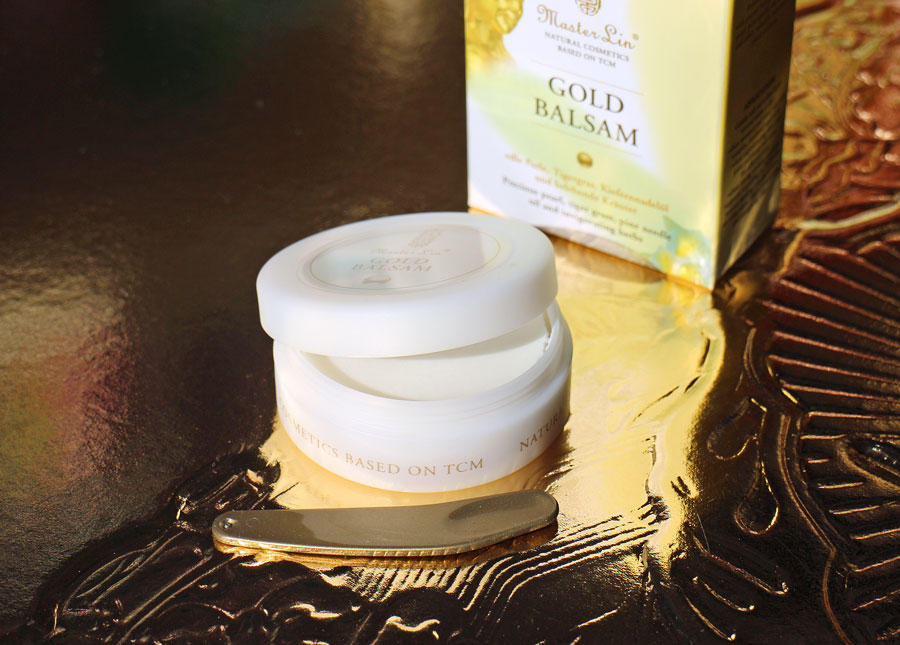 The Gold Balm is packaged in a little jar (including spatula): it has a firm texture which, however, melts quickly on the skin; the balm then becomes creamy and forms a non-sticky protective layer on the skin. And the fragrance is fabulous! I smell mint, herbs, a certain smokiness – like a non-greasy, great-smelling Tiger Balm!
The balm is recommended for energy blockades of the body meridians; you apply it to your forehead, the neck or the temples. It is supposed to have an energising effect and help with heat, stress or tiredness. I have tried it out on my temples and neck but also used it as a nail care balm and that works really well.
The balm does not contain any water: it is based on shea butter (element earth), sweet almond oil and beeswax; it also contains selected Five Elements ingredients such as gold (element earth: anti-inflammatory), tiger grass (also called centella asiatica; it belongs to the element fire and is traditionally used to heal wounds), pearl extract (element water: the high percentage of calcium and amino acids has a regenerating effect) or sambong (a plant from the Philippines; element wood – helps with infected wounds or colds).
The Gold Balm from Master Lin contains 18 gr and costs 28.50 Euro.
In Asia, powder masks are very popular (and I like them, too!) so the third product I selected was the Herbal Cleansing Powder & Beauty Mask. You can use the product as a face cleanser or a cleansing mask; the fragrance of this powder reminded me of the herbal medicine shops I saw in Hong Kong or Bangkok – herbal and spicy notes with accords of mint and mustard; that's the best description I can give you 😉 .
If you want to use the powder to cleanse your face, you mix it with a few drops of water in the palm of your hand. It turns into a liquidy cream; massage it into your face without applying to much pressure and leave it on for about 30 seconds. Then rinse off with lukewarm water. My skin felt clean and not at all dried out afterwards. A very Asian way of cleansing the face! Quite a few well-known Asian beauty brands also offer cleansing powders.
To use the Herbal Cleansing Powder as a mask you simply mix it with the Gold Body Lotion (see further down this article) and add a little honey (optional). Or mix the powder into your facial scrub and leave it on the face for a few minutes. For more suggestions about how to use this product check out the Master Lin website. And if you combine it with the Gold Face & Body Oil you can even create your own oil-based face scrub. A very multi-functional product!
The cleansing powder is based on a very mild amino acid (which works as a tenside) and rice powder, plus plant extracts and powdered plants like the above-mentioned tiger grass and mineral-rich pearl extract. However, the ingredients also include camomile (element earth: soothing) and verbena (element wood: has a "cooling" effect and is often used to heal wounds).
The Herbal Powder from Master Lin contains 40 gr and costs 49.95 Euro.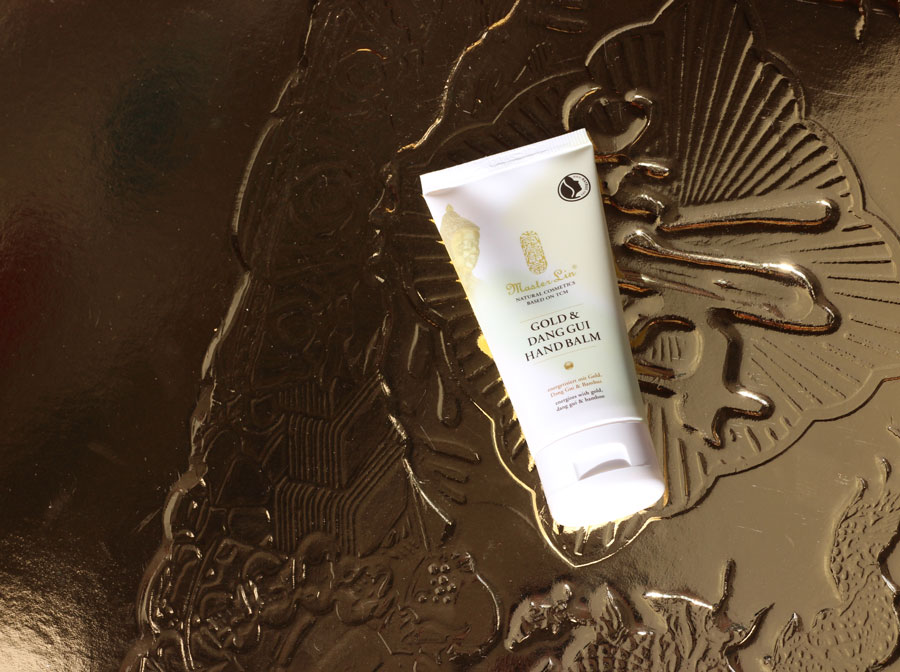 According to TCM the hands have a lot of meridian points; this is where many of the energy channels in the body converge so a hand massage can be very beneficial: for example with the Gold & Dang Gui Hand Balm. This product is said to have a lightly "cooling" effect which helps to expel "damp heat" (another TCM concept).
The name of the Hand Balm already mentions Dang Gui: this is the name of a Chinese angelica plant. Dang Gui is one of the most important medicinal herbs in Traditional Chinese Medicine: it is ruled by the element earth and has regulating and strengthening properties. The balm also includes gold particles which not only helps against inflammation but also increases the flow of energy. The reishi mushroom (element earth) is especially interesting; I have seen reishi as an ingredient in quite a few recent Asian beauty products since the extract is a strong anti-oxidant. Another ingredient in the hand balm is bamboo (element wood) which has a high percentage of silica and has a "cooling" effect while green tea extract (which is another popular anti-oxidant ingredient in cosmetics) is also considered "cooling" in TCM.
The texture of the hand balm is very pleasant: it is based on sweet almond oil, plant-based emulsifiers, glycerin and shea butter (certified by NaTrue). It feels light but more moisturising than you'd expect. Also, it is the perfect "desk" hand balm since it is absorbed very quickly (no stickiness on computer keyboards!). If you use a more generous amount of hand balm it also works very well for a hand massage. And the fragrance is nice; mildly minty, with herbal, fresh overtones. I have almost finished my tube!
The Hand Balm from Master Lin contains 60 ml and costs 29.90 Euro.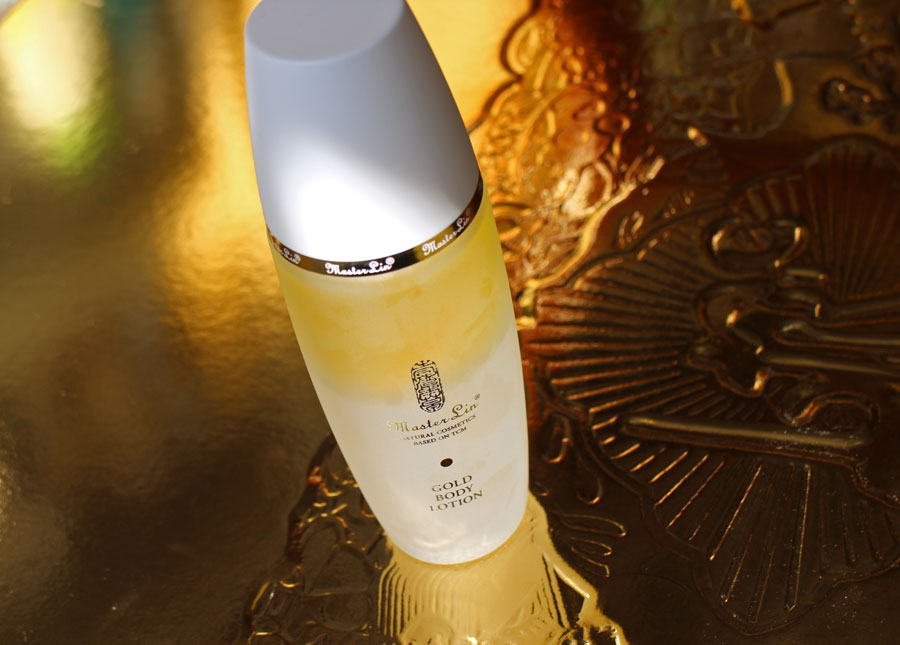 Finally, I'd like to show you a product which I found particularly fascinating: despite the name the Gold Body Lotion is no classic emulsion. It is a two-phase product (check out the photo) so you need to shake the glass flacon (which has a pump dispenser) before application: the oil-water-gel mixture has a lovely liquid texture which is perfect for summer – it feels great on the skin, light yet moisturising, fresh and non-sticky. Lighter than an oil, more hydrating than a gel! The fragrance is subtle, a fresh, herbal concoction with mint undertones. I read on the Master Lin homepage that you can also use this body lotion on your face or mix it with the Cleansing Powder (see above) to create a face mask.
The Body Lotion is certified by NaTrue and is supposed to help balance out oily and dry skin. The lotion is based on water, apricot oil (element fire), gold particles, pearl extract and rosehip kernel oil; it also contains Damascene rose from Bulgaria which is ruled by the element earth and has a "cooling" effect.
The Gold Body Lotion from Master Lin contains 120 ml and is priced at 43.50 Euro.
For an overview of the entire product range, visit the Master Lin website. There is also a shop finder.
[Click here for more pictures and the original German article Master Lin: Von der TCM inspirierte Naturkosmetik]
While you are reading this article I am out and about with my fellow bloggers from organic supermarket denn's Bio-Blog! I'll tell you more about what we did next week. My new article on Bio-Blog has also just been published – I am giving you six tips for assembling a travel-sized beauty kit (German only, sorry!). And speaking of travels: In my local organic supermarket I recently found the travel set from German brand Sodasan. The kit contains small sizes of Sodasan's laundry detergent, washing-up liquid, cleanser and soap. I already know where I'll be taking this travel kit in September……!
Last weekend I attended the blogger event of organic perfumery Naturdrogerie in Mainz, together with Erbse and Henrik from kosmetik-vegan.de, Ida from Herbs&Flowers, and Jenni from Pretty Green Woman. The main focus of the event was aromatherapy; we mixed our own roll-on essential oil mixtures and body lotions and, of course, there was plenty of time to look around the Naturdrogerie store. I primarily order from the Naturdrogerie's online shop so it was great to finally see all the products listed on the website in real life, so to speak! I also discovered a little treasure which is (not yet) available online: the Strawberry-Raspberry Bars from Hamburg-based vegan brand Teufelswerk & Engelsgabe. I had bought these dried fruit squares at a Veganz supermarket last year and have never found them again anywhere else! What I love about these fruit candies is that they taste so much better than the usual dried fruit bars (which always seem to be based on dates and apples!). The Strawberry-Raspberry Bars are delicious! More information about the company is available here.
I also saw another interesting product at Naturdrogerie: the BDIH-certified Kräuter-Augenpads (Herbal Eye Pads) from German brand Tamany. You can buy these saturated pads in single sachets or purchase the herbal liquid and use it to saturate your own DIY eye pads. The herbal liquid is based on water and plant-based extracts of eyebright, arnica, fennel and camomile plus some essential oils. The pads are supposed to help against tired and swollen eyes; I tried them out after a long day at my laptop and they are indeed refreshing and cooling.
And here is an eyeshadow special in the middle of these Beauty Notes! If you read my blog regularly you'll know that I love taupe eyeshadows. And over the last week, my collection was expanded with five new eyeshadows! Let's start with Kauri from New Zealand brand Living Nature: a great recommendation from Uwe from Naturdrogerie. I probably wouldn't have selected this tone myself but once I actually tried it out on my eyes – wow! What an amazing satinised, brown-toned bronze colour; it has undertones of aubergine red and a light copper-coloured shimmer. Fabulous! I simply had to buy Kauri. – Online store Hautschoki had sent me eyeshadow Bronze 106 from French brand Zao Makeup. I also bought shade #117, Pinky Bronze, because I liked the texture of these eyeshadows so much. The Zao eyeshadows are packaged in little bamboo containers; both shades have a metallic-shimmering finish, with intense pigmentation and an almost buttery, flexible texture. Bronze has a golden-greenish shimmer, Pinky Bronze looks a little more like a rosy-toned gold. Both colours look amazing on the eyelids. And they last for a really long time!
The next two eyeshadows are from drugstore chain DM's new limited edition Feuer, Wasser, Luft & Erde (Fire, Water, Air & Earth) from Alverde. I bought eyeshadow #20 in shade Auenboden (meadow ground) and #30 in Vulkanerde (volcanic earth). Auenboden is a medium-toned neutral to light warm brown, Vulkanerde is darker with slightly cooler undertone. Both eyeshadows have a matte finish and light to medium pigmentation. I had some trouble applying the eyeshadows but Auenboden in particular is a nice colour! And check out the red lipsticks and strongly-pigmented lipglosses in the limited edition – I posted a picture of the product display on Instagram.
And finally, here is something for all readers who love beautiful packaging! Earlier this week I received several products from a new German brand, Belle & Fleurelle. The company was founded in 2015 so they are still pretty new on the market; they are based in Munich. The line-up comprises six products, four for women and two for babies/children; all products are fragrance-free, suitable for sensitive skin and certified by Ecocert. I haven't actually had time to test the products but I am already in love with the gorgeous packaging! The airless dispenser is inserted in the round cardboard packaging; you don't actually take the container out but instead it stays in the outer packaging – isn't that a fabulous idea? It really stabilises the flacon, the product won't be knocked over and I can keep admiring the beautiful rosé and golden design on the outer pack. I like! Anne from Vegane Pflege has already listed Belle & Fleurelle in her store.
And here are some interesting organic product news that I discovered this week:
DM's organic brand Alverde is launching a new 3-sku Med range; the products are fragrance-free and the line-up includes a body lotion, skin cream and shower gel.
Another new Alverde launch is the limited edition set Gartenzauber (Garden Magic) with hand cream, body lotion and shower gel. The Gartenzauber products are scented with zesty notes of citrus and lemongrass.
German beauty brand Dr. Hauschka is launching its second Welcome Back collection – check it out online on the Naturdrogerie website. Yes, the Illuminating Powder and the striped Matte & Shimmer Blush Trio are back in town!
French brand Couleur Caramel has brought out a new Essential Eyeshadow Palette No. 2 (more information is available here) and the more teen-oriented collection "Envole-Moi". This summer themed collection offers a Soft BB Cream, Makeup Kits, nail polishes and a mascara-eyeliner duo. More information is available on Monde Bio.
[Click here for more pictures and the original German article Beauty-Notizen 22.7.2016]
Good-bye everyone and see you in a few weeks!
Julia