Dear international readers of Beautyjagd,
Welcome to the next English-language edition of Beautyjagd! This is a condensed version of the most important articles that have appeared on my blog over the last two weeks. For more information about this new format, click here. And now: enjoy the best of Beautyjagd in English!
Best wishes
Julia
Hi everyone and welcome to the next edition of Beautyjagd in English!
Re-energizing Sleeping Cream from Lavera
Now is the perfect time to write about the new Re-Energizing Sleeping Cream from German brand Lavera – after all, I am currently in Seoul, the capital of beauty innovations! And sleeping creams are part of the mainstream here.
The first time I talked about sleeping creams (or sleeping packs/sleeping masks; there are different terms for this product type) on Beautyjagd was over a year ago, when I introduced the Masque Cocoon Nocturne from French brand Akane. This mask was the first sleeping pack I had seen on the European organic market: without using silicones Akane tried to recreate the non-greasy and hydrating texture of conventional sleeping creams (and although the result is respectable it is not quite on par with a conventional sleeping mask). The Moisturizing Mask from US brand Tata Harper has a pudding-like texture but feels quite greasy on the skin. Then, in late 2015, I bought the Masque Chrono Nuit Divinissime Immortelle from French brand Lift d'Argan in Paris – a product with a gorgeous fluid texture which doesn't leave any film on the skin. One of my favourites!
As you can see, the more popular a product becomes, the more brands launch their own product versions. When I found out that German brand Lavera was going to launch a sleeping cream I was initially a bit skeptical – I thought it might just be a re-named night cream or a slightly richer moisturizer.
Lavera introduced the sleeping cream at Vivaness trade show this February: the packaging is eye-catching, with a holographic depiction of the dark-blue night sky and silver stars. It really stands out on the shelf.
And now for the contents! The texture is fluffy-soft and creamy, a bit like whipped cream. I apply it at night-time after cleansing my face; the cream is absorbed into the skin and leaves a velvety, non-greasy film on the skin. Very nice! In the morning the cream has disappeared and my skin feels soft and hydrated. I use the Sleeping Cream only two or three times a week since my usual night-time skin care routine consists of oil-free products only.
The Sleeping Cream is based on water, olive oil, alcohol, soy oil, squalane, glycerin and sweet almond oil; it also contains plant extracts like aloe vera, chicory, algae and grape extract as well as hyaluronic acid. Another ingredient is the polysaccharide Hydrolyzed Xanthomonas Campestris which is said to help boost cell energy (proven by in-vitro tests). And the fragrance is similar to those of conventional beauty creams, it doesn't smell like organic skin care usually does – nicely done.
A jar of the Re-Energizing Sleeping Cream from Lavera contains 50 ml and costs 9.99 Euro. In Germany it is available in drugstores and organic supermarkets; you can also order it online.
[Click here for more pictures and the original German article Re-energizing Sleeping Cream von Lavera]
Perhaps this round flacon once contained a liqueur rather than perfume – it looks a bit like a decanter bottle, doesn't it? Still, I like the shape and colour of this perfume flacon so I included it in my article series! The bottle measures 22 cm, with a club-shaped stopper, and was made sometime in the 19th century. The glass isn't ruby glass, by the way; it is covered in a red glaze with the decorative meander ornament in white and the tip of the stopper decorated with gold.
[Click here for more pictures and the original German article Duftende Schönheiten: Mäander]
Beauty Notes from Seoul, 29.4.16
My time in Seoul is already drawing to a close – and I haven't managed even half of the things that I had planned! But this is probably what happens when you combine travelling and working… I guess this means I'll simply have to return to Seoul soon 😉 .
Yesterday I visited Cosmobeauty Expo trade show and Organic Industry Expo – and not only did I meet my translator Annika from trend-traveller but I also saw quite a few organic beauty brands. I already knew Dr. Bronner's from the US and Amanprana from Belgium; brands from Korea included rubber mask company Lindsay, the products of Blossom Jeju (more about this brand further down!) and the sheet masks from CH Harmony which I had already come across in an organic supermarket in Seoul. Almost by accident I saw the exhibition stand of German certification association BDIH (BDIH certifies several Asian brands, including my Korean favourite Whamisa). There is definitely a demand for organic cosmetics in Korea and of course I am very happy to see this!
A great help here in Seoul was the English-language tourist guide booklet which is available free of charge from the Seoul Tourist Office – you can see it on the right-hand side in the picture above! The compact booklet lists all the sights, street markets, tourist attractions and so on by area; complete with information about which subway station and exit you need for each tourist attraction. In the back of the guide is a fold-out map of the Seoul Subway system – very convenient. I can definitely recommend this guide.
In my last Beauty Notes I already mentioned that it can be difficult to find organic cosmetics in Seoul (organic in the European sense, by which I mean certified organic). In these Notes I'll tell you a little about my beauty hunt this week (which involved hours of online research and a lot of running around in the city!). As you know, Seoul is full of cosmetics stores but organic beauty is difficult to track down and requires a lot of research!
Last weekend, for example, I really wanted to find the products of Blossom Jeju (at that time I didn't know that the brand would be at the trade show). Blossom Jeju comes from the Korean island of Jeju and the brand's products are formulated with locally-grown camellia. Not all Blossom Jeju products are what I would call "organic" but at least the packaging lists the ingredients in English. The homepage of Blossom Jeju listed two Seoul-based department store chains which supposedly retailed the brand's products. I visited three large branches of these two chains but couldn't find any Blossom Jeju products; the ladies at the respective department store info desks hadn't heard of the brand either. At the fourth department store I was told that the products were sold in the supermarket department of a Hyundai department store located in the East of the city. By that time I had already spent six hours trying to find the brand and was exhausted, so I went to the Hyundai store the next morning. And there was Blossom Jeju, next to household cleansers and soaps – not the ideal place for a premium niche brand! But no matter, I had found the products and bought the Pink Camellia Soombi Blooming Essence Serum (I'll show it to you in more detail later this month).
Internet research isn't simple either if, like me, you can't read Korean! I was trying to find the Multi Beans from May Island (and finally tracked them down in the SM Duty Free Shop!) but I am still trying to research the exact ingredients of these pastel-coloured little cleansing balls. I haven't managed to compile the complete list yet but the little cleansing beans are definitely at least near-natural. And this is how you use them: moisten one of the little balls and then rub it between your palms to dissolve it. The cleansing ball turns into a light creamy paste: my skin liked this funny way of cleansing ….the beans are sold in a jar which looks like a beer stein, by the way!
Another product that I bought was the Dear Flora Lip Treatment Oil Tint from Korean brand su:m 37 which is supposed to be a 100% natural formula based on squalane (my research regarding the complete INCI list is still on-going). The products of su:m 37 are formulated with fermented ingredients and although most of them are conventional cosmetics (that is, non-organic), there are individual products like the famous Rose Cleansing Stick (which is organic; I'll show it on this blog at a later date). Lip Oil Tints are a big trend in Korea at the moment and I simply couldn't resist the Dear Flora Lip Oil Tint – the rose-red colour looks very pretty on the lips!
Cushion foundations – liquid foundations packaged in a sponge applicator – are still a major trend. And I really wanted to buy one, only without silicones or synthetic sun protection filters. Finding an organic cushion foundation proved to be difficult; eventually I found one in organic supermarket Dure Coop and bought it without researching the ingredients first (the INCIs were listed in Korean only). At home I double-checked the ingredients with Google Translate and although the cushion foundation did not contain silicones it was manufactured with synthetic SPF filters…..next time I'm in Seoul I'll need to spend more time on the cushion foundation research.
And speaking of SPF: my most recent article on Bio-Blog (German only, sorry!) is focusing with the basics of organic sun protection products. I'm also giving some tips on how to minimize the whitening effect of mineral-based sun filters.
By the way, I had exactly one nail polish with me on this trip: the sheer pink Glossy Nail Glow from Catrice which I bought because it was supposed to be a good dupe of a particular Dior polish. I like the Nail Glow, it give the nails a hint of colour without any white undertones – it looks very natural with a nice shine and is simple to apply. Unlike other Catrice polishes the Nail Glow is only available in Müller drug stores.
On my flight back to Germany I'll try out the Megurythm Hot Steam Eyemask from Japanese brand Kao which is very popular here at the moment. These warming eye masks are originally from Japan but Korean manufacturers have also started to launch this type of product. The masks are supposed to relax tired eyes and encourage sleep – you wear them for around ten minutes before going to sleep. I can't wait to try them out! This is the first time I have seen a warming eye mask, I only know the cooling mask types. On the picture above I'm showing you a warming neck plaster which is also supposed to help induce sleep.
And here are more warming things: At Olive Young drugstore I recently bought a warming cushion which is supposed to help with period cramps – not only is it warming but it also contains a blend of relaxing essential oils. Soon I'll have the opportunity to try out the cushion – and if it works well I'll simply have to ask aromatherapy brands Primavera or Farfalla to develop a similar product!
And here are some of the most interesting organic beauty news that I have seen last week:
German brand Annemarie Börlind has launched Energy Nature, a new moisturizing range for skin aged 20+.
Drugstore retailer Rossmann's organic own label brand Alterra is introducing a new cream-to-powder blush.
[Click here for more pictures and the original German article Beauty-Notizen 29.4.2016 (aus Seoul)]
Age Protect Fluid from Santaverde
I would have loved to have photographed the new Age Protect Fluid from German brand Santaverde on the company's ranch in Spain – the white packaging would have looked stunning on a background of deep blue sky! However, since the weather in Germany wasn't cooperating I simply stuck the product in my jeans pocket so at least there is some kind of a white and blue theme here 😉 .
At Vivaness trade show Santaverde introduced two new products in its popular Age Protect range: a serum and a tinted face fluid with SPF 6. The fluid is based on aloe vera juice which comes from aloe vera plants cultivated and harvested on the company's ranch in Andalusia, Spain. If you're interested in finding out what the Santaverde ranch looks like and how the gel-like aloe vera juice is harvested, check out my blog post here (German only, but lots of pics!).
Since the aloe vera juice used in the Santaverde products is unprocessed (it is directly extracted from the aloe vera plant),it contains all the original regenerating, hydrating and anti-inflammatory ingredients. The Age Protect products also contain anti-oxidant aloe vera blossom extract and a complex of various roots which help to minimize hyperpigmentation.
The Age Protect Fluid is packaged in an airless dispenser; the texture is light and not too watery. Very nice! The colour is a light to medium shade with peach-coloured undertones. It gives a very light coverage (it evens out the skin tone rather than cover it up) and has a velvety, slightly mattifying finish. If you apply the fluid more generously you can built it up to a light coverage. Since my t-zone has a tendency towards oiliness I apply a mattifying powder on top of the fluid. I should also mention that I tested the fluid during the colder spring season and I applied a drop of face oil as a base. However, I think that in summer the Santaverde Fluid is hydrating enough to wear solo.
The Age Protect Fluid is certified by NaTrue and is based on aloe vera juice, coconut oil, cassava starch and titanium dioxide (which accounts for the SPF 6), plus various plant extracts and oils. The fragrance is a light floral, quite similar to the other products in the range.
A bottle of the fluid contains 30 ml and costs 49 Euro. Ít is available directly through Santaverde, in organic supermarkets and of, course, online.
Around two years ago I showed the Age Protect Toner, the Age Protect Face Oil and the Age Protect Ampoule Treatment (one of my year-round favourites!) on this blog. You can also find reviews of the Tinted Fluid on Nur mal kurz gucken, on Sonnensprossen and on Alabastermädchen.
[Click here for more pictures and the original German article Age Protect Fluid LSF 6 von Santaverde.]
Buying organic cosmetics in Seoul
In my last Beauty Notes I already mentioned how tricky it can be finding organic cosmetics in Seoul. However, there are some wonderful Korean organic beauty brands whose products I love! Usually I research the ingredients of the products I want to buy in advance – after all, not every "organic" brand is what we in Europe would consider truly organic.
This article will focus on organic brands from Korea, by the way. Of course there are plenty of well-established American and European brands which are available in various stores in Seoul. Dr. Bronner's and Burt's Bees, for example, are present in all the larger outlets of drugstore chains Olive Young, Boons, LOHBS or Watsons. A shop-in-shop concept which I have seen in selected department stores (like the AK Plaza in Guro) is Ontree: they sell organic brands from France such as So'Bio and Ekia. In a Duty Free shop in Insadong I found the baby products from German brand Weleda and Australian brand Living Nature I saw in a beauty salon.
However, I wanted to buy Korean organic cosmetics so this post is dedicated to domestic beauty brands!
You can see one of my first purchases on the photo above: Aromatica is available in LOHBS drugstores and in large Olive Young stores; the product selection varies according to the size and location of the store. I bought two Aromatica products: the Tinted Natural Sunscreen which I already showed you in last week's Beauty Notes and the Rose Absolute First Serum. Although Aromatica is not certified I would consider most of the brand's products organic. The only thing I don't like about the serum is the ingredient sodium carbomer. However, the serum is gel-like and quite liquid and is absorbed quickly into the skin which makes it a good base for facial oils or creams. The line-up of Aromatica also comprises various toners, face cream, eye creams and cleansing products; most products carry the Vegan seal. And the INCIs are listed in English! You can find out more about the brand on the English-language homepage of Aromatica. The serum cost around 12 Euro.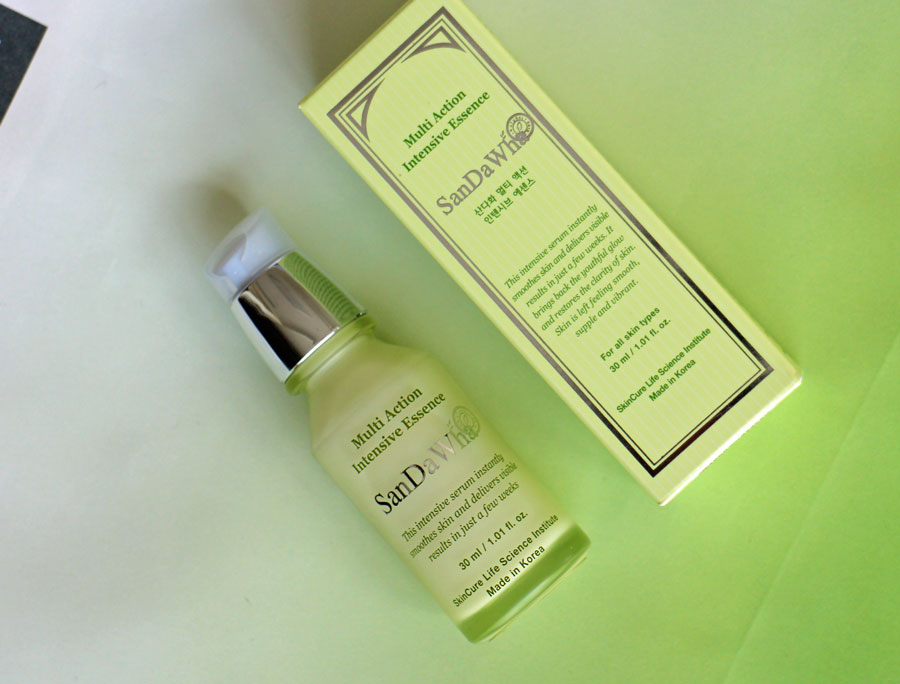 On the way back from Bukchon Hanok Village I found myself walking past organic supermarket Nenia. I went in to check out their beauty brands and discovered the products of SanDaWha. Later I found this brand in other organic stores; it is also retailed by Seoul's two big chains Orga Whole Foods and Dure Coop. In my opinion the majority of SanDaWha's products could be called organic. However, it is worthwhile checking the ingredients in more detail, especially the products that offer sun protection (these are usually synthetic sun filters).
I like it that SanDaWha has an English-language INCI listing on the packaging! I've used the Multi Action Intensive Essence as part of my night-time skin care routine: the essence has a fluid-like texture which makes it perfect for layering the product over a toner or using it as a base for face oils or creams. The main ingredients in the SanDaWha Essence is the camellia (camellia water and camellia oil) plus a lot of plant extracts. You can check out the entire SanDaWha portfolio on the company's homepage; I also would have liked to try out the Camellia Floral Water Cream. The Multi Action Essence was priced at around 34 Euro.
Innisfree is one of my favourite Korean brands: the marketing is great, the products are available everywhere in Korea; the prices are affordable and the brand comes from Jeju island – if only more products were certified organic 😉 . However, over the last few years Innisfree has added some Ecocert-certified products to its line-up, like the Baby Pure Green Sun Cream which I showed you recently. There is also an organic deodorant and the Eco Science range includes several Ecocert products (I showed you some of the Eco Science products in my Hong Kong article a few years ago). I also like the Eco Natural BB Cream Green Tea.
Through Annika from trend-traveller I found out about the Sea Salt Perfect Cleanser 40% which has good ingredients (with the exception of the fragrance which to my nose smells distinctly like conventional cosmetics): salt, mild tensides, glycerin and plant extracts. I would describe the texture as a kind of thick yet rich and creamy foam with salt crystals. The salt particles are surprisingly non-scratchy but still: don't massage the foam into your face (use your finger tips to gently press the foam against the skin). After rinsing off the cleanser my skin feels soft; I would recommend using this product every couple of days or so. The cleanser cost around 8 Euro. The range also includes two other variants with 20% and 30% salt respectively but the ingredients of these two products are considerably less organic than the 40% cleanser. More information about Innisfree (the brand belongs to AmorePacific group) is available here.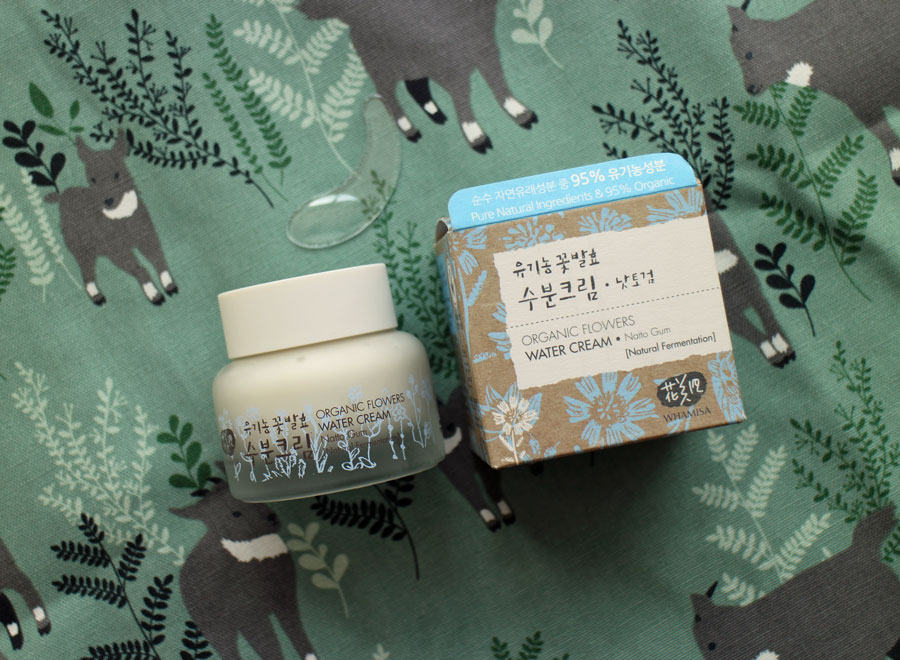 I've written several times already about Whamisa: the products not only look very pretty but they are certified by German association BDIH and the majority of products also have the Ecocert seal. Isn't that fabulous?! The product concept is completely Korean: the portfolio includes gel-like hydrating toners, lotions, a BB cream, a sun cream, hydro gel masks and, my latest purchase, the Organic Flower Water Cream. Whamisa's products are formulated with fermented ingredients; my Water Cream, for example, contains natto gum (natto is fermented soybean which has anti-oxidant properties). The cream has a light non-greasy texture: it is based on rice water (52%), a South African aloe vera variety (25%) plus the fermented plant ingredients. Since the Water Cream isn't particularly rich it is a good product for layering: apply it over a toner or serum. I bought my Water Cream in a small Catholic organic store near the Cathedral in Seoul's Myeung-dong neighbourhood (the cream cost around 18 Euro). However, Whamisa is also available in Orga Whole Foods and Dure Coop but unfortunately never with the entire portfolio; each store carries different products. Still, Whamisa is definitely my favourite organic brand from Korea!
The Modeling Masks from Lindsay were surprisingly easy to find in Seoul; in the larger outlets of Olive Young and Boons the masks are shelved together with the regular sheet masks (the Olive Young Myeung-dong flagship has a particularly large selection – check out my pic on Instagram). The brand was founded by a beautician; originally the mask treatments were only available in beauty salons, then Lindsay introduced a version of the mask for regular retail – and started the whole rubber mask hype in Korea (I already wrote about this here).
Traditionally the Lindsay masks are sold in a plastic cup; the brand has now also launched a version that is packaged in a fold-out flat-pack. The masks are based on earth, minerals and alginate; I'm not entirely sure if the fragrance is organic (I suspect that it isn't). A mask costs around 3 Euro. I love these rubber masks; you can buy them online through retailers such as Glowrecipe (based in the US) but if you live in Europe, French brand Secrets des Fées manufactures a peel-off mask which is very similar to the Lindsay masks.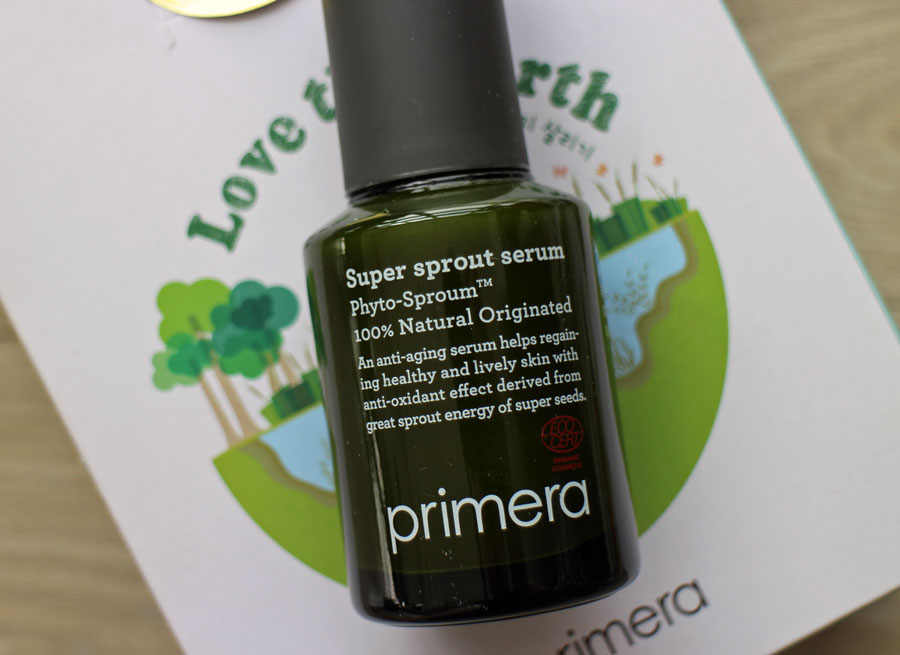 Like Innisfree, Primera belongs to AmorePacific. The brand is marketed as a natural cosmetics brand which in Korea means that the majority of products is conventional or near-natural at best, with the occasional certified organic product. Primera is primarily sold in department stores; I visited the brand's flagship in Myeung-dong and bought the best-selling Super Sprout Serum which is certified by Ecocert. I immediately liked the gel-like texture which has a ultra-fluid feel to it (probably because of the propanediol, an ingredient which is allowed by Ecocert because it is plant-based). Primera is more of a high-end brand which is reflected in the price: I paid around 40 Euro for the serum. There is a matching Super Sprout Cream which is also certified by Ecocert. Here is the international website of the brand; all products have an English-language INCI declaration.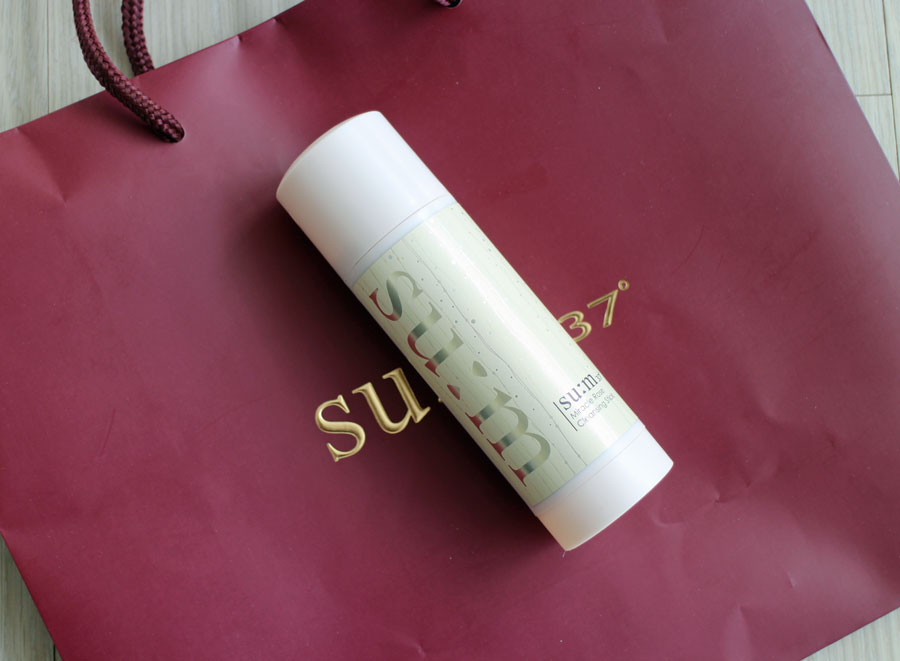 There are products and brands that are more famous internationally than they are in their home market – and the Miracle Rose Cleansing Stick from su:m 37 is definitely one of these products! The high-end su:m 37 belongs to Korean retail group LG; it is a fermented cosmetics brand and is primarily sold in department stores. In Korea the su:m 37 serums and masks are especially popular; in the US-based Korean online beauty stores, however, the Cleansing Stick is one of the best-sellers and is regularly sold out. The majority of su:m 37 products are conventional cosmetics and the brand isn't even marketed as a natural brand – yet the Rose Cleansing Stick is completely organic. I bought my Cleansing Stick in the brand's Garosu-gil store.
The solid cleanser has a light rose fragrance, it is based on glycerin and coconut oil and contains little pieces of rose petals – pretty! You rub the stick across the moistened face (or use a beating net), the cleanser foams up a little but is more creamy than foamy. It cleanses the face without drying it out (the ph value of the product is around 5). Convenient for travelling! I paid around 25 Euro for my Cleansing Stick; unfortunately the ingredients are not listed on either the packaging or the homepage.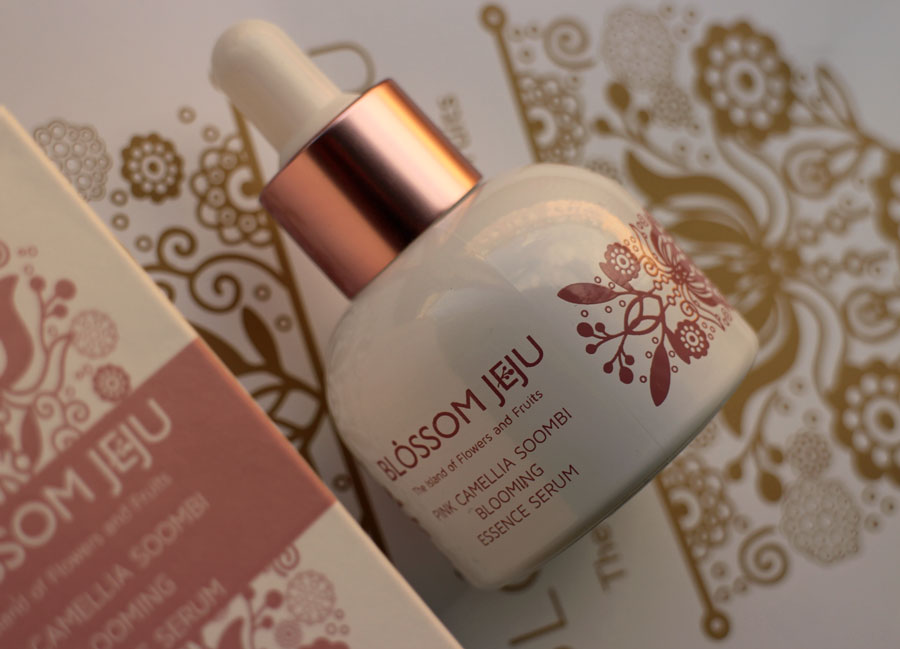 I have already described the rather exhausting hunt for Blossom Jeju in my last Beauty Notes. Finally I found the products in the supermarket section of a Hyundai department store in Cheonho (in Eastern Seoul). The Blossom Jeju products are also sold in the Belport perfumery in Itaewon. Jeju-grown camellia plays a major role in Blossom Jeju's products, including the Pink Camellia Soombi Blooming Essence Serum. Not all products are organic but luckily the ingredients are listed in English on the packaging. And speaking of the packaging: isn't the product design beautiful?! The brand also offers a pure camellia seed oil which looks nice. I haven't tried out my Essence Serum yet; it is based on camellia flower water, glycerin and propanediol (Ecocert-certified) and also contains a range of plant extracts. The price was around 50 Euro. You can check out the Blossom Jeju portfolio on the brand's English-language homepage.
Korean brand Lyanature was founded by actress Lee Young Ae. I had read about Lyanature in a tourist guide about Bukchon neighbourhood (Lyanature has a beautiful store in Samcheong-dong street). Although natural ingredients are important to the brand I am not sure if the rather expensive products of Lyanature are actually organic – I still haven't found a complete INCI declaration. Lyanature's unusual Snow Ball Klenzer is already quite famous: it's a solid cleansing ball wrapped in a beating net; after the cleanser has dried you store it in a round little porcelain dish (I couldn't resist the turquoise coloured dish, check it out on the picture above!). The composition of the cleanser is exciting since it is quite unusual: the Snow Ball Klenzer is based on camellia seed powder (which is what is left after the oil has been pressed from camellia seeds). The powder is rich in saponines which are traditionally used to cleanse the skin. The cleansing ball doesn't really foam up; instead it turns creamy – it is also quite moisturizing and my face liked it very much. Unfortunately it is rather expensive: I paid around 38 Euro for the cleanser plus porcelain dish. Here is the homepage of Lyanature (Korean only).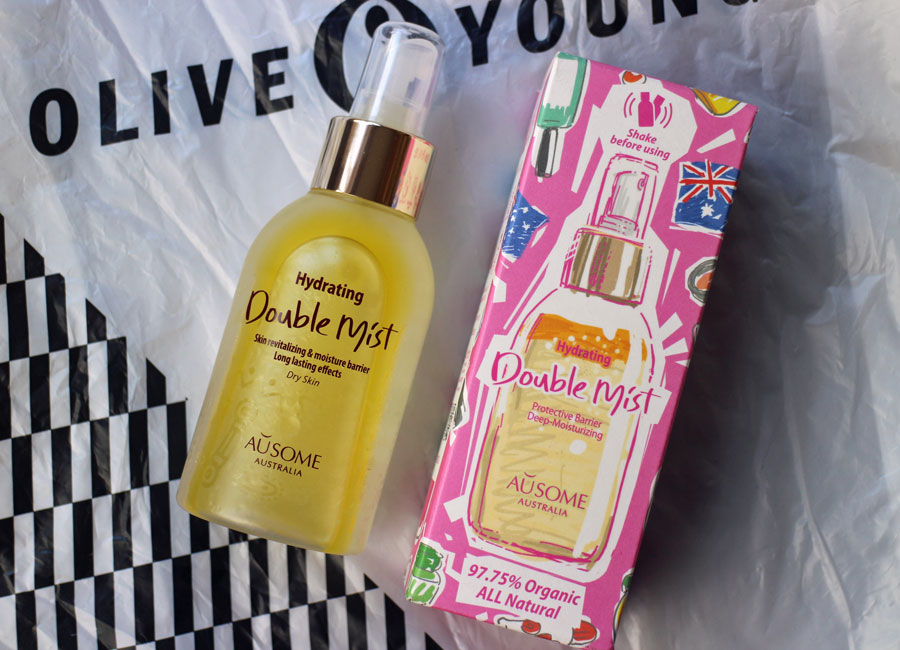 On my last day in Seoul I bought the Hydrating Double Mist from Ausome, an Australian skin care brand which, however, is produced in Korea by the same manufacturer as Whamisa. Luckily the Mist is available in just about every Olive Young store (thanks to Annika for the tip, I probably would have overlooked it!). As the name indicates, the product contains two phases which you shake up before you spray it onto the face. The Double Mist felt refreshing and hydrating (it has a gel-like texture) and is based on aloe vera, apple water tomato water, Japanese apricot and green tea; in my opinion the product could easily be certified. I paid around 18 Euro for the Double Mist. Here is the homepage of Ausome.
[Click here for more pictures and the original German article Koreanische Naturkosmetik in Seoul kaufen.]
Today's perfume flacon is a souvenir of the little Saxonian spa town Bad Schandau! The bottle was manufactured in around 1840 in Bohemia; the wine-red flacon (made from glass that was stained red) measures 11 cm and has six so-called "eyes" (the round flat circles on the side of the flacon). Three of these eyes are decorated with engravings of popular travel destinations at the time: one shows the little town of Pillnitz (which you can see on the photo), the next town is Bastei and the third town is Borsberg near Dresden. All three towns are located in Saxony, in the same province as Bad Schandau.
[Click here for more pictures and the original German article Duftende Schönheiten 9: Ansichten]
Ilge Translucent Clear Powder from Und Gretel
If I could choose just two products from the line-up of young Berlin brand Und Gretel, I would select the Luk Creme Eye Stick Bronze and the Ilge Translucent Compact Powder. I bought the Ilge powder almost a year ago and now I am finally showing you the product on Beautyjagd – better late than never!
Unlike the Sunne Modellage Powder which is packaged in a cardboard box, the Ilge pressed powder comes in a white metal jar – very stylish. The lid contains a mirror and a slim applicator sponge. Although my cheeks are rather dry my t-zone definitely needs a powder, especially in the warmer summer months. And it isn't easy finding a face powder that mattifies properly without leaving my skin looking chalky or dusty.
My three favourite powders are the classic loose Poudre Dermophile from French brand T. LeClerc (which contains rice powder), the kudzu-based loose Absolutely Transparent Face Powder from Chidoryia (from Japan) and the Ilge compact powder. All three powders are very economical, you only need a small amount so the products last for a long time. I also like the Fade Into You Powder and the Moondance Powder SPF 20 from US brand Ilia Beauty although they are less mattifying than the Poudre Dermophile, the Chidoryia powder and the Ilge powder.
Pressed powders are especially convenient for travelling and I also like that the Ilge powder tin is so small and compact (it is only 6.5 cm in diameter). And it looks beautiful! I apply the Ilge powder only on my t-zone, either with a medium-sized powder brush or with the applicator.
The BDIH-certified powder from Und Gretel is based on glimmer, zinc stearate and corn starch (it is fragrance-free, by the way). The jar contains 6.5 gr and costs 42 Euro. It is available from selected retailers (the Und Gretel homepage has a shop finder); in Germany, the brand is retailed by Spatacular spa in Düsseldorf, for example, or through Naturdrogerie.
[Click here for more pictures and the original German article Ilge Translucent Compact Powder Clear von Und Gretel]
Good-bye everyone and see you in a few weeks!
Julia