Dear international readers of Beautyjagd,
Welcome to the next English-language edition of Beautyjagd! This is a condensed version of the most important articles that have appeared on my blog over the last few weeks. For more information about this format, click here. And now: enjoy the best of Beautyjagd in English!
Best wishes
Julia

Austria Special: Five organic beauty brands
This article was inspired by a present: one of my readers sent me a Discovery Box of Austrian brand DieNikolai (thank you again! More about DieNikolai further down). I have wanted to do a feature on organic beauty from Austria for quite some time now. Over the last years several interesting new beauty brands have appeared in Germany's neighbouring country. And when I received the DieNikolai box I decided that now was the time! Organic online store Ecco Verde – which is headquartered in the Austrian city of Graz – decided to come along for the ride so here, in cooperation with Ecco Verde, is a closer look at five organic niche beauty brands from Austria!
♦ Let's start with DieNikolai, a Demeter-certified organic beauty range which was launched by renowned Austrian vineyard Nikolaihof. Nikolaihof is one of the best-known biodynamic wine growing estates in Austria; they are based in the Wachau region and have been cultivating and producing wines according to the principles of biodynamic agriculture for over 40 years. In 2016 Nikolaihof launched a cosmetics range, DieNikolai, which is formulated with grape-derived ingredients such as grapeseed kernel oil and antioxidant grape extract. The products remind me a bit of French grape cosmetics brand Caudalie which, however, is more natural-inspired than organic. The Discovery Set of DieNikolai contains five face care products, a Grapeseed Oil Day Cream, a Grapeseed Oil Night Cream, a Grapeseed Intensive Serum, a Saffron Moisturiser and a Nourishing Saffron Skin Care Balm. In case you're wondering about the saffron: it is cultivated right there in the Wachau region so it's a locally grown ingredient. I think it's interesting that the face creams (such as the saffron products) contain actual cream or butter oil which, of course, is also certified by Demeter. The moisturisers really have a certain appetising buttery feel and smell to them. The grapeseed kernel oil creams have a lighter texture; the saffron products – and especially the water-free balm – are much richer. You only need a little of the face creams, they leave a light protective film on the skin. Underneath the creams you apply the milky-yellow grapeseed intensive serum. This is my favourite product from dieNikolai: it contains five ingredients only (no fragrance) and is based on water and 40% grapeseed kernel oil. It is almost rich enough as a stand-alone day cream.
DieNikolai's range also includes two lipcare balms and two hand cream for wine lovers – I really want to try those, too!
The Discovery Box from DieNikolai (plus a 10 Euro voucher) is available from Ecco Verde for 19.99 Euro.
♦ I wrote about Pure Skin Food around two years ago: the vegan and minimalistic beauty brand from Graz focuses on "layering" products, especially on hydrosols/flower waters and face oils. I can still remember their wonderful Lavender Cistrose hydrosol! Pure Skin Food was founded by Lisa Dobler who is also the co-founder of vegan magazine Veganblatt. You can read more about Pure Skin Food in the Vivaness article further. Over the past year Pure Skin Food has extended its product range: the line-up also includes a cleansing oil, a tooth/mouth oil, powdery face masks and body care products like the White Chocolate Mousse with Magnolia which you can see in the picture above. The Mousse has a delicious fragrance: it is water-free and contains shea butter, cocoa butter, coconut oil and other plant oils, plus magnolia extract, vanilla and essential oils. It is scented with notes of chocolate and whipped cream and has fruity undertones of blackcurrant – it's almost a dessert in a jar 😉 . Thanks to the plant oils the texture of the Mousse is balmy and rich; 100% of the ingredients are from certified organic agriculture. It's a perfect winter/spring-time moisturiser; try applying it directly after a bath or shower when the skin is still damp!
A jar of the White Chocolate Body Mousse Magnolia from Pure Skin Food contains 100ml and costs 34.89 Euro.
♦ The name of the next Austrian beauty brand, Fangocur, already indicates the key ingredient: fango medicinal mud which is harvested from the volcanic Gossendorf region in Styria/Austria. This "Gossendorfer Heilschlamm" has been used in therapeutic and medicinal treatments since 1970 and in Austria it's an officially recognised healing mud. The fango mud is also popular for treating problematic and allergic skin! "Fango" is the term used for mineral-rich volcanic earth; the main ingredients in the Gossendorf medicinal earth include silica, iron oxide, clay and sulphur; it also contains trace elements of various minerals such as manganese or copper. The product range of Fangocur comprises mineral face creams, shampoos, soaps, toothpaste, toners and fango-based face masks. I immediately liked the Anti-Aging Mask which is formulated with fango and five different essential oils. The scent of this mask is rather pungent – notes of sulphur, earth and herbs – but it is so worth it! The application is simple; you apply the mask in a thick layer onto the face and leave it on for around 20 minutes. I followed the instructions exactly and let the mask dry on my face, then moistened it with water before rinsing it off. My skin looked great afterwards, refined and clear; the absorbent clay helps to boost the blood circulation in the skin. And best of all, my skin wasn't dry at all, despite the fact that I let the mask dry solid on my face! Fangocur also offers a mask especially for impure skin since fango clay also has anti-inflammatory properties. I should mention that I was surprised by how attractive the product and packaging design was. The products look really nice.
The Anti-Aging Mask from Fangocur contains 50ml and costs 37.99 Euro. The jar contains enough product for around 15 masks sessions.
♦ From healing clay to healing water! The fourth Austrian brand that I am presenting here is especially formulated for skin suffering from neurodermatitis. Aquatadeus offers six products which are natural-inspired rather than organic (this means that they contain individual ingredients which can't be certified) but I like the concept of the brand. And although I (luckily!) don't have atopic skin I decided to try out the Healing Water Spray Cool me Down which I use as a facial toner and as a refreshing face spray throughout the day. Ok, so it doesn't smell as nice as a floral hydrosol (you get certain undertones of sulphur… 😉 ) but the healing water used in this spray packs a serious therapeutic punch: unlike most thermal waters, the Styrian water in Cool me Down has a very high percentage of minerals and sulphates and a low ph-value. It therefore has a measurable effect on inflammatory and infectious skin diseases (also, the brand wouldn't be allowed to call it "healing water" otherwise; EU regulations take false or misleading medical advertising and product claims very seriously!). Aquatadeus recommends that the toner is used regularly 2-5 times a day over a period of two to six weeks – like a healing water spa treatment in a convenient to-go format! The brand also recommends using a bit of their Akut cream afterwards (frequent use of the healing water can dry out the skin) to seal in the moisture. You can also use the healing water on scalp excema or psoriasis.
The Healing Water from Aquatadeus contains 125ml and costs 12.89 Euro. You can check out the brand's other products here.
♦ The fifth organic beauty brand is taking us all the way into the Tyrolean Alps to Aachensee lake. This is where Tiroler Kräuterhof (Tyrolean Herbal Farm) is located. The herbs used in the company's products are cultivated and harvested regionally and the line-up includes essential oils, teas and Swiss stone pine wooden furniture but also organic cosmetics which carry the Bio Austria organic certification. The beauty range offers shampoos, oils, face creams, body lotions, the herbal healing Tyrolean Balm and soaps. I particularly liked the Linden Blossom Massage Oil. The linden blossoms are macerated in jojoba oil which is then blended with apricot kernel oil and some essential oils. Besides the light linden blossom scent the oil also offers subtle notes of fruits and citrus; a nice spring-time fragrance! I use the oil as a body moisturiser after showering; it absorbs really quickly when I apply it on damp skin and leaves the skin silky-soft. Each flacon of the body oil also contains a dried linden blossom – I like this little detail.
A bottle of the Linden Blossom Massage Oil from Tiroler Kräuterhof contains 100ml and costs 19.99 Euro at Ecco Verde.
With the exception of the dieNikolai Discovery Box I received all products from Ecco Verde for this post.
[Click here for more pictures and the original German article Austria Special: Fünf Naturkosmetikmarken aus Österreich]

Organic beauty: Niche brands at Vivaness 2017
And here, as promised in my last Vivaness article, are some of the most interesting niche brands from last week's trade show! The line-up also includes some of my personal brand highlights; plus news, impressions and inspirations from Europe's biggest organic beauty trade fair.
Close to the entrance of the trade show hall was the exhibition booth of Latvian beauty brand Mádara (see picture above). And right next to it, the stand of Mossa, Mádara's sister brand. I had seen Mossa in Helsinki a few months ago but didn't know that the brand belonged to the Mádara group. It was an interesting contract: Sleek, clean and chic-looking Mádara and the younger Mossa with its simpler, less high-end brand presentation. You can check out Mossa's product on the company's website.
Exhibitors from North Eastern Europe also included Dabba from Latvia and You&Oil from the neighbouring Baltic country of Lithuania. I already wrote about the two brands in my 2016 Vivaness review; this year, both companies returned with new products. Dabba, for example, showed its new Raspberry Oil Elixir, a Calming Body Oil and a Sea Salt Styling Spray.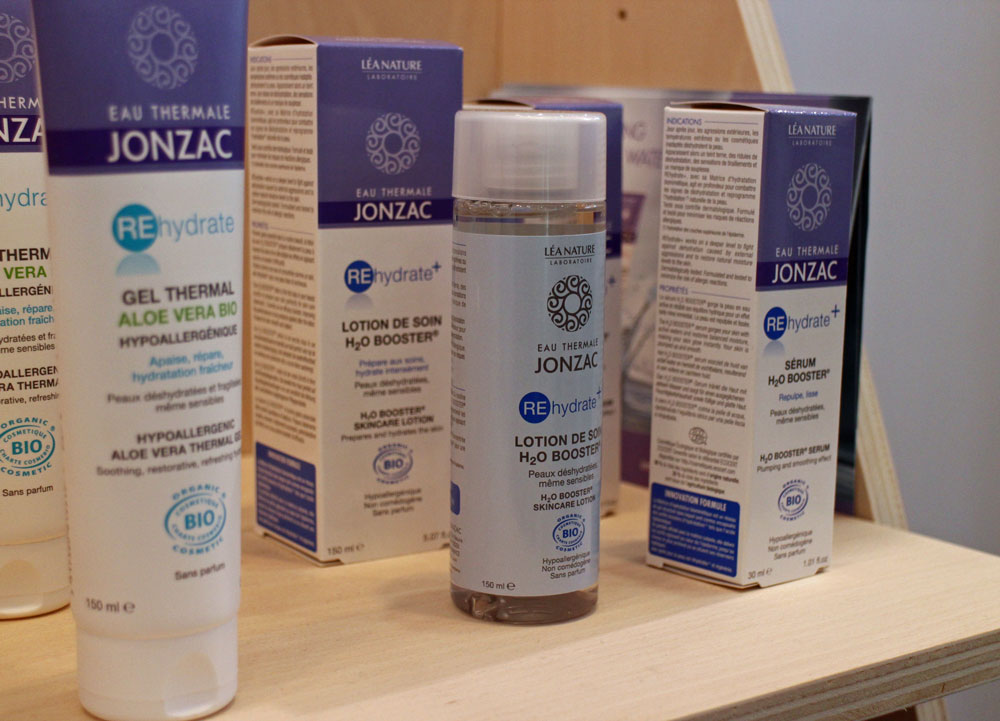 And here is one of my Vivaness highlights: French Groupe Léa Nature was at the trade show with its two brands Eau Thermale de Jonzac and So'Bio étic. So'Bio étic's relaunched Aloe Vera line for sensitive skin is formulated without allergenic fragrances and alcohol; I also loved certified organic thermal water brand Jonzac's new products: the Rehydrate+ H2O Lotion which moisturises the skin (it's like a Korean essence or skin softener), an innovative H2O Balm Gel for night-time and the supple, light Perfection Anti-Tiredness Night Care. I really hope that this thermal water brand will soon be available in Germany! More information is available on the homepage of Eau Thermale de Jonzac.
Austrian beauty brand Pure Skin Food was featured in my Austrian Special (see article above) – and I was happy that I finally got to meet founder Lisa Dobler at the Pure Skin Food booth at Vivaness. She showed me a very cool new product: an eyebrow oil to encourage eyebrow hair growth. Cara Delevigne sends her regards 😉 . The oil blend is based on castor oil, includes invigorating coffee extract and is packaged in a convenient roll-on.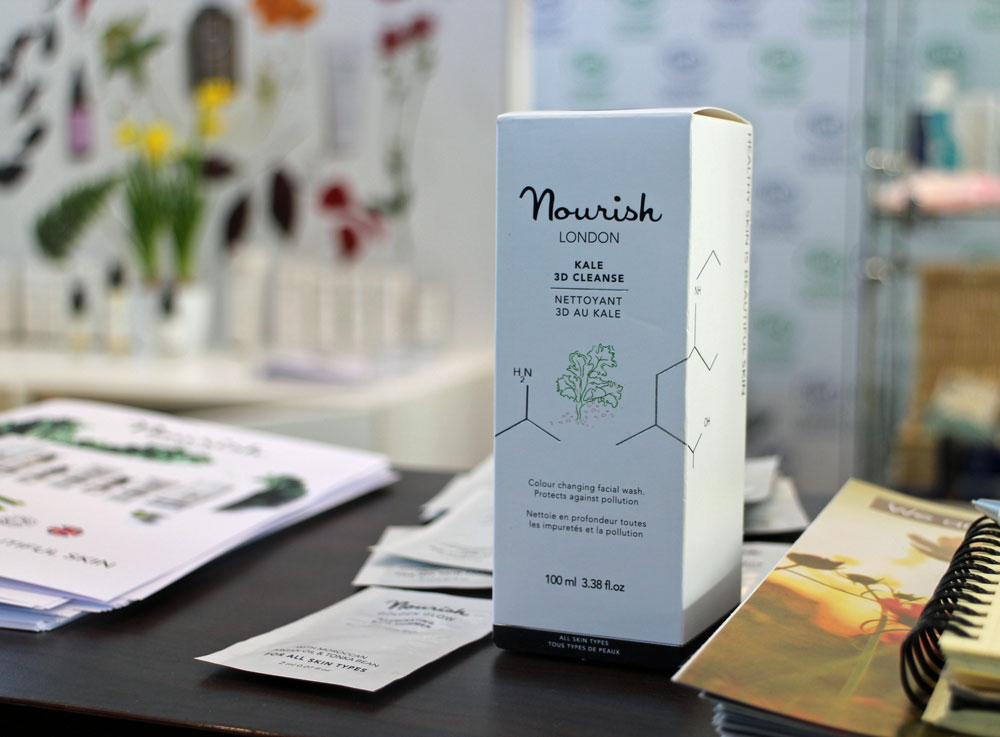 I was excited to see UK organic brand Nourish at Vivaness trade show. I had read about the brand's new Kale 3D Cleanse which was launched last autumn – and now I finally had the chance to try it out! Two years ago I wrote about Nourish's Kale Enzymatic Exfoliating Cleanser (I had a bit of a kale phase back then 😉 ). This new kale cleanser is even better! You massage the product into the skin until it turns kale-green – so you know exactly how long you should cleanse your skin. Of course I will test the product more thoroughly and will then present the review on this blog. Nourish also offers interesting non-kale products, such as a shimmering facial fluid with a great texture or skin serums with peptides. Here is the homepage of Nourish.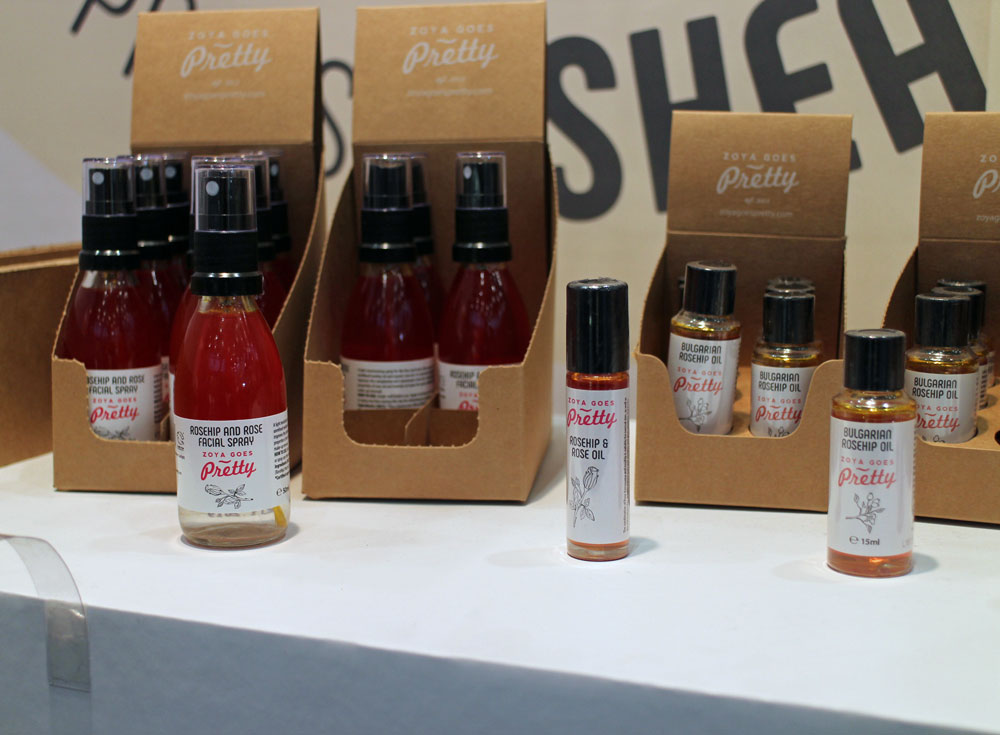 I also liked the relaunch of Bulgarian brand Zoya goes pretty. The brand's well-known body butters are now available with new fragrances, but the most exciting product was the skin care range with rosehip fruit kernel oil. The line-up includes a yellow-orange face balm which is based on shea butter and rosehip fruit kernel oil, a pure rosehip fruit kernel oil (what a fabulous bright orange colour!) and a two-phase spray with rose water and rosehip oil – it reminded me of the Pulpe de Rose Plumping Radiance Duo from French brand Melvita. And again, I really hope that the skin care will soon be available in Germany!
On Saturday my voice had already almost gone but I still visited the booth of Italian brand La Saponaria. They presented four new solid perfumes packaged in little jars; Lolly, Juice, Odry and Grace. Grace's powder floral fragrance was my favourite! La Saponaria is a nice brand; they also had new hair care products with moringa and various other body care products. More information is available on the brand's homepage.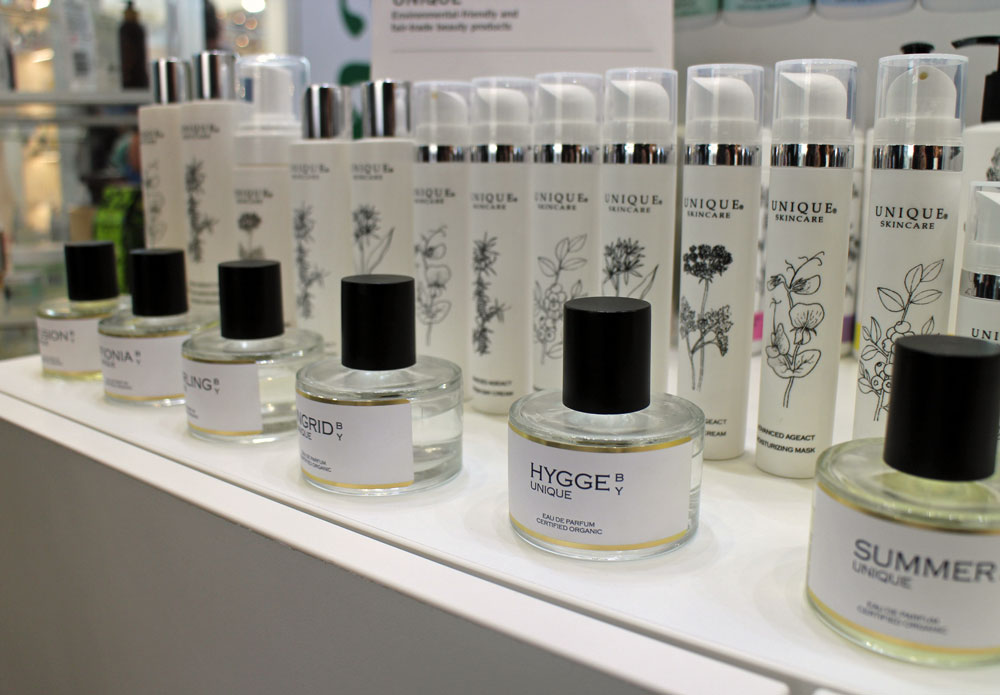 This May, Danish brand Unique will launch a face care range and six new fragrances! I like Unique's hair care products very much so I absolutely had to visit their booth and sample the new fragrances! One of the perfumes is called Hygge (I really want that one – I like the concept of Hygge 😉 ). Hygge is Danish for "cosiness" and it's a lifestyle concept which is currently very popular in Scandinavia. I have written about Hygge in these Beauty Notes here. Interestingly enough Hygge is scented with red berries, because the cosiest time in Denmark begins in autumn after the berries have been harvested. The new face care range is comprehensive; there are 14 products in total plus two body lotions. I really like the textures of the products that I tried out at the Unique booth; they are modern and very pleasant and can easily compete with conventional beauty products.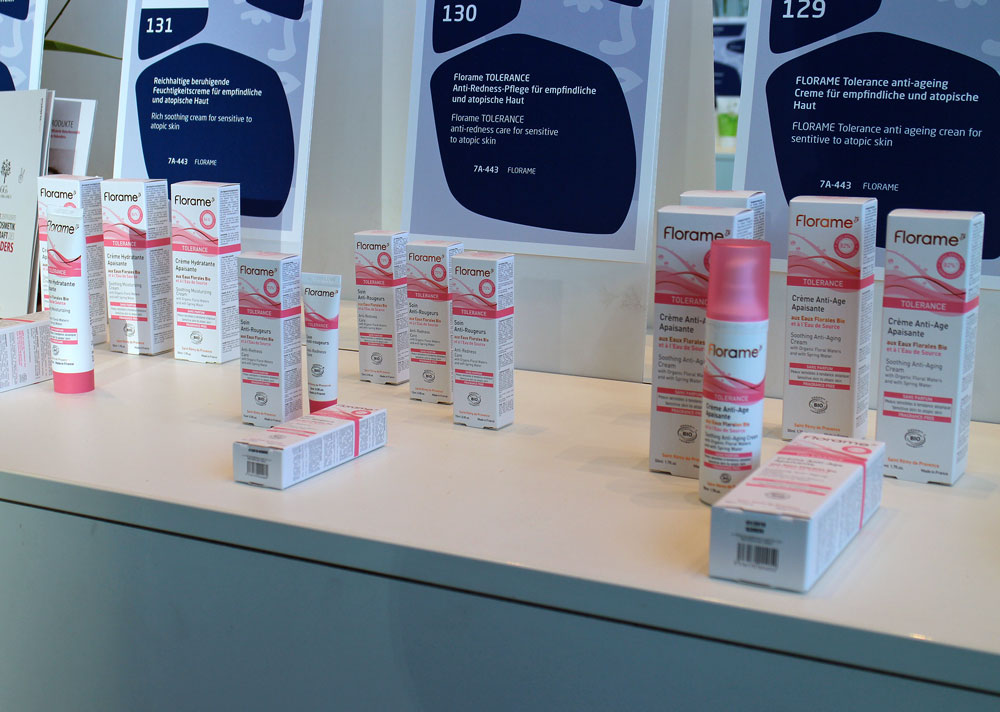 I already showed you the SOS Gel from French brand Florame's new Tolérance range in this blog post here, but since the product range is still pretty new I'll include it in this Vivaness post. The three products are packaged in pink; they are fragrance-free and soothe the skin. Another new launch is the Purifying range for combination and oily skin (this range is packaged in purple) which comprises five products, all of which were entirely new to me. I haven't even seen these products in France!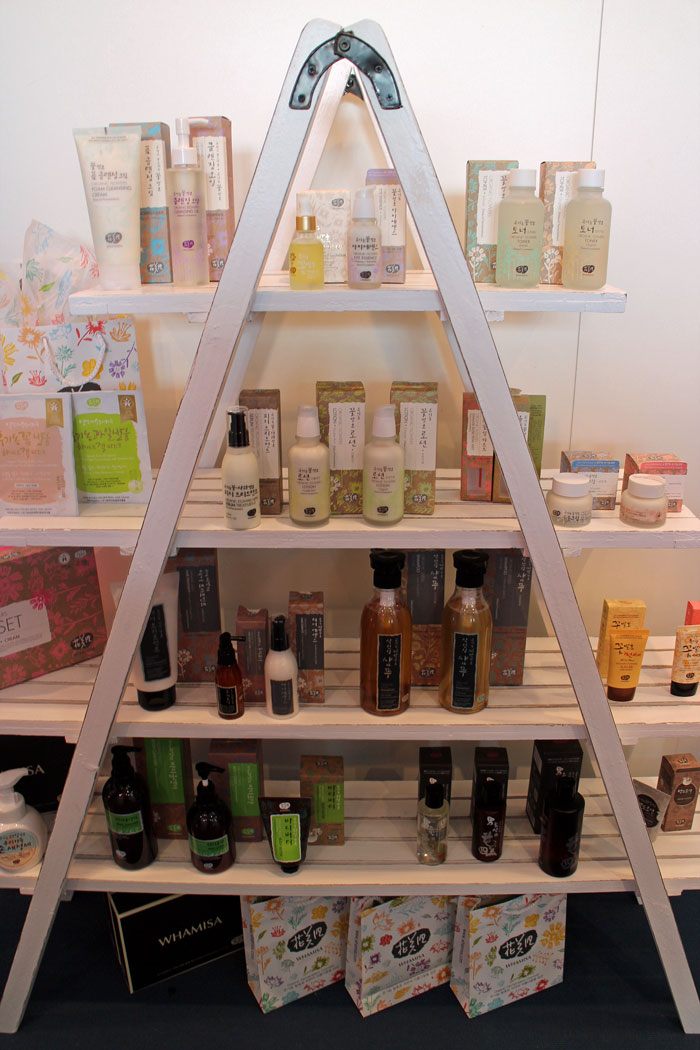 And now let's visit the Asian beauty brands at Vivaness 2017! I was very glad to see Korean brand Whamisa at the trade show – I've written about Whamisa many times over the last few years. The brand has an extensive product portfolio which comprises face care (toners, lotions, creams and masks, including the famous green kelp mask), body care, hair care and men's products. I love the textures of Whamisa's products! All products contain fermented plant extracts which have antioxidant and anti-inflammatory properties.
Two other Asian exhibitors were Znya (from Thailand) and Naveen (from Taiwan). I have written about both brands in my 2016 Vivaness show report. Amongst Znya's new launches were two face care products – the Complete Facial Oil and a matching facial soap – as well as some interesting tooth care products. Naveen's comprehensive line-up also offers a product range for people aged 65+ which had already impressed me last year. The two Naveen sheet masks are now also certified by Soil Association. Yay!
And more Asian inspiration: in the 1980s a Japanese professor developed the principle of effective micro-organisms (also called EM; some of you might know it from the world of gardening). These fermented ingredients are now used in the Demeter-certified hair care products of German brand Hair Resource. More information about the brand is available here.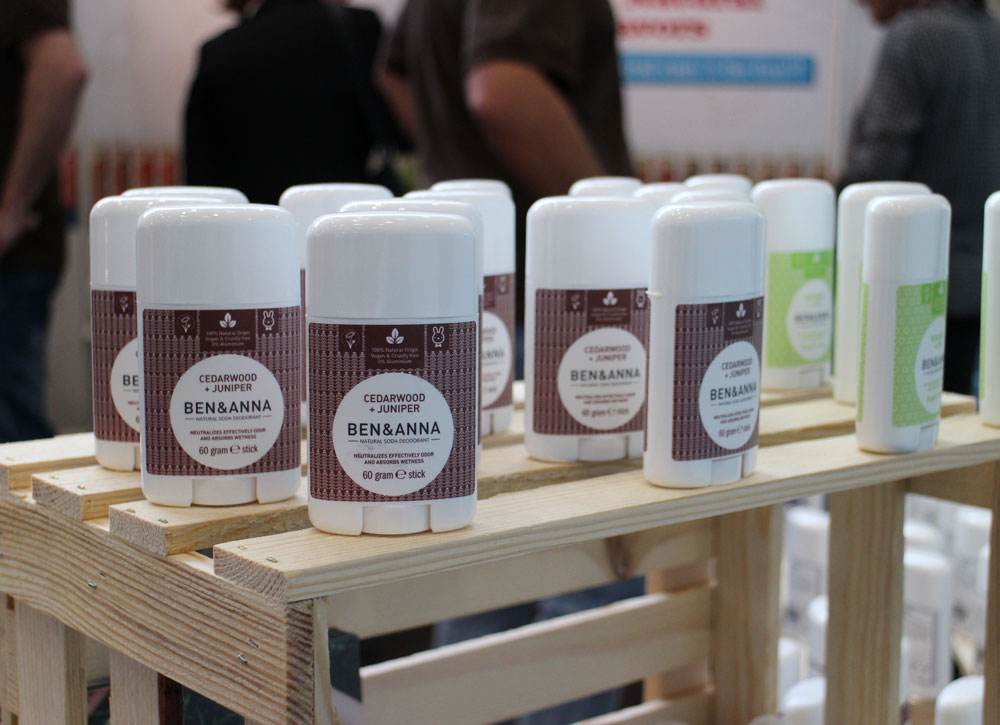 Deodorants that are based on baking soda are starting to become really popular over here and at Vivaness, there were several baking soda deo brands. I already mentioned the new Deo Sticks from French brand Acorelle in my previous Vivaness article. German brand Ben & Anna is from the city of Kassel; the brand's vegan deodorants are inspired by the products of US brand Schmidt's Deodorants. The Ben & Anna deo fragrances are quite similar to Schmidt's fragrances although the textures are much more supple. More information is available here. The deodorant creams of Dutch brand We Love the Planet are packaged in aluminium jars (here is the homepage). And The Ohm Collection – they are also from the Netherlands – is offering deodorants in powder form (scented with different essential oils) which are available in tin jars. You can find more information here.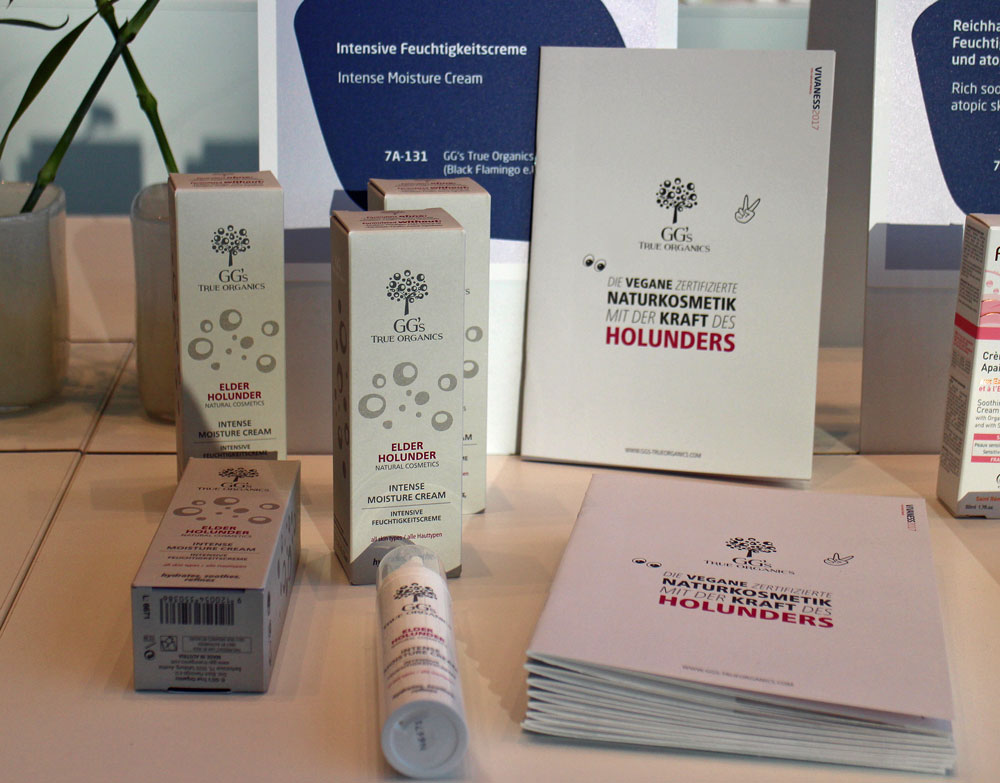 Unfortunately I didn't have any time (or voice) to visit the booth of GG's True Organics from Salzburg in Austria. GG's offers a vegan range of six skin care products which are based on elderflower extract, elderflower oil and elderflower water. I would have liked to have tried out these products! More information about the brand is available on their homepage.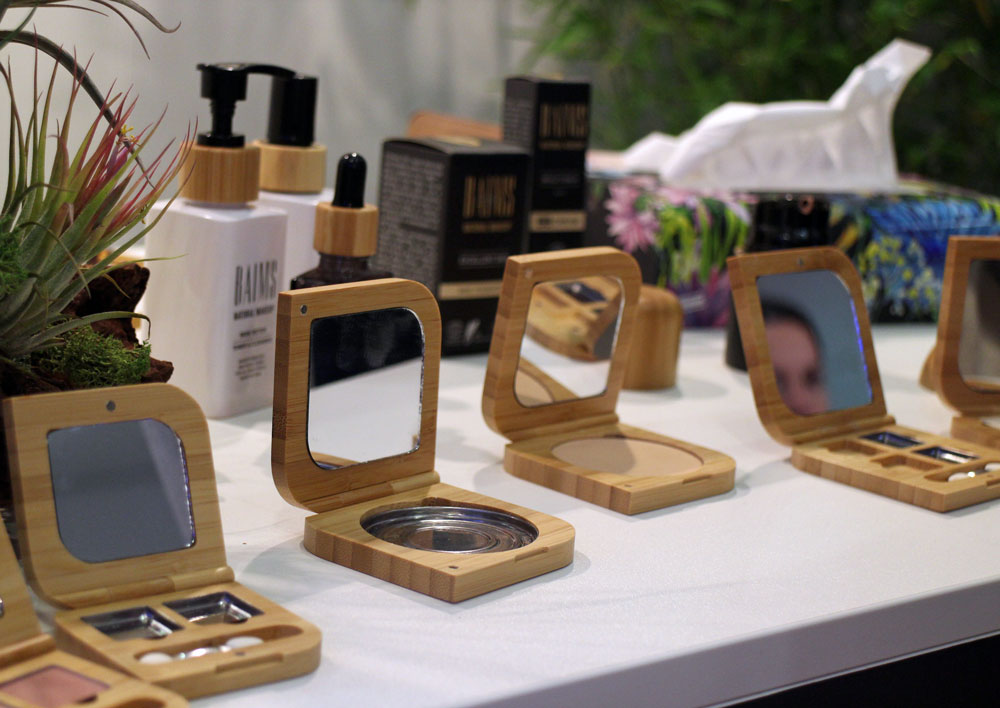 And here we are in the colour cosmetics category! German-Brasilian brand Baims had its exhibition booth in the Breeze area (this is where the Vivaness newcomer brands are showcased). Baims offers mineral makeup; they have a wide range of foundations, powders, lipsticks, blushers, concealers, eyeshadows and mascaras. The powdery textures of the products that I tested at the stand were beautifully silky and smooth. The cosmetics are packaged in bamboo jars and cases; you can check them out here.
Lithuanian mineral cosmetics brand Uoga Uoga will launch new cream eyeliner colours and vegan lipsticks. – French makeup brand Boho Green Makeup was also at the show; they were presenting new nail polish colours and makeup brushes. I've already written about Boho Green's Gipsy Palette here. – The products of Italian colour cosmetics brand Veg-up are vegan, the packaging is made from cardboard. Their new Liquid Lipstick range looked interesting. – Unfortunately I didn't have the time to visit NZ brand Antipodes who were at the trade show with their entire new lipstick collection!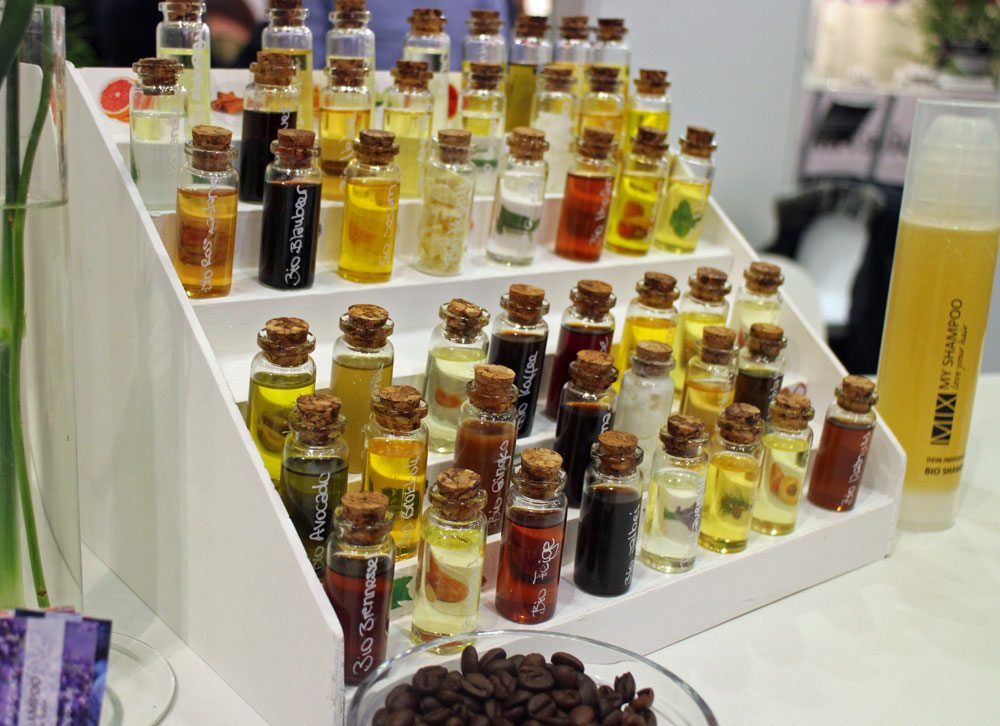 I was surprised when I saw Mix my Shampoo at Vivaness because the company is a classic Internet start-up. However, founders Markus Peetz and Lisa Sobotta decided to start exploring the opportunities for offline retail. And who know, perhaps it will soon be possible to order the brand's customised shampoos through digital displays in regular bricks 'n mortar stores… Here is the homepage of Mix my Shampoo.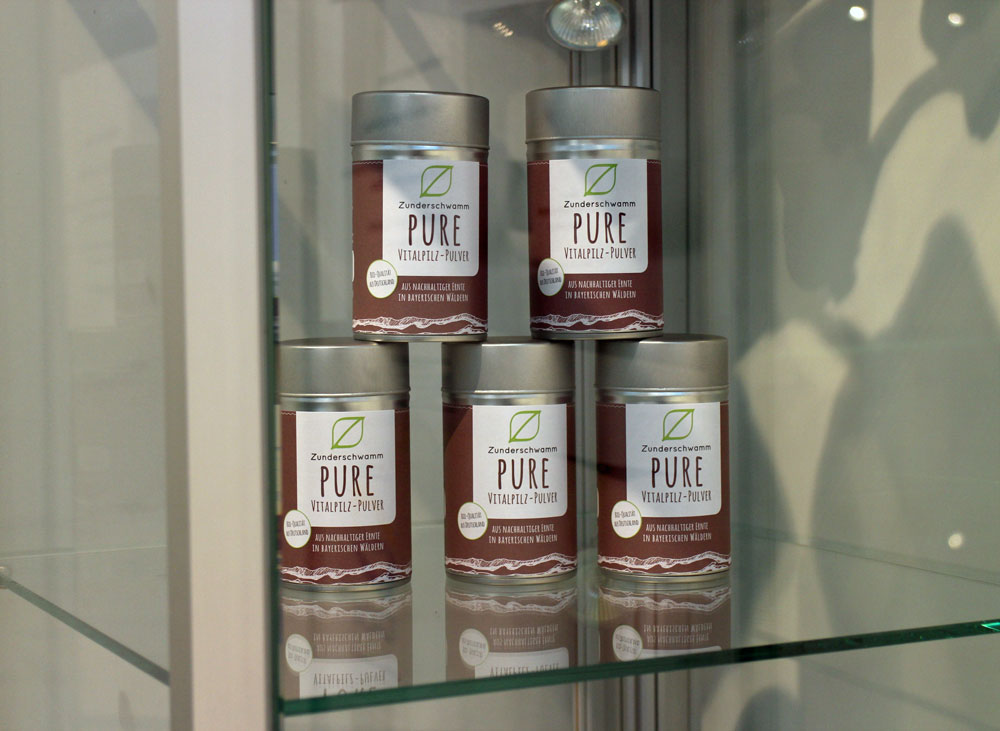 I was also interested in the products of Zunderschwamm, a German company from Frankonia. Zunderschwamm manufactures mushroom extracts and supplements. In Asia, mushrooms are already a well-established and popular beauty ingredient; in Germany, however, Zunderschwamm is a bit of a pioneer. More information about the brand is available here.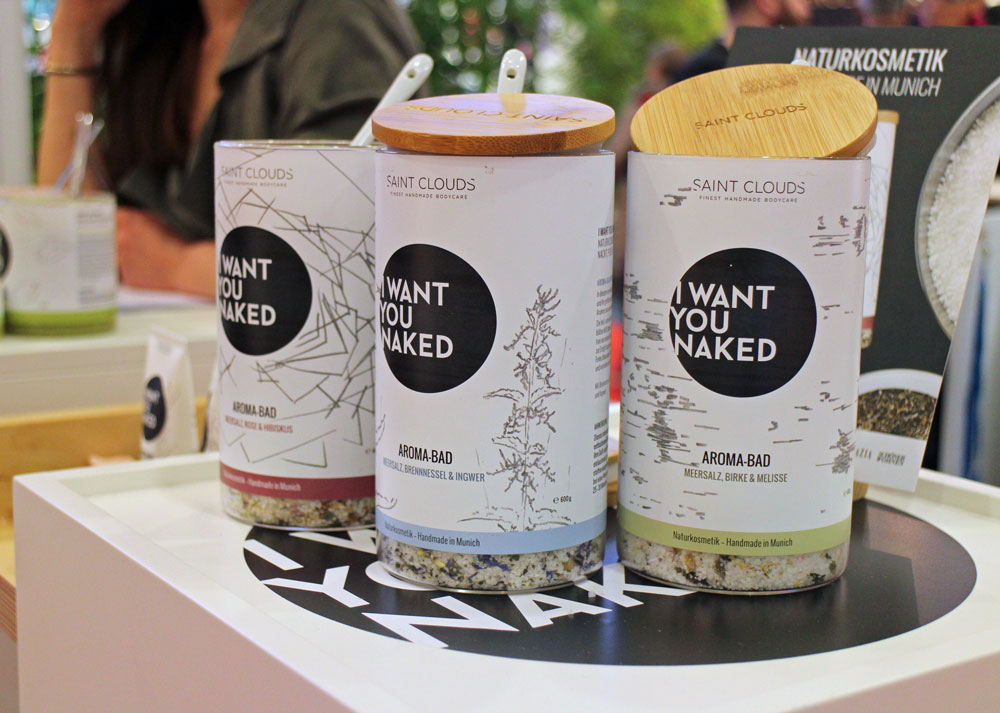 Just before I left the trade show I visited the booth of young Munich brand I want you naked / Saint Clouds – their product design is a real eye-catcher. Saint Clouds' products are already available in luxury stores Oberpollinger (Munich), Kadewe (Berlin) and in Düsseldorf's Spatacular spa, plus various concept stores. The product range includes soaps, bath salts, hand creams, body and face scrubs and a lipbalm. Here is the homepage of the brand.
There were so many brands that I didn't have the time to visit! Cretan brand BioSelect, for example (I discovered their products during a visit to Crete a few years ago), or Croatian brand Olival (organic beauty with immortelle). I would also have liked to visit French perfume brand Aimée de Mars (I met them last year), Lamazuna (also from France, they do zero-waste cosmetics) or young French beauty brand Lady Green (I like Lady Green's mascara and face mask). There were a number of snail beauty brands, including Helixium (Annika recently wrote about the brand's serum), Mademoiselle Agatha from France and BioSnail from Italy. Australian brand Eco by Sonya was also at the show (I've written about their sun care and self-tanning products several times). And if you are looking for stylish men's and beard care products, check out the product range of Berlin niche brand Oak Berlin.
[Click here for more pictures and the original German article: Naturkosmetik: Nischenmarken von der Vivaness]

As a teenager I dreamt of becoming an existentialist. My idea of existentialism was pretty broad and encompassed many influences – Sartre, Beauvoir and Camus all mixed up with flared trousers, black turtlenecks and a wine red velvet headband which I wore in my long hair 😉 . Et voilà! 25 years later I present to you a lipstick that would have complemented my existentialist look perfectly: Existential from US brand Axiology has a deep black colour; can't you just imagine sitting in a New York City jazz club late at night…? 🙂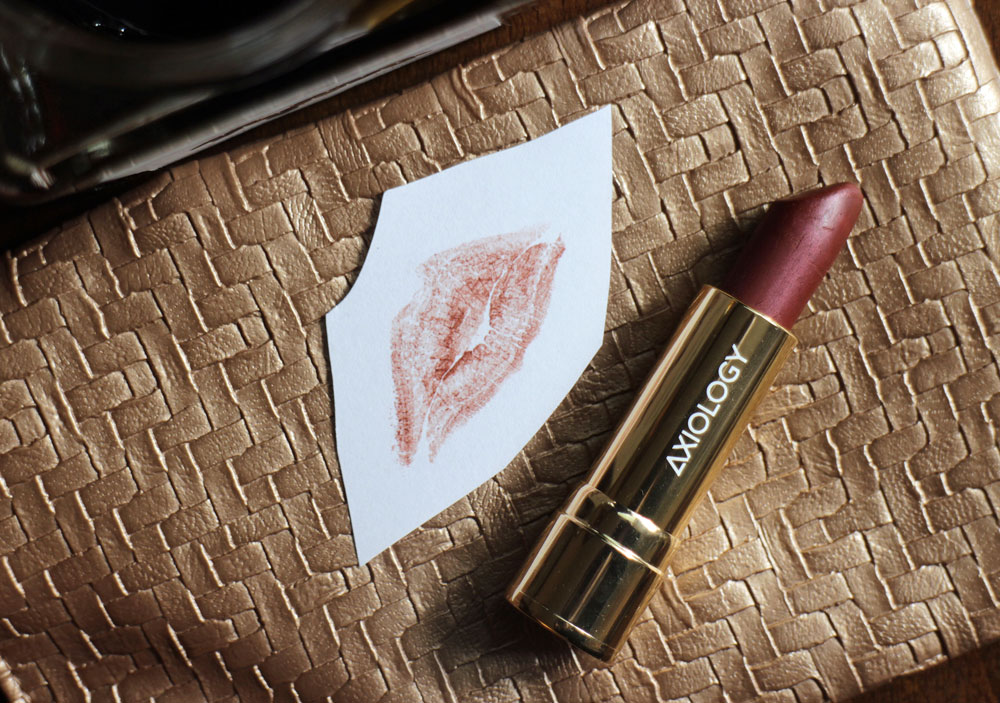 If you grew up in the 1990s and were interested in cosmetics you are probably familiar with Clinique's cult lipstick Black Honey. Infinite from Axiology plays with the black honey concept but the colour is less transparent; Infinite is a creamy-opaque rosé-brown with a subtle shimmer. Looks great together with the current trend of rose gold-coloured smartphones, Birkenstock sandals or small Japanese handbags.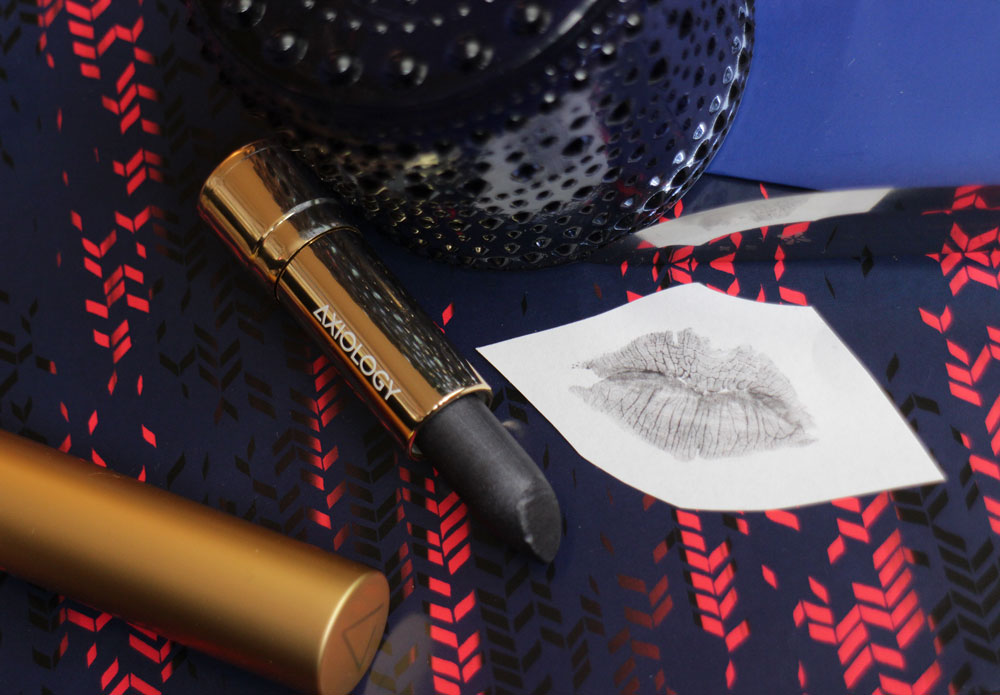 When the dark colour of the night-time sky is reflected in my lips then the lipstick can only be Axiology's Phenomenon! The transparent blue-shimmering anthracite looks great applied over red or fuchsia tones – you get a truly spectacular multidimensional look. Organic makeup can finally compete with conventional brands like Urban Decay, Smashbox or Kat von D because Axiology offers these edgy lipstick colours!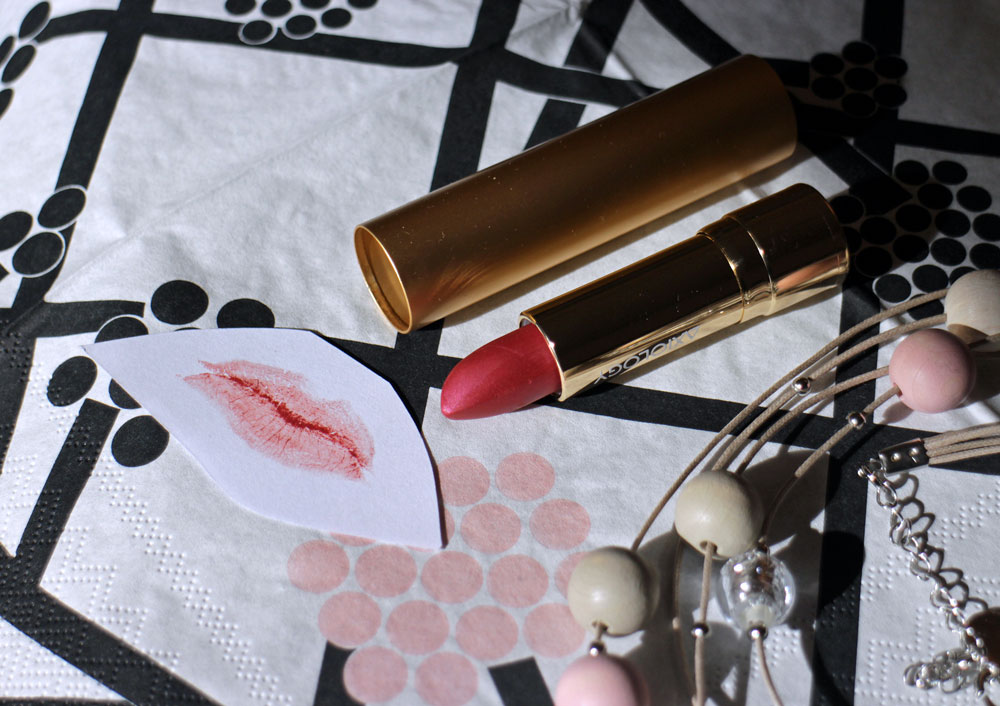 Waiting for the apple blossoms to greet the new season; starting in the West and moving across the country to the East. Waiting for the luminous lights of spring time – the lip colour Vibration is a beautiful shimmering shade which alternates between coral and fuchsia; it is warm and cool at the same time. Like spring in April!
*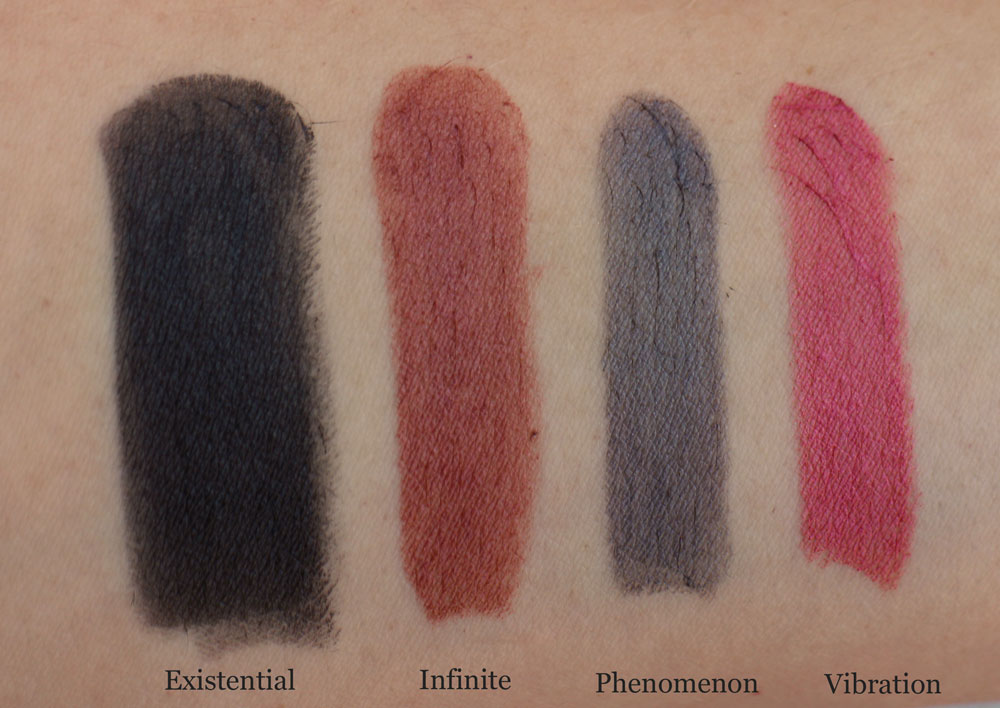 The vegan Axiology lipsticks are based on candelilla wax and avocado oil so the texture is supple and very flexible. They feel comfortable and hydrating on the lips and have a light orange-scented fragrance. And the shades are really unusual – especially for organic cosmetics – so they are perfect for people who prefer bolder colours. The packaging is also great: if you press the bottom half of the lipstick case lightly the cap will slip right off. A small nod to Chanel's iconic Allure lipstick!
Online store Vegane Pflege offered me a choice of four Axiology lipsticks, so I decided on Existential, Infinite, Phenomenon and Vibration. The lipsticks from Axiology are available in 21 colours and cost 27 Euro each.
Small bits of Loveliness, Ida from Herbs&Flowers and Kathrin from Ein bisschen vegan have also written about the Axiology lipsticks.
[Click here for more pictures and the original German article Lippenstift-Facetten // Axiology]
FAQ: Dry Skin through minimalistic skincare
Recently I received an e-mail from one of my readers and I thought that her question might interest other readers as well. So I decided to publish my answer here; perhaps it'll help someone else, too!
Question: I have a question about your article My Minimalistic Skin Care Routine with Angel Minerals. Is there a rule of thumb for how much hydrosol and face oil I should use? I recently changed my skin care routine to a more minimalistic product combination which focuses on hydrosols and face oils. Before I apply hydrosol and oil I cleanse my face with an oil first and then use a salt soap. Unfortunately my skin has reacted to the new routine with considerable dryness. It's good that I can decide for myself how much hydration and lipids I want, rather than use a ready-blended cream. On the other hand I am not entirely sure how much hydrosol and oil I should apply to achieve a good combination. Do you have any more information about this topic?
My answer: Yes, the minimalistic skin care routine can be tricky sometimes; I have experienced that myself! Usually I apply 3-4 pumps of hydrosol and then 3-4 drops of the facial oil which I massage into the damp skin (you can find more about face oils in this blog post here – German only, sorry!). There can be several reasons why your skin has turned dry: not every skin type can handle soap as a facial cleanser or perhaps you use too much soap – try using a smaller amount. Alternatively you could try a different cleansing product rather than the oil-soap double cleanse, like the Cleansing Milk from Martina Gebhard or the Sensitive Cleanser from Living Nature. Some skin types also need topically applied emulsifying ingredients. The skin has natural emulsifiers but sometime the level of these naturally occurring emulsifiers is not high enough to bind moisture and lipids within the skin. In these cases it makes sense to use a good cream with emulsifiers. It can also help to select a face oil which is suitable for your skin – avocado oil, for example, contains the natural emulsifier lecithin which helps to lock moisture and lipids into the skin. On the other hand, avocado is a rather rich oil. And another idea: if your skin need moisture rather than lipids, try an aloe vera gel underneath the face oil.
I hope you'll find these tips at least a little helpful!
[Click here for more pictures and the original German article FAQ: Trockene Haut durch minimalistische Pflege?]
I had a great start to the week: On Monday I took the train to the Northern part of the Black Forest region to visit the headquarters of organic beauty manufacturer Annemarie Börlind. Although the weather was rainy and cold the surrounding landscape of mountains and fir trees was beautiful! After a tour through the Börlind offices and a fascinating talk about ingredients with the head of Börlind's R&D (research & development) department, I had the opportunity to enjoy a facial at the Annemarie Börlind Natural Spa in Therme Hotel in the little spa town of Bad Teinach. During the facial my skin was analysed in detail and I discovered several beauty products which I had been curious about for a while (more about these products later!). On my train journey I had already read the book "A vision becomes reality" about the company history of Börlind – I love books about the history of beauty and especially those about organic beauty pioneers! Annemarie Börlind was founded in 1959 by beautician Annemarie Lindner. Today Börlind is still a family-owned business and although the brand's skin care ranges are sold in more than 30 countries worldwide, the products are manufactured right here in the Black Forest. What an inspiring trip!
Last weekend I discovered German brand Dr. Hauschka's relaunched colour cosmetics in Nuremberg's luxury department store Breuninger – I already showed the display case on Instagram here. Of course I checked out all the new products but will probably need a little more time until I find my new favourites. Dr. Hauschka's Lipstick Nr. 16 Pink Topaz has accompanied me for years; sadly it has now left the brand's portfolio. At Dr. Hauschka's Vivaness exhibition stand, product manager Nadja Wagner had recommended the new Sheer Lipstick Nr. 2 Rosanna as a replacement for Pink Topaz. I bought the Rosanna Sheer Lipstick and at home I compared swatches of the old and new lipsticks: Pink Topaz has a stronger colour but the new slim-line Sheer Lipstick looks much more elegant. The new texture feels a little lighter and more supple; on the lips Rosanna offers a transparent-pink colour and a few shimmer particles. The new Sheer Lipsticks cost 16 Euro. You can check out the new products on Dr. Hauschka's homepage here.
I forgot to tell you that I tested the Double Rose Rejuvenating Face Cream from UK brand The Organic Pharmacy a few weeks ago! I really like this cream; it is one of the bestsellers of The Organic Pharmacy (I always like checking out a brand's star products). The moisturiser is named Double Rose because the product formula contains rosehip kernel oil and rose essential oil. The texture of this rose-scented cream is almost gel-like but absorbs quickly and moisturises really well, even on my dry cheeks. Seriously impressive! I bought my cream through online perfumery Najoba. You can read more about the cream and its ingredients in this article for Najoba's blog here – German only).
More pink colour on my lips: In my local Müller drugstore I spotted the new lipsticks from US brand Burt's Bees which were recently shown at Vivaness trade show. I had brought the coral-tinted Sunset Cruise from Burt's Bees back from a trip to Japan; since I am currently crazy about pink I now bought the shade Magenta Rush. It's a strong fuchsia pink with a creamy-transparent finish and without shimmer particles – the lipstick practically glides onto my lips and moisturises them beautifully. Which also means that it doesn't last overly long. The square packaging is an eye-catcher; it is decorated with stencilled patterns which reminded me of honeycombs. The lipsticks cost around 14 Euro.
I felt a little nostalgic recently when I saw the new limited edition from German makeup brand Catrice: the collection was created in cooperation with young Austrian fashion designer Marina Hoermanseder. Besides eyeshadows, lipsticks and so on the limited edition also included a Highlighter Brush which is slim and surprisingly soft but at the same time not too loosely bound. The handle is decorated with a little belt buckle, so I ended up buying it 🙂 . To accompany my new highlighter brush I also bought the new Teint Illuminating Powder from drugstore retailer DM's organic own label brand Alverde. The powder contains very finely milled golden shimmer particles so it looks really natural. Well done Alverde!
In the same DM store I noticed the Dishwashing Liquid Hummingbird Garden from Belgian/American brand Method. The bottle is decorated with drawings by artist Johanna Basford, the creator of the famous colouring books (a world-wide craze which is still going strong…). Basford decorated the bottle with colourful hummingbirds and flowers. Method is a product range which belongs to natural household cleansing manufacturer Ecover from Belgium. The ingredients of Hummingbird Garden are mostly plant-based – the fragrance, however, also includes synthetic components – and the bottle carries the Cradle to Cradle sustainability seal. Method's Dishwashing Liquid costs 2.95 Euro and smells floral (like lily of the valley) and fruity (I detected notes of apricot and peach).
And here are some organic beauty news for you!
Annemarie Börlind has launched the spring-time makeup edition Dancing Rose. More info is available here.
US brand RMS Beauty will soon bring out the Highlighter Champagne Rosé Luminizer which at the moment is exclusively available in outlets of perfumery chain Sephora.
DM's Alverde is launching a new Eye Makeup remover in the Bach flowers skin care range.
[Click here for more pictures and the original German article Beauty-Notizen 10.3.2017]
Good-bye everyone and see you soon!
Julia