Dear international readers of Beautyjagd,
Welcome to the next English-language edition of Beautyjagd! This is a condensed version of the most important articles that have appeared on my blog over the last few weeks. For more information about this format, click here. And now: enjoy the best of Beautyjagd in English!
Best wishes
Julia
My visit to Annemarie Börlind Natural Beauty Spa
It's been ages since I last wrote about a beauty treatment on Beautyjagd. In July 2016, I had published an article about my Japanese facial at Ryoko in Berlin. Now it is time for another blog post on a spa treatment.
Last week I had the opportunity to visit the Annemarie Börlind Natural Beauty Spa in Bad Teinach in the Northern Black Forest region of Germany. Beauty brand Annemarie Börlind is one of the pioneers of organic cosmetics in Germany – you can read more about Börlind in these Beauty Notes here – and the company's headquarters are located around 20 km from Bad Teinach.
A quick note about the German word "Bad": when Bad (which translates as "Bath") is part of a German city name it usually indicates a spa town and/or the presence of healing or thermal springs. Bad Teinach is known for its natural mineral bath which is located inside the beautiful Hotel Therme. You can also visit the mineral bath without staying at the hotel.
However, I had a really nice hotel room with a view of the swimming pool. Wrapped in a bath robe I took the elevator all the way down to the Annemarie Börlind Natural Beauty Spa in the basement of the hotel. The spa was renovated last year; it is a historic location. The entrance area is flooded with light and there are several moss-covered living walls. Lovely!
From most of the treatment rooms – including the one I was in – you can see the waterfall opposite the hotel and the trees of the Black Forest. Spa director Gabi Fenchel then explained the Annemarie Börlind treatment concept to me. I was lying on a very comfortable heated spa bed by Gharieni, a German manufacturer of spa equipment whom I had met at NaturkosmetikCamp.
It now occurs to me that it is strange that I have written comparatively little about Annemarie Börlind on my blog so far. After all, Börlind's founder Annemarie Lindner was one of the organic beauty pioneers in Germany. In the 1950s Lindner developed a treatment concept which includes four steps: Cleansing, Strengthening, Day Care/Night Care (usually a cream) and Eye Care. Börlind's product ranges also offer additional products such as masks, scrubs, face oils and BB creams.
Interestingly enough, the "strengthening" products in Börlind's portfolio are frequently moisturising gels. Perhaps some of the Korean beauty manufacturers found their gel toner inspiration here…? After all, Börlind's iconic Blütentau (Blossom Dew) Gel was launched in the 1970s.
For my treatment Gabi Fenchel intuitively selected some products which I had wanted to try anyway. She removed my makeup, cleansed my face with a cleansing milk and then analysed the state of my skin. After extracting some impurities, Gabi misted a spa-exclusive sage hydrosol over my face. The next product – for strengthening – was a Facial Firming Gel which is also recommended for couperose skin.
Since my skin is comparatively dry at the moment – it's the end of winter in Germany, always the worst time for my skin – Gabi blended an Intensive Moisturising Oil Capsule with a cream mask from the Börlind LL range and massaged my skin with the mixture. The next treatment step was a cooling algae mask, similar to the Lindsay masks in Korea or the Secrets des Fées masks from France. It feels so luxurious to have someone else apply an algae mask to my skin ;).
After another round of Firming Gel and a dab of day cream from the ZZ Sensitive range my skin felt nourished and plump. The facial took around 1 ½ hours. Since I had a dinner meeting afterwards I asked for a natural-looking makeup. Gabi used Börlind's Anti-Aging Makeup and the loose Hyaluronic Powder, applied some coral-toned blusher and coral lipstick. An almost summery-themed makeup!
Before taking the train back to Nuremberg the next morning I had time enough to visit the mineral thermal baths in the hotel. It was a Tuesday morning so the pool was almost empty. There is an indoor and an outdoor pool from which you have a beautiful view of the Black Forest. The swimming was so relaxing! I also tried out the hot spring – it reminded me a bit of a Japanese onsen bath! – and the cooling mineral spring (the water temperature is 17 C and the water comes from a depth of 1000 meters). What a wonderful spa break! Thank you very much, Annemarie Börlind 🙂 .
More information about the Annemarie Börlind Natural Beauty Spa is available on the spa homepage.
Foto Credits: Annemarie Börlind (No. 2), Hotel Therme (No. 4).
[Click here for more pictures and the original German article Mein Besuch im Annemarie Börlind Natural Beauty Spa]
New deodorants from Vegane Pflege
Anne Schaaf, founder of organic online store Vegane Pflege and baking soda deodorant cream brand Wolkenseifen, has just launched three new deodorant fragrances. I first wrote about Anne's Wolkenseifen deo creams back in 2011 – she is definitely one of the pioneers of baking soda deodorants in Germany!
A few years ago Anne launched her Vegane Pflege shop and introduced a new range of deodorant creams which are scented with essential oils only. The texture of the deodorant creams has improved a lot over the last years – they are neither too oily nor too crumbly – and feel very comfortable on the skin. The Vegane Pflege deodorant creams are packaged in glass jars (which contain 40ml) with bamboo lids and are priced at 14.90 Euro each. You only need a very small amount so one jar lasts for around 6-8 months.
And now there are three new summery fragrances! Perfect Peach (my favourite) is scented with a blend of White Peach and powdery notes so it is not too sweet and even a little sophisticated. The scent stayed for 5-6 hours on my skin (the deo cream lasted for the entire day).
Only Orange smells like juicy blood orange (I used to love blood orange ice cream as a child!) and My Melon (Anne's favourite) is a combination of honeydew melon and water melon; it is a slightly fresher fragrance than Perfect Peach and less juicy-smelling than Only Orange. On my skin the My Melon fragrance lasted almost the entire day.
The deodorants are based on shea butter (moisturising), potato starch (absorbs moisture), baking soda (changes the pH factor of the skin and thus prevents the development of bacteria that cause the sweaty smell), zinc oxide (anti-inflammatory and anti-microbial), coconut oil and grapeseed kernel oil (moisturising), vitamin E (antioxidant) and fragrance. All deo creams are vegan and there is also a fragrance-free variant.
More information about the Vegane Pflege deo line-up is available here. I received all products for this Sponsored Post from Vegane Pflege.
[Click here for more pictures and the original German article Neue Deodorants von Vegane Pflege (+Gewinnspiel!)]

The latest skin care trend: 7 Skin Method from Korea
I recently bought a Skinanalyzer, a small device which measures the levels of hydration and lipids in the skin. I had read about the Skinanalyzer on Irit Eser's blog some time ago and finally ordered it last week!
It is a cool little gadget: you press the top of the Skinanalyzer against your skin and wait until it beeps. The display will then show the measurement value of Oil (lipids) and Water (moisture). There is also a laughing or frowning smiley face which indicates the state of your skin elasticity. The little brochure that was included with the Skinanalyzer gives some average measurements for skin types in different regions of the world. In South China, for example, higher levels of moisture seem to be normal since the climate there is humid and warm. Strangely enough the brochure didn't mention age as a factor for skin hydration/elasticity although this is surely one of the main influencing factors for skin health!
Anyway, although the Skinanalyzer doesn't give super scientific measurements it measures the current state of my skin well enough – and this is all that I need for my new project: trying out the 7 Skin Method!
You might have heard about this new skin care trend, it comes from Korea (of course!) and has been trending on various international beauty blogs and magazines. This new skin care ritual basically means applying seven successive layers of the same hydrating toner rather than applying a toner followed by a serum, a lotion, an essence, an ampoule and all the usual skin care steps. An interesting minimalistic skin care approach!
It is recommended that you select a toner which is as hydrating as possible (don't use toners for impure or combination skin) because the goal is to boost the hydration levels of the skin. The name 7 Skin refers to the Korean word for skin which also means toner.
And this is how I tried out the 7 Skin Method: after cleansing my skin I used a super moisturising toner (my favourite is Korean brand Whamisa's Deep Rich Toner which is also the recommended toner on many blogs) – I love the thick gel-like texture very much, it is one of my favourite Whamisa products.
First you put a small amount toner of a cotton wool pad (an amount the size of a 2-Euro coin is sufficient) and stroke the pad over the entire face. After around two minutes you apply layer #2 with your hands; put the toner in the palm of your hands and gently pat it onto the face. Repeat this five more times; make sure to wait a few minutes in between applications. I was surprised by how greedily my skin absorbed the toner after each step; it is rather thirsty at the moment. After seven layers my skin really did feel plump and hydrated, like it does after a salon facial.
You can lock the moisture into the skin with a bit of cream (I tried out the Water Cream from Whamisa, the Aqua Nature Moisturising Cream from Annemarie Börlind and the Double Rose Rejuvenating Cream from UK brand The Organic Pharmacy on top of the toner) or simply apply a few drops of face oil. Some beauty bloggers don't use any additional product afterwards; it all depends on your individual skin type and what climate zone you live in. The effect also depends on what toner you use; some people like watery products – like hydrosols or floral waters – others prefer a thicker, more gel-like texture.
Of course I also measured my skin with the Skinanalyzer several times: before my 7 Skin Method evening routine, just before going to sleep, in the morning before cleansing and after my morning beauty routine and two more times during the day. I compared the results with those of my "normal" skin care regimen which consists of a gel-like toner-serum and a comparatively rich cream or face oil.
And here is the result: The 7 Skin Method boosted the moisturisation levels of my skin by almost 20% (from 28% to 47%, to be exact)! The percentage of Oil (lipids) went down a bit with the 7 Skin Method (then again my lipid level is already a little higher than average so it's all for the best!). The measurements of the Skinanalyzer were reflected in what I saw in my skin: it looked much more hydrated and plumper than usual, there were fewer fine lines and dryness; especially in the first six hours after using the 7 Skin Method. I was surprised by how long the effect lasted, until the afternoon of the next day. Then the hydration level went slowly back to the "normal" measurements.
Much as I like the 7 Skin Method I wouldn't use this routine every day since it is almost too rich for my skin type. For my experiment I used the 7 Skin Method on seven consecutive days and towards the end I noticed that my skin felt almost over-hydrated. This might have had something to do with Whamisa's super rich toner but you can also try a lighter toner like the Aqua Rosa Essence Botanique from Sanoflore. I haven't read anything negative about the 7 Skin Method but you should always pay attention to how your skin feels. This applies to any skin care routine, by the way! Or try the method with only 3 layers of toner – this is, incidentally, the origin of the 7 Skin Method.
The 7 Skin Method is ideal as a skin care ritual before a big event or a night out; it is almost a kind of moisture-boosting mask which has an instant effect! It should also be good for sun-stressed or heated skin or whenever your skin needs an extra portion of hydration.
Here are some toner recommendations for the 7 Skin Method. In this list I have focused on the more moisturising gel-textured toners but you could also try the method with a hydrosol, as some people do.
[Click here for more pictures and the original German article Hautpflege-Trend: Die 7 Skin-Method aus Korea]
Essential Eyeshadow Palette and Eye Primer from Ilia Beauty
This March was so cold and grey that I simply had to order the Prima Eyeshadow Palette from US brand Ilia Beauty's new Spring 2017 Collection! An Eyeshadow Quattro with neutral, spring-like shades that include a soft cherry blossom pink – how could I resist?! I also ordered the Natural Brightening Eye Primer because I wanted to see what this product could do.
Let's start with the Essential Shadow Palette in Prima. The matte metal-coloured plastic palette contains two matte and two shimmering powder shadows in square little pans. The inside of the lid contains a mirror.
From left to right: The matte Moonstone shadow is a light cream tone which looks stronger on the eyelid than it does on the swatch. It works well as a natural-looking highlighter underneath the eyebrows or in the corner of the eyes. Moonstone also does a good job when blending eyeshadows on the lid. I also like the second matte shade, Taupe Jasper, which is neutrally-toned and not too dark. Looks really good on my eyebrows as an eyebrow powder, too! The texture is not overly supple but both eyeshadows stayed on my eyelids without slipping into the crease, even without a primer underneath. Much better than the average powder eyeshadow!
The next two colours on the swatch are the two shimmering shadows. The pink shade is called Rosa Tea and the darker anthracite brown is Moka (which has a almost metallic finish, it looks like bronze); both eyeshadows have a supple and buttery texture but tend to crumble a little bit when I apply them onto the lid with my eyeshadow brush.
All four colours are fairly neutral so the Palette should be suitable for warmer and cooler skin tones alike. The quality is definitely comparable with the powder shadows from French brand Couleur Caramel and US brand RMS Beauty; the two matte Prima tones actually seemed to last longer than the powder shadows from the other two brands.
The eyeshadows in the Shadow Palette are based on glimmer, silica and processed oils. Towards the end of the INCI declaration is triethoxycaprylylsilane, a silicone-based emulsifier.
The Essential Eye Shadow Palette from Ilia Beauty contains 7gr and costs 46.95 Euro. I bought my product at German online store Amazingy but the Palette should also be available through other Ilia Beauty stockists. In Germany you can buy the products at Spatacular in Düsseldorf or Greenglam, for example.
I was very curious about Ilia Beauty's On & On Natural Brightening Eye Primer since organic primers are often less effective than conventional eye primers. So I immediately tried out the Ilia primer with different powder eyeshadows.
On the eyeshadow swatch above you can see a white streak on the right hand side; that is actually the Eye Primer. Once you work it into the lid, however, the colour disappears – you only see a bit of shimmer. As I had expected the eyeshadow colours looked stronger on the primer than without it but my main interest was in the durability of the primer!
On the first day I tried out one of my favourite eyeshadows – Garden Rose 13 from RMS Beauty – on the primer but wasn't particularly impressed. The eyeshadow lasted perhaps an hour longer than usual but then the colour started to slip into the crease.
The eyeshadows from the Prima Palette worked better: the colour stayed on the lids and only started to crease a bit after six to seven hours. Wow! Seriously impressive. Especially where the shimmering eyeshadows are concerned – on my lids shimmer shadows often crease faster than matte colours.
Compared to the eyeshadow base from German colour cosmetics brand Benecos, the Eye Primer from Ilia Beauty works better: it looks almost transparent on the lid (so it doesn't change the colour of the eyeshadows) and makes them last longer. On the other hand, the On & On Primer is not certified organic.
The Eye Primer is based on water, glycerin, aloe vera juice and emulsifiers and has a light floral fragrance. The end of the INCI declaration also lists a silicone (several of Ilia Beauty's products contain a bit of silicone since the performance of the products is important to the brand).
The On&On Natural Brightening Eye Primer contains 4.2gr and costs 26 Euro. I bought the product at Amazingy but it is also available at Spatacular or Greenglam.
I really like the Spring Collection 2017 from Ilia Beauty. The two palettes offer good colour combinations and Prima with its fresh, neutral tones is the perfect everyday companion. The quality of the eyeshadows is good, especially when combined with the On & On Brightening Primer. The only thing that I don't like is that both shadows contain a little silicone.
You can find more reviews about Ilia Beauty products here.
[Click here for more pictures and the original German article Essential Shadow Palette in Prima und Eye Primer von Ilia Beauty]
Beauty Notes 31.3.2017 from Los Angeles
Greetings from L.A.! It's my first time here and so far I love it! I have been here for only a week but already I feel rejuvenated – there are so many new things to discover, new inspirations and things to think about. I especially like to learn about the day-to-day life of a city and not just visit the tourist attractions. Of course I am also beauty hunting and have already discovered so many interesting brands and stores!
In the first few days I bought the two new Palettes from RMS Beauty in organic niche beauty store Bluemercury – I already showed you my purchase on Instagram. I simply couldn't decide between Pop Collection and Mod Collection (which include popular colours like Smile or Living Luminizer) so I had to buy both of them 🙂 .
Deodorants are not just sold in organic stores but also in the drugstore chains – the US is definitely a deodorant country! The organic stores here usually sell deodorant creams or sticks with baking soda as the key ingredient and the choice of brands is really large. In Detox Market I bought the Deodorant No. 4 Holi Rose from Agent Nateur which was developed in cooperation with Shiva Rose. The founders of both brands are from the Los Angeles region so the deodorant stick is a local product. It has a beautiful rose fragrance with notes of sandalwood and works really well – the current temperature in L.A. is 28° C! You can check out this cult deodorant on the Agent Nateur homepage.
The Rare Light Luminizer in shade Anthelion from Rituel de Fille is also from Detox Market, a gorgeous organic beauty store with two outlets in Los Angeles. The packaging of this creamy highlighter is beautiful: the lid is decorated with a starry night sky. Rituel de Fille is also from L.A.; although individual ingredients are not certifiable the brand is definitely worth a second look.
Over here sun protection products are often sold in aerosol cans which isn't particularly sustainable but ensures that the product is evenly distributed. The Very Emollient Mineral Sunscreen SPF 35 from Alba Botanica is watery-moist and has a very low whitening effect – the sun protection filters are zinc oxide and titanium dioxide (I assume they are nano particles). It feels really good on the skin although it is probably more suitable for the body than the face. Organic stores here often sell sun protection products with synthetic filters so you have to make sure to check the INCI declaration thoroughly.
The products of Pacifica Beauty are beautiful: such colourful, pretty packaging! I already showed some of the products in a Target store on Instagram. I bought the Happy Essence Hydro Mist from Pacifica, a moisturising and slightly gel-like toner which can be sprayed and is perfect for the 7 Skin Method (I immediately tried this out). You can check out Pacifica's wide range of skin care and colour cosmetics on the brand's homepage.
California in spring-time smells like honeysuckle, jasmine and gardenia – so the Hand & Body Lotion Gardenia form ShiKai is a perfect match! The body lotion smells like a blossoming bush in early summer; I simply can't get enough of this heavenly scent. I bought the body lotion in a Whole Foods supermarket for a surprisingly affordable 8 USD. ShiKai is also from California and has been around since the 1970s. At the very end of the INCI declaration is a silicone but I don't mind… and I'll definitely buy a back-up of the body lotion before I leave.
Also spring-time related but another topic entirely: My new article for organic supermarket denn's Bio-Blog is all about organic beauty with citrus – and not just as a fragrance but as an active ingredient! Citrus can be surprisingly versatile. Enjoy! (German only, sorry).
I brought the new limited edition Hand Cream Cloister Garden from German drugstore retailer DM's certified organic own label brand Alverde with me to L.A. The Cloister Garden range is new; there is also a shower gel and a body butter which include herbal extracts like melissa and apple mint. I don't really like the fragrance of the hand cream (it's a little too sweet for my taste) although the shower gel is much fresher. I use the Alverde hand cream as a light foot cream which works really well.
[Click here for more pictures and the original German article Beauty-Notizen 31.3.2017]
New face care for sensitive skin from Cattier Paris
When I was in France last autumn I discovered French brand Cattier's new sensitive skin care range: three medicinal clay based products for sensitive and irritated skin. I particularly liked the Sleeping Creme – you know how crazy I am about Korean beauty trends (more about the sleeping cream further down!). The Cattier products were shown at Vivaness trade show in Nuremberg this February which means that they are now also available in Germany (yay!). And I am happy to present to you, in cooperation with Cattier, this new beauty range.
Let me start with a few words about Cattier Paris: the French brand is one of the pioneers of organic beauty in France; founder Pierre Cattier launched his first clay-based skin care products in 1968. Cattier was also one of the founding companies of French organic certification association Cosmebio and its products are very widely distributed in organic stores across France. Medicinal clay is the main active ingredient in Cattier's products; the line-up comprises skin care and body care as well as toothpaste and ready-to-use clay masks.
Medicinal clay has two main properties: it absorbs substances such as oil and dirt from the skin (this is one of the reasons why clay is often used in hair washes) but it also strengthens the skin with minerals and trace elements which can help boost the hydration level of the skin.
Mineralised clay comes in different colours, such as yellow, red, pink, white and even green. The colour depends on the individual composition of minerals and trace elements and the effect on the skin is equally different. The pink medicinal clay that is used in Cattier's new sensitive skin care range is a blend of red and white clay. Pink clay is especially gentle and mineralising so it is often recommended for sensitive skin and for skin types that are prone to redness and irritation.
♦ The first new product is the Soothing Micellar Cleansing Gel Pulpe Fondant. As the name indicates this is no micellar water – Pulpe Fondant is a jelly which you apply on a cottonwool pad (I used an amount of the size of a 2-Euro coin) and then wipe it across your skin. Micellar cleansers have a long-standing tradition in France so this is a very French product! The Pulpe Fondant quickly and thoroughly removed my (water-soluble) mascara and eyeshadow without stinging. You can rinse off the gel (as I did) or simply leave the skin as it is. The gel has a slightly cooling effect while you cleanse the skin which is particularly soothing when the skin is already irritated.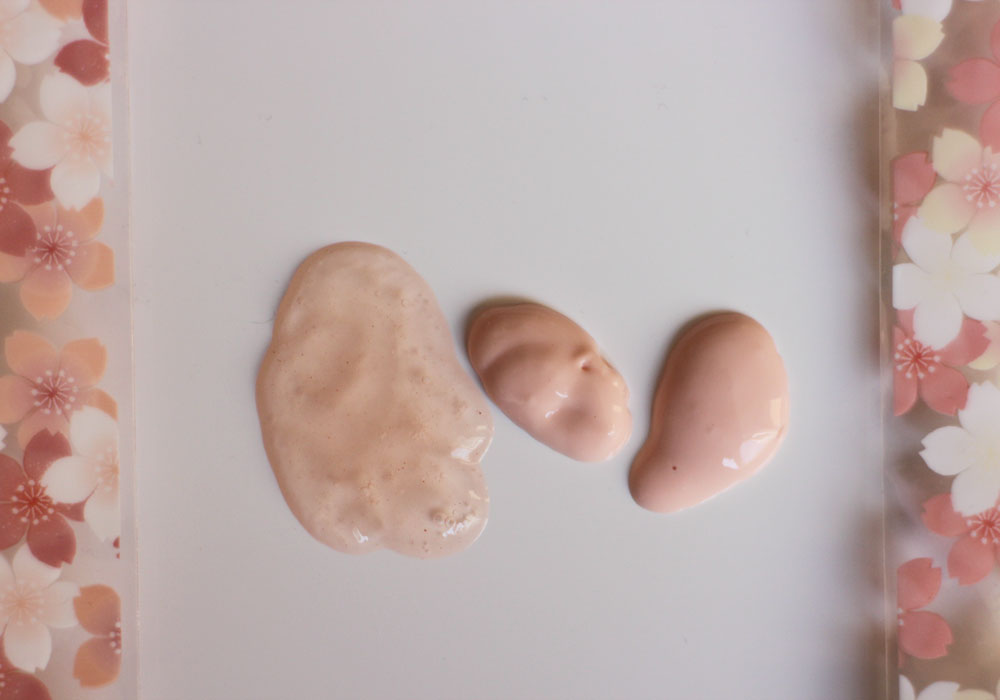 Here is a swatch of the three products: the jelly is pink-transparent (left side of the photo); the pink colour comes from the soothing and mineralising pink clay.
The micellar jelly is certified by Cosmebio and Ecocert and is based on water, rose water and a plant-derived moisturising ingredient. The tenside with the micelles which attract oily and watery substances and then remove them is mild and doesn't dry out my skin. Or perhaps it is the Sensiline Bio complex which contains brown linseed extract and has protective and film-building properties. Pulpe Fondant does not include alcohol or fragrance; the jelly has a very light rose water scent.
One bottle of the Soothing Micellar Cleansing Gel from Cattier contains 200ml and costs 11.99 Euro.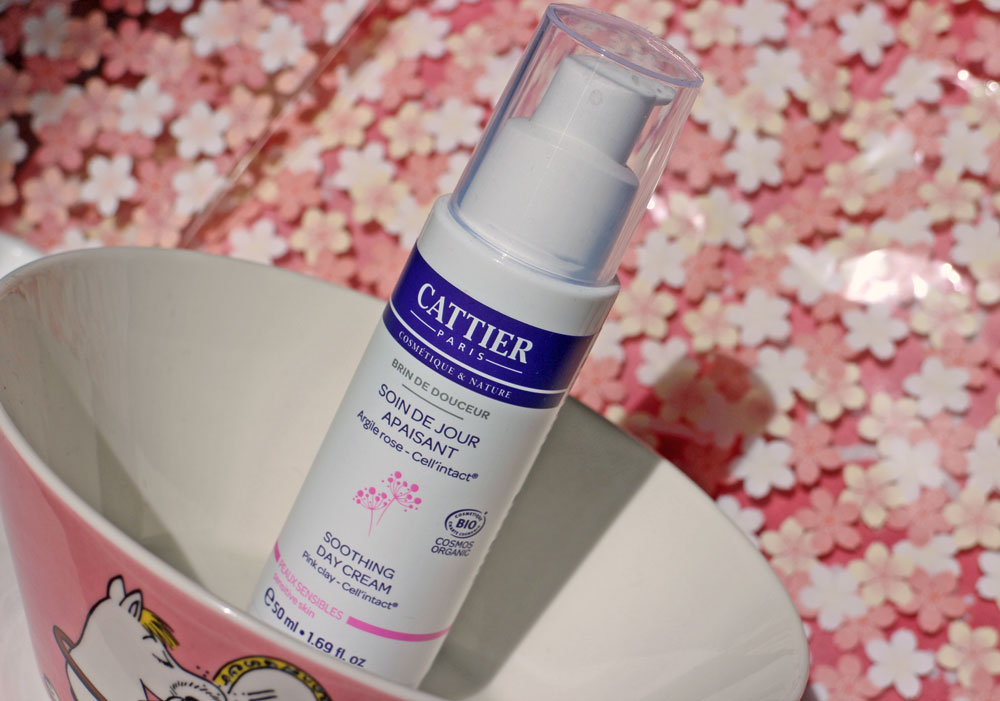 ♦ The Soothing Day Cream Brin de Douceur has a beautifully light and cooling texture. At Vivaness trade show, Cattier's product instructor Ebba Fürll explained to me that the day cream is also suitable for women going through menopause (and hot flashes) since the fresh, light texture prevents heat accumulation on the skin. The cream is indeed very light but at the same time rich – it contains shea butter – and hydrating. And after the winter period my skin really needs moisture rather than lipids. The day cream is also ideal as a makeup base since it is absorbed very quickly.
In addition to the pink medicinal clay and the brown linseed the day cream contains antioxidant buckwheat extract and the Defensil Plus complex which combines blackcurrant with sunflower and balloon plant extracts (prevents redness and decreases the skin's sensitivity).
Brin de Douceur is also certified by Ecocert and Cosmebio and is based on water, rose water, processed plant-based oils (responsible for the light texture), glycerin (for moisture) and the shea butter I mentioned above. The day cream does not contain alcohol (ethanol); it is scented with powdery rosy notes but does not contain allergenic fragrance ingredients.
One flacon (with pump dispenser) of the Soothing Day Cream from Cattier Paris contains 50ml and costs 19.99 Euro.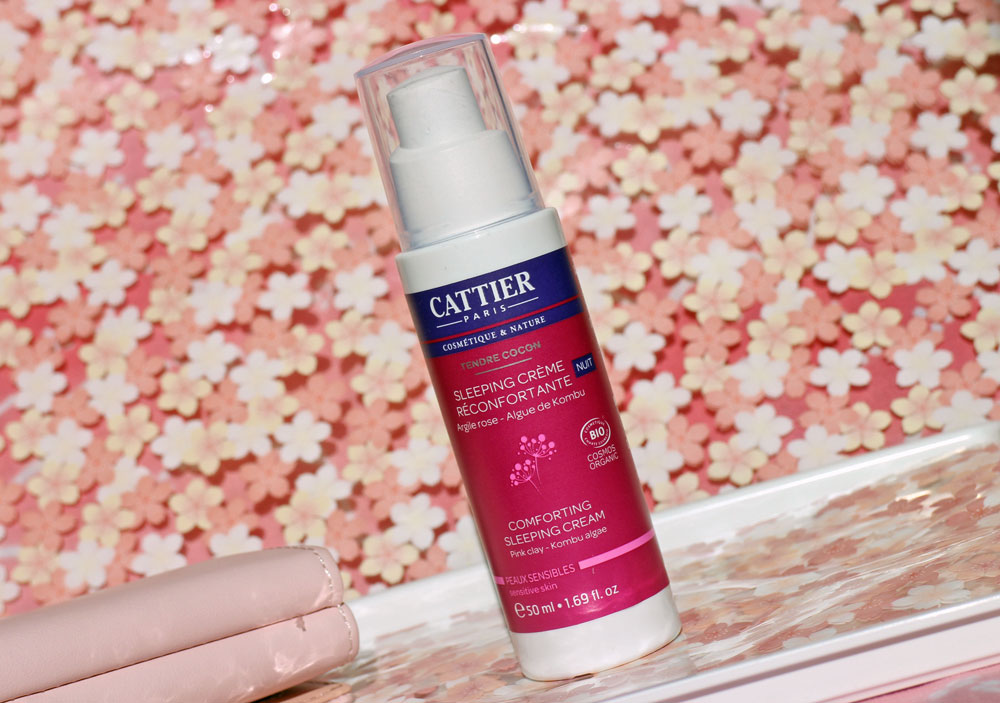 ♦ And here is my personal favourite from the new product range: the Soothing Night Cream Tendre Cocon! Although the German packaging doesn't mention the term sleeping cream anywhere Tendre Cocon is exactly that: a light, protective cream which forms a very light film on the skin to lock in moisture. Sleeping creams (or sleeping packs) are originally from Korea and one of the big Asian beauty trends in Europe and the US.
The texture of the light pink cream is super flexible and is quickly absorbed into the skin; it leaves behind a very light and protective yet non-sticky film. The perfect example of a product which effectively combines tradition (medicinal clay from Cattier) with innovation (the light texture of this night time moisturiser).
I also like the formulation of the cream: Tendre Cocon is based on water, rose water, shea butter, glycerin and processed oils. Pink medicinal clay, brown linseed and the Defensil Plus complex of blackcurrant, balloon plant and sunflower soothe the skin and reduce irritations. And kombu algae (a red algae) helps to boost cell regeneration during the night.
Like the other two products, Tendre Cocon is certified by Ecocert and Cosmebio and does not contain alcohol. The moisturiser has a very subtle, creamy fragrance which barely smells of rose; there are no allergenic fragrance ingredients.
A flacon of the Comforting Sleeping Cream from Cattier Paris contains 50ml and costs 22.99 Euro.
In Germany, Cattier's products are available in German natural beauty brand Kneipp's online store (Cattier has been a subsidiary of Kneipp since 2011) and in many organic supermarket chains across the country, as well as online and in selected German drugstores.
[Click here for more pictures and the original German article Neue Gesichtspflege für empfindliche Haut von Cattier Paris]
Good-bye everyone and see you soon!
Julia