Dear international readers of Beautyjagd,
Welcome to the next English-language edition of Beautyjagd! This is a condensed version of the most important articles that have appeared on my blog over the last few weeks. For more information about this format, click here. And now: enjoy the best of Beautyjagd in English!
Best wishes
Julia

What if I were…changing to organic cosmetics now, in early 2018? My readers often ask me which products I would recommend to someone who wanted to switch from conventional cosmetics to organic beauty. Finding a shower gel or body oil isn't so difficult but what are my tips for more complicated products, like a mascara or a sun protection cream?
I decided that this topic would make a good blog post, so here are my recommendations for six basic products to help make the transition to organic cosmetics easier! I have selected the products so that they should be suitable for any skin type. My partner in this Sponsored Post is online store Ecco Verde. However, all of the products that I recommend were bought by myself (I actually had all of them at home already).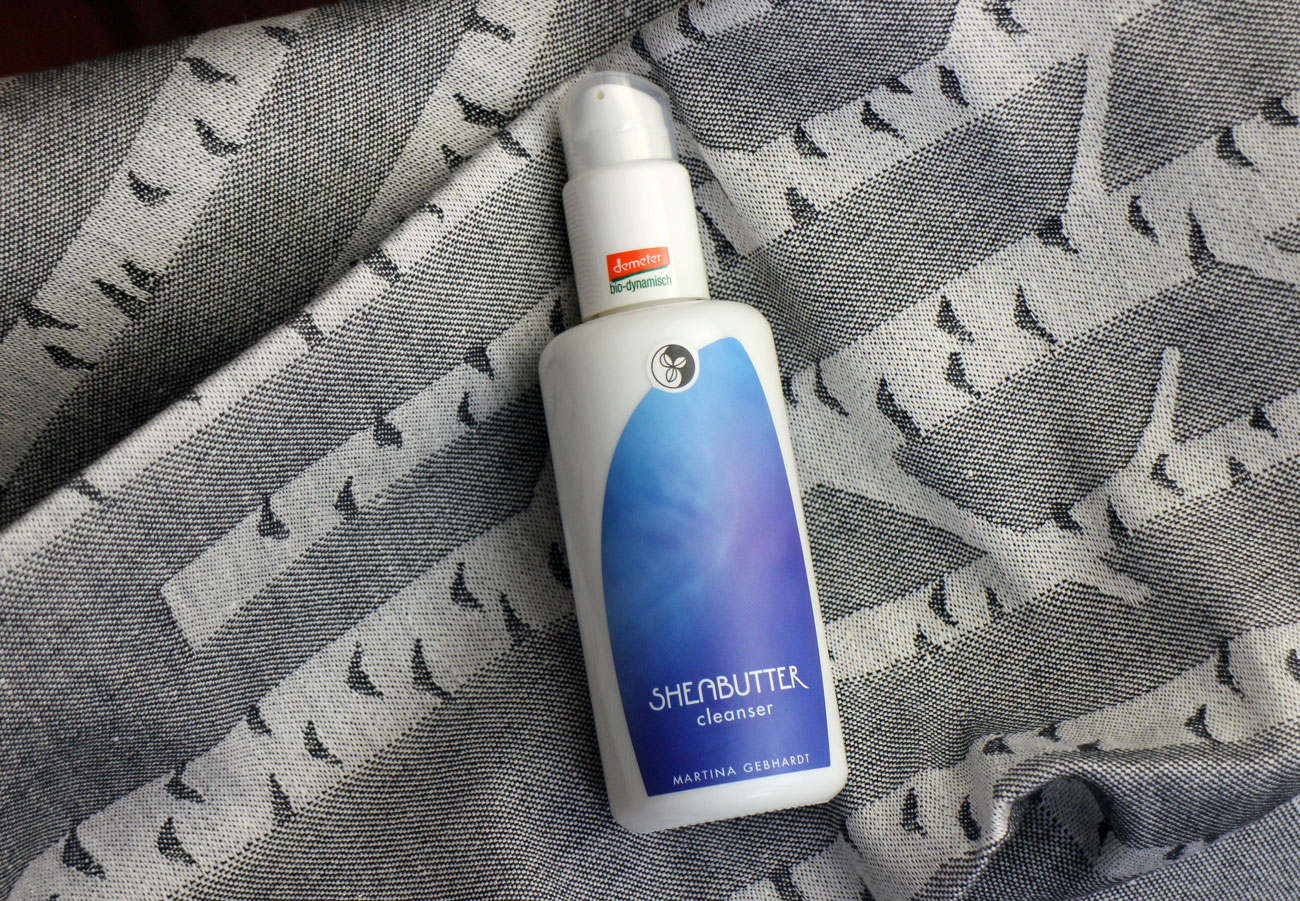 Shea Butter Cleanser from Martina Gebhardt
Let's start with face care: I believe that a mild cleansing product is very important if you want good skin. In fact, whenever I am asked about face care recommendations the first thing I enquire about is the cleansing routine. After you cleanse your face the skin should feel neither tight nor reddened. This means that the cleanser should ideally be formulated without surfactants (or at least with very mild tensides) – harsh surfactants can be a stress factor for the skin so a shower gel, for example, isn't really suitable for face cleansing!
My first basic product in this starter kit is the Shea Butter Cleanser from German Demeter brand Martina Gebhard. The cleanser is suitable for all skin types: it is based on water, olive oil, shea butter and lecithin; the INCI listing is comparatively short. The cleanser does not contain surfactants, fragrance or preservatives so it is suitable for sensitive skin. I apply the milky texture of the cleanser on dry skin (some women even use it to remove eye makeup but I prefer a micellar water for this) and gently massage it in. Then I rinse my face with lukewarm water. Because the cleanser is so moisturizing my skin doesn't feel dry at all, there is no tightness but at the same time the skin isn't sticky either. The first step in the new cleansing routine!
One bottle of the Sheabutter Cleanser from Martina Gebhardt contains 150ml and costs 13.59 Euro.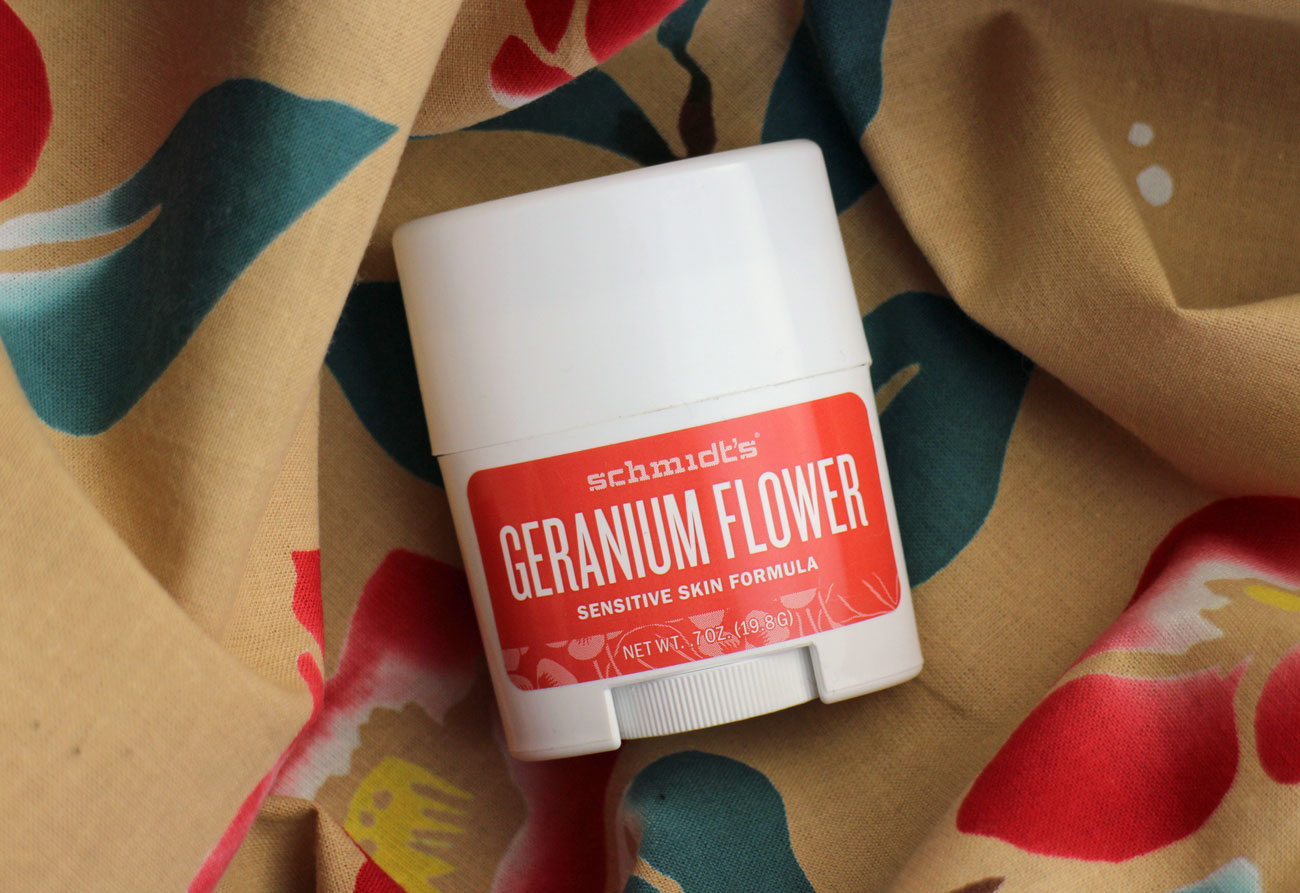 Deodorant Geranium Flower from Schmidt's
"But which deodorant are you using?" is usually the first question when I tell people that I write about organic beauty for a living. "These organic deos never seem to work well or they are creams which are so difficult to apply"… In these cases I immediately think of the deodorants for sensitive skin from US brand Schmidt's. These are stick deodorants and in my experience the majority of people who change from conventional deodorants to organic don't really like creams that are packaged in jars; they usually prefer a stick deodorant because that's what they're used to.
I like the herbal scent (with undertones of rose) of the Geranium Flower Deodorant from Schmidt's very much, so why not try out a small size to see if an organic deo works on your skin? The stick deodorant twists up easily, is absorbed quickly into the skin and isn't sticky at all. The active ingredient is magnesium salt which changes the pH value of the skin so bacteria can't decompose. This prevents the unpleasant smell. Arrowroot powder keeps the skin dry – however, this deodorant isn't an antiperspirant so sweating and wetness is not inhibited. Personally I am very satisfied with the anti-smell effect of the Schmidt's deodorant, it keeps me fresh throughout the day!
A small stick of the Geranium Flower Sensitive Skin Deodorant from Schmidt's contains 1.8 gr and costs 4.99 Euro.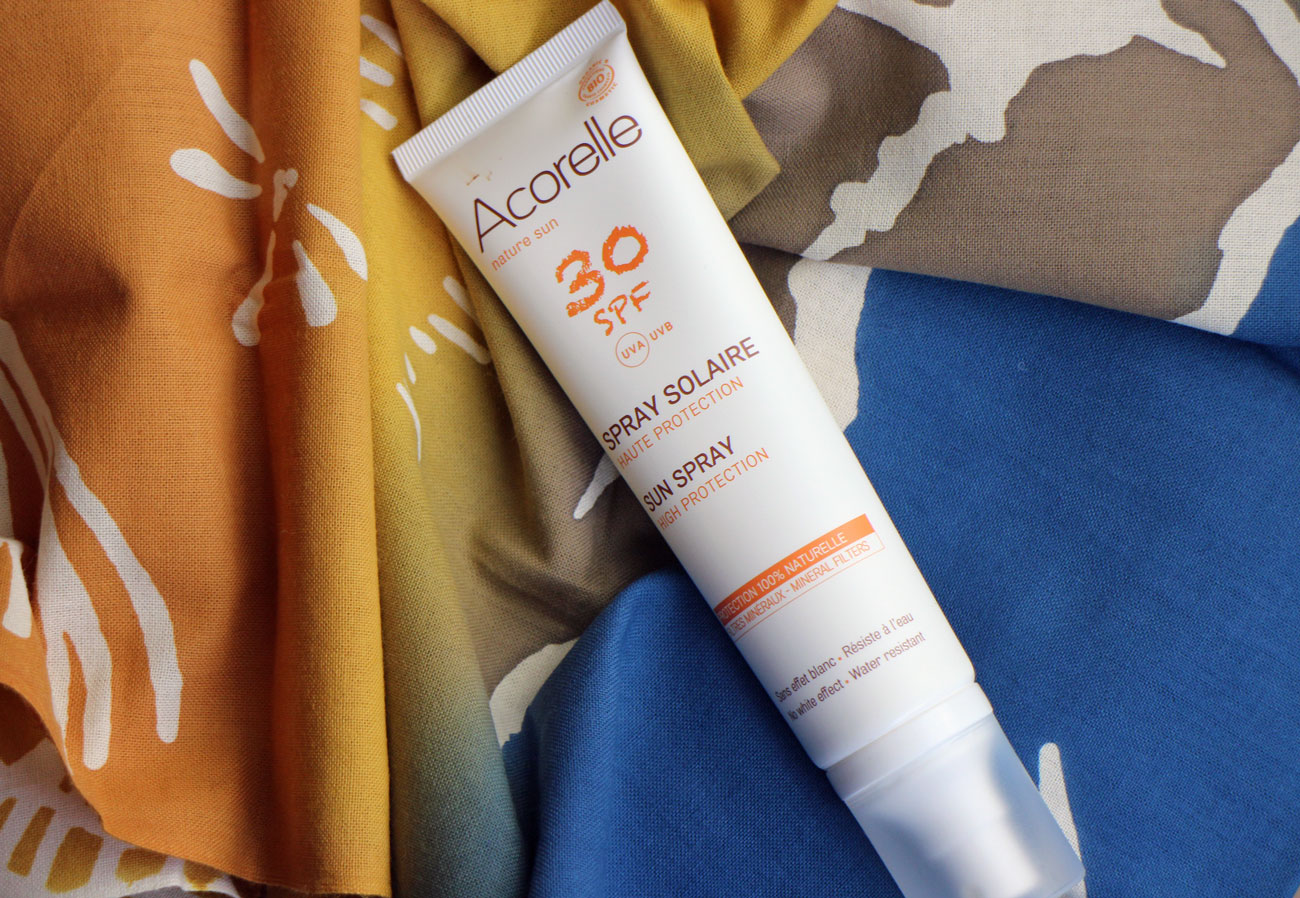 Sun Spray LSF 30 from Acorelle

Sun protection is a difficult product category in organic beauty. Synthetic sun protection filters are not allowed in certified organic products so natural brands tend to use mineral-based sun filters. As a result, many organic sun creams leave a very white cast on the skin or they feel thick and pasty; especially the cheaper brands. However, product development over the last few years has improved considerably and there are now some very good organic sun care options on the market.
I can remember when I first discovered the Sun Spray SPF30 from French organic brand Acorelle at Vivaness trade show 2015: I was amazed by how low the whitening factor was and by how light the spray felt on my skin – this is especially surprising when you consider that the Sun Spray isn't based on water but on processed plant oils. These oils have an almost silicone-like effect on the skin. The sun filter of the SPF30 Spray is titanium dioxide (non-nano) and the formula also contains a skin-soothing antioxidant plant extract. I tend to use the monoi-scented spray on my body but it also works on the face – in this case I spray it into my hands first and then pat the liquid into my skin (make sure to use enough spray so the sun filter actually reaches the SPF30 level!). The whitening factor is very light but you can also use a mineral foundation to neutralize or tint the spray.
The Sun Spray LSF 30 from Acorelle contains 100ml and costs 22.99 Euro.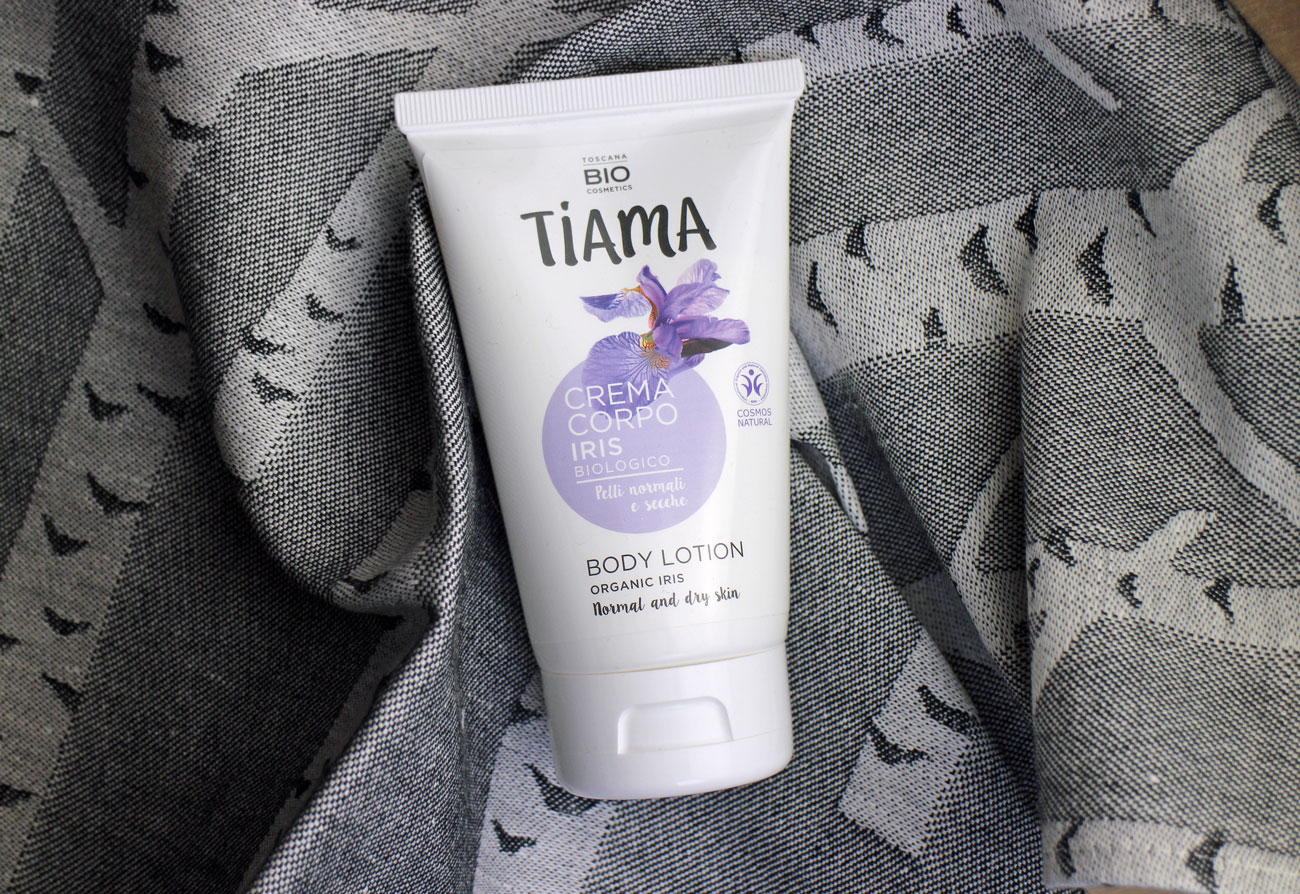 Iris Body Lotion von Tiama
When I meet people who want to try out organic cosmetics but prefer to do it gradually (one product at a time!) I often recommend an organic body lotion as their first product. The area of the skin that you apply the lotion on is large but not as sensitive as, for example, your facial skin. Still, even a comparatively simple product like a body lotion needs to meet several requirements: the product must be affordable, it must be easy to apply (with little streaking) and it should be quickly absorbed into the skin without leaving it sticky or oily.
I discovered the Iris Body Lotion from Italian brand Tiama just a few months ago – this lotion fulfills all the criteria mentioned above and it also has a beautiful powdery-floral scent (many organic body lotions smell like citrus fruits or rose). I recommend this body lotion for slightly dry skin; it is based on water and sunflower oil and is certified by Cosmos Organic. The iris flower is a plant that comes from the Tuscany region of Italy and this is also where the brand's headquarters are located. And the price is very low (less than 5 Euro!) for such an unusual body lotion.
One tube of the vegan Iris Body Lotion from Tiama contains 150ml and costs 4.99 Euro.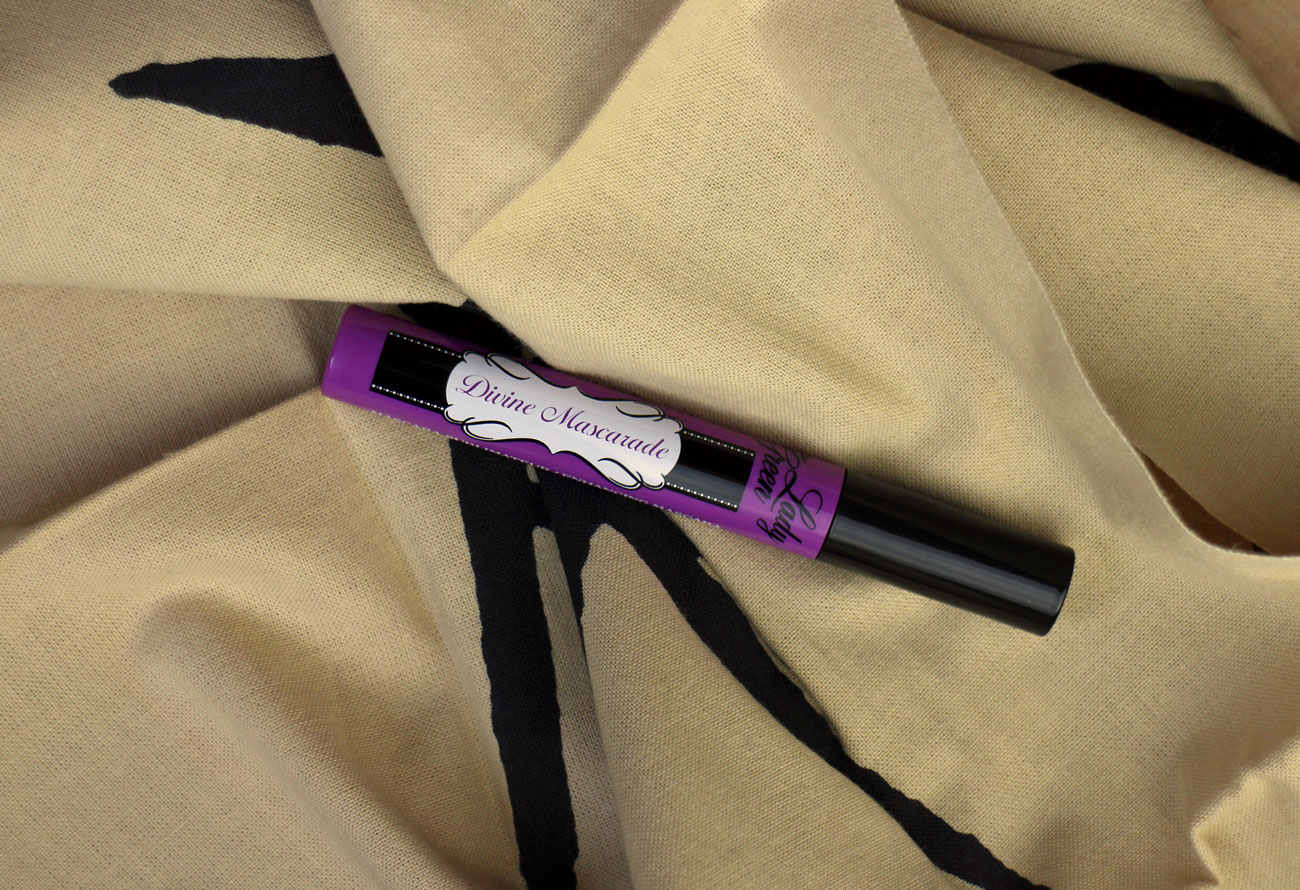 Divine Mascarade Deep Black Mascara from Lady Green
This is probably the single most difficult product to replace when you switch from conventional cosmetics to organic beauty: Mascara. For me, mascara is a key product; I use it almost every day. Many organic mascaras give lashes a more classic and subtle look (read: a bit of colour rather than length or volume) while I want my lashes a deep black, with at least a little length and definitely some volume. And with an instant effect, please, I don't want to spend the next five minutes layering my mascara!
In my opinion the Divine Mascarade Mascara from Lady Green (a brand from France) is one of the best certified organic mascaras around. This product does exactly what I want (see above) and lasts really long; even after an entire day I don't have panda eyes (however, the mascara isn't water-proof). The Divine Mascarade comes with a classic and not too slender applicator brush so it is easy to layer; the texture is neither too waxy nor too liquid. The mascara is based on water, beeswax and black iron oxides and I'm not sure why this fantastic product isn't better known (somehow I have the feeling that it still is some sort of secret tip!). So it definitely had to go into my Organic Beauty Starter Kit!
A flacon of the Divine Mascara from Lady Green contains 9ml and costs 17.79 Euro.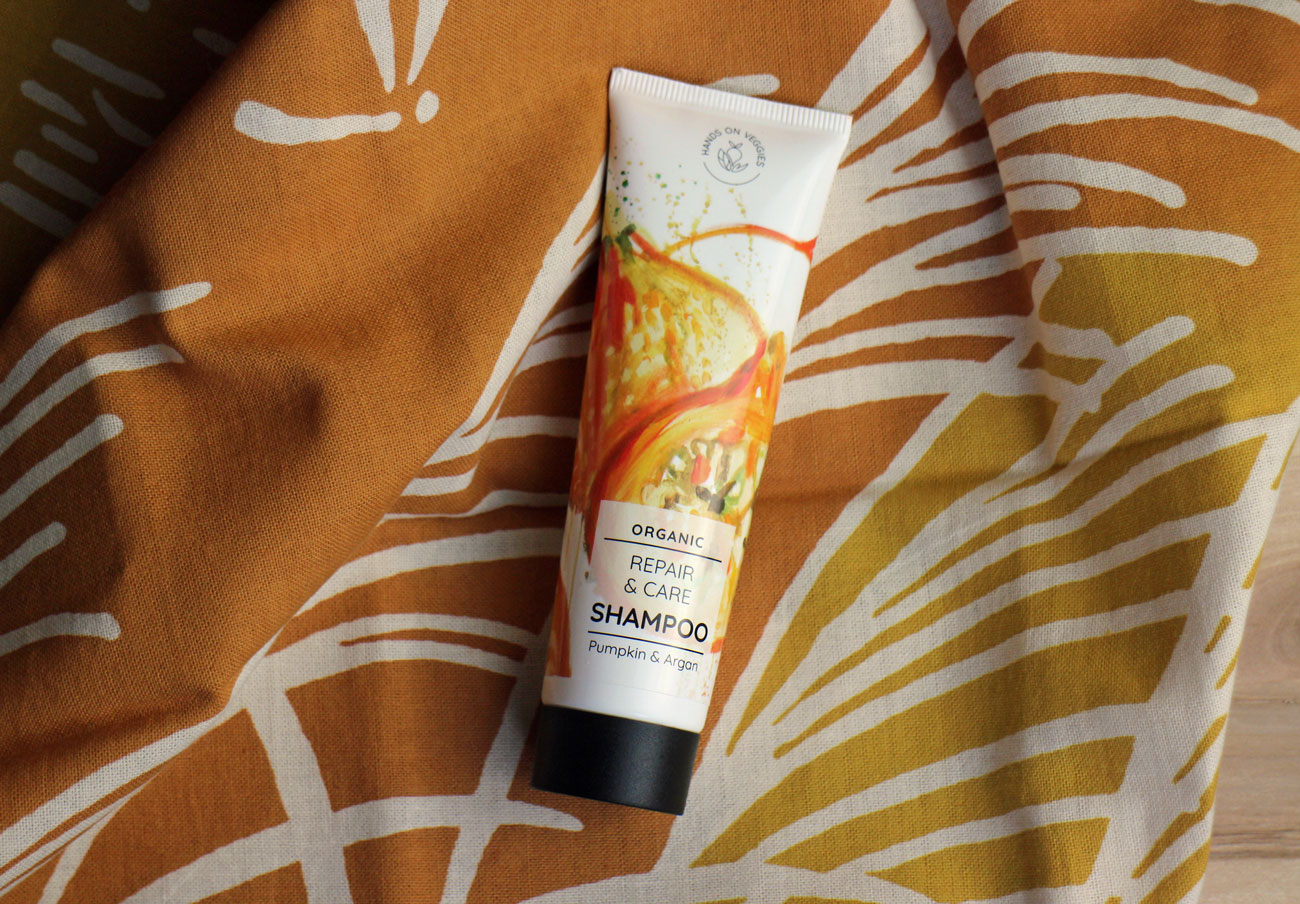 Shampoo Repair Care from Hands on Veggies
And here is another tricky beauty category: hair care. It isn't easy to find good organic hair care products but just like sun protection a lot of product development has been going on in the hair care sector. The shampoos from Austrian beauty brand Hands on Veggies were launched this January; the brand's products are based on fermented vegetable extracts (which are also depicted on the attractive packaging).
The Bio Repair & Care Shampoo from Hands on Veggies was developed for slightly damaged hair and contains fermented pumpkin extract which has moisturizing properties. Argan oil provides lipids, rice proteins strengthen the hair and the surfactants (a mix of nonionic and anionic sugar-based tensides and "wash-active" amino acids) are mild. The shampoo still lathers up well (especially during the second round of shampooing) which makes it a good product to try if you're new to organic beauty: the Bio Repair shampoo is easy to distribute in the hair and it foams almost as much as a conventional shampoo. The shampoo is really meant for dry hair and longer hair (and I wear a pixie cut) but I like it because it moisturizes my rather dry scalp. After I use the shampoo my hair has more hold and texture thanks to the proteins but it isn't heavy or greasy. The scent is green and a little vegetable-y. Hands on Veggies offers travel sizes of its products so you can easily try out what an organic shampoo feels like.
A small tube of the Bio Repair & Care Shampoo Pumpkin Argan from Hands on Veggies contains 50ml and costs 3.99 Euro.
[Click here for more pictures and the original German article How to: Umsteigen auf Bio- und Naturkosmetik (mit Verlosung von Ecco Verde)]

Well, are you curious about the novelties of this year's Vivaness? Over 270 exhibitors presented their products at the trade show – and of course it was impossible to visit all of the exhibition booths in just four days, but I did manage to see a lot of new products!
And now, make yourselves comfortable and follow me on a virtual walk around Europe's biggest organic beauty trade show! I have listed all novelties alphabetically (according to brand names), from A like Acorelle to Z like Zoya goes Pretty. And as a brief preview: I'll post another Vivaness article soon which will focus on some of the more unknown and younger niche brands that I particularly liked.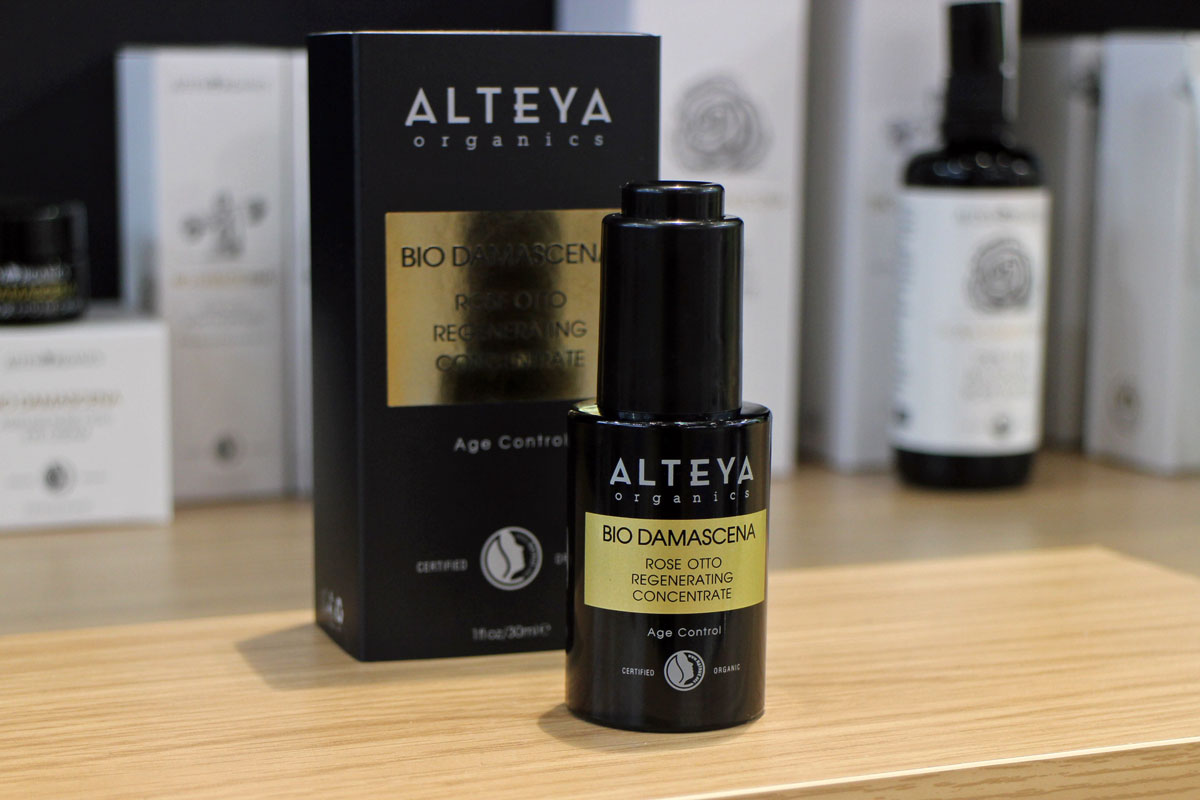 ♦ Alteya Organics from Bulgaria/US showed the new Rose Otto Regenerating Concentrate, a milky power serum. The company also launched a shampoo and conditioner, rose water as a nutritional supplement as well as hand creams (including one with jasmine fragrance!).
♦ German brand Alva Naturkosmetik has found its way back to Vivaness – and I really liked their new Body Lotion and Shower Gel White Peach. Both products have a subtle peach fragrance.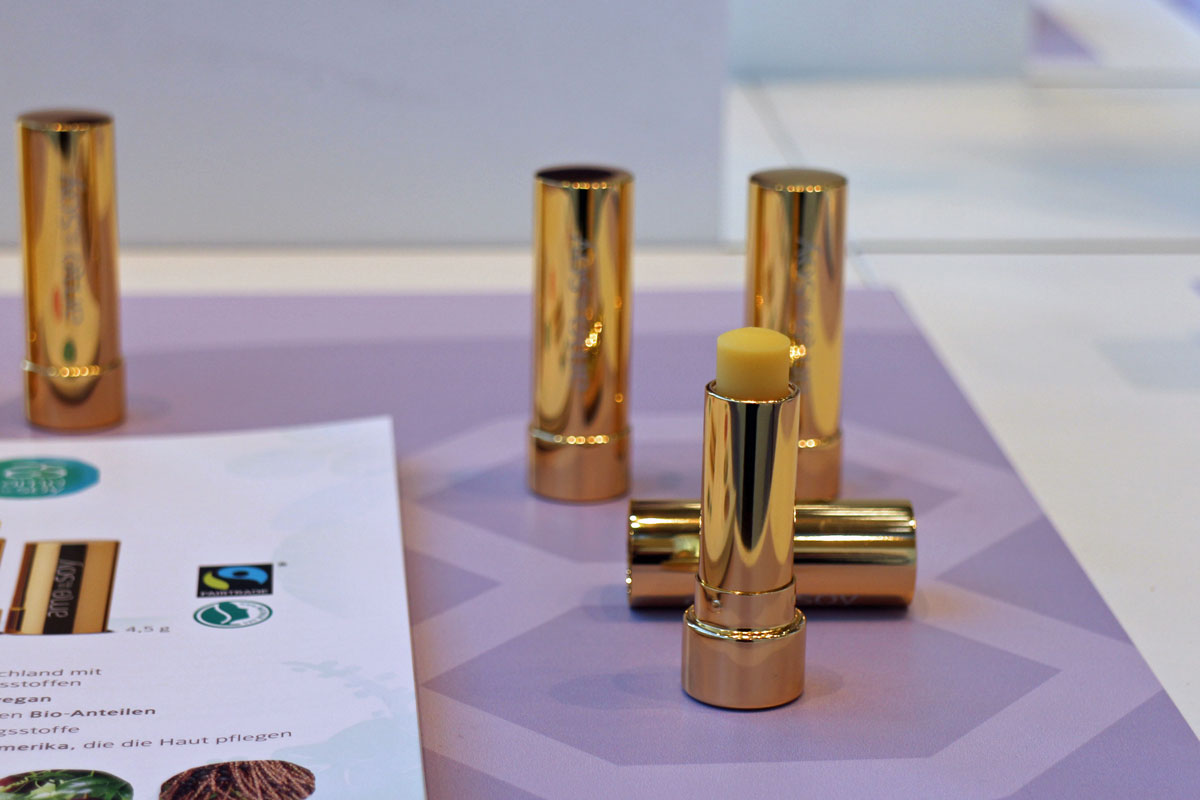 ♦ I was excited about the Perfume Stick Mi Vida from German-Latin American brand Amo como soy which captures the scent of the brand's face care range. A very nice idea.
♦ German brand Ben&Anna has introduced Sugar Gold, a sugar waxing product. You warm the sachet in hot water and then apply the thick sugar mixture on face or body to remove hair.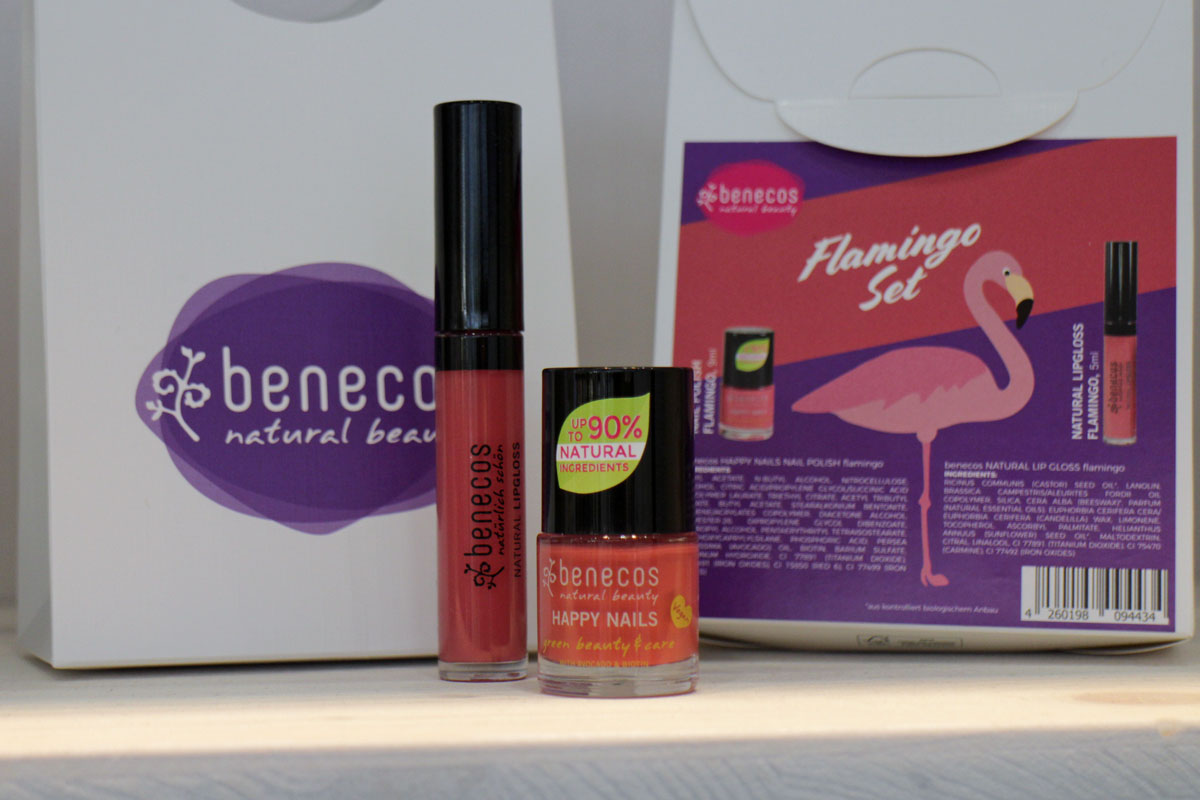 ♦ Benecos from Germany presented the Flamingo-Set as well as three new matte lipsticks, three nail polishes and a vegan brush collection.
♦ Charming Korean-German brand Binu Beauty showed its new Bamboo Hydrating Serum (I have written about this serum here).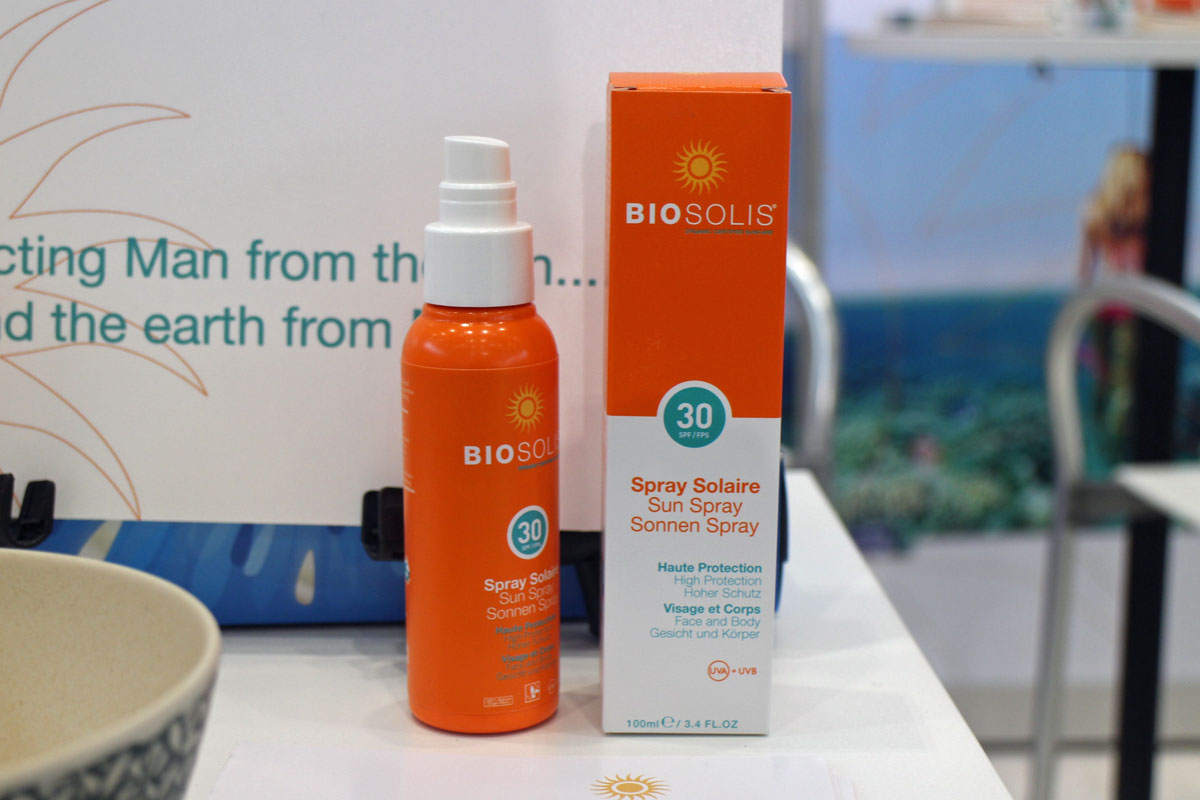 ♦ Belgium brand Biosolis has developed a Sun Spray SPF30 which left my skin a little whitish when I tested it on my hand (the UV filters are zinc oxide and titanium dioxide). The brand has also relaunched its Face Sun Cream SPF30 which now contains an anti-ageing complex.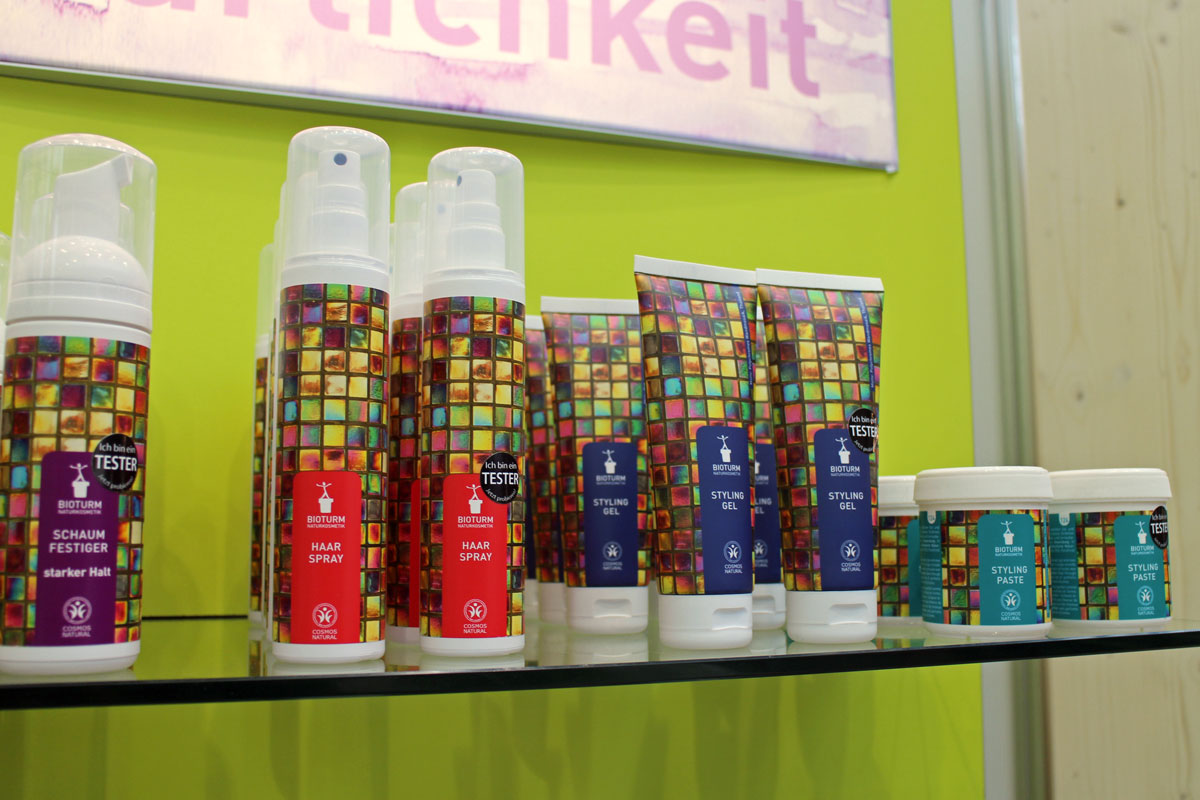 ♦ There were many new product launches at the booth of German brand Bioturm: Five new hair styling products (two foams, a hair spray, a styling paste and a hair gel), a fragrance-free eye cream, an intimate shaving cream and a normal shaving cream as well as shower gels with lemon and juniper (yay, I love juniper!).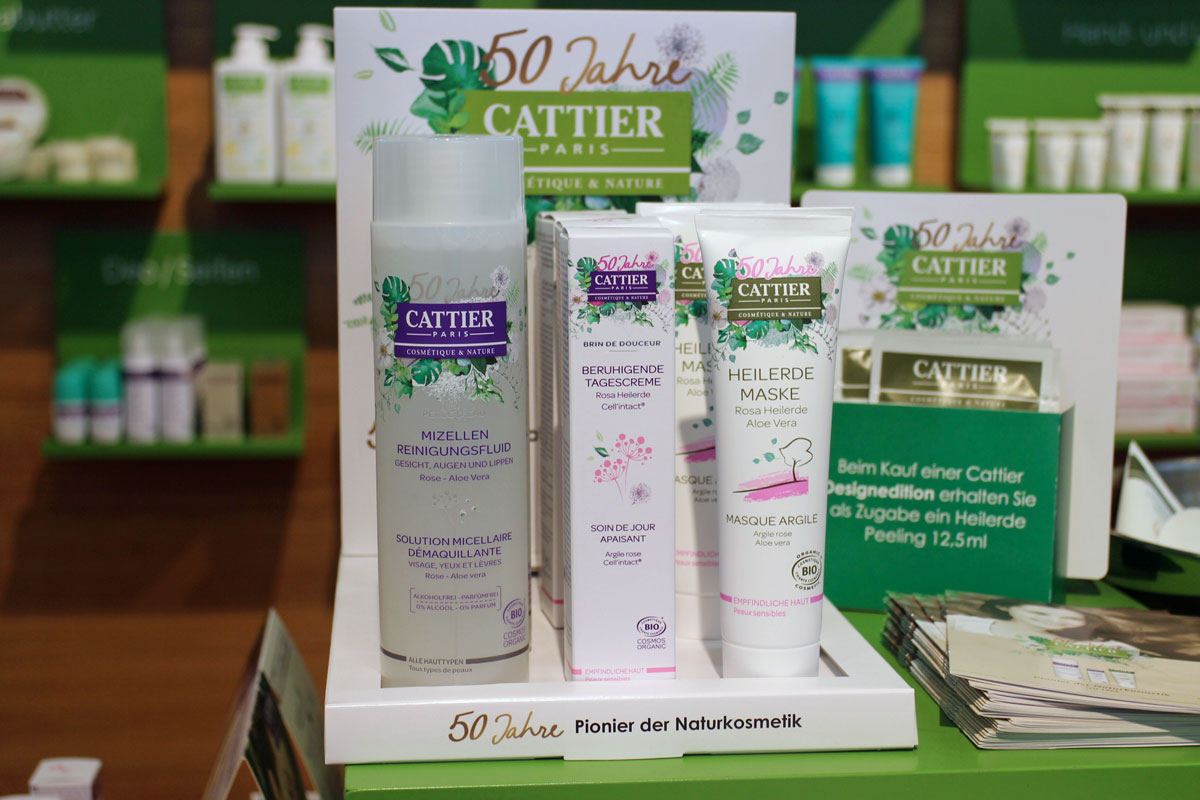 ♦ French brand Cattier is celebrating its 50th anniversary with special packaging for some of its key products. New in Germany is the calming serum for sensitive skin and a deodorant roll-on.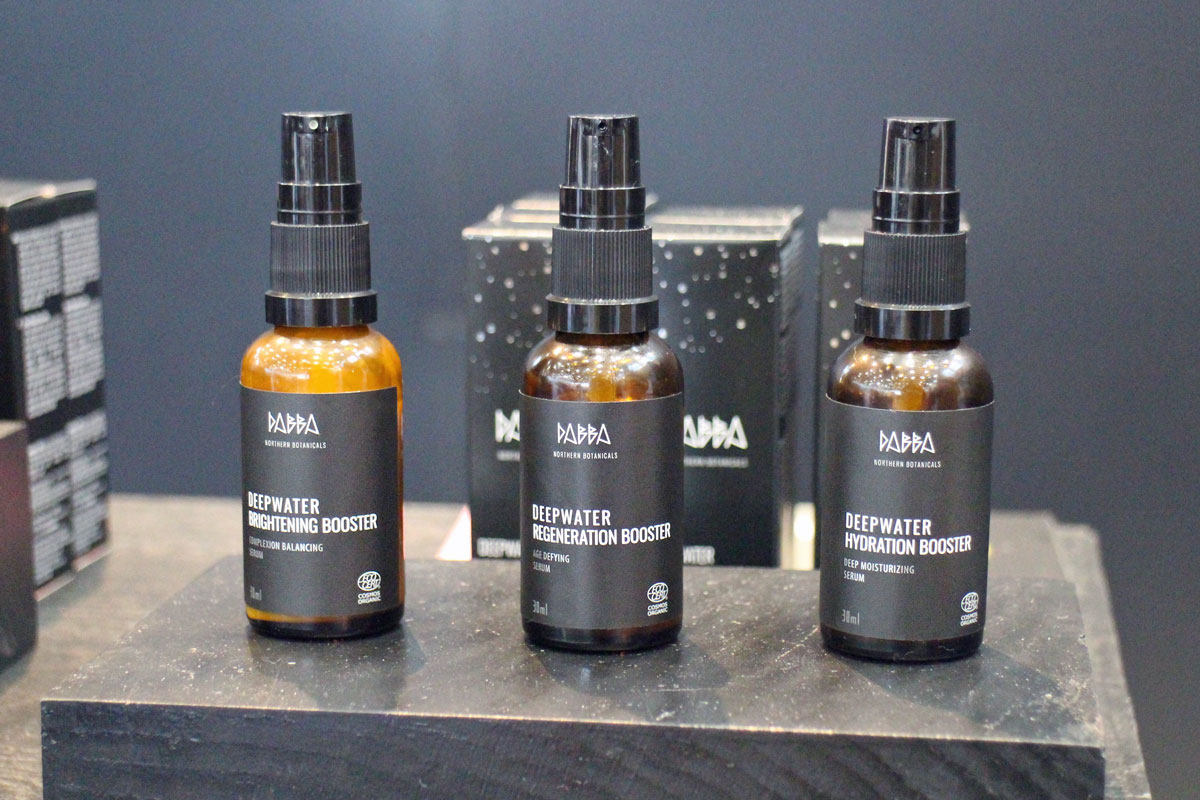 ♦ Dabba from Latvia presented three new oil-free serums: Deepwater Brightening Booster, Deepwater Regeneration Booster and Deepwater Hydration Booster. They are based on sea buckthorn water.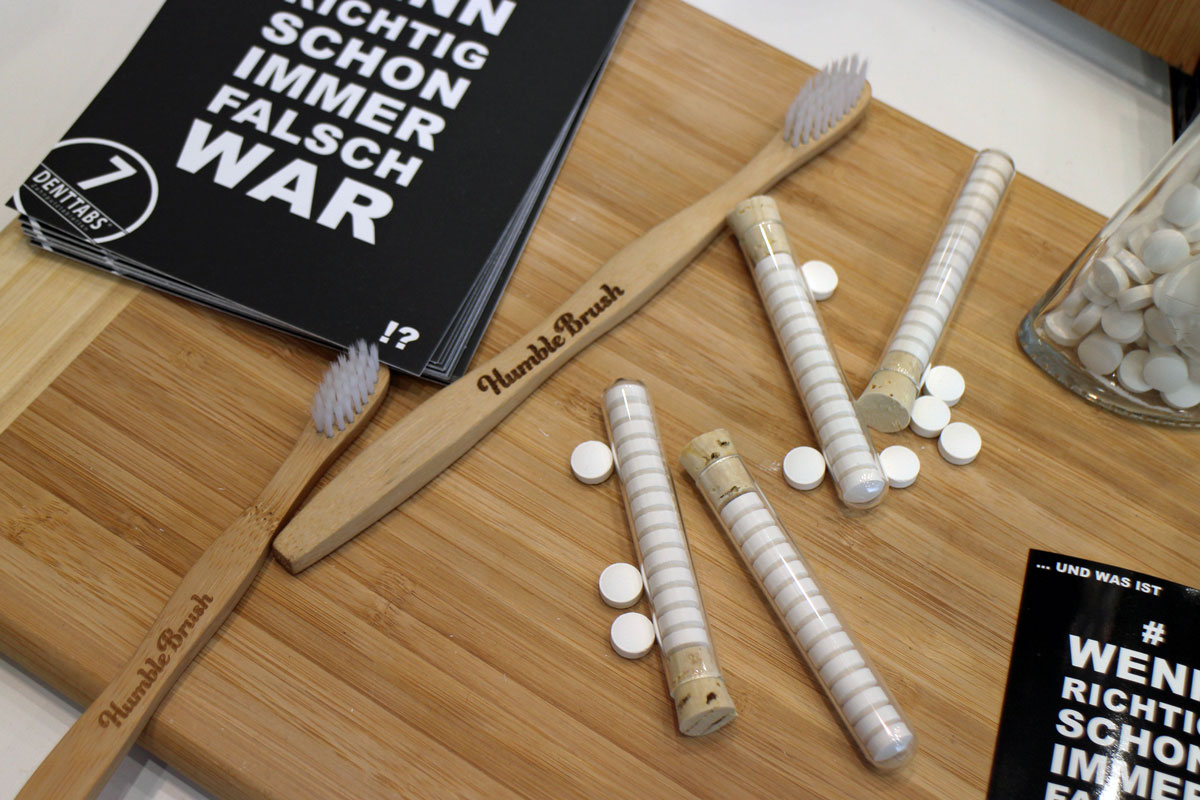 ♦ German toothpaste tablet manufacturer Denttabs has introduced a toothbrush with a wooden handle; the bristles are very soft: Humble Brush is available in two sizes.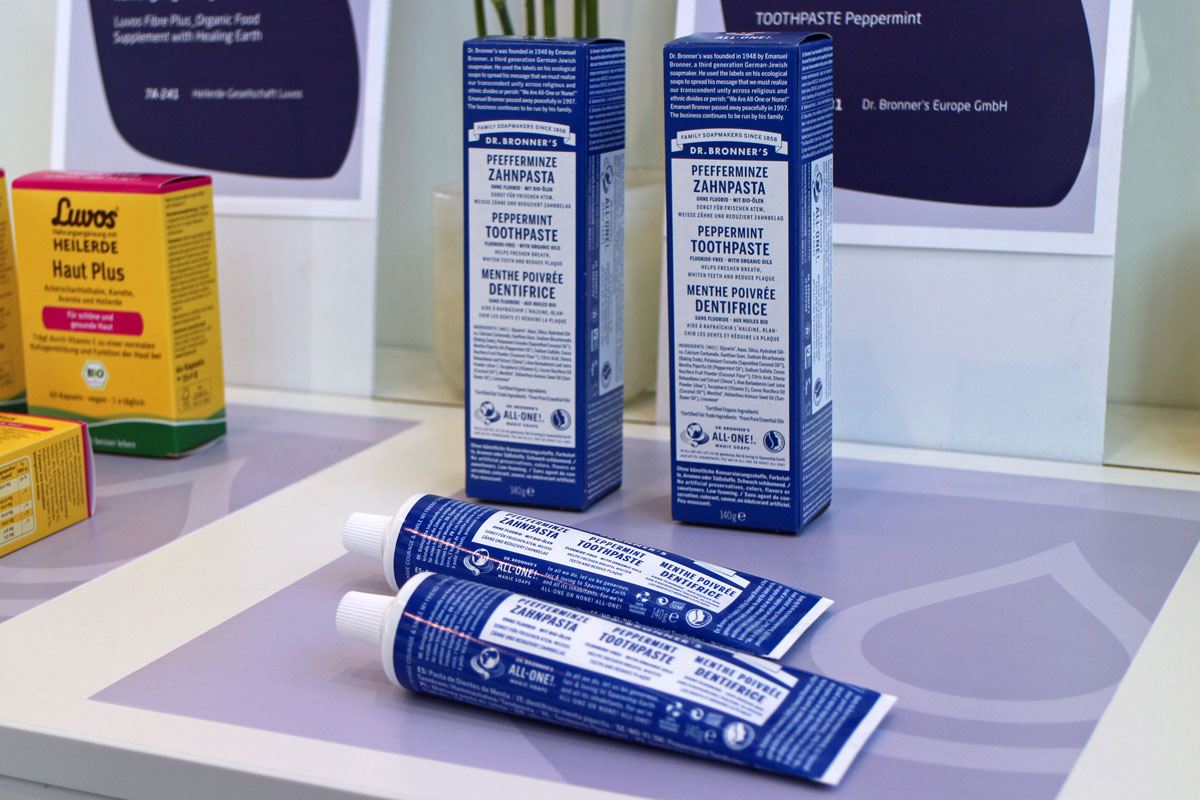 ♦ Finally the Peppermint Toothpaste from US brand Dr. Bronner's is also available in Germany! The tube is really big.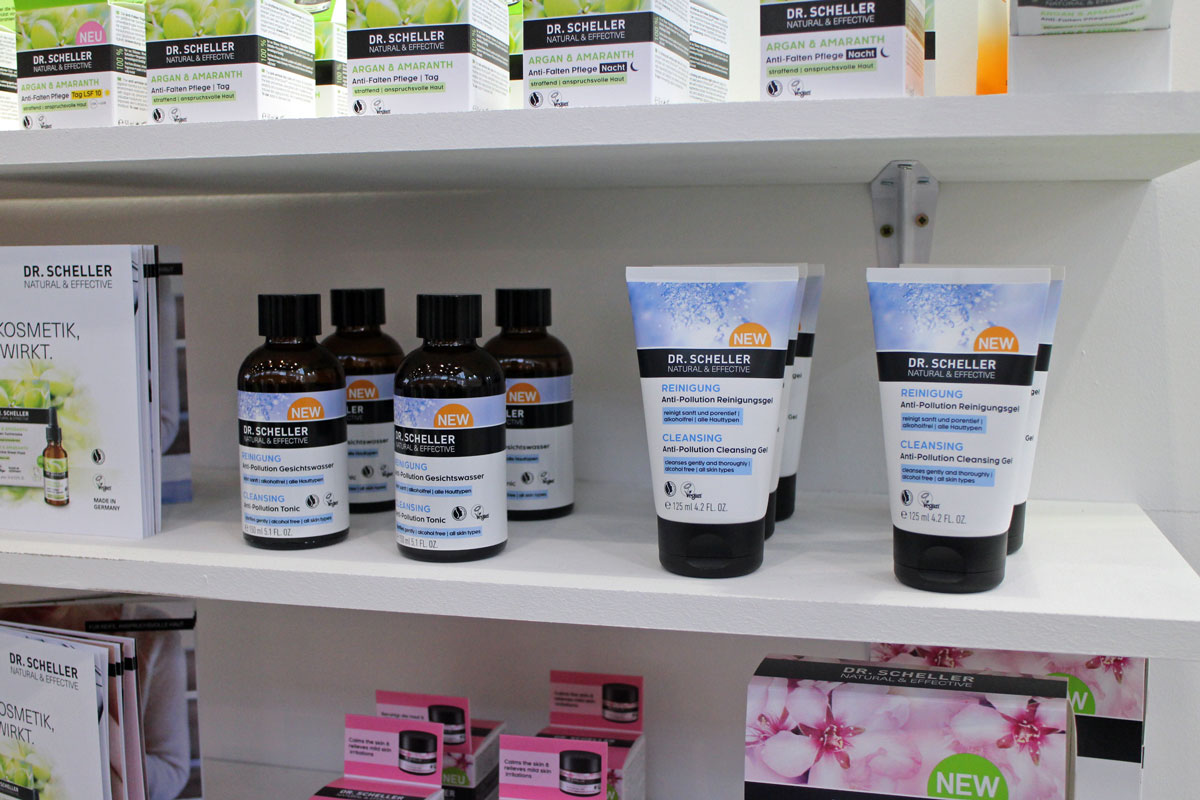 ♦ German brand Dr. Scheller has relaunched its entire portfolio: The line-up includes a Anti-Pollution Toner, the soothing Almond Calendula Sheet Mask and the Argan Amaranth Day Cream with SPF10.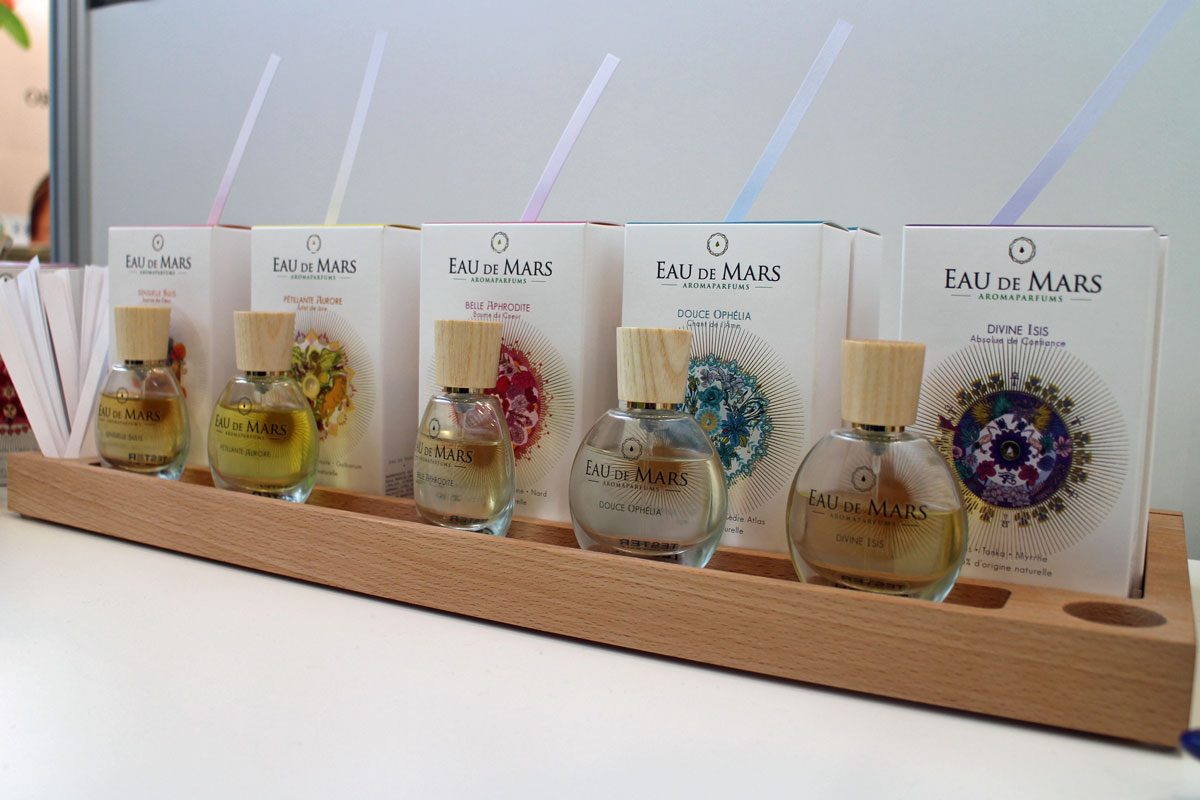 ♦ Eau de Mars is the young and affordably priced new fragrance range of French perfume brand Aimée de Mars. At the trade show I tried out the seven new fragrances which are named after different goddesses. I think these fragrances should also be suitable for people who are used to conventional perfumes.
♦ I also spent a lot of time at the booth of German brand Eco Cosmetics: There are four new Sun Sprays with SPF30 and SPF50 (see picture above left, the UV filter is titanium dioxide). The company has also launched a new face care range, which contains the active ingredients OPC, Q10 and hyaluronic acid. The integrated sun protection filter ranges from SPF10 to SPF50; some products are tinted (CC Cream). The face creams are packaged in cleverly designed airless jars.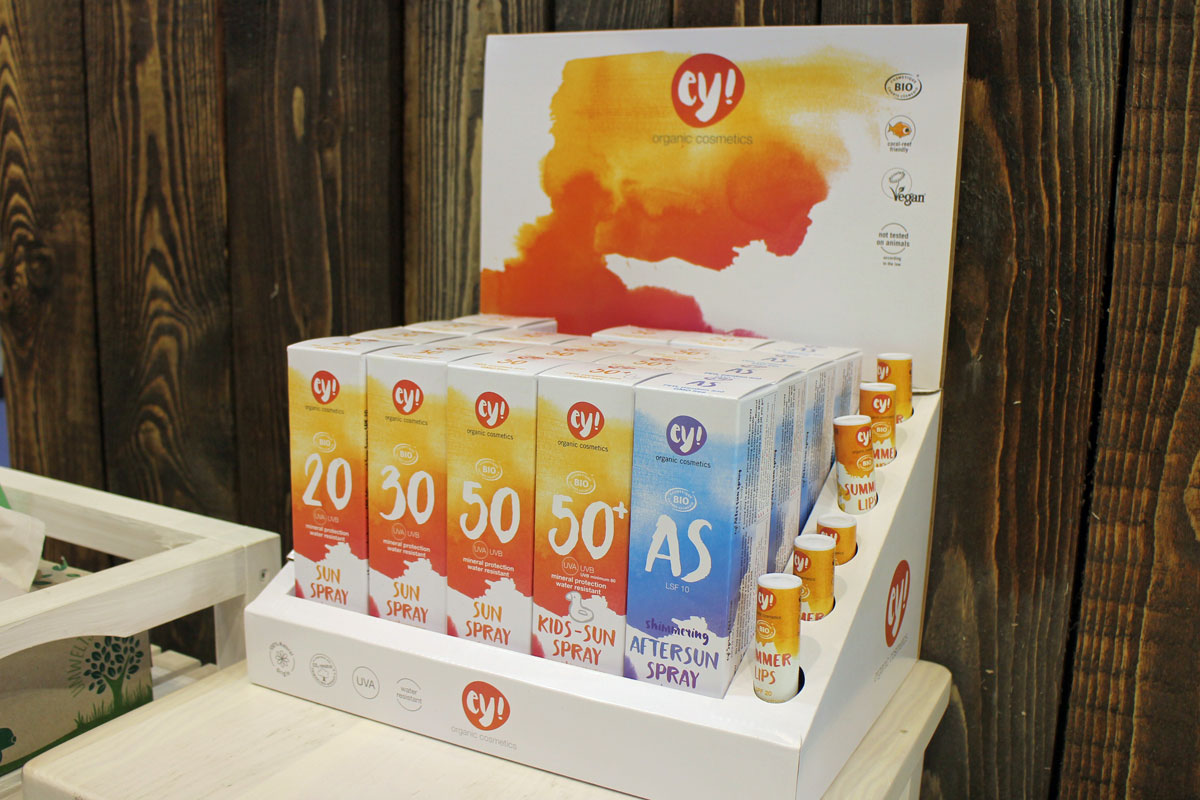 ♦ Ey! is the name of the new, cheaper sun protection range from Eco Cosmetics which will also be retailed in drugstores. Ey! offers four sun sprays with sun protection ranging from SPF20 to SPF50+ as well as an after sun spray and lip care.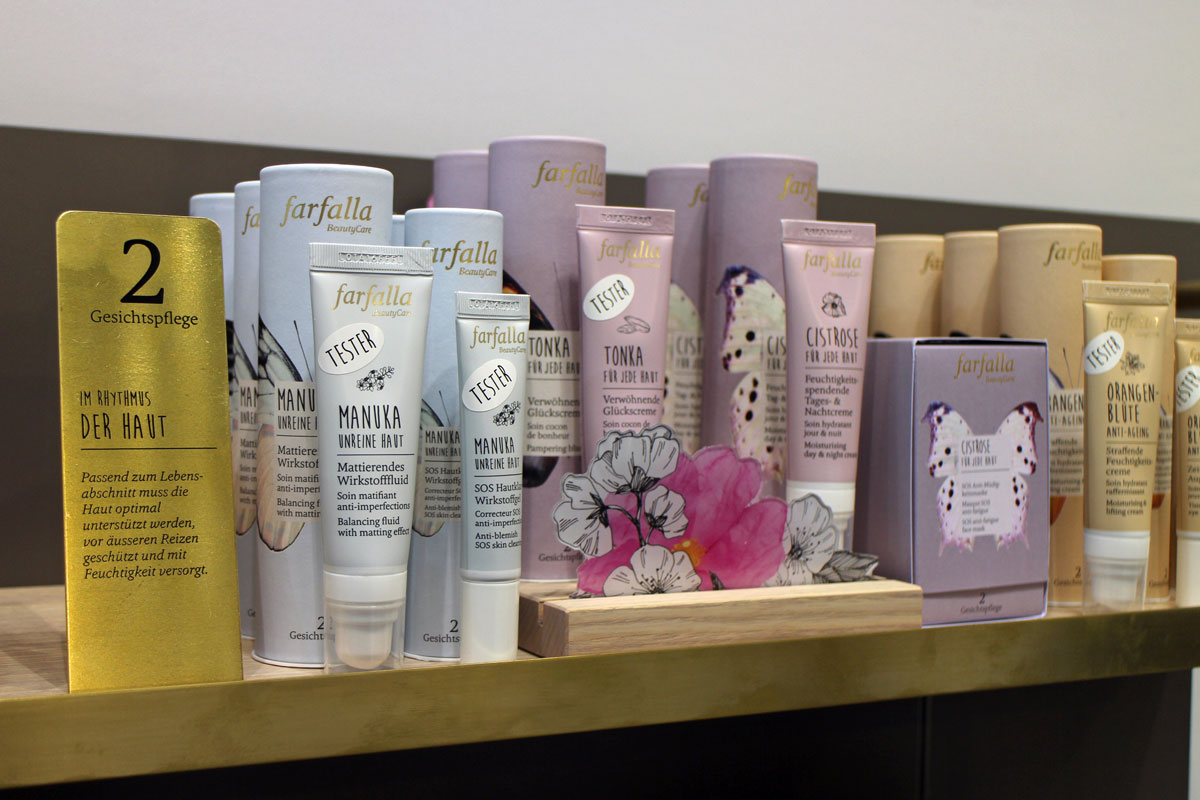 ♦ I have already written about Swiss brand Farfalla's relaunch in my last Beauty Notes. Almost the entire product portfolio was redeveloped; the focus of the new packaging design is the butterfly (farfalla in Italian). The face care ranges are now divided according to skin care steps and skin types. I think Farfalla's relaunch is the most spectacular organic brand re-invention that I have seen in recent years (or ever!).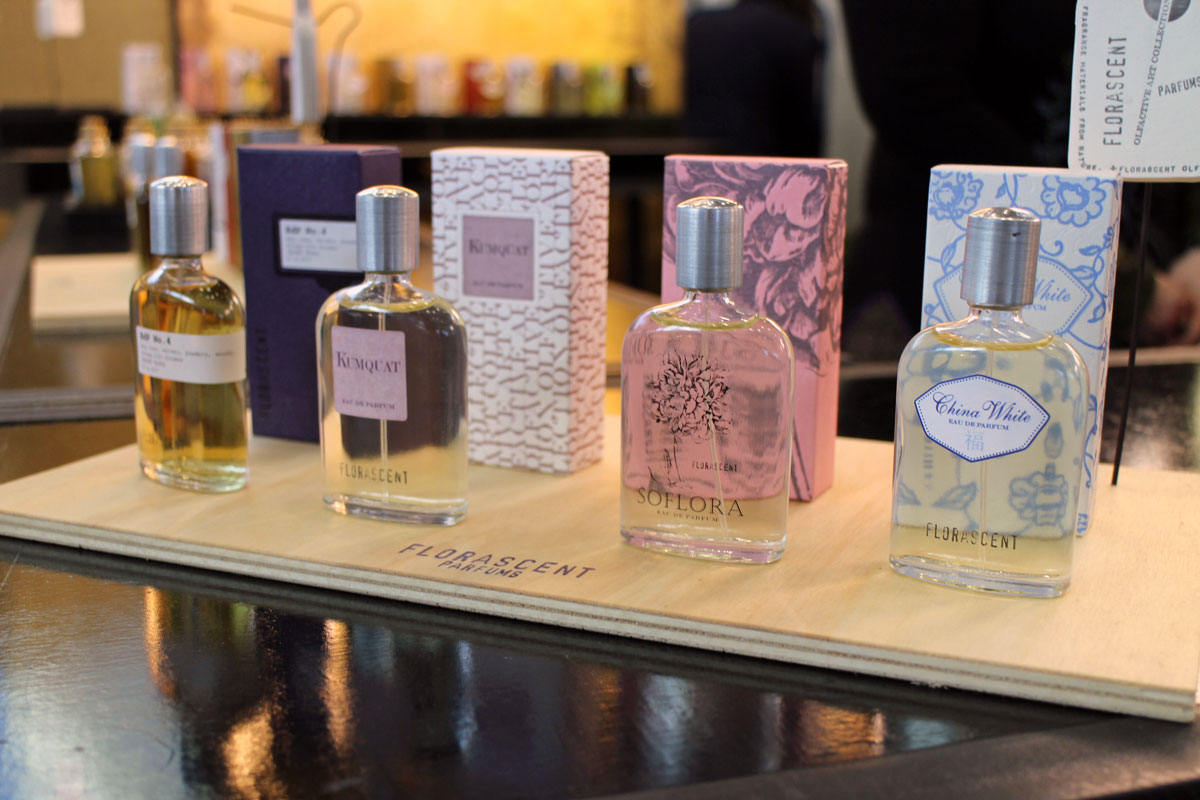 ♦ German perfumery brand Florascent also presented an amazing launch at the trade show: the new Art Collection comprises 12 beautifully packaged fragrances which range from floral over fresh to woodsy. The outer packaging of the perfumes was created by Florascent itself and each box is an artwork.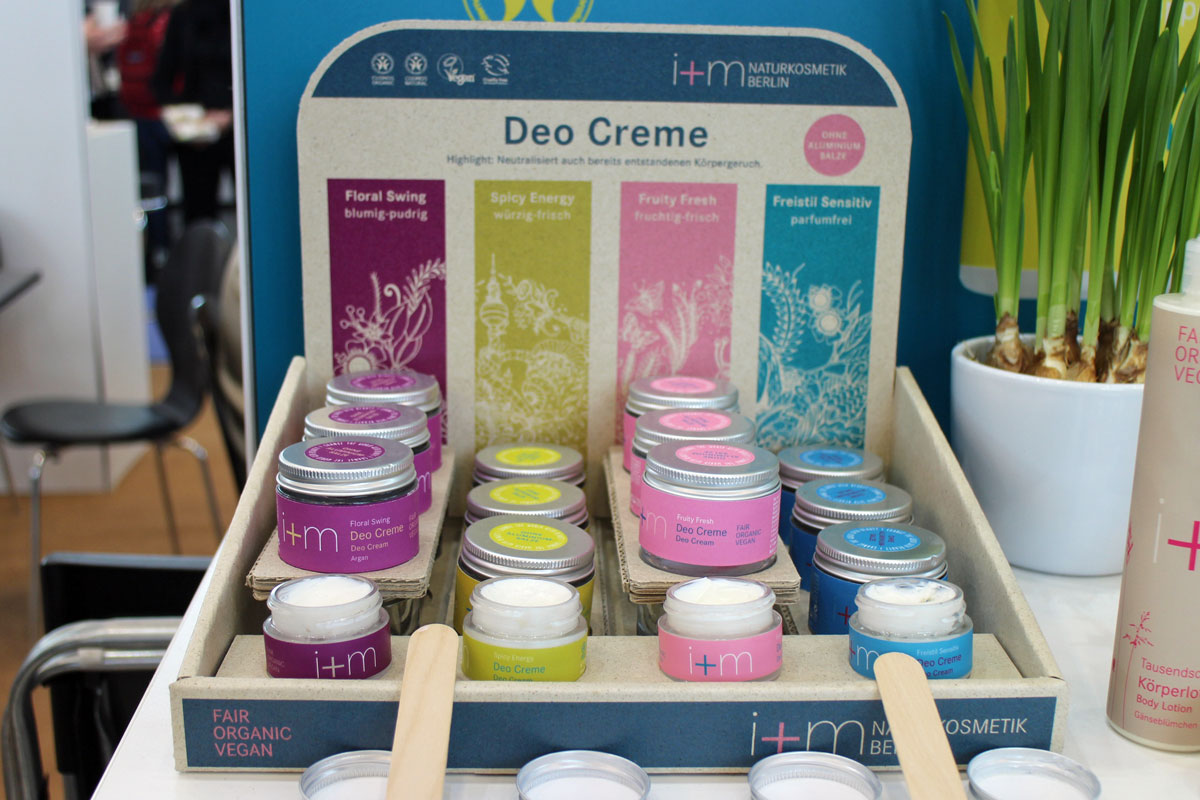 ♦ Four new deodorant creams have joined German brand i+m's Tausendschön deo cream – the new launches include a fragrance-free variant. Also new: The Berlin range was repackaged in a bear-decorated design (the city of Berlin's heraldic animal is a bear!). And the face care range was extended with a Daily Wash & Peel and an Aqua Boost Serum. In future many of i+m's new launches will be formulated with a plant-based blue light filter.
♦ The new Coconut Milk Bath from I want you naked / Saint Clouds won the Best New Product Award at Vivaness this year.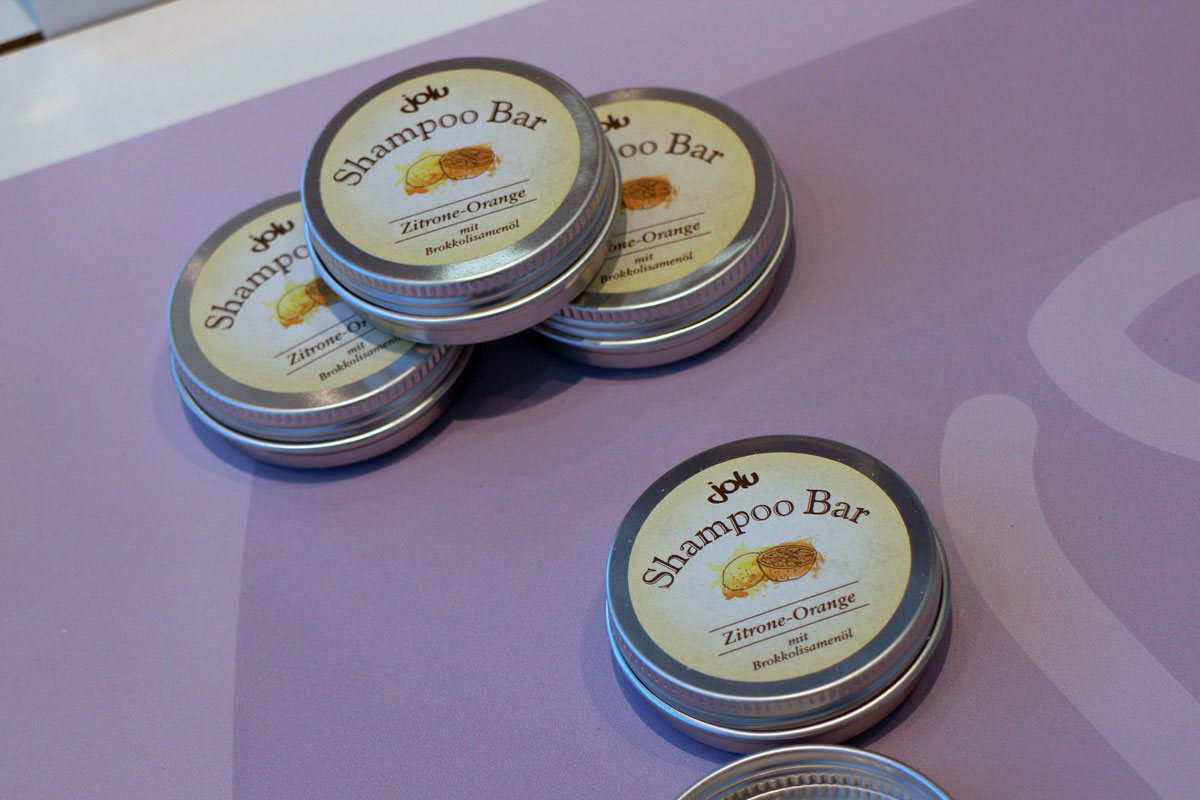 ♦ And another Best New Product Award in the hair care category: the winner was German brand Jolu's Shampoo Bar. The solid shampoo is packaged in a tin and contains broccoli seed oil which moisturizes the hair.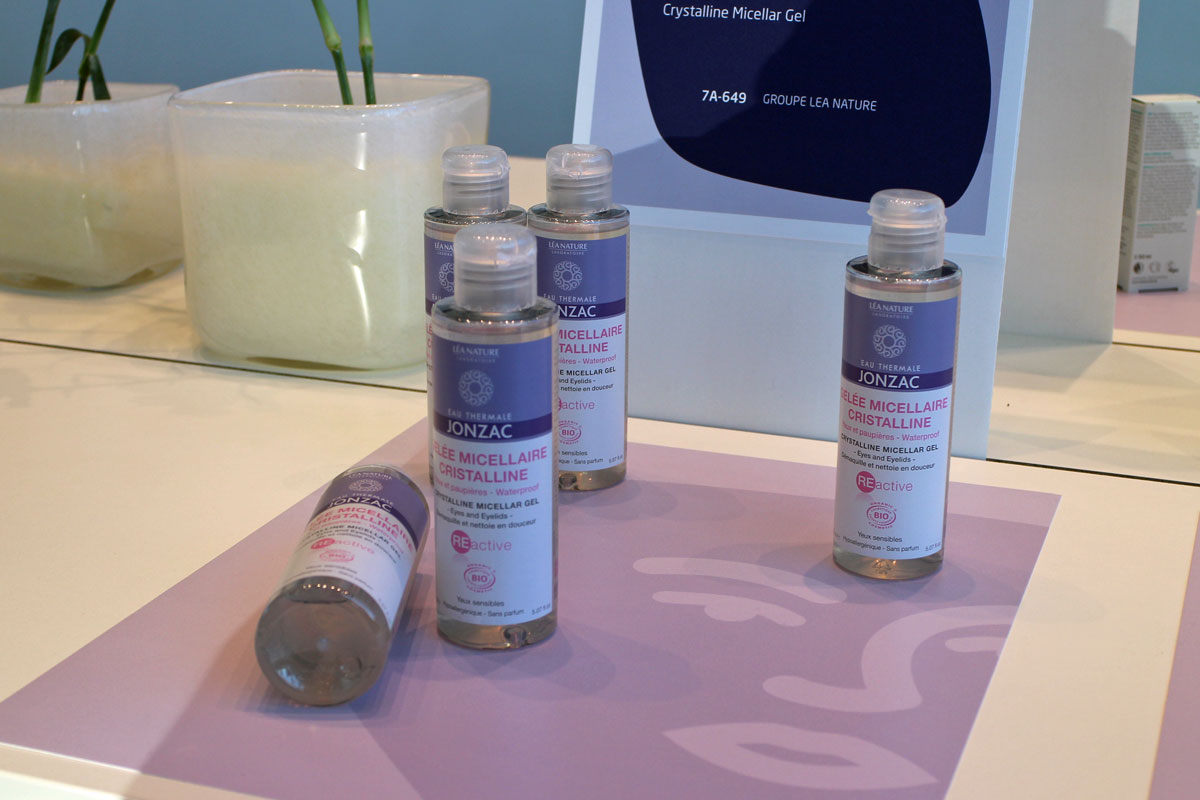 ♦ French brand Eau Thermale Jonzac has launched a Gelée Micellaire which removes makeup and moisturises the skin. The micellar gel has a nice liquidy gel texture. And the line-up of sister brand So'Bio will be extended with a soothing Hydro Aloe Vera SOS-Mask for skin emergencies.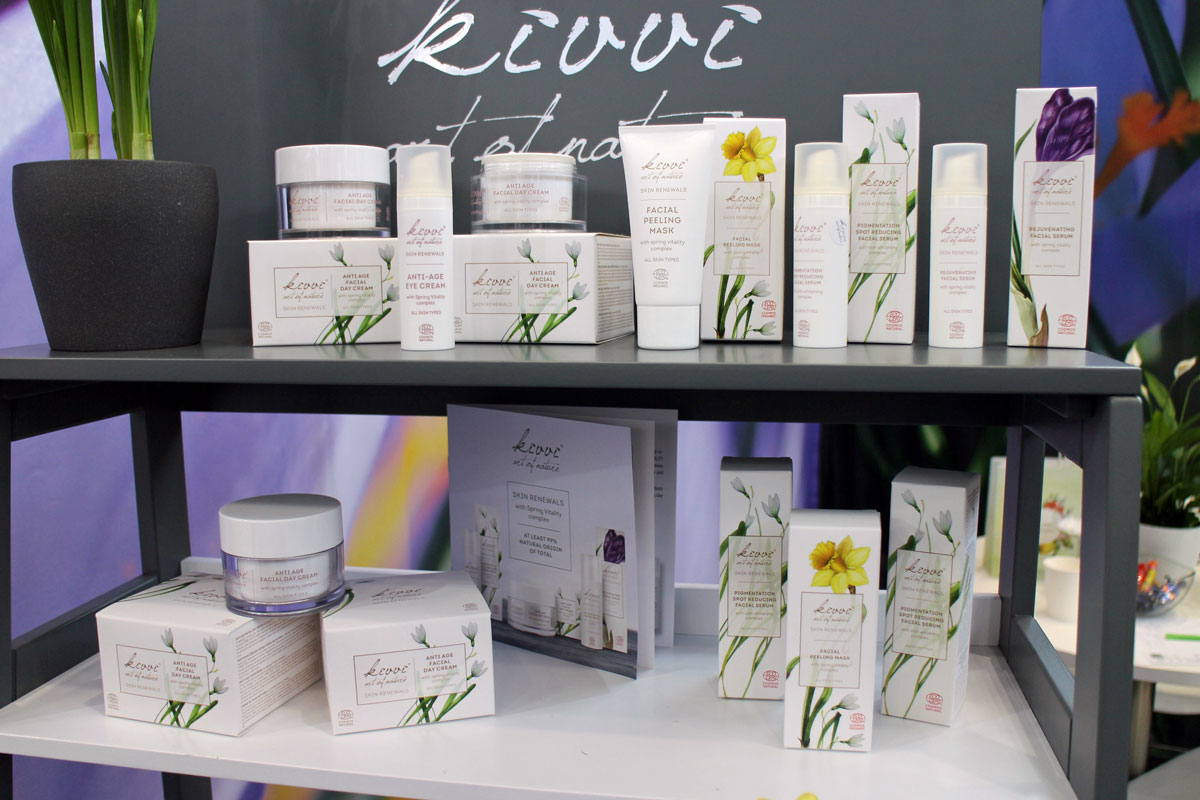 ♦ The Skin Renewals line from Latvian brand Kivvi will be extended with a day cream, a night cream and a peeling mask (the range currently includes two serums). There were also two new fruity body lotions.
♦ The new Detox Mask from German brand Lavera contains medicinal clay, algae and an extract from the healing horehound plant. Also new: a surfactant-free Cleansing Balm and a Day Cream in the Hydro Effect range. The products will be available in March.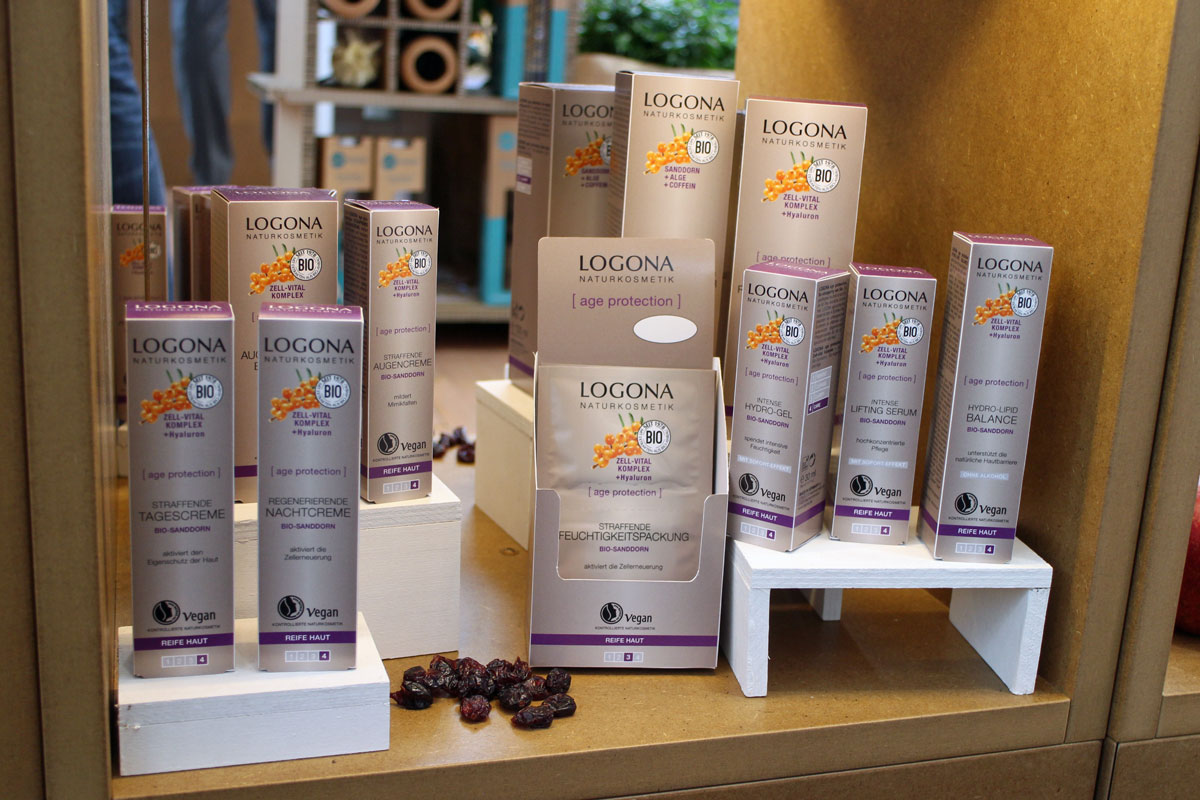 ♦ The exhibition booth of Logona was dedicated to the German brand's new launches: The Plant Hair Colourants are now available as powders and as creams; Logona's Age Protection range was completely relaunched. I particularly liked the Cleansing Oil Gel which turns into a milk when you rinse it off.
♦ Almost all of the novelties that were shown at the exhibition booth of Latvian brand Mádara triggered my "I wanna have it!" reflex: There is a new sun protection cream with SPF30 for face and body, the tinted CC Cream with SPF30 which is available in two colours; three ampoule intensive treatments and the lifting mask Re:Gene which is packaged in a tube. I was impressed by the textures and hope that the products will be available in retail soon!
♦ Demeter-certified German brand Martina Gebhardt showed the new Intensive Care Primrose Caps which contain evening primrose oil (see picture above). The brand's Summertime Lotion now includes SPF6 and the formulation of the Rose Balm will be vegan from now on.
♦ Russian brand Natura Siberica presented a whole range of new launches. Two of these were the Northern Collection (the line-up includes a Black Cleansing Butter and a Micellar Water) and the Sibérie Mon Amour range which contains rose extract.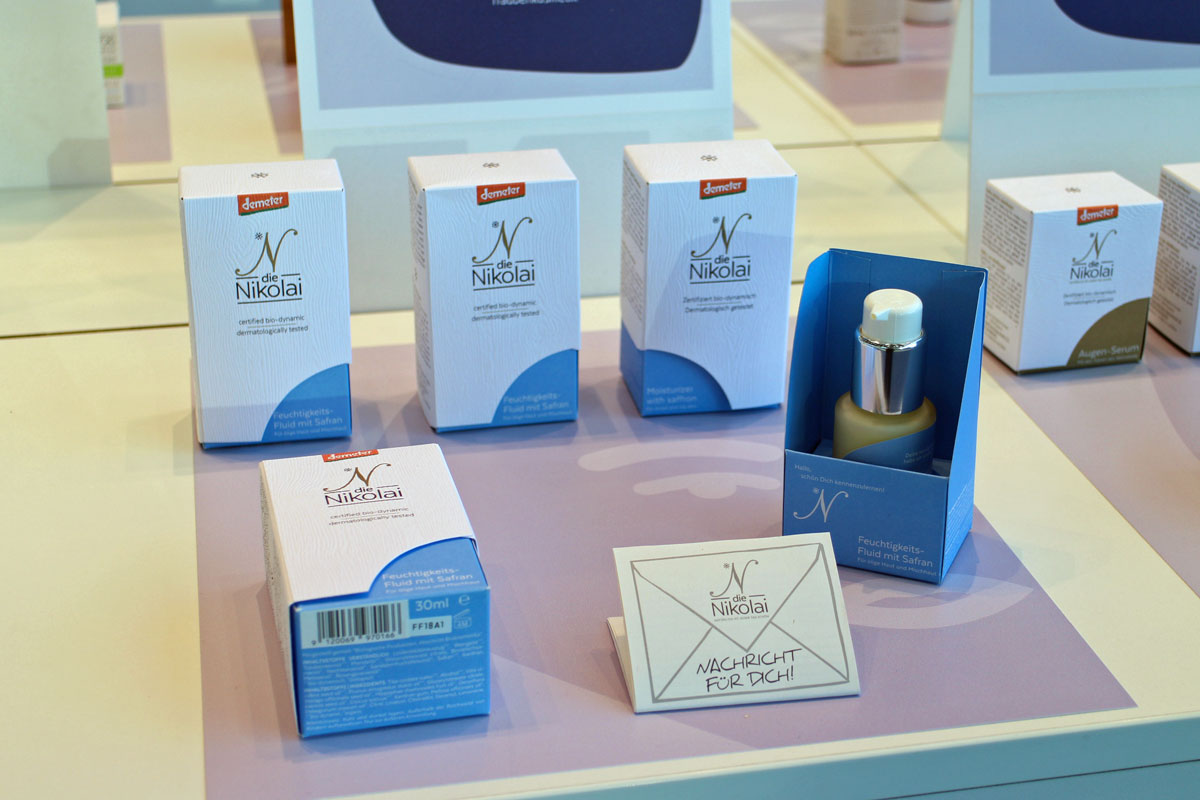 ♦ One of the few Demeter-certified organic beauty brands is dieNikolai from Austria (I've written about the brand in this post here). The range is based on grape-derived ingredients (dieNikolai comes from a renowned vineyard) and their newest product is the vegan Moisturising Fluid with Saffron for oily and combination skin.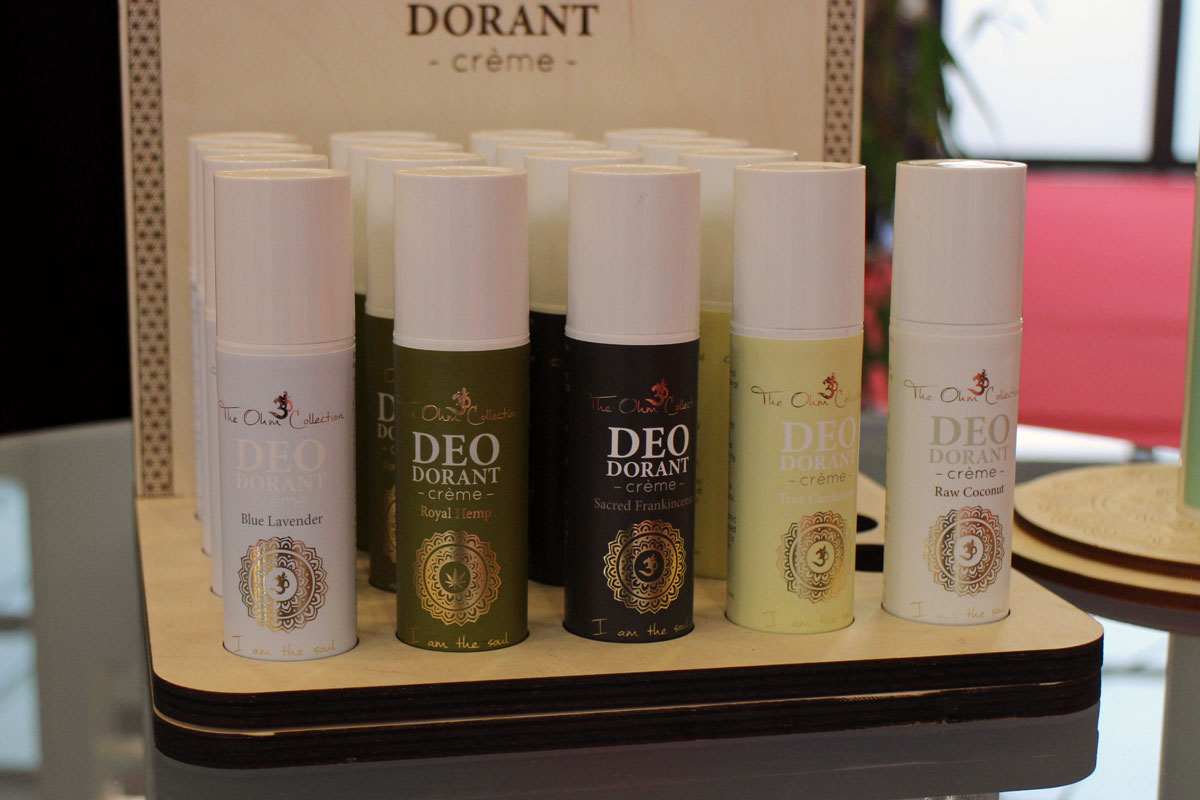 ♦ Dutch brand The Ohm Collection presented a new collection of five deodorant creams with baking soda as active ingredient (previously the brand only offered powder deos in jars). The new deo creams are packaged in a pump dispenser and have a very creamy texture – I particularly liked the variant with cardamom. Just before I left the booth I tested the brand's sun care product; the texture was pleasant. I'll have to keep an eye on this brand.
♦ Perhaps not quite new but I liked the slogan "Love your age" which is displayed on the aloe vera products from German brand Pharmos Natur; so it needs to be included in this Vivaness post.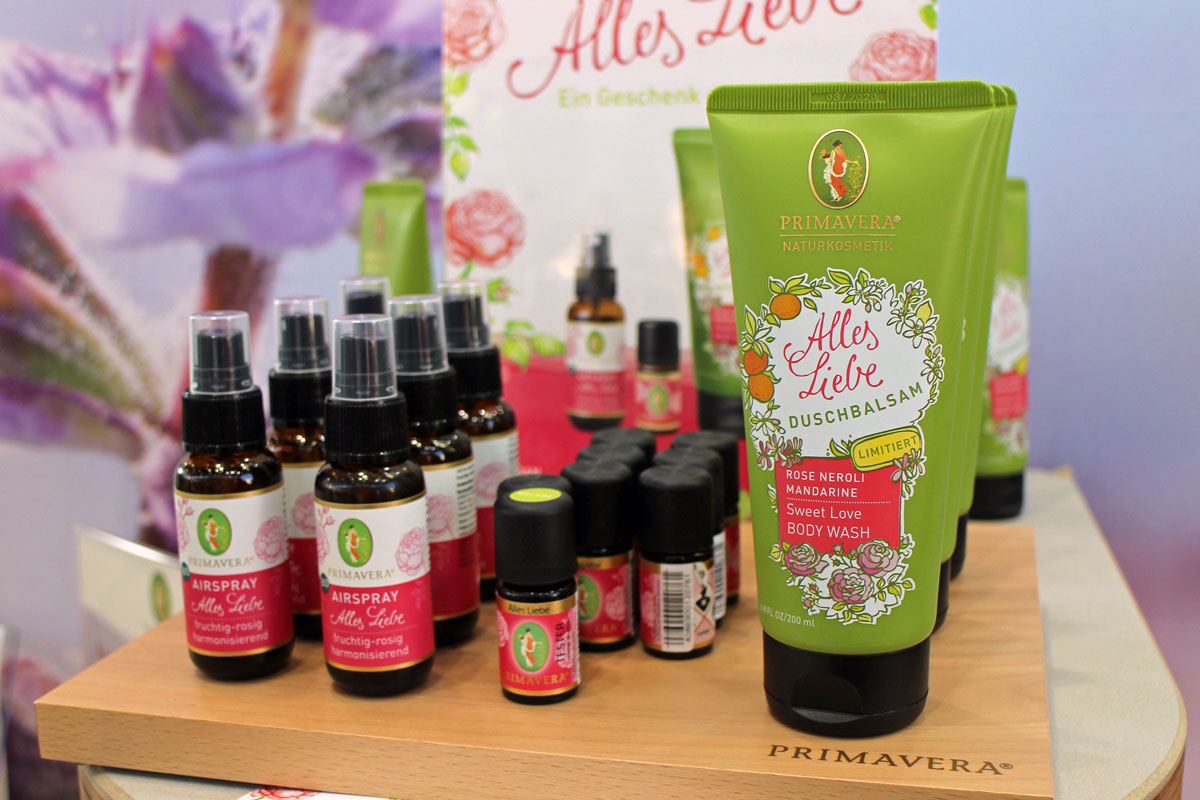 ♦ German aromatherapy brand Primavera's is launching its annual Lots of Love spring-time product range which was extended with a pretty-looking shower gel. I was impressed by the essential oil Vetiver Bourbon which was aged for 30 (!) years. The lavender sage essential oil is also new. I also liked the two Air Sprays with Vanilla (mmmhhh!) und Swiss Stone Pine. And the Sensitiv face care range was reformulated with the new active ingredients manuka and borage.
♦ Santaverde from Germany has developed three new products for impure skin: a Clarifying Toner, a mattifying fluid and a skin refining serum. The fragrance-free products are not just suitable for young skin; they also soothe drier skin types with aloe vera and salicylic acid. The turquoise packaging looks very attractive!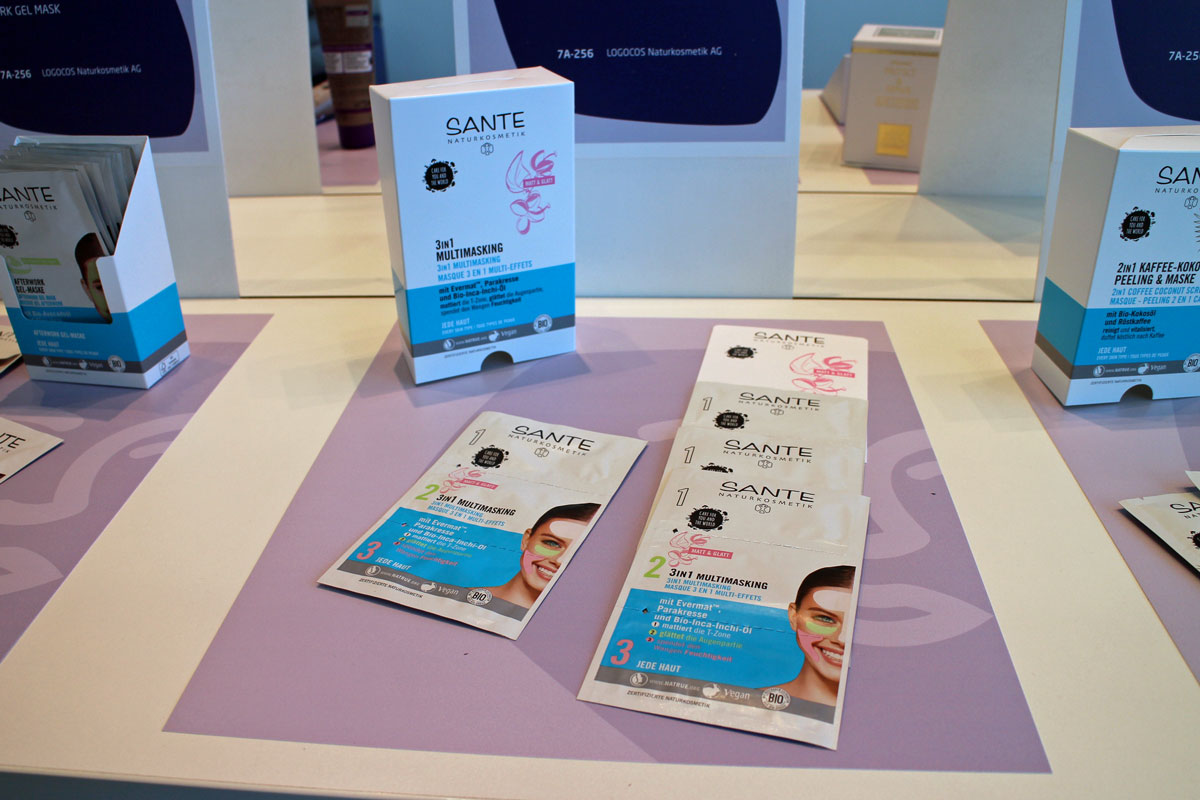 ♦ German brand Sante presented a new Mint Lemon Shower Gel for summer as well as four masks in sachets – including a three-part Multi Masking kit for different areas of the face and a gel-textured After Work Mask.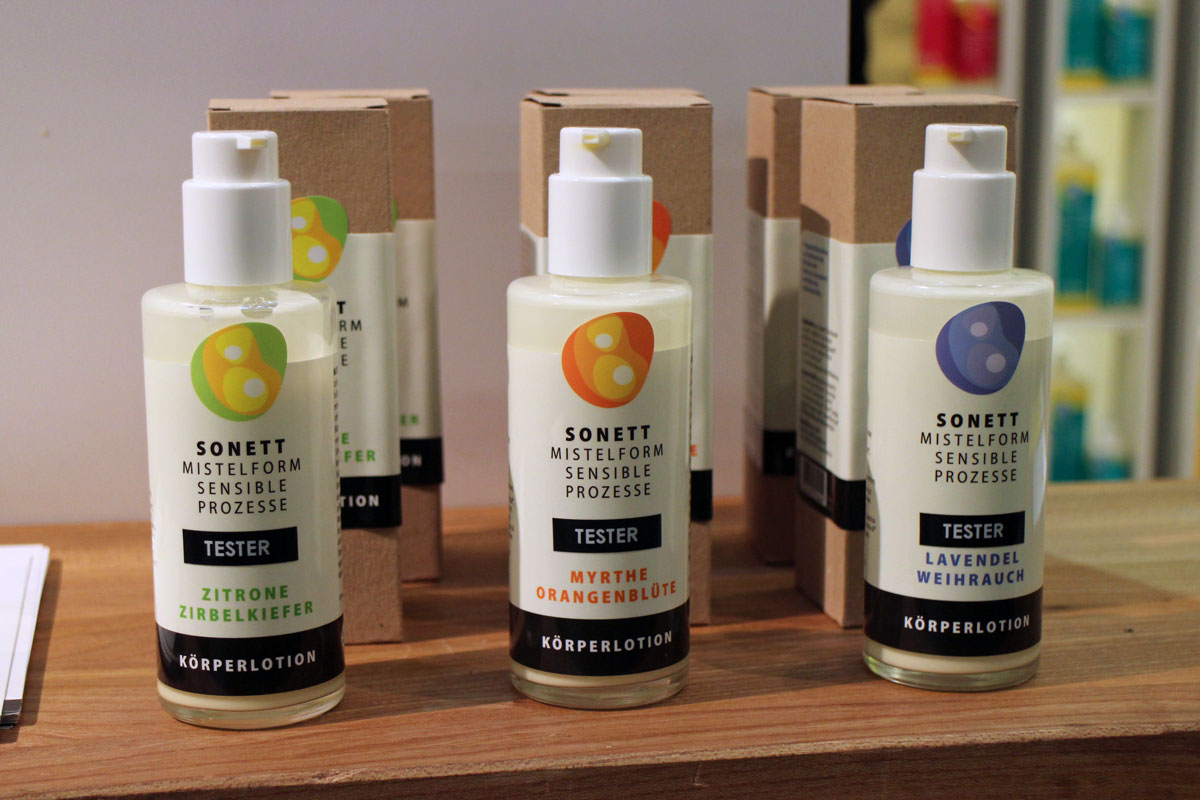 ♦ I was surprised by German brand Sonett's new body care launch: the range comprises six body care products (three massage oils and three body lotions) which were developed together with the anthroposophic Delos Institute. The products contain extracts of summer and winter mistletoe; the Delos Institute is researching the healing properties of this plant.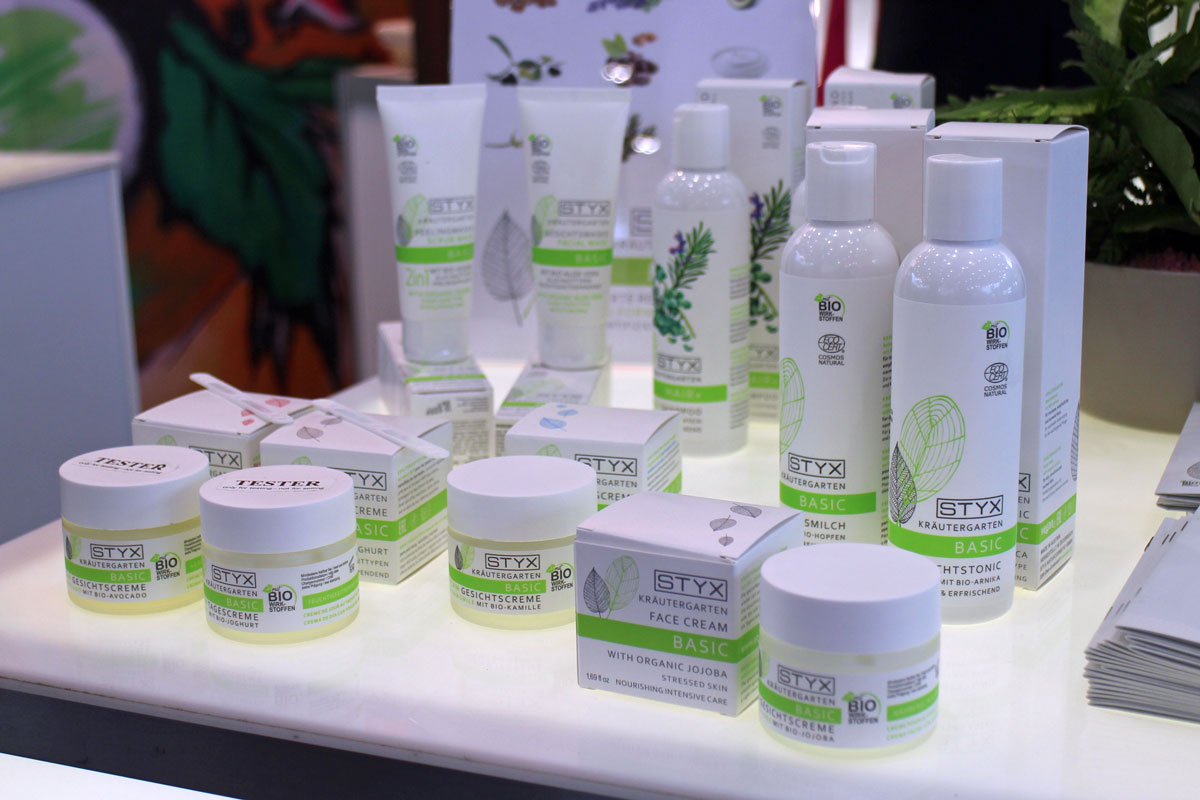 ♦ Austria brand Styx relaunched its extensive (and now Ecocert-certified) skin care range Basic. I immediately liked the scent of the Basic Face Cream with organic camomile for dry skin. There are also two new shampoos.
♦ German brand Tautropfen has launched two certified organic Sheet Masks with hyaluronic acid and tea buds respectively.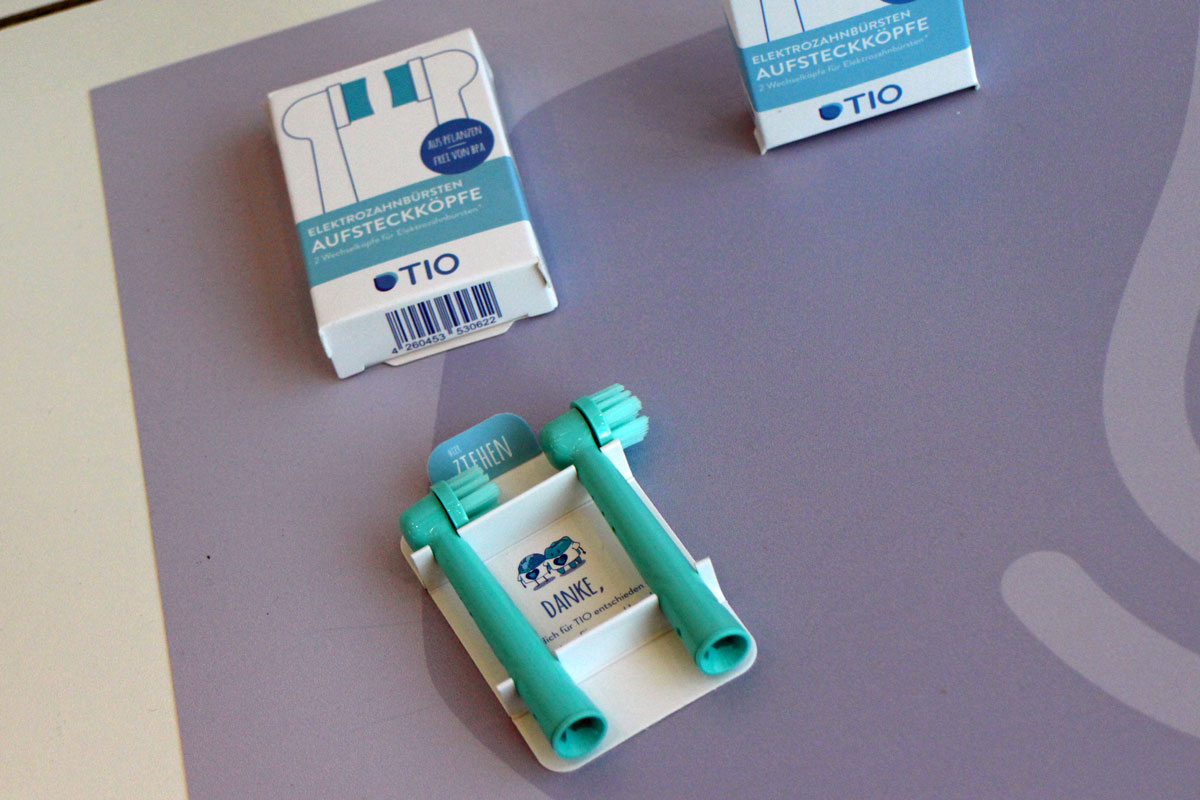 ♦ Very cool: Tio from Germany is offering removable heads for electric toothbrushes which are manufactured with renewable raw ingredients.
♦ Purple Lavender is the name of the new body care range from Danish brand Urtekram. The products contain a probiotic extract; I immediately liked the lavender-scented body oil.
♦ Finally, some sun protection from German brand Weleda! The four Edelweiss products (three sun milks with and without fragrance, SPF30 and SPF50 as well as a face cream with SPF30) contain titanium dioxide as UV filter. Unfortunately Weleda's Japanese sun cream with SPF33 which I tested in January 2014 still hasn't made it to Germany. The brand also presented its two new tinted Beauty Balms which are already available in stores.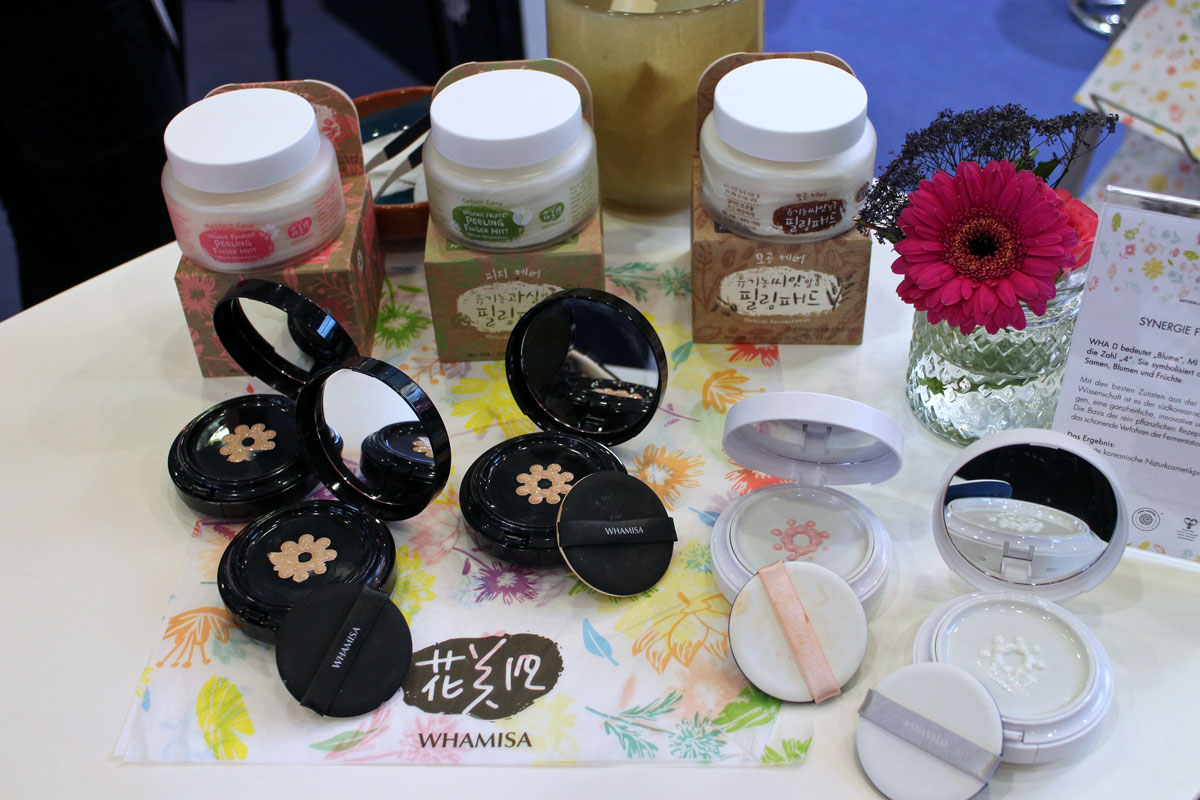 ♦ At the exhibition booth of Korean brand Whamisa I saw the BB Pact Foundation which I had already discovered in Hong Kong during Cosmoprof Asia (available in three colours, the jar on the left). Next to the Foundation you can see the two sun protection creams Sun Pact with SPF50, also in a jar (one tinted a light pink, the other without colour). And of course the Peeling Finger Mitts in three variants which help to brighten skin with gentle fruit acids.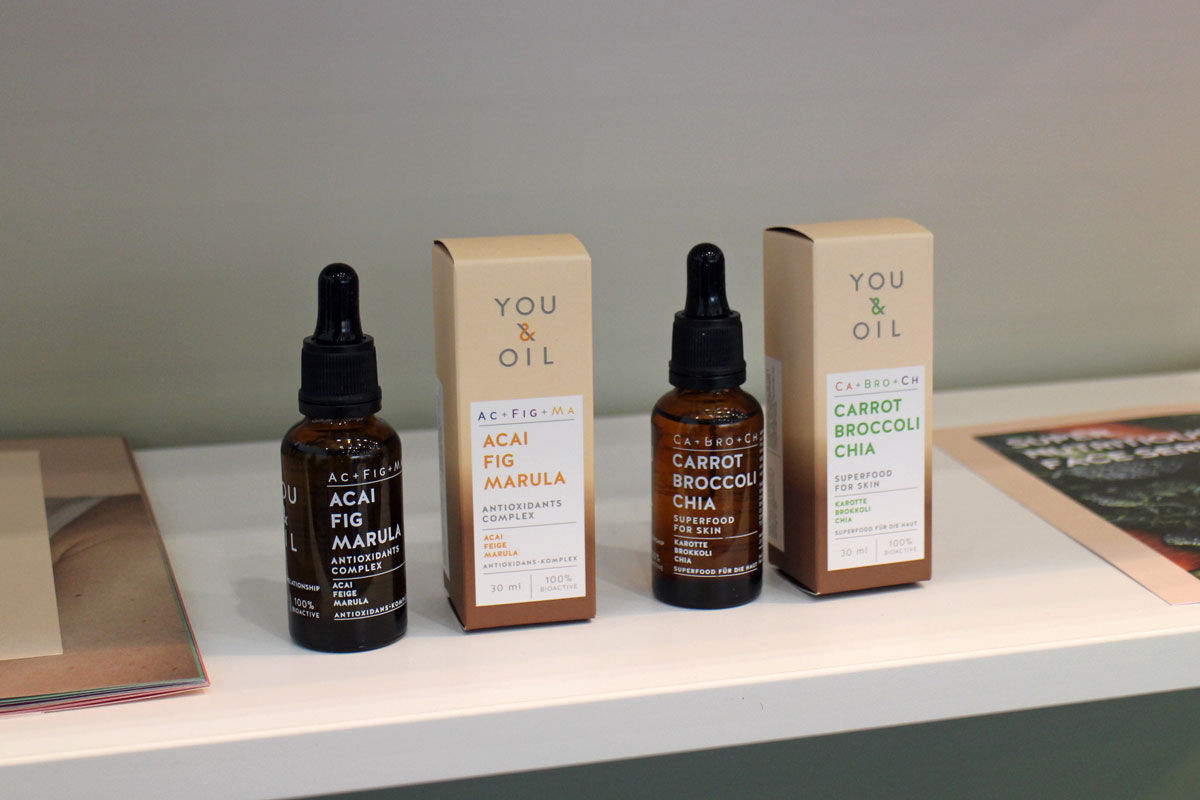 ♦ You&Oil from Estonia presented two new face oils: Acai Fig Marula and Carrot Broccoli Chia. I've also seen a new children's range with essential oils; the packaging is very pretty.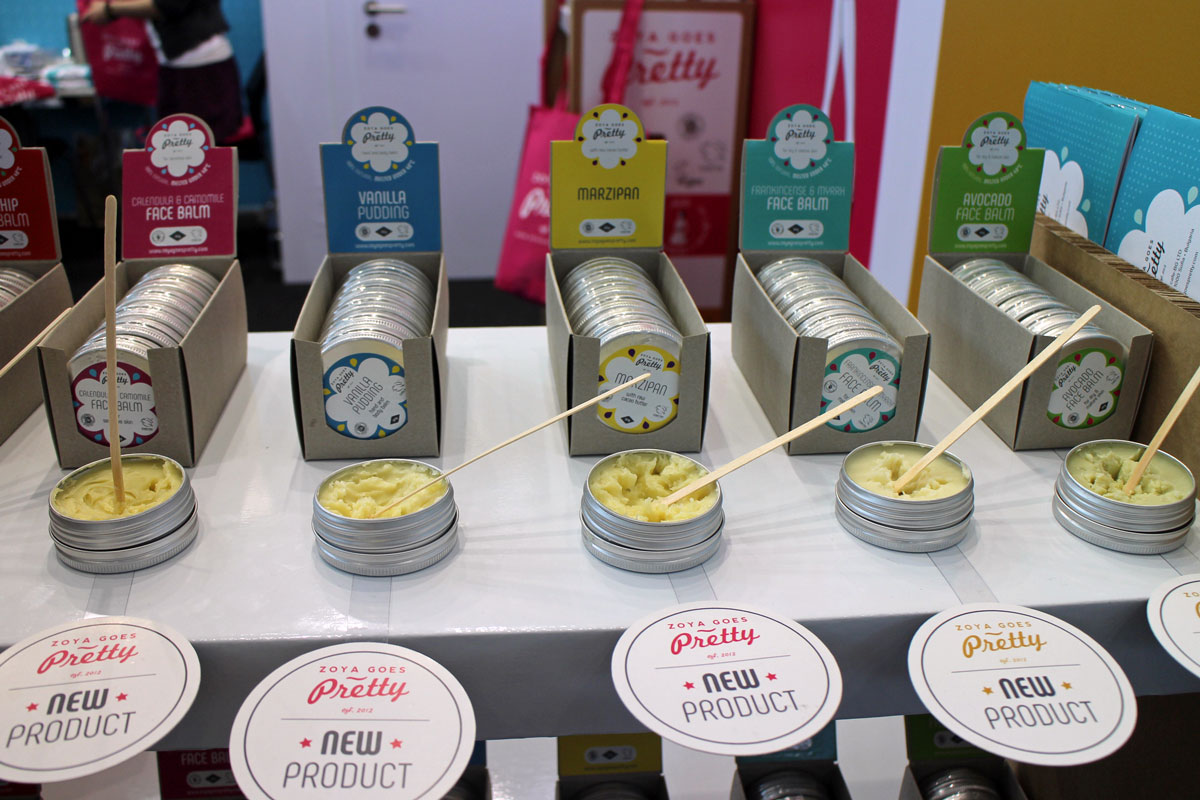 ♦ And with the letter Z we've arrived at Bulgarian brand Zoya goes pretty: The company presented new balms – three for the face (avocado, frankincense, calendula/camomile), the other two for the body (vanilla, marzipan). There is also a new rose water.
I hope you liked this virtual walk around the trade show! As mentioned above there will be a post next week which focuses on selected young niche brands. Stay tuned!
[Click here for more pictures and the original German article Bio- und Naturkosmetik: Neuheiten von der Vivaness 2018]

On the picture above you can see the reason why I enjoy visiting Vivaness trade show so much: I love the opportunity to meet the founders and makers of organic and natural beauty in person. On the last day of the trade show – around an hour before closing time – I arrived at the exhibition booth of Sativa and immediately liked the friendly atmosphere and air of concentration. While other companies were already packing up their things, Sativa was still fully present and I received a lot of information about this brand from Belarus (more information on Sativa below!). It was a very satisfying ending to the trade show.
I've already published an article about the many new product launches I saw at Vivaness last week (see above), but this blog post is about some of the interesting niche brands that captured my attention.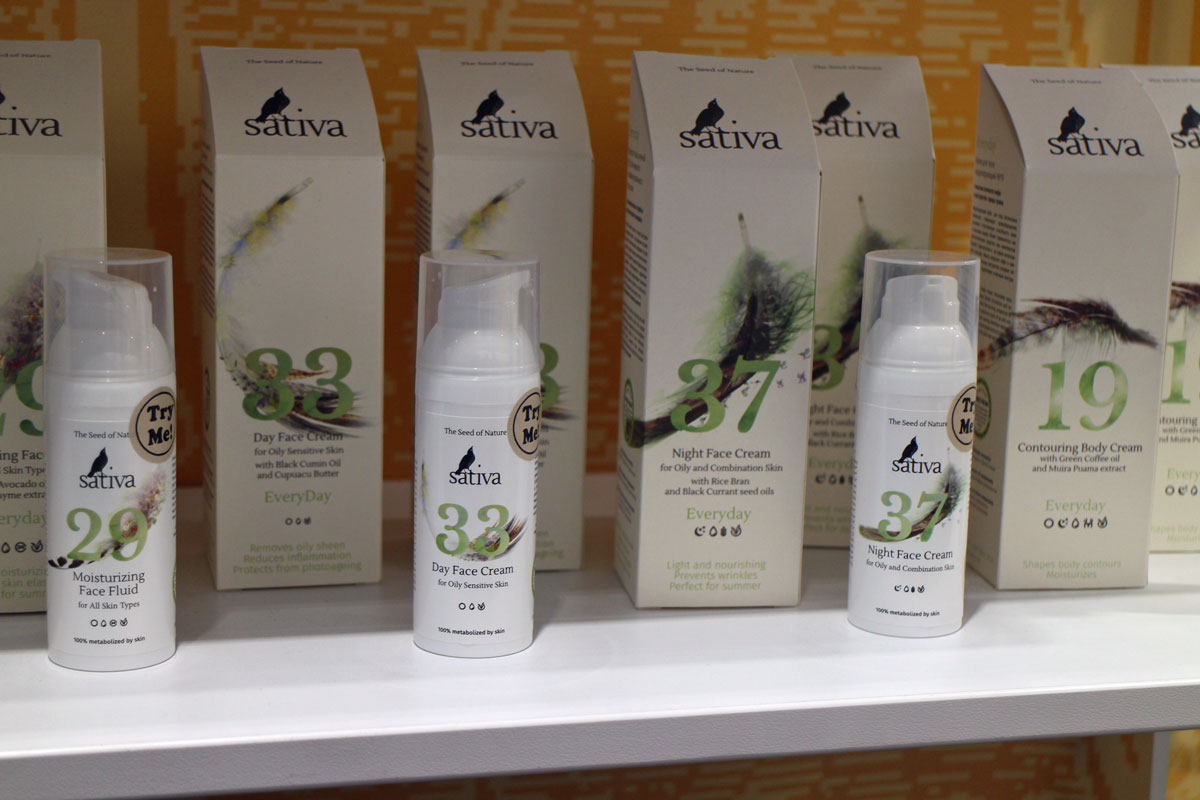 ♥ Let me first tell you about my Belorussian discovery: Organic beauty brand Sativa is from Minsk and was founded in 2014 by Svetlana Mihailiuk and Victor Gaponenko (middle and left on the picture above). The family-owned company is already present in 15 countries, primarily in the CIS region (Commonwealth of Independent States, a loose association of 11 former Soviet Republics in Central and North Asia). Svetlana is a biochemist who is fascinated by dermatology which is why she calls her brand "physiological cosmetics". She formulates her products so that the skin's natural barrier will be strengthened: the cosmetics must be bio-mimetic – mimic the structure of the skin's own protective acid mantle so that the skin "recognizes" these elements and can use them to heal itself.
In order to keep the skin's flora intact Sativa uses formulations with ingredients that preserve themselves. The portfolio is extensive; there are around 40 numbered products which are divided into different skin requirements (plus a hair care line). The product recommendations are not only for specific skin types or skin age but also according to hair colour! Sativa's cosmetics are developed and formulated in the company's own research facility and production site. And isn't the packaging with the bird in the logo and the feather beautiful? You can find more information about Sativa on the company's homepage. I really hope that the brand will soon be launched in Germany or Western Europe!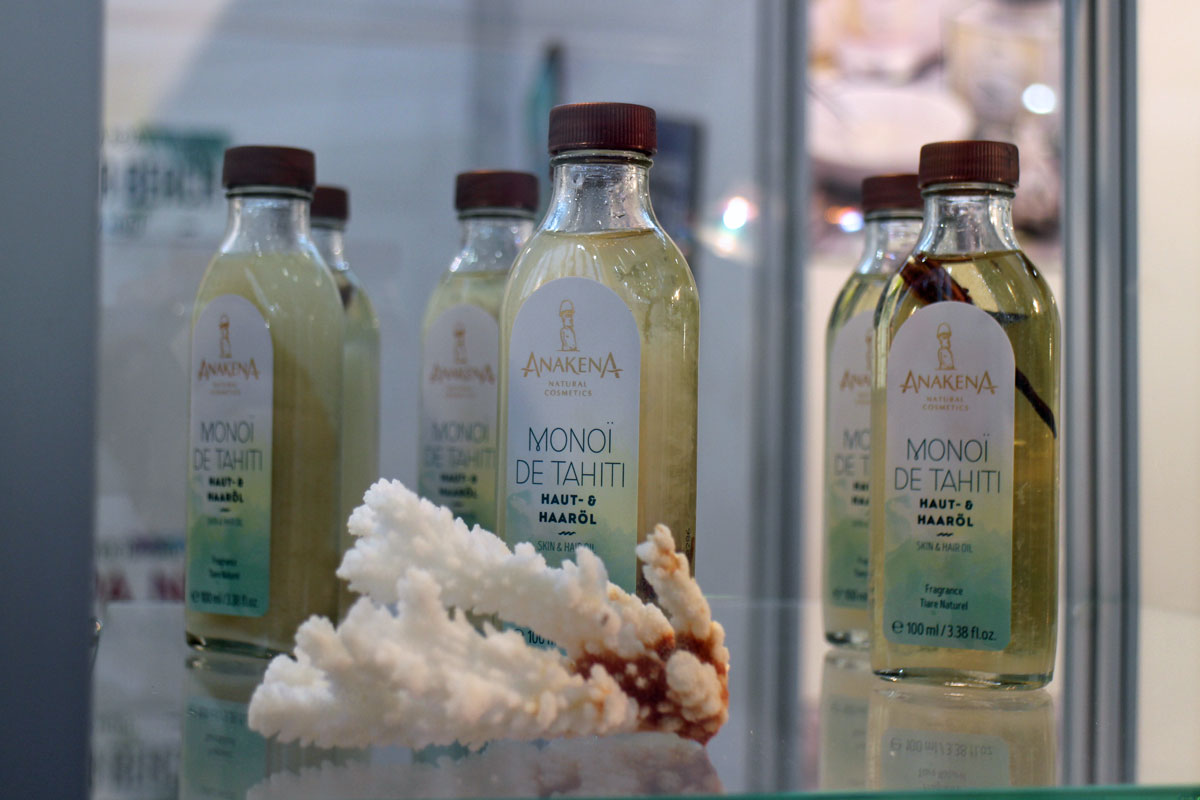 ♥ A German expat who has been living on Easter Island (which is also called Rapa Nui) for 17 years develops a new tropical cosmetics range – and launches her brand at Vivaness! This is the story behind Anakena; the brand is named after one of Easter Island's beautiful beaches. Anakena's friendly and bustling founder Petra Klimscha presented four products at her exhibition booth: a body oil, a body lotion (which is absorbed into the skin with zero streaking!), a shower gel (can also be used as a shampoo) and a face cream (also a great texture!). All products are certified by Ecocert/Cosmos and contain exotic oils like roucou and plant extracts, for example from guava, mango and turmeric. They are scented with a beautiful fragrance blend of of monoi, frangipani and coconut. My estimate is that this tropical beauty will be a success in Germany! Here is the homepage of Anakena. The model you can see on the brand website is also from Rapa Nui, by the way.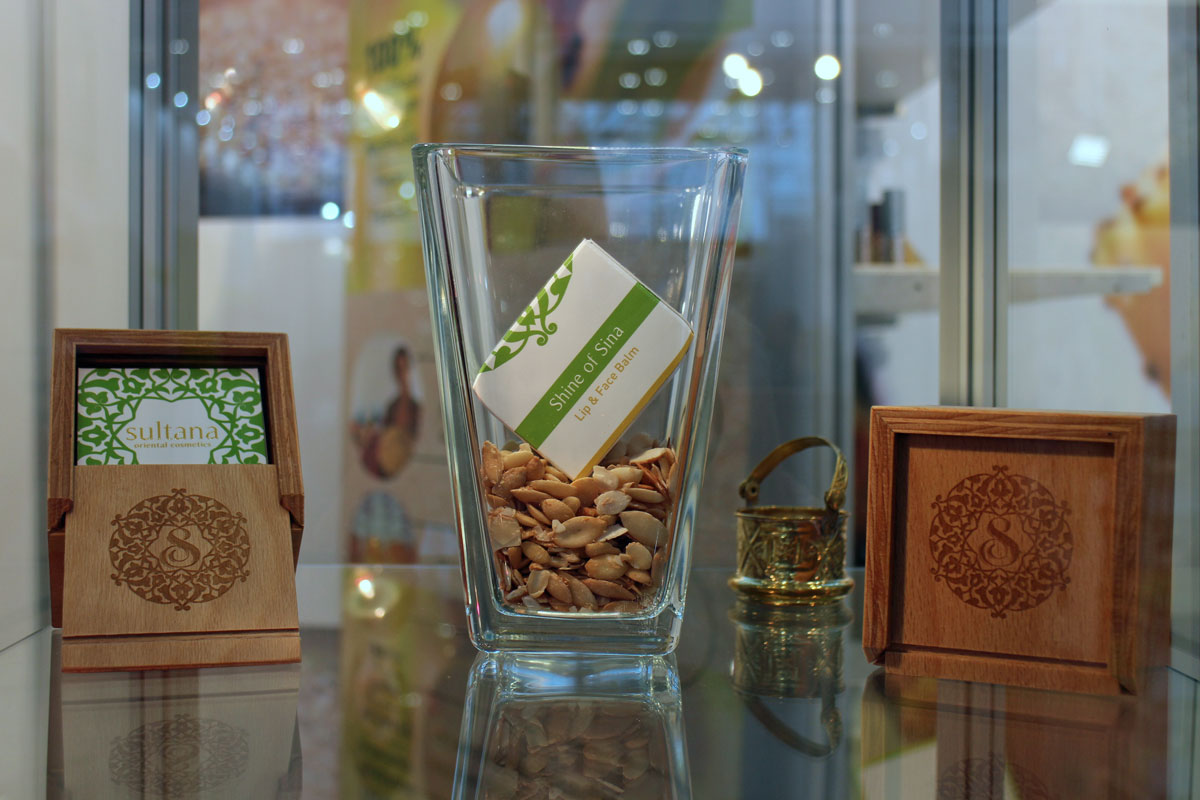 ♥ Amal Boutahar from Sultana Oriental Cosmetics has been a sort of virtual acquaintance ever since I discovered Aker Fassi, the famous blush from Fes almost six years ago and wrote about it on Beautyjagd. Since then, Amal has relaunched her brand: at Vivaness she presented two products, the Hand & Body Balm "Hand of Fatima" and the Face & Lip Balm "Shine of Sina". Both products are inspired by old family recipes by her Moroccan great-grandmother and parents. The packaging bowled me over; the jars are placed inside a wooden box which is decorated with ornaments. And just as impressive: the bluish-green Lip & Face Balm with healing immortelle oil and rain fern oil is based on argan oil and prickly pear oil which is sourced from a women's cooperative; the Hand & Body Balm contains cocoa butter, coconut oil and mango butter. Both products are vegan. Here is the link to Sultana Cosmetics homepage. I think that these products would make really good presents!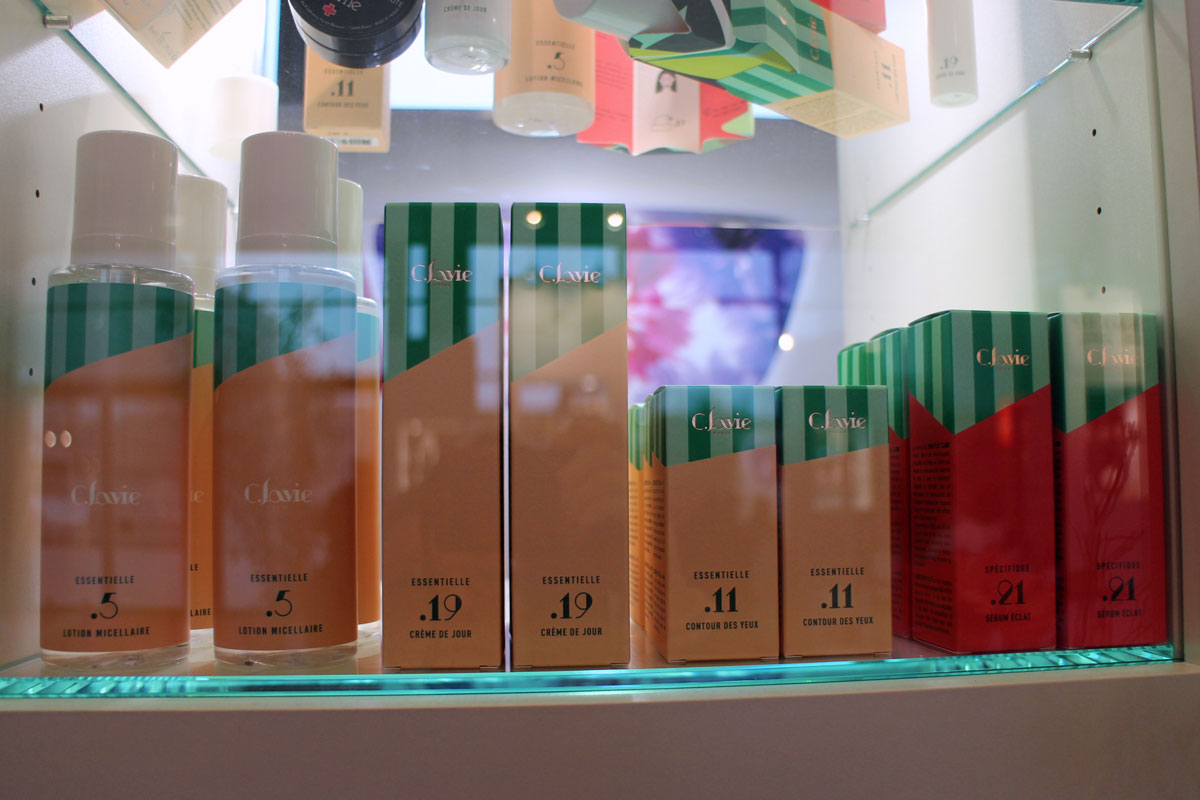 ♥ I first saw C.Lavie in Los Angeles when I visited the Detox Market organic retail chain and was immediately intrigued by this French brand. And now, at Vivaness, I finally had the opportunity to personally meet C.Lavie's founder Sylvia Cazenave-Lavie. Sylvia presented her four-sku luxury organic beauty range in great detail (there will be a few new night products soon); each product carries a number which (roughly) reflects the number of ingredients in the formula: 5 Lotion Micellaire, 11 Contour des Yeux, 21 Sérum Éclat and 19 Crème de Jour. The preservative in most products is silver which has an anti-inflammatory effect on the skin. C.Lavie doesn't use processed oils. For Sylvia it is important that her products contain high-quality ingredients and a compact, minimalistic formula. Just as important are luxurious and almost silicone-like textures (of course the products are silicone-free, all of C.Lavie's cosmetics are certified by Ecocert) – and, of course, an attractive exterior!
I like the unusual beautiful outer packaging design very much; the boxes contain glass flacons with pump dispensers. The subtle, comforting fragrance of the products was developed together with a perfumer. A brand like this isn't cheap, obviously, but I think that C.Lavie is organic luxury at its best. Here is the link to C.Lavie's homepage. The brand recently started distribution through Swiss online store Biomazing.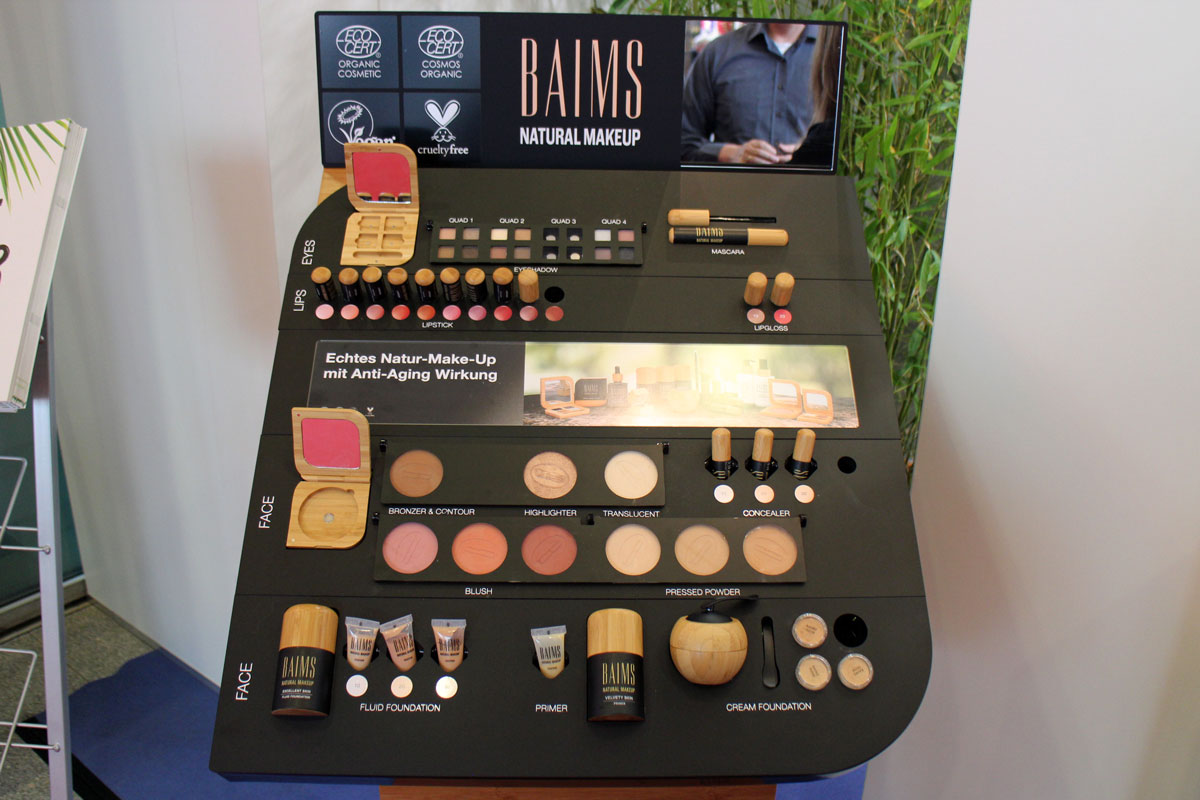 ♥ I already visited the booth of German-Brasilian brand Baims Natural Makeup at Vivaness last year; now the company's makeup is finally available in Germany! You can see the entire colour cosmetics portfolio on the picture above: the line-up includes lipsticks and eyeshadows as well as blushes, foundations and powders. All products contain a moisturising extract of the Pentaclethra Macroloba tree. In Brasil, Baims' vegan and certified organic cosmetics are already successful and at Vivaness 2018, the brand's foundation (which offers good coverage and is packaged in a round bamboo jar) won a Best New Product Award. Also: the products are refillable so the beautiful bamboo packaging won't be thrown away. I was particularly impressed by the primer: I have rarely had such a smooth product on my skin. I look forward to trying out the products in real life soon! Here is the homepage of Baims.
♥ Two years ago I met Frank Herkenhoff und Thomas Geierhos, the founders of organic men's care brand Green + The Gent, at Natural Cosmetics Camp. Green + The Gent's five stylishly packaged products were launched around half a year ago: the range offers a Face + Shave Oil (a nice non-sticky texture), Face Wash, Face Tonic (based on aloe vera juice), Moisturizing Cream and the Shampoo + Body Wash. Some of the products are scented with a wonderful gin fragrance (the Face + Shave Oil, for example) – wow, what an amazing blend of juniper, cardamom, nutmeg and vetiver! The brand's most recent launch is a Shaving Kit with a wet shave razor. I think women could also have fun with the products – hey, I never say no to a Gin Tonic 😉 . Here is the homepage of Green + The Gent.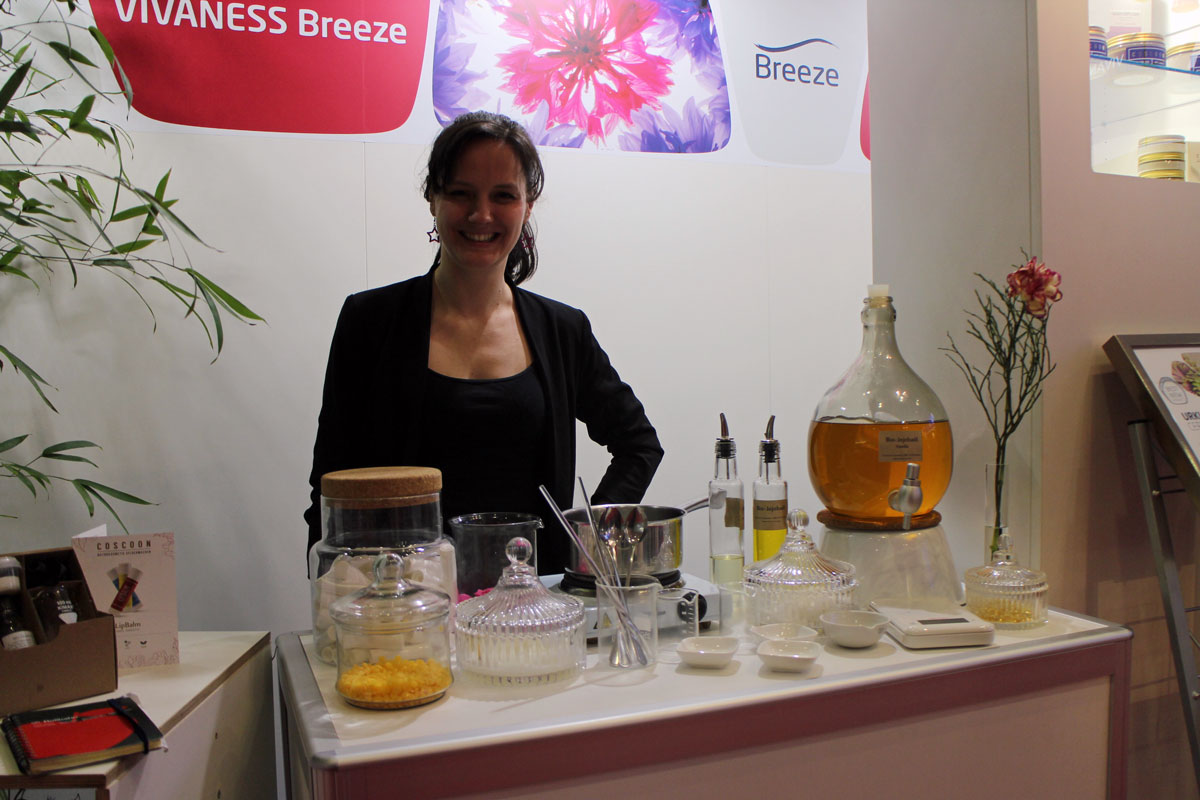 ♥ At Berlin-based brand Coscoon I not only checked out the company's DIY beauty kits but also created my own lip care balm in the "laboratory"" that was attached to the exhibition booth! On the picture above you can see Aino Simon, one of Coscoon's two founders, who steered me through the lip balm manufacturing process. It was so much fun to mix oils and waxes, to heat the mixture and then pour it into the sleeve – and presto, my vanilla-scented lip balm stick was ready! Coscoon's DIY sets are well-thought out; the kits don't just contain the exact amount of organic ingredients and all the necessary jars and labels, but the sustainable packaging can be reused. The molds for the bath cupcakes are made from cardboard and not from the usual silicone. The company also offers cosmetics-making events! Here is the homepage of Coscoon.
DIY sets were very popular at Vivaness this year; I also saw this type of kits at Kitetik from France and at the booth of German brand Hello Simple (for example for detergents).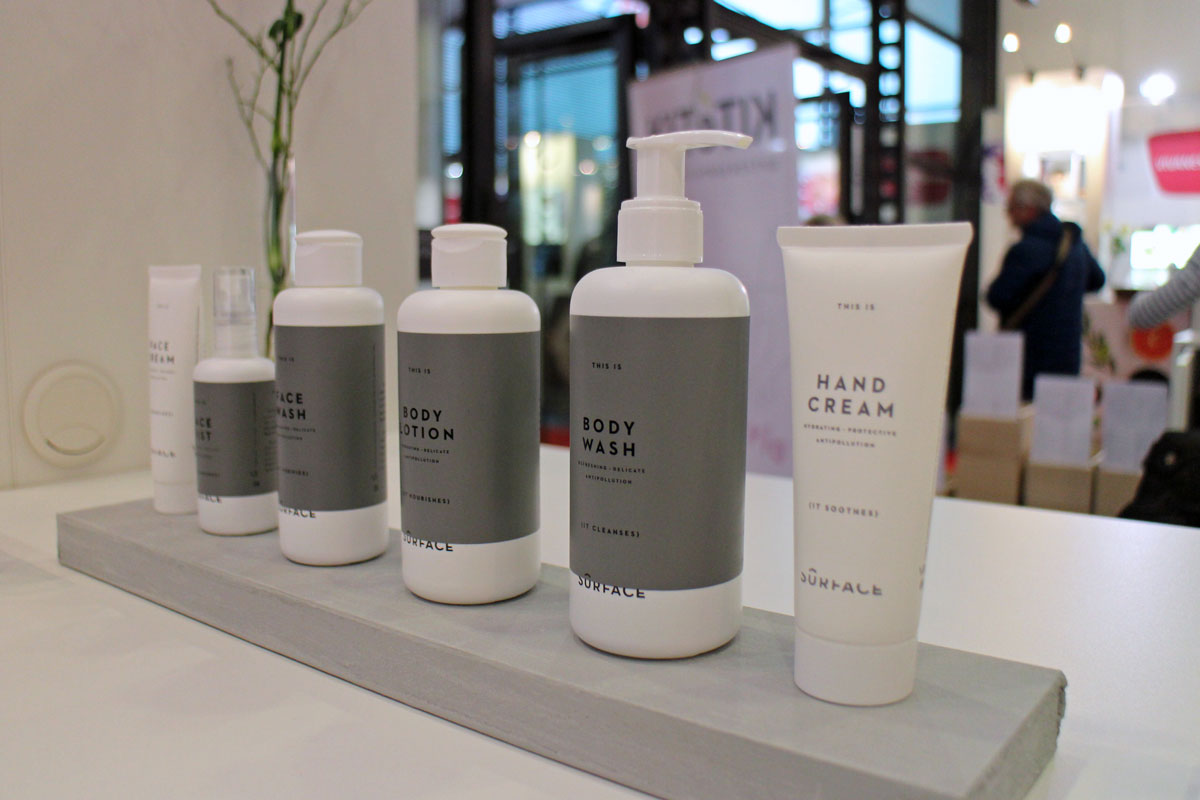 ♥ Also on my to-do list for Vivaness: Sûrface from Milano in Italy, a brand that offers organic beauty for urban people ("modern care for life in the city" is the brand's slogan). The products contain an anti-pollution complex derived from Japanese camellia and other antioxidants. The packaging is stylish and minimalistic and the products are created for both men and women. My eye was caught by the moisturizing and protective Face Mist which can be sprayed on the face throughout the day and even over makeup. The line-up comprises six products; three for the face and three for the body. In Germany, Sûrface is currently available online at The Skin. I enjoyed meeting the brand's two founders Ilario Schiattarella and Janne van der Laan at Vivaness! Here is the homepage of Sûrface.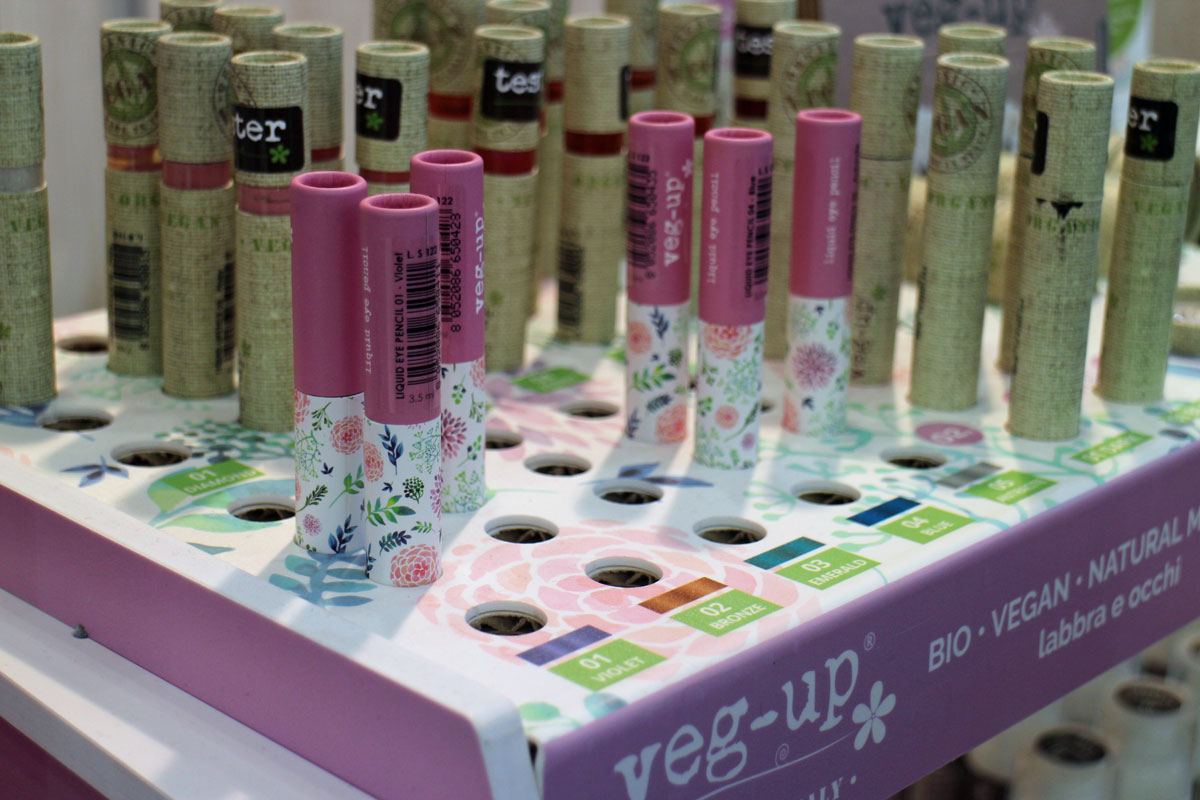 ♥ I visited Italian makeup brand Veg-Up because of their liquid eyeliners which is one of my favourite product categories at the moment: The vegan line-up of Veg-Up offers five liquid eyeliners in purple, blue, bronze, turquoise and silver anthracite which dry quickly. The brand's Liquid Lipsticks, which are nicely pigmented, are also popular. I also discovered Veg-Up's new skin care range which includes an aloe vera juice-based serum that contains the antioxidant extract from the famous Sangiovese grape which is said to have a botox-like effect on the skin. Here is the homepage of Veg-Up.
♥ I met another interesting Italian brand through Alice from Ecco Verde who recommended that I check out the hair care products from Mater Natura. The family-owned company promises to offer hair care that can compete with conventional silicone-based products. On my trip to Bari this January I had already noticed how important hair care is in Italy! Mater Natura's two bestsellers are the Intensive Hair Treatment and the Styling Fluid for curly hair which you can see on the picture above. Because I was so curious I have already ordered the Evening Primrose Shampoo from Mater Natura at Ecco Verde – and after the first test I noticed how much more silky my hair is than after other shampoos. Of course I still need to test the shampoo for a longer period of time! Here is the homepage of Mater Natura; you can see their entire range which also offers skin and body care as well as essential oils and hydrosols.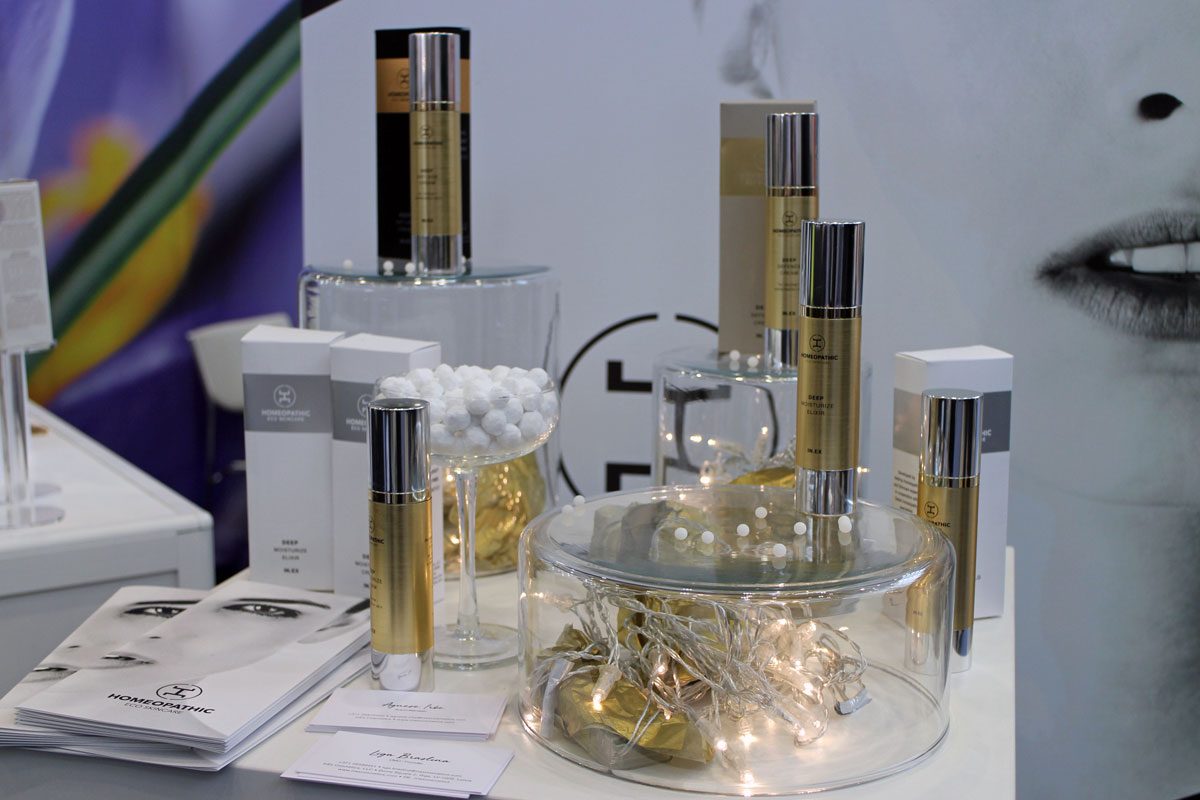 ♥ I was surprised at the exhibition booth of Latvian brand Kivvi: The company presented a new brand, In.Ex Homeopathic Eco Skincare which looks entirely different from Kivvi! The products are based on homoeopathic extracts that were specifically selected for each product. The range also offers homeopathic Beauty Pearls which are taken as an inner beauty enhancer. I couldn't find a homepage for this brand, only a Facebook presence. I'm not the biggest fan of the golden packaging but then organic beauty isn't just made to please me 😉 .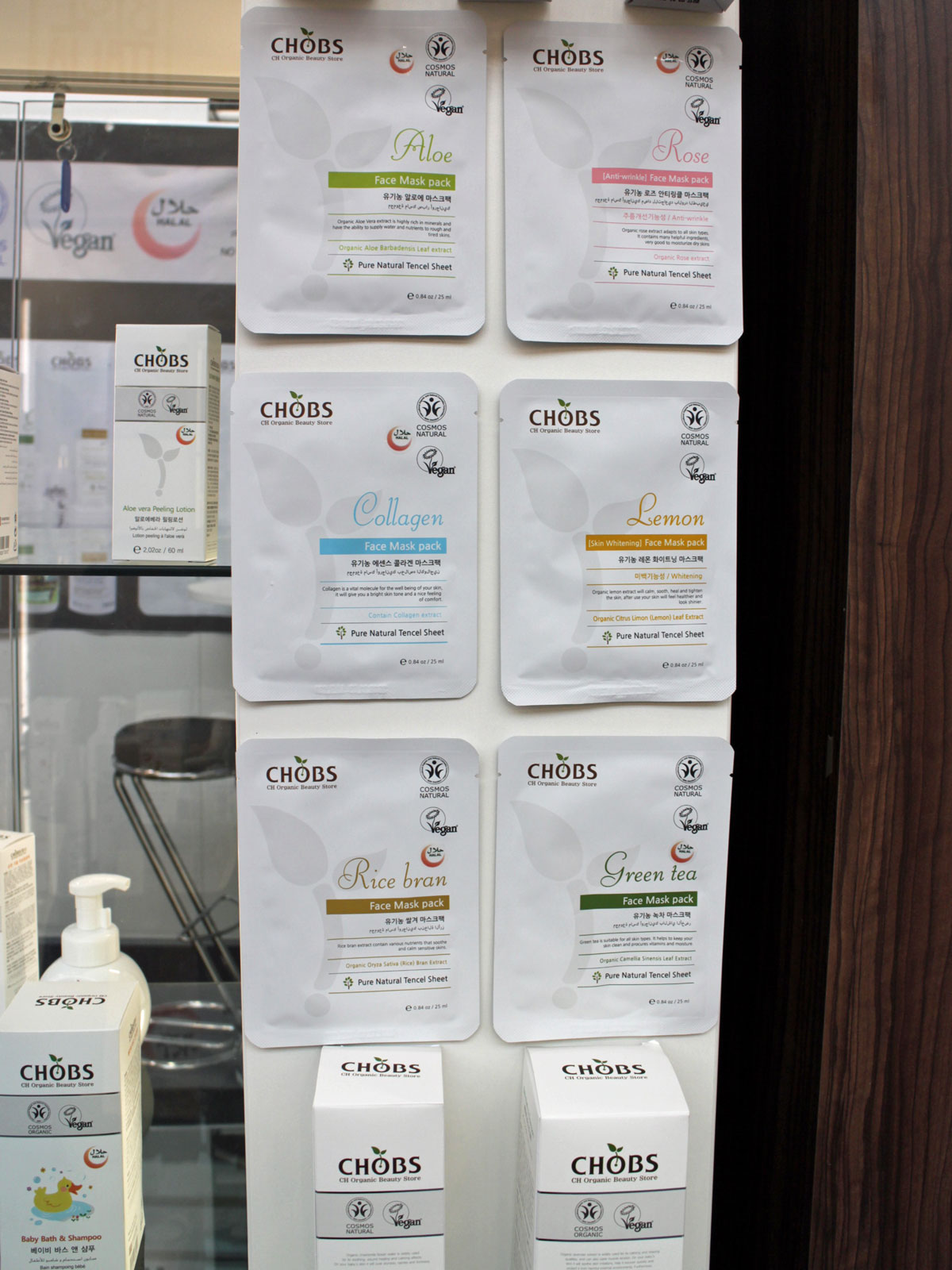 ♥ Besides Whamisa there was a second Korean brand at Vivaness: I already knew Chobs' Cosmos-certified sheet masks from an organic supermarket in Seoul. Chobs' product range also offers further skin and body care products with ingredients such as centella asiatica, argan oil or moringa; there is also a baby care range. Chobs doesn't have a distributor in Germany yet but hopefully that will come soon! Here is the homepage of CH Harmony.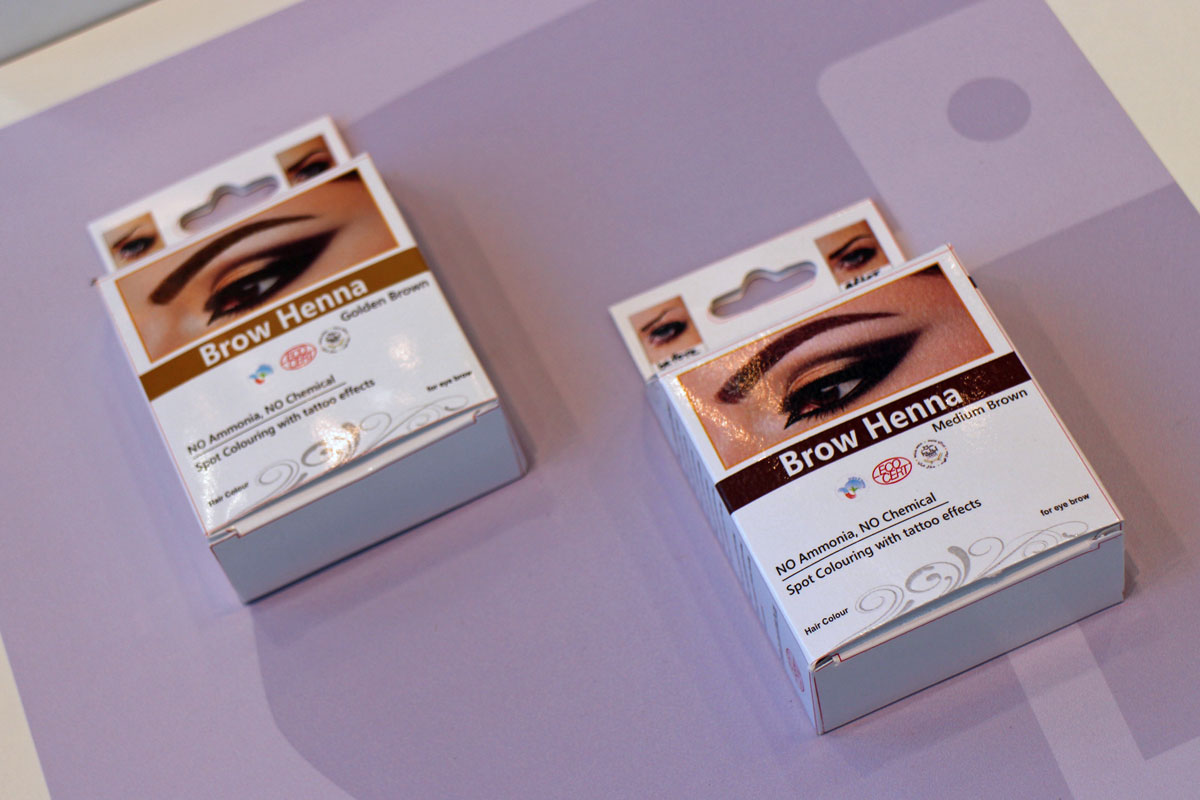 ♦ Plant hair colours were visible everywhere at Vivaness: not just at the exhibition booths of Logona and Radico, but also at Ayluna, Khadi, La Saponaria, Cultivator's and, for example, at French-Indian brand Indus Valley. I noticed this brand in particular because they offer henna colourants for eyebrows! A great idea, especially since big brows are still so popular. Here is the homepage of Indus Valley.
[Click here for more pictures and the original German article Bio- und Naturkosmetik: Nischenmarken von der Vivaness 2018]
Good-bye everyone and see you soon!
Julia