Dear international readers of Beautyjagd,
Welcome to the next English-language edition of Beautyjagd! This is a condensed version of the most important articles that have appeared on my blog over the last few weeks. For more information about this format, click here. And now: enjoy the best of Beautyjagd in English!
Best wishes
Julia
In cooperation with Ecco Verde // Isn't this a spectacular bath tub?! I saw it in early January when I was in Porto Moniz on Madeira. The natural bath additive in this tub: pure sea salt. Only the water wasn't as warm as it is in my bath tub at home 🙂 .
It is winter time in Europe and therefore it's the season for taking nice, hot baths. I'm a big fan of this and as a result my collection of bath additives is pretty extensive. They include bath salts, bath liquids and bath oils with different effects – some are invigorating or extra moisturising while others help me to relax. I have suitable bath additives for any occasion!
In this post I'll show you seven bath additives from different European organic beauty brands. I received the products from organic online store Ecco Verde.
Shabby Chic Fig & Pear Bath Foam from Victor Phillipe
Shabby Chic, isn't that beautifully retro? So 1990s! This decade seems to be trending at the moment and I couldn't resist the glass bottle with the liquid Fig & Pear Bath Foam from Italian brand Victor Philippe. The combination of fig and pear is so reminiscent of summer…
Texture and ingredients: The texture of this bath additive is thick and gel-like and you get a nice amount of foam, not too much and not too little. The Bath Foam is based on water and a blend of surfactants as well as hydrating aloe vera juice.
Fragrance: A pleasant fruity blend of pear and other mediterranean fruits.
Effects on the skin: My skin didn't feel dried out after my bath but it still liked the body lotion I applied afterwards.
The ICEA certified Shabby Chic Fig & Pear Bath Foam from Victor Philippe costs 12.99 Euro at Ecco Verde (also available with other fragrance blends).
Kneipp Bath Crystals Soft Relaxation Jasmine Argan
Any blog post about the topic of bathing simply must include Kneipp. This classic bath care brand offers a very large range of bath additives, including a natural beauty line – this is where the individual sachet Bath Crystals Soft Relaxation Jasmine Argan comes from. It contains a particularly high percentage of natural thermal spring salt from the Luisenhall saltworks in Lower Saxony.
Texture and ingredients: The blend of salt, a little surfactant, fatty plant oils, essential oils and plant extract actually achieves a bit of foam in the bath tub.
Fragrance: Floral notes of bergmot, Jasmine and ylang ylang, plus an accord of dark fruits – a fairly substantial fragrance which lingers.
Effects on the skin: My skin doesn't feel dried out afterwards but I still like to apply an oil to lock the moisture into the skin.
My verdict: For everyone who likes Kneipp bath additives and is looking for a certified organic product – with salt from Luisenhall.
The Kneipp Bath Crystals Soft Relaxation Jasmine Argan is certified by Natrue and cost 1.99 Euro at Ecco Verde.
Oil-Whey Bath Sensitive from Bioturm
If your skin likes moisturising oil baths but also needs some hydration, the Oil-Whey Bath from German brand Bioturm is ideal. It is available in different scents; I selected the variant Sensitive which is formulated without fragrance – it's a mixture of oil bath and whey bath.
Texture and ingredients: After the liquid bath additive is poured into the tub the water turns milky. The product is based on glycerin, sunflower oil and whey, the two plant-based emulsifiers (at the end of the INCI declaration) ensure that the water and oil phases are properly blended.
Fragrance: none
Effect on the skin: The plant oils, hydrating glycerin and the lactic acid (from the whey) moisturise the skin well.
My verdict: Suitable for dry and dehydrated skin, for skin lacking in lipids or hydration, and for sensitive skin types.
Certified by BDIH / Cosmos. The Bioturm Oil-Whey bath costs 2.99 Euro at Ecco Verde.
Relaxing Bath Oil Lavender & Vanilla from Primavera
I love the fragrance blend of lavender and vanilla, it's perfect for an evening bath to de-stress me after a long and exhausting day. The Relaxing Bath Oil Lavender & Vanilla from German brand Primavera moisturises and protects skin which is stressed by winter temperature or dry indoor heat. You can also use it as a shower oil – simply pour some bath liquid onto a massage mitt (or another type of sponge) and massage it into wet skin.
Texture and ingredients: The bath oil is based on sunflower oil which is scented with essential oils of lavender and vanilla.
Fragrance: The aromatherapeutical lavender notes have a harmonising effect on body and mind and help to encourage sleep. Uplifting vanilla boosts the mood and relaxes the body. This bath oil has a lovely intensive fragrance.
Effects on the skin: Very good! Simply rinse off the body with the shower and that's it, no further skin care is necessary. The bath tub isn't slippery either; you can just just rinse it out.
My verdict: For aromatherapy fans who like evening relaxation and intensive skin care.
Certified by Natrue, Primavera's Relaxing Bath Oil Lavender & Vanilla costs 14.99 Euro at Ecco Verde.
Essential Oils Shower Bath from Fitocose
I kind of like Fitocose's product labels, they look so endearingly home-made! The Italian brand offers a combination of shower gel and bath additive: The Essential Oils Shower Baths are available in 14 different and interesting fragrance blends. I selected the Essential Oils with orange blossom – you can't get more Italian than that 😉 .
Texture and ingredients: Thanks to the plant-based surfactants this bath additive foams up a little when you add a few splashes into running water (which will then turn a bit milky).
Fragrance: The essential oils scent the water with subtle notes of orange blossom.
Effects on the skin: Because the Essential Oils Shower Bath contain almost no plant oils I recommend applying a body care product after your bath, especially if you have dry skin.
My verdict: Check this out if you're looking for an Italian-style bath care product.
The vegan Essentials Oils Shower Bath from Fitocose from costs 9.59 Euro at Ecco Verde.
Alkaline Gemstone Bath from Michael Droste-Laux
When I'm starting to get really stressed out I take a bath with the Alkaline Gemstone Bath from German brand Michael Droste-Laux. This bath additive is particularly good for dry skin because the alkaline pH value boosts the skin's own lipid production. At the same time it has a gentle peeling effect.
Texture and ingredients: The finely milled bath powder consists of sea salt and baking soda which changes the pH value of the bath water towards the alkaline spectrum of pH 8,5 and pH 9,5. The powder blend also contains aquamarine, rock crystal and rose quartz. When you add the powder to the water the colour turns slightly milky.
Fragrance: Well, none.
Effect on the skin: After the bath my skin feels soft and hydrated, an effect which will be even stronger if you bathe for an hour rather than just 15 minutes. No wonder I feel sooo relaxed after this gemstone bath 😉 .
My verdict: For fans of alkaline skin care, good for dry skin and also for when you feel exhausted.
At Ecco Verde the Gemstone Bath from Michael Droste-Laux costs 3.49 Euro for a 60 gr sachet. However, the product is also available in other sizes.
Weleda Pine Reviving Bath Milk

I feel like the Pine Reviving Bath Milk from German brand Weleda has been around for ever – it's a total classic which I simply cannot do without! I use this bath additive when I have a cold (you can breathe more easily afterwards) but also when I'm feeling chilly and I want to warm myself through. I also love the foresty scent – the aromatic notes of fir help to clear my mind.
Texture and ingredients: The formulation of the liquid bath additive is compact; it is based on water and essential oils of silver fir tree and spruce.
Fragrance: A wonderful forest fragrance, yay for coniferous woods!
Effect on the skin: Since this bath additive doesn't contain any skin-moisturising ingredients (like fatty plant oils) I use a body oil afterwards. The warming effects of the bath last for quite some time.
My verdict: For lovers of spruce/pine fragrances – or for when you have a cold.
Certified by Natrue the Weleda Pine Reviving Bath Milk costs 14.49 Euro at Ecco Verde.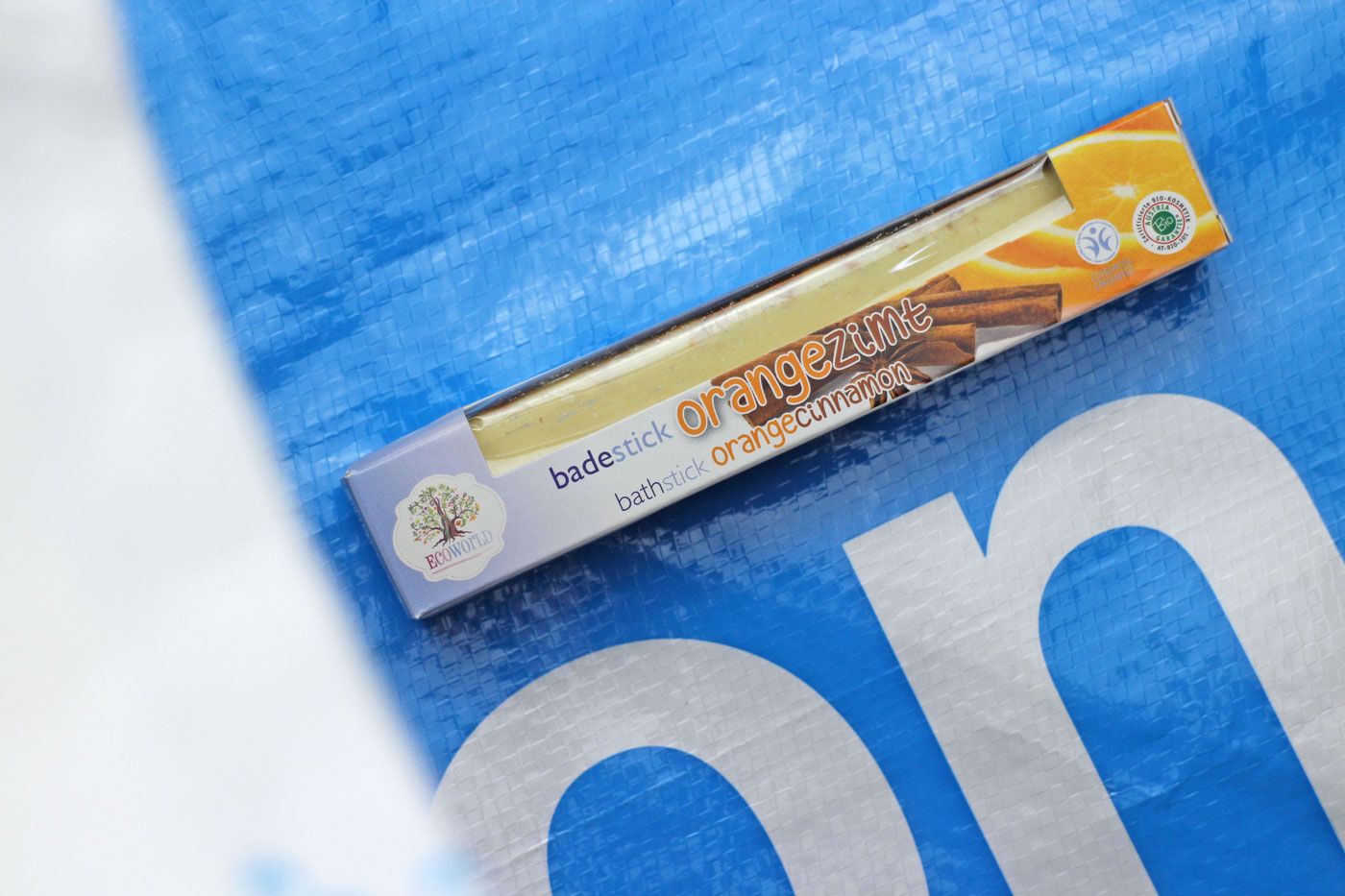 Bademeisterei Bio-Bath Stick
When my skin feels really dry and I crave a wintery fragrance I go for the Bio Bath Stick Orange Cinnamon from Austrian brand Bademeisterei.
Texture and ingredients: One stick is sufficient for two baths – break the stick in two halves and add one of them to the warm bath water. The stick is based on cocoa butter which starts to melt quickly whilst baking soda and citric acid create a gentle fizziness in the water.
Fragrance: The scent of orange blossom, cinnamon and fruity orange combined with the chocolatey scent of cocoa butter.
Effect on the skin: Dry skin loves the bath stick because it leaves a protective and hydrating film on the skin. I don't need any additional body care product afterwards. Because this bath addictive is so rich it leaves an oily film in the bath tub, so make sure to rinse it out thoroughly afterwards.
My verdict: For very dry skin in winter time; I almost feel like I am sinking into a tub full of liquid Christmas chocolate 😉 .
Certified by Bio Austria and Cosmos the Bademeisterei Bio-Bath Stick costs 4.49 Euro at Ecco Verde.
Enjoy your bath!
[Click here for more pictures and the original German article In der Badewanne]
I haven't really written much about hair care for curly and textured hair on this blog! Well, me and my dark blonde pixie cut are pretty low maintenance – I go to the hairdresser every four weeks and that's it.
When I was visiting Mademoiselle Bio store in Paris last December I noticed the Crème de Shampooing from Noire ô naturel. NoPoo, LowPoo or CoWash haven't really reached the mainstream in Germany yet so I bought a tube of the shampoo cream. NoPoo/LowPoo and CoWash means washing your hair without surfactants (i.e. without shampoo) by using a conditioner (hence the term "CoWash") or a hair cleansing cream formulated with low levels of surfactants and emulsifiers (or no surfactants whatsoever). Cleansing without surfactants stresses the hair much less than a "normal" shampoo and these products also have a moisturising effect.
French brand Noire ô naturel has picked up this trend because CoWash is especially suitable for dry, curly or textured hair. The development of the Crème de Shampooing was inspired by African beauty rituals – the product was already launched in 2011. All products of Noire ô naturel are expressly aimed at women of colour. In Germany we still don't have enough domestic companies that specialise in products for ethnic or textured hair.
How the Crème de Shampooing from Noire ô naturel works
The homepage of Noire ô naturel explains in detail how to wash your hair with the Crème de Shampooing. And a really important tip (which in my opinion applies to most natural shampoos, even if you have straight hair) is mentioned right at the beginning: your hair must be really wet which means that you should rinse it with water for at least three minutes. This is especially important for thick, dry hair! It's a kind of pre-wash with water which helps to save shampoo afterwards.
Depending on the length of your hair you squeeze 1-2 hazelnut-sized portions of the Crème de Shampooing into the palm of your hand and emulsify the fairly thick paste with a bit of water – this makes it easier to massage the Crème into scalp and hair. Leave to work for a bit and then rinse it out, again for at least three minutes. Repeat the entire process. After the final rinse dry your hair very carefully, don't rub it with the towel! According to Noire ô naturel you won't need a conditioner after using the shampoo.
My experience with the Crème de Shampooing
Even though I don't have African or textured hair I thought I'd tell you about my experience with the shampoo cream; maybe it'll be helpful for one of you readers! The texture felt buttery-firm but if you mix it with a little water it is fairly easy to massage the cream into the very wet hair and scalp. You won't get any foam from this shampoo but the contact with the wet hair makes the Crème creamier and also emulsifies it a bit. After leaving the Crème to work for a brief time I rinsed it out thoroughly – I didn't have the feeling that my hair was squeaky clean (like I am used to from other shampoos). I repeated the hair washing process and was then eager to see the results.
After carefully blowdrying my hair my first impression was that the hair wasn't greasy but perhaps a tad "waxy". My hair felt really moisturised but, I was surprised to note, not limp or heavy (which is what I had feared during my hair wash). I think it's great that the hydrating effect of the Crème de Shampooing seemed to stay in my hair despite the thorough rinsing. I would imagine that this is especially important for textured or damaged hair. However, my hair didn't feel silicone-straight either. The next morning my hair cut looked pretty good, the hair wasn't too fluffy and my scalp felt comfortable. It's a great treatment for my rather dry scalp – there's no itchiness and no quick re-greasing either. I think that for my easily manageable hair this beauty ritual would be a bit too elaborate – after all, I wash my hair quite frequently. However, I have already decided to use the Crème de Shampooing as a moisturising hair and scalp treatment once a month.
I think the Crème de Shampooing could be an interesting product for women with curly and dry hair – textured hair needs so much more hydration and the moisturising-waxy effect should help to tame frizz and static. And I think that Noire ô naturel's slogan "Et le shampooing devient soin…" (when hair washing become hair care) which is printed on the Crème de Shampooing, is definitely accurate 😉 .
The formula of the Crème de Shampooing from Noire ô naturel
The Crème de Shampooing is based on moisturising aloe vera, sunflower oil and beeswax (that's why I had the impression of waxiness during my hair wash). Fatty alcohols and a low percentage of sugar-based surfactants keep the formula together and cleanse the hair very gently (otherwise you wouldn't be able to rinse the cream out at all!). In addition the product formula includes several moisturising oils such as shea butter, mango butter, mongongo oil, sesame oil and coconut oil as well as joghurt powder and hydrating betaine. The shampoo fragrance is subtle; it's a herbal blend which contains essential oils of rosewood, rosemary and ylang ylang.
The Crème de Shampooing is certified by Cosmebio/Ecocert, contains 200 ml and costs 16.50 Euro. The product is available at Mademoiselle Bio (which is where I bought my shampoo), Monde Bio, Le Bar à Boucles or directly online through Noire ô naturel. The home page lists all point of sales (unfortunately there are none in Germany, but at least you can get the shampoo in Belgium).
[Click here for more pictures and the original German article Für lockiges und krauses Haar: Crème de Shampooing von Noire ô naturel]
I had a wonderful weekend in Italy (more about this further down) but as soon as I was back in Nuremberg I was hit by a feverish cold which more or less forced me into a week of bed rest. Really bad timing of course – I had some important projects lined up for that week – but what can you do. So I meandered back and forth between my desk and my bed (if you're also self-employed you'll be familiar with this situation – there is no paid sick leave!) and this is also the reason why these Beauty Notes a bit are shorter than usual. However, I simply had to show you the exciting and interesting organic beauty products that I found in the Apulian city of Bari!
At the Kosmetika Point in Bari
Just like last January – during my first weekend in Bari – my first port of call was Kosmetika Point, a speciality store for organic beauty which is located near the main train station of Bari.
At Kosmetika Point I saw a large display case with serums and sheet masks from Italian brand BioEarth so I purchased the Anti-Pigmentation-Spot Serum from BioEarth which contains mandelic acid and gluconolactone (PHA). There are not many organic beauty brands that use fruit acids in their products and I am currently planning a blog post about this topic, so – great timing for the serum. In Europe you can buy the BioEarth serum through organic online store Ecco Verde for 5.99 Euro.
The store also stocked the entire product portfolio of Sicilian brand Gyada: I selected the Renaissance Soothing Micellar Wash Gel from Gyada which is formulated without fragrance and is suitable for sensitive skin. I tried it out that very evening – because the percentage of surfactants is so low my skin didn't feel tight at all after cleansing. Gyada is another brand that is available through Ecco Verde for around 14.00 Euro.
I also couldn't resist the flacon with the Micro-Ialuron Tonic Mist Senso-Lift from Domus Olea Toscana: the slender bottle looks so elegant and contains a skin-calming facial mist formulated with niacinamide which soothes redness and leaves a very light protective film on the skin. And again I have to list Ecco Verde as a retailer for the product; this online retailer definitely offers the largest selection of organic beauty from Italy. The Tonic Mist costs around 15.00 Euro.
I haven't tried out the Bio Mascara Volume & Definition from Lepo yet; the mascara is vegan and contains a comparatively large amount of plant-based waxes. I am really curious about this product but was feeling much too ill to test it out properly. However, if this mascara impresses me I'll write about it on the blog. Here is the homepage of Lepo if you want to check out the product.
Kosmetika Point also has a new own label brand; I bought the Vanilla & Orange Scented Body Butter. The rich body butter has a very Italian scent, although perhaps it's a tiny little bit synthetic.
And the Bioprotettiva 2in1 Cleansing Milk/Tonic from BioEarth I bought for one reason: doesn't the stylised rose on the flacon look a but like my blog logo? (left hand side in the picture above).
I also need to mention that I received some great product advice at Kosmetika Point, and in perfectly fluent German, too! If any of you ever go to Bari: you can also find organic beauty at Biosphere and NaturPlus in the city centre.
At Eataly in Bari
The Munich-based readers amongst you might be familiar with the Eataly in Schrannenhalle: an Italian concept store with an attached restaurant. Eataly sells selected foods, books, some interior design articles and cosmetics from Italy. A paradise for any foodies or Italy fans! I visited the large Eataly outlet in Bari last Sunday to look for organic beauty – and very successfully, too:
The store carries the entire product portfolio of MaterNatura, a well-known and popular Italian hair care brand. The Magnolia Shampoo for fine and voluminous hair (Volume Shampoo) has a beautiful floral fragrance and cleanses the hair well. I was satisfied with the first test but think that longer and/or drier hair might need an additional conditioner. The shampoo cost around 14.00 Euro; you can buy it through Ecco Verde.
I also bought a sachet of the Sensitive Facial Mask from Alkemilla which I wanted to try out this week but again felt too ill to do anything about it. The mask is based on kaolin clay.
The small lotion bottles from Biofficina Toscana are very convenient; I already showed you the Brightening Face Lotion in this blog post here. This time I purchased the Soothing Face Lotion from Biofficina Toscana, a gel-textured and hydrating facial toner with mallow extract (an ingredient which I like very much). You can check out the full INCI listing on Ecco Verde.
There was also a brand promotion at the Eataly when I visited the store, so I was introduced to Apulian brand I Santi di Diso. I bought the brand's Olio di Erbe (herbal oil), a multi-purpose dry oil that contains numerous plant extracts and essential oils and can be used as a massage oil, for body care or as a bath additive. Here is the homepage of the pretty regional brand from Diso (which is located in Lecce province).
I hope you're well and wish you a happy weekend!
[Click here for more pictures and the original German article Beauty-Notizen 1.2.2019 (Italia-Edition)]

In cooperation with cobicos // At organic beauty brand cobicos' blogger event last October cobicos founder Birgit Corall and I were in complete agreement: we can't understand how anyone can go to bed without taking off makeup or cleansing the face. For us, it's part of our evening ritual, a bit like when you change into something more comfortable after coming home from a day at work. And we decided that it might be interesting for me to share my night time routine with my readers. So I selected and tested some cobicos products and you can read about the results in this article!
cobicos – a family-friendly and inclusive company
I have written about Birgit Corall several times on Beautyjagd. You can read about her brand's history here; she began by distributing the products of organic New Zealand beauty brand Living Nature. In 2013 Birgit launched her own beauty brand, cobicos. Cobicos' headquarters are in Landshut, Bavaria, and the company has seven employees. Birgit already received an award for being a family-friendly employer and her company won several prizes for integration and inclusivity (two of her employees have a disability). Both topics are very important to Birgit – at the event we had a chance to meet and chat with her colleagues. It was a lovely and very supportive atmosphere.
cobicos = active cosmetics
Six years ago Birgit launched the first cobicos products: three serums. The brand's portfolio now comprises 10 products, two further products are currently under development. As a firm believer in active ingredients Birgit wanted to be able to offer her customers products which show immediate results but that also have a long-term effect on the skin. And of course the ingredients had to be certified organic. In the end Birgit decided to use the highest possible concentration of active ingredients in her products. You could describe cobicos as an organic cosmeceutical brand because the products contain a very high percentage of ingredients like manuka honey, mamaku extract, magnolia extract or Smithsonite crystal extract (the cobicos serums contain 150% more active ingredients than other serums). Birgit is also proud that two of her products, the Luxury Day Cream and the Luxury Night Cream, received the prestigious Spa Diamond Award in 2016.
Why night care?
"Do I really need a special night care product?" is one of the most frequently asked customer questions at cobicos. Birgit's response to this is "It depends. I myself need one". She explains that during the day skin needs protection (from cold, UV exposure or environmental influences) while at night time, beauty products should ideally stimulate the skin's regeneration (in the evening the skin starts to produce new skin cells). And this is what Cobicos' Luxury Night Cream does: boost the skin's cell regeneration with a light, comfortable texture – a night cream doesn't need to be rich or thick, by the way; Birgit prefers lighter textures herself which is why she calls her products "skin guardians".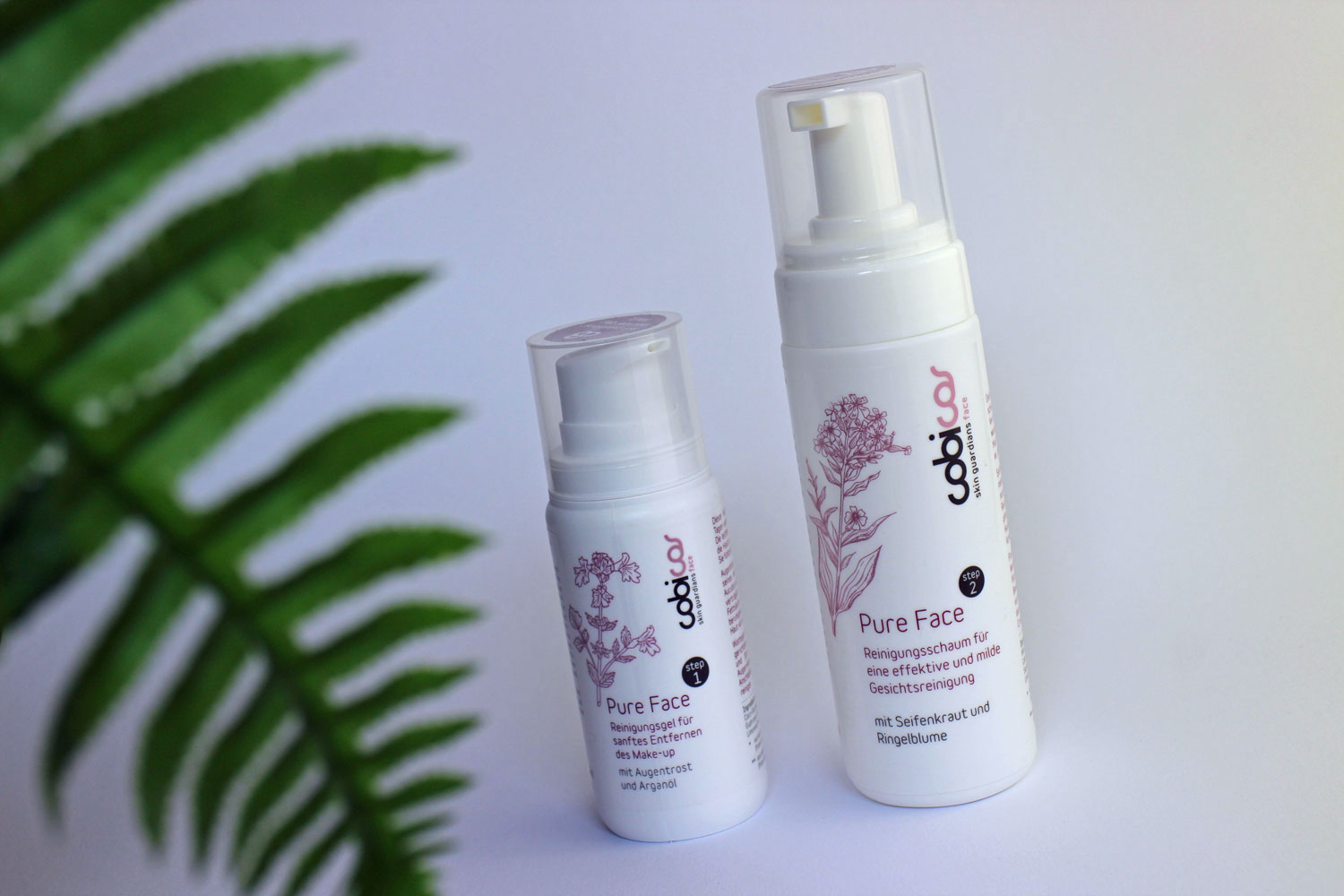 Double Cleansing with Pure Face Step 1 and 2
For the first step in my cobicos night time routine I use one of my favourite cleansing techniques: double cleansing. This means that I first remove my makeup and the most obvious dirt and oil from my face and then use a second product to really cleanse the skin. Traditionally a double cleansing will start with a cleansing oil and then move on to a soap or other surfactant-based cleansing product. Cobicos drew its inspiration from the Asian double cleansing and offers two different textures for face cleansing.
Pure Face Step 1 is a liquid gel with a sugar-derived surfactant which you apply on to a cottonwool pad and then use it to remove your makeup. The gel dissolves my makeup including mascara very thoroughly without burning in my eyes. A very good makeup remover product which I have been using for the past two years.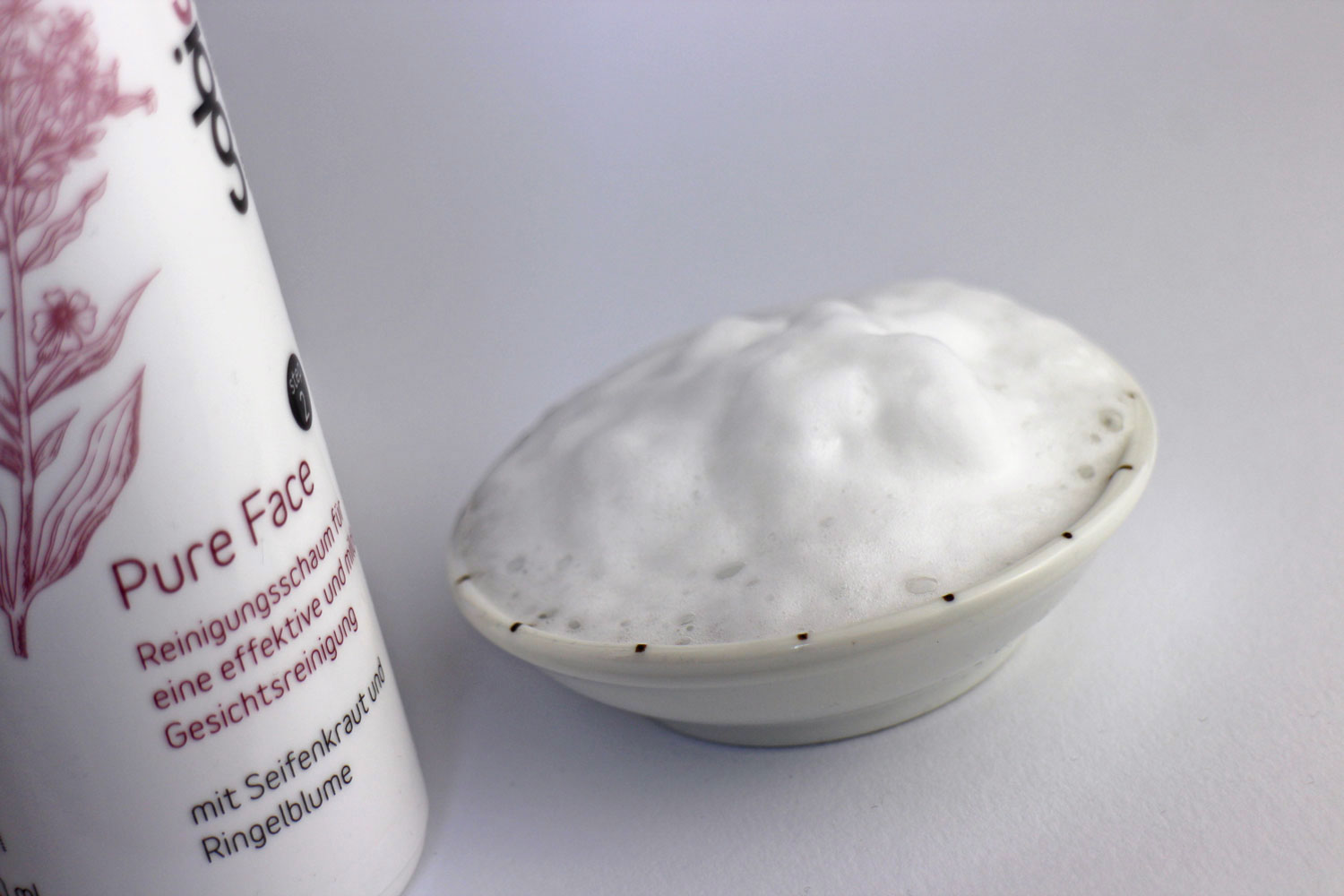 For the second cleansing step I use the cleansing foam Pure Face Step 2 which has a fluffy (but not compact or firm) texture. The foam cleanses with sugar-based surfactants and plant-based saponines, feels good on my skin and doesn't dry it out. However, it is also not super moisturising. Thanks to the light, fluffy texture this cleansing foam should be a good choice for anyone who doesn't like classic creamy cleansing milks.
Both products are certified by BDIH/Cosmos and have a compact INCI listing: Pure Face Step 1 has been formulated with hydrating argan oil and eyebright and does not include any fragrance – the very light floral scent comes from the orange blossom water that is also contained in the product. Pure Face Step 2 contains rose water (which accounts for the subtle floral scent) as well as jojoba oil and soothing calendula extract.
I do love removing my makeup in the evening because I like the effect of clean skin afterwards – and I love playing around with the different textures of gel and foam. Since I started to double cleanse regularly I no longer have makeup traces left in my face towel any more 😉 . Of course it is important that the products you use for double cleansing have a mild formula – the skin shouldn't be reddened or feel tight after you've cleansed it!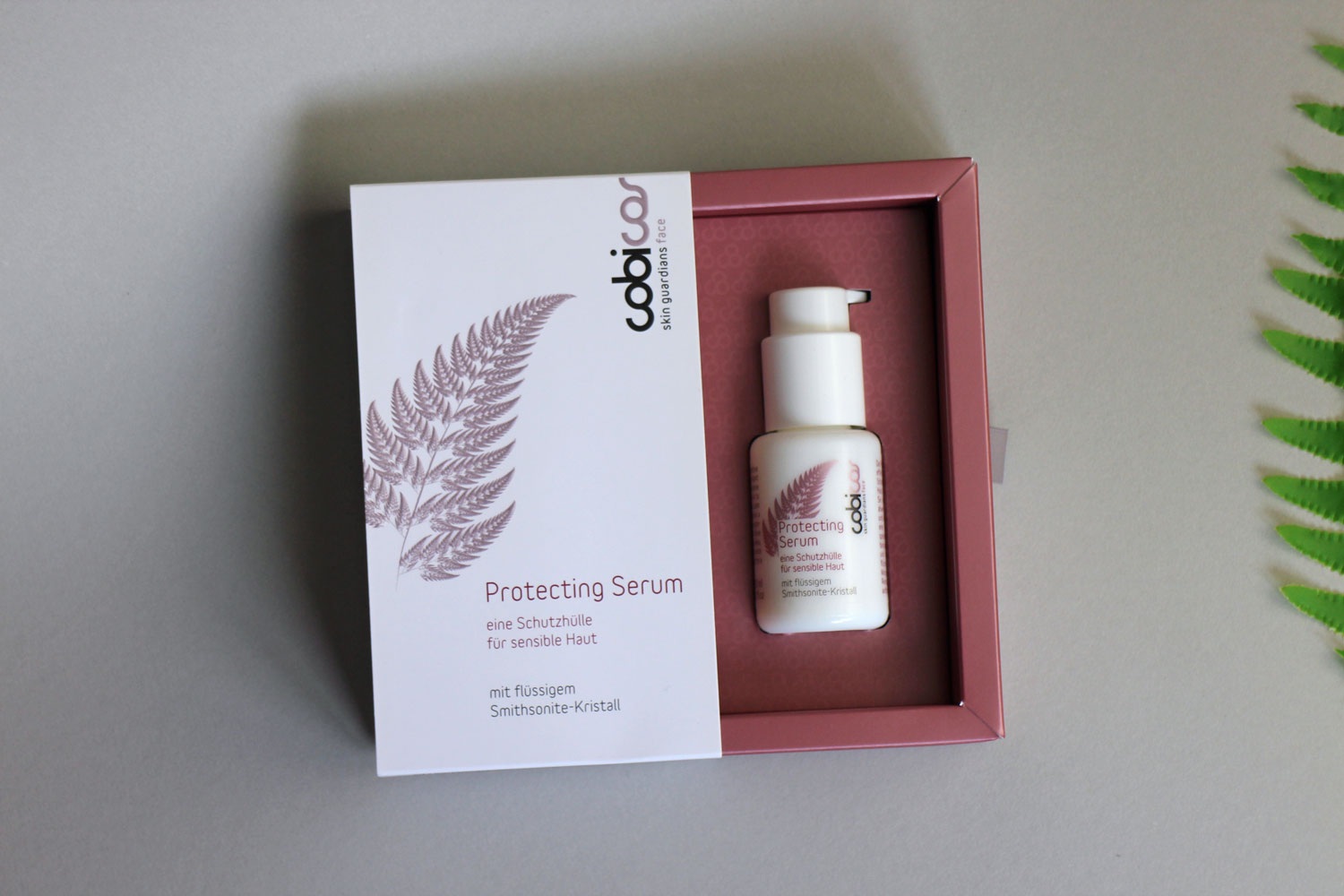 Protecting Serum
The next treatment step is the Protecting Serum from cobicos which I apply on damp skin. I selected this serum because I often get red patches on my cheeks. The Protecting Serum promises to soothe irritated and sensitive skin and cocoon it in a harmonising protective layer. By the way, cobicos' bestseller is the Lifting Serum, says Birgit.
I was interested to see that the Protecting Serum is based on liquid Smithsonite crystal (besides water). Birgit selected this ingredient not because of any esoteric reasons but because the crystal extract contains a lot of zinc carbonate. The Smithsonian crystal helps to calm the skin, protect it from oxidative stress and boosts cell regeneration. The other key actives in the serum include anti-inflammatory and nourishing manuka honey (MGO 100+ which is a high methylglyoxal concentration) and mamaku extract. This mamaku extract is derived from a certain kind of Black tree farn in New Zealand; it protects against free radicals and increases the moisture levels in the skin.
The BDIH/Cosmos certified serum has a light emulsion texture and is packaged in a glass flacon with pump dispenser. I apply one pump of serum to my clean face and then stroke it into my skin, including neck and decolletage. My skin feels softly hydrated and silky; if you prefer an ultra-light night care product this serum might be all you need. For me the serum offers protection and a soothing effect plus a dose of hydration which I lock into my skin with the next skin care step. The serum has a subtle scent, by the way, which combines elegant floral notes with powdery accords and a certain herbal freshness. I also use the Protecting Serum in the morning and even throughout the day if I have acute red patches on my face. If I could only select one product from cobicos, it'd probably be this serum.
Luxury Night Cream
Don't worry, this isn't any kind of heavy night cream! On the contrary, the Luxury Night Cream is based on processed plant oils which contain a lot of active ingredients, so you get a beautifully light texture and the actives are transported into the skin rather than ending up on the pillow 🙂 . I use one pump of the Luxury Night Cream and apply this to my face, neck and decolletage; the skin feels soft, smooth and velvety – definitely a luxurious feeling. The Luxury Night Cream has a subtle fragrance which seems to smell a little more herbal and warmer than the serum.
The INCI declaration of the BDIH/Cosmos certified Luxury Night Cream lists the anti-inflammatory and hydrating manuka honey amongst the first ingredients. As active plant oils Birgit selected cell-regenerating pomegranate oil, Cupuaçu butter and shea butter, plus magnolia extract which binds moisture within the skin. During the blogger event we had the opportunity to smell the pure magnolia extract which has a pretty medicinal smell, by the way. The creams also contains hibiscus extract which Birgit describes as a kind of plant botox because it has a relaxing effect on the muscle fibres of the skin. The hibiscus also increased the skin's elasticity.
Extra tip: You can even use the Luxury Night Cream as an eye cream – I simply used whatever what was left on my skin and gently patted it into the undereye area.
I like the comfortable (and comforting) feeling after I have cleansed and moisturised my skin at night – or to put it in Birgit's words: "Don't dream about a better skin – just cream it" 😉 . I fully agree! Thank you for the pleasant cooperation – it's always a pleasure working with cobicos.
Here is the homepage of cobicos. Birgit also has a blog (cobicosmos) and she's also active on Instagram and Facebook.
The cobicos products are available through the online store of Living Nature, in organic beauty specialitic retailers or in organic beauty salons. Drugstore chain Müller's Naturshop also sells cobicos products in selected locations.
[Click here for more pictures and the original German article Meine entspannende Nachtpflege mit cobicos]