Dear international readers of Beautyjagd,
Welcome to the next English-language edition of Beautyjagd! This is a condensed version of the most important articles that have appeared on my blog over the last two weeks. For more information about this new format, click here. And now: enjoy the best of Beautyjagd in English!
Best wishes
Julia
Cooling gel masks for hot summer days – from Annemarie Börlind and Living Nature
I simply love cooling and moisturising masks in summer! Asian sheet masks, for example, or hydro gel masks (like the one from Korean brand Whamisa). However, I also like gel masks – a texture which is also popular in Asia.
At the moment I am trying out two gel masks: the Hydro Gel Mask from German brand Annemarie Börlind (which was a press sample) and the Moisturising Gel Mask from NZ brand Living Nature which I bought at organic perfumery Beauty & Nature in Munich. Although both products have a gel texture they are quite different in terms of ingredients and in the effect they have on my skin.
♦ The Hydro Gel Mask from Annemarie Börlind has a light blue colour (see swatch above!). After I apply the soft gel cream to my face I immediately notice a cooling effect which lasted quite long. The texture feels moisturising and non-sticky, with a light aquatic fragrance. After ten minutes I take off the mask with lukewarm or cold water. Afterwards my skin felt velvety and very soft and I didn't need any additional night care product.
The mask contains hyaluronic acid extracted from Chinese Snow Fungus (tremella fuciformis) which acts as a kind of filler or booster; the mushroom extract helps to bind moisture within the skin and is also said to have anti-oxidant properties. Tremella fuciformis is very popular in Asian cosmetics; I have already shown a product with Snow Fungus extract on this blog: the Youth Activator Mask from French brand Absolution.
The Börlind mask is based on spring water from the Black Forest, followed by glycerin and alcohol. I assume that there is less than 5% of glycerin/alcohol (otherwise glycerin becomes glutinous and this mask isn't sticky at all). Xanthan gum helps to thicken the texture and squalane lipids add moisture. I don't know whether the fragrance is natural or not.
The Hydro Gel Mask costs 28.90 Euro and contains 75 ml. It is available through online perfumeries like Belladonna or directly through Annemarie Börlind. The Hydro Gel Mask is one of five new face masks that were recently launched by Börlind.
♦ While the Börlind mask is tinted blue the Moisturising Gel Mask from Living Nature has a slightly translucent yellow colour (see swatch above!). As soon as I applied the mask I noticed the characteristic fragrances of manuka honey and tea tree oil; it is reminiscent of Living Nature's Manuka Gel (previously Rescue Gel).
You leave the Living Nature gel mask on the face for at least 20 minutes and then remove it with water. This hydrating mask also has a light cooling effect (although less so than the Börlind product) and I think it is more soothing than the Börlind mask; probably because of the manuka honey which has anti-inflammatory properties – ideal for skin types that suffer from impurities and pimples but also good for sun-reddened skin.
The mask is based on water, manuka honey and glycerin (less than 5%) plus various plant extracts such as carrot and calendula extracts. You can use the BDIH-certified mask as a sleeping pack and it is also suitable as an (almost) oil-free night care treatment! I also like the packaging of Living Nature which is manufactured from polypropylene and chalk and does not contain softening agents.
A flacon of Living Nature's Moisturising Gel Mask contains 50 ml and costs 33.50 Euro. It is available through Naturdrogerie, najoba or other online perfumeries or directly through Living Nature
An extra tip: I like to apply a damp cloth on top of my gel mask (this results in an even more cooling effect!). In Germany you can buy dry cloth masks at Muji stores or simply use large cotton wool pads saturated with water or hydrosol (check out my recent Bio-Blog article for more info on how to make your own sheet mask).
[Click here for more pictures and the original German article Gelmasken für Sommertage von Living Nature und Annemarie Börlind]
I am really busy at the moment; you can tell that the summer holiday is approaching because all press and blogger events seem to be scheduled to take place before the end of July!
Last Friday me and the other bloggers from organic supermarket denn's Bio-Blog visited the company's headquarters in Töpen (Upper Franconia). Dennree, the owners of the denn's chain, had organised a blogger meeting and a workshop on communication. Afterwards we toured a dairy farm which was recently aquired by dennree. At the moment the farm is still operated conventionally but over the next few years, dennree is planning on turning it into a fully organic business. I've only ever visited small, family-owned farms so it was interesting to see what a medium-sized farm looks like – they had some 1000 milk cows and about as many head of cattle. Plenty of food for thoughts here! (pardon the pun!). And thank you to Sabrina from dennree for organising such an interesting visit!
Last Monday I had to get up really early – 4am is not the most inspiring time of day! – but it was worth it: I took an early train to Magstadt (a town near Stuttgart) to visit Walther Schonenenberger, a German company well-known for its organic plant juices. At Vivaness trade show this February the company had already introduced their new anti-dandruff concentrate and the scalp lotion; at the moment I am testing the Schoenenberger Organic Pomegranate Shampoo. So far I like it very much: the shampoo has a good texture, it is easy to distribute in the hair, foams up nicely and cleanses well without drying out the hair (or my scalp). Hair care is the focus area of Walther Schoenenberger's organic cosmetics portfolio; the products, of course, also contain the company's famous plant juices. Later that day I actually got to attend a plant juice pressing: in this case it was purple coneflower juice. The company works with a number of farmers around the Magstadt area who cultivate and harvest various traditional medicinal plants such as yarrow, coltsfoot or melissa balm. Like Weleda and Dr. Hauschka, Walther Schoenenberger is one of Germany's organic cosmetics pioneers: the company was established in 1927. Their hair care focus (all products are certified by BDIH) is particularly interesting, I think. I am definitely going to take a closer look at the company's products soon! More information is available on the Schoenenberger homepage.
In my local organic supermarket I recently bought the 3in1 Micellar Water from German brand Neobio. Micellar waters are only now starting to make their presence felt in the organic beauty industry; drugstore chain Rossmann's Alterra was one of the first German brands to launch an organic micellar water. I've been using micellar waters for years to remove my eye makeup; usually I order one of the Eau Micellaires from French brand So'Bio (So'Bio is now also available in Germany through online stores like Ecco Verde or najoba). The alcohol-free Neobio micellar water is certified by NaTrue and the INCI list sounds promising: the product is based on water, aloe vera juice, propanediol, glycerin and a sugar tenside. However, somehow the Neobio cleanser didn't really work for me; I had trouble removing my mascara completely. Oh well, the French cosmetics manufacturers have been producing micellar waters for years so they definitely have an advantage that is based on experience 😉 .
My deodorant testing continues! In early July I was sent the Cream Deodorant Vetiver Geranium from German brand Fine. The deo is packaged in a pretty little glass jar; the label features the definition of "fine": it's Italian for "end" (in the sense of "the end of unpleasant body odour"). However, "fine" also means "great" in English. As you'll undoubtedly know, considering you are currently reading this article in English 😉 . Fine's founder Judith Springer comes from Berlin; she says that since her childhood she has had a very sensitive nose. So it is not really surprising that her deodorant is scented with a pleasant (and subtle) concoction of rose geranium (one of my favourites!) and earthy vetiver. The beige-tinted deodorant cream is based on coconut oil, cocoa butter and baking soda and is really easy to apply: the texture is pliable and turns into an oil when it comes into contact with the skin. The Fine deo cream worked well for me (then again, my skin likes baking soda deo creams, like Wolkenseifen, Vegane Pflege, Schmidt's, Soapwalla, Waldfussel etc.); I also like the unusual texture – it reminded me of a softer MeowMeowTweet deodorant cream. A stylish and pretty new arrival on the organic cosmetics market in Germany! You can buy Fine in some stores in Berlin or online through Savue Beauty, Amazingy or Green Glam .
I simply have to show you this very cool new muesli! Pink Granola from German brand MyMuesli is a summer-themed muesli mixture; I simply couldn't resist the gorgeous packaging 🙂 . Also, I like granola very much! I haven't actually opened the muesli jar yet (I still have another muesli to finish – have I mentioned that I love mueslis?!) but I can't wait to try it out. Besides oat flakes Pink Granola contains pomegranate kernels, raspberries, chocolate-covered cranberries, strawberries and acai powder and is supposed to turn the milk pink! The muesli costs 12.90 Euro – not exactly cheap but let me put it this way: it's a dessert for breakfast!
A few weeks ago I bought the Gelée Lactée Sublimante from French online perfumery Mademoiselle Bio – and now that the weather is turning warm again I have finally tried out this milky and refreshing body gel. The milk is scented with notes of coconut and blossoms: it smells beautifully of summer without being too sweet or too strong. I like! The Gélée Lactée (which cost 12.50 Euro at Mademoiselle Bio) is based on coconut water, aloe vera, coconut oil and essential oils; 92% of ingredients are from organic agriculture. Makes me wish I was on a tropical island 😉 .
And speaking of holidays: this August I am going to slow down the blog for a bit, I need some time to relax and enjoy the summer. However, you can look forward to a new article series – the Beauty Postcards. Enjoy!
And here are some new organic beauty launches that I discovered last week:
Several readers mentioned the new copper-coloured eyeshadow Lucky from US brand RMS Beauty – how the heck did I miss this?! More information is available here.
And W3II People (another US brand) is going to launch three new shades in their Universalist Multi-Stick range: Nude Rose, Nude Peach and Nude Berry. For more information, click here.
[Click here for more pictures and the original German article Beauty-Notizen 29.7.2016]
My summer weekend skincare routine
I spent last weekend in Upper Bavaria at a beautiful lake: swimming, taking leisurely walks in the countryside and sitting in local beer gardens doing nothing much. It was heavenly – very simple and sooooooo relaxing. My beauty routine was equally straightforward and I thought it might be interesting for you to see what my summer skin care routine looks like – by my standards it is almost minimalistic!
I use the cleansing milk and toner from Austrian drugstore chain Bipa's bi good White Water Lily range (one of my first English posts was about this beauty range which I discovered last summer!). Afterwards I apply the Anti-Age Serum Schwarze Ribisel (which is the Austrian term for "blackcurrant") from bi good; the little flacon fits perfectly into my beauty travel case. I really like this serum: it isn't sticky, moisturises well and give me a little bit of a glow without any glitter or shimmer. On top of the serum I apply the Crème Solaire Visage SPF30 from French brand Algamaris – although this sun cream is based on oil it feels very light on the skin, with minimal whitening. I wait for five minutes after applying the serum and sun cream and once those two products have been absorbed into my skin, I finish off my morning routine with some of the Mineral Powder (in shade Sand) from German brand Benecos. Sometimes I also dust some mattifying powder on my t-zone; like the one from Japanese brand Chidoriya which I have filled into my empty container of Ilia Beauty's Fade into you powder. My eye lashes get a quick sweep with the mascara from Green Lady (France) or marie w. (Germany) – both last really well – and that's it! Now I'm off to the lake; have a good day ; )
[Click here for more pictures and the original German article Meine Gesichtspflege an einem Sommer-Wochenende]
Post Card 1: Bamboo Charcoal Facial Soap from Binu Beauty
Hello my dear,
I had promised you that I'd write a postcard whenever I come across a particularly interesting organic beauty product – and here is my first discovery which I made during my trip to Berlin this July!
As you know I am not a big fan of face soaps; I prefer cleansing milks. However, when I heard that the soaps of Berlin brand Binu Beauty are manufactured in Korea, I simply had to find out more 😉 . The small artisan soap factory is located in Damyang, a region in the South of the country. Damyang is also known for the bamboo forest Jongnogwon. The soap factory belongs to the parents of one of Binu Beauty's two founders; they have been producing beeswax candles since 2007 and have now branched out into soap making. Binu Beauty currently offers three facial soaps: I bought the Bamboo Charcoal Facial Soap – not only is it made with active charcoal (a trendy ingredient at the moment) but the soap also contains hinoki water (hinoki is an Asian cypress tree). And you know how much I love coniferous woods of all sorts!
The Bamboo Charcoal Soap is based on saponified plant oils and bamboo vinegar; it is recommended for impure skin. I was surprised by how creamy the soap foam felt on my skin – creamy without being greasy. After I have rinsed off the soap I spray some camomile hydrosol on my face which helps to rebalance the ph factor after cleansing. My skin feels clean but not tight or greasy and the makeup is completely gone. Wow! The soap has a very light charcoal scent, it doesn't contain any essential oils. I am curious to see how the soap performs in winter time when my skin is drier – or I'll switch to the Bamboo Facial Soap instead which is recommended for normal and mature skin. Who knows, perhaps the soap will beam me straight into the bamboo forest of Damyang 😉 .
Lots of love
Julia
PS: Here is the homepage of Binu Beauty; they also have a shop finder and online store. I bought my soap at Rosewater's store in Berlin.
[Click here for more pictures and the original German article Postkarte 1: Bamboo Charcoal Facial Soap von Binu Beauty]

Sonett's new Sensitive range for allergic skin [Sponsored Post]
At Vivaness trade show this year German household cleansing products manufacturer Sonett introduced its relaunched Sensitive range of cleansers. Formulated for allergy-prone skin, the products do not contain fragrances, colourants, chelating agents, preservatives or enzymes (all of which can trigger allergic skin reactions). I am constantly surprised by how many chemicals are contained in conventional household cleansers and detergents: methylisothiazolinone or benzisothiazoline, for example, which can have an allergenic effect on the skin. Next time you use a conventional washing up liquid, take a look at the INCI listing!
What I like about Sonett's Sensitive products is that they have a short ingredients list. The product line-up consists of a washing-up liquid, a universal household cleanser, a liquid hand soap, a liquid detergent, a powder detergent and a special wool detergent.
And now I'd like to introduce four of these Sensitive products in cooperation with Sonett. I have written about Sonett several times on this blog, about their Rosemary Hand Soap here, for example; about the Calendula Children's Foam Soap or in this article about the bathroom cleanser, toilet cleanser and scouring milk. Sonett was founded in 1977, they are one of the oldest natural household products manufacturers in Germany and one the eco pioneers as far as organic cleansers and detergents are concerned. Sonett's product portfolio also includes several bath and body care products. None of the brand's products contain petrochemical or genetically engineered ingredients; instead the company uses renewable plant ingredients so the products are all biodegradable. Sonett also makes certain that the entire production process is as sustainable as possible.
♦ At Vivaness I had received a bottle of the Liquid Detergent Sensitive which is suitable for both white and coloured clothes and can be used on cotton, linen, hemp and blended fabrics. It is equally efficient at 30°, 60° and 95° Celsius – Sonett's detergents are based on the modular principle: you measure the amount of detergent according to how hard the water is in your region and how dirty the clothes are. This is more eco-friendly than using a detergent that washes at full strength even at 30°. Since tap water in Nuremberg is very hard indeed I need a special water softener. I fill the softener into the appropriate compartment of my washing machine and pour the detergent directly into the drum. Sonett's liquid detergent is based on soap, a sugar tenside and an alcohol sulfate derived from coconut fat. This combination of ingredients prevents the formation of calcium soap residue which can clog up the inside of your washing machine. The soap component of the detergent is manufactured according to the classic cold soap making process (this saves energy) and the oils used in the soap-making are organic rapeseed and sunflower oils – which in turn helps to strengthen organic agriculture in Germany. The soap, sugar tenside, coconut fatty alcohol sulfate and the sulphated castor oil (which is also contained in the detergent) are all certified bio-degradable according to the OECD standard.
And here are a few tips for doing your laundry: don't overfill your washing machine; there should always be some room left at the top so the clothes can move freely within the drum. Use the correct amount of detergent and if you live in a region with hard water, you should definitely use a softener. Sometimes it helps to do an additional rinse cycle after the main wash cycle has been finished to remove detergent residue from the laundry.
Occasionally I add a few drops of essential oil to the liquid detergent – I like a bit of fragrance in my clean laundry! – and although the fragrance tends to evaporate quickly the lingering scent is nice. However, you shouldn't do this if you are allergic to fragrances, of course!
The Liquid Detergent Sensitive is vegan, costs 8.40 Euro and contains 2 litres which are sufficient for around 27 loads of laundry.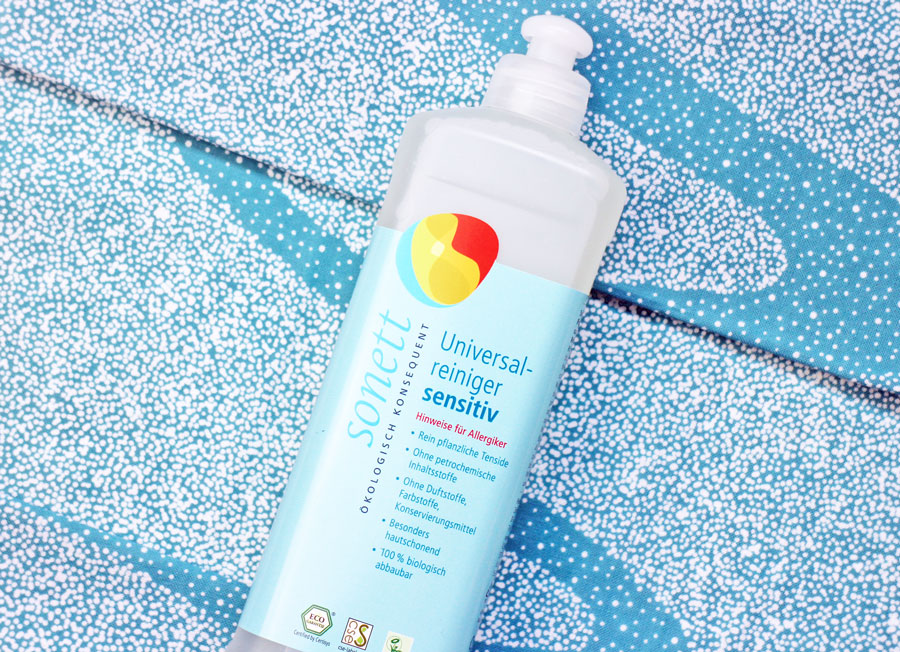 ♦ Next up, the Universal Cleanser Sensitive! It is made without colourants, fragrances and preservatives and is 100% biodegradable – suitable for floors, tiles, kitchens, bathrooms, cars and even windows. And it is kind to your skin! The cleanser is based on a combination of sugar tensides and coconut fatty alcohol sulfates which help to remove grease and dirt.
The cleanser is quite concentrated: if you need to cleanse larger surfaces, dissolve 5-10ml of cleanser in 10 litres of water. I often use the Universal Cleanser undiluted and have found it to be very economical – I really think that my 0.5 litre bottle of cleanser will last me for the rest of the year. Or perhaps I simply don't clean my flat as often as I should? 😉 .
The Universal Cleanser Sensitive is vegan and costs 3.29 Euro for 500 ml.
♦ Since I don't have a dishwasher I always wash my dishes by hand. The Dishwashing Liquid Sensitive has a pump dispenser – convenient! – and it is a refillable 300 ml bottle so it doesn't take up much space near the kitchen sink. The Dishwashing Liquid is based on water, a sugar tenside (non-ionic tenside) and a coconut oil-based sulfate (anionic tenside) which dissolves grease and fat; it is also bio-degradable and doesn't dry out my hands. However, I still like to apply hand cream after doing the dishes 😉 .
Like the Universal Cleanser the Dishwashing Liquid is very economical: I usually add a spritz (around 3 ml per 5 litre water) to the water or squirt it directly onto the sponge; the texture is a watery liquid so it looks like this bottle will last a good long while.
The Dishwashing Liquid is vegan and costs 2.29 Euro for 300 ml. It is also available as a 1 and 2 litre bottle.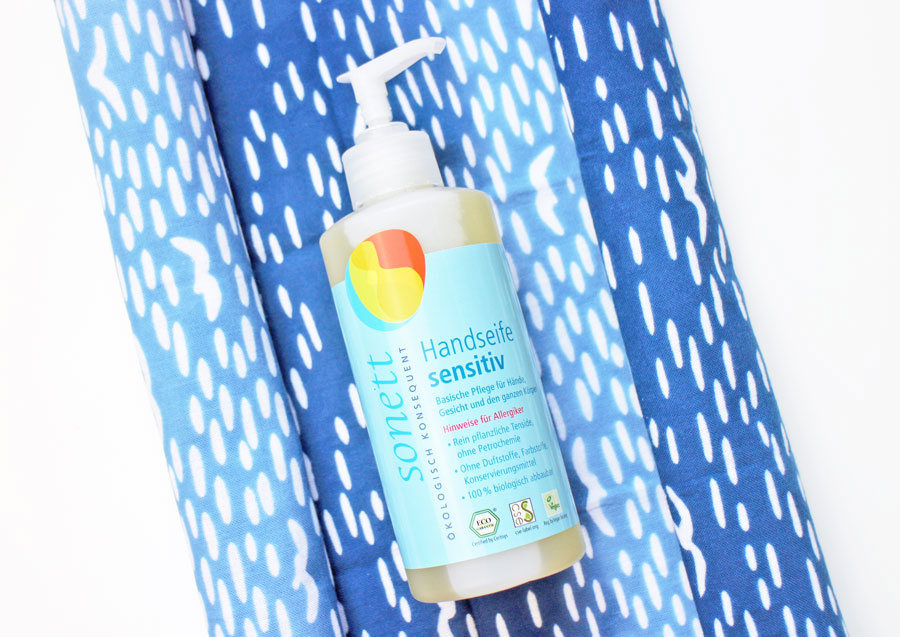 ♦ Finally, there is the Hand Soap Sensitive! I prefer bar soaps in my kitchen but when I started to research liquid soaps I was surprised to learn that in public toilets, factory canteens and public buildings and institutions, liquid hand soap is actually mandatory. Who knew!
By the way, you can also use Sonett's hand soap as a shower gel; I know that quite a few of my readers are doing this and I also like to use it under the shower every once in a while.
The hand soap is based on saponified olive and coconut oils and a sugar tenside. The olive oil is sourced from Spanish, Italian and Greek olive cooperatives, the coconut oil comes from a Fair Trade project in the Dominican Republic. Like all the other Sonett products, the liquid hand soap does not contain fragrances, colourants and preservatives.
The Liquid Soap Sensitive is vegan and is available as a 300 ml bottle for 4.95 Euro and as a 1 litre refillable pack for 8.99 Euro.
You can check out Sonett's entire product portfolio on the company's homepage. In Germany, the products are widely available in organic supermarkets and health food stores.
[Click here for more pictures and the original German article Die neue Sensitiv-Linie von Sonett für Allergiker]
Post Card 2: L'Été from Douces Angevines
Hello my dear,
when I am dreaming about summer I see myself standing underneath a pine tree on the beach of the Mediterranean sea. I am wearing my vintage coral necklace from the 1950s which looks really good on my black tunic… perhaps we should go to the South of France together? Or we could travel around the Loire region and visit the founders of French beauty brand Douces Angevines? Because my imaginary travel bag also contains a bottle of their beautifully named body oil L'Été! It's summer feeling in a bottle: unlike other French body oils L'Été doesn't smell of monoi but is scented with aromatic herbal notes that remind me of a fresh summer day.
However, the oil also has a very specific purpose: it helps to prepare the skin for sun exposure. I have used it every day for the last two weeks; in the morning I apply it over a camomile hydrosol, in the evening I mix it with aloe vera gel and apply it after my shower. The oil is absorbed very quickly and feels light on the skin. It is a combination of sesame oil (with plenty of vitamin E), sunflower oil, thistle oil, hazelnut oil and jojoba oil. Also included is carrot oil (anti-oxidant and full of beta-carotene!) and tamanu oil (helps to absorb UV rays and has skin-healing properties), soothing calendula and other plant extracts and essential oils which are said to strengthen the skin and make the tan last longer.
The products of Douce Angevines are all about herbs, oil macerates and essential oils; I'd love to visit their medicinal herb garden one day. I also like their Aube d'été face oil fluid – Aube d'été translates as "summer morning". Another wonderful product name!
I hope you are having a good summer with plenty of sunshine!
Lots of love,
Julia
PS: The sun preparation fluid L'Été from Douces Angevines is certified by Cosmebio/Ecocert. In Germany you can buy it online through Naturdrogerie or Hautschoki (which is where I bought my 50 ml travel size of the oil).
[Click here for more pictures and the original German article Postkarte 2: L'Été von Douces Angevines]
Good-bye everyone and see you in a few weeks!
Julia