Dear international readers of Beautyjagd,
Welcome to the next English-language edition of Beautyjagd! This is a condensed version of the most important articles that have appeared on my blog over the last two weeks. For more information about this new format, click here. And now: enjoy the best of Beautyjagd in English!
Best wishes
Julia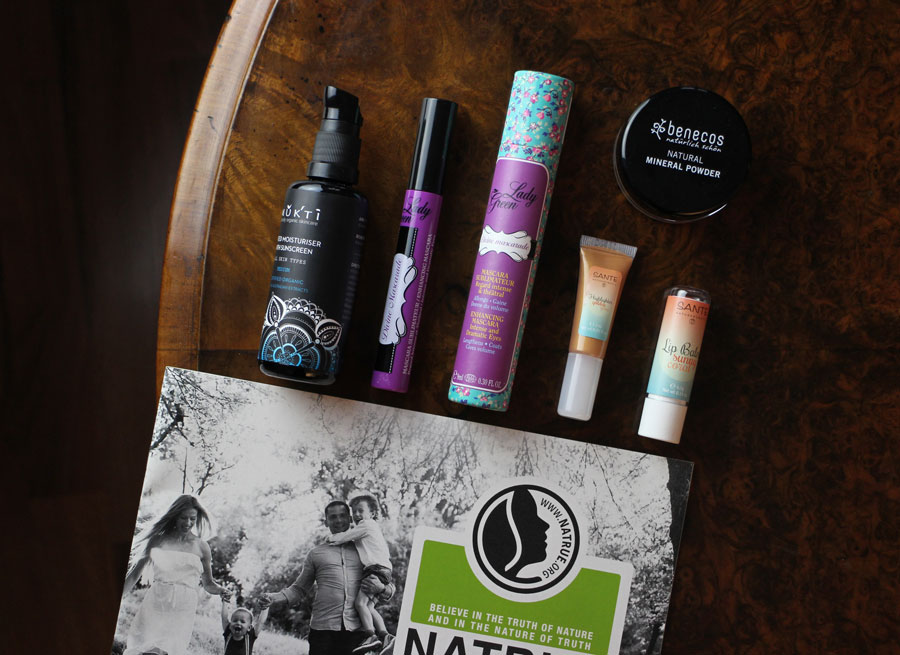 Hi everyone and welcome to the next installment of Beautyjagd in English! 
This week I was in Berlin for a couple of days to attend the Annual Meeting of organic certification association NaTrue. Unfortunately I could only stay for one night (my desk in Nuremberg is overflowing with stuff I need to do!) but it was worth it to find out more about the recent activities of NaTrue. In case you're not familiar with NaTrue: it's one of the big organic certifiers in Germany (and Europe); their company seat is in Brussels which is also where the headquarters of the EU are. NaTrue does lobbying work, consults on matters to do with organic cosmetics certification and, of course, they also certify brands and products. Next year NaTrue will celebrate its 10th anniversary; to date the company had certified more than 5,000 products from 50 companies located in 15 different countries. NaTrue and BDIH/Cosmos are the two biggest organic cosmetics seals in Germany. At the Annual Meeting, NaTrue gave an overview of their current projects – for example, how to deal with the planned new regulations for denaturing (this means changing or adapting) alcohol. They also presented a recent consumer study about the organic beauty market and there were workshops on various legal and technical topics, like marketing/product claims and the declaration of allergens or fragrances.
Since I only stayed for one night I didn't see much of Berlin – but at least my blog translator Annika and I managed to squeeze in a drink at Bryk Bar. Annika had recently discovered the Mineral Powder from German brand Benecos and was very enthusiastic about it, so the next day I went out and bought it for myself. A few years ago I had a previous version of this mineral powder but over the last years, Benecos has changed the formulation of the product. The powder costs 4.95 Euro and is widely available in organic supermarkets. It is not a classic mineral powder foundation (which tend to be pure colour pigments) but rather a mixture of glimmer, white kaolin, corn starch and silica. You get a light tint which evens out the skin tone and a mattifying effect. It's the perfect product if you want to try out loose mineral foundations since it is almost impossible to apply too much of it. The powder is available in four shades and I've been wearing it both solo and over a tinted day cream.
My current tinted day cream, by the way, is the Tinted Moisturizer with Sunscreen SPF 15 from Mukti Organic, an Australian brand. In Germany, Mukti is exclusively available at online store Savue (who sent me the moisturiser in shade Medium). The colour is really subtle; for me the product is more of a primer which makes my skin glow – and you can apply powder or whatever on top if it! The Tinted Moisturizer is packaged in a dark purple glass flacon with pump dispender, the texture is light and moisturising and comfortable to wear. It is based on aloe vera juice, zinc oxide (the sun filter – nano-free, by the way), shea butter and macadamia oil plus Australian tea tree, snowflower and kakadu plum plant extracts. Now I've become really curious about the other products of this high-end skin care range! The Tinted Mosturizer costs 60 Euro when you order it through Savue; the fragrance is a subtle blend of fruity and creamy notes.
In my local Müller drugstore I recently came across Hello Summer, the new limited edition makeup collection of German organic brand Sante. And I simply had to buy the Lip Balm in Sunny Coral and the Highlighter Golden Glow (we're having really gray and rainy weather at the moment). The highlighter comes in a little tube, it has a light texture and a shimmering golden finish without any glitter particles. I wear it on my cheekbones and sometimes also on my eyelids to bring some warmth and colour to my face. The Lip Balm is light and moisturising, with a barely there hint of colour – very nice; it should be perfect for a summer makeup look.
And on my lashes I am currently wearing the Mascara Divine Mascarade from French brand Lady Green. I received the mascara quite a while ago but I like the product so much that the original press sample is already finished. And I have already re-purchased the mascara. Mascara Divine is packaged in purple and black; the applicator brush has a classic shape (the bristles taper off towards the point) and the texture is perfectly balanced between waxy and liquid. Mascarade is easy to apply; it lasts well and I like the effect it has on my lashes – perhaps not as much volume as my beloved marie w. mascara but definitely a good alternative to my second-favourite mascara (the Green Pride Volume Mascara from UNE Beauty). The unscented Ecocert-certified mascara is based on water, beeswax and iron oxides; it is priced at 17.95 Euro and in Germany you can buy it online, for example through Stararoma or najoba. I like Lady Green; I have already shown the brand's gorgeously scented Hand Cream on this blog.
And speaking of French cosmetics: my recent blog post for Najoba (German only, sorry!) is about my five favourite products from French brand So'Bio étic. Enjoy!
And here are some of the most interesting organic beauty news I have come across this week:
German brand Benecos has introduced several new makeup products, including eyeshadows and a contouring duo. More information is available here.
And this August, US brand Intelligent Nutrients is launching two new hairstyling products: the Matte Texture Paste and a Wave Spray.
[Click here for more pictures and the original German article Beauty-Notizen 3.6.2016]
For the last chapter of my articles series about antique perfume bottles I have selected a truly unusual flacon: it is a long, slender bottle etched in red which cannot stand on its own but needs a holder to keep it upright. This holder is made from brass and I think it looks exactly like the steeple or balustrade of a Gothic cathedral – in fact, the whole creation reminds me of the Cathedral in Cologne! Perhaps this flacon once contained a light scented water – perhaps even a kind of eau de cologne? The entire bottle is 27 cm tall (including the stopper) and was manufactured in Bohemia in the 19th century.
[Click here for more pictures and the original German article Duftende Schönheiten 12: Turmhoch]
The Eyeshadows from Couleur Caramel's limited edition Zanzibar Palace
Today I'd like to show you the new liquid eyeshadow from French brand Couleur Caramel's new limited edition Zanzibar Palace. The collection includes four liquid eyeshadows, two cream blushes, two lip colour palettes, a dual-toned double mascara, three nail polishes and a cleansing oil.
Couleur Caramel sent me one of the eyeshadows and the mascara for my blog; on a recent trip to France I bought the other three colours so I can now show you detailed swatches of all four shades! I really like these eyeshadows; not only are the colours fabulous but they last really well.
The eyeshadows are packaged in a stick with a small sponge applicator, you twist the stick until the colour saturates the sponge. Usually one or two clicks (twists) are more than enough for me. There are four colours (from left to right):
Gold Nugget (#181) is a warm gold with a shimmering metallic finish. Baobab (#182) is a darker brown shade with pink and copper overtones. Sand (#183) is an apricot-tinted beige with an iridescent shimmer and Amethyst (#184) is a strong aubergine with a metallic shimmer finish. I love all four colours! Sand is probably the most subtle shade.
And the liquid texture is intriguing. The eyeshadows are not based on oil so they dry rather quickly which means that you need to work fast if you are blending more than one colour. Because the colour dries so quickly the eyeshadow last really well; after six hours I noticed that the colour had creased very slightly but on the whole the eyeshadow stayed exactly where it was supposed to!
It can be a bit tricky applying more than one colour. Here is how I do it: if I wear just one colour per lid the foam sponge applicator works well. However, if you want to combine two colours you need to wait a bit until the first colour is almost dry but still a little damp. And this is when you apply the second colour – I use a flat-bound eyeshadow brush made from synthetic hair.
I did not apply any eyeshadow base by the way (I didn't want to "interupt" the texture of the eyeshadows) but of course it should be possible to use a powder or cream base underneath the Zanzibar Palace shadows. You can also mix the liquid eye colours to create your own mixture or use it as an eyeliner. I love the combination of Sand and Amethyst on my eyes but Baobab and Gold Nugget are also a good summer look.
The vegan eyeshadows are certified by Cosmebio/Ecocert, they are based on water, castor oil and processed oils. One liquid eyeshadow stick contains 2.8 gr; they cost 21.50 euro each when you buy them in Germany. The Couleur Caramel website has a store finder: the products are available in selected beauty salons or you can order them online through Mademoiselle Bio or Monde Bio in France.
And if you want to see more swatches and reviews of the double mascara, check out the blogs of Pretty Green Woman, Fräulein Immergrün, Pura Liv and Tried it out. Herbs&Flowers has reviewed three of the eyeshadows.
[Click here for more pictures and the original German article Die Lidschatten aus LE Zanzibar Palace von Couleur Caramel]
Kiss me, I am all organic!
This is the slogan printed on the boxes of Berlin-based organic online perfumery Savue Beauty. Savue was launched in April 2016 by Annika van Uehm and Swantje van Uehm (yes, the two are related which makes Savue a family-owned business 😉 ) . I have already introduced Savue on Beautyjagd in this review of Korean beauty brand Whamisa's Hydro-Gel mask – Savue is one of the few European stores that sell the Whamisa masks. Besides Whamisa, Savue offers a whole range of international organic niche brands. They are the exclusive German stockist of Mukti Organics, for example. Also, one of the founders of Savue, Annika, is a long-time reader and commentator on Beautyjagd, so I was delighted to do this Sponsored Post. And here is the interview with Annika (left on the photo) and Swantje (right hand side).
Hello Annika and Swantje! You launched Savue a few weeks ago and so far, the shop seems to be going really well. Congratulations! What was the inspiration behind Savue – how and when did you decide to open your own online perfumery?
Swantje: We both love organic cosmetics, especially niche brands. And one day we asked ourselves why so many of our favourite labels were not available in Germany – and then decided to open our own shop!
Annika: I used to work in the media industry so my background isn't really cosmetics or retail – but I love talking about organic beauty, giving tips and trying out new products. And I am very happy that I can now do my hobby as a full-time occupation – and running an online store really is a full-time job!
Swantje: I have always been a big cosmetics fan. After university I worked as product manager for an organic beauty brand and often I would meet customers who were interested in natural cosmetics and sustainable consumption but were confused about "green" packaging and real organic brands. Others wanted to try out organic beauty but were put off because so many organic brands do not look particularly trendy or sophisticated. And this is what we want to do with Savue: offer premium organic beauty from around the world. All of our brands are organic and have been hand-selected by Annika and me. We want to prove to our customers that organic beauty, sustainability and luxury are perfectly compatible.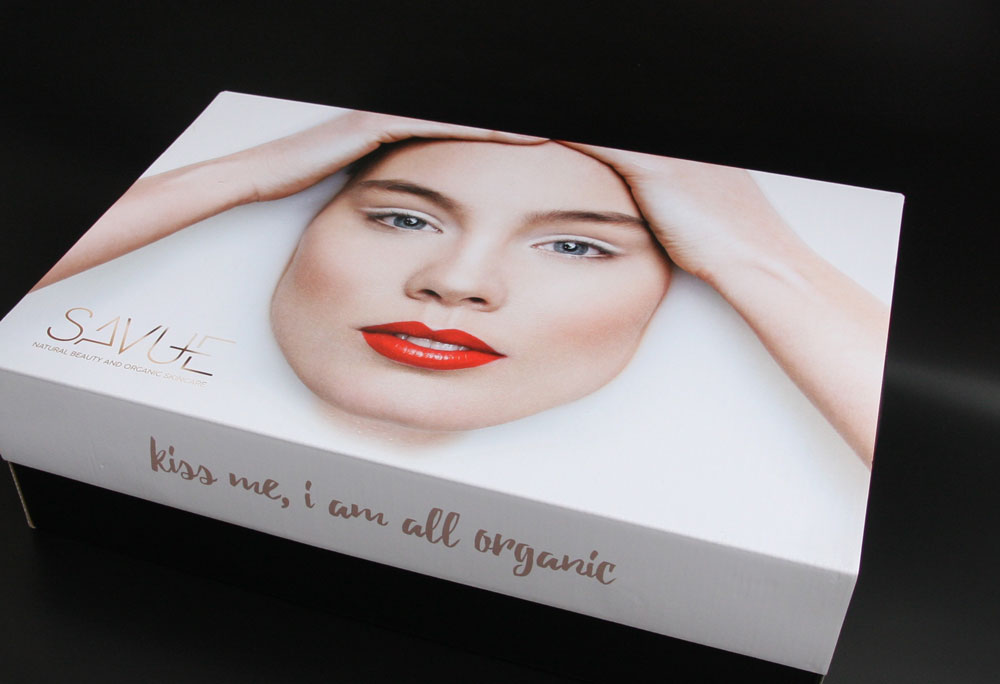 How did the planning phase go? There must be a lot of work involved in opening your own store.
Annika: Believe me, there were quite few challenges! Sleepless nights, constant work; our families and friends barely got to see us – but thanks to the support and enthusiasm from everyone around us we managed to get everything sorted out. And the shop is really going well at the moment. We are getting a lot of positive feedback from our customers.
Swantje: We believe in our idea and especially our team. And I love the close contact with our customers and the exchange of ideas. We are always happy about feedback so if you have any questions or suggestions, get in touch with us!
How do you select the beauty brands for your shop?
Swantje: We only sell brands and products that we have tested ourselves and whose ingredients and product concept match our (very strict!) criteria. We do not compromise, especially where controversial ingredients are concerned. At the same time it is important that the products work, that they do what they promise; and that the packaging and textures are equally high-end. We also like to support smaller, artisan beauty brands.
And who does what at Savue?
Annika: Swantje and I make all the strategic decisions together.
Swantje: Yes, as soon as one of us discovers a new product or brand she'll tell the other and then we start our research together! Both of us are handling the customer enquiries and orders. Our colleague Georg is the genius behind the online store and the product pictures. We also work with a great team of photographers, hair and makeup artists and a designer. Although I now have my own store I am still a consumer, so I know what is important to our customers – like finding out exactly what the texture or colour of a product is. Both Annika and me are focused on details so we spend a lot of time and effort to make sure we have the most high-quality products photos and swatches.
And now my last question: what are your favourite Savue products?
Annika: I often wear the Kester Black nail polish in shade Coral – it is easy to apply and lasts really well even without a top coat; it has already become one of my favourite summer polishes. Another all-time favourite is the Perfume Oil #5 from R.L. Linden & Co – I love the warm blend of soft rose and peppery notes.
Swantje: This is a difficult decision… there are so many amazing products to chose from! I love the herbal mixture Beauty Steam Marigold Glow from SkinOwl, it's a steam bath for the face which really helps my skin to calm down when it has one of its temperamental days. And of course the Tinted Moisturizer with Sunscreen from Mukti Organics: it evens out the skin tone, is absorbed quickly and doesn't leave my face shiny. And the mild fragrance is amazing! I wish it was available as a perfume….
Thank you very much for the interview and all the best for you and Savue!
Photo Credits: SAVUE Beauty
[Click here for more pictures and the original German article Auf einen Kaffee mit Annika und Swantje von SAVUE Beauty]
Can you believe that it is already the middle of June? Once again I find it difficult to believe how fast time flies by… and mid-June also means that in two weeks time the annual NaturkosmetikCamp will take place. Natural Cosmetics Camp is Germany's biggest bar camp for the organic industry. You can find more information about NaturkosmetikCamp here. This year, NaturkosmetikCamp will take place in the small spa town of Bad Hindelang in the Allgäu region in Southern Germany. I really enjoy attending NaturkosmetikCamp: the bar camp atmosphere is stimulating and the attendees come from different industry sectors. There are always interesting people to talk to!
One of my recent deodorant stick acquisitions is the new Deostick Geranium from US brand Schmidt's. I love the fragrance of rose geranium and the stick is made without baking soda so of course I had to buy it! I ordered it through Najoba but the Schmidt's stick is now also available on Ecco Verde. It was rather warm in Nuremberg this week, I had to work a lot and there was quite a bit of stress, too – the perfect conditions to test drive my new deo stick! So to speak 🙂 . And what can I say? I am very satisfied with the efficacy of the deodorant, the product contains a type of magnesium salt which boosts the pH value of the skin. However, one of my favourite things about the stick is the texture: it is flexible and smooth and much less crumbly than Schmidt's classic deodorant creams so it is really easy to apply. And of course the rose geranium fragrance – I simply LOVE the combination of rosy floral notes and herbal undertones. I already know that I will re-purchase this deodorant stick: it's efficient, pleasant to apply and smells amazing.
And speaking of summer! At Vivaness trade show this February German organic brand Sensena introduced its new Cooling Summer Bath Hitzefrei. I immediately liked the packaging: the bath salts are contained in a little round tin which in turn is packaged in a small cardboard box; it looks like an ice cream container! When the weather turned hot earlier this week I finally tried out the Cooling Bath. The bath salts are scented with nana mint (a milder mint variety than spearmint), citrus notes and herbs. After a few minutes the bath salts dissolved, they tinted the water a very light greenish-blue; the fragrance is less intense in the water than it is in the tin. After around 15 minutes I felt the coolness of the mint on my skin. The bath salts are certified by BDIH and also contain fragrance, thistle oil, aloe vera, jojoba oil and soothing camomile extract. And I must say, after I got out of the bath and dried off my skin didn't feel dry at all and yes, it really did feel refreshed! Very cool product, these bath salts (pardon the pun!). In Germany the Cooling Bath is priced at 2.99 Euro. It is available in various organic supermarkets and health food stores but you can also buy it online, for example through Kein Plunder.
Here is an addendum to my article about the Couleur Caramel Zanzibar edition (see above): I also bought Couleur Caramel's new lip colour Twist & Lips. This is not part of the limited edition but a new product in the standard product portfolio. There are nine colours in this range of twist-up lipsticks. I bought shade #404 (Rose de Rouge): it's a nicely pigmented coral red with a satin finish; the colour is stronger than the classic Chubby Sticks from Clinique. The Twist & Lips is easy to apply and feels very comfortable. Since the texture is a more waxy than oily so it lasts rather well on the lips; depending on the colour there are different finishes which range from matte over satinised to glossy. The Ecocert-certified Twist & Lips are based on castor oil; some of the colours contain carmine (and are therefore not vegan). Here is the store finder from Couleur Caramel – or you can order them online through Mademoiselle Bio or Monde Bio in France.
Like I promised in my big sun protection post: I will continue to introduce interesting sun care products as and when I find them. Like the Osolebio Sun Cream SPF 50 for children from Italian brand laSaponaria which I received just after I had published the article. I had seen laSaponaria at Vivaness where they introduced their Syria Soap, but must admit that I didn't expect much of their sun care product. However, I was pleasantly surprised: the texture is liquid rather than creamy with only a light whitening effect, which is impressive considering that this products contains SPF 50. The vegan, non-scented cream carries the official UVA seal: the sun filters are karanja oil, zinc oxide and titanium dioxide as well as anti-oxidant oryzanol which absorbs UV rays. On my skin the cream had a slightly shiny finish so I applied some powder on top of it. Other than that sun cream feels quite comfortable and just a little sticky. A tube costs around 23 Euro, in Germany I have found this product in online store Aalenaa.
And here are the most interesting organic beauty news I discovered last week:
My reader Ava mentioned that German brand Martina Gebhardt has launched two new limited edition products, the Tassilo Linde Cream and Tassilo Linde Face Lotion. The products were launched to commemorate the brand's 30th anniversary. More information is available here.
And yesterday the Landesmuseum in the city of Bonn opened an interesting new exhibition: Eva's Beauty Case is showing jewellery and beauty accessories from the Stone Age to the 21st Century. I will definitely visit the exhibition this summer! For more information, click here.
[Click here for more pictures and the original German article Beauty-Notizen 10.6.2016]
Nourishing Lavender Shampoo from Neal's Yards Remedies
I already mentioned that I was in the UK earlier this year. In one of the supermarkets there (the Waitrose chain) I found several products of UK organic brand Neal's Yard Remedies. Neal's Yard Remedies (certified by the UK's Soil Association) was founded back in 1981. You might have seen the brand's apothecary-style cosmetics around, Neal's Yard Remedies is retailed in 20 countries across the world (I saw Neal's Yard Remedies brand boutiques in Japan and Korea). Unfortunately the products are not available in either Germany or France. Neal's Yard Remedies' portfolio includes skin and body care, products for men and children, hair care, aromatherapy products and even colour cosmetics. When I started Beautyjagd in 2010 I was living in Bristol – and one of the first products I reviewed on my new blog was the Frankincense Cream from Neal's Yard Remedies – a classic which was launched in 1987.
Anyway, as I was wandering along the Waitrose cosmetics aisle I picked up Neal's Yard's Nourishing Lavender Shampoo to check out the ingredients.
INCI: Helianthus annuus (Sunflower) seed oil*, Simmondsia chinensis (Jojoba) seed oil*, Sodium cocoamphoacetate, Lauryl betaine, Glycerin*, Calendula officinalis (Calendula) flower extract*, Alcohol denat.*, Aqua (Water), Cetearyl glucoside, Lavandula angustifolia (Lavender) oil*, Aloe barbadensis (Aloe vera) leaf juice powder*, Xanthan gum, Citric acid, Coumarin, Geraniol, Limonene, Linalool. *Organically produced ingredient. Natural constituent of essential oils listed. Made with 85% organically produced ingredients.
And at first I thought I had mis-read the INCIs: a shampoo for fine hair that is based on sunflower oil and jojoba oil rather than water?! However, the INCI declaration was quite correct, besides the oils the formula includes three different tensides, glycerin, calendula, alcohol, water, lavender oil, aloe vera, a thickening agent and citric acid. And that's it! There are no preservatives so the (vegan) shampoo will last for around 3 months after opening. Of course I simply had to buy this product!
And I was so curious that I tried it out that very same evening: the texture of the shampoo is creamy and looks quite similar to "normal" water-based shampoos. You apply it to wet hair; thanks to the tensides the shampoo foams up nicely (as usual, I washed my hair twice; this is what I do with almost all organic shampoos) and rinses out easily. I like this product: the shampoo cleansed my hair well – it didn't feel greasy or heavy at all – and I really do think that it might be most suitable for fine hair. My scalp also liked the shampoo. And yes, there is a perceptible herbal lavender smell.
I think this unusual shampoo formula was probably inspired by the so-called "CoWash" trend (washing your hair with conditioner instead of shampoo). There are quite a few conventional cosmetics companies, like L'Oréal or Yves Rocher, that have already launched Cleansing Conditioners. However, these are usually based on water and have a different ingredients formula. I can't wait to see which organic beauty companies will be picking up this hair washing trend!
The Nourishing Lavender Shampoo from Neal's Yard Remedies contains 200 ml and costs 11.50 GBP at the Waitrose store. Neal's Yard Remedies' online store sell the shampoo for 16.10 Euro but unfortunately shipping to the continent costs 15 Euro. You can also find the shampoo on Amazon but it is even more expensive there.
[Click here for more pictures and the original German article Neal's Yard Remedies: Nourishing Lavender Shampoo]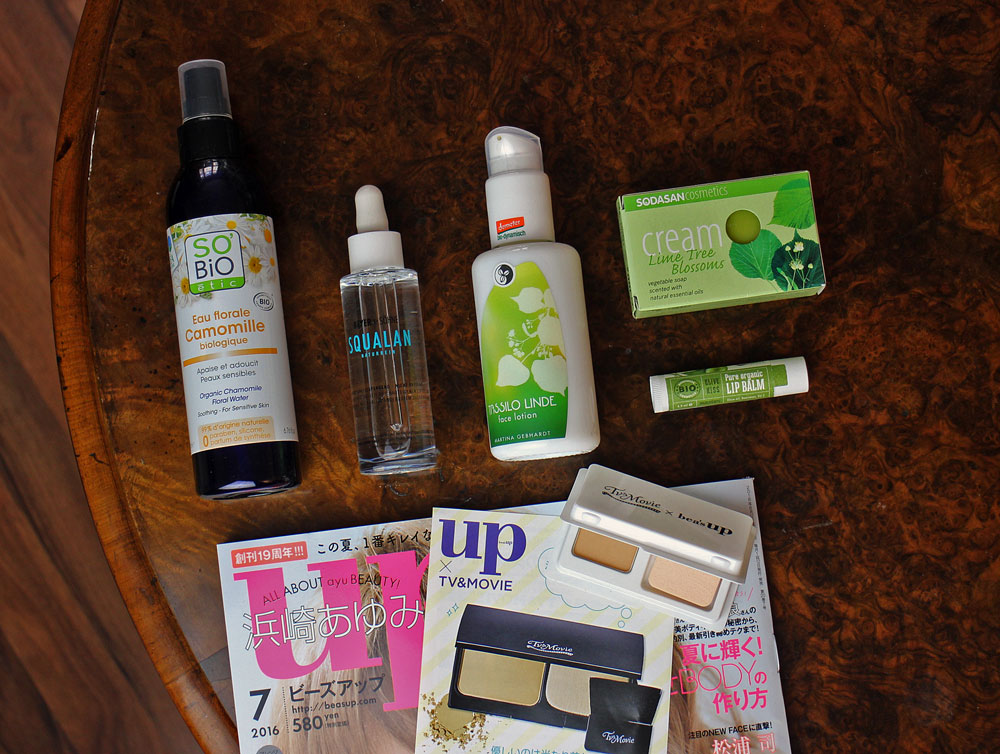 Although I spent the entire week at my desk I still managed to discover a new organic beauty brand from Japan: the July edition of Japanese beauty magazine Bea's Up (I have a subscription!) had a fabulous freebie: a small size Mineral Foundation of recently launched organic brand TV&Movie. You can tell by the brand name that TV&Movie is offering beauty products that are aimed at a more professional target group. Of course I immediately googled the brand: the brand ambassador is actress Miki Nakatani who recommends this exact Mineral Foundation on her homepage. The fragrance-free product is based on glimmer, jojoba oil and aloe vera extract plus a whole range of herbal extracts and oils. The instructions say that you have to wait ten minutes after applying the foundation until it has melted into your skin. There are three shades; my copy of Bea's Up had the darkest shade (#102) which – thank god! – exactly matched my skin tone. The coverage is medium, the finish matte without looking chalky; with a very fine texture so it looks very natural on the skin. The Japanese simply know how to do good powder products! In Japan you can buy TV&Movie at Cosmekitchen, for example, but also in other drugstores. On my next trip to Japan I will definitely check out the brand's other products, like the concealer and blush. Here is the homepage of TV&Movie.
I recently discovered a new lipbalm which has the potential to become my new favourite: German online store Hautschoki had sent me the Pure Organic Lip Balm Olive Kiss from young Bulgarian brand Wooden Spoon. I had met Wooden Spoon at Vivaness trade show and liked the brand's product concept: high-quality ingredients and simple product formulations. The lip balm contains only three ingredients: olive oil, beeswax and vitamin E. The texture is nicely balanced, the balm is not too waxy but still moisturises the lips well. And the price is equally good: just 2.79 Euro. As I mentioned before, this could totally become my new favourite.
After my reader Ava mentioned the new limited edition Tassilo Linde Face Lotion from Martina Gebhardt in the comments section, I immediately ordered the product online. After my order had gone through I also received a press sample so I am now well supplied with this beautifully scented skin care product. Demeter-certified brand Martina Gebhardt has introduced the limited edition to celebrate the company's 30th anniversary. And it is perfect timing too, here in Nuremberg the lime trees are currently in bloom and every time I take a walk I enjoy their beautiful fragrance. The Tassilo-Linde (Tassilo lime) is a very old lime tree which stands close to Wessobrunn monastery in Upper Bavaria. The tree is 25 metres tall with a circumference of 27 meters across the treetop; it was named after Duke Tassilo (8th Century AD) who, according to popular lore, was sleeping underneath this lime tree when a dream told him to establish a monastery. The Tassilo-Linde is famous across Bavaria, it even has its own entry in German Wikipedia! Martina Gebhardt's company headquarters and herb garden are located inside the Wessobrunn monastery, which is probably where the inspiration for this product launch has come from. I think it is a wonderful idea to commemorate a local tree with a beauty product 😉
. The Face Lotion is light and scented with floral-citric notes; it is based on water, olive oil and shea butter and three types of lime extracts are included: lime essential oil, lime extract and lime Spagyric Essence. I have found the Tassilo products online, for example on Najoba, Violey oder Talea (via Amazon); perfumery chain Beauty & Nature also retails this limited edition.
Since the Tassilo Lime Face Lotion is not quite moisturising enough for my skin at the moment (the weather has turned cold again); I've been applying drops of squalane as a base. I received the plant-based and Ecocert-certified Squalane from German brand Beyer & Söhne when they sent me the Sonnencreme+ which I featured in my big sun protection article. Squalane is produced from the remains of pressed olives; I've seen it in Japan where it is a very popular ingredient. Squalane feels light on the skin but still moisturises well: the skin's own hydro lipid is composed primarily of squalane. The squalane from Beyer & Söhne costs 19.90 Euro; it is packaged in a lightweight plastic flacon with a glass dropper and is available only through the company's own webstore.
And another step back in my daily skin care 🙂 . Before applying the squalane (and face lotion) I lightly mist my face with the Eau florale Camomille from French brand So'Bio étic. I brought this camomile hydrosol back from my France trip but you can also buy it at Najoba or Ecco Verde. As I have mentioned before in various blog posts, I love the fragrance and soothing effect of camomile.
The Tassilo Linde lotion also got me hooked on lime fragrances: not only did I look online for essential lime oils but in my local organic supermarket I found the Lindenblüten Cremeseife (Lime Blossom Cream Soap) from German brand Sodasan. Personally I think the lime fragrance could be even stronger but the lotion only costs 2 Euro, so there is little to complain about it 😉 . And in this context I also need to mentioned the Lindenblüte Rhabarber Pflegeseife (Lime Blossom Rhubarb Moisturising Soap) from German brand Klar Seifen – a lot more expensive than the Lime Blossom Cream Soap but such a fabulous fragrance (one of my bar soap favourites).
This week I only found one item of organic news that is worth reporting:
Drugstore retailer DM's organic own label brand Alverde is restructuring its Vital range: in future the line-up will comprise a day cream, a night cream and a face oil.
[Click here for more pictures and the original German article Beauty-Notizen 17.6.2016]
Good-bye everyone and see you in a few weeks!
Julia