Dear international readers of Beautyjagd,
Welcome to the next English-language edition of Beautyjagd! This is a condensed version of the most important articles that have appeared on my blog over the last two weeks. For more information about this new format, click here. And now: enjoy the best of Beautyjagd in English!
Best wishes
Julia
Hi everyone and welcome to the next edition of Beautyjagd in English!
Multi-Purpose Dry Oil from Cattier
Over the next few weeks I'll be introducing some of the interesting products I discovered at Vivaness trade show. Like the recently launched Multi-Purpose Dry Oil from French brand Cattier! I tried out the body oil at the Cattier stand at the trade show and liked the texture so much (I'm an oil fan, I admit it!) that I immediately ordered a full-sized version through French online store Monde Bio.
Cattier is best-known for its medicinal clay cosmetics (they have a number of product ranges that are formulated with kaolin) and with the new Dry Oil the company is picking up one of the key trends in the French beauty market. Dry Oils are very popular in France, the most famous Dry Body Oil is probably the Huile Prodigieuse from Nuxe – organic alternatives include the L'Or Bio from Melvita or the Beautifying Dry Oil from Cîme. These light oils are absorbed really quickly without leaving a greasy feeling and can be used for body, hair or skin care.
Cattier's Dry Oil is packaged in a flacon with spray nozzle (which works really well, by the way, so it is easy to spray the oil onto the skin). I love the fragrance: it is a powdery scent of white florals and yellow fruits with a hint of monoi (very summery!!), a bit like the Deodorant Warm & Fruity from Vegane Pflege.
My skin felt moisturized and smooth; the oil left a soft shimmer (although it doesn't contain any shimmer particles) and the fragrance lasted surprisingly long – even after several hours I could still detect the scent on my skin. The Ecocert-certified Dry Oil is based on processed sunflower seed oil and two other processed plant-based oils (typical for dry oils) in addition to camellia seed oil and jojoba oil.
A 100 ml bottle costs around 19 Euro. I bought my Dry Oil at Monde Bio but you can also find it in various organic supermarkets and online stores in Germany.
[Click here for the original German article Multi Purpose Dry Oil Camellia Argan von Cattier.]

I don't know whether you are familiar with Kivvi? It's an organic beauty brand from Latvia which was launched in 2011 by Agate Jurkovska-Kanca. Kivvi's initial line-up of five products also included the brand's best-selling Body Marmalade (a sumptuous body balm which melts into the skin – amazing!); today Kivvi's portfolio comprises more than 70 face and body care products. Kivvi's packaging is highly recognizable: the packs feature water-colour paintings of the respective key plant extracts. In the case of the Ribes Nigrum range, the products depict blackcurrant berries and leaves. All products include anti-oxidant kiwi fruit extract and kiwi seed oil (hence the brand name) but Kivvi also uses typically Nordic berries and plant extracts. The products are formulated without alcohol, they are vegan and certified by Ecocert. At Vivaness 2016, Kivvi presented its latest product launch: the Ribes Nigrum face care range.
The new line is for women aged 25+ who have normal to dry skin. The key ingredient in this range is, of course, the blackcurrant. It is a popular berry in Northern Europe since it contains a lot of anti-oxidant polyphenols. And blackcurrant seed oil has a high percentage of alpha and gamma linoleic acids and anti-inflammatory stearidonic acid.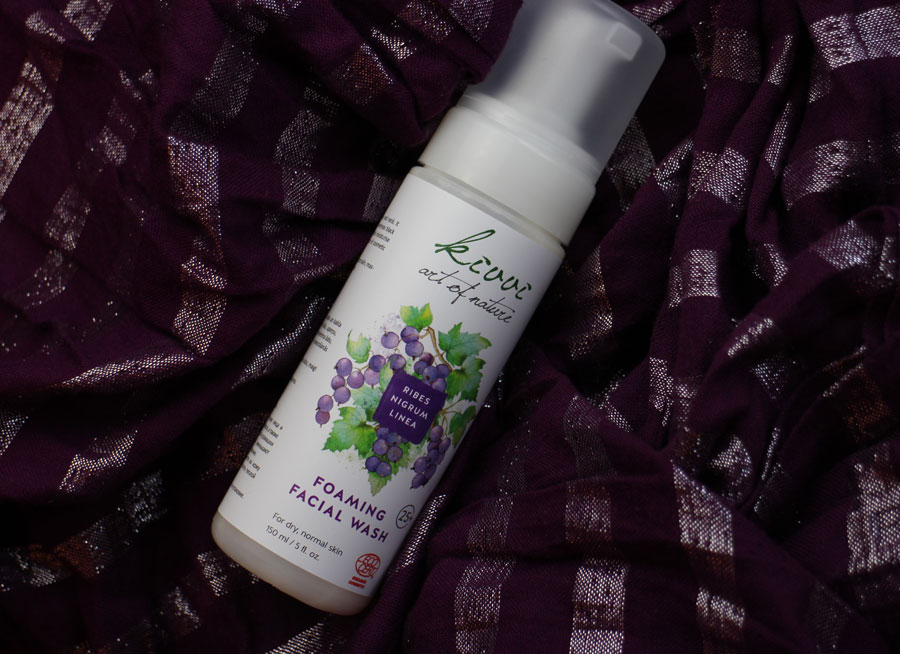 I tested three of the six Ribes Nigrum products for this Sponsored Post. Let's start with the Cleansing Foam. I immediately liked this foaming cleanser (although I usually prefer cleansing milks or balms I am currently crazy about foam textures!) which contains the amphoteric tenside coco-betaine, a mild tenside certified by Ecocert; as well as aloe vera, glycerin and a mild sugar tenside. The foam is quite moisturizing: the formula includes olive oil, processed plant-based oils and various extracts, including blackcurrant, vanilla, chamomile, banana, kiwi and apple.
The cleanser is packaged in a convenient pump dispenser; the foam is fluffy and scented with a blend of fruity-green and herbal notes. I massage the foam onto my wet face and then rinse it off with luke-warm water. My skin doesn't feel dry afterwards but in winter I still need to use a light night cream afterwards – then again, I am no longer 25 😉 . The Ecocert-certified Cleansing Foam contains 150 ml and costs 8.50 at Hilla Naturkosmetik.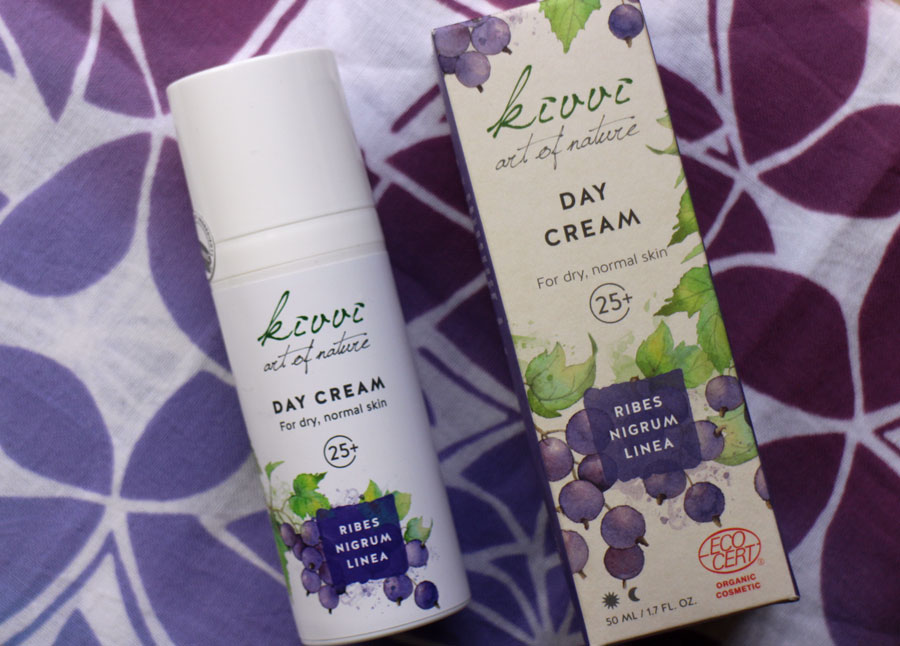 If you read my blog regularly you'll know that I am a big fan of facial oils! Still, I was impressed by the texture of the Ribes Nigrum Day Cream: creamy, easy to apply and it leaves a light, protective but completely non-greasy film on the skin. Since my skin tends to be a bit dry in winter-time I mixed the day cream with a couple of drops of rosehip oil (one of my favourite oils at the moment) and that was a perfect combination! The day cream is based on water, aloe vera, shea butter, two natural emulsifiers and coconut oil; in addition there are several anti-oxidant fruit extracts: blackcurrant, of course, but also kiwi, calendula, pansy and eyebright. The cream is packaged in an airless dispenser and has a subtle fruity-herbal scent. A bottle of the Ribes Nigrum Day Cream from Kivvi contains 50 ml and costs 13.90 Euro.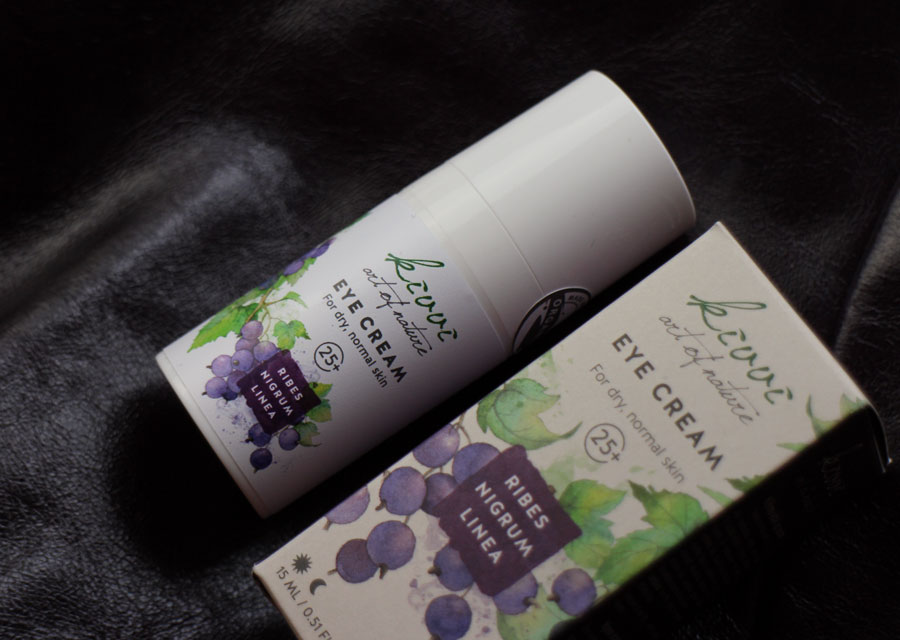 The range also includes an Eye Cream which has a richer texture than the day moisturiser. The skin around my eyes felt hydrated and smooth but not greasy (somehow the eye cream seems to have a skin-firming effect, too!) so I could apply my usual eye makeup after less than a minute. Like the day cream, the eye product is packaged in an airless container; it is based on water, aloe vera, shea butter and olive oil plus anti-oxidant plant extracts including cucumber and blueberry. The Ribes Nigrum Eye Cream contains 15 ml and is available at Hilla Naturkosmetik for 13.90 Euro.
I bought the day cream myself (I simply couldn't wait!) and Hilla Naturkosmetik sent me the cleansing foam and eye cream. The Ribes Nigrum range also offers a face scrub with milled raspberry seeds, a toner and a night cream.
[Click here for the original German article Neu: Ribes Nigrum Linea von Kivvi.]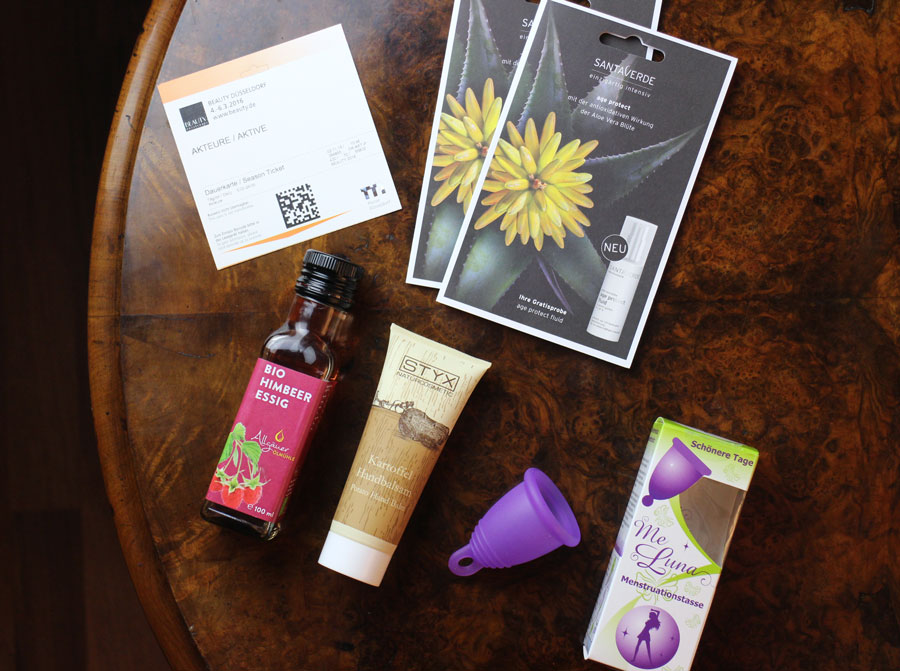 Finally I'm on the road again! Besides visiting Vivaness in February I spent the last two months working at my desk. But now I am off travelling! The first stop is Beauty International trade show in Düsseldorf – it is Germany's biggest salon, spa and wellness trade show and I was invited to participate in a panel discussion about blogging and social media. Afterwards I'm going to England for a few days and on my way back to Nuremberg there'll be stop-over visits to France and Belgium – yay!
A few weeks ago I introduced the peel-off face masks of French brand Secrets des Fées – remember? I had promised you some funny-looking pics of myself with the gooey rubber mask on my face – and here they are, in my new blog post for online store Najoba. Enjoy!
A culinary beauty note! Nuremberg is snowed in again and it feels like spring won't ever arrive. Despite (or perhaps because of) the wintery weather I had a strong craving for salads recently – so I decided to break out my Organic Raspberry Vinegar from Southern German brand Allgäuer Ölmühle which I received at NaturkosmetikCamp last year. The raspberry vinegar is produced from pure grape juice and raspberries so it has a gorgeous deep red colour and a mild and slightly sweet taste. Delicious!
I remember the first time I saw the Potato Handbalm from Austrian brand Styx – it was in 2011, in the small cosmetics store Organic Shop Lovely in the town of Rothenburg ob der Tauber in Southern Germany. I liked the idea and the packaging of the hand cream but several of the ingredients were not certified organic so I didn't buy the hand balm at the time. However, in the last few years Styx has changed a number of their product formulations: the Potato Balm is now vegan and certified by Ecocert. The rich hand balm is based on water, macadamia nut oil and shea butter as well as raw potato juice (which contains the anti-inflammatory and anti-oxidant alkaloid solanine), calendula and chamomile. It does not smell like potatoes, by the way 😉 . Instead, the fragrance is a soft floral with oriental undertones, a tube contains 70 ml and costs 9.95 Euro and you can buy the hand balm in many organic supermarkets or online; for example, at Wolkenseifen.
Walking through my local DM drugstore recently I noticed that DM is now selling MeLuna menstrual cups in three sizes. Unlike the Lunette or the Diva Cup which are manufactured from medical-grade silicone, MeLuna is made from thermoplastic elastomer (TPE) which, however, is also a medical material. The big advantage of the MeLuna is the price: at around 15 Euro it is more affordable than other menstrual cups available on the German market. Personally I prefer the soft and flexible Lunette but MeLuna is a good alternative for women who want to try out this kind of menstrual hygiene.
I only came across one organic news item this week:
Atelier de Délices, the sister company of French brand Couleur Caramel, will soon offer certified organic sheet masks. They are called Bio2Skin, are available in five variants and 100% biodegradable. More information is available here.
[Click here for the original German article Beauty-Notizen 4.3.2016.]

New: Alverde Cherry Blossom Set
I'm travelling at the moment (currently in Düsseldorf!) so I have little time for blogging but I absolutely HAD to show you the new limited edition body care set from drugstore retailer DM's organic own label brand Alverde. I immediately liked the packaging: soft water-colours of blossoms and birds and three nice looking products – a Soft Cream, a Cream Oil Shower and a Hand Cream. All products contain cherry blossom and organic rice extract and are scented with a soft floral fragrance which really smells a little bit like cherry blossoms. I tried out the soft cream and the shower cream yesterday evening and liked both of them. No high-end ingredients but certified by NaTrue and the set of Softcreme (150ml), Cremeöldusche (150ml) and Handcreme (75ml) only costs 4.95 Euro. Available in all DM stores. And now I have to dash off to Beauty International trade show; talk to you later!
[Click here for the original German article Kauftipp: Geschenkset Kirschblüte von Alverde.]

Fragrant Beauties: Morning Glory
I am currently off travelling but I still want to start a new article series on the blog – simply because I don't want to wait any longer! A few weeks ago I had the opportunity to visit a private collection of perfume flacons from the 19th century. The art historian in me (as you might or might not know, I have an MA degree in art history) was instantly captivated. Plus, I am a perfume lover!
I didn't have much time unfortunately but I did manage to photograph my favourite perfume bottles – and there were some gorgeous pieces amongst them! Light years away from the mass-produced fragrance flacons of today's perfumes. Over the next few months – each Sunday – I'll post a brief article presenting one of these fabulous flacons.
Let's start with this beauty right here! It was manufactured in Bohemia in 1840: the flacon's cornucopia-shaped stopper is bigger than the actual perfume bottle. The transparent glass is etched in blue and polished and the bottle, including the stopper, is 12 cm high. I'd say: typically Biedermeier! (European design and art history: Biedermeier refers to the period between 1815 and 1848 in Central Europe, especially in the German-speaking countries. The Biedermeier time has a distinctive visual and artistic style. You can google it for more information!). If you look at the flacon from above it almost looks like the trumpet-shaped blossom of the morning glory. Beautiful.
[Click here for more photos and the original German article Duftende Schönheiten 1: Die blaue Winde.]

Florascent: Aqua Composita Eau d'Iris
And here is another product that was launched at Vivaness trade show! German organic fragrance manufacturer Florascent has introduced a new fragrance in their Aqua Composita range: Eau d'Iris. I already wrote about the new Eau d'Iris in my Vivaness post here. I like iris fragrances and immediately fell in love with Florascent's new creation. At the trade show I was given a handbag-sized perfume spray of the Eau d'Iris which is currently accompanying me on my travels – see the picture above.
In Europe, the Iris Germanica and Iris Pallida is cultivated in different geographic regions – in Tuscany (Italy), for example. The fragrance is actually manufactured from the roots (the rhizomes) of the iris flower, not the actual blossoms. The rhizomes are harvested in summer and then stored for two to three years until they have matured enough to produce the typical iris fragrance. Because you can only manufacture small quantities of the root extract, iris essential oil is one of the most expensive essential oils ever.
In the new fragrance, Florascent perfumer (and company founder) Roland Tentunian wanted to capture an olfactory image of the whole iris plant, from blossoms over leaves all the way to the earthy-powdery aroma of the iris roots. Roland's inspiration was based on classic and contemporary perfume creations, like Infusion d'Iris from Prada, for example. Iris is becoming a bit of a fragrance trend at the moment. When I spray Eau d'Iris on my skin I immediately detect aromatic citrus notes which, however, are tempered by powdery, earthy and even woodsy-greenish notes. At the same time the fragrance is characterised by aquatic undertones and a beautiful watery transparency. The florals include soft violet accords that are accompanied by a subtle rose-scented note of palmarosa and a hint of sweet raspberries which then dry down to powdery earth notes of iris root.
Eau d'Iris remained on my skin for around four hours which is an impressive performance for an organic fragrance. By the way, the wonderful violet note actually comes from the essential oils of the Boronia plant (part of the citrus family) which contain the scent molecule ionone. And the ionone is what smells like violet – there isn't actually an essential oil of violet.
Here is the official fragrance pyramid of Florascent's Eau d'Iris: the top notes include neroli, bergamot and cedrat, the heart is composed of cabreuva, violet and jasmine and the base notes contain iris, cedar and boronia.
Eau d'Iris is composed of 80% proof alcohol and pure essential oils; a flacon contains 60 ml and costs 68 Euro. There is also a travel-sized perfume spray containing 15ml which is priced at 29 Euro. You can buy the fragrance at Florascent stockists like Naturdrogerie or order directly through the website of Florascent.
[Click here for the original German article Florascent: Aqua Composita Eau d'Iris.]
Lady Green: Zeste Magique Hands & Nails Cream
Hi everyone! I am already on my way back to Nuremberg but currently on a stop-over in Lille, a city in the North of France. And since we are in France, here is another new french product I discovered at Vivaness: Lady Green's Zeste Magique Hands & Nails Cream!
I have already written about Lady Green in this Vivaness post: it's a French niche brand aimed at teenage girls and very young women. The packaging of Lady Green's products is mostly pink and the range includes a cleansing foam, a micellar water, a mascara, a tinted lip balm, a light day cream, a stick against impurities and several konjac sponges. This January, Lady Green launched the citrus-scented hand cream Zeste Magique.
If you're reading Beautyjagd regularly you'll know how much I love citrus-vanilla scents (like the Lemon Vanilly Body Lotion from Estonian brand Joik) – and the Lady Green hand cream smells like a beautiful Tarte au Citron! Grated lemon zest with a hint of vanilla but not too sweet. Delicious! The hand cream is absorbed quickly but still surprisingly moisturizing; it leaves a protective but non-sticky film on the hands – I like! Unfortunately the organic percentage of this Ecocert-certified hand cream is not particularly high: it is based on water, glycerin, processed oils and olive oil. It also contains beeswax so it is not vegan.
A small tube with 30ml costs 6.95 Euro; I ordered mine on Monde Bio. However, Lady Green is now also available in selected retailers in Germany (for example StarAroma). Lady Green's homepage has a shop finder so you can check for your nearest international stockiest there.
[Click here for the original German article Lady Green: Zeste Magique Hands & Nails Cream.]
++ I mentioned that I attended a panel discussion on social media at Beauty International's Spa Business Lounge last Saturday, right? That very same evening I went to France and the next morning, I was on a Channel ferry to Dover. Finally I am back in England. Yay! ++
++ I was staying in Eastbourne on the seaside and the weather was quite good actually – nice walks around the countryside and along the beach, good food and drink in cosy little pubs and even some beauty shopping – you can check out some of the things I did on Instagram. ++
++ My first beauty purchase was a sample size of organic beauty brand's Balance Me Tinted Wonder Eye Cream – it came attached to the April edition of UK Glamour magazine. For just 2 GBP! Fabulous, isn't it? I tried the eye cream immediately; it has a light texture and a slightly yellow-tinted colour. Easy to apply, brightens the skin a little bit but does not cover it up like a real concealer. I liked it so much that I immediately bought a full-sized Eye Cream. Sampling works! 😉 ++
++ The town I am staying in doesn't have many organic concept stores or special perfumeries – but I was happy to see that supermarket retailer Waitrose is now stocking some organic cosmetics, including the Balance me Eye Cream. ++
++ British beauty purchase #2: Waitrose is also stocking some of the products of organic beauty brand Neil's Yard Remedies, including the Nourishing Lavender Shampoo for fine hair. Neal's Yard is a classic beauty brand in the UK and back in the early days of Beautyjagd, I portrayed their Frankincense Face Cream. How time flies! Anyway, I didn't really plan on buying a shampoo that day but the ingredients of the Nourishing Shampoo looked so interesting that I simply had to purchase it. The formula is based on sunflower oil and jojoba oil and the percentage of water is actually quite small. And 85% of the ingredients are from organic agriculture! The texture of the shampoo is creamy, it foams well during the second shampooing (with organic shampoos I always shampoo my hair twice) and my first impression is that it is neither drying nor too heavy. And it cleansed my hair well. I'll be writing in more detail about this product at some point in the near future – it is such an intriguing and unusual shampoo formulation. ++
++ And hop! After a few days in England I was back on the ferry, this time en route to the other side of the Channel. I spent a day in Lille and one of the first stops on my itinerary was a visit to my favourite chocolaterie, Chat Bleu. The "Blue Cat" is a lovely old-fashioned store where you can buy delicious pralines the size of four normal chocolates! Typical for the North of France, it's a down-to-earth region – and I love it. You can find a picture of Chat Bleu on Instagram. ++
++ In a kind of Eco Concept Store in Lille I bought the new cleansing oil L'Huile Démaquillant from Avril for 7 Euro. Avril is a young French beauty brand which actually comes from the region of Lille (or rather, from the town of Roubaix near Lille). The cleansing oil is based on processed oils and an emulsifier so it turns into a milk once it comes in contact with water. Removes the makeup without leaving the skin greasy. In Germany you can buy the Avril Cleansing Oil through online store Ecco Verde. ++
++ And now I am travelling back to Nuremberg via Belgium. For old times' sake I am briefly stopping in Lüttich/Liège. ++
++ By the way, I already tried out the new Mousse Makeup from DM's organic own label brand Alverde. It has a flexible and very fluid texture and offers very light coverage – it evens out the skin nicely. ++
[Click here for the original German article Beauty-Telegramm auf der Durchreise.]
Good-bye everyone and see you in two weeks!
Julia