Dear international readers of Beautyjagd,
Welcome to the next English-language edition of Beautyjagd! This is a condensed version of the most important articles that have appeared on my blog over the last few weeks. For more information about this format, click here. And now: enjoy the best of Beautyjagd in English!
Best wishes
Julia
Although I already left Seoul (I'm in Tokyo now) I still have to show you the results of my beauty hunt in the Korean capital! When I arrived in Seoul last week I was immediately struck by a serious bout of sheet masking fever – after all, sheet masks are ubiquitous here in Seoul. I applied a sheet mask every evening: the Rice Bran Face Mask from Chobs (a certified organic Korean beauty brand) you can see in the picture above is from organic supermarket chain Dure-Coop. Chobs was an exhibitor at Vivaness trade show in Nuremberg this February; perhaps they will return next year.
This year my main beauty hunting ground in Seoul was the Gangnam neighbourhood. In the flagship of Korean drugstore chain Olive Young I discovered the Lipbalm Cucumber Mint from Burt's Bees, a cooperation between the US brand and Olive Young. The lip balm has a nice cucumber fragrance with undertones of mint.
So far I haven't tried out the Warming Neck Masks from Lion which I also found at Olive Young: these masks are individually packaged neck compresses scented with essential oils. The masks heat up when you open the pack and are good for when you're suffering from a cold, feeling chilly or – like me – you get a sore throat quickly. The neck masks are especially convenient for travelling.
The Toothpaste Peach Mint from Pleasia (not pictured because the tube is already in my bathroom) is natural-inspired rather than organic, but I simply had to buy it because of the amazing flavour combination! This was another Olive Young purchase; the taste combines mild and fruity peach notes (it doesn't taste at all like artifical peach) and fresh mint. The Pleasia brand belongs to Amore-Pacific group (who also owns Innisfree, for example) and has other interesting flavours, like fir needle tea – I do wish we had toothpaste flavours like this in Germany.
Pink Everlasting Ampoule from Urang Naturals
At K-Beauty Expo trade show last week I met up with Jina Lee, the founder of young organic beauty brand Urang Naturals. She showed me the product line-up which comprises around 23 products, including face care, soaps and room fragrance sprays. From early 2019 onwards Urang's products will receive an organic certification. I was particularly interested in the new Pink Everlasting Ampoule which is packaged in a beautiful round glass flacon. The ampoule is based on immortelle water and also contains essential immortelle oil from Italy, the texture is like a silky serum which feels lovely on the skin. I already posted a pic on Instagram and if you're interested in the brand, Urang Naturals will be exhibiting at Vivaness trade show in Nuremberg in February 2019, yay! I bought several Urang products at the K-Beauty Expo and will write more about the brand before Vivaness comes around. Here is Urang's Korean website. A very nice brand discovery!
Flower Infused Fine Mask von Femmue
Another interesting Korean brand that I noticed on Instagram around two years ago is Femmue. In spring 2016 I saw Femmue's products at the Cosmetics & Beauty Expo in Seoul in real life (so to speak) and now I finally found them in a retail store: the recently-opened flagship store of Korean perfumery chain Chicor has a shelf with "Rookie Brands" (niche beauty with interesting brand concepts) which also include Femmue. Some of Femmue's ingredients are only near-natural, others could be certified organic. I was drawn to the Flower Infused Fine Mask from Femmue because the gel mask contains camellia blossoms that are suspended in the jelly-like texture. It looks beautiful! You apply the mask in the evening, leave it on overnight and then wash it off in the morning. I bought two other Femmue products and will write a separate article on the brand soon. I also heard that Femmue is starting to focus on the European markets (I think the products are already available in the UK). Here is the Korean Femmue website.
Bifidalacto Complex from Manyo Factory
I was glad to see that some Olive Young stores in Seoul sold the products of Manyo Factory; the Korean brand was also at the K-Beauty Expo but their booth was almost constantly surrounded by a crowd of visitors! Most Manyo Factory products contain fermented ingredients and niacinamide. I'd describe the brand as near-natural to organic because the niacinamide (an ingredient which is very popular on skin care blogs) is not from natural origins. The Bifidalacto Complex from Manyo Factory contains more than 90% bifido bacteria (pro-biotic), lactobacilli enzymes, adenosine, galactomyces (very popular in Korean cosmetics at the moment) and niacinamide. The serum feels light and very smooth on the skin. Manyo Factory already has a European distributor and an English-language website.
Blemish Care Serum Plus from Isoi
I had already noticed natural Korean beauty brand Isoi's store in Garosu-gil street last year. Now I finally had the time to check out the brand in more detail: Isoi is an abbreviation of "I'm So Intelligent" and is intended to get consumers to think about the ingredients in beauty products. Isoi's product range focuses on the Bulgarian rose; their cult product is the Blemish Care Serum Plus which is frequently sold out. However, I was lucky enough to track down the serum in an Olive Young store and am looking forward to testing it out properly. The key ingredients of the Serum Plus are arbutin and centella asiatica which are said to help against hyperpigmentation and scars/discolourations. Here is the English-language website of Isoi.
Hyaluronic Acid Toner from Isntree
Just before I left Seoul I made one final purchase: Olive Young had a special offer on the popular Hyaluronic Acid Toner from Korean brand Isntree – the product costs just 8 Euro so I conveniently forgot that my suitcase was already much too heavy and bought the toner 😉 . I'd describe Isntree as near-natural rather than organic but the ingredients of the Hyaluronic Acid Toner could be certified, I think. The toner is based on 50% hyaluronic acid followed by water and glycerin, plus plant ingredients like birch juice and mallow root extract. The texture is moisturising and thick – almost viscous – and fragrance-free. You can check out the Hyaluronic Acid Toner in more detail on Isntree's English-language website. A great price-performance ratio!
Reading tip: Mineral Powder
In my new article for organic supermarket Denn's Bio-Blog I am talking about mineral powder: what are the ingredients, what's the best way to apply this type of makeup and which products would I recommend to someone who wants to explore the world of mineral foundations. German only, sorry. Enjoy!
Organic beauty news of the week
German drugstore retailer Rossmann's certified organic own label brand Alterra is launching a new Christmas gift set: Hygge contains three body care products that are scented with notes of blueberry and lingonberry from Sweden and Finland.
And German drugstore chain DM's certified organic own label brand Alverde has introduced a new Body Butter with Coffee Fragrance whilst the brand's Naturschön product range was extended with three body care products (body butter, hand cream and body lotion).
US brand Ilia Beauty is launching Essential Brows, an eyebrow gel which is available in three shades. They look good, the only drawback is the small amount of acrylates that is contained in the formula.
Have a good weekend! I am already looking forward to beauty hunting in Tokyo!
[Click here for more pictures and the original German article Beauty aus Seoul (a.k.a. Beauty-Notizen 19.10.2018]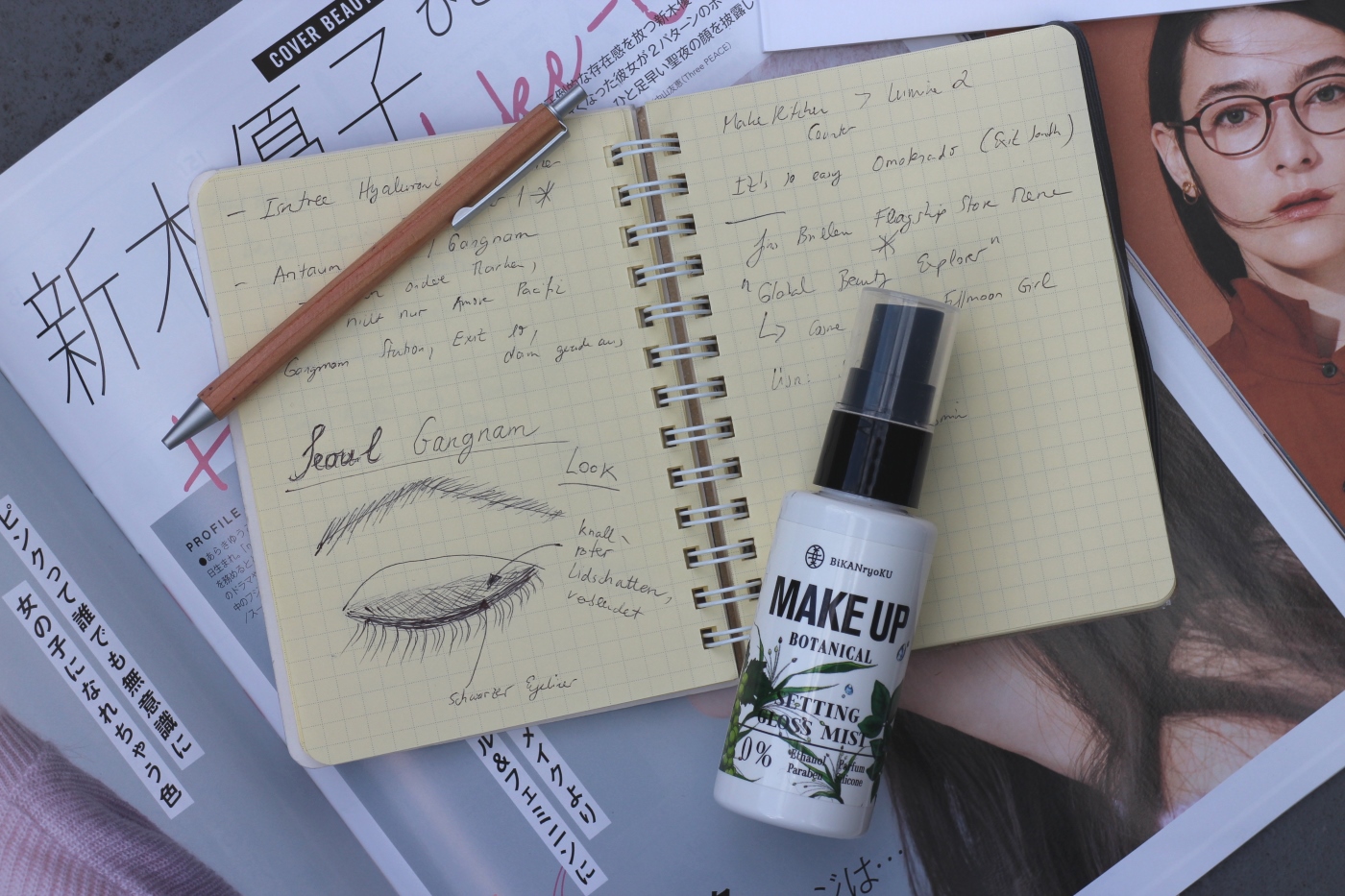 During my time in Seoul I spent a lot of time riding subways and trains which gave me an opportunity to check out the makeup looks of the Korean women around me. After a while I noticed that many young women were wearing a similar kind of eye makeup so I took out my notebook and sketched a brief description of what I'd seen.
Yes, I am definitely old-fashioned that way; I love writing things with pen on paper (also I'm the biggest fan of beautiful notebooks). I always carry a notebook in which I jot down interesting things, stuff I notice but also shopping lists or directions.
The eye makeup of these trendy Seoulites is simple but effective (and not at all boring): first a bright red eyeshadow is applied on the lower half of the upper eyelid – and the eyeshadow really is very red, not apricot or pink; followed by black or anthracite eyeliner along the lash line. Some women used a soft kohl or eyeliner pen, other applied liquid eyeliner. A coat of mascara on the lashes and the look is finished! In the sketch you can see what the makeup looks like (without colours). This eye makeup looks great on the almond-shaped Korean eyes but I think it might also work on my rounder Western eyes.
I'll definitely try out this look when I am back home in Germany – I don't have a red eyeshadow with me just now. I think a loose mineral eyeshadow like the shade "Just One Sip" from Lithuanian brand Uoga Uoga or the pressed eyeshadows from brands like Boho Green Makeup (France) or Zuii Organic (Australia) should work well for this look.
To achieve this red eyeshadow look without looking like you've cried for the last three hours it is important to pay attention to three things: make sure you select the correct red shade for your skin tone. Apply the eyehadow only on the lower half of the upper lid (not the entire lid!) and do not blend or smudge it upwards – you want a clearly defined block of colour. The dark eyeliner also helps to create a border between the red colour and your lash line.
A beauty inspiration for autumn straight from Seoul!
[Click here for more pictures and the original German article Beauty-Look 2018: Augen-Makeup aus Seoul]
I am constantly looking for a good lip care product. Ever since I was a child I've been suffering from very dry lips which can quickly become inflamed. That's why I was immediately interested by the hype surrounding Korean brand Laneige's Lip Sleeping Mask last year. In the US the lip mask became so popular that it was constantly sold out. Unfortunately the ingredients aren't even close to natural but the Lip Sleeping Mask has an interesting texture: it is quite thick and adheres to the lips like a protective coat.
Since the Laneige launch other Korean brands have introduced their own overnight lip masks. When I was in Seoul I decided to do some proper research into this product type and bought the Lip Mask Natural Berry from Primera (a near-natural Korean brand; a few Primera products are even certified) and the Ginger Sugar Overnight Mask from Aritaum. The texture of the Primera Lip Mask is viscous to waxy, the Overnight Mask from Aritaum is a little more oily. Both masks, however, adhere so well to the lips that you have to wash them off in the morning with a cleansing product. A bit disconcerting.
The principle of these Overnight Lip Treatments is the following: when you apply a layer of the mask to the lips (as the last treatment step) it has an occlusive effect, so it prevents moisture from evaporating and locks the hydrating ingredients into the lips.
When I tried out the two lip masks they worked well but of course you can feel the balm on your lips because of the thick texture. French near-natural brand Nuxe's Rêve de Miel lip balm has a similar effect; it contains beeswax as an occlusive ingredient. I've written about Rêve de Miel in this blog post here (German only, sorry).
Overnight Intensive Lip Treatment from Burt's Bees
US organic beauty brand Burt's Bees has recognised the K-Beauty trend of overnight lip masks and is now offering an new intensive night-time lip balm in a little jar. In Seoul the Olive Young drugstores had major brand promotions for this product so the night balm was constantly sold out. However, I managed to buy one of the Overnight Lip Treatments (which by now is also available in Germany).
The texture of the Overnight Lip Treatment is distinctly more oily than the Korean balms I mentioned above; the Burt's Bees balm also contains cooling peppermint oil which prickles a bit on the lips at first but also has an anti-inflammatory effect. On the lips the balm feels good – even when I applied a thick layer – but it also has a less occlusive effect. Still, at least I didn't have to wash off a waxy layer the next morning, like with the Primera and Aritaum lip balms.
I was surprised by the ingredients since the INCI listing doesn't show any beeswax or honey (and Burt's Bees has always had beeswax as one of the key ingredients…?). The lip treatment is based on processed plant-based oils, some glycerin and jojoba oil. Natural ceramide (in this case ceramide 3) boosts the skin's barrier and prevents further moisture loss.
If you have really dry and easily inflamed lips, like me, I recommend applying a really thick layer of the Overnight Lip Treatment before going to sleep. The moisturising and nourishing effect is ok but in terms of the occlusive effect the Burt's Bees lip mask can't really compete with its Korean counterparts. Still, the product is interesting and definitely worth a look, because finally a brand from the organic beauty sector is at the forefront of a product trend!
The Overnight Intensive Lip Treatment contains 7 gr and costs around 9 Euro. In Germany the product is available in Müller drugstores or online, for example at Wolkenseifen.
Another organic beauty product which is similar to the Overnight Lip Masks is the Gloss Lèvres au Miel from French brand Melvita. The texture is thick and sticky and the gloss has a pretty occlusive effect so the moisturising effect, at least on my lips, is very good.
[Click here for more pictures and the original German article Im K-Beauty-Trend: Intensive Nachtpflege für die Lippen von Burt's Bees]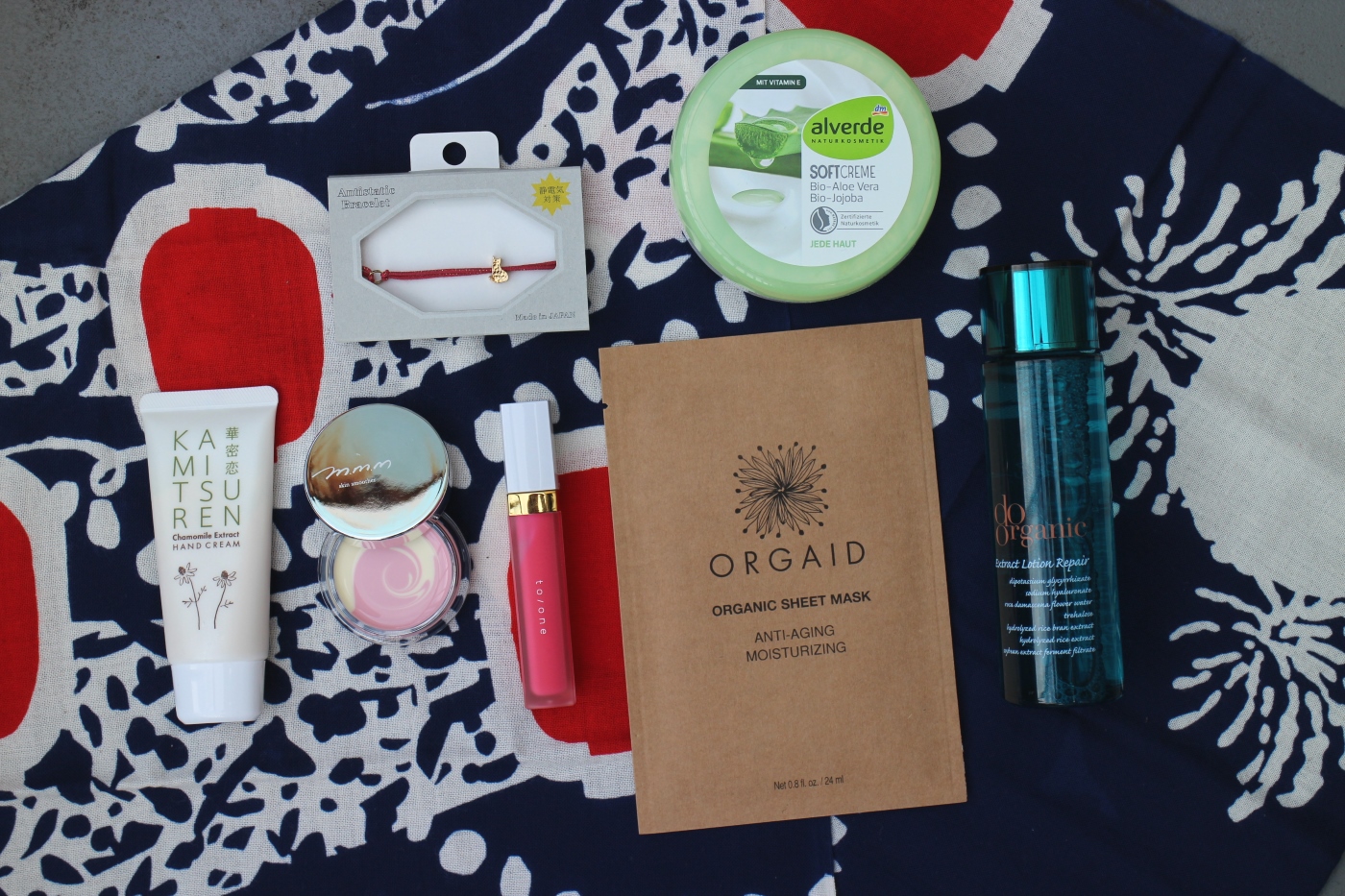 It is wonderful to be in Tokyo again! Even when I close my eyes I know exactly where I am: the crowing of the ravens in the morning, the distinctive noise of the traffic lights, the melody that plays when you enter a konbini (convenience) store and even the song of the last cicadas in the park – this is my acoustic Tokyo. It is mid-October now and in the early morning it is very bright outside so I actually wake up at a quarter to seven without an alarm clock (which rarely happens with me 🙂 – and it turns dark at around 5pm in the afternoon.
New organic beauty brands from Japan
Of course I have already been beauty hunting in Tokyo, checking out new beauty stores and researching organic beauty brands that were launched in Japan in 2018. One of the first new brands that I came across was to/one which offers mostly colour cosmetics. Their line-up comprises a large number of eyeshadows, lipsticks and lip glosses. I particularly liked the Petal Essence Gloss in 05 Flamingo from to/one, a peachy pink with a clear finish – totally non-sticky (although I think that one of the ingredients might be non-certifiable). – The face products from m.m.m cosmetics also looked really interesting so I bought the brand's Skin Smoother. It's a marbled water-free balm which is based on processed plant oils and silicone dioxide and mattifies the teint. Both brands are available in CosmeKitchen and MakeKitchen stores which is where I bought my products (I've shown a particularly beautiful CosmeKitchen on Instagram here).
New launches from Kamitsuren and Do Organics
Do you remember my article about Japanese organic beauty brand Kamitsuren from four years ago? The products of Kamitsuren are formulated with German camomile, a healing plant which I love. In organic supermarket Natural House in Aoyama I bought the new Chamomile Extract Hand Cream from Kamitsuren – it has a lovely camomile scent; I already love this hand cream! – I have also written about the products of certified organic beauty brand Do Organic on this blog (last year, for example, I showed you the Hand Cream). The new Extract Lotion Repair from Do Organic contains fermented soy bean, rice extract, liquorice root extract (against hyperpigmentation) and trehalose (strengthens the skin's resilience). And the turquoise-coloured bottle looks so stylish! Another reason why I simply had to buy the lotion 😉 .
Sheet Mask from Orgaid
The Sheet Masks from US brand Orgaid are now also available in Tokyo, for example in the beauty section of department store Loft and in several niche beauty stores (which is where I bought my mask). Orgaid offers three sheet masks at the moment; I tried out the Moisturizing Anti-Aging Organic Sheet Mask from Orgaid yesterday evening (still a mask fever hangover from my stay in Seoul, I guess 😉 ). The sheet mask is made from a pleasantly thin material called Ecoderma; the active ingredients are aloe vera juice, witch hazel water, glycerin and plant extracts as well as niacinamide (good against redness but unfortunately this ingredient can't be manufactured from natural resources yet). The mask also contains carbomer which is another ingredient that can't be certified. I was very pleased by the effects: after I removed the sheet mask my skin felt thoroughly hydrated and so nourished that I didn't need an additional skin care product like a cream or oil. Here's the homepage of Orgaid.
Soft Creme from Alverde
I always take an all-purpose cream with me on my travels; I like to use this kind of product as a body lotion, hand cream or foot cream. And the new Soft Creme from German drugstore chain DM's certified organic own label brand Alverde fits this description perfectly! The light cream has a soft creamy-fresh fragrance and is absorbed quickly; it is based on soy oil, glycerin and shea butter. I will definitely repurchase this cream; I hope it'll stay longer in Alverde's portfolio this time (a few years ago Alverde had another limited edition soft cream). The jar of cream barely lasted through my three-week trip so I'm glad that I already bought the Japanese hand cream 😉 . I bought the Soft Creme from Alverde for 2.95 Euro in my local DM drugstore.
Organic beauty news of the week
Swiss brand Farfalla is offering new aromatherapy products with Ravintsara which are claimed to help against colds.
Austrian brand Hands on Veggies has launched the new Bio Anti-Frizz Leave-In Conditioner and the Bio Curly Hair Leave-In Conditioner Bamboo. More information is available here.
Yesterday the new Eco Concept Store Werte Freunde opened its doors in Hamburg. Yay! The store offers organic beauty, fair fashion, interior design and accessories as well as beauty treatments. For more information, opening hours, address and so on check out the Werte Freunde homepage. Congratulations to founder Janine Werth for making her dream of opening a store come true!
By the way: the pretty background of the picture above is a tenugui from CosmeKitchen – as an avowed fan of the CosmeKitchen chain I simply had to have it! I already posted an article about the traditional Japanese tenugui cotton cloths here. – And the Anti-Static Bracelet with the little cat design is supposed to guard against static electricity – you know how you often get a short electric shock when you touch a metal door handle in winter time? I hate it! And I'm looking forward to seeing whether the cat bracelet will help against this.
[Click here for more pictures and the original German article Beauty-Notizen 26.10.2018 (aus Tokyo)]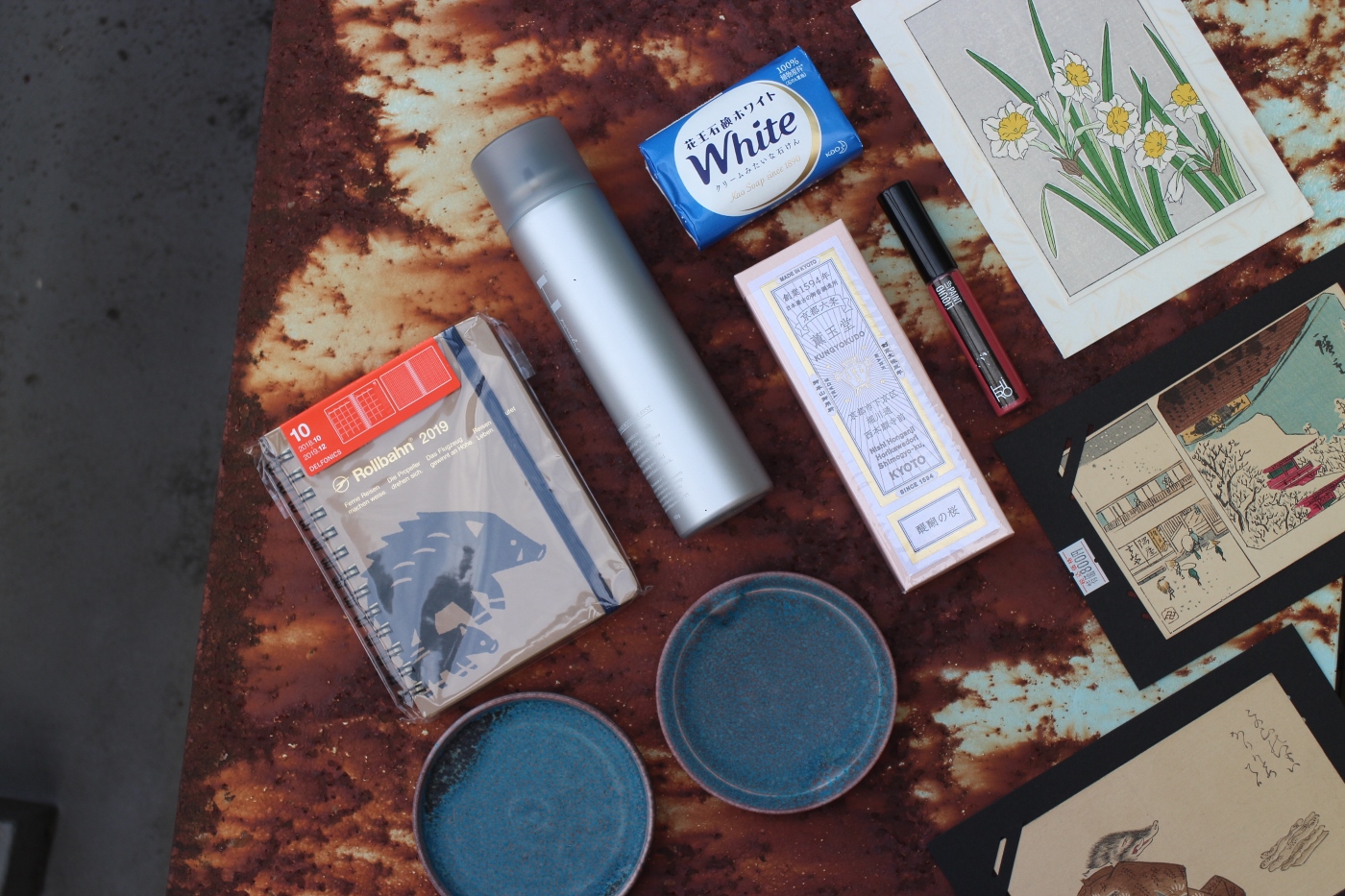 I'm back in Nuremberg. And like always I'm returning from my travels with many things to think about, new impulses and inspirations which often come from different – and sometimes unexpected – directions. Two thoughts are standing out in particular at the moment. First thought: The changes that happen to you when you're in another country where you feel like a stranger (and what a remarkable cultural achievement this is, adapting to a strange society – I have the greatest respect for people who manage to do that, not just in Japan but also in Germany. And anywhere really). My second thought is more personal-professional: I think that after 10 years it is time for another coaching. I'm a big fan of the coaching concept: reflecting on my life choices and career strategy with the help of someone external, a person from outside of my life. Without a career coaching (in an entirely different sector) many years ago this blog might have never seen the light of day… These kind of inspirations are the most rewarding things that I'm bringing back from my travels. Some of my more material souvenirs from my super heavy suitcase you can see in the picture above.
Liquid Lip Paint from Hiro
The Liquid Lip Paint from Hiro (which was an extra gift in an Amazingy order recently) travelled with me to Asia and back again. The brand name Hiro sounds Japanese but it's really the own label brand of Berlin-based organic beauty store Amazingy. When I am travelling in Asia I don't really crave bright red lip colours so I packed the coral-pink Hiro Lip Paint in shade Hue. The Lip Paints are matte, well-pigmented lip glosses which feel very light on the lips. They are not sticky but don't last all day either; the durability is not very high. My favourite way of applying the Lip Paint is a single coat which I then blot with a tissue – a matte and not too obvious look.
Sakura Incense from Kungyokudo
I discovered the new Tokyo store of Kyoto's oldest incense manufacturer Kungyokudo in the elegant Kitte design mall near Tokyo station. Kungyokudo was founded in 1594; I immediately liked the wonderful fragrance that wafted from the shop as well as the incense burner depicted in the brand's logo. Kungyokudo's new Tokyo store only carries a partial selection of the brand's incense products but I love my new Sakura Incense Sticks which have a delicate cherry blossom fragrance. And as you might have guessed I also visited the stores of Shoyeido und Lisn to buy even more incense.
Book town Jimbocho
Last weekend I finally managed to visit Jimbocho, a neigbourhood in Tokyo which is also called Book Town: the comparatively small area hosts around 200 book stores (both new and second-hand stores). I was especially interested in the antiquarian book stores – I didn't buy a Japanese wood cut (although I love these wood cuts and already have a small collection at home) but instead purchased small pictures from books and old greeting cards: the snow-covered temple, beautiful narcissi and the wild boar wearing a coat are so beautiful to look at! And speaking of boars: 2019 is the Year of the Boar (or pig) and many calendars for next year are decorated with boars – like my note book for 2019 from Japanese brand Rollbahn.
Brightening Booster Mist from F Organics
I really didn't want to buy any large beauty products during my last week in Tokyo but how could I resist the Brightening Booster Mist from F Organics? I had seen the product in one of the Japanese beauty magazines that I like to buy when I'm in Japan and it looked really interesting. The next time I was in a CosmeKitchen store I sprayed the facial mist onto my skin – I love the heavenly scent of orange blossom! And I was seriously impressed with the hydrating effect which I felt immediately. The Booster Mist is based on water, aloe vera, glycerin, camomile water and orange blossom water plus some other interesting plant ingredients. F Organics is one of the own label brands of Japanese organic perfumery chain CosmeKitchen; that's also where I bought my spray for around 36 Euro.
White Soap from Kao
I love beauty history. When I was on the Tokyo subway recently I walked past a poster which showed the classic White Soap from Japanese cosmetics group Kao in different variants and packaging designs from 1890 to the present day. Of course the Kao Corporation is not an organic beauty manufacturer at all, but the company's roots go back so far that at least the soap base of today's White Soap is still made from 100% plant-based materials. The other ingredients probably aren't very natural. I brought a bar of the soap – and with it a piece of Japanese cosmetics history – back to Germany with me. In Japan you can buy the White Soap from Kao in any drugstore for less than 1 Euro.
Pottery from Daisuke Kiyomizu
Early last week I was in Jiyugaoka, a hip Tokyo nighbourhood which isn't far from Shibuya. On my "sightseeing" list was Finnish design store Kauniste and the General Store Today's Special. And of course I knew that I wouldn't leave the store empty-handed 😉 . Near the entrance of Today's Special was a display case with the works of several ceramics craftsmen; I particularly liked the work of Daisuke Kiyomizu. Since my suitcase was already much too heavy I only bought two little dishes – but aren't they beautiful? The young artist belongs to a well-known Japanese pottery family which has been making ceramics for the last five generations. I'm always very impressed by these family histories.
Organic beauty news of the week
US brand Dr. Bronner's is finally launching the Liquid Soap Sandalwood-Jasmine in Germany; starting from November the product will be available through drugstore retailer DM. I know this soap from Asia, the fragrance is amazing!
Save the date: On 15th November and 16th November 2018 I am on a roadshow with German beauty brand Plaine Naturkosmetik! We have assembled a great programme: topics will include lateral thinking, innovation, Plaine's philosophy and the creation of the Pulverwunder ("Powder Wonder") but also international beauty trends and a few unusual sightseeing tips for Tokyo. When and where: on 15th November 2018 we'll be at Löwenzahn Biofeinkost store in Bielefeld (at 7.30pm) and on 16th November 2018 at the recently opened Eco Concept Store Werte Freunde im Hamburg. I look forward to meeting some of my German readers 😉 .
[Click here for more pictures and the original German article Beauty-Notizen 2.11.2018 (zurück in Deutschland)]
Around a week ago I received a lovely parcel: Annika from Trend Traveller had sent me some presents from Taiwan! On the picture above you can see the contents of the parcel (plus an addition from my own stock of Asian beauty products, more about this further down).
You might recognise the Formoonsa Cup on the left of the photo: I had already seen this lily-of-the-valley blossom-shaped menstrual cup at a CosmeKitchen organic beauty store in Japan and posted a pic on Instagram. Unfortunately the Fullmoongirl Sanitary Cup in Tokyo was only available in the smallest size (much too small for me). I researched the brand further and found out that the cup is actually from Taiwan and that it was developed in 2017 by a group of women with the help of a crowdfunding campaign. The real product name is "Formoonsa Cup". I had asked Annika to look out for the cup during her trip to Taiwan and yay! she found the Formoonsa Cup in a Cosmed drugstore in Taipei and bought me the medium size "Standard"! The construction of the cup is fascinating: unlike most European cups it is ball-shaped and you fold the upper lid into the cup so that any liquid inside won't flow out. The material is very thin and soft. The packaging also looks pretty – I'm already looking forward to trying out the cup properly. Here is the international Formoonsa Cup homepage.
Organic beauty from Taiwan
Besides the Formoonsa Cup Annika had also included some organic beauty products in the parcel. First of all there's the Myrrh Detoxifying Facial Mask from Inna Organic, a sheet mask formulated with essential myrrh oil and certified by Cosmos/Ecocert. Inna Organic is said to be the best-known organic beauty brand from Taiwan; the products are sold in some stores in Taipei, including selected outlets of Taiwanese book store chain Eslite (which also sells other organic beauty brands). Here is the homepage of Inna Organic.
The Hydro-Rejuvenating Mask from La Vie Naturelle (brown packaging) is also certified (by Cosmos /Soil Association). La Vie Naturelle is a brand which belongs to EverGoods – the organic beauty manufacturer from Taiwan has already presented the products of its Naveen brand at Vivaness trade show in Nuremberg twice (I have shown Naveen on the blog here).
The Third Alternative Sunscreen LSF 25 from Greenvines is a new product launch. The company started out in 2010 with the sale of sprouts and then began to shift its focus towards cosmetics. The sun protection cream contains non-nano titanium dioxide as a UV filter; in my opinion the entire INCI list of this product could be certified organic. The fluid has a light tint; you shake the square bottle before applying the sun cream to the face. Here is the homepage of Greenvines.
The Lithospermum Lip Balm from In'nature also has a great formulation. It is based on three oil macerates: a plant from the boraginaceae family (a popular herbal extract in Traditional Chinese Medicine) which is macerated in olive oil, as well as St. John's Wort and calendula macerated in sunflower oil. The lip balm has a balanced waxy-oily texture (contains beeswax) and – judging by my first tests – seems to have a nice anti-inflammatory effect. Although I didn't find an organic seal on the packaging I think this lip balm could probably be certified – many of the ingredients used by In'nature are from organic agriculture.
And because it is such a good fit I also included my Cleansing Flakes from Maskingdom in the picture (top right hand corner in the photo). The pretty compact contains super thin cleansing papers which are foamed up with water. I bought the Cleansing Flakes last year at Cosmoprof Asia 2017 trade show in Hong Kong (check out my blog post here).
Herbs and spices from Taiwan
Because Annika knows how much I like plant-based healing remedies from the world of Traditional Chinese Medicine she bought me the Herb Lozenges from Enlife, a recommendation by a sales assistant in organic Taiwanese supermarket Leezen. The Herb Lozenges contain several fermented ingredients (including healing mushrooms) which help against sore throats and keep the vocal cords healthy. I already tried out the herbal candies last week, they taste quite nice – and I didn't catch a cold on my trip to Heidelberg either 😉 .
And the little jar contains a very special pepper from the little mountain village of Wulai. When I open the jar I smell the most amazing citrus-spicy fragrance! It's a variant of Litsea cubeba – some of you might know the essential litsea cubeba oil – and the little black spheres aren't pepper corns as we know them in Europe. The black kernels are soft and slightly moist and when you crunch one up your entire mouth is filled with aroma (not peppery or hot).
You can probably guess that I now want to travel to Taipei myself to go beauty-hunting 😉 . Many thanks to Annika for these amazing souvenirs from Taiwan!
[Click here for more pictures and the original German article Naturkosmetik aus Taiwan]
Good-bye everyone and see you soon!
Julia