Dear international readers of Beautyjagd,
Welcome to the next English-language edition of Beautyjagd! This is a condensed version of the most important articles that have appeared on my blog over the last few weeks. For more information about this new format, click here. And now: enjoy the best of Beautyjagd in English!
Best wishes
Julia

An Interview with Couleur Caramel
Earlier this year I was invited to participate in a panel discussion at Beauty International trade show in Düsseldorf. Together with spa manager Maren Brand and Anke Kleiner from French brand Couleur Caramel I spoke about digitalisation, social media and blogging in the context of the beauty industry. It was an interesting discussion and I am glad to present to you – in cooperation with Couleur Caramel – an interview with Anke Kleiner. Anke is head of marketing for the national communication and marketing strategy of Couleur Caramel in Germany and Austria. If you read my blog regularly you'll probably know Couleur Caramel: I am big fan and frequently write about the brand's new product launches and limited editions!
However, in case you are not familiar with the company: Couleur Caramel is a certified organic colour cosmetics brand from France which is known for its wide range of makeup colours and professional product quality. The brand's standard line-up includes some 70 eyeshadow colours, 20 different eyeliners, 40 foundation products, 40 lipsticks and glosses and around 30 nail polishes. Couleur Caramel is sold in 30 countries across the world and the products are primarily available in independent perfumeries and beauty retailers, beauty institutes and spas. And now let's dive straight in and find out more about the brand's background story!
Beautyjagd: When and where was Couleur Caramel founded and how big is the company today?
Anke Kleiner: Couleur Caramel was founded in 2003 by Cédric Ferréol and David Reccol, two makeup professionals with a lot of experience in colour cosmetics distribution. The company is based in Bourg-de-Péage (100 km south of Lyon) and there are around 50 employees. A few years ago Couleur Caramel was acquired by French spa beauty group Thalgo which in turn belongs to the French Sirop family.
Beautyjagd: What was Couleur Caramel's first product or product category?
Anke Kleiner: Cédric and David had a passion for makeup and believed strongly that the time was ready for organic colour cosmetics. At that time, there were very few organic makeup brands in Europe. And as far as good textures and long-lasting results were concerned, there was even less choice! So Cédric and David decided to launch a makeup brand that would combine organic ingredients with a social conscience: Couleur Caramel. From the beginning, Cédric and David focused on colour choice; amongst the brand's first product launches were 80 highly-pigmented powder eyeshadows. These eyeshadows are manufactured by micronising the powder ingredients so the colours last long and are easy to apply. You can create a natural, soft look or go for intensive, saturated colours.
Beautyjagd: Couleur Caramel is also a popular brand amongst by makeup artists…
Anke Kleiner: Absolutely. It is impressive how well the brand manages to do both: the products are easy to apply and therefore perfect for "normal" everyday makeup. At the same time Couleur Caramel is often used by professional visagistes who typically need a very wide range of colours and high quality products – and Couleur Caramel can supply both. All products are developed in France and manufactured in Italy according to the strictest quality regulations.
Beautyjagd: One of the things I like about Couleur Caramel is the sustainable packaging and the fact that you offer product refills. What was the company's motivation for this?
Anke Kleiner: The brand's founders wanted to prove that quality, luxury and sustainability are not mutually exclusive. And when Cédric and David decided to launch their own professional-grade certified organic makeup brand they also wanted to make sure that the company would act as sustainably as possible. From the beginning, Couleur Caramel has used recyclable packaging made from wood, metal and cardboard. All products are certified by well-known agencies and almost all of our current product portfolio is certified by Cosmebio. We also believe in transparency and communication with our customers so we make sure to provide full product information and ingredient listings.
Beautyjagd: I love your limited editions which are launched twice a year. What is your inspiration for these collections?
Anke Kleiner: There are many influences: Couleur Caramel's makeup colours are often inspired by current fashion trends. The French heritage of the brand is also an important inspiration and we usually have a classic French flair in our special editions. Our current autumn/winter collection, for example, is called "A Sunday in Deauville" – the Deauville resort is one of the most famous and elegant seaside destinations along the French Normandie coastal region.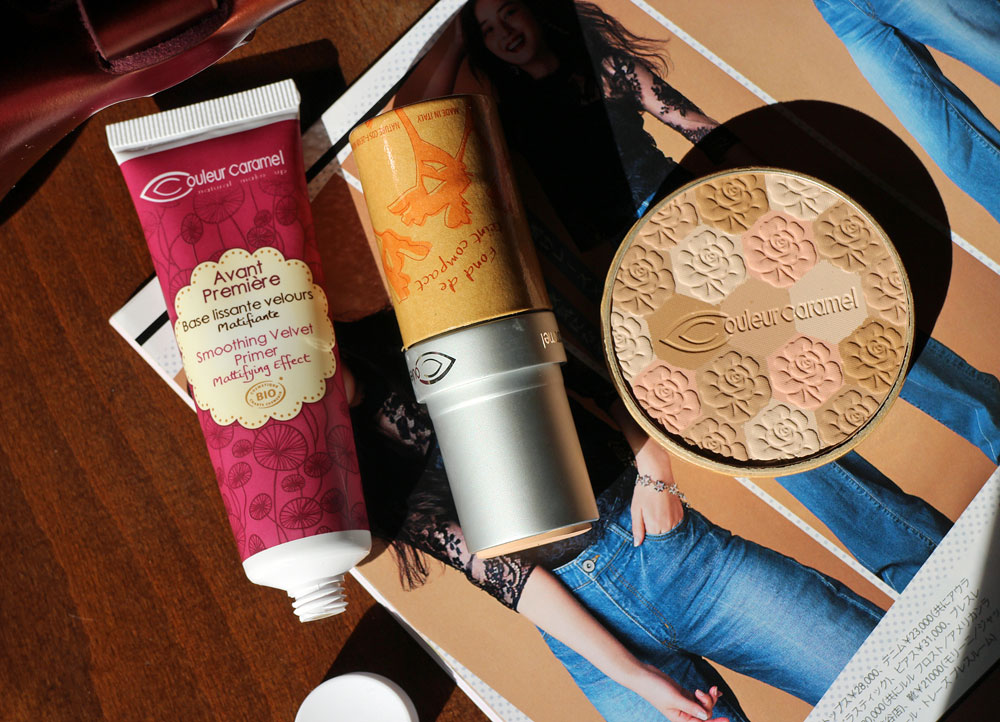 Beautyjagd: And now let's talk about the products! What are your personal Couleur Caramel favourites and product recommendations?
Anke Kleiner: First of all, the Smoothing Velvet Primer is one of the absolute highlights in our product portfolio! It is ideal for combination and oily skin, you can apply it all over the face or just on the t-zone. The primer mattifies the skin and has such a velvety, soft texture – it is difficult to believe that the product doesn't contain any silicones.
Beautyjagd: I also love this product! A few years ago I reviewed the primer in this article and it would definitely be my first recommendation from the Couleur Caramel range.
Anke Kleiner: And then of course the Fond de Teint Makeup Stick which is the bestseller amongst our foundation products. It offers natural-looking coverage and hydration, and evens out skin tone with a natural-looking finish. The stick is suitable for any skin type and it is really easy to apply: simply draw a few lines on the face and blend the colour outwards!
Beautyjagd: What is Couleur Caramel's distribution strategy for the German market?
Anke Kleiner: Couleur Caramel is a small company which is close to its customers. We are very selective about our retail channels and in Germany and Austria, we sell our products exclusively in beauty institutes and spas. The majority of our salon/spa partners is independently operated or belong to small companies. Most of the European beauty markets are dominated by large retail groups. We prefer distribution partners that take the time to get to know their customers. This individuality is very important to Couleur Caramel; we want to strengthen the independent retail sector.
Beautyjagd: And what about e-commerce? I like to shop online…
Anke Kleiner: Since Couleur Caramel has such an exclusive distribution strategy it is important that our products are also available online. In Germany we recently launched an official Couleur Caramel shop on www.shop.thalgo.de. This is actually a shop-in-shop system: when you order through this site you buy from one of our retail partners.
Beautyjagd: And finally, what is next for Couleur Caramel? Are there any exciting new product launches in the pipeline…?
Anke Kleiner: Yes, there are! This November we will launch a certified organic anti-ageing makeup product, the Hydra Jeunesse Fluid Foundation. There are very few truly effective anti-ageing makeups in the organic sector, I think. Our foundation includes hyaluronic acid, the patented Juvenessence complex and organic sacha inchi oil. I like the product not just because of its coverage but also because the finish looks so natural. And the Hydra Jeunesse Fluid Foundation is suitable for any skin type.
[Click here for more pictures and the original German article Fragen und Antworten mit Couleur Caramel – plus Produktempfehlungen]
I am using five different body lotions at the moment – and although this might sound like a lot, it is actually quite normal for me! I like to alternate my body care products. And every morning, I decide which body lotion I feel like today. I have dry skin on my body so I use lotion or cream every morning; in the evening, especially after a bath or shower, I tend to use a richer body oil. Since I am always in a hurry, my morning time product needs to be quickly-absorbed without leaving a sticky film on my skin; it also has to smell good (of course!) and in winter-time, I like body lotions with a thicker texture and more hydration.
And here are my five current body lotion favourites!
♦ I recently wrote about the Hydrating Body Veil Nectar de Roses from French brand Melvita in these Beauty Notes. My bottle is already almost empty because this body lotion has an amazing texture and fragrance: it is absorbed very quickly without leaving any streaks whatsoever, it hydrates and protects my skin and the aromatic, slightly bitter rose fragrance is fabulous. This product has the most comfortable texture of all five lotions; I'd recommend it for normal to dry skin. The Cosmebio/Ecocert-certified Hydrating Body Veil is based on water, glycerin, processed plant oils and sunflower oil.
A 200ml bottle of the Hydrating Body Veil Nectar de Roses from Melvita costs 15.50 Euro. I bought my body lotion during my trip to France this summer; Melvita also has a shop finder on its homepage.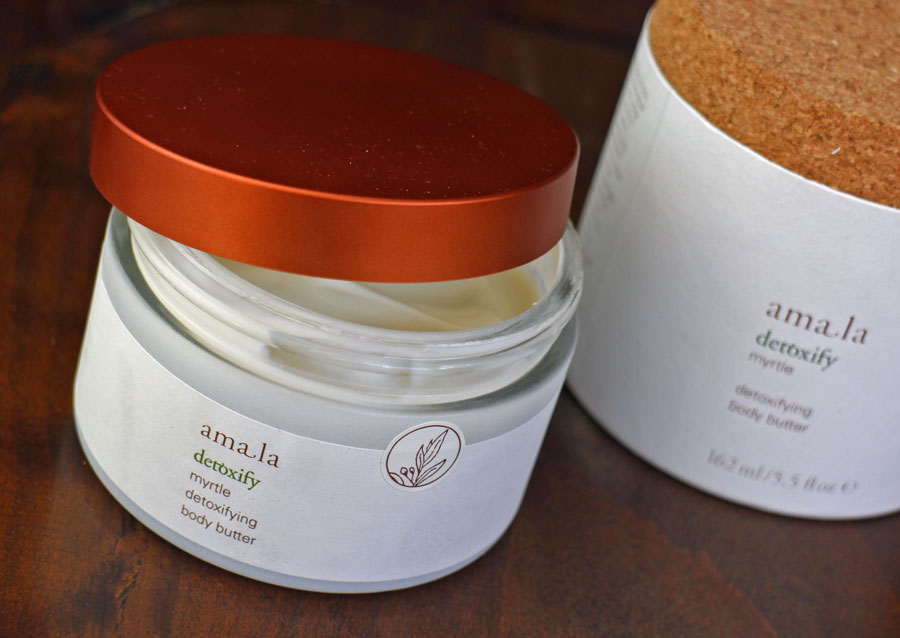 ♦ The packaging of the Detoxifying Myrtle Body Butter from German beauty brand Amala is pure luxury: the round cardboard-covered jar has a cork lid; it's much too beautiful to throw away afterwards! The texture of the body butter is like whipped cream, there is minimal streaking but the product is quickly absorbed. It also leaves a very light protective film on the skin so it is particularly suitable for dry and very dry skin. One of my favourite things about this body butter is the invigorating fragrance: herbal, aromatic and green with coniferous overtones but at the same time subtle and not too woodsy. The NaTrue-certified Body Butter is based on water, almond oil, glycerin and shea butter. Amongst the five lotions in this line-up, the Amala Body Butter definitely has the most interesting fragrance. And the most beautiful packaging 😉 .
A jar of the Detoxifying Myrtle Body Butter from Amala contains 162 ml and costs 64 Euro. In Germany, the brand is available in selected retailers or online; I bought my jar at Amala's parent company Primavera's store in Oy-Mittelberg.
♦ What a cool idea to dedicate a body care range to Inge Stamm, the founder of Berlin-based organic beauty brand i+m Naturkosmetik! The Madame Inge Body Mousse from i+m is packaged in a glass jar and has a creamy-airy texture which is really easy to apply, with just a little streaking. I would recommend this body cream for dry skin. Madame Inge has a subtle, powdery fragrance and is certified by Cosmos Organic (previously BDIH). The mousse is based on water, aloe vera, a fatty alcohol (which acts as a texturiser and emulsifier) and coconut oil. Definitely the product with the best brand story!
A jar of Madame Inge Body Mousse from i+m Naturkosmetik contains 250 ml and costs 18.90 Euro. In Germany the brand is widely available in organic supermarkets and drugstores, or online, for example through Najoba.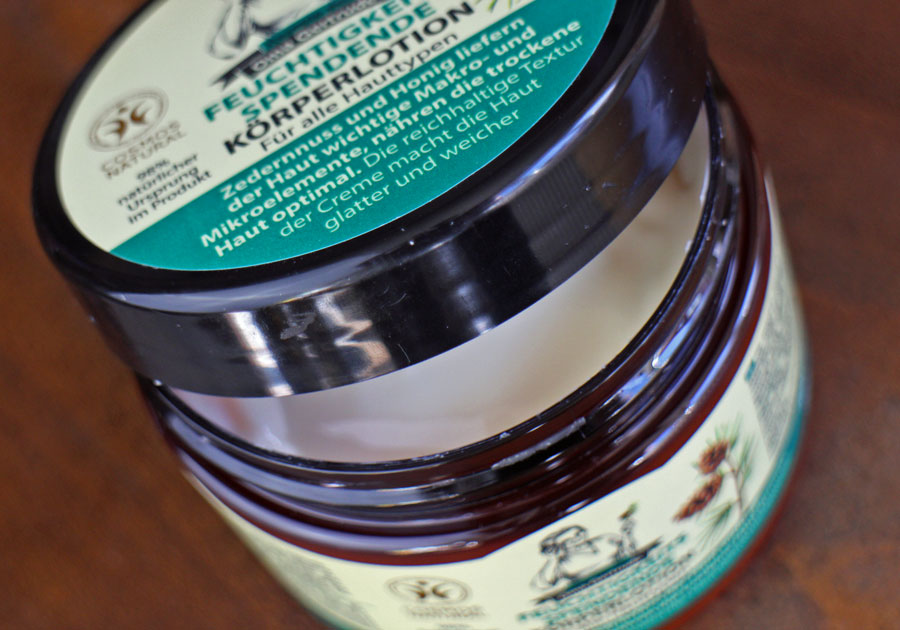 ♦ At a blogger event at Naturdrogerie store this July I discovered the Moisturising Body Lotion Cedarnut Honey from Estonian brand Oma Gertrude. I immediately liked the aromatic cedar fragrance so simply had to buy a jar (and at 7 Euro for 300 ml this is a total bargain!). The texture is creamy and streaks a bit, so you have to massage the lotion into the skin properly. But it does absorb quite well and is moisturising enough for normal to dry skin. The lotion is Cosmos Natural-certified and is based on water, processed oils and shea butter. Definitely the most affordable body lotion in this line-up.
♦ Finally there is a body lotion which I recently mentioned in these Beauty Notes: the Harmonizing Body Cream Organic Rose & Osmanthus from German brand Primavera has a rich texture which is very easy to apply with minimal streaking. It is also hydrating enough for dry and very dry skin since the lotion forms a very light protective film on the skin. The lotion is scented with a floral rose blend that has herbal overtones and is rounded off by warmer, spicy accords. The Harmonizing Body Cream is certified by NaTrue and is based on water, sunflower oil, processed oils and macadamia nut oil. This is the richest and most hydrating body lotion in my current line-up.
A tube contains 200 ml and costs 18.99 Euro. You can buy this product online at Ecco Verde or directly through Primavera.
[Click here for more pictures and the original German article Fünf neue Bio-Bodylotions für den Herbst und Winter]

Beauty Postcard 10: Gipsy Eyeshadow Palette from Boho Green Makeup
Hello my dear,
it's been a while since I bought the Gipsy Eyeshadow Palette during a trip to France earlier this year. But now is the perfect time to show you this eyeshadow palette: the colours are ideal for the autumn season! I simply had to buy this round, two-story palette which is packaged in wood and held together with two magnets. There are eight powder shadows in total: On the first floor (i.e. the bottom layer!) there are four shimmering colours: a pale rose, a copper tone, a medium-shaded purple and a soft pink-mauve. The combination of purple, pink and copper is simply fabulous! The top layer (or second floor, so to speak!) includes three matte eyeshadows – a cool beige, a lilac and a taupe – and a satinised champagne shade. The pigmentation is quite good and it is easy to build up the colour to a medium coverage. The matte shadows tend to crumble a little more than the shimmering shades and the blending doesn't always work 100% – but I still like the many different and natural looks you can create with this palette. The Gypsy Palette somehow reminds me of Indian summer…
Boho Green Makeup is a young organic beauty company from Lyon. The brand wants to offer affordable, organic colour cosmetics and its portfolio is comprehensive: there are mascaras and eyeshadows with different finishes (they also offer bright, strong colours), loose powders, concealers, eyeliners, nail polishes, lipsticks and lipglosses. Most of the products are packaged in round cardboard sleeves. The Cosmebio/Ecocert-certified eyeshadows in my Gypsy Palette are based on glimmer and corn starch, they do not contain talcum powder or fragrances. And what really impresses me: you can buy refills for each of the eight eyeshadows! No wonder that Boho Green Makeup received an award from Cosmebio in 2015. Obviously I am not the only fan of the Gypsy Palette 😉 .
Lots of love,
Julie
PS: In France you can buy Boho Green Makeup in organic supermarkets, beauty salons and selected pharmacies. In Germany the brand is starting to expand, too; I saw the Gypsy Palette for 29.99 Euro at Stararoma (where you can also find swatches of the colours).
[Click here for more pictures and the original German article Postkarte 10: Gipsy Eyeshadow Palette von Boho Green Makeup]
I am sleeping so much at the moment that I almost feel like I'm going into hibernation…. 😉 . Perhaps this has something to do with my new evening ritual with Kiss the Moon which I am presenting to you in cooperation with online store Savue Beauty! Kiss the Moon is a niche brand from North Yorkshire in the UK and they manufacture evening-time skin and body care products. Such a cool idea! The beautifully packaged products are available in four different fragrances: Love (ylang ylang, rose and frankincense), Glow (bitter orange and myrrh), Dream (lavender and cedarwood) and Calm. I had received a Calm bath sachet this summer with another Savue order and was immediately hooked: Calm is a blend of jasmine, soft camomile, powdery accords, a hint of sandalwood and base notes of ylang ylang. I have already shown Kiss the Moon's After Dark Face Oil Calm on Instagram – I simply love the fragrance of this facial oil! Every evening I also apply the After Dark Calm Balm on my temples and on my wrists (it's like a solid perfume) – sometimes I even use it during the day whenever I need a short break! The product range also includes bath oils and pillow sprays and there is a Discovery Set with all four fragrances. I had never heard of Kiss the Moon so I am really happy about this great brand discovery!
Multimasking is another beauty trend from Asia that hast just reached Europe. You might already be familiar with this concept: multimasking means applying different masks on different areas of your face so that each part gets the right skin care product. Organic brand Akane Skincare from France recently launched the Kit Multi-Masking which I immediately ordered on Monde Bio. The Kit contains three small tubes of Akane cream masks: the creamy Rose Granité contains fruit acids and apple kernel flour and has a light peeling effect, the more gel-like Masque Noir Lacté with active charcoal cleanses and mattifies the t-zone and the soothing Masque Blanc Soufflé has an fluffy whipped cream texture. I applied the black mask on my t-zone, the white mask on the upper part of my cheeks (which tend to be dry) and the fruit acid mask around my chin and the lower cheek area. After ten minutes I rinsed the masks off with lukewarm water. My skin likes this type of masking (and it looks very entertaining!). The three Akane masks are, of course, also available as individual, full sizes. My favourite was the white Masque Blanc Souffle.
My new article for Bio-Blog (German only, sorry!) is also all about masks: there are three recipes for DIY clay masks which are easy to mix and really effective. There is also a variant with algae for dry skin. Enjoy!
A few weeks ago I introduced new German aromatherapy brand Aetherio – and here is another recently launched German beauty brand: Calaverna was created by product developer Dr. Christel Adomat who decided to found her own company. Calaverna focuses on specialist treatments for mature skin; four of the seven serums are already available.
I was sent the Cream Serum 03 for Hyperpigmentation; there are also Calaverna serums for dry skin, problem skin or skin suffering from rosacea. I was immediately intrigued by the ingredients, my cream serum included newly developed plant-derived niacinamides (which I'd never heard of). Niacinamides keep moisture within the skin, have anti-inflammatory properties and help prevent the development of hyperpigmentation. The cream serum is based on water, thistle oil, shea butter and camellia seed oil; the texture is like a gel-like cream – it doesn't feel heavy on the skin but isn't liquid or thin either. Instead, it leaves a very light protective layer so I didn't need any additional moisturising cream or oil. The cream serums are available only through the Calaverna webstore, they are priced at 58 Euro each. I am looking forward to seeing what the brand does next and wish it the best of luck!
And here are some interesting organic beauty news that I found last week:
German organic brand Benecos is launching four new stick lipbalms with different fragrances, including mint and raspberry.
German drugstore retailer DM's own label brand Alverde recently launched a Rooiboos-Curcuma shower gel. I tried it out and it really has a slightly spicy fragrance!
Organic brand Speick has announced a new body lotion, Body Lotion Natural Aktiv.
I saw on Instagram that Italian brand PuroBio is launching several new lip balm sticks.
The most recent launch of US brand R.L.Linden is the Thousand Petals Beautifying Oil – I hope it smells as delicious as the matching facial spray! For more information, click here.
US brand Mahalo launched the Unveil Cleanser Melt Concentrate last week. More information is available here.
[Click here for more pictures and the original German article Beauty-Notizen 18.11.2016]
The Naturdrogerie recommends… organic beauty!
If you are a regular Beautyjagd reader you'll have read about organic beauty store Naturdrogerie! The Naturdrogerie retail store is located in the Southern German city of Mainz; a few years ago the company also launched an online shop. The two founders of Naturdrogerie, Beate Schürmann and her son Uwe, are very well-known in the German organic beauty industry.
I initially met Beate and Uwe at my very first Vivaness trade show in 2012. A few months later I visited their store in Mainz for the first time – you can find an article about my first Naturdrogerie visit here (German only, sorry!) – and since then I regularly meet up with Beate and Uwe at trade shows and industry events. I associate Naturdrogerie with expertise and commitment. Beate and Uwe have decades of experience in organic beauty, they know their brands, products and ingredients. And they are passionate about organic cosmetics! I visit their store whenever I am in Mainz and over the years I have directed many people with problematic skin to the Naturdrogerie.
Luckily you don't have to live in Mainz to enjoy the Naturdrogerie's expert product advice – there is an online store which is run by Uwe. In this blog post the team behind Naturdrogerie – Beate and Uwe plus two further colleagues – will introduce their personal favourites amongst the store's extensive brand portfolio.
Let's start with Beate who you can see on the picture above! Beate is a trained chemist, a certified Dr. Hauschka cosmetician and the owner of the Naturdrogerie store which she founded 12 years ago, in 2004. If you want to know more about Beate's background: two years ago I interviewed her about her job (the interview is German only, sorry!). And here is Beate with her beauty favourites!
Beate's favourites
♥ There are so many day creams already that I sometimes think there is nothing left to discover. And then, all of a sudden, there is a surprise; like the Perfect Day Cream from German brand Cobicos – with a non-greasy texture, a totally relaxed cream. And the only thing you can think is: "oh, this is so beautiful". The cream contains manuka honey, hibiscus and magnolia extract and was the winner of this year's German Spa Diamond Awards (which usually goes to conventional beauty products).
♥ The Flax Serum from NZ brand Living Nature is a great match for the Perfect Day Cream. The serum boosts the skin's own hyaluronic acid and collagen synthesis rather than adding these ingredients from the outside. I currently use the serum as a night treatment and in the morning I apply it underneath the Perfect Day Cream. Around my eye area I really feel a bit of an "anti-drooping effect", my eyes appear to be larger and the skin around them is firmer.
—
I met Tamara this July at the Naturdrogerie blogger event. Tamara is also a trained chemist and therefore a perfect fit for the Naturdrogerie team.
Tamara's favourites
♥ I love the fragrance of the Dr. Hauschka Renewing Night Conditioner: it is very relaxing and soft and really smells like Damascene Rose. It has a harmonising effect – like a very short wellness break – and I feel (and look) more rested the next morning.
♥ I am surprised by how long the Lipgloss from German brand Angel Minerals lasts – quite unusual for a lipgloss! Peach is a beautifully shimmering colour. And really easy to apply. The red colour does not come from cochineal but is completely vegan, like all Angel Minerals products.
—
Musician Paula is a customer advisor in the Naturdrogerie store. She likes especially likes these products:
Paula's favourites
♥ The Dr. Hauschka Moor Lavender Calming Body Oil is my personal protective shield; it is perfect for cocooning. And I love the intensive lavender fragrance. If you feel chilly in winter, this two-phase body oil is ideal for you.
♥ The Sheer Lips Lipstick in shade Harvest from Australian brand brand Zuii creates a sexy effect without looking too over the top. The lipstick is long and thin so it is easy to apply and reapply. The colour fades evenly and the lips still feel moisturised. I am wearing Harvest in the photo above!
♥ I also like Sunne Wide powder from German beauty brand Und Gretel: you can apply the lighter side of this compact powder all over the face and it creates an even, fresh finish. With the darker side you look like you've been on holiday for a week!
—
I already mentioned that Uwe is handling the Naturdrogerie's online shop. He is an IT professional and aromatherapy expert and joined his mother's company ten years ago. If you want to know more about Uwe and you are looking for organic beauty tips for men, check out this blog post here (German only) for his recommendations.
Uwe's favourites
♥ If you like lighter, sweetish fragrances you'll probably hate Attar Noir from German artisan fragrance brand Florascent: Woodsy base notes are blended with rose, aromatic sambac and various spices. The first impression almost takes your breath away. Then the balsamic notes are becoming more prominent – a complex, long-lasting fragrance.
♥ I love to burn incense; it is one of my hobbies (I also like essential oils). Burning loose incense over charcoal is a special ritual but for every day use, incense sticks – like those from Japanese brand Shoyeido – are much more practical.
Haku'un: An almost meditative fragrance: a blend of agarwood, sandalwood, benzoe and soft notes of cinnamon, cloves and spices.
Cinnamon: Incense burning and Christmas combined. Delicious.
Nanzan Incense Road: Most people with a Catholic background associate frankincense with churches. I no longer do this and these incense sticks played an important part: a blend of different types of frankincense shows how inspiring this resin can be.
—
And there is a fifth member of the Naturdrogerie team: poodle lady Coco! A frequent visitor to the store and a general favourite amongst the Naturdrogerie customers 😉 .
[Click here for more pictures and the original German article Die Naturdrogerie empfiehlt… Naturkosmetik!]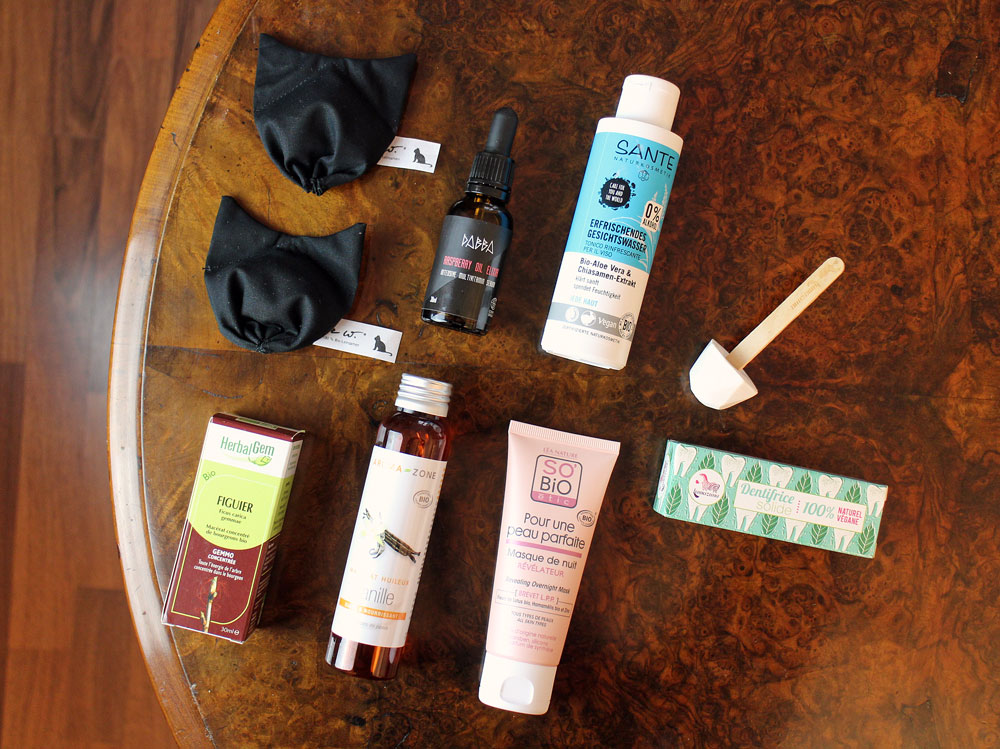 Raspberry elixir, doesn't that sound simply delicious? Sirkku from Hilla Naturkosmetik recently sent me the new Raspberry Oil Elixir from Latvian brand Dabba and I have been using it ever since! A few months ago Dabba launched several new face care products, including the new raspberry elixir. The yellow-tinted facial oil is based on raspberry oil. Jojoba oil helps to stabilise the oil blend, the ingredients also include plant-based squalane and antioxidant raspberry leaf extract and rosemary extract (no essential oils). The oil smells like raspberry oil (which does not smell of raspberry fruit, by the way!) with herbal undertones. I know and love raspberry seed oil; its high percentage of linoleic acid and 30% alpha-linolenic acid has cell-regenerating properties. The Dabba Raspberry Elixir is a comparatively light and non-greasy oil, it is absorbed quickly into the skin. The glass flacon (with pump dispenser) contains 30ml so the price of 36 Euro is absolutely ok. You can buy the new Dabba products at Hilla Naturkosmetik. There is also an interesting new brand to discover at Hilla Naturkosmetik: Purity Herbs from Iceland.
If you follow me on Instagram you'll know I was in Paris last week. And what do you do when the tooth cleansing tablets you brought on your trip run out? That's right, you buy a new tooth cleanser. And if you feel that normal toothpaste is boring (like I do), you try out something else entirely! I bought the Dentifrice Solide from French brand Lamazuna: a solid toothpaste which looks like an ice lolly – check it out on the pic above! Lamazuna's store is located in the 10th Arrondissement of Paris, very close to the Canal St. Martin. Lamazuna products are not just bright and cheerful (and organic and vegan) but the entire brand concept reflects a "zero waste" approach: in the brand's store you can buy all products without packaging. I have already shown Lamazuna's solid shampoo and the solid deodorant on this blog. The solid (and water-free) toothpaste works like this: you scrub the wet (and not too soft) toothbrush across the solid toothpaste block which transfers the mild-minty toothpaste to the brush. Then clean your teeth as usual. In Germany, Lamazuna's solid toothpaste (as well as other Lamazuna products) are available through online perfumery Najoba.
Last Friday I also visited the Paris store of French organic beauty brands So'Bio, Lift'Argan and Jonzac. All three brands belong to cosmetics group Léa Nature which has its headquarters on the Atlantic coast near La Rochelle. At the store I was shown the recently launched Revealing Overnight Mask in the Pour une peau parfaite range from So'Bio. The product was inspired by Asian sleeping masks which leave a soft, light film on your skin (no heavy or sticky night cream feeling). The So'Bio sleeping mask is tinted pink; I immediately liked the supple texture of the product. You only need a pea-sized amount and it feels really good on the skin. The Over Night Mask contains lotus flower, witch hazel, sebum-regulating and moisturising zinc salts and hyaluronic acid which is supposed to help against red patches and refine and even out skin tone. I look forward to testing the mask thoroughly – it won't be available in Germany until next February!
What I also bought in Paris: remember my post about gemmotherapy where I mentioned that I was trying out these bud drops? And in case you asked yourself whether I am still taking the drops: yes I am! Because I really have the feeling that the fig tree drops are helping to improve my mood, make me feel more relaxed and even increase my stress resistency. While I was in Paris I bought a large flacon of the Gemmo Concentrée Figuier from HerbalGem at the pharmacy in the Rue du Four (they didn't have my usual Vitaflor brand).
And of course I also visited Aroma Zone, which is THE store for DIY cosmetics in Paris. I bought a deliciously scented Vanilla Oil Macerate which smells so divinely that I could literally BATHE in it! The oil is produced without essential oils; instead vanilla pods are macerated in sesame oil. You could probably use this oil for cooking, too… My mouth is watering just thinking about it! If you have become curious about the oil, you can check it out on the Aroma Zone website here.
A few weeks ago I bought the Refreshing Facial Toner Organic Aloe Vera & Chia Seed Extract from German brand Sante at my local DM drugstore. Sante recently relaunched its entire skin care portfolio and one of the new products is this toner. The product doesn't contain any alcohol and no essential oils, instead it includes moisturising glycerin, betaine and aloe vera. The texture is watery; I liked it as a base for my face oil. Especially since the price is decent, 5.90 Euro; you can't complain about that! More information and the full INCI listing are available on the homepage of Sante.
[Click here for more pictures and the original German article Beauty-Notizen 25.11.2016]
The Genji Series from Shoyeido: The Village of Falling Flowers
It was the 20th day and the moon had already risen, but the trees surrounding the garden were so tall that it still looked as dark and melancholy as before. They sat in a room, with the scent of orange blossoms all around them.
*
And then he handed her a poem: "It is the scent of orange blossoms that lures the cuckoo into the village of falling flowers".
*
She answered him with the poem: "In these overgrown gardens and desolate rooms only the scent of orange trees could draw the steps of the traveller". That was all she said, and soon he took his leave of her.
*
This is a rough translation of an excerpt of Chapter 11 from Genji Monogatari (The Tales of Prince Genji), a Japanese literary classic which was written in the 11th century by Murasaki Shikibu, a court lady at the Imperial Court of Japan.
I am enchanted by the incense sticks of Japanese incense brand Shoyeido's Genji range! I simply love the concept: Shoyeido has dedicated a special incense blend to each of the 54 chapters of the legendary Genji Monogatari novel. While I was in Tokyo and Kyoto I bought several packs of Genji incense sticks – I just picked my favourite scents – and it was only after my return to Germany that I actually sat down to research which of the "chapters" I had selected.
The incense pack you see above interprets the 11th chapter of Genji Monogatari. In this story, Prince Genji travels to the village of falling flowers (hanachiru-sato) and during a moon-lit night, he visits two ladies that he used to know. And the entire scene is permeated by the fragrance of orange blossoms… In Japan, orange blossoms are considered a symbol for lost love (lost in the sense of, "in the past"). And the incense sticks reflect this fragrance motif; they are quite complex with fresh notes of orange blossoms. It is an almost modern fragrance; the notes of resin and woods (which I associate with classic Japanese incense) are very subtle. I really like this scent – and I love the idea of celebrating a literary classic with such a range of different incenses.
Just one of the many reasons why I love Shoyeido's products! The company uses only natural ingredients in its incense – you can find more information about Shoyeido in this blog post here. You can check out some of the Genji incenses on Shoyeido's US homepage. In Germany I've only found a few Genji incense variants; for example on Der Räucherwerk-Shop. A pack of Hanachiru-sato sticks costs around 17.50 Euro; it contains 20 sticks which each burn for around 15-20 minutes. Shoyeido's Genji range has also inspired me to re-read Genji Monogatari – the perfect book for cold November nights.
[Click here for more pictures and the original German article Die Genji-Serie von Shoyeido: Das Dorf der fallenden Blüten]
Good-bye everyone and see you in two weeks!
Julia