Dear international readers of Beautyjagd,
Welcome to the next English-language edition of Beautyjagd! This is a condensed version of the most important articles that have appeared on my blog over the last two weeks. For more information about this new format, click here. And now: enjoy the best of Beautyjagd in English!
Best wishes
Julia
Last weekend I was standing in my bathroom spraying the Damask Rose Petal Mist from Korean brand Whamisa on my face and suddenly I asked myself: is there a life without hydrosols, face mists or toners? Not for me! I used to look upon facial toners as a vaguely boring step in my daily skin care routine (something you have to do but don't particularly enjoy doing) and I could never really see the point of them. This has changed completely: toners and hydrosols are now amongst my favourite skin care products!
Here is some basic terminology: we are talking about watery-liquid products that you spray, pat or wipe on your face. There are many different types of toners: classic facial toners which are often antibacterial, astringent or designed to tighten pores, hydrosols (floral/plant waters) or thermal water sprays (which are popular in France); in Asia toners are often called lotions or essences. As you can see, it's a difficult product group to define.
In Europe we tend to see toners as the last step of a cleansing routine: you put the toner on a cottonwool pad and wipe it across your face to remove the last traces of makeup and dirt. Which you can usually see on the cottonwool.
Depending on what skin care philosophy you follow, facial toners are also used to regulate the ph-level of the skin after cleansing. If you cleanse with a soap or an alkaline cleansing foam, the ph-level tends to be higher afterwards. A toner can help to balance this out. Hydrosols – plant waters, herbal waters and so on – tend to be quite acidic, by the way. If you follow a skin care routine which includes fruit acids or peeling products, the effects can be increased by using an acidic toner before applying your skin care cream.
In Asia, toners are a different thing altogether. Double Cleansing (cleansing the skin twice with different products) is a very popular skin care ritual; after such a thorough cleansing you don't really need an additional cleansing toner. Therefore Asian toners tend to be skin softeners with an extra portion of moisturising and hydrating ingredients. They are also often thicker and more gel-like than traditional European toners. The moisture added by the toner is then sealed into the skin with a cream, oil or serum. Ideally you should achieve an even mixture of lipids and moisture which is how you get hydrated, even-toned and plump-looking skin.
And this is exactly how I see my toners: I cleanse my skin with a micellar water, foam or milk and then spray the toner or hydrosol onto the face. Sometimes I pat it on with my hands but I never use cottonwool because you'd lose too much valuable product. Immediately afterwards, while my skin is still damp, I apply an oil or a cream. If I wait too long with this, the moisture on my skin evaporates and depending on how the toner is formulated, it can actually make my skin feel drier and tighter.
Whenever I follow the principle of oil-free night care I do not apply oil or cream afterwards; instead I gently pat the toner into the skin with the palms of my hands. The reason why tap water is not suitable as a toner or facial water, by the way, is because it tends to contain high levels of limescale which isn't ideal for skin health.
My favourite toners do not just contain moisturising ingredients like hyaluronic acid or glycerin, but they also include active ingredients (like amino acids, minerals or plant ingredients like algae extracts) to help my skin produce NMF (Natural Moisturizing Factors). And that is also why I don't mind a bit of alcohol or other (organically certified) preservatives.
However, besides all these technical considerations I also love the sensual pleasure of spraying my skin with a cooling, scented toner – it feels wonderful and this is one of the main reasons why we use cosmetics, right?
And here are some toners that I like: Immortelle Toner from Primavera (I love hydrosols, like the floral/herbal waters from Latvian brand Dabba, French brand So'Bio or Swiss brand Farfalla); I like all toners from Whamisa; the Sensitive Toner from NZ brand Living Nature; La Brume Systémique from French Brand Absolution; Nachtkur und Intensivkuren from German brand Dr. Hauschka; The Jasmine Garden from US brand May Lindstrom, Sheabutter Tonic from German Demeter brand Martina Gebhardt; Eau Extraordinnaire from French brand Melvita; Gesichtslotion Kamille Borretsch from Primavera; Age Protect Toner from German brand Santaverde; Plumping Radiance Duo Pulpe de Rose from Melvita; Brume Biphase City-Protect from French brand Alorée, Thousand Petal Beautifying Mist from US brand R.L. Linden, Eau Thermal French thermal water brand Jonzac, Rosenblüten Vitalpflege from German brand Annemarie Börlind, Softening Toner Säihke from Finnish brand Mia Höytö, Energetic Facial Toner from German brand Regulat Beauty. And I probably forgot a ton of other toners that I love!
A final disclaimer: I know of cours, that you can live perfectly well without toners – but what can I say, beauty is my passion and I get enthusiastic about skin care 😉 .
[Click here for more pictures and the original German article Braucht man wirklich ein Gesichtswasser?]
A mascara/eyeliner trick: The eyeliner brush from marie w.
A question for all beauty fans amongst you: have you heard of the new Eyeliner Grandiose from Lancôme? The handle of this eyeliner brush is flexible and has a kink in the upper part so it is easier to draw a straight line. This immediately made me think of the Eyeliner Brush from German colour cosmetics brand marie w. which also has a light kink and a long handle.
It's a rather cool multipurpose brush: instead of dipping it into a liquid eyeliner, you use the tip of the eyeliner brush to gently wipe some colour from the mascara wand and then use that colour to draw your line.
Until recently I only ever used straight-handled eyeliner brushes but I find myself really liking the new brush design. I load up the Eyeliner Brush with colour and start at the middle of the left upper lid, drawing a line very close to the lash line. Then I do the same starting at the inner corner of the eye. By the way, my all-time favourite tool for helping to achieve the perfect eyeliner result (and remove smudges etc.) is one of those extra-thin Q-tips 😉 .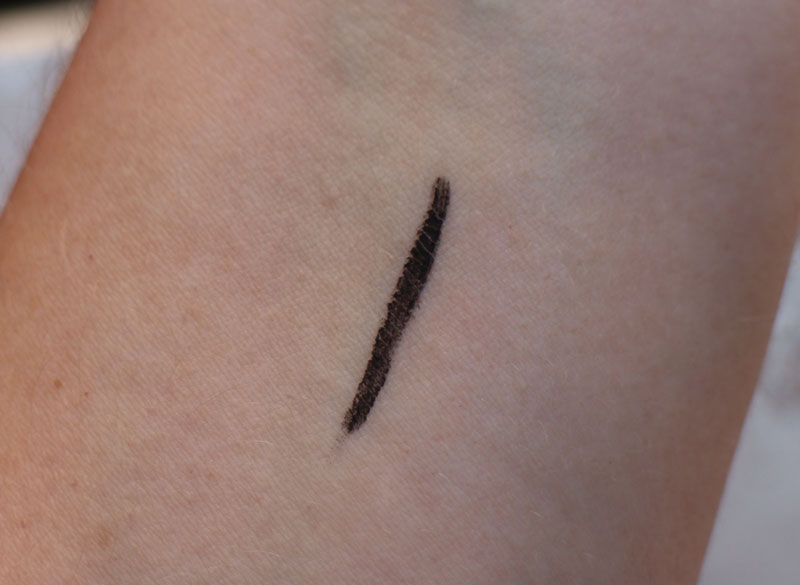 Applying the eyeliner with the new kinked brush is so much easier than using an applicator with a straight handle! I don't need to lift and twist my right arm (I'm right-handed) and therefore have much better control over the line I am drawing. I love this new way of using marie w.'s mascara. However, you should make sure to draw your line fairly quickly before the mascara dries and it is easier if you use a comparatively fresh and liquid mascara. The marie w. mascara has a waxy texture so it is ideal to use as an eyeliner – the line stays put and doesn't crumble much (and it even survives a few tears) although it tends to fade a bit during the day. My preferred marie w. mascara to use as an eyeliner is the brand's classic black mascara which is more liquid than the Rabenschwarz lang&dicht variant.
The Eyeliner Brush from marie w. costs 17.50 Euro and is available in the brand's web store as well as several other organic online beauty stores, like Bio Apo, Naturheilkundeshop or Bio Naturel. I have also seen the Brush in some outlets of German drugstore chain Müller. I received my brush from marie w..
[Click here for more pictures and the original German article Der Mascara-Eyeliner-Trick: Eyliner Pinsel von marie w.]
Beauty Notes, 21.10.2016 (from Tokyo)
My little flat in Tokyo is filled with the beautiful scent of Kyoto-based incense manufacturer Shoyeido's Kunro-Yukinago incense: every morning and evening I light up one of the little incense sticks and enjoy the elegant, powdery-floral notes which are blended with a hint of sandalwood… they remind me of the classic Guerlain fragrance Nahema. I became a Shoyeido fan around a year ago, you can read one of my articles about this traditional incense brand here.
Two of my favourite nail polishes from Kester Black have accompanied me to Japan – in the picture above you can see the shade Quartz (a medium-toned lilac-mauve) and Petal, a slightly transclucent beige-pink. Both polishes are big-5 free, vegan and have a creamy-glossy finish. I received the Kester Black polishes from German organic online perfumery Savue. Another Savue product which I took with me to Tokyo is the Deep Cleanse Antioxidant Masque from US brand Mukti Organics. Whenever I am in Asia I become mask crazy, so I packed the small 30 gr Mukti jar into my luggage! I love the texture of this (green-tinted) mask: it is based on white clay and aloe vera and contains small jojoba pearls. Unlike classic clay-based masks the Mukti mask doesn't dry on the skin but instead stays soft and flexible. After around 15-20 minutes you massage the mask into your skin, the jojoba pearls are slowly melting so they have a very light scrub effect. Then you simply rinse off the mask with lukewarm water. I love the way my skin feels afterwards: soft and clear.
My new article for organic supermarket chain denn's Bio-Blog is all about beauty ingredients that damage the environment: I list the top five ingredients which I prefer to avoid. German only, sorry!
If you follow me on Instagram you'll already know that I visited the pop-up store of recently launched Japanese organic beauty brand Celvoke. It was located right in the middle of the beauty department of the Shinjuku Isetan department store in Tokyo. Organic beauty side by side with classic luxury brands like Dior and Kanebo. I like! Celvoke is the premium sister brand of F Organics (one of my favourite Japanese organic beauty brands) and offers five skin care products. I tested the Rich Lotion and the Concentrate Oil: I would recommend these two products for dry skin. I especially loved the textures: the Lotion is a gel-like toner and the oil (which has a light jasmine fragrance) is absorbed almost instantly into the skin. Fabulous! My skin really felt more hydrated and smooth afterwards. The key ingredient in the Celvoke products is a new fermented ingredient, N-acetylneuramic acid. Exciting! The products will be available in Japan from mid-November onwards. The brand name, by the way, is derived from the words "cell" and "voice".
The new Lipsticks from Burt's Bees have been out in the US for ages. Now I finally discovered them in Japan and immediately bought the Lipstick in shade Sunset Cruise. There are 14 colours altogether which range from strong shades to more subtle tints. On my Instagram pic you can see all the different colours. The lipsticks are packaged in thin, brown, square tubes and the texture is really good: it is based on processed plant oils and castor oil plus a little beeswax. Sunset Cruise is a peachy-pink shade with a glossy finish and medium coverage. I really hope that the lipsticks will be available in Germany soon! You can find more info on the US homepage of Burt's Bees or, for more detailed swatches, check out Makeupwearables.
And here are some of the most interesting organic beauty news that I discovered during the last two weeks:
German brand Cobicos will launch a new cleansing duo: Pure Face Step 1 (a cleansing gel) and Pure Face Step 2 (a cleansing foam); I can't wait to see the products!
German Demeter brand Martina Gebhardt is offering Christmas-themed gift sets with some of Gebhardt's favourite beauty products, like the Hand & Nail Balm, the Lip Balm and the Eye Care.
[Click here for more pictures and the original German article Beauty-Notizen 21.10.2016 (aus Tokyo)]

Beauty-Postcard: La Cure Peau Nette from Absolution
Hello my dear,
oh là là, what have I discovered here?! The new La Cure Peau Nette from French brand Absolution really looks quite futuristic, doesn't it? You know how much I love liquid skin treatments (check out my blog post about the Night Cure from Dr. Hauschka) and when I read that Absolution had launched a new night treatment I simply had to order it! The "cure for clean skin" (this is how I translate the French product name!) is designed to be used over the course of 15 days (mornings and evenings). The set contains 15 individual ampoules, one ampoule is sufficient for two treatments so you only need one ampoule per day. The Cure Peau Nette helps to reduce redness, refine pores, remove impurities and strengthen the skin.
In the morning you apply the first half of the ampoule before your skin care and in the evening you use the second half after cleansing the face. The texture is gel-like – it reminded me of an Asian lotion or a light fluid – and the colour is grey which came as a surprise! La Cure Peau Nette is certified by Ecocert; it is based on water, thyme water, alpha-glucan oligosaccharide (to hydrate and stabilise the skin's flora) and glycerin, plus a whole range of fermented and plant extracts, oils (including Asian chauloogra oil which is described as skin-soothing and anti-microbial), silica, various essential oils and additional ingredients like silver and vitamin E. A bundle of really exciting active ingredients! The liquid has a subtle herbal fragrance; I use it in my regular skin care routine instead of a hydrosol and apply an oil or sun cream on top of it. I must admit that I was initially a bit sceptical – so many ingredients! However, after two weeks I was surprised to note that my skin tone really looks more even and refined. Absolution recommends that you use the treatment four times a year; I really like the single dosage principle and am already considering repurchasing the Cure Peau Nette. A really interesting product!
Lots of love,
Julie
PS: Because I wanted to buy the product as soon as possible I ordered the Cure Peau Nette from French online store Ecocentric. However, it is also available at Mademoiselle Bio and Content Beauty and I am sure that Absolution's stockists in Germany will also have the product soon.
[Click here for more pictures and the original German article Postkarte 8: La Cure Peau Nette von Absolution]
My new love: Cushion Foundations from Aromatica and Yuri Pibu
Crowd intelligence: that is what I associate with the cushion foundations you see in the picture above. This April I was fruitlessly scouring Seoul for organic cushion foundations (in the end I bought one in an organic supermarket which turned out to have synthetic sun filters). But I reeeeeally wanted to have a cushion foundation!
Cushion foundations are liquid – almost watery-liquid – foundations which are packaged in a small jar that is equipped with a pillow-like sponge. The foundation is contained within the sponge and you use a smooth, firm applicator puff to apply the foundation to your face. The finish is dewy but not shiny and although I am usually a fan of matte skin, I have really started to like the soft glowing finish – the mixture of colour pigments is really subtle. The Korean term for this dewy, glowing makeup look is Mul-Gwang, by the way, which is supposed to express how hydrated and smooth the skin looks. And speaking of hydration: cushion foundations are as much about moisturising the skin as they are about providing colour and coverage. In Korea cushion foundations are part of the mainstream, they've been around for years. Over here in Europe, cushion foundations are just starting out – this year, L'Oréal launched its first cushion foundation.
And now we are coming to the crowd intelligence aspect: a few months ago one of my readers wrote to say that she had discovered a new cushion foundation by Korean organic brand Aromatica and another by Yuri Pibu (another organic label from Korea) and she thought that I might like the ingredients. And she was so right!! Matea, thank you so much for this wonderful tip. I immediately ordered the two cushions through Korean online store Testerkorea and after ten days (so quickly!), the cushion foundations were delivered to my home in Nuremberg. I was so happy: finally I had two cushions with near-natural and organic ingredients and physical sun filters. Yay!
♦ My current favourite is the Natural Tinted Sun Cover Cushion SPF 30 PA++ from Aromatica since the darker of the two available shades is a perfect match for my (still lightly sun-tanned) skin. I discovered Aromatica in Seoul and have already written about the brand's First Serum and the Natural Tinted Sunscreen on Beautyjagd. And this is how it works: I open the cushion foundation, take out the applicator puff, gently dab it on the foundation-soaked cushion sponge and then apply it to my skin. I work the foundation in very lightly ("pat and press"). And I'm done! My skin feels great since I don't feel like I am wearing foundation at all. As I mentioned above the finish is glowing and dewy but not shimmering or shiny. However, I do apply some mattifying powder on my T-zone. I am very satisfied by how long the foundation lasts – hooray for my Aromatica Cushion 😉 .
The foundation is based on marshmallow extract (althea officinalis, I assume it is a hydrosol since it is supposed to soothe the skin), titanium dioxide, processed plant oil and aloe vera. Niacinamide acts as an anti-inflammatory ingredient. The only non-certifiable ingredients are the preservatives ethylhexylglycerin and 1,2 hexanediol.
The Cushion Foundation from Aromatica (the compact contains 17 ml) cost around 20 Euro on Testerkorea.
♦ I have only worn the Arpen Aqua Cushion Foundation SPF 29 PA++ from Yuri Pibu in shade 02 Natural once; at the moment the colour is still a little too light for my skin tone. If you have really light skin I'd recommend shade 01! Based on this short product test I'd say that coverage and finish of the Yuri Pibu cushion is similar to that of the Aromatica foundation. The Yuri Pibu foundation is based on pansy extract and centella asiatica extract (which I like!), titanium dioxide, processed plant oils and zinc oxide plus essential oils (the foundation has a light aquatic fragrance) and fermented extracts which have an antioxidant effect. I think this foundation could definitely be certified.
I bought the Yuri Pibu foundation through Testerkorea for around 15 Euro, the compact contains 15 ml. I have also seen this cushion at Glow Recipe in the US.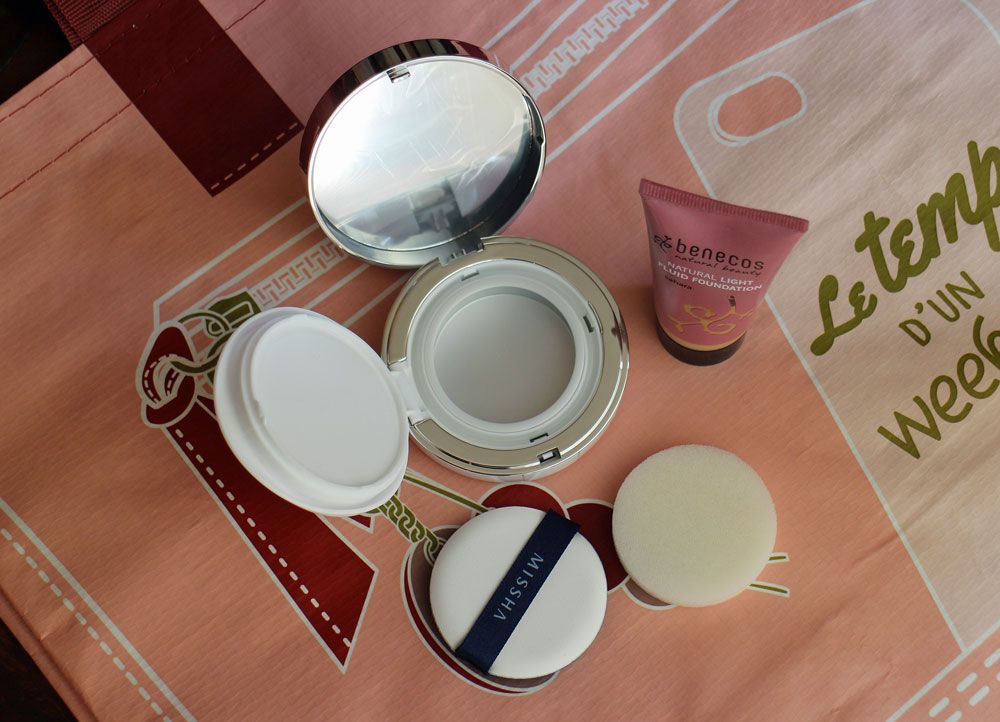 ♦ And here is a DIY tip: how to make your own cushion foundation! Again, thank you to Matea for this suggestion! You can buy empty cushion foundation jars (from Korean brand Missha, for example) which are equipped with a sponge and an applicator puff. You fill a very liquid foundation or BB cream into the compact, put the sponge on top and wait a few minutes until the foundation has saturated the sponge. Then you put a little more foundation on top of the sponge and there you are, you have assembled your own cushion foundation!
I haven't tried this out so far because I can't think of a really liquid organic foundation – and a cushion foundation needs to be super-liquidy, almost watery. Perhaps I ought to try the Light Fluid Foundation from German brand Benecos or the liquid Mineral Foundation from Living Nature?
I bought my Magic Cushion Case from Missha through the official German Missha online store. However, the compact is also available through other Korean online stores.
Extra tip: Singaporean blogger Sesame from Viva Woman describes how you can imitate the glowing finish of a cushion foundation without actually using a cushion foundation (with pics).
I can't wait to see which European organic beauty brand will be the first to pick up this foundation trend. I can completely understand the cushion hype now! US brand 100% Pure offers a cushion foundation but the reviews didn't sound too convincing. I enjoy using my beautiful cushion foundations every day and have already started on the second Aromatic foundation.
[Click here for more pictures and the original German article Meine neue Liebe: Cushion Foundations von Aromatica und Yuri Pibu (+DIY-Idee)]
Beauty Notes 28.10.2016 (from Nagoya)
This week's Beauty Notes come to you from the Japanese city of Nagoya! We took the bus from Tokyo to Nagoya last Sunday. Nagoya is perceptibly smaller than Tokyo and a lot more down-to-earth (read: it has a certain rough charme) but I have already succumbed to the very cool vibe of this city: a mixture of old-fashioned cafés and off-beat Eastern/Western dishes – butter toast with mashed beans, for example, which I have already shown on Instagram.
And since we are talking about Western influences: in a Loft department store I bought two small sizes of the Good Night hand cream and the Rose Organic Oil from German brand Kneipp. I have never seen these two products in Germany; perhaps they are exclusive to Japan. The Good Night hand cream contains hops extract and valerian; the fragrance is a soothing combination of lavender, lemon balm and fennel (or aniseed). I have already introduced Kneipp's Organic Oil on this blog a few years ago; perhaps the rose-scented variant of this skin oil will come to Germany soon?
Although I had the Antioxidant Masque from Mukti Organics with me I couldn't help myself and bought the Chamomile Deep Moist Gel Mask from Italian-Japanese organic beauty brand Terracuore. It is a really interesting mask: the texture is slippery and gel-like (and thus hydrates like crazy!) with a light camomile scent. You apply a thin layer of the mask to the face and leave it on for 10 minutes. Then you use a moistened tissue or towel to very gently blot the remains of the mask off the face. Afterwards you can apply a face oil or the matching Chamomile Balm from Terracuore of which I had a sample. I love this type of moisturising face mask! If I have researched the ingredients correctly, the gel mask is based on camomile hydrosol and hazelnut oil. More information is available on the Japanese homepage of Terracuore.
I'm also having a lot of fun with the Eyeshadow Quattro B01 from Japanese brand Naturaglacé which I bought at a CosmeKitchen store. I especially like the aubergine shade on the upper right hand corner combined with the beige gold from the lower left. The eyeshadows have a subtle shimmering finish. At first I was afraid that the aubergine colour might make my eyes look like I had just burst into tears but that wasn't the case at all – I think it all depends on the precise shade; the amount of red in the colour makes a big difference. The colour combination looks very Japanese to me (I've seen these colours in various magazines) and they also reflect the autumn-like shades of my flannel shirt. So beautiful!
Just before leaving Tokyo I finally found the nail polishes from US brand RMS Beauty in an Isetan department store. I've never seen them in Germany although they've been available in the UK for months (strange!). It looks like RMS only offers a partial range of nail colours in Japan but I was happy to see that they had the nail polish in shade Magnetic – the companion product to my favourite RMS eyeshadow colour! Magnetic is a shimmering metallic shade which changes between silver, anthracite and a hint of lilac-rosé. The perfect autumn look!
From Nagoya I went to Kyoto for the day (with the Shinkansen bullet train you can be there in just over half an hour!). One day was not nearly enough to visit even a fraction of Kyoto's many temples, shrines and palaces but at least I could briefly sample the city's incomparable atmosphere. I also visited the main store of my favourite Japanese incense brand Shoyeido; their store is gorgeous and I fell in love with an incense range dedicated to the famous Tale of Prince Genji – the combination of fragrance and literature is exactly my thing! And of course I couldn't leave Shoyeido without buying some incense; they had this limited edition box which contained incense sticks scented with the fragrance of seven autumn flowers. Outside of the Shoyeido store one of these typical autumn flowers was planted: Fujibakama is the Japanese name of hemp agrimony. I've already shown the flower (which belongs to the aster family) on Instagram.
And here are some organic beauty news that I discovered last week:
[Click here for more pictures and the original German article Beauty-Notizen 28.10.2016 (aus Nagoya)]
Trend Product: Lip Oil from Naturaglacé
While I was doing my usual store checks in Japan I kept noticing a particular beauty product: lip oil. I had bought a lip oil from Korean brand su:m37 in Seoul this spring (I wasn't too certain about the ingredients though) and just last week, I found an organic lip oil in a Loft department store. Japanese colour cosmetics brand Naturaglacé offers a wide range of makeup; I recently introduced their eyeshadow Quattro on this blog and on a previous trip to Japan I had already bought their sun powder.
The Lip Oil from Naturaglacé is packaged in a little tube; there are five different shades that offer a hint of colour on the lips. I decided on the red shade RD1 (the strongest colour) which tints my lip a subtle red. You can find all lip oils and some swatches on Naturaglacé's homepage.
The texture is a bit oilier than a lip gloss; lip oils are not as liquid as "normal" plant oils. They are slightly thicker but still feel light and non-sticky on the lips. Like Asian BB creams and cushion foundations, lip oils combine colour with hydration. Naturaglacé's lip oil has a shiny finish, especially if you use a generous amount. I was impressed by how moisturising and protective the lip oil felt. It also adhered well to my lips although it didn't survive a meal.
Many conventional beauty brands like Clarins, Lancôme, Yves Saint Laurent and L'Oréal are already offering such lip oils; it seems to be a popular format in Asia. I think that organic beauty brands should be able to develop an equally effective product, and I am a bit surprised that none of the bigger organic cosmetics manufacturers have taken up this trend so far.
A note about the ingredients: The Lip Oil from Naturaglacé is based on processed plant oils and dextrin palmitate, a thickening agent for oils. In addition the formula contains plant oils and plant extracts as well as mineral colour pigments. My red lip oil shade also contains carmine.
The Naturaglacé oil reminded me of French brand Melvita's famous Honey Lipgloss which is a lot stickier but also more protective. However, the Honey Lipgloss is probably the European product which most closely resembles a lip oil.
[Click here for more pictures and the original German article Trendprodukt: Lip Oil von Naturaglacé)]
We are now in the middle of autumn (and winter is approaching fast!) so I want to start off these Beauty Notes with a real autumn-themed product (although it is, of course, suitable for any season 😉 ) – the Swiss Pine essential oil from German aromatherapy brand Taoasis. The aromatic fir fragrance reminds me of walking in the Austrian mountains, of woods and fresh mountain air. Swiss Stone Pine (pinus cembra) smells woody and balsamic, like staying in a cosy wooden cabin in the Alps mountains. In fact, Austrian country-side hotels often have rooms made from Swiss Stone Pine wood; the fragrance cleanses the air and makes you breathe more deeply and slowly (and thus improves the quality of your sleep). And if you have a cold, it helps to keep your throat and nose clear. Taoasis offers a fragrance set which consist of a wooden cube made from Swiss Stone Pine and a bottle of the essential oil. The cube has a deep hole in it: you slot the essential oil bottle into this opening and "close" it with a little wooden ball which helps to distribute the fragrance. Looks pretty and smells good, too!
One of my favourite body lotions at the moment is the Hydrating Veil Nectar de Roses from Melvita. Not only does this lotion smell amazingly (accords of rose blended with aromatic and herbal notes) but it is absorbed very quickly into the skin without streaking. It is a pleasure to apply this lotion every morning! The perfect companion to the lotion, by the way, is the Deodorant Rose+Vanille from US brand Schmidt's which has a fabulous warm rose fragrance. I bought my Hydrating Veil directly from the Melvita factory shop during my trip to France this summer, the bottle is already almost empty and I'll have to buy a replacement soon. You can check out the product on the Melvita website. It costs 15.50 Euro.
Christmas is already around the corner, at least judging by the Christmas lights and seasonal decorations that are going up everywhere in the city center of Nuremberg! The city has just put up the special lights decorations for the famous Christkindl Christmas Market. So Christmas is very much in my thoughts at the moment – and it is also the topic of my new blog post for organic online store Najoba: I've compiled a wish list of my favourite organic beauty products 😉 .
I was visiting my local DM drugstore earlier this week to look for the new Alverde Christmas Gift Sets. Alverde is DM's certified organic own label brand and each year, they bring out seasonal limited editions. My favourite gift set is definitely Winter Love: it consists of a Shower Cream and a Body Butter which are scented with fresh mint and a touch of sweet vanilla. Subtle and different! The set is priced at 4.95 Euro.
I was really curious about the new body care product from French brand Indemne – in fact, I was so impatient that I immediately ordered it through Mademoiselle Bio! Moussaillon is a powder soap which you sprinkle on wet skin (body or hands) and on wet hair to use as a shampoo. It is packaged in a bright turquoise bottle. A simple but very cool product idea! The soap powder is scented with notes of olive oil and lemon and it reminded me of the classic Savon de Marseille. I paid 15.99 Euro for my bottle of Moussaillon, it is now also available at Ecco Verde.
And here are some of the most interesting organic beauty news that I discovered this week:
Australian brand Inika has announced nine new vegan Duo Eyeshadows; the pics look really promising. More information is available here.
Drugstore chain Rossmann is launching two new limited editions from its organic own label brand Alterra: one is a nail polish collection, the other is called Golden Wish. You can find more information on Andreas Wohlfühlblog (German only).
US brand Tata Harper is introducing a new Illuminating Eye Cream and an Illuminating Moisturizer. For more information click here.
German brand Speick has received the Sustainable Beauty Packaging Award for the packaging of its Shower Gel Organic 3.0. Congratulations!
[Click here for the original German article Beauty-Notizen 4.11.2016]
Good-bye everyone and see you in a few weeks!
Julia