Dear international readers of Beautyjagd,
Welcome to the next English-language edition of Beautyjagd! This is a condensed version of the most important articles that have appeared on my blog over the last few weeks. For more information about this format, click here. And now: enjoy the best of Beautyjagd in English!
Best wishes
Julia
If you follow me on Instagram or Facebook (or you're a regular reader of Beautyjagd) you'll have seen my cryptic hints about the imminent launch of a fabulous new beauty product. And now the time has come to unveil this beauty innovation. Drum roll please!!! Pulverwunder from Plaine was launched this week! A quick note for my international readers: Plaine is a young beauty brand from the Allgäu area of Germany; the company is best known for its organic shaving powder sachets (you can read more about Plaine here and here). And now the two Plaine founders have launched a new powder product!
The hair & body cleansing powder Pulverwunder (Powder Wonder) is packaged in individual sachets which are made from renewable raw materials and are completely biodegradable. I also love the design of the sachets – the ink drawing reminds me of Japanese art (and I have the feeling that the Pulverwunder might do well in the Japanese market). I had a pack of the powder sachets with me in L.A. and used them every few days as a shampoo, body cleanser and shaving foam. And this is how it works: get under the shower until your hair and body are completely wet. Open the sachet and pour the powder (which has a fresh Mediterranean scent) into your hair. Massage the powder into the hair; it'll turn into a rich and super creamy foam. Take handfuls of the foam and used it as a shower foam and/or to shave your legs or other parts of the body. If you need more foam, simply massage your hair again. Seriously, one sachet generates enough foam for the entire body. Then rinse off the rest of the foam and you're done! What I particularly like about the foam is that it really gets my hair clean (not all organic shampoos manage to do that) and still gives it texture and thickness. Another tester with long hair reported that after around 10 shampoo treatments with the Pulverwunder she no longer needed a conditioner. This probably has to do with the high-quality moisturising wheat proteins (the quality of wheat proteins can differ quite a lot). You can find more information about this powder innovation on the Plaine homepage; the Pulverwunder is exclusively available in the Plaine online shop.
And speaking of Los Angeles: whilst shopping at Detox Market I wanted to buy some individually packaged Juicy Bamboo Gentle Facial Cleansing Oil Cloths from Kaia Naturals. I accidentally bought the large pack which turned out to be a blessing in disguise: these are hands-down the best makeup removal cloths that I have ever used. They are ultra soft, do not sting; the cleansing oil doesn't run into my eyes, the cloths take off my eye makeup without rubbing and they don't dry out the skin. Wow! Luckily the products of this Canadian brand are also available in Germany in Dusseldorf spa Spatacular's online store. I already ordered another pack!
During my farewell visit to our local Whole Foods in L.A. I bought a supply of organic peanut butter cups (I love peanut butter cups and they are difficult to find in Germany) and a tube of the lip balm from Waxelene. I had seen this product on various international beauty blogs; Waxelene is from California and the lip balm is marketed as "The Petroleum Jelly Alternative". The Waxelene balm promises to offer the same occlusive protection as mineral oil based lip balms. The lip balm contains soy oil and beeswax as well as vitamin E, rosemary oil and peppermint oil. The peppermint notes are quite subtle and the texture is a good combination of oily and waxy; it feels really good on the lips. However, my lips are really demanding as far as lip balms are concerned – I've written a number of times about my quest for the perfect lip balm! – so I need to continue testing Waxelene before making my final judgement. You can find the Waxelene homepage here.
And here are some interesting organic beauty news that I discovered last week:
German drugstore retailer DM's organic own label brand Alverde has launched two new foot bath crystals sachets, Ruhepol and Muntermacher.
Alterra, the organic own label brand of DM's competitor Rossmann recently introduced some new makeup products: two Contouring/Highlighter Sets, a new mascara and three eyeshadow trio palettes.
And Terra Naturi, the organic own label brand of Müller (the third-biggest drugstore retailer in Germany) has brought out a new limited makeup collection, Sweet as a Cupcake.
Annika and Swantje – the founders of organic online store Savue – will launch their own colour cosmetics range, Nui Cosmetics. Very cool! More information is available here.
And take a look at the new Fairy Box (April edition); it is a very well assembled beauty box. You can check it out here.
[Click here for more pictures and the original German article Beauty-Notizen 7.4.2017]
Kale 3D Cleanse from Nourish London
Over the last few years Kale (a type of green cabbage) has become one of THE trendiest superfoods. It is also a popular ingredient in cosmetics; I first introduced the Kale Enzymatic Exfoliating Cleanse from UK brand Nourish back in January 2015. Earlier this year, Nourish launched the Kale 3D Cleanse which looked great on Instagram (I should explain that Nourish is not available in German retail; you have to order it online). Luckily the brand was at Vivaness trade show this February so I could try out the cleanser on my hand (read all about it in my Vivaness 2017 show review). Nourish then sent me the 3D Cleanse for review purposes. I couldn't wait to try out the Kale cleanser on my face to see if this type of cleansing would work on my skin.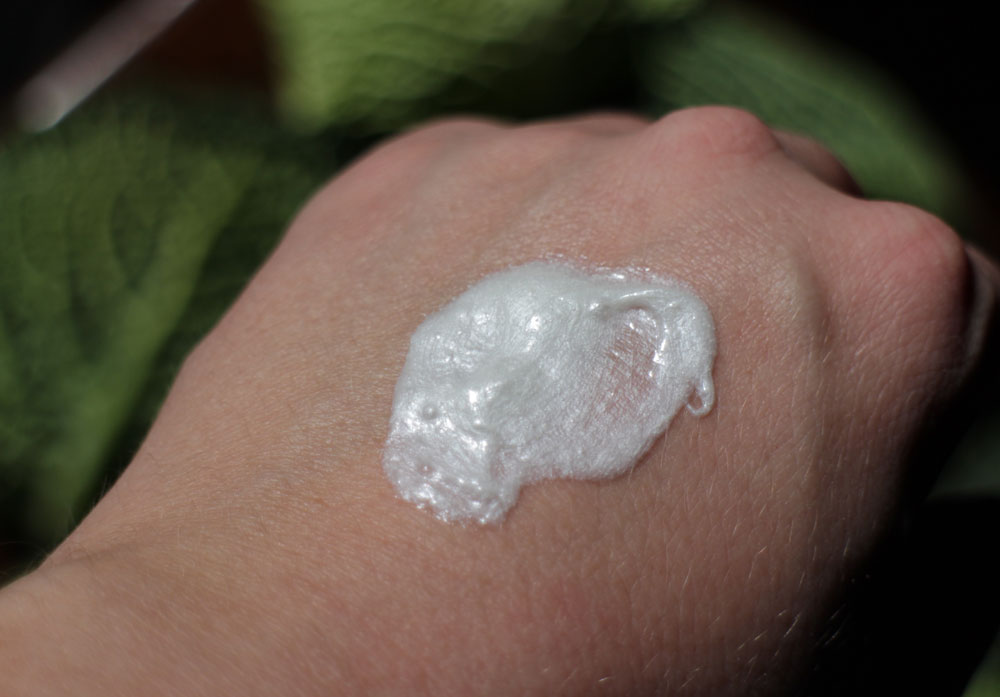 The cleanser is packaged in a bottle with pump dispenser; it has a white shimmering colour and the texture is creamy gel. You apply the cleanser to damp skin; alternatively you can wet your fingers before you massage the cleanser into the face.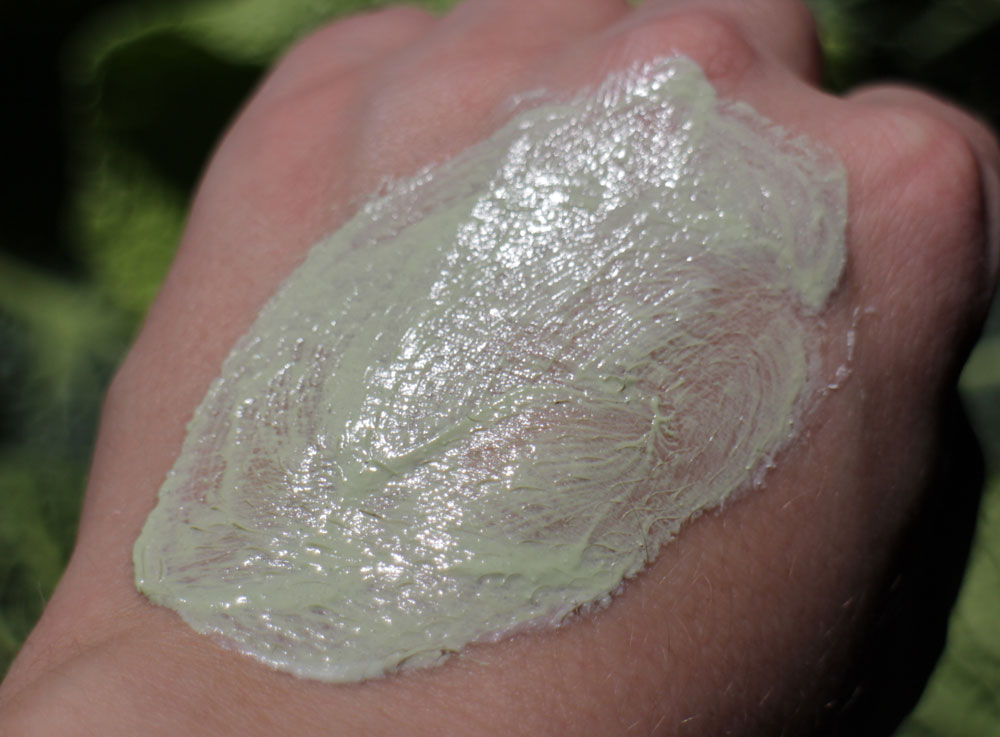 After around 30 seconds the colour of the 3D Cleanse starts changing and it slowly turns green. Wow! The founder of Nourish, Dr. Pauline Hili, wanted to show that cleansing products can be fun but the colour-changing cleanser also shows you which parts of your face are not yet cleansed properly. Once all of the cleanser has turned green you rinse it off with cool water. I was impressed by the fact that my skin didn't feel dry afterwards (although the Kale 3D Cleanser is not as moisturising as one of German Demeter-certified brand Martina Gebhardt's cleansing milks).
The Kale 3D Cleanse is based on water, a mild organic tenside and glycerine. Alginate is responsible for hydration and the kale extract has antioxidant properties while the African black bean Griffonia is supposed to help against UV damage. The cleanser also contains four essential oils (geranium, frankincense, myrrh and rosemary) which were selected especially to boost the performance of the cleanser.
One bottle of the vegan and Soil Association-certified Kale 3D Cleanser contains 100ml and costs around 28 Euro. You can buy it from Nourish London or through online store Naturisimo. I really hope that Nourish will be available in Germany soon; the brand has some interesting products, such as a face oil with vitamin C, serums with peptides or an eye cream with niacinamide.
What an innovative (and fun) cleanser! I enjoy massaging the cleanser into my face until I turn green – it looks quite spectacular. I think this was one of my favourite discoveries at this year's Vivaness.
[Click here for more pictures and the original German article 3D Cleanse von Nourish London]
General Stores: A renaissance of the corner store
Before I flew to Los Angeles I did what I always do before I travel somewhere new: research organic beauty stores and other retailers at my destination. Preparation is the key for efficient beauty-hunting abroad 😉 . My list of organic and niche beauty stores included specialist retailers such as Detox Market and Credo Beauty but also perfumeries and drugstores like Sephora or Ulta Beauty (more about this soon!).
During my research I also noticed that in Los Angeles interesting beauty brands are often retailed in so-called General Stores. These are a new incarnation of the classic concept store – sort of a concept store 2.0. A General Store sells selected and/or premium goods which are often hand-crafted or locally made. The selection includes products from different categories – like fashion, design, stationery, food, books, beauty or household items – which are displayed together rather than in separate shelving areas.
In Broome Street General Store in Los Angeles (where I took these photos) chocolate bars of premium US brand Mast are presented next to expensive French linen shirts, the fragrances of Atelier Cologne and pretty little dishes that are decorated with eyes (why didn't I buy one of these?!). Organic beauty brands retailed at Broome Store include Kypris, Ilia Beauty, Captain Blankenship and Grown Alchemist.
Unlike the typical concept store design – these stores are often spacious and sleek, decorated in white tones; with a minimalistic interior design and very careful product presentation – the shelves of Broome Street General Store are densely stocked. There is plenty to discover during each visit and the atmosphere really invites you to browse! This kind of retail store is much less intimidating than one of the super chic and often impersonal classic concept stores. The retail area of the General Stores is quite compact, by the way; it's perhaps the size of a living room so it feels really cosy.
Despite the more relaxed and down-to-earth atmosphere, General Store products can be just as pricy as those that are retailed in other premium stores. A chocolate bar costs around 10 USD and the jar of jam from one of the hippest L.A. restaurants is priced at 14 USD. The beauty products or fashion pieces are no bargains either.
General Stores are often located in trendy and more relaxed but still upmarket neighbourhoods of the city (think Gentrification). The Broome Street General Store in L.A. is located in between Silverlake, Los Feliz and Glendale and fairly close to the Griffith Observatory – isn't the house pretty? (see picture at the beginning of this article). The store also includes a cosy and very friendly café and, of course, there is also an online store. The Broome Street store is also very active on all the usual social media platforms.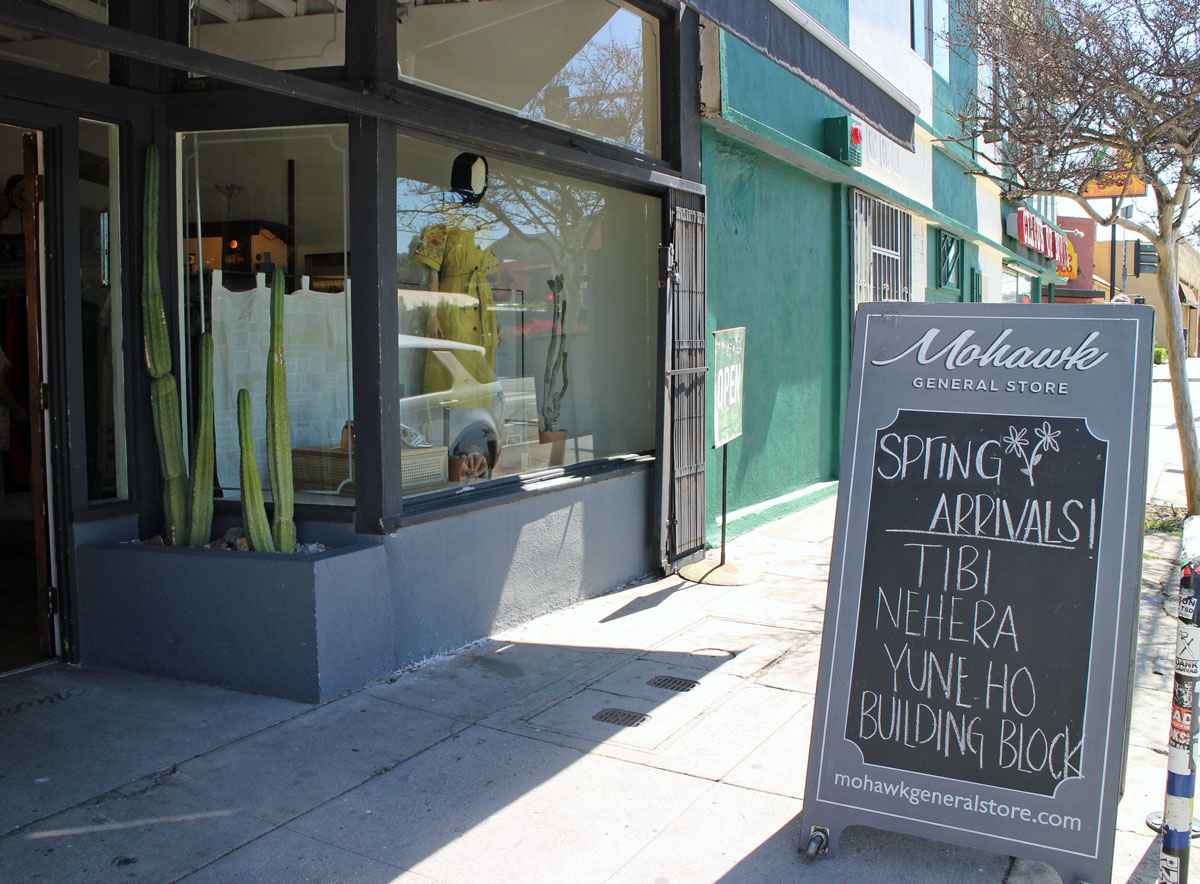 A few blocks further down, towards the Silverlake Sunset Junction, I stumbled over the Mohawk General Store which operates three outlets in the Los Angeles region. It looks similar to the Broome Street General Store but doesn't have a café and the style is perhaps a little more sophisticated.
Why I like this kind of store so much? I love to browse and it is so refreshing to be in a store and not see the entire product selection at one glance! I also like the fact that the products are carefully curated and that the atmosphere is so relaxed. This is a bricks 'n mortar retail trend which I like!
In Germany there is one retail chain that has a similar concept to the General Stores: the Manufactum chain specialises in artisan and hand-crafted products from (primarily) niche brands. However, Manufactum's stores often have a much larger retail space and are usually located in high-frequency retail areas. The concept store Hallesches Haus in Berlin, on the other hand, is very much like a General Store (you can read about my visit to this concept store here). Salon Zwei in Cologne also reminds me a bit of a General Store although this store focuses on beauty products.
I find it fascinating that these super hip General Stores offer such a nostalgic retail experience – the stylish renaissance of an old-fashioned corner store as opposed to gigantic modern supermarkets. There seems to be a distinct trend towards smaller, more clearly defined and/or curated product selections rather than the often overwhelming choice of products you find in larger retail stores. Perhaps there is also a demand for more unpretentious retail stores which offer a comfortable, inviting atmosphere.
The address of the two General Stores mentioned in the article (there are more General Stores in Los Angeles):
Broome Street General Store, 2912 Rowena Ave, Los Angeles, CA 90039, USA
Mohawk General Store, 4011 Sunset Blvd, Los Angeles, CA 90029, USA
[Click here for more pictures and the original German article General Stores: Die Renaissance des Krämerladens]
My mail order from Abury Collection arrived recently and it included a gorgeous scarf of thin pink cotton (you can see it in the background of the pic!). I really like pink at the moment! The scarf was manufactured in Morocco and like all products by Abury, the time it took to produce the scarf is translated into educational time for the local craftspeople that Abury works with. You can find more information about the company and its education charity projects here. Two years ago I bought my red Berber bag at Abury in Berlin; it is still one of my favourite handbags. And the beautifully light pink scarf will accompany me through the spring and summer.
At the moment I am using German aloe vera brand Santaverde's new limited edition Aloe Vera Body Serum which is the perfect spring-time body care product. It has a wonderful zesty citrus smell, like freshly squeezed lemon juice! The texture is very soft and refreshing and the serum is absorbed quickly into the skin which feels super smooth afterwards. The skin-firming serum is based on aloe vera juice plus a whole range of plant extracts including tiger grass, butcher's broom, caffeine and ivy which help boost the skin's microcirculation. The tube contains 50ml which makes this product perfect for travelling. I received the Body Serum at Vivaness trade show back in February.
Earlier this week I was browsing in German drugstore chain Müller's large city centre store in Nuremberg (this outlet features one of the retailer's Müller Naturshop organic beauty shop-in-shop areas) and discovered the Duo L'Or Rose Jolies Jambes Légères from French brand Melvita. The product name translates as "two-phase skin care product for beautiful, light-feeling legs". Melvita already offers several two-phase skin care products (like the Duo Pulpe Rose or the Duo Lumière Nectar Bright) which I really like. The new body care duo product contains an oil phase and a water phase; shake the glass bottle (the two phases mix very quickly) and then spray it onto your skin. The spray doesn't leave an oily film on the legs and is absorbed quickly; the fragrance is peppery (it is similar to the scent of the L'Or Rose Body oil or the Silhouette Serum). This cooling and refreshing leg spray (which I'll probably use on the body as well) combines peppermint water and sunflower oil as well as plant extracts. The bottle was priced at 22 Euro; you can check out the product INCIs and more pics in the French Melvita online store.
I also visited the Dr. Hauschka counter in Nuremberg's Breuninger department store. I'll show you my Hauschka purchases in more detail in a later blog post but I really want to include the pretty triangular little mirror which I received as a gift with purchase. Isn't it cute?! It's a dual mirror actually, one side enlarges slightly, the other shows the "normal" reflection.
I am still thinking about my recent trip to California. Around two weeks ago I visited the Strange Invisible Perfumes store on Abbott Kinney Boulevard. After a lot of testing and deliberation I selected a small flacon of the Eau de Parfum Epic Gardenia. The brand's founder Alexandra Balahoutis launched her first organic essential oil fragrances back in 2000. Her star sign fragrances are probably the best-known perfumes but the line-up of Strange Invisible Perfumes also offers another twelve Eau de Parfums. I really wanted to try Primaballerina, Epic Gardenia, Black Rosette and Fair Verona. If it had been November in Paris I probably would have chosen the leathery rose fragrance Black Rosette. However, since it was March in Los Angeles I decided on Epic Gardenia – to me, California smells like gardenia (like the Hand & Body Lotion from ShiKai)! Interestingly enough Epic Gardenia isn't a straight-forward floral gardenia-dominated fragrance. The perfume is a blend of white tropical blossoms and citrus-oriented green and earthy tones rounded off by darker, more animalistic fragrance accords. The scent of Epic Gardenia is like a wild night-time dream but at the same time modern and sophisticated. The Strange Invisible Perfumes boutique is definitely worth a visit, by the way; the store also sells selected organic beauty products. The homepage of the fragrance brand has an international store finder.
[Click here for more pictures and the original German article Beauty-Notizen 14.4.2017]

Signature Sets from RMS Beauty: Pop Collection and Mod Collection
"Yes, it was a good idea of RMS Beauty to offer this kind of signature palette", the sales lady told me at Bluemercury store. I guess I wasn't the only customer who couldn't decide between the two variants and ended up purchasing both 😉 .
On my very first day in L.A. I went straight to Bluemercury on Montana Avenue to check out the new Pop Collection and Mod Collection palettes of US brand RMS Beauty. At that time these two palettes were exclusively available in the outlets of niche beauty store retailer Bluemercury.
I had seen the product news on Instagram a few days earlier: RMS Beauty is launching of two Signature Palettes which include colours that you can otherwise only buy in individual pots. Pop Collection offers cooler shades, Mod Collection contains warmer colours. Each palette includes five water-free balms so the textures are creamy, not powdery.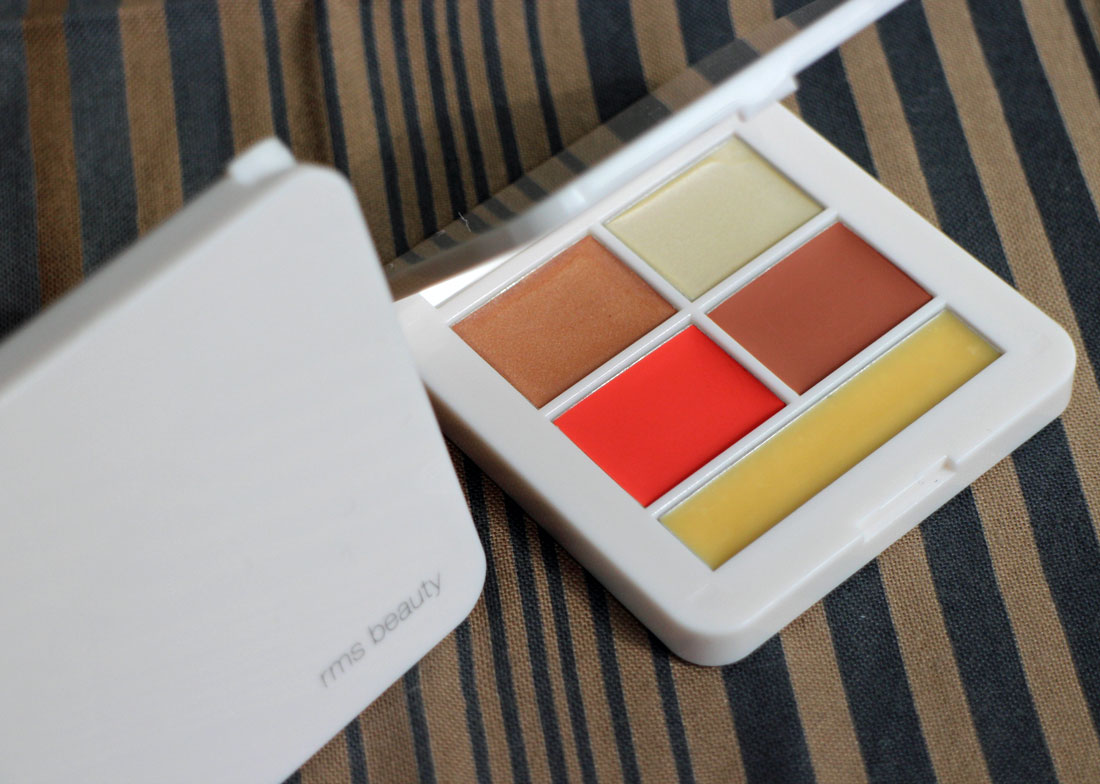 Mod Collection comprises the rosé-golden Master Mixer (a beautifully soft and shimmering texture without large glitter particles), the Living Luminizer (still my favourite natural-looking highlighter), the coral-toned cream rouge Lip2Cheek in Smile (another one of my favourite colours), the Lip2Cheek in Spell (a transparent nude rosewood tone without shimmer particles) and the clear Simply Cocoa Lip & Skin Balm which smells like cake! You can find the links to my reviews and swatches of Living Luminizer and Smile in the text above.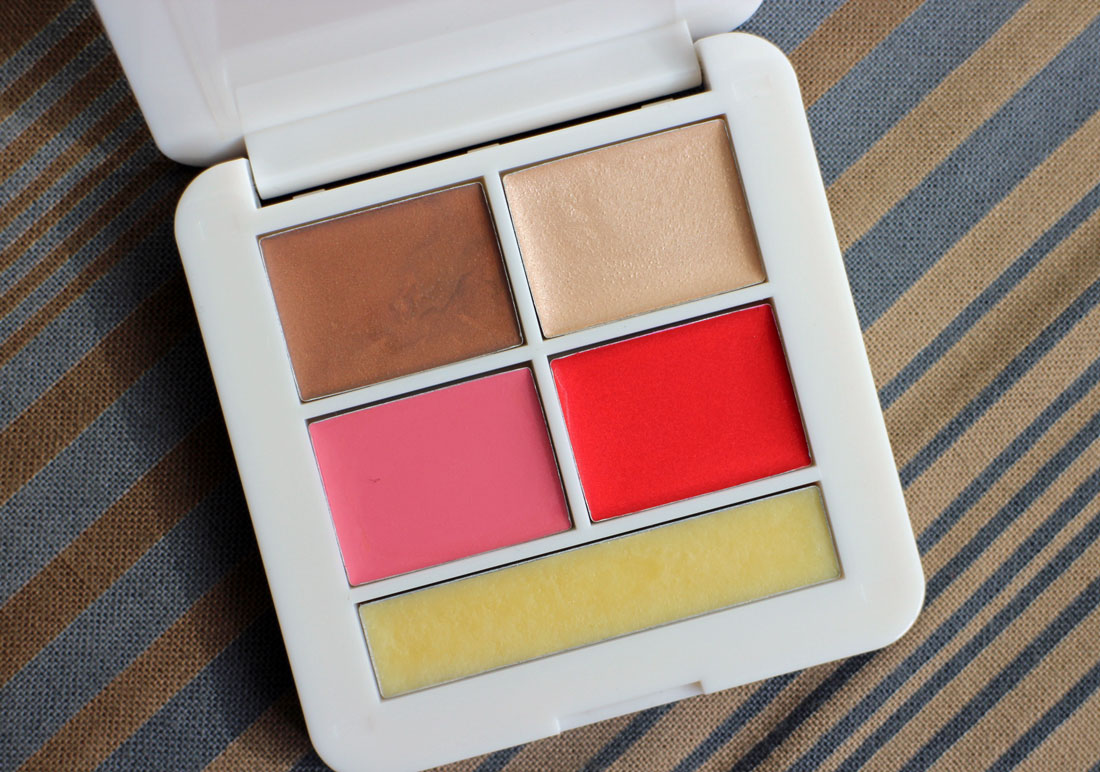 The Pop Collection includes Buriti Bronzer (a neutral-toned bronzer with medium pigmentation which I really like), the new Magic Luminizer (a whitish-rosé highlighter with a soft texture without glitter), the Lip2Cheek in Demure (a cool pink tone for the cheeks, doesn't look as good on my lips unfortunately), the Lip2Cheek in Beloved (a cherry-coloured strong bright red for lips and cheeks without shimmer, so it's pure colour) and the Simply Vanilla Lip & Skin Balm which is more oily than waxy and has a nice vanilla fragrance. For links to reviews and swatches of the original products scroll up this text!
I like these kinds of products: five RMS colours in one simple, white palette – perfect for travelling! I guess I'll take the Pop Collection with me for spring and then switch to Mod Collection once summer is here.
The four colours contain 1.1gr each; the lip balm contains 1.5gr. The palette is made from plastic and measures 7 x 7 cm so it is really light and compact.
The Signature Sets from RMS Beauty are now available in Germany and Europe, too; they are priced at around 52 Euro. I paid 48 USD at Bluemercury. The only wish I have is that the palettes would include my favourite eyeshadow Magnetic – then the Pop Collection and Mod Collection would be perfect!
[Click here for more pictures and the original German article Signature Sets: Pop Collection und Mod Collection von RMS Beauty]
Has the unicorn craze arrived in your country yet? In Germany, unicorns seem to be one of the biggest pop culture trends at the moment: Instagram is full of pics with funny unicorns and/or unicorn slogans, German chocolate manufacturer Ritter Sport (you probably know their famous square chocolate bars) brought out a unicorn-themed chocolate in late 2016 which sold out almost immediately; and US fashion blog Man Repeller has highlighted Unicorn Food amongst the latest New York food trends. There are unicorns everywhere! I have an MA in art history so my first association with unicorns was, of course, the famous medieval tapestry cycle The Lady and the Unicorn in the Musée de Cluny in Paris. The unicorn phenomenon has been around for centuries and European cultural and literary history is saturated with unicorn fables, stories and myths. I am fascinated by the current unicorn renaissance so when I was shopping in my local organic supermarket denn's I bought Austrian organic food brand Sonnentor's limited edition Unicorn Tea. It's a pink-coloured fruit tea based on rosehip and hibiscus and tastes nice – I like that it is not too sour; probably because of the forest berries in the tea blend. If you live in Europe you can order the Sonnentor Unicorn Tea on Ecco Verde.
I tried out two new products this week. In Los Angeles I had bought the Pumpkin Honey Glycolic Mask from US brand Andalou Naturals. Products with fruit acids or retinol are very popular in the US market so many organic beauty brands offer this product type. A few days ago I felt that my skin needed a peeling treatment so I opened the Pumpkin Honey Glycolic Mask which is a kind of chemical fruit acid peel. The fragrance-free mask is based on pumpkin puree, aloe vera, glycerin and manuka honey; it looks like orange fruit spread and smells like pumpkin pie! For the first few minutes after I applied the mask my skin tingled quite a bit but after I rinsed off the mask with cool water I couldn't see any redness on my skin at all. Although the glycolic acid percentage in the pumpkin honey mask is presumably quite low and mild (it is listed in 9th place in the INCIs; my guess would be around 1% with a pH value of around 5), I was impressed by the results: there were almost no visible skin flakes left on my skin the next day. I would imagine that the mask also works as an enzyme peel, it also includes vitamin C. Yes, I will definitely continue using this mask, probably every two weeks or so. You can order the mask through iHerb; it costs around 14 USD.
The second face care product that I tried out this week was the new Hyaluron Moisturizing Treatment from German organic brand Annemarie Börlind. The treatment set contains seven glass ampoules which are easy to open. The INCIs for this product are quite straightforward: the treatment is based on spring water, glycerin, hyaluronic acid, the natural moisturising ingredients Sodium PCA, lactic acid, sodium lactate and Chinese Snow Fungus (tremella fuciformis) extract. The Moisturizing Treatment is fragrance-free. I applied the contents of the ampoule in several layers, similar to the 7 Skin Method, and then used a cream on top. The Treatment should also work really well if you follow the oil-free night care method. The Hyaluron Moisturizing Treatment is supposed to be used on seven consecutive days; the set costs 14.90 Euro. I received the product as a press sample from Annemarie Börlind. More information and the complete INCIs are available on the Annemarie Börlind homepage.
Tuesday morning it snowed here in Nuremberg despite the fact that it is currently spring time in Germany. Because it was cold and unpleasant outside I felt like I needed to do some cocooning, so I smothered myself in the Baby & Kind Bodylotion Sanddorn & Vanille (Body Lotion Sea Buckthorn & Vanilla) from German organic brand Lenz Naturpflege. I love the delicious scent of vanilla and cheesecake so much; it is comforting but subtle. Seriously, I could bathe in this fragrance! The body lotion is absorbed very quickly into the skin without leaving any stickiness. The product is certified by Natrue and is based on water, soy oil and glycerin; the sea buckthorn and camomile extracts are from German organic agriculture. For each Baby & Kind product sold, 0.10 Euro is donated to the Deutsche Hebammenverband (German Association of Midwives); I like that! I saw the new Baby & Kind range at Vivaness trade show and immediately liked it. My body lotion is a sample I got at the trade show; the 150ml bottle costs 7.49 Euro. The Lenz Naturpflege website has a shop finder.
And here are some interesting organic beauty news that I discovered this week:
German drugstore retailer DM's certified organic own label brand Alverde is launching a new gift set, Lieblingsmensch (which translates as: favourite person). The brand is also introducing a new limited edition soon: Candy Bar offers three lipsticks, one lip gloss top coat, two shimmering duo eyeshadows, a mousse blusher, a scrub mask sold in sachets and a hand cream which is packaged in a little tin.
Some of my readers asked me about German organic beauty brand Alva Naturkosmetik. Good news: the brand's skin care will be available again soon; phew! Alva's colour cosmetics on the other hand, are probably going to be redeveloped so the range will continue to be unavailable for the near future.
US brand Axiology has announced new matte Lip Crayons in stick form.
Austrian brand dieNikolai has just launched three Demeter-certified cleansing products. More information is available here.
[Click here for more pictures and the original German article Beauty-Notizen 21.4.2017]
Good-bye everyone and see you soon!
Julia