Dear international readers of Beautyjagd,
Welcome to the next English-language edition of Beautyjagd! This is a condensed version of the most important articles that have appeared on my blog over the last few weeks. For more information about this format, click here. And now: enjoy the best of Beautyjagd in English!
Best wishes
Julia
Beauty Notes 16.6.2017 (from Tokyo)
Last week I packed my bags to fly to Asia again, and the first city on my trip is Tokyo! I am so happy to be back in Japan; living in a tiny shoe box (a.k.a. the typical Tokyo flat), eating delicious foods and, of course, going on a Japanese beauty hunt! One of the first things I did was to take a Swan Boat ride on the lake in Kichijoji (see Instagram pic); directly afterwards it started to rain heavily so my first tenugui purchase was the Sound of Rain pattern from Japanese tenugui brand Kawamanu. You can see the beautiful tenugui cloth in the background of the picture above – I you want to read more about Japanese tenugui, check out this article on Beautyjagd.
In an outlet of book store Kinokuniya I discovered the Organic Beauty Lover Issue: a book which introduces the most popular organic beauty products of organic perfumery chain CosmeKitchen (check out the pic on Instagram). It cost around 12 Euro and included a sample size of the rosehip kernel oil from Australian beauty brand Trilogy as well as the Natural UV Protect Cream with SPF 32 from CosmeKitchen's own label brand. The perfect start to my Tokyo beauty hunt! Also, it's a really cool marketing measure to reach new customers.
In the beauty department of Japanese department store Tokyu Hands I noticed the silicone makeup applicators Silisponges – they seem to be everywhere at the moment. I must admit that for almost a year I resisted the silicone sponge applicator hype. However, just before I left Germany I saw a silicone sponge for 6.95 Euro in my local DM drugstore outlet and took it with me to Japan – I just knew that these sponges would also be happening in Asia. If I remember correctly the silicone sponge trend is from the US: you use the oval silicone applicator to apply liquid or creamy foundations (rather than using an egg-shaped Beautyblender or foundation brush). The Silisponge feels soft on the face; like a piece of velvety rubber band. I tried it out together with my cushion foundation from Aromatica and well, I'm not really sure what to say. Yes, you can use the Silisponge to apply foundation and yes, it doesn't soak up the product like a normal sponge would. However, my Silisponge didn't really work the foundation into the skin; it felt more like I was pushing it around on the surface. In the end I had to use my fingers to make sure that the foundation really adhered to the skin rather than just forming a superficial layer. The Silisponge probably works best with really liquid foundations. My verdict: sure, you can use the Silisponge but it is by no means a must-buy product.
And speaking of cushion foundations: Japanese organic beauty brand Aqua Aqua has launched a new Cushion Compact Foundation which is available in three shades. I bought the yellow-toned darker colour at Tokyu Hands; it is also available as a refill. The promised sun protection is SPF 35 which is a level of protection you can't really achieve without more than one layer. So far I quite like the foundation but cannot yet say whether I prefer the finish of the Aqua Aqua foundation or the finish of my current favourite from Aromatica. The Aqua Aqua cushion offers a little more coverage than the Aromatica compact. Anyway, the cushion foundation trend has now reached the Japanese organic beauty industry: you can check out the Cushion Foundation from Aqua Aqua on CosmeKitchen's Japanese home page.
One of my favourite moments this week was the visit to Lisn, the concept store of Japanese incense manufacturer Shoyeido in Tokyo's Aoyama neighbourhood. I'll write in more detail about Lisn at a later date; but here's a quick preview: Lisn is a stylish and airy retail space in which Shoyeido is presenting over 150 different incense sticks. These sticks are sorted according to fragrance family and offer modern fragrances rather than traditional scents. You can smell your way through the incense stick selection and then make the purchase according to what your nose tell you 🙂 . The sticks are sold individually so you can select different fragrances. Which is what I did: I couldn't resist the jasmine-scented Nights in Tunisia, Naughty (described as "cactus-scented") or Flow (flowery notes of apple). I have already written about Shoyeido in this blog post here and just a few months ago I introduced the orange blossom-scented incense sticks from Shoyeido's Genji series. More about Lisn soon!
[Click here for the original German article Beauty-Notizen 16.6.2017 (aus Tokyo)]
Beauty Notes 23.6.2017 (from Seoul)
When almost all airport buses are decorated with beauty ads it can only mean that you're in… Seoul! I arrived here earlier this week; Seoul is the second stop on my Asia trip. I'm here to attend ingredients trade show InCosmetics Korea and, of course, I am also going to be hunting for beauty trends and product innovations! I have already bought the beauty magazines Allure Korea and Beauty+ although I can't read a word of Korean 😉 .
First I went to Myeongdong, the area of Seoul which has the highest concentration of cosmetics stores. From late afternoon onwards, the streets of Myeundong turn into a veritable beauty party: one beauty store next to the other, sales assistants and promoters shouting out the latest special offers, loud music blasting from every store; street food stalls everywhere and crowds of people. It is definitely an experience but for structured beauty hunting I prefer to visit Myeongdong in the morning, it's much quieter then. In the flagship store of Korean retailer Olive Young I bought the new Green Tea Cleanser Stick from Neogen Naturals which isn't really an organic brand but the ingredients of this stick would be certifiable. The Green Tea Stick includes tea leaves; it is based on glycerin and a sugar tenside and reminds me of the Rose Cleansing Stick from su:m37 which I bought in Seoul last year.
Concept store Åland sells selected fashion and accessories, like the bags from US brand Baggu (in the background of the picture you can see my new lavender mesh bag!). The larger Åland stores also sell niche cosmetics, including the organic beauty brand Time to Blossom. I really like the pretty packaging which is decorated with illustrations by artist Yeji Yun. The Natural Cleansing Cream Foam had a cat character on it so I just had to buy it! Several of Time to Blossom's products are certified by USDA. Here is the home page of Åland.
I also checked out the stores of Korean brand Innisfree: the products of the Eco Science range are certified by Ecocert; I purchased the Eco Science Skin ("skin" means toner in Korean, see 7 Skin Method). I keep being amazed by how great the textures of these Korean gel toners are!
Since I was unable to find my Whamisa products in the usual organic stores I took the subway to Seoul's Gangnam neighbourhood where Eden Plaza, Whamisa's flagship store, is located. Check it out on Instagram. Eden Plaza offers the entire Whamisa portfolio including the new Peeling Finger Mitts which are available in three variants for different skin types. The Finger Mitts are saturated with a peeling and moisturising liquid (you use it after your regular cleaner; make sure to rinse your face after you use these mitts). These peeling pads were made popular in Korea and the US by Korean brand Neogen; I guess Whamisa is following this trend. The Peeling Mitts will also be available in Germany soon, by the way.
During my pre-trip store research I came across beauty store Cree'mare which sells niche brands from all over the world – the focus, of course, is on Korean brands. A fabulous store for anyone who loves niches beauty! The product shelves feature short brand descriptions in Korean which, unfortunately, I couldn't read. Anyway, Cree'mare is located inside the subway station Sinnonhyeong (exit 3) – so convenient! Whamisa is represented at Cree'mare with an entire table full of products; I also discovered some interesting natural brands like Rootree and TreeAnnSea. After checking the INCIs I decided to buy the Agave Cactus Dester Amoule from TreeAnnSee, a recommendation of the sales assistant. The Ampoule is based on agave leaf extract and contains niacinamide; I am looking forward to trying it out once I am back home.
Taking sheet masks to Seoul is a modern version of carrying coals to Newcastle… 😉 .
In Myeongdong, for example, Chinese shopping tourists buy sheet masks in packs of ten (or even more); there are piles of sheet mask packs in front of the stores. As I mentioned in my Beauty Notes some time ago, the larger stores of German drugstore retailer DM now sell a new organic beauty brand, Bio:Végane Skinfood. Bio:Végane belongs to the German company which also produces Dr. Scheller and Sans Soucis; the products are certified by NaTrue. The portfolio offers four ranges with five to seven products each; each range is based on one "superfood": Goji for mature skin, green tea for sensitive skin, Acai for combination skin and cranberry for dry skin. I had bought the cleansing foam for sensitive skin which didn't really impress me; then I saw at Ecco Verde that Bio:Végane now also offers sheet masks. These masks are not cheap – one mask costs 4.95 Euro – but then again, certified organic sheet masks are still very rare in Germany. So I brought Bio:Végane's Green Tea Sheet Mask with me to Seoul and tried it out yesterday evening. The cellulose mask adheres well to my skin; the fabric is saturated in a blend of water, orange fruit water, glycerine, pentylene glycol and tea plus two plant extract and hyaluronic acid. You leave the mask on for about 15 minutes and then massage the rest of the liquid into your skin. These sheet masks always leave the skin cool and hydrated (which feels really good in this hot and humid weather). Compared to conventional sheet masks from Asia, the Bio:Végane offering can't really keep up but I am very happy that we finally have an easy-to-find certified organic sheet mask in Germany. I especially like this kind of skin care product in summer time.
I'll write about my visit to InCosmetics Korea in a separate blog post; it was a really interesting trade show! I also liked the conference programme; especially the presentation of market research company Mintel which was really illuminating. The exhibitors at InCosmetics included quite a few natural ingredients manufacturers and the topic of sustainability was also present in the conference presentations.
And here are a couple of interesting product news which I found last week:
Organic niche perfume brand April Aromatics has launched a new fragrance which is called Agartha. For more information, click here.
DM's organic own label brand Alverde is launching a limited edition rose water toner.
[Click here for more pictures and the original German article Beauty-Notizen 23.6.2017 (aus Seoul)]
A major trend: Organic beauty without water
I was surveying my well-filled beauty shelves recently when I noticed how many of my more recent organic purchases are water-free products: definitely an up and coming trend! This might have to do with the fact that when you're travelling by air you can't take liquids of more than 100ml in your cabin luggage. And people travel more in general so they prefer lighter and smaller luggage – I recently read that 30% of all Germans commute to work.
In any case, water-free cosmetics have some major advantages: these products need little or no preservatives (since bacteria, yeasts and fungi love water); they tend to weigh less than water-based products so you need less packaging material which also means that the CO2 footprint is smaller. After all, you don't need heavy bottles if the water is only added to the dry or solid product when you actually use it. And it is my impression that solid beauty products tend to last longer so they are more economical.
Water-free classics like bar soaps have been seeing a renaissance for several years now: I bought the Savon de Provence Figue from French brand Avril on my recent trip to France; the soap has a beautiful fruity fig smell. Lip balms are also traditionally made without water; I am currently using the lip care balm For Lips from German brand Annemarie Börlind – the balm is based on castor oil and shea butter.
When I was in the US I noticed a number of brands that offered water-free balms and oils for face care. One of the first balms that I discovered years ago is the Moisturiser from British brand MuLondon which is available in different varieties (for example with chamomile, with calendula, myrrh or frankincense (swoon!)). You can read more about MuLondon in my blog posts here.
An unusual hand care product is the solid Moisturising Egg from German brand Aries: it is based on olive oil, beeswax and lavender oil. The egg starts to melt once it comes into contact with the skin and you can use the oil-wax liquid to moisturise your hands. My Aries egg is from a Fairy Box which I was sent recently.
UK brand Lush made solid shampoos popular and you can now also find organic solid shampoos. In France the ring-shaped Solid Shampoos from Secret de Provence are usually sold in organic stores (in Germany they are mostly available online; check out my review here). And deodorant creams with baking soda are becoming more and more popular, too; I have been a fan of them for years and am currently using the summery My Melon Deodorant from German vegan brand Vegane Pflege. Check out Vegane Pflege's full range in this blog post here.
The new Pulverwunder (Powder Wonder) from German brand Plaine is another multifunctional water-free product. I have written about the powder cleanser several times; the powder is sold in a sachet and upon contact with water turns into a rich foam. You can use the foam to wash your hair or body or shave your legs. And it is fun to watch the powder foam up! You can order free test sachets in Plaine's online stores; what a great idea. The packaging is cool too; it is made from renewable raw materials and is completely compostable.
Colour cosmetics in stick form are currently seeing a big hype; conventional US brand Milk, for example, is creating a splash with its numerous makeup sticks. There are also organic alternatives, like the Multi Sticks from US brand Bite Beauty (similar products are available from Nui Cosmetics or Hiro) or the Complexion Illuminator from French brand Couleur Caramel.
At Vivaness trade show two years ago I discovered the Denttabs which I have been using pretty much continuously ever since: the chewable toothpaste tablets turn into foam once they come in contact with your saliva and the resultant foam polishes rather than scrubs the teeth. More info about the Denttabs in this blog post here. The Denttabs are particularly convenient for travelling!
There are also water-free sun protection creams, like the Natural Sun Stick SPF 50+ from French brand Evoa which I carry around in my makeup bag in summer time. I use the stick underneath my foundation on those parts of face that need additional sun protection, reinforcing the effects of my normal SPF cream. Check out my Evoa review in this sun care article here.
In Germany, medicinal earth powder masks are a beauty classic – and much as I enjoy stirring up my own masks, I prefer the Peel-Off Masks from French brand Secrets des Fées – they contain algae and are more moisturising. These peel-off masks are, of course, inspired by the modelling masks from Korea – you can read more about this beauty trend here.
Whilst visiting a French parapharmacie a few weeks ago I discovered the makeup remover pads Le Coton Démaquillant 2en1 from French brand Tetra Medical. The pads are impregnated with a dry makeup remover lotion; you moisten the pads with water and then cleanse your face as usual. So much better than wet cleansing wipes (which tend to include quite a few preservatives) – the dry pads probably last much longer than a pack of wet wipes.
I'm really looking forward to seeing how this trend will continue to develop! I found some interesting water-free products in Japan and Korea recently so it also seems to be a trend there.
[Click here for the original German article Im Trend: Naturkosmetik ohne Wasser]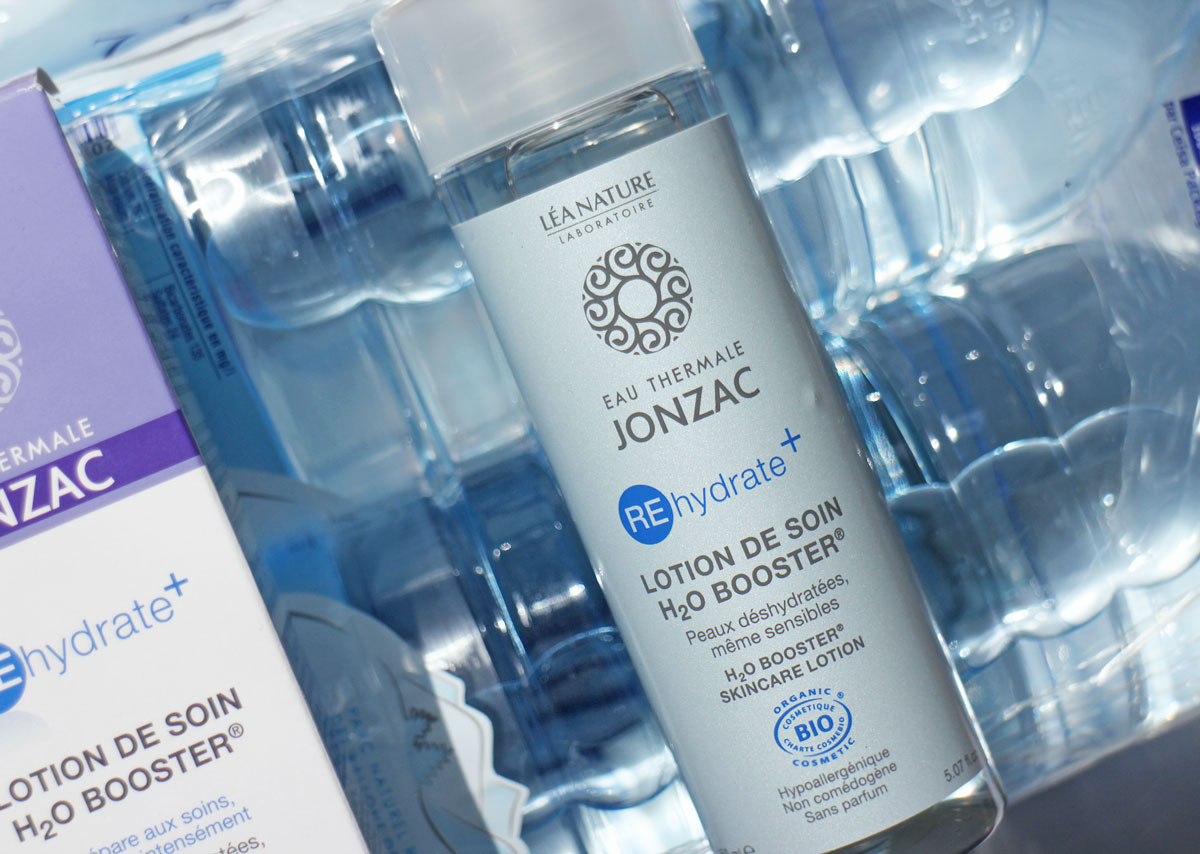 Eau Thermale Jonzac: REHydrate+ H20 Booster Lotion
There are so many thermal water brands in France: enter any French parapharmacie and you can't avoid Vichy, Avène, La Roche-Posay or Uriage. Unfortunately none of these are organic beauty brands (although the thermal water used in these cosmetics is, of course, natural).
However, a few years ago, Eau Themale Jonzac entered the market place: a beauty brand which is based on thermal water but also certified by Cosmebio and Ecocert. The small spa town of Jonzac is located in the South West of France, in between Bordeaux and La Rochelle – not too far away from the headquarters of French manufacturer Léa Nature, the company behind Eau Thermale Jonzac (two other well-known Léa Nature brands are So'Bio étic and Lift d'Argan). The mineral-rich Jonzac thermal water comes from a spring which is located 1850 m underground. The water has a temperature of around 60 C.
In France this type of thermal water cosmetics is called "dermo cosmetics". This term also indicates that beauty brands like Avène, La Roche-Posay or Jonzac base their product development on dermatological/scientific research – and indeed, the Jonzac laboratory has so far developed five ingredients complexes which have been registered for patent approval.
The product portfolio of Eau Thermale Jonzac is large; there are ten different skin care ranges. Over the last year Jonzac has launched some really interesting and innovative products and today I'd like to introduce to you the brand's H2O Booster Skin Care Lotion (Lotion de Soin H2O Booster) from the Rehydrate+ range. The toner has been developed for very dry and sensitive skin which is prone to skin tightness and rough patches. The product does not include alcohol or fragrances. If you use it daily together with the night gel from the same product range, the Booster Lotion claims to increase hydration levels within the skin by 30%.
I first tried out the Lotion this February, at Vivaness trade show where Léa Nature was one of the exhibitors (this is also where I received my bottle of the product). I immediately liked the slippery and slightly gel-like texture of the lotion; you apply it after cleansing the face and before your serum/face oil/cream/sun cream. The Booster Lotion has a light chamomile scent.
Compared to the H2O lotion the Deep Rich Toner from Korean brand Whamisa is more moisturising and has a thicker texture. However, although the H2O Lotion has a more watery texture than the Aqua Rosa Essence from French brand Sanoflore, it is also absorbed more quickly and the skin feels a little more hydrated than with the Sanoflore toner.
Besides the Jonzac thermal water, the H2O Lotion contains soothing chamomile water as well as moisturising pentylene glycol (plant based; also has an anti-microbial effect), glycerin, xylitol, hyaluronic acid, sodium PCA and lactic acid.
One bottle contains 150ml and costs 17.90 Euro; you can order it online, for example at Mademoiselle Bio. You can find more information about the brand on Eau Thermale Jonzac's home page. I really hope that this brand will be available in Germany soon!
[Click here for more pictures and the original German article Eau Thermale Jonzac: REhydrate+ H2O Booster Lotion]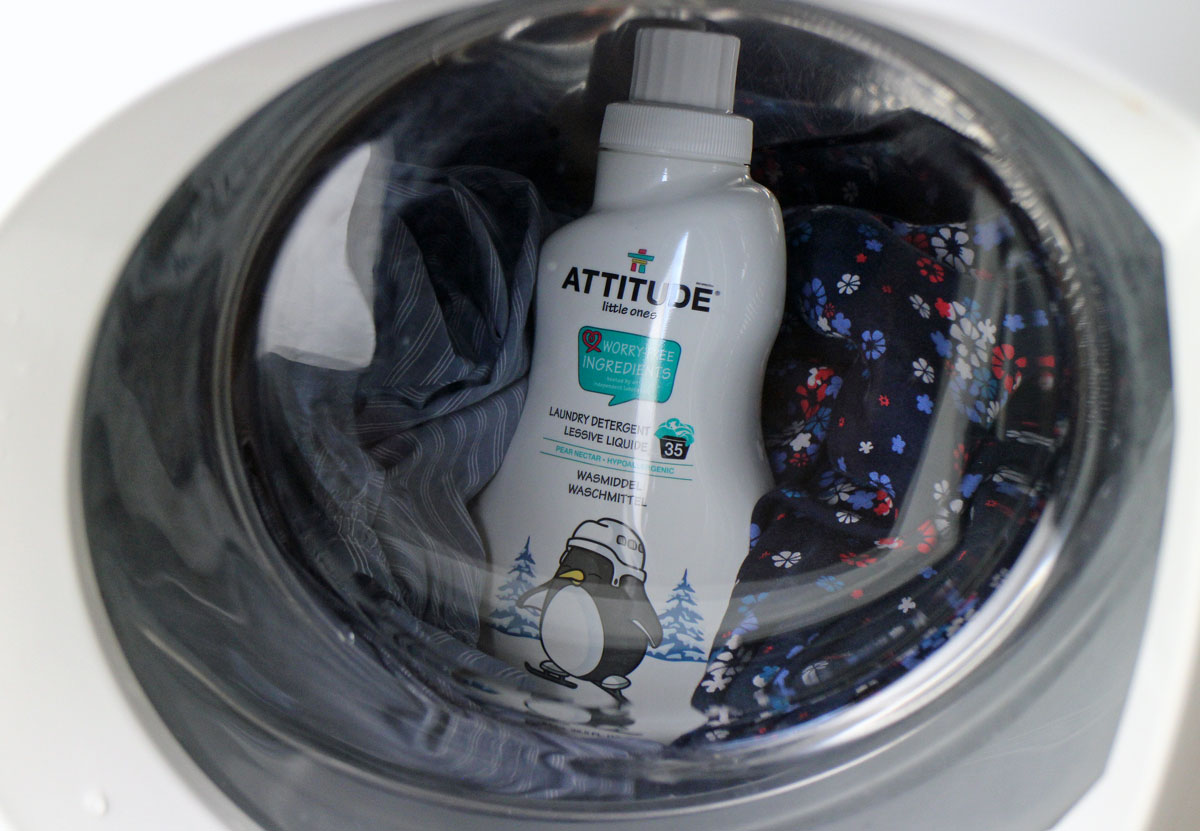 Eco household: Cleansing and washing with Ecosplendo
I've written many times about European organic beauty online perfumery Ecco Verde – but did you know that the company also runs several other online stores? Ecosplendo, for example, sells natural and organic household products – washing-up liquids, household cleansers, laundry detergents – from over 30 brands. In this Sponsored Post I will introduce six of their products, including some of my favourites!
♦ Yes, I can understand why the baby laundry detergent Pear Nectar from Canadian brand Attitude (see picture above) is one of Ecosplendo's bestsellers: the fragrance! And it is so economical! I discovered this liquid detergent around a year ago – nothing against citrus or lavender (which I also like) but a pear-scented detergent? Very cool! When you air-dry the laundry the room really smells a little like fruity pear; the fragrance last even longer once you hang the dried clothes into your wardrobe.
I had re-purchased the Pear Nectar detergent at least five times already and I don't even have a baby 😉 – no, I use the liquidy gel detergent to wash my coloured clothes at 40 or 60 C. One bottle of detergent lasts for around 35 wash cycles, depending on the hardness of the water and the dirtiness of you laundry you need 1/3 to 1 full cap of detergent. The cleansing effect is good; if you have clothes with stubborn stains I recommend pre-soaking the fabric or simply rubbing a little detergent onto the stain. The detergent is recommended for washing machine temperatures of 15 C to 95 C and for coloured clothes, delicate fabrics and easy-care fabrics. I can confirm that the detergent also works on a cold wash cycle – I took a small bottle of the Pear Nectar with me to Japan where washing machines generally run cold cycles only.
The vegan Pear Nectar detergent is based on plant-based anionic and non-ionic tensides (from coconut and maize) and is biodegradable. The detergent does not contain enzymes or optical brighteners, the fragrance is of natural origin. Pear Nectar is certified by Ecologo, an organic certification seal which was established in 1988.
One bottle of the liquid baby detergent Pear Nectar from Attitude contains 1.05 litres and costs 11.99 Euro.
♦ If you know me you also know how much I like black or dark-coloured clothing. So when I saw the liquid Dark Laundry detergent from Italian brand Biopuro on the Ecosplendo website I was immediately interested: the detergent claims to effectively remove white sweat stains AND it smell of figs and lily-of-the-valley… oh my! I simply had to try this product! Biopuro comes from Lucca in Tuscany; the compact bottle is sufficient for around 20 wash cycles, it is a concentrated detergent which is also suitable for cold wash and hand-wash laundry. And yes, the scent of the liquid detergent combines white florals and fruity sweet notes so the fragrance description is accurate. I was surprised by how long the scent remained in my clothes; it is a little stronger than the Pear Nectar baby detergent from Attitude.
Since this is a detergent for dark clothing the detergent does not contain bleaching agents or optical brighteners. Instead, plant-based glycerine and wheat proteins keep the fibres soft. The tenside blend combines plant-based anionic, amphoteric and non-ionic tensides (these tensides have different physical charges, like the tensides used in shampoos) so the detergent cleanses really well – the cleansing power is perhaps a little stronger than the Pear Nectar detergent mentioned above. The vegan Black Laundry detergent is certified by Italian association AIAB; it does not contain petro-chemical ingredients and the fragrance ingredients are natural.
One bottle of the liquid detergent Black Laundry from Biopuro contains 500ml and costs 4.19 Euro.
♦ And now let's move into the bathroom! The vegan Bath & Shower Cleanser from German brand Sodasan contains water, alcohol, plant-based sugar tenside, vinegar, citric acid and essential oils; it has a zesty citrus fragrance which cheers me up when I clean my bathroom – which is not my favourite activity! The tap water in the Nuremberg region is really hard which means that bathroom tiles, bath tub, basin and so on are quickly covered in limescale. I spray the bathroom surfaces with the cleanser, leave it on for 1-2 minutes, polish it with a cloth and then rinse it all off with water. The Sodasan cleanser removes traces of water, limescale or soap quite efficiently.
One spray bottle of the Bath & Shower Cleanser from Sodasan contains 500ml and costs 4.49 Euro.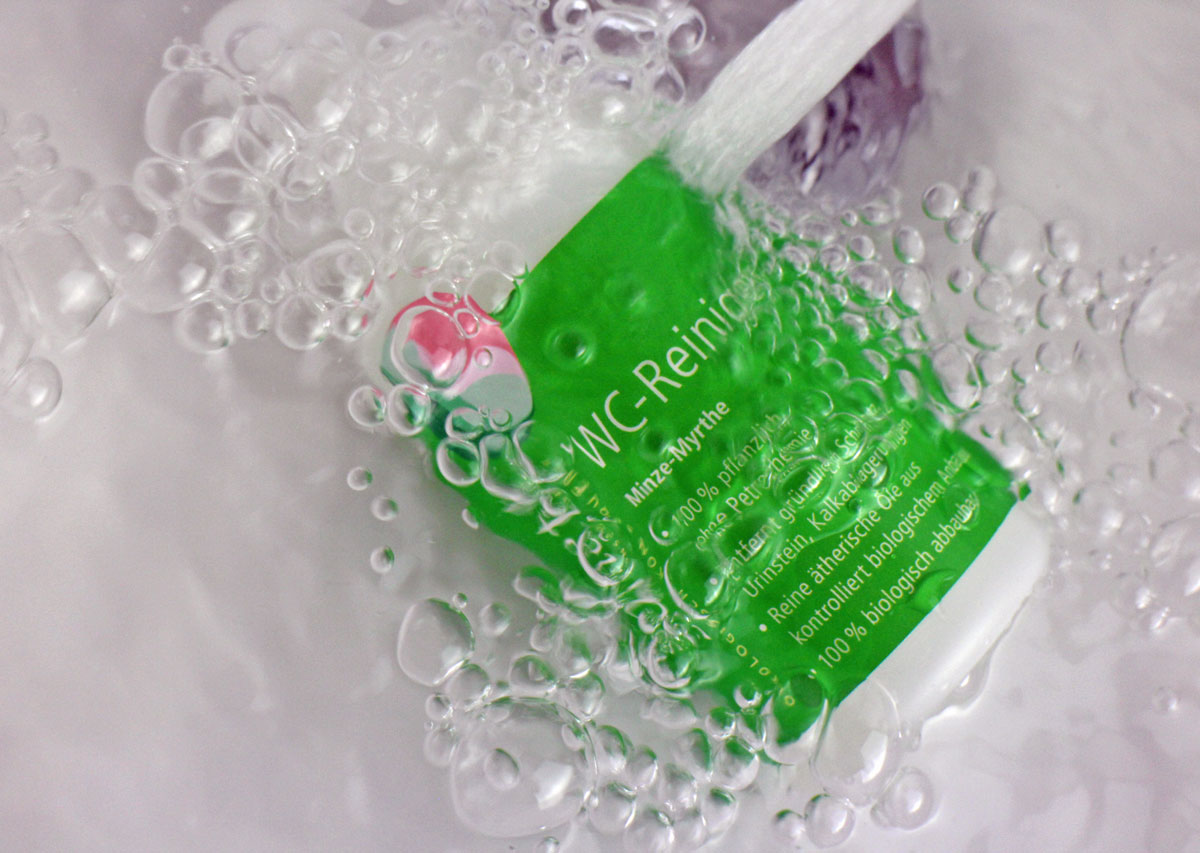 ♦ At Vivaness trade show this February German brand Sonett presented a new toilet cleanser, the WC-Reiniger Minze-Myrthe (mint & myrtle). I have written about Sonett's brand philosophy and some of their products in this article here; the mint & myrtle cleanser is a line extension with a very fresh, herbal and citrus-accented fragrance – very different from Sonett's usual cedarwood and citronella toilet cleanser.
The new cleanser contains citric acid (to remove limescale) and a blend of coconut fat sulphates and sugar tenside which dissolves oil-based residue. Like all Sonett cleansers, the Minze-Myrthe cleanser does not contain any petro-chemical ingredients; 100% of the raw ingredients are from natural sources and completely biodegradable. The fragrance is composed of essential oils. The cleanser is vegan and certified by Ecogarantie. Sonett is also a member of the Certified Sustainable Economics label.
One large bottle of the WC-Reiniger Minze-Myrthe from Sonett contains 750ml and costs 3.29 Euro. It is also available in a small size.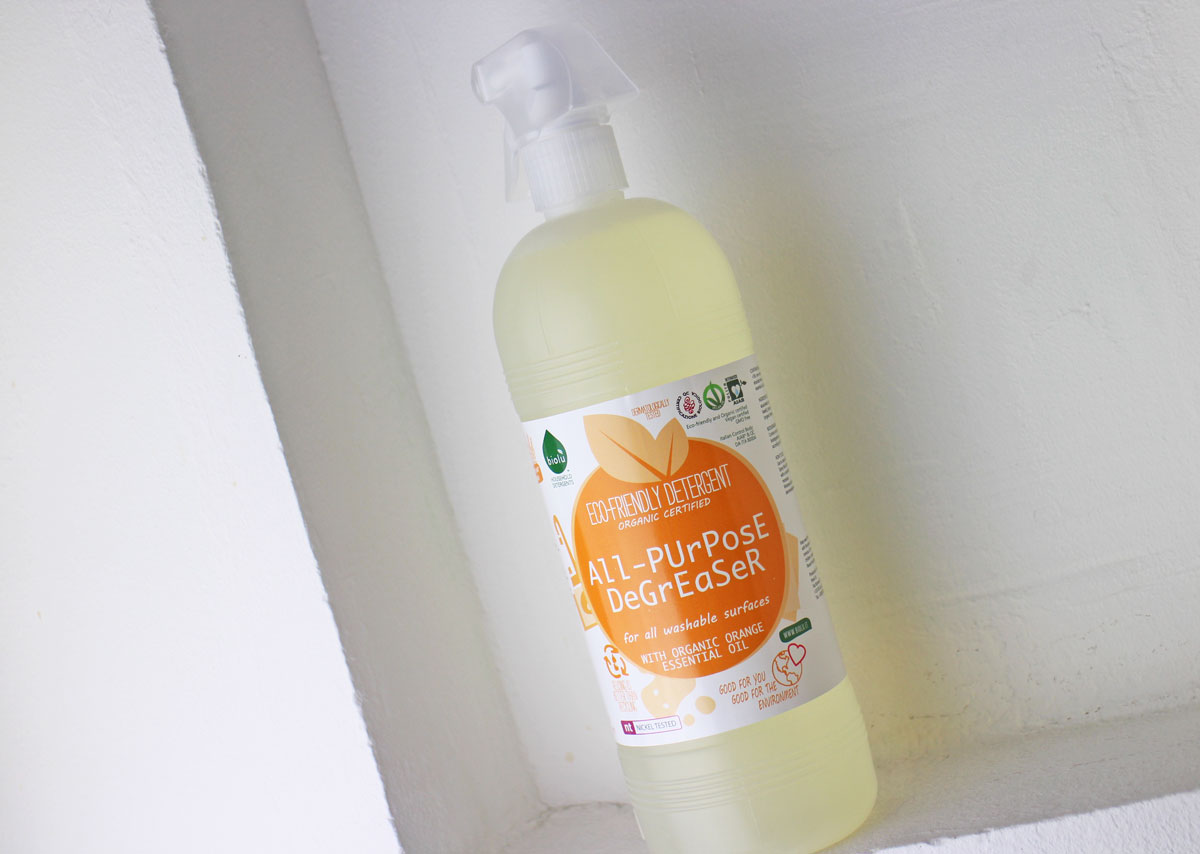 ♦ Another Ecosplendo bestseller is the Universal Orange Cleanser from Italian brand Biolu – and I can understand why: almost everyone likes the scent of orange; the essential oil has a mood-lifting and invigorating effect. Also, the bottle has a pump dispenser (something rarely found in these kind of cleansers, usually you have to pour out the liquid) which make it much easier to measure the correct amount of cleanser – very economical.
I spray the liquid cleanser on stove, surfaces, floor and sometimes even my windows. You can also use it to clean your bath although it is not as strong against limescale as a classic bathroom cleanser. Leave the cleanser to work for a couple of minutes and then wipe it off with a damp sponge or cloth. Finished!
The formula of the AIAB certified cleanser is vegan and compact: water, sugar tensides, alcohol and essential oil of orange. I sometimes also use this cleanser to quickly wash my hands in the kitchen.
The Universal Orange Cleanser from Biolu contains 1 litre and costs 5.89 Euro.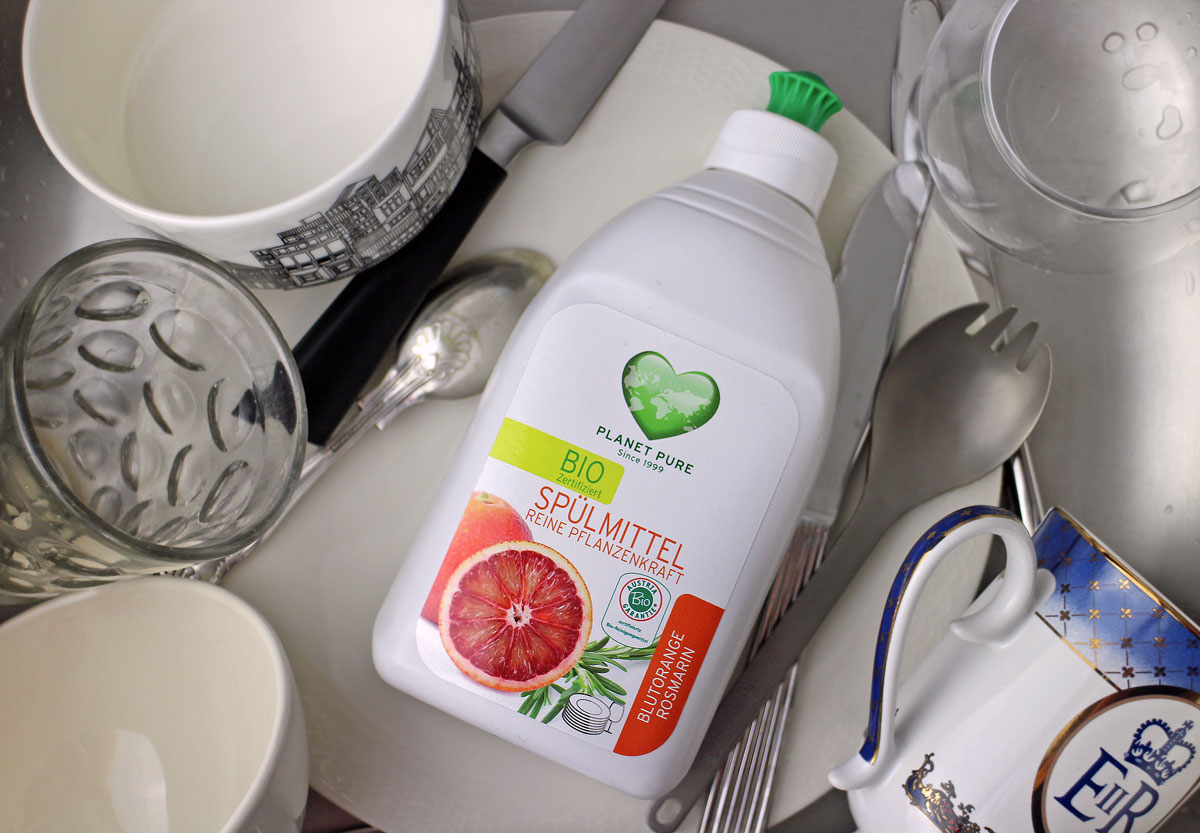 ♦ I love the fragrance of rosemary; especially in the kitchen and even more so when I am washing the dishes! The Organic Dish-Washing Liquid Blood Orange & Rosemary from Austrian brand Planet Pure combines the herbal rosemary accords with fruity blood orange which is a really nice combination. I don't have a dishwasher so I use washing-up liquid several times a day.
Combined with a sponge the Planet Pure Dish-Washing Liquid cleanses dirty dishes, pots and pans really well. You should shake the bottle before use; the cleanser is quite concentrated but not too much; one squirt is usually enough for one sink full of water. I was surprised by the slightly yellow-beige colour of the liquid which comes from the interesting ingredients – the detergent is based on plant-based saponines from soap nuts, soapwort and camellia seeds combined with a sugar tenside. Really cool!
The vegan Dish-Washing Liquid is certified by Austria Bio Garantie; it does not contain palm oil, petro-chemical or genetically modified ingredients. The packaging is manufactured from renewable raw materials (sugar cane). Planet Pure was founded in 1999.
One bottle of the Organic Dish-Washing Liquid Blood Orange & Rosemary from Planet Pure contains 510ml and costs 2.99 Euro.
I received all products mentioned in this post from Ecosplendo. Merci!
[Click here for more pictures and the original German article Eco-Haushalt: Waschen, Putzen und Spülen mit Ecosplendo]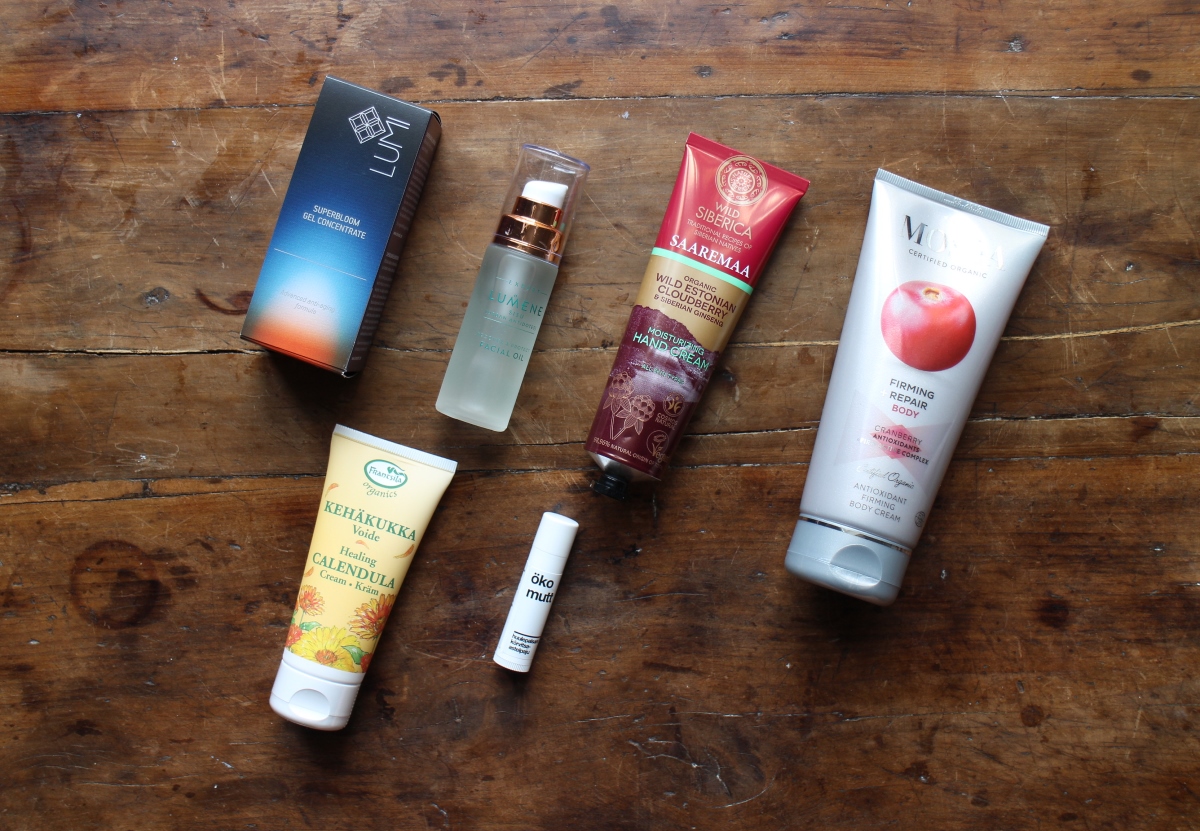 Hei Helsinki: Beauty from Finland and Estonia
I spent the last week in Helsinki on holiday – it was so relaxing! Usually I travel to places to attend trade shows, for article research, conferences or business meetings but this time, I'm here in Finland simply to chill and see what the city looks like in summer time (my previous visits to Helsinki were in winter and spring!). I also took a ferry day trip to Tallinn, the capital of Estonia. Still, beauty hunting whilst travelling has become my second nature (and I do enjoy it!), so here is a Helsinki version of my usual Beauty Notes!
Let's start with the two Finnish products in the picture above: I bought the Calendula Healing Cream from Frantsila at organic supermarket Ruohonjuuri. You can use the cream for face or body; it is suitable for the entire family. The ingredients are great; the cream is based on water, calendula oil extract, sunflower oil and cornflower oil. The only essential oil is ylang ylang which, however, only has a subtle scent. The Healing Cream is absorbed quickly and soothes my skin when it is dry and reddened after swimming. I love Frantsila; around four years ago I visited the company's headquarters in Häämeenkyrö (German only, sorry). In Germany you can buy the Calendula Healing Cream at Hilla Naturkosmetik.
My next purchase is from Lumene, the best-known cosmetics company in Finland. The Sisu Recover&Protect Facial Oil from Lumene has an amazing woodsy fragrance – it smells like a fresh gust of wind in a forest. The Sisu products are described as "Urban Antidotes"; they are formulated with antioxidant extracts from fir tree buds and pine tree bark, bringing a little nature to the urban lifestyle. Lumene is not an organic cosmetics brand but their newer launches are much more natural than the classic Lumene products. My new facial oil could be certified (if the fragrance is natural which I am not sure about).
Mossa is the sister brand of Latvian organic beauty company Mádara. I wasn't bowled over by Mossa's face care products but when I was visiting Helsinki department store Stockmanns I tested Mossa's new Ecocert-certified range of body lotions – and immediately liked the texture and fragrance! The Firming+Repair Bodylotion from Mossa has a light pink colour (it includes cranberries) and the fragrance is beautifully minty and fresh – perfect for summer. Mossa isn't available in Germany so far but this year the brand attended Vivaness trade show for the first time, so who knows what the future will bring 🙂 . You can check out Mossa's products on the company's home page.
On my day trip to Tallinn I also visited Pillerkaar, an organic perfumery which specialises in Baltic and Scandinavian cosmetics. If you are ever in Tallinn you simply have to check out this store! At Pillerkaar I bought the Superbloom Gel Concentrate from Lumi, an Estonian brand which I have already written about on Beautyjagd – I think the brand's skin care concept is really interesting. Also, the products look really good! However, I bought the Superbloom Gel because it includes niacinamide which is one of THE most heatedly-discussed ingredients in the world of cosmetics at the moment. The Superbloom Gel is based on peppermint water and the afore-mentioned niacinamide (which is not plant-based though). Niacinamide is a popular ingredient because it helps against redness and skin inflammation but is also used in beauty products for hyperpigmentation – niacinamide stimulates the skin's collagen production. The Lumi gel also includes hyaluronic acid and algae extract; it is fragrance-free. You can check out the INCIs on Lumi Nordic's homepage. I really look forward to testing this product!
On my visit to Tallinn I also came across a store of Russian brand Natura Siberica which also retailed the brand's limited editions (which I had only read about). One of the limited edition ranges is dedicated to the Estonian island of Saareema; I bought the Cosmos Natural-certified Saareema Moisturizing Hand Cream from Wild Siberica with cranberries and Siberian ginseng. I like Natura Siberica's regional product concepts – the Tallinn store also had special product editions for Lithuania and the Faroe islands in Denmark. You can check out Natura Siberica's regional editions in this German-Russian online store here.
The Öko Mutt Lip Care from Estonian brand Moshi has a funny name 😉 : Öko means eco while "Mutt" is a colloquial (and slightly disrespectful) term for an older lady! Moshi's product design is super cool – check it out on the brand's home page here – although most of the products are natural rather than organic. The Lip Balm that I bought is 100% organic and mostly contains beeswax and cocoa butter.
[Click here for the original German article Hei Helsinki 5: Naturkosmetik aus Finnland und Estland]
Good-bye everyone and see you soon!
Julia